The Spain Recipes Guide
Of course, everybody knows Tapas and Paella but Spain can offer so much more. We have gathered the Spain Recipes that taste the most like the food we so enjoyed in Spain. Most of these are quite inexpensive if you choose the smaller local diners. Stay away from the tourist areas and instead "Go Local".
Spanish food is brought forward from long ago with most foods being the same as they were several hundred years ago. Every region of Spain will have different selections all based on the type of food native to their regions. Each area like Catalonia or Valencia will have different foods and with over 50 provinces Spain has a lot to offer. Each trying to claim the name of the best food and best Spain recipes.
These are some of the more famous: Basque, Galician, Asturian and Valencian just to name a few but of course all are equally great. Even in a city like Madrid, you will find that the restaurants and their menus are a direct result of the cooking style of the chef. You will find every type of food in every city.
Probably the most eaten food in Spain is in the Tapas Bars. Tapas are what many people would call finger foods. You walk into Tapas bars and there will be hundreds of offerings including meats, desserts, sandwiches, vegetables, and combinations of food on sticks. We do love the Tapas bars for a quick meal but we prefer the recipes listed below.
1. Croquettes
A staple of these items in Spain Recipes are Croquettes and you will find them on every menu in Spain but of course, each will have its own ingredients so no two will ever be the same. You will find croquettes made from meats, fish, and vegetarian offerings as well. We have listed the three recipes we love the most of each type for you below so you can begin your Spanish Cookbook.
A. Fish Croquette Photograph and Spain Recipes  courtesy of – Spanish Sabores
Croquettes are the perfect snack and the Fish Croquettes can be an appetizer or part of a full meal. The history of croquettes is such that you take what you have in the way of leftover food scraps, make a croquette and fry it. This is a great recipe and one that will make you a hit with friends and family
B. Spanish Ham Croquettes (Croquetas de Jamón) -Photograph and Spain Recipes courtesy of The Spruce Eats
Croquetas de jamón (cured ham croquettes) are made with the most famous and more expensive hams in the world. They are a great appetizer but a little too pricey to use as part of a full meal. One good thing about croquettes if you can make them in bulk, freeze them and then take them out anytime you need a snack or lite meal. Just pop them out and drop them in the fryer.
C. Potato Croquetas with Saffron Alioli  -Photograph and Spain Recipes Courtesy of Epicurious
Everyone loves potatoes but not everyone makes them this way. We found every type of croquette but one of our favorites is these with a tasty Saffron Alioli. You can serve them as an appetizer or side dish with your favorite Spanish main course.
2. Tortilla Espanola
Tortilla Espanola Photograph and Spain Recipes Courtesy of Fine Cooking
The main choice for a breakfast item is the Tortilla Espanola or Spanish Omelette and the recipes are as varied as the families in Spain. You will find them with potatoes, ham, or a combination of both. The best ones are made with caramelized onion and potato. It is called an omelet but really looks more like a cake it is so thick.
3. Pulpo a la Gallega
Pulpo a la Gallega Photograph and Spain Recipes Courtesy of Basco Fine Foods
This is a boiled octopus dish that is quite tasty. I have to admit that I am not a big fan of octopus or squid but this blend of either fish along with paprika, rock salt, and olive oil has pretty much changed my mind. The Galician region of Spain is famous for recipes made with Octopus and this was one of my favorites. Hit a local restaurant and get this dish served on a wood plate with a few potatoes.
4. Paella
This is, of course, the most famous food dish in Spain. Before we began traveling and tasting food in 2014 I was making plans for my first stop in Barcelona and could not wait for this meal. Many think of it as the national food of Spain but in truth, it has its origins in Valencia and that is where you will find the best dishes. The Valencian version leans towards chicken, rabbit or both along with beans and vegetables. The more famous version is with seafood and rice. We like each of them equally well. Should you find paella with other ingredients like duck be sure and try them as well they are exceptional.
I am a native Arkansas in the U.S. and this is actually a recipe from back home and challenges the best of the Duck Recipes in Spain but, I do love spicy foods.
A. Spicy Duck Paella Photograph and Spain Recipes courtesy of Riceland Foods
This gives you the other side of the Paella Coin with the Rabbit and Chicken mixture.
B. Chicken and Rabbit Paella Photograph and Spain Recipes courtesy of Saveur
Now for the most famous but not necessarily the best variety.
C. Seafood Paella Photograph and Spain Recipes courtesy of Simply Recipes
5. Milk Desserts
A dessert I had not heard of or tried was fried milk or 'leche frita' and is on every menu in Spain. It is a unique and truly classic dessert item of Spanish Cuisine. Basically it is a hard outer shell with a milk pudding center and is covered with cinnamon and sugar. The other option when this is not available is Creme Catalan or a version of creme brulee.
Leche frittata is one of the most delicious and popular Spanish desserts. You can find it in both restaurants and pastry shops throughout Spain, and it's fun to make at home.
A .  Fried Milk Recipe Photograph and Spain Recipes courtesy of The Spruce Eats
The second is an equally tasty Creme Catalan
B. The second is an equally tasty Creme Catalan Photograph and Spain Recipes courtesy of Laylita Recipes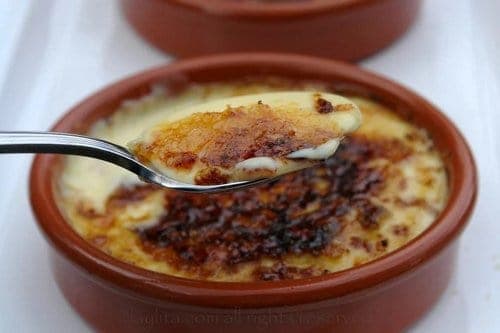 ---
Now that you have read the Spain Recipes, what's next? Let's learn more about a Spain trip. Check out The SpainTravel Guide
---