Traditional Dutch recipes. While foods in their diet are somewhat similar, there are some great recipes & foods you will enjoy. Read this article to see what you might like to try that will be a little out of the ordinary.
Dutch food culture is more than pancakes and cheese, though these are a couple of the most well-known dishes you can find here.
The Netherlands offers a culinary experience unlike any other because of its diverse history, with all the cultures that have impacted Dutch cuisine living in relative proximity to one another.
If you're a tourist and you want to explore the best Dutch food, check out our list of different types of Dutch food!
10 Best Traditional Dutch Recipes From Holland
---
---
check out our video
---
---
1. Creamy Advocaat Liqueur – Dutch Dishes
Traditional Dutch custard called advocaat is prepared with brandy and egg yolks. Delicious Dutch liqueur called advocaat has a custard-like flavor. Although it is thicker than the eggnog offered in America, some refer to it as "Dutch eggnog." Instead of whipped cream, it is frequently drizzled over cakes and ice cream, or it is poured into a coup glass and eaten with spiced cookies or spiced nut bread (usually during winter months). Additionally, it is a component of many mixed beverages. Some areas do not have access to advocacyat. Even while this handmade version doesn't claim to be an exact replica of the "genuine thing," it comes very close and should satisfy the majority of customers when Advocaat isn't an option.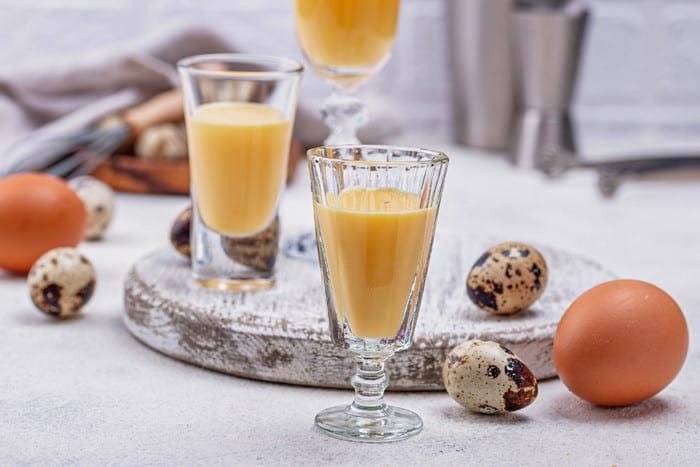 The best food is homemade. Making this at home with fresh, local eggs is nice because purchasing a commercial product does not always guarantee this. You can prepare advocaat ahead of time or even bottle some to give as a holiday present because it's simple to make and needs to be chilled for some time before serving.
Advocaat can be customized in a variety of unique ways because it is essentially alcoholic custard. I prefer to keep mine straightforward, using just a dash of cinnamon and some vanilla, but you could use any of the seasonal spices for a stronger flavor. You might also experiment with different fruit flavors or substitute honey for sugar. I still prefer to have this seasonal delight with a little cold glass of advocaat and a dollop of whipped cream on top. It may also be served hot with coffee. The Snowball, which is simply one part advocaat combined with three parts sparkling lemonade and served over ice in a Collins glass, appears to be the most well-known mixed drink created using advocaat. Additionally, you may combine it with whiskey and bitters to make the (very potent) Jack Torrance.
Given that it is essentially a dessert, why not spread it over some cake or ice cream? You can even prepare muffins with advocaat and pears or an advocaat cake.
Pick One To Add To Your Recipe Box
♦ Keep it classic with this Traditional Dutch Advocaat Liqueur Recipe.
♦ Get inspired with Homemade Dutch Advocaat Liqueur, and make your own.
♦ Or, you can create your own recipe: DIY Advocaat Recipe- Dutch Eggnog Cocktails.
---
2. Hachee Stew – Traditional Dutch Recipes
Dutch beef stew called hachee is made with meat and onions. With braised red cabbage and mashed potatoes, this comforting Dutch beef stew recipe is the ideal winter meal. This meal is very delicious when paired with rice and green beans. There isn't another recipe that is as Dutch as Hachee, in my opinion. Every family has its own recipe for this traditional slow-cooked beef stew known as hachee. This stew has a little sweet caramel flavor that is rather different from an Irish stew because of all the onions that go into it, but it is incredibly amazing!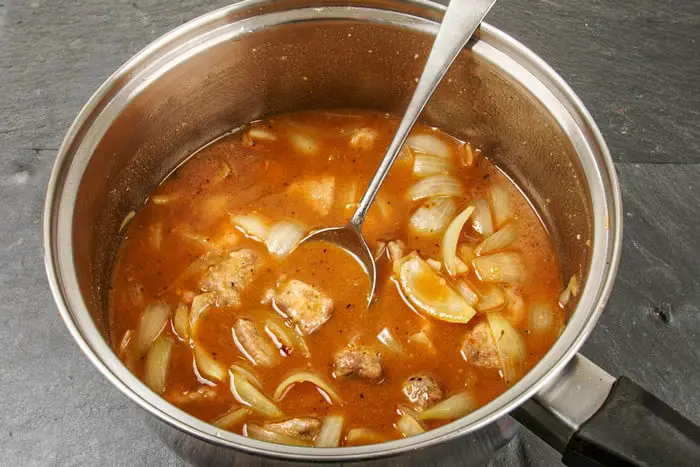 Most Dutch homes serve a classic meat and onion stew called hachee. It's a delectable comfort food that's perfect for the chilly winter months. The beef is incredibly soft and the thick sauce has a tremendous depth of flavor thanks to the prolonged, slow cooking. Here is a delicious recipe for real hachee that the whole family will enjoy.
What Is Hachee
The name "hachee" derives from the verb "hacher," which means "to chop" in French. Hachee is also occasionally referred to as a "hash." Hachee has been around since the Middle Ages, and like many of the beloved traditional foods of Europe, it was first developed as a dish for peasants to use up leftover meat and vegetables. Tough portions of beef were made tender by the use of vinegar (much like French peasants used wine). Onions, a less expensive veggie, were used in large quantities. Further ensuring the meat would be tender was a lengthy cooking phase. The dish hakee is still a favorite and well-known one in the Netherlands. So much so that grocery stores now sell it already prepared. But nothing compares to handmade food, and your perseverance during the lengthy, slow cooking procedure will pay off with mouthwatering results.
Hachee's flavor profile differs greatly from the usual beef stews that we are used with in the United States. Hachee uses caramelized onions and equal parts meat and onion. Cloves, juniper berries, black peppercorns, bay leaves, and vinegar are the main components in this stew; they all work together to create a fantastic depth of taste that is both rich and soothing. Hachee's flavor is comparable to German Sauerbraten in taste.
Pick One To Add To Your Recipe Box
♦ Keep it classic with this Hachee recipe.
♦ Tickle your taste-buds with this Dutch Beef Stew they call Hachee.
♦ Or, you can always create your own by tweaking this recipe of Hachee.
---
3. Boterkoek (Dutch Butter Cake) – Dutch Food
Dutch butter cake that is delicious and genuine. This delicious cake has a wonderful almond flavor and is a favorite in most Dutch homes. In Dutch, "butter cake" and everything that follows are known as "boterkoek." You'll adore this decadent, buttery delight that is neither quite a cake nor quite a cookie.
Traditional Dutch flat cakes, such as butter cake (Boterkoek), are made primarily of flour and butter (thus the name). Although a spring form or a brownie pan can also be used, a specific round butter cake pan is typically used to make the cake. You might alternatively name the cake a pie because it is prepared using dough rather than batter.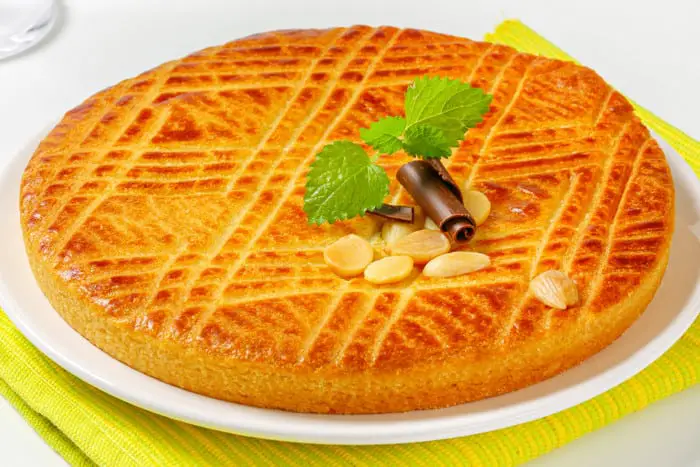 The ultimate in comfort food is Dutch boterkoek. The recipe only calls for five very simple ingredients, and it only takes ten minutes to put together. The flavor is understated but rich. It's akin to giving your taste buds a hug. Butter cake has a crisp border and is moist inside. The crispy borders of the butter cake are my favorite feature. A cake can only be referred to as a butter cake if genuine butter is used. Make sure to only eat a little slice of this delightful delicacy at a time because this recipe calls for a lot of butter.
What Boterkoek (Dutch Butter Cake) is all about:
Given the name of the dough, it is evident that it contains a significant amount of butter—almost as much butter as flour. This dough is quite delicate since there is a lot of butter in it, which also makes it delicious. The gluten strands remain "short" and undeveloped because to the high fat concentration. A "short" dough is one that is extremely tender.
Dutch Butter Cake contains an equal amount of sugar and butter. Keep in mind that sugar does much, much more than just make a recipe sweet. I've seen Boterkoek recipes that include flavorings like almond extract, vanilla, or lemon zest. Personally, I don't add any other flavorings since I want my boterkoek to taste like butter.
Sugar softens, absorbs, and holds moisture. Therefore, Dutch Butter Cake is extremely moist and even more tender than shortbread cookies. Perhaps this is why it is referred to as a cake and not a cookie?
The extremely chewy and crisp crust that forms around the edges of Boterkoek is one of my favorite aspects of the cake. The dough's high sugar content is also responsible for the crust. One more thing regarding the sugar. The traditional Dutch recipe calls for a kind of sugar that is unavailable in the US. American granulated sugar is less wet than basterdsuiker.
Pick One To Add To Your Recipe Box
♦ Keep it classic with this Boterkoek (Dutch Butter Cake) Recipe.
♦ Dazzle your sweet-tooth with this delicious Boterkoek – Dutch Butter Cake recipe.
♦ Or, you can always create your own by tweaking this recipe when you learn how to make a Dutch Butter Cake (Boterkoek).
---
4. Farmer's Cheese Soup (boerenkaas soep) – Dutch Dishes
There are countless simple soup recipes, but you don't frequently find a delectable soup with as many unusual ingredients as this one. This Old Time Farmer's Cheese Soup, which includes russet potatoes, cauliflower, carrots, and of course cheese, is a delightful surprise that your family will adore. You may create a delicious new soup to add to your repertoire by updating a traditional potato soup recipe. That is exactly what this cheesy dish is!
The Netherlands produces 650 million kg of cheese annually, and archaeologists have even uncovered cheese-making machinery dating back to 200 BC in Holland. It follows that cheese soup is one of the country's most adored foods. Boerenkaas cheese, nevertheless, not just any cheese. Boerenkaas, which translates to "farmer's cheese," is a regulated variety of gouda that must be produced with unpasteurized, raw milk from a smaller farm in order to ensure artisan manufacture. The soup is typically served in boerenkaas, topped with fried bread, and then grilled until melted and gooey. Here, normal gouda has been melted atop bread that has been roasted in bacon fat.
The soup itself was very delicious, and we all enjoyed the unusual element of cauliflower. Other than the rare blended cauliflower in a Skinny Baked Potato Soup (so the cauliflower does not play a major role), we frequently enjoy roasted cauliflower but have never thought to include it in soup.
Except for the chicken broth, which can easily be replaced with a vegetarian option, I didn't realize this soup was vegetarian until I started making it. But I think it would also be excellent with some shredded chicken put in for a heartier dinner.
When I read the recipe, I was shocked to discover that the cheese was broiled onto toasts rather than being incorporated into the soup. Boerenkaas cheese, an artisan variety of gouda, is used in the more traditional version that is popular in the Netherlands.
Pick One To Add To Your Recipe Box
♦ Keep it classic with this Dutch Farmer's Cheese Soup.
♦ Dazzle your taste-buds with this Boerenkaas Soep (Dutch Farmer's Cheese Soup).
♦ Or, you can always create your own by tweaking this recipe of boerenkaas soep, better known as Farmer's Cheese Soup.
---
5. Dutch Baby – Traditional Dutch Recipes
A family-style pancake made in the shape of a Dutch baby is large, fluffy, and baked in a hot, buttered skillet. Before you take this traditional Dutch baby out of the oven, gather the family around; you'll want to share it in all of its puffy splendor. A Dutch Baby, also known as a German pancake, is a large, poofy, family-style pancake with a custardy middle that is similar to a crepe, pancake, and popover. It's incredibly easy to make and is sure to draw oohs and ahhs when you place it on the table. The batter is blended, poured into a sizzling hot skillet that has been buttered, and then placed in the oven. The sides of the Dutch baby rise above the pan's rim as it bakes, resulting in a golden, fluffy crust and a tender, eggy center.
Have everyone sitting at the table when you take the Dutch baby out of the oven for maximum wow factor. Dutch babies collapse quickly as they cool. When ready to serve, sprinkle the pancake with confectioners' sugar, if preferred, add fresh berries, cut into wedges, and then drizzle with maple syrup.
Dutch Baby Pancake: What Is It?
Dutch baby pancakes are like a pancake, crepe, and popover all rolled into one, or, if you prefer, a love child. Start with a hot skillet and a thin, pancake-like batter. All at once, pour the batter into the skillet and place it in the heated oven. The batter will begin to inflate up around the borders after a little while, rising higher and higher until this "pancake" resembles more of a puffy pillow. It's ready when the edges start to become golden and you can no longer stand the wonderful aroma of freshly baked food.
The steam holding the Dutch baby up soon dissipates in the cooler air of your kitchen when it comes out of the oven, causing it to fall back into the pan. But don't worry, what's left over is a pancake with the eggy flavor of a sweet popover and the soft, sensitive texture of a heated crepe. When serving, cut it into wedges and spread some jam and maple syrup on each piece.
Pick One To Add To Your Recipe Box
♦ Keep it classic with this Traditional Dutch Baby Recipe.
♦ Dazzle your family with this delicious Homemade Dutch Baby Recipe.
♦ Or, you can always create your own by tweaking this recipe when you learn How To Make a Dutch Baby Pancake.
---
6. Appeltaart (Apple Pie) – Dutch Food
The traditional appeltaart, a Dutch dessert, may be the most well-known. A tall Dutch apple pie known as a "appeltaart" is prepared with a brown sugar shortcrust pastry that is stuffed to the gills with cinnamon apples. Dutch apple pie is the best translation for Appeltaart. The expression "as American as apple pie" may be true, yet 100 years before the first colony at Jamestown, a recipe for appeltaart may be found in the earliest Dutch cookbook.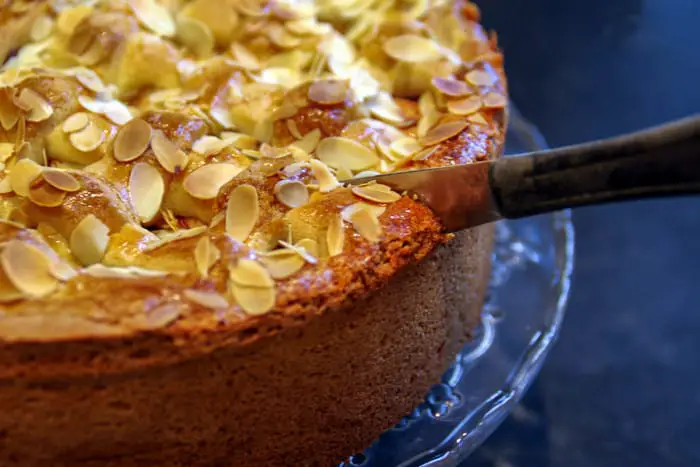 A lot of the ingredients used in the recipe in Een notabel boecxken van cokeryen are still used today. The spice mixture of cardamom, ginger, cinnamon, nutmeg, clove, and mace is recommended in the 1514 recipe "if you wish to produce a very excellent tart," even though cinnamon is a common ingredient in recipes today. Additionally, this would have made it extravagantly costly.
Before baking the pie, the filling, which is just sliced apples, sugar, and spices, doesn't need to be cooked. To thicken the filling and help avoid a soggy bottom crust, use flour or cornstarch. If you have ever visited the Netherlands, you are likely aware of how difficult it is to find a restaurant that doesn't offer apple pie for dessert. Nothing is more characteristically Dutch than a kopje koffie with a slice of appeltaart topped with plenty of whipped cream.
Traditional Dutch Apple Pie
Dutch apple pies frequently have cinnamon streusel on top. However, there is another dessert variation available that isn't crumble pie. The traditional pie crust from bottom to top and pie filling were required in the 16th-century original recipe. So I'll present the second variation of the classic Dutch apple pie here. When you eat it warm with all those apple layers and cinnamon on top, it is just amazing. A fantastic apple pie recipe and a dreamy autumnal dessert!
Pick One To Add To Your Recipe Box
♦ Keep it classic with this Traditional Appeltaart: Dutch Apple Pie.
♦ Warm your heart with this delicious and traditional Dutch Apple Pie.
♦ Or, you can always create your own by tweaking this recipe when you learn how to make Dutch Apple Pie (appeltaart).
---
You May Also Like This Recipe: 24 Best German Food and German Recipes
---
7. Dutch Musterdsoep or Zaanse Mosterdsoep – Dutch Dishes
'Mustard Soup' may sound strange, but I promise that after just one bite, you'll understand that it makes perfect sense. Don't be put off by the thought of mustard soup if you have never heard of it. As you might anticipate, it is not as piercing or overwhelming. In addition, you can decide how much mustard you want to add.
A Traditional Recipe for Mustard Soup
It's a delectable, velvety soup that's known as "moesterdsoep" in the Netherlands. I've never eaten anything like it. Yes, there is a subtle mustard flavor that is subdued by creaminess, bacon flavor, and the flavor of mild, sweet leeks.
Traditional mustard soup comes in a variety of variations that range from location to region. Making soup can occasionally take a long time, especially when the stock is made from scratch. However, mustard soup, which takes just over 30 minutes, is an exception. The mustard soup simply requires a small number of ingredients, so there is a significant chance that you can make it without traveling to the store.
You can serve mustard soup as a hearty family supper or as an appetizer in small portion-sized cups. A staple in Dutch households, mustard soup is a terrific recipe to add to your weekly repertoire. Zaanse Mosterd is coarse and has whole yellow and brown mustard seeds. This is the only kind of mustard you can use for this recipe! according to purists. However, it is crucial to use the best mustard you have, not just any old mustard you find in the back of the cupboard. Use a premium wholegrain mustard to make the tastiest mustard soup.
Good bread is due for good soup. A whole grain bread or perhaps sourdough would be my recommendation. The ideal method is to toast few pieces of bread to create a crispy snack that may be dipped in mustard soup.
Pick One To Add To Your Recipe Box
♦ Keep it classic with this Traditional Mosterdsoep (mustard soup).
♦ Warm your soul and body with this delicious and traditional Dutch mustard soup, also known as, Mosterdsoep.
♦ Or, you can always create your own by tweaking this recipe when you learn how to make Groninger Mustard Soup.
---
8. Stamppot – Traditional Dutch Recipes
The changing of the seasons has many advantages, one of which is traditional Dutch comfort food. And it doesn't get much more comforting than stamppot, which is simply potatoes that have been roughly mashed with whatever you like (purists would definitely disagree!). It's frequently eaten with rookworst, a smoky Dutch sausage.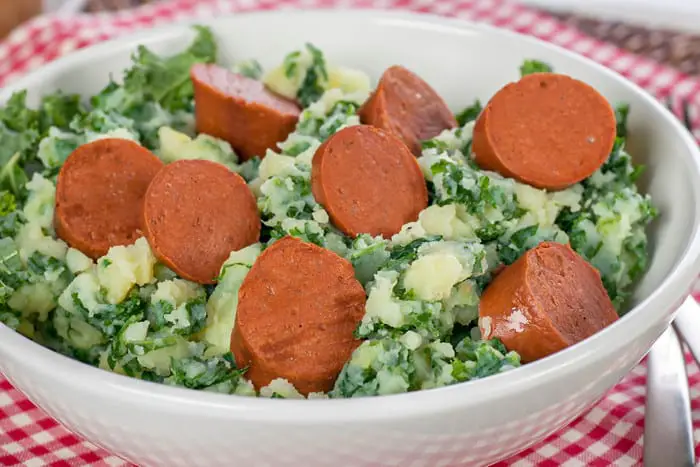 The national dish of the Netherlands is Dutch Stamppot. Smoked sausages on top of kale mashed potatoes. A satisfying winter or fall supper. In the winter, stamppot is frequently offered on restaurant menus in Holland and Amsterdam. It is traditional Dutch food and comes in a wide range of flavors.
You might come across a dish where the potatoes are mashed with bacon, curly endive, and topped with a sizable Rookworst (Dutch sausage). Or you can discover a huge slab of bacon covered in stamppot made from mashed potatoes, onions, and carrots. You see what I mean.
Here's a new way to prepare your mashed potatoes! You must eat this Dutch national meal at least once in your life. Stamppot is a straightforward and unassuming dish consisting of potatoes mixed with other vegetables and usually topped with smoked sausage. But for some reason, this flavor combination is a success.
In this cuisine, potatoes and vegetables are mashed together. The addition of sausage on top was the distinctive element that drew our attention. There are numerous variants. One of the most popular concoctions is the Boerenkool (curly kale) Stamppot that we are creating today.
Pick One To Add To Your Recipe Box
♦ Keep it classic with this Traditional Recipe for Comfort Food: Stamppot.
♦ Try this quick and easy traditional recipe for Dutch Stamppot.
♦ Or, you can always create your own by tweaking this recipe when you learn how to make Stamppot (Dutch National Dish).
---
9. Asparagus with Vegan Hollandaise Sauce – Dutch Food
Asparagus, a veritable indication of spring. The white ones are more prevalent in the Netherlands. They are generally grown in the south of the nation, where you can frequently purchase them straight from the grower. Take advantage of the opportunity while it lasts because they are typically accessible from mid-April to mid-June. Serving asparagus with Hollandaise sauce is a classic method. The non-vegan variation is a warm mayonnaise-style sauce made with eggs and butter. The majority of vegan recipes either call for silken tofu or resemble bechamel sauce more. I used vegan margarine to stay as close to the original recipe as possible. The process of preparation ultimately resembles that of preparing vegan mayonnaise.
Hollandaise Sauce: What Is It?
A common French dish that uses hollandaise sauce is eggs benedict. It was originally documented in a French recipe book from the middle of the eighteenth century. It is one of the five French "mother sauces," which serve as the foundation for numerous other sauce recipes. Hollandaise sauce is typically an emulsion-based condiment created from melted butter, lemon juice, or a white wine vinegar reduction and egg yolks. Additionally, it features a somewhat complex, technically difficult recipe procedure that necessitates precise temperature control.
Fortunately, this vegan hollandaise sauce recipe is entirely devoid of eggs and dairy. It's also a healthy low-fat dish because it doesn't call for a lot of butter. But what's even great is that this recipe won't ever fail. This vegan hollandaise sauce can be made in a matter of minutes by whisking together 6 ingredients (plus salt and pepper) and boiling it until thickened. This eliminates the need to stand over the cooktop in fear of curdling eggs or the sauce "breaking". It couldn't be much easier!
Healthy Vegan Hollandaise Sauce that is Creamy
Although hollandaise sauce is frequently associated with eggs benedict, there are a lot of other dishes that can use it that are completely vegan-friendly. Unfortunately, traditional dishes are not vegan-friendly in the least. Fortunately, this vegan hollandaise sauce is fragrant and creamy without containing any dairy or eggs.
Instead, this recipe uses a dairy-free cream base with the traditional mustard, white wine (optional), and lemon juice flavorings to make hollandaise sauce without using eggs. This hollandaise sauce is inherently gluten-free because I thickened it with chickpea flour. This simple hollandaise sauce is creamy, silky, and incredibly tasty for all your drizzling, dipping, and spreading needs—even though it might not be a perfect match!
Pick One To Add To Your Recipe Box
♦ Keep it classic with this Asparagus with Vegan Hollandaise Sauce.
♦ Try this quick and easy traditional recipe for Vegan Hollandaise Sauce.
♦ Or, you can always create your own by tweaking this recipe when you learn how to make Vegan Hollandaise Sauce (Healthy Recipe).
---
10. Poffertjes or Dutch Mini Pancakes – Dutch Dishes
Dutch mini pancakes, also known as puffertjes, (pronounced puff' ur jis) are tiny, fluffy yeasted delicacies baked in a unique cast iron skillet. The Netherlands is home to shops that sell puffertjes. Traditionally, they are served hot with a pat of butter and a generous amount of confectioners' sugar. They taste just as nice, though, with Nutella on top.
A wonderful delicacy, these tiny puffy pancakes are topped with butter and a dusting of powdered sugar. Poffertjes are tiny Dutch pancake puffs that are especially well-liked as a street meal on special occasions and festivals. A straightforward yeast-based batter is mixed together until smooth. It is gently sweetened. The liquid is poured into tiny individual chambers of a specific Poffertjespan after sitting at room temperature for roughly an hour until puffed and frothy (Poffertjes Pan).
Yeast and buckwheat flour are historically used to make small, fluffy pancakes. These conventional components are used in this poffertjes recipe. Butter and confectioners' sugar are frequently added to this delectable dessert before eating. The batter is heated from the pan while still hot and is served with a few butter dots and a dusting of powdered sugar.
This Dutch treat has always been a favorite of mine. When I was growing up in the Netherlands, pannenkoeken and poffertjes were frequently offered at kids' birthday celebrations. Additionally, they are constantly available as street food at events and celebrations, where you can purchase them at a "Poffertjeskraam" (Poffertjes booth or stall).
A few different poffertjes recipes are available; some of them call for flour, baking powder, or self-rising flour. Personally, I prefer to prepare them with buckwheat flour and yeast in the conventional manner.
Pick One To Add To Your Recipe Box
♦ Keep it classic with this Poffertjes ( Dutch Mini Pancakes)Recipe.
♦ Try this quick and easy traditional recipe for Dutch Mini Pancakes (Poffertjes).
♦ Or, you can always create your own by tweaking this recipe when you learn how to make Poffertjes.
---
---
History of Dutch Food
Dutch cuisine like other European Cuisine is a product that has been formed based primarily on available products. Much of it has been shaped by its great availability to seafood products and local farming to a lesser degree. Dutch food has also been shaped by the earlier times when they were a larger seafaring nation both colonizing other areas and bringing back spices to the Netherlands. Since most of the former traditional Dutch Recipes were plain this was a happy change for them.
Most traditional Dutch Recipes are simple "Meat and Vegetable" consumers served with bread and wine. The diet also makes use of the abundant types of dairy products, especially cheese. During the 1300s to 1500s when the Dutch were colonizing and exploring the diet began to change and expand. The Dutch East Indies company and its colonies began bringing in more people and recipes from the colonies and the diet became more international.
Dutch Food Today
Traditional Dutch Recipes and Foods are not a well known or frequently used cuisine but that is a pity. Much like England, it is mostly known for its plain, not too flavorful, outcomes, probably because potatoes are the main ingredient and they just do not provide tasty alternatives. Even Vincent van Gogh painted pictures glorifying the use of potatoes in the diet. That being said there are good recipes from Holland and we have enjoyed our trips there. Some of the recipes can be really good and are usually excellent for cold-weather meals. They are hearty and filling. Here are our favorites.
What is Dutch Food?
Food is one of the most effective methods to learn about a place. You may learn about a people's history, culture, and preferences by looking at what they consume on a daily basis. And, if you're lucky, the whole thing can be quite tasty. When I first visited the Netherlands, I had no idea what to anticipate in terms of cuisine. All I knew about Dutch food was cheese and beer, which barely scratches the surface of what the country has to offer. Since then, I've returned countless times and continue to discover new delicacies to savor.
The Dutch cuisine has a few classic Dutch dishes, however these traditional Dutch foods are hard to come by in restaurants. These are home-cooked meals that Dutch people don't have to go out to eat. These are, of course, excellent Dutch food recipes to try out so you may learn how to prepare Dutch dishes. Cooking in the Netherlands isn't difficult. On the other hand, many popular Dutch delicacies are unique goods or snacks that are difficult to find elsewhere. However, attempting to make them can be entertaining! Alternatively, you can hunt for them in a Dutch shop or bring them back from a trip to the Netherlands.
There's something for every season here, from delicate white asparagus to thick winter pea soup thick enough to stand a spoon in. After spending several years in the Netherlands (or Holland as it is commonly known), I always assumed that Dutch food did not exist. It does have certain traditional Dutch dishes, such as mashed potatoes with kale or endive. But that was the end of it. So I reasoned.
It's just recently that I've become more interested in this country. They also have a number of traditional Dutch delicacies. Aside from the standard terms like 'andijviestamppot' and 'boerenkoolstamppot,' there are regional variations as well. I hadn't expected that, given how small the country is.
Dutch Cuisine
Although the Netherlands is not known for a particular cuisine, there are several foods and recipes that are uniquely Dutch. Most Dutch recipes have multiple versions, with ingredients and cooking procedures varying from family to family.
The food of the Netherlands is more diversified and intriguing than you may assume. When it comes to meals or cuisine, the Netherlands isn't as well-known as its European competitors, such as France or Italy. However, it is still seen as a novel perspective on food culture, and it merits a creative attention. Despite the fact that there are many opposing viewpoints on this cuisine, I am confident that the more you taste it, the more you will like it.
The rich agricultural industries of the Netherlands have dominated Dutch cuisine for centuries. The French had a strong impact on Dutch cuisine in the past, but immigrants from Indonesia, Turkey, North Africa, China, Arabia, and India have also left their imprint.
Dutch cuisine are typically meaty, which is suitable considering the milder climate. Snert or erwtensoep, a thick green soup cooked with split peas, carrots, onions, and celery and stuffed with smoked sausage and bacon pieces, is a traditional specialty. According to legend, the soup is ready to consume when it thickens to the point where a wooden spoon can stand upright in it.
In the Netherlands, seafood is very popular, especially herring, which is available both fresh and pickled. Fresh herring can be purchased from pushcarts on city streets during peak season, and it is also pickled and accessible all year. Another traditional method for curing produce is smoking, which is used for both seafood (smoked eel) and meats (smoked bacon).
Potatoes accompany most main courses, whether boiled, fried, mashed, or roasted, making them a significant ingredient in Dutch cuisine. Stamppot refers to "mashed potatoes with vegetables," which are frequently paired with carrots. Sauerkraut is a popular side dish prepared from shredded and pickled cabbage that is imported from Germany.
With over 25 different sorts of pancakes, including poffertjes, extremely small pancakes coated with powdered sugar and topped with fresh fruit or sweet syrups, Dutch sweets are known to be more colorful than their savory dishes. Pastries are also popular, and are frequently filled with almond paste, a traditional Dutch ingredient.
Dutch drinks have also made a big effect on a global scale. In the 1700s, the Netherlands had over 700 breweries, and the first Heineken beer was poured in 1873. The Dutch were also responsible for the creation of jenever, a juniper-based straight gin.
FAQs About Dutch Foods and Dutch Dishes
What is in a Classic Dutch Meal?
Aardappel, Vlees, Groenten, or potato, meat, and veggies, is the typical name for a Dutch dinner. Many Dutch households choose for a combination of these basic ingredients rather than a pre-made dish.
What is the Netherlands National Dish?
Stamppot, often called hutspot, is a hearty dish prepared with mashed potatoes, vegetables, and smoked sausages like Dutch Rookworst, Spanish Chorizo, or Polish Kielbasa.
What Makes up a Dutch Breakfast?
Breakfast in the Netherlands might be varied. Bread slices with sweet or savory spreads, as well as muesli and yogurt, are the most prevalent. In the Netherlands, dairy products such as cheese, milk, and eggs are frequently used in the morning meal. Breakfast is, as you presumably know, one of the most important meals of the day. Breakfast meals in the Netherlands may appear basic, but they can provide you with enough energy to last the entire day.
What is a Typical Dutch Lunch?
An individual piece of cold meals, such as sandwiches loaded with slices of meat and Dutch cheese or sweet assortments, is served with milk or juice in a typical Dutch lunch. It appears to be a second breakfast; it's simple to prepare, pack, and eat.
What is a Typical Dutch Snack?
Bitterballen and kroketten are possibly the most well-known Dutch snacks. They're made with a cooked meat ragout that's been deep fried till it's mushy in the centre and crunchy on the exterior. Bitterballen are round balls, while kroketten are sausage-shaped.
What is a Popular Dutch Pastry?
Banket is produced by encasing an almond paste filling in pastry dough and baking it. With a rich granular filling, the pastry has a porous, airy, and flaky feel. It is most popular during the Christmas season in the Netherlands and in ethnic Dutch communities in the Midwest of the United States.
Is Dutch Food Healthy?
Despite the fact that the Netherlands is better known for its liberal drug laws than for its cuisine, the Dutch diet was voted the healthiest out of 125 countries in an Oxfam analysis that looked at aspects such as food availability, price, food quality, and obesity rates
Do Dutch like Spicy Food?
In the Netherlands, we prefer the polar opposite: we don't want anything spicy hot and prefer dry and cool weather. That isn't to say that hot food isn't tasty; it's merely a distinction. Sandwiches, bread, butter, some form of deli, and slices, whether it's sliced meat or cheese, are all on the menu.
The Best Traditional Dutch Foods
Let's be real about Dutch cuisine. It doesn't exactly have a stellar reputation around the world. The cuisine of the Netherlands is not comparable to that of the French, Italians, Japanese, or Thai, to name a few, and the Dutch are not famed for their culinary quality or elegance.
It's also difficult to define what exactly constitutes typical Dutch cuisine. When it comes to typical Dutch food, you might find yourself scratching your head after naming cheese and pancakes (which aren't exactly entirely Dutch food specialties anyhow), and they aren't exactly substantial meals (though I'm sure some people would disagree!).
So I decided to write this post sharing some truly delectable Dutch food recipes in order to give you a tasty overview of how many traditional Dutch foods you may or may not be familiar with, and how many of them are worth seeking out during your visit to Amsterdam or the Netherlands, or even while you're still at home.
Warm, stodgy, meaty meals come to mind when I think of classic savory Dutch cuisine. When the autumn and winter seasons arrive, I adore living in the Netherlands because the cuisine fills me up and keeps me warm. And these are the top classic Dutch foods you should try whether you're in the Netherlands or at home.
---
---
You May Want to Join Our Campfire Recipes Group on Facebook For More Information
You May Want to Join Our Boondocking Group on Facebook For More Information