Today we are sharing 24 of our favorite Spanish recipes for Chorizo. Chorizo is the name for a group of fresh and cured sausages that come from the Iberian Peninsula (now Spain and Portugal). Chorizo is made from pork, has a lot of spices, and is usually red in color. Even though there are many different kinds of chorizo from different places, most of them fall into one of two distinct groups: Spanish or Mexican.
Spanish recipes for Chorizoare made from a hard sausage made from small pieces of pork that have been cured. The large amount of paprika in the spice mix is what gives Spanish chorizo its red color. Depending on the kind of paprika used, Spanish chorizo can be either spicy or sweet.
Most of the time, the smoked paprika used in Spanish chorizo gives the sausage a deep, smoky flavor. Herbs, garlic, and white wine are also used, and the links can be very short or very long.
Because the sausage has been cured, or aged for a few weeks, it can be eaten raw and is often served sliced as part of a meat tray or tapas assortment. Spanish chorizo is also used to add flavor to stews and paella, as well as for special events like Jueves Lardero before Carnival.
In general Spanish recipes for Chorizo, use meat with more fat are used for cooking, while chorizos with less fat are sliced and eaten raw. Both kinds of casings can be eaten.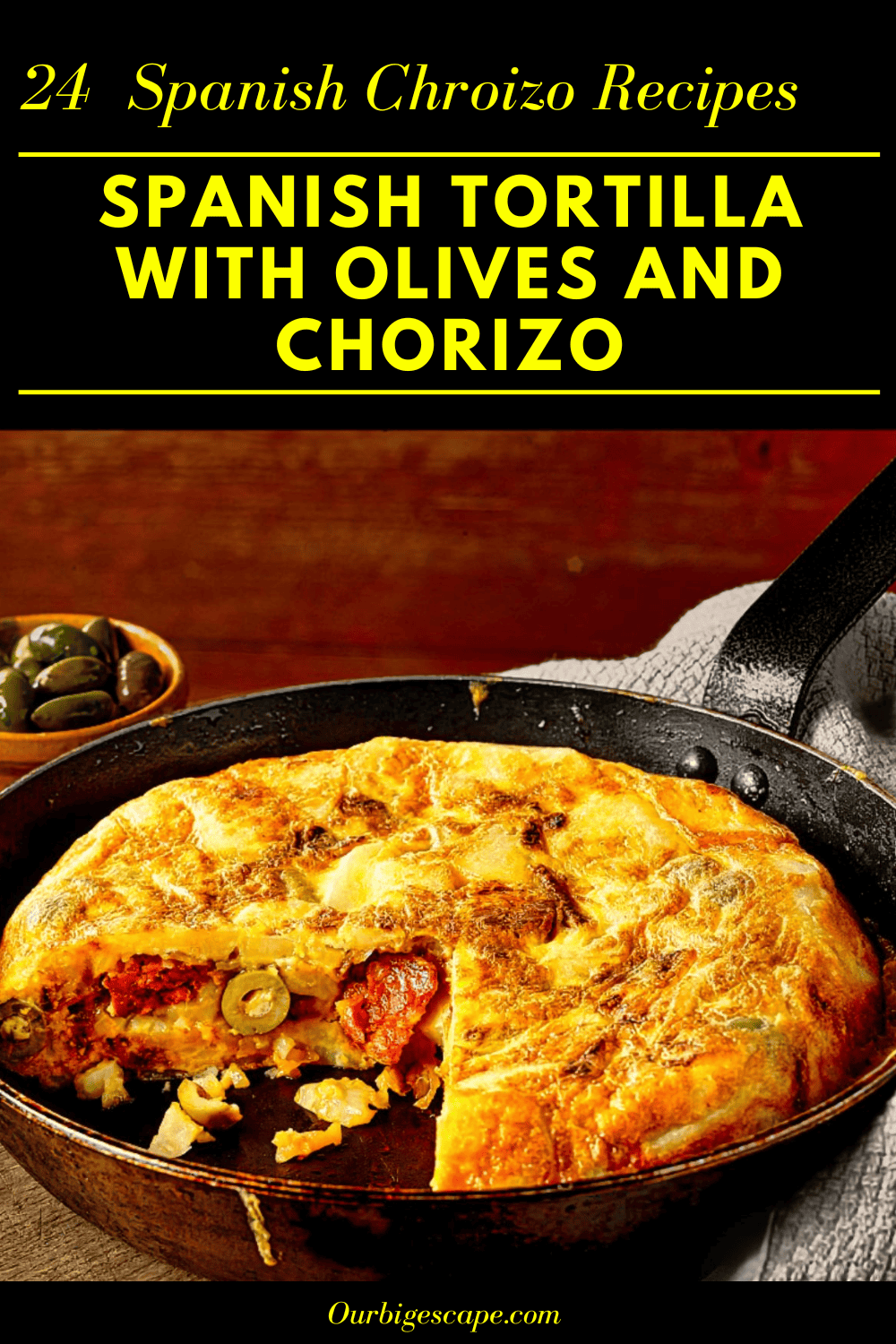 24 Authentic Spanish Recipes For Chorizo
---
---
check out our video
---
---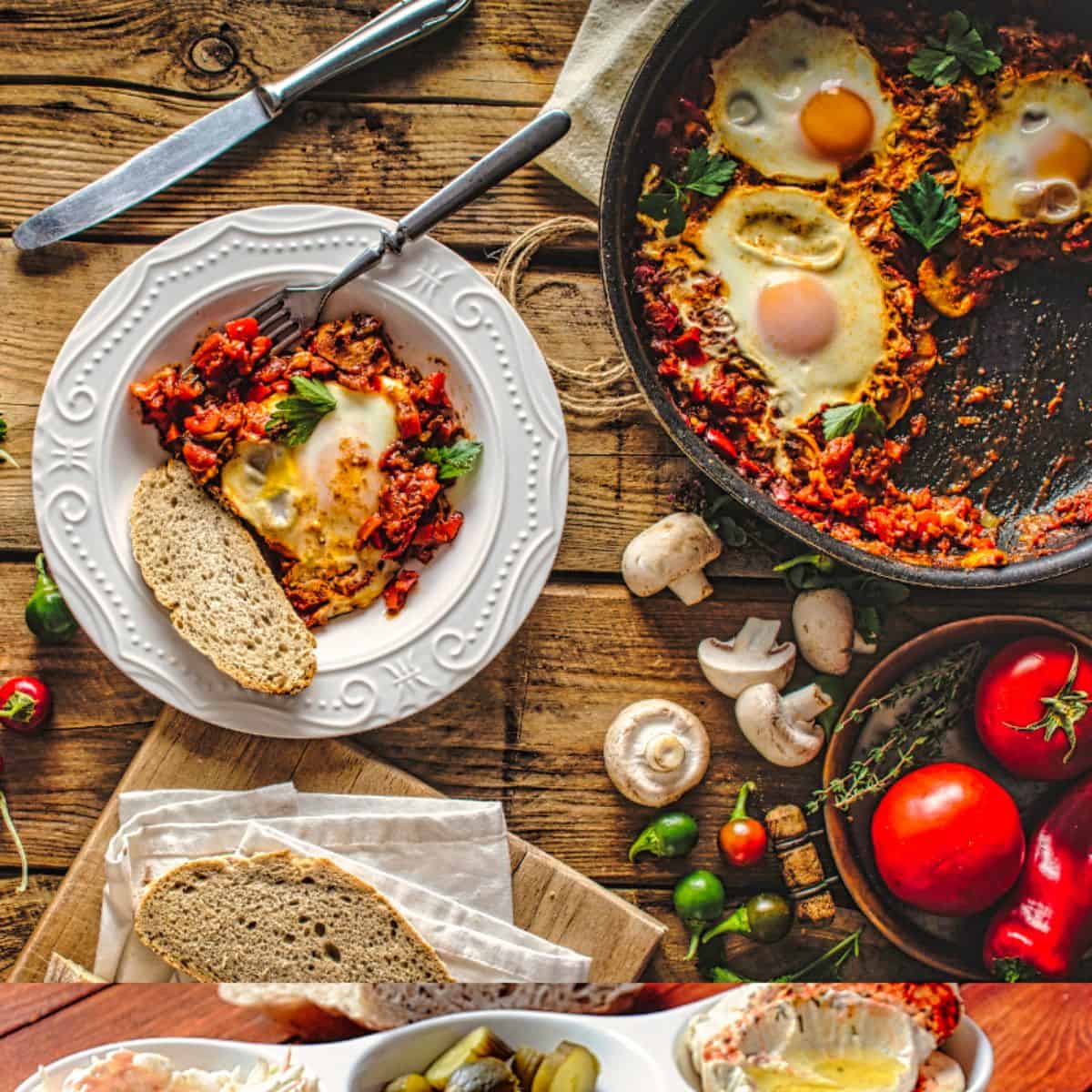 Spanish recipes for Chorizo, or chorizo baked eggs, is a flavorful skillet meal, perfect for breakfast or brunch. Chorizo sausages, eggs, butter beans and peppers are cooked in a tomato based sauce, and served with toast or crusty bread.
Spanish baked eggs with chorizo and beans is a filling and flavorful skillet meal. It's easier to make than it might look, and the dish can easily be adapted to suit your preferences.
Shakshuka is a popular Middle Eastern breakfast dish, where meat and vegetables are cooked together, and then baked in the oven with eggs. It's a very filling and flavorful meal, especially compared to traditional Western breakfasts like toast or pancakes.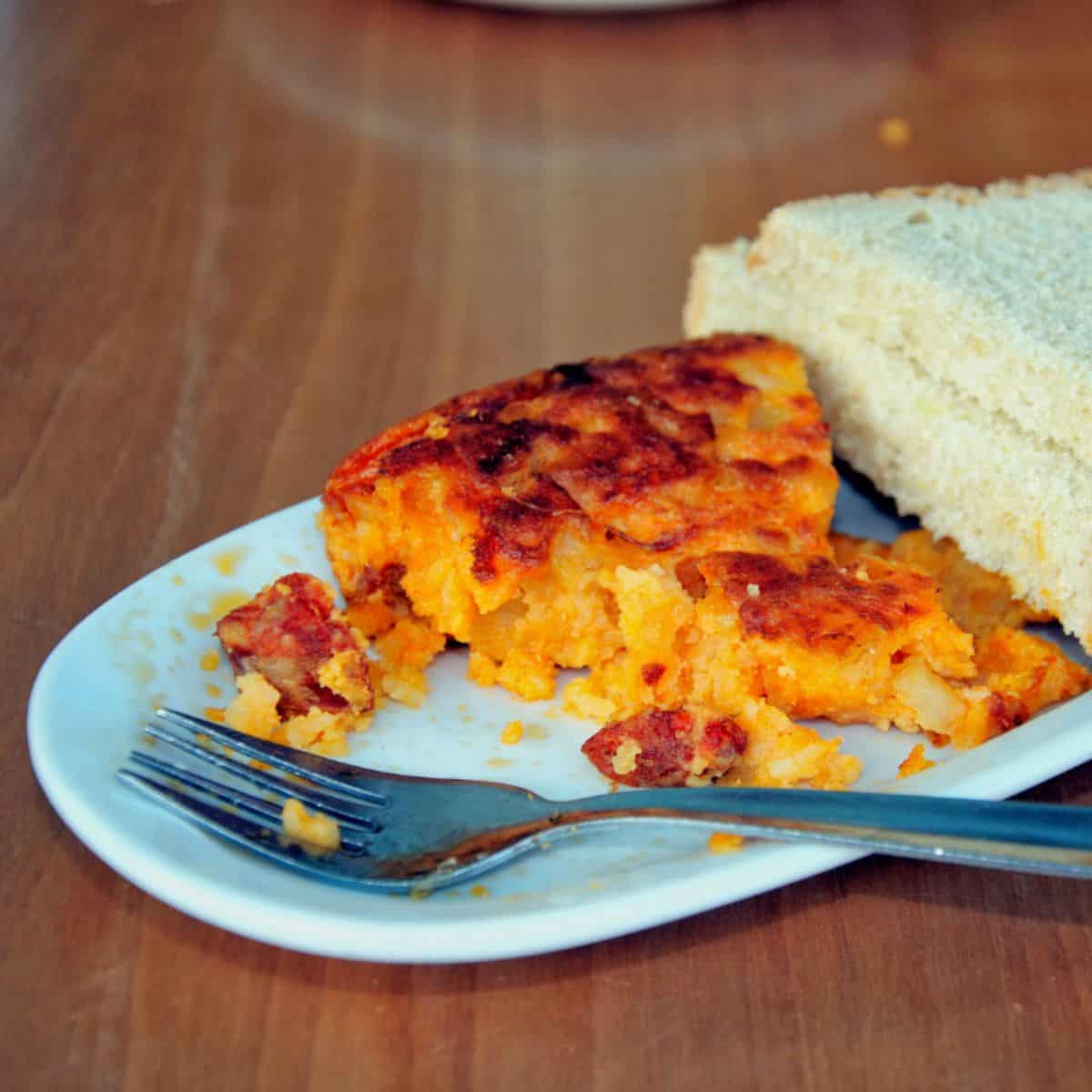 This Spanish recipes for Chorizo will be a hit for your next midweek meal! Made with only pan, you won't believe how quick and easy it will be to make and then clean up afterwards too.
Spanish tortilla made with potatoes is a classic tapas dish! Tender potatoes and creamy gently cooked eggs make for a dish perfect to enjoy hot or cold with a glass of wine.
This is my Spanish recipes twist on the classic – chorizo Spanish tortilla, which adds spicy sausage to the mix! Add a garlicky aioli on top and you have a dish to impress.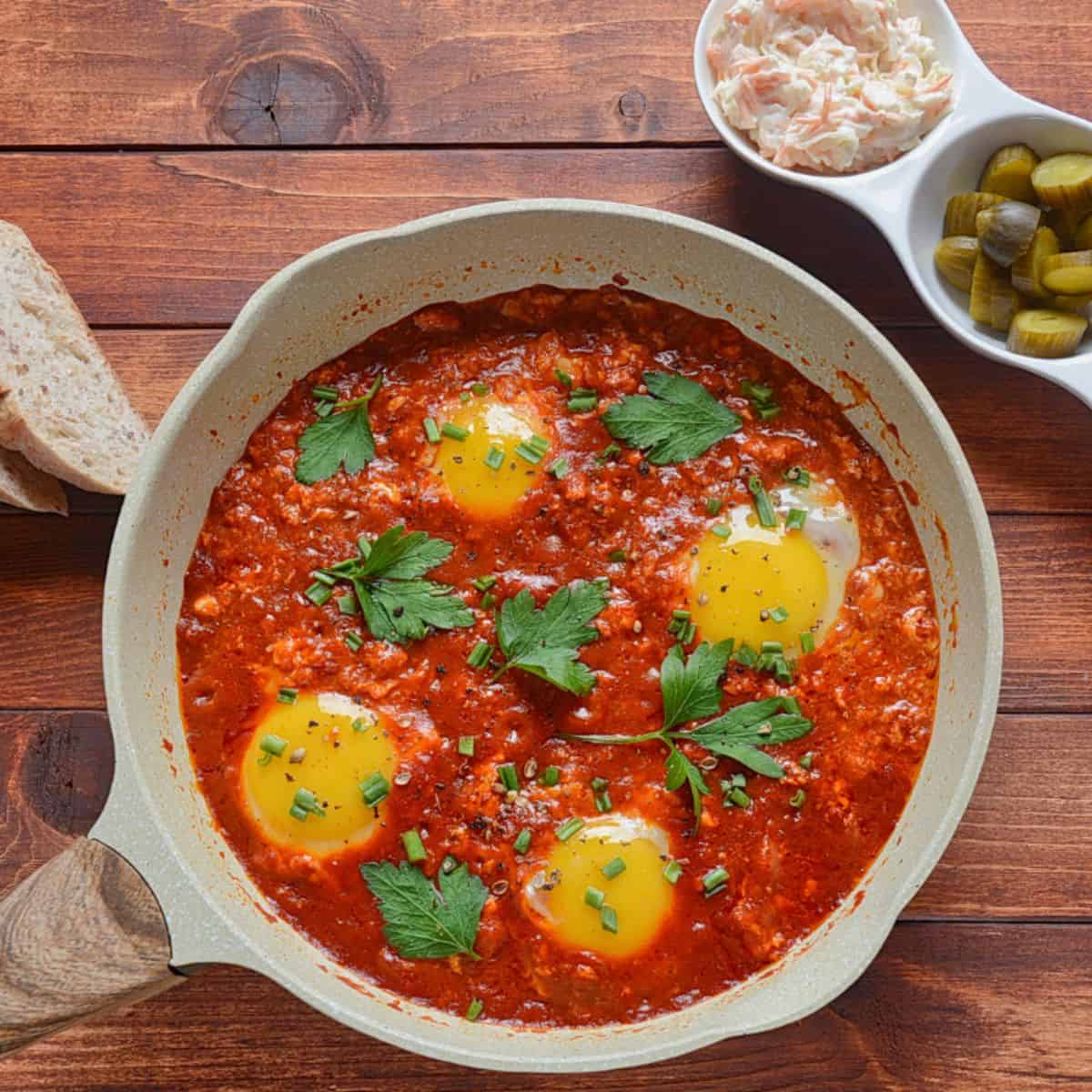 Want a breakfast that'll fuel you for the day? Try these Spanish recipes for Chorizo. These chorizo baked eggs are spicy, warming, and the perfect weekend breakfast.
This is my go-to Spanish recipes for Chorizo when I feel like something hearty and satisfying for dinner that's also good for me. It makes a fantastic brunch option when you have guests too!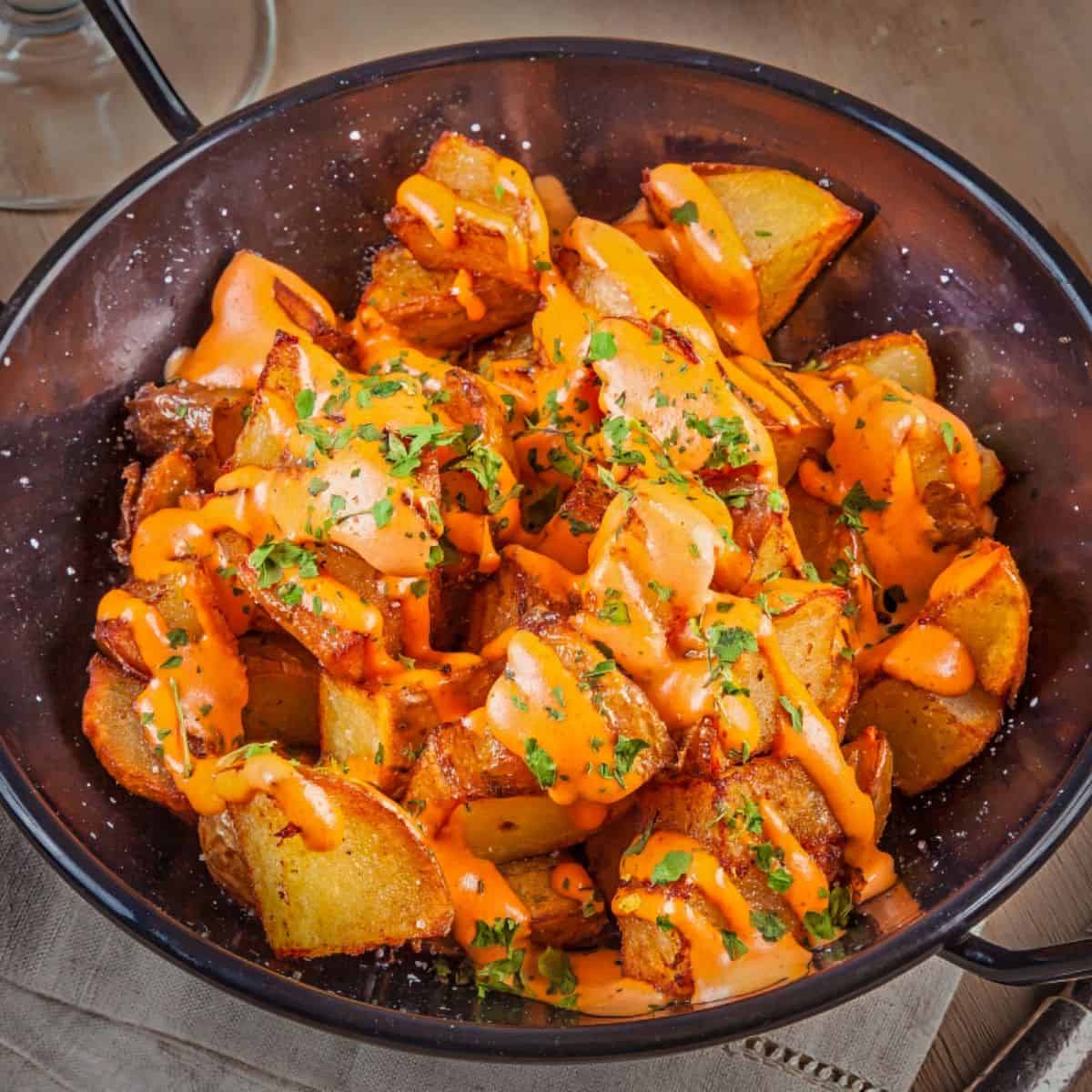 Chorizo potatoes. This is a riff on Patatas Bravas – one of the most famous Spanish recipes for of all time. It's famous for a reason. It's really good. But jack up the flavor with some chorizo. Drizzle it with some homemade aioli or garlic mayonnaise. That's great.
To get this Spanish recipes for Chorizo right you have to get the chorizo right. Funny thing. You need to cook the chorizo to death for this to work. Seriously. It's completely counter-intuitive.
Somewhere along the way it goes from bits of sausage to these little nubbins of concentrated flavor. Sausage flavor bombs. I don't really understand why. But it works. Taste it along the way. You'll see.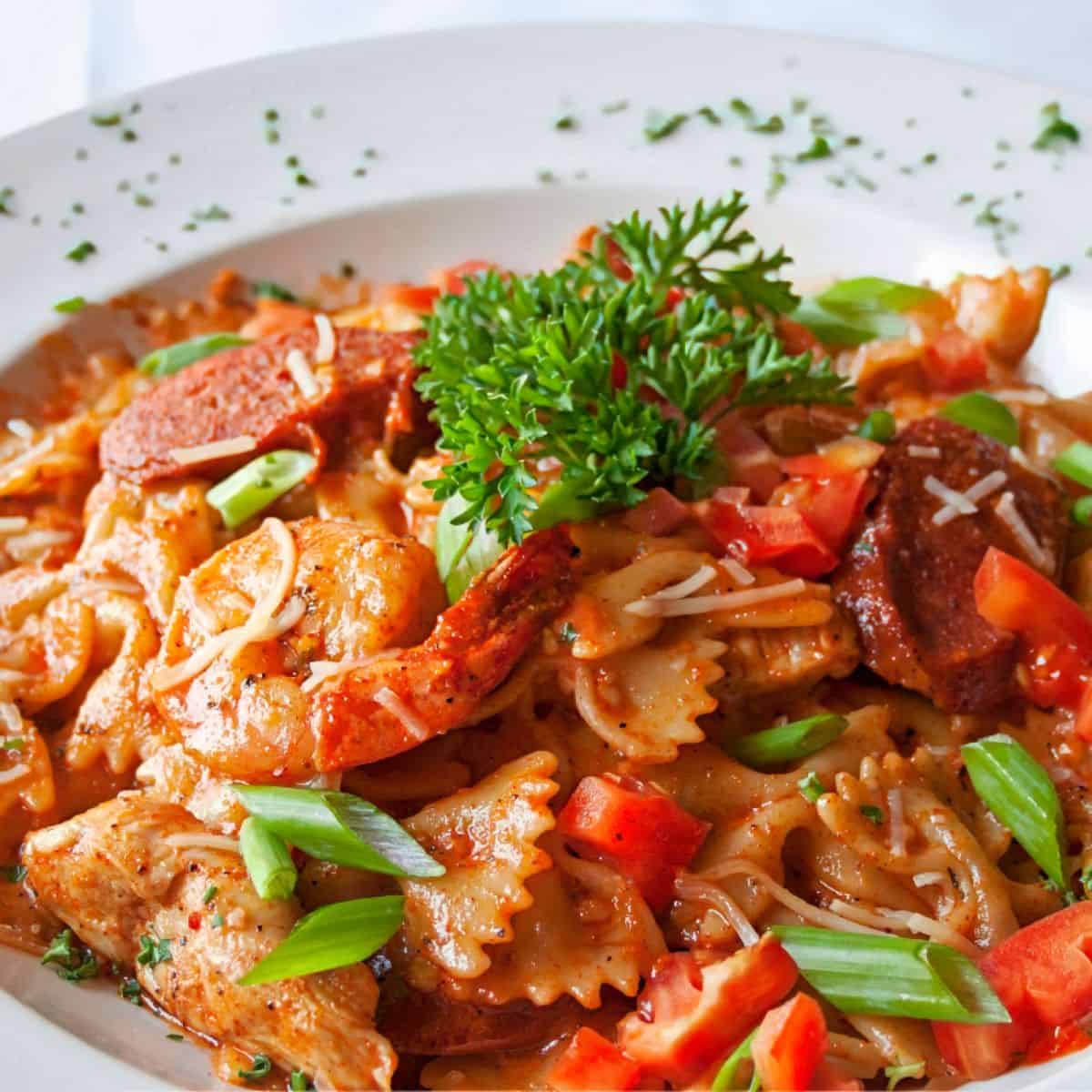 Let's do a Spanish recipes for Chorizo pasta night! Pasta is one of our old comfort foods. Creamy or spicy, they are all delicious. This super-simple Spanish pasta recipe is loaded with chorizo and shrimp. Thick strands of fettuccine get topped with smoky sausage, plump shrimp, and salty olives. The flavorful sauce is mildly spicy and ties the meal together perfecly.
Our Spanish recipes for Chorizo with pasta and shrimp is a recipe that is easy enough to serve on a busy weeknight. It is also classy enough to serve for special dinner guests. Slices of Spanish chorizo and big meaty shrimp swim in a rich flavorful sauce.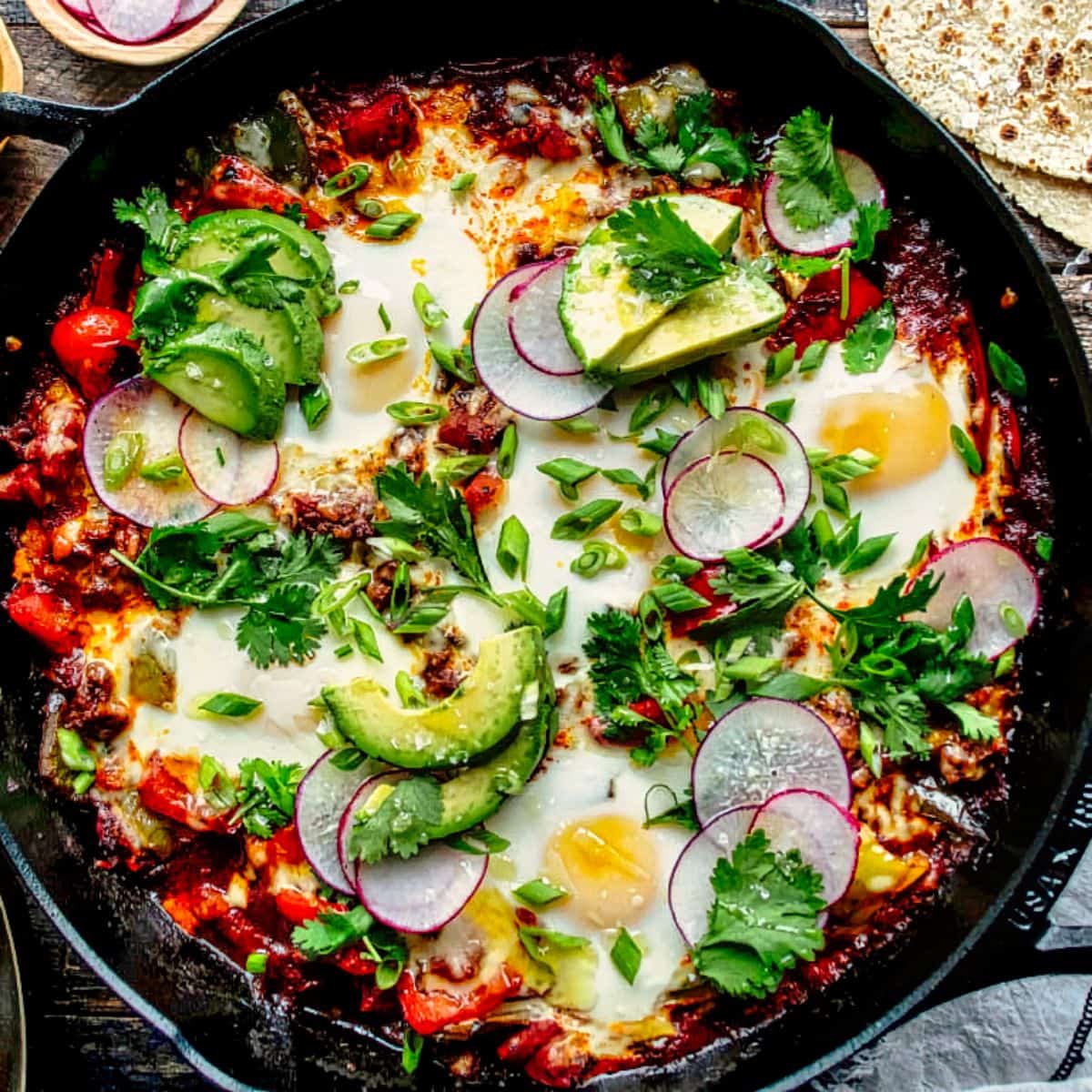 These mexican baked eggs are a new favorite of mine! Pretty much like a mexican-style shakshuka. The entire dish is made in one skillet. In these Spanish recipes for Chorizo the chorizo gets browned, then the onions and peppers get caramelized, then the sauce simmers away.
Once everything comes together, the dish is topped with cheese and a few eggs are cracked over top. The skillet goes into the oven and is baked until the eggs are set. Avocado, radishes, green onions, and cilantro are the vibrant finishing touches. They're the perfect contrast to the rich, spicy flavors.
I like to spoon the baked egg mixture into warm, charred tortillas and eat them just like tacos. So, so good!!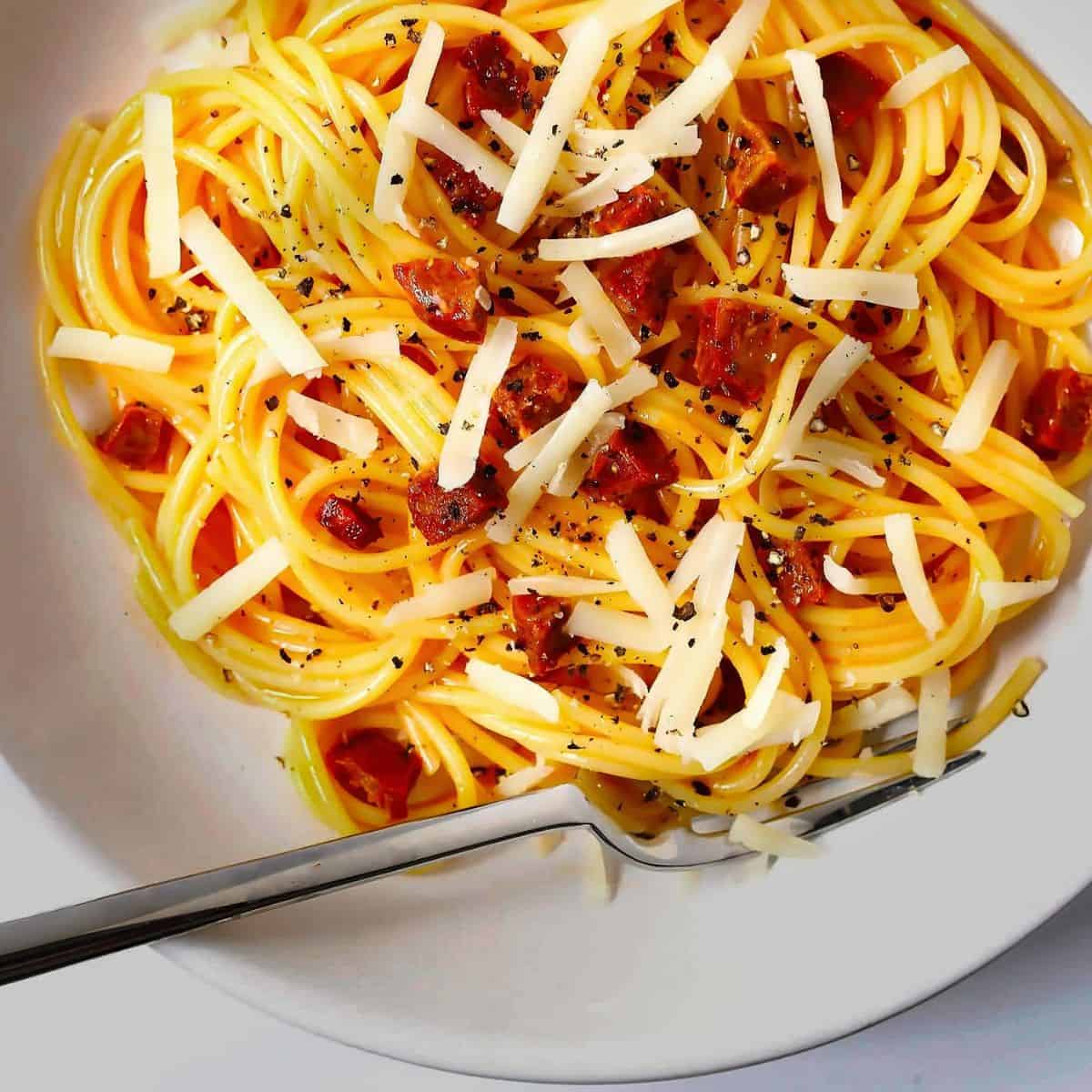 This Spanish Chorizo Spaghetti Carbonara is a super-tasty Spanish twist on the Italian classic, made with lots of zesty Spanish chorizo and Manchego cheese.
And in honor of us being in Rome today as this Spanish recipes for Chorizo goes live, it seemed like the perfect time to share with you my Spanish twist on one of my all-time favorite classic Roman recipes…
…Spaghetti Carbonara!
Made with (yep) all of the Spanish chorizo and Manchego a heart could desire. And even better, ready to go in just about 20 minutes. Perfecto.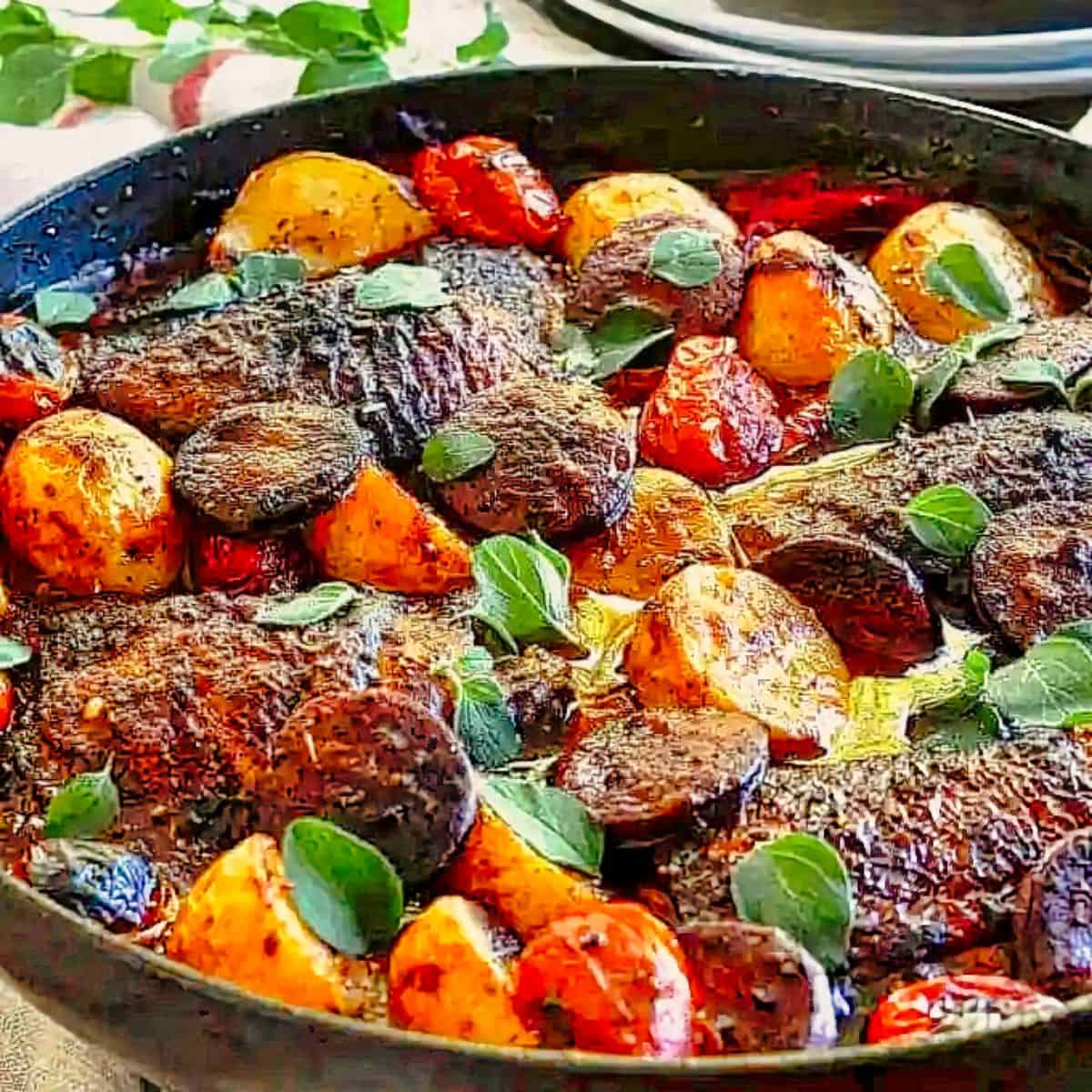 Garlic and paprika are the key flavors in Spanish recipes for Chorizo, and are echoed in the flavor. I used in these Spanish recipes for Chorizo. Potatoes, capsicum and tomatoes add bulk and veggie goodness to make a complete meal that's whipped up and on the table in no time.
The secret ingredient in this is chorizo. Nowadays in Australia, you can get it in all the supermarkets and at delis for not much more than the cost of bacon. But I dare to say it has a lot more flavor than bacon!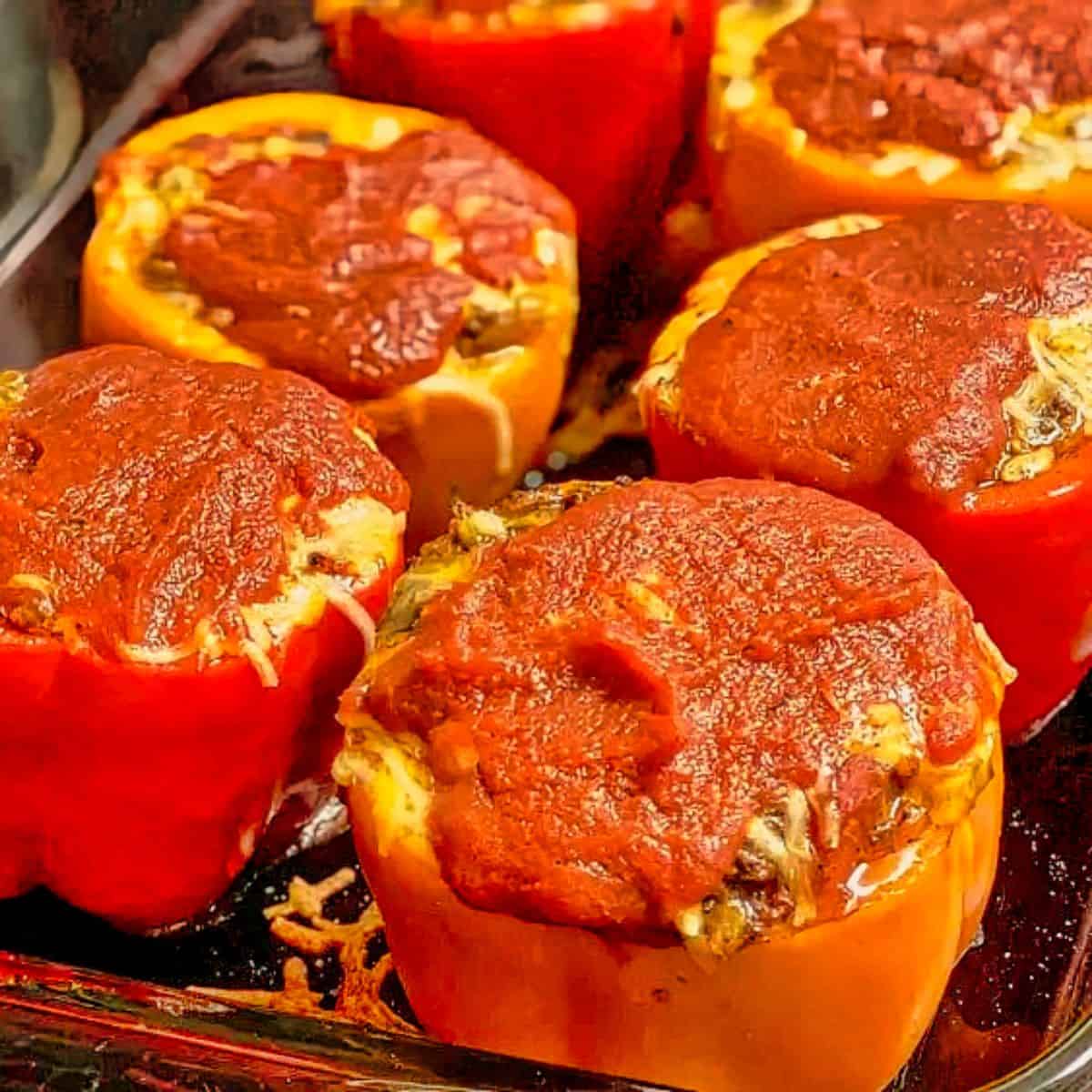 Bell peppers are stuffed with a spicy blend of chorizo, onions, garlic, fresh herbs, Worcestershire, three kinds of cheese, and rice in these Spanish recipes for Chorizo. If you have a taste for spice, you'll love them. Don't let the number of ingredients scare you!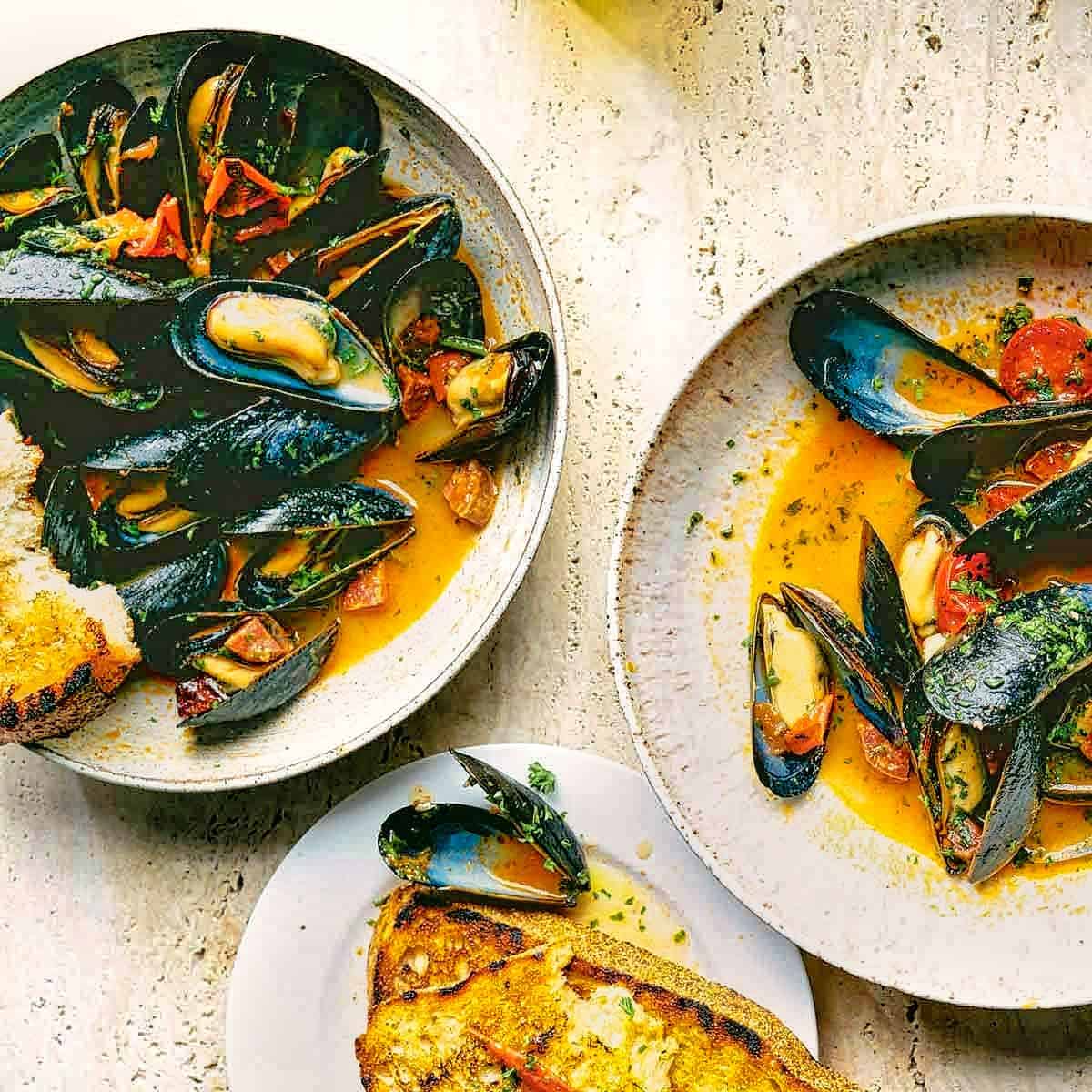 Yes, you can use any pilsner in this recipe—but a Spanish pilsner will take to the chorizo the best. Buy a six-pack so you have a few on hand to drink while you eat. Serve these full-flavored Spanish recipes for Chorizo with a nice green salad to round out the meal.
Steamed mussels with chorizo and tomatoes is not only simple, it's open to some interpretation. Find some mussels, maybe some chorizo, white wine, and a few flavorful additions. Add chile flakes, different spices, a dab of tomato paste, maybe some fennel. You do you–that's the whole point here.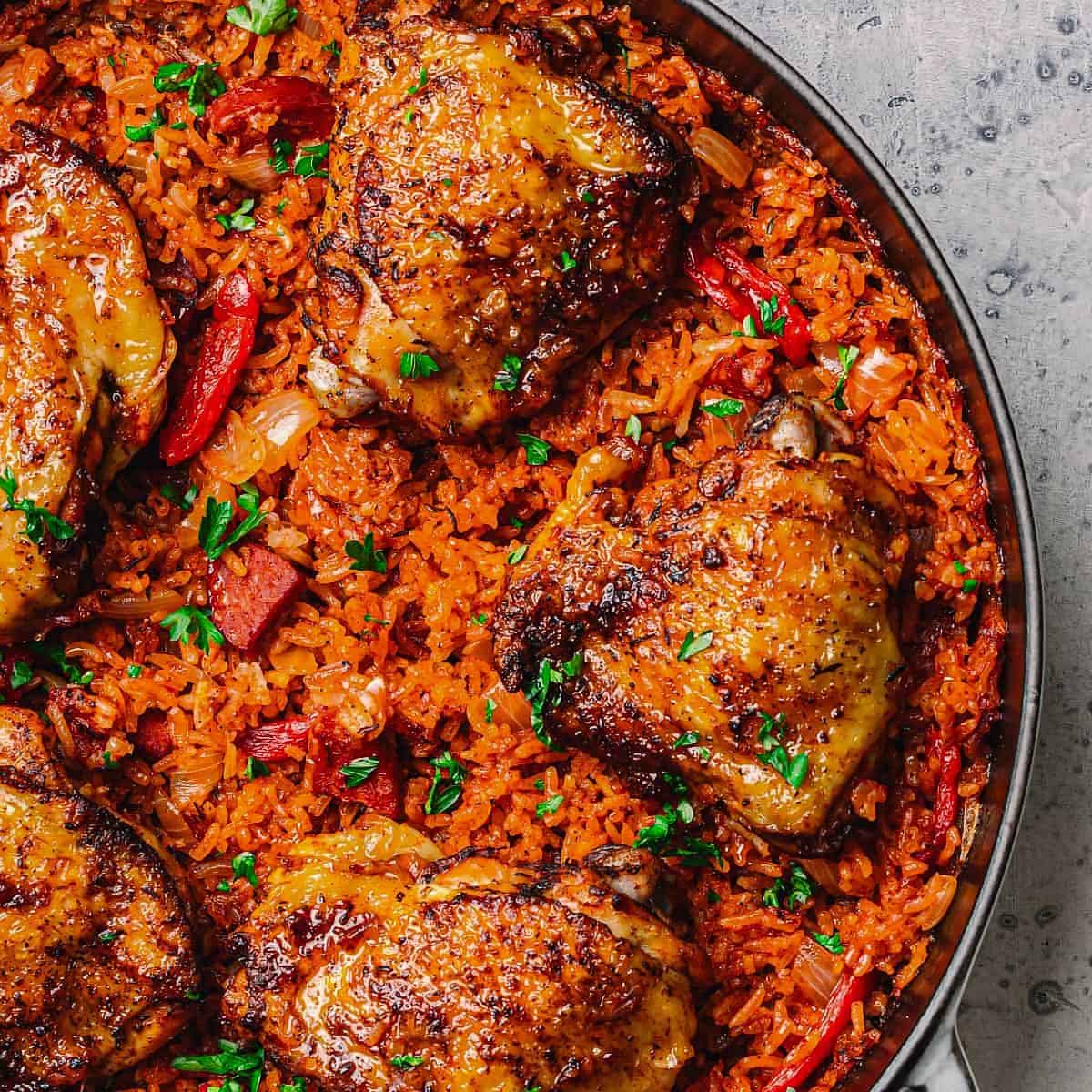 The Spanish recipes for Chorizo and rice recipes are absolutely tasty and easy to make. The chicken, chorizo, and rice are baked together in one pot and perfectly seasoned with aromatic spices. It's a good chicken recipe that you will cook over, and over, and over again!
This chicken and chorizo rice dish is so flavorful and filling. It has all the components of a perfect meal in one pan! The chicken is so tender and the Spanish rice is so fluffy and not mushy!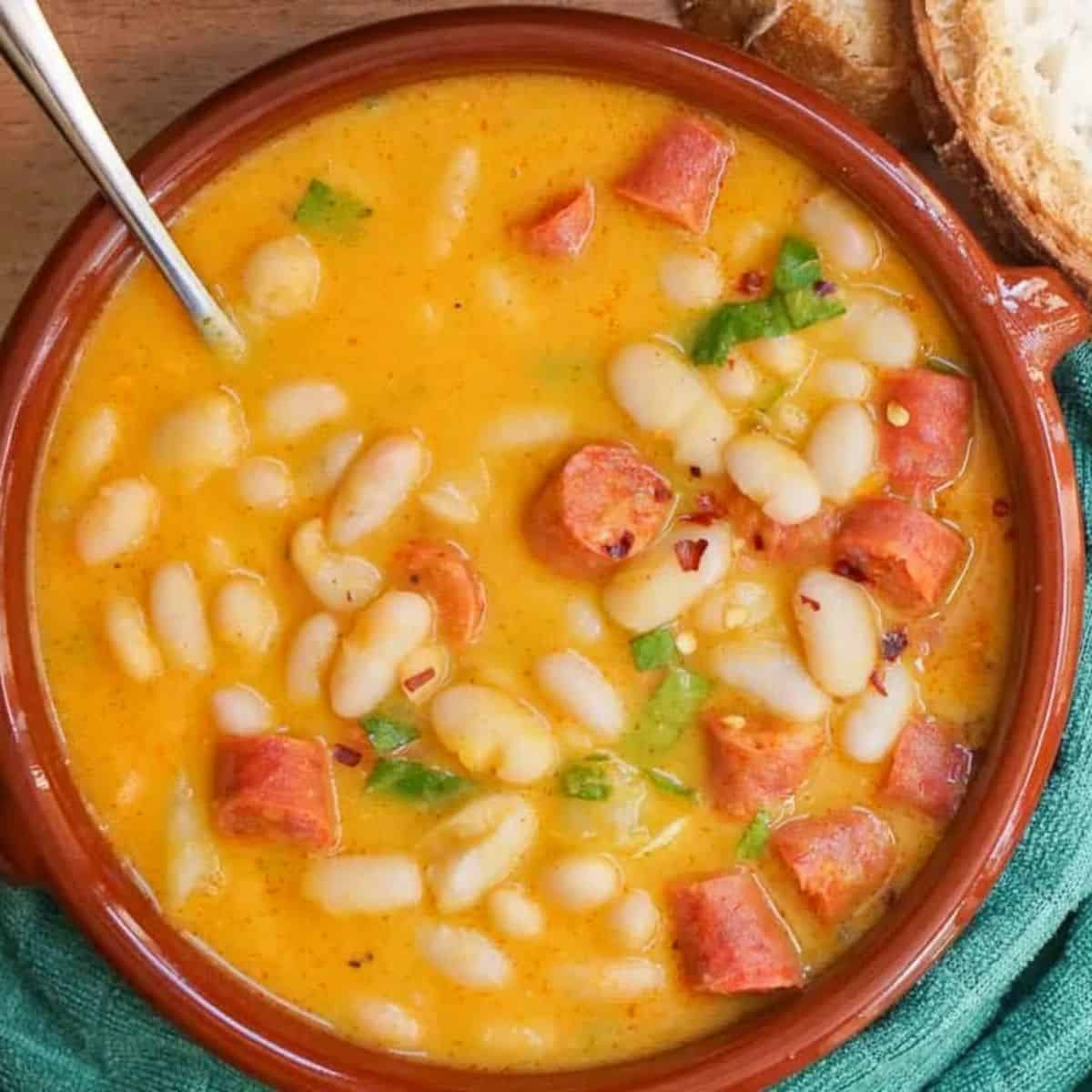 Spanish cuisine is one that specializes in using simple ingredients in a totally tasty way. Many Spanish recipes for Chorizo seemingly only have two or three ingredients. But, to get the flavors right there's a bit more complexity to the recipe. This is just one such recipe.
When I started making this white bean recipe, I tried to copy a traditional fabada recipe. Fabada Asturiana (a region in the north of Spain) is a white bean dish often made with morcilla, which is black sausage, and pork belly. It's a hearty stew where the meat takes the center stage.
---
Want more ideas to round-out your Recipe Box?
A lot of great options are in these posts!
---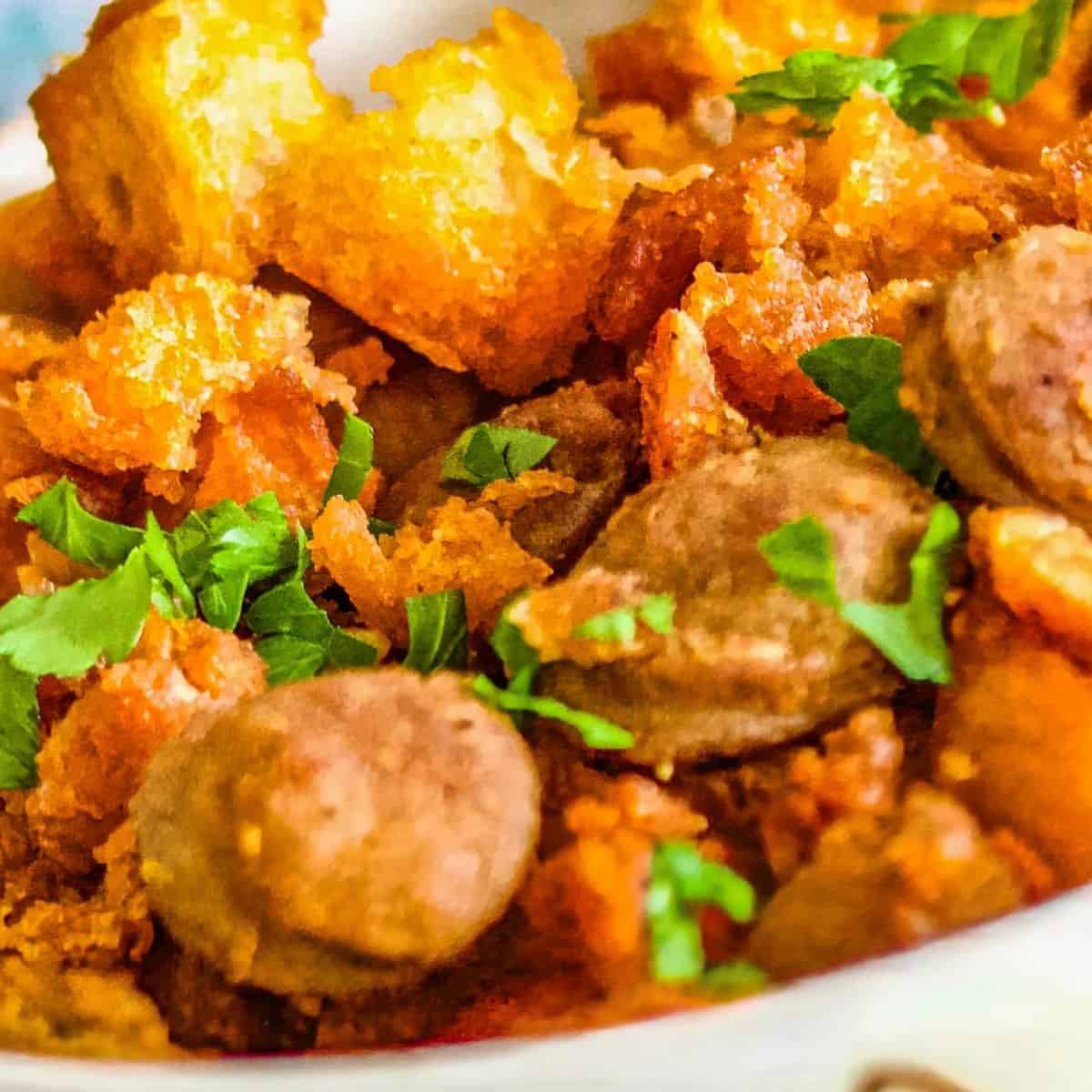 Spanish Migas With Chorizo-Garlic Pan Fried Bread & Chorizo Sausage is a rustic Spanish dish that uses leftover bread pan-fried together with sausage.
The Spanish recipes for Chorizo are made in heaven and sent by God to us to enjoy it! For the ones who do not know what Spanish Migas means, this is the name of an ancient dish that is very traditional in Spain and Portugal.
The dish was cooked for breakfast using leftover bread, but over time, Migas became a fashionable dish that was served for lunch or dinner in many Spanish restaurants.
I was recently sent some olives to try from 'Olives from Spain'. Now, I never used to like olives but since going to Spain and Greece I've got to love them! So I had to find some Spanish recipes for chorizio to go with the olives.
Olives have been around for thousands of years, appearing in one of the earliest cookbooks ever discovered! This was a 2000- year old text by a Roman named Apicius.
Olive oil has traditionally been used as fuel and was even used to light the earliest Olympic Torch.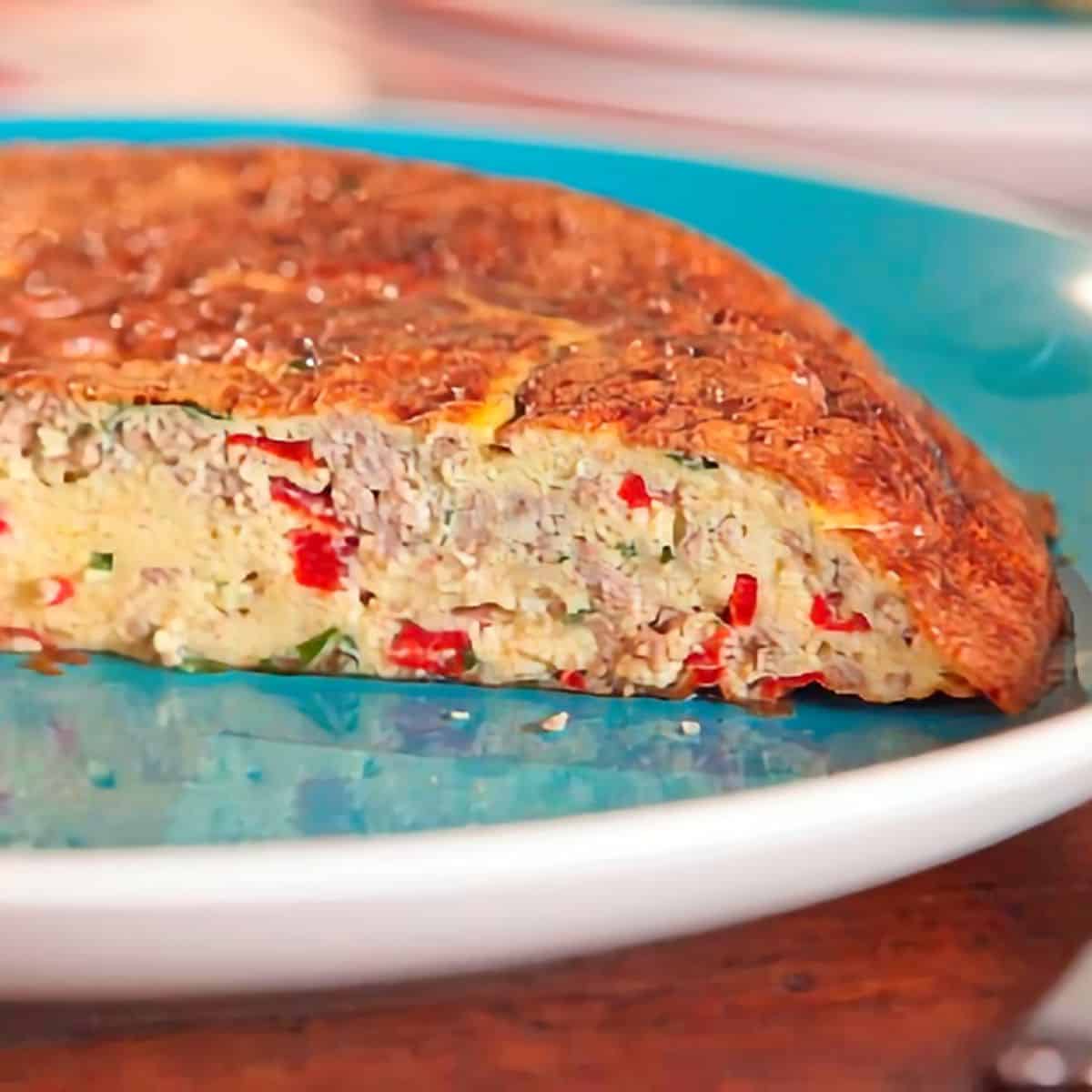 The Spanish recipes for Chorizo here serves 6-8 · Spanish Tortilla with Chorizo, Piquillo Peppers and Gurroxta Cheese recipe.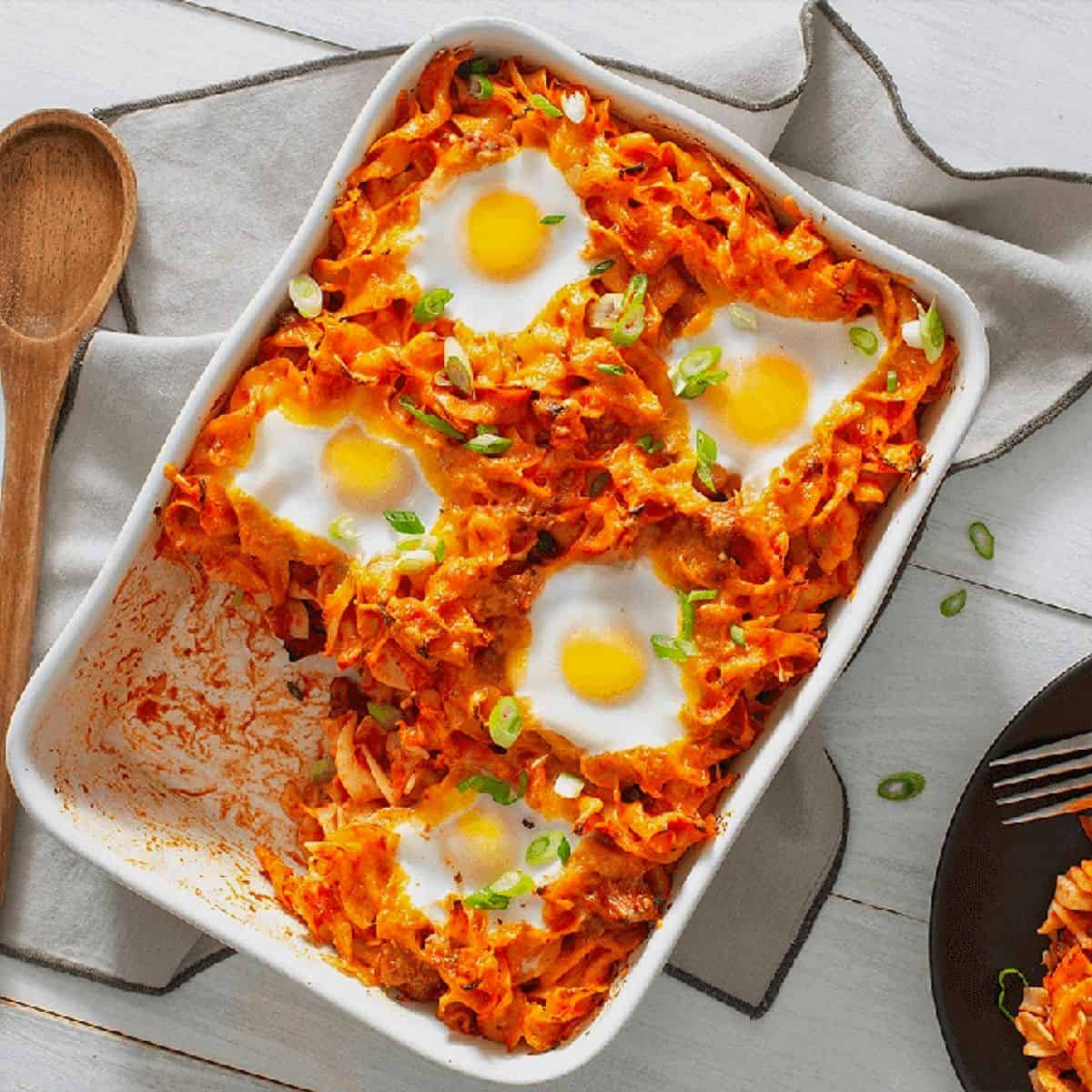 This impressive Chorizo and Egg Breakfast Casserole makes the perfect hearty weekend breakfast or brunch. With a little imagination and lots of No Yolks®, any recipe can be turned into a delicious casserole bake, and this recipe proves just that!
These types of Spanish recipes for Chorizo contain No Yolks Extra Broad, eggs and sausage make a meal that has all the F's of a good meal: filling, fun and flavorful! If you've never considered having a baked casserole for breakfast, this recipe is here to show you what you've been missing for so long!
We guarantee it will be family approved – even by the pickiest eaters.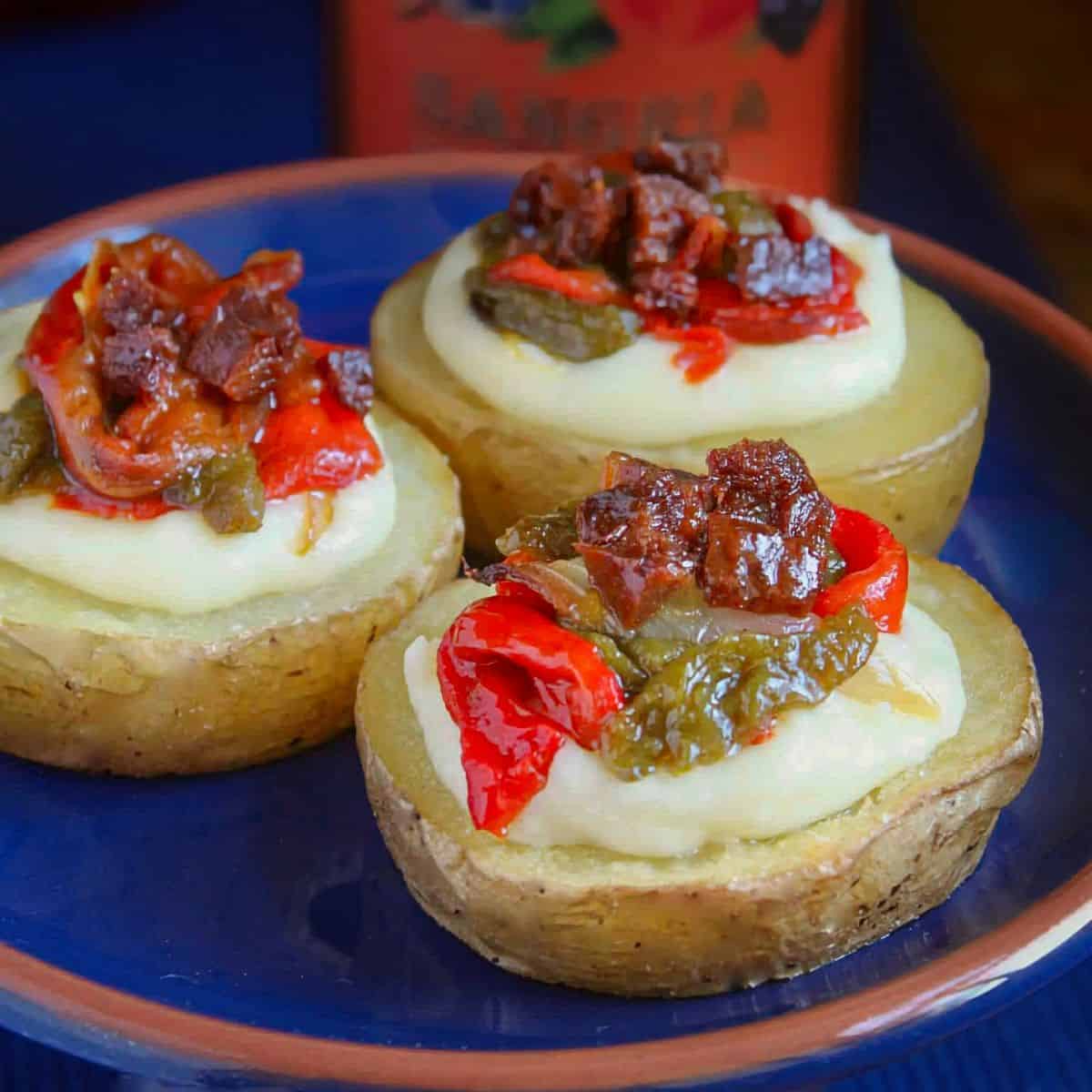 This particular choice is one of the Spanish recipes for Chorizo from my daughter. This is the one with chorizo and potato with cheese my daughter raved about and re-created when she came back from her latest trip to Barcelona. It was a hit with everyone who tasted it!
Hola! Welcome to lesser-known, non-alliterative Denisa's Cucina! It's typical that the one recipe I get to post on my mom's site is one that you can't really mess up, but I promise, I can cook!
You might think that my mother is the food and travel expert here, but did you know that her latest excursion to Portugal was inspired by a 30 euro Ryanair flight taken by Yours Truly?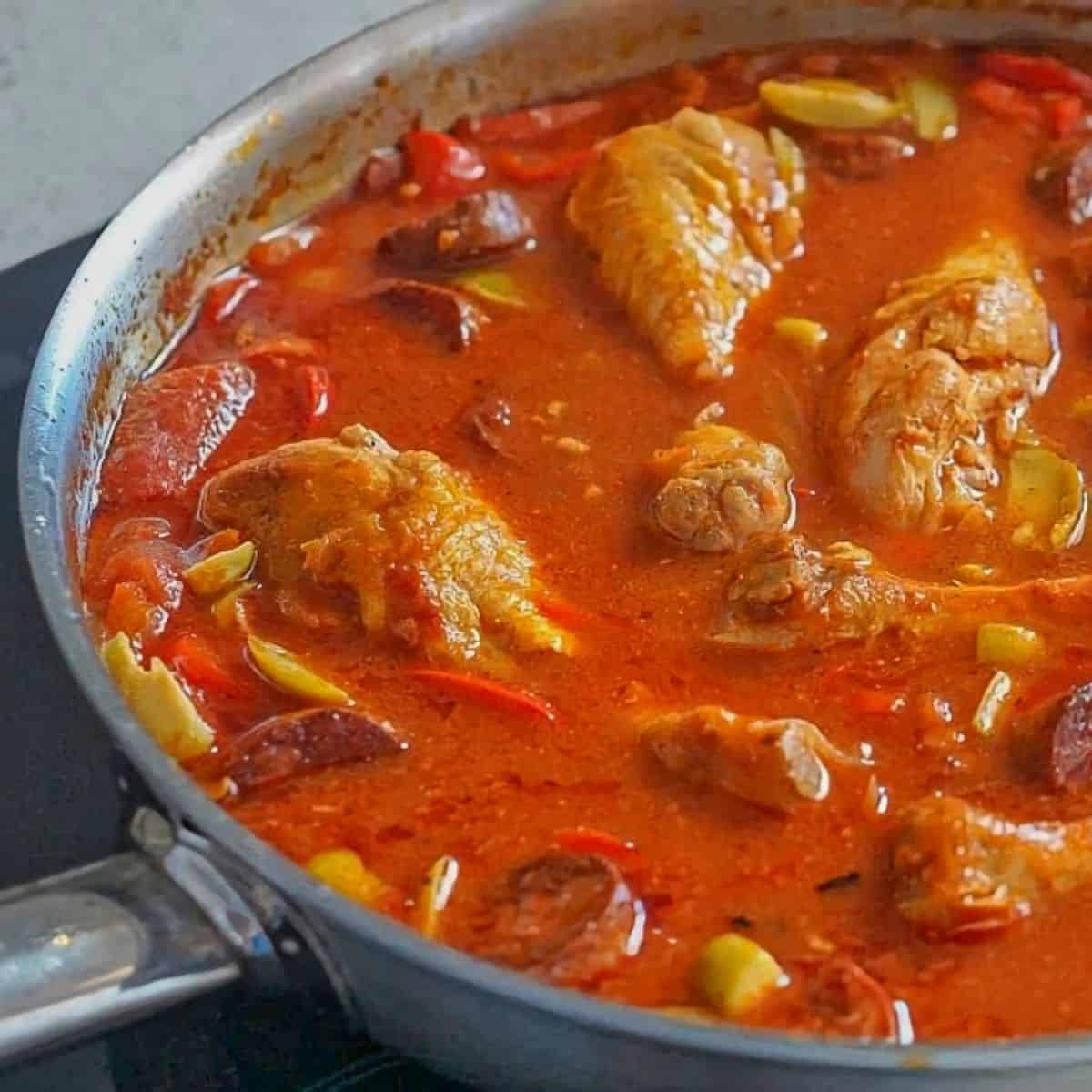 Spanish recipes for Chorizo are simple to prepare (with little prep time), tastes delicious, and leaves plenty of leftovers for lunch the next day (important!). It's hearty on a cold winter's eve, but not so heavy that you can't enjoy it in summer either, served alongside a refreshing Spanish salad.
Plus, it's full of the Spanish flavors that I love. Paprika, garlic, olives, and tomato all combine with chicken and chorizo to bring the flavor of Spain into your kitchen. It's an easy choice for the middle of the week, and you can substitute many of the ingredients for whatever you have lying around in your pantry!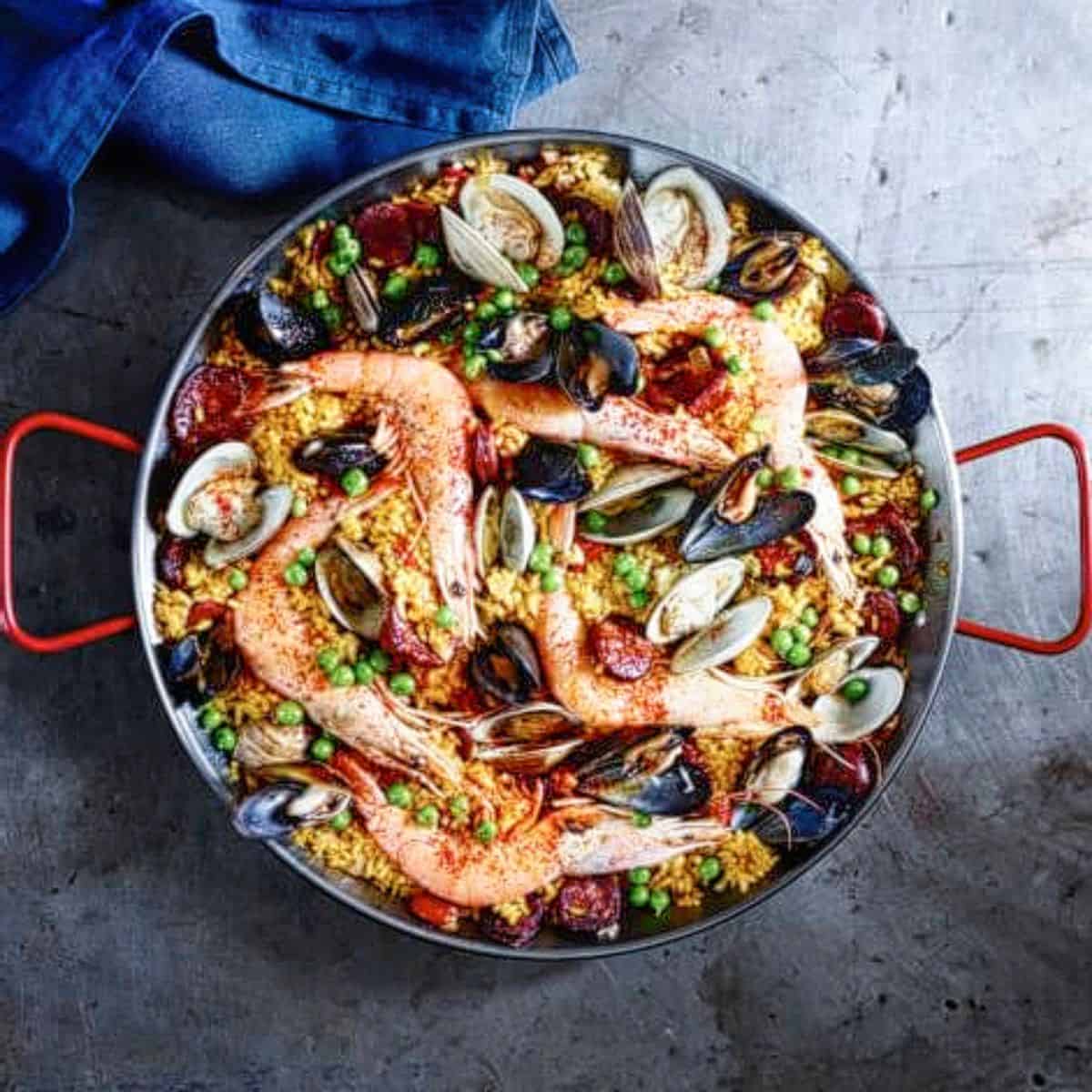 Chock-full of three kinds of seafood plus spicy chorizo, this Spanish paella will satisfy a hungry crowd. The Spanish recipes for Chorizo calls for Bomba rice, a short-grain Spanish rice that is prized for its ability to absorb almost three times its volume in liquid, while the grains still remain firm and delicious, but any sort of Spanish paella rice will do.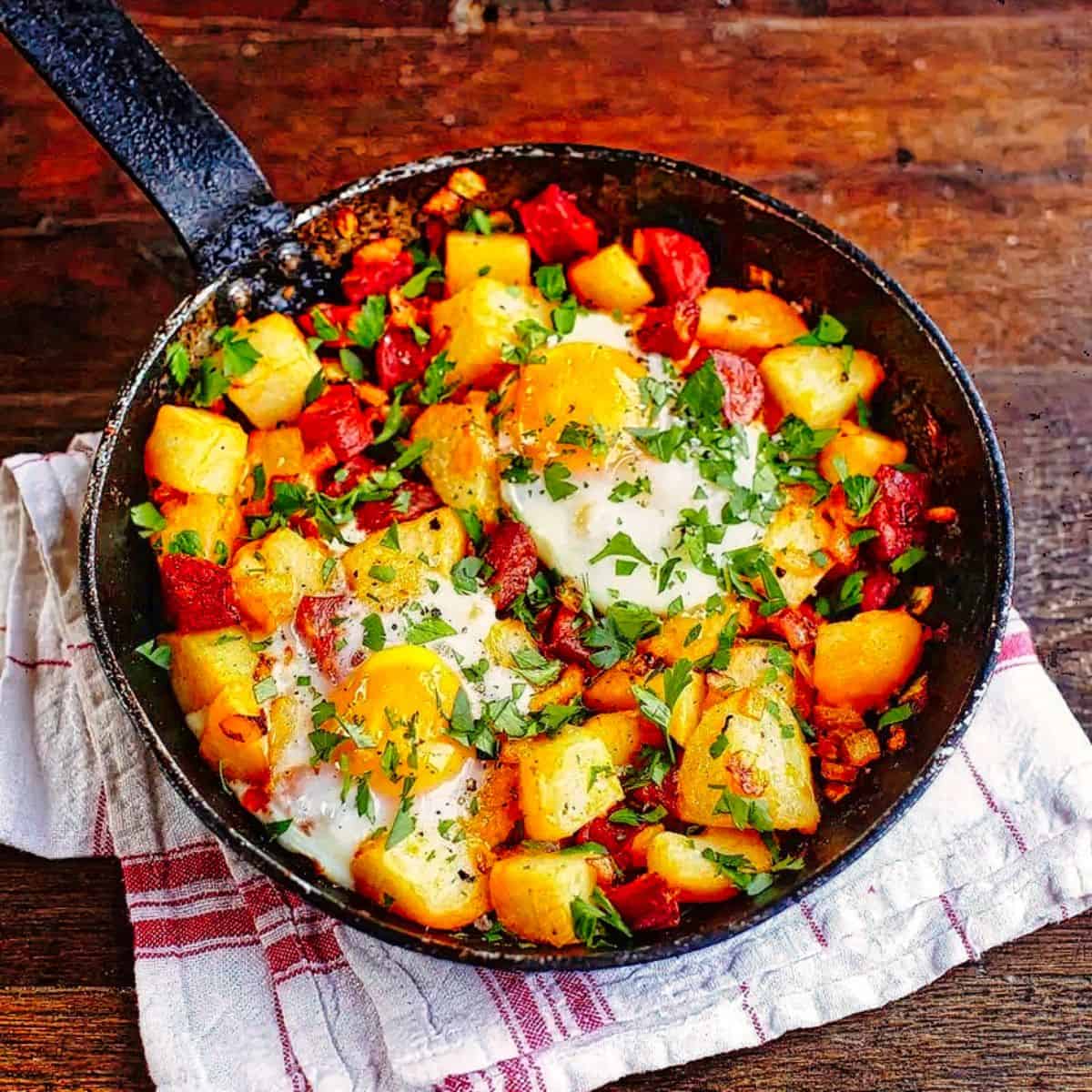 Our Mediterranean inspired plate of tender cod paired with crispy chorizo, sautéed potatoes and charred sweet red peppers is one of my go to Spanish recipes for Chorizo for the perfect supper. The saffron and garlic aioli provides a cooling dip for the potato hash and a squeeze of lemon refreshes the dish and brings all the Mediterranean flavors to life.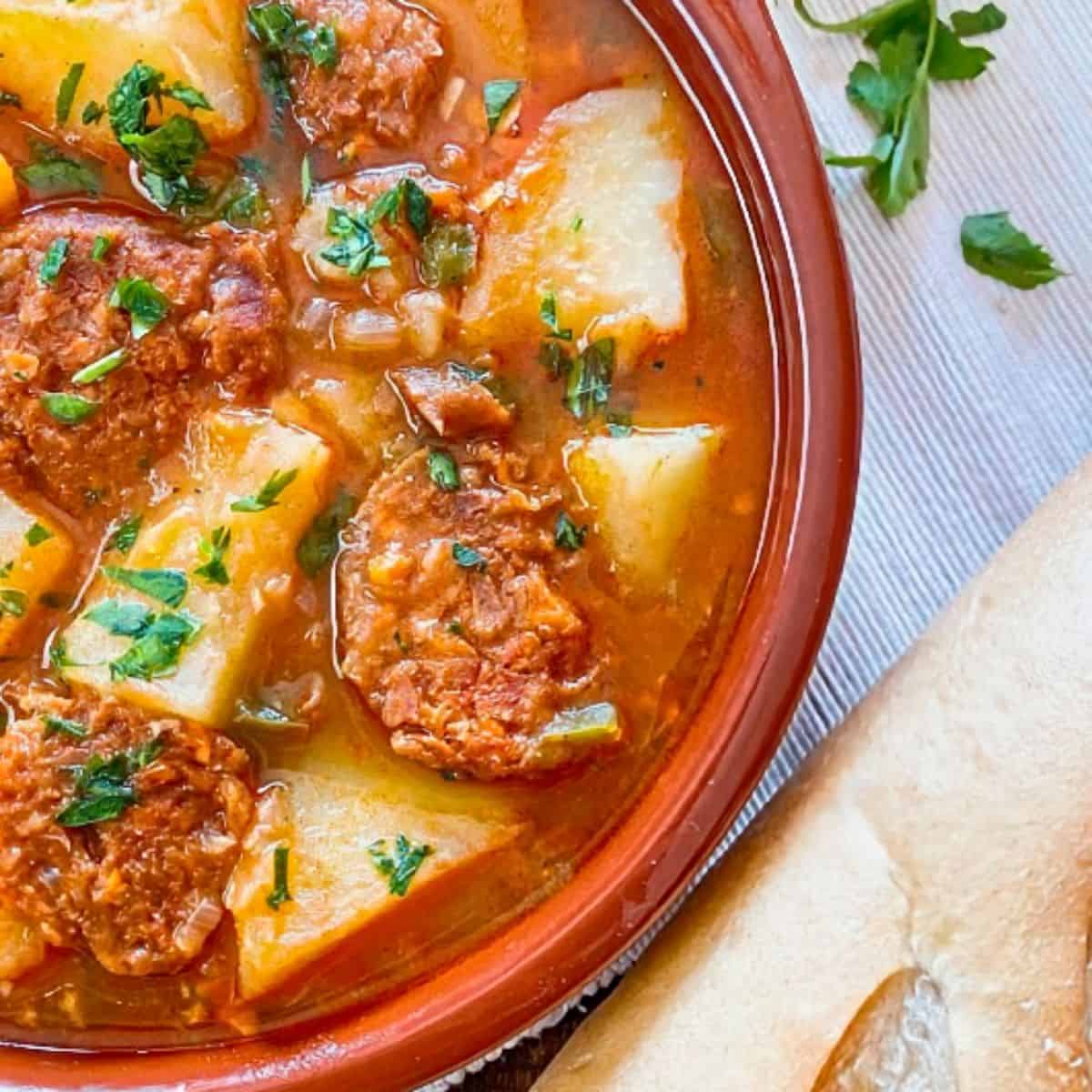 These Spanish recipes for Chorizo are known here in Spain as ¨Patatas a la Riojana¨. A very typical dish from the wine region of La Rioja in northern Spain. Normally, this stew is served for la comida (lunch) as the second course of a menu, with the first course being a salad. But you can certainly enjoy it for dinner or even a weekend breakfast.
This Spanish Chorizo & Potato Stew is one of Spain´s most classic dishes ever. It´s loaded with flavors, super easy to make and promises to fill your body with so much goodness. Serve it next to a crunchy baguette and a bottle of Spanish wine from La Rioja, for the ultimate Spanish experience.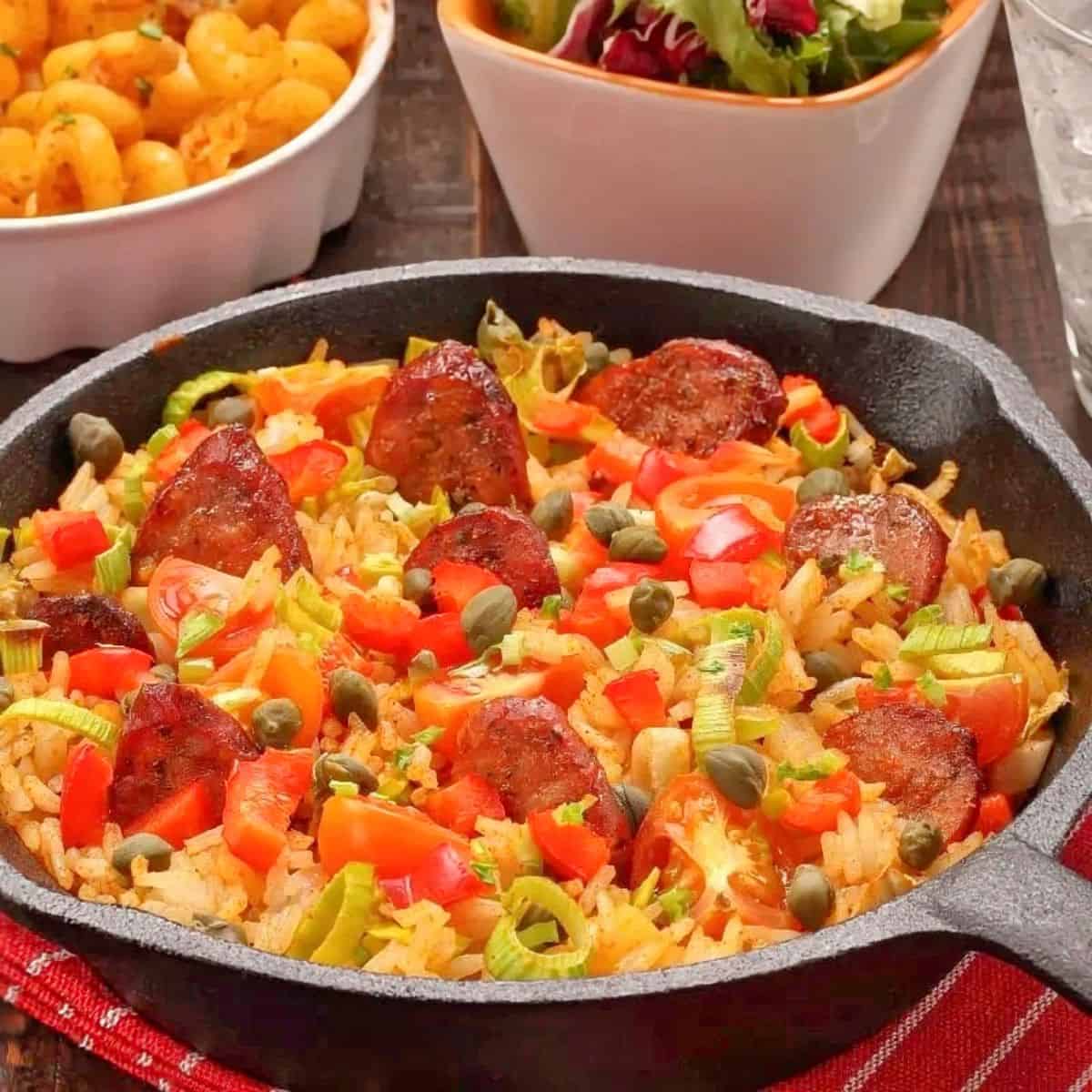 This should come as no surprise, as these Spanish recipes for chorizio are easy to make and are made with common ingredients.
If you like rice and want to raise its level, or if you simply like Andalusian recipes, then you are in the right place!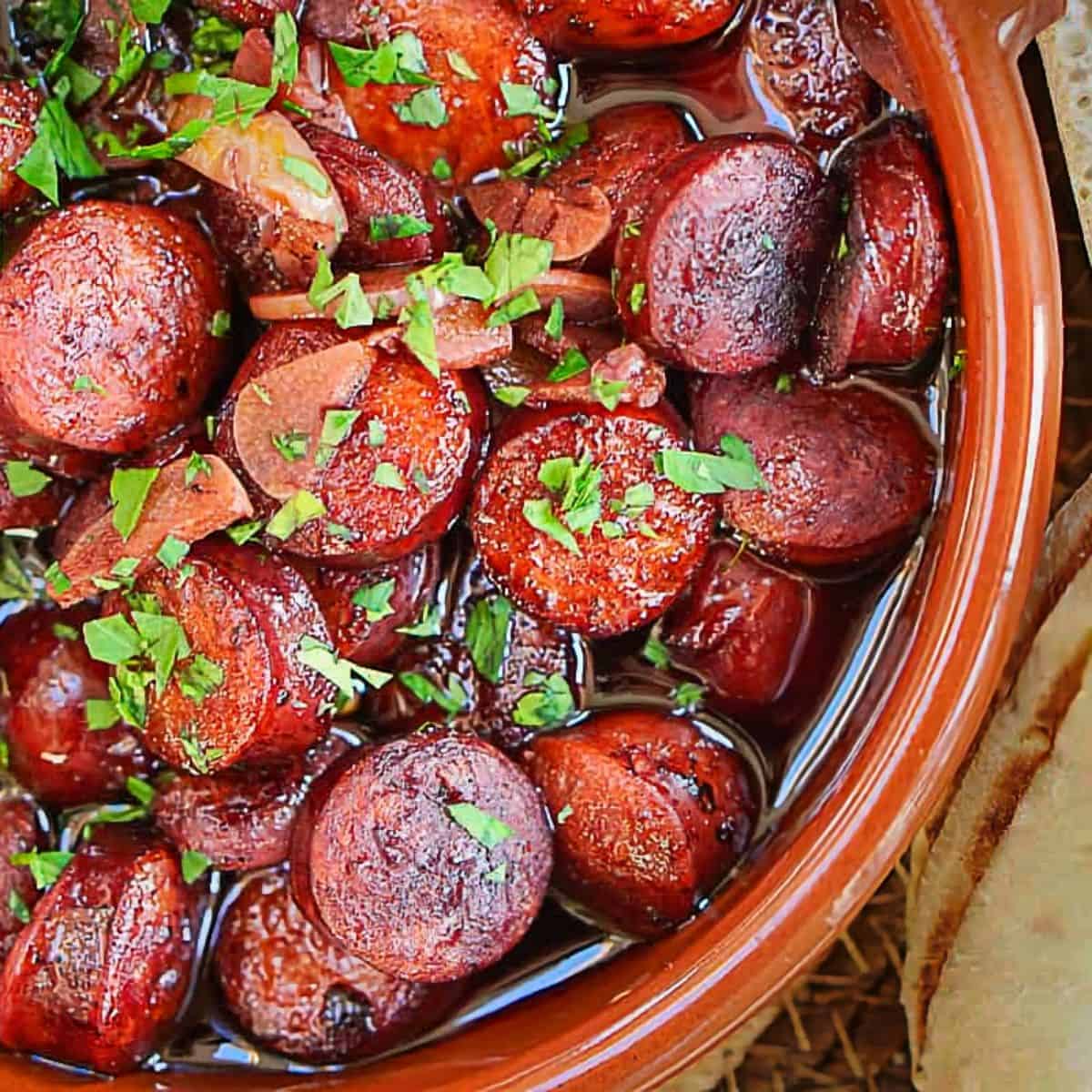 This chorizo al Vino Tinto recipe is a classic tapas recipe for Spanish chorizo in red wine. It's common at tapas bars in Spain and easy to make at home with only 6 ingredients. I learned to make Spanish recipes for Chorizo dish when we lived in Spain and now make it when we do tapas nights.
There is something about the fattiness and the spiciness of the chorizo and the flavor of red wine that goes so well together. It's often served tapas-style at bars in Spain, normally alongside crusty bread to sop up all the juices. Being a lover of all things pork, this is easily one of Eric's favorite snacks in Spain.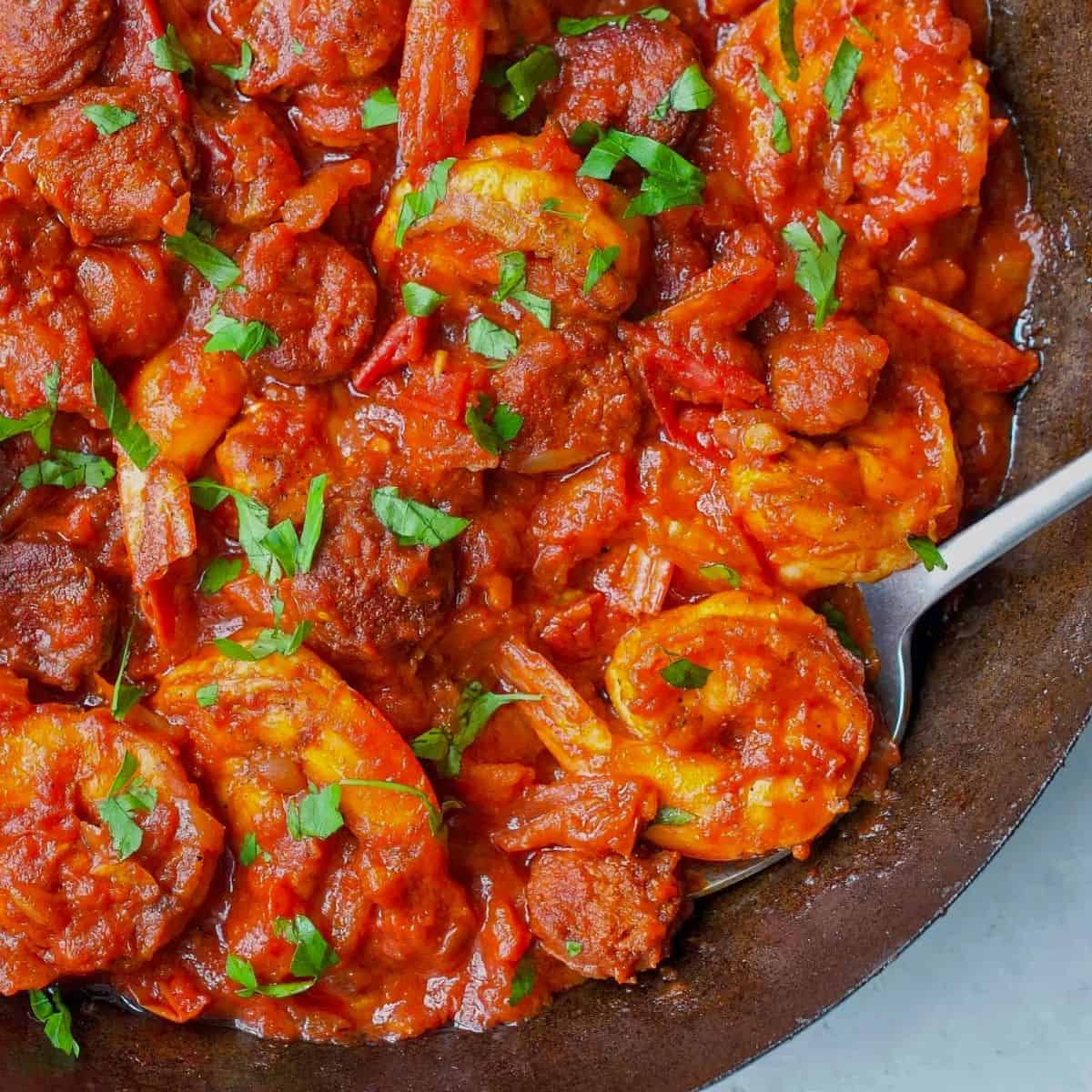 This is a spin on a Spanish recipes for Chorizo that I love to order in Spain. It's usually served as a tapa with a big chunk of crusty bread on the side to scoop up the rich sauce. I love the combination of juicy pan seared shrimp and spicy sausage smothered in a simple tomato sauce that's loaded with garlic, onion and paprika.
This Spanish Chorizo and Shrimp is a one pan 30-minute meal that uses primarily pantry staples and is perfect for an easy weeknight meal. The shrimp are pan seared and tossed with spicy chunks of chorizo sausage in a rich tomato sauce.