Parisian foods and all popular French foods are found in Paris. It is a central region where almost anything from the country is available, as all train lines meet in the city. Over 9,000 restaurants exist in Paris and almost any cuisine can be obtained there.
Parisian Foods
★ Paris is a food lover's dream come true. Cheese and wine are a major part of the French cuisine. There are many dishes that are considered part of French national cuisine today.
★ A meal often consists of three courses, hors d'œuvre or entrée (introductory course, sometimes soup), plat principal (main course), fromage (cheese course) or dessert, sometimes with a salad offered before the cheese or dessert.
★ French regional cuisines use locally grown vegetables, such as pomme de terre (potato), blé (wheat), haricots verts (a type of French green bean), carotte (carrot), poireau (leek), navet (turnip), aubergine (eggplant), courgette (zucchini), and échalotte (shallot).
★ They use locally grown fungi, such as truffe (truffle), champignon de Paris (button mushroom), chanterelle ou girolle (chanterelle), pleurote (en huître) (oyster mushrooms), and cèpes (porcini).
★ Common fruits include oranges, tomatoes, tangerines, peaches, apricots, apples, pears, plums, cherries, strawberries, raspberries, redcurrants, blackberries, grapes, grapefruit, and blackcurrants.
★ Varieties of meat consumed include poulet (chicken), pigeon (squab), canard (duck), oie (goose, the source of foie gras), bœuf (beef), veau (veal), porc (pork), agneau (lamb), mouton (mutton), caille (quail), cheval (horse), grenouille (frog), and escargot (snails). Commonly consumed fish and seafood include cod, canned sardines, fresh sardines, canned tuna, fresh tuna, salmon, trout, mussels, herring, oysters, shrimp and calamari.
★ Eggs are fine quality and often eaten as: omelettes, hard-boiled with mayonnaise, scrambled plain, scrambled haute cuisine preparation, œuf à la coque.
★ Herbs and seasonings vary by region, and include fleur de sel, herbes de Provence, tarragon, rosemary, marjoram, lavender, thyme, fennel, and sage.
★ Fresh fruit and vegetables, as well as fish and meat, can be purchased either from supermarkets or specialty shops. Street markets are held on certain days in most localities and some towns have a more permanent covered market enclosing food shops.
Popular French Foods
There are many dishes considered part of French cuisine . Some dishes are considered universally accepted as part of the national cuisine, while others fit into a unique regional cuisine.
There are many dishes that are considered part of the French national cuisine today. Many come from haute cuisine in the fine-dining realm, but others are regional dishes that have become a norm across the country. Below are lists of a few of the more common dishes available in France.
BREADS
Twine – a thin baguette, Baguette, Flute – a thicker baguette, Ball – a 'ball', Country bread, Soft Bread
DESSERTS AND PASTRIES
Creme Brulee, Croquembouche, Apple crisp, Macarons, Madeleine, Chocolate Mousse
SOUPS AND STEWS
Bisque, Bouillabaisse, Consommé, French onion soup, Pot-au-feu, Ragout, Ratatouille, Tourin, Vichyssoise
CLASSIC FRENCH DISHES IN PARIS
Duck: The French have been cooking duck for centuries, and there are many ways to cook every part of the animal.
Crêpes & Galettes: There's really nothing more Parisian than a savory galette or sweet crêpe for lunch or dinner!
Snails: Escargot is one of those French dishes that most foreigners are hesitant to try.
Steak Tartare: A meat dish made from raw ground beef. It is usually served with onions, capers, pepper, Worcestershire sauce, and other seasonings which are served on the side to be added for taste.
French Onion Soup: Originated in France and made with caramelized onions, beef broth, white wine, bay leaves and thyme
Boeuf Bourguignon: A good Boeuf Bourguignon is a dish that should take over 24 hours to make, slow-cooking in a bouquet of herbs and vegetables, marinating in all those delicious flavors, slowly being infused with wine and stock.
Frogs Legs: Cunning monks who were forced into a "no-meat" diet managed to have frogs classified as fish.
Steak and Fries: Traditional, no frills attached, classic French food.
Tartiflette: French potato, bacon, and cheese casserole
Fondue: Get seriously cheesy, dip potatoes in it, breads, anything your heart desires
History of French Cuisine
French cuisine developed throughout the centuries influenced by the many surrounding cultures of Spain, Italy, Switzerland, Germany, and Belgium, in addition to its own food traditions on the long western coastlines of the Atlantic, the Channel, and of course inland. Cheese and wine are a major part of the cuisine.
Today we will talk only about popular French foods & Parisian foods with recipes. This is the food you will find being cooked in kitchens and small foodie stops throughout the country. The food of the common French family.
Parisian foods recipes create meals that provides a nostalgic or sentimental value to someone and may be characterized by its high caloric nature, high carbohydrate level, or its simple preparation. The nostalgia may be specific to an individual, or it may apply to a specific culture.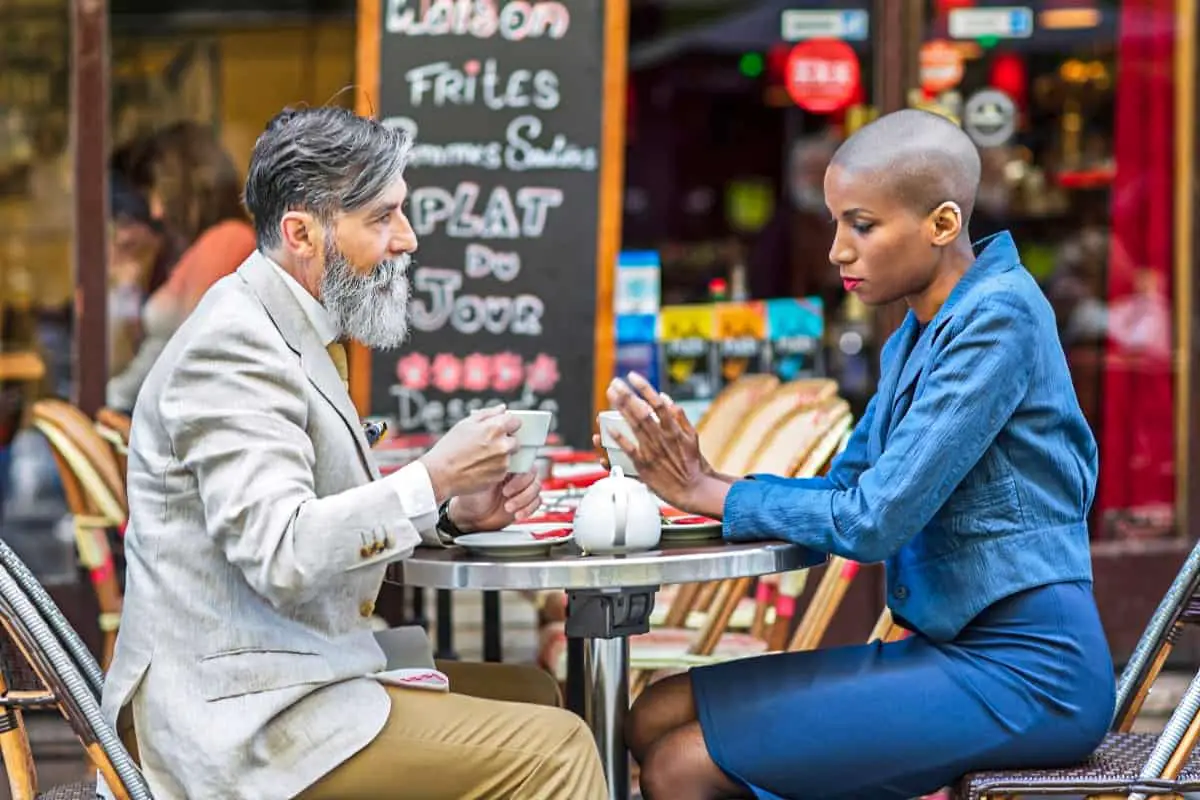 What Are the Most Popular French Breakfast Foods?
A French breakfast is typically sweet over savory and normally consists of breads and sweet spreads like jelly or Nutella, though occasionally one will find light cheeses to also spread on the bread. The French love a hot cup of coffee or tea. Actually, the French may also have a hot chocolate with their breakfast.
Typical breads for breakfast include: a baguette, a croissant, a pain du chocolat (chocolate filled bread), or a viennoiserie (various types of puff pastries)
In most French homes, you'd be offered some French bread product, with a choice of jams, honey and butter, and a hot beverage such as coffee or tea. The French don't typically eat eggs, cold-cuts nor drink juices or eat fruits or cheese for breakfast in France.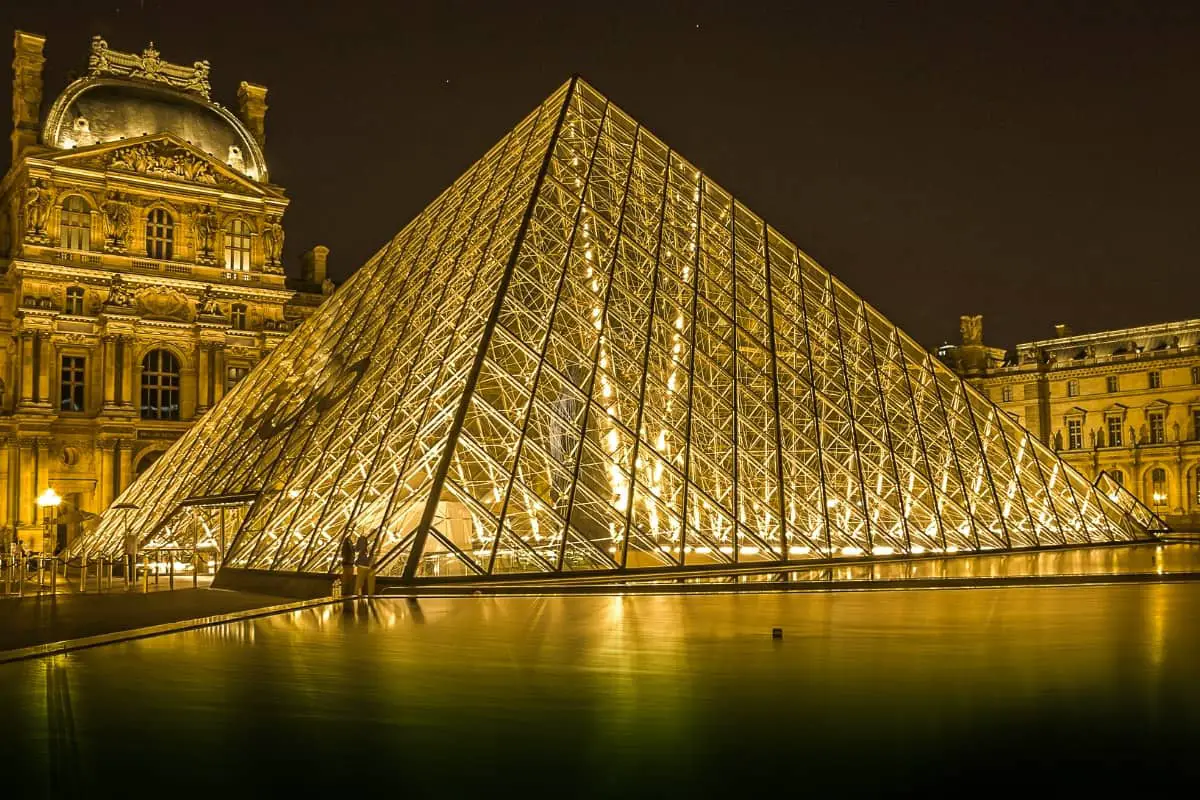 French Recipes for Chicken
The French have a way with chicken that allows them to turn that often-finicky, sometimes-bland bird into a riot of textures and flavors (crispy, creamy, garlicky, mustardy, and with plenty of wine). The French versions of chicken dishes are usually fairly simple, not too much work, and always return the effort three-fold in flavor.
Bresse is the favored breed of chicken. The chickens are raised in the historic region of Bresse, a former French province. Typical Parisian Foods.
French Dinner Recipes
Dinner is the longest meal for the French. There are times when the French will stay at the dinner table for three hours. This was partly because they would eat 5 to 7 courses. Additionally, the French don't eat until 7:00 or 8:00 pm, so a dinner could easily last until 11:00 at night.
French dinner courses can include: an apéritif (which is an alcoholic drink before the meal), hors d'oeuvres (which is typically soup, vegetables, or eggs), the principal plate (a meat, pasta, or crêpe), a salad (which is typically served separately from the principal plate), cheese (which is also served separately), dessert, and coffee.
What are the Favorite French Desserts Recipes?
The French love their sweets, whether it's a sweet crêpe or a box of macarons from their local pâtisserie. A pâtisserie is a shop where French pastries and cakes are sold. Typical Parisian Foods.
France is home to delightful desserts renowned internationally. Even though French desserts look like a living daydream, they're pretty easy to make.
Crème Brûlée is one of the best Paris desserts! With a creamy and rich custard base topped with caramelized sugar, crème brûlée is served in a small individual dish.
What Is Considered A National French Dish?
The national dish of France is Pot-au-Feu. It is a classic comfort dish prepared using stewed meats and vegetables. Other Foods Considered To Be National Dishes are crepe, macarons, croissants, and coq au vin.
— A crepe is a thin pancake made from wheat flour, eggs, and milk.
— French macarons are confectioneries made of granulated sugar, egg white, almond powder, food coloring, and icing sugar.
— The croissant is a crescent-shaped pastry prepared with dough that is layered with yeast or butter then rolled and folded numerous times before being rolled into a sheet by lamination technique. The end product has layers in succession which after being baked to brown color forms continental breakfast for Frenchmen.
— Coq au vin, also considered a national dish, is made from chicken parts braised in mushrooms, lardons, or the available wine variety in that region. Preparation method involves seasoning the chicken in fat then gradually simmering in wine to make it tender. Used in many typical Parisian foods dishes.
28 Recipes for Popular French Foods & Parisian Foods
---
---
check out our video
---
---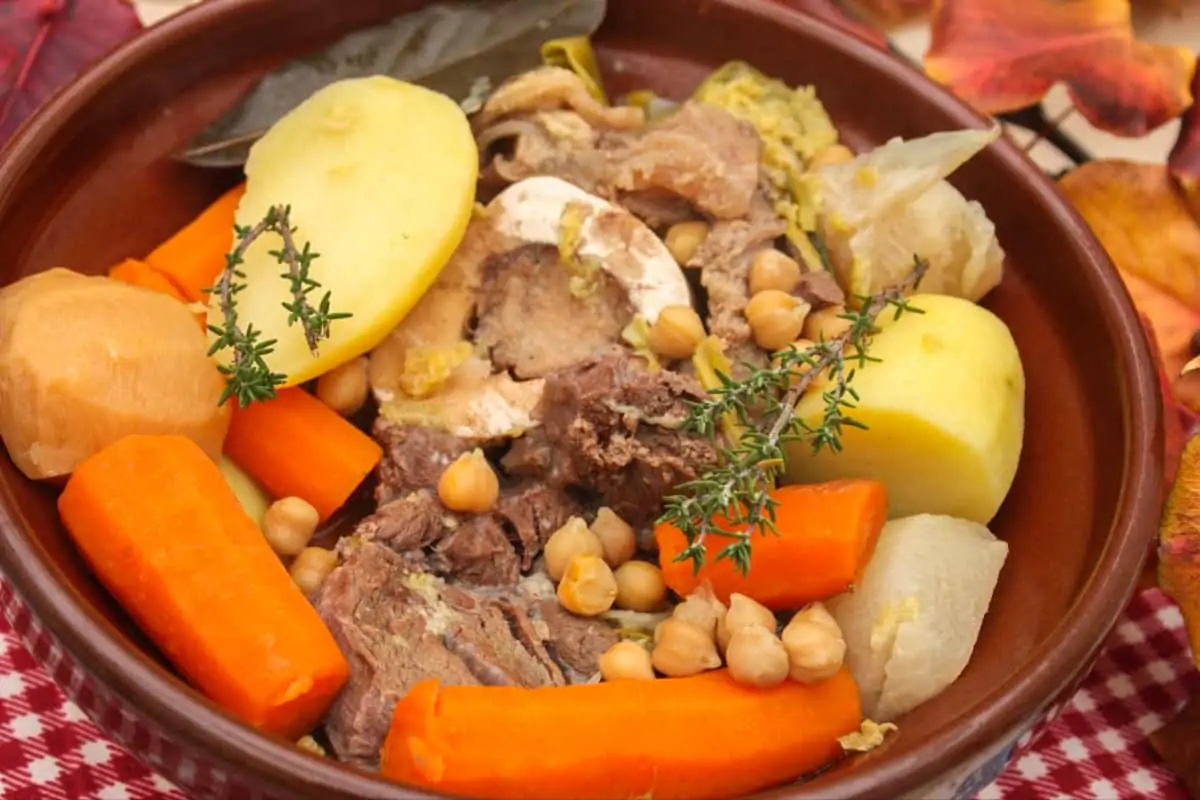 Pot-au-feu is made from cuts of meat which are cooked for a prolonged period of time hence the term "pot on fire." Other ingredients include vegetables like carrots, parsnips, turnips, white cabbages, and onions, cartilaginous meat from oxtail or bone marrow and some spices mainly black pepper, bouquet garni, and cloves.
Once ready, nutmeg is added to the broth before being served. If the pot-au-feu was prepared using marrowbone, the cooked marrow is spread on bread. The vegetables and meat are served with Dijon mustard, gherkins or horseradish sauce. The dish is a perfect meal in winter due to its unmistakable aroma as it simmers in the pot all day long.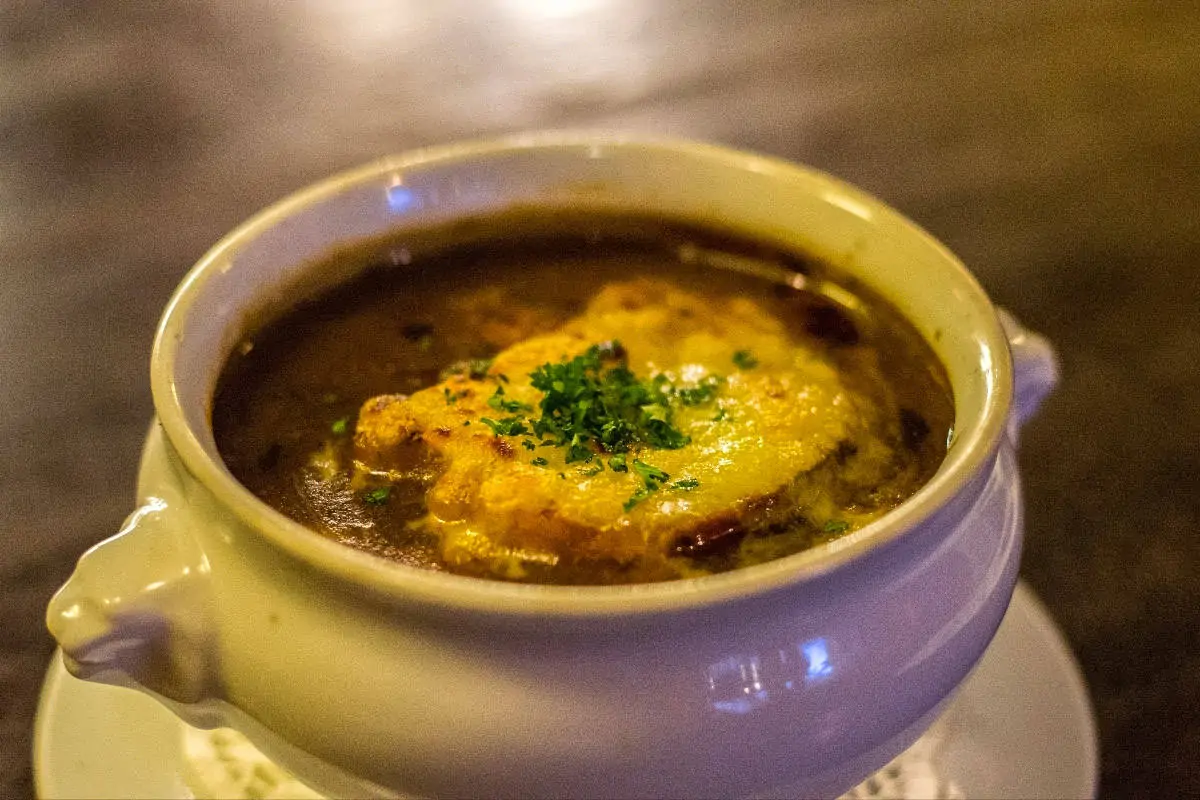 This classic French onion soup recipe — everything about it works for me — its innate frugality, everyday ingredients and lack of pretension. What is probably the world's best-known soup has much to offer if we get it right.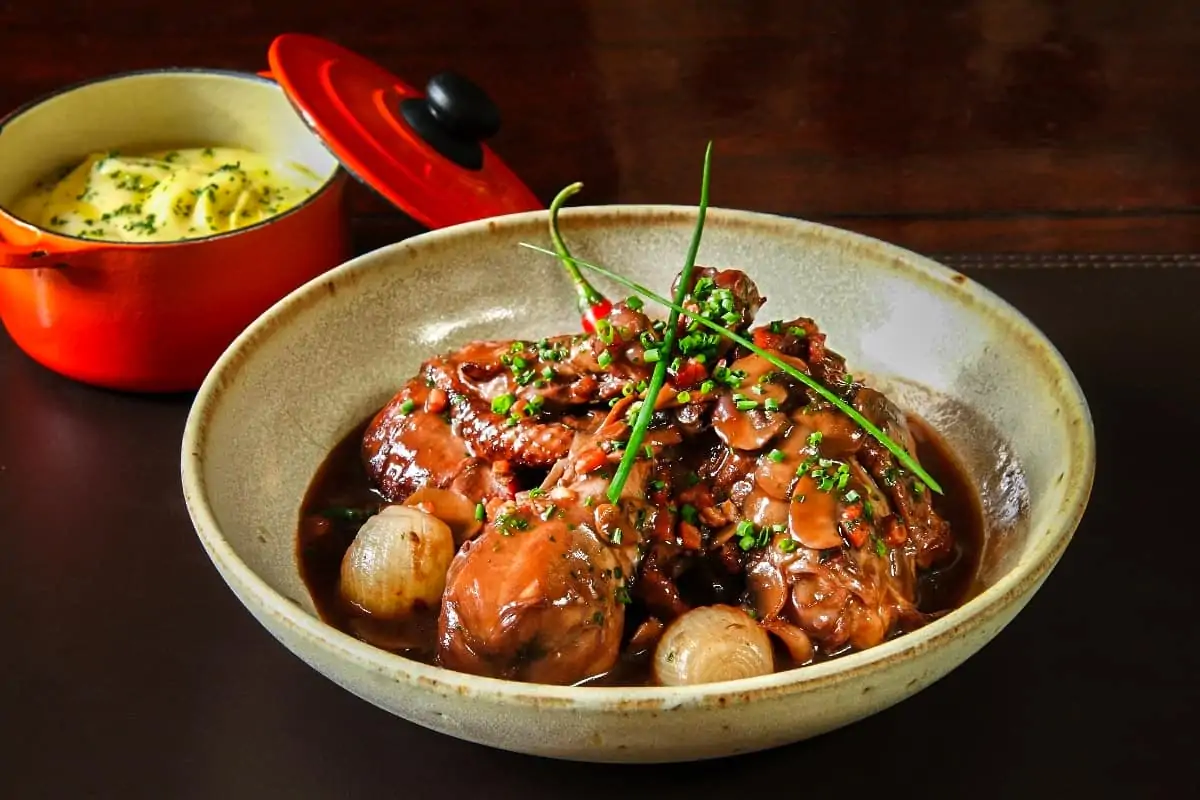 Coq au vin is a French dish of chicken braised with wine, bacon slabs, mushrooms, and optionally garlic. A red Burgundy wine is typically used.
It is a comforting French country stew of chicken and wine (originally rooster and wine). Many recipes exist but our favorite is the one from the late chef Paul Bocuse.
It calls for simple ingredients but the flavor of the final dish is exquisite thanks to the use of red wine, cognac and butter.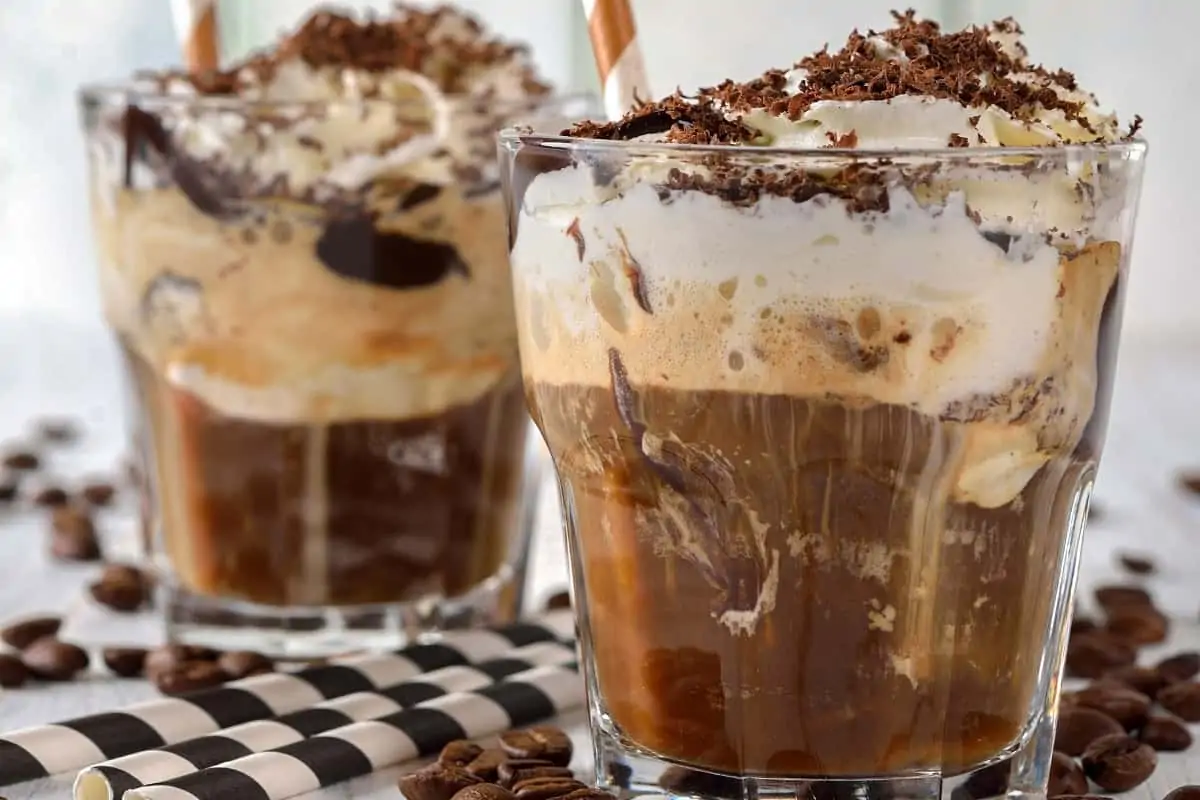 Café liégeois is a cold dessert made from lightly sweetened coffee, coffee flavored ice cream and chantilly cream. Cafe Liegeois is a grown-up version of a typical sundae. It's made from iced coffee, ice cream, and whipped cream.
Refrigerate a large glass filled with the required amount of sweetened coffee, and add the ice cream and chantilly just prior to serving.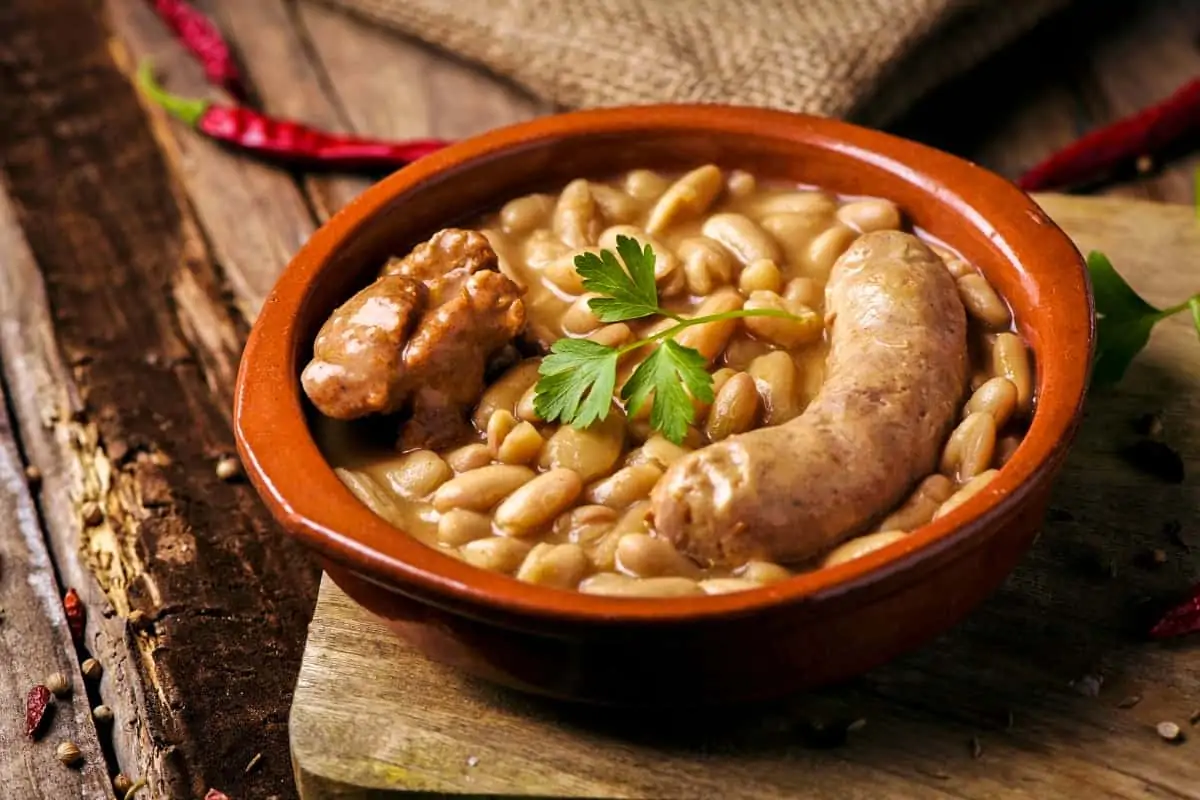 Cassoulet is a comfort dish of white beans stewed slowly with meat. The dish typically uses pork or duck but can include sausages, goose, mutton or whatever else the chef has lying around.
This version includes duck confit and the French garlic sausages that are a specialty of Toulouse. This peasant dish originates from southern France.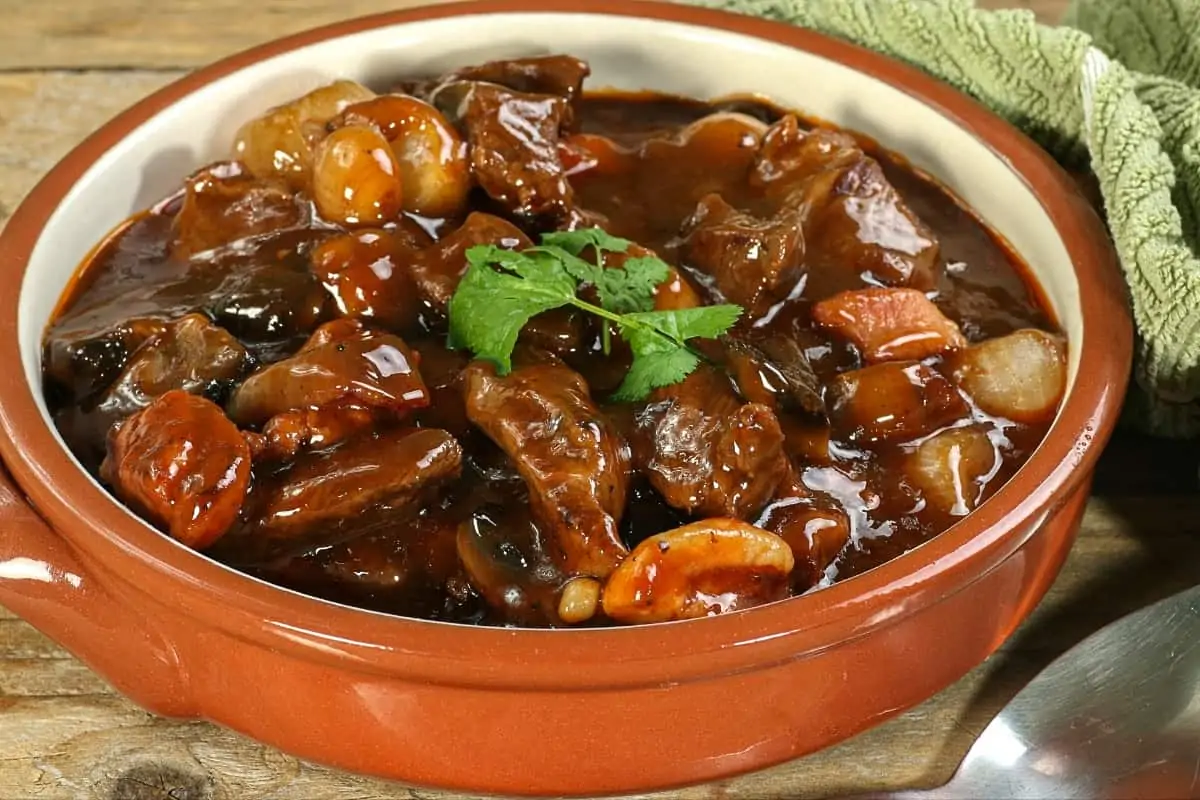 Dishes don't get much more typically French than boeuf bourguignon. It is essentially a stew made from beef braised in red wine, beef broth, and seasoned vegetables including pearl onions and mushrooms.
Originally a peasant dish, Boeuf bourguignon is a great example of budget cuts of meat being turned into stylish haute cuisine. For authenticity, be sure to use a Burgundian pinot noir for this recipe.
Bacon, apples, sautéed shallots, and a little fresh thyme bring the classic flavors of Normandy into this chicken casserole. This French Chicken Casserole is going to be your new seasonal favorite.
Each of the various layers of ingredients — the browning on the chicken, the salting, and the fried apples — adds deep complexity to this dish, then it spends an hour in the oven just relaxing and coming together into an eminently comforting dish.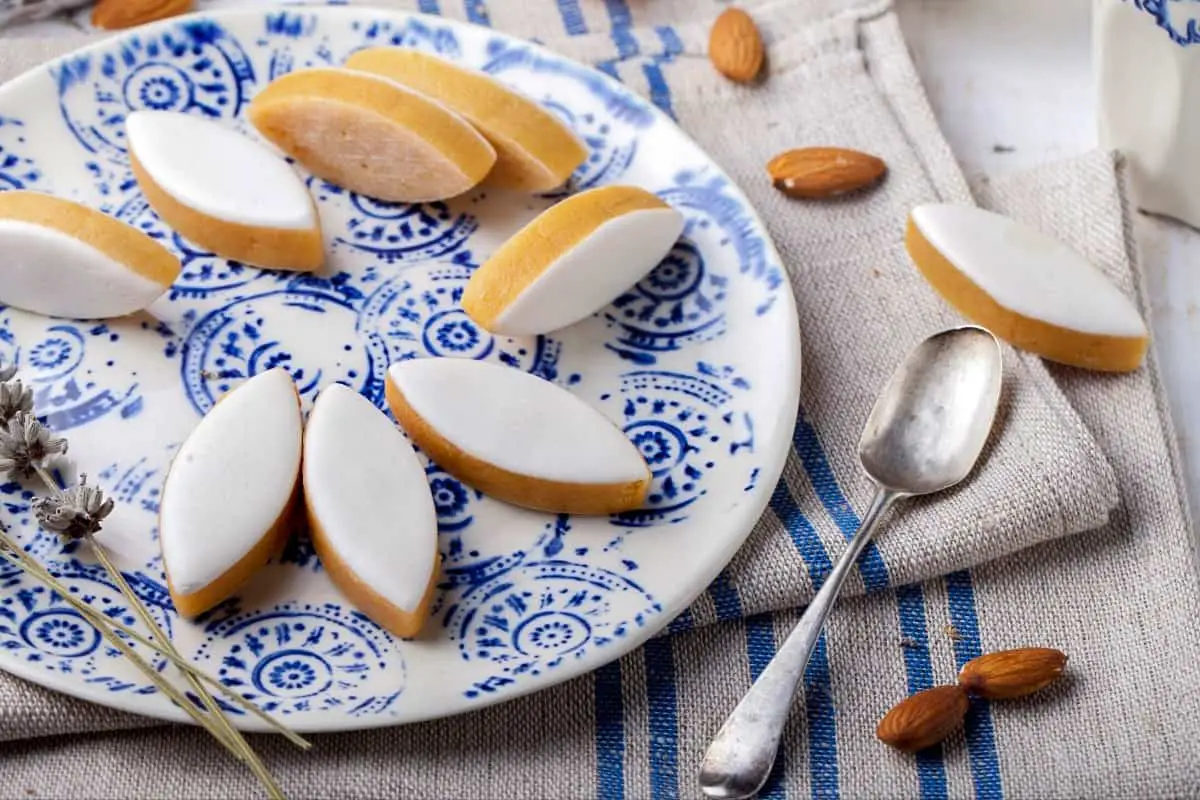 Calissons are a traditional French candy consisting of a smooth, pale yellow, homogeneous paste of candied fruit and ground almonds topped with a thin layer of royal icing.
They have a texture similar to that of marzipan, but with a fruitier, distinctly melon-like flavor. Unique almond paste candy known as Calissons. They are delicious, but making them is not so difficult.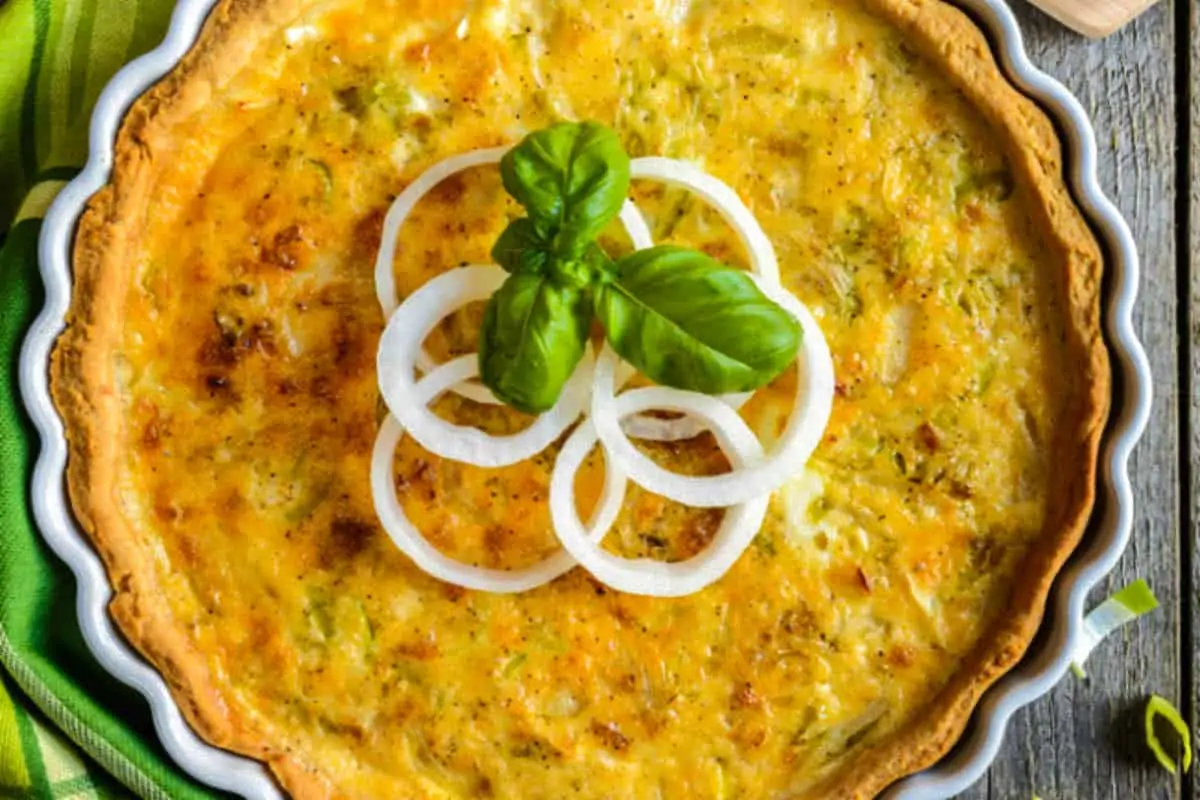 Flamiche is a traditional dish of the Picardy region in France. Made using pie crust, leeks, milk, eggs, butter and salt and black pepper, this snack recipe is not just filling for the stomach but also quite delicious.
The best thing about this easy recipe is its creamy and rich taste due to eggs and milk mixed together and then baked to perfection.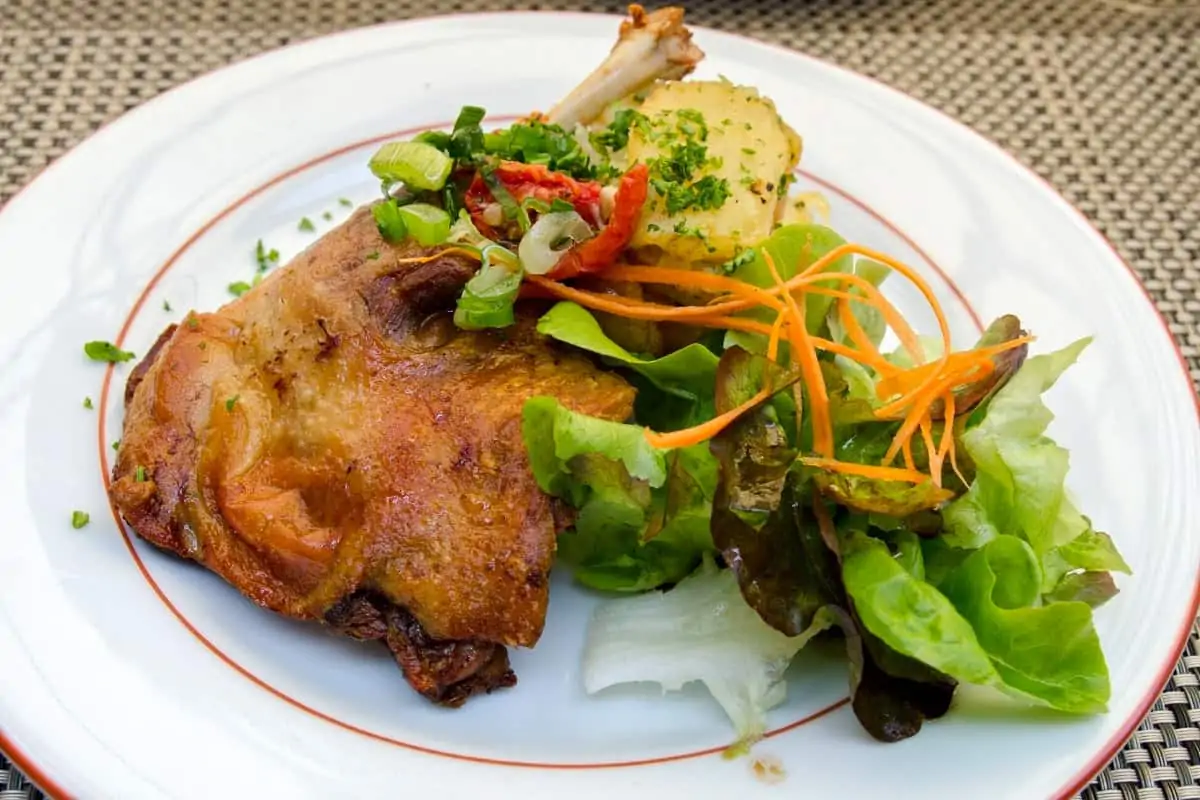 Confit de canard is a tasty French dish of duck and is one of the finest French dishes. All the pieces of duck are used to produce the meal.
The meat is specially prepared using ancient preservation and slow-cooking process (confit). This sees the duck meat marinated in salt, garlic, and thyme for around 36 hours and then slow-cooked in its own fat at low temperatures.
This is a healthier alternative to frying. It is typically served with confit roasted potatoes and garlic on the side. It will take you two days to make confit de canard, but it is well worth your time.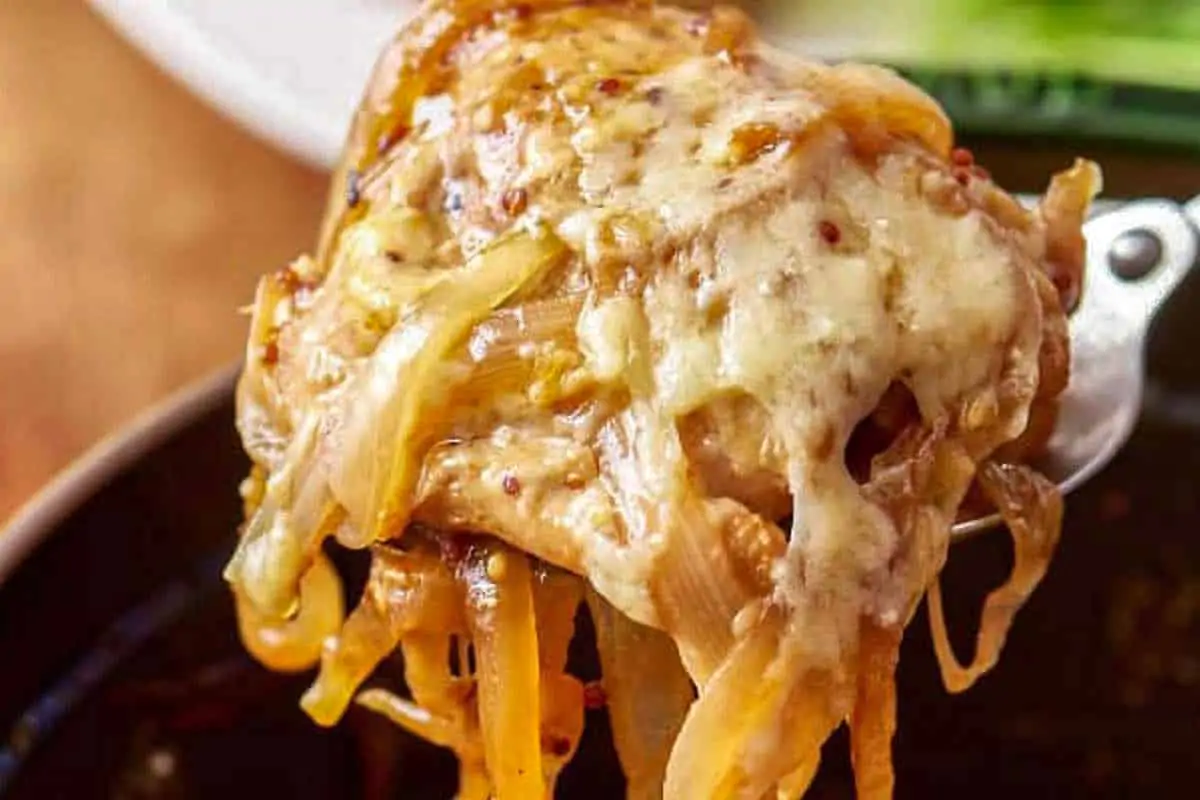 French onion soup is one of the most iconic dishes around, and somehow, improbably, this version — adding chicken thighs and mustard — manages to leave the best parts intact while creating a wholly different dish.
It's a main dish, rather than a soup, filled with protein rather than bread. But the cheesy goodness and silky caramelized onions work the exact same magic as ever.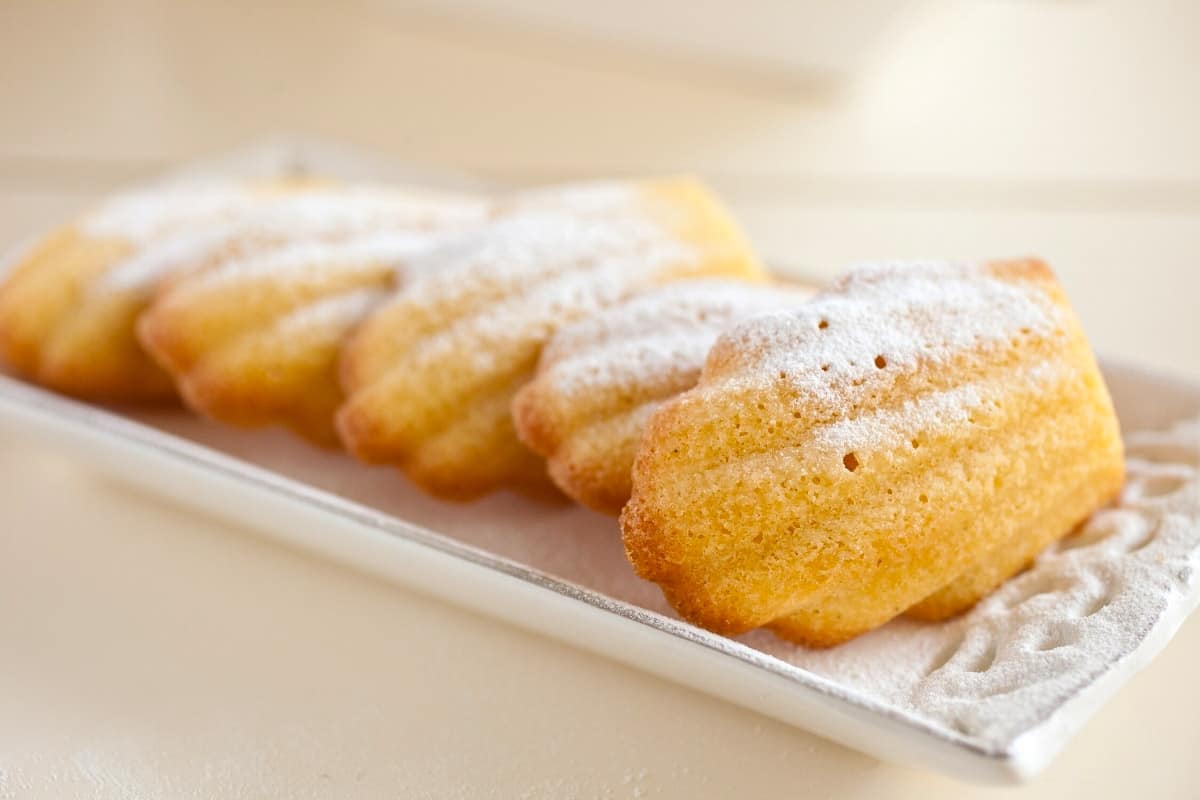 Although many think that madeleines are French shell shaped cookies, they are actually CAKE. The batter is typically baked in a shell-shaped mold and the finished product is often decorated with confectioners' sugar or some type of glaze.
Madeleines are truly best served warm, and definitely best served within an hour of baking them. They lose moisture quite quickly.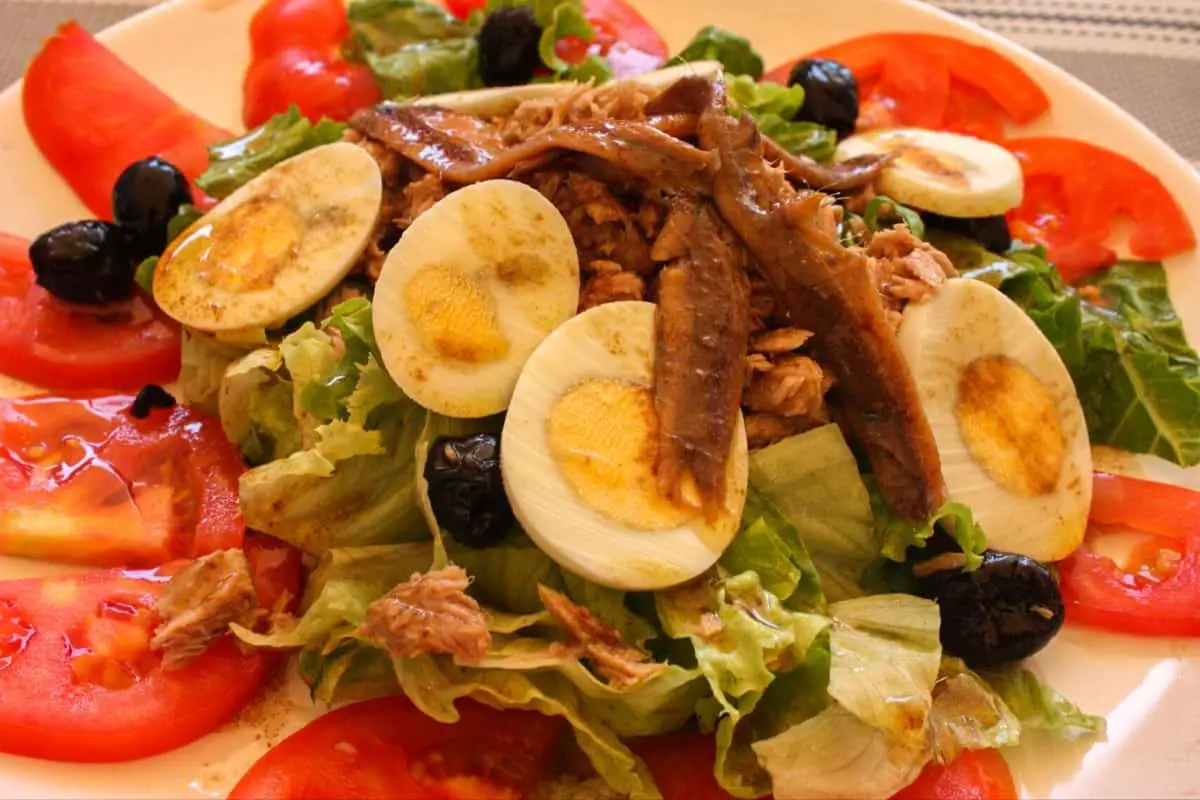 Salade Niçoise is a typical French salad from the Provence region. Often eaten as a side dish, it can also be a light meal on its own.
The salad is a mix of lettuce, fresh tomatoes, boiled eggs, (canned or fresh) tuna, green beans, Nicoise Cailletier olives, anchovies and dressed with olive oil.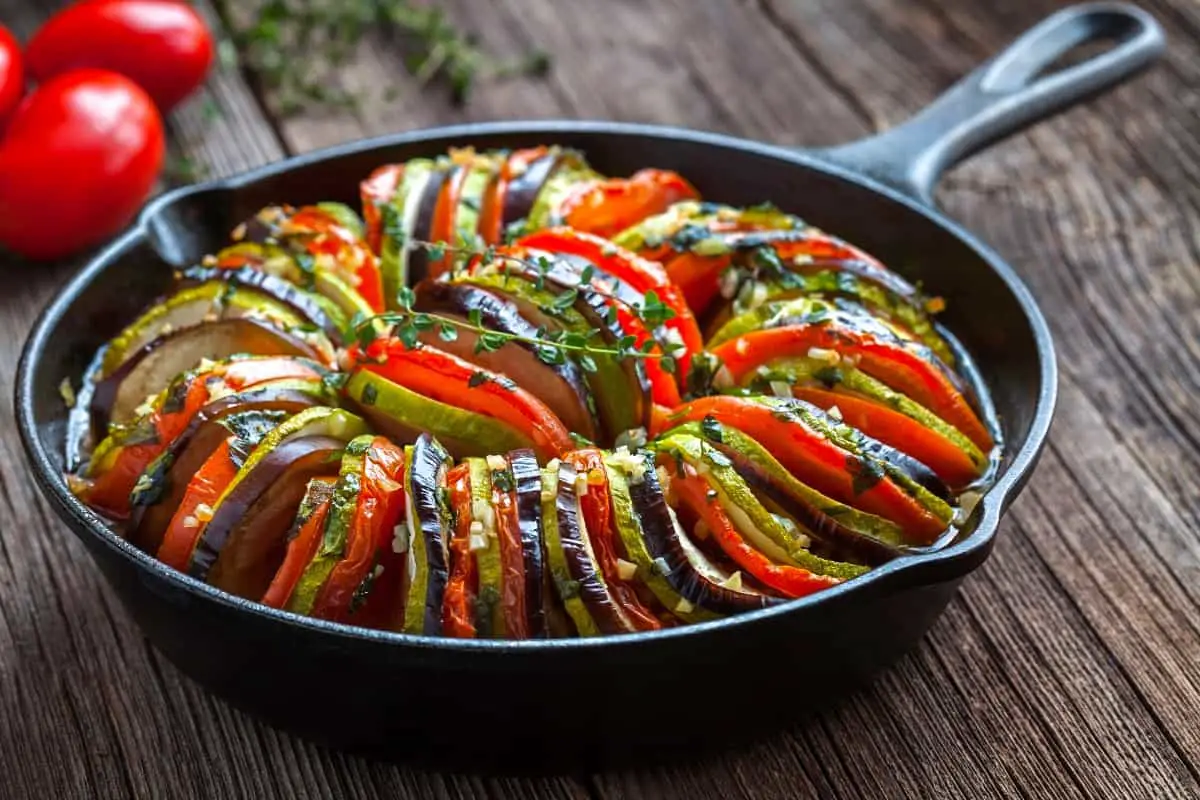 Ratatouille is a French Provençal stewed vegetable dish. Common ingredients include tomato, garlic, onion, courgette, aubergine, capsicum, and some combination of leafy green herbs common to the region.
Ratatouille is one of France's most iconic dishes. From Provence, the dish sees vegetables shallow-fried and then layered in a casserole dish before being baked in an oven. This traditional peasant dish can be a side dish, appetizer, or a main course, and tastes great with red wine and fresh, crusty bread.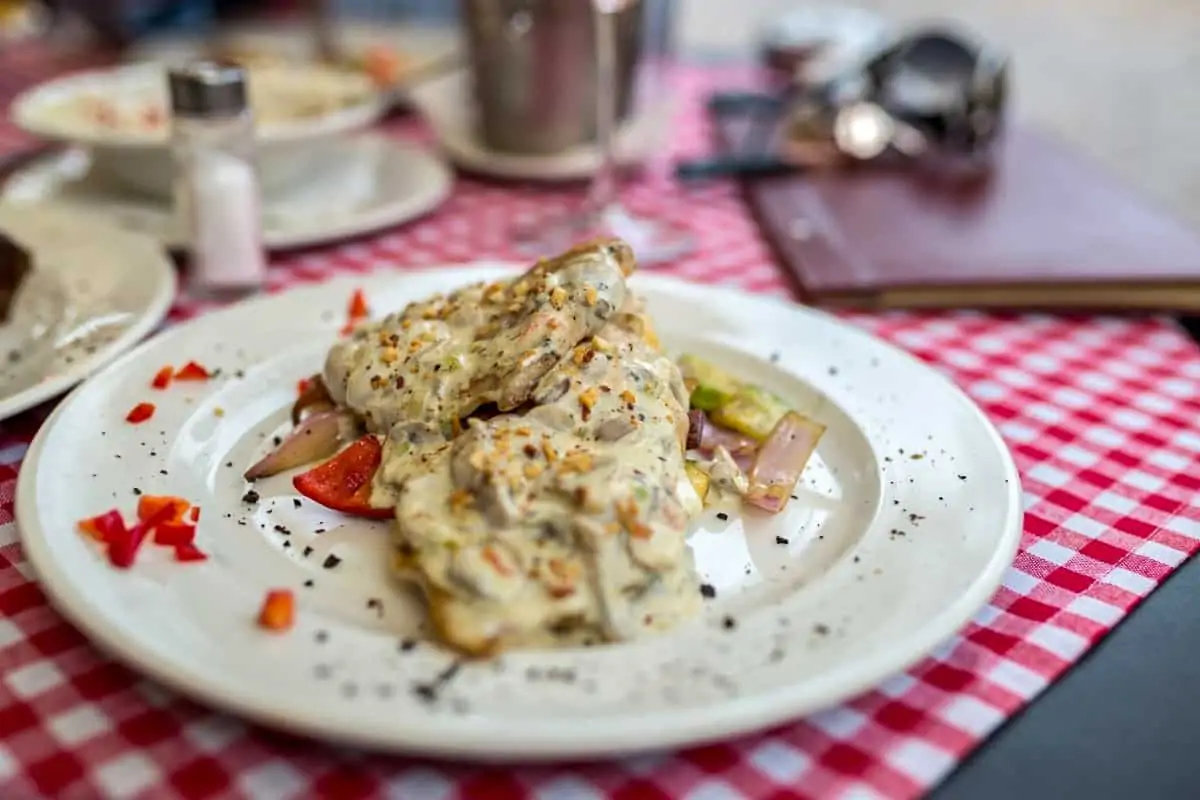 Mustard is one of those condiments that can add a lot of easy flavor to your cooking. And two kinds of mustard (grainy and smooth)? Now you're talking about a flavor powerhouse.
This braised chicken dish puts the classic French combination of mustard, white wine, shallots, and cream to work in a slow cooker to create tender, saucy chicken ready to be served with some good bread to drag through the last drops of sauce on your plate.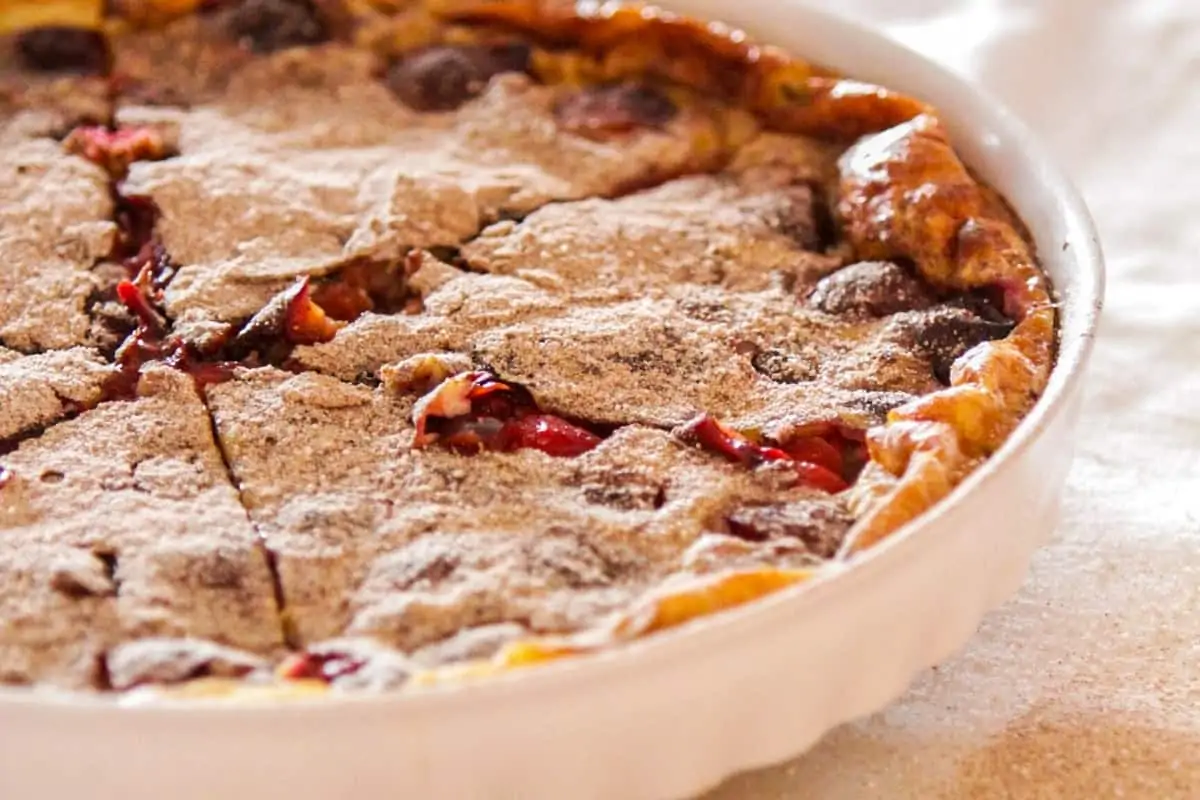 It is a baked French dessert of fruit, traditionally black cherries, arranged in a buttered dish and covered with a thick flan-like batter. The clafoutis is dusted with powdered sugar and served lukewarm, sometimes with cream.
Super-creamy and custardy in texture, it's almost like a cross between flan and cake. The main ingredients: sugar, eggs, flour, and cherries.
With layers of nutty meringue and rich whipped filling, the classic French cake dacquoise is so impressive.
Seriously impress with this fancy French dessert of layers of hazelnut meringue, hazelnut praline, chocolate ganache and a coffee custard filling.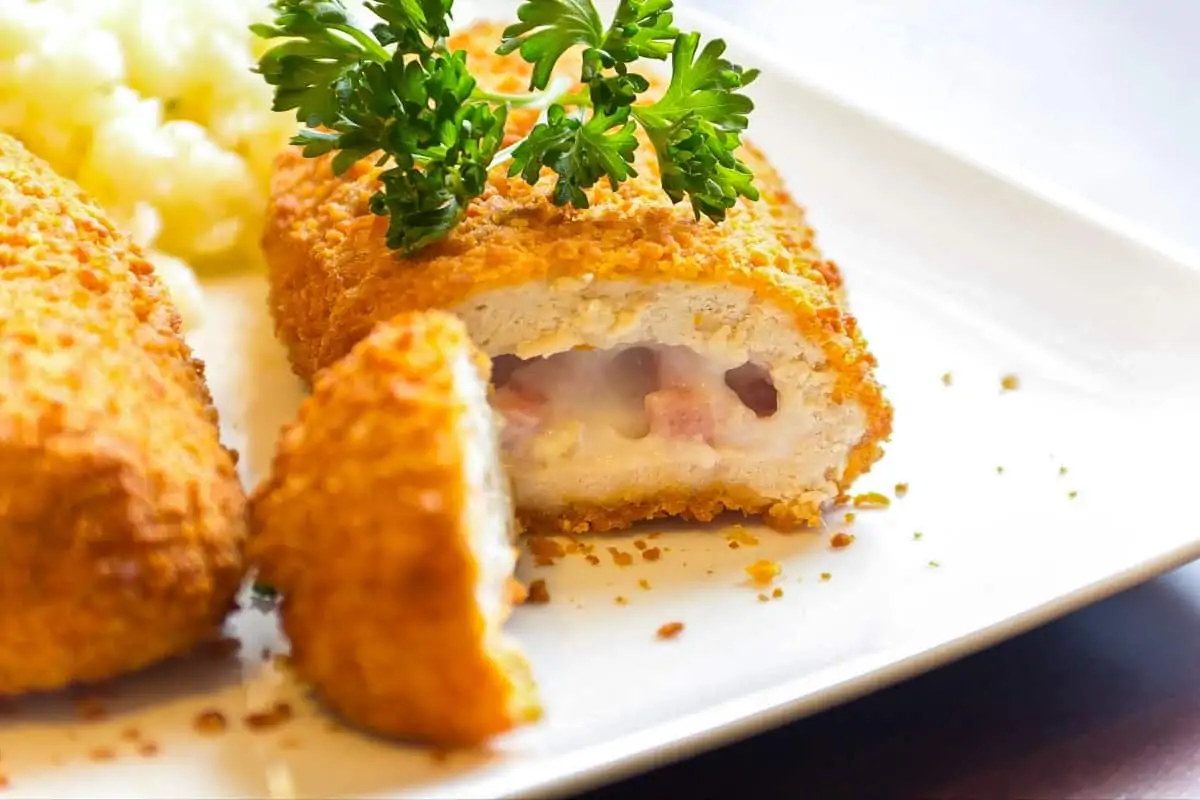 Chicken Cordon Bleu has tender, breaded and fried chicken breast stuffed with ham and Swiss cheese, then slathered with a creamy white sauce.
If comfort food were designed in a lab to be the most comforting, it would come out like chicken cordon bleu: breading on the outside, creamy sauce over top, and cheesy ham inside.
This Canadian bacon-ified version takes it up a level, adding a little extra flavor while otherwise sticking closely to the classic recipe — and gently guides newcomers through the somewhat complex steps to creating it.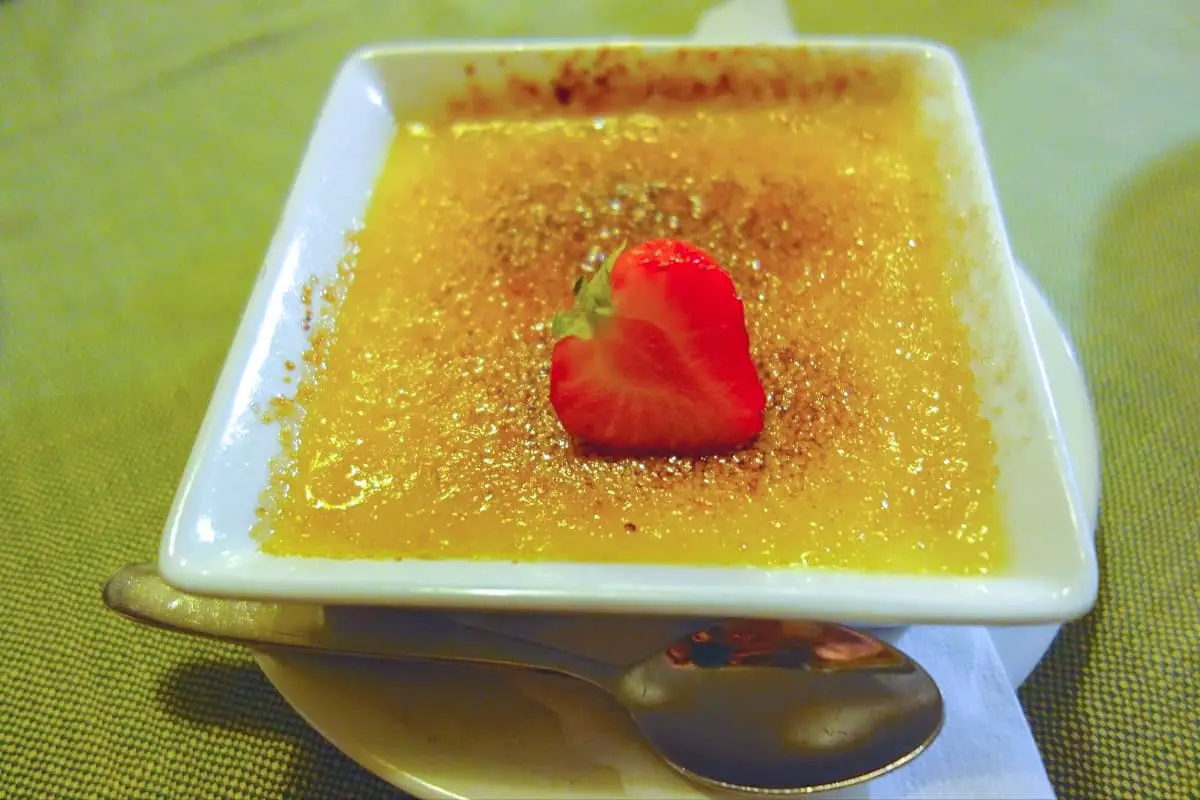 Creme Brulee is a baked custard topped with a melted sugar crust. With a velvety and pudding-like texture, this burnt cream dessert is so dreamy!
For the custard, you only need the basics — eggs, heavy cream, sugar, and vanilla. Dressing up the creme brulee is the fun part. You can include caramel to its bottom part or create a flavored burnt cream by adding bright lemon zest.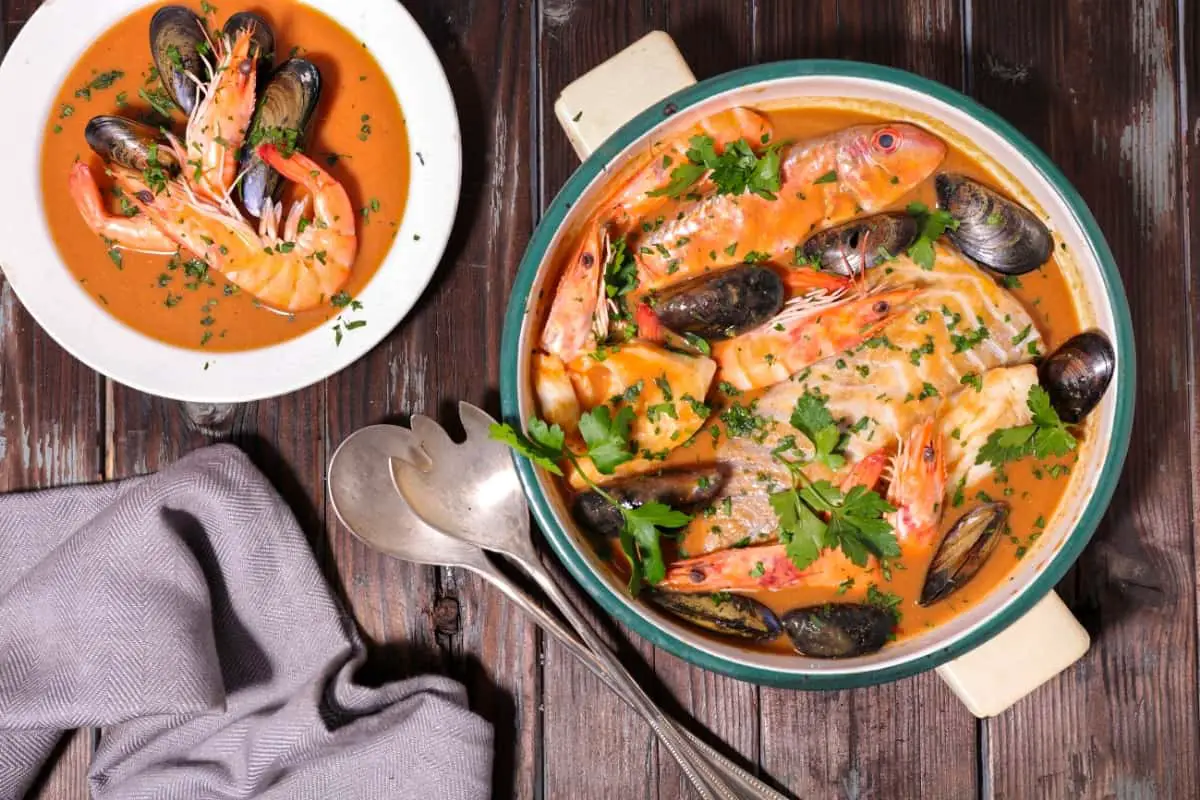 A rich, spicy stew or soup made with various kinds of fish, originally from Provence, France.
This traditional French fish soup is infused with saffron, orange, thyme and chili, this French fish soup is ready in 25 minutes.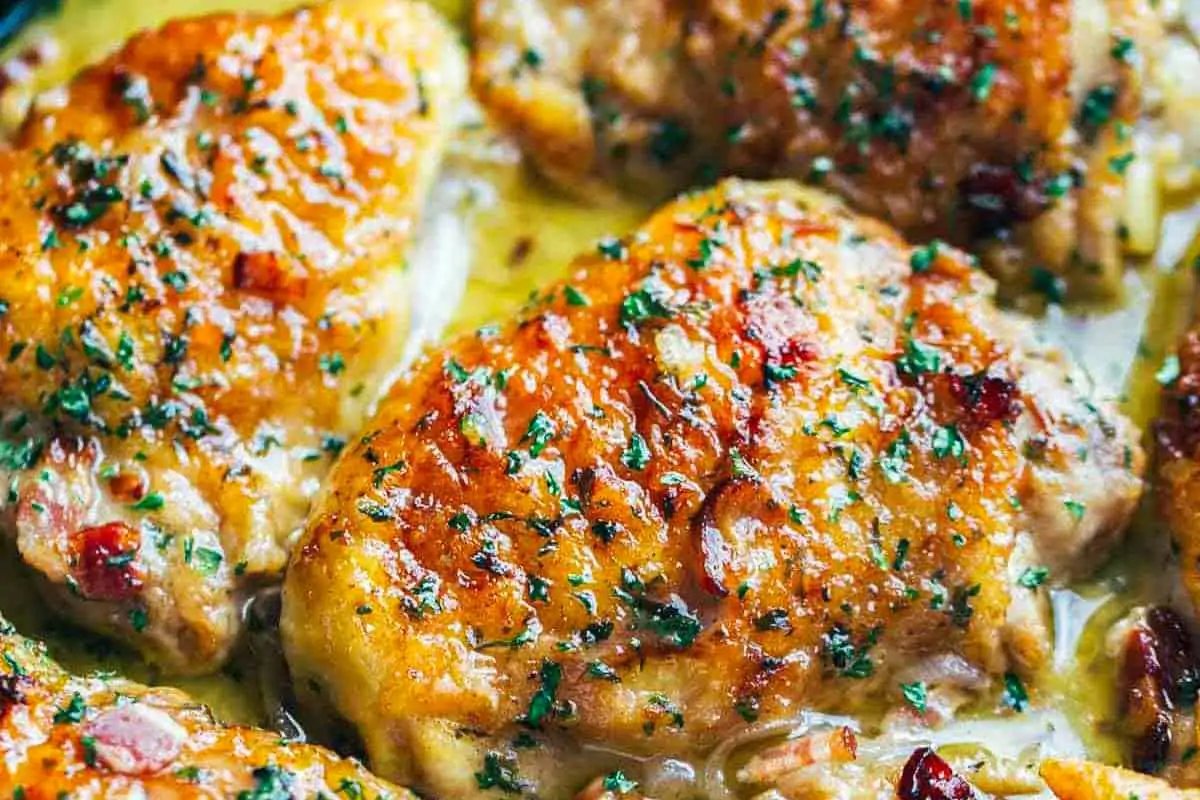 Easy, one pan crispy skillet chicken bathed in a white wine sauce and sprinkled with parsley and thyme.
Wine is chicken's culinary best friend. The French are well aware, and incorporate it nicely into recipes like this one.
On top of that, few chicken recipes come together in less than an hour, but this one takes just 10 minutes of prep time and will cook for the rest of that hour — and when you're done, you'll have crispy chicken, and that's what's important.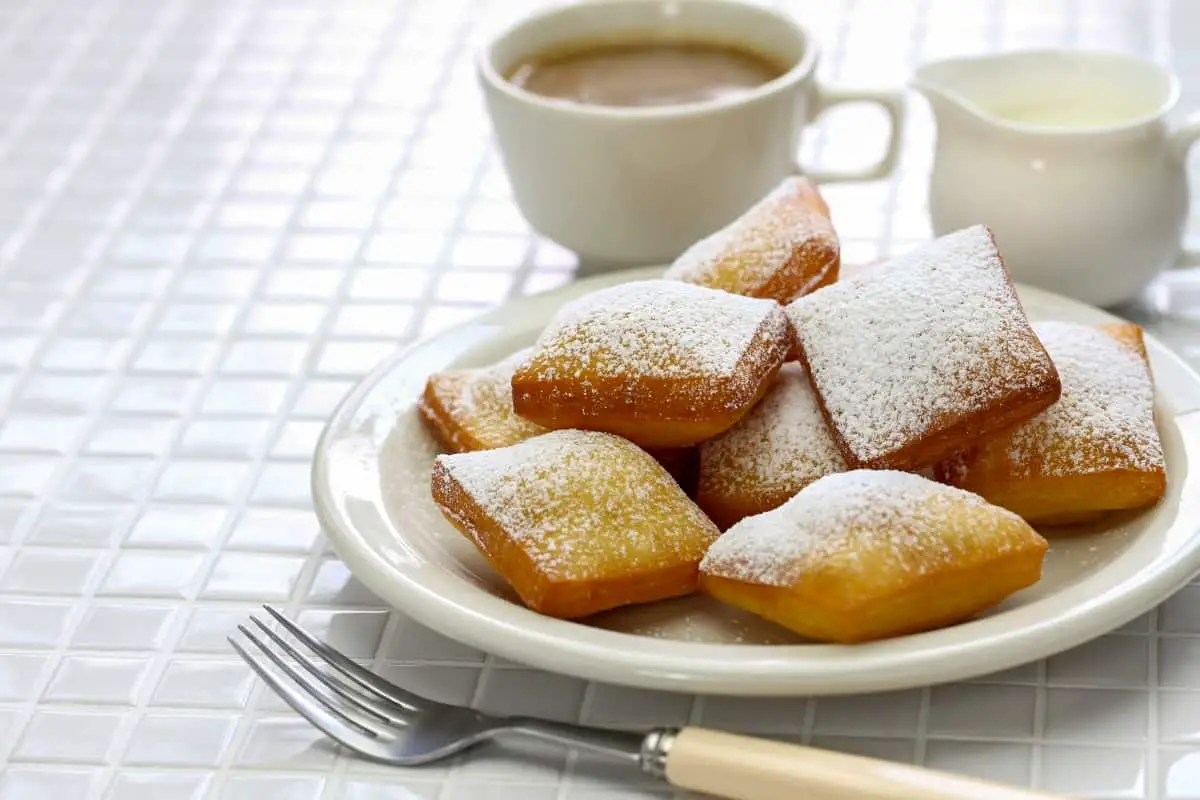 Beignets are deep-fried pastry dough that resembles donuts, so don't be surprised when they taste like donuts!
Are there any differences between the two? Oui, oui. First is the texture. Both are fried, but beignets are lighter and more pillowy. They also differ in presentation, as traditional donuts are round-shaped with a hole at the center.
Beignets, on the other hand, are cut into tiny squares, so they're easy to pick up and eat in one bite.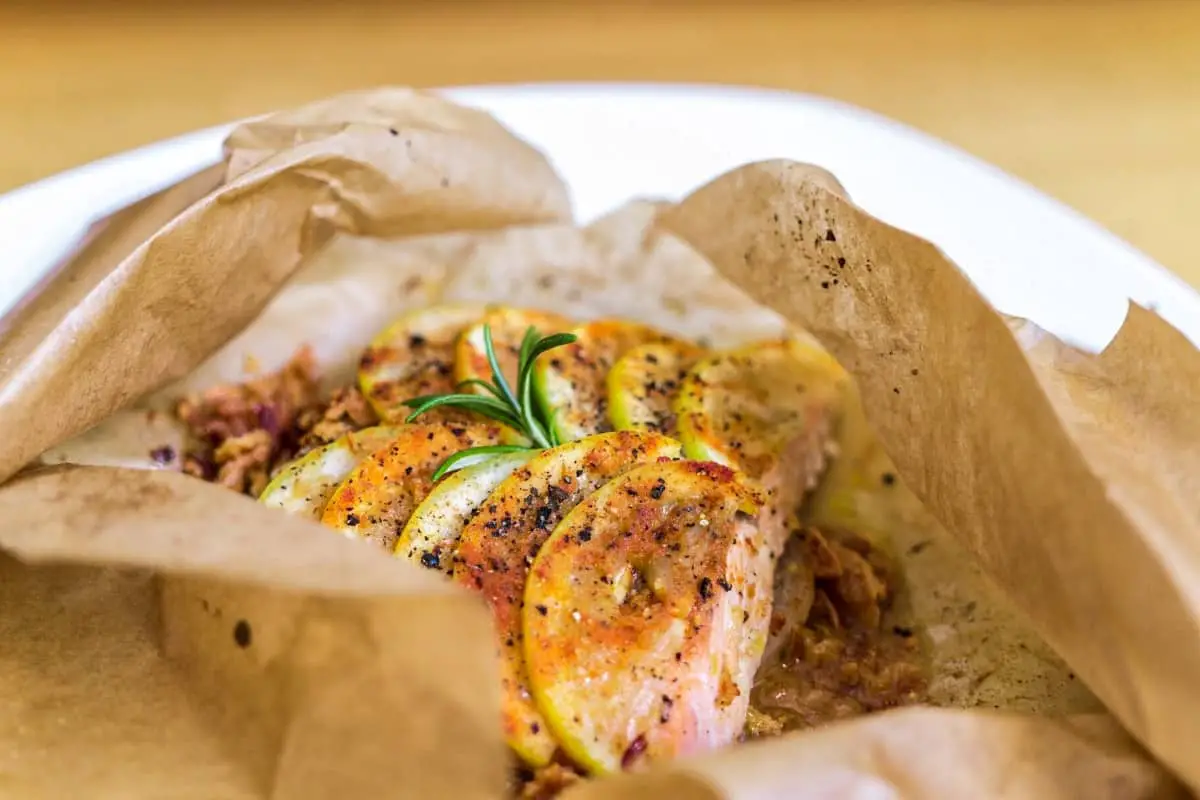 Salmon cooked en papillote, which means wrapped in a packet of parchment (or foil), is a dramatic way to procure perfectly cooked salmon, but it isn't difficult.
Fold a fillet into a cut piece of parchment, and then layer it with seasonings or perhaps vegetables or citrus fruit. This clever technique of wrapping fish in paper before cooking ensures that all the moisture and flavors are locked in.
24. Chocolate Soufflé – Popular French Foods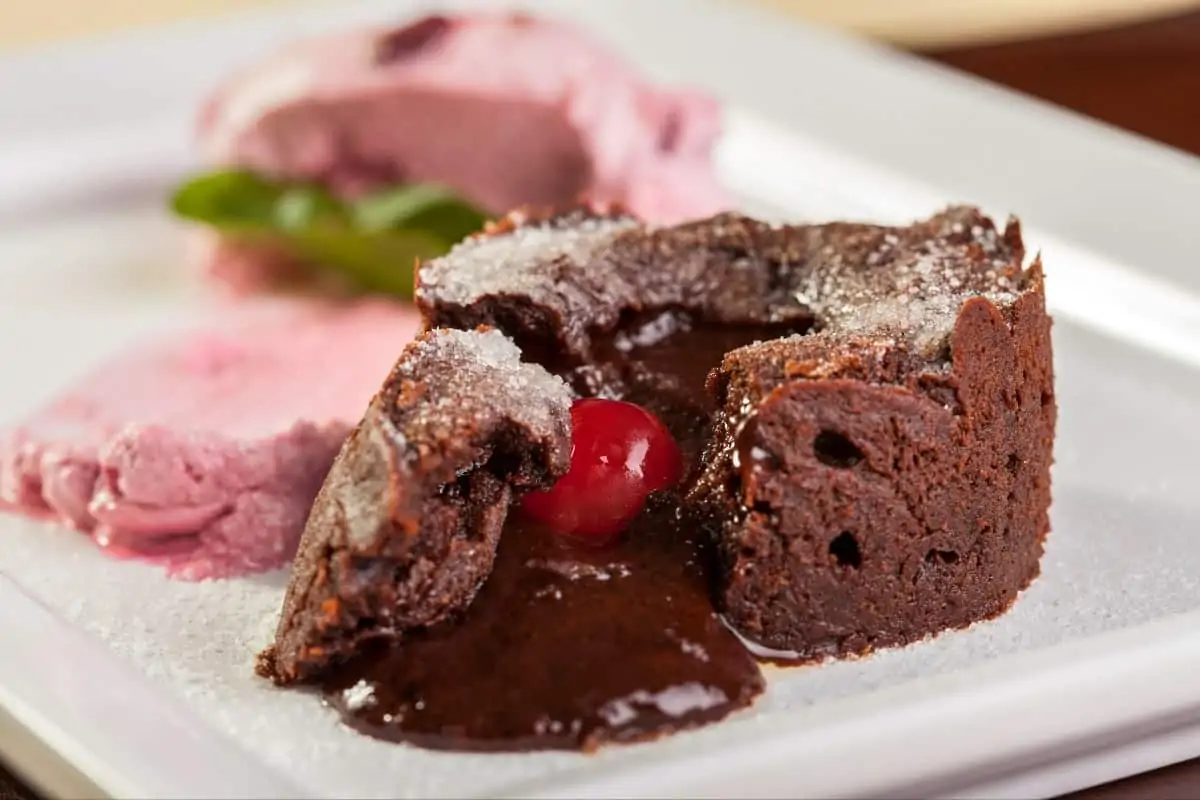 Soufflés are light and puffy cakes made with egg yolks, beaten egg whites, and a variety of other ingredients. A gourmet and chocolate dessert that we will never get tired of.
The word soufflé comes from the French verb 'to blow' and, and the name suggests, this is a light, airy dessert. The crispy chocolatey crust is perfect for letting the creamy chocolate ooze out for a rich surprise.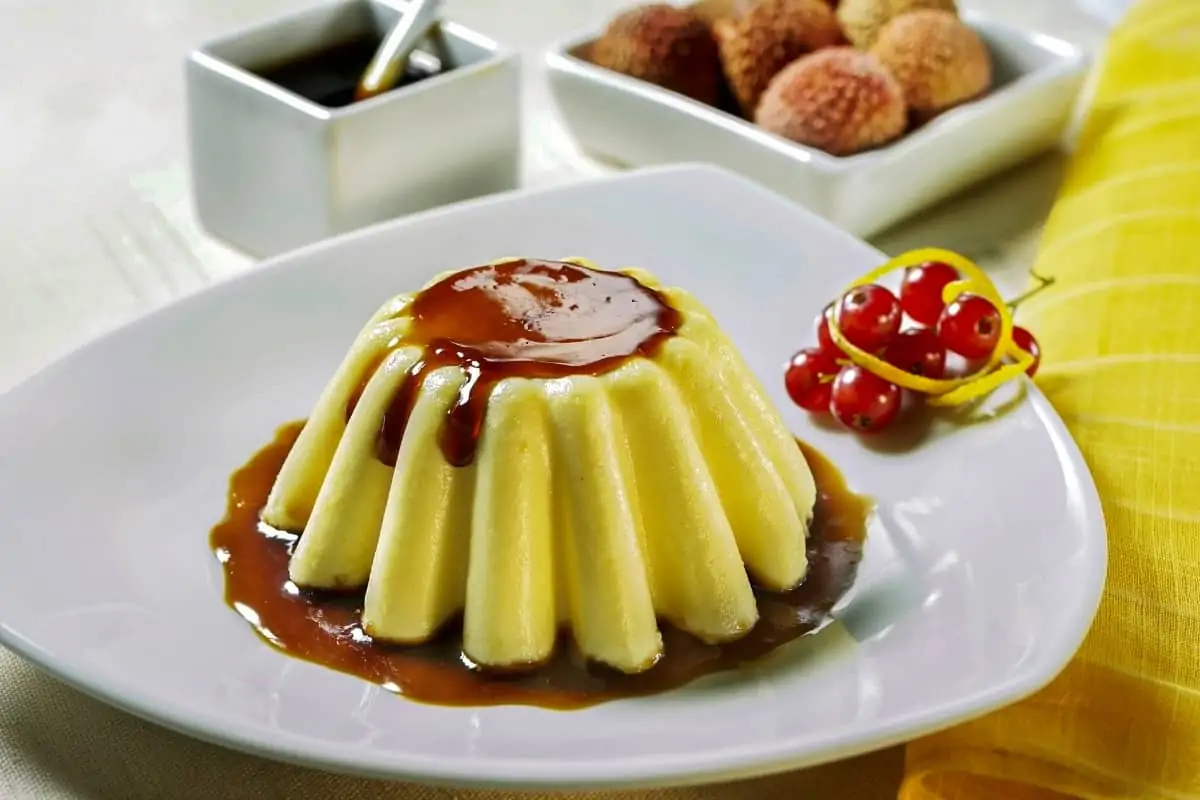 Crème caramel, flan, or caramel custard is a custard dessert with a layer of clear caramel sauce. There are no garnishes needed. Just set out your most beautiful plate for this lovely dessert, creme au caramel.
This sweet dish features a custard base with a soft, caramelized top. Once baked, it is served upside down to expose its signature caramel syrup until it turns into a pool of tasty, dark, orange confectionery.
Quiche is a French tart consisting of pastry crust filled with savoury custard and pieces of cheese, meat, seafood or vegetables. The best-known variant is quiche Lorraine, which includes cheese and bacon bits.
Originally quiche Lorraine was an open custard pie with smoked bacon. It is only the more modern versions that add cheese to the mix.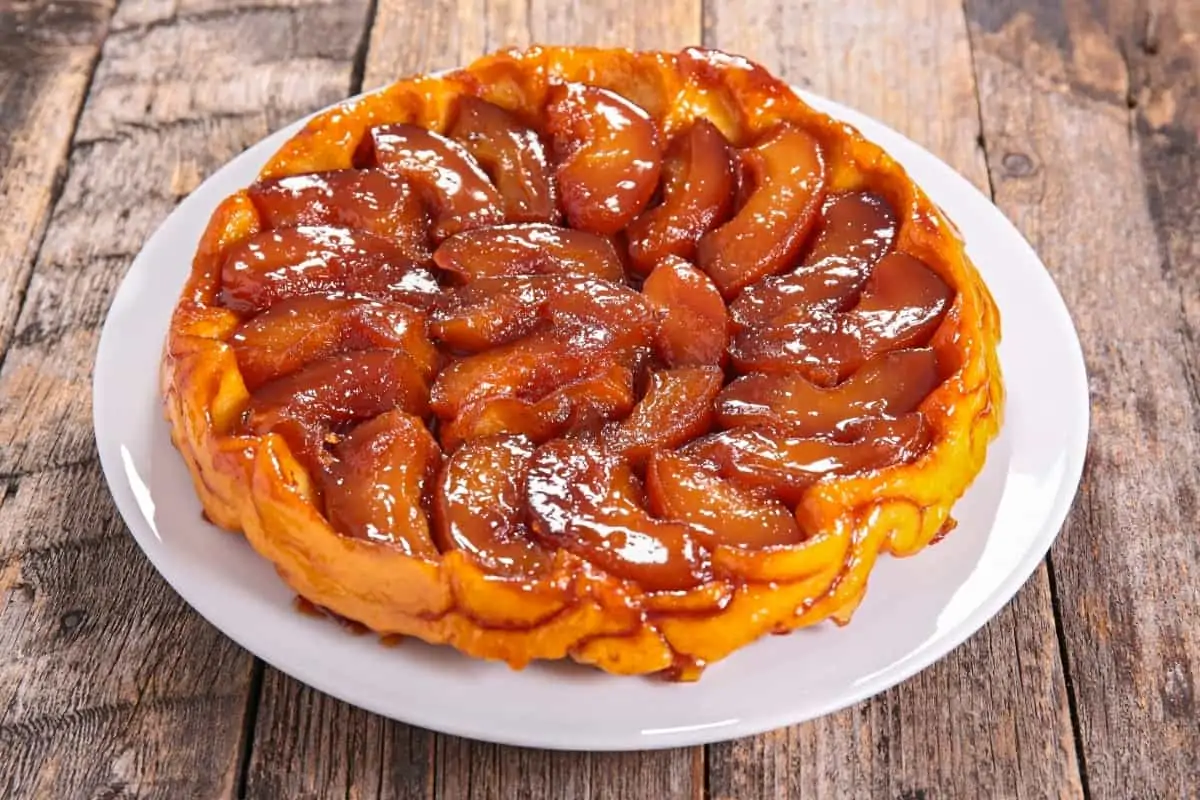 A type of upside-down apple tart consisting of pastry baked over slices of fruit arranged in caramelized sugar, served fruit side up after cooking.
According to culinary legend, tarte Tatin started life as a mistake. In 1898, hotelier Stephanie Tatin was making a traditional apple pie when she accidentally left the apples cooking in sugar and butter for too long.
In a hurry to rescue the dessert, she put the pastry base on top of the burning fruit and put it in the oven. She supposedly served the upside-down tart to her guests.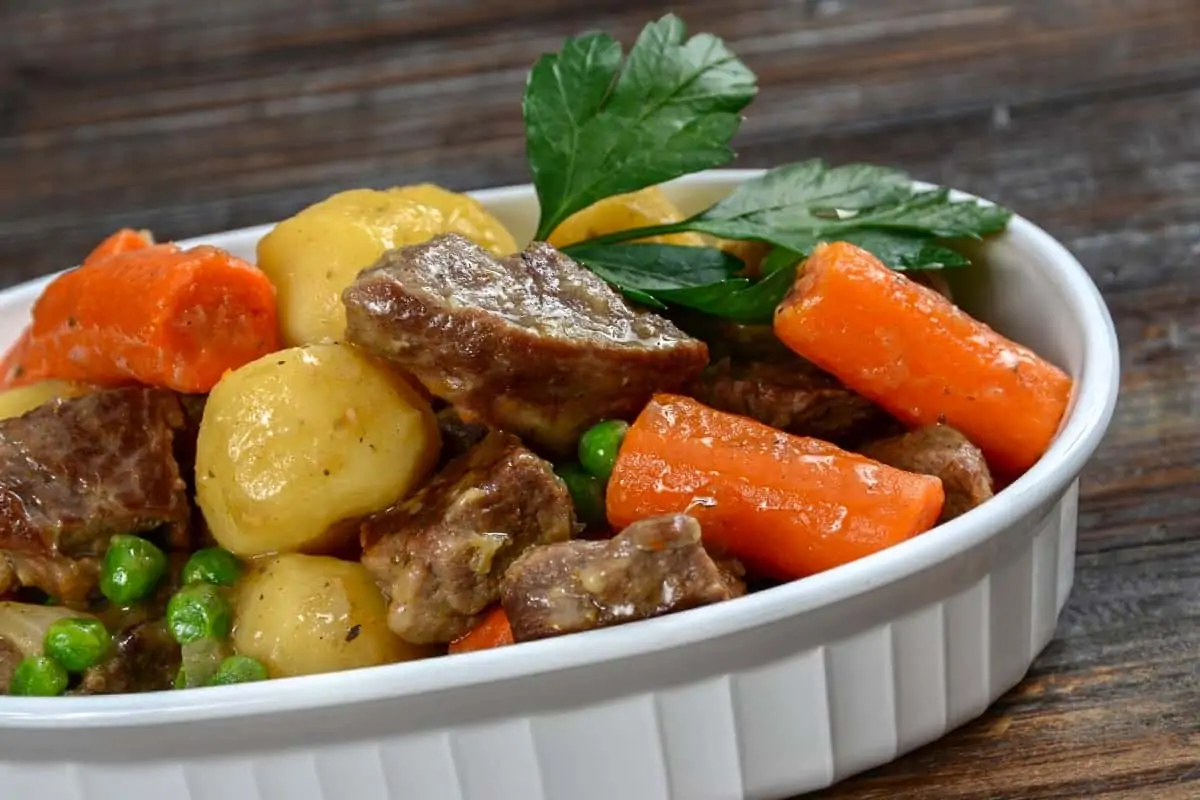 Navarin is a French lamb ragout (or stew). The lamb is cooked low and slow until it melts in the mouth.
One of winter's greatest pleasures is making slow-cooked meals – they're comforting, time-saving and, because they use less expensive cuts, they're penny pleasing.
---
---
You May Want to Join Our Campfire Recipes Group on Facebook For More Information