Heartwarming traditional Irish Food and Recipes for you to make in your own kitchen. The perfect St. Patricks Day recipes for your holiday meal.
History of Irish Cuisine
Traditional Irish food and cuisine is the style of cooking that originated from over years and years in Ireland, an island in the North Atlantic; or was developed by the Irish people. It has evolved from centuries of social and political change, and the mixing of the different cultures in Ireland, predominantly from Great Britain and other European regions. The cuisine is founded upon the crops and animals farmed in its temperate climate and the abundance of fresh fish and seafood from the surrounding clean waters of the Atlantic Ocean.
The development of traditional Irish food was altered greatly by the Tudor conquest of Ireland in the early 17th century, which introduced a new agro-alimentary system of intensive grain-based agriculture, with large areas of land being turned over to grain production. The rise of a commercial market in grain and meat altered the diet of the Irish populace by redirecting these products abroad as cash crops used to feed the soldiers and civilians alike throughout the British Empire. Consequently, the potato, after its widespread adoption in the 18th century, became just about the only food poor people could afford (which was the vast majority of the population).
By the 21st century, much of traditional Irish food was being revived.[citation needed] Representative traditional Irish dishes include Irish stew (made with lamb, mutton, or beef), bacon and cabbage (with potatoes), boxty (potato pancake), coddle (sausage, bacon, and potato), colcannon (mashed potato, kale or cabbage, and butter), and, in Ulster, the soda farl. Modern Irish food still uses these traditional ingredients but they are now being cooked by chefs with world influences and are presented in a more modern artistic style.
In the 21st century, the usual modern selection of traditional Irish foods is seeing the addition of most of the foods common to the West has been adopted in Ireland. Common meals include pizza, curry, Chinese food, Thai food, and lately, some West African dishes and Central European-Eastern European (especially Polish) dishes have been making an appearance, as ingredients for these and other cuisines have become more widely available.
In tandem with these developments, the last quarter of the 20th century saw the emergence of a new Irish cuisine based on traditional ingredients handled in new ways. This cuisine is based on fresh vegetables, fish (especially salmon and trout), oysters, mussels and other shellfish, traditional soda bread, the wide range of cheeses that are now being made across the country, and, of course, the potato. Traditional dishes, such as Irish stew, coddle, the Irish breakfast, and potato bread have enjoyed a resurgence in popularity. Chef and food writer Myrtle Allen – an early protagonist of such attitudes and methods – went on to play a crucial role in their development and promotion. Schools like the Ballymaloe Cookery School have emerged to cater to the associated increased interest in cooking.
Fish and chips takeaway is popular and one of the oldest traditional Irish foods in existence.  The first fish and chips were sold in Dublin in the 1880s by an Italian immigrant from San Donato Val di Comino, Giuseppe Cervi. His wife Palma would ask customers "Uno di questa, uno di quella?" This phrase (meaning 'one of this, one of the other') entered the vernacular in Dublin as "one and one", which is still a common way of referring to fish and chips in the city.
In much of Ulster (especially Northern Ireland and County Donegal), fish and chips are usually known as a "fish supper". The restaurant from which the food is purchased and the food itself is often referred to as a "chippy" throughout many northern regions of the country.
The proliferation of fast food has led to increasing public health problems, including obesity, where it was reported that as many as 327,000 Irish children are now obese or overweight and in response, the Irish government is now considering introducing a fast-food tax. Government efforts to combat obesity have also included television advertising campaigns and educational programs in schools. [1]
FAQ For Irish Food and Recipes
Question 1. What are traditional Irish foods?
Answer: Some of our favorite traditional Irish dishes include bacon and cabbage (with potatoes), kale or cabbage, and butter), Irish stew (made with lamb, colcannon (mashed potato, coddle (sausage, mutton, or beef), boxty (potato pancake), bacon, and potato), and, in Ulster, the soda farl
Question 2. What food is traditionally eaten on St Patrick's Day?
Answer: Some of the favorite foods for St. Patricks Day are corned beef and cabbage, soda bread, shepherd's pie, and colcannon.
Question 3. What should I serve for an Irish dinner?"
Answer: Your Irish dinner cannot be complete without three items. They include food like champ potatoes, fried cabbage, cranberry soda bread to name just a few. Others are cabbage and potato slaw, stew, sweet and sour cabbage.
Answer: Question 4. Do they really eat corned beef and cabbage in Ireland?"
Answer: While corned beef and cabbage is Ireland's national food it is not a St. Patrick's day meal in Ireland. It is a meal brought to the U.S. by immigrants and turned into a tradition in the U.S. only.
Question 5. Why do the Irish eat potatoes?
Answer: Ireland is not famous for its great farming due to poor soil conditions. That is why potatoes and cabbage play such a central part in Irish diets. These foods both grow well in poor soil and since both are winter crops allow the land to be rotated into hay and grains during warm weather.
Traditional Irish Recipes
1. Traditional Irish Food – Irish Colcannon Casserole Recipe
We are a few months away from St. Patrick's Day. You may be searching for Irish recipes to add to your menu. One of the more common dishes associated with St. Patrick's Day is Irish Colcannon.
Did you know that Colcannon was originally associated with Halloween? Today, however, Colcannon is known as a festive Irish recipe to serve during St. Patrick's Day.
So, what is Irish Colcannon and how do you make it? Colcannon is a basic potato dish, mixed with greens, and really easy to prepare. It is a filling meal and very budget-friendly. Colcannon has been around for centuries so it is considered a time-tested favorite meal.
2. The Donovan's Irish Pasties – Traditional Irish Food
Irish Pasties are a tradition in our family every St. Patrick's Day. The Donovans introduced pasties to us about 20 years ago and we have been making them ever since, even when it's not St. Patrick's Day!
Irish Pasties are flaky pastry filled with shredded roast beef and potatoes. They are drizzled with or dipped in a savory roast beef gravy. Every bite is hearty and flavorful. I like to prep for these by cooking up a big beef roast the Sunday before St. Patrick's Day and saving a bunch of the roast and drippings. That way I get two meals out of one roast. You can even throw in some diced potatoes to cook alongside the roast to save for the pasties as well. Then you can make up the pasties and the gravy fresh on St. Patrick's Day and you are all set!
3. Traditional Irish Food – Irish Treats for St. Patrick's Day: Potato Candy
This fudgy brownie is layered with mint buttercream and drizzled with chocolate.
4. Irish Mist Brownies
This fudgy brownie is layered with mint buttercream and drizzled with chocolate.
5. Traditional Irish Beef and Guinness Stew – Traditional Irish Food
Among Ireland's most iconic pub foods, this rich and robust Irish Beef Guinness Stew will make your taste buds sing and have you begging for seconds! Nothing speaks comfort like a good beef stew. Variations of beef stew are found around the world and a few famous examples include France's Boeuf Bourgignon, Hungary's Goulash, and Belgium's Carbonnade à la Flamande (recipe to come). The first one is simmered in wine, the second generously seasoned with paprika, and the third simmered in beer.
Today we meet Ireland's iconic version: Beef Guinness Stew. Or Guinness Beef Stew. Whichever way you prefer to say it.
6. Traditional Irish Food – Classic Irish Fish Pie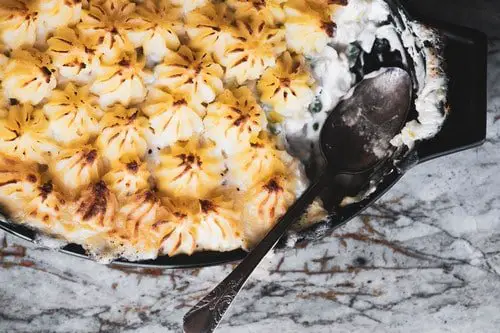 Classic Irish Fish Pie Recipe starts with flaky white fish, leeks, parsnips, and peas in a creamy white sauce, topped with a cheddar horseradish and buttermilk mash, it's hands down the most comforting meal I've had all year.
If you haven't had a classic potato topped Irish fish pie you've really been missing out.
7. Irish Soda Farls – Traditional Irish Food
Soda bread dough is flattened into a round circle, and divided into farls meaning 4 parts. It is then cooked on a dry griddle or pan. Traditionally this was the quickest way to make soda bread for unexpected guests who drop by for a bit of craic (good fun). It's best eaten fresh with butter and jam but is also delicious fried as part of an Ulster breakfast.
---
Now that you have read the 16 Traditional Recipes for Scottish Food post, what's next? Let's learn more about food in other surrounding areas.
14 Truly Great Traditional English Recipes
10 Best French Comfort Food Recipes
Our 10 Best German Recipes To Make At Home
Our 10 Favorite Spain Recipes To Make At Home
---
8. Traditional Irish Food – Yellow Man (Irish Honeycomb Candy)
This recipe was adapted from the Irish food authority Darina Allen's book The Complete Book of Irish Country Cooking
9. Traditional Irish Champ – Traditional Irish Food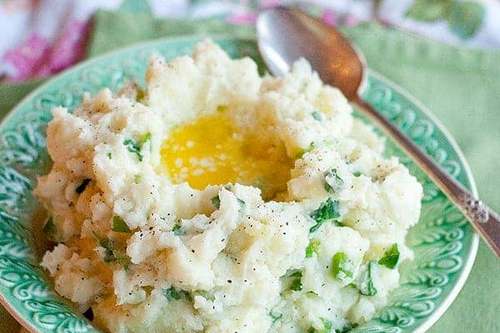 Serve your family an authentic recipe for St. Patrick's Day. Traditional Irish Champ – creamy mashed potatoes with scallions and loads of butter.
Traditional Irish Champ is a simple, but very delicious, a dish of mashed potatoes combined with scallions, milk, and lots of butter.
Why is it called "champ?" I wondered about that, too, and after a little research found that it's because the word champ means to bruise, pound, or smash. Makes more sense now.
10. Traditional Irish Food – Dublin Coddle Recipe (Irish Sausage and Potato Stew)
If you've never had Dublin coddle before, it's somewhat like the Irish version of beef stew. It's bacon, pork sausages, onions, and potatoes, all long-stewed in a thick brown gravy. Everything I've seen about coddle talks about its working-class roots. This isn't a delicate meal. This is the kind of meal that can slow cook away in the oven for hours and hours and hours while you're working hard, and still be delicious when you come home.
11. Dublin Coddle Recipe – Traditional Irish Food
Have you ever had a Dublin Coddle? I have a very off-the-boat Irish uncle and you better believe that this amazing stew happens often, but it doesn't happen often enough. A mess that starts with sausages and bacon, and ends with flavorful and soft layered potatoes… GIMME!!
Maybe it's too obvious, but I SO love layered casseroles, all in one pot, and in the oven. All the work I have to do takes up just a cutting board and a knife. The rest is done by our bestie, the oven.
12. Traditional Irish Food – Authentic Irish Apple Cake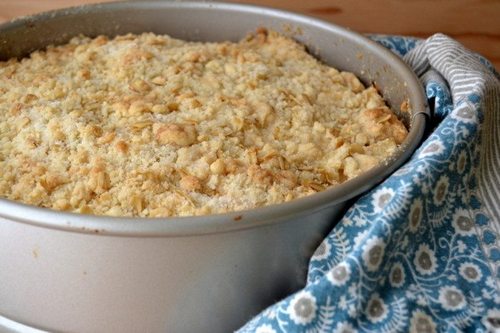 This is an authentic old fashioned Irish apple cake, the kind that would be made throughout the apple harvest season all over Ireland, where every farmhouse has its own prized version of the recipe. It's delicious with or without the traditional custard sauce!
This is a not-too-sweet kind of cake in the European tradition. It's pretty perfect with a cup of coffee or tea in the morning or mid-afternoon, though still definitely special enough to serve as dessert, especially with the custard. The custard sauce keeps well in the fridge and can be served either warm or cold. The cake, however, is especially fabulous and fragrant warm from the oven.
13. Irish Potato Cakes or Potato Farl – Traditional Irish Food
When you're making an Irish breakfast or an Ulster Fry, there are some side dishes that are absolutely indispensable… but (when you're not in Ireland, and sometimes even when you are) often very hard to get your hands on. The one that's probably most difficult to find is potato bread or arán pratai in Irish.
It's not a piece of bread in the classic sense — meaning that it doesn't come in loaves, sliced or otherwise. Potato bread — also known as potato cake and potato farl and even fadge, depending on which part of the island you're in — is a griddle bread, never baked in an oven, only on a griddle or in a frying pan. The "farl" name is a clue that it's usually cut into triangles, as "farl" is a name for any triangular piece of baking.
14. Traditional Irish Food – No-Bake Irish Fifteens
This no-bake Irish Fifteens traybake recipe is so easy to make! A popular sweet treat recipe from Northern Ireland made with fluffy marshmallows, crushed digestive biscuits (graham crackers), coconut, and cherries.
What Are Fifteens
Fifteens are a popular sweet treat from Northern Ireland made with marshmallows, digestive biscuits (graham crackers in the US), coconut, and cherries.
They are called Fifteens (15s) because the recipe calls for fifteen of each ingredient.
15. Traditional Irish Soda Bread – Traditional Irish Food
Traditional Irish Soda Bread recipe. Includes options for sweet and savory add-ins to make it a little more "non-traditional."
16. Traditional Irish Food – St. Paddy's Irish Beef Dinner
A variation on shepherd's pie, this hearty dish brings together saucy beef, mashed potatoes, parsnips and other vegetables.
17. Colcannon – Traditional Irish Food
Have you ever had the traditional Irish food called colcannon? A St. Patrick's day favorite, colcannon is an Irish potato recipe, a mixture of creamy mashed potatoes and usually kale or cabbage.
Colcannon Potatoes are an Irish mashed potato recipe mixed with greens and scallions and LOTS of butter and cream. You can't go wrong with this green-filled dish on St. Patrick's Day!
Much of our article on traditional Irish food was written with the help of our friends at Wikipedia.
[1] https://en.wikipedia.org/wiki/Irish_cuisine