When you mention traditional German food to a group of people, the first thing that would come to their mind is sauerkraut, beer, and sausage. Sausages and wieners are national symbols, and cabbage is the basis for everything in German cuisine. Tourists from all over the world flock to the annual Oktoberfest beer festival to have a taste of the delicious beer. However, German food contains more than just these few things.
German food recipes has advanced over the years as a national cuisine through centuries of political and social change. It is essential to note that each region in Germany has its own traditional foods that will excite gourmets with their variety, consistency, and deliciousness.
For example, Hamburg is commonly known for fish dishes while the South is popular for all kinds of foods prepared from pork. These different German dishes share unique heartiness and richness that is difficult to find elsewhere.
The History of German Food
Food has always played an important role in German culture. Between 1712 and 1786, King Frederick introduced potatoes in German meals. The king provided his people with seed potatoes and taught them how to grow the food. Following World War I, an influx of Italian ice cream makers arrived in Germany, bringing dishes such as pizza and pasta, which have since become staples of the German diet. In the 1960s, newcomers from Turkey, China, Vietnam, Greece, and the former Soviet Union began to leave their mark on German cuisine.
After the Second World War, Germany was split into West and East Germany. The division led to the development of different cooking styles. West Germans maintained the traditional German food while East Germany took on the Russian cooking style. Northern and Southern Germany also have different cooking styles.
Germany's northern and southern cooking styles are close to the United States' cooking styles. In Berlin and Hamburg, restaurants can serve eel soup (aalsuppe) or eintopf in the North (seafood stew). White bean soup (Weisse bohnensuppe) and other dried bean soups are also common. Cereals and bread made with buckwheat and rye flour are also present on menus around the world. Birnen, Bohnen, and Speck are favorite dishes (bacon, green beans, and pears). Spargel (asparagus), particularly white asparagus, and rich, heavy pumpernickel bread are popular in Wesphalia, a region near the Netherlands in the middle of the world. Westphalian ham, eaten with spicy mustard, is a favorite of Germans all over the world.
Wustchen is a sausage made in Frankfurt, Germany, in the south. The sausage resembles a hot dog in the United States, and people refer to it as a "frankfurter" after the German region. Potatoes, bacon, onions, and apples are combined in a mystical dish known as Himmel und Erde (Heaven and Earth) in the south. The southern part of Bavaria is home to rugged mountains and the well-known Black Forest.
This region is famous for its Black Forest cherry cake and tortes and a clear cherry brandy called Kirschwasser. Lebkuchen is a spicy cookie served during holidays. In the early 1990s, East and West Germany reunited. Germans still cook differently depending on their area.
Traditional German Food Cooking and Foods
German cuisine was most likely bland during prehistoric times. Unlike in Mediterranean countries, the growing season restricted people to early forms of barley, wheat, and pasture land for livestock. People used cows, goats, and sheep to produce milk, butter, cheese, and meat items during feasts. Parsley, celery, and dill were among the first spices used in German cooking. The Romans introduced grapevines and fruit tree production. As farming practices advanced, they also introduced oats and rye. Because of its position and reputation as a trading city, Cologne's areas were particularly rich in fragrant spices and food.
Modern German Food Cooking and Foods
Germans continue to honor their rich heritage by serving wild game, beef, pork, and lamb, as well as their accompanying side dishes in a variety of old and new ways. Juniper, horseradish, and mustard, and berries, are common spices found in the Luneburg Heath. On the other hand, modern German chefs have begun to develop younger, lighter fare while still integrating traditional foods into their menus.
As mentioned earlier, beer is listed among traditional German food. Locals and tourists agree that German beer is the most popular beverage. Germans drink it out of neat glasses or large one-liter mugs, but most importantly, they savor and appreciate every sip.
More About Traditional German Food
You do not have to look hard in Germany for restaurants that serve traditional German cuisine. Many restaurants and pubs serve it, both in touristy areas and in local neighborhoods. The only difference is in price.
Traditional German cuisine has a simple appearance and is not overly complicated to prepare. However, some traditional dishes take a long time to prepare, so you can consider yourself fortunate if you get to eat a true home-cooked meal.
The history of German cuisine is extensive and regional. All regions share a passion for meat, and many dishes contain some meat. In German food recipes, potatoes hold a special position, and Germans are masters of various potato preparation techniques. The most common meats are pork, poultry, and beef.
Lunch was traditionally the main meal of the day, with dinner being a smaller meal. This has changed in the past 50 years or so, with dinner and lunch switching places.
Meal Structure in Germany
Breakfast: In Germany, breakfast is known as Frühstück, and it involves a hot beverage such as tea or coffee. Breakfast in Germany is usually hearty, beginning with bread or rolls spread with butter, jelly, or marmalade.
Lunch: Mittagessen is the German word for lunch, and it is usually eaten between 12 and 2 p.m. Lunch, rather than dinner, is the common time for Germans to eat their main cooked meal. After a starter such as a potato salad, lunch is often served.
Dinner: Abendessen or Abendbrot is the name for the evening meal in Germany; the latter is more akin to supper and translates to "evening bread." Following a hearty lunch, Germans usually have a lighter dinner, including bread, hams, sausages, cheeses, and pickles.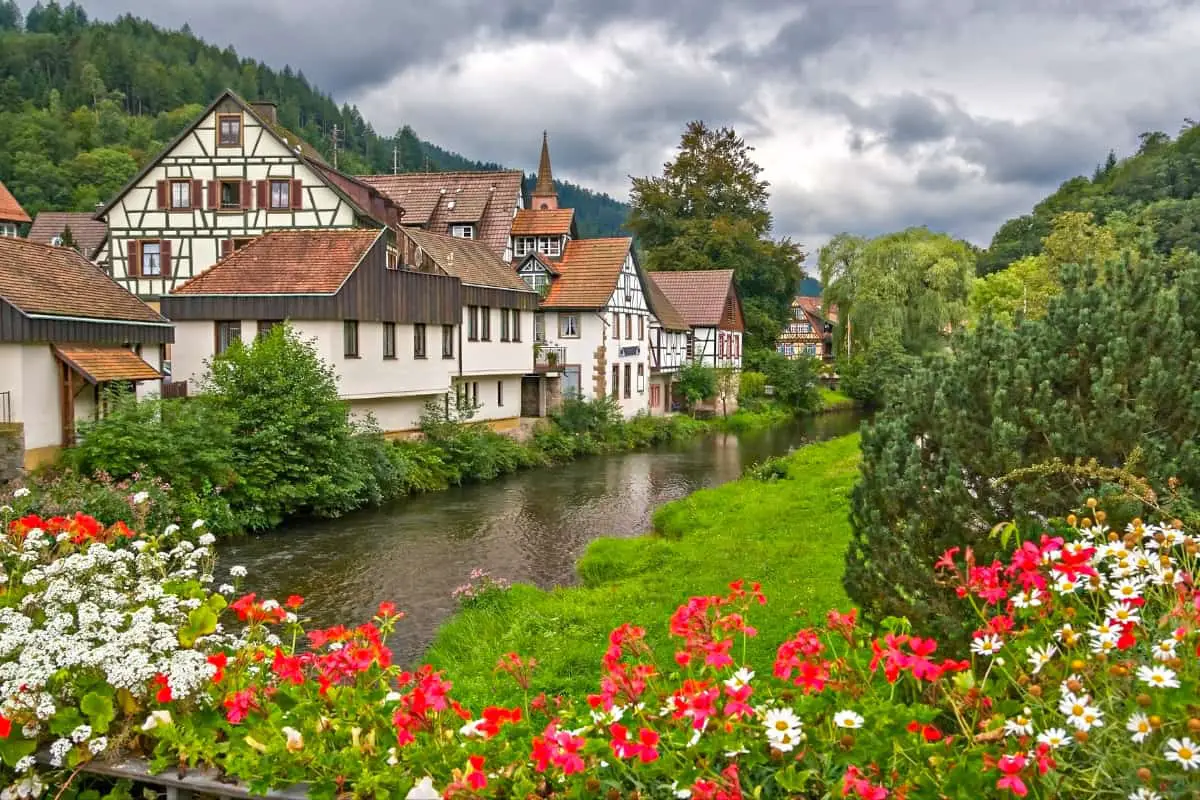 What Are Some Popular Foods In Germany?
1. Königsberger klopse. This tasty dish of meatballs in a creamy white sauce with capers is beloved by families in Germany.
2. Maultaschen. They are a lot like ravioli but bigger. They are typically palm-sized, square pockets of dough with fillings that run the gamut from savory to sweet and meaty to vegetarian.
3. Sausages. There are countless cured, smoked and other varieties available across wurst-loving Germany. Some of the best German street food sausages is bratwurst, or fried sausages.
4. Currywurst. It is commonly attributed to a Berlin woman who in 1949 managed to obtain ketchup and curry powder from British soldiers, mixed them up and served the result over grilled sausage, instantly creating a German street food classic.
5. Döner Kebab. From its humble Berlin beginnings when a döner kebab only contained meat, onions and a bit of salad, it developed into a dish with abundant salad, vegetables (sometimes grilled), and a selection of sauces from which to choose.
6. Schnitzel. The German version is made with tenderized pork or turkey and has become a staple of most traditional restaurants.
7. Käsespätzle. Spätzle is essentially a sort of pasta, the noodles are a simple combination of eggs, flour, salt and often a splash of fizzy water to fluff up the dough. Traditionally served as a side to meat dishes or dropped into soups, it can be spiced up by adding cheese: the käsespätzle variant is an extremely popular dish in southern Germany.
8. Rouladen. It is a delicious blend of bacon, onions, mustard and pickles wrapped together in sliced beef or veal. This is a staple of family dinners and special occasions. They are usually served with potato dumplings, mashed potatoes and pickled red cabbage.
9. Sauerbraten. It is regarded as one Germany's national dishes. This pot roast takes quite a while to prepare, but the results, often served as Sunday family dinner, are truly worth the work.
10. Saumagen. Somewhat resembling Scottish haggis, it is prepared by using the stomach of a pig (or an artificial one) as a casing for the stuffing made from pork, potatoes, carrots, onions, marjoram, nutmeg and white pepper.
11. Spargel. White asparagus that is boiled or steamed and served with hollandaise sauce, melted butter or olive oil. It comes wrapped in bacon or heaped upon schnitzel; as asparagus soup, fried asparagus, pancakes with herbs and asparagus, asparagus with scrambled eggs or asparagus with young potatoes.
12. Kartoffelpuffer. Homemade authentic German potato pancakes. Nutmeg is the secret ingredient, adding a nutty kick to these potato pancakes. Potatoes and onions are grated and mixed with the remaining ingredients before fried until crispy and golden brown.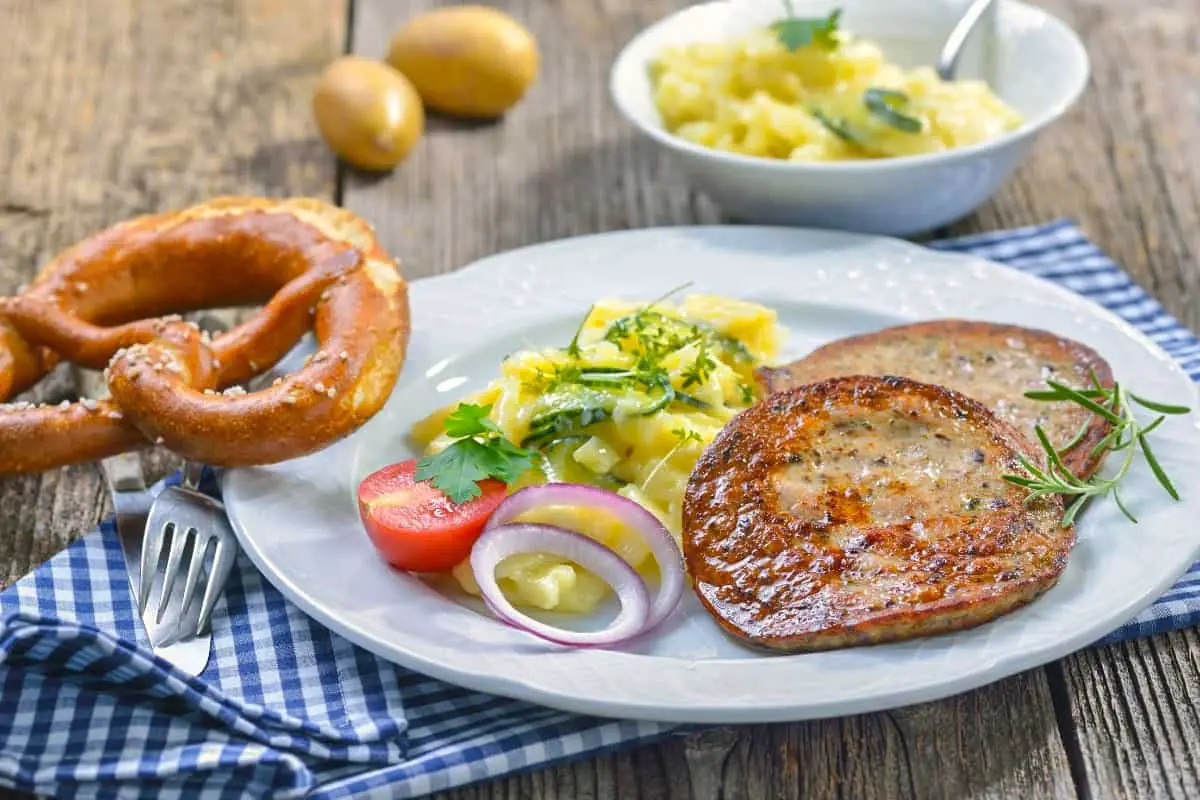 Are There German Desserts That Are Popular?
1. Cookies Galore.
– Linzer Cookies – Buttery shortbread and filling with a sweet and tart jam
– Authentic German Lebkuchen – With a high fruit and nut ratio, these cookies are spiced, nutty, and sweet.
– Pfeffernusse – Peppernut Cookies are great when cooled, with a crisp edge and chewy middle.
– Zimtsterne – German Cinnamon Star Cookies is sweetened just a touch with a meringue glaze.
2. Schwarzwälder Kirschtortes. Germany has a vast variety of cakes, but among the most popular is the Schwarzwälder kirschtorte or Black Forest gateau. The cake is named after the speciality liquor of the region distilled from tart cherries.
3. Käsekuchens. German cheesecake does not use fruit, and the base is surely not made from crackers but freshly made dough, or even without a base. The filling is made with low-fat quark instead of cream cheese and egg foam is added to give it more fluff, plus lemon and vanilla for some extra freshness.
4. Spaghettieis. It is an ice cream dish made to look like a plate of spaghetti. Vanilla ice cream is pressed through a modified noodle press or potato ricer, giving it the appearance of spaghetti. It is then placed over whipped cream and topped with strawberry sauce representing the tomato sauce and white chocolate shavings for the parmesan.
5. Apfelstrudel. German Apple Strudel is encased in a thin, hand-stretched dough. This thin dough gets loaded with apple, cinnamon, and golden raisins, before being rolled up into a strudel log.
6. Peach Kuchen. This sweet tart has a wonderful buttery shortbread base. You'll bake the base with sliced peaches for about 15 minutes. The custard is as simple as whisking egg yolks and cream. This gets poured in the hot tart and baked for 30 minutes until set.
7. German Chocolate Cupcakes. This recipe will give you rich and moist chocolate cupcakes every time. The coconut and pecan topping is out of this world.
8. Kirschmichel – Cherry Dessert. This recipe is a modern twist on the cherry bread classic. Instead of using bread, this recipe calls for semolina. When the cake is mixed, stir through your cherries and bake until golden and puffy.
9. Heidelbeerkuchen. Filled with blueberries then the fruit is topped with a creamy sweet cheesecake filling, and it all fits nicely into a cake crust that's somewhere between a pie shell and cake.
10. Kokosmakronen. German Coconut Macaroons. These macaroons are super easy to make, using just coconut, egg whites, sugar and some flour.
11. Rumkugeln. German Rum Balls. No-bake rum balls are such a fun and simple way to get your chocolate fix.
12. Streuselkuchen. German Crumb Cake. The base is a fluffy yellow cake that gets topped with apricot jam, which will bubble and seep into the sponge for extra moisture and sweetness. The top is a simple crumble topping made with flour, butter, and sugar.
24 Traditional German Food Recipes and German Cuisine
---
---
check out our video
---
---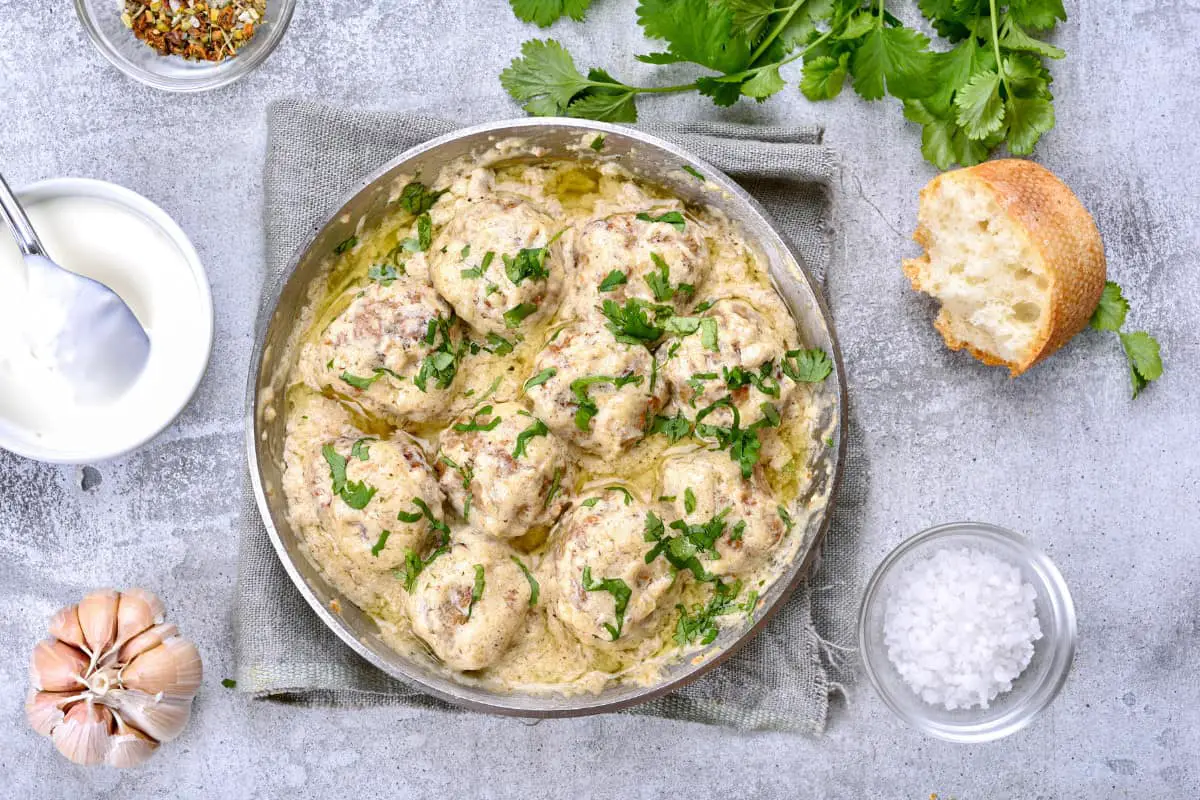 German meatballs in creamy caper sauce. There are several %22traditional%22 versions of this recipe stemming from the fact that this is now considered to be one of the most popular regional dishes throughout all of Germany.
A classic! Authentic Königsberger Klopse are made from equal amounts of ground veal, beef, and pork. This is a very, very traditional German comfort food, and very, very easy to make.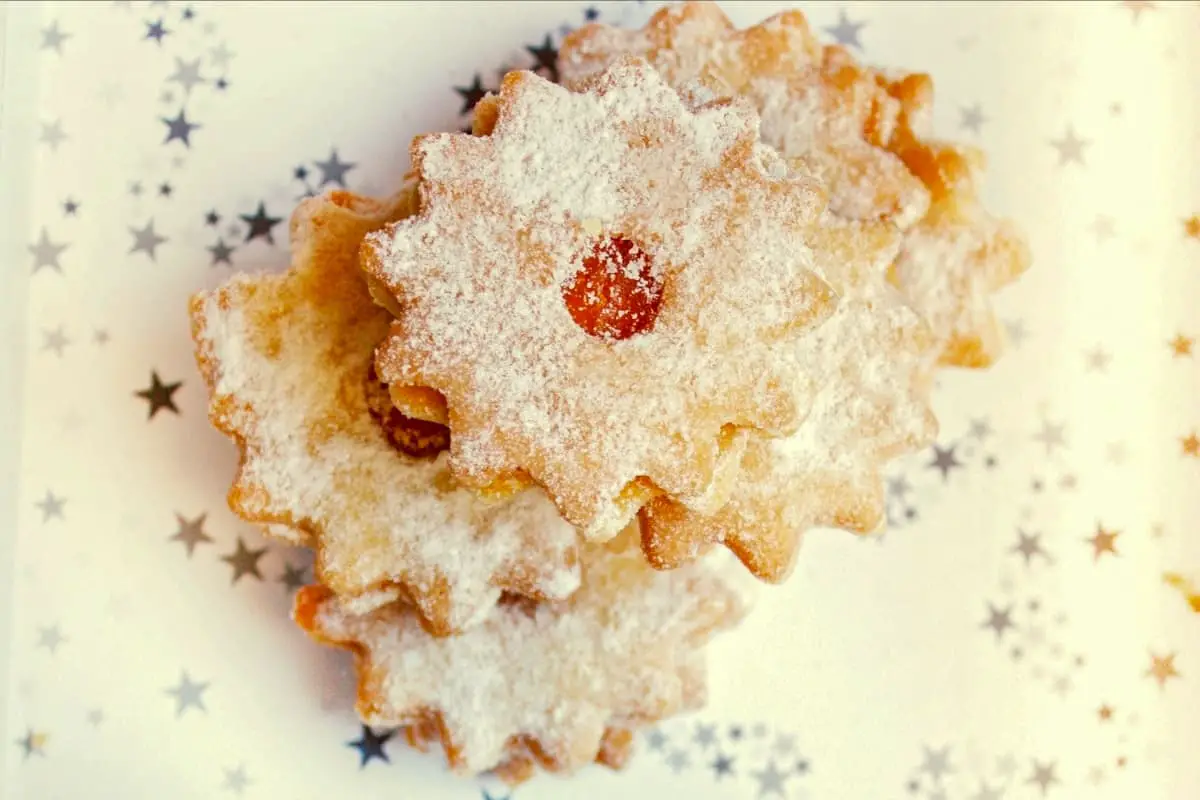 This is the absolute best Linzer Cookies ever! These gorgeous and easy cookies are buttery, flaky shortbread filled with sweet jam and dusted with powdered sugar. A Christmas Cookie Classic!
The five-ingredient dough is simple and delicious. Be sure not to over-mix, though. You'll want it short and crumbly. Though I prefer the traditional raspberry filling, I think any jam would be great. For a little twist, why not try striping with some dark chocolate?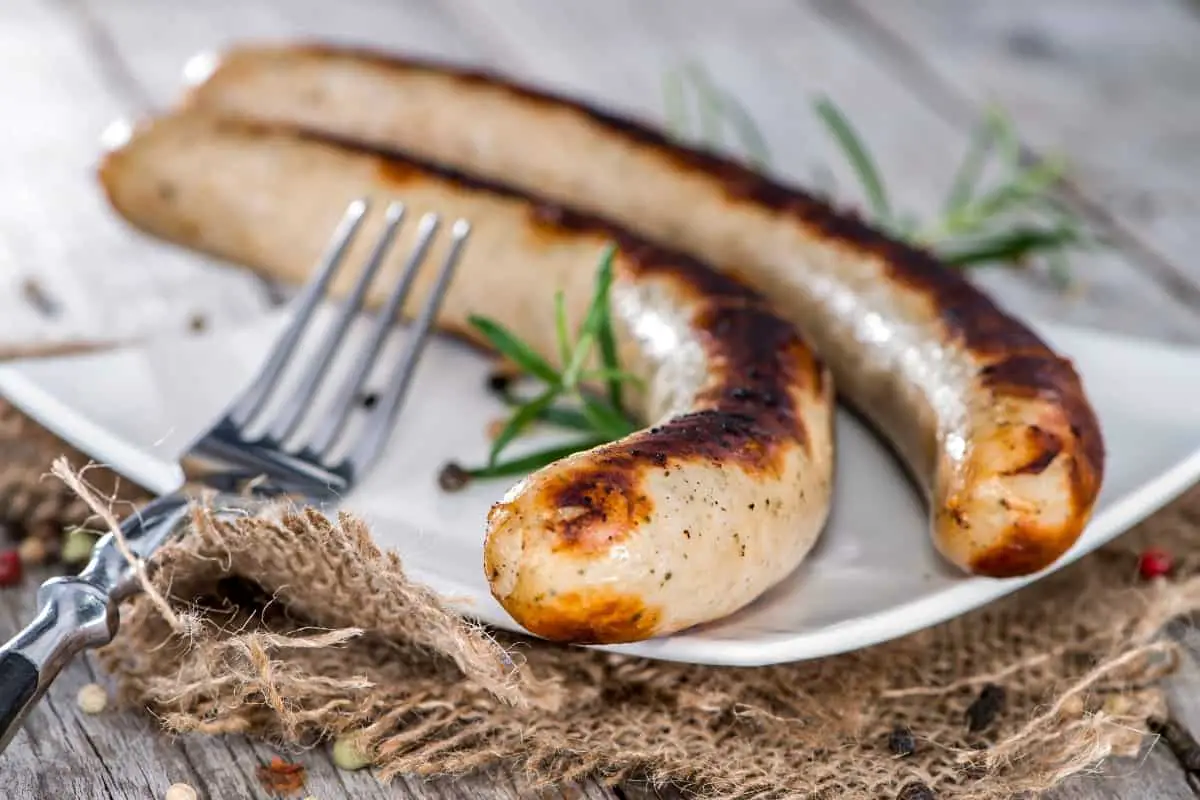 Experience the delicious taste of Germany through this thoroughly authentic homemade bratwurst recipe! Make a double batch, freeze them, and you can conveniently grab and grill a bratwurst any time the craving hits you!
Everything about this rich black forest cake is mouthwatering. This classic German cake, is moist, flavorful, and a crowd favorite. This authentic cake has an intense chocolate flavor.
It's the perfect combination of sweet and sour. Perfect for crowds because everyone loves it!%0ADue to the whipped cream, the cake is really light and airy. You can serve it for all occasions.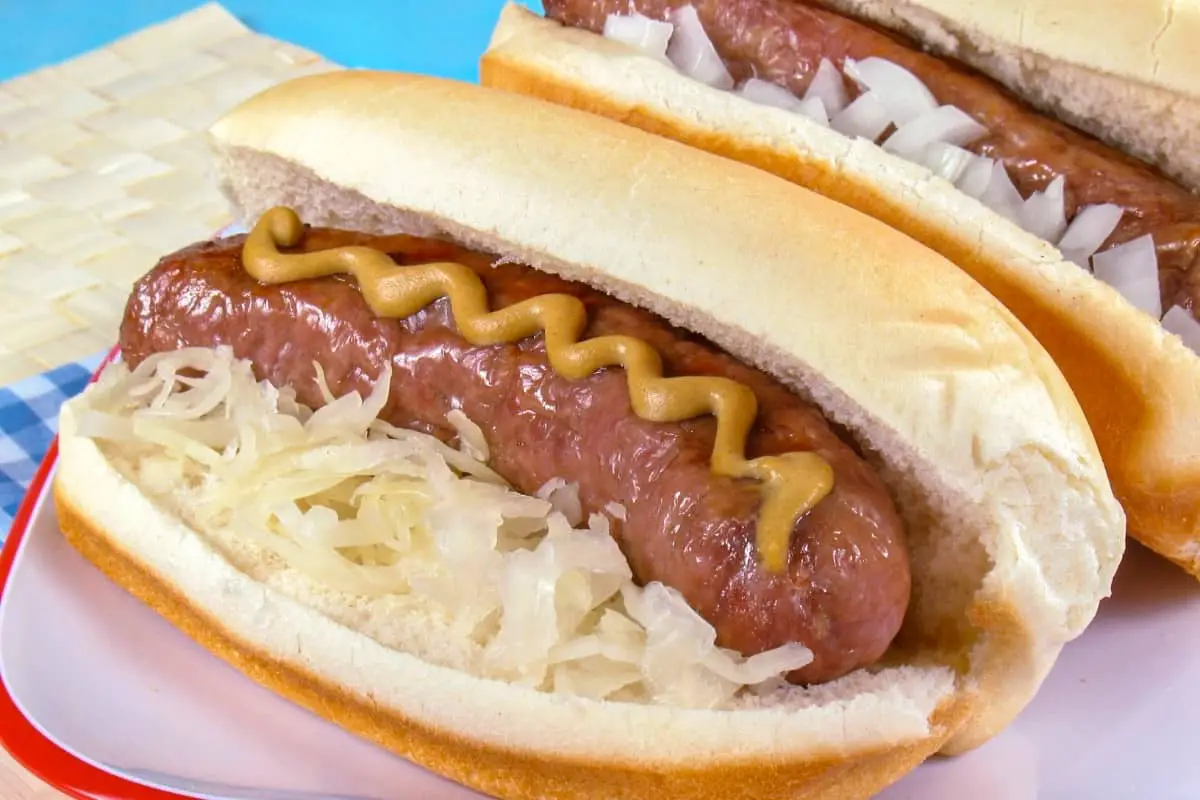 A flavorful beer glaze coats bratwurst or knockwurst sausages and onions served over sauerkraut. I was looking for a more intense beer flavor with a little bite, and this is it.
Served on potato rolls with spicy hot German mustard, Swiss cheese, and ice cold beer on the side.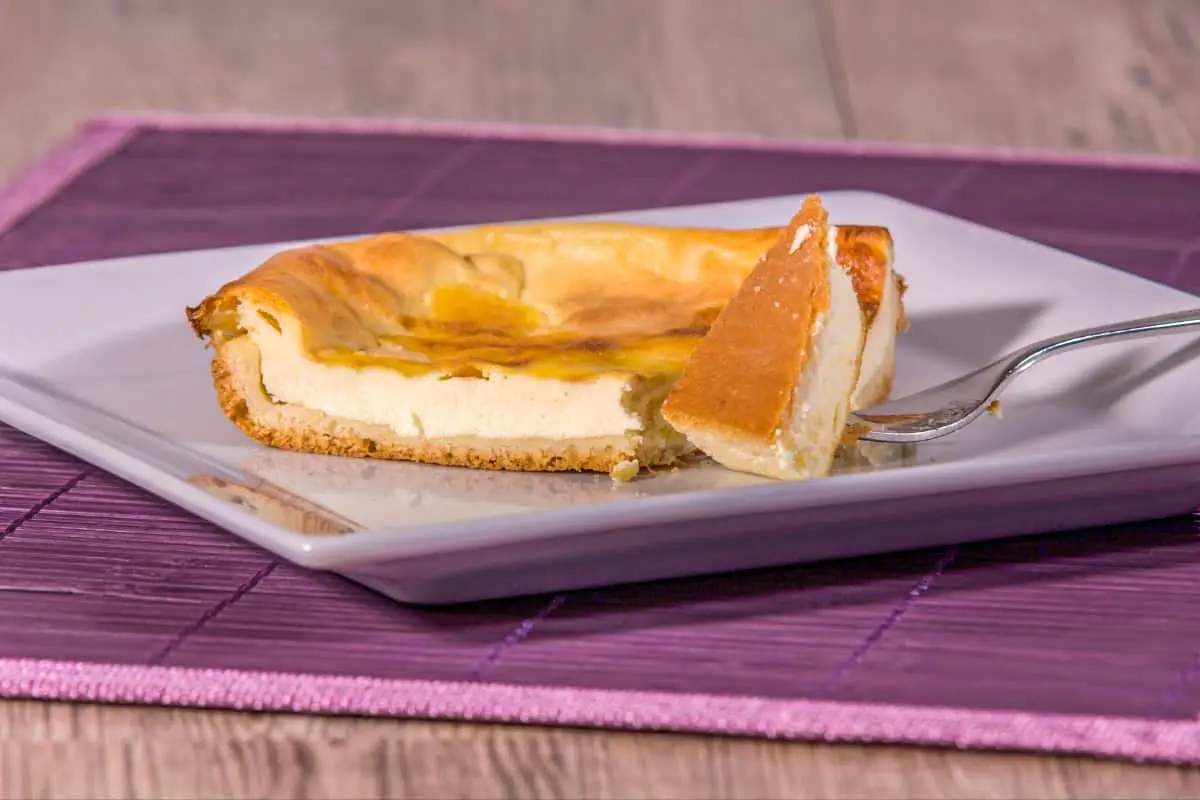 This German cheesecake is a bit lighter than its American cousin. The filling is made with low-fat quark instead of cream cheese and egg foam is folded into the filling to give it a slightly fluffy consistency. Lemon and vanilla give the filling a fresh flavor.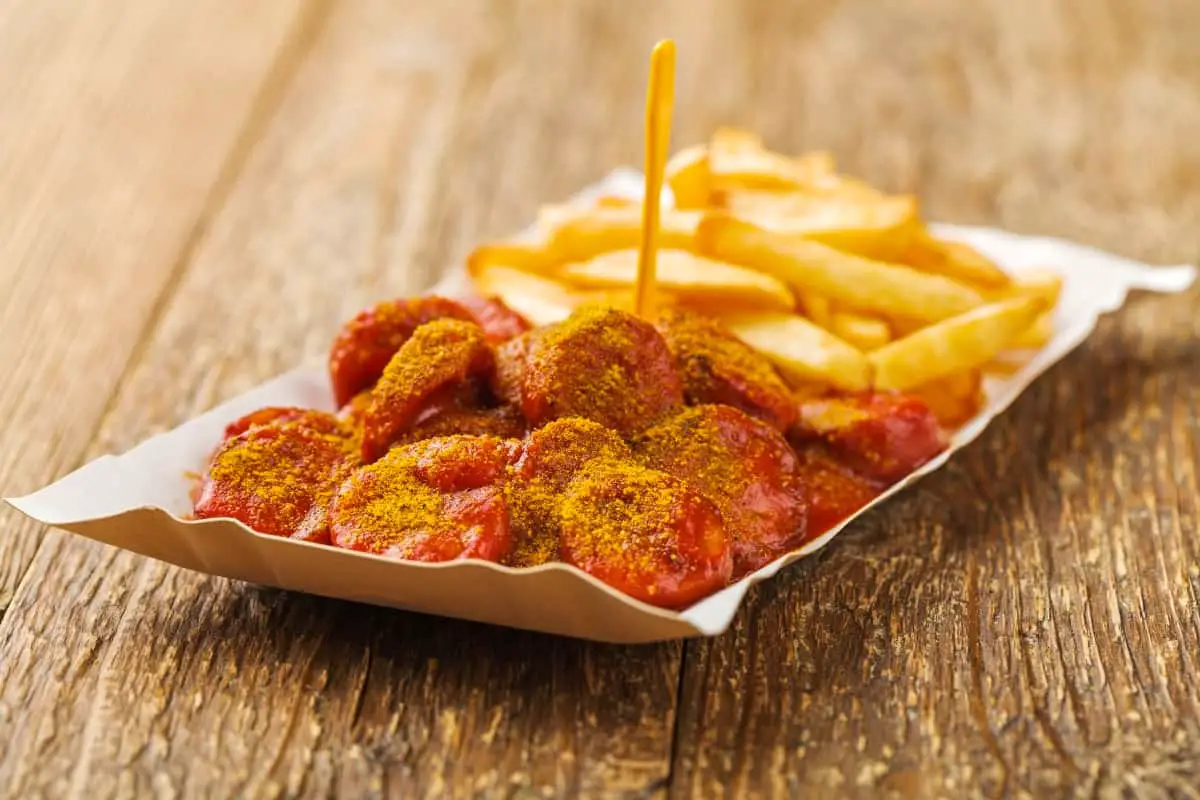 Currywurst is a favorite German street food and can easily be found across the country. Sliced pork sausage (Bratwurst) is cut into slices and seasoned with curry ketchup.
This delicious recipe is so quick to make at home in the air fryer, oven, or stovetop. Ready to serve in less than 20 minutes, you can recreate this Berlin street food classic easily with a few simple ingredients. The curry ketchup is out of this world.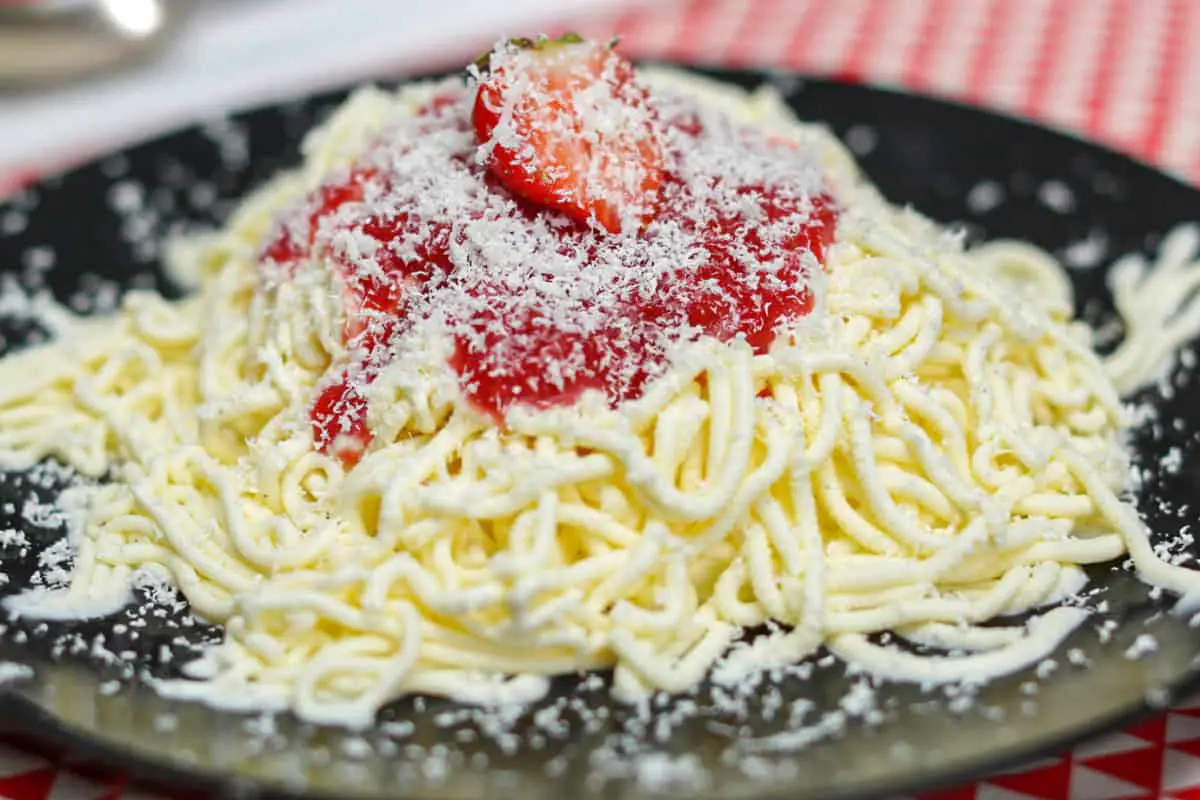 A popular German ice cream novelty fashioned to look like spaghetti with meatballs. Spaghetti ice cream is easily fashioned from purchased ice cream, fresh berries, jam and toppings.
The original method called for pressing vanilla ice cream through a spaetzle press, pressing ice cream through a potato ricer creates %22noodles%22, strawberry sauce looks like tomato sauce, and coconut or white chocolate shavings play the Parmesan cheese role.
You know the world-famous döner kebab, the irresistible, juicy enormous kebab cooked on a vertical rotisserie. Here is an easy homemade version of döner kebab that tastes as good as the real thing.
Döner kebabs are especially popular in Germany, which has a significant Turkish population. Although the shaved meat can be served on a platter with rice and cooked vegetables, it's most popular as a sandwich eaten as street food.
You might find tomatoes, lettuce, cucumbers, red onion, cucumbers, or pickles inside the pita, and the sauce might be a yogurt-based tzatziki or tahini.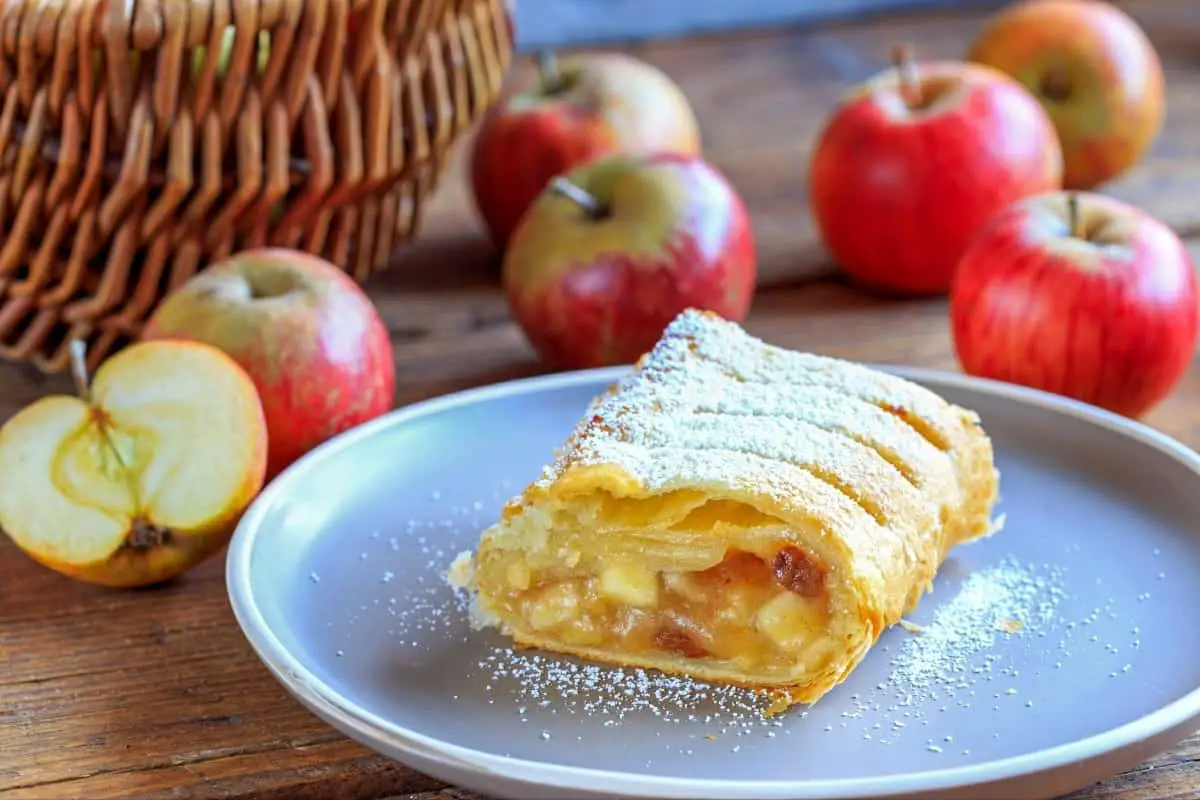 This Apfelstrudel recipe might sound daunting, but it's much easier than it seems and so much fun to make. And the resulting apple strudel is a delicious, festive dessert filled with sweet, spiced apples and raisins in a flaky crust that everyone will love.
It's simpler than you might think. This apfelstrudel recipe will walk you through the process.
Cooking thinly sliced, breaded meat in a fry pan is the easy technique used for any authentic, crispy German schnitzel recipe. I use bone-in, thinly cut, tenderized pork chops coated in panko bread crumbs.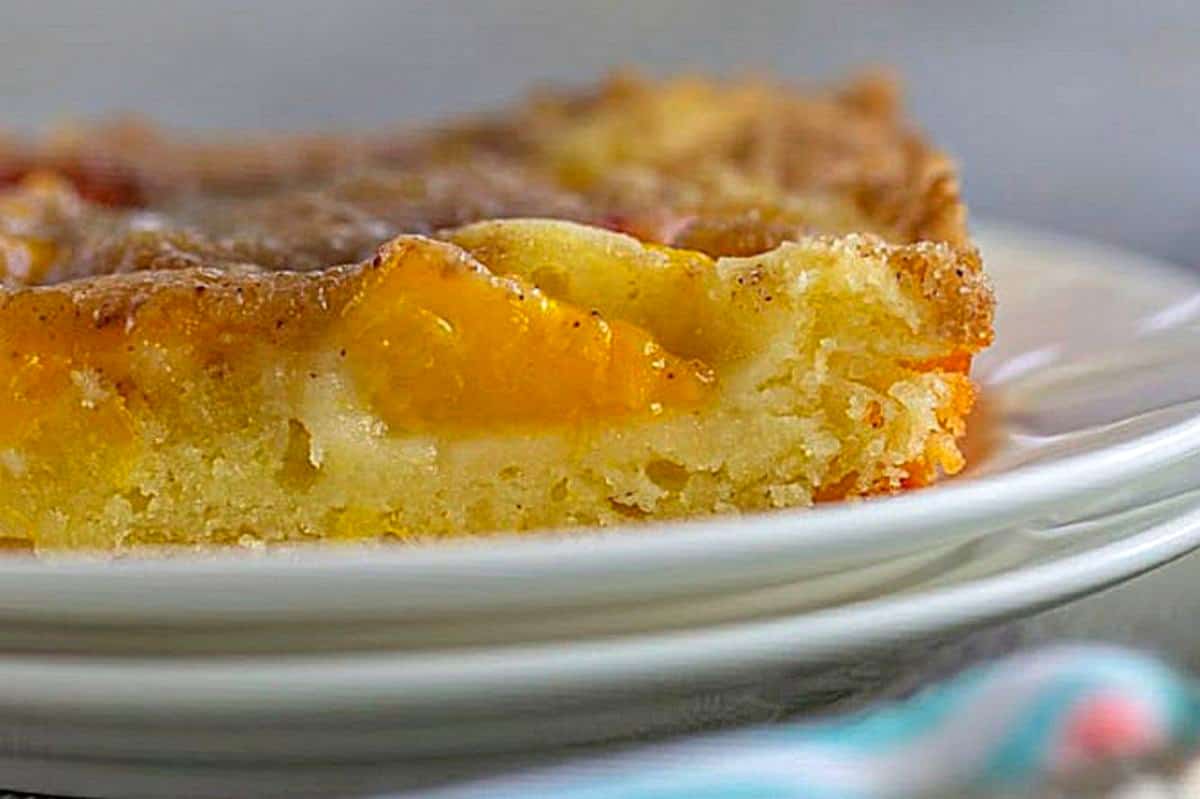 Typically, kuchen is made from sweet dough and contains a fruit or custard filling. This German Peach Kuchen has a crust topped with peaches, sugar, and cinnamon baked for a few minutes. A mixture of egg yolks and sour cream is poured over the kuchen and baked to perfection.
Homemade Spätzle are layered with gobs of shredded Emmentaler (like swiss cheese) and geröstete Zwiebeln (caramelized onions) and then baked in the oven. I guess you could say it's Germany's version of mac and cheese.
If you love pasta and cheese and caramelized onions you will definitely LOVE this Kasespatzle! Chewy homemade German egg noodles oozing with Swiss cheese and topped with butter caramelized onions.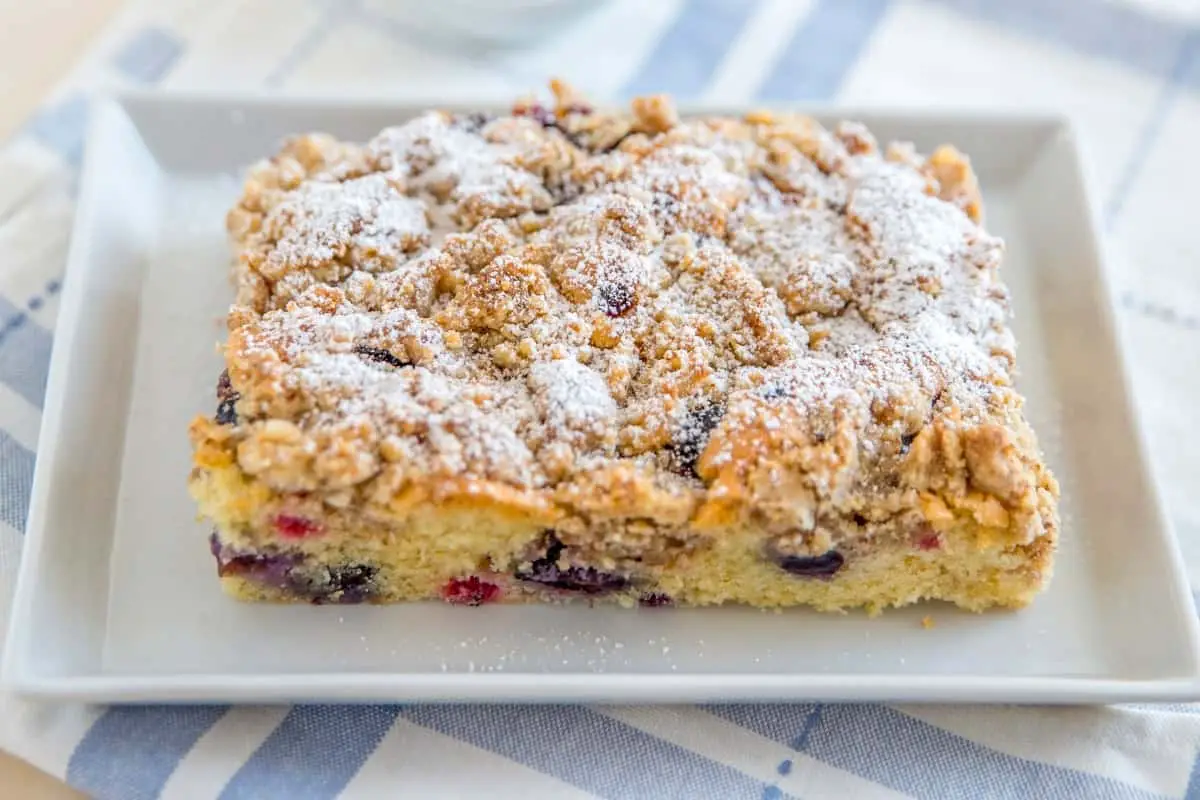 This German Blueberry Cheesecake contains a KILO of blueberries! And as you know, the best part about German cakes with fruit is that since they contain FRUIT.
Honestly, this cake is quite delicious. The fruit is topped with a creamy sweet cheesecake filling, and it all fits nicely into a cake crust that's somewhere between a pie shell and cake.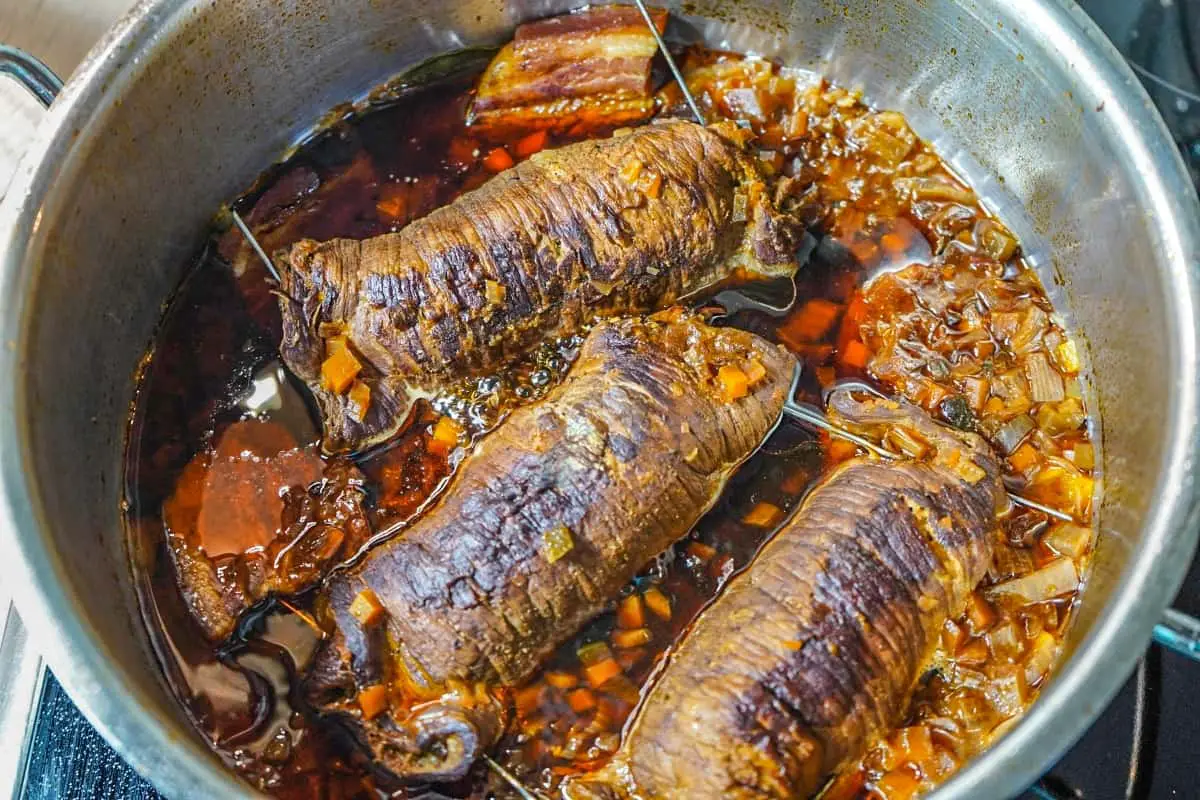 Rouladen is a German meat dish, usually consisting of bacon, onions, mustard and pickles wrapped in thinly sliced beef which is then cooked. It has a wonderful combination of flavors and is just so good!
Most German dinners are served with a side of Rotkohl (red cabbage), homemade sauerkraut, or cooked vegetables. I love Rouladen served in a traditional style with cooked potatoes or Spätzel, vegetables and a thick gravy on top.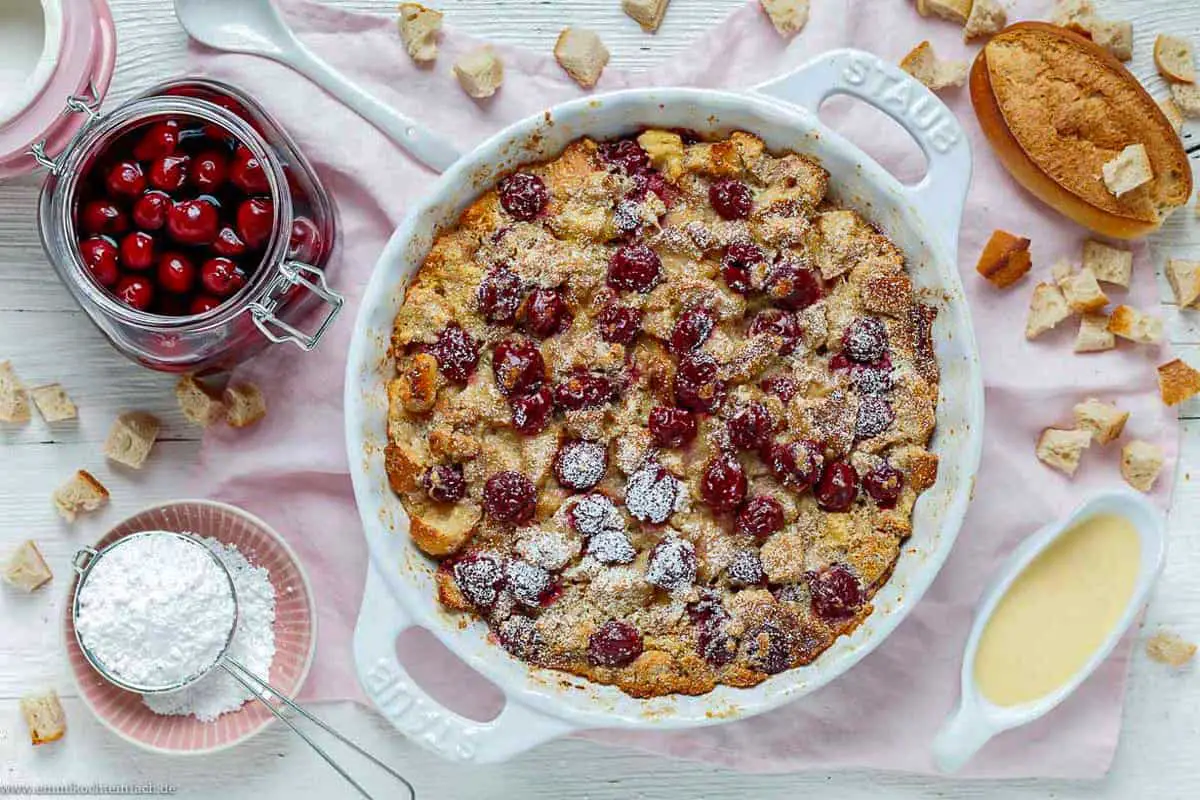 Kirschmichel – a delicious German cherry dessert or pudding served with vanilla sauce. It's perfect choice to make when dessert is needed and there is some leftover bread or rolls that need to be used up. Add some eggs, milk, cherries and it's a perfect dessert that's special enough for company.
Best when served warm, fresh from the oven. Serve with some vanilla sauce, whipped cream or ice cream. Comfort food. Wunderbar!
This authentic German Sauerbraten recipe makes the most tender, juicy roast beef in a wonderful sweet and sour gravy. Marinated for days in red wine, vinegar, and spices, then braised until the meat is succulent and tender, and served with rotkohl and spaetzle, sauerbraten is one of Germany's national dishes for good reason!
Sauerbraten is one of the national dishes of Germany and this version is as authentic as I can possibly make it. The flavor is absolutely amazing and it tastes just like the sauerbraten I ate in Germany.
This traditional German treat has two layers of yeast cake, a vanilla cream filling, and a crunchy gooey honey almond topping. This easy authentic German dessert that will fly off your cake plate!
German Bee Sting Cake is one of the best desserts in Germany and you can easily make it at home. This is one of those German desserts that looks complicated and impressive but it's actually very easy to prepare.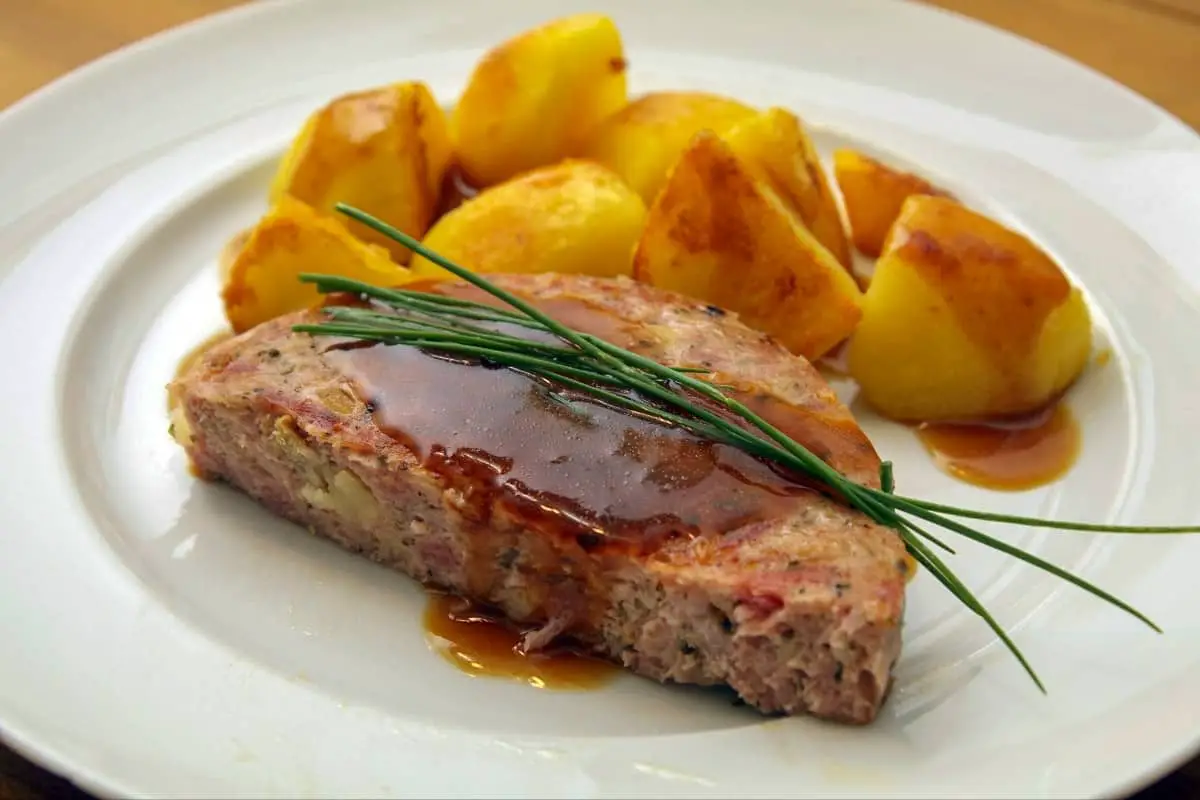 The filling is simply a mish mash of pork meat, vegetables and herbs. Most commonly, these are potatoes, carrots, onions, marjoram, nutmeg and white pepper. Thus, the ingredients are rather conventional and even suitable for the faint-hearted. Apart from these basic elements, additional condiments can be cloves, coriander, thyme, garlic, and several others.
Germans usually serve Saumagen as fried slices with Sauerkraut and mashed potatoes as well as some German mustard for dipping. The stomach of a pig only serves as a casing for the dish, ergo, the name.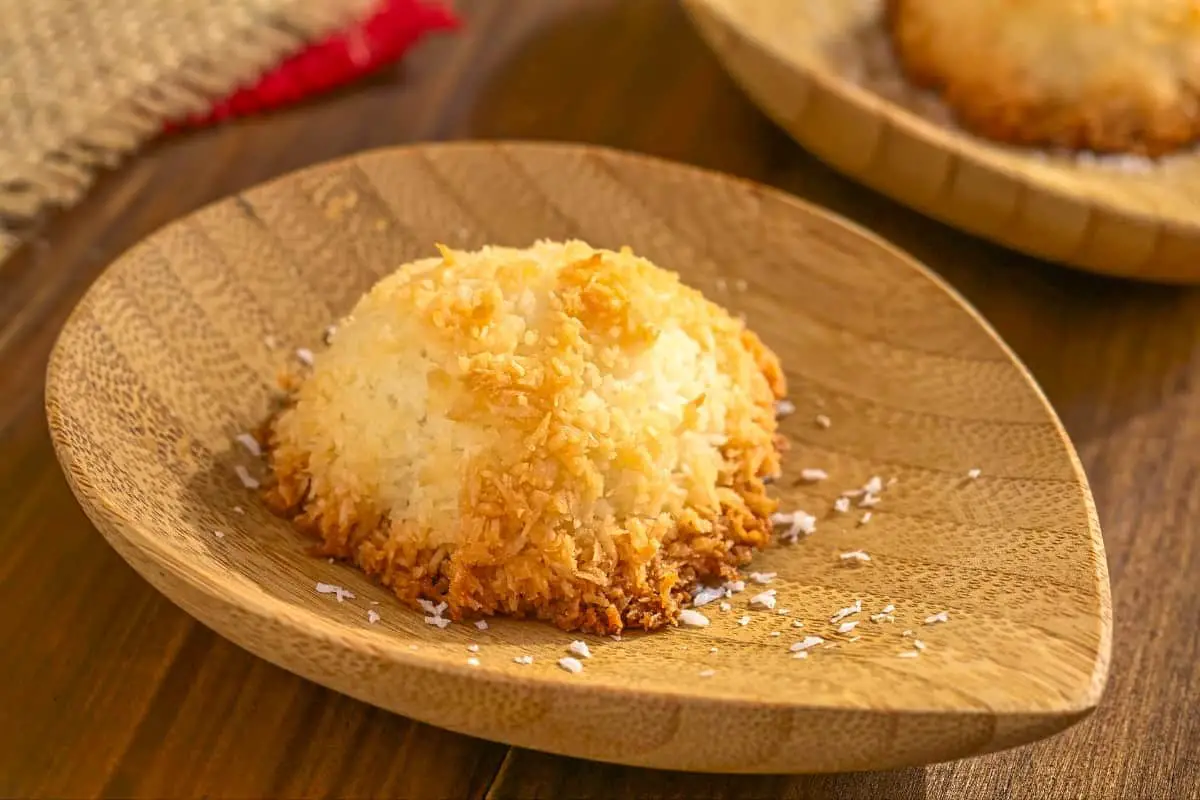 These Coconut Macaroons are chewy and moist on the inside and crispy on the outside! Made with lemon zest and without sweetened condensed milk, these sweet and easy coconut cookies are going to be everyone's favorite treat this holiday season.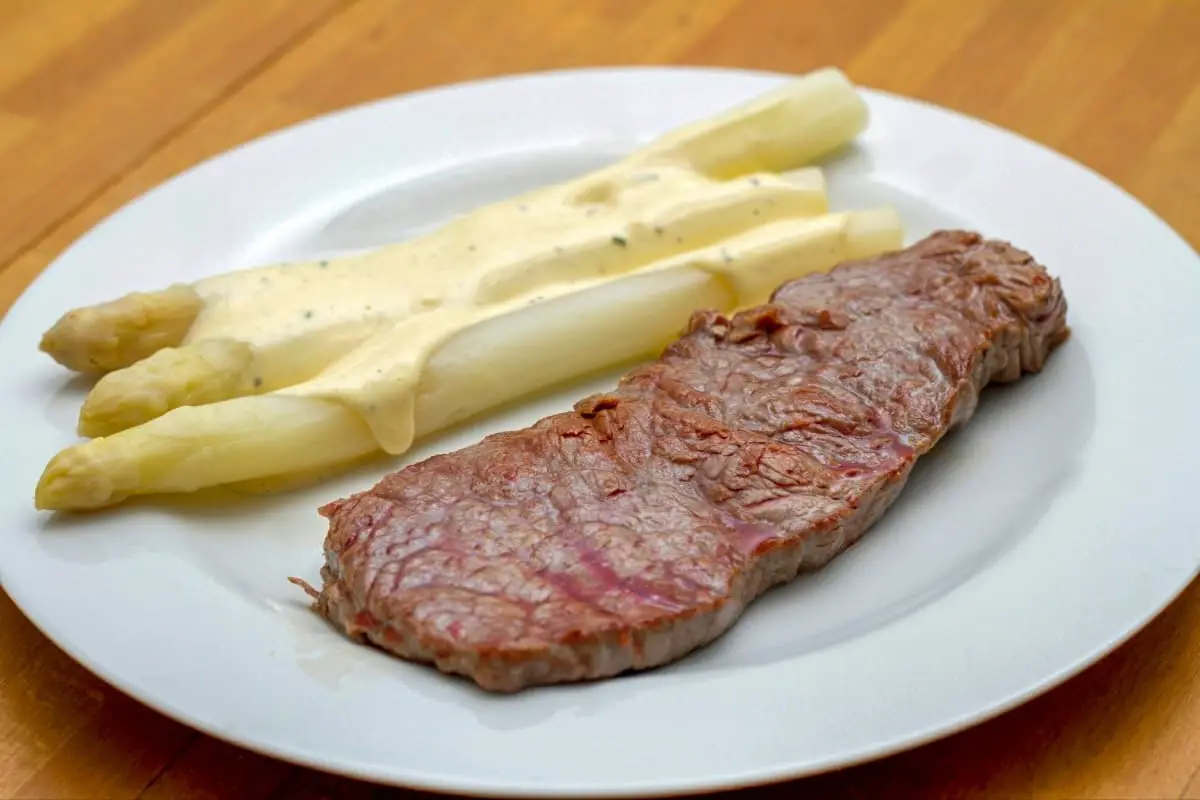 This traditional way how to cook asparagus, aka Spargel, is the most popular way that's it's made in Germany. White asparagus is the most common type that's sold.
The most popular asparagus recipe is this simple one: boiled white asparagus served with a Hollandaise sauce, boiled potatoes and ham.
These no-bake treats couldn't be easier to make and are perfect to bring to holiday parties, to add to your cookie tray or for delicious post-dinner snacking. You can make chocolate rum balls with or without hazelnuts and adjust the rum flavor to your liking.
You can roll your German Rum Balls in chocolate sprinkles or cocoa powder. You could also use chopped hazelnuts, powdered sugar or mini chocolate chips.
Delightfully crispy and flavorful, these authentic German potato pancakes are fun to make and even more delicious to eat! They are made from potatoes that are grated raw and grated finely (allowing them to cook quickly and evenly).
The shredded potatoes are wrung out in a clean dish towel and then mixed with egg, finely grated onion and flour and then fried to light golden. The end result is a crispy exterior and soft interior.
Streuselkuchen is the quintessential German afternoon treat. This easy German recipe is foolproof. It's a light and airy cake with a layer of jam and is topped with creamy-buttery crumbs and crunchy sliced almonds.
It's an easy recipe that's ready to go into the oven in less than 20 minutes. Serve it with whipped cream, a side of vanilla ice cream – or both!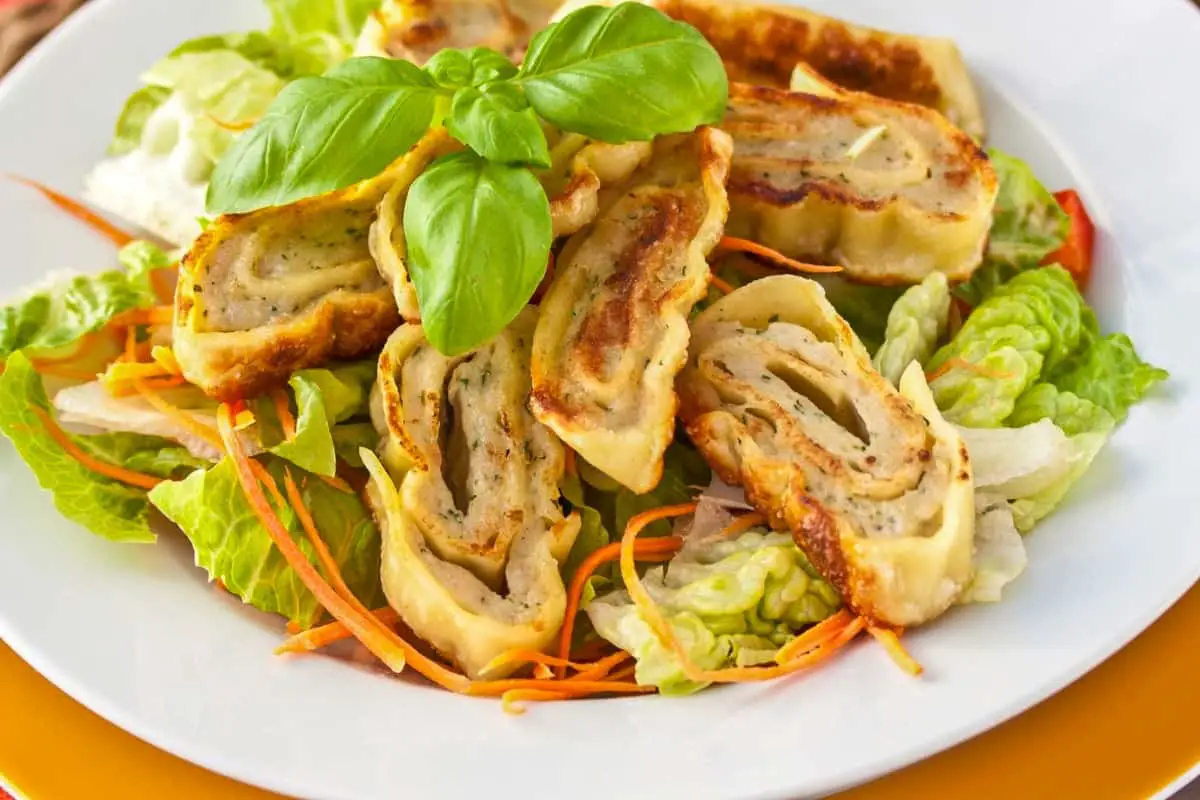 Authentic German recipes usually call for a combination of ground meat (most commonly ground beef) and something called Bratwurstbrät. It's the meat mixture that's used to make German bratwursts. Without it you simply cannot replicate an authentic flavor. ( See Recipe #3)
---
You May Want to Join Our Boondocking Group on Facebook For More Information
You May Want to Join Our Campfire Recipes Group on Facebook For More Information
For More Photos Visit Our Instagram at World Recipes Daily – Our Big Escape