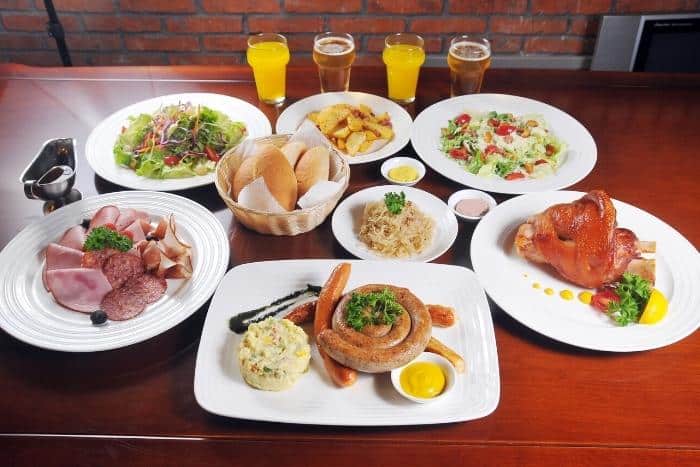 German Food is made up of many different local regional cuisines, and the German Recipes reflect this. Germany itself is part of a larger cultural region, Central Europe, sharing many traditions with neighboring countries such as Poland and the Czech Republic.
This German Food and Recipes Guide is for all our foodie fans because this month we're talking about Germany's fabulous food culture and our favorite recipes. Take your taste buds on a trip and treat yourself to some of our favorite meals for everyday occasions. Try some traditional recipes that have lovingly been preserved by many generations. There is plenty to choose from, so here are some more food tips and ideas!
We love food and it is an important part of our own travel culture. Today we want to share with you our thoughts on German food and more importantly our top 10 German recipes so you can explore traditional German food on your own. These are recipes that have been handed down for years and most come back to a fabulous lady named Oma who lives in the U.S. and yet still concentrates on old fashioned German food.
You will find that a huge majority of recipes on Pinterest that are German related trace back to her. Here is a link to her website if you find that you like our recipes then make use of her great library of other German Recipes.
German Cooking History
Read about the different methods and history of German Food, it will help you prepare better meals. German food has grown as cuisine for centuries and little has been changed. Like many areas of Europe, the recipes are adapted to the popular good grown in the region. For centuries people only had the local foods to eat before importing and so the recipes are derived from those sources and are very regional.
For example, mountain recipes for German will be far different from coastal regions. Because of this diversity, the food options in Germany are for the most part unlimited. Each  area of the country will have new and unique recipes for you to try.
Now on to the German recipes, we hope you try them all and let us know which are your favorites along with any tweaks you might have made.
24 Best German Food and German Recipes
---
---
Authentic German sauerbraten is so easy to make, but it's NOT quick … it takes time to marinate and to cook. It just means that you need to do some planning to allow several days for the marinating to take place.
But, it's SO good and SO worth the time. It's so easy to make, especially using a crockpot, aka, a slow cooker. The slow cooker makes this tender marinated meat ever more tender. It's a traditional German dinner and still is a favorite.
However, if you wish, you can cook it on the stovetop instead. Whichever way you choose, you'll be thrilled with the tenderness and the flavor.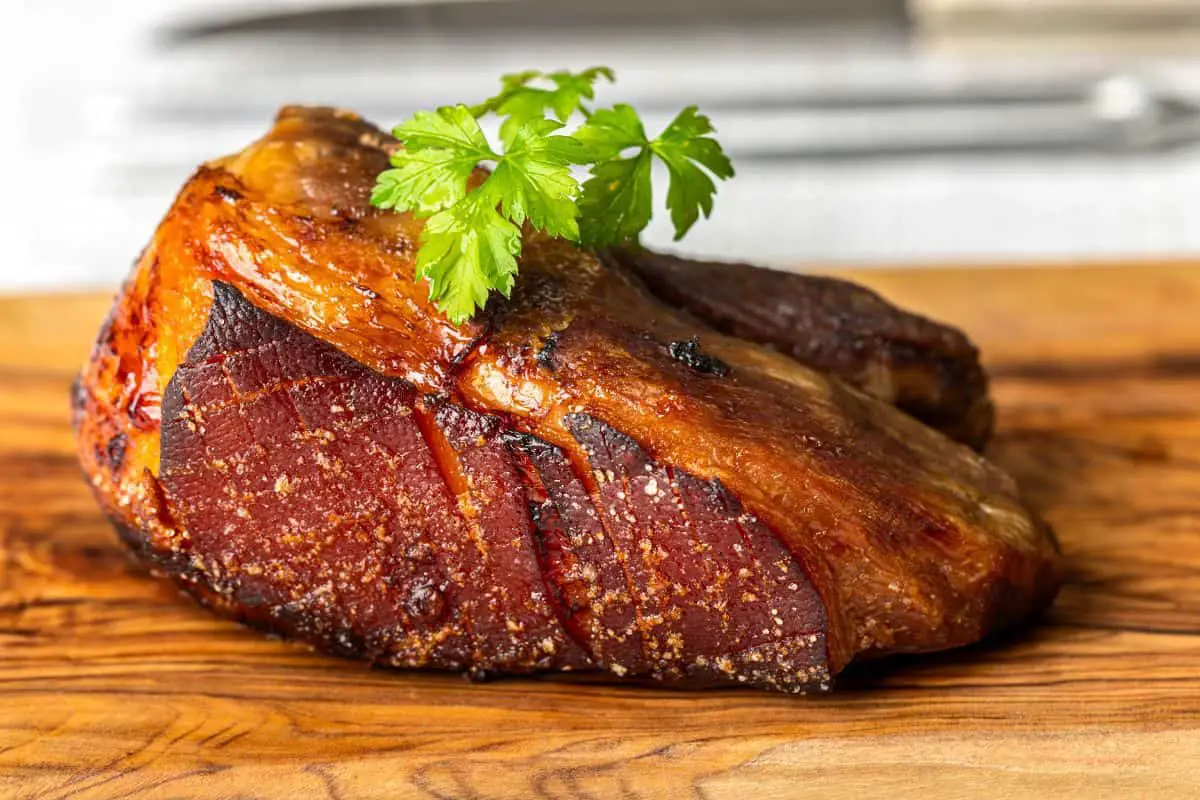 Since all of my grandparents were German, it's no wonder that so many Bavarian recipes have been handed down to me. Because the Midwest has such a large German population, I feel this recipe represents the area well.
Asparagus with Shrimp and Wild Garlic Hollandaise
Spargel mit Bärlauch-Hollandaise – (Spargel mit Bärlauch-Hollandaise) A lovely main dish of white asparagus with wild garlic hollandaise sauce, topped with sauteed shrimp and tomatoes, and garnished with fresh thyme.
This typical German food involves wrapping thinly sliced meat – usually beef but also veal or pork – around a filling of bacon or pork belly, chopped onions, pickles and usually mustard, and then browned and simmered in broth (braised). The mixture changes between regions, with some variations including minced meat. It is common to serve this dish with gravy, dumplings, mashed potato or blaukraut (cooked red cabbage). This was a common dish using cheap meats. Now, it's now eaten at festivals, weekends and family meals.
Crispy breaded pork cutlets served with rich mushroom gravy – that's Jaegerschnitzel. And it's one of Germany's most popular and delicious foods. This authentic Jägerschnitzel recipe will absolutely delight your taste buds!
Crispy breaded pork cutlets served with rich mushroom gravy – that's Jaegerschnitzel. And it's one of Germany's most popular and delicious foods. This authentic Jägerschnitzel recipe will absolutely delight your taste buds!
"This is wonderful. Breaded and fried cubed pork with mushrooms and hunter gravy over a bed of noodles. Serve with a salad and a hunk of thick crusty bread.
I've been making this during the holiday season for nearly 50 years. When we flew to Alaska one year to spend Christmas with our daughter's family, I carried my stollen on the plane!—Rachel Seel, Abbotsford, British Columbia
A light and tasty German recipes twist on a traditional Hamburger made with Bavarian potato pancakes and sliced chicken breasts. Made with Quark
Quark is a soft cheese that's traditionally German. Find it in the deli section of many supermarkets or German specialty stores.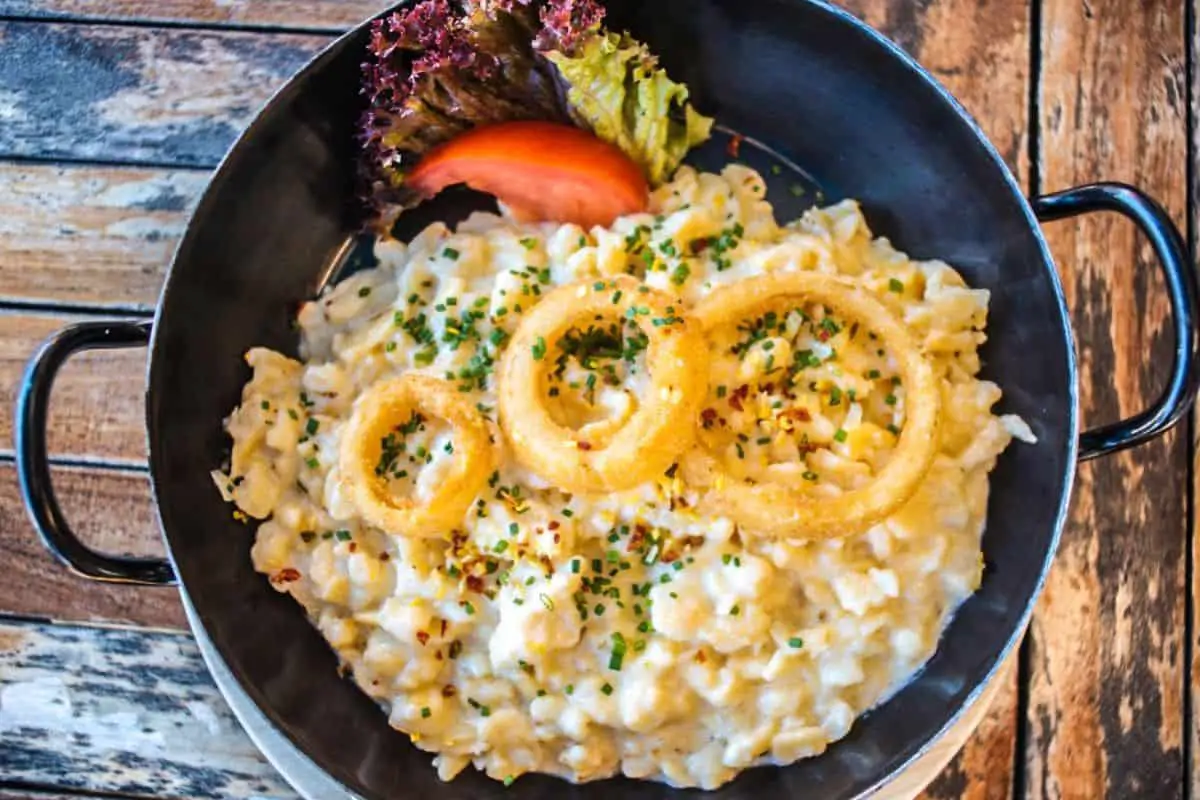 These soft egg noodles are Germany's answer to pasta. Spätzle is especially popular in the south of Germany. It's a Swabian specialty, although the origin of this dish is disputed and variations are found in neighboring countries. These noodles made from wheat flour and egg are often served topped with cheese (käsespätzle) – rather like macaroni cheese – and sometimes with roasted onions too. They are also used to accompany German meat dishes that use lots of sauce or gravy, such as Rouladen, or in stews, such as Gaisburger Marsch (a Swabian stew).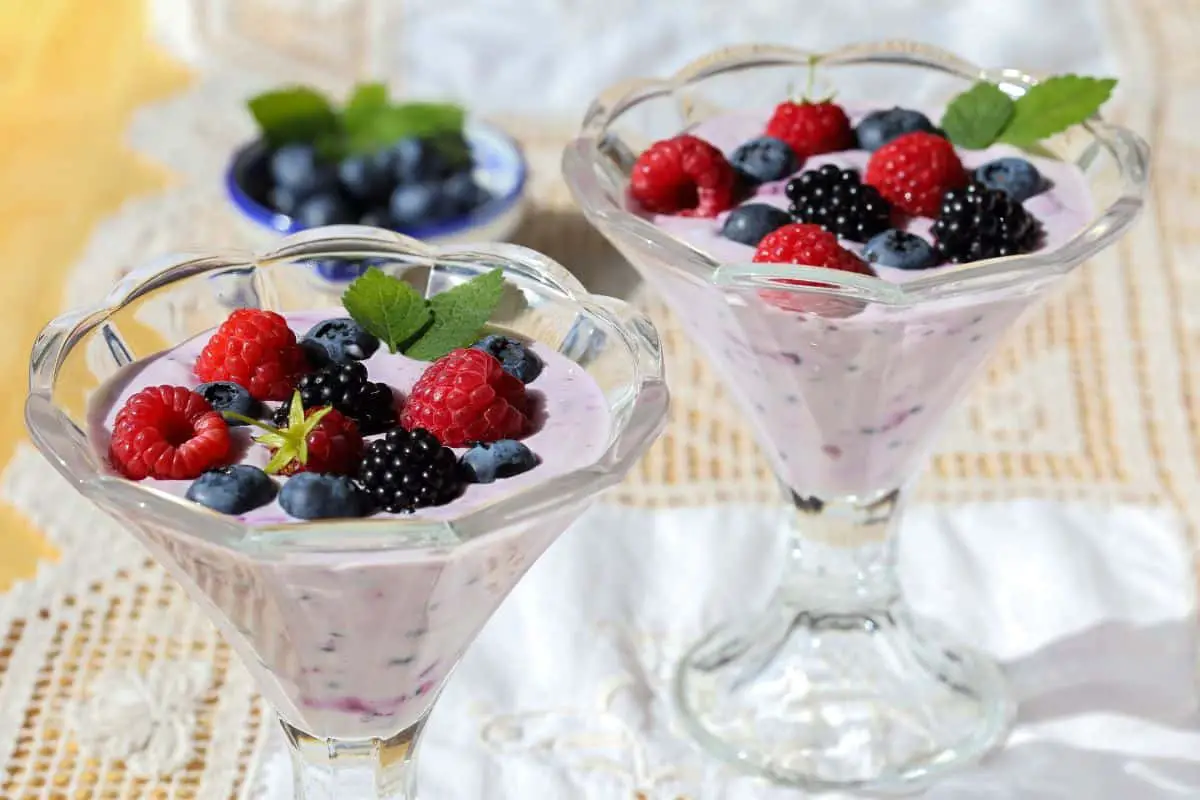 Rote Gruetze is a typical, fruit dessert from northern Germany, Denmark, and other Scandinavian countries. In eastern Europe, a similar pudding is called kissel and is made with pureed fruit.
The original recipe for Rote Gruetze calls for red currants (Johannisbeeren) and raspberries, but modern versions contain just about any, in-season, red fruit except strawberries, which do not have the desired acidity or bite. Sago or semolina (Griess) was used for thickening, which made the pudding a little gritty, hence "Gruetze" or grits. This recipe calls for cornstarch (or potato starch) to thicken which results in a smoother compote.
Brezel is soft white pretzels made from flour water and yeast and sprinkled with salt (and sometimes different seeds). It's great to eat as a side dish or snack, especially with a strong German beer. They're in every bakery and on street stands, sold plain, sliced and buttered or with slices of cold meats or cheese.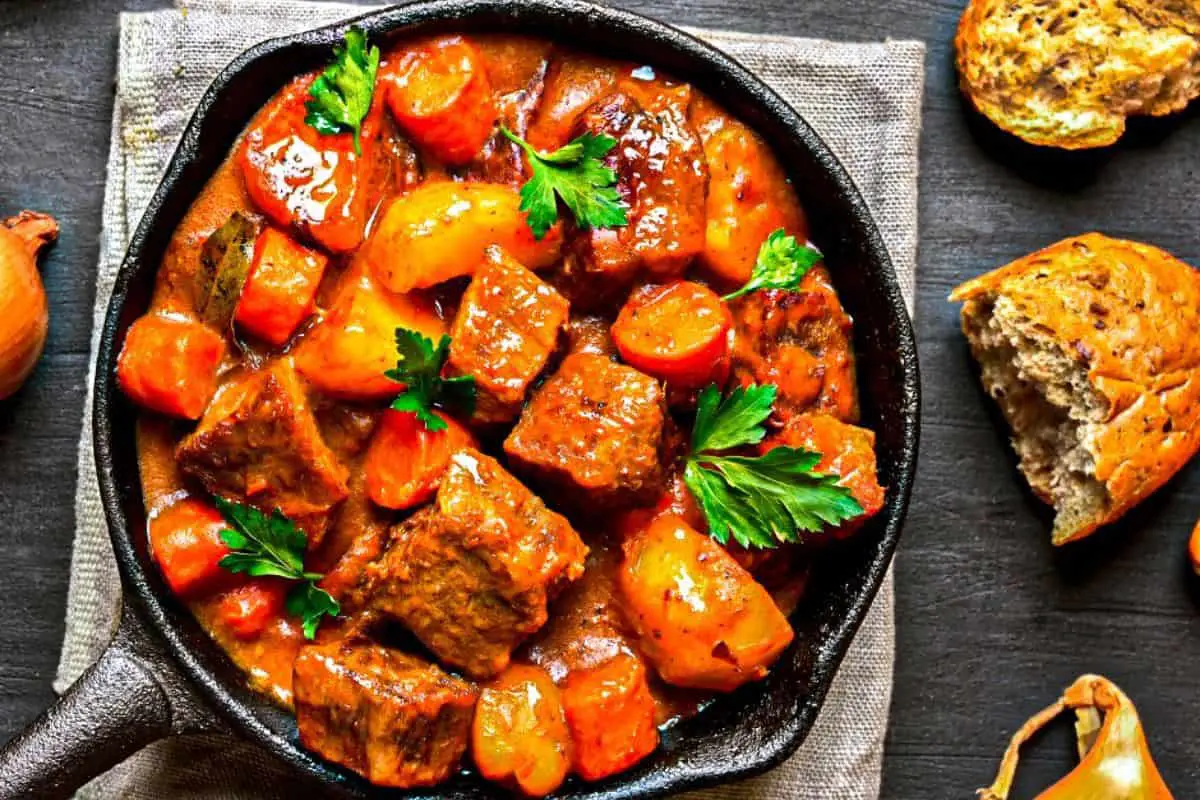 Different country, different goulash! This German variety with beef, tomatoes, and potatoes is awesome served over noodles. And there's half a bottle of red wine in the ingredients list. Goulash is a stew made with meat (such as beef), assorted vegetables, and paprika.
This recipe was inspired by an old German cookbook. Kohlrabi, also called German turnip, is a low, stout cultivar of wild cabbage, but milder. Fresh nutmeg makes all of the difference here. It is worth it.
Schinkennudeln makes a super tasty and filling pasta dish! If you want an easy dish that fills you up, check out Schinkennudeln! This is a classic German dish of pasta with fried ham and egg.
South Dakota's Kuchen arrived with Volga German immigrants in the 1800s. Clearly, when the immigrants arrived, they baked their Kuchen with what was on hand, and made it delicious. After a generation or two of making the recipe a certain way, it became family lore."Oma made it like this, so this is how it should be made." Many different fruits can be used – blueberries, peaches, apricots, cooked apples, plums, blackberries, and more.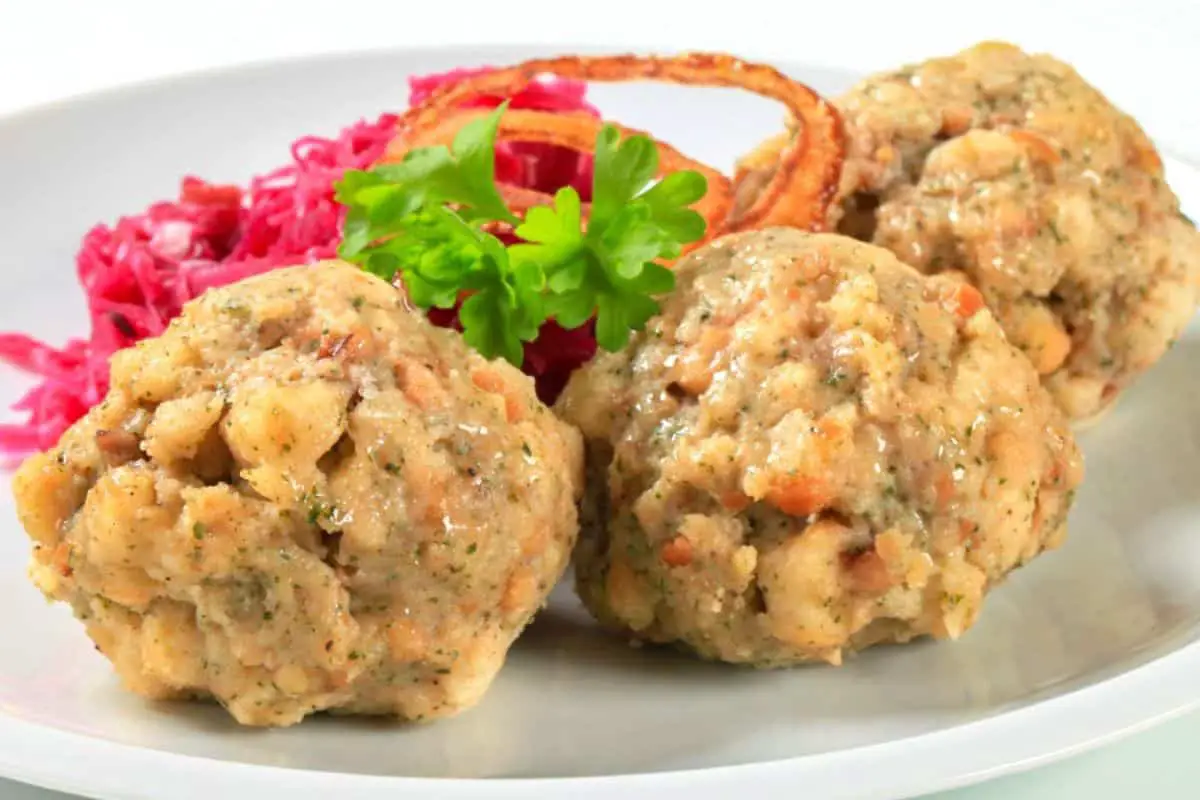 One of the most famous German side dishes are bread dumplings. They are easy to make and are a wonderful opportunity to make use out of rolls that are not soft enough anymore. Bread dumplings are the perfect side dish to Sauerbraten, goulash, Rouladen and all kinds of saucy dishes.
Authentic German red cabbage is a sweet and sour recipe that is often served as a side dish during Oktoberfest. It's easy to make with just a few simple ingredients and is a different side dish for pork chops, chicken, sauerbraten or any of your favorite meat dishes!
German Brotchen or Semmeln are the best! Everyone who has visited Germany knows that these rolls are super delicious. They are part of every good German breakfast and, of course, they need to be fresh. A fresh Broetchen is slightly crunchy and never soft.
This is a warm potato salad, German-style! Slices of boiled potato are tossed in a warm, tangy-sweet bacon vinaigrette while hot so they absorb the flavor. They're then showered with crispy, golden bacon bits and hit with freshness from dill and green onion. This excellent combination of flavors and textures makes this quite possibly my all-time favorite potato salad!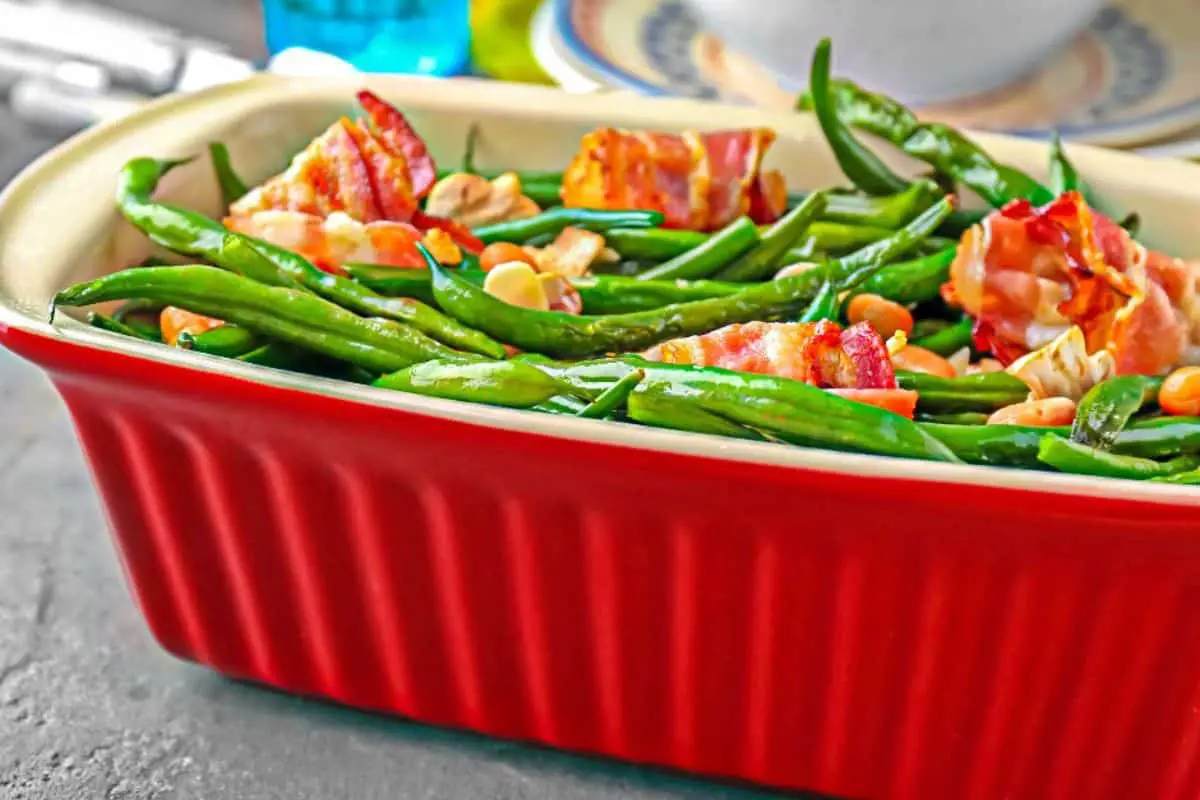 You'd be surprised a how much a couple simple additions brighten up plain beans, but that's exactly the case with these speckbohnen, German green beans. They make a tasty side for any meal. In Germany, you'll typically find green beans served as 'speckbohnen' with bacon or a cured ham known as speck. It's only a simple twist, but adds so much.
I remember this cake, fondly, because of the sticky and sweet honey almonds and the creamy filling. My "Oma" would buy one of these cakes, at the local bakery and serve thick slices with coffee. The cake isn't quite like an American cake. It's more of a pastry texture and it is filled with a pastry cream and topped with honey glazed almonds.
Potato dumplings are a delightful addition to any German feast. The browned butter sauce is delectable. While some German potato dumpling recipes include eggs, our recipe does not and is kept very simple. This German dish of potato dumplings are so tasty. They are usually served up with a meat-based dish and the gravy that goes with it. The most popular German food.
German Chicken Schnitzel recipe. This is a grandma recipe so you know it's going to be good. This easy meal only takes 15 minutes! Make sure to serve with classic German sides like potato salad, mashed potatoes, sauerkraut and spaetzle.
This creamy dish is a great option for those nights you feel like doing "something different" with pasta. Smoky sausage deliciously balances tangy mustard and vinegar, while fresh herbs contribute brightness in this decadent spaghetti dinner.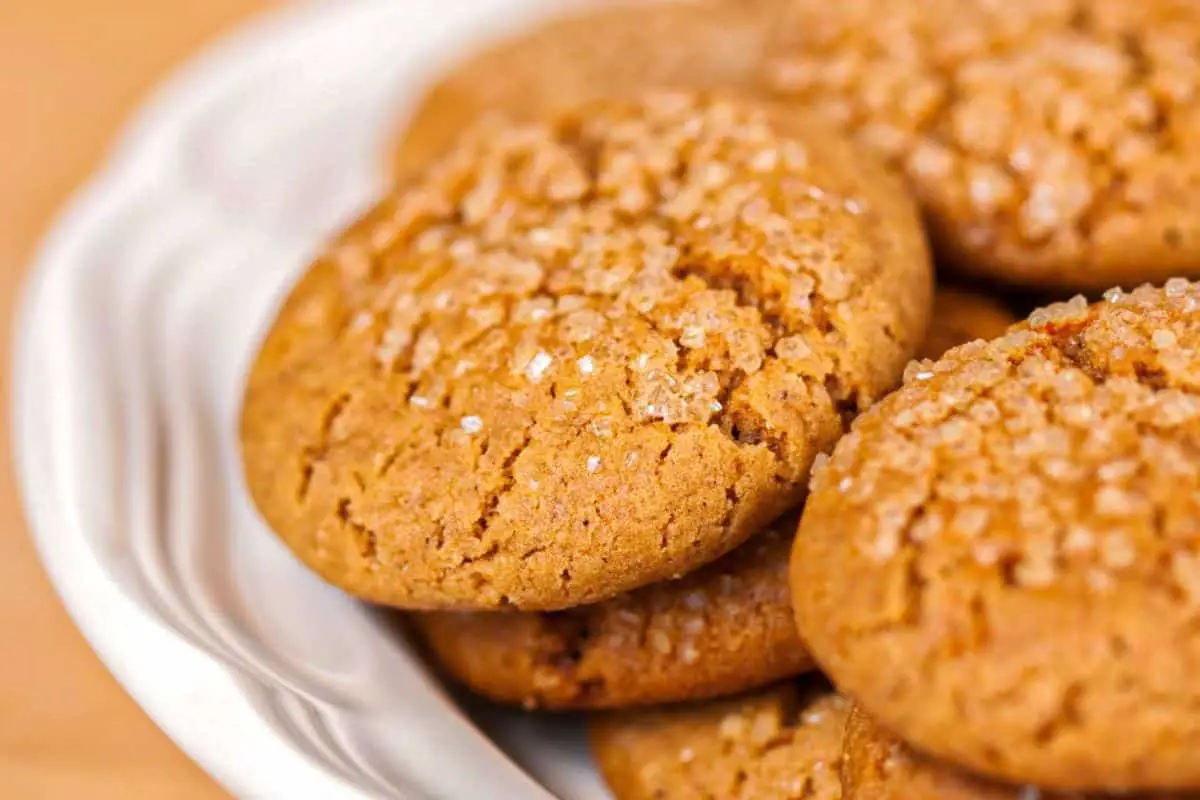 Looking for a distinctive German dessert? Then check out these delicious cookies made with molasses – a tasty treat. Pfeffernusse cookies are a traditional Christmas cookie in Germany. Made with molasses, anise, pepper and seasonal spices, these chewy cookies are coated in confectioners' sugar or topped with sugar.
---
For complete photos and videos of our trips, visit our photos on our Facebook Page
You May Want to Join Our Boondocking Group on Facebook For More Information