History of Traditional Norwegian Recipes
We have some great traditional Norwegian recipes for you today but first a little about the history of food in Norway. Officially known as the Kingdom of Norway, is located in Northern Europe, and its mainland territories include the northernmost and western portion of the Scandinavian Peninsula. About two-thirds of the land in Norway is mountains with only 5% of the land being arable.
In Northern Norway, the growing season is around 100 days while in the south it's 190 days. The farming season in Norway would be shorter if it was not for the Gulf stream. Despite that, the growing season was very short for wheat, therefore, bread was historically made from oats, barley rye, and potatoes. Some of the traditional Norwegian recipes differs between north and south, but due to the newest communication and transportation links, almost all of the ingredients for traditional Norwegian recipes has been made available throughout the country.
The History of Food From Norway.
When the first humankind settled in the Norwegian landscape, the food search was their main motivation. These people were gatherers and hunters and moved according to the seasons as well as the availability of what was provided by mother nature and the traditional Norwegian recipes reflect this. Finding enough food each day was hard work and demanded experience, a cunning plan, and a lot of luck.
For Millenia, traditional Norwegian recipes were created with the food that was available for them, but not always with the food they wanted. With the harsh climate of short intense summers and long cold winters, it was hard to get what they wanted. They relied on fishing and hunting to get food throughout the year. Most berries and nuts were only available during the autumn and summer months.
For many years, the people of Norway developed a yearly cycle of food gathering and so the traditional Norwegian recipes were more seasonal than available year round. During summer and autumn, Norwegians harvested both the non-cultivated land and the cultivated land. The food was put in storage houses. The traditional Norwegian food including the milk given by the animals was used to make cheese while the rivers and oceans provided fish and other seafood.
When the Norwegians developed a structured society, it was now a matter of being poor and rich. After they started monopolizing the use of land, it was very hard for individuals who did not own land.
Nowadays, due to the discovery of oil, Norway is among the top wealthiest nations in the world. Throughout the history of the Norwegians, they have experienced extreme famine and difficulties leading to illnesses and death.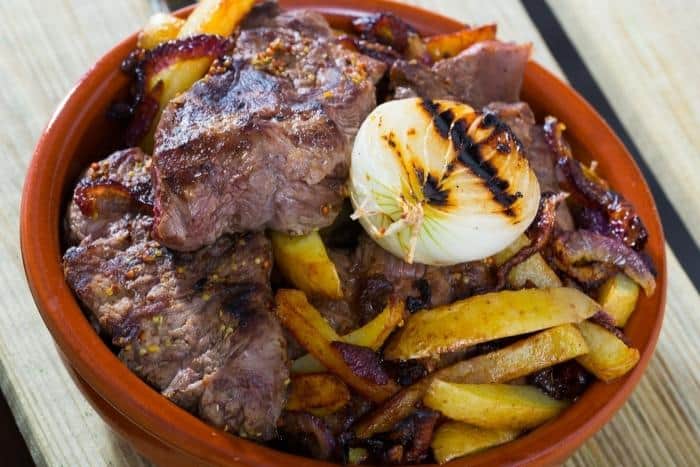 Old Style Traditional Norwegian Recipes, Cooking and Food.
The old-style or rather, traditional Norwegian recipes was comprised from many staples from and sources. Each diet is very important and adds to the unique taste of the food for the Norwegians. The old style of Norwegian food include:
Seafood is the most important component when it comes to the traditional Norwegian recipes and diet. Fish including the Hearty fillets of salmon from the cold river mountains of Norway were seasoned with dill. Other old-style Norwegian seafood dishes include cod, shrimp, mackerel, lobster, monkfish, and herring. Smoked salmon, as well as savory-sauced fish, are longstanding Norwegian diets appearing on any time menu of the day.
Kjøttkaker or beef meatballs are flavorful foods served with root vegetables and gravy. On holidays, the customary dishes include lamb-fenalar- It is eaten on the constitution day which is on May 17. On Christmas, pinnekjot is served while farikal which is slowly cooked is served on the last Thursday of September. Now
Norwegians rely on fruits and vegetables that thrive under cool weather for many of the wintertime traditional Norwegian recipes. Root vegetables including carrots, potatoes, onions, and rutabaga are very important in their diet. The simple accompaniment for meat is boiled potatoes. Blueberries, strawberries, gooseberries and lingonberries grow well in some parts of Norway and are seen in cakes and traditional Norwegian recipes such as jams, and compotes.
Bread and grain are also traditional Norwegian foods in this Scandinavian country. Porridges including oatmeal have been present since prehistoric times Furthermore, Rye is very common in Norwegian bread. Wheat, oats, potatoes, and other grains are also used. Most of the bread is dense and heavy with a hard crust. However, there are some which are thinner including lefse and flatbreads.
Surprisingly, sweets have been honored in the Norwegian culture for a long time. It is worth knowing that the most enchanting cakes in the world are made in Norway. They have layers of vanilla cream moist sponge and almonds.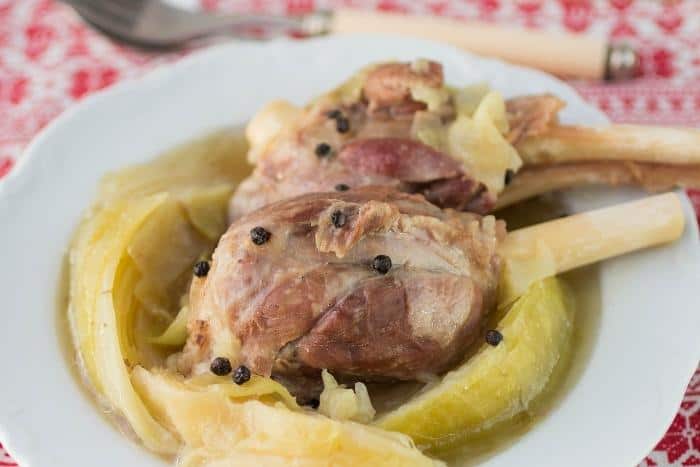 Modern Norwegian Food Cooking and Food vs The Traditional Norwegian Recipes and Food
Traditionally, the people of Norway preserved meat and game, fish by salting, drying, and pickling them. These techniques are used during these modern times, but it is by choice and not a necessity. Even in modern Norwegian food and cooking, the citizens prefer to have a theme of tradition in their modern techniques. The vegetables are usually braised or boiled while preparing the stews and soups as well. As said earlier, Norway has maintained its tradition even in the modern era and the meals in Norway are distributed as follows:
The traditional Norwegian recipes for breakfasts revolve around the sea. The meals include smoked salmon and fish in various marinades and sauces including sardines in tomato sauce or mustard sauce. Moreover, the traditional Norwegian food such as smoked whitefish or pickled herrings can be served with caviar or hard-boiled eggs You can also take lefse, Norwegian flatbread that is made of cream or flour and milk.
When it comes to midday, the traditional Norwegian recipes includes a sandwich of cheese from the brown goat or some slices of salmon. Most adults and every child tuck their lunch fare in their bags before going to work or school. Popular lunch options include liver pate, fish filets, whole-grain rye, and buttered slice of toast. You might be surprised to find out that Norwegians enjoy hot dogs for lunch.
Dinner is the only hot meal in the traditional Norwegian recipes arsenal of food and consists of boiled potatoes, hot meat, and vegetables. The Norwegians eat their dinner at around 5.pm. After having their dinner, the Norwegians indulge in Gomme, a sweet milk dish. Another popular dish for supper is a layer cake that is stuffed with whipped cream. They can also take apple cakes and jam. as traditional Norwegian food.
In conclusion, this article has given you adequate information about traditional Norwegian food including the old style and modern food and cooking. You will blend well with the Norwegian meals on your visit to Norway. Just remember that while not all traditional Norwegian recipes may be your cup of tea you will find many that will fit your taste buds.

My 15 Favorite Traditional Norwegian Recipes
---
---
check out our video
---
---
We're stepping Autumn with an abundance of fresh and lovely harvest, so why not use the opportunity to whip up a warming stew? As the weather gets cooler, let's savour the flavours of the season with scrumptious vegetables and fresh meat, from your local butcher. May we suggest a hearty Norwegian stew, called Lapskaus? It's easy to make and tastes wonderful!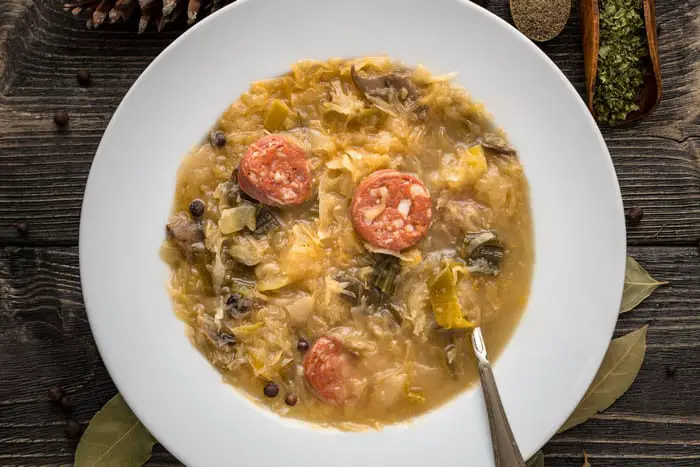 Norwegian Christmas Cabbage is essentially a kind of sweet and sour sauerkraut, spiced with caraway seeds.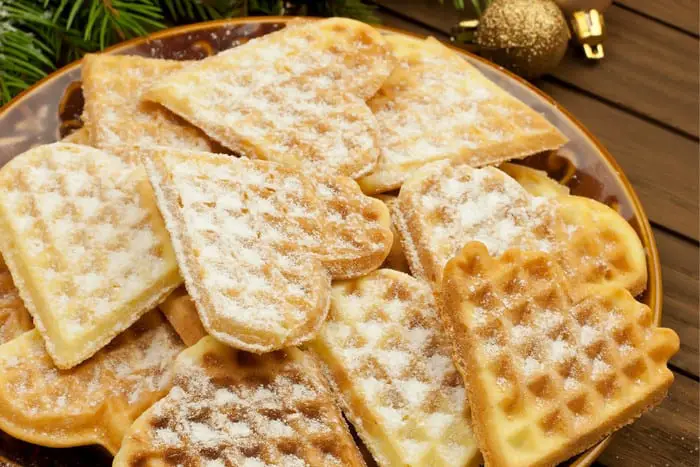 Perfect Norwegian waffles made with an easy recipe. These heart shaped waffles are deliciously eggy, with a hint sweetness and vanilla flavor.
Making Norwegian waffles is quick and easy. I love making them because they cook fast. Whereas thicker waffles sometimes can feel like they take forever to cook, Norwegian waffles can be on your plate in minutes.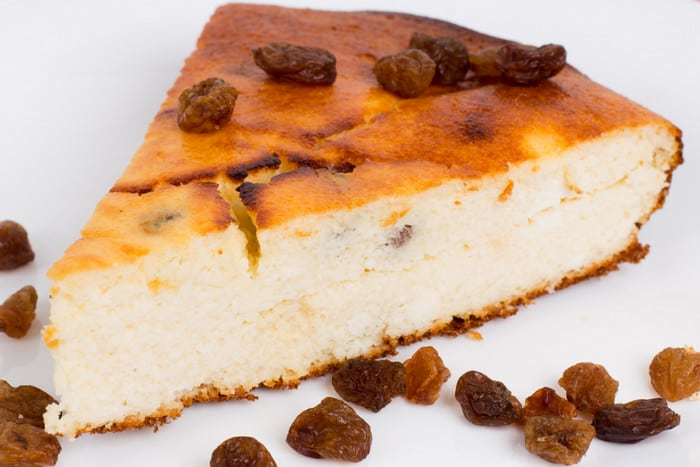 This recipe has been passed down in my family and has its roots in Norway. My grandma would always make this pie for Thanksgiving, and now my dad has taken over that role. Based on the ingredients, it is an interesting pie but the flavor is both unique and delicious. Enjoy!
Sveler are Norwegian pancakes served primarily in ferry cafés along the country's west coast. They can be eaten cold and served with a variety of toppings. They taste best with a cup of coffee.
The key to a good svele is horn salt (also known as ammonium bicarbonate). If you don't have horn salt on hand, you can substitute baking powder—however, you will lose some of the pancakes' signature taste and texture. I would recommend keeping horn salt in your kitchen if for no other reason than these pancakes. If you do use horn salt, be sure not to eat the raw dough.
This Christmas, treat your guests to succulent, melt in the mouth Norwegian Salmon with dill sauce.
There's nothing like fresh salmon, and my mom bakes it just right so it nearly melts in your mouth. The sour cream dill sauce is subtly seasoned with horseradish so that it doesn't overpower the delicate salmon flavor.
What a delicious breakfast treat! This Norwegian porridge recipe is creamy, salty and sweet and is served with a sprinkle of cinnamon and dried cranberries on top.
Norwegian Porridge, aka Risengrynsgrøt, is a one-pot rice meal prepared and enjoyed on Christmas day in the Scandinavian regions in Europe.
It's a super easy recipe.
Yet you can make the Norwegian porridge as a healthy dish for breakfast any time of the year!
Learn how to make the Norwegian Porridge from scratch with this step by step recipe.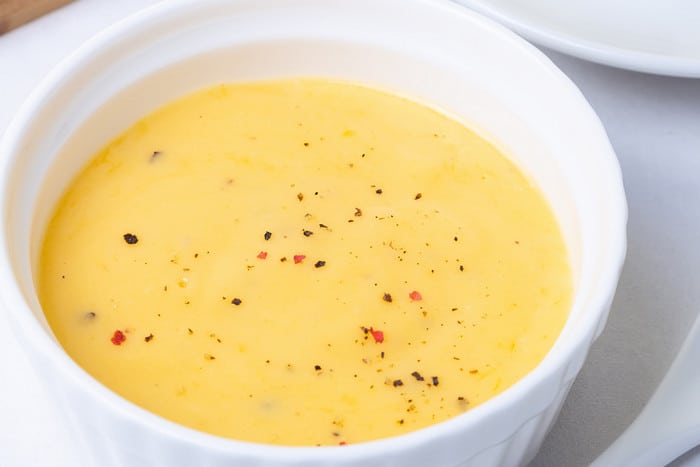 This amazing and simple butter sauce is wonderful on all types of fish, but also works beautifully on shrimp and lobster.
Sandefjordsmør is a classic Norwegian sauce and a terrific accompaniment for all fish and shellfish. Legend has it was created in 1959 by Otto Fredrik Borchgrevink, who was the long-time hotel manager at the Park Hotel in Sandefjord.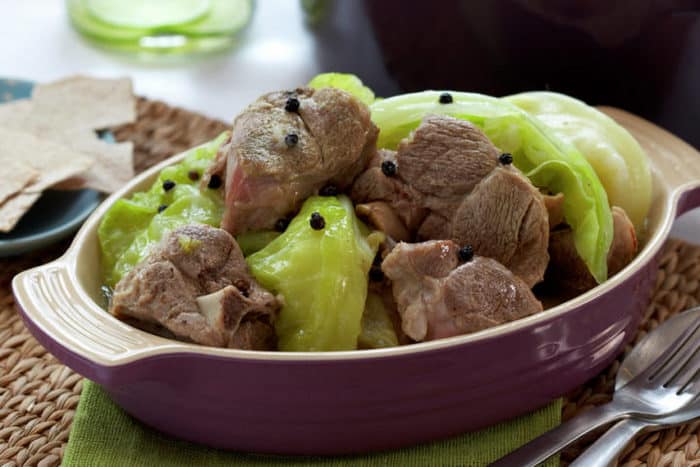 This is a popular meat dish from Southern Norway. Lamb and cabbage are layered and stewed with peppercorns. Serve with boiled potatoes that have been sprinkled with parsley.
Fårikål is a traditional Norwegian dish, considered by many to be the country's national dish. Consisting of pieces of mutton with bone, cabbage, whole black pepper and occasionally a little wheat flour, cooked for several hours in a casserole, traditionally served with potatoes boiled in their skins.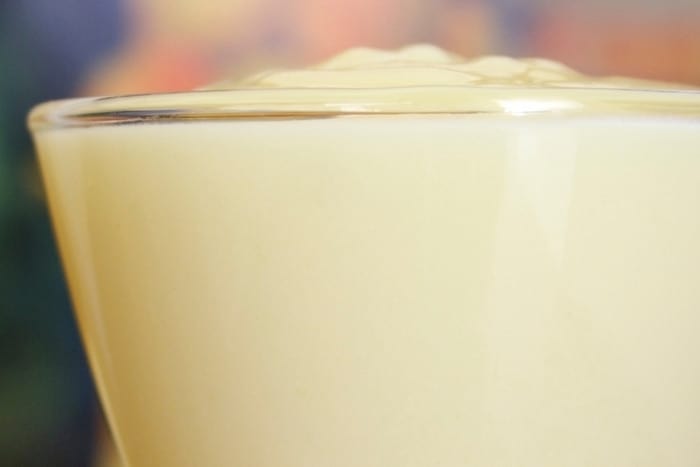 Rommegrot is a traditional Norwegian pudding/sour cream porridge made with lots of rich dairy (whole milk and cream) and thickened with flour. It's slightly sweet and served with melted butter, cinnamon, and nutmeg on top.
These are salt-of-the-earth recipes, if you will. Not fancy or frilly, but frugal and simple. Recipes made with the simplest of ingredients like cream, butter, flour, and eggs. I hope you can appreciate the beauty in that.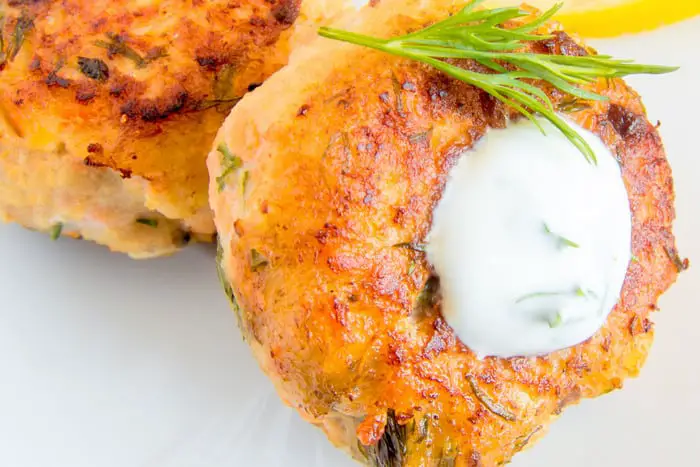 This Scandinavian speciality can be made in hundreds of different ways. Fishcakes are suitable for dinner the day they are prepared, or served cold the next day with a salad or on rye bread. The remoulade is a must, and best when homemade. Many different types of fish can be used for fishcakes, but it is important that the fish used is raw.
Epcot Norway School Bread from Kringla Bakeri Og Kafe. Delicious sweet roll topped with vanilla icing, toasted shredded coconut and vanilla pudding. In Norway, it is also referred to as skolebolle 'school bun' or skolebrød 'school bread'.
I have never tried the School Bread from Kringla Bakeri Og Kafe at Walt Disney World, however, it is consistently mentioned as a favorite from the parks. I have wanted to try this recipe for some time now. I'm so glad I did as these are tasty little sweet rolls. Its hard to eat just one.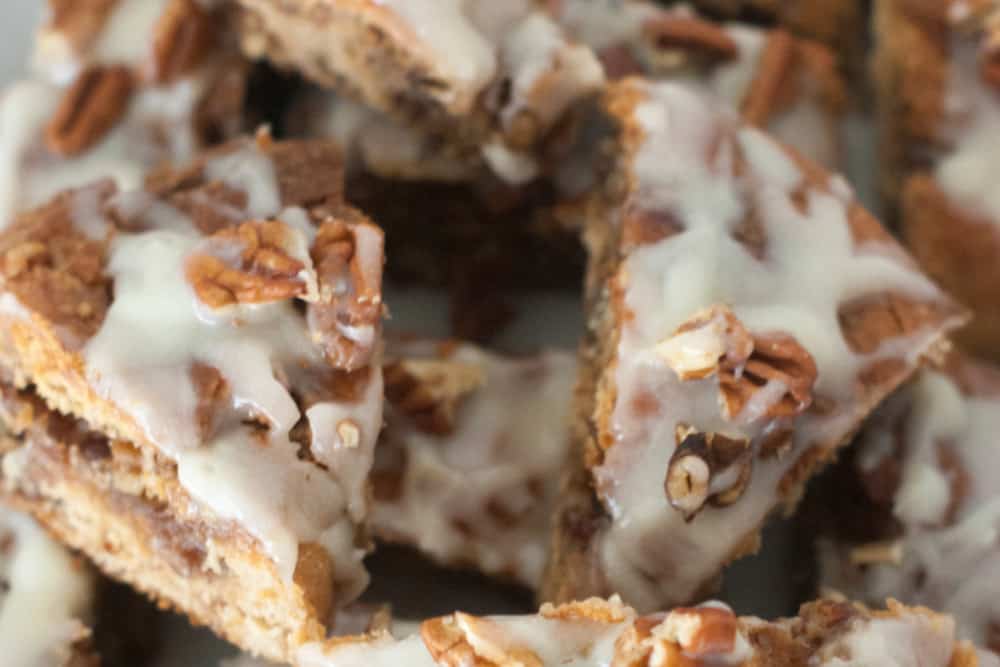 Oslo Kringle is a delicious traditional Norwegian desserts, with the flavor and texture of a cream puff, but with a simpler preparation and fjords of delicious, almond icing.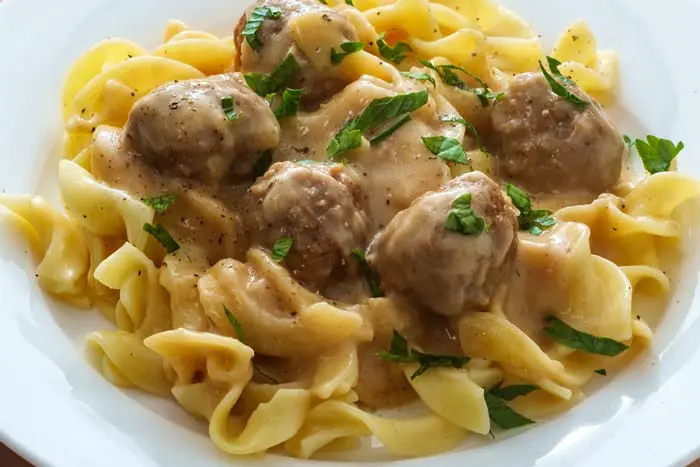 Meatballs are one of the most traditional of the foods in Norway (they even participate in Christmas in many families). And, lucky for me growing up, my mother is the queen of the meatballs and gravy. It was a frequent meal in our house, but I loved it so much, I also requested it for every birthday. This is her recipe. Of course, like any family recipe, there aren't really measurements and it gets made a little differently every time. But, this is my best approximation. The other trick is to taste the gravy as you make it and add a little extra sour cream, or wine, or broth, as well as salt and pepper to suit your taste.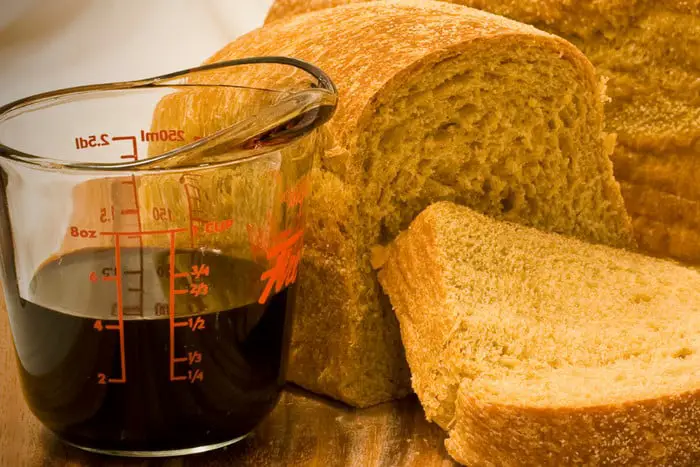 A butter and molasses glaze gives this delicately flavored loaf a glossy finish, which makes for a beautiful presentation at the table and our favorite of the Norwegian snacks recipes.
---
You May Want to Join Our Boondocking Group on Facebook For More Information
You May Want to Join Our Campfire Recipes Group on Facebook For More Information
For More Photos Visit Our Instagram at World Recipes Daily – Our Big Escape