Last updated on September 9th, 2021 at 09:29 am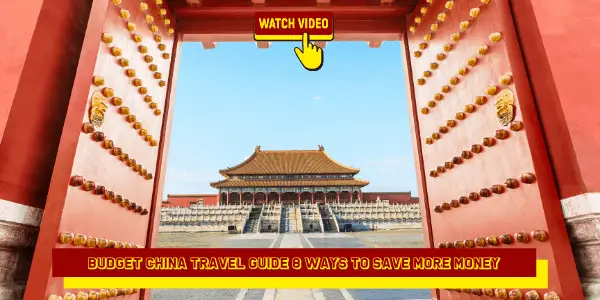 The Budget China Travel Guide includes 18 Important Travel Planning Tips that will allow you to see and do more on your budget. Learn how you can benefit.
The China Travel Guide welcomes you. Not many countries come as close to China when it comes to one-of-a-kind sights and sometimes baffling cultural norms. A broadly welcoming population who seem basically content with their lot – and yet still aspiring to a better lifestyle than their parents and grandparents experienced.
Thanks to a peculiar combination of the Chinese 'economic miracle' (until recently at least), possible cracks are starting to show in the one-party state system. There is a huge outward investment. And the little-heralded fact that 150 million Chinese visit overseas countries every year. This country is now firmly on the global tourist itinerary.
Not too long ago China was one of the last frontiers when it came to international travel. While nobody is going to pretend the country does not still present a challenge or two, – getting about and finding places to stay are so much easier compared to just a decade or so ago.
China is massive and you'll experience no end of paradoxes during your time visiting this rather special destination. The China Travel Guide will explain the basics when it comes to places to see and things to do. You'll need to make some tough decisions unless you have a few months to spare. We explain all you need to know to experience this country as safely and conveniently as possible.
What Are the Best Places to Visit in China?
Instead of just listing dozens upon dozens of historical and cultural sights that would be the prized national symbols of most other countries, we'll begin with a caveat. Do not – and we cannot stress this enough – expect to see much of China over just a week or two.
You really need to focus that kind of timescale towards one – or perhaps two at a push – particular regions. We recommend this not only because of the simple logistics of getting around, but because you'll find that China is an extremely diverse country made up of vastly contrasting parts.
Once you have visited and perhaps even lived in China for a while you'll realize that the lifestyles, attitudes, and ambitions of a person from Beijing or Hong Kong will be vastly different compared to someone from Chengdu or Xi'an.
It is better to focus on particular provinces and regions rather than try and cram too much into too short a time frame. The good news is that pretty much no matter where you choose, there will be some amazing things to see and explore.
Beijing is absolutely packed with national museums and as you may already have anticipated a good proportion of these heavily promote the ruling Communist Party's agenda. Although by no means quite as ubiquitous as most people assume. You should really hardly notice the fact that you are essentially visiting a totalitarian country at any stage of touring China.
The state does exert quite considerable visibility around sites visited by tourists. Expect lots of armed guards, red stars, flags and so forth. In the opinion of the China Travel Guide visitors will find the older aspects of China far more interesting. Beijing is a pretty handy base to see many of the best.
You can quite easily head out to the Great Wall from Beijing. Just be aware that the popular spots near the metropolis can easily be absolutely overwhelmed with visitors. We'd actually recommend visiting the Wall from other places. But if time is short, try and arrive early and allow for plenty of time (guided tours often have priority access).
It is a good introduction to the most majestic aspects of Chinese history. The visiting experience is highly recommended for those bold enough to plunge headfirst into this country. It is probably the best way! The Forbidden City is simply awe-inspiring. Make sure to approach through Tiananmen Square.
Every visitor needs to see the Summer Palace. It is also rather lush. Just be sure to make provision for those crowds again. Jingshan Park often ends up being many visitors' favorite site to relax and enjoy a bit of fresh air and relative tranquility.
After Beijing, you really have your pick of other key cities to visit. Providing you are happy to fly, getting between them is really straightforward. But pick carefully to make sure your destination is going to match your particular interests.
Shanghai, with its famous waterfront and towering skyscrapers, is perhaps as 'modern' a city as you'll find in China despite its incredibly rich and diverse history. There is a lot of hustle and bustle that you'll find at street level while walking the Bund and Nanjing Road. In contrast, the Yu Garden is a mesmerizing place of peace and calm amidst the urban chaos. Head up the Jin Mao skyscraper and take in some of the most spectacular views in Asia. Allocate about an entire day for checking out the Shanghai Museum.
For those interested in the antiquarian aspects of Chinese heritage, then you may want to head towards Xi'an instead. You could, of course, do both Shanghai and Xi'an. Be aware, however, that there is a rather massive distance between the two! While Shanghai is amazing and probably the best city in China for shopping, eating, and cultural immersion, we'd have to say that Xi'an is one of those places that truly ranks as 'unmissable'.
Qin Shi Huang's Terracotta Army is utterly unique and you will not find anything quite like it anywhere else in the world. Be sure to check out the fortifications, ancient walls and of course the Giant Wild Goose Pagoda. Xi'an is a great 'launch pad' for exploring the more remote and out of the way parts of Central China so consider this carefully should you find yourself in need of something a little different.
Chengdu deserves a mention – and do not think it is all about the giant pandas! Although you'll see no shortage of panda-themed attractions and stores, this is a seriously interesting city and also features some of the best scenic areas in the country. Hong Kong is also an incredible location well worth exploring.
It offers a much more accessible introduction to China for those a little wary of plunging into a really rather different culture. Note that there has been (at the time of writing) considerable political unrest in the city and that while tourists are not the target, travel might be best avoided for the time being.
What Are the Best Things to Do in China?
Besides checking out some of the most incredible historic and cultural sights in human history, what else is there to do in China? Well, you better believe us when we tell you that there is literally no way you should ever be bored enjoying this endlessly fascinating country.
You could choose to experience China in a very sanitized way, for instance, stay in Western-style international hotels, and take organized luxury tours to the key sites. Enjoy all the restricted wi-fi access you may wish for!
Joking aside – the China Travel Guide strongly recommends trying to get out and explore the country a little under your own steam. Even if it just means wandering through strange city centers. You'll find that immersion alone will open up all sorts of things to do.
Guided tours are rather hit or miss in China. The best ones usually involve small groups and traveling around on public transport or cycle. They can really open up how you experience and understand Chinese culture.
Even visitors from other enormous cities should not underestimate how easy it is to feel rather overpowered by the Chinese urban sprawl. Cities are busy, confusing, noisy and generally chaotic until you understand that there are certain reasons why everyone seems so much in a rush.
A good quality tour, in our estimation, will be provided from the local's perspective and not conducted by script. As you will discover, English is rarely spoken by most people. However, those who do converse in other languages tend to be surprisingly talkative and willing to engage with foreign visitors. Make use of that opportunity, especially in the cities.
How you choose to get around China will make a big difference in how you spend your time. Train travel is perfectly possible and pretty straightforward once you get the grip of it. Read up well in advance of the areas you will be traveling through and do not be shy to hop off and explore anywhere that looks interesting.
If you have the opportunity to spend a good amount of time here, then traveling by train lends itself very well, especially to those on tighter budgets.
Perhaps head out to the mountains and spend a little time trekking between remote lodges. Make sure you know what you are doing and/or take a guided service. Perhaps you intend on spending most of your time in coastal regions, in which case a trip to Macau is an eyeopener to places that would look perfectly set for some kind of Bruce Lee action flick.
Use ferries to travel along the coast and you're bound to stumble across opportunities for adventure that not many travelers will have the chance to experience. You may also be pleasantly surprised at the number of nature and wildlife sanctuaries you'll find throughout China.
Do not be mistaken into believing that despite its economic progress this is a country packed with factories and refineries. In most places, you'll find the scenery little changed from how it would have appeared hundreds of years before.
China is so enormous and varied that there really is not much point listing all the various ways you can keep yourself busy. Do not underestimate this country. There is something for everyone from historic festivals to funfairs and water parks. Get your planning and research well underway before you book flights. That is the best way to make sure you see what interests you most. Just be sure to allow for some 'occasional' days to head off the beaten track a little too.
When is The Best Time to Visit China?
Very broadly speaking, China enjoys a rather similar climate to Europe. You should expect hot weather between May and September when the peak season for visitors will be in full swing. Expect serious crowds at the most popular attractions so plan your days to arrive as early as possible. Time them right and you should miss the worst! Prices may creep up a little but nowhere like in other countries.
You can still visit China in peak season and live well off a pretty modest budget. Remember to prepare for some pretty spectacular downpours here and there so pack your waterproofs too.
Shoulder season, a couple of months either side of the peak, is a great time to visit most of the country and the crowds will be considerably lower. It tends to be the most popular time with overseas travelers so factor in that 'western-style' accommodation prices may actually increase a little. Expect reasonable temperatures across the country.
Low season over the winter months is probably the best time to visit if you are looking to save considerably on your costs. Just be aware that the temperatures can seriously plummet in more mountainous regions. Keep an eye out for the week around Chinese New Year when prices will increase and cross transport routes are generally very busy indeed.
Do I Need A Tourist Visa in China?
Most people will have no problems entering China provided they have a passport that is valid for six months after the expiry of your visa, follow the customs rules to the letter, and basically follow the more bureaucratic aspects of immigration control to the letter
In all honesty, the Chinese border cops aren't that bothered about tourists. The country has such punitive measures against drugs and antiquity smuggling that they know the average tourist isn't going to be crazy enough to try their luck!
China is big on international trade and there are a host of short term exclusions for business/transit purposes, usually lasting no longer than one week. These will not apply for the vast majority of visitors, all of whom will need a visa unless they come from Macau or Hong Kong.
The good news is that visa rules for visitors from the USA, Canada, UK, and most other western countries are pretty generous. Tourist visas tend to run for 60 days that allow repeat visits within a 2-10 year timeline. There are ways of extending these but rules change quite frequently.
When applying for your visa be prepared to pay an administrative fee, direct to the government coffers, and provide details of your travel itinerary, accommodation bookings or a letter of invitation from a host, proof of funds to sustain yourself in the country and possibly even more. As mentioned already the rules are very fluid and change seemingly at random.
Visas cost about $150 but vary depending on your country of origin. Check the requirements carefully as these may also vary depending on where you are arriving. Visa processing fees and even waivers may be in place in Hong Kong and Macau for visitors from certain countries. Frustrating as it might well sound you should not have any trouble actually getting a visa – just be wary of the irritating process!
Once in China, you must carry your passport with you at all times. Expect to be checked at random and you will need to provide ID to enter many of the most popular attractions. It goes without saying that secure and stealthy body wallets are a good idea when visiting China – and we'll discuss that later on.
What Currency Is Used in China?
China uses the Chinese Yen (yuán (元; ¥). At the time of writing the  China Travel Guide trades for around ¥7 = $1.
You will notice that prices vary amazingly throughout the country. Expect to pay at least double for some basic amenities and services in cities as you would expect in smaller towns and in the countryside. 'Tourist rates' are endemic and you ought to expect to be charged a little more than 'locals' no matter where you go
All that being said, China is still extremely good value for most visitors and one of the few major economies remaining where you can get by on a very tight budget while still taking in all the essential sites, eating well, and not sleeping on park benches (not advisable!). Haggling is a fair game no matter where you are in China – just try and be polite about it.
Cash is king in China although you ought to be able to use your card in most places for sizable purchases (accommodation and upmarket meals, etc). ATMs are widespread although not all will take international cards (those who do will offer English language options), and some may charge transaction fees depending on which bank they belong to.
Take the time before you travel to check which partnerships your bank has with Chinese counterparts to potentially save wasting a lot of money. Prepaid debit cards are not a bad idea if you find a suitable deal with better commission and exchange rates. Avoid money changing bureaus unless you are in a real bind – they are universally bad value.
Where you spend your time in China will make a big difference in how you spend and manage your money. Credit cards offer generally the best value for large transactions although you may be surprised how rarely they are accepted in some locations. In Hong Kong, you can use them pretty much everywhere, but that may not be the case in Xi'an.
Do I Tip In China?
There is no point pretending otherwise – large aspects of the Chinese tourist economy are geared towards taking as much money from tourists as possible. Whether or not you decide to just take the easy route and hand it over is up to you. If you notice that locals are being blatantly charged less than you – then contest it. Chances are that they will then offer you the same product/service for the same rate.
China is full of surprises, and you may be surprised to learn that tips are not expected anywhere. Any restaurant which has a tipping policy (usually only very high-end) will add service charges to the bill anyway. Cabbies do not expect tips although feel free to just leave some token change.
When you leave the country you might want to leave some low-value coins as a token gesture to the hotel staff. It really is entirely up to you. If anyone asks you for a tip, 99.9% of the time they are just trying their luck to con you. Ignore them!
Bali, Indonesia>What Kind Of Budget Do I Need In China?
You can get by on not very much money at all in China, provided you are willing to make some compromises and 'rough it' a little. The majority of more mainstream visitors will discover that prices vary between quite expensive to very reasonable and it is not difficult to shop around for better quality at lower prices pretty much anywhere off the tourist trail.
What is worth mentioning is that in China you tend to pay a premium for convenience. Accommodation in central/desirable areas is markedly more than those further afield or with less western visitors. Attractions can be entirely free or relatively expensive depending on what and where it is. Here is a rough guide to what the China Travel Guide would suggest expecting from three different budgets. Note that these are only estimates and you should be able to tweak these up and down with relative ease.
Budget (¥150-200/day)
Yes, you can quite easily get by in most parts of China on a $25/day budget. Hostel accommodation is basic and often nowhere close to the same standards you may expect in other parts of the world, but it is cheap. A dorm bed will cost no more than around ¥50/night even in the major cities. There are some upmarket hostels that cost double that rate – but for that amount of money, you may as well book into a cheap hotel instead.
For daily sustenance, you will be amazed at how good and affordable Chinese market/street food can be. ¥50 is really over the top and you should expect to eat very well indeed. It is perfectly possible to split that amount of money throughout the day and still get by with relative ease. Make use of public transit within the cities where tickets are incredibly cheap. Spend your time taking in the many free sites you'll find pretty much anywhere.
Something you ought to be aware of as a budget visitor in China is that there is little in the way of discount/tourist cards in most of the main cities. Hong Kong is a notable exception although remember that it is substantially more expensive than most of the mainland anyway. Most hostels will feature plenty of adverts for walking/cycling tours of the local areas. We advise you to make use of these as a great way to fill a day, get to meet other travelers, and learn from the locals.
Mid-Level (¥200-1000/day)
Notice that sizable gulf in the price estimate? What you expect for a 'mid-range' option may well vary a little during your time in the country. If you want a hotel similar to a western budget chain then you should expect to be hitting about ¥500+/night. On the other hand, if you are willing to try your luck with more Chinese orientated hotels then the same quality can be found for half that price or even less.
Our advice would be to shop around as much as possible and be careful which sites you use to book your advance accommodation. Do not anticipate spending much time in your hotel room. Because of that, consider location ahead of amenities when it comes to making a selection especially in the larger cities.
A good night out with a few drinks and a decent sit-down meal can be anywhere from ¥100-300 depending on your tastes. Alcohol and nightlife, in general, are cheap throughout China. Some very expensive exceptions will tend to also operate very strict door policies. Either way, dining out is well within your budget although we'd recommend eating on-the-go during the day.
This budget will stretch towards your choice of internal flights, trains (for the brave!), and even city cabs. Look towards high quality organized excursions as part of your trip. Prices can get quite steep but you can make up for that difference by basically living very affordably during the rest of your stay. If you find a tour that matches your interests then we'd suggest you go for it. Chances are you will not be heading back in the near future at least.
High-End (¥1000+/day)
Chinese hotels do not have much of a middle ground between 'mid-market' and 'salubrious'. Pretty much anywhere offering rooms at ¥1000 and upwards is going to be five-star and you should anticipate something really rather special. Most hotels in this range will include all sorts of spa treatments so be sure to make use of these. Concierge services can be very handy for getting cabs, theater tickets, and airport transports that won't fleece you blind!
You should again expect fine dining anywhere charging over ¥300/person. You cannot get past the fact that pretty much regardless of where you eat, you will have a hefty amount of disposable cash still left over. Make the most of it to experience some of the finer things in life.
Shopping may as well be the national sport in China and you'll find some bargains in the many markets that span huge parts of the cities. Remember that anything which can be dated to pre-1949 classifies as an antique. You may need to declare it and pay an export tax when you leave.
Something worth noting if you visit China on a relatively high budget is that you will be nudging elbows with plenty of Chinese people too. Many of the more affluent will speak some level of English.
Take the opportunity to chat where you can as not a great number of other Chinese people tend to speak overseas languages outside of Hong Kong and the major central cities. You may be surprised at some of the opinions raised after a few glasses of plum wine…
Not too long ago you could visit China and get by on $10/day. That was only if you used buses and weren't too fussy about finding a seat on the train. Those days are pretty much gone now apart from the very remote areas.
Very gradually China is catching up with the rest of the world when it comes to personal wealth. Make no mistake, China is a cheap country to visit providing you get to grips with how the country works and are willing to compromise here and there. Even visitors sticking to the tourist hot-spots can still enjoy a comfortable and affordable stay.
What Languages Are Spoken in China?
We could spend a long time discussing the many different forms of Chinese, but it wouldn't take long for that to become pretty academic from a travelers perspective. All you need to know is that there are dozens of different forms and dialects that vary throughout the country.
About 75% of people speak some variety of Mandarin Chinese which is almost always the kind taught in the west. Credit where due if you have made the effort to learn some Chinese before you visit. A little will help make life considerably easier, even if it is just basic formalities and greetings.
English is an important language to China – just do not expect very many people to speak it! It is estimated that no more than 1% of the entire population speaks English to a basic conversational standard. Remember that approximation includes the major developed cities (and Hong Kong where English is still almost a second language) as well as the vast agricultural provinces.
What this amounts to is that you are not likely to meet many people outside of the tourist industry and a handful of officials who speak English with much proficiency. Even then, they will become even rarer the further afield you venture.
That being said – and you will have to take the China Travel Guide's promise here – the language barrier is not that big an issue once you get used to it. Signage is rarely multilingual but you can figure out the basics easily enough. Pointing and polite gesticulations are usually more than adequate for basic interactions and transactions. A good proportion of people will have a few basic English words, just do not count on it!
You may find technology can help you a little with getting about in China and language apps can be handy for getting over the basic idea of what you are trying to say. The key factor to understand is that while there is a bit of a language barrier, it is not likely to be a big problem for most people unless you are heading way off the usual routes.
What Religions Are Practiced in China?
Religion is a pretty tricky issue to describe in China. Very broadly speaking, the authorities still recognize the existence of Buddhism, Taoism, Catholicism, Protestantism, and Islam within their populace, despite being a communist country. That being said, some aspects of these are semi-officially banned (and millions of people are ignoring that fact).
If you believe the official figures then over half of the country identify as having no religious beliefs. Frankly, we'd take that with a pinch of salt. To be an official member of the Chinese Communist Party, and enjoy the various 'privileges' that entails, you have to declare your aestheticism. No doubt a few people have ticked the wrong boxes here and there…
Without wishing to become bogged down in the detail, as a visitor you should probably not have too much trouble practicing your religion as long as you stick to what the locals do. Keep it to yourself (like large parts of the Chinese populace do) and nobody is going to give you any problems.
Be careful when visiting some religious sites – especially near Tibet, Read up-to-date advice on what is and is not permissible in public. Rules tend to change without much notice in China so keep on your toes as this is relevant to you and your visit.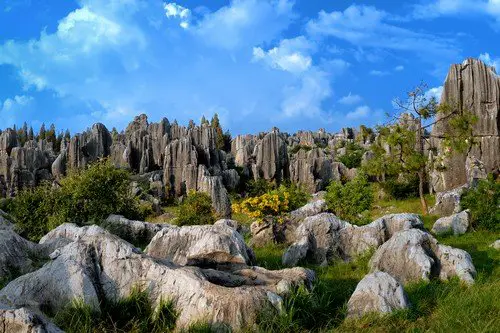 Practical Tips From The China Travel Guide
We hope you have enjoyed reading the China Travel Guide so far. Now we will begin to take a look towards the more daily practicalities of enjoying your time in the country. China can be pretty daunting to some people. A good number of people are shy about visiting the country for a number of understandable reasons.
From their rather despicable attitudes towards animal life to a brazen obsession with development regardless of the human and environmental costs, it is not unreasonable for some to simply refuse to visit at all. We understand that sentiment and make absolutely no concessions for the fact that there are aspects of Chinese culture and politics that offend western sensibilities.
If you can get past that and look toward what an astonishingly beautiful and interesting country this actually is behind the modern facade, then you will very possibly enjoy the trip of a lifetime. Sure, it's easier said than done, and we'll discuss responsible tourism in China a little later.
But as with any country, you should keep an open mind first and foremost. In some ways, China is one of the last bastions of international travel where visitors can quite freely experience an authentic and unsanitized culture quite unlike what they are used to.
What About Health and Safety in China, Is It Safe?
Pick up the daily newspapers and no doubt you'll find an article or two condemning Chinese human rights records or other unseemly aspects of their internal politics. It is fair to assume that this is a brutal, dangerous, and oppressive culture which frankly doesn't like outsiders very much.
We absolutely promise you, that as a visitor, you are going to be extremely safe while visiting China. Crime is amazingly rare, especially against tourists. While you may notice that lots of people stop and stare at you (even in the more cosmopolitan cities) you are really unlikely to experience any safety issues or even the pettiest forms of crime.
Needless to say, the Chinese police are not to be messed with. They go out of their way to make sure that visitors are kept as safe as possible. Do not feel threatened if you notice a couple discreetly following you when exploring busier markets and so forth. They are watching your back, not what you get up to.
Chinese healthcare ranges from superb to staggeringly inadequate depending on which part of the country you are visiting. As a tourist, you will be immediately provided with the best available care if you fall ill or are injured. No matter where you are coming from or your standard of health, you must make sure you have excellent insurance before visiting China.
Premium healthcare facilities – including repatriation services – will charge figures close to what you'd expect in the USA. Make sure your coverage includes any riskier activities such as skiing or mountaineering if they are on your itinerary. Vaccinations are a must as numerous infectious diseases are still rife throughout large parts of the country. Check with your doctor well before you travel.
If you lose your medication then you are going to need to visit a Chinese doctor and be issued a new script. Do not expect the same branded medication, or even for the doctor to speak much English unless you are in one of the major cities. It is an excellent idea to keep copies of your medical prescriptions online and in your luggage to help this process.
Keep an eye out for environmental hazards while you are in China. Heat exhaustion and dehydration are serious risks during the summer. You may want to consider wearing a mask in some heavily polluted regions,  although we're lost for reasons why you'd want to visit them.
Never drink the tap water and avoid taking any ice in your drinks – anywhere. If you are bitten by any animal head for treatment right away. Your best bet with street food is to buy from the busiest stalls where foods are going to be more likely to be prepared fresh. About 40-50% of visitors will encounter some kind of travel sickness so take plenty of medications with you for this eventuality.
Overall, as a visitor, you really should not be worried whatsoever about other people harming or stealing from you. The chances of that happening are probably among the lowest on the planet. Yet you should take thorough precautions against the various health risks posed within the country.
We at the China Travel Guide recommend you read up on your own government's health/travel advice for any particular issues that may be relevant to your visit. Visiting a doctor before you travel is a good idea, and chances are you will need some vaccinations anyway.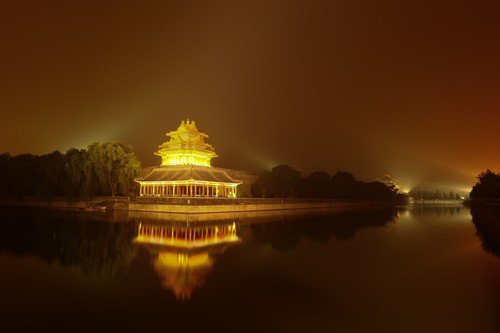 What is the Best Transportation in China?
Internal air travel is far better than it used to be. Internal operators have massively upped their safety records, putting a few western countries to shame. The planes are much more comfortable too. Tickets are usually good value and readily available, just watch out for the Chinese New Year.
It is pretty rare to find any discounts on Chinese airlines – even return flights are usually just charged at double the cost of a single. For visitors looking to spend just a couple of weeks exploring China and not really keen on taking on the railways/roads, then planes are the way to go. Note that some fares are considered to be international and command higher rates (Macau and Hong Kong) both ways.
Trains are also much better than they used to be, and even the high-speed options between the major cities are pretty reasonably priced. The only issue with Chinese trains nowadays is that the network is very urban-centric and you will not pass many stops in the countryside. What this amounts to are vast areas that simply are not covered by the train services at all.
If you are intending on heading out to explore the countryside you will need to use buses. Those are more of a mixed bag and again will vary from air-conditioned coaches through to crowded minivans! Fortunately, tickets are wonderfully cheap and you can cover substantial distances with ease if not necessarily much comfort. Usually, you will be dropped off in handy locations.
Urban transport is brilliant value and tickets are so cheap we'd suggest that most visitors will use these at some stage. That being said, China is also a great country for exploring by bike. Of course, providing you have a little know-how (like how to fix a puncture) and have time to burn.
Even the congested urban areas are excellent for biking thanks to the numerous bike lanes and underpasses that you'll find in most urban areas. Hire is staggeringly cheap – about two/three dollars per day – and allows for a much more interesting way of getting out to explore.
Car hire is pretty rare and unnecessary in China although you may want to consider it if heading out to explore the really wild mountainous regions. Prices are going to vary according to the kind of vehicle you need. It is not unusual for these to also include a driver who you will need to feed and pay.
It is an elaborate option but makes sense from groups who like to make their own adventures. Take care should you find yourself behind the wheel in China. Roads vary from eight-lane highways to muddy tracks and everywhere in-between. People drive fast and rather haphazardly – make sure your insurance covers driving.
What Are the Best Accommodations in China?
Chinese hostels vary in quality – and that is putting it gently. We'd suggest you book the best hostels well in advance if you want to be assured of some level of comfort and basic amenities. The best examples are really good and still excellent value overall, just be sure to get a bed booked well in advance no matter what time of year you intend on visiting.
Plenty of universities rent out their accommodation blocks between semesters and these are often very good value, especially if you find yourself in less commonly visited areas.
Hotels are affordable and once again will vary in quality. Standards have massively improved in recent times but do not expect the Ritz when you most certainly are not paying Ritz prices! Basic rooms are comfortable enough and as mentioned previously you want to stay somewhere with a handy location above all else. Great as Chinese urban transport tends to be, you do not necessarily want to spend large parts of your day experiencing it.
Outside of the big cities, you'll be able to find all sorts of unorthodox accommodation options. Remember there is some kind of 'formal' restrictions on this. You are supposed to register who you are staying with during your visa application.
But that opens up all sorts of opportunities if you play your cards right. It is not unusual for Chinese homes to double up as occasional B&B style accommodation in some regions. The best bet is to ask around the moment you arrive. Your bus driver or – if you are lucky – a station attendant may be able to point you in the right direction.
We at the China Travel Guide would recommend that first-time visitors stick to the basics when experiencing the country at first. Book in advance and check out online reviews and you'll find decent accommodation at reasonable prices pretty much anywhere. If you are returning (and we suspect a good number of visitors will want to) you may feel more confident about fixing up places to stay after you have arrived for a few nights somewhere more formal first.
How Can I Practice Responsible Tourism in China?
Many of the problems with China are actually quite difficult to address. It is one of the world's worst polluters – but India is worse and not many people are put off visiting there because of that inconvenient fact. Chinese Traditional Medicine involves the needless killing of many rare species.
But it has also been practiced for a couple of thousand years, back when everything was fair game. Human rights is another sore spot, especially in Tibet and other oppressed regions. From the Chinese perspective, these are legitimate and have been caused through centuries of muddled conflict.
Nobody is arguing that China has a fair way to go before it catches up with Western sensibilities regarding human and animal life. Let alone the exasperating need to try and take better care of the planet. But what can you do as a visitor? The answer, in all honesty, is not a great deal.
You should do your best to try and share some of your tourist cash with the locals who you may encounter who have been visibly victimized by the regime – but do not, whatever you do, make a big deal about it.
You should always do your best to put your litter into the public bins (where they exist) but that is not going to make much of a difference in the grand scheme of things. In this regard, all you can do is offer an example but do not expect anyone to notice or care.
Chinese sensibilities are very slowly improving towards these issues. Pollution is becoming a major talking point – mostly because it is starting to become clear that it is making people really sick. Human rights are, difficult as it may sound, actually much better than they once were.
However, do not for a moment think that China is an open society or one that allows for anything like the freedom of speech most other societies encourage. Many Chinese people would point – with a degree of fairness – at the many atrocities that Western countries have perpetrated over their histories as blatant evidence of hypocrisy.
All you can do when visiting China is avoid having anything to do with the problems that the country has. Be careful to only visit internationally managed nature reserves, including panda sanctuaries.
Avoid having anything to do with traditional medicine or pelts. You will also notice examples of shocking poverty in some areas, and that may include child beggars. How you handle those situations is up to you, but remember that many of these beggars are being exploited by adults.
You do not by any stretch need to have a hard heart when visiting China. Just remember that you cannot do anything individually about these issues besides not supporting them in any way whatsoever.
What Food Should I Try In China?
Moving on to a far more pleasant topic – Chinese cuisine is rightly considered one of the world's best. You will enjoy fantastic food throughout your stay and usually at very reasonable prices. Portions maybe a little smaller than what you are used to though. Look out for the differences compared to many of the westernized classics.
Sweet and Sour Pork is completely different and unarguably better when cooked to Chinese specifications compared to what you will enjoy at home. Dumplings are served around the clock and can contain anything from shredded veggies to seafood.
Do not expect to find quite as much meat as you may be used to. In coastal areas, you will notice that seafood is very much the protein of choice, and lamb/beef is typically served mostly in smarter restaurants. Shredded duck glazed in various sauces and marinades is something really special and usually staggeringly good value.
In the mood for something a little more challenging? Perhaps start with durian fruit. It looks like a fruit, tastes like almonds, and smells like… well – let's say you'll either love it or hate it!
Stinky tofu is another interesting dish to keep an eye out. It does smell incredible but has a very benign taste that works lovely to add a special aroma to soups. Oh yes, expect to eat lots of soup during your visit to China.
Century eggs are another classic that perhaps one out of five people will develop a curious fondness for, and if you can keep one down then reward yourself with some Chinese pastries. Youtiao, kind of like hotdog-shaped donuts, are amazing!
You'll perhaps struggle a little to get by in China if you have a heavily restricted diet. Vegetarians will have no problems sticking to veggie meals. However, pay some attention to the stocks and flavorings used. Vegans may have a really tough time. Food intolerances and restrictive diets are not really that well understood in China, so prepare for this before you go unless you want to live on pickles!
What Should I Pack for A Trip to China?
We would recommend a money belt or similar for China despite the country being incredibly safe. You probably won't need it in the cities but way out in the sticks you're better safe than sorry. You're more likely to have your wallet knocked out of your pocket when squeezing on to the metro than for someone to actually lift it – but better safe than sorry. It is a handy way of keeping your passport on your person while out and about too.
A good medical kit packed with over the counter medicine is also a sensible precaution. You will have no problems finding pharmacies in China but they may not have suitable products listed in English. Remember to also bring power adaptors – these can be a hassle to find.
Perhaps last but not least – remember that China operates the 'Great Firewall' meaning that many of your favorite websites could be restricted. There are ways of getting around this and we'll let you research the best methods and whether they are sensible to use.
What Clothes Should You Wear In China?
Plenty of people are rather surprised at how laid back the Chinese are when it comes to clothing. Generally speaking, you can wear whatever – or as little – as you like, so don't be too worried about this during the day. Beachwear is common in the big cities during the summertime although we'd suggest visitors veer on the safe side and keep things a little more tucked up.
You should dress more formally when visiting religious/ancient sites and it is not unknown for visitors who are not properly dressed to be refused entry. The same goes for fancier restaurants and watering holes in the major cities. Do not expect to get into a classy cocktail bar in Beijing unless properly dressed for one.
A raincoat is essential at all times of the year. Good quality walking shoes for both urban and 'outdoor' use are recommended.
What Are Some Interesting & Important Facts About China?
Now we are close to the end of the China Travel Guide we'd like to thank you for reading and hope that some of the information provided will be useful towards planning your own visit. China is an exceptional country – for many different reasons – and one of those places where you can still explore safely in the knowledge that not many people have been there beforehand.
Culturally and politically speaking it is likely going to be a bit of an eyeopener, especially to anyone who has not yet explored a more 'challenging' country. That being said, you can easily choose how you wish to experience China and there are merits and flaws in whichever approach you wish to take. What we should say with absolute confidence is that China is likely going to be one of those places you will still think about decades in the future.
Let's wrap up the China Travel Guide with a few fun and interesting facts that will hopefully make you even more excited about the prospect of exploring this country. We look forward to you discovering plenty more for yourself!
▸ The Chinese do not have an eating etiquette – so burp and spit as much as you choose!
▸ Forget what the UK says – soccer (or at least 'footballs') was invented in China a couple of thousand years ago.
▸ Remember those warnings about the Chinese New Year? Celebrations last for 15 days…
▸ The Chinese have the longest – if not the most extensive – railway network on the planet.
▸ Ice Cream was also invented by the Chinese – 4000 years ago…
▸ Notice that there are dragons everywhere? That's because many emperors believed they were descended from them.
▸ Almost 40 million people still live in caves.
▸ Yet they are still averaging a new skyscraper every five days.
▸ Despite being enormous China uses a single standard time zone.
▸ Birds nest soup should include bird saliva, so remember that when perusing the menu for familiar favorites.
We hope you enjoyed reading the Budget China Travel Guide – and good travels! Contact us with any questions you may have about travel to China.
You might also like some of the articles from our website about boondocking and travel.
5 Best Ways to Visit Techatticup Gold Mine In Nevada
12 Super Reasons To Visit Mount Charleston Nevada
10 Great Reasons to Visit The Valley of Fire Park
9 Great Hiking Trails In Red Rock Canyon
For complete photos and videos of our trip visit our photo on our Facebook Page
You May Want to Join Our Boondocking Group on Facebook For More Information