Last updated on September 24th, 2023 at 11:19 pm
The Budget Spain Travel Guide includes 18 Important Travel Planning Tips that will allow you to see and do more on your budget. Learn how you can benefit.
Welcome to the Spain Travel Guide! Spain is one of the world's most popular countries and attracts comfortably over 80M international visitors each year. That rate has been growing steadily over the previous ten years and shows no signs of peaking anytime soon. Why is Spain so popular? Simply because it genuinely does offer something for everyone.
Culture vultures will be dazzled by the cultural heritage of great cities such as Madrid, Barcelona, Valencia, and San Sebastian. Those in a partying mood will find all the nightlife and beaches they could ever wish for, and outdoor enthusiasts will enjoy some of the finest hiking and biking countryside in Europe.
Perhaps the best thing about Spain – besides the generally glorious climate – is that everything is so easy. This is a country where you can change your mind first thing in the morning and still have a magnificent day. For instance, in Barcelona, you may decide that it is time to take a quick break from jawdropping heritage sites – the beach is a ten-minute stroll from Las Ramblas!
Throw in amazing food, easy transport links, a host of wonderful islands, fascinating heritage and history and you have a simply magnificent destination that can be enjoyed on any budget. The Spain Travel Guide will tell you all you need to know about how to make the most of your visit, understanding the local customs, and where to stay and how to get about without breaking the bank.
What Are the Best Places to Visit in Spain?
It would be too easy for the Spain Travel Guide to simply focus on the world-famous cities of Madrid and Barcelona, especially when so many other smaller towns demand your attention. The 'problem' with Spain is that the cities tend to be almost perfectly dotted about the country – meaning that to experience each highlight you need both time and a willingness to spend plenty of time on trains. Both Bilbao and Seville, for instance, demand a place on any visitor's itinerary.
The problem is that they are on other sides of the country! Most travelers are going to be slightly limited on how long they can stretch their stay in Spain so it is best to approach touring Spain in limited geographic regions. A week spent exploring one 'quarter' of the country is better than trying to cram three/four cities into such a brief period.
Most international visitors will arrive at either Madrid or Barcelona (the latter especially if coming from a train). Madrid is a less 'touristy' city but still homes some essential sites that would make anyone's essential list of European destinations. The Museo Nacional del Prado contains magnificent European art, the Plaza Mayor is arguably the best marketplace in the continent and the grandeur of the Royal Palace and mellow vibe of El Retiro Park are going to appeal to anyone in their right mind! Madrid is an ideal 'first stop' thanks to its location. You can travel anywhere else in the country with ease – the problem is choosing where!
Barcelona should need little in the way of any introduction. As one of Europe's most popular destinations (20M+ visitors a year), it is the capital of Catalonia with a very different style to Madrid. Architecturally speaking few cities come close to Barcelona. It is the perfect city for exploring and be sure to branch out into the sidestreets off the famous Las Ramblas. Turn the right corner and you will stumble on Gaudi's still unfinished La Sagrada Familia, the Museu Picasso, a still working Olympic Village and the aforementioned magnificent beachfront.
As with Madrid, there is no point listing all the sites to see in this Spain Travel Guide – it would take pages and pages to mention even half of the sites worth seeing. Just explore at your own pace and prepare to be amazed – it really is that good.
As for the rest of Spain? Seville is a wonderful coastal city that continues to boast a supremely rich Moorish influence. Packed full of incredible heritage sites and a bustling nightlife scene (it is one of the key student cities in Spain) the Alcázar Castle is one of the most beautiful in the world let alone Europe. The capital of Andalusia is also the spiritual home of Flamenco dancing and has stunning beaches dotted along the coastline (plus some killer wines!).
San Sebastian on the northern coast is literally jaw-droppingly beautiful. Built along a perfect natural cove it has a treasure trove of cultural sites – from museums and galleries to world-class restaurants, hotels, spas, and shopping. Further East and you'll end up in the Baque region bordering (and culturally stretching into) France.
Be sure to check out the world-famous Guggenheim museum and munch down on amazing tapas afterward. Visitors who are interested in the great outdoors are literally spoilt for choice. You could hike the surprisingly accessible Pyrenees, take in the rugged Sierra Nevada, explore the Basque countryside, walk along breathtaking cliffsides and much more.
Hopefully, you get the picture – Spain is a marvelous combination of everything a visitor could hope for. It is one of those rare examples where there is literally a reason to stop over at pretty much anywhere on the map.
---
---
check out our video
---
---
What Are the Best Things to Do in Spain?
A wonderful aspect of visiting Spain is that you can seamlessly combine so many activities into your daily itinerary. Some essential aspects of Spanish life – let's say tapas for example – can be enjoyed at literally any time of day. A golden rule when it comes to tapas is to look for bars/cafes that are a little away from the beaten tourist tracks – especially near the sea. You'll not only save a fair amount of money but the portions will be more generous and contain only legit high-quality fresh ingredients.
No visit to Spain is complete without a few nights out and you'll find excellent nightlife to suit all tastes wherever you end up in the country. Flamenco and cabaret acts are still very popular with locals in certain parts of the country, while some of the biggest club nights in Europe are found in the major cities and islands (Ibiza deserves a guide all of its own in this respect!).
Assuming you are intending on visiting three (maybe more) cities during your visit then it makes sense to take guided tours but be sure to pick them carefully. Many of the organized tours are expensive, impersonal and stick to rigid timescales – something you will find throughout Europe and fortunately easy to spot.
Most of the time casual walking/cycling tours are the way to go. Often these will last for most of a day and knowledgable guides – often students or retirees – will be happy to make ad hoc stops and detours. Travelers on a budget should always look for these in the larger Spanish cities!
Given the staggering amount of culture and heritage to see it can be easy to assume you can 'see' Spain from the railway carriage window between your chosen cities. The truth is that no trip to Spain is complete without a stay somewhere off the beaten track. Only in these countryside villages will you appreciate how agreeably languid and relaxed the Spanish lifestyle can be, and the scenery will be nothing short of breathtaking.
Remember that should you find yourself in the southern and western regions that Portugal is also very closeby. While the two countries have long been best buddies and it would be reasonable to expect quite a few similarities, they are rather unique in many ways. When great cities such as Lisbon, Porto, and Braga to name just a couple are so close it would be crazy not to make a quick stop by. Oh, and the Spain Travel Guide is happy to attest that Portugal offers hands-down the best surfing in Europe!
But back to Spain. When choosing what to do, the key is simply to figure it out as your days go by. Sure, you could plan everything down to the letter but Spain is not the sort of country best explored by adhering to a checklist. In fact, you are best off trying to head off the main trails as often as possible. Including some degree of flexibility in your visit is ideal. After three/four days in your arrival city (almost always Madrid or Barcelona) decide then what you feel like doing.
You may want more culture (it is hard to miss no matter where you go) or you could fancy a few days in the countryside or on the beach. Thanks to the internet you can book accommodation and make travel arrangements as you go. We'll look at the practicalities of this later in the Spain Travel Guide, but keep that approach in mind while we look at some of the other essentials to know before your visit.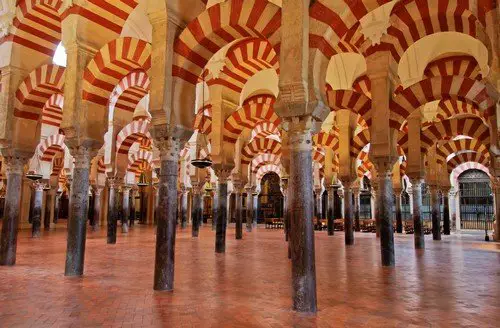 When is The Best Time to Visit Spain?
One of the great myths you'll likely hear/read when planning to visit Spain is along the lines of "the country enjoys a year-round good climate". Sure, the country does but some parts can still be cold and wet during winter and shoulder seasons. You can expect warmth/humid heat everywhere between June and August. This is the peak season and you can expect prices to shoot up by around 50% for accommodation across the board.
The beaches will be packed with European holidaymakers and the cities crowded with tour groups. For some people, the added crowds and buzz are good things but just be aware that it can be pretty full-on wherever you go!
Spring and Autumn are great times to visit the cities where most of the time key attractions will be busy but not overwhelmed. The coastal climate will be nice and warm, and the central areas should be consistently dry and comfortable. It is a great time for finding bargains in most places – just be aware that there are many fiestas/carnivals around these times which make accommodation a premium (but are amazing if you are lucky enough to come across one).
Springtime is good for hiking but take some sensible precautions as higher altitude climates will be liable to unpredictability.
Winter is obviously the best time for skiing and alpine sports with prices considerably more reasonable than those in neighboring France. While the beaches and islands can still be OK climate-wise, many hotels are going to shut down for this period. You can find brilliant savings on scenic hotels and this is an ideal time to enjoy some of the world-class dining experiences found throughout Spain. Cities will generally be much quieter and many regular visitors prefer off-season Barcelona to the summertime experience.
Do I Need A Tourist Visa in Spain?
Spain is easy for most people to enter. EU citizens do not require any form of visa. Nor do visitors from a good number of other countries including the USA, Canada, Australia, New Zealand, and Japan providing they stay for no more than 90 consecutive days over a 180-day timeframe. Note that unlike many other European cities visitors are obliged to always carry ID on their person (either EU residency card or passport). Different visa rules apply for anyone planning on working or conducting business and the process of applying for extended visas can be time-consuming.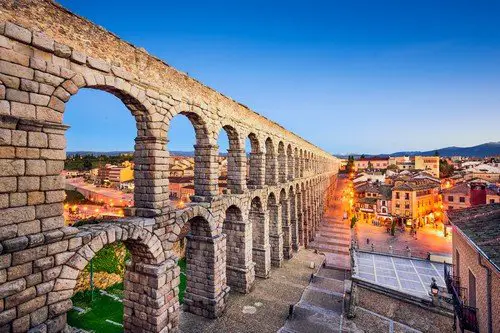 Do U.S. Citizens Need A Visa for Spain
U.S. citizens do not need a visa to enter Spain, which simplifies entry into the country; however, a passport valid for at least six months past the planned date of departure is required.
What Currency Is Used in Spain?
Spain uses the Euro (€) and currently trades at around €1 = $1.11. You will experience no problem changing money throughout the country but as always be sure to check exchange rates. The Spain Travel Guide recommends that visitors use ATMs as these often offer better commission rates compared to typical bureaus. Just remember that fees will apply for every transaction and they can mount up fast.
Credit cards are accepted far more widely than they used to be. Mastercard and Visa will be accepted by almost all restaurants, attractions and hotels. Travelers with AMEX and/or Diners Club will find that far fewer places take them. AMEX branches are found in major cities and will help visitors change cheques at pretty good rates.
Generally speaking, it is wise to keep some cash on you during your visit to casual expenses. Those venturing into the countryside and smaller communities will be well advised to withdraw more than they may otherwise expect to need.
Note that Spanish banks tend to close mid-afternoon!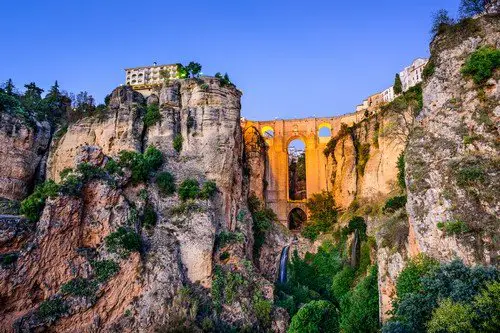 Do I Tip In Spain?
Plenty of visitors are surprised that Spain does not have much of a tipping culture. It is not expected (or mandatory) in smaller restaurants/bars although it always good form to leave a token handful of small changes to reward decent service. More upscale places may apply service charges/table covers to your bill.
It is pretty rare to spot any locals leaving tips at all – but that does not mean it is not expected from tourists. Really it comes down to your own call at the time. Leave a token tip if you are satisfied with the service and you can't go wrong.
What Kind Of Budget Do I Need In Spain?
Spain is rightly regarded as one of the cheapest countries to visit in Western Europe – but there is one caveat. While general costs are considerably lower than the likes of France and Germany, prices can reach Paris/Berlin levels in the major cities. While those on a budget or not wishing to spend excessively on the likes of accommodation and travel costs will find plenty of excellent options, those lucky enough to have a higher spending limit will find no shortage of places to spend! Here is a reasonable expectation of what the team at the Spain Travel Guide would anticipate for sensible budgeting:
Budget (€50-75/day)
Spain is fantastic for budget travelers. Hostels and good campsites can be found throughout the country and they are universally cheap! Just be aware that when it comes to choosing a place to stay the prices will be similar between world-class hostels and those which are in quite bad states of repair. Research the best options that fit your budget and book well in advance should you be aiming to arrive in peak season. You should be able to just turn up anywhere and find a dorm room – but we're not joking when quality can vary enormously. A little planning will make all the difference.
Away from accommodation costs, you can make use of the many visitors/tourist passes for discounts on pretty much all major attractions. Use these wisely and pay attention to admission costs as these can lower significantly for afternoon visitors. Budget travelers should especially look for high-quality walking tours that not only provide an informative and affordable way of getting to know a city but will provide local expert knowledge on the best budget places to eat and drink.
Away from the cities, you can cut your daily costs by 50% and still live very well providing you are willing to camp or share dormitory rooms. A week on the beach can be incredibly cheap!
Mid-Level (€100-150/day)
This budget is more than enough to enjoy a very comfortable time in Spain. Four start hotels should be the expected level for those on this budget and you can easily eat out three times a day with change left over. Make use of the decent Spanish rail network to visit other places of interest near your chosen city. Splash out on spa days, enjoy some great shopping (especially in Madrid and San Sebastian), maybe even enjoy a meal or two at one of Spain's many world-class restaurants.
With this budget, you could quite comfortably afford to enjoy the ski season for a week or two providing your group are willing to share a small chalet. Ski passes are comparatively cheap and tend to have far fewer limitations compared to other nearby countries ('exclusive' slopes are refreshingly rare in Spain). If visiting during high season you may wish to factor in a 'mini-tour' within your stay.
All major cities have plenty of operators offering to take you around the nearby areas and quite often include overnight accommodation as part of the deal. You may wish to even check out a Spanish soccer match – "El Classico" between acute rivals Barcelona and Real Madrid is considered the world's hardest-fought rivalry.
High-Level (€200+/day)
Ever fancied hiring out your very own Spanish villa? On this budget, you could enjoy a tranquil shoreside break in absolute privacy and maybe even find a place on one of the Balearic islands. Expect excellent accommodation and dining wherever you go, and appreciate the significant improvement in comfort offered by first-class rail travel.
If you have a high daily disposable rate then it would be basically criminal not to take in Michelin Star restaurant. Check out expert private tours of some of the most important sites, and perhaps even enjoy a little cruise along a picture-perfect coastline.
Alternatively, is you are lucky enough to also be time-rich look to stay in Spain for longer! You can easily enjoy the comforts of life on a mid-level budget and stretch it out to the last three, maybe even four weeks. A multiple-destination Spanish tour – at your own pace – is one of those travel 'Holy Grails'. If you can afford it you simply must consider it!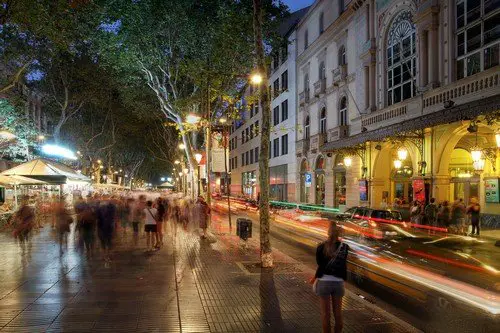 What Languages Are Spoken in Spain?
Spanish (Castillan) is the universal language but it is not the first language in some regions. Basque, Galician, Aranès, and Catalan are all widely spoken in their geographic locales. The vast majority of people will be happy to speak Spanish in these regions but learning a few basic regional words is always a good idea.
Most visitors to Spain will have no difficulty finding people who are able/willing to speak English especially in the major cities and tourist hotspots. But do not to necessarily expect everyone to do so to a conversational standard. Around 25% of people claim to speak English (a far higher rate than any other European language) but factor in that younger people are more likely to hold a higher proficiency.
One tip from the Spain Travel Guide – when booking travel tickets or accommodation you'll find dedicated desks that can speak English (look for a little British flag) at most major train stations. Do not expect a general clerk to speak high-quality English as a matter of course – especially if you are dealing with a complicated booking.
So language should not be a significant problem for most visitors. If it becomes frustrating for any reason just remember that it is estimated that during the 10th century the Spanish region included dozens of independent languages and dialects!
What Religions Are Practiced in Spain?
Spain has a reputation for Catholicism but it may surprise you to discover that only 3% of Spaniards consider it to be one of the most important influences on their moral compass (the European average is 5%). While there are many fiestas throughout the year that stem from religious principles and Saints, the fact is that nowadays they are considered traditional ahead of any active religious sentiment.
Spain is a very tolerant country when it comes to religious differences but only a small minority of people – around 3% – routinely follow any other faith. All that being said you won't have any problems finding an open church!
Practical Tips From The Spain Travel Guide
OK, now we have covered the basic essentials of what to expect from visiting Spain, it is time to take a look at some of the practical tips that will help make your stay easier and more rewarding. We at the Spain Travel Guide cannot stress enough how advantageous adopting an open mind to your visit can be. Taking the time to explore the lesser-traveled parts of Spain can often be uniquely fantastic. There is no better way to soak up Spanish ambiance that doing so away from the crowds.
We'd suggest that visitors try and adopt certain aspects of the Spanish daily lifestyle during their visit. Make lunchtime the key meal of your day and if visiting in the summertime do try to have a siesta to help pass through the hottest time of the afternoon. Fighting through the tourist crowds in high humidity heat is not much fun and will test even the most hardened traveler. Once you have risen, make the most of the evening time. There are always attractions open late into the evening and it is far from unusual to not hit your bed again until well after midnight on any day of the week.
Much is made of the long-running internal issues caused by separatist factions especially in Catalonia and the Basque country. Do not let these simmering tensions make you think for a moment that either of these regions is hostile or best avoided as that is frankly the opposite of the truth. Most people are open to visitors but these regions are vocal about maintaining their unique heritage, and a growing sentiment has been rising against 'package' tourists who are considered offensive. For this reason, it is a very good idea to exhibit sensitivity and respect wherever you travel in Spain.
What About Health and Safety in Spain, Is It Safe?
Spain is a safe country to visit and serious crimes against visitors are very rare. That being said there is a risk of pickpocketing and theft in tourist areas so you should take the same precautions as in any other large metropolitan area. As mentioned previously you do need to keep ID on your person when visiting Spain so make copies of essential travel information (passports, travel tickets, medical scripts, visas, etc) to keep with your luggage and ideally also stored securely on the Cloud. It is not a bad idea to buy underclothes money/document belts and to carry only limited amounts of cash where possible.
It is worth mentioning that some parts of the country and islands are notorious for their 'party' culture. Over the last few years, the less seemly aspects of this (violent crime, drugs, etc) have been heavily clamped down on but they do still exist. Avoid walking anywhere alone late at night and do not become heavily intoxicated. Most crime in these locations tends to be 'tourist on tourist' so factor that into whether you really want to explore the 'legendary' St Antonio hedonism…
As for health considerations, you can expect high-quality healthcare throughout Spain should you need emergency treatment. EU nationals should make sure to sign up and carry their European Health Insurance Card, while those from elsewhere need to make certain that their insurance is in order. Remember that some watersports and alpine pursuits may require special coverage.
There are plenty of pharmacies in Spain and some are open 24 hours in the larger cities. Should you require any prescription medications you will need a copy of the script and remember that not all medicines may be available in the form/brand that you are used to. Take a large supply and ideally share it amongst other people in your group's luggage to help mitigate against the risk of being left without.
What is the Best Transportation in Spain?
Cheap, cheerful, crowded and confusing are all fair ways to describe the Spanish transport system! Local transit within cities is really good in most places and be sure to take advantage of metro passes (including buses) to enjoy significantly lower prices. Some services are almost 24 hours, but be sure to check what days they run late as this varies according to the season. Taxis can be expensive and always agree on a price before you enter if the cab is unmetered/unlicensed.
Trains are pretty efficient – not quite as sharp as French or German services but better than the Italian and Greek. Even better, they are cheap providing you book with care and a little ahead of the departure day. There are all sorts of services but AVE is the one to try and avoid unless you can afford it. Their trains operate superfast intercity routes but can be three times more expensive than more languid services!
The good news is that most large train stations will have dedicated English speaking counters where they will actually try and help you save money. It can be confusing to figure out yourself given all the regional services and restrictions so let the professionals help! Reservations are not mandatory but highly recommended for all long-distance services as most trains will be quite busy especially in peak seasons. Luggage space can also be a tight squeeze so factor that in mind if you have a particularly bulky backpack.
Rail is the best way to get about but do keep an eye on the prices. Speaking from brutal experience, your correspondent from the  Spain Travel Guide could once have saved €43 – over half the ticket cost – by picking a train that departed seven minutes later. As a general rule morning services will be substantially more expensive than those running later in the day, but as always that is not always entirely universal!
As for air travel, Spain is blessed with plenty of decent airports and it is quite feasible to travel relatively cheaply from one end of the country to another. Planes will be essential for visiting the islands unless you wish to splash out on a cruise. The downside is that by flying you will miss out on the glorious countryside. It is no exaggeration to say that most train journeys in Spain are going to feature some pretty amazing scenery. So why not just kick back and enjoy the view in proper Spanish fashion?
What Are the Best Accommodations in Spain?
You should not have any trouble finding 'good enough' accommodation at short notice, even in peak season. At a very approximate estimate, we'd agree that anywhere from hostels to five-star boutique accommodation will be about 30% cheaper in Spain compared to France. Off-season you can stretch that to more than 50% especially when booking in advance. So while accommodation will always be one of the priciest aspects of any overseas visit you can enjoy a decent quality room without massive expenditure.
Booking in advance will make your life easier. Do not expect much in the way of savings especially in highly popular hostels/hotels during the summertime, but outside of these extremes, there are almost always some bargains to be found. Popular tourist hotspots along the Costas have an endless supply of cheap rooms that can cost even less than a Madrid hostel bunk. Camping is a little more 'rustic' than other European countries but correspondingly cheap, and sites can be found which are surprisingly central in most cities.
As a general rule, the  Spain Travel Guide recommends that you at least book your first accommodation well before you arrive. Depending on where and when you then want to explore you can book at much shorter notice once you are in the country. Of course, if you have a set plan of where you need to see then book as much in advance as possible. The money you can save on accommodation is all going to be useful in enjoying the many delights you'll discover during your Spanish travels.
How Can I Practice Responsible Tourism in Spain?
While tap water is safe to drink in 99% of Spain the country does have supply issues. You will not notice these during your visit but global warming is being felt in Spanish agriculture and it is becoming a more vocal issue. So try and conserve water wherever possible and never feel tempted to take a dip in any of the public fountains unless you wish to explore the details of the Spanish jail system.
In all seriousness do take care when exploring the countryside especially with cigarette ends and fires (mostly banned FYI). Wildfires are another growing issue and the locals will not take nicely to anyone placing their crops at risk. Starting a forest fire – even accidentally – is a serious criminal offense. Also, be aware that parks have different rules so check out their signage when you enter. Most will have the basics in English.
You ought to eat as much Spanish food as possible. Not only because it is absolutely amazing but also because Spanish fresh produce leads the world! The problem is that cheaper imports are becoming a growing threat to smaller farmers, so splash out a little on the local delicacies and enjoy a clear conscience too.
As for bullfighting… for a handful of people, it is part of the Spanish experience. It is up to you whether you choose to visit an arena – or take part in the running of the bulls festivals.
What Food Should I Try In Spain?
As mentioned throughout this article you'll eat well in Spain even if you have just pennies in your pocket. Exploring the local cuisine should be a major part of your travels and there's a good chance many dishes you try in Spain will be significantly different (better!) than imitation you may have eaten before.
Paella is legendary throughout Spain and only becomes better the closer you get to the sea. An unwritten and unprovable fact is the best will be found in the smallest and dingiest seaside shack. Needless to say, seafood is to be found on pretty much any menu, so be sure to also check out Gambas al Ajillo if you love your shellfish.
Cured meats are also incredibly popular with Chorizo and Jamon Iberico found in literally every tapas joint. But the fresh produce is what makes any meal and nothing beats a chilled Gazpacho soup. Few dishes are better than a large bowl of this delicacy on a scorching summer afternoon.
Despite the encroaching 'westernization' found in many Spanish cities and resorts, there will always be places to eat and enjoy local food. Eating out is a big part of Spanish culture and a wonderful way of interacting with the locals – just remember to not dress too much like a tourist.
What Should I Pack for A Trip to Spain?
Spare clothing, sunblock, and basic medications can be picked up anywhere in Spain at very reasonable prices. What you need to bring will depend a little on what season you visit and where you plan on heading.
Remember that some parts of Spain can be on the chilly side for large parts of the year (tourists arriving in Madrid wearing shorts and t-shirts in February are a common sight for local mirth). In the summertime, you will need light and airy clothing as well as decent walking shoes. A rain poncho is not a bad precaution but can again be purchased for a couple of Euro in the event of a thunderstorm.
As mentioned above you will be seriously unlucky/foolhardy to fall victim to serious crime while in Spain, but pickpocketing is a regular occurrence in plenty of places. A few dollars spent on a concealed wallet is a sensible precaution.
What Clothes Should You Wear In Spain?
The Spain Travel Guide recommends that visitors understand that 'light and comfortable' does not mean 'well dressed or appropriate' in Spain. You should try to avoid looking too much like a tourist especially if you plan on actually exploring Spanish culture and being taken remotely seriously. Spanish people tend to take pride in maintaining a smart appearance especially in the evenings so do your best to dress well and suitably.
Live by the motto that "beachwear is for the beach" and you can't place a foot wrong in Spain when it comes to dressing appropriately.
What Are Some Interesting & Important Facts About Spain?
So we have nearly finished this Spain Travel Guide and would like the final chance to wish you well exploring this enchanting country! There is more to see in Spain than you'll ever discover in just a single trip, and chances are that after one visit you'll be returning soon enough. Here are a few little facts that you may find interesting before you visit:
▸ Nudity is legal in Spain – just be careful where you try it …
▸ Spain has the second-longest life expectancy after Japan – 85 for women and 79 for men.
▸ Despite religion not being a 'big deal' for many Spanish people 13% still attend church every Sunday.
▸ It is believed that the untaxed Spanish 'black economy' accounts for around 25% of all GDP.
▸ A 2013 report found that on average Spanish people devote 16 hours a day to sleeping, eating and drinking.
▸ Spain produces over half of the world's olive oil.
▸ The Spanish tooth fairy is a mouse called Ratoncito Pérez<
▸ Spain is one of the most tolerant nations for LGBT rights with over 80% of people agreeing they deserve total equality.
▸ 'El Gordo' – the Spanish Christmas Lottery – routinely has the world's largest jackpot, usually just short of $1bn.
▸ The Spanish National Soccer Team is the most successful in the world.
We hope you enjoyed reading the Budget Spain Travel Guide – and good travels! Contact us with any questions you may have about travel to Spain.
You might also like some of the articles from our website about boondocking and travel.
5 Best Ways to Visit Techatticup Gold Mine In Nevada
12 Super Reasons To Visit Mount Charleston Nevada
10 Great Reasons to Visit The Valley of Fire Park
9 Great Hiking Trails In Red Rock Canyon
For complete photos and videos of our trip visit our photo on our Facebook Page
You May Want to Join Our Boondocking Group on Facebook For More Information
Discover our unique product testing journey at Our Big Escape. We bring real-world experiences and adventures into every review, ensuring authenticity and reliability. Dive into our process at
How We Test Products: A Journey of Discovery and Trust
, where every product is an adventure tested.