Last updated on September 25th, 2023 at 12:18 am
Budget Croatia Travel Guide includes 18 Important Travel Planning Tips that will allow you to see and do more on your budget. Learn how you can benefit.
Welcome to the Budget Croatia Travel Guide! Croatia is currently one of the fastest-growing tourist countries in Europe, attracting nearly 50% more visitors in 2019 compared to earlier in the decade. While until quite recently most visitors to Croatia were from other Adriatic nations, plus Italy, Austria and Germany, although nowadays visitors come in much greater numbers from across the planet.
As Croatia has become more popular the tourism industry has boomed – and it is now considered towards the pricier end of the market compared to many other popular European countries.
The good news is that here at the Croatia Travel Guide we'll explain how you can still comfortably explore this amazing country without breaking the bank. Sure, costs have certainly risen over the last few years, but the same can be said for many other places too.
What makes Croatia a little different from neighboring countries such as Greece and Italy is that while you can certainly expect your share of tourist hotspots such as Dubrovnik, Split, and Zagreb, there are plenty of other places well worth visiting that still enjoy very little tourist exposure. It may be difficult to find total peace and quiet in modern-day Croatia, but you can certainly get close to the next best thing.
Budget Croatia Travel Guide  – What Are the Best Places to Visit in Croatia?
As a very general rule, you'll soon discover after arriving in Croatia that everything becomes more expensive the closer it lies to the coast. So in true Ultimate Croatia Travel Guide fashion, we'll begin Zagreb which lies comfortably inland towards the northern border with Slovenia! Chances are that most international visitors will arrive at the capital city, and while it may not quite be as architecturally remarkable as the coastal towns it certainly has its fair share of must-see sights.
Be sure to spend plenty of time roaming the cobblestoned streets of the Old Town. Look out for highlights such as the Lotrščak Tower, St Mark's Church, Dolac Market, and the surprisingly incredible Museum of Broken Relationships. Hit the vernacular railway for impressive views across the city and the perfect spot for an early evening sundowner or two.
There are plenty of smaller towns worth exploring between Zagreb and Dubrovnik – but as this is the most visited city in Croatia we'll take an imaginary leap of faith down to the southern coast. Dubrovnik is quite simply gorgeous. Architecturally speaking it has a strong romantic influence thanks to centuries of trade with the old Italian states, and as the magnificent coastal walls and fortifications will testify, this is a city that has been long contested.
The Rector's Palace and Stradun are handy sites to meet and explore the many side streets packed with all kinds of specialist shops and out of the way tavernas. Not many cities in the world come close to the 'Pearl of the Adriatic' as a romantic destination, it really is one of the most spectacular cities in the continent.
Split is another coastal city that is well worth a visit. A couple of hours north from Dubrovnik by train (take the coastal route for staggeringly amazing views!), this relatively small city of just 300,000 people is perhaps Croatia's most famous. Largely that is thanks to the enormous Diocletian's Palace which dates back to the years of Roman occupation.
Allow plenty of time to visit this site and as with many antiquity sites, it's always a good idea to read up a little beforehand. The Riva harborside district delivers most of the nightlife and best dining opportunities – be sure to try the best-tasting fish in the Adriatic (with apologies to Greece!).
Take the time to head out to the Mestrovic Gallery for some world-class sculpture, Jupiter's temple for a dose of further antiquity, and perhaps even lounge for a while on Bacvice or Bene beach.
Each of these three cities accounts for the vast majority of the time most travelers will spend in Croatia. But do not for a moment think that the rest of the country is not worth exploring – the opposite is the case, especially if you intend on visiting in the peak summer months when each of these cities can be somewhat crowded.
The Plitvice Lakes in the middle-north of the country are sumptuous and you'll not (yet) find too many tourists. It is a fantastic option for those on a budget and looking to relax, hike, and camp in truly unspoiled surroundings.
Alternatively, you may wish to head out to the island of Korcula which gives the best of the Greek islands a fair run for their money. Korluca town is regarded as 'little Dubvronik' for the reasons you can probably guess by now!
The Croatia Travel Guide has to recommend that visitors try and explore at least two or three different parts of the country. You can take the easy option and just stick to the coastline. If you have the bankroll to afford it (or are willing to live cheaply) it makes sense to tour this region at leisure. Quite frankly, you'll never get bored of the views and the towns/cities are truly remarkable.
Should you wish for something different then take a look towards the interior where the scenery is much different, and prices are much more reasonable! Zagreb is a cool city that is well worth a couple of days on either side of your visit.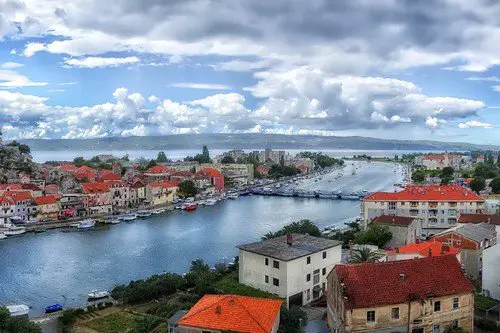 When is The Best Time to Visit Croatia?
You'll hear plenty of guides to destinations claim that their country is ideal for visiting at any time of the year. Well, in this case, that is actually true! The vast majority of visitors choose to explore Croatia during the peak summer months. Temperatures can be very warm indeed, making it ideal for beachside and outdoors fun.
Peak season runs over July and August – and this is when Croatia can prove to be rather expensive especially in Dubrovnik and Split. Most of the key sites will be quite busy and that can verge towards overcrowded, although providing you are up early you can dodge the worst of the crowds at the UNESCO sites. Spring (May/June) and Autumn (September/early October) are great times to visit Croatia. The crowds will be far thinner, prices a little more favorable, and the Adriatic waters still pleasant to swim. We reckon that Croatia looks its best in springtime, and the hiking/camping climate is pretty much ideal.
You should have no problems whatsoever with getting about or finding open accommodation. Do not rule out winter unless you plan on spending a week on the beach! There is a lot to be said for Croatian cities when it comes to the festive times of year – they take Christmas very seriously indeed. Apart from those couple of weeks in December, you'll find accommodation at rock bottom prices – 50% discounts are far from uncommon. Needless to say, this is the perfect chance for those with a scholarly interest in their antiquity sites to make the most of them.
Budget Croatia Travel Guide  – Do I Need A Tourist Visa in Croatia?
Besides a couple of quirky peculiarities, you should have no difficulty entering Croatia. The country is really quite dependent on tourism nowadays and while it would be an exaggeration to say they have left the 'door open' visitors should not anticipate any issues whatsoever. The one quirk to be aware of is that technically speaking all visitors are supposed to register their place of residence with the local police. Just imagine how swamped those local cop shops would be if that were routinely enforced!
The reality of the rule is that your accommodation (from a five-star boutique hotel through to a casual campsite) will handle that paperwork for you. Whether or not it is ever routinely sent on to the authorities is none of our concern. The only way that can prevent an issue is if you are staying with friends/family – then it becomes their responsibility to 'register' you.
Heading back to the actual entry requirements, EU citizens and those from stacks of others including the USA, Canada, Australia, New Zealand, Japan, South Korea, and Israel can stay for 90 consecutive days out of 180 without needing a visa. They are quite strict when it comes to which nationalities do need visas and their selection process is a little weird. For instance, you will need a visa if you are Turkish but not if you are from Brazil (perhaps because their soccer league features a good number of players from that country!).
Budget Croatia Travel Guide  – Do U.S. Citizens Need A Visa for Georgia
U.S. citizens do not need a visa to enter Georgia, which simplifies entry into the country; however, a passport valid for at least six months past the planned date of departure is required.
Budget Croatia Travel Guide  – What Currency Is Used in Croatia?
Croatia uses the Kuna (KN) which at the time of writing exchanges at 1KN = 0.15 USD. So about 6KN to a single USD. The exchange rate is relatively stable but as ever check the value before you book up for anything. Visitors to Croatia are often quite surprised at how easy it is to pay with cards and so forth. You should have no problem using Visa/Mastercard in most places although it is generally sensible to keep some cash on your person at most times just in case.
ATMs are widespread in even the smallest towns/villages and almost always offer English language translation. Note that Croatia uses the standard European chip & 4 digit PIN system so make sure your accounts are the same. Signatures may be accepted as an alternative but don't 'bank' on it. We'll discuss budgeting shortly but you ought to be aware that there is often a little 'elbow room' when it comes to negotiating/haggling prices in Croatia, especially on accommodation during the low season.
Budget Croatia Travel Guide  – Do I Tip In Croatia?
The tourist industry is a major employer but don't assume that service sector workers are well paid. Waiters, bartenders, hotel attendants, and so forth are on low incomes and often dependent on seasonal income to carry them through the quieter months. How much you choose to tip depends really on the context and quality of the service.
In our experience at the Ultimate Croatia Travel Guide, we would recommend a tip of 5-10% in cafes/bars that provide table service, 10-15% in restaurants (even those which include service in the bill), and some spare change/round up the bill for room attendants and taxi drivers. Something you may encounter in Croatia is the Greek 'tradition' of the 'Captain's Tip' on ferries and cruise liners. It is customary to provide this and the rate may even be set on certain vessels. Where it is not, look at around 5-15% depending on how you feel the journey went and any additional aspects that you particularly enjoyed.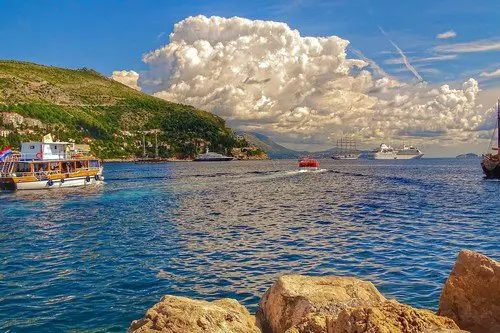 Budget Croatia Travel Guide  – What Kind Of Budget Do I Need In Croatia?
Hopefully, we didn't cause too much worry earlier in this guide when mentioning how prices have swiftly gone up throughout some parts of Croatia in recent years. While that is certainly the case and you should anticipate 'upmarket Italian' rates throughout the coastal regions, Croatia can still be thoroughly enjoyed on a lower budget. Try and keep an eye on those secondary expenses which may not really be necessary but can considerably inflate the cost of your stay.
For instance, take sandwiches/snacks to the beach rather than being ripped off by the shops and cafes on the seafront. Be willing to compromise an ocean view for half-price rates on rooms, book hostels massively in advance, and explore the lesser-visited interior destinations. Here is a lowdown on what we'd expect you to be able to afford in three levels of budget. We won't focus too much on the extreme ends, for example, you could quite probably get away with sleeping on the beach, or shell out 1000KN/night on a swanky hotel room pretty much anywhere. Instead, these are realistic expectations that will apply to most visitors to Croatia.
Budget (KR400-600/day)
Accommodation is going to be your most significant expense in Croatia and the good news is that there are plenty of budget hostels throughout the country. The tricky part is really determining how far you can stretch the definition of 'budget'. A dorm bed can cost as little as KN100-150/night in quieter seasons, especially in less visited areas. Campsites are even cheaper.That being said, anticipate easily spending KN300/night for a bed in a busy central hostel in any of the key cities during peak season. Book in advance not so much to secure a saving but to make certain that you have a place to stay. Hotels can be quite cheap but are rarely going to be very central without spending considerably more.
On this budget, you can still eat and drink well without spending a fortune. Look for places a little away from the tourist hubs – basically speaking those which charge 'locals' prices and you'll spend no more than KR60 on a good meal. Once again, those prices will easily double or treble at more premium spots. Transport costs are quite low but you should still take a look for discount options – we'll discuss this further in a short while.
Something budget visitors should anticipate about Croatia is that there are not a huge number of free/donations only attractions. The majority of museums will charge but can offer very good rates for younger people and/or students. If you fall into this category then be sure to take along ID and enjoy savings that can be as high as 50%.
Mid-Level (approx KN1000-1300/day)
We've used the 'approx' suffix here because how much you need to spend to fall into this category depends entirely on where you are visiting. Hotel rooms are widely available in all of the cities but you'll be paying considerably more for those with sea/scenic views or especially central locations.
Are you willing to compromise on that expenditure to enjoy considerably more spending power when it comes to your daytime and nighttime activities? Honestly, we'd recommend that most people accept that compromise and use the money saved to enjoy some excellent Croatian meals, guided tours and maybe even an excursion or two.
As outlined previously you should try and visit at least two different locations/regions during your visit to Croatia. Assuming you have a limited timescale to do so, making savings and compromises on your accommodation can be an excellent way of helping to make your day easier and simply more enjoyable.
Of course, if you specifically want to spend big on your hotel – to enjoy some sun lounging by the pool for instance – then go for it. Just factor in that premium hotel prices can stretch even sizable mid-level budgets .Expect to pay between KN100-160/person in good quality (but not the very finest) restaurants. Look up which are worth visiting online, and note that seaside establishments can vary wildly in quality but rarely in terms of price!
High-End (KN2000+/day)
Croatia is your oyster on this budget and you should anticipate being able to afford all of the best hotels and restaurants. So make the most of it! Luxury hotel rooms tend to be about KN1000-1300/night – and you will get more for your money during the off-season than in the height of summer.The best restaurants are far from cheap but actually compare quite favorably against those of other European countries. In Dubrovnik or Split a KN600 meal ought to be something you'll remember for years.Perhaps interested in heading out sailing for the afternoon? Private rentals may make budget-conscious visitors come out in a cold sweat, but at around KN1500 they are a pretty good value for groups.Note that it does not usually include someone to actually sail the boat! Alternatively, maybe look towards hiring a car for a day or two? It can be quite pricy but is a great way of exploring the countryside. Hires are usually available for about KR500/day including insurance.One thing you will notice in Croatia is that everyone dresses rather stylishly. The country may not be famous for shopping but the quality of the higher end fashion stores is really something. Perhaps check out some of the boutiques for your own collection?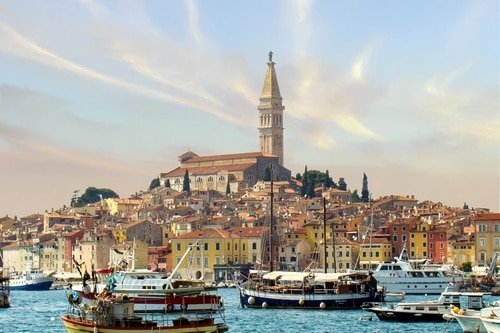 Budget Croatia Travel Guide  – What Languages Are Spoken in Croatia?
Standard Croatian is spoken by everyone alongside some districts where Bosnian and Serbian may also be used. Around 80% of Croats are multilingual and capable of speaking English, often to a very high standard of fluency. About half speak German to a similar standard and a quarter can converse in Italian. So when it comes to language proficiency not many countries can compare to Croatia. In practical terms, you will have absolutely no problems with language anywhere in the country. Some signs are printed in English at transit hubs and key tourist attractions. You may need to pick up an English guidebook (or increasingly audio-guide) at some smaller museums and galleries. We'd recommend taking English speaking tours wherever possible.
Budget Croatia Travel Guide  – What Religions Are Practiced in Croatia?
Croatia is a fairly religious country despite only about a quarter of people routinely visiting the church. The latest census reports indicate that around 85% of Croats consider themselves Catholic with about 5% adhering to Eastern Orthodoxy. The remaining ten percent or so are comprised of small groups of Protestants, Muslims and the 'irreligious'. You cannot walk far in Croatia without seeing a church, and many of the national holidays are based on Christian religious festivals. While the country is ostensibly secular the Catholic church is partially funded by the state. Do not read too much into the high percentages of people who have a declared religion. Many do so simply for the additional advantages that having a 'registered' faith can provide (mostly tax).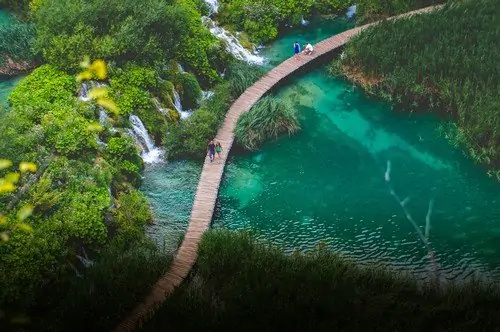 Budget Croatia Travel Guide  – Practical Tips From The Ultimate Croatia Travel Guide
Now we have covered the basic guidelines for what to expect from visiting Croatia let's now focus a little more on some of the practicalities involved. Something which probably ought to be discussed a little is the rivalry between Croatia and other countries that used to be part of Yugoslavia. While the Balkan conflict was over 25 years ago there remains some bad blood between these nationalities. Nowadays, it is expressed on the soccer pitch instead of the battlefield, but it is worth trying to avoid the topic unless mentioned in passing or raised by a tour guide. In happier news, Croatians are a very friendly bunch and you'll notice plenty of shared characteristics with Italians when it comes to formalities and etiquette. If you are on friendly terms with a Croat they will tend to kiss you twice on each cheek (never once!). That applies to both men and women. Should you be visiting a Croatian family for dinner you should make sure not to eat anything beforehand. Portions are universally enormous and dining will stretch well through the evening. One other thing that caught out your correspondent from the Ultimate Croatia Travel Guide – whoever invites someone else out to dinner is obliged to pay the entire bill!
Budget Croatia Travel Guide  – What About Health and Safety in Croatia, Is It Safe?
Croatia is a safe destination to visit and you are unlikely to experience any serious crime. That being said, as with anywhere there are some parts of the major cities where tourists are best advised to keep clear of. Considering there is not any reason to find yourself in them, you should otherwise be perfectly safe during your stay. Pickpocketing and theft are relatively rare but keep an eye on your possessions at the beach and other busy spots popular with visitors.
Something which ought to be mentioned here is that while homosexuality has been legal in Croatia since 1977 it is not one of the most enlightened countries for LGBT rights. You will not find many – of any – specifically LGBT bars/beaches and many Croats take quite a low opinion on those who are open about their sexuality.
Healthcare is of a good standard throughout Croatia although services are understandably a little patchier outside of the main population centers. EHIC holders are entitled to sizable discounts on their care – just always keep it on your person. Visitors from elsewhere will need some comprehensive medical insurance although check your eligibility for reciprocal healthcare arrangements. Some people with Croatian heritage may be entitled to free/discounted services.
As with any European country you ought to be able to have medication reissued if you lose your supply, but do not necessarily expect this to be straightforward or the drugs to be the same brand. You will need to visit a Croatian doctor first and pay upfront. Keep copies of all your key documents in both paper form and uploaded securely to the Cloud.
Tap water is safe to drink throughout Croatia although it may taste a little unpleasant from bathroom taps. Dehydration is your main risk during the summer months where temperatures can become especially high. Watch out for this when hiking. You should take appropriate care when hiking and stick to paths. Keep an eye out for ticks (check throughout the day and snakes – the latter are not aggressive but will defend themselves if you trample on them!
Visitors should probably be aware that smoking is still very popular in Croatia, and that if statistics are to be believed it is actually growing in popularity. While some bars/restaurants do not allow it, the majority do and can legally operate providing there is adequate ventilation (usually measured by an open door or window).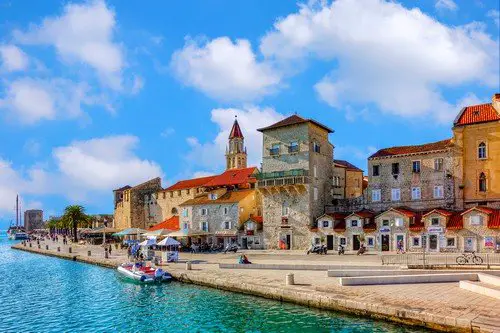 Budget Croatia Travel Guide  – What is the Best Transportation in Croatia?
Trains are perfectly fine, fast and cost-efficient providing you are hoping to travel between large towns. The network is relatively small compared to other European countries, however, and chances are that you'll need to use buses to get to more remote places. The good news is that bus services are really good and also refreshingly cheap and comfortable. Just note that buses between Split and Dubrovnik travel through Bosnia so keep your passport at hand.
Should you be traveling by train it is advisable to book in advance on more popular routes. There are a mixture of express trains and more sedate (cheaper) options, so look into these before you travel. Savings may apply for some people (students, concessions, etc) but prices tend not to vary too much for advance purchases. You could hire a car in Croatia but frankly, you will save a small fortune by hiring a bike instead. Hire shops are everywhere along the coast and tend to be staffed by people who can recommend suitable routes and equipment.
Touring Croatia by bike is a fantastic way to see the country thanks to the generally quiet and peaceful roads, amazing views, and the freedom they offer to get out and explore the lesser-seen corners. There are some cycle routes in major cities but they are far from universal so expect to be sharing the road with vehicles. Ferries run throughout the year out to the many islands and between other Adriatic nations. Services are prompt and tend to be very comfortable, although they are considerably less frequent during the winter.
No matter when you visit you ought not to have any trouble finding a ferry on any given day. Booking is only really necessary during the busiest times of the year and usually, you can just turn up and buy a ticket at the kiosk. Note that they use 'catamaran' for pedestrian-only boats and 'ferries' include provision for cars. If you have the cash there are plenty of private hire cruises at all of the coastal towns.
Budget Croatia Travel Guide  – What Are the Best Accommodations in Croatia?
We have already covered the majority of options during our budgeting guide but it is worth reiterating how prices tend to fluctuate enormously depending on location more than actual quality. Hostels are by far the best value but are always prone to booking out during the high season. Hotels can be anything from an international chain with hundreds of rooms through to quite small and family operated. If you intend on booking in advance you would be well advised to look for the latter wherever possible.
Many of these have extensive online reviews listing and tend to be openminded when it comes to negotiating their rates. Croatia is outstanding for camping and you'll find that even the cheapest sites tend to have a good variety of facilities. It is normal for them to have at least a handful of stores, bars, restaurants, and even pools. Needless to say, camping is a very popular way of stretching Croatia travel budgets so book in advance if you are intending on staying at coastal sites.
Budget Croatia Travel Guide  – How Can I Practice Responsible Tourism In Croatia?
Due to the popularity of the coastal cities with cruise line operators, it is not uncommon for tens of thousands of tourists to visit for just a few hours every day. Sustainability has become a significant topic of debate in recent years, as while the tourist money is essential to the country's prosperity, there are fears that it may be damaging the integrity of some historic sights. For this – and a host of other reasons – it is good to try and visit some of the gorgeous areas of Croatia which attract fewer guests. The money brought into the country from Croatia tends to mean that the coastal regions are affluent – especially compared to other Balkan nations – whereas the interior is far poorer. Really do put some thought into where your money will be going when you decide to visit Croatia.
Budget Croatia Travel Guide  – What Food Should I Try In Croatia?
Croatia may not be famous for its cuisine but there are some specialties that are well worth checking out. Black risotto (crni rižot) is absolutely amazing providing you like smoked squid, cuttlefish, olive oil and red wine. Sure it'll turn your mouth and lips black but hey – no pain no gain! Look for this throughout the coastal regions for a wonderful tangy lunchtime treat. If you have a more refined palette or appreciate a little more color in your seafood, take a look at the 'catch of the day' Brodetto stew. You may also notice that truffles feature throughout the menus of many more upscale restaurants. This is not just to boost up the prices – Croatian truffles may be stronger tasting and less expensive than their Italian counterparts but are still absolutely marvelous. Be careful not to pick them if you stumble upon a patch in the Motovun forests – there are strict rules regarding ownership. Or just don't get caught.
Croatian cuisine is largely based on sea produce and cured meats served in the classic Mediterranean fashion. You can eat very well in even the smallest cafe for considerably less money than you may expect to spend. Outside of the main cities, you will still find some vegetarian options but choice can be limited. The same goes for more exotic cuisines and alternatives to the Croatian staples.
Budget Croatia Travel Guide  – What Should I Pack for A Trip to Croatia?
You should not need to bring anything in particular with you unless you are visiting Croatia and planning on doing plenty of outdoors activities (highly recommended!). Croatian outdoor stores are expensive so you should try and bring everything you need with you – including a good quality tent. Boots are necessary and you'd be well advised to pack long-sleeved but lightweight/airy tops. Shorts ought to be avoided as there are plenty of ticks about in some parts. Other than this you'll be able to pick up anything you might forget to pack while in Croatia. Prices for most goods are pretty reasonable/cheap once you are away from the tourist areas.
Budget Croatia Travel Guide  – What Clothes Should You Wear In Croatia?
We at the Croatia Travel Guide highly recommend you try and match your clothing according to what you plan on getting up to. Keep beachwear to the beach, and generally dress quite smartly in the evening times. If you are visiting religious sites it is important to dress modestly and not show too much skin. Tourists are turned away sometimes for dressing in too 'touristy' a manner.
Budget Croatia Travel Guide  – What Are Some Interesting & Important Facts about Croatia?
We are nearing the end of the Croatia Travel Guide and hope that we have provided some useful pointers to help you plan your own trip to this wonderful country. Not many places are so convenient to explore than Croatia, so do try and escape the mesmerizing coastal regions and explore deeper into the country if you have the time. This is a friendly country and you'll find that people will be even more welcoming should you be one of the few tourists in town! You'll no doubt discover plenty of quirky little facts about Croatia when you arrive here – there is simply no end of interesting tidbits to gather about this stunning country. Here are a few little tasters to get you started:
▸ The Kuna is named after the furs once used by traders as barter.
▸ Croatia enjoys more sunshine per year than Sydney, Australia (over 2175 hours per year!).
▸ One-third of the country is a dense forest.
▸ The stones used to build the Sphynx were originally from Croatia.
▸ Croatia invented the parachute and the necktie.
▸ Water polo is one of the most popular sports in the country.
▸ Croatia has the highest number of UNESCO sites per capita of all European countries.▸ Croatian scenery often features in TV and Movies – has anyone seen Game of Thrones?
▸ Croatia has over 41,000 vineyards.
▸ "Bog" means both hello and goodbye! We hope you enjoyed reading the Croatia Travel Guide – and good travels!
Contact us with any questions you may have about travel to Germany.Now that you have read the Ultimate Croatia Travel Guides, what's next? Let's learn more about a Croatia trip. Check out Croatia Regional Travel Guide
Discover our unique product testing journey at Our Big Escape. We bring real-world experiences and adventures into every review, ensuring authenticity and reliability. Dive into our process at
How We Test Products: A Journey of Discovery and Trust
, where every product is an adventure tested.