The Budget Greece Travel Guide includes 18 Important Travel Planning Tips that will allow you to see and do more on your budget. Learn how you can benefit.
Welcome to the Greece Travel Guide! For many decades Greece has been towards the top – if not even crowning the pinnacle – of many travelers' dream destination list. Basking in almost year-round sunshine, packed full of one-of-a-kind sites, incredibly welcoming and also consistently affordable on a budget, Greece is simply a wonderful place to visit.
The beauty of Greece is well known as it was popular with visitors (not always welcome!) thousands of years ago. Today tourism accounts for nearly 20% of the country's total GDP and has decades of experience catering for visitors with any kind of budget. Make no mistake you can spend a long time in Greece without much money – and this Greece Travel Guide will spend plenty of time explaining how!
What Are the Best Places to Visit in Greece?
You really cannot go far wrong when it comes to planning where to visit. If anything, visitors are spoiled for choice. One of the amazing aspects of visiting Greece is you can easily hop between islands providing you take the time to plan a little in advance. Each island really deserves plenty of time to explore its own unique heritage – for instance, you could easily take a week to explore each of Corfu, Crete, and Santorini in full.
Take it from the team at the Greece Travel Guide that this is a country best not rushed and quite possibly the best in Europe for those with time to burn!
Let's begin our fantasy tour with a few days in Athens. While it may not be quite as 'splendid' as thousands of years ago, it is the closest to a really 'big city' that you will find in the country. In peak summer it can be tough going and pretty stressful at first, but give it a little time to acclimatize and you'll quickly realize that this is a seriously buzzing city. It ought to go without saying that you'll find plenty to see in Athens.
Be sure to spend longer around the Acropolis and surrounding Agora than you may expect, oh and the nightlife is pretty spectacular around the Psirri district too! Check out the Plaka market district (be prepared to barter) for an endless procession of gorgeous goods.
After perhaps three/four days in Athens chances are you'll be in the mood for something a little more sedate. Where you decide to head from here depends entirely on your personal preferences, just be sure to understand that while the Greek transit infrastructure is complicated/efficient (depending on your point of view) it is impossible to cram 'Greece' into a couple of weeks alone.
Even the most picturesque ferry routes can become a little tiresome after eight hours! While still in the Athens area you should take the time to visit Delphi – an accessible and short day trip from the capital. As with many of the antiquity sites, it is good practice to read up a little before you arrive so you can appreciate the wonders of the Temple of Apollo.
Santorini is the most logical next step from the mainland and for many people on a shorter break provides a picture-postcard Greek island experience. It is breathtakingly beautiful, with a rugged landscape caused by a volcanic explosion 3500 years ago, and surrounded by crystal clear water dotted with dark volcanic lava pools.
Take the time to explore this majestic island as far as your budget will allow. It is popular with well-heeled visitors but those of us on a budget can easily get by with a cycle hire and a packed lunch.
Crete is the largest Greek island and offers something for everyone. Despite being a very popular 'package' vacation destination that attracts millions of visitors each year, the island has plenty more to offer than crowded beaches and cheap beer (time and a place for everything!). Go searching for Zeus around the Ideon Cave, enjoy the finest Greek cuisine, take in the gorgeous natural fauna, and basically just enjoy exploring this tremendous destination.
You may be sharing the island with countless other visitors but it is reassuringly easy to find yourself in perfect peace and tranquility on Crete. Be sure to check out the Heraklion archeological museums, Knossos, Samaria Gorge, Balos Lagoon and many other key sites.
Corfu is similar to Crete in style but quite different in appearance. It is considerably 'greener' and more mountainous, arguably offering better overall views and more precise regions worth exploring/hiking/cycling. Once again it is popular with visitors but most will stay around the coastal resorts and rarely venture inland.
The team at the Greece Travel Guide highly recommends you get out of the resorts as soon as possible to find your very own perfect beach. Corfu is a sunbather's paradise and you'll find far better options away from the most popular.
But what about the other famed Greek Islands? Surely Kos, Skiathos, Mykonos, Paros and dozens of others demand special attention? Well, you'd be absolutely correct in saying so. As mentioned previously every Greek island has something special to offer the visitor – be it sheer natural beauty, world-class culture, sumptuous beaches or more often than not, a mixture of everything.
One of the best aspects of exploring Greece is to do a little research first and pick an island that sounds likely to fit the bill. If you are backpacking then there is the great advantage of being able to quite easily move on wherever fancy may take you, which is why the country is so ideal for budget visitors.
---
---
check out our video
---
---
What Are the Best Things to Do in Greece?
Where you decide to visit will play a major role in what you end up doing. If you are in Athens then it makes sense to spend the majority of your time visiting the key museums and archeological sites.
It is not really the kind of city that easily lends itself to relaxing! On the absolute opposite side of the coin if you are spending time in Skiathos (a tiny island with only a single ring road around the coast) you will be spending many hours on the beach. Crete, Corfu and most others offer a balance of the two that can be skewed either towards either exploring the culture or simple relaxation depending on your mood that morning.
Assuming that you may get tired of trekking through endless archeological sites in the summer heat, some of the best experiences in Greece are handily those that don't cost a lot – if any – money. Camping is fantastic providing you are willing to 'rough it' a little – do not expect the kind of resort-style campsites that are found throughout much of the rest of Europe.
Rules and regulations vary depending on which island you visit, but generally speaking there is nothing stopping you camping responsibly on quiet beaches and secluded meadows.
Cycling is an excellent way of getting around the smaller islands and not only reduces your carbon footprint a little but allows for casual detours where and when you wish.
You'll notice endless promotions for guided tours/excursions and sometimes these are worth considering – especially if you want to understand ancient sites instead of just look at them – but as a general rule cycling is an excellent alternative. You might want to hire a moped – do so at your own risk and be sure to wear a helmet, please.
In the mood to let your hair down a little and dust away some archeological spider webs? The Greek party scene is quite rightly regarded as one of the best in the world – just be sure to recognize that what you'll find on Kavos is very different from elegant Santorini! There are festivals dotted throughout the year and many tend to celebrate local cuisine/harvests.
No visit to anywhere in Greece is complete without eating superbly and affordably pretty much anywhere you go. Authentic Greek cuisine can be tricky to find in the resort destinations but you'll find it everywhere if you look hard enough. Expect the finest seafood in the whole of the Mediterranian.
Last but not least – watersports and especially diving are accessible, easy and stunning in many parts of Greece. You'll find no end of options when it comes to diving and it can be far cheaper than what you'd be charged in many other countries.
Just be sure to opt for one of the operators who are signed up to the local waters protection/sealife protection organizations. They may be a little pricier but that's the responsible thing to do.
When is The Best Time to Visit Greece?
Peak seasons run from June through to the end of August and you can expect Greece to be busy no matter where you go. Everything is more expensive and popular hostels/hotels will likely be booked out a few months in advance.
Archeological sites and museums will be extremely busy and can be uncomfortable over the warmest weeks. This being said, it is the ideal time to visit if you are planning on spending plenty of time relaxing on the beach or walking/camping. Ferry services are almost around the clock with several services a day throughout the main routes.
Shoulder Season (April-May & September-October) tends to be a little more ambiguous compared to other European countries. Expect temperatures to be no more than 20% lower than peak summer – meaning still very nice indeed for most people – but there are years where it is a fair amount cooler than usual.
It is a great time to visit providing you can handle the occasional cooler spell and a higher risk of rainfall. Museums are far quieter, accommodation is about 25% cheaper, and pretty much everything will be open.
Off-season really does mean 'off' in Greece. Many businesses, hotels, and smaller attractions will be closed between November and March with temperatures ranging from mildish throughout the islands to quite cold on the mainland. Snow is possible. Budget-conscious visitors can realistically slash their costs by 50% if they visit during this period, and needless to say, that makes this time of year the Greece Travel Guide's favorite!
If you follow in our footsteps then expect to deal with slight logistical hurdles (many closed hostels, barely any ferries on some routes).
Do I Need A Tourist Visa in Greece?
Greece welcomes visitors from across the planet and you should not encounter any problems gaining entry. EU citizens can travel in Greece with just their EU ID card (UK visitors will need their passports). Visitors from the USA, Canada, Australia, New Zealand, Japan, Switzerland, and a few others will not require any official visa documentation providing they stay for no more than 90 days over 180 consecutive.
Visitors expecting to conduct business or work have to apply for special visas. These are quite straightforward for EU citizens but can be awkward for those arriving from elsewhere.
Should you be a citizen of a country outside of the Greek approved list then you will require a visa. These can take a while to process so be sure to get your entry documentation fixed well before you travel. Do not expect to arrive and be allowed entry without valid visas (many people try every year after hearing how Greek customs can be a little laissez-faire – be assured that is no longer the case!).
Do U.S. Citizens Need A Visa for Greece
U.S. citizens do not need a visa to enter Greece, which simplifies entry into the country; however, a passport valid for at least six months past the planned date of departure is required.
What Currency Is Used in Greece?
Greece uses the Euro (€) that currently exchanges for about €1 = $1.11. Thanks to the well-established tourist industry you will have no problems changing money throughout Greece. You'll generally get better value avoiding Change Desks and instead by using either local banks (opening hours vary considerably) or ATMs.
Most ATMs will feature an English language option and should work with any card issued by Visa or Mastercard. Remember that you will need a four-digit PIN number to use your card during any transaction in Greece. Signatures are rarely accepted as an alternative.
The Greece Travel Guide recommends that visitors use cash to their advantage. You'll sometimes be able to negotiate better hotel rates/discounts if you pay in cash and ask no questions, especially in smaller hotels during the off-season. 
Most places will offer some kind of credit/debit card facility but cash is handy for more remote parts and casual expenses. Do not expect to be able to pay for things like bus tickets or a round of drinks in the taverna by flexing the plastic.
Do I Tip In Greece?
Tipping can be a surprisingly tricky thing to get right during your Greek travels. In restaurants/cafes it is good to leave a token tip – perhaps around 5-10% – but make sure you hand it directly to your server. Plenty of places round-up bills so it is really at your discretion whether or not that is a fair amount to consider a tip, or whether it is actually going to your waiting staff.
Reward good service with a higher tip providing you are comfortable with the situation. 20% should be a maximum ceiling and will be gratefully received (hospitality staff in Greece are paid very low wages).
Something that surprises many people the first time they take a ferry is the 'Captain's tip'. This may be included in the ticket price or literally be a captain's cap passed around the deck! Generally, 5-15% is considered a fair amount.
Another aspect to be aware of is the 'mandatory' tip for tour guides (even free ones). A couple of Euros per hour is about right but again it really depends on how satisfied/rich you feel at the time. Tipping for anything in Greece is not legally necessary.
What Kind Of Budget Do I Need In Greece?
Greece is one of those marvelous countries where you can live quite comfortably on a shoestring budget. Alternatively, backpackers may wish to splash out a little compared to other destinations and live well without breaking the bank.
More general visitors will find fair prices for good quality accommodation and meals wherever they visit. Those lucky enough to enjoy a higher budget should be aiming to enjoy the finest delights of the Aegean and still have enough change left for a generous tip or two!
Budget (€50-100/day)
We'll skip on the technicalities between 'shoestring' and budget. For the latter, you should be able to camp/crash in a hostel room for no more than €20/night apart from the most popular locations in peak season. In the former case expect to pay €30-ish for a good quality clean bed, maybe even a private room or domatia (B&B) for a little more.
Where you can make fantastic savings compared to other European countries is on living expenses. You'll be able to eat well and healthily for very little indeed. Make use of street food/market stalls for most of your meals and supplement this with the occasional restaurant trip.
Something you will discover in Greece is that it really is a country where exploring pays. Eat where the locals hang out and you'll enjoy far better quality/portions at much lower prices, especially on Crete/Corfu.
Attractions are generally not that expensive although it is always a good idea to look for discount cards. Athens offers a couple of options that can shave a good sum off the individual ticket costs and includes plenty of discounts with local hostels, hotels, and restaurants. Ferry tickets range from quite expensive to staggeringly cheap depending on the route and season – we'll discuss this further later on.
Mid-Level (€100-150/day)
Expect to find good quality hotels on this budget no matter where you are and whatever the season. You can really enjoy all the attractions and eat out twice a day at decent restaurants, or once a day at a high-end option. It is sensible to try and balance your expenditure between the 'budget' advice (discount cards and staying flexible) to help supplement higher-end experiences such as magnificent dining and even private tours of key sites.
The one thing to be aware of is that a person with a mid-level budget is going to face lots of competition from others during peak season. Prices for accommodation rise across the board and you'll often find a €100/night room in August for €50-70/night come the first week of September. If visiting outside of the peak season you ought to be looking towards higher-end options as a matter of course, especially if you have the freedom to book in advance and are willing to haggle a little.
You may wish to consider hiring a vehicle if staying on one of the larger islands. Ecologically it isn't the perfect choice but you will enjoy not needing to spend time on long and often crowded bus routes. Cars are quite cheap to hire but do not dream of doing so in Athens unless you enjoy gridlock in stifling temperatures.
High-Level (€200+/day)
You will be able to find high-end accommodation wherever you travel in Greece, and in this bracket, you ought to look for at least four-star options in Athens, Santorini and the smarter parts of Corfu. Throughout the islands, there are plenty of exclusive resorts that often offer spa treatments, private beaches and all kinds of luxurious delights. Be sure to check out some of Greece's finest Michelin starred eating options too.
You may wish to consider skipping the ferry and instead use either more luxurious chartered services (these can be expensive by the ticket but offer good value for well-heeled groups) or simply fly between them. All of the major Greek islands have high-quality airports with a well develope network of internal routes. So if you are cash-rich but time-poor, this may present a straightforward means of cramming more into a limited period.
While the Greek nightlife scene is often considered 'cheap and cheerful' there are plenty of high-end bars and clubs at all of the more discerning resorts. Prices can stretch very high indeed!
When the Greece Travel Guide was discussing how accessible this country is for those with any budget we really were not joking about. While most visitors will not find many discounts during the peak season for any accommodation or experience (it is after all when the Greeks make much of their money) prices are still very reasonable compared to most other countries. Outside of the peak months is a bargain hunter's paradise and you'll be amazed at how good the value can be.
What Languages Are Spoken in Greece?
Needless to say, Greeks speak Greek but visitors can expect most people to have at least a basic grasp of English and maybe even Italian or German. English is taught in schools from a young age and it is safe to assume that most people below the age of about forty will grasp at least the basics. People who work in hospitality (and there are a lot of them) will often be near fluent so you should not expect any issues being understood no matter where you go.
Most islands frequented by visitors will have some level of multi-lingual signage at bus stations, ferry terminals, and airports. The same goes for hotels/hostels and pretty much anywhere you are likely to end up. One thing to perhaps be aware of is that not all of the lesser-visited antiquity sites have English interpretations (many will offer pricy English guidebooks instead). For this reason – and plenty of others – English speaking tours are often a decent idea.
What Religions Are Practiced in Greece?
Greek Orthodox Christianity accounts for a staggering 98% of people with the rest divided between Catholicism, Islam and a smattering of others. While the country frequently tops the table when it comes to surveys of the 'most religious' countries in Europe, do not expect to have it rammed down your throat. Most Greeks incorporate their religious observance into their daily lifestyles and it is unlikely going to be an issue (or even very noticeable) to the majority of visitors.
Remember that the Greeks were the first to philosophize the idea of Epicureanism (the objective of life is to seek pleasure) and you'll find many Greeks follow this tenant ahead of anything else.
Practical Tips From The Greece Travel Guide
The team at the Greece Travel Guide has enjoyed many trips throughout this wonderful country. It really is one of those places which rewards those who set away from the beaten path and follow their nose. That being said there are some general essentials that anyone ought to be aware of before their visit.
In this section, we'll discuss the most important of these but do be aware that all information provided is for guidelines only. Greek travel agencies (both national and private) tend to change their timetables, discounts and so forth by the season.
If we were to give one word of advice to anyone before they visit it would be to read up on the basics of antiquity first. While the actual sites and museums have long improved since our first trip they can still be tricky to get your head around at first.
After all, few countries come close to Greece when it comes to the blend of myth and reality with the two often being almost completely intertwined. Taking the time to have even the vaguest sense of how amazing the Acropolis is – and why – will help make your visit far more rewarding.
What About Health and Safety in Greece, Is It Safe?
Given the recent financial chaos that over a short while made Greece front-page news throughout the world, many people seem to assume that Greece can be on the 'sketchier' side when it comes to safety. Throw in the decades of tension with Turkey and the whole Cyprus issue, geographical proximity to Syria, and the Albanian border and you may start to have second thoughts.
But… Greece is extremely safe to visit. We at the Greece Travel Guide would say it is actually safer than Italy or Spain for the general traveler and your chances of coming to serious harm are infinitesimally small.
Tourists do fall victim to petty crime in Greece. Athens is no different from any other big city, and you may have heard of the near-legendary pickpockets and scam-artists. In recent years they have been heavily clamped down on. While there is still the slight risk, especially on public transit and in shadier parts of town, providing you use sensible precautions chances are you'll be utterly safe.
Most tourists who come to harm in Greece are those who either drink too much and do something stupid, end up in a fight with another visitor, or fall off a moped. You'll be at a higher risk of violent crime in a party town like Kavos than in big city Athens.
You ought to make sure you have suitable medical insurance when visiting anywhere and Greece is no different. EI citizens should keep their European Health Insurance Card (EHIC) on their person at all times. Visitors from elsewhere need to ensure that their coverage pays for fees/costs upfront and ideally includes flights home should you require repatriation.
Greek medical services are good, well used to patching up visitors, and available on even the smallest islands. Pharmacies are widespread and you will need them for mosquito repellant! They can dispense drugs with a verifiable prescription but most of the time this will need to be signed off by a Greek doctor. Should you need to replace your meds do not necessarily expect the same brand that you are used to.
Emergency ambulances can be called using either 112 or 166 (operators are trained to speak English). Most tap water in Greece is safe to drink but take care in remote areas and the smaller islands. If in doubt it is best not to risk it.
Last but not least, many Greek Islands do not have the plumbing capacity to handle paper waste flushed down the toilet. Use the bin instead or expect to explain why you have flooded your bathroom!
What is the Best Transportation in Greece?
In most European countries the rail network is the visitor's best way of getting around. In Greece, you should replace that with ferries unless you intend on exploring the mountainous mainland. At first, the network can appear quite confusing especially when timetables are rarely announced very far in advance. Generally, they tend to follow similar patterns year on year and are reliable when actually set into operation.
Services run throughout the year but expect seriously fewer options during the off-season. Just to complicate matters there are at least a dozen main ferry operators and many of these operate throughout the country. Tickets tend not to be transferrable so make sure you get the right ticket for the intended service. Expect the quality of the boats to vary considerably. Often the more obscure routes will double up as cargo ferries and this is not always very clear.
But once you figure out how it works it's all plain sailing! Joking aside, there are plenty of information desks to help with tickets and routes. You'll find that the whole thing makes sense and is surprisingly prompt (they do have thousands of years of experience at least).
Back on terra-firma, cycling is a fantastic way of getting about but almost everyone you see on a bike will be a fellow traveler. For some reason, cycling is not very popular in Greece, so be aware that there are next to no cycle lanes and that drivers may not be used to sharing the road. Bike hire is easily available on most islands and offers a cheap and much more interesting way to explore the terrain.
Buses tend to be split between general public services and 'express' options that go almost directly to key sites/attractions. On public services, the prices are fixed by the government and really good value. The buses may not be especially comfortable but are fine for shorter journeys. If you take coach excursions (and we actually recommend these for seeing sites on Crete which are quite remote) expect airconditioning and comfy chairs.
As outlined previously you can take flights or hire cars quite easily in Greece. It is really down to you to decide if it is worthwhile.
What Are the Best Accommodations in Greece?
Greece is fantastic for accommodation. Whatever your budget you'll likely be pleasantly surprised at how far your money can stretch. We at the Greece Travel Guide have enjoyed many nights in smaller, family-run hotels and would gladly recommend them ahead of any international chain.
Expect not only better quality rooms at a fair price, but also plenty of local advice on the best places to go and sites to see. Should you be interested in this route then make the most of the internet and try to politely haggle a little for discounts over longer stays. Nobody will (likely) be offended.
It ought to go without saying that those who book in advance will enjoy the pick of the best accommodation options at the best prices. Even more high-end islands such as Mykonos and Santorini have plenty of affordable options.
During peak season you can (and many do) take the risk of arriving somewhere and finding a place to sleep. You will find somewhere 99% of the time, just be aware that it may not be your first – or tenth – choice. So while there is plenty to be said for taking the plunge when visiting Greece and just seeing where you end up, a little prior planning can make life considerably easier and less stressful.
One word of advice for Greece – make use where you can of social networking sites especially if you are looking for somewhere very cheap (good for camping too). It is far from impossible to find AirBnB rooms for just ten Euros per night especially during the quieter times of the year.
On the other side of the coin, some of the cheapest and most generally reliable accommodation may even be in the mass-market resort towns. Millions of tourists visit the likes of Corfu and Crete every year just to relax in the sun. Their accommodation costs – included in the overall package – are very small. So if you just want somewhere to crash for a night and can put up with the 'party atmosphere' then they can be a decent base for exploring more interesting parts of the islands.
How Can I Practice Responsible Tourism in Greece?
Tourism is an essential aspect of the Greek economy but far from a balanced one. A high proportion of the employees who work in the industry are laid off for a few months during the close season, meaning they need to make as much money as possible during peak times. Those tips (as discussed above) may make a huge difference later in the year so make sure any gifted monies go into their pocket.
When exploring the countryside be very careful not to accidentally start any forest fires. These have become a considerable issue in recent years and are almost always caused by human activity. When Greece is hot it is also extremely dry so be sure to take care to obey local regulations.
One aspect of Greece that you may not notice unless traveling more throughout the mainland is that there is considerable worry over the future of traditional customs and lifestyles. While you will be hard-pressed to find any Greek person who is against the tourist trade – it is a lifeblood for the country – it is worth being respectful towards local regions when exploring them.
What Food Should I Try In Greece?
Real Greek food is universally delicious, filling and thankfully pretty healthy. Chances are that you will already be familiar with the more decadent options such as creamy moussaka, handy gyros wraps, and super syrupy baklava – but what about the less familiar options?
Be sure to try pretty much everything you can get your hands on while visiting Greece. Look out for fresh out the oven galaktoboureko, a sumptuous custard and pastry-based dessert/treat that everyone always seems to find the space for. Dolmades are a common accompaniment for any meal, with their tight vine leaves usually filled with steamed vegetables or seasoned ground meat.
The Greece Travel Guide must recommend above all else the classic fasolatha soup. Often the cheapest dish on the menu and packed full of the fresh produce which Greece is legendary for, it is the ideal soup for even the warmest summer day.
What Should I Pack for A Trip to Greece?
The only special items that you may wish to include on your packing list tend to be those for specific activities. If you intend on hiking/walking through the countryside (and you should) then bring some well-worn hiking boots. The terrain is often quite rocky and paths are rarely as well defined as they are in many other countries. The same goes for light and comfortable footwear when exploring ancient sites and museums.
Bugs can be a nuisance in Greece so if you are especially prone to bites it might be worth packing long-sleeved but light fitting garments alongside your usual wear. Remember that it can get cold in winter so bring some warm clothing should you visit between late October and early March.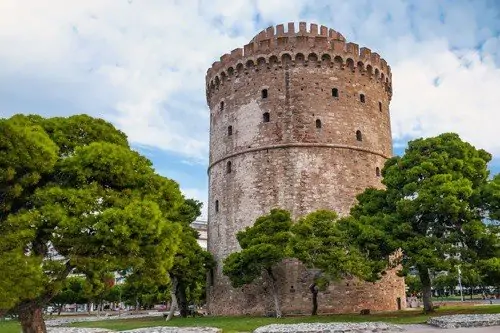 What Clothes Should You Wear In Greece?
What you wear is largely dependent on where you are. Should you be in a tourist resort then wear whatever you like, but be aware that not many Greeks wear shorts or scruffy clothing in towns and cities. It is generally a good idea to try and look presentable when in these places especially if dining out.
As with many other countries with a considerable tourist trade, trying not to look like a tourist is often appreciated just as much as not behaving like one either. Body language is more important in Greece than what you wear.
What Are Some Interesting & Important Facts About Greece?
That just about wraps up this Greece Travel Guide. We only have the space to cover the raw essentials in this article and hope that you may have found this an enjoyable and informative read. Make no mistake – Greece is a wonderful country that is especially warm when greeting new arrivals. You'll have a superb experience wherever you go in this entrancing country.
Before we finish this Greece Travel Guide, we'll throw you a few little facts to help whet your appetite to visit!
▸ 98% of Greek citizens are 'ethnic Greeks'.
▸ Greece has over 2000 islands but only 170 are currently populated.
▸ 40% of all Greeks live within greater Athens (told you it was busy!).
▸ In most summers tourists outnumber Greeks two to one.
▸ Greece is actually called the Hellenic Republic in diplomatic circles.
▸ Greeks often spit after giving a compliment to ward off the 'evil eye'.
▸ Namedays are more significant than Birthdays.
▸ Voting is mandatory for all people aged 18 and over.
▸ Waving with an open palm is considered offensive – do so with a clenched fist!
▸ During the original Olympic games (776 B.C) the first sprint was won by a cook.
We hope you enjoyed reading the Budget Greece Travel Guide – and good travels! Contact us with any questions you may have about travel to Greece.
You might also like some of the articles from our website about boondocking and travel.
5 Best Ways to Visit Techatticup Gold Mine In Nevada
12 Super Reasons To Visit Mount Charleston Nevada
10 Great Reasons to Visit The Valley of Fire Park
9 Great Hiking Trails In Red Rock Canyon
For complete photos and videos of our trip visit our photo on our Facebook Page
You May Want to Join Our Boondocking Group on Facebook For More Information