Budget Italy Travel Guide includes 18 Important Travel Planning Tips that will allow you to see and do more on your budget. Learn how you can benefit.
Welcome to the Ultimate Italy Travel Guide! Here we'll discuss everything you need to know to get started with planning your trip to this wonderful country. Ever wondered why Italy is not only the fifth most popular country to visit in the world but also continues to enjoy growing numbers year on year?
It is simply because this is an eternal destination. Offering priceless ancient sites, world-leading museums and galleries, incredible natural scenery, high fashion and food to die for – Italy really demands a top spot on any traveler's checklist.
As with many European countries, smart travelers will understand from the beginning that it is impossible to 'see' everything in one trip. The Ultimate Italy Travel Guide is not going to simply list everything you should try and cram into a brief itinerary, but instead focus on the ways to make the most of your time in the country. Many people tend to revisit Italy not just to check out familiar sites but to experience new cities, landscapes, and adventures in less visited areas. It is the perfect destination to split your time between cities with a spell on the coast or exploring the hills and mountains.
With this in mind let's now take a look at some of the truly essential sites that you should explore during your first visit to Italy.
Budget Italy Travel Guide – What Are the Best Places to Visit in Italy?
Italy is a relatively new country (in European terms) and for many centuries was home to many different city-states which frequently quarreled between themselves. For this reason, Italian cities tend to have far more distinctive styles than those you will find in most other places. Milan is very different from Naples – so much so that it is baffling that the two are even part of the same country. The same can be said for Turin and Palermo, Genoa and Venice, and so on.
That being said Italy is a difficult place to pigeonhole. While much is made of the difference (and rivalry) between the north and south – with Rome acting as an unofficial breakwater – the truth is that you'll find culture and amazing gastronomy in both. For example, many people assume that most of the great museums and most famous ancient sites are in 'the north' – but what about Pompei just a short distance from Naples? Likewise, many people prefer the southern dress sense to the high fashion houses of the north. Italy is best approached with the basic understanding that nothing is ever quite as clearcut as it might seem.
Assuming you had just two weeks to make a once in a lifetime visit to Italy then most people would include the following. Rome is an essential place to see – the Colosseum, Forum, St Paul's Basilica, Trevi Fountain and so much more are simply one of a kind attractions. Yet the problem with arriving in Rome is that for practical purposes you are then in a bit of a quandary. Do you head north to check out the stylish city of Milan, the historically fascinating Genoa, or the utterly unique canals of Venice? All are amazing and demand a visit – but where do you go from there without retracing your steps?
From Rome, you could instead head west to the stunning coastal towns of Solerno, Postino, or islands such as the legendary Capri. The Italian coastline is rightly considered as one of the most enchanting on the planet, surrounded by delightful and astonishingly unspoiled villages and hamlets. Here you will enjoy some of the most incredible authentic Italian foods and perfect natural climate.
The south – considerably poorer than the north – has similarly endless marvels and enjoys a far greater sense of authenticity than much of the north. It is still perfectly possible to be the tourist in town and here you will experience the genuine warmth and friendliness of the Italian people. Oh, and it happens to also be stunningly beautiful and packed with interest!
Where you choose to head depends really on your own preferences. In the opinion of the Italy Travel Guide, an ideal tour of Italy would begin from the north – probably arriving from France or perhaps even Switzerland. Approaching from this direction you will see (and can stop to explore) the beautiful Italian Alps and witness the style and architecture becoming increasingly more 'Italian'.
Milan can feel like pretty much any other European city but the further you head south the more you'll feel immersed. Venice is always an eyeopener – just be sure to try a visit during the quieter months – but Florence, Rome, and perhaps Pisa are where most will be aiming for. From there you can head towards the coasts or head further south.
The beauty of this ever so vague schedule is that you can theoretically change direction at any time depending on your mood. Italy may not be the easiest shape to traverse but it is at least quite logical and you cannot fail to notice how the country changes as you head further south. No matter which route you opt for just try and enjoy Italy as slowly and gently as possible. This is not a country to be rushed!
What Are the Best Things to Do in Italy?
Ancient sites, timeless galleries, amazing food, a sumptuous lifestyle and the best coffee in the world. Sounds good right? Even better, no matter where you visit in Italy you can pretty much assume these as a matter of course. There are countless organized tours of the antiquity sites that are relatively easy to follow independently just be aware that you will need to travel a fair bit.
The advantage of doing so yourself is that you are not going to be rushed along – and mark our words you will almost certainly need two days at Pompei rather than the typically scheduled one if you plan on checking out Vesuvius as well. Spend a night in Naples if you are feeling adventurous (it isn't as edgy as the guidebooks make out).
But where else should the more far-flung traveler head in Italy? The Italy Travel Guide suggests that you try and approach areas outside of the cities with a clear plan. It is all good and well to 'check out' the coast but remember that it runs for over a thousand kilometers! The Alta Via Delle Cinque Terre is a magnificent walk that can be enjoyed in just a single day.
Try and set out early if possible to avoid the seasonal crowds or visit during the colder months. The views are breathtaking no matter the time of year, and while this is one of the more popular options be assured that similar walks are found literally everywhere!
We don't plan on dwelling too much on Venice – so much has been written about it already – but if you do visit then be advised to explore the surrounding coastal villages. Some of the best food in the world can be found in these ancient little seaside harbors and even today they remain one of the region's best-kept secrets. Trust us, there is no better tonic than a bowl of freshly caught mussels after a day trying to keep calm in St Mark's Square.
Culture vultures will know what to expect from Italy and where to find the best sites already. One thing we would advise those who are planning on taking in the extremely rich history and heritage of this country is to read up before you arrive. Italy is a country where the landscape and geography have played an enormous role in the cultural development of the individual cities.
For example, read up on Genoa's maritime and trading history and you'll understand why the still very busy port continues to operate on the same principals today. Figure out the architectural reasons why Milan is so Parisian in style, Rome chose to place their greatest attractions in a valley and why Sicily has an entwinement with the Mafiosi.
So no matter what you decide to get up to during your stay in Italy just remember that a little research and reading beforehand will help place everything into a greater context when witnessed in the flesh. People joke about 'cultural overload' in backpacking circles but even the most casual visitor may be a little overwhelmed by the sheer amount of heritage Italy contains.
Budget Italy Travel Guide – When is The Best Time to Visit Italy?
The high season traditionally runs through June-August but such has been the increase in popularity over recent years that May and September can now almost be as busy. However you choose to view it, these are the peak months and you can expect the cities to be in full-on tourist mode. Expect queues at all the major attractions and little in the way of discounts on accommodation, transport or travel. On the plus side, the countryside and coast are in full bloom and utterly enchanting – which is why many visitors choose to head out there after a few days in Rome, Florence and so forth.
You can find great value in the shoulder season (spring/autumn) especially in the less-visited cities and generally throughout the south. The big attractions will be busy but much more manageable and the climate is reliably pleasant and warm. Springtime tends to be the peak time for local festivals so if you are interested in a more authentic Italian experience you ought to seriously consider looking into these. Flora and fauna are bursting through at this time of year and lend themselves superbly for trekking and cycling tours. Grape season is in autumn and the ideal time to check out the vineyards!
Winter can be an excellent time to visit if you wish to explore sites in relative calm and peace – just be sure to check that less popular/more out of the way sites are open. Apart from Christmas/New Year (when prices are sky-high), you can find excellent bargains on accommodation. Note that plenty of coastal and countryside hotels close for this period. Naturally, this is also the best time for alpine sports and Italy is a far better value than France and Switzerland making certain pistes extremely popular. If you book in advance you will find some outstanding prices for lifts/passes and basic accommodation.
Budget Italy Travel Guide – Do I Need A Tourist Visa in Italy?
Italy is part of the Schengen agreement meaning that other EU members can come and go without a visa providing they stay for just 90 days (out of 180 consecutive). The same basic principles apply to several other international visitors – those from the USA, Canada, Australia, New Zealand, Japan, Switzerland, and Israel can arrive without a visa. Different rules apply to anyone looking to work or conduct business; a special permit is needed and you may have to register your presence/address with local authorities.
Your passport needs to be valid for six months after your departure from Italy (a peculiar rule but you'll experience a few of them during your stay!). Guests are expected to keep their passports/EU ID card on their person at all times – whether you choose to actually do so is a personal choice. Random checks do happen but usually when approaching a border. You will need to show some form of ID when checking into any hotel.
Generally speaking, you should have no trouble with documentation in Italy providing you stick to these rules. As ever the Ultimate Italy Travel Guide recommends you make copies (both physical and stored remotely/securely in the Cloud) of all travel documents, tickets, and medical prescriptions. With 65m+ visitors a year bags do go missing sometimes.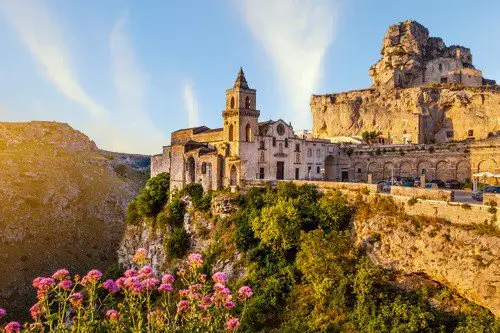 Budget Italy Travel Guide – Do U.S. Citizens Need A Visa for Italy
U.S. citizens do not need a visa to enter Italy, which simplifies entry into the country; however, a passport valid for at least six months past the planned date of departure is required.
Budget Italy Travel Guide – What Currency Is Used in Italy?
Italy uses the Euro (€) and at the moment of writing the Ultimate Italy Travel Guide that exchanges at around €1 = $1.11. USD and other currencies are not taken anywhere else besides some high-end international hotels who may invoice in other currencies at their discretion.
ATMs are found throughout the country and you will have no problems changing money (at often much worse rates) at the many change bureaus found almost everywhere. Most places will offer credit/debit card payments but note that some parts of the south may not quite have gotten around to that yet! Italy operates a four-digit 'Chip & PIN' system and signatures are rarely accepted as alternative verification.
It is a good idea to use cards for all significant purchases but to keep some cash for little expenses such as bus tickets, admission fees, and casual sundries. Most banks are open Monday-Friday (a handful open Saturday), but be warned that they tend to close for an hour between 2 pm-3 pm and then close for the day at 4 pm.
Budget Italy Travel Guide – Do I Tip In Italy?
Tipping is not actually expected in Italian restaurants but it is generally still a good practice to reward decent quality service. Do not feel obliged to tip anywhere like you would in a US restaurant. 10% is a fair tip and anything over that runs the risk of actually appearing condescending! Feel free to leave small change as a 'token' tip anywhere that provides table service, but you are not expected to tip for anything ordered at a counter or when using public transit/taxis.
Service/table cover charges are rarely applied anywhere in Italy apart from the very high profile and exceptionally expensive cafes that take up large parts of the main squares (notably St Marks in Venice).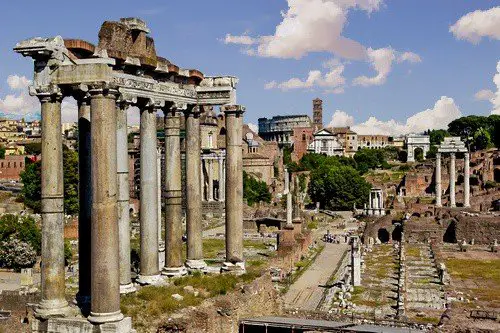 Budget Italy Travel Guide – What Kind Of Budget Do I Need In Italy?
While Italy is not quite as affordable to visit as Spain it is still consistently cheaper than most other Western European countries. Travelers on all budgets can expect to find decent value for money throughout the country although it is worth understanding that some areas are generally much pricier than others. For instance, budget travelers looking to explore the western coast will struggle to find reasonable accommodation (the prime spots are extremely popular with well-heeled visitors) and will be best off camping for a few Euros a night.
In the major cities, good hostels will offer private rooms that are often of comparable standard to basic hotels and usually in far better locations.
In the opinion of the Italy Travel Guide, Italy is best experienced with a degree of flexibility and freedom, Unfortunately, that eliminates some of the money-saving possibilities offered by prebooking, so it really depends on what kind of travelers you consider yourself to be. Booking ahead across the board and sticking to a structured travel plan will save you money and provide the assurance of having a guaranteed bed for the night (roaming around Turin at night finding a hostel bed in August is not much fun). On the flip side, you will find places in Italy where you would pay double to have the chance to stay another day. The choice is yours.
We'll look further at travel discounts later on but at this stage, you should be sure to take advantage of any discount admission cards/incentives you find in your destination city. Face ticket costs for some attractions can be expensive (while others operate on donations only basis) so factor how much you will save from these and be sure to use them within their expiry time. Quite often they include additional savings at partner restaurants and so forth – just consider approaching those with some caution.
Here is a basic rundown on what visitors can expect from their budgets.
Budget (€50/day)
Yes, you can enjoy Italy on a shoestring. You should be able to find a hostel room at any major city or failing that a decent campsite (just remember to bring a tent…) for no more than €20/night. Do not expect sumptuous luxury and be aware that they will universally be busy and quite noisy unless you stay in a private room (they book out months in advance). But for a place to rest your head for a few hours hostels are the way to go.
Be sure to take advantage of the aforementioned visitor cards such as the Global Rome Pass and many others. Paying upfront for multiple attractions may sting a little but the savings are massive and can be enough to extend your stay by several days. There are many free museums and galleries with some cities even offering donations only walking tours. You can enjoy pretty much everywhere with only a limited budget just be aware that expenses are very high in some places (Venice, Sorrento, etc) and tend to be higher in the north compared to the south. Eat at smaller cafes/restaurants and get used to alfresco picnics!
Mid-Level (€100-150/day)
Working on the assumption of two people sharing you can find good quality hotels in this price range throughout the year with excellent saving being the norm during quieter months. In the experience of the team at the Ultimate Italy Travel Guide, you are best off trying your luck with smaller hotels compared to chains. They will be much more willing to haggle their prices and you can generally expect better service and smarter rooms – with the slight compromise that they are often a little further out of the center. Pro tip – remember you can haggle by email nowadays!
On this budget, you will be very comfortable everywhere in Italy and should make the most of enjoying a quality restaurant meal in the evening and 'on the go' eating during the day. If venturing into the countryside look for rooms offering scenic views (often charged at a modest premium) and perhaps consider hiring a car for a couple of days. Vespas may be tempting but aren't that suited to hills! Sports fans may wish to check out a Serie A soccer match. Italy is famous for its passion for soccer (Calcio) and tickets are often surprisingly cheap.
High-Level (€200+/day)
You can live like a king in most of the south of the country or at least like a smartly dressed visitor on more northern cities on this kind of budget. There are plenty of famous hotels throughout Italy and you may wish to consider one of the many spa resorts especially in the more alpine regions. Within the cities five-star hotels will often include high-quality concierge services that can be a godsend for booking taxis, arranging airport transfers, and providing tips for the best restaurants and tickets in town. Make use of them if you have the budget for this kind of accommodation.
Italian cuisine has a reputation for being filling and delicious. Do not for a moment assume that pizza and pasta are the limits of the Italian gastronomic scene. The country has some of the best restaurants in the world and you'll find them everywhere from central Milan through to tiny Sardinian villages. All they have in common is that they are expensive! If money is a little object then be sure to check out the shopping in some of the finer parts of the country. There are few better souvenirs than Italian fashion.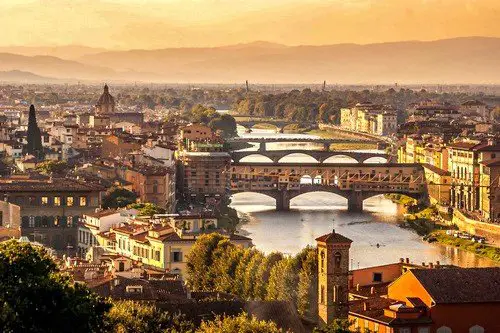 Budget Italy Travel Guide – What Languages Are Spoken in Italy?
Italy is not quite on the same level as other major European countries when it comes to speaking English. Most visitors will be able to get by without any trouble as all major tourist sites offer English signage, hotel and restaurant staff are often fluent, and most train stations will fly British flags at desks staffed by English speakers. The only possible difficulties that may arise are going to be in rural areas and smaller towns so understanding at least some polite basics is a good idea.
The Ultimate Italy Travel Guide recommends that you avoid speaking English without starting with asking "Lei Parla Inglese?" first. Italians can be a little snooty when it comes to tourists assuming everyone speaks English (their cities are literally invaded with them every year). Just be polite and unflustered and chances are you will get by without any problems at all.
Budget Italy Travel Guide – What Religions Are Practiced in Italy?
Italy is one of the hotbeds of Catholicism and religion is still quite widely observed especially on Sundays and Saint Days. Depending on which survey you believe between 75-90% of Italians identify with Christianity of which over 90% claim to be practicing Catholics. Quite how far their identity plays in their moral compass is open to debate but it is still an important facet of Italian culture that visitors should politely recognize. There are small pockets of other religions but Catholicism remains by far the most overt in the country.
The Vatican City, of course, is located in Rome and well worth a visit even if you consider yourself not to be a Catholic.
Budget Italy Travel Guide – Practical Tips From The Italy Travel Guide
Now we have covered the basics for what to expect when visiting Italy it is time to turn our attention to the practicalities. We'll start by addressing a few 'touchy' issues. Despite Italy enjoying a huge tourist economy, sensible visitors should take care to behave appropriately and in a dignified manner during their stay. As with a couple of other notable countries (looking at you France and Spain), there has been a bit of a backlash in recent years against badly-behaved tourists and this has become something of a political issue.
To put it bluntly – Italians would much rather host plenty of well-monied visitors to their scenic areas than hosts of backpackers taking up every seat on the metro. Once you have visited Italy a few times you will notice that Italians are much warmer and more welcoming towards visitors outside of the key tourist season. Visit a sleepy southern Italian village during harvest and you will make friends in no time. Arrive as a coach party and expect a few glares. How much you let this affect you is a matter of personal attitude, and by no means entirely universal.
Other issues best avoided are anything to do with organized crime (especially in the south). Would you like it if someone turned up in your neighborhood and asked if you knew any crooks? Wartime performance and the Mussolini years are also touchy subjects. Italy is quite a stratified country in many ways and politics – at all extremes – is a major issue. Avoid any conversations about those topics, especially when related to immigration.
Don't be fooled into thinking that Italy is some kind of scary place where visitors are not appreciated. Nothing could be further from the truth. Just observe that there is a big difference in attitude towards 'tourist' stereotypes and well-intentioned, politely mannered visitors.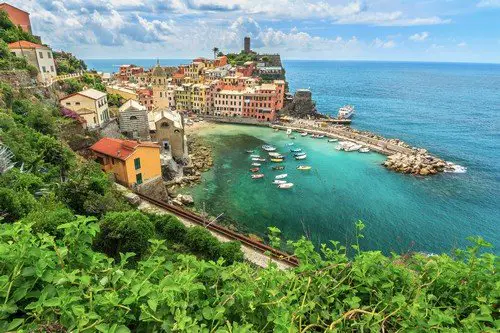 Budget Italy Travel Guide – What About Health and Safety in Italy, Is It Safe?
Italy is safe to visit but there is no point pretending that crime does not exist. The vast majority of incidents against tourists will be of the petty nature – pickpocketing, bag theft and general scamming. All of these can be easily avoided providing you take reasonable precautions. Avoid dark places late at night, stick to groups and do not get seriously intoxicated in public areas. Muggings are a risk in some places but 99% of crime against tourists will happen without them even realizing. Be especially careful in central Naples but do not let that put you off visiting this incredible city. Just do your best not to stick out.
Health coverage is decent throughout Italy and you will be in good hands if you are injured or fall sick. Italy is a member of the EHIC scheme so EU citizens should be sure to take out a free card before they travel while keeping it on their person at all times. Visitors from elsewhere need to check their insurance plan before they travel, and it may be worthwhile just checking that reimbursement for medical costs is upfront rather than in arrears. You do not need any specific vaccinations for touring Italy.
Remember that your exact prescription medications/brand may not be available in Italy (or any other European country for that matter). Take a good supply and make copies of any repeat prescriptions. While there are plenty of pharmacies throughout Italy they operate strict rules on what they can freely dispense. You may need to visit a doctor for a fresh prescription if you lose your current supply. Should you have any concerns about this speak to your doctor/insurer well before you set off.
Budget Italy Travel Guide – What is the Best Transportation in Italy?
Few countries come close to Italy when it comes to the views you can enjoy from the comfort of your train seat. Italian rail services are a little clunkier than those in neighboring countries although some fast speed intercity routes now exist. There are plenty of services between all major cities and towns although the various operators and schedules can require a little study. Make use of the English speaking desks at train stations to book tickets. Prices are generally very reasonable and there are often discounts on many advance fares (even at peak season). Remember that you will need to validate your ticket on some services before you embark – generally, those where you do not have a seat reservation.
We mentioned car hire as a possibility for exploring the countryside and in some ways that can make most sense especially when the costs are shared between a group. Just be aware that Italian roads – or rather other drivers – can be quite treacherous and cities are often gridlocked. Public transit is good and reliable in most cities and towns but services in the countryside and coastal regions may be limited to a handful a day.
Internal flights are feasible and may actually be the best option for getting from one end of 'The Boot' to the other. Italy has plenty of airports and flights are often quite impressive value. Just be aware that some airports may claim to serve a particular city but are actually located many kilometers away! A little research is never a bad idea when planning any kind of travel throughout Italy.
Budget Italy Travel Guide – What Are the Best Accommodations in Italy?
Most of this topic has been covered already when looking at the various budgeting options. Italy is a great destination for those willing to explore the many different options available and often extremely good value compared to other countries. It is all about the season and how far you are willing to book ahead. The Ultimate Italy Travel Guide is not joking when we recommend that travelers hoping to stay in high-quality central hostels during peak season ought to aim to book several months in advance. On the other extreme, chances are that you'll find a bed somewhere anyway – it just depends on how long you are willing to spend finding it in the Italian summer heat.
Visitors with a higher budget can enjoy the fact that it really is a competitive market for their custom. Bartering is entirely reasonable and expected in Italy – just be sure to have arrangements confirmed and in writing before spending any money. Research possible places to stay online and do not forget that the likes of Airbnb have a massive presence in most Italian cities and towns.
Budget Italy Travel Guide – How Can I Practice Responsible Tourism In Italy?
We earlier discussed that a vocal minority of Italians have been getting increasingly disgruntled by some tourist behavior. One of the best ways to counteract this is by making use of local services. During your time in Italy, you will have by far the best meals and experiences by eating in restaurants and bars frequented by the locals. The further you head away from the key tourist areas the warmer your welcome. We at the Ultimate Italy Travel Guide are big on sustainability and keeping things local, so be sure to enhance your visit by supporting the local economy instead of chickening out and grabbing a cheeseburger.
There are plenty of other tips that can help reduce your footprint. Tap water is safe throughout Italy so refill your bottles as you go. Take care to observe all the rules when out hiking and exploring the beautiful coastlines. Keep your manner and appearance dignified not only when around religious sites but also during the evenings. Much as the Italians love their wines throughout the day public drunkness is seriously frowned upon by locals and the police.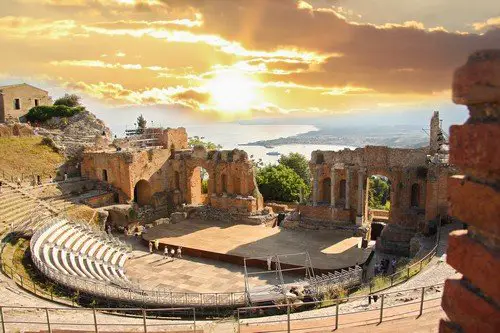 Budget Italy Travel Guide – What Food Should I Try In Italy?
Once you have visited Italy the pasta and pizza you eat at home will always be second-rate. You'll notice that Italian pizza is far more basic than that found elsewhere and rarely includes more than three ingredients. A genuine Italian pizza will be made from freshly made dough rolled out extremely thin. Chopped fresh tomatoes are blended into a sauce that is then lightly seasoned with oregano/basil, and topped with local mozzarella. Sounds simple to make at home, right? We'll let you decide that after you have seen how good the Italians make it!
Many Italian foods are linked to particular cities and regions. You'll find that wherever you go the fresh vegetables, fruits and especially the olives are simply incredible. Fiorentina steak is a carnivore's delight, Milan is the home of risotto rice dishes (ideally with creamy mushrooms, please!), and of course, the truffles from the Norcia mountains are world-famous. Seafood is great pretty much anywhere but considered a staple in the southern regions. Sicilian food as a whole is quite separate from what you'll find on the mainland and deserves a guide entirely of its own.
So even though you may well be familiar with many of the dishes, only in Italy will you experience quite how wonderful simple ingredients can be when prepared with attention, and more than a nod towards the country's outstanding gastronomic heritage.
Budget Italy Travel Guide – What Should I Pack for A Trip to Italy?
You will not need to bring anything with you that cannot be easily found once you have arrived in Italy. Should you be planning on spending a lot of time outdoors than a good tent and decent hiking boots are a sensible idea. Waterproofs may be entirely unnecessary in the peak of summer but you never know, especially around the northern regions.
As mentioned during the Italy Travel Guide you ought to bring plenty of clothes that are suitable for evenings as well as daytime excursions. Which leads us on to…
Budget Italy Travel Guide – What Clothes Should You Wear In Italy?
Italians do actually take considerable care over their appearance especially in social circumstances. Sensible visitors will follow similar guidelines, especially on Sundays. Nobody is expecting tourists to be 'suited and booted' at all times, and you can get away easily with jeans and a t-shirt providing it is well laundered and tucked it. Note that very few Italians (for some unknown reason) wear shorts. Take more attention during the evening and always look at least presentable if you intend on heading to places more frequented by locals (which you ought to do at every opportunity).
Budget Italy Travel Guide – What Are Some Interesting & Important Facts About Italy?
So that just about concludes the Italy Travel Guide! We hope that these few pointers will encourage you to visit this astonishingly beautiful country. Even those who for whatever reason think they may not be well matched to the Italian experience tend to depart longing to return. There is a huge amount to enjoy here and as with any good visit, you'll no doubt notice quite a few oddities during your stay. Here are a few interesting facts about Italy to help you get started:
▸ Around 30% of Italians do not bother to use the Internet.
▸ Italy has 50 UNESCO sites ranging from the Dolomite mountains to Pompei and the Duomo di Milano.
▸ Women work over 21 hours a week more than men (including housework).
▸ Italy and Spain routinely jostle for the position of the world's top wine-producing nation by volume.
▸ You'll notice that many Italian hotels do not have a 17th floor – it is their equivalent of unlucky 13.
▸ Many Italians only eat with a fork.
▸ Italian voiceover actors will dub the same Hollywood star's lines over their entire career.
▸ Half a million Italians consult with psychics or exorcists every year.
▸ Pasta dates back to the fourth century B.C.
▸ Italians consume 3.7kg of coffee per year – that's a total of 14bn espresso.
We hope you enjoyed reading the Thailand Travel Guide – and good travels! Contact us with any questions you may have about travel to Thailand.
---
Now that you have read about Italy, what's next? Let's learn more about a France trip. Check out The Ultimate France Travel Guide
---