The includes 8 Important Travel Planning Tips that will let you see & do more on your budget. Learn what you can do.
Welcome to the ! The sixty lumps of land that comprise the British Virgin Islands offer everything from perfect beaches, secluded coves, amazing hiking, sensational diving, and utterly ideal sailing conditions. Most travelers wouldn't assume that this kind of destination is remotely feasible on a limited budget – but the good news is that you may be rather pleasantly surprised.
Although typical visitors – staying in smart hotel rooms, dining at the upscale restaurants, etc – will be easily looking to spend about $300-400+/day there are many ways of slashing those costs if your willing to make some compromises. We reckon you can enjoy a fantastic time here on as little as $75-100/day and are happy to show you how. Interested in learning more? Then let's get started with the British Virgin Islands Budget Travel Guide.
---
Now that you are reading the , what's next? Let's learn more about other trips in the surrounding areas.
Budget Aruba Travel Guide – 8 Ways to Save More Money
Budget Bahamas Travel Guide – 8 Ways to Save More Money
Budget Barbados Travel Guide – 8 Ways to Save More Money
Budget Bermuda Travel Guide – 8 Ways to Save More Money
Budget Cuba Travel Guide – 8 Ways to Save More Money
---
British Virgin Islands Travel Guide – What Are the Best Things To See & Do
Let's cut to the chase. If you visit the British Virgin Islands on a budget you'll either be camping or perhaps have been lucky and/or resourceful enough to find a bargain room on Airbnb, Couchsurfer or suchlike. Given that the climate is utterly amazing there are no problems with camping for most of the year – but you'll certainly be looking for things to keep you busy during the daytimes too.
You don't really come here to sit on a deckchair by your tent – so here are some of the best activities and sights that are worth considering when you're also counting the pennies.
Explore The Virgin Gorda Baths
This boulder-strewn bay is probably the British Virgin Island's most famous landmark and has enjoyed protected status since 1990. Hire a snorkel ($10-15) for the day and spend many happy hours exploring the scattered rock pools and shallow caves at your leisure. We'd recommend making this one of your first activities on the islands as it is a perfect introduction to the kind of activities you should expect. Long, lazy days roaming and exploring don't happen to cost very much either.
Hit North Sound (Maybe For Some Sea Sports)
North Sound (on the northeastern shore of Gorda) is one of the largest water sports centers on the BVI. You'll find everything from the ubiquitous sailboats through to diving, parasailing, glass-bottomed tour boats and more. Needless to say a good proportion of these activities can become very expensive very quickly! Even if they're outside your budget for this trip, the surrounding beaches and islets are perfect for hiking and island hopping. Making the most of this millionaire's playground barely needs to cost you anything at all.
Compare Beaches On Jost Van Dyke's Island
In absolute honesty, it is almost impossible to decide which is the best British Virgin Islands beach. That being said, you'll find the highest proportion of likely contenders on this island, and they're pretty easy to get between especially if you have a bike handy.
White Bay is regarded as the best and understandably the most popular although you'll struggle to really notice much difference! It does have the advantage of a handy natural reef to keep the waters settled, making it very popular with snorkelers and divers too. Smuggler's Cove (western Tortola Island) is a good alternative with fewer people and more sea turtles!
Idle Around Road Town
Road Town is the capital of the BVI and as you'll tell by the number of boats harbored along the quayside (including the occasional passing liner) the commercial hub of the country. Once you get past the typical souvenir stands there's plenty of colonial charm well worth checking out.
Take a peek through the sumptuous botanical gardens, wander through the modest yet rather charming Government House, and pay a visit to the thoughtfully Folk Museum along the way. There's a good selection of smart little businesses as well as a smattering of heavily English influenced pubs and restaurants.
Hike Sage Mountain National Park
You'll find this national park spanning from west to east coast on Tortola island and it is certainly worth spending at least a couple of days exploring. Magnificently well protected from developments or invasive species, this is as authentic an experience as you'll find anywhere if jungle hiking is your thing.
Keep your eyes peeled for the many different species of birds (from hummingbirds through to kestrels) and enjoy the tranquility of simply strolling through such a diverse biosphere. Walking trails are well marked, marshaled, and maintained by the BVI National Parks Trust who also run reasonably priced guided tours.
Go Treasure Hunting On Norman Island
Norman Island is uninhabited but easy enough to from Tortola Island. Rumor (or legend) has it that there's buried treasure somewhere here – most likely in the incredibly dense and barely even accessible eastern side. What you can do, however, is check out the spectacular Treasure Caves and enjoy some extremely exciting snorkeling as you go.
Head up to Santa Monica Rock if you want to see some larger marine life from a (safe) distance. You may need to take a charter boat out here but it is absolutely worth it – especially if you fancy imagining yourself as a real-life Robinson Crusoe for a few hours. Sandy Cay (off Little Jost Van Dyke) is a good alternative that offers some easier to follow hiking trails.
This is just a handful of examples of the kind of places and things you'll see and do during a visit to the British Virgin Islands. There's many more beaches and bays that we could have mentioned here – but hopefully, you'll get the picture already. One of the reasons why the BVI is perfectly possible on a tighter budget is because for large parts of the day you'll basically be making your own fun.
Sure, it is handy to have some funds spare for more expensive experiences – such as diving and boat rides – but they are the exception, not the rule when it comes to divvying up your schedule.
British Virgin Islands Travel Guide – What Are the Typical Accommodation Costs
Generally speaking, the British Virgin Islands do not have to be insanely expensive. As discussed above you'll have a few options when it comes to making your accommodation arrangements, but it is also worth mentioning that food prices (especially fresh produce) can be expensive even when self-catering.
On the plus side – and this is a major point of consideration – once you are here you do not really need to spend very much whatsoever on attractions and excursions. If you do opt to include them – and it can be very tempting indeed to do so – you'll be spending considerable amounts of money! Let's take a look at the budget options in a little further detail:
Camping
You can rule out staying at hostels because there simply aren't any (yet) on the British Virgin Islands. But there are four campgrounds that charge as little as $25/night for a pitch. If you are visiting as a group and happy to share a tent that means you can stay in a four-bed tent for just $6.25/night. Throw in a few dollars more for showers and washing facilities and you'll still conclude that is an absolute bargain given that you're in the BVI!
Quite a number of travelers have cottoned on to this amazing accommodation option and you'll need to book well ahead to be sure of a spot. Arrange your dates right and there's nothing stopping you from traveling between these as you see fit. While camping may not be ideal for everyone if you want to visit the British Virgin Islands on a budget it is simply the best option going.
Airbnb & Couchsurfing
There are listings for both of these alternative-travel mainstays but they are not especially common or guaranteed to be available. Our advice at the British Virgin Islands Budget Travel Guide if you're heading down this path is to book massively ahead, be proactive, make inquiries (ask people if they know of anyone else who could host them), etc.
People are friendly here and if you give them enough reason there's a chance they'll find something that could just fit the bill. It is not unheard of for people to end up staying for free here – but by no means expect to get that without putting in some serious effort first! Keep an open mind and you never know.
Budget Hotels & Apartments
The BVI does have some simple hotels and B&Bs that aren't necessarily beyond the means of budget travelers providing they're willing to share rooms and aren't too fussy about location. Basic rooms start at around $125-150 although that will vary depending on the time of year and general business of the year. Self-catering apartments usually look to accommodate larger groups (4-6 people) and cost around $400/night.
It can be more expensive to rent an apartment but you'll also be able to cook for yourself and save considerably on the costs of eating out. We'd generally recommend self-catering even if it costs a little more than a hotel – although if you see a hotel for less than $100/night book it right away. You've found a gem of a bargain.
Basic Sustenance
As mentioned earlier in the groceries are expensive here but still way cheaper than eating out. If you have a self-catering option expect to spend about $100/week providing you are careful about sticking mostly to tinned and frozen ingredients with occasional fresh produce picked up from local markets (about $20 for a general basket full). If you work on the basis that foods are about 25-40% more expensive than the USA you're on the right guidelines.
Simple street food – including some sensational beach BBQ – is still quite pricy, especially around popular spots. $10-15 will cover a simple lunchtime meal such as rice and beans or a burger. $20 should be enough for grilled fish and a salad. If those prices seem exaggerated then be assured they're not! You'll easily pay two or three times that amount for a very similar meal in a standard restaurant.
Bars are a mixed bag. Measures are large but they can be expensive outside of the daily 'happy hour' promotions. Prices are way higher in popular beachside locations compared to down the side streets. Our advice is to enjoy the cheaper (untaxed) local rums and avoid anything imported! Jost Van Dyke is considered the 'party island' and where you'll find the cheaper watering holes.
If you're camping or self-catering drinks are obviously much more affordable purchased from your local convenience store. Rather weirdly rum can be cheaper than sparkling mineral water.
British Virgin Islands Travel Guide – What Type of Budget Will I Need
If you're camping or able to find a fantastic deal online you can expect to spend around $75 per day in the BVI. That allows more than plenty for your campsite place, about $25/day for food which is a realistic total, the same again for your daily travel costs (water taxis and buses do mount up) and not much left over for anything else.
There are plenty of ways to make your own fun here but you may want to also budget ahead for some one-off expenses such as diving/snorkeling and botanical tours. If you do plan on undertaking those then allow for a general total budget of $100/day is camping, perhaps closer to $130/day if not.
The BVI isn't really geared for budget travelers and that's something you'll notice when weighing up the prices for those tours, excursions, and additional activities. If you're visiting with a more general mid-market budget you'll be looking at a minimum of $250/day to cover a basic hotel room (shared with en-suite), one restaurant meal per day, and perhaps a more low-end experience as well (half-day snorkeling, glass-bottomed boats, etc).
Even still those costs are considered around the baseline price for staying on the BVI. Staying at any of the resorts – including the privately-owned ones such as Richard Branson's Island – will cost from $550 and upwards every day.
Overall we reckon that out suggested budget of approximately $75-100 with some allowances for one-off activities is more than reasonable compared to what the overwhelming majority of tourists will be paying.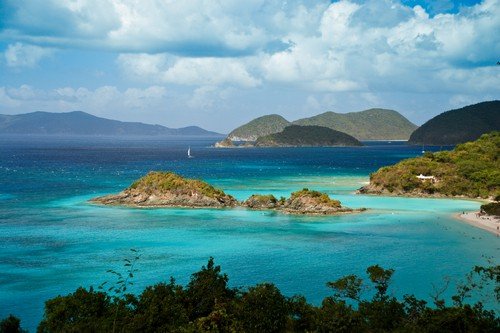 British Virgin Islands Travel Guide – How Can I Save Money
Book your accommodation early and make sure you thoroughly research all the possible options. TripAdvisor can only take you so far when planning a trip to the British Virgin Islands on a budget – you'll be better advised to get things moving under your own steam and to contact as many people as possible who can offer accommodation or possibly know others who could help out. If you can get a deal on a hotel or apartment that matches your budget and group size then go for it – it will not be kept available or on short-hold for long and others will gladly snap it up.
Of course, you could just choose to camp instead and spare yourself the hassle! Keep your eye out for package deals that include flight and accommodation. Sometimes these can be heavily discounted and work out at not much more expensive than a DIY visit.
Snorkeling can quite literally be an every-day activity here and you'd be well advised consider buying your own gear instead of hiring it out. If you're planning a couple of weeks stay or longer it is an absolute no brainer. A full and decent quality kit should not cost more than around $50-60 compared to the $15-20/day when hiring. You may well be able to buy it cheaper at home and simply pack it into your luggage. Tents are expensive on the BVI so look into bringing your own and figure out how to manage the weight allowances between your group.
Some of the convenience store chains offer membership systems that cost just a couple of dollars to join and save you around 5% off your bill every time you visit. These are another no-brainer and handy even if you aren't intending to do much of your own cooking. Most stores also sell beach gear, clothes, and sanitary items so use these to save when you stock up.
Car hire is a controversial option yet can actually be decent value when splitting up costs between your group. Standard vehicles cost around $60-80/day not including gas and rates decrease over longer-term hires. Cabs are expensive and don't tend to like heading too far out from the popular spots so this could be your only option if you want to explore more remote parts of the large islands.
Remember that most boats can drop you off anywhere you like providing it isn't too far from their scheduled route. If you need to move to a different island and fancy taking an excursion along the way it is usually fine to arrange this.
British Virgin Islands Travel Guide – Where Is the Best Place to Stay
Check out any of the campsites and figure out which best suits the area that you want to spend most of your time. Hostels don't exist in the traditional sense but there are some listings on the likes of Airbnb that operate as kind of bunkhouses/lodges. They can be pretty reasonably priced although they aren't always in the handiest of spots. One thing that does work to your advantage on the BVI is that there are plenty of choices.
Outside of the most popular resorts vacancies are usually relatively easy to come across. Once again the best advice is to research the options, weigh them up by pros and cons, and strike when the iron is hot! Keep your eye out for discounts/deals and remember travel agents usually work with pretty broad margins. If you're booking on behalf of a larger group that is certainly an advantage and you could be able to haggle up to a further 10% off the price.
British Virgin Islands Travel Guide – What are the Best Transportation Options
Boats
Millionaires and billionaires love the British Virgin Islands because they're so perfect for sailing their enormous yachts! Budget travelers don't usually enjoy such perks – meaning you'll be relying on the ferries to get around. The good news is that they're pretty comprehensive and usually stop pretty much anywhere you want along the way. $25 is the going price for a round trip about the major island(s) while returns between
Tortola and Virgin Gorda cost in the $30 region. If they were one-off expenses then that wouldn't be a significant issue – but if you're using them every day those costs can really add-up (which is why we specified for those earlier in our budget estimate).
Buses & Cabs
Buses operate along popular routes, especially around the most popular sites. Tickets vary depending on how far you're heading but rarely cost more than a few dollars. Check with the operator to find out when late/last buses are departing. Cabs are all licensed and work by pretty strict fare regulations.
Even still, they are not cheap and cost about $15-20 for a ten-minute ride. As mentioned earlier plenty of cabs serve the popular areas (serving to ferry people short distances home after a couple of overpoured rums) but actually getting one in more remote parts can be trickier especially at night time.
Bike Hire
Bike hire is a quality option if you want to take some exercise and explore islands more comprehensively. As with cars daily prices start quite high – about $30 – and then decrease if you commit to further days ($28-25-22-20, etc) although this is always at the operator's discretion. Haggling isn't especially common on the British Virgin Islands but this is an opportunity to negotiate as you deem fit. Mopeds cost more ($45-50) but are usually also offered on a half-day basis and can be decent value if you have a passenger as well.
British Virgin Islands Travel Guide – When Is the Best Time to Visit
If you can't bear the thought of some tropical camping then your best bet for finding discount accommodation on the British Virgin islands is either May/June or October/November. It can rain during these times of the year but usually only in short occasional bursts. Prices can be as much as 50% cheaper but that depends on the number of hotels that choose to stay open.
A good number close down for refitting and refurbishing although there's usually still plenty to pick between. Note that these price drops mostly apply to larger resort-style hotels. Budget options decrease considerably less.
You'll do well to find anything resembling a discount between December and March when visitors from North American and Europe flock to the BVI for some reliable sunshine. These are also the best times of the year for diving with crystal clear visibility. There's nothing stopping budget visitors from camping during this idyllic time of the year but perhaps best add an extra $20/day to that recommended budget to account for seasonal inflation.
June through to November is hurricane season. Plenty of businesses close down entirely although you'll still find some good deals if you look around and trust the weather to luck. Airbnb is the way to go if you choose to do so.
British Virgin Islands Travel Guide – How To Stay Safe On My Trip
The British Virgin Islands is a pretty safe place to visit providing you take a few basic precautions. Keep your wits about you (and don't drink too much rum) on the party-themed parts of the island. Petty theft does happen especially on the beaches although muggings and robberies are almost unheard of.
If you're camping take the time to stash anything valuable in a locker, and make use of hotel safes to store any essential documents and valuables. Try and always carry a little extra cash as ATMs are very rare outside of major towns and not everywhere takes cards. Cabs may refuse to pick you up if you're not able to prove you have funds to cover the distance involved (a common issue if you miss the last bus home).
The only real environmental threat to look out for are the scorpions! They aren't aggressive but are quite common and have a tendency of popping up in unexpected places. Shake your boots/shoes every time you put them on. Besides the usual advice for tropical climates (heat exhaustion/dehydration, etc) you'll not likely have any problems. Good travel insurance is highly recommended because medical standards are high and the bills involved can be outrageously high!
Make sure your policy includes riskier activities and ideally provides repatriation allowances to help with flight costs if needed.
We hope you enjoyed reading the – and good travels! Contact us with any questions you may have about travel to the British Virgin Islands.
Tourism and Visa Information