The Budget New Orleans Travel Guide includes 8 Important Travel Planning Tips that will allow you to see and do more on your budget. Learn how you can benefit.
Are you thinking of going for a vacation and you do not know where? New Orleans is a place you should consider. It is among the most vibrant and fantastic cities on earth. The memorable attractions, fantastic food, overwhelming live music. The friendly cajun people of Louisiana are just one of the things that make the city a great place to kick back in. The adventures you can experience in this city are breathtaking, and you will make lifetime memories. This article will provide a travel planner to layout your New Orleans trip.
New Orleans, also dubbed as the 'big easy,' is the most famous city in the state of Louisiana. It is located adjacent to the Gulf of Mexico along the Mississippi River. The city is famous not only in the U.S, but in the world for its unique music, annual festivals and celebrations, the unique language, and the cuisine that reflects the history of the American, French, and African culture. We lived in NOLA for 6 years and everything in the New Orleans travel guide is based on our own experiences living there.
New Orleans Travel Guide – What Are the Best Things to Do in New Orleans?
There are plenty of things to see and do while in the city. Here are some of the 20 top things you should do in New Orleans.
1. Visit the French Quarter
Many people think that the French Quarter is just a Bourbon Street, which is not the case. The French Quarter, also identified as Vieux Carré, is among the ancient historic region and home to many restaurants, street performers, and museums. During your visit to the quarter, you will see the gorgeous Jackson Square and the marvelous St. Louis Cathedral.
2. Listen to New Orleans' music
The city is known to be among the cities in the world with the greatest art of music. You will find live music everywhere in the city. Whether in the parks, in restaurants and bars, on the streets or anywhere else.
3. Visiting a Swamp
New Orleans city is located on the Mississippi River, and this implies that it is encircled by marshland and swamp. Visiting the swamp and having airboat tours in the local rivers is a great and unique experience that you wouldn't want to miss.
4. Go for Mardi Gras
This is a famous festival in New Orleans that happens annually. If you miss the festival, you can visit Mardi Gras World, a studio that works to make and store the celebration's floats and costumes. Some museums are committed to some facets of the Mardi Gras. Some of them are free such as Mardi Gras Museum, while others you pay though a low fee, for example, Presbytère.
5. Watch a Theatrical Performance
New Orleans has an amazing exciting theatre scene, and each month there is at least one great theatrical or musical production. One of the most popular locations for such performances is the Saenger Theatre. Seeing these musical performances can be a great family activity.
6. Visit a Plantation
It is uncommon to find a plantation in the city, but New Orleans is a unique city. Not far from the city, there are some of the best-preserved plantations in southern estates in the United States. You can drive on your own or get a tour guide to visit the plantations. Most of the plantations are within a one-hour drive from the city. At night you can stay in some of the plantations.
7. Go for a Sporting Event
The city is home to various sports teams. Whichever time you choose to visit, there is always a high chance that there will be some games to watch. Whether you are a fan of football, basketball, baseball, or any other game. Some of the great teams in New Orleans are Tulane Green Wave NCAA Basketball, New Orleans Saints, and New Orleans Pelicans.
8. Stroll Around a Cemetery
Taking a stroll around the 'the cities of the dead' can be a fascinating and a lifetime experience. The city has a tradition of burials above-ground makes it unique from other places across the globe.
9. Journey the Mississippi River
Several riverboat cruises sail over the river. Some of these cruises offer jazz music, serve both lunch and dinner. Though ancient cruises do not offer food. With as little as $2, you can sail across the Mississippi river using the Algiers ferry, but they will not offer you with music.
10. Visit a Park
There are many great parks in the city, with the City park being the center of attraction. Other parks include Audubon park, Louis Armstrong park, and National Jazz Historical Park.
---
Now that you are reading the New Orleans Travel Guide, what's next? Let's learn more about regional areas and trips in other countries.
The Netherlands Regional Travel Guide – The Top 3 Regions
Germany Regional Travel Guide – 14 Best Regions
---
11. Visit the Voodoo Museum
The Voodoo is a museum in the French Quarter and can only be accessed through a guided tour. It has held the lead in the city's history, folklore, and legends.
12. Visit the Garden District
The garden is located about 4 kilometers from the French Quarter. The garden has beautiful greenery, stately mansions, and great shopping. In the Garden District is the Lafayette Cemetery. Therefore, you can make your trip a three-experience trip, where you visit the cemetery, the French Quarter, and the garden.
13. Cocktail City
New Orleans has a history of combining various cultures, such as French, American, African, Spanish, and Caribbean. As a result, the city offers ingredients for experimental drink and food.
14. Wander Around the Neighborhoods of the City
New Orleans is a city with so many areas that awaits your discovery. Other than the Garden District and the French Quarter, there are several wonderful places in the city's neighborhood.
15. Get Lessons About the History of the City
One of the interesting things about the city is its history. To get full coverage of how the city came to be, visit any of the exhibits that cover all the eras of the city, for instance, Louisiana galleries.
16. Watch People
The city attracts people of different characters and natures, who want to enjoy themselves and have fun. While touring New Orleans, hanging out at various streets will allow you to enjoy watching people's unique lifestyles.
17. Learn the Post-Katrina Rebirth
One of the interesting tours to make while in New Orleans city is visiting the areas that were affected by the 2005 Hurricane Katrina, and discover the renaissance that has occurred since then.
18. Visit the Aquarium
Be sure to check the Audubon Aquarium that is situated just at the edge of the French Quarter, and hosts more than 10,000 animals. What makes it outstanding is the fact that it's a walk through an underwater tunnel.
19. Throw Yourself a Parade
In a city like this one, you do not need to wait for someone to organize a parade for you. You can do it for yourself. All you will require is book a band and apply for a permit to allow the parade, and you can as well invite some friends.
20. Visit the Chalmette Battlefield
At Chalmette battlefield, Andrew Jackson fought the British and defeated them, bringing to an end the world war in 1812. Visiting this battlefield will be an exciting experience for you, especially if you are a history buff.
New Orleans Travel Guide – What Kind Of Budget Do I Need In New Orleans?
When planning to go for a tour in New Orleans, you need to prepare a budget. Some of the essential things to consider when budgeting are: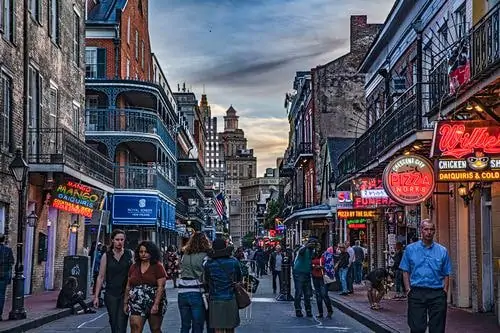 1. Housing
Hostel prices: Prices of a bed will depend on the season in which you are visiting the city. The average cost of a bed in a dorm is $20 – $25 for one night. If you want a bed in a private room, you will pay an average of $40 – $105 for one night.
Budget hotel prices: To get a 3-star hotel room for one night, you will be required to pay approximately $226 and $348 if you choose a 4-star hotel room. If you want to stay in a 5-star hotel, it will cost you about $516 for one night.
Airbnb prices: You can get rooms that are shared in apartments that range about $34 per night. The average cost of a full apartment ranges about $115 for one night.  This is not the best option in NOLA, the AirBNB price can be quite high and most of the readers of the New Orleans travel guide find that the hostels leave more money in their pocket to enjoy the food, music and bars with.
2. Food
1. Eating pre-made sandwiches from the city's takeaways shops and vendors.
Taking a pre-made sandwich in the streets or takeaways shops of New Orleans city will cost you between $7 to $11.
2. The average cost for one week of groceries, if you cook your food.
Cooking your food is cheaper than buying already cooked food. Nevertheless, the cost of your groceries for one week will depend on the amount of food you cook every day. You will spend an average of about $45, but this can vary depending on your rate of consumption.
3. If you decide to cook your food, you can assume to pay approximately $55 for groceries that are basic staples, for one week. However, if you get a grocer with a discount, for example, Lidl or Aldi, you can be sure to pay much less. Therefore, to save on your money, it is essential to buy your groceries in a grocer offering a discount.
New Orleans Travel Guide – How Can I Save Money
New Orleans can be quite expensive, so you need to get ways to cut some costs and save money. There are several ways in which you can do so and still enjoy the beauty and charm of the city. Here are some of the tips to help you save money while in New Orleans.  We can tell you from the New Orleans travel guide that New Orleans can be expensive and to truly experience the city will require some spending money.
1. The new Orleans Pass
FREE Entry to 25+ top New Orleans attractions. See the most popular attractions and enjoy the best tours in New Orleans at no extra cost. SAVE MONEY at popular attractions. The New Orleans Pass contains over $400 of attraction entrance fees.
2. Get a hotel outside the French Quarter
Some of the most expensive hotels in the city are in the French Quarter and the Central Business District. The hotels also fill up quickly, even in the low seasons.
3. Use public transportation to go around the city
Though public transport can be slow, it is the cheapest mode of transport, whether you are getting off the airport or going around the city. A ride can is as low as $1.25. If you want to take several trips, get a day pass for $3 or $9 for three days.
4. Use the Ferries
When exploring river Mississippi, you can use the Canal St. ferry, which is free instead of using a cruise, which can cost up to $50.
5. Maximize on the happy hour
New Orleans is a night city, and getting drinks or dishes at night can be very expensive. However, you can enjoy half-prices before dark, which is usually a happy hour.
6. Eat like a resident
Local foods tend to be so good and cheap as well. You do not need to go to the fancy hotels to get yourself a good meal; it will save you a good amount of money when you eat like other locals.
7. Take a walking tour
To get an excellent overview of the great city of New Orleans, take a walking tour around the city.
New Orleans Travel Guide – Where to stay in New Orleans?
New Orleans has many hostels where you can get accommodation while on tour in the city. You can get a fabulous and comfortable room at a relatively low price. Here are five hotels you can stay at a cheap accommodation fee:
1. Auberge NOLA Hostel located on 1628 Carondelet street, 1.8 km from the city center.
2. India House Hostel located on 124 South Lopez St, 2.3 km from the city square.
3. NOLA Jazz House located on 3414 Canal St. Downtown, 2.6 km away from the city center.
4. The Quisby, located on 1225 St. Charles Ave, 1.5 km away from the city center.
5. Atlas House, located on 1354 Magazine Street, Greyhound Amtrack Station, 2km from the city square.
New Orleans Travel Guide – What are the Best Transportation Options
1. RER Train
RER is a train that operates above the ground and has five lines. It serves the same way as a metro. The only difference is that you will need to use your ticket as you alight in the automatic barriers.
2. Bus
Riding a bus in New Orleans is a convenient way to get around the city. There are about 34 bus lines that run almost 24 hours. For a one-way trip, it will cost you $1.25 or $3 for one day pass.
3. Train
Three Amtrak trains terminate in the city. To view the fare and schedules of the trains, you need to check Amtrak's website or contact (800) USA-RAIL.
4. Bike-sharing
New Orleans is full of bikes, which are a superb way of navigating the city. You can get the bikes at an affordable rate, and they align with the transit system in New Orleans.
Vietnam5. Taxi
Most taxis in the city are owned privately; thus, it can be expensive. It will cost you about $10.00 for three passengers or more and $28.00 for one or two passengers.
6. Uber
If you are going around New Orleans and do not want to incur the cost of renting a car, then you should consider taking Uber, which is very convenient. You will pay a minimum of $5.45 a relatively fair price.
New Orleans Travel Guide – When Is the Best Time to Visit
There is no particular time you cannot visit New Orleans since any time is enjoyable how the New Orleans travel guide has found Spring the best since it is cool and flowers are magnificent in the garden district. However, some times and seasons are considered a better choice of when to go there. The favorite time of the year to tour New Orleans is between November to December. During this time, the temperatures are quite warm for winter, and people are not many. This means the rates of accommodation and travel are cheaper. If you are looking for the best prices, this is the best time to visit the city.
If you are on a low budget, the season between February to April is not a good time to visit the city. This is because the famous festival, Mardi Gras, takes place in the middle of February or early March. During this time, there are many people in the city, making accommodation and travel rates very high. Also, during this season, there are JazzFest and French Quarter Festival, which draws traffic of people in the city. Therefore, the prices are extremely high.
New Orleans Travel Guide – How To Stay Safe On My Trip
New Orleans is known to have a high rate of crime, such as robberies at gun-point and murders. However, you can remain safe while in New Orleans, depending on how you conduct yourself and the precautions you take. New Orleans also is at risk of experiencing natural disasters. For instance, in 2005, there was the famous Hurricane Katrina that left the region devastated. Here are some tips to help you stay safe.
1. Avoid Some Wards
Avoid neighborhoods that are riskier and have a higher crime rate and shun away from visiting the cemeteries, especially after dark, if you do not have an official tour guide.
2. Use the Buddy System
While traveling, take a companion with you if possible, and avoid walking around alone after dark. Use public transit because they are safer, as vehicle break-ins are common in the city.
3. Watch for Scammers
Be on the lookout for scammers, especially in areas such as the Bourbon Street and the French Quarter, where there are plenty of petty criminals.
4. Be Aware of the Weather During Hurricane Season
If there is a natural disaster, immediately move to higher ground if there are floods, lie down beneath an object, and stay indoors.
In conclusion, with this travel guide, you can tour the city of New Orleans and get to enjoy the breathtaking sceneries and create unforgettable memories.
We hope you enjoyed reading the Budget New Orleans Travel Guide – and good travels! Contact us with any questions you may have about travel to New Orleans. We lived there for many years and can answer any questions.