Spanish Dishes have been prepared with foods being the same as they were several hundred years ago. Spanish Desserts are world famous and have been copied in many cultures. Probably the most eaten food in Spain is Tapas which many people would call finger foods.
History of Spanish Food
Endless cultures, as they passed through or settled in Spain, have influenced the history of Spanish dishes. The Phoenicians left their sauces, the Greeks introduced Spain to the wonders of olive oil, and Romans, Carthaginians, and Jews integrated elements of their own cooking into that of Spain.
For instance, Spanish dishes routinely uses Arabic ingredients such as rice, sugar cane, eggplant, almonds, and lemon in their cooking. Today, Spain remains one of most important countries in the world in terms of cuisine. Over time, Spain has truly become one of the world's first and most important "fusion" cuisines.
The two basic ingredients of Spanish food are olive oil and garlic; in fact, it's not uncommon for the only common ingredients used throughout the country to be garlic and olive oil. Pimentón, saffron and garlic are the three defining spices of Spain.
The biggest thing you'll notice about Spanish dishes is that there is a huge emphasis on freshness, regional dishes and most of all, seafood and produce. These elements combine to make up one of the tastiest cuisines out of any country in the world, let alone Europe.
Are Spanish Dishes Healthy?
Spain is one of the countries that boasts a diet based on the Mediterranean Diet. This diet focuses on healthy fats and protein. These vitamins are heart-healthy, making Spain one of the lowest-risk countries for heart disease
How Important Is Breakfast in Spain?
In Spain, breakfast occurs between the hours of 8 am to 11 am. It's important to know that some here do not even eat breakfast, as lunch in Spain is typically the largest meal of the day and most locals want to save their appetite for the midday break.
The typical breakfast for a local in the city is a coffee with milk (think latte) and some sort of pastry such as a croissant or a doughnut. On the savory side it's all about sandwiches, or "bocadillos." These are usually half a baguette smothered with olive oil, tomato and perhaps a pinch of salt.
What Is Included In Typical Spanish Lunches?
A typical lunch often has several courses, like a salad as an appetizer, a main dish, and then a small dessert -—and people in Spain usually enjoy a glass of wine with their food as well. Lunch also generally starts later than what Americans are used to (around 1:30-3:00 in the afternoon) and is much longer and more leisurely.
The first course is the lighter part of the meal, usually consisting of a salad or soup, while the second course is normally your typical fish or meat dish. A dessert can be a simple piece of fruit, a typical Spanish flan, or a sweet pastry or cake.
What Is Different About the Bread in Spain?
Mollete is a traditional Spanish bread hailing from Antequera. It's made with a combination of yeast, plain flour, whole-wheat flour, salt, sugar, milk, and olive oil. In Andalusia, molletes are usually served for breakfast.
Traditional bread or pan is a long loaf, similar to the French baguette but wider and shorter, generally called "barra" and many other different names along the country like "pistola" or "bastón".
Spain people tend to eat their meals accompanied with bread, and it's customary for it to be served at the table regardless of what you're eating. In most of Spain, butter isn't very common, though, and olive oil is the preferred accompaniment to bread (and most other things).
List Of A Few Spain Snacks and Spanish Appetizers
This is a list of Spanish Dishes including appetizers and snacks. Tapas are the best-known, typical foods from Spain. A tapa is an appetizer or snack in Spanish dishes. Tapas may be cold (such as mixed olives and cheese) or hot (such as chopitos, which are battered, fried baby squid). The most accurate description of a tapa, would probably be that it is a small portion of food, usually served with a drink before or after a meal.
Pintxos. Pintxos are actually skewered, and they are almost exclusively served as snacks. The ingredients include baguette slices covered with smoked salmon, tuna, cheese, etc.
Bocadillo de Jamon (Ham Sandwich). It is made from Spanish bread, and the main ingredient of this sandwich is either Iberian or Serrano ham. Also, Bocata de Jamon. Cousin to Bocadillo de Jamon, except this sandwich is often filled with cheese, tomatoes, and olive oil.
Boquerones al Limon (Anchovies with Lemon). These tapas are fried anchovies marinated in lemon. A very popular food in Spain and can be found in almost all beach bars.
Espetos (Sardine Skewers). Grilled sardines are the best when prepared between July and September since that is the period when the sardines are fatter than usual.
Pan Tumaca (Tomato Bread). It is a snack made from tomato and bread. It is very easy to make since it has only five ingredients and it only takes about 5-7 minutes to prepare it.
Croquetas de Jamon (Ham Croquettes). Croquettes are a snack for everyone since it has an option for those who eat meat and for those who don't. The most popular croquettes are croquetas de jamon.
Empanadas. It is not strange that the empanadas (bread pies) usually consist of fish, shellfish, and meat such as pork. Empanadas can be served as dinner, but they are more often eaten in between meals.
Aceitunas (Olives). When it comes to salty snacks, olives and Spain are a classic combination. If you look carefully, you will see that all the famous Spanish dishes are made with olive oil.
Tortillita de Camarones (Shrimp Fritters). These crispy and tasty tapas are great to enjoy during warm summer days without being in the kitchen for too long.
A List of Sweet Snacks and Popular Spanish Desserts
Arroz Con Leche. Spain's version of rice pudding and is served hot. A risotto rice is used, so that the rice stays al dente and chewy; the other two main ingredients are milk and sugar. Spanish rice pudding is also flavored with cinnamon and lemon peel to give it that extra Mediterranean taste.
Turron de Jijona (Spanish Soft Nougat). It is a nougat confection, typically made of honey, sugar, egg whites and with toasted almonds.
Horchata with Fartons. One of its signature sweet soft drinks is horchata, and when you mix it with bread-type fartons, you get one of the best and most traditional horchatas in the town.
Churros. It is a type of fried dough from Spanish cuisine. You can make churros in the comfort of your own home with a few simple ingredients and about 30 min of your free time.
Bunuelos de Viento (Nun's Puffs). The name is translated as ''light as air'' in English. It is a typical Spanish Christmas sweet, and since it is made from simple dough covered with a variety of toppings, most families make these Spanish dishes regularly.
Palmeras (Palms). These sweet pastries are ideal snacks for coffee breaks and can be served as a light breakfast,
Torrijas (French Toast). There are several variations of torrijas, but the most common ones are toasts covered with either cinnamon or honey. Eaten as a snack or as a breakfast.
Flan. The most typical Spanish dish. This simple dessert is made from milk or cream, whole eggs, and sugar and sets to a wobbly jelly-like consistency. It is also topped with a caramel sauce or syrup.
Tarta de Queso (Spanish Cheese Cake). They are lighter and fluffier than most cheesecakes and have more of a savory cheese flavor – they also often come without the crunchy biscuit base and are rarely topped with any fruit – this is cheesecake in its purest form.
Crema Catalana. Catalonia's most famous dessert. Made from egg yolks, milk, and sugar, it is infused with cinnamon, orange, and lemon peel, and topped with a burnt sugary crust, which you crack with a spoon.
Tarta de Santiago (Spanish Almond Cake). It breaks dessert rules: no chocolate and served room temperature. But one bite of this thin, super moist almond cake and those rules evaporate.
Miguelitos (puff pastries). These tall squares of fluffy phyllo-like dough filled with chocolate are slightly bigger than a matchbox. One just isn't enough.
Tarta de Aceite (Olive Oil Cakes). Spanish cakes are simple ones that can be made in about an hour. They're olive oil based, meaning they're super moist and delicious — and arguably healthier than their butter cousins.
Leche Frita. Leche frita, or fried milk, is a Spanish dish and a popular dessert made by whipping up milk, egg yolks and flour. This is left to chill and solidify, before being coated in breadcrumbs and fried.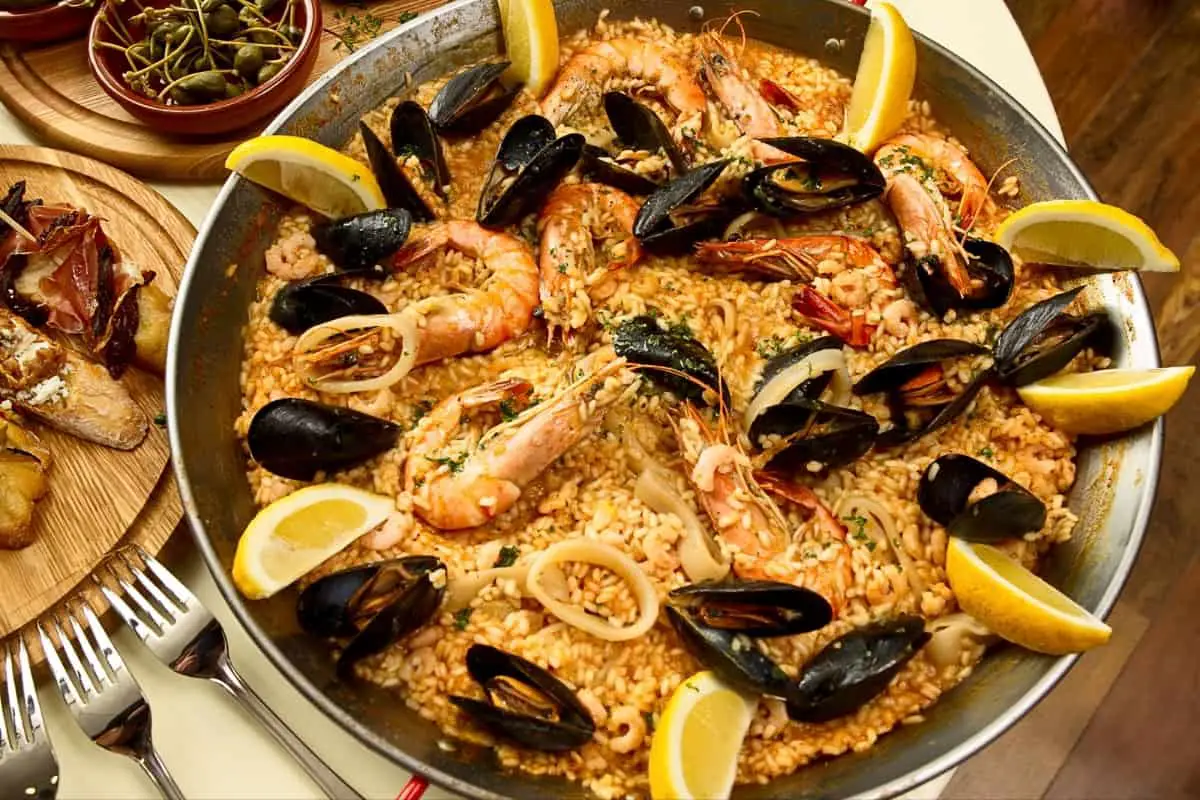 What Is Considered Typical Spanish Food?
Paella. This is also hailed as the National Dish of Spain. It is perhaps the most famous of Spanish dishes, and certainly one of the most abused. Authentic paella originates from the region around Valencia, and comes in two varieties: Paella Valenciana, with rabbit and chicken; and seafood paella.
Gazpacho. Nothing cools you down more on a hot summers day, aside from a cold shower than a starter of this chilled soup.
Calamari. Anything tastes good deep-fried. What is beyond doubt is the scrumptious crunch-meets-chewy gastronomic experience of battered squid. Especially when doused in freshly-squeezed lemon.
Tortilla Española. When preparing traditional Spanish dishes, one cannot leave out the Spanish omelet. Tortilla Española is known as "tortilla de patatas" where pre-fried potatoes are the main ingredients after eggs.
Chorizo. The taste lingers for several hours after you eat this spicy and sweet sausage. Especially if whoever made it went heavy on the garlic.
Fabada Asturiana. Chorizo is also a key ingredient in this is a hearty white-bean stew.
What Are Some Other Famous Spanish Food?
Patatas Bravas. They are probably the most addictive snacks among all other Spanish tapas, and another good example of typical Spanish dishes. They have a great golden color, and their flavor is intensified with salsa brava (a red, spicy sauce) that will make you want more. Salsa Brava is a Spanish spicy tomato sauce made with hot paprika.
Pimientos de Padron. Pimientos de Padron are fried and served with a deep sprinkling of salt. Though generally sweet and mild, their fame stems from the fact that the occasional pepper will be fiery hot — lending a Russian Roulette element of surprise to eating them.
Jamón. Jamón, or cured ham, is the most celebrated of Spanish dishes. Legs of ham were traditionally salted and hung up to dry. The best ham should be enjoyed in thin, melt-in-your-mouth slices on its own, with a little bread.
Churros. Churros are a popular snack made from fried dough pastry, cut into sausage shapes and doused in sugar. They're a favorite at fiestas, or street parties, when they're sold by roadside vendors. Dipping them in hot melted chocolate is pretty much the law.
Croquetas. Another typical item on a tapas menu, croquetas are tubes of bechamel sauce encased in fried breadcrumbs, but a lot more tasty than that sounds.
Albondigas. A classic tapas item, albondigas, or meatballs in tomato sauce, are served all over Spain. A tasty variation serves up the meatballs drizzled in an almond sauce, minus the tomatoes.
Migas. A legendary Spanish dish spoken of in almost hushed tones by Spaniards, migas is a good example of how much of Spain's cuisine has evolved from peasant food. It's essentially dry breadcrumbs torn up and fried in a variety of combinations — often served with chorizo or bacon.
Bacalao. Spanish dishes, prized in Spain, bacalao, or salted cod, was brought back by Spanish fisherman from as far afield as Norway and Newfoundland. It was salted to preserve it on the journey and has to be left to soak in water for at least 24 hours to remove all but the slightest tang of salt.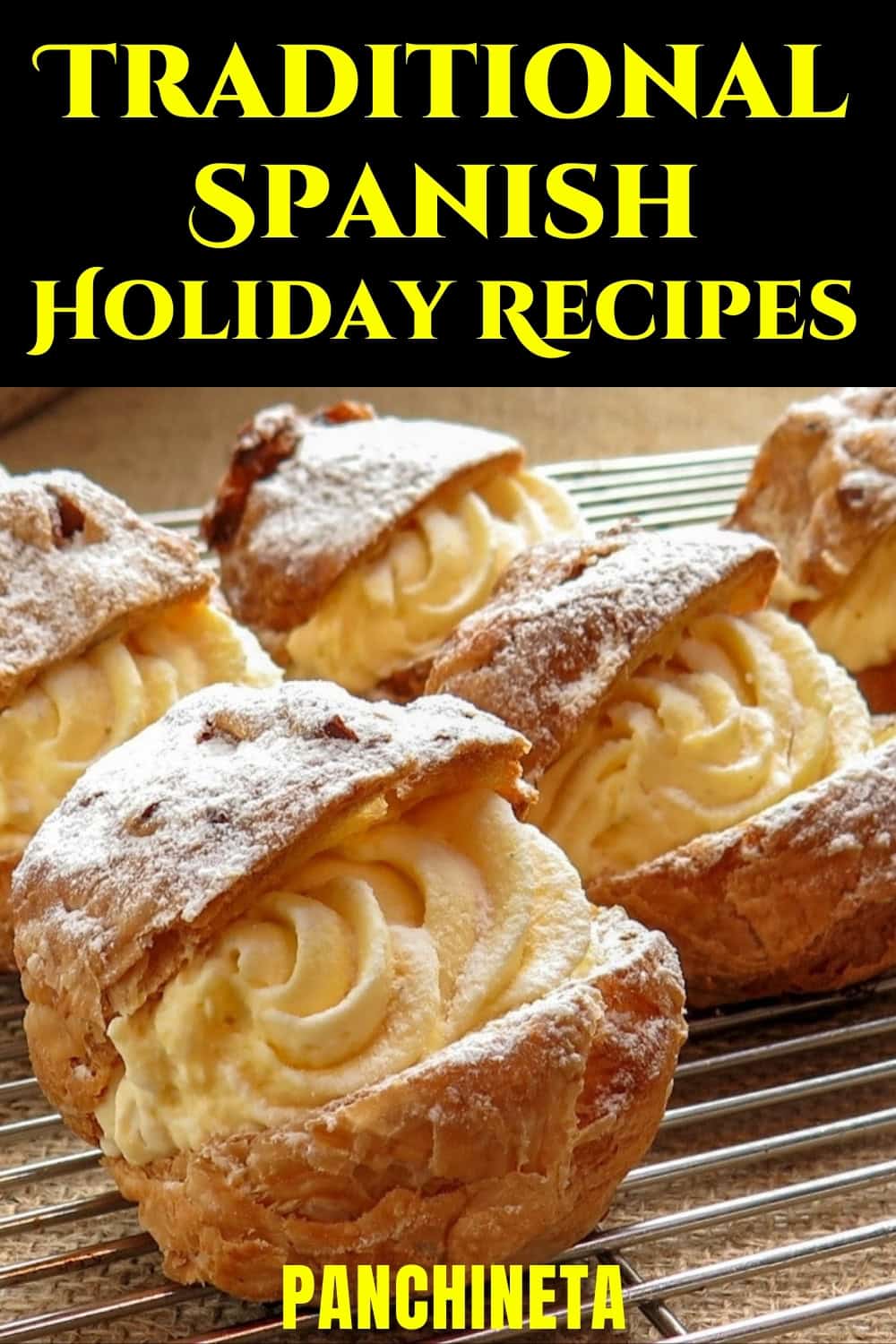 38 Spanish Dishes & Spanish Desserts
---
---
check out our video
---
---
The recipes are divided into 3 sections: Spain Snacks and Spanish Appetizers, Popular Spanish Dinners, and finally, Sweet Snacks and Spanish Desserts.
8 Spain Snacks and Spanish Appetizers
---
---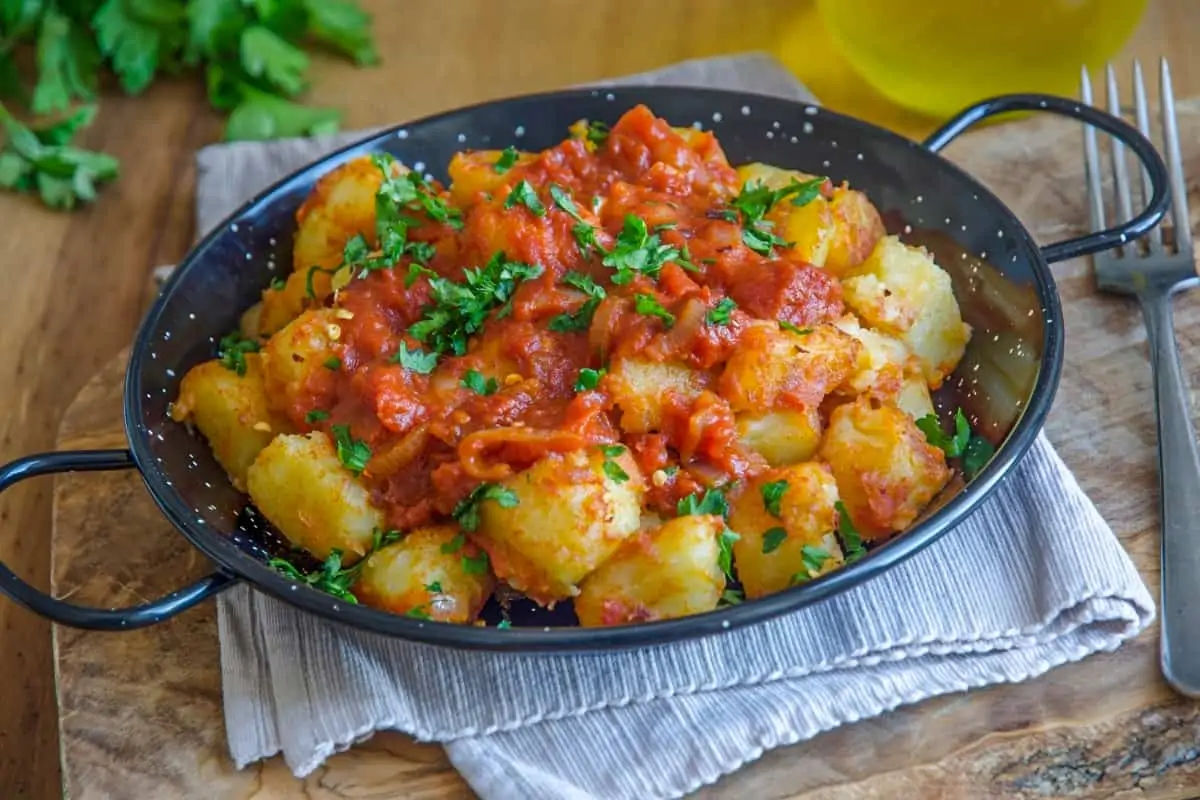 Patatas bravas, meaning 'spicy potatoes' are one of Spain's most popular tapas. They're the go-to choice for an appetizer or a snack. It typically consists of white potatoes that have been cubed, then fried in oil and served warm with a spicy sauce.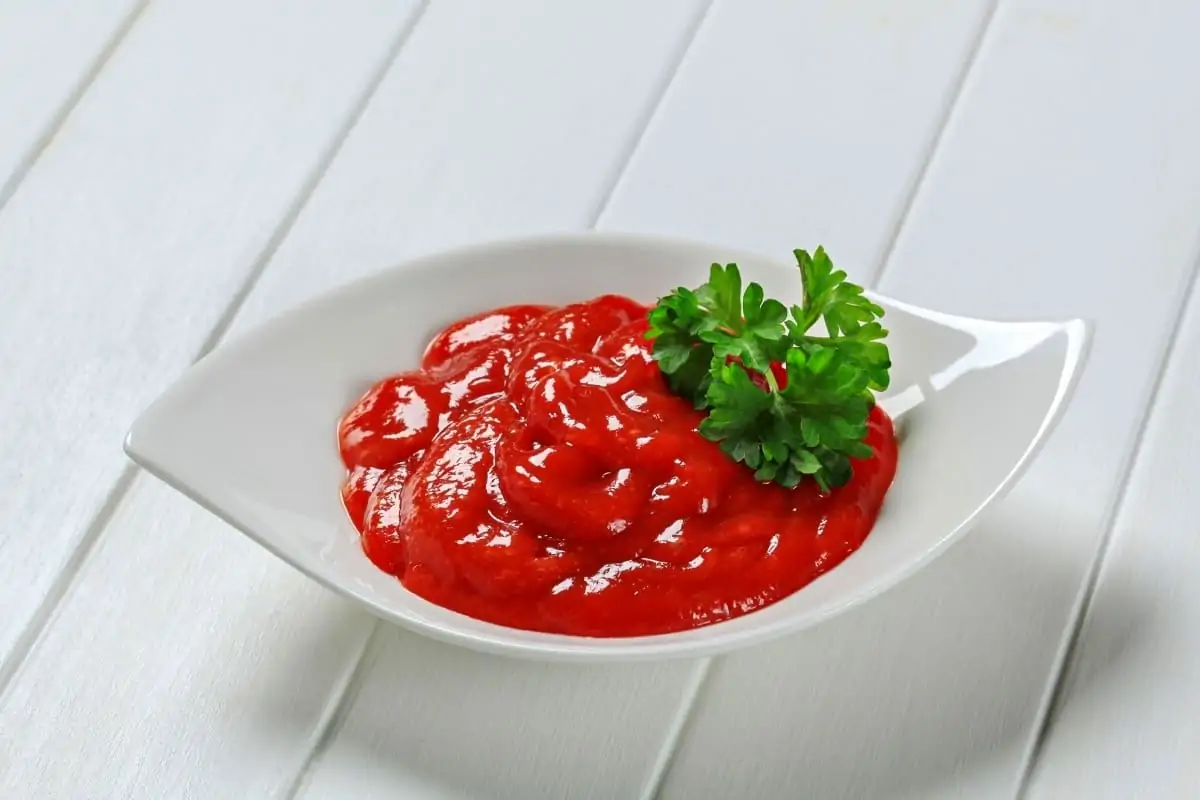 An authentic bravas sauce recipe is based on just a few essential ingredients. Olive oil, seasonings, flour, and broth are combined to achieve the right flavor and consistency. The truly traditional bravas sauce gets its color and its spiciness from hot smoked paprika.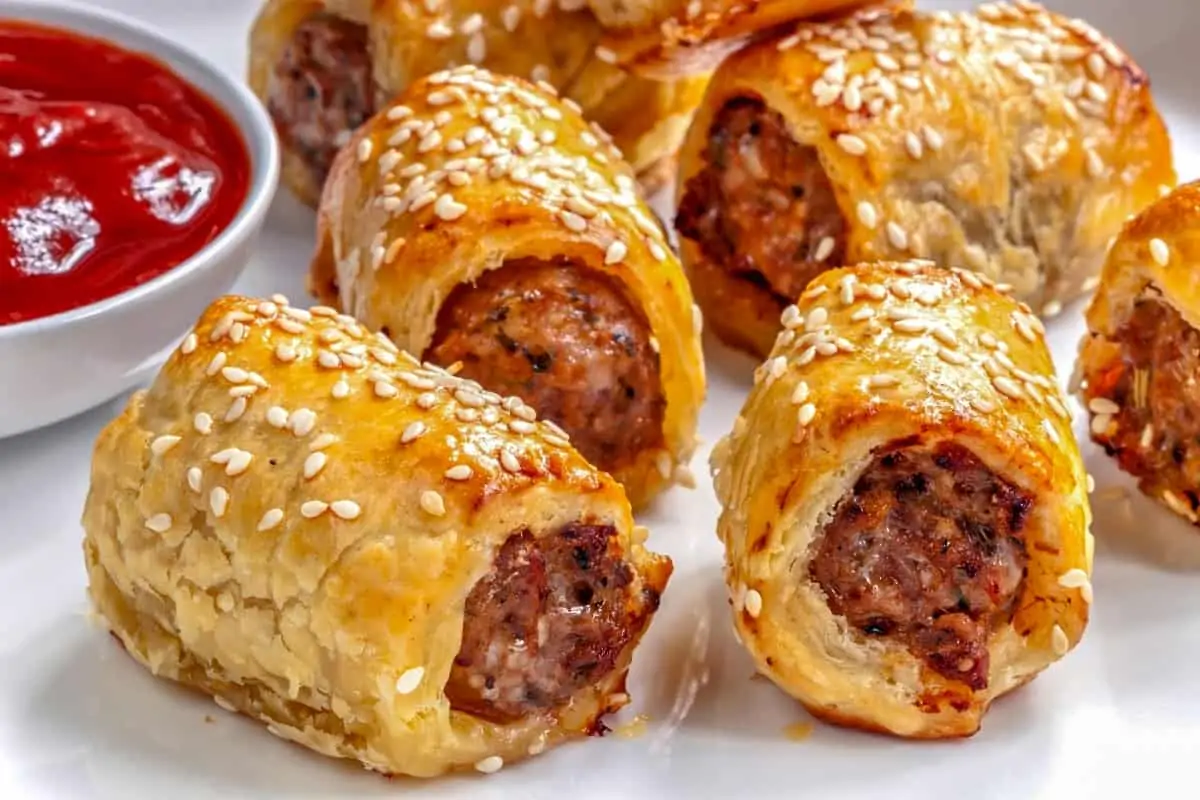 If you want a crowd pleaser, this is your pintxo. The flaky puff pastry soaks all the flavour from the chistorra sausage. I like to pair mine with a tangy lemon aioli to balance the buttery pastry and spicy sausage.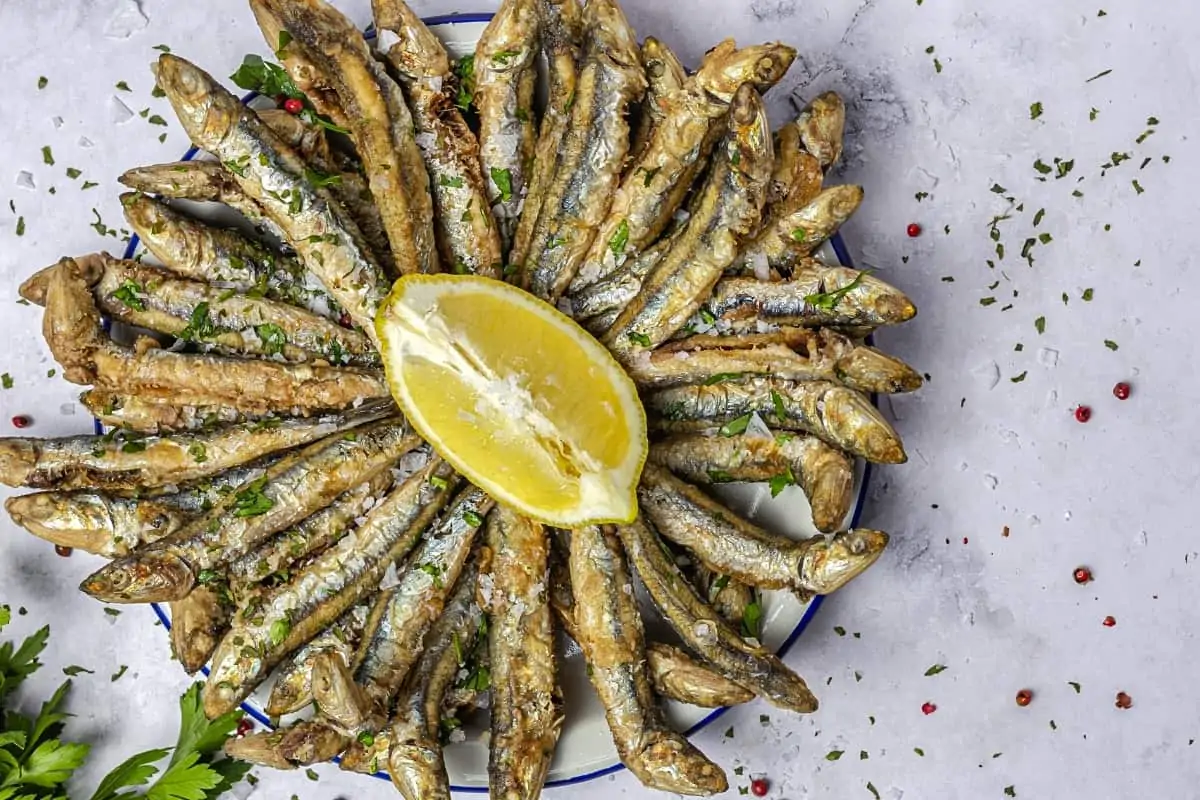 The boqueron is a large blue fish, practically a bigger anchovy. Marinating the anchovies is what makes boquerones al limon so delicious and elevates the recipe's flavor. How to make boquerones al limon, a variation of the fried anchovies, in which the fish is marinated first and then fried.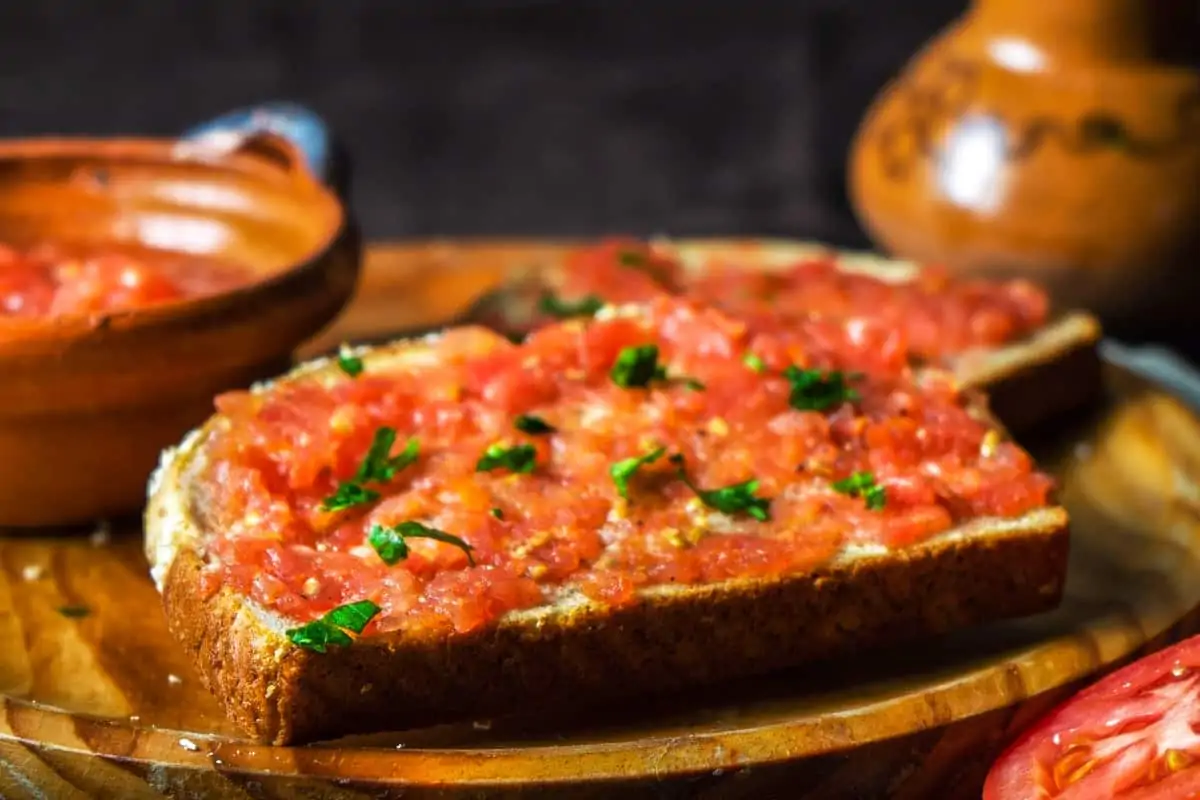 Nothing beats the taste of some crusty bread rubbed with the ripest of tomatoes and drizzled with some quality extra virgin olive oil. Because bread baking was done only once per week, the bread would dry quickly, so it makes absolute sense to rub tomato on to it to make it soft. Pan Tumaca is often served at the start of a meal or as a side dish to some tapas or jamón ibérico.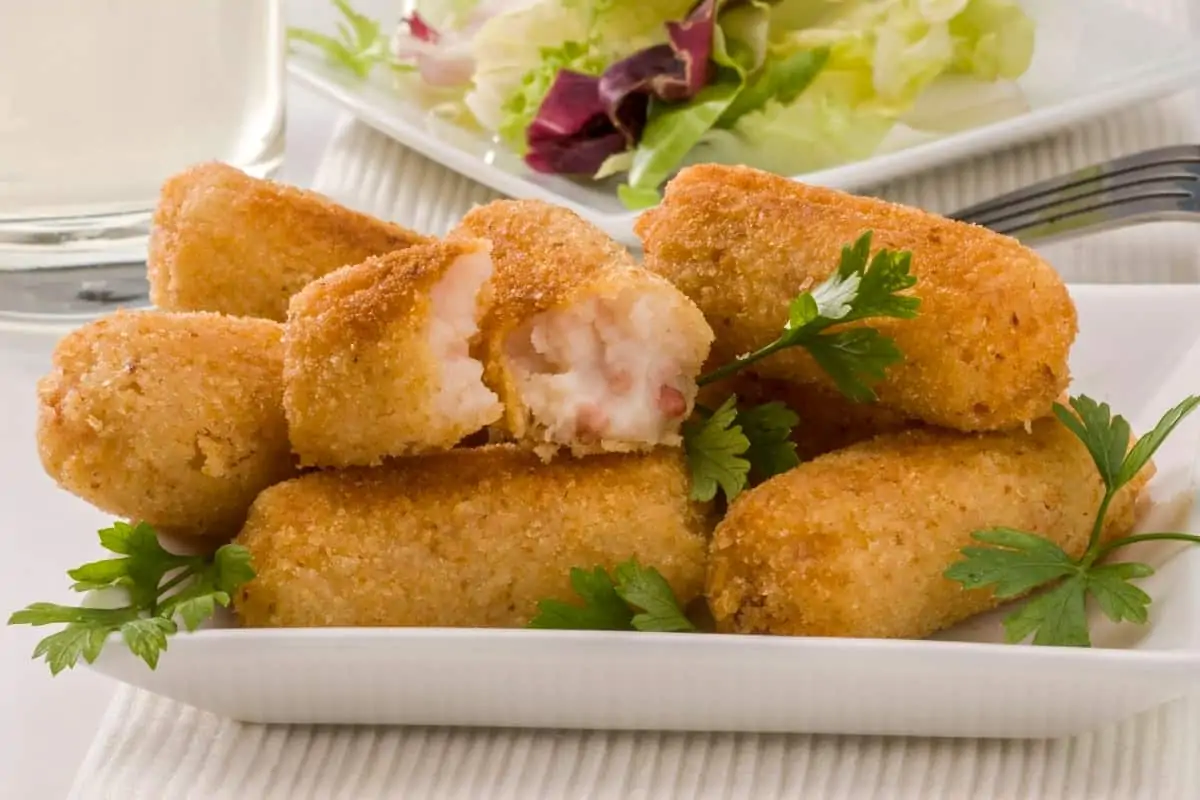 With only a handful of ingredients, this traditional Spanish ham croquettes recipe is the best I've ever tried. In only 30 minutes you can whip up a batch of croquette dough too. Being a traditional poor man's food, ham croquettes are basically a fantastic bechamel sauce (olive oil, butter, flour, and milk) enriched with leftover scraps of Serrano ham and deep-fried to crispy perfection.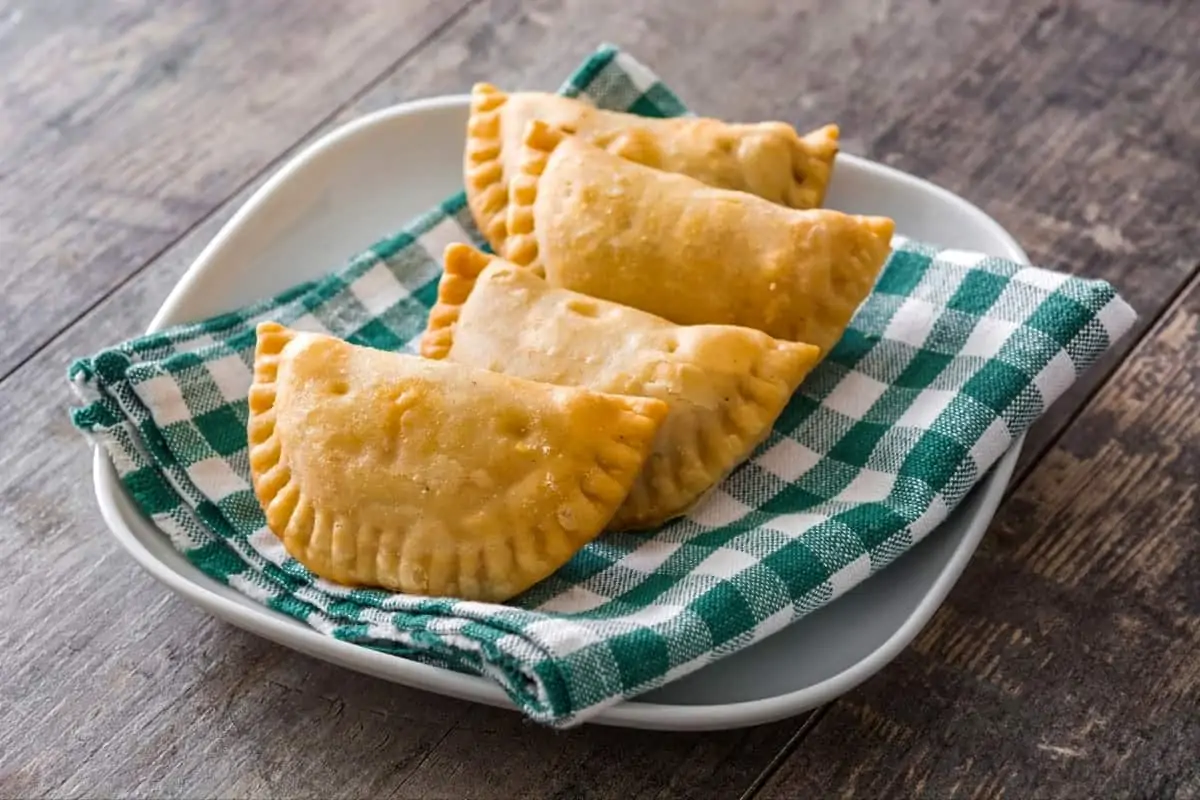 The perfect pastry for all meals! Empanadas, or beef turnovers, are discs of pastry packed with meat. Some turnover recipes call for all manner of fillings, but this Empanada recipe features a delicious tomato, onion, garlic and beef mixture. You can enjoy empanadas as an appetizer, a main dish, or even after your main course.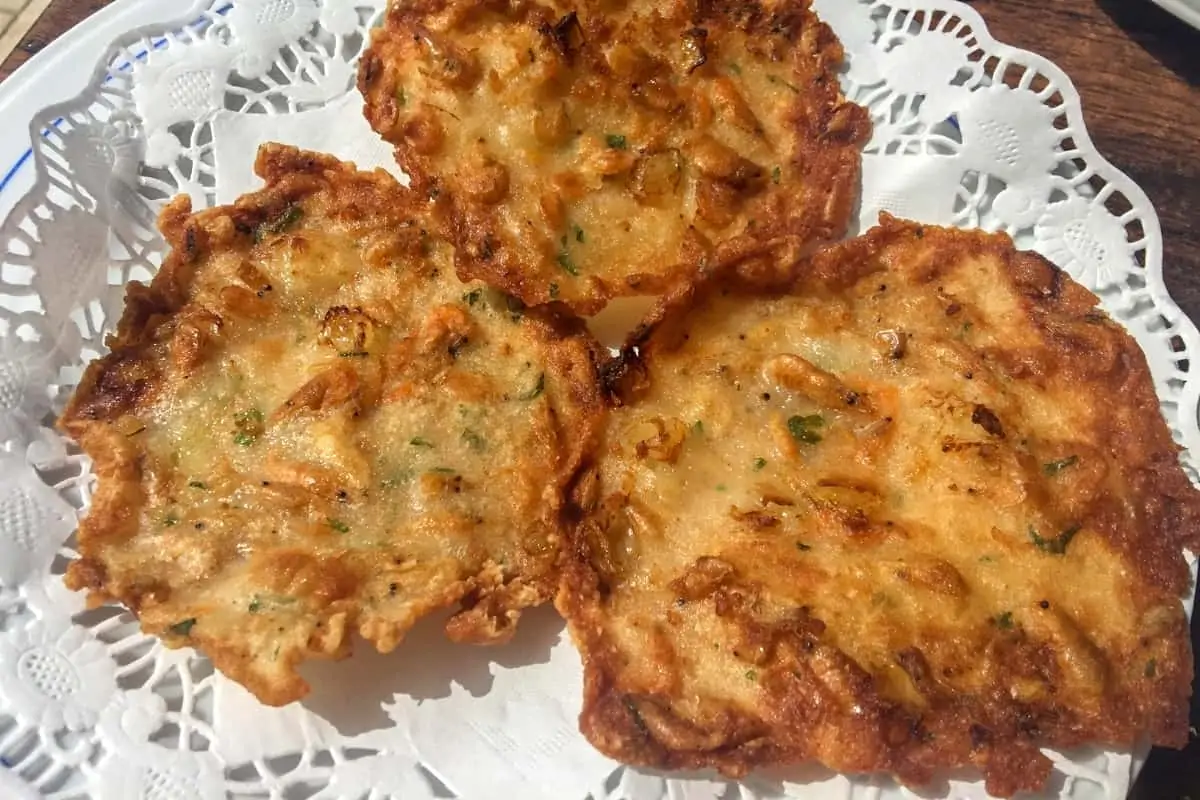 Tortillitas de camarones (Andalusian shrimp fritters) are the crispiest, flakiest, and tastiest way to enjoy long weekends at the beach. The crispiness of the fritter, filled with the sweetness of the shrimp, is sure to instantly transport you to the shores of southern Spain! For the best results, use fresh, raw shrimp and a good virgin or extra virgin quality olive oil.
10 Popular Spanish Dinners
---
---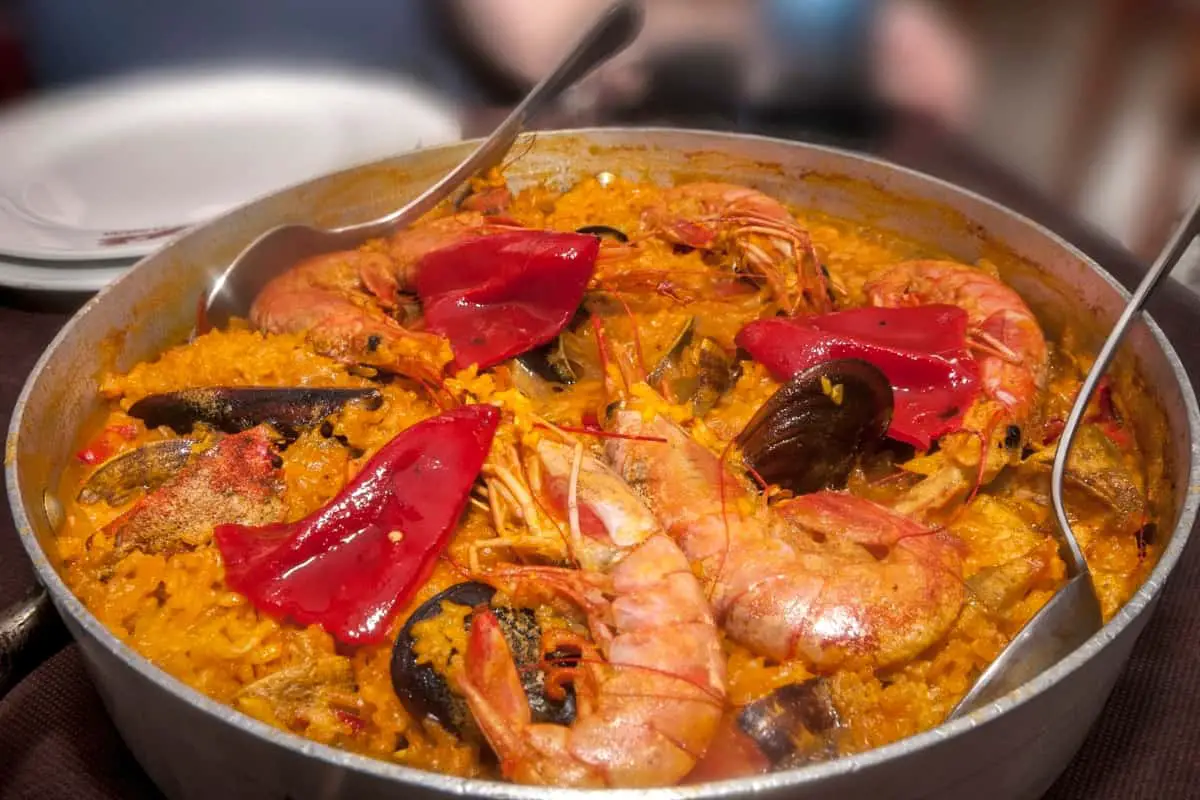 Learn how to make this authentic Spanish Paella recipe that is loaded up with vegetables, chicken, and fresh seafood. This version of paella is known as Paella de Valencia. We oftentimes think of paella being a combination of proteins such as chicken, sausage, and seafood.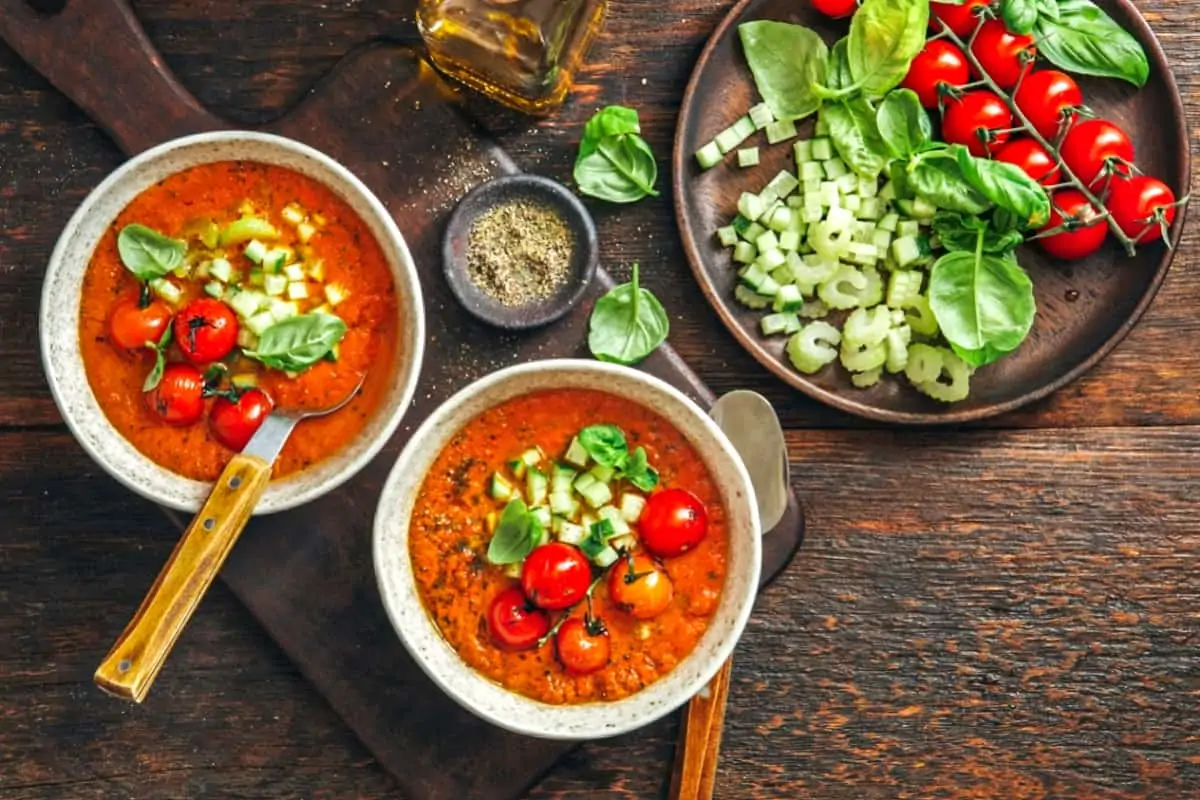 Traditional Spanish gazpacho is easy to make, super healthy, bursting with flavor, and absolutely delicious! It's usually served as an appetizer in a small bowl with toppings, or from a glass as a drink. Either way, it really hits the spot on a hot day!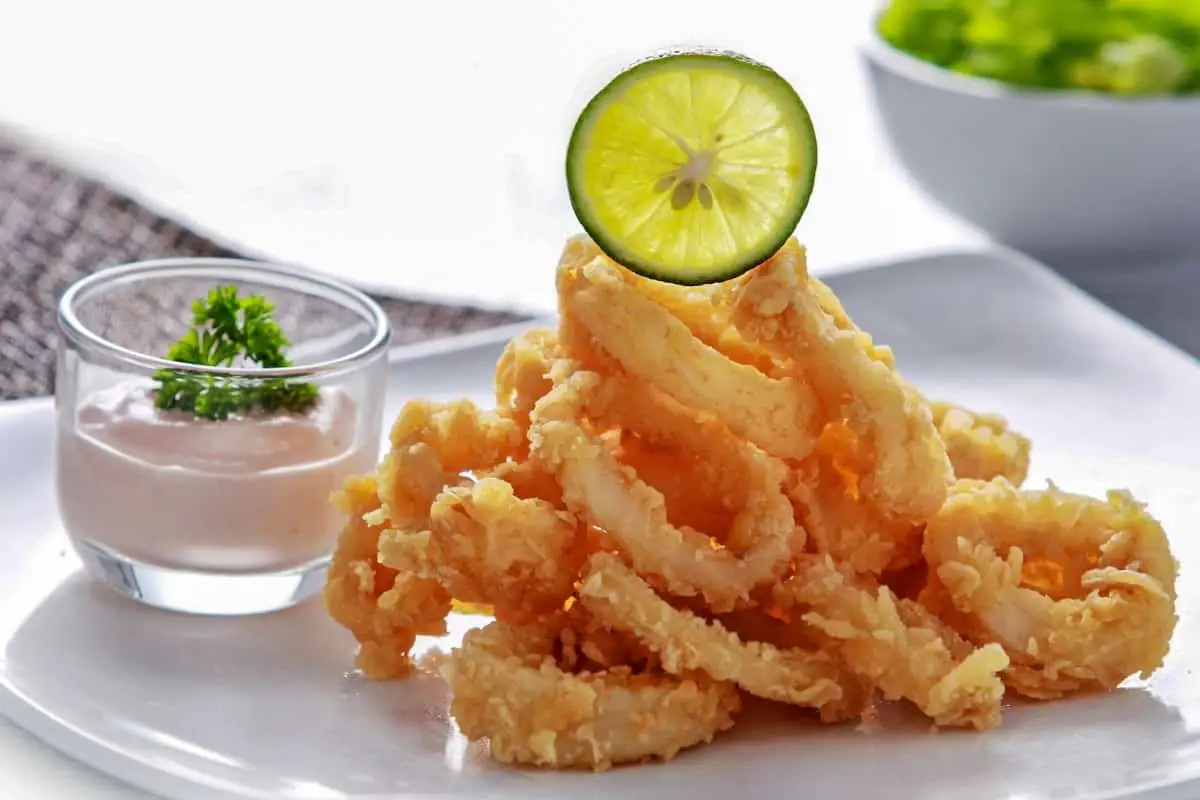 Light, golden brown crust and tender calamari that is not grease-heavy or rubbery. This fried calamari recipe will be your go-to! I used wild-caught frozen calamari tubes, which are already cleaned. Frozen calamari rings are also available and will work in this recipe.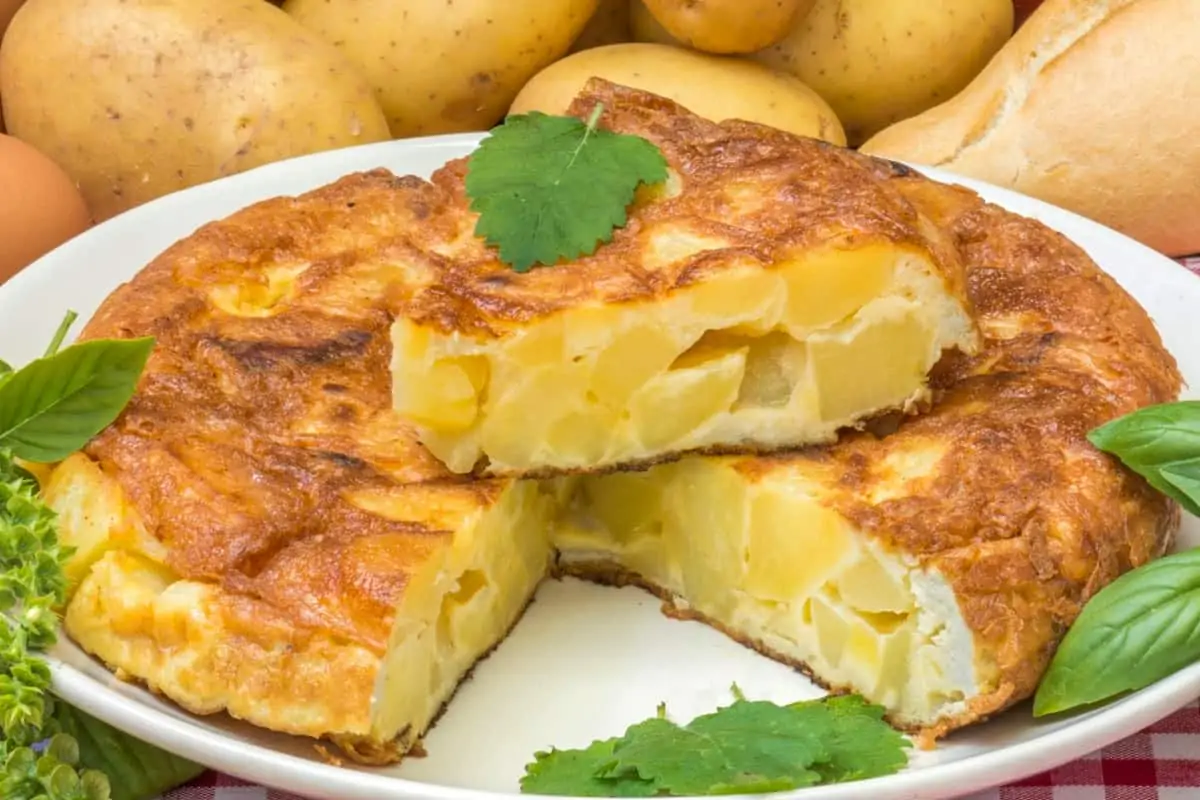 Name one dish that can be eaten as a snack, an appetizer, and a main course; that's equally delicious both hot and cold; that almost anyone would be happy to eat at any time of day or night; that is just as perfect for your kid's lunchbox as it is alongside a stiff drink; that's considered as much the domain of home cooks as of restaurant chefs; and that's composed of only a few very ordinary ingredients.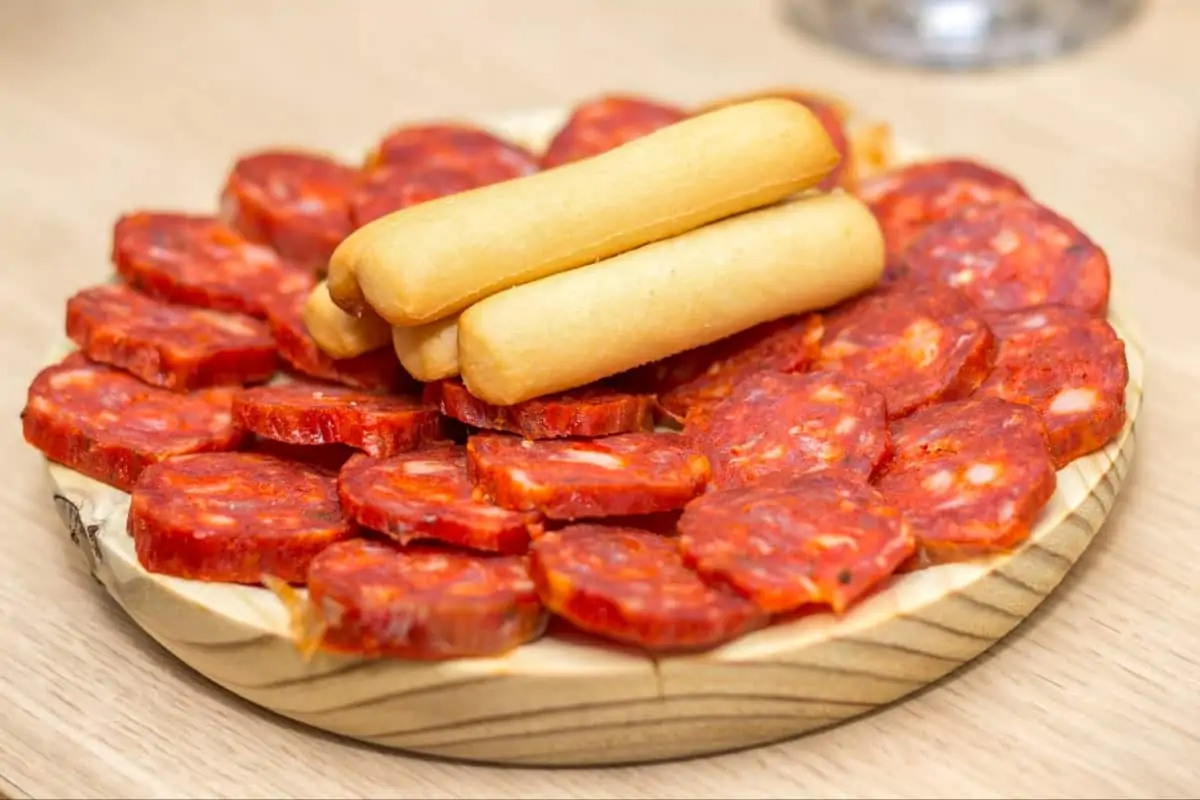 Enjoy Spain's signature sausage no matter where you live when you learn how to make Spanish chorizo at home. You can cook it fresh, as the Spanish would at a BBQ, or dry cure it and eat it sliced with other sliced meats and cheeses.
Why not try making the fresh Spanish chorizo first. You don't need any special curing salts, and you can cook them in a frying pan or on a grill. You could always hang an extra leftover chorizo or two just to see how the curing process goes.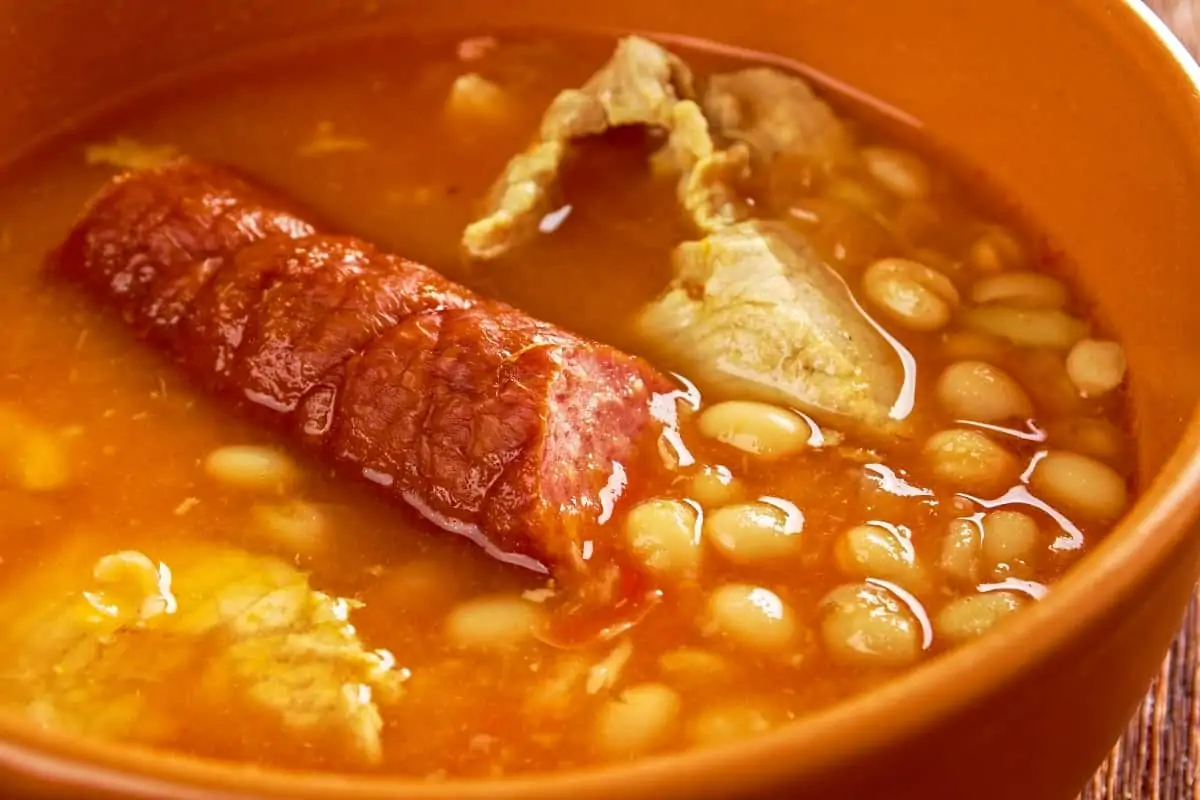 You may well have heard of cassoulet – well fabada Asturiana is it's Northern Spanish cousin. A hearty, warming white bean stew with lots of porky goodness, it's incredibly easy and perfect for a cold day.
These days it's a bit more planned, but I can imagine it was originally made using leftover pieces of meat. For something so simple, the result is delicious. Use whatever white beans you can, ideally relatively large and ones that hold their shape.
They are very popular in Spanish tapas bars and have quickly gained popularity in the US as well. And it's easy to see why! Not only are they deliciously sweet, nutty and ever so slightly bitter, but every now and then you'll get a really hot one in the bunch, earning them the nickname of "Russian Roulette" peppers.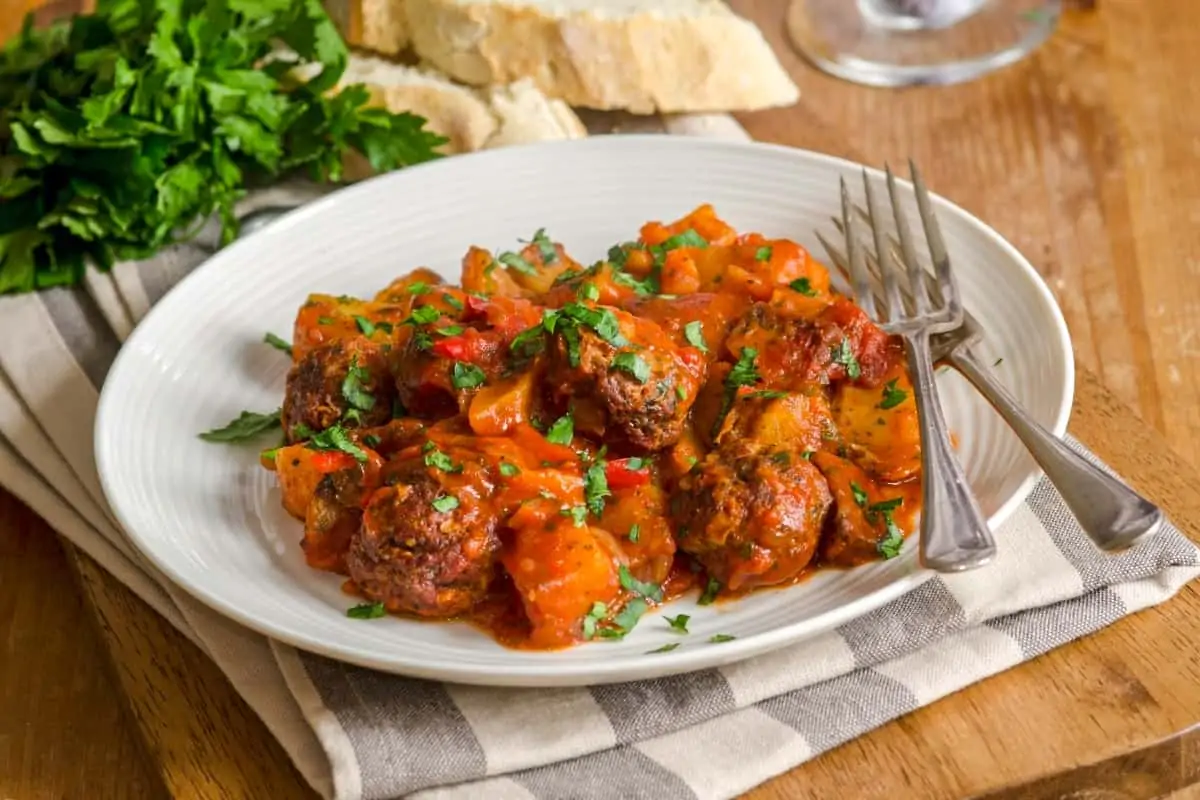 Spanish Meatballs, or Albondigas, are traditionally served at tapas bars in Spain. Whether you serve them for an appetizer, tapas party, or dinner main dish, these small meatballs in a flavorful tomato sauce. The biggest difference between Spanish meatballs and Italian meatballs is their size. Spanish meatballs are small, only about an inch in diameter. Remember, these are an appetizer after all!
Spanish meatballs are traditionally made with pork, veal, or beef, or any mixture of the three. They are pan-fried before being simmered in the sauce, which really infuses these little guys with lots of great flavor. The seasonings in Spanish meatballs can vary depending on the chef. Most commonly though, Spanish meatballs are seasoned minimally, which really lets the flavors of the sauce shine through.
Migas is a popular Spanish dish consisting of leftover bread and ingredients such as bacon, chorizo and grapes. There are variations on the dish depending on the region it is made, such as using corn bread or pinto beans. It is most often served as a side to other main dishes.
Migas is a traditional dish that is popular in Spanish cuisine. The name 'migas' means 'crumbs', pertaining to its key and main ingredient – breadcrumbs. You start off by soaking stale bread with water and some seasoning.
The breadcrumbs will be cooked along with lard, garlic, and meat until it's golden brown. Once cooked, it is served hot and most commonly in the same pan it was prepared in, or on a large plate.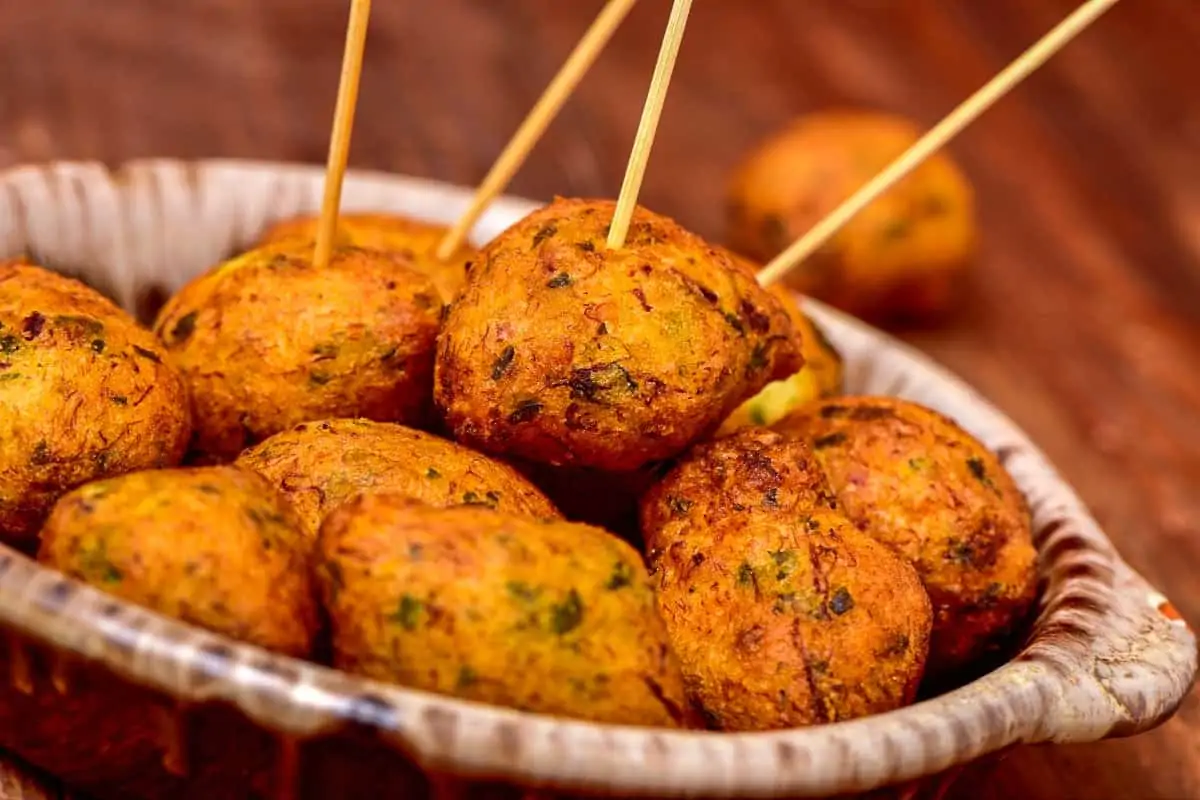 This dish is usually made with salted cod (bacalao) in a delicious tomato sauce, flavored with onions, garlic, peppers and smoked paprika. Spanish cuisine is delicious by default. Most Spanish recipes are easy and make use of whole ingredients that are nutritious and good for you.
20 Sweet Snacks and Spanish Desserts
---
---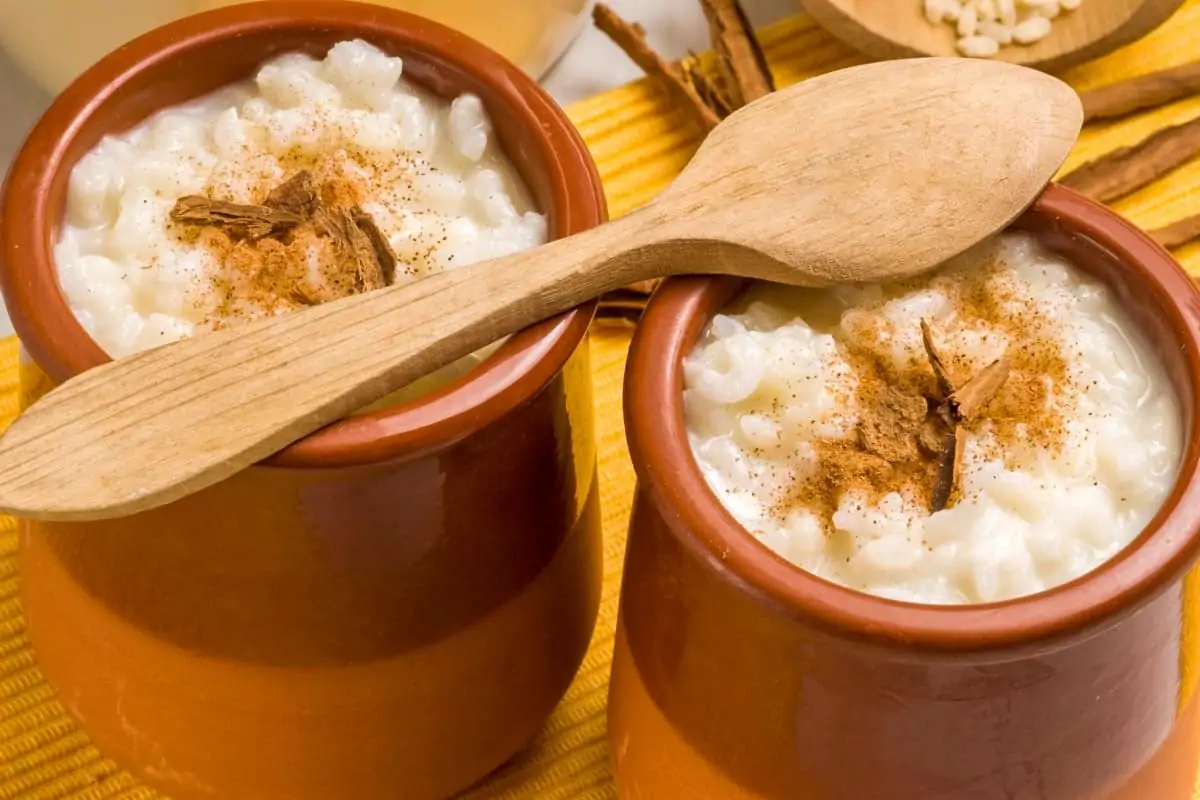 Arroz con leche, Spanish rice pudding, is an easy and comforting dessert. With warm cinnamon and fresh lemon flavors mixed in with the creamy rice, it's the perfect end to any meal.
Arroz con leche is believed by many to have been introduced to Spain by the Moors when they occupied a large part of the country. This is particularly believed to be the case since the Spanish version uses cinnamon that was brought to the country by the Moors.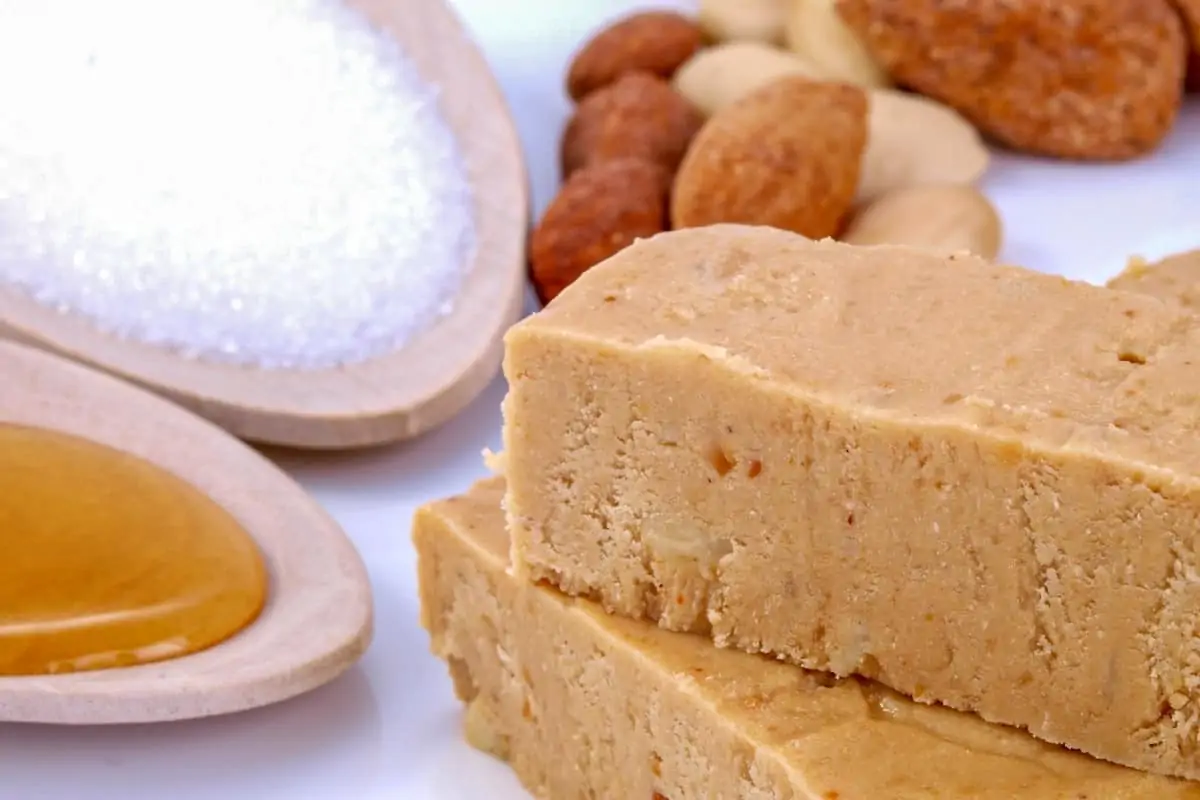 The soft turrón is one of the most typical along with the hard one, also known as Jijona (soft) and Alicante (hard) when they have the stamp of the designation of origin.
Possibly the most difficult to imitate nougat due to the unique machinery used for it, the so-called 'boixets'. That's why we bring you the definitive recipe for making turrón at home.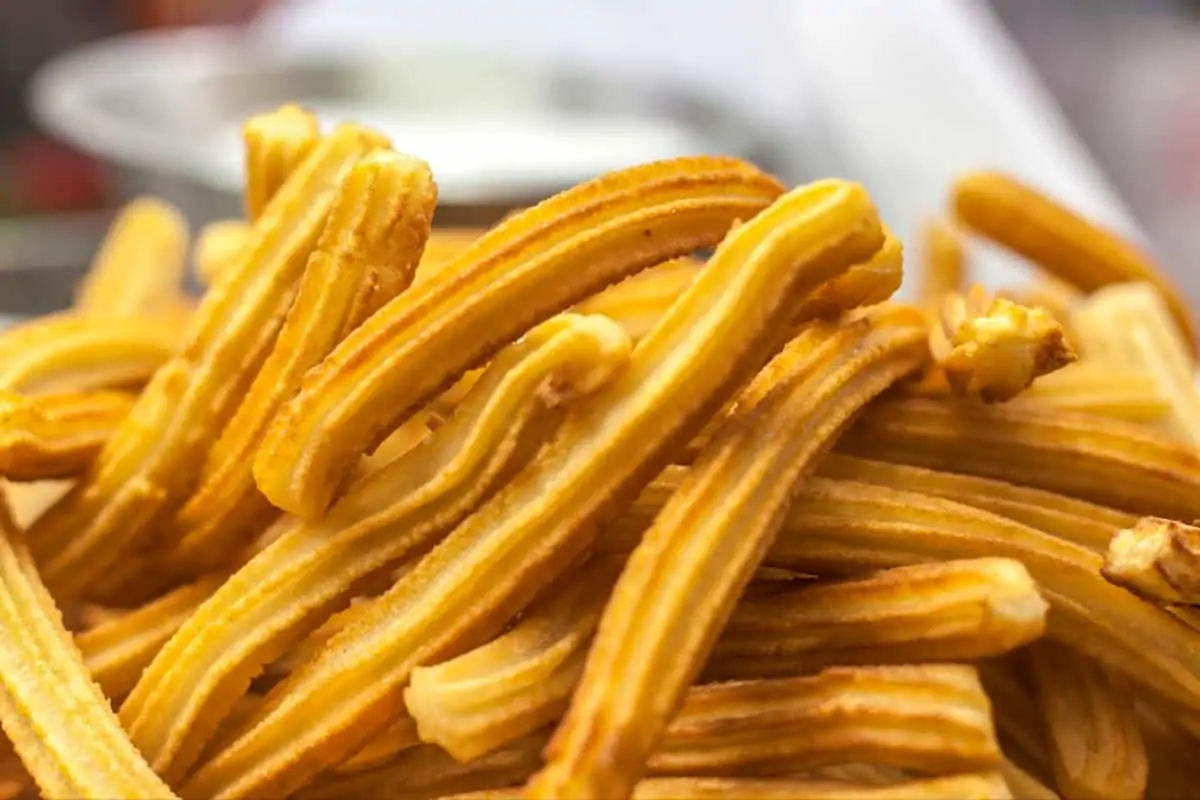 Spain's equivalent of doughnuts, churros, are famous throughout the world. They are commonly enjoyed for breakfast or for the Spanish afternoon snack called the merienda, and are sold at cafes, churros bars, and from street vendor carts. Traditional Spanish churros come in a variety of shapes and sizes, the most common being a loop or a stick.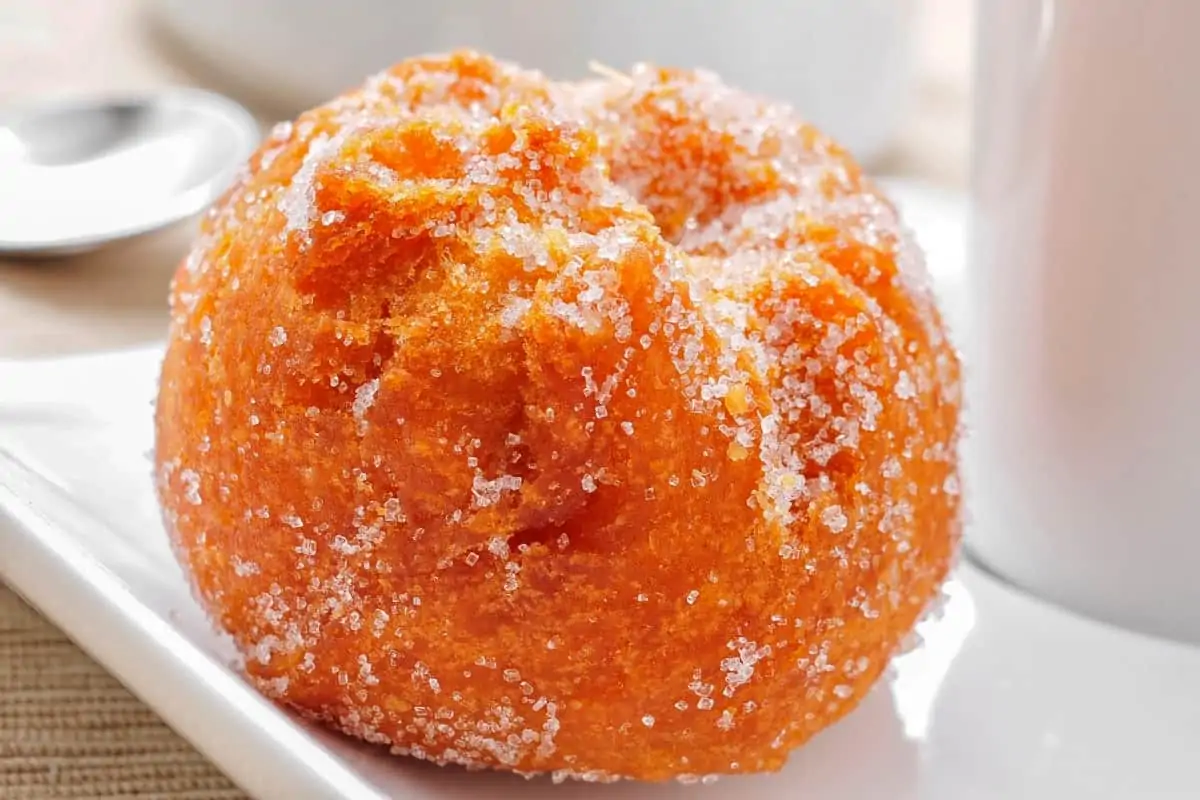 Meaning 'light-as-air fritters' in Spanish, buñuelos are light, fluffy, and they melt in your mouth. They are perfect for an afternoon snack and are commonly served as dessert with Spanish meals.
Buñuelos are a lightly fried egg and flour dough with a hint of lemon zest. After frying, they're dusted with powdered sugar to create an irresistible, bite-sized dessert.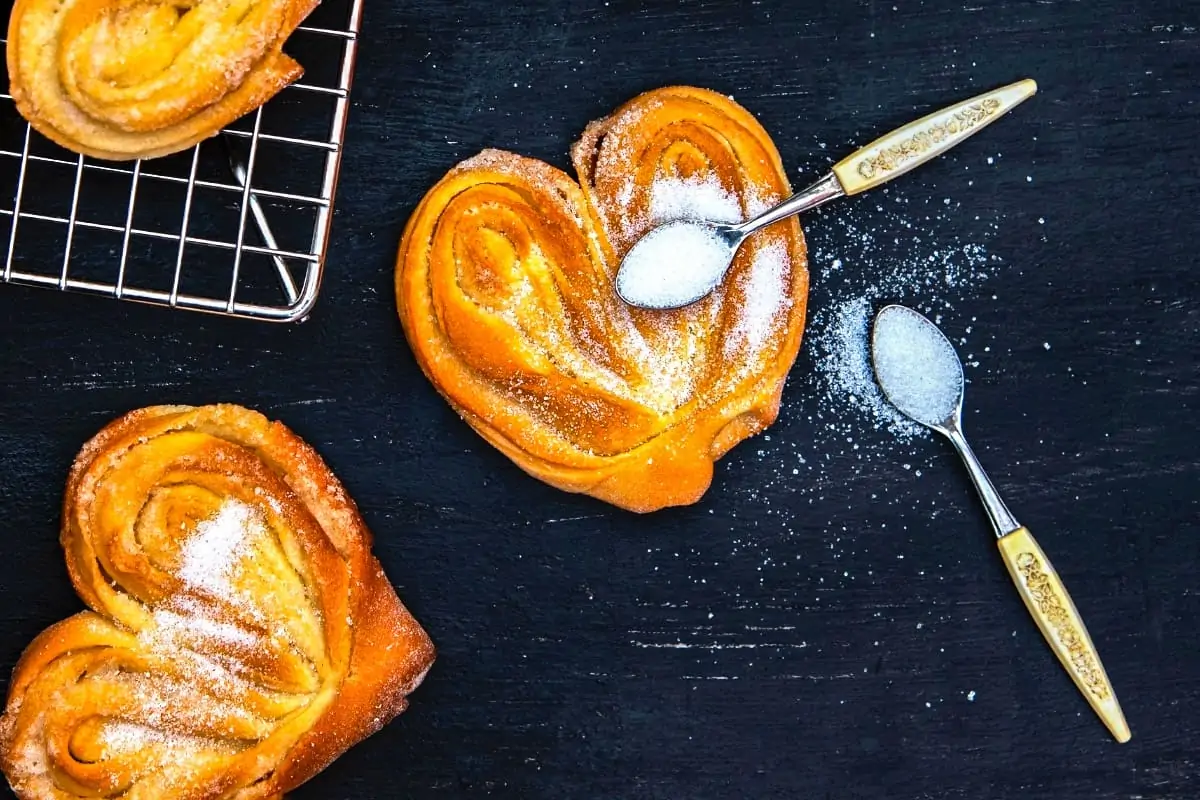 The most incredible part of this worldwide recipe is how easy it is. Three ingredients + 15 minutes: delicious cinnamon and sugar puff pastry palmiers. So, keep in mind that this recipe is for lazy cookers that want something yummilicious without all the stress.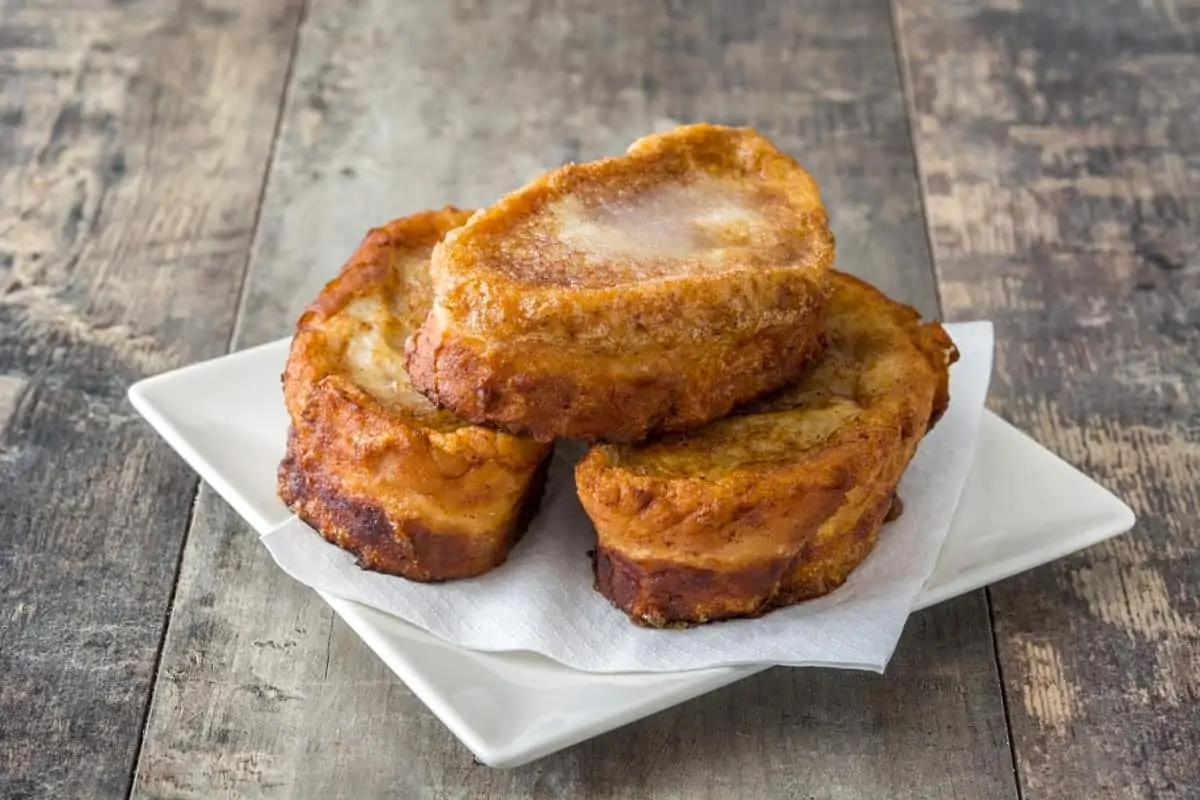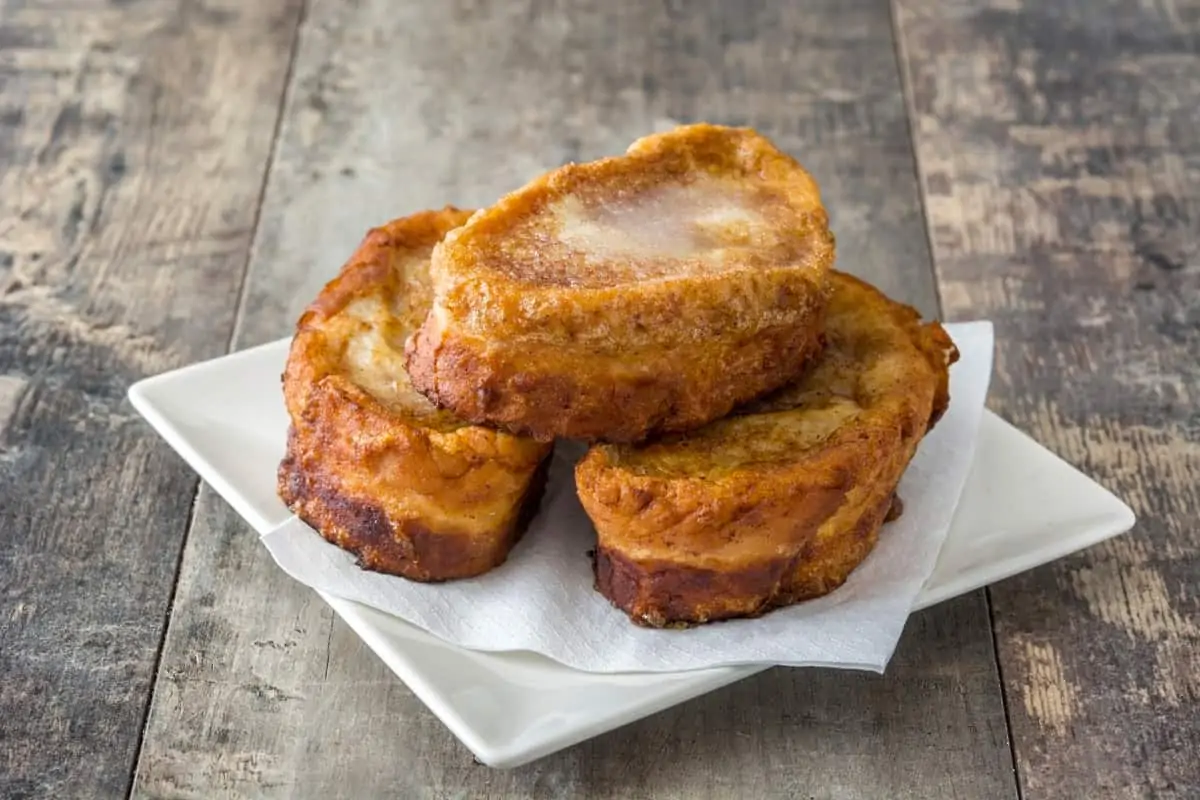 Torrijas are a very simple dish, quite similar to French toast and pain perdu, most often made by soaking slices of stale bread in sweetened milk, also flavoured with cinnamon or vanilla, then bathed in beaten egg, fried in oil and sprinkled with a mixture of sugar and powdered cinnamon.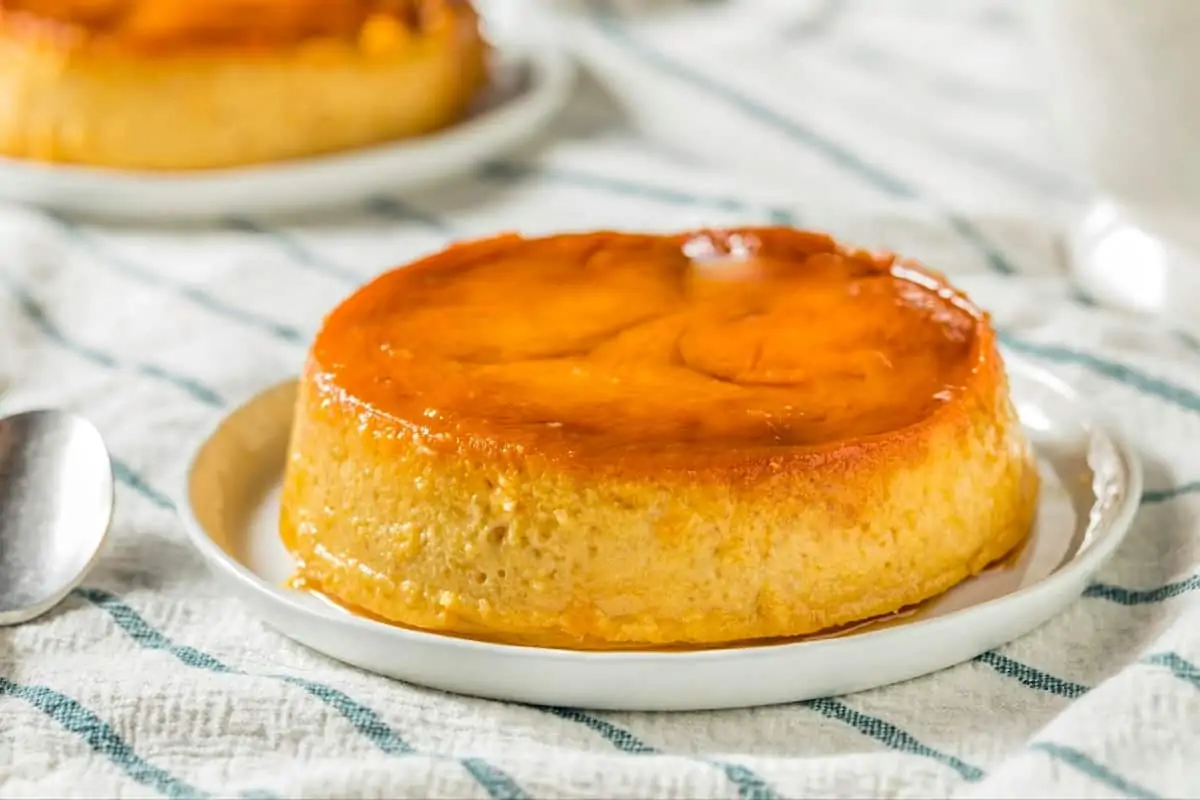 We make our flans the old fashioned way, honoring this ancient egg custard that has traveled continents and centuries eventually making its way to Latin America via Spain the 1500s. Flan's history dates back to ancient Rome.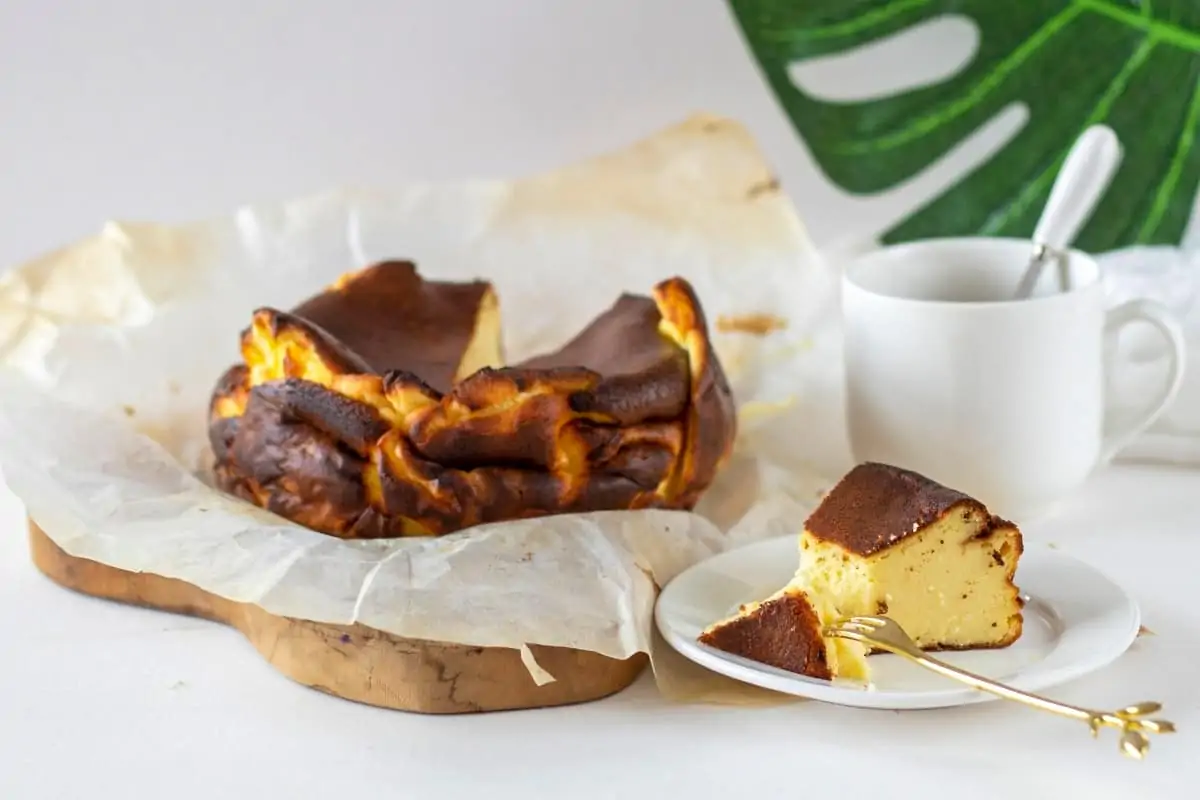 This "Burnt" Basque Cheesecake recipe (known here in Spain as 'tarta de queso') is uniquely light, creamy, delicious, caramelized, and so easy to make that it's nearly foolproof!
It's a stunning cheesecake that breaks all of the rules and is outrageously delicious. And best of all for home cooks, it's insanely easy to make with just a simple list of ingredients!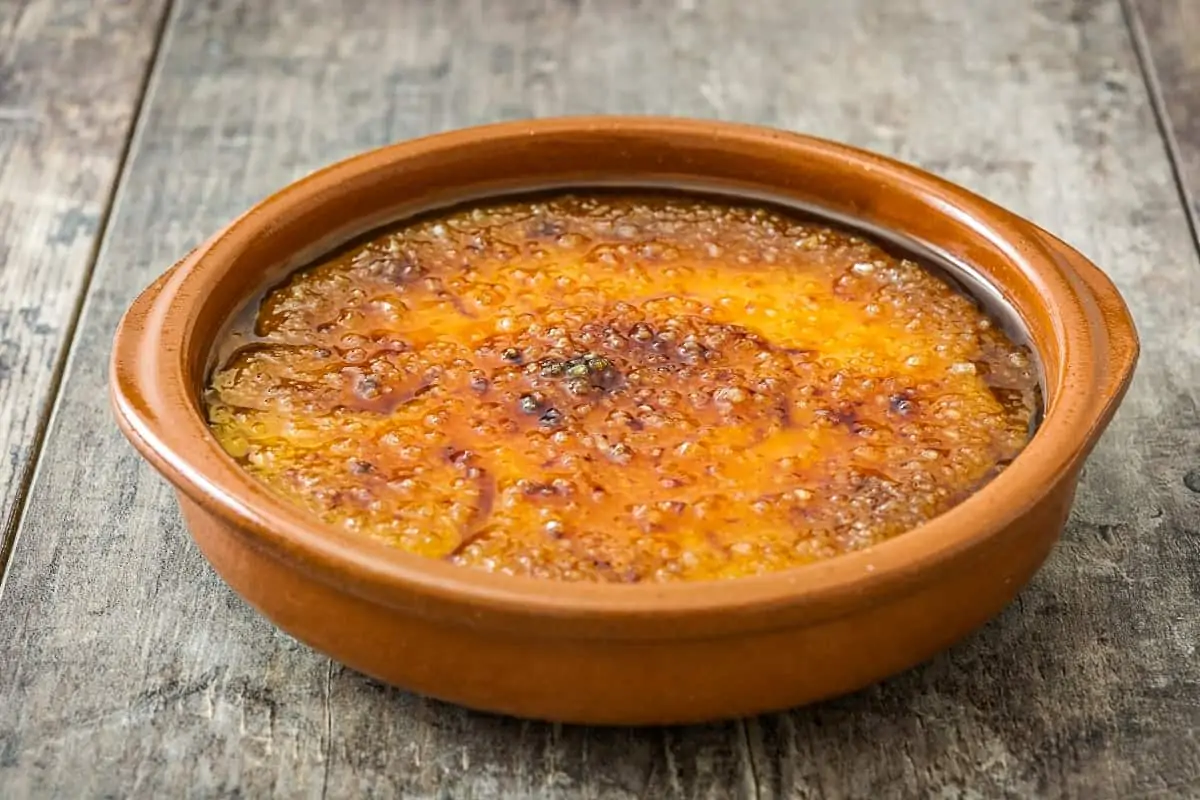 There is nothing better than ending a leisurely Spanish lunch with a Crema Catalana and a strong café solo. Never heard of this delicious Spanish dessert?
It turns out that making homemade Crema Catalana could not be easier. Apart from having to wait for the custard to chill, there's nothing difficult about it!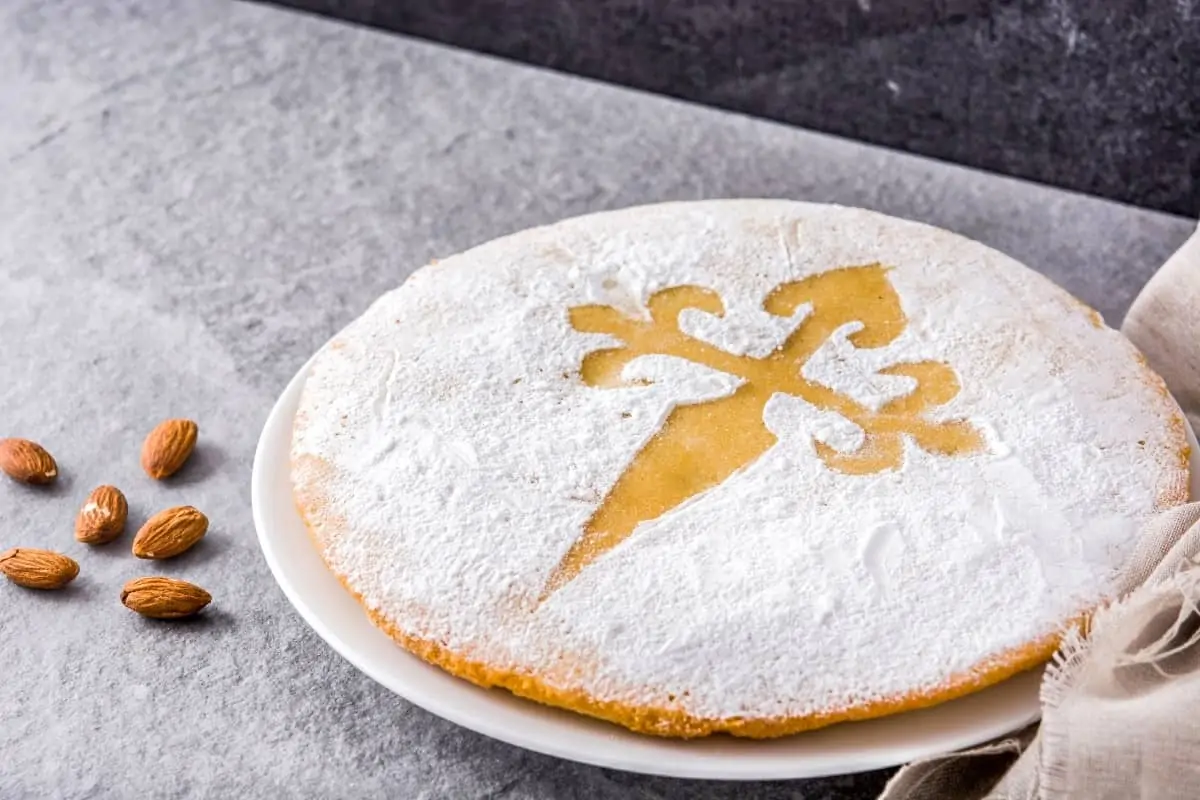 A traditional Spanish dessert that requires little effort to make, it is delicious. If you love almonds, this recipe is for you. The recipe is suitable for holidays, dinners in the family, or any other events when an easy dessert is required.
This cake is a classic traditional Spanish dessert created a long, long time ago. Traditionally, the cake is marked with the cross of the Knights of Santiago and makes a perfect dessert for the holidays.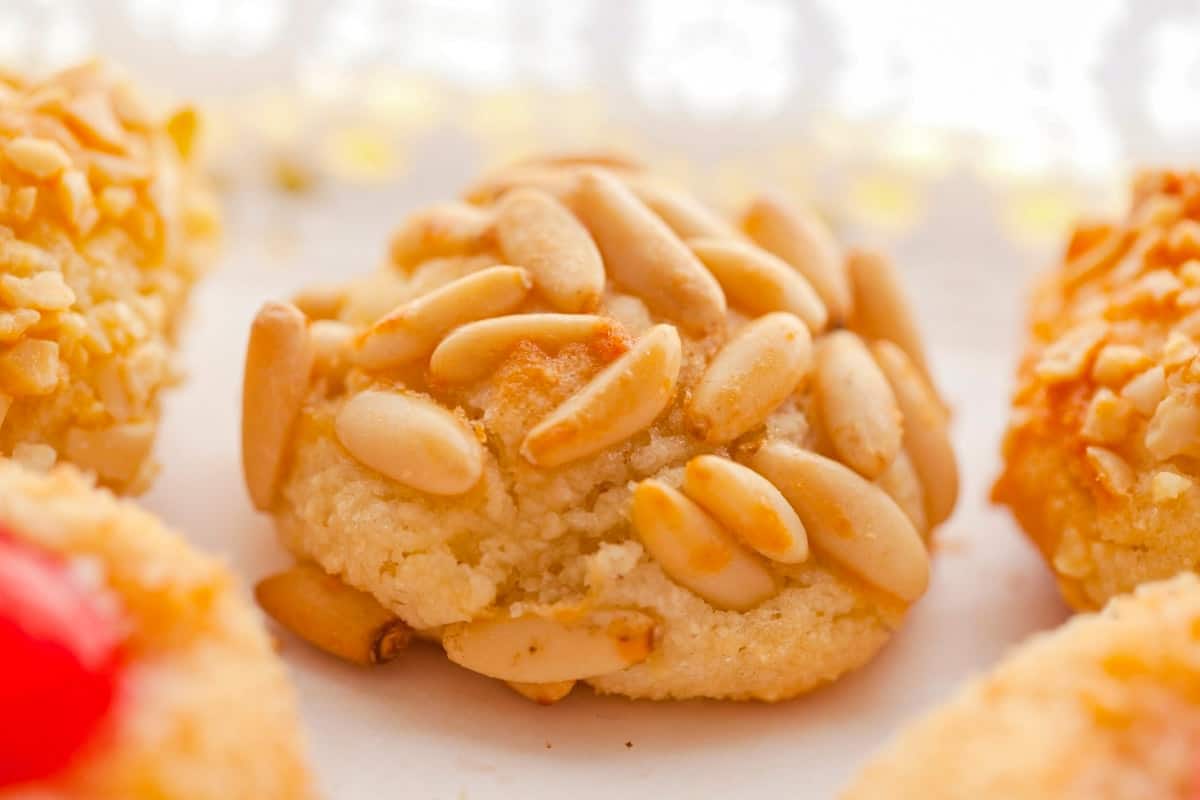 Panellets are bite-sized cookies made with almonds and sugar that are coated in pine nuts, cocoa powder, coconut flakes, or candied cherries.
They're soft and chewy, with a nice crunch from the nuts. As for the flavor, you'll get a combination of sweet, nutty, and chocolatey in one bite.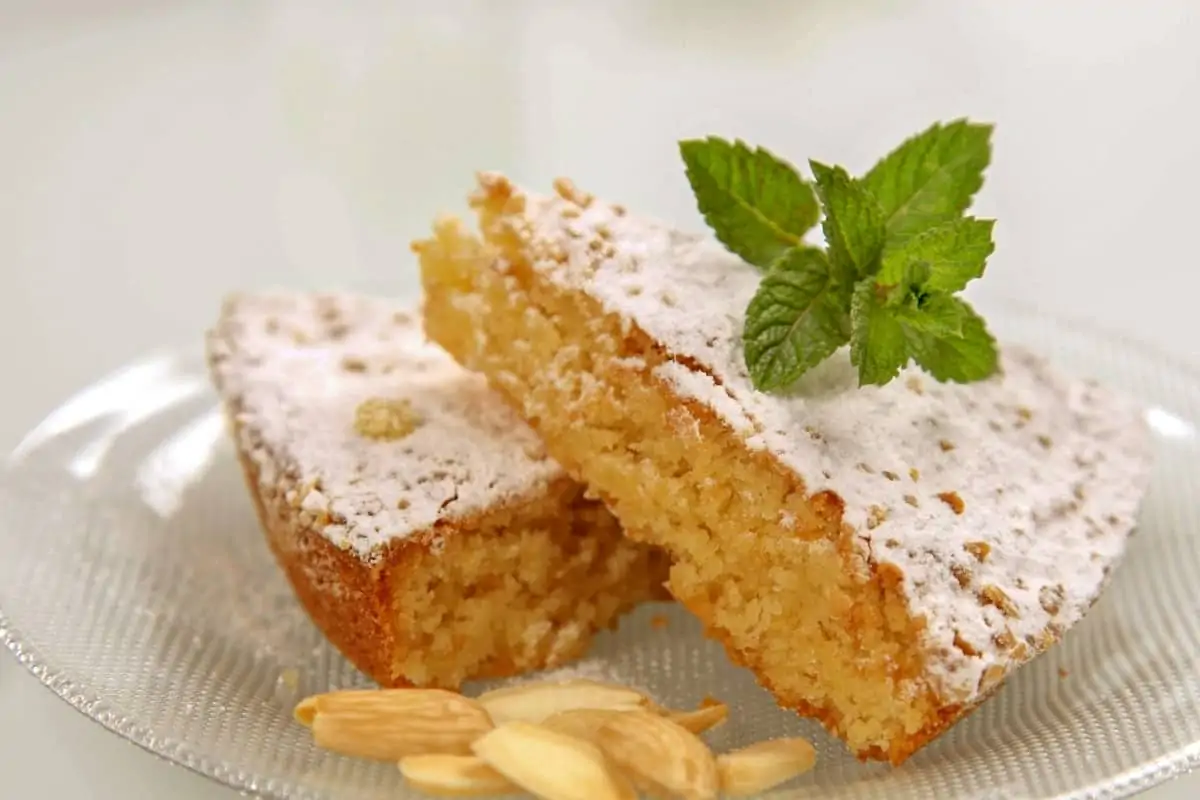 Spanish sponge cake is a moist olive oil cake infused with lemon and almonds. It's rich, flavorful, and super easy to make. The cake is finished off with a simple dusting of powdered sugar. But you can also top it with fresh fruit, sugar glaze, or chopped nuts.
The cake may be simple, but the combination of citrus and almond makes it uniquely delicious. %0AIt's perfect for dessert, but since it has such a good balance of flavors, it's also great for breakfast and merienda (afternoon snack).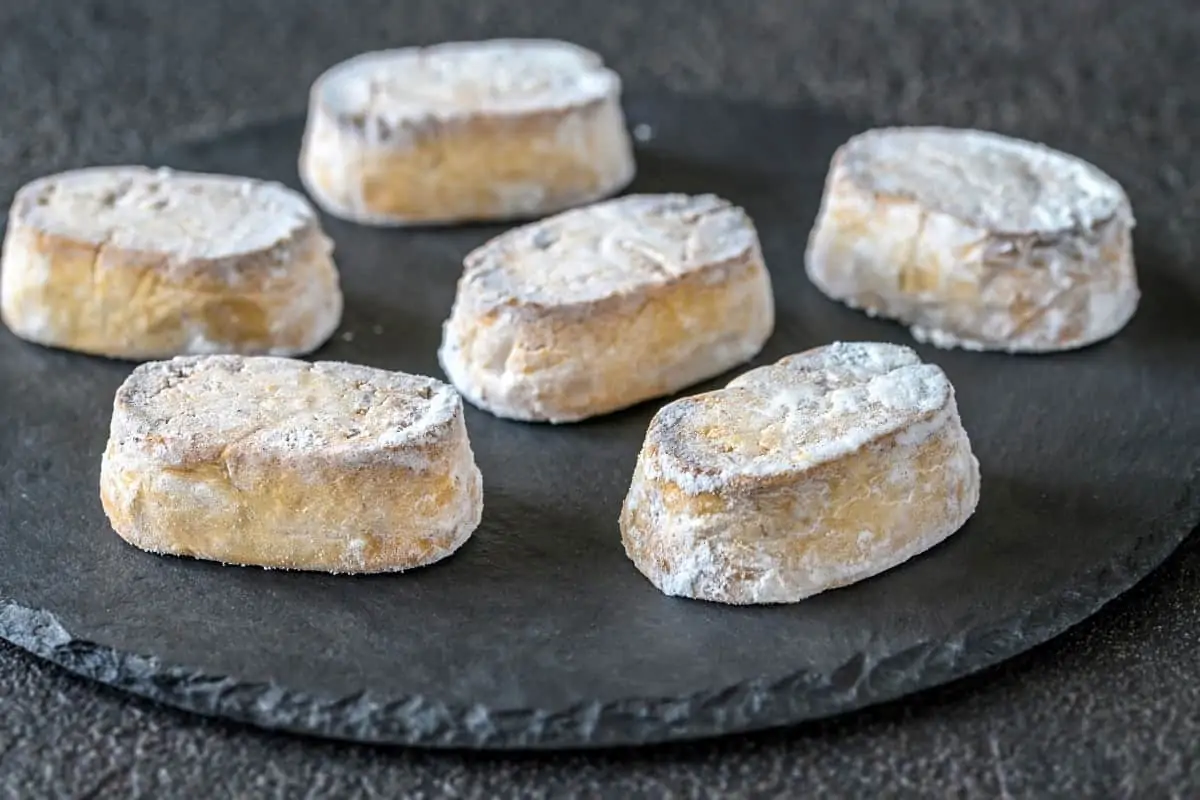 Polvoron is a unique and extraordinary cookie. The term is derived from the Spanish word "polvo," meaning dust or powder. It makes sense, because this treat is super powdery in the best way possible.
Polvoron is a crumbly cookie made with just 5 ingredients: flour, crushed almonds, butter, sugar, and cinnamon. These cookies are super rich and buttery. Then you bite into them, the cookies dissolve in your mouth into powdery crumbles. It really is an amazing experience!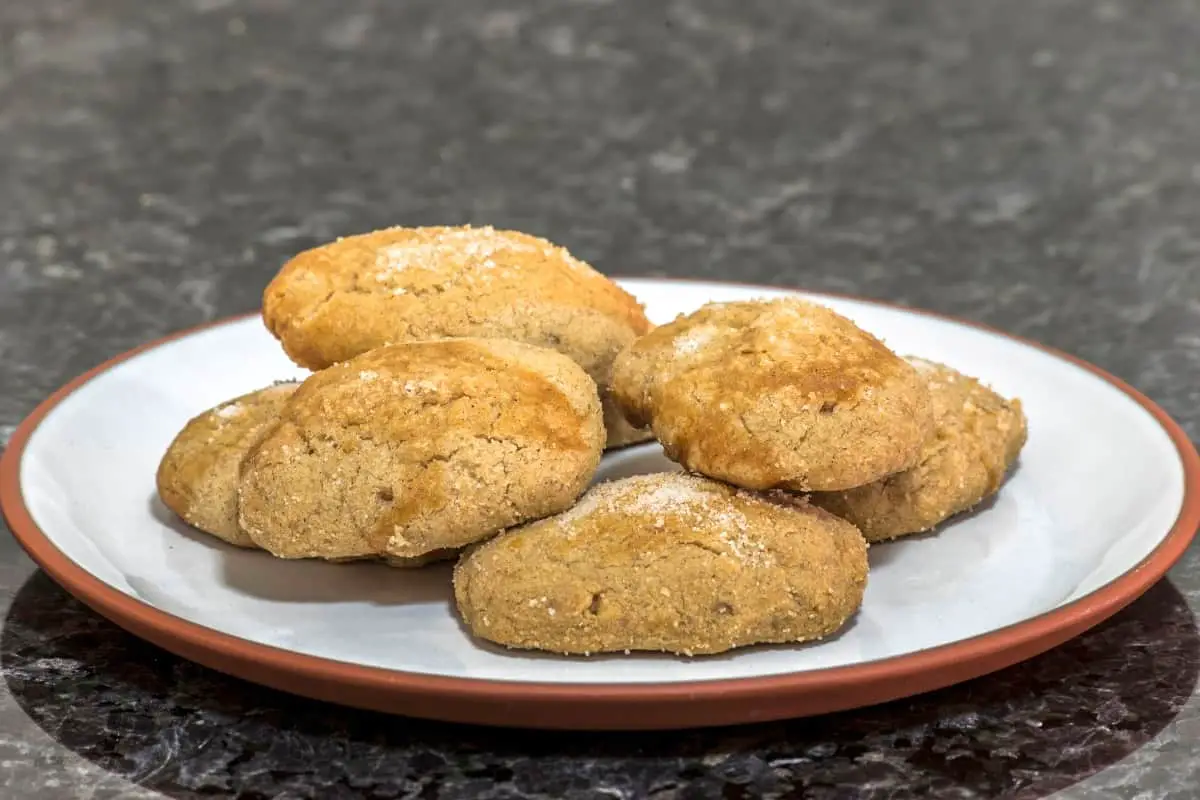 Perrunillas are another traditional Christmas biscuit. They're shortbread biscuits made with the basic ingredients of flour, water, sugar, and/or salt. As simple as the recipe may be, perrunillas are extremely tender, and they melt in your mouth.
The term perrunillas comes from the words "perruna" which means "tender," and the suffix "illa," meaning small. They may be small, but they're definitely big on flavor.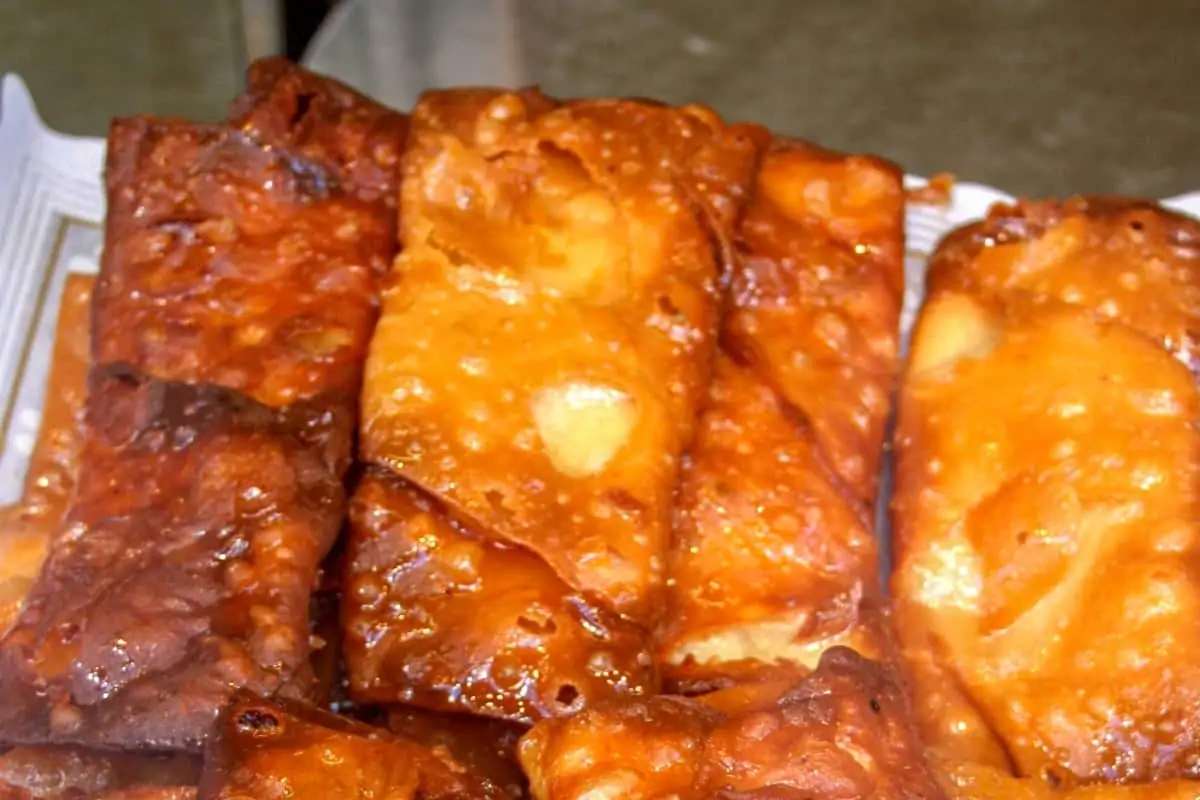 They're deep-fried dough dipped in honey or topped with sugar. They're wonderfully sweet, tender, and addictive. What makes them stand out among other fritters is that the dough itself is full of flavor! Nope, it's not just deep fried flour.
Rather, it's flavored with anise, orange, cloves, and cinnamon. Plus, it's also fried in olive oil, making it even more irresistible.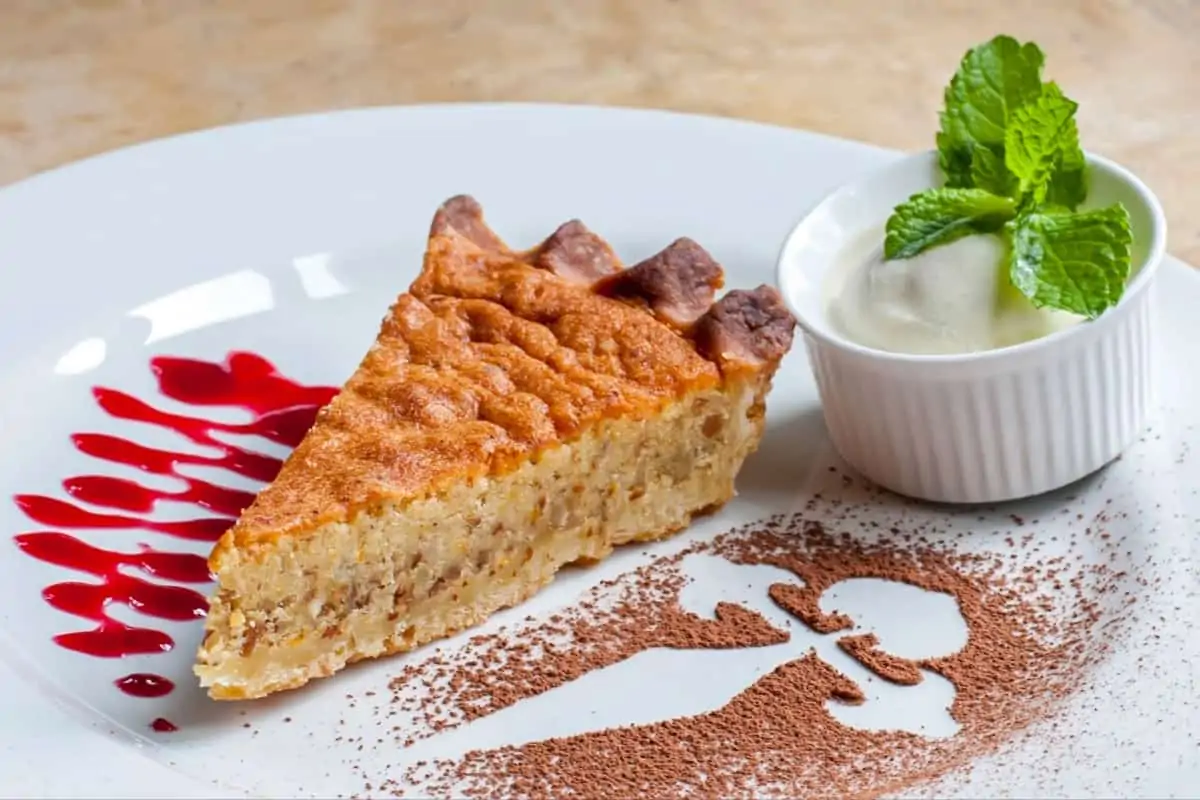 Técula mécula is a sweet pie made with almonds and egg yolks. The traditional treat originated in Extremadura, in western Spain. Interestingly, the term tecula mecula is actually an Arabic phrase that means, "for you, for me." I'm not sure if I'm willing to share this pie with anyone, though!
It's also called the imperial almond tart because it was the favorite dessert of Emperor Charles V. This pie is ultra-rich and creamy. The ground almonds give it such a distinct nutty flavor.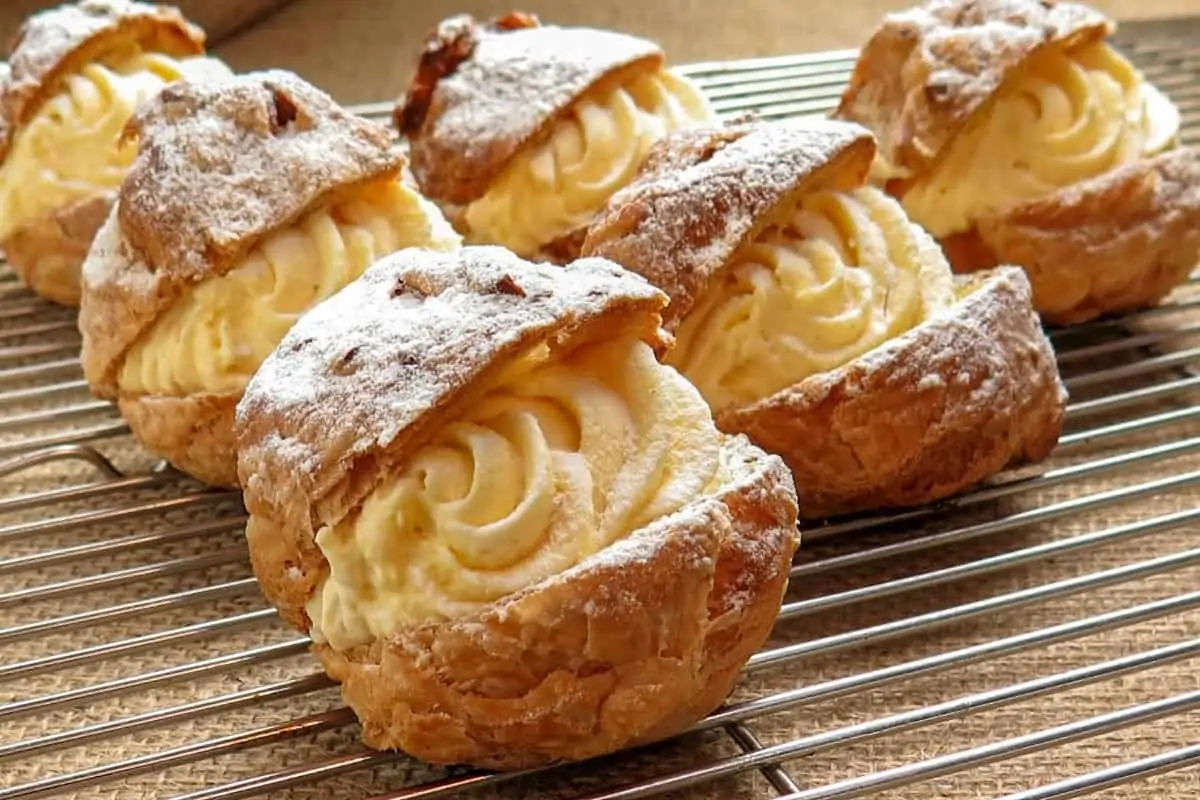 Pantxineta is another custardy dessert, this time hailing from Basque. It's made with layers of puff pastry, pastry cream, and roasted almonds. Sounds amazing, doesn't it?
It may seem too complicated to whip up, too, but it really isn't. In fact, it's one of the easiest Spanish desserts to make! You basically just stuff two sheets of puff pastry with custard cream, coat them in chopped nuts and powdered sugar, and devour!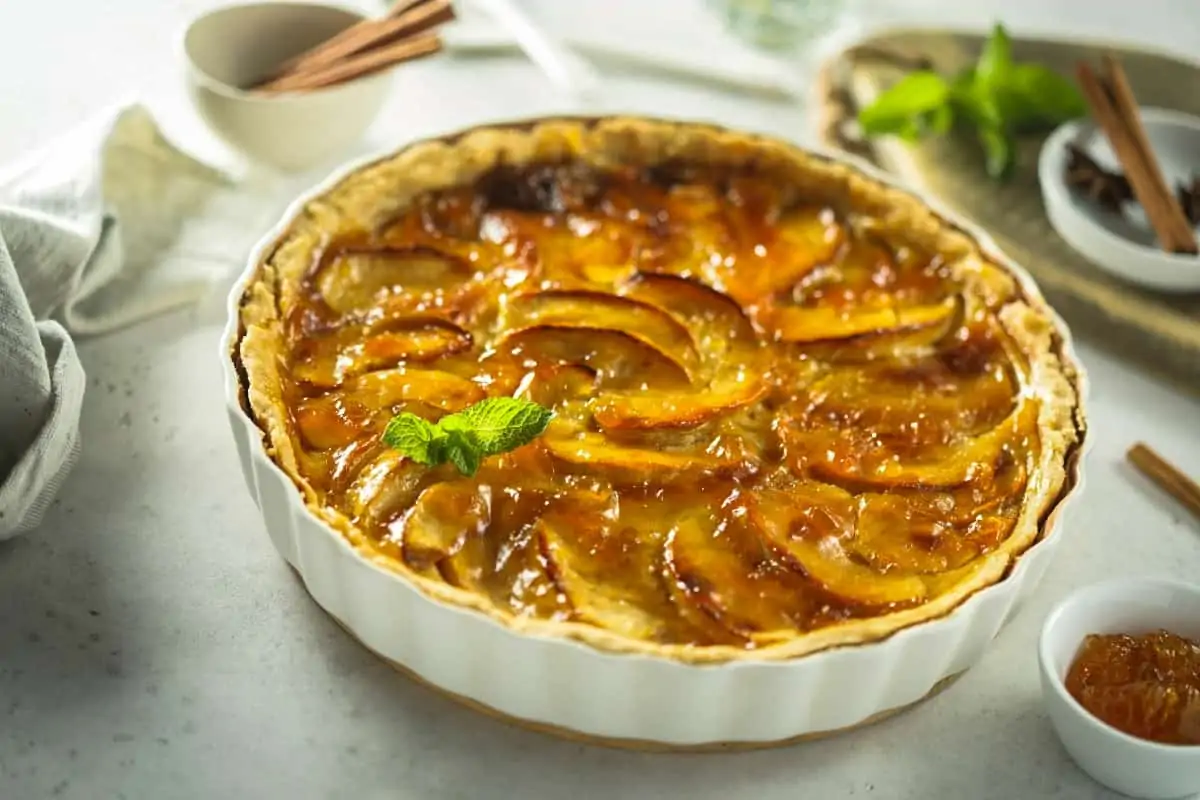 Tarta de Manzana Casera is basically an apple pie, but with a special twist. For starters, the crust isn't your typical butter and flour mixture. Rather, it's made with ground walnuts, pecans, dates, and cinnamon! Talk about flavor.
The filling is a combination of apples, apricot jam, and cinnamon. It's then sealed with a second layer of irresistible crust and baked to perfection.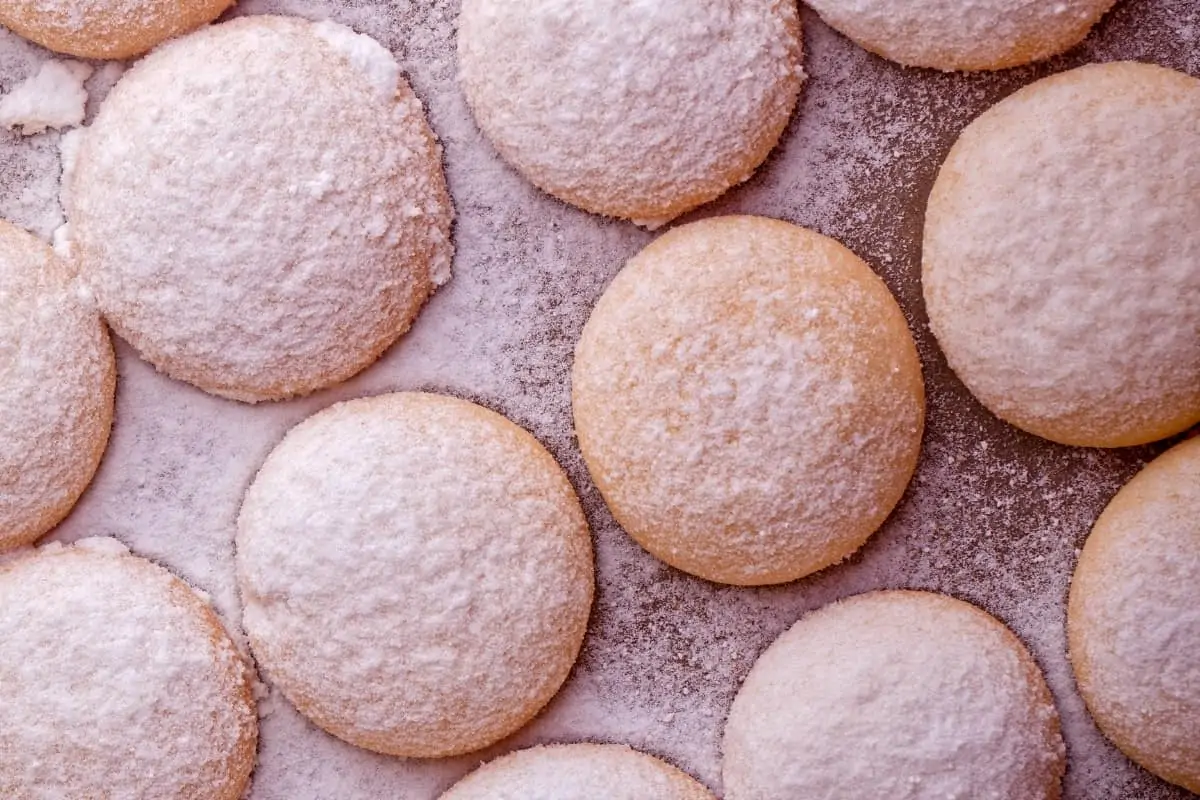 Pastissets are powdered sugar cookies made with flour, butter, egg yolks, lard, sugar, cinnamon, and lemon peel. The dough is formed into various shapes and dusted with powdered sugar after baking.
These cookies may look simple, but they're truly extraordinary. They're wonderfully sweet, zesty, and buttery! What makes them extra special, though, is their consistency. They're so ridiculously soft and tender, they melt in your mouth!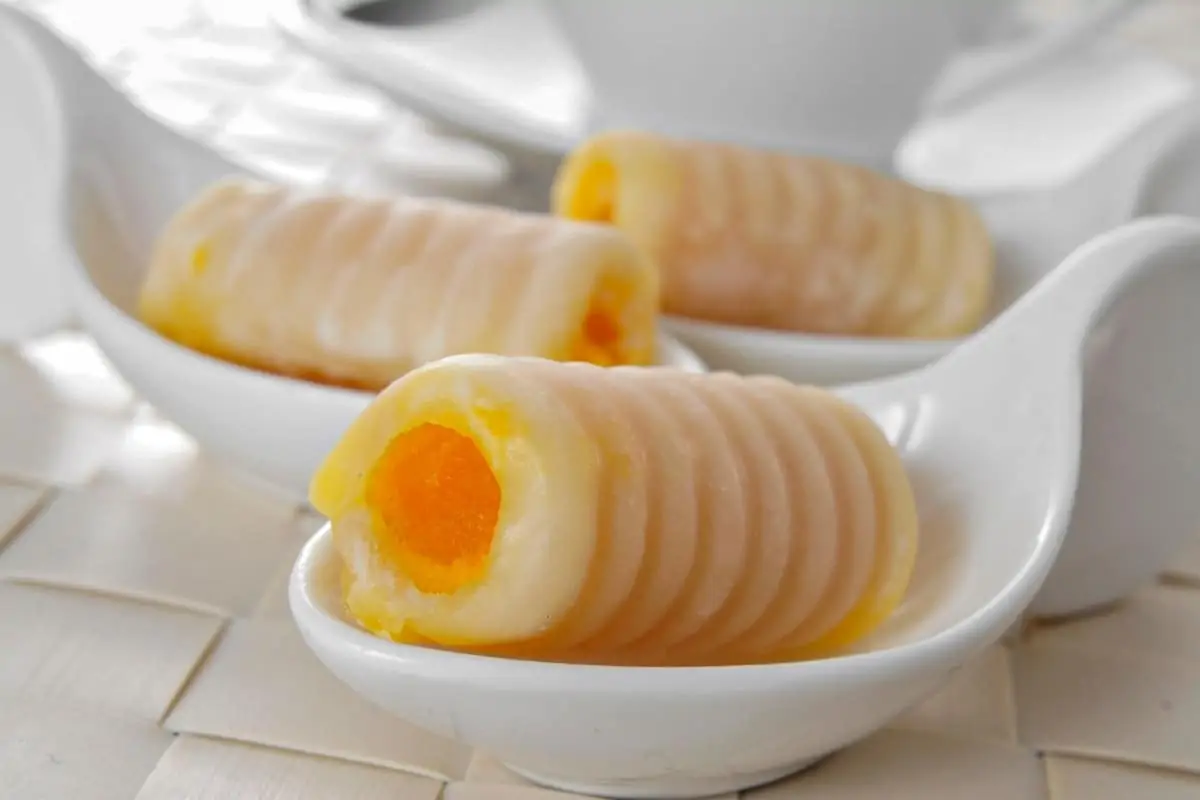 Huesos de Santo is a popular dessert served during All Saints' Day. It is called such for its strange yet charming presentation: white cylinders resembling hollow bones stuffed with yellow custard.
The bone is made with marzipan paste, which is a combination of ground almonds and sugar. The filling is made with egg yolk and sugar.
---
You May Want to Join Our Boondocking Group on Facebook For More Information
You May Want to Join Our Campfire Recipes Group on Facebook For More Information
For More Photos Visit Our Instagram at World Recipes Daily – Our Big Escape