We found 25 authentic Ukrainian recipes to follow, or modernize as you please. Ukrainian food is homestyle cooking at its finest. If you love comfort food, you'll have to try authentic Ukrainian food! The dishes encapsulate generations worth of traditions founded by hard-working people.
When it comes to Ukrainian food this country is one of the most diverse places on earth. Known as the Breadbasket of Europe, Ukrainian food feeds millions of people around the region and the world. It is no stretch of the imagination to think of Ukraine as one of the best food places on earth. Today you will learn more about this great nation and the Ukrainian food that is created there.
Ukrainian food is unique and diverse. Many authentic Ukrainian recipes that are prepared in this large European nation go through a complex heating process. First, the ingredients are either fried or boiled, and later they are slowly stewed. This cooking process provides both flavor and texture to authentic Ukrainian recipes.
Five Most Popular Ukrainian Dishes
Now that you have learned about the traditional ways that people prepare Ukrainian food, let's learn about some of the most popular dishes that people enjoy. Below are five of the most popular authentic Ukrainian recipes.
1. Banosh
Banosh is a dish that is normally cooked over an open fire. This delicious dish is a corn porridge that was first prepared in the Carpathian Mountains. This dish is a mixture of corn flour, cheese, and sour cream. Banosh is found all over the country and is often topped with bacon and mushrooms.
2. Kutia
Kutia is a grain pudding that has a rich sweet flavor. The pudding is made from a mixture of wheat, honey, berries, raisins, nuts, and poppy seeds. It is traditionally served during the Christmas holidays and can be found in other countries around Europe.
3. Borscht
Most people from Ukraine will probably tell you that Borscht is the most popular Ukrainian recipe. Borscht is a colorful soup made from a hearty combination of bone broth, fermented beet juice, vegetables, and meat. It is great for your overall health and can help aid digestion.
4. Chicken Kyiv
Chicken Kyiv is probably the most well-known authentic Ukrainian recipes outside of the nation. This meal consists of a boneless chicken breast that is rolled in herb butter, breaded, and then fried. It is a yummy dish that will melt in your mouth.
5. Bublik
Bublik is a baked good that is very similar to a bagel. It is made from a yeast bun that is poached in water before baking. It is coated with poppy seeds, sesame seeds, and sugar. It is a savory but sweet treat that many people enjoy.
The Ukrainians Love Soup and Stews
Soups are a major part of traditional Ukrainian food. These slow-cooked meals are hearty and often contain a variety of vegetables. Soups and stews cooked in Ukraine can contain vegetables like cucumbers, beets, carrots, cabbage, garlic, tomatoes, and more.
When you visit Ukraine, you will notice a lot of stews on the menu. Stews that are prepared in this breadbasket nation are slow-cooked for hours before being served. Many authentic Ukrainian recipes add meat to the stews to provide protein. Some of the meats you will find in Ukrainian stews include beef, fish, pork, and seafood.
Baked Goods Are A Staple of The Ukrainian Diet
Baked goods are also very popular in Ukraine, and you can find them in shops, restaurants, and even on street vendor carts. Bread is a common baked good in the country but many of these baked goods come with a twist. In Ukraine, people like to put all different types of ingredients inside baked goods. You will find bread with fruit filling, vegetables, and even meat. This makes Ukrainian baked goods very different from others.
FAQ's About Ukrainian Food
What Is Traditional Ukrainian Food?
Traditional Ukrainian food is a blend of different dishes often cooked at home. Stews, soups, and baked goods are all authentic Ukrainian recipes people enjoy.
What Is A Traditional Ukrainian Breakfast?
Many people that live in Ukraine eat cereals for breakfast. A bowl of rice, boiled buckwheat, or oats are common breakfast time meals in this large European country.
What Is the Most Popular Ukrainian Dish?
The two most popular Ukrainian recipes are Banosh and Borscht. Both dishes can be found all over Ukraine and many other parts of Europe.
Is Ukrainian Food Spicy?
Most Ukrainian food is not spicy. However, you may find some dishes that use hot spices to add flavor.
Is Ukrainian Food the Same as Russian Food?
While many Russian dishes share the same ingredients as Ukrainian dishes, the two are not the same. Ukrainian food is very unique and is often much older than Russian recipes.
Our Top 25 Authentic Ukrainian Recipes
---
---
10 Easy Ukrainian Main Course Recipes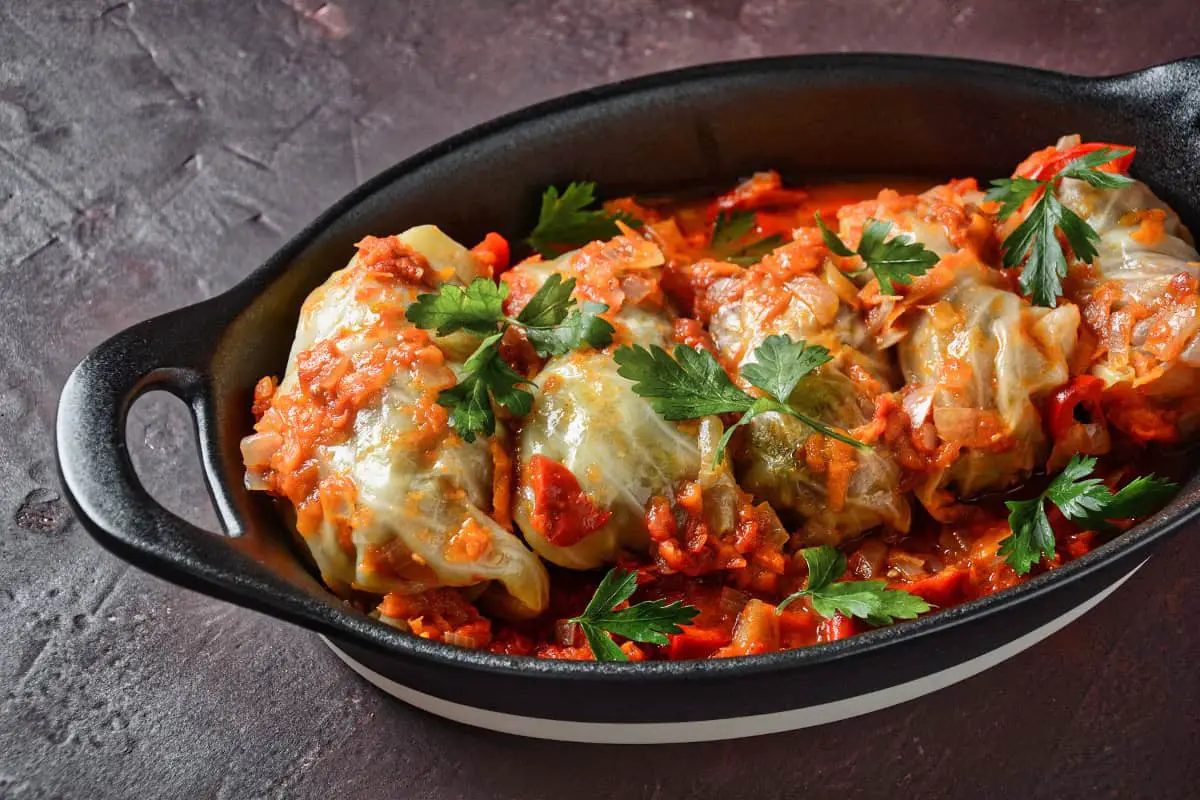 Holubsti is an authentic Ukrainian recipe of a stuffed cabbage dish that's full of savory ground beef, white rice, and veggies smothered in tomato sauce. Although meat is not a requirement, it makes these very filling. The stuffing and rolling process take quite the effort, so don't expect a quick meal. What you can expect, however, is a hearty dish that tastes like it came straight from grandma's kitchen.
Ukrainian Holubtsi or Stuffed Cabbage Rolls are a labor of love, and the epitome of an ultimate comfort food meal. If you are now, or ever have been, intimidated by how daunting the task of preparing Holubtsi at home appears, fear not because the process is a whole lot easier than you might think.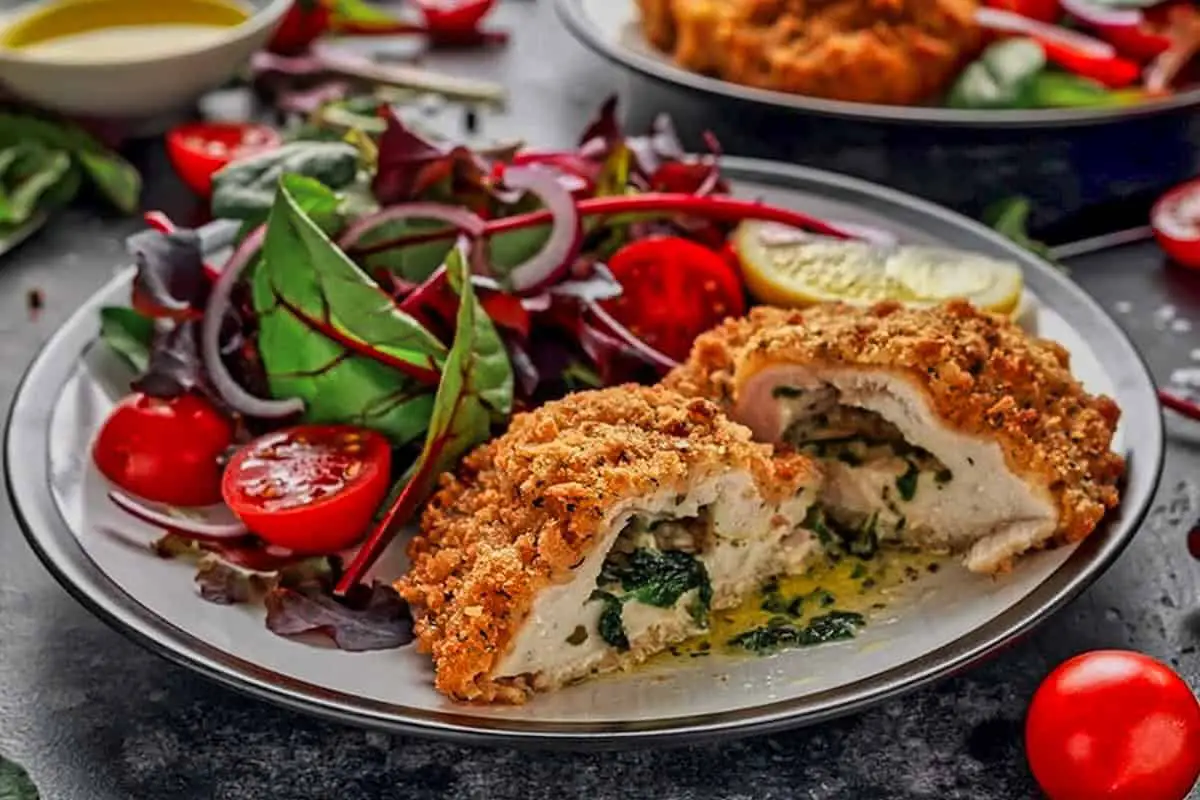 Chicken Kiev (kotlety po-kievski) recipe with seasoned butter rolled up in breaded chicken breasts. The dish is considered Ukrainian in origin and the name of it comes from the name of the capital of Ukraine, Kiev. This can be one of the greatest chicken experiences of your life.
Although the modern recipe calls for cold herb butter and boneless chicken breast, it used to be made with more stuffing and bone-in chicken. Despite its popularity in Ukraine and many other countries, no one knows where Chicken Kiev originated or how it earned its name. It peaked in popularity near the 1970s, but with the development of nouvelle cuisine in the late 1980s, it swiftly faded from favor.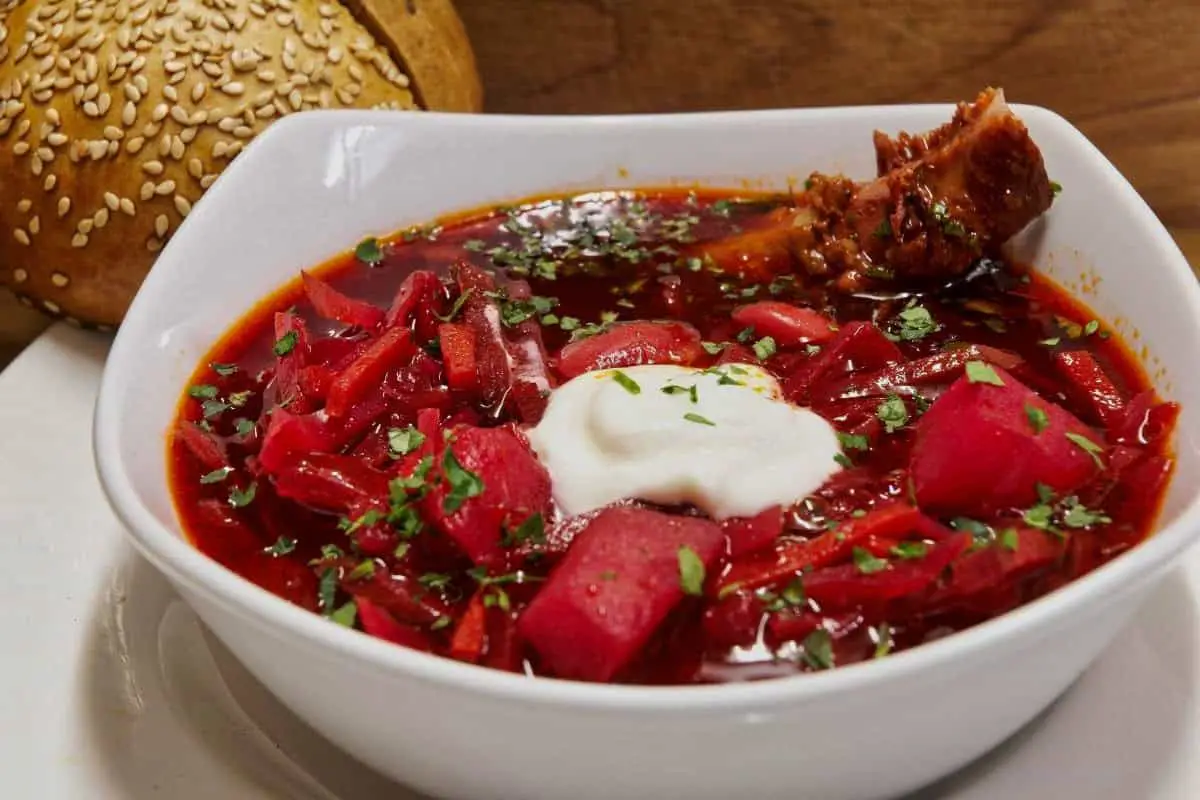 Borscht is one of the most popular dishes you'll find in Ukraine. It's a rich and complex beef stew that has a unique flavor. Building these layers doesn't come quick. It takes time to do it right, but it's nothing a beginner can't handle. One of the most important steps is to make the stock by simmering the pork ribs until tender.
Have you ever tasted real authentic Ukrainian recipe for Borscht? A hearty soup made of beef or pork stock, beets, cabbage and potatoes. If not, here is an authentic recipe that my mother and grandmother used throughout my childhood. Despite most people associating this recipe with Russia, borscht, or as it is properly pronounced borsch, is actually Ukrainian. Yes, there is no 't' at the end of the word. I know…mind blown!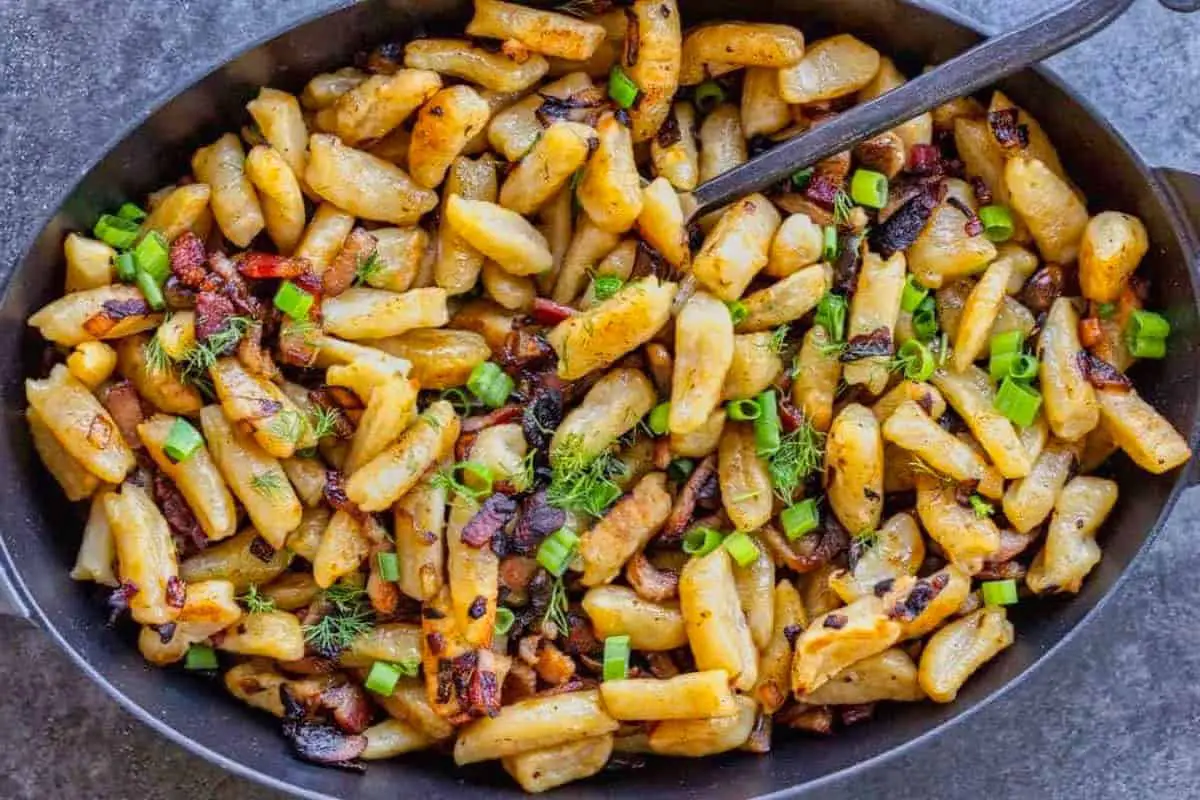 This traditional Ukrainian Halushki recipe consists of tender dumplings tossed with crispy bacon, sautéed mushrooms, & crispy onions. Eastern European comfort food! In Ukraine, these dumplings are treated much like Italian gnocchi. They can be tossed with a variety of different sauces and toppings and represent the best characteristics of Ukrainian food – simple, affordable, and heart-warming.
If you love dumplings as much as I do, then you won't be able to stop raving about this dish. Each tender dumpling is like a little pillow of heaven. You'll enhance their flavor and texture with mushrooms, bacon, and a healthy dose of butter. Hand rolling the dumplings is a fun activity the kids will love as they bond with you and their food.
---
You Might Also Try You May Also Like: 30 Classic Bosnian Food & Easy Recipes To Follow
---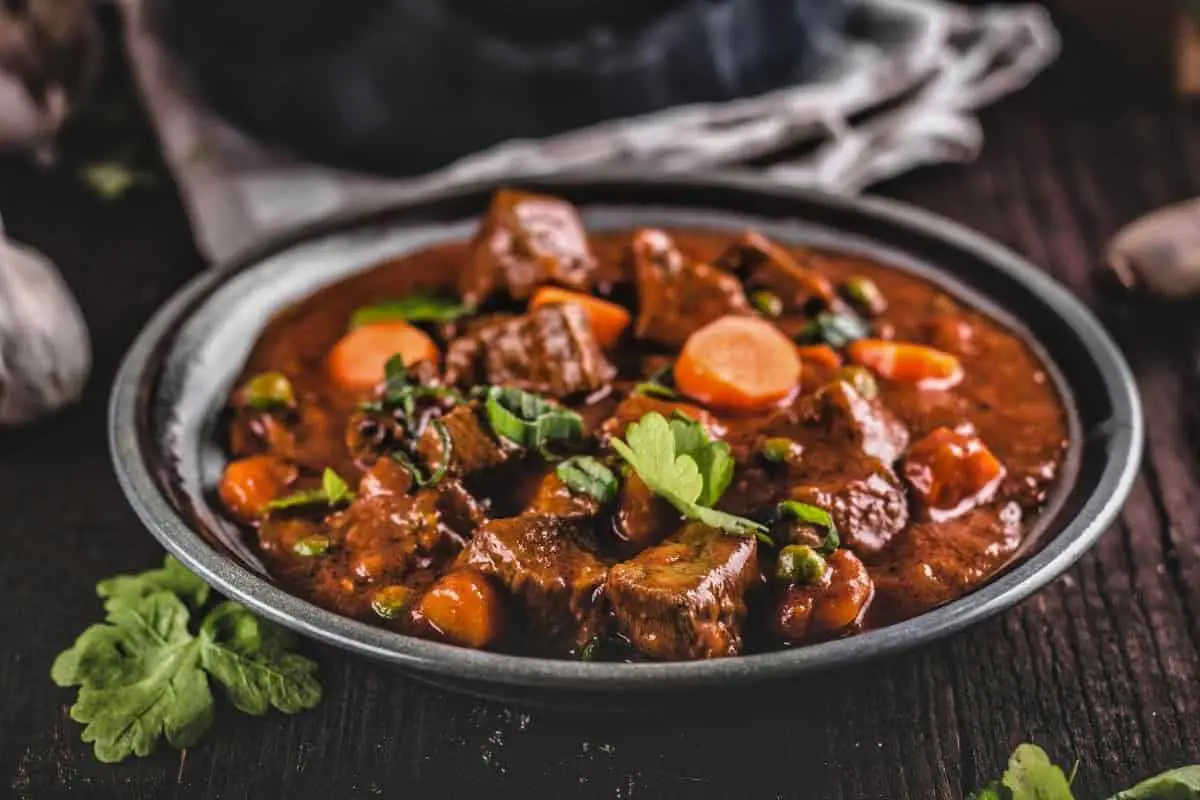 Stewed Beef & Potatoes is an authentic Ukrainian recipe. With so much savory flavor, this dish is the epitome of comfort food. The ingredients are so simple, you probably have them on hand.
Serve your braised potatoes with the classics. Pickled veggies (any will go great!), cabbage salad and tomato and cucumbers salad are some of my family's favorite pairings. Oh, and don't forget a big hunk of crusty bread to sop up all those juices…
Tender, fall-apart pork slow braised with a hearty mushroom gravy and served over creamy mashed potatoes. Pork is the most popular meat choice in Ukraine and can be found in many recipes. This incredible braised pork is extra hearty and delicious for any day of the week.
You'll love this hearty and delicious Ukrainian comfort food of braised pork shoulder with creamy mashed potatoes from the very first bite! The pork shoulder is slowly braised with an aromatic mushroom and carrot sauce and is so tender! The creamy sauce is made with ketchup and sour cream, a staple ingredient in Ukraine. And the buttery potatoes are the perfect complement for this pork dinner dish! It's Ukrainian food at its best!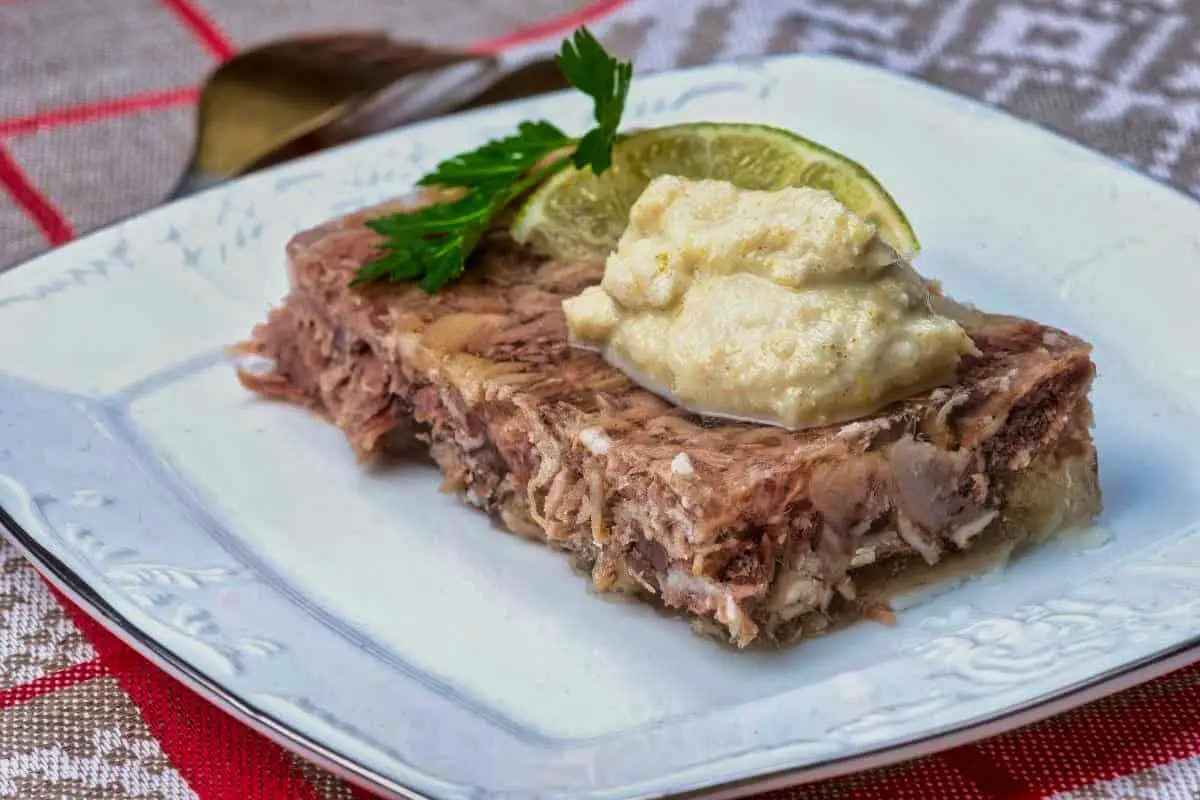 Kholodets or Meat Aspic is an authentic Ukrainian recipe that is served with spicy horseradish and beet sauce. Both terms refer to a meat dish that is made of meat that's surrounded by flavorful gelatinized stock. Molded aspics used to be very popular in the 1950s but have now long been forgotten about. Not in Eastern Europe though. Many Eastern European countries like Russia and Ukraine still serve this popular dish, especially around major holidays. Not only is it delicious, but it's also good for you!
While the idea may sound strange, I call on you to be adventurous and try it at least once. So, what does it taste like? Aspic is served cold, but once it hits your mouth you're left with tender meat chunks that are now surrounded by a flavorful bone broth that melts from the heat of your mouth. Combine it with some spicy beet horseradish relish and good crusty bread and you've got a true Ukrainian treat!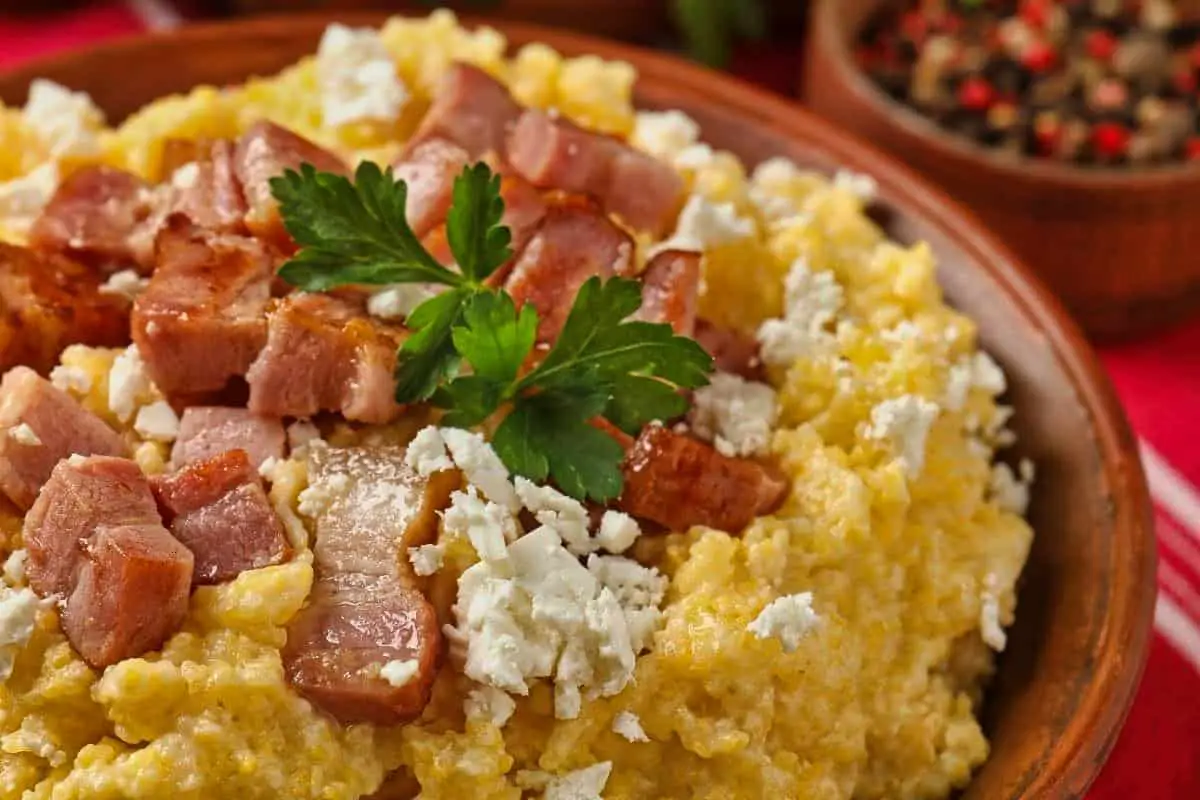 This silky Ukrainian food of corn porridge is not only a widely enjoyed dish across Ukraine, but it is also an essential part of the traditional cuisine of this nation. Originating in the Carpathian mountains, Banush was once linked with the Hutsul minority, with males being assigned to make the meal. This traditional Hutsul dish is made using maize flour and sour cream. Sometimes, it is elevated with toppings like fried bacon pieces, crispy cracklings, mushroom sauce, and crumbled Bryndza.
This simple yet delicious dish consists of cooked cornmeal (polenta) with additions like pork fatback (a.k.a. salo), fried onions and mushrooms, and sheep's milk cheese. I have to admit, I don't often have sheep's milk cheese on hand, so this version is simple, but I think it does have the same flavors from that banush I tried many years ago.
---
You Might Also Try You May Also Like: 25 Traditional Croatian Recipes and Foods
---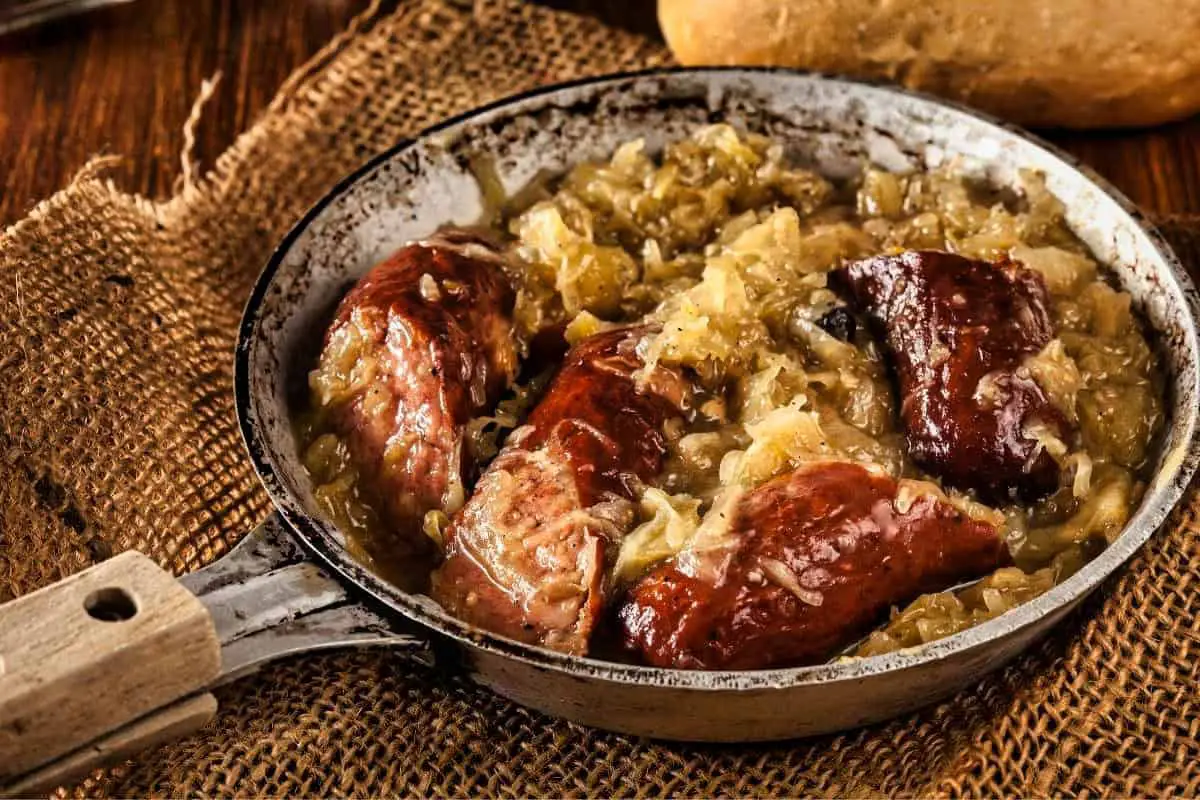 My mom's recipe for quick and easy braised cabbage stir-fry with sausage. It's a great dish for lunch or dinner! And, you can have this one-pan dish ready in no time at all! It's made with a combination of smoky sausage, cabbage, pepper, zucchini, carrots, onion, garlic, and dill. This authentic Ukrainian recipe for dinner is a favorite of mine! You can also add any of your favorite vegetables, and make it with pork, chicken, beef, or vegetarian without any sausage.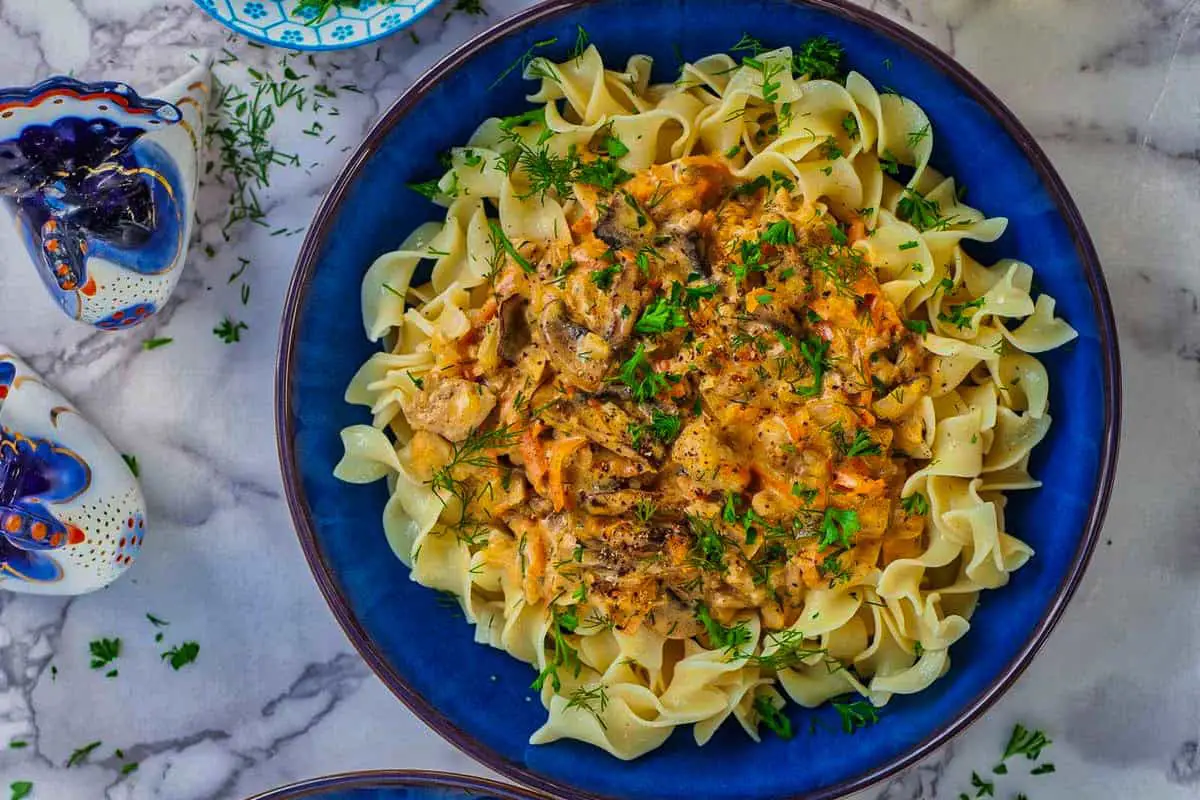 While beef stroganoff is super popular in Russian, this Ukrainian food version of stroganoff, made with ground pork, mushrooms and carrots is even more delicious! This easy, one-pan, budget-friendly recipe is a family favorite. It's super easy to make and comes together in no time, making it a great option for busy week days.
This easy, creamy mushroom and ground pork stroganoff is packed with flavor. It comes together in no time so it's perfect for busy days! It's made with ground pork, mushrooms, onion, carrots, and garlic, all combined in a creamy sauce and served over egg noodles. This classic, Eastern European and Ukrainian dish was a staple in our home growing up and I still enjoy it to this day in my kitchen!
10 Amazing Ukrainian Side Dishes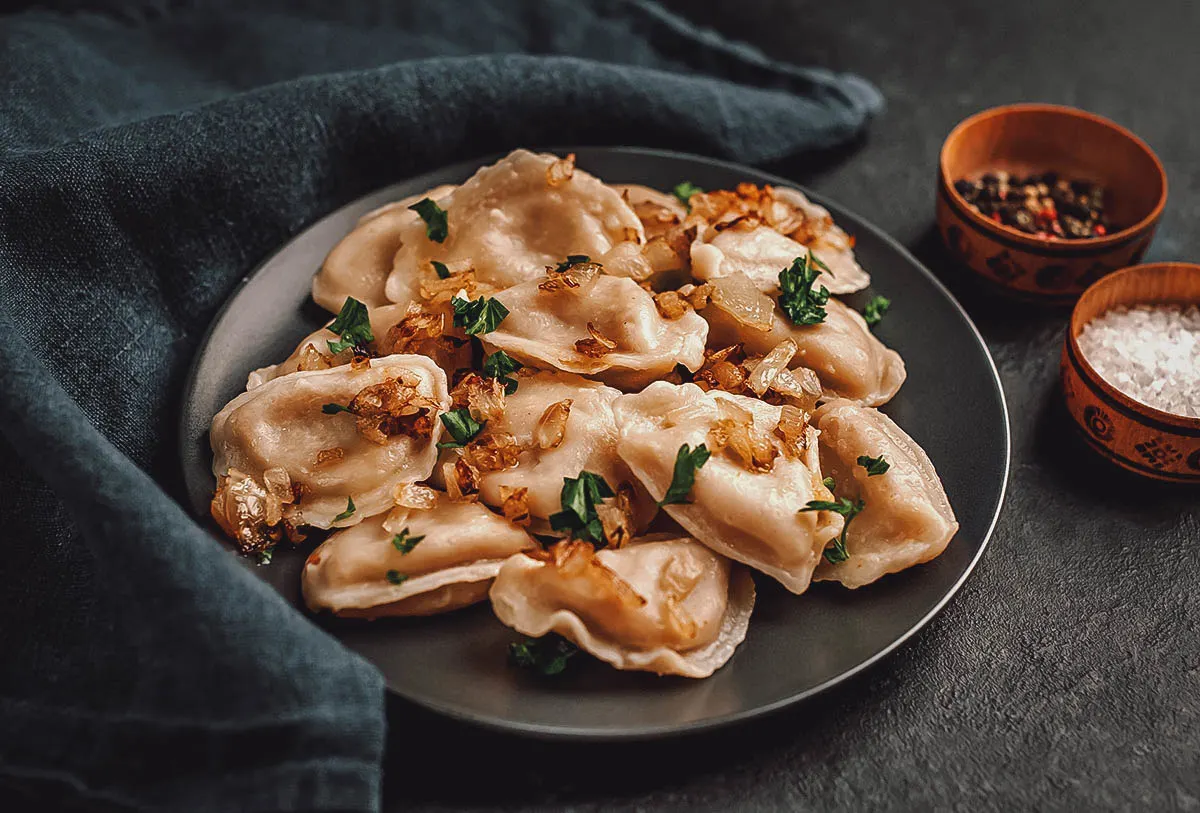 Dumplings are an important part of many cuisines and with this stuffed dumpling being a national dish of Ukraine, the Varenik is no exception. They are stuffed Ukrainian dumplings filled with a variety of ingredients like potatoes, ground meat, sautéed cabbage, mushrooms, and cheese.
There are all kinds of filling: sauerkraut, potatoes, buckwheat + cottage cheese, potato + mushrooms, sweet cottage cheese, sour cottage cheese, sugared cherries, blueberries, rhubarb, and plenty more. The dumplings are typically formed into half-moon shapes before being boiled and served with Smetana (sour cream). Ukrainians love sour cream and always eat it with Varenyky.
Varenyky are such an important part of authentic Ukrainian recipes that a festival is held in Bukovel every year to celebrate this beloved dumpling. To Ukrainians, the Varenik isn't just a national dish, it's a symbol of their culture.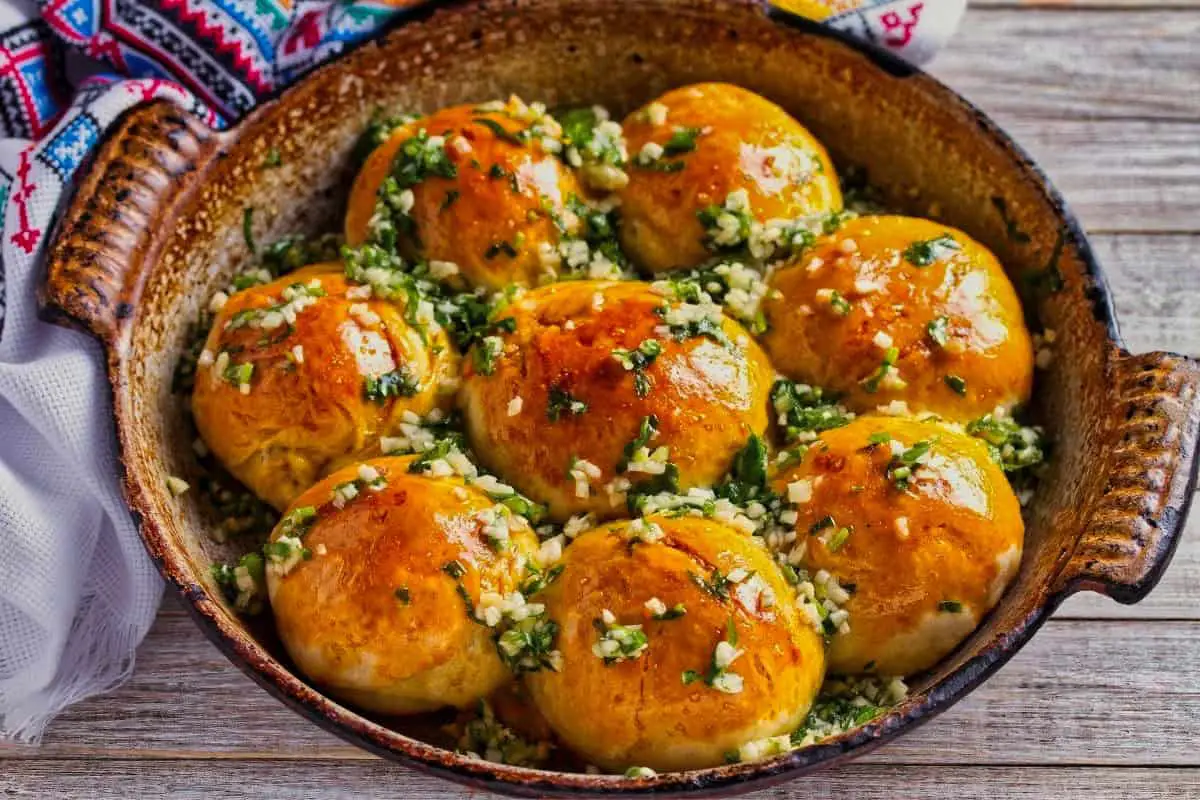 Pampushky is the epitome of garlic bread! With a soft pillow-y texture and flavorful garlic toppings, this Ukrainian food of garlic bread will surely make your mouth water. Soft yeast rolls are baked until golden and brushed with a garlic oil while still hot. Perfect for pairing with Borshcht.
These lovely yeasted buns from Ukraine come in both sweet and savory varieties. The sweet form is frequently loaded with jam, berries, cottage cheese, and fresh fruit, while the savory variant is usually seasoned with garlic sauce.
---
You Might Also Try You May Also Like: 33 Great Turkish Foods With Turkish Recipes
---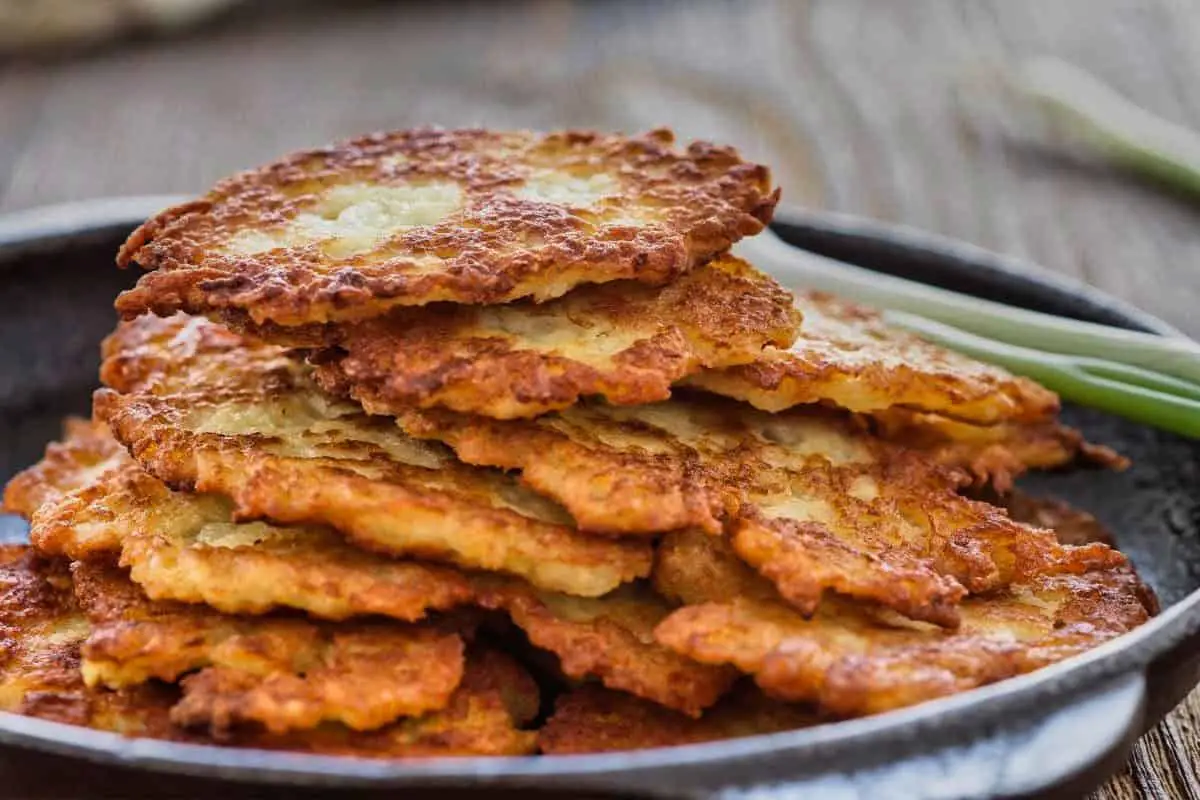 Ukraine has a plethora of yummy potato recipes and Deruny is a must for any spuds fan. Crispy on the outside and soft on the inside, this authentic Ukrainian recipe for Deruny is a type of potato pancake that gets topped off with sour cream. These pancakes are most commonly eaten for breakfast, but I could eat them any time of day.
These are classic Ukrainian Potato Pancakes also called Deruny. Serve for breakfast, as an appetizer or side dish. We always serve these with sour cream for the best flavor. An easy recipe that takes around 30 minutes for the whole process!
There are many varieties of potato pancakes that come with different names. In Ukraine they are prepared from finely grated potatoes and onions, along with eggs and salt. My mom always added a bit of baking soda as well to turn these into fluffy pancakes. These Ukrainian pancakes are called Deruny and are very popular among Ukrainian families.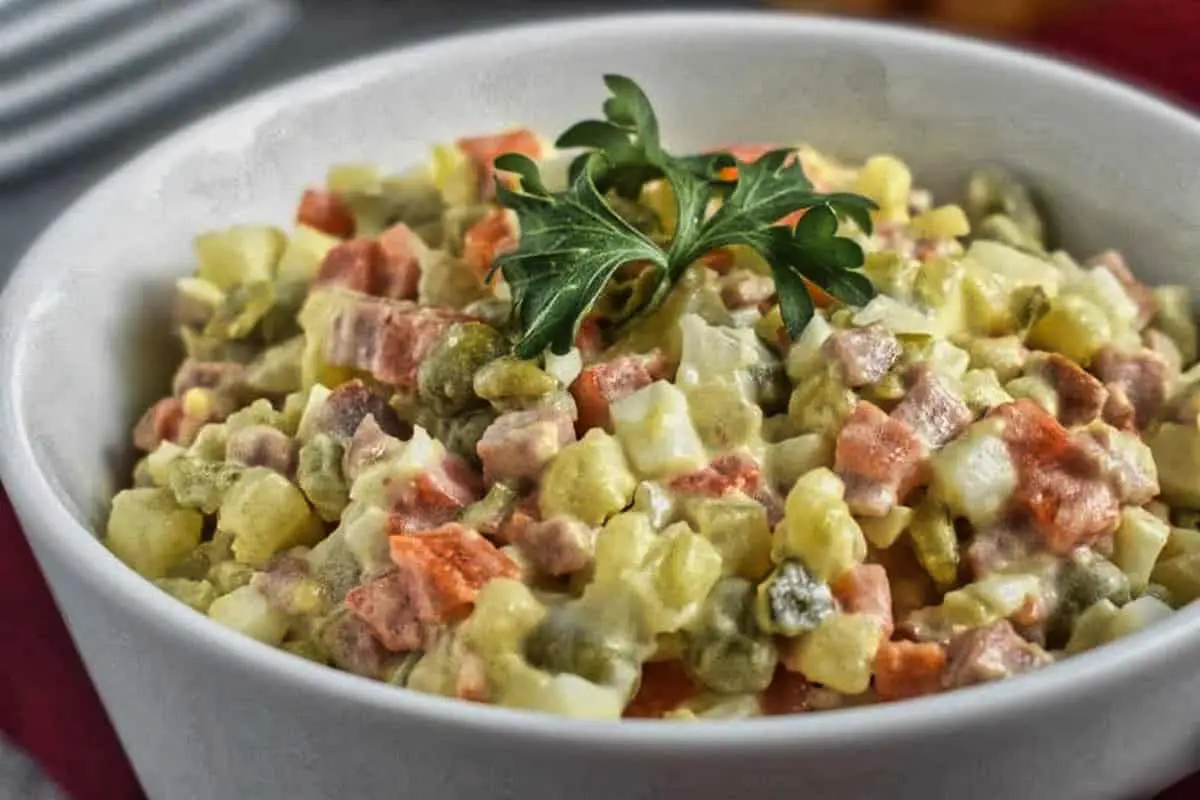 Olivye Salad is extremely popular among Ukrainian people. Everyone calls it the same, but each family has their own version of it that is passed down through generations. This Ukrainian food recipe is the way my family had always prepared it.
The main idea of this salad is to use potatoes, carrots, meat, eggs, pickles, onions and peas. A lot of times people add fresh cucumbers, frozen or fresh peas, canned corn and garnish with fresh greens for the elegant finish. This salad is always dressed into mayo to taste.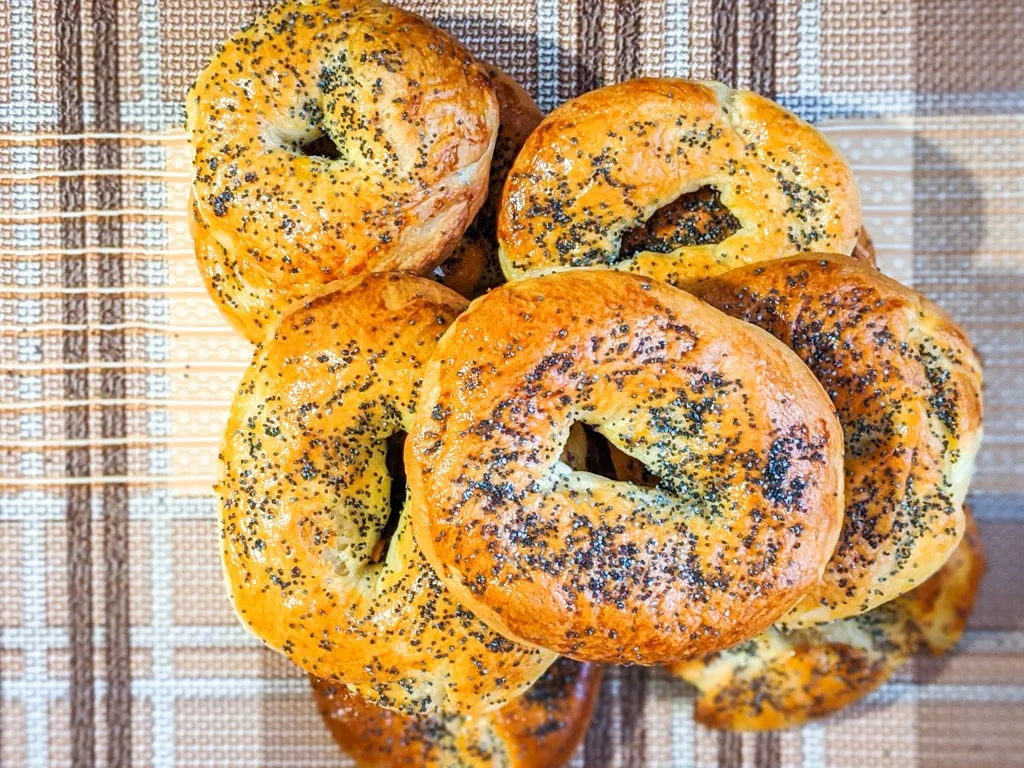 Bublik (pronounced boob-lick), or Bubliki for the plural, is the Ukrainian version of a bagel. In fact, there's very little difference in my opinion between the two. They are both yeasted bread rings that are boiled before baking, and commonly topped with sesame or poppy seeds.
Traditionally these bread rings are eaten as is, or with some jam or honey. In a sense this authentic Ukrainian recipe is kind of like a sweet treat with tea, and not considered a breakfast food.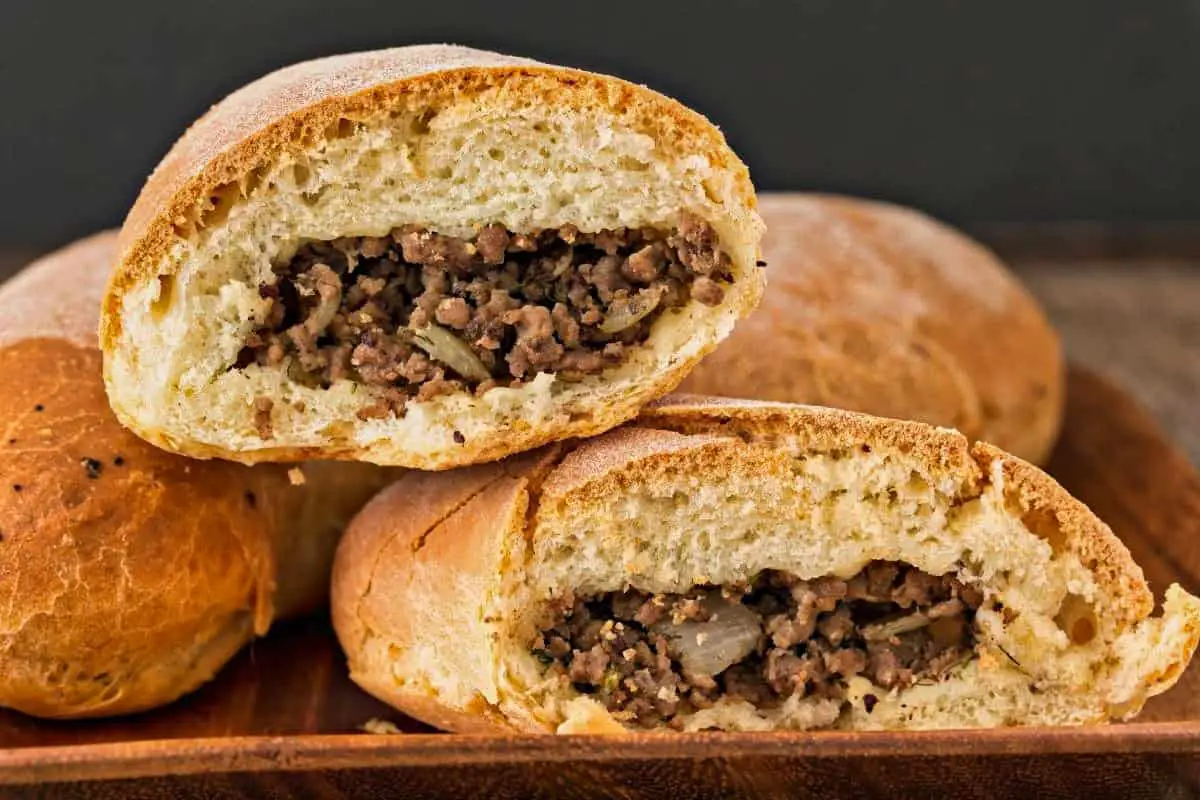 These are one of my favorites! Delicious beef and cheese filled piroshki – deep fried and fluffy with a juicy filling. Whenever I make these, they are gone in no time! Definitely a family favorite Ukrainian food! And the dough is extra soft and fluffy!
These beef & cheese Piroshki are simply amazing! Soft yeast dough is filled with beef, mozzarella, cheddar and onion, then baked to golden perfection! To make the filling extra juicy, I recommend using 85% lean ground beef. This recipe will work well with ground turkey or pork! And, you can prepare these two ways: baked or deep fried.
---
You Might Also Try You May Also Like: 33 Best Italy Dishes & Italy Traditional Food
---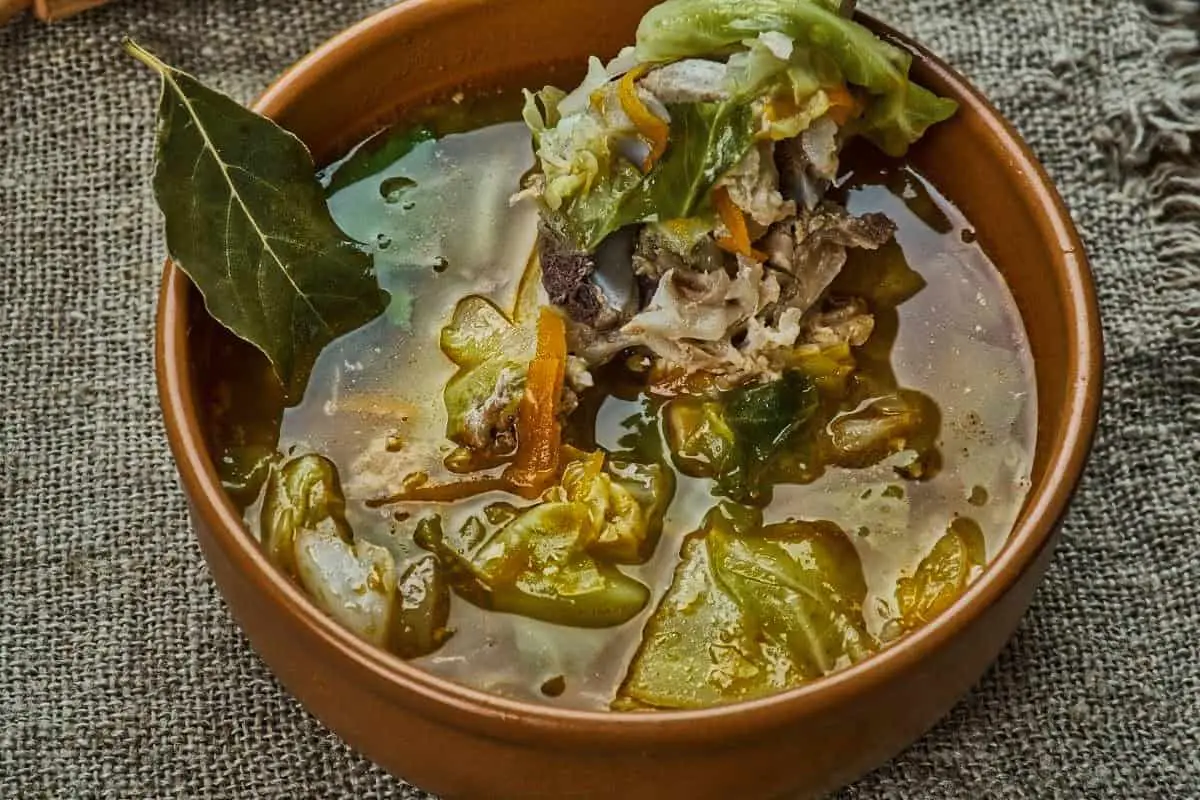 Kapusta, the Russian, Belarusian, Hungarian, Polish, Ukrainian, Czech and Slovak word for cabbage, is a popular dish in Polish and Slovak cooking. Its primary ingredient has been pickled into sauerkraut and, in some places, Kapusta simply refers to this plain sauerkraut. Serve this authentic Ukrainian recipe with your favorite crusty bread.
Even today, I can immediately go back in time whenever I smell certain foods or certain dishes cooking. One of those dishes is Kapusta, a traditional Ukrainian soup. Served with rye bread and butter, Kapusta is one of those dishes that just sends me back in time.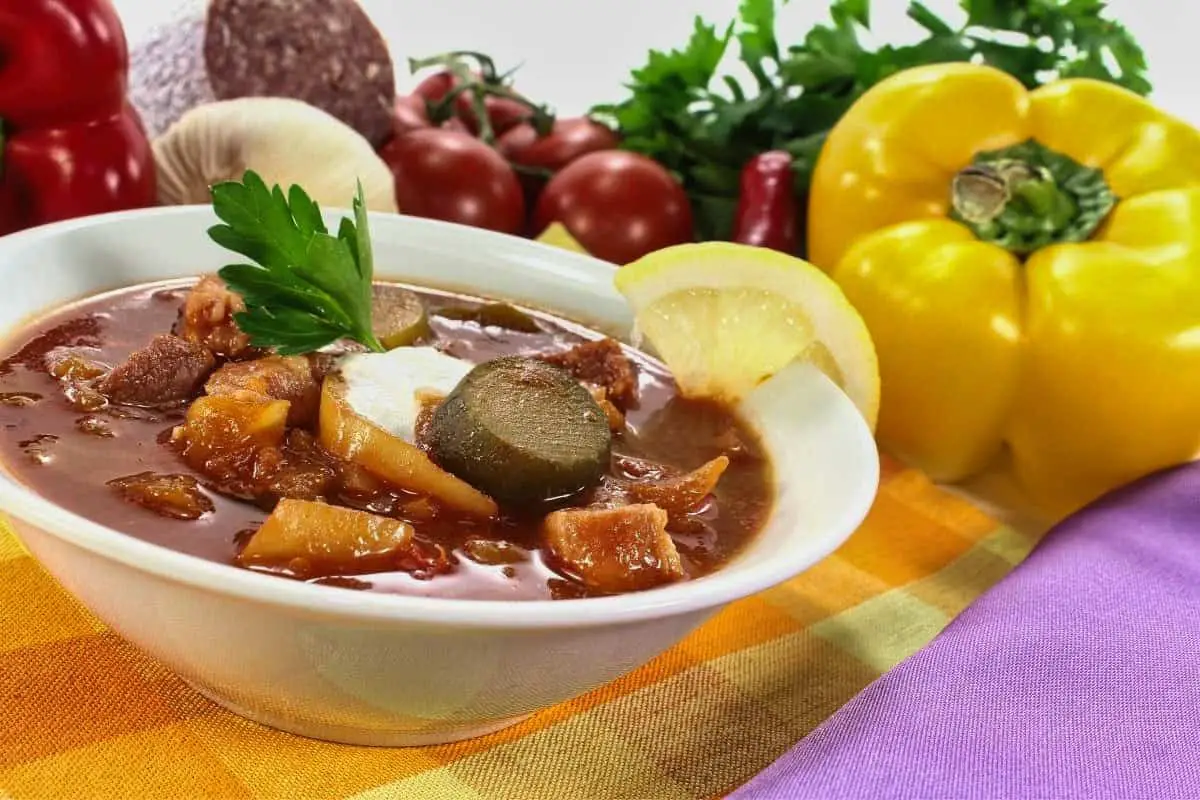 Ukrainian food is heavily influenced by the gastronomy of Russia, its neighboring country. There are three versions of Solyanka: meat, fish, and mushroom. All of them are delicious and unique in their own ways. The meat version has ham, beef, chicken breast, and sausages as the main component. It also contains other ingredients like chopped tomatoes, onions, cucumber pickles, and olives.
This Solyanka (Sour Soup with Mixed Meat) is a delicious thick spicy soup. Solyanka comes from the Russian word for "salt" probably because of the addition of salty cured meats. For this Solyanka recipe, you should use a selection of meats with a variety of textures and tastes. You could use bologna, smoked pork shoulder, smoked sausages or any of your favorite cured meats.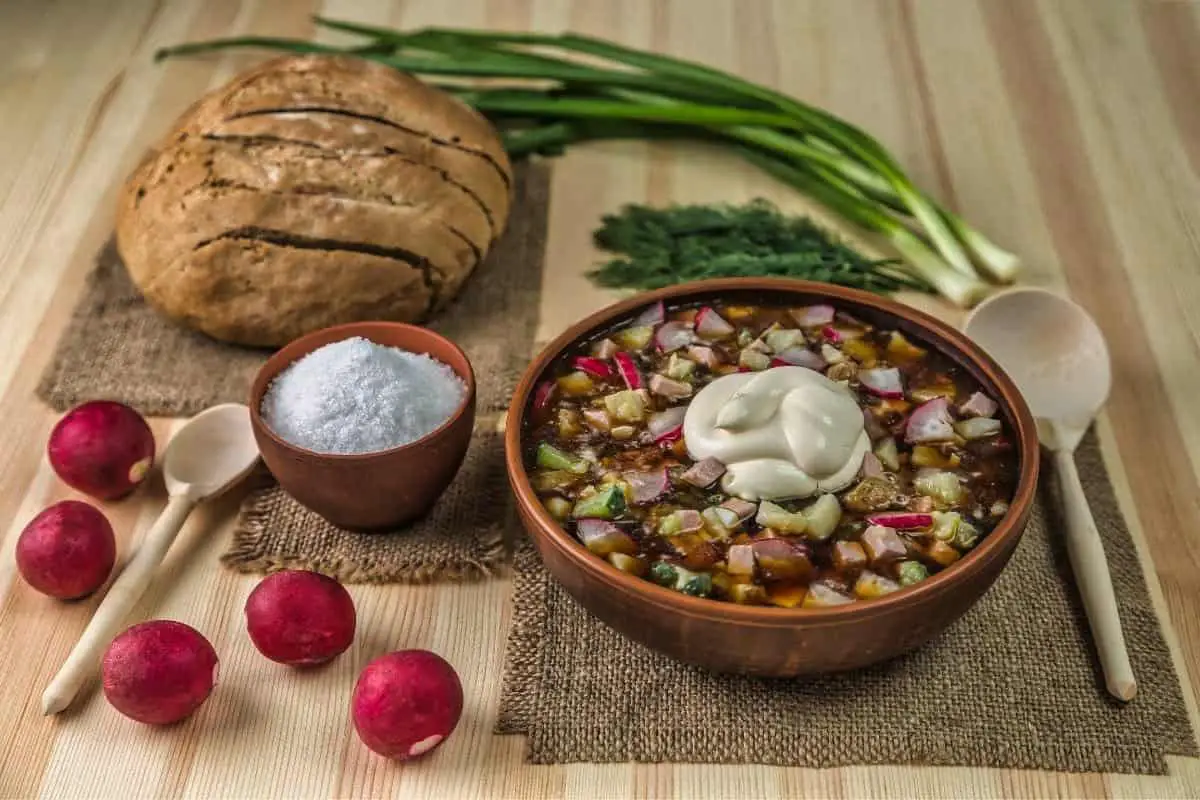 I call this Okroshka a summer soup because it's served cold. It's very refreshing to have chilled soup on a hot summer day.
I can eat three bowls of this authentic Ukrainian recipe on a hungry stomach. (A mom who chases after a 1-year-old gets hungry ok?!) It's relatively guilt free; no butter or oils required. Easy, cheap and healthy; that's my kind of a meal.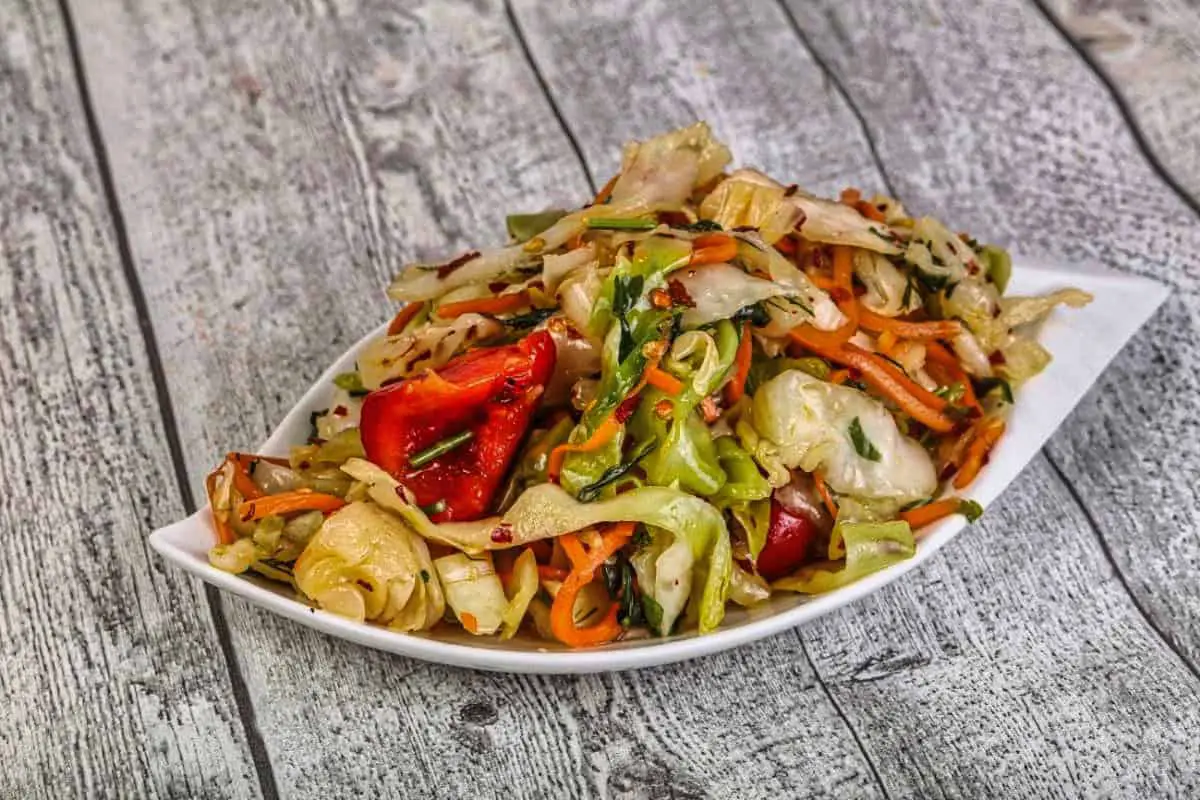 Our older Ukrainian neighbor shared this delicious pickled salad recipe with my mom about 25 years ago. It's still one of my favorites! This easy pickled salad is great during the summer months with garden fresh vegetables but you can enjoy it year round! Feel free to use your favorite veggies and mix things up!
A refreshing and crunchy pickled cabbage salad made with zucchini, carrots, mushrooms and red bell pepper. The vegetables are pickled in a simple pickle juice and the salad is ready overnight! It's a great Ukrainian food dish to enjoy for lunch, or serve it as a side dish for dinner. Try this pickled veggie salad with spicy peppers, yellow zucchini, and even tomatoes! It keep well in the refrigerator for 1 to 2 weeks.
---
You Might Also Try You May Also Like: 20 Best Traditional Albanian Recipes
---
5 Deliciously Decadent Ukrainian Desserts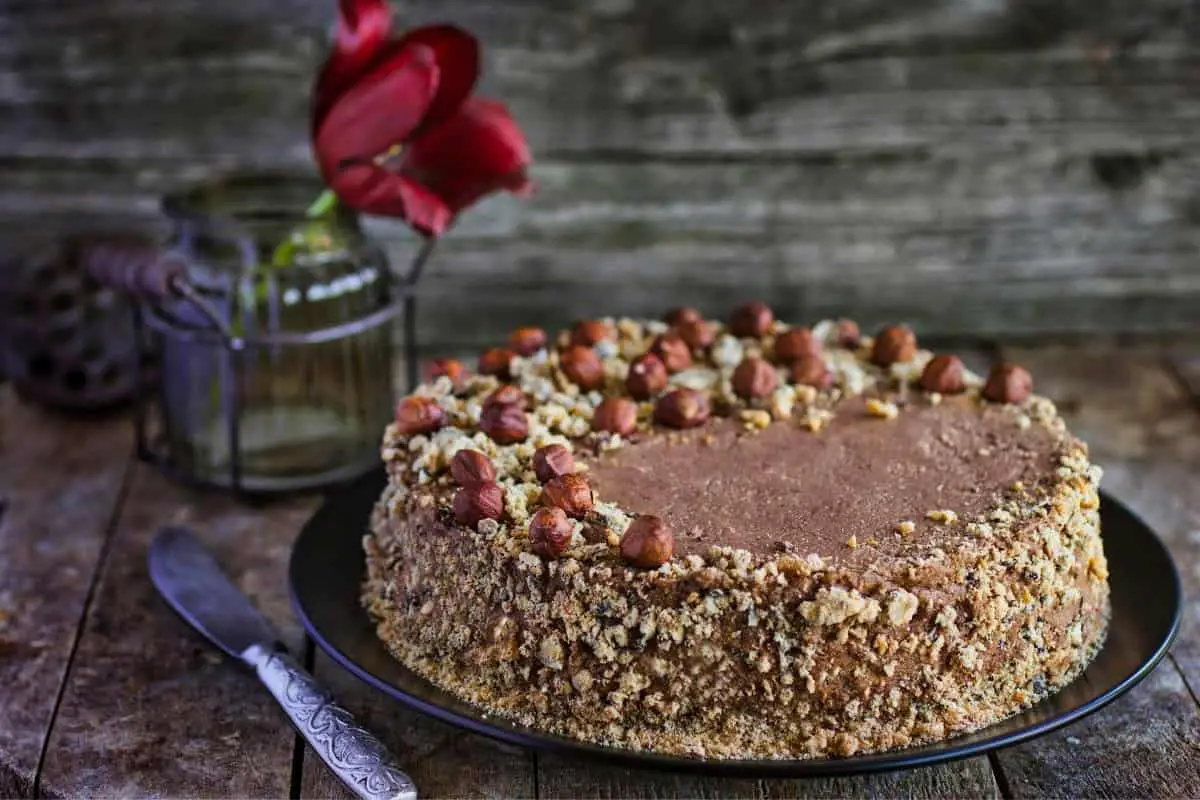 Kyiv Cake (aka Kiev) is light and airy in the center, with a bit of a crunch, sandwiched by soft sponge layers. It's a true authentic Ukrainian recipe of a classic cake. It takes an effort of love, but the outcome will have you come for seconds!
Kyiv Cake originated in Kyiv, Ukraine, back in the 1950's. It was such a big deal, that it was almost a crime if you visited Kyiv and didn't bring the cake back as a souvenir to your friends. Over the years it has gotten popular and now boasts a top choice among the favorite dishes of Ukraine.
This Kyiv cake has light sponge layers, followed with a crunchy layer of meringue with hazelnuts, and then filled with jam and a rich buttercream-like frosting. For this recipe, you'll need to prepare a Sponge Cake, which can be prepared a day in advance.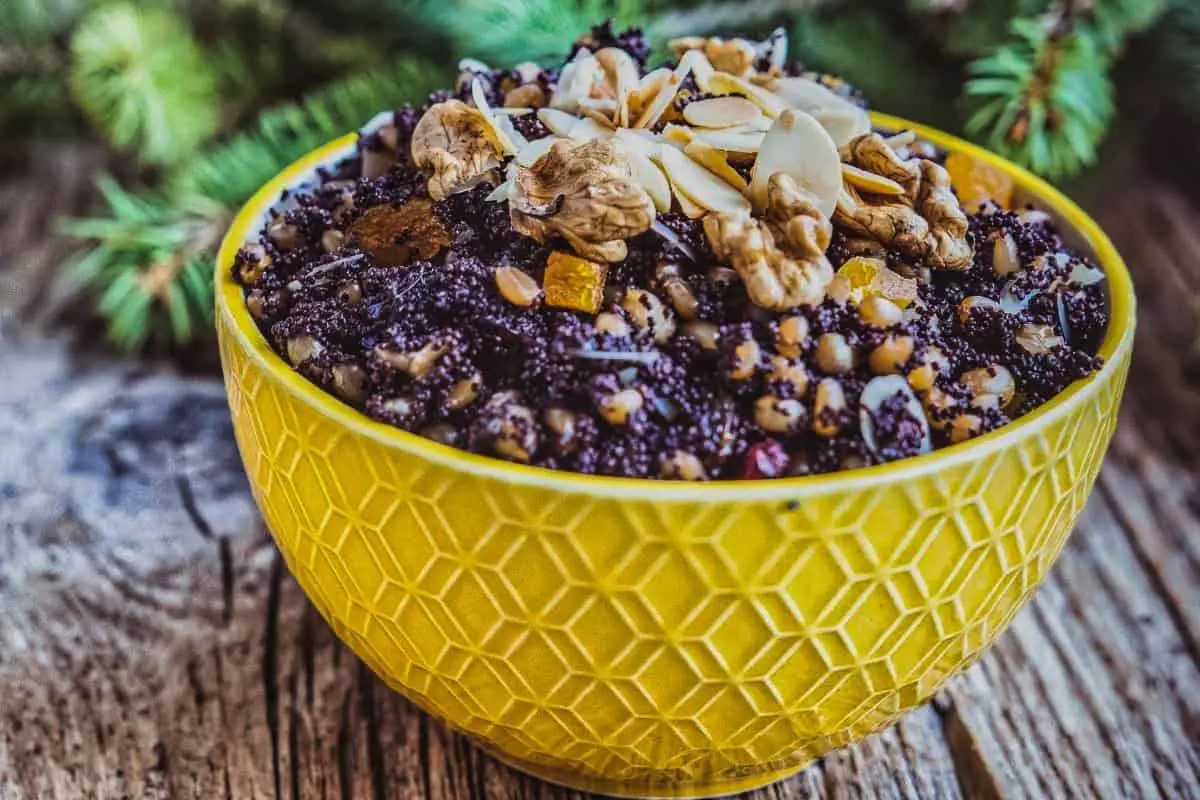 Kutia (Kutya) is a traditional Ukrainian food, Christmas wheat berry pudding. It is popular in Ukraine and various other parts of Eastern Europe. It's a very special dish that is served on Christmas eve. We couldn't post it in time for December 24th, but at least it will be in time for the European Christmas on January 7th.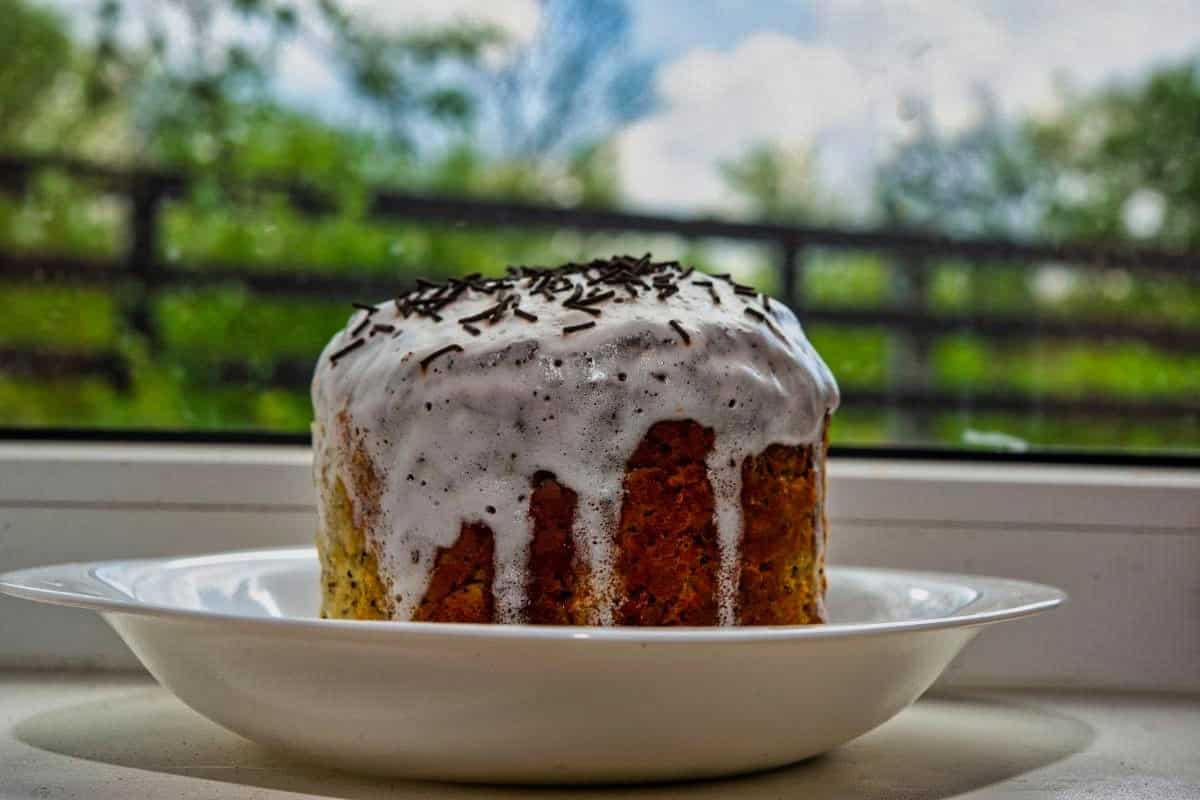 Many cultures have a special bread they serve specifically at Easter. Paska is the Ukrainian version. You can save this recipe for Easter, but I think it will be a divine addition to a potluck spread.
Paska is an authentic Ukrainian Recipe of egg bread that is an Easter tradition of many Eastern European countries. Ukrainian Paska is delicious bread with a soft and airy crumb. These intricately braided loaves are proud centerpieces of the Easter dinner table.
Traditional Paska recipes are meant to feed a family – rather a large one by today's standards. The recipes call for 10, 12, 20 cups of flour. I have pared it down, even then it yields a large loaf. The good news is that this bread keeps well at room temperature for a2 to 3 days and freezes well too. Let us not forget that this is a celebratory bread, in other words, it is meant to be shared. So slice off a piece and pass it on.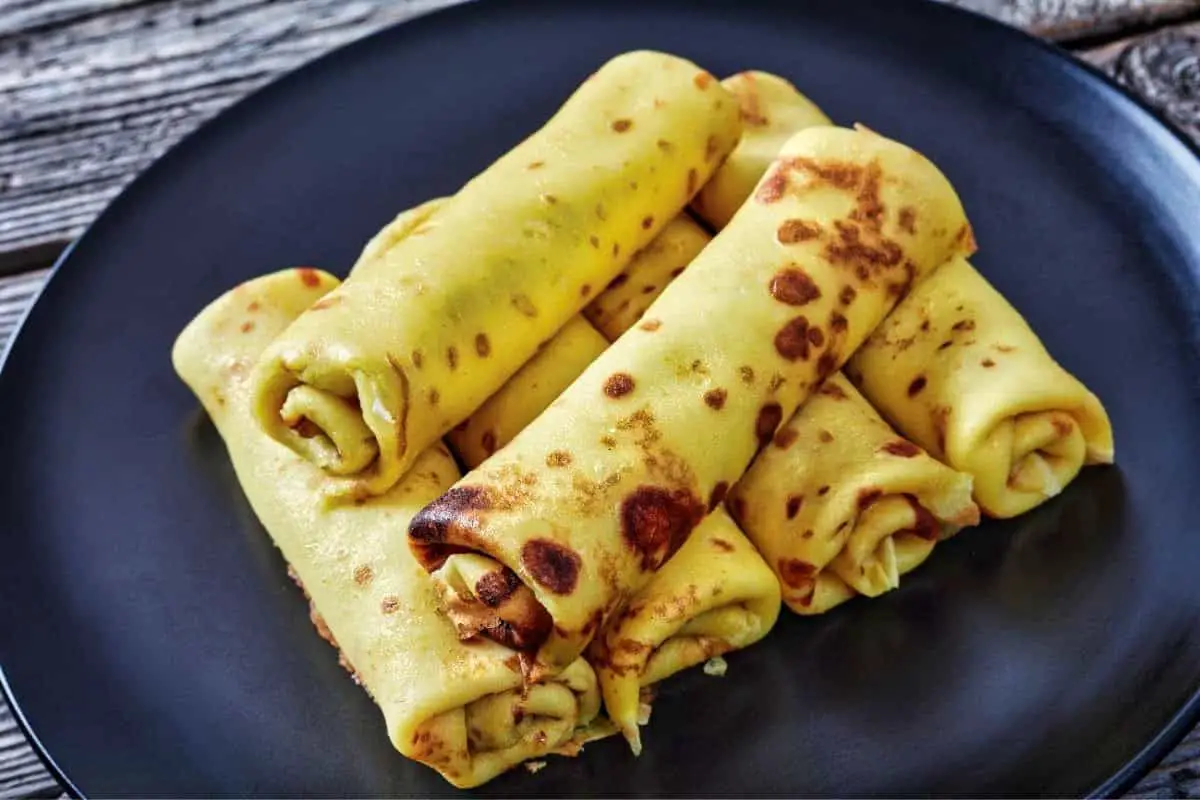 These Crepes With Cream Cheese Filling are the European crepes we call Nalisniki. It is the best crepe recipe! I teach you how to make crepes at home using simple equipment and easy ingredients to make silky thin crepes that melt in your mouth!
Crepes are simply unleavened thin pancakes that are ladled into a pan and swirled around to coat the bottom of a pan quickly. They can later be filled with a savory or sweet crepe filling. This Ukrainian food crepe recipe was handed down by my Ukrainian mom. You can believe they didn't use a fancy t swirl crepe maker or make blender crepes. It was all done by hand (go figure a liter of milk and 10 eggs won't fit in a regular blender) and once they're done they will disappear real quick! I mean who can help it, they are that good!
---
You Might Also Try You May Also Like: 25 Great Authentic Lithuanian Recipes (2022)
---
Instead of a wedding cake popularized in Western media, the Ukrainians have an extraordinary baked good that acts as the centerpiece at a traditional wedding in Ukraine. This lavish authentic Ukrainian Recipe is explicitly made for weddings. Korovai usually consists of multiple bread tiers and intricate decorative designs that are mostly inspired by nature.
Traditionally, seven married women from seven different places come together to create a Korovai for the happy couple as a way to send their blessing to the bride and groom. Ukrainians can be pretty superstitious when it comes to Korovai. It is believed that when the bread cracks during the baking process, it signifies that the marriage won't last. Besides that, widows are considered unfit for making Korovai as their fate will affect the couple's marriage.
The top portion of the Korovai is given to the married couple. The next slice goes to the bride's mother and father. The bottom portion can be shared among visitors and band members as a symbol of good fortune and future riches.
---
---
For complete photos and videos of our trip, visit us on our Instagram Page
You May Want to Join Our Boondocking Group on Facebook For More Information
You Can Check Out Our International Recipes On Our World Recipes OBE Instagram Page