Last updated on September 27th, 2023 at 05:58 am
Traditional Polish Recipes dates back to as long ago as Middle Ages and has evolved other the years. Many unique ingredients are used in Polish cooking. As many of you already have guessed lots of traditional Polish Recipes include sausage and sauerkraut. Polish food consists of many fermented dishes, and they blend these sour traditional Polish recipes with a wide range of ingredients. They use a combination of sour and savory to add a unique flavor to their dishes.
Traditional Polish Food Options
The people of Poland enjoy stews that are slow-cooked over an open fire. They like hearty soups on cold nights and light dishes on hot summer days. Many traditional Polish Recipes use mushrooms and onions to bring a savory flavor to the dinner table.
Many types of bread are baked in Poland and a meal would not be complete without a slice of fresh bread. Bread in Poland is often stuffed with different types of meats and vegetables.
The poles have made an impression on Europe and many of their traditional Polish recipes are shared with other countries in the region.
While Polish food is popular in Europe many people in other parts of the world don't know much about these interesting traditional Polish recipes and choices. If you would like to learn more about Polish food, please check out the information below.
Five Most Popular Polish Dishes
Now that you know more about Polish food in general let's look at five of the most popular traditional Polish recipes.
1. Bigos
If you love stew and fermented Polish food, you will love Bigos. This dish is one of those traditional Polish recipes that you won't soon forget. It is not for everyone but if you like things a bit sour then you will love this dish. Bigos is made from slowly cooked meat which is combined with sauerkraut and freshly chopped cabbage. It is a great dish to enjoy on a cold day and this stew is great for your gut health.
2. Golabki
Golabki also known as cabbage rolls is a Polish dish that is commonly found in restaurants around the nation. The Poles use white cabbage and stuff it with minced meat along with different vegetables including mushrooms and onions.
3. Pierogi
Probably the most popular of all traditional Polish recipes has to be Pierogi. This dish is made from thinly rolled dough that has been stuffed with a wide range of ingredients. Some of the common fillings you will find inside of Pierogi include different types of meats, vegetables, sauerkraut, and cheese. Pierogi can be served as a side dish or a main course.
4. Kotlet Schabowy
This Polish dish is made from pork cutlets that are pounded until they are super thin. The cutlets are then coated and fried. Kotlet Schabowy is traditionally served with beets and boiled potatoes.
5. Gulasz
A very popular Polish recipe that can be found all over Europe is Gulasz. This delicious dish is made from slowly cooked beef that is stewed in a broth with carrots, bell peppers, onions, paprika, and mushrooms. Gulasz is considered a Goulash and is commonly served with potato pancakes.
Five Most Asked Questions About Polish Food
Now let's take a look at some of the most asked questions about Polish food. These questions and answers may give you a better understanding of the
.
What Is the Most Popular Polish Recipe?
The most popular of all traditional Polish recipes is got to be Pierogi. You can find this dish all over the world and most grocery stores have a frozen version of this recipe on hand.
Is Polish Food Spicy?
Traditional Polish recipes are normally mild in flavor. However, some sausage dishes can be a little on the spicy side.
Is Polish Food Bland?
Some people think that Polish food is bland or tasteless. This is false. Polish food is full of flavor and traditional Polish recipes are very yummy.
What Do Polish People Eat for Breakfast?
Breakfast time in Poland is one of the best times. One of the traditional Polish recipes that people love to eat for breakfast is a sandwich made from eggs and cold cuts.
What Do Polish People Eat for Lunch?
One of the most common dishes that people in Poland enjoy for lunch is soup or stew. There are dozens of different traditional Polish recipes for soup and stew to choose from so finding something to eat for lunch isn't difficult in Poland.
25 Best Traditional Polish Recipes
---
---
check out our video
---
---
10 Polish Main Course Recipes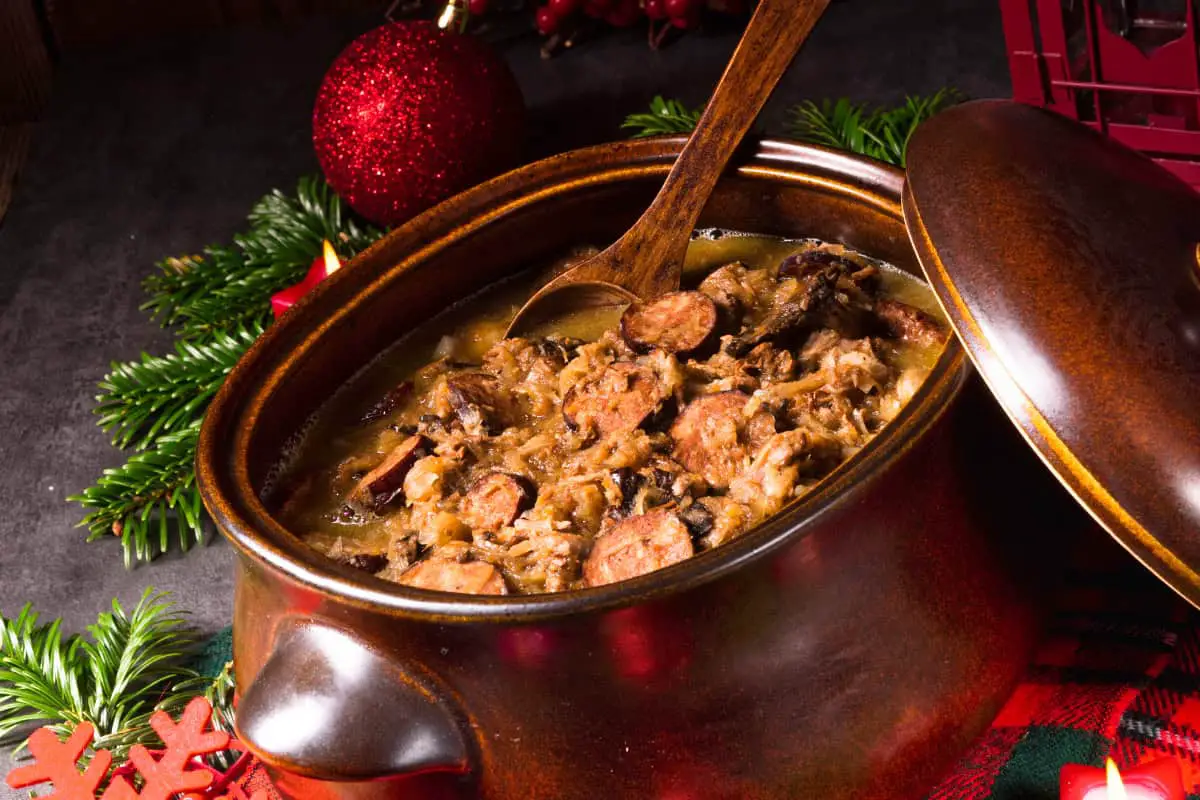 This is the national dish of Poland and one of its oldest traditional Polish recipes. It can be made with any kind of meat from pork to rabbit or venison, but should always have spicy Polish sausage. Like most stews this tastes better left overnight and reheated the next day making it a great dish to prepare in advance for an evening with friends.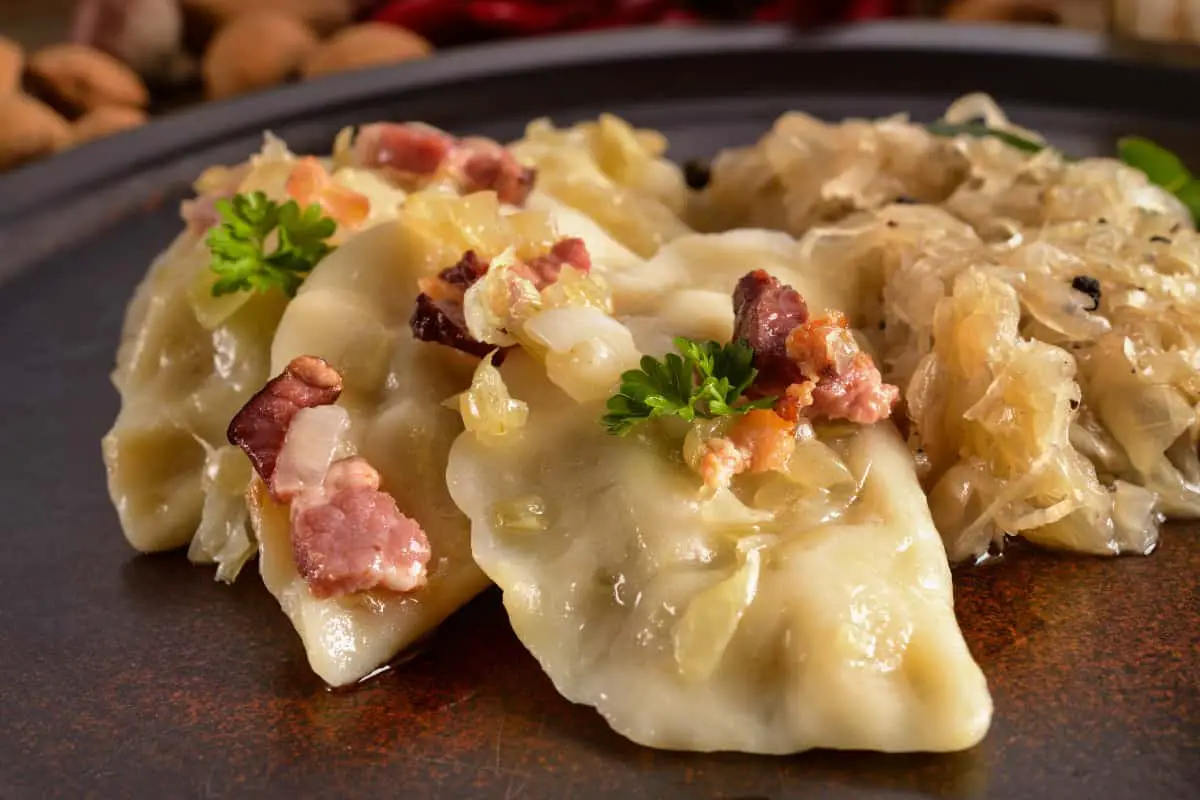 This traditional Polish recipe for Pierogi is from my grandmother and has been handed down in our family for generations. The pierogi are filled with cheese, potatoes, and mushrooms but you can use the dough recipe and stuff them with other fillings to your liking. There are many ways to serve pierogi – either topped with fried onions and parsley or serve them with sour cream, melted butter, and fried pieces of bacon.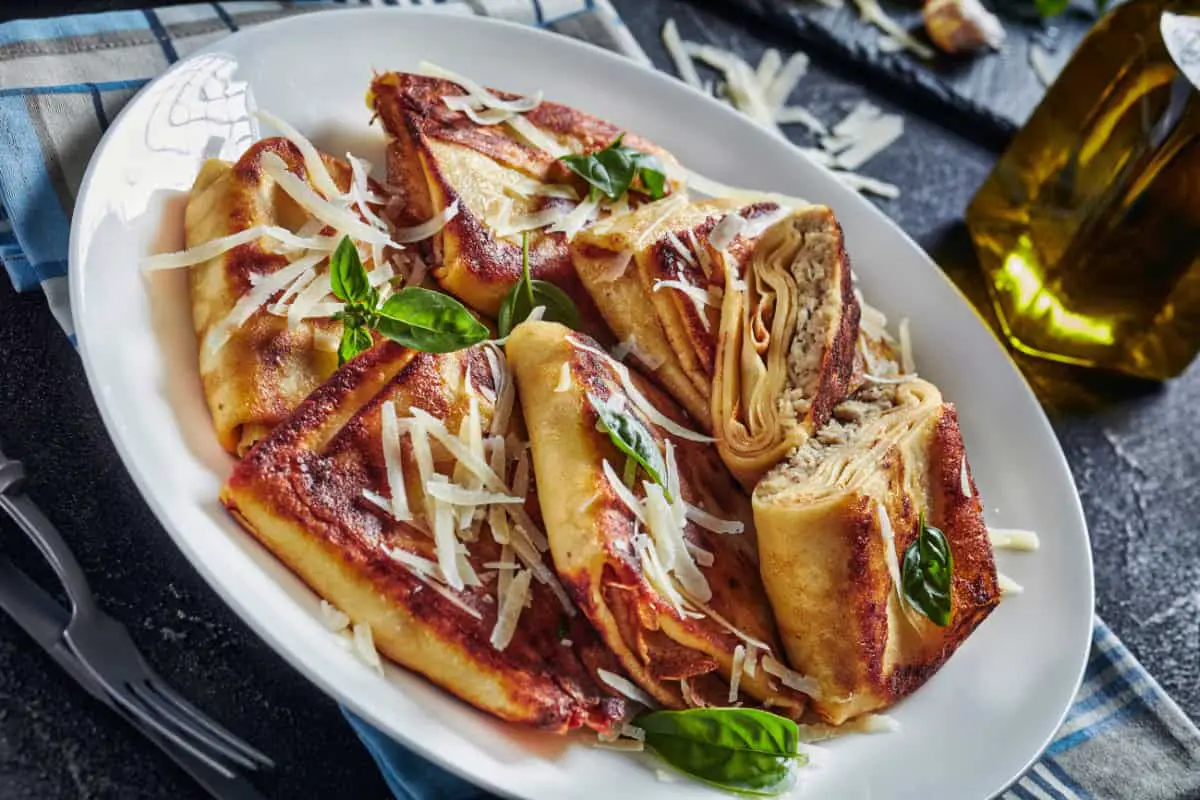 This Krokiety is a traditional Polish recipe for a favorite dish consisting of crepes filled with different kinds of fillings, then breaded, and fried. This is delicious comfort food that will make you come back for more. These Polish croquettes are filled with sauerkraut, mushroom, and onion filling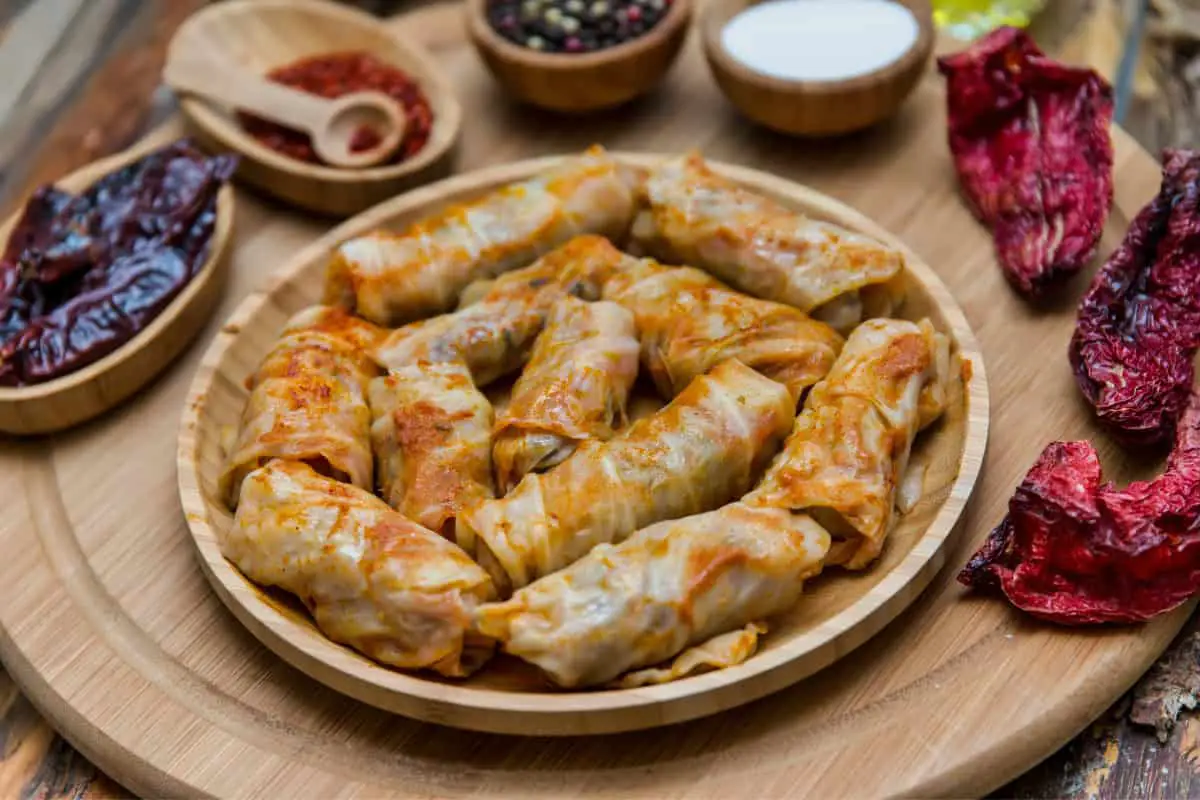 Gołąbki (literally: little doves; pron."go-woomp-kee", already plural) are Polish-style cabbage rolls, stuffed with a variety of fillings.
In this traditional Polish recipe, we're stuffing our Gołąbki with a very classic filling: a mix of ground pork and rice. Rich tomato sauce compliments them beautifully, but you can enjoy them on their own.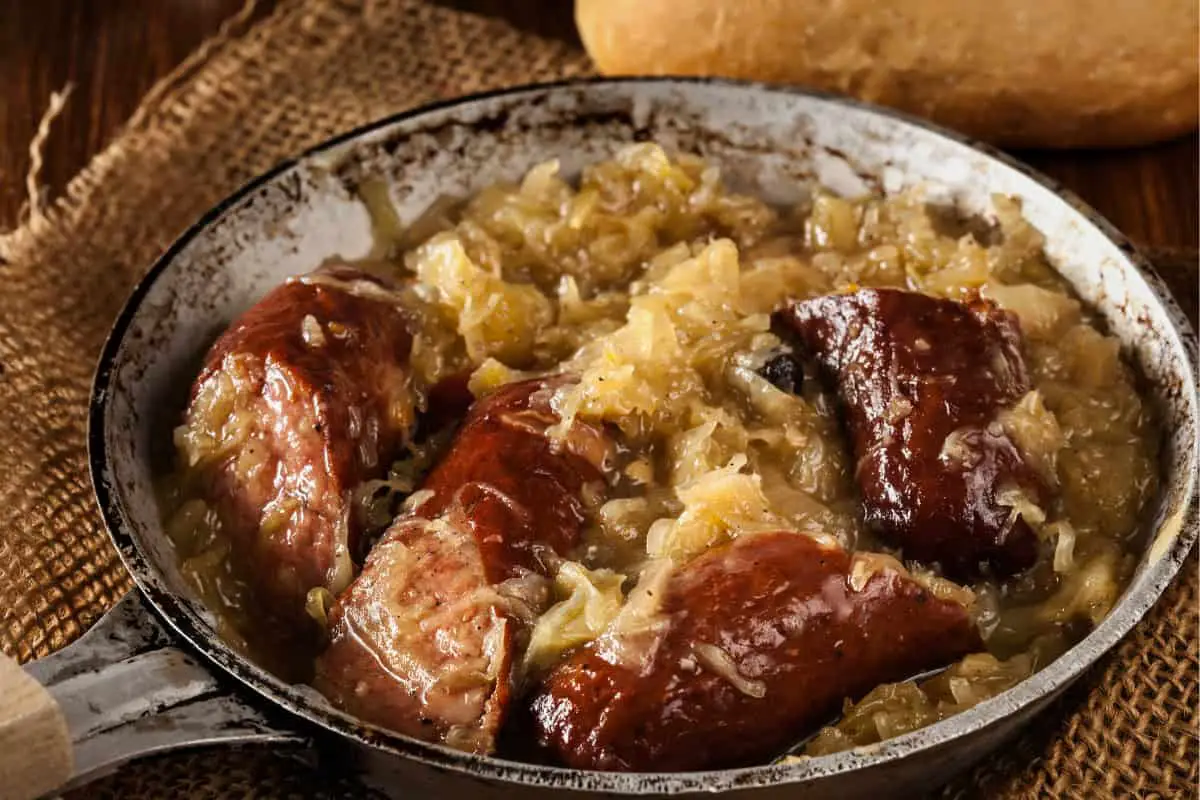 In this traditional Polish recipe, sauerkraut gets braised slowly, getting more tender by the minute. As it cooks, it's partially submerged in the liquid, alongside an array of herbs and spices, such as cumin, bay leaves and allspice berries.
Braised sauerkraut has a very velvety texture, therefore it's worth adding some crunch: fried onions and chopped bacon. To balance the acidity with sweetness, a small sweet apple gets added, making the flavours just right.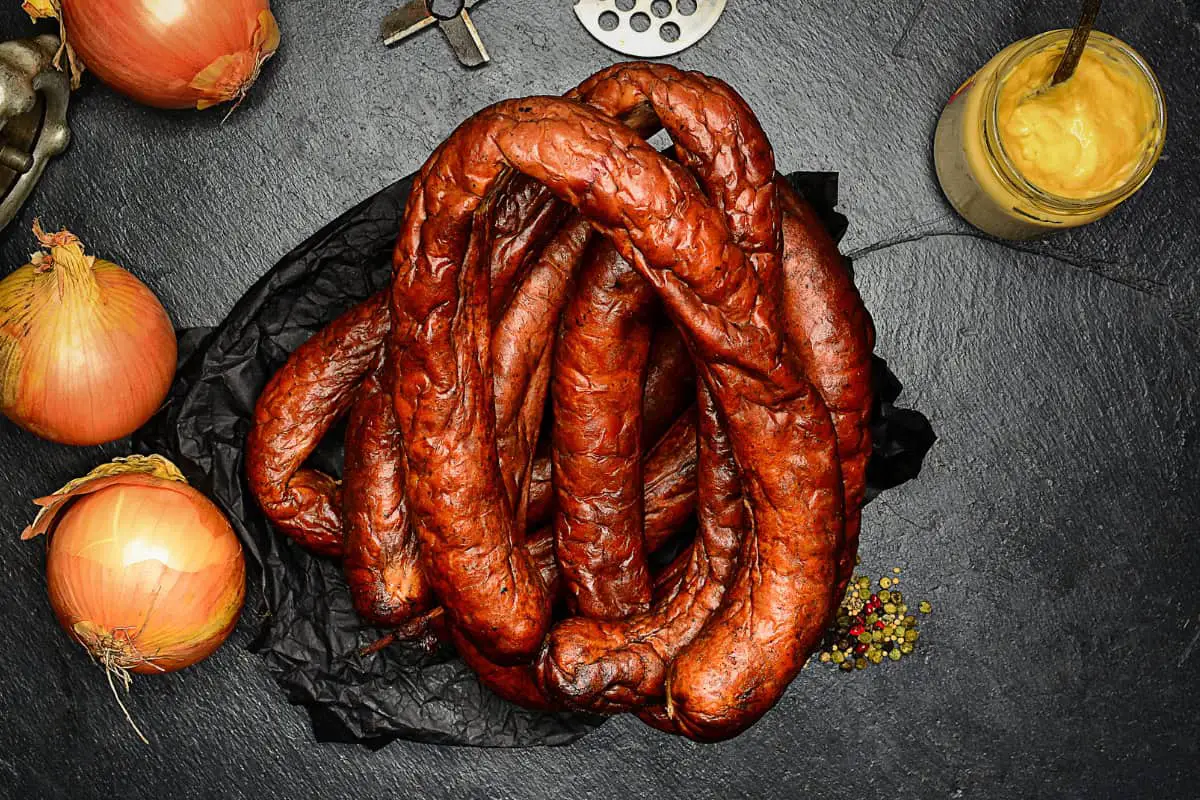 As scary as it sounds, the traditional Polish recipe for this sausage meal is not that difficult. It only takes a bit of planning, but only if you can't find natural sausage casings at a local sporting goods store. I order mine on-line [link here]. Go for the natural casings (not cellulose), as they are a lot more sturdy and won't break while being stuffed.
I normally make a large batch of fresh Polish sausage and freeze it. When an opportunity presents itself, during a summer cook-out for example, just throw those suckers on the grill and you'll have your guests asking for more
You May Also Like: 25 Great Traditional Swedish Recipes and Food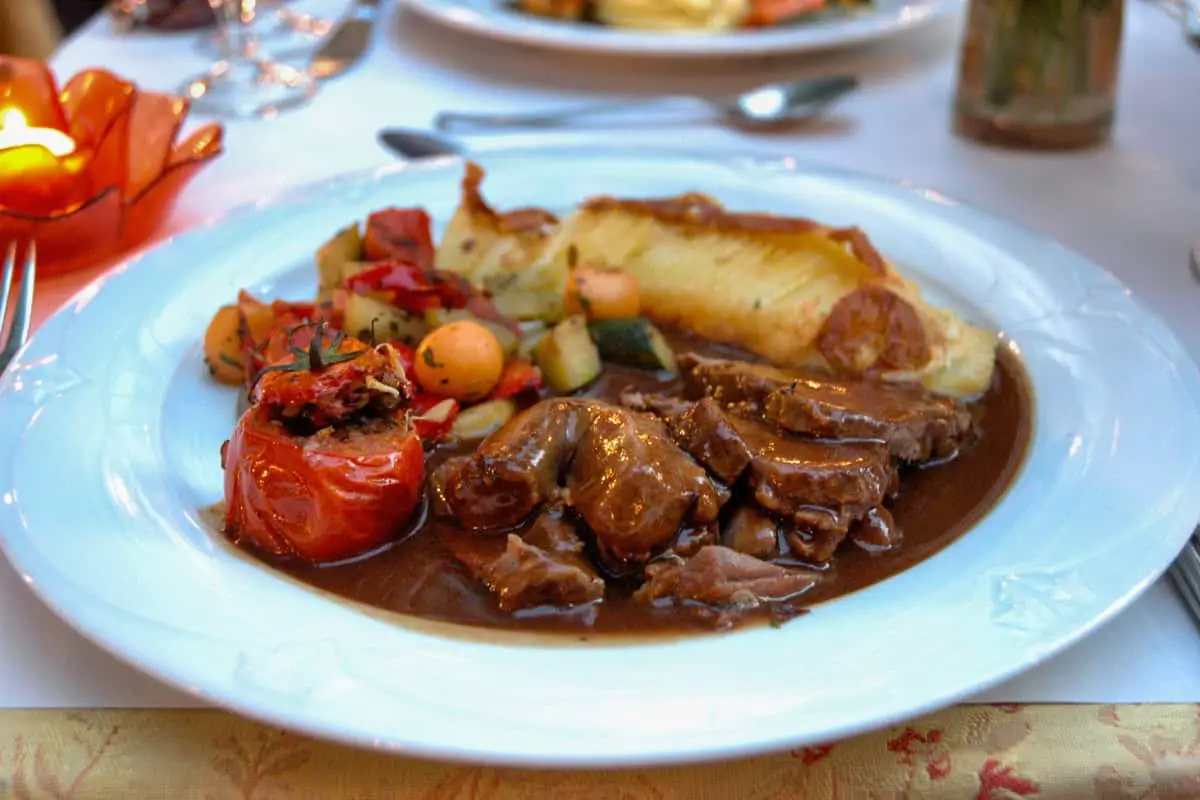 A traditional Polish Goulash recipe that is surprisingly easy to make. Poles love eating meat! No wonder why- with so many cold months, they need to eat fatty food to keep warm in the winter. In this post, you will find the authentic Polish goulash recipe that is surprisingly easy to make.
It's actually my mom-in-law's recipe. She is the best cook that I know and I keep learning from her how to make traditional Polish food.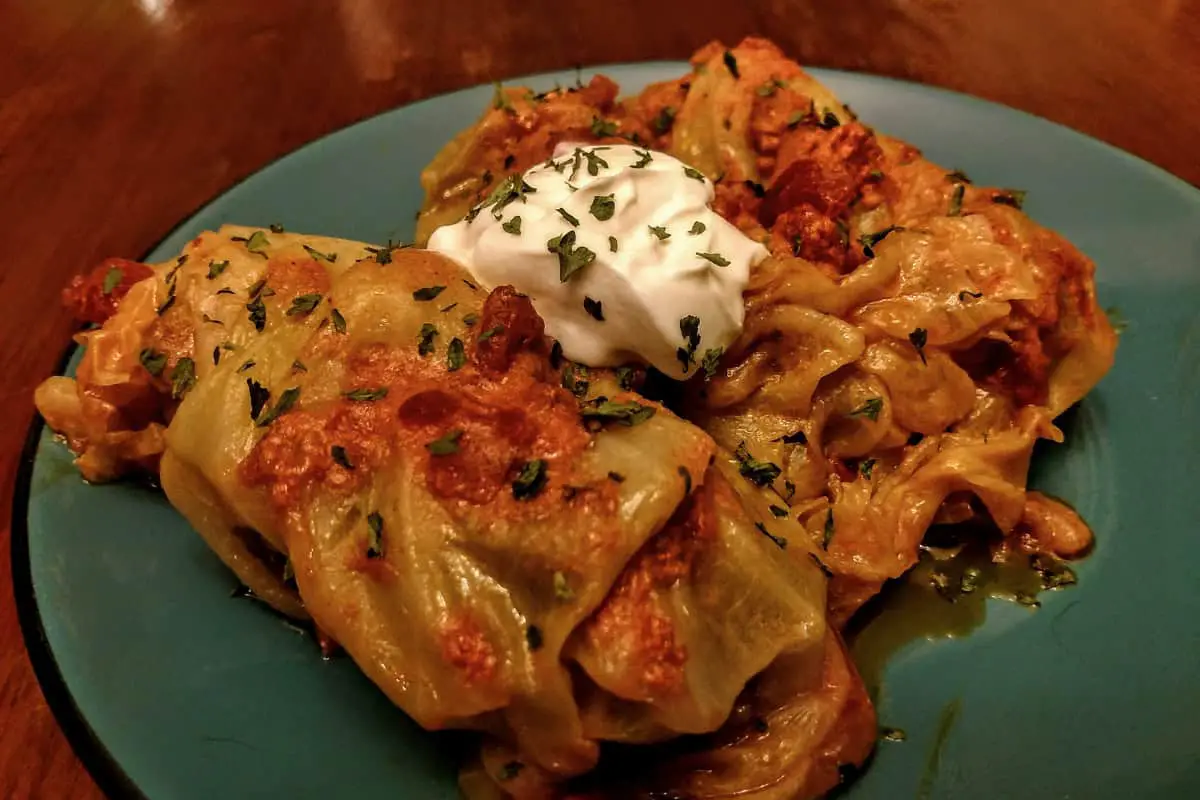 My Ukrainian grandmother would use her grandmothers traditional Polish recipe to make Halupki by stuffing steamed cabbage leaves with a mixture of meat, rice, diced green peppers and onions. They were then stewed in tomatoes and topped with sauerkraut.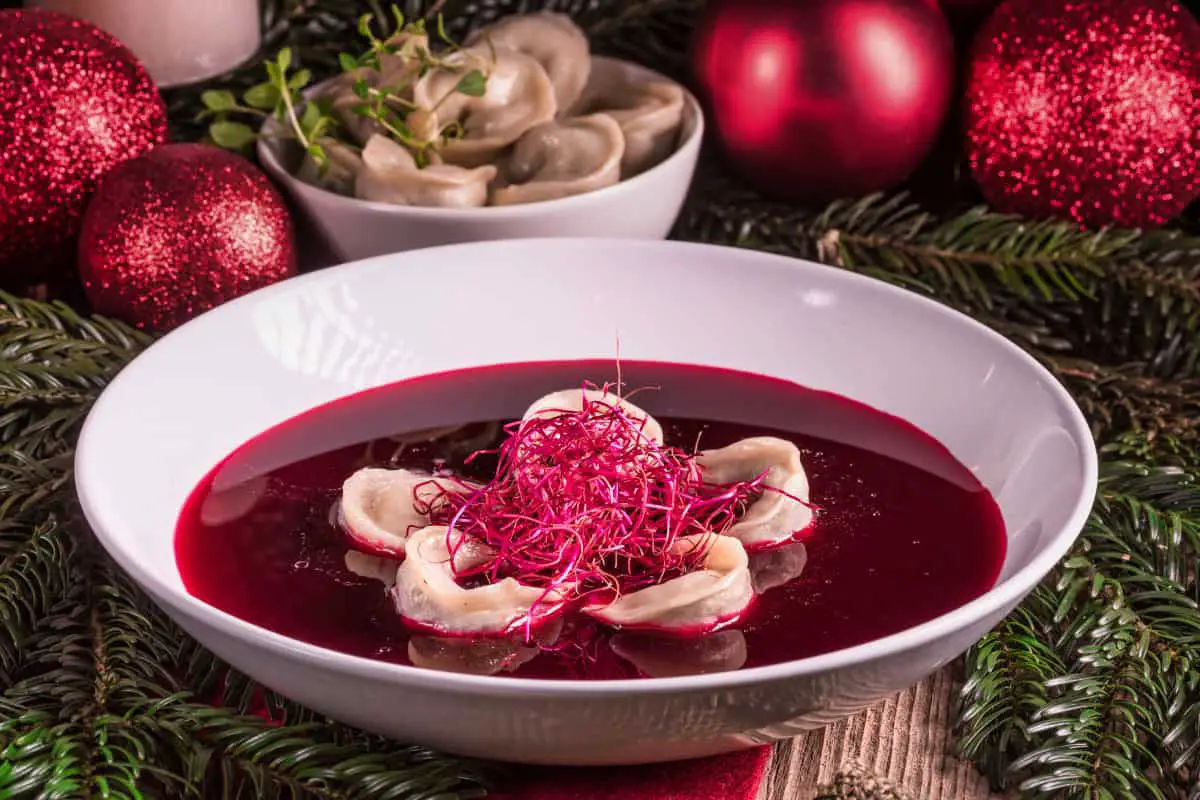 This festive Red Borscht ('Barszcz Czerwony', pronon."Barscht Chervone") is a rich, earthy beet soup – and a star of the Christmas Eve dinner table.
The secret to this traditional Polish recipe lies in fermented beet kvass (we call it beet 'zakwas') and a proper vegetable stock. To pump up the festive aromas even more, we're adding dried wild mushrooms, marjoram, smoked prunes and juniper berries.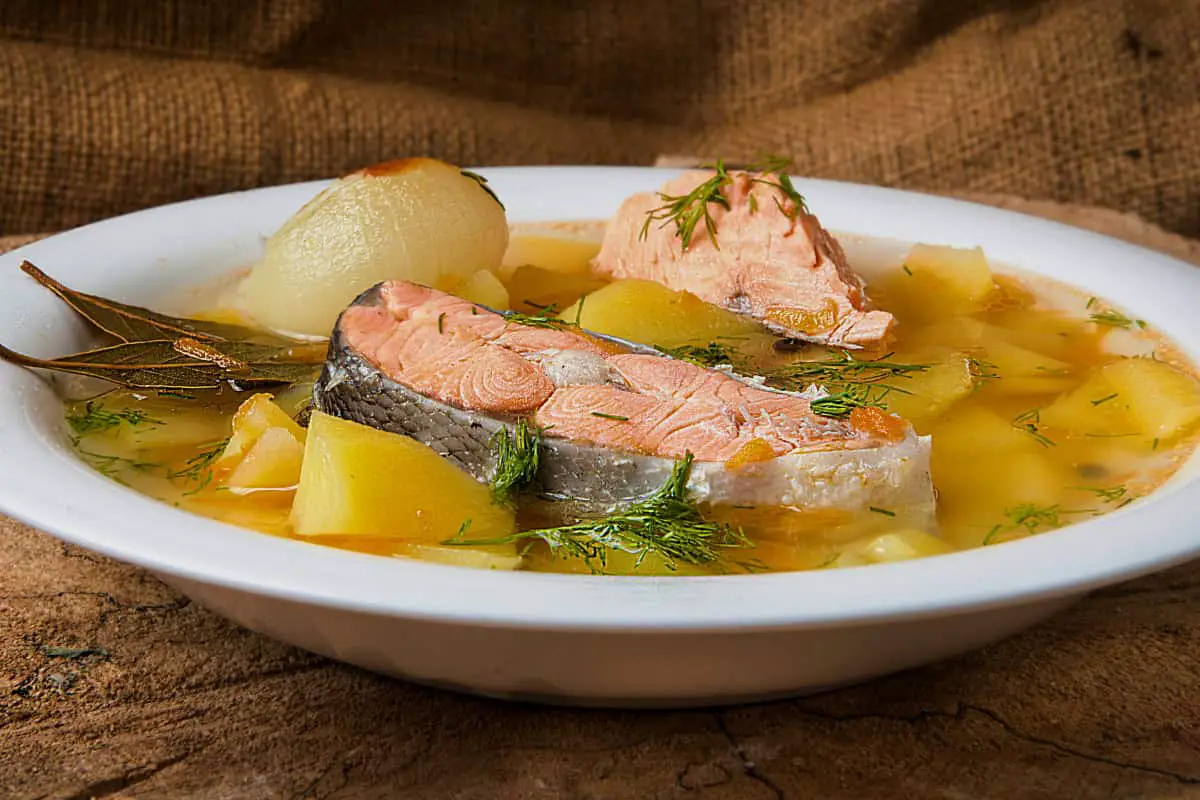 Traditional Polish recipe for fish soup that is the most frequently used during Christmastime. This fasting dish is not only delicious but also quite easy to make.
The key to cook the perfect Polish fish soup, Zupa Rybna (Suh-pah rhyph-nah) is to use quality fish and add plenty of veggies.
10 Polish Side Dish Recipes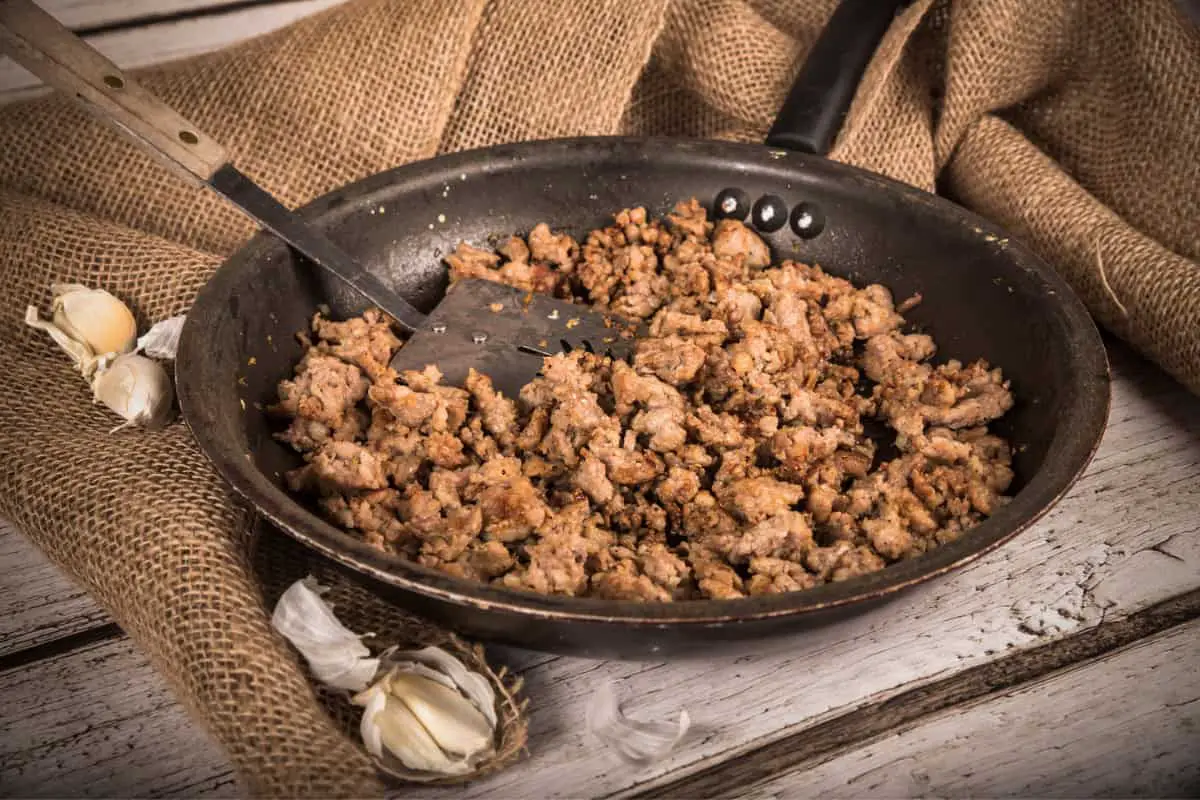 Traditional Polish recipe for a great appetizer or side dish that is loved by all, especially men. Serve these meaty, cheesy delights on game day! For later use, place the topped bread on a cookie sheet in the freezer for 1 hour. Once frozen, the slices may be stored in freezer bags.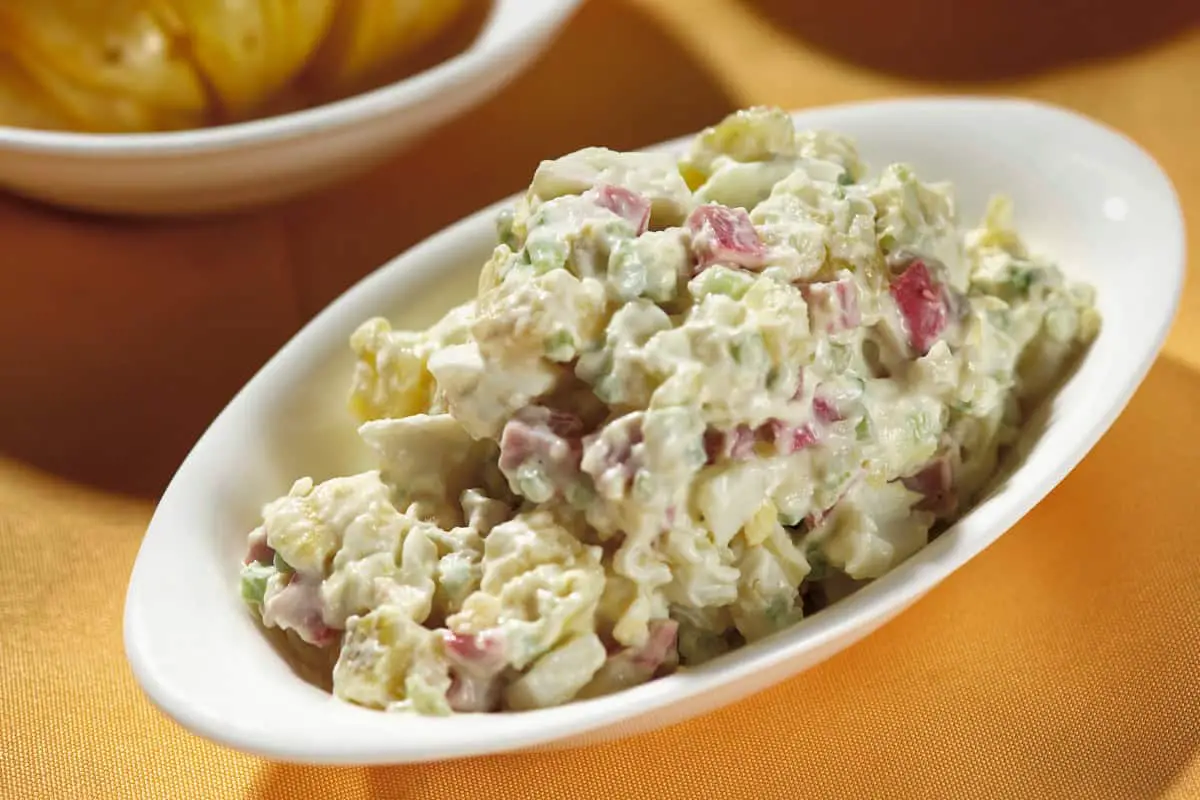 In the vegetarian version of this recipe for Salatka Ziemniaczana or Polish potato salad, sun-dried tomatoes or pickled peppers can be used instead of bacon.
Traditional Polish recipe for a potato salad, known as sSałatka Kartofli (sah-WAHT-kah karr-TAW-flee), or more properly, Sałatka Ziemniaczana (sah-WAHT-kah zhyem-nyeeah-CHAH-nah) is made with carrots, celery, onion, and dill pickles.
You May Also Like: 25 Authentic Finnish Recipes and Foods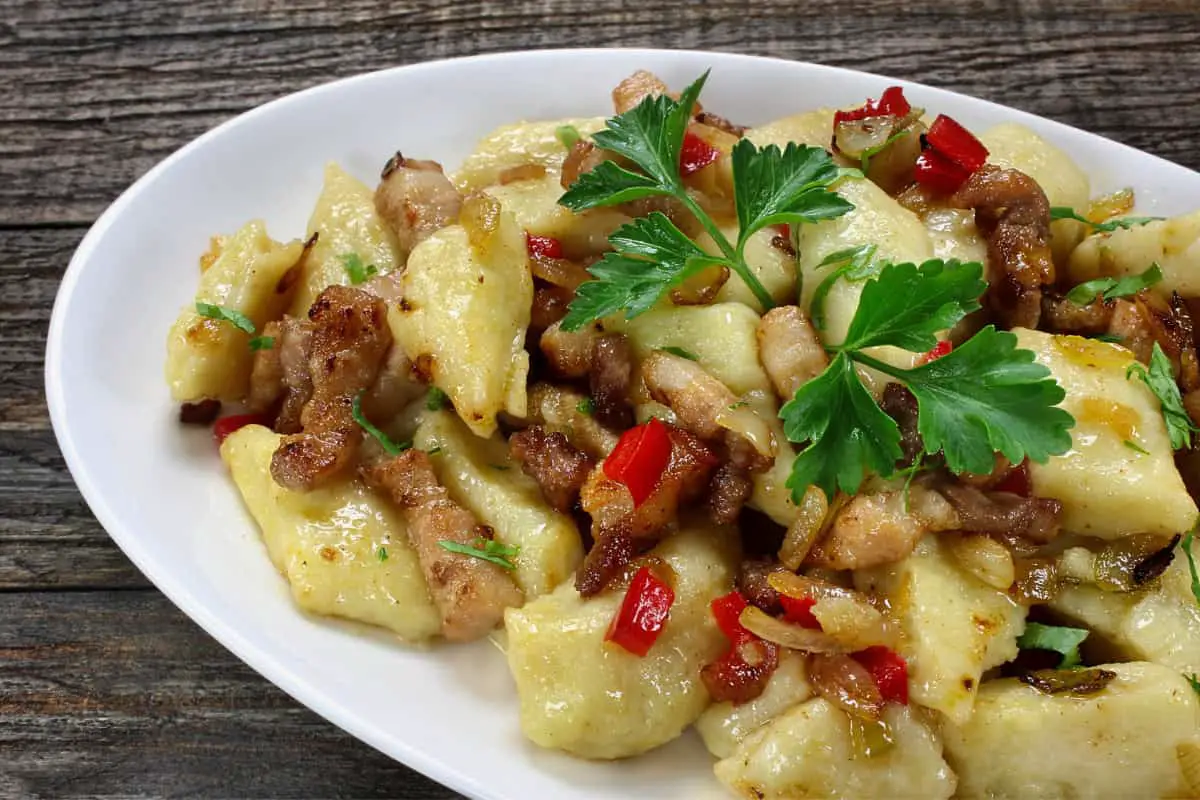 Kopytka are Polish potato dumplings, popular in the southern part of Poland. The traditional Polish recipes are made with mashed potatoes, egg and flour. They are cooked in salted water and can be served right away or warmed in pan for a crispy exterior.
Add garlic, onion, mushrooms and bacon for more texture and flavor. Leftover mashed potatoes can also be used to make delicious cakes or casserole with bacon and cheese.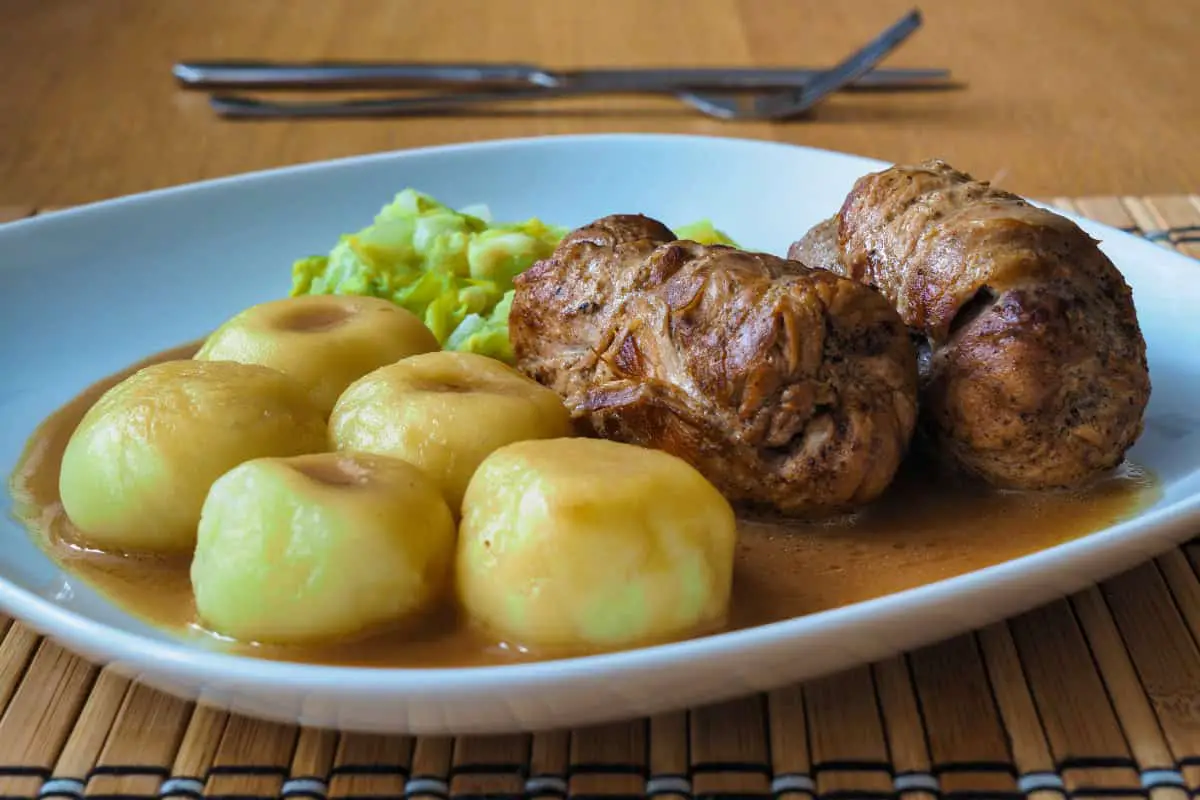 The traditional Polish recipes for Kluski Śląskie Silesian Dumplings come from Silesia, a region in the southwest of Poland (think Wrocław) that also encompasses small bits of Germany and the Czech Republic, but Silesain Dumplings are so popular throughout Poland that they're readily available in the refrigerator case of supermarkets all over the country, coming in a package that reminds me of brown and serve rolls.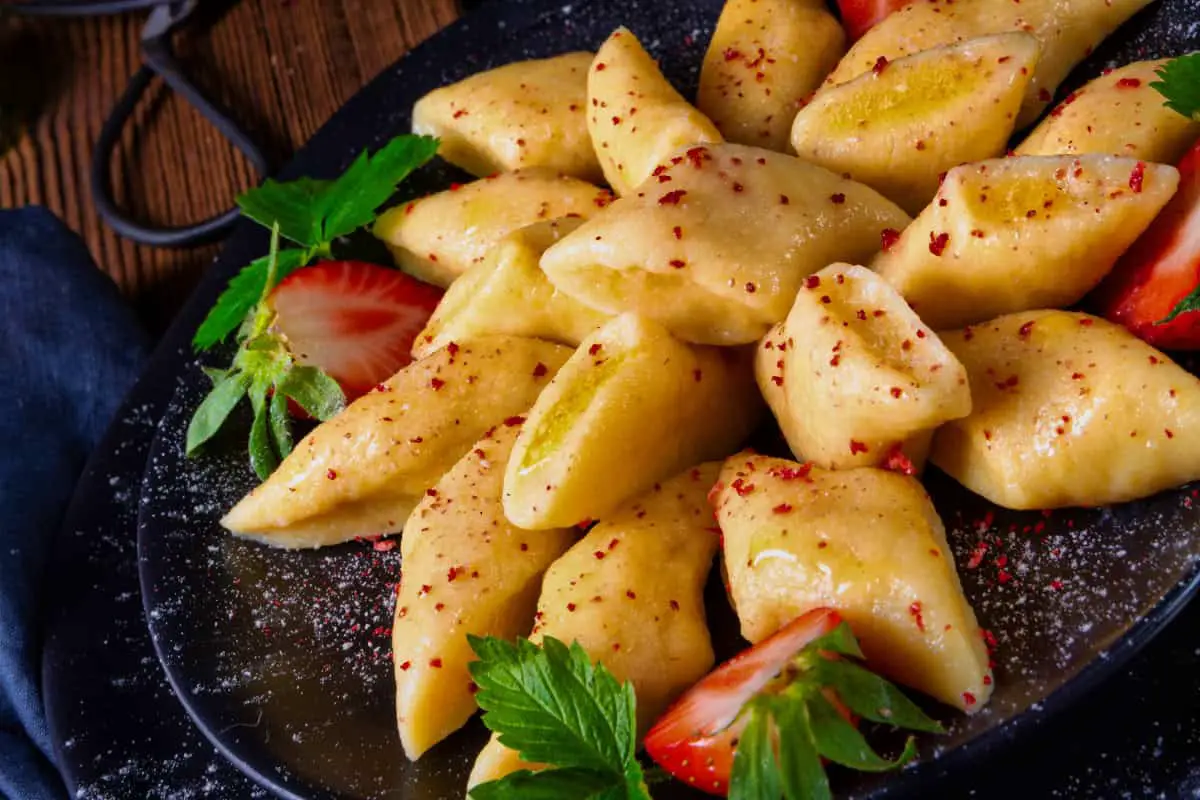 Just as with many other traditional Polish recipes, Polish kopytka were invented because of poverty. Housewives didn't want to throw away the leftovers from the previous day, so the invented a simple yet brilliant way to use them.
Polish Kopytka are made from mashed potatoes that are usually served for a dinner in Poland. With a bit of flour and egg, they make dumplings similar to Italian gnocchi. What's interesting, the name "Kopyka" can literally be translated as "little hooves".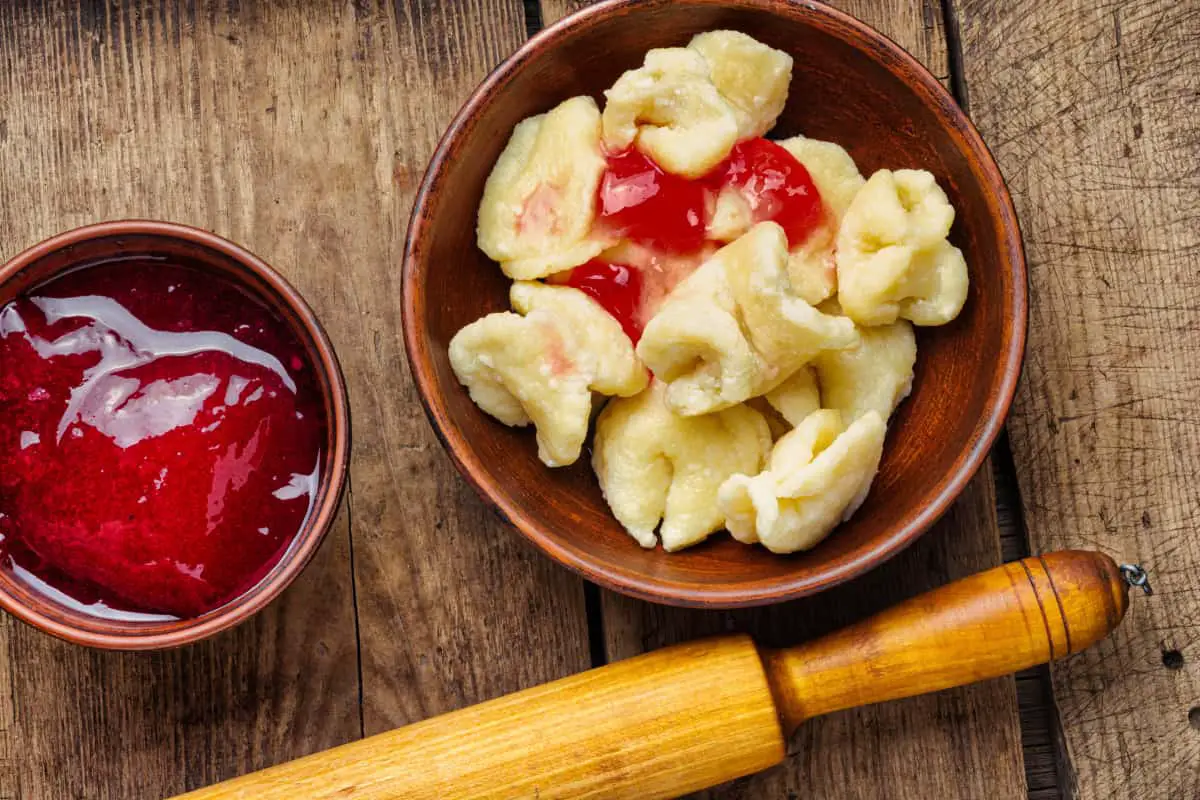 Whenever you see the Polish word Leniwe, which literally translates as "lazy," in conjunction with a recipe, it just means that's it's easy to make.
The traditional Polish recipe for these impostors masquerading as pierogi have their own merit. They can be eaten as a side dish or as a meatless main course. Try them with sour cream and bacon bits, fried until golden, or added to the drippings of roasted meat like pork or beef.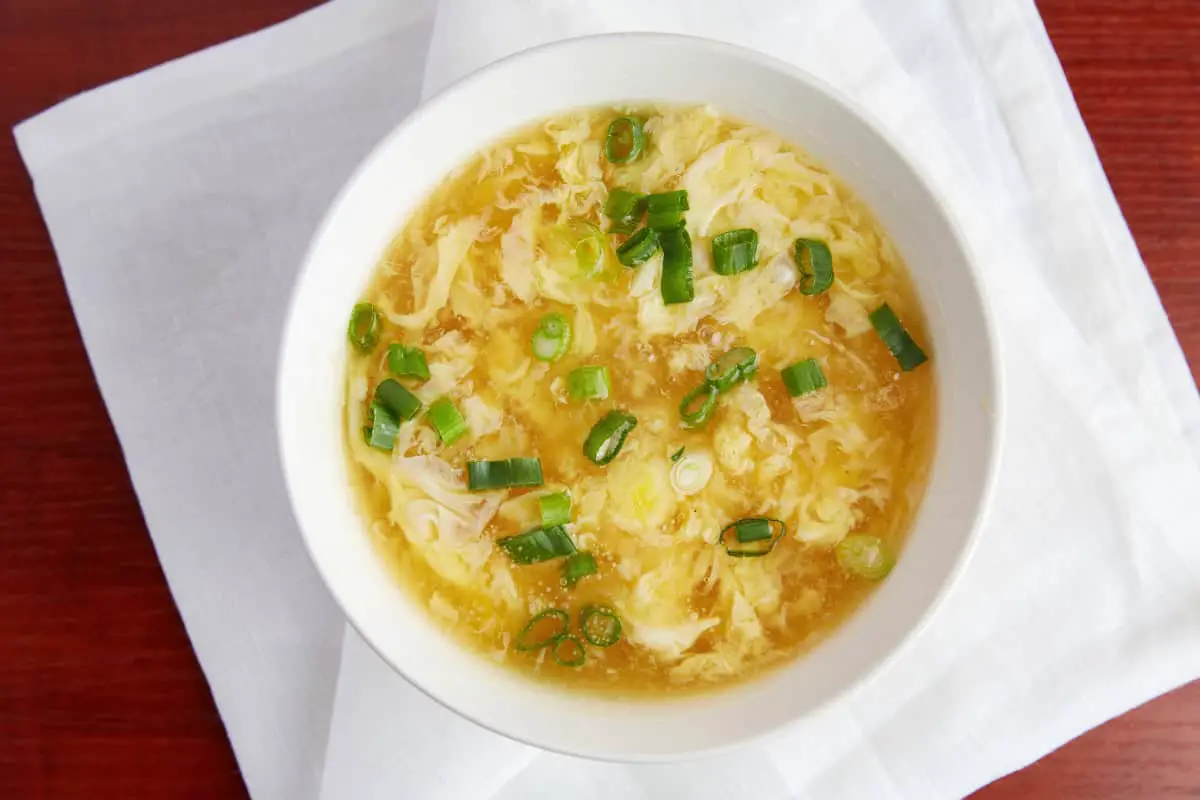 This traditional Polish recipe for egg drop chicken soup is made using homemade egg drop noodles and simple Polish chicken soup made from scratch. This is super easy to make, healthy and delicious comfort food, perfect to enjoy on a cold day
Polish egg drop chicken soup is similar to but not the same as the more popular Chinese egg drop soup. While Chinese egg drop soup contains tiny swirls of egg mixture the Polish variety involves turning the egg mixture into egg drop noodles (called 'Lane Kluski' in Polish).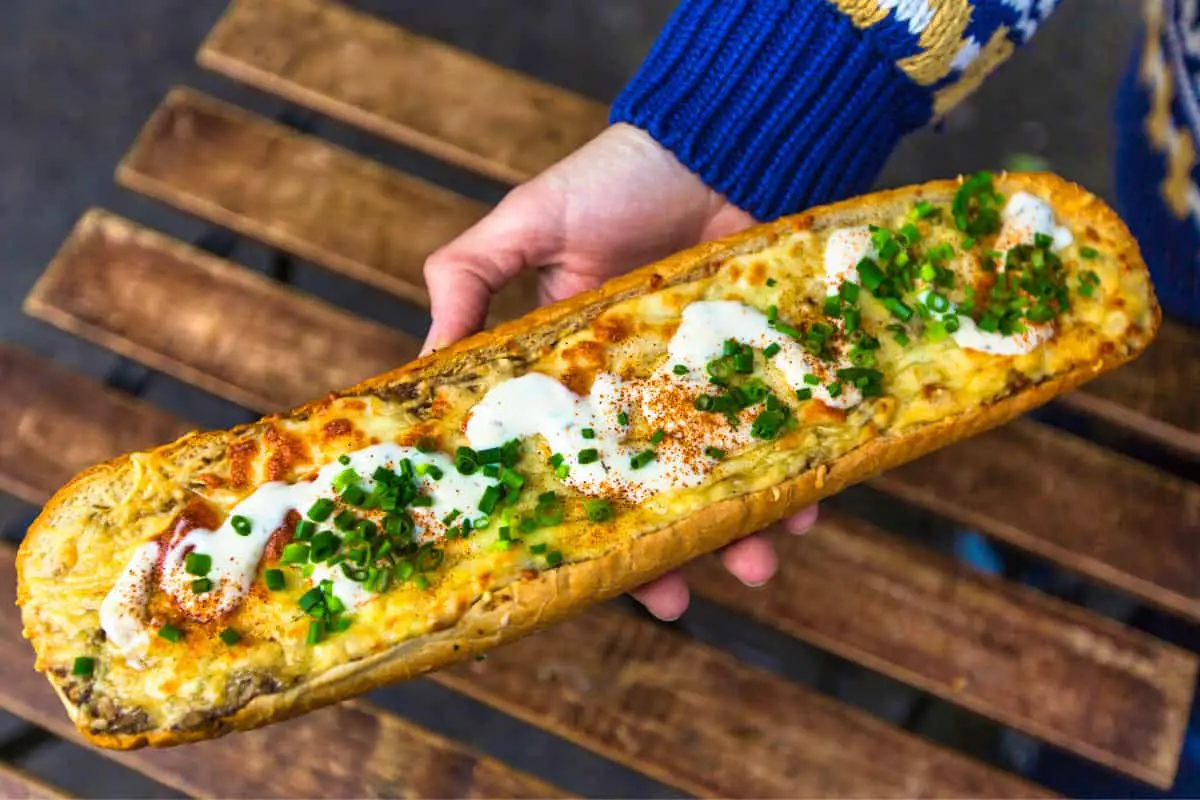 A few weeks ago I wrote about my polish heritage and reclaiming some of our family's culture. I believe it is never too late to start making new memories, traditions and reconnecting with your family, both past and present, and food is a great way to explore culture.
Stumbling across this traditional Polish recipe for Zapiekanka was a happy accident for me, while watching a travel channel documentary about food in Warsaw there was a small segment about street food, specifically Zapiekanka, which has a strong appeal to college students in Poland.
You May Also Like: 35 Traditional Irish Food & Recipes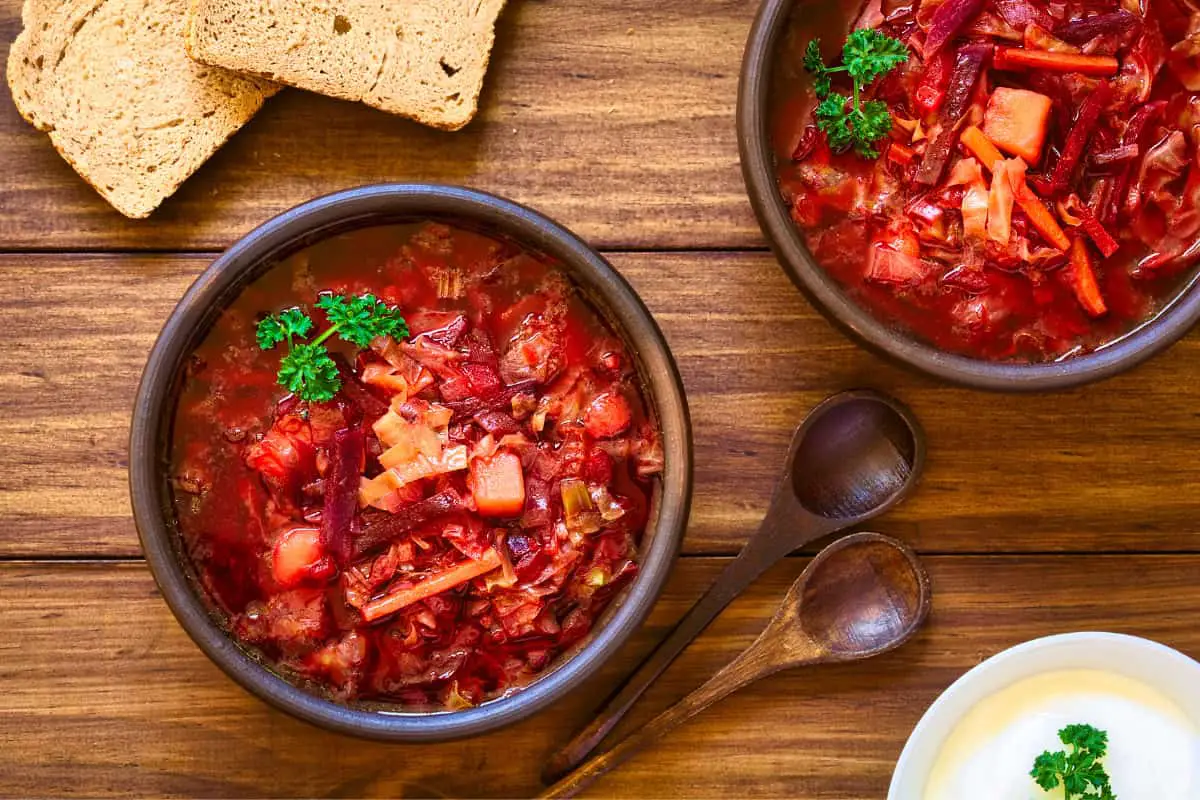 If you're looking for a Christmas-worthy soup that is both more impressive AND easier than the classic Red Borscht – let me introduce you to this Polish Mushroom Soup ('Grzybowa', pron.: gzhe-bova; also known as… 'Mushroom Borscht').
Following the tradition, this festive Mushroom Soup is completely meat-free. Instead, it's brewed on dried mushrooms (soaked the night before) and an array of root vegetables.
Most of the traditional Polish recipes for this soup are very similar. None of them include any dairy (no cream, no milk), as it wasn't allowed on the days of religious fast.
When I first made traditional Polish recipe for this Ogórki Kiszone (cucumber preserved in brine), my friend, Chris who used to write a blog called Kielbasa Stories, suggested that I try making Ogórkowa, a well-known soup in Poland (and Lithuania) made with these natural Polish pickles.
While well knows in Poland, Ogórkowa or Zupa Ogórkowa can be found in Polish markets or delis in other countries, but is not something widely known in the United States. I do suspect that my sister, who had a passion for pickle sandwiches as a child, will love this soup.
5 Polish Dessert Recipes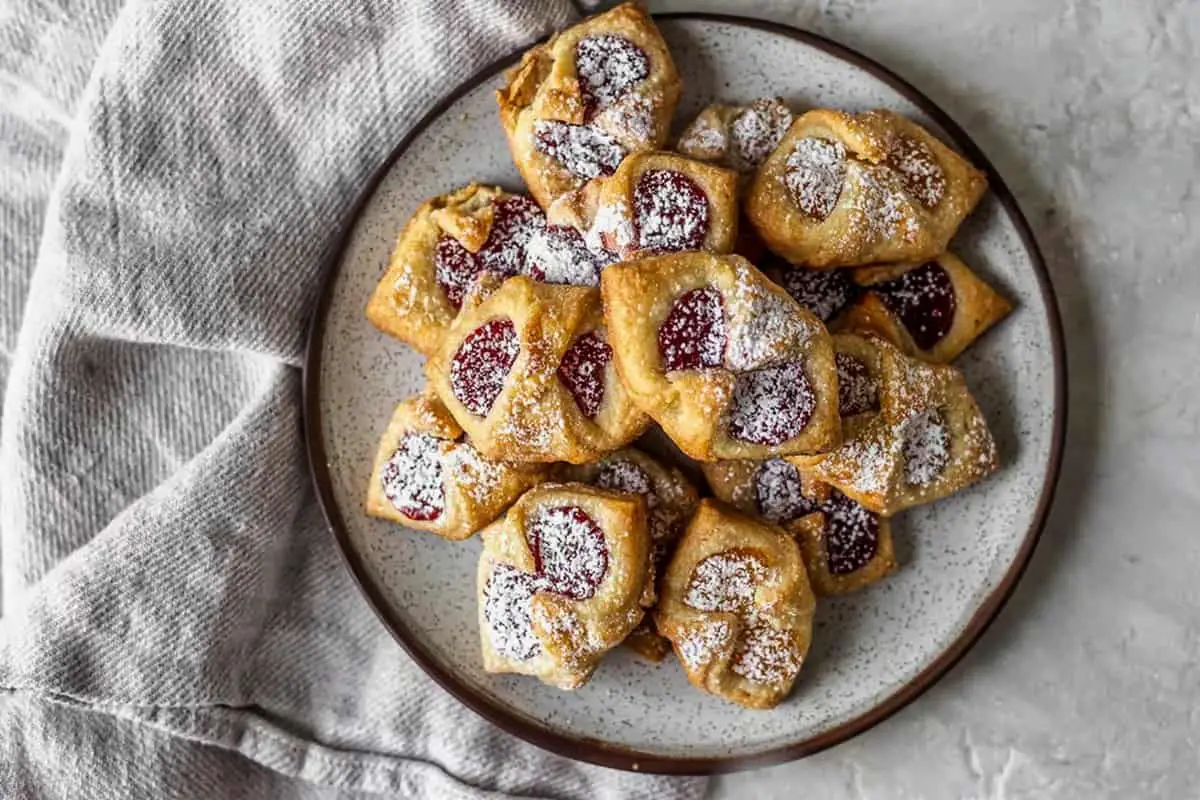 This Polish Kołaczki cookie recipe is made with a cream cheese dough that bakes up buttery and flaky. Kołaczki can be round, square or diamond-shaped, and the dough can be flaky or yeast-risen, and the spelling varies widely.
Since they are a little time consuming to make, they are usually offered for holidays or special occasions, but they're not difficult, so most dedicated bakers make them year-round.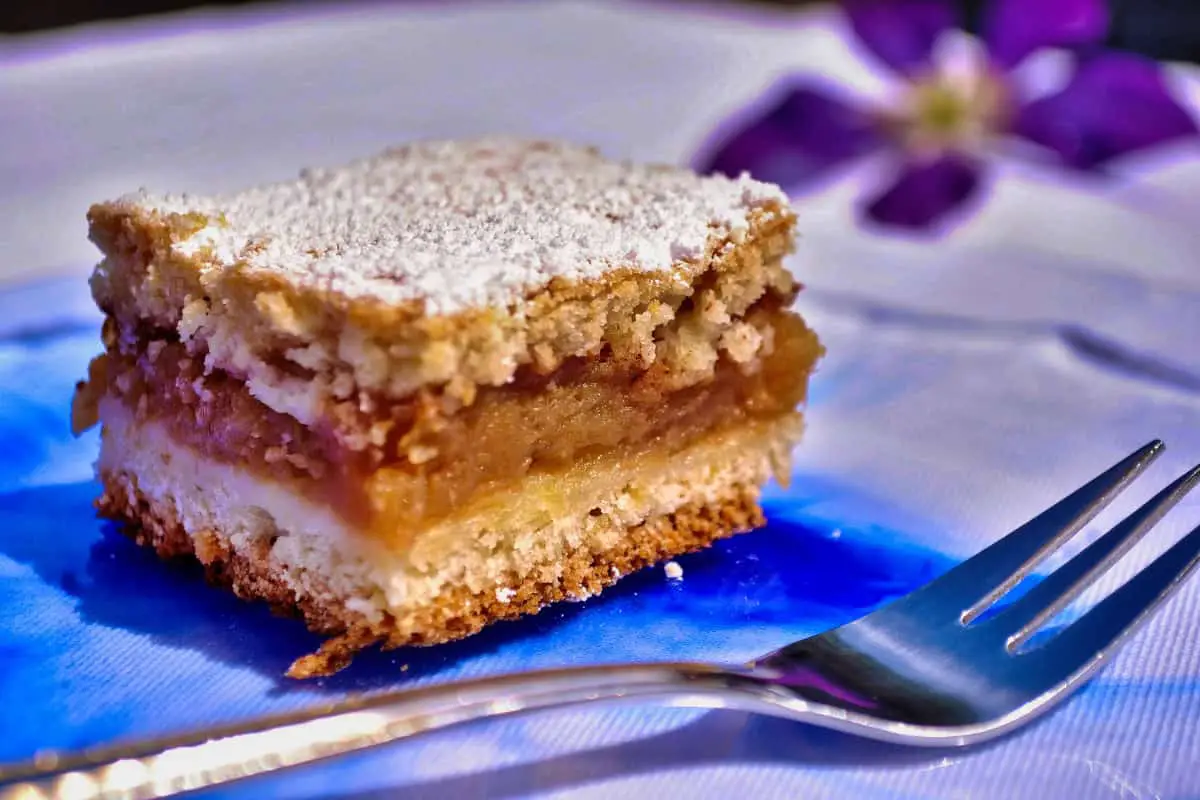 Szarlotka (Polish apple pie) is a staple found in every cafe and bakery in Poland. Imagine my surprise when I looked back and realized that, although I have eaten a lot of Szarlotka in Poland, I've never prepared one. I looked around and came up with this traditional Polish recipe on Pinterest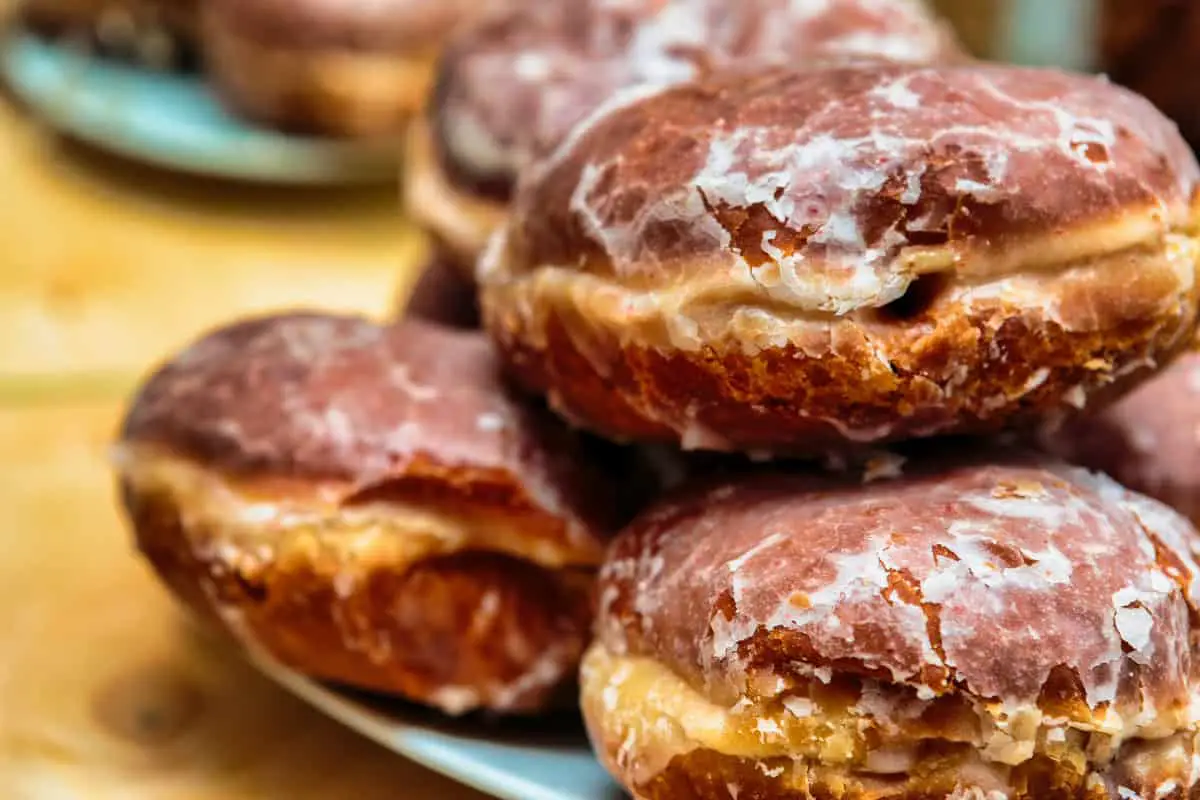 This traditional Polish recipe for Pączki (POHNCH-kee), or doughnuts, is a splurge food before Lent fasting begins.
In the United States, Fat Tuesday, also known as Shrove Tuesday, Mardi Gras, and Paczki Day, is the day to indulge before Lent begins. However, Fat Thursday (the last Thursday before Lent) heralds the winding down of Carnival season, and that's when fried foods such as Pączki are eaten with abandon in Poland, where it's known as Tłusty Czwartek.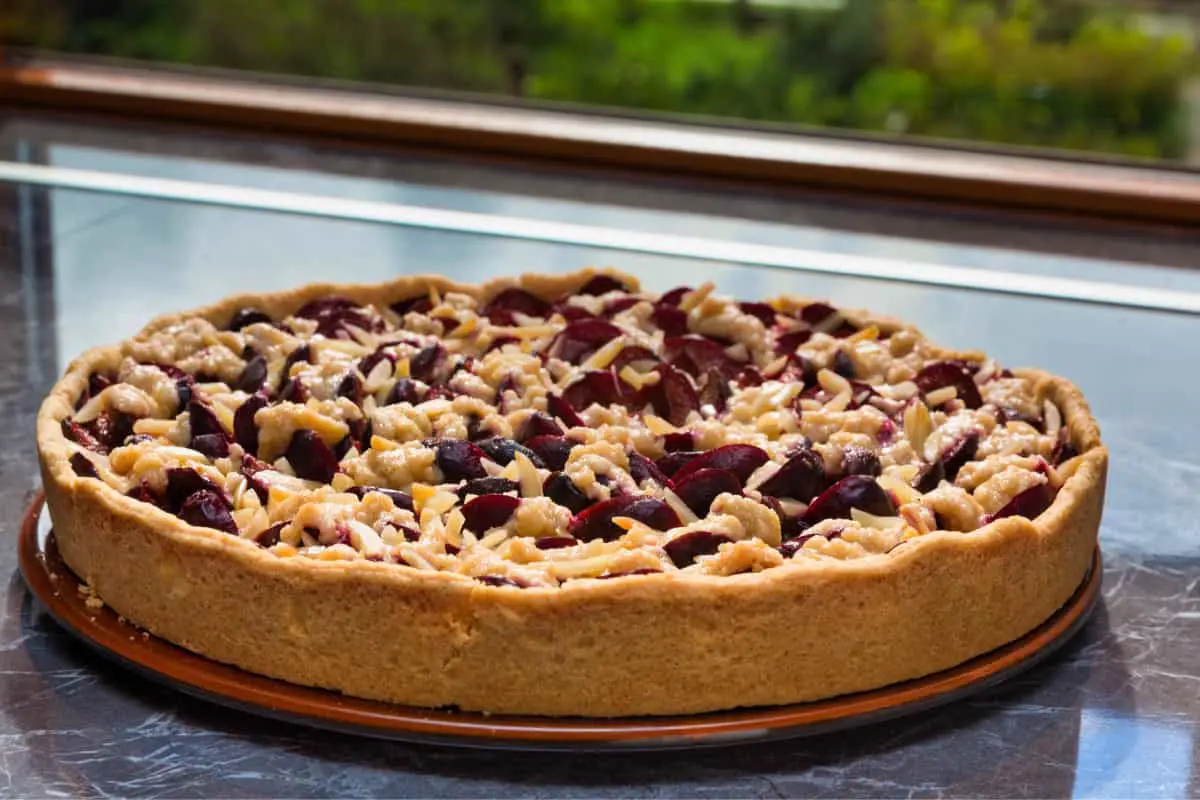 While preparing this Polish recipe for Plum Cake with almond filling for the first time, I knew it would be fantastic. You can just tell by the ingredients. Maybe it's because I'm a fan of anything almond. Having tried it, I'll say that the composition needs all the parts, but the bottom layer is my favorite!
You May Also Like: 10 Best Traditional Dutch Recipes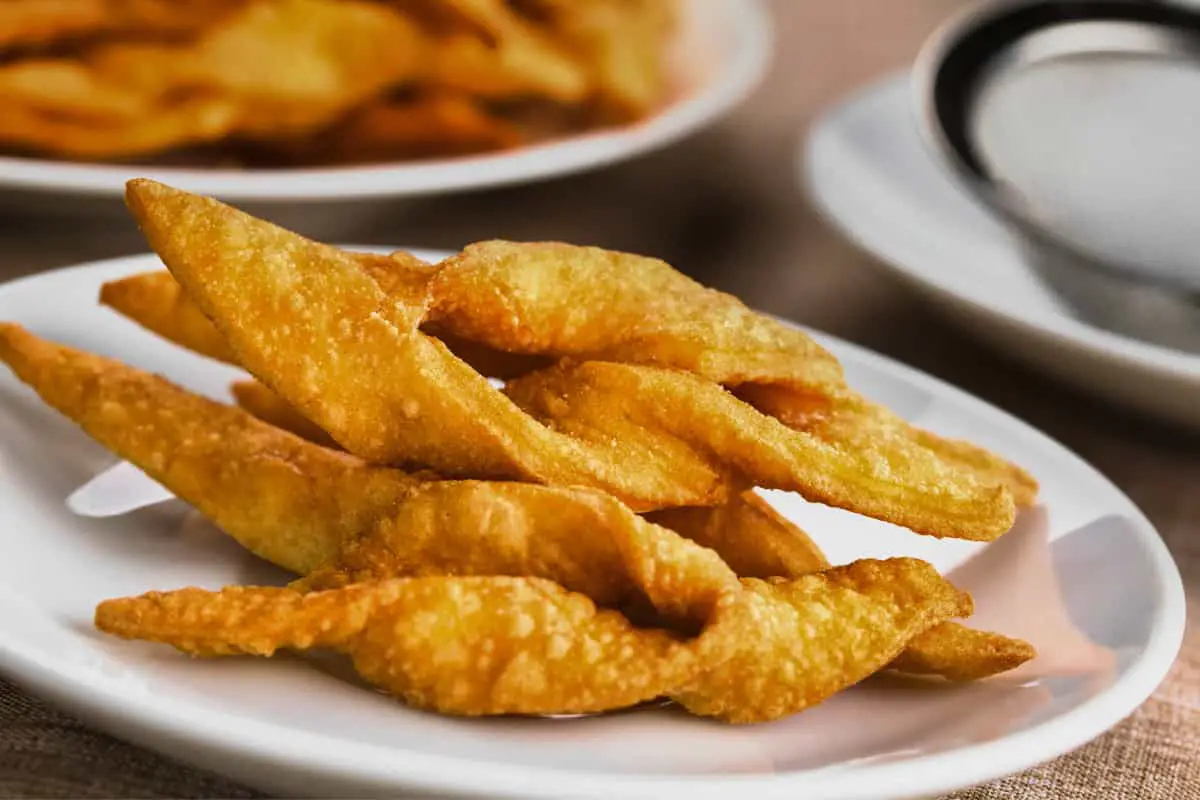 Polish Angel Wings or Chrusciki are delicate crispy little cookies. The traditional Polish recipe is made from an egg yolk dough then rolled out super thin, cut into strips and deep fried. Chrusciki are traditionally made around Lent but we love to eat around Christmas as well.
---
Check Out Our Pictures On Our Instagram – Our Big Escape.
You May Want to Join Our Boondocking Group on Facebook For More Information
Discover our unique product testing journey at Our Big Escape. We bring real-world experiences and adventures into every review, ensuring authenticity and reliability. Dive into our process at
How We Test Products: A Journey of Discovery and Trust
, where every product is an adventure tested.