Traveling to Bosnia was a cultural eye-opener for us especially when it came to the Bosnian food. The culinary contents are some of the simplest ones, but they make the most delicious meals. Its cuisine is a balance between Eastern and Western influences. The closest relations are to the Mediterranean, Middle Eastern, and Turkish cuisines.

30 Classic Bosnian Food & Easy Recipes To Follow
---
---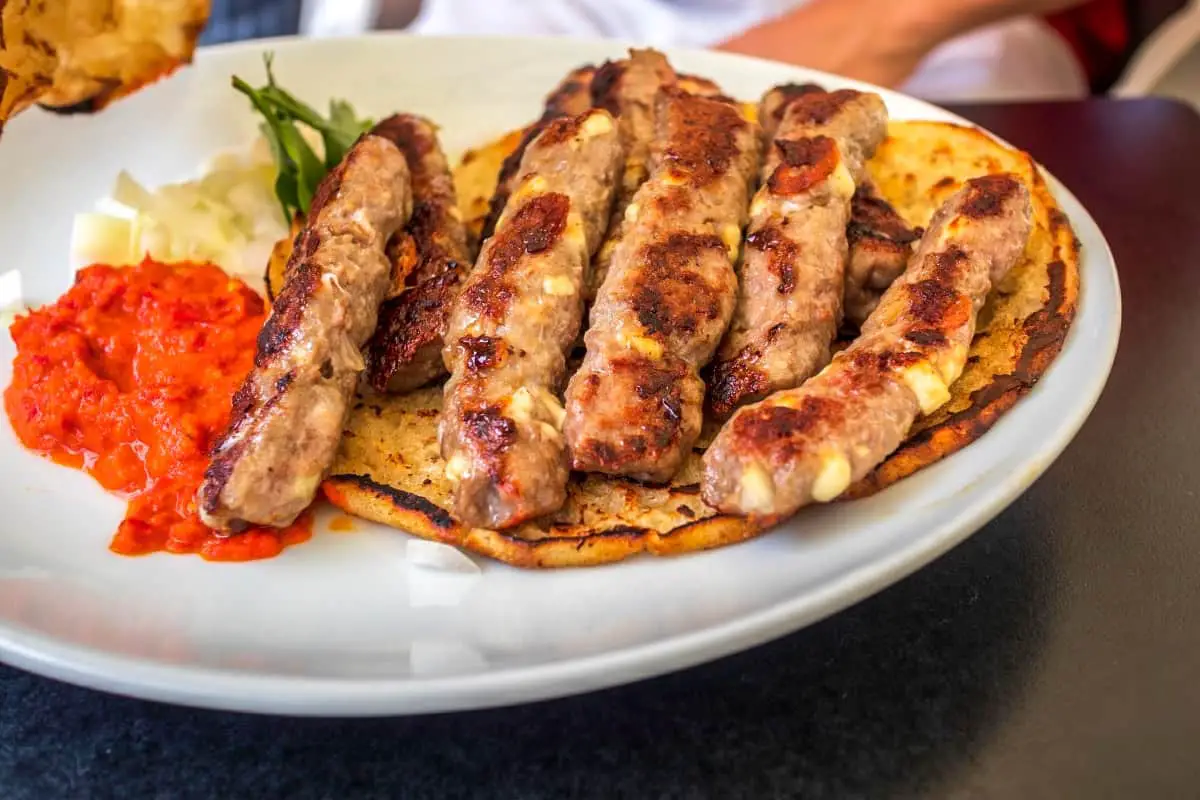 Ćevapi can be found in almost any part of Bosnia-Herzegovina, and it is an indigenous work of Bosnians. Authentic Balkan food. Ćevapi has been part of the traditional diet in Bosnia-Herzegovina for several hundred years – and now you can make it at home with this super easy cevapi recipe.
The real Bosnian sausage is unthinkable without onion. You can like it or hate it, but cevapi are always served with raw onions without special seasonings. You may have come across some different ways of serving it, like ćevapi with cheese, veggies, or even mushrooms, but that way of serving it is not traditional. Actually, to most Bosnians is blasphemous!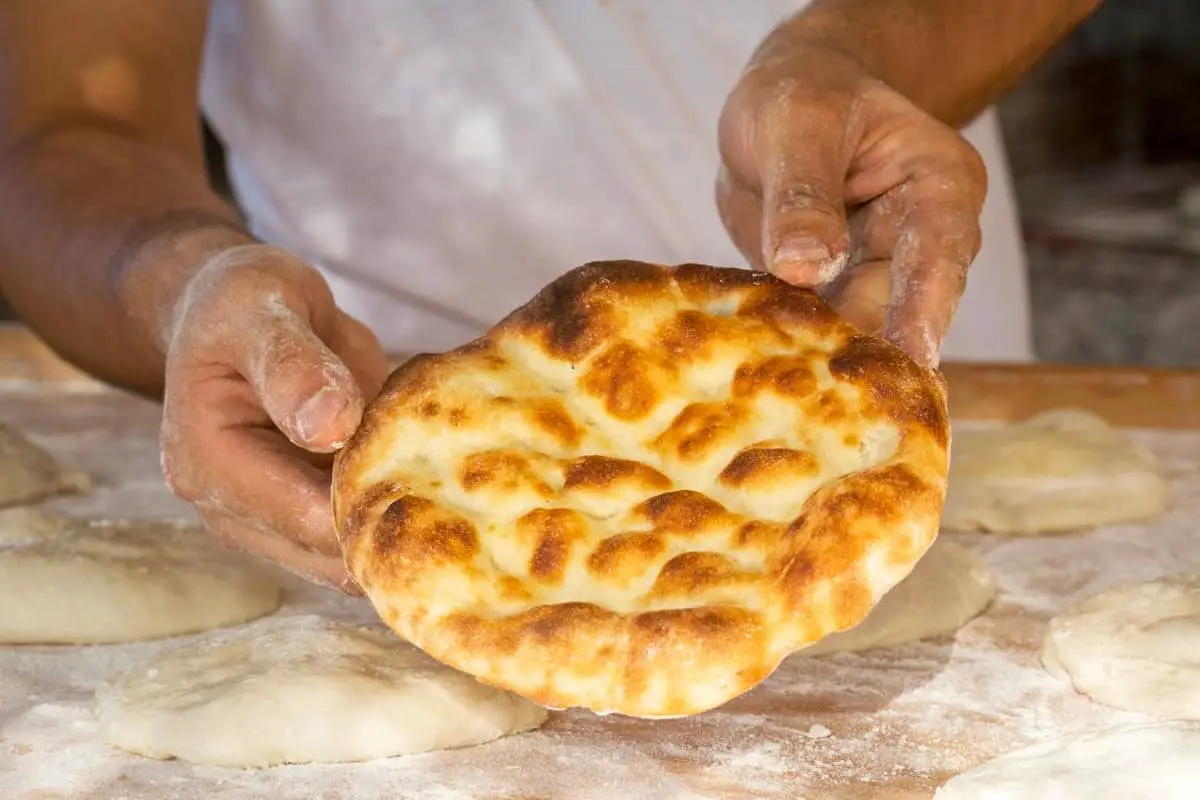 Lepinja bread, also called lepinje or somun, specifically in Bosnia and Herzegovina, is indeed the daily bread of the Balkans. It contains yeast but also baking soda (or baking powder) which is supposed to make the bread much lighter.
It is also known as lepinje za cevapi (flat bread for cevapi) because it is most often served with cevapi.
It is baked. And, just like pita, two layers separate during baking and its hollow center forms a pocket. You can open it on one side and fill it to make a sandwich.
It is a baked filled pastry made of a thin flaky dough (phyllo or filo), found in the cuisines of the former Ottoman Empire. A burek may be prepared in a large pan and cut into portions after baking, or as individual pastries. The top is often sprinkled with sesame seeds before baking.
The burek is a meat-filled pastry, traditionally rolled in a spiral and cut into sections for serving. It was delicious and it is really easy to make, I promise! Serve it with some yogurt and a refreshing green salad for a delicious meal.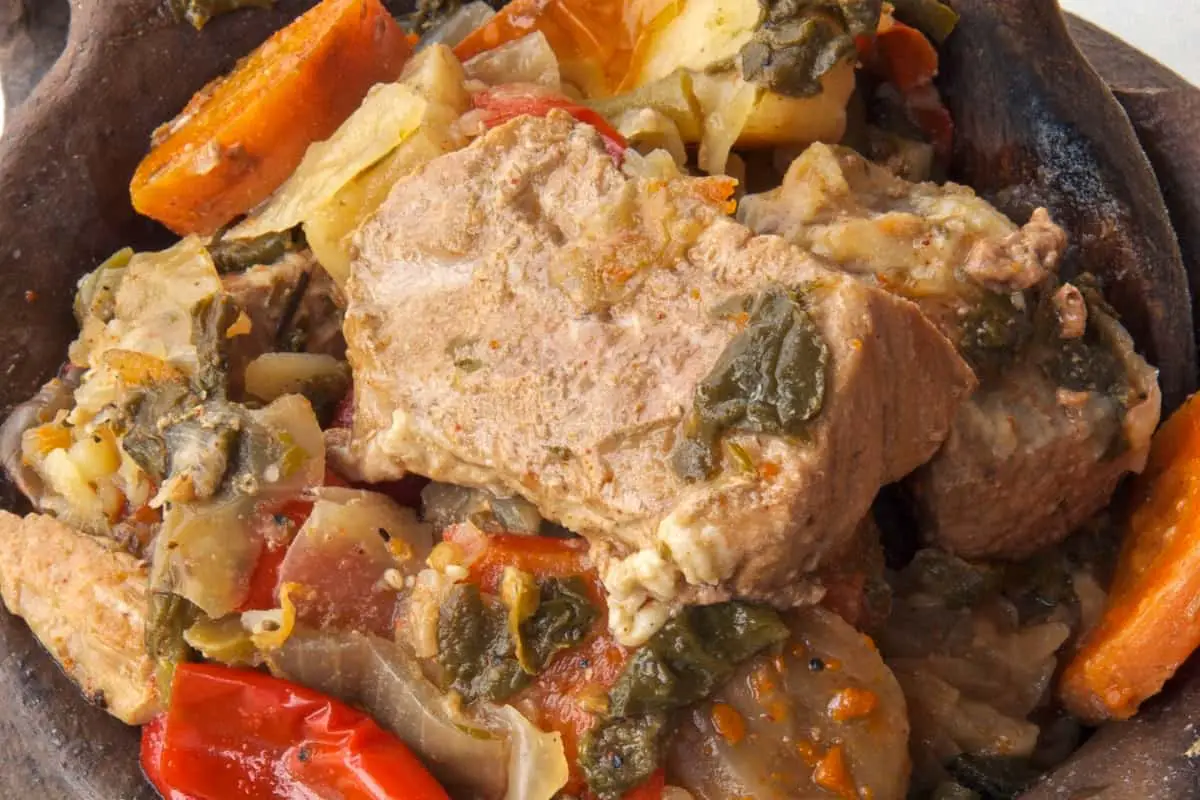 Bosanski Lonac is said to be one of the national dishes. The stew is unique to Bosnia and uses a particular way to prepare the meal. Cooks put large chunks of both meat and vegetables in alternating layers until the pot is full.
The Bosnian stew is an authentic Bosnian culinary speciality, appreciated for its rich taste and flexibility. It is impossible to define the recipe for Bosanski lonac, as there are many variations, but the main ingredients are mostly the same: meat and various vegetables.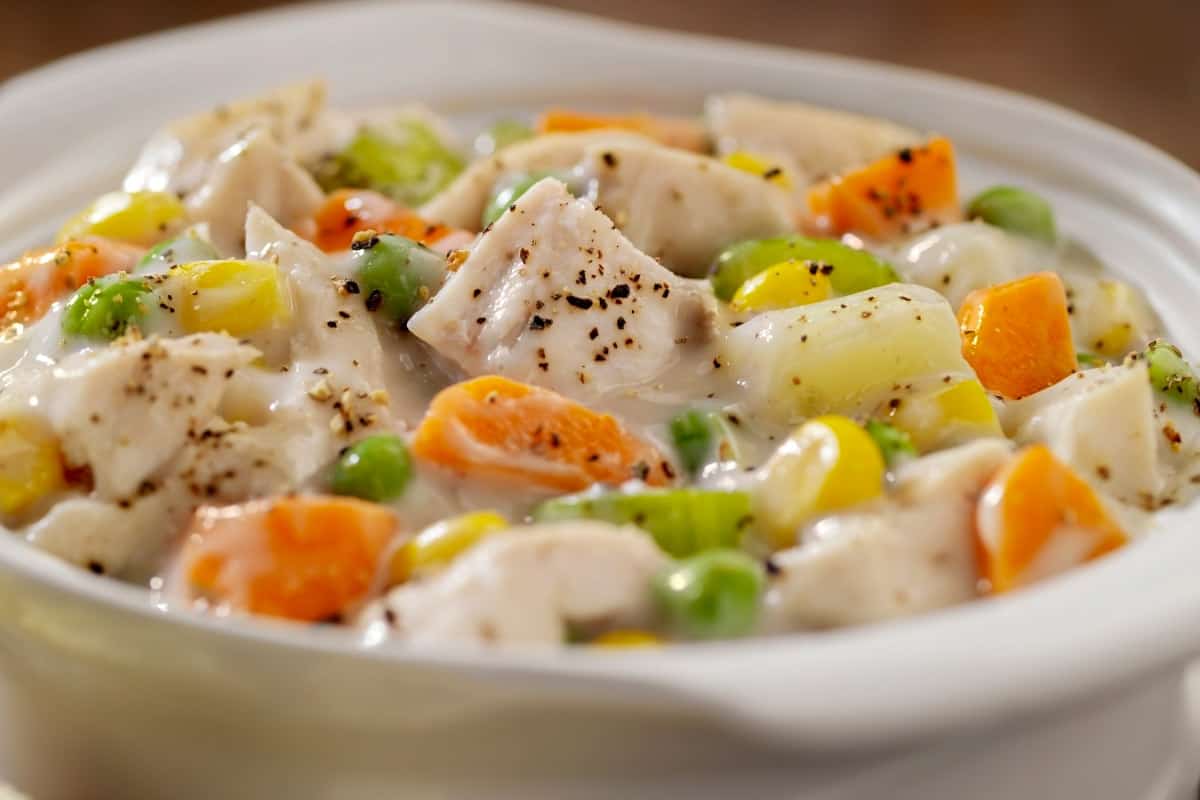 Slow-cooked chicken mixed with vegetables boils into a creamy stew served in a clay pot with sour cream to form Begova Corba. This dish, also known as Bey's Soup, is another Ottoman legacy. Bosnians often eat this meal on special occasions and during festivities.
Bey's soup is a dish you'll have a hard time forgetting. Luckily this okra delicacy – simmered in a chicken based broth, finished off with a simple roux, then sprinkled with lemon juice as the last touch.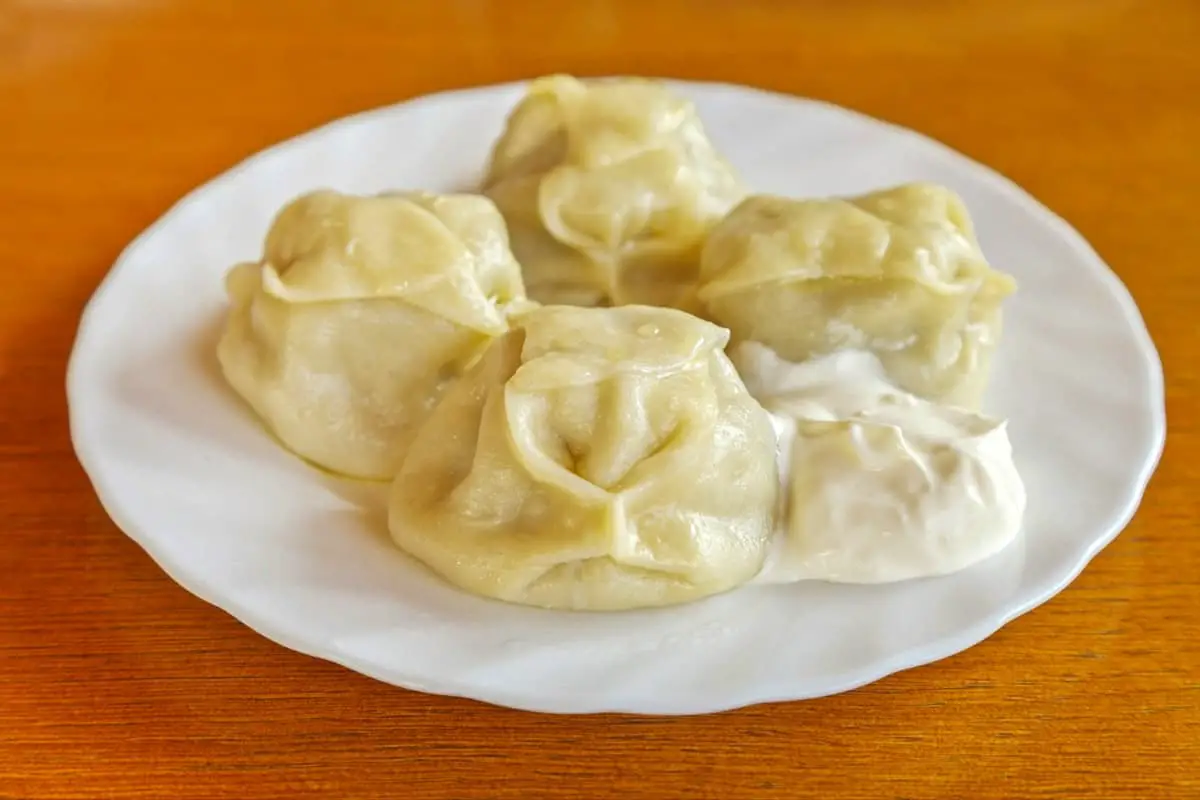 Balkan traditional dumplings called klepe. Klepe, like ravioli, can be filled with cheese but the most basic recipe usually calls for the meat stuffing. Klepe are not the easiest to make, however, they're well worth the invested time.
Klepe, are made of soft dough, filled with a spiced minced beef, that has lots of garlic and onions. These bite-sized delights are originally from Bosnia and are commonly known as 'Bosnian ravioli'.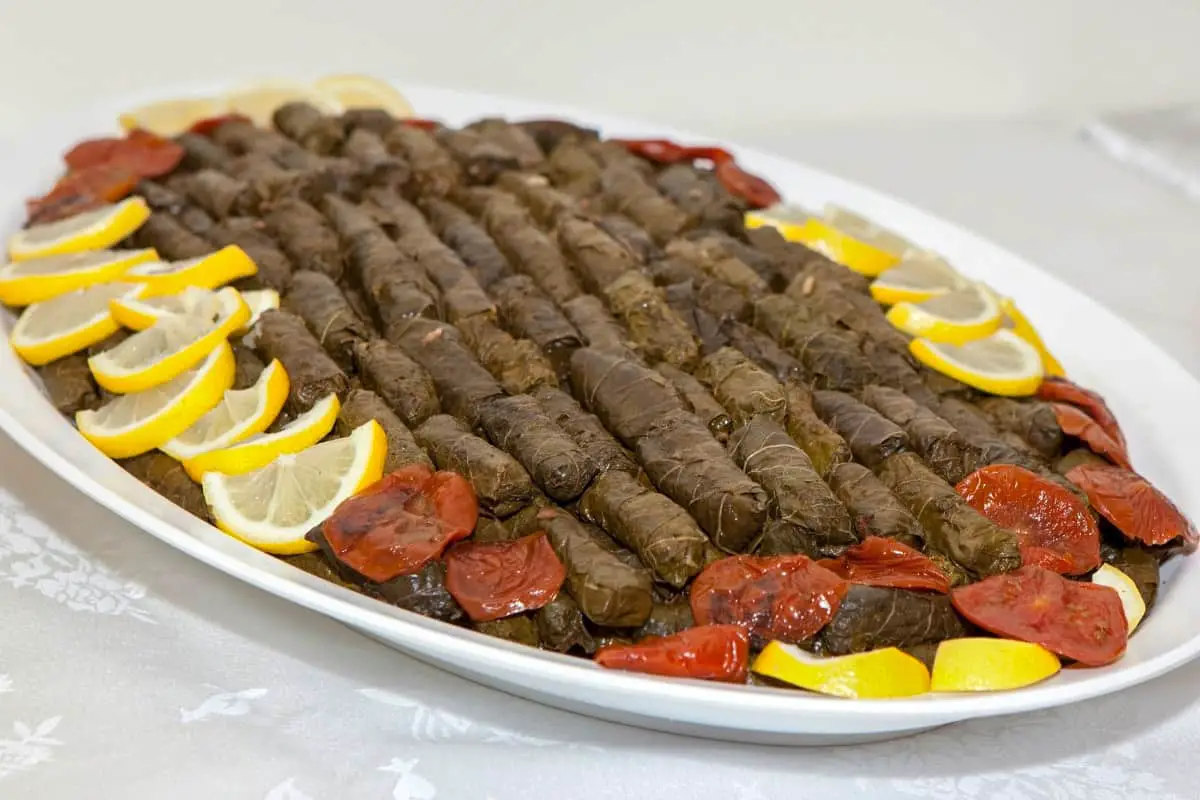 Dolmas, or stuffed vegetables, is maybe the most recognizable dish from the Balkans. Ground beef is mixed with onions, garlic plus spices, and used as a filling for several veggies (zucchini, onions, tomatoes, peppers and Swiss chard), until it's all finally baked it in a tomato based sauce.
Dolma is really a name for the filling, but in vernacular for a long time it's been known as the entire filled veggie. Today's recipe is for what's commonly known as šarena dolma, or colorful stuffed veggies. The combination of several different fresh vegetables together in a pan, the dish looks especially vibrant… and thus the name.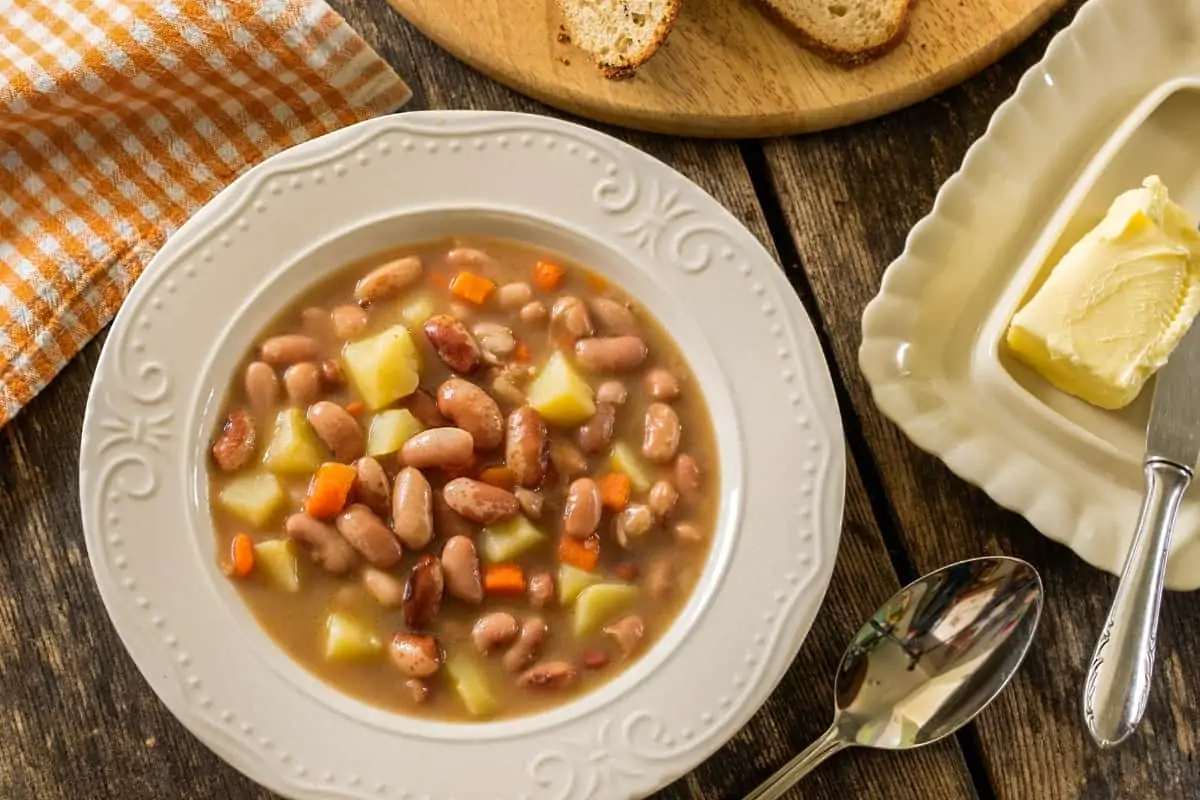 This flavorful, hearty soup is made from dried beans, so it takes a while to be done, but I'll tell you the wait is absolutely worth it. Recently I found peruano beans which are just perfect for this soup and if not the same, then they are very similar to my favorite Bosnian beans.
Bosnians are pretty serious meat eaters, we like to add some nice smoked meat to the soup — smoked pork ribs will also give it a great flavor. Serve the soup with some good, crusty bread. This is essential because you will be dipping that bread into soup and using it to pick up the last drops from your cup!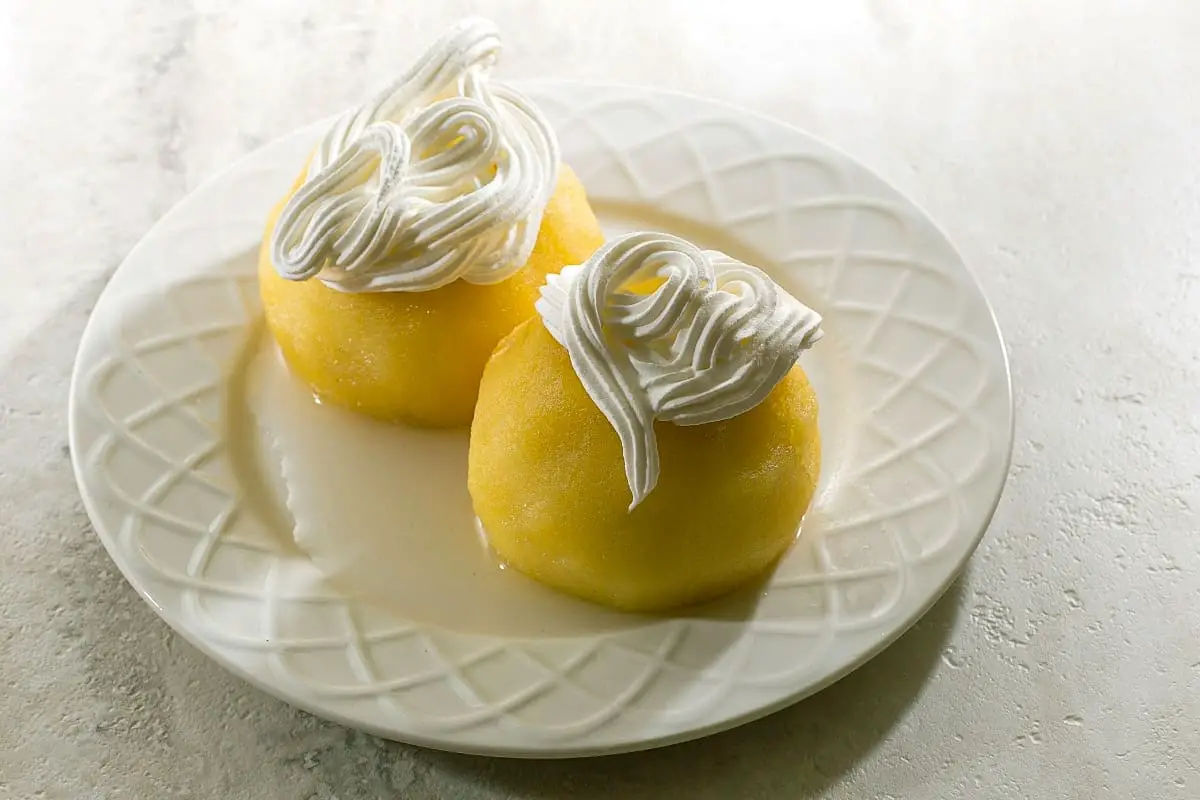 Walnut stuffed apples or tufahije (singular: tufahija) are a quintessential Bosnian dessert recipe. When these no-frills ingredients (walnuts, poached apples, simple syrup and some whipped cream) collaborate you get a very elegant treat.
As the name indicates, you'll be coring apples before you stuff them with a walnut and whipped cream stuffing. It's pretty easy, but there are a couple of things to remember. 1) Make sure your apples are of the sour variety. 2) When coring your apples, what you are basically doing is making a cup out of an apple. 3) If you're doing walnut stuffed apples for the first time, have a couple of extra apples in case it doesn't go well with coring the first time.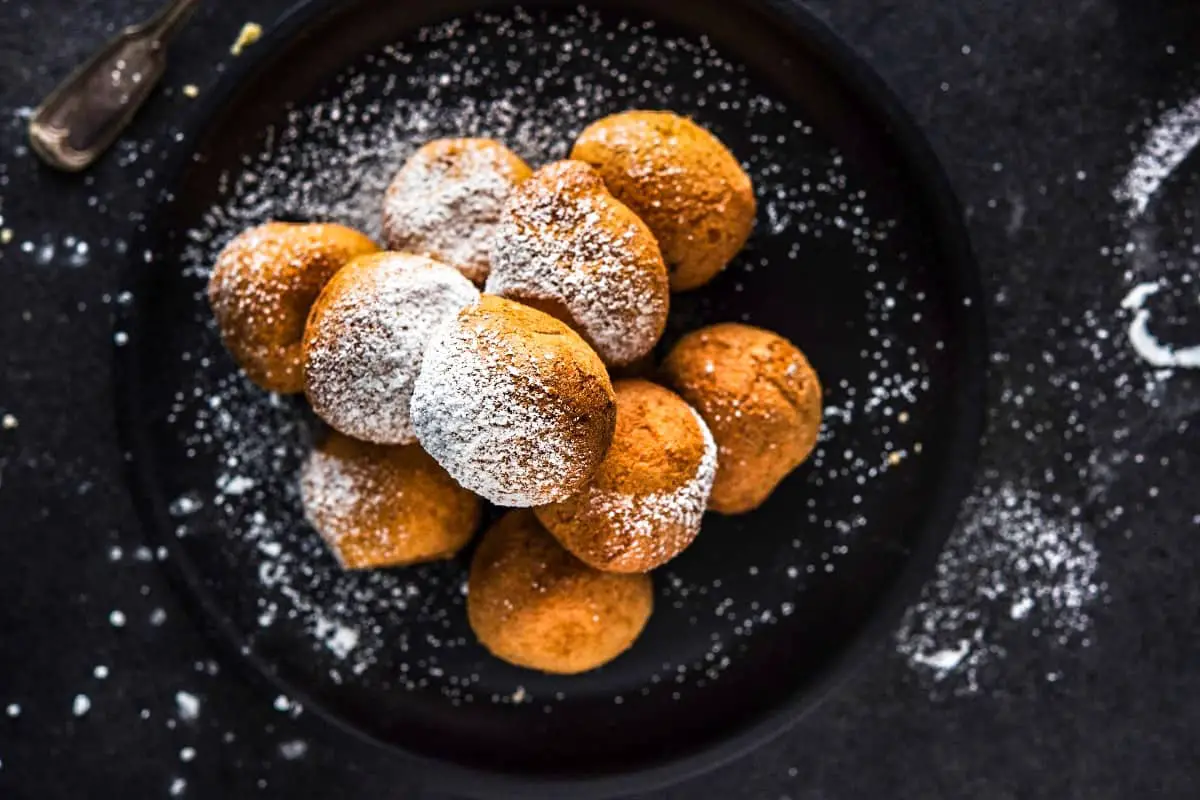 This Bosnian fritule called uštipci, is a festive pastry resembling little doughnuts, made particularly for Christmas. They are basically balls of fried dough. Whether savory or sweet, they are popular throughout the Western Balkans in many different varieties. Beignets are the closest comparison.
It is almost always served as crispy, greasy, savory snacks, and usually with assorted cheeses and kaymak — a deliciously creamy, cheese-like spread. They can be served alongside a soup or meat dish. However, uštipci are also popular as a sweet treat served with powdered sugar on top.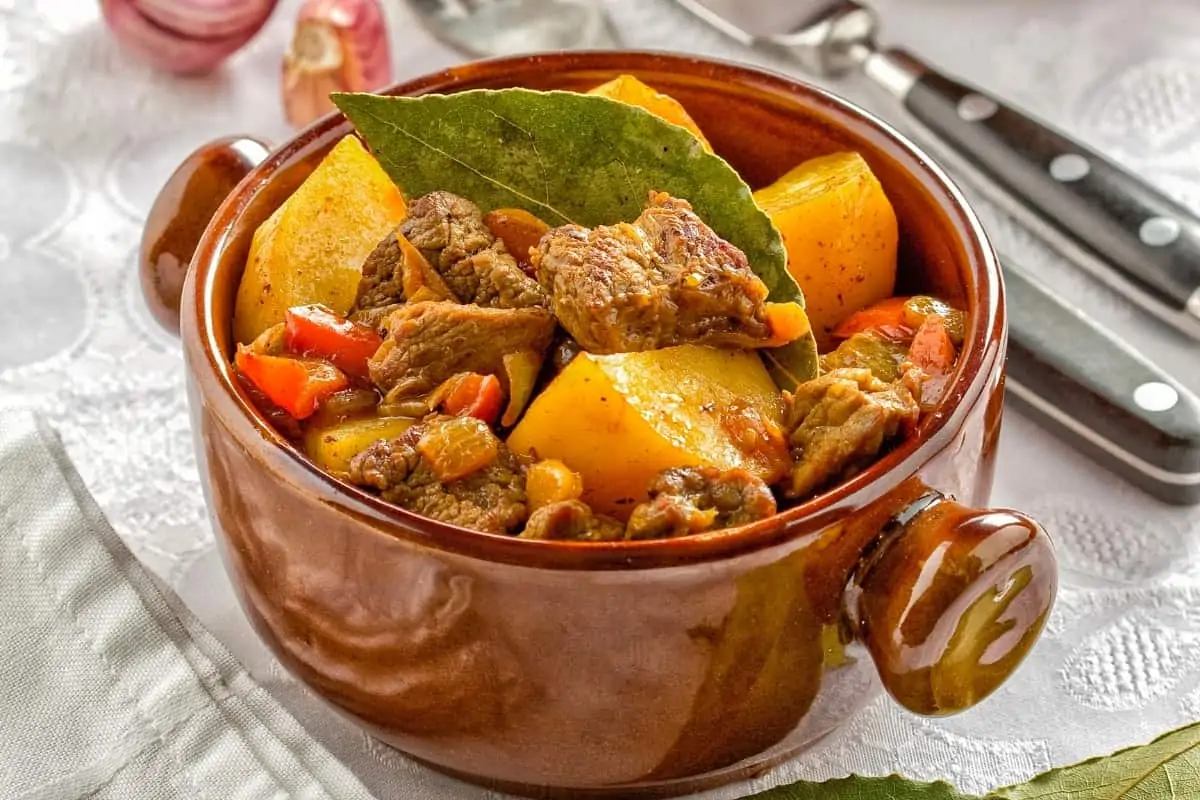 Jahnija is an old recipe from Northern Bosnia. It was used only on festive occasions, as it requires large quantities of meat and lengthy preparation.
A traditional dish made of meat and vegetables with a dominating flavor of garlic, onions and black pepper.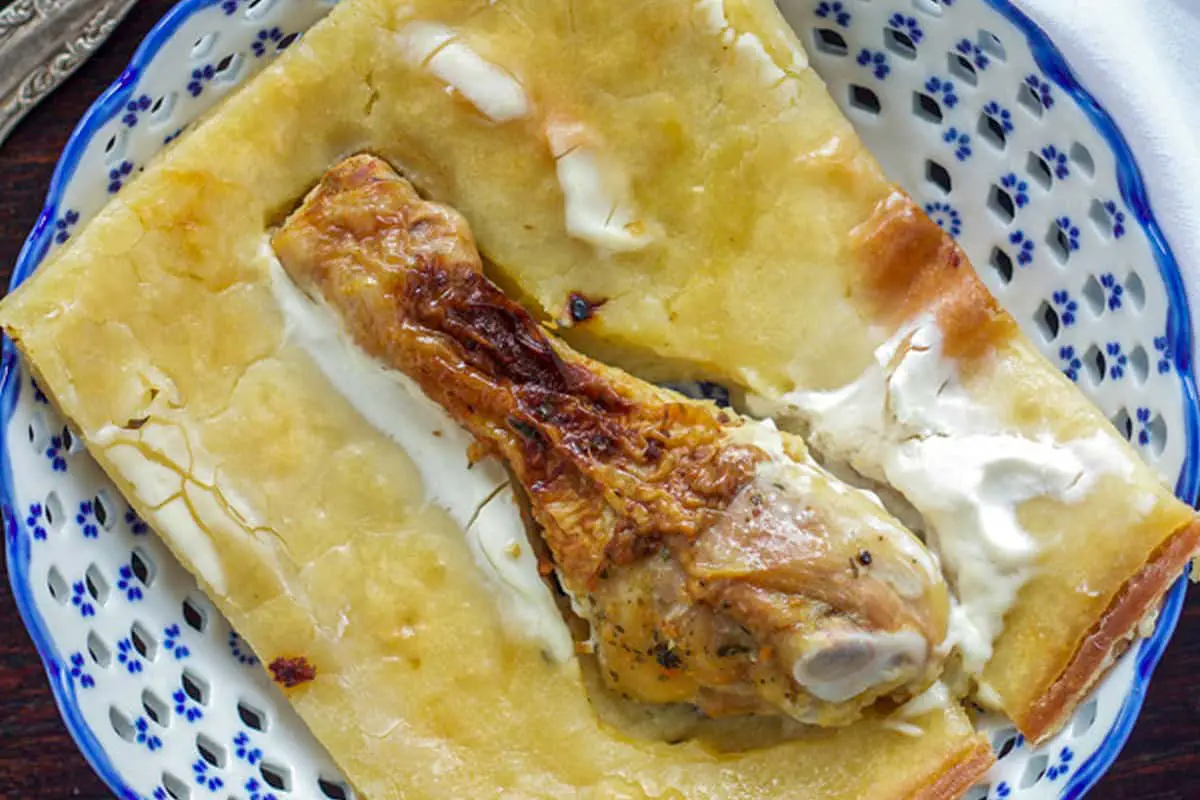 A traditional Bosnian food dish that is made by baking pieces of chicken in flour, egg and milk batter. In taste it's sort of a removed version of the chicken pot pie. Except instead of the crust on top and filling in the middle, kvrguša is more similar to pizza in shape where the crust is on the bottom and filling (generally just chicken, sometimes with more or less sour cream/ milk), is on the top.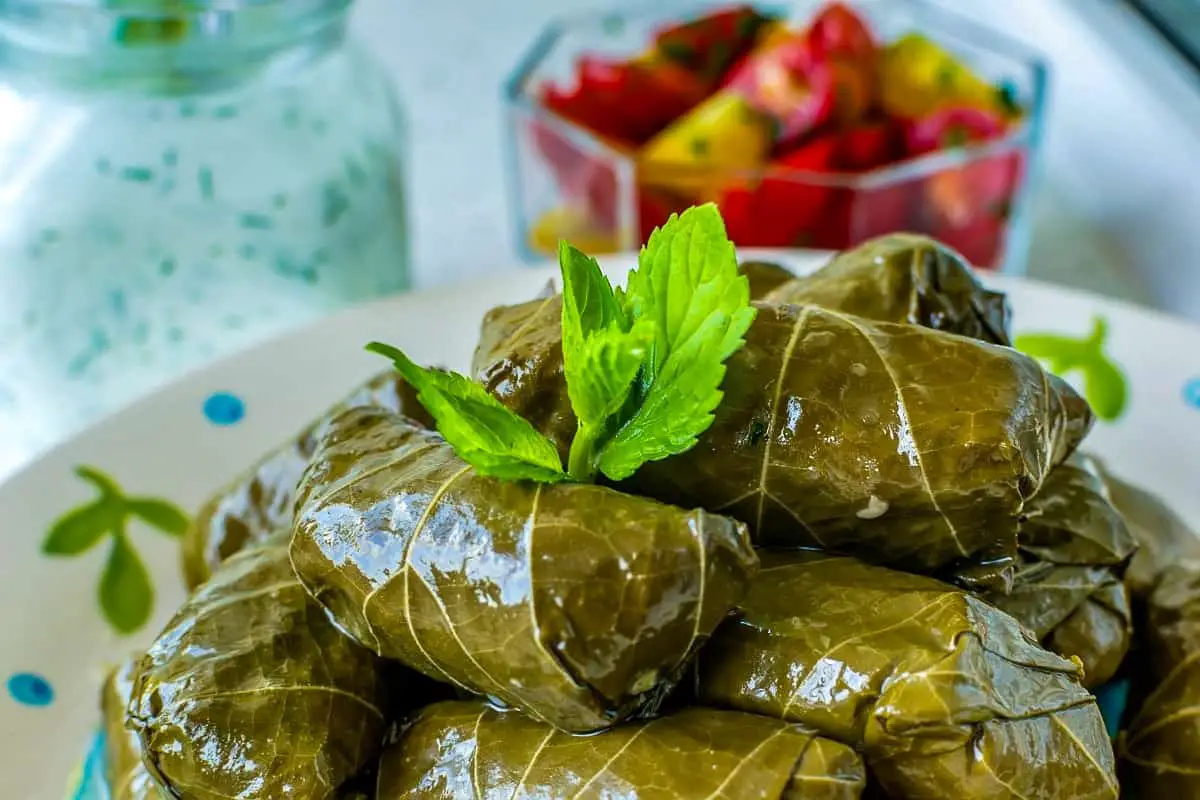 Yaprak is a Turkish word meaning "leaf" so it basically means it's a stuffed leaf. Today I have made for you this Turkish/Bosnian version with vine leaves. If you have fresh, young leaves, you can preserve them for yourself.
To preserve the leaves at home, you simply wash them, put together around ten leaves in a jar and cover them with a boiled, salted water solution, or you can even just simply freeze them in an airtight container. Originally the meat used for this dish is either beef or lamb, but you can use whichever meat is your favorite.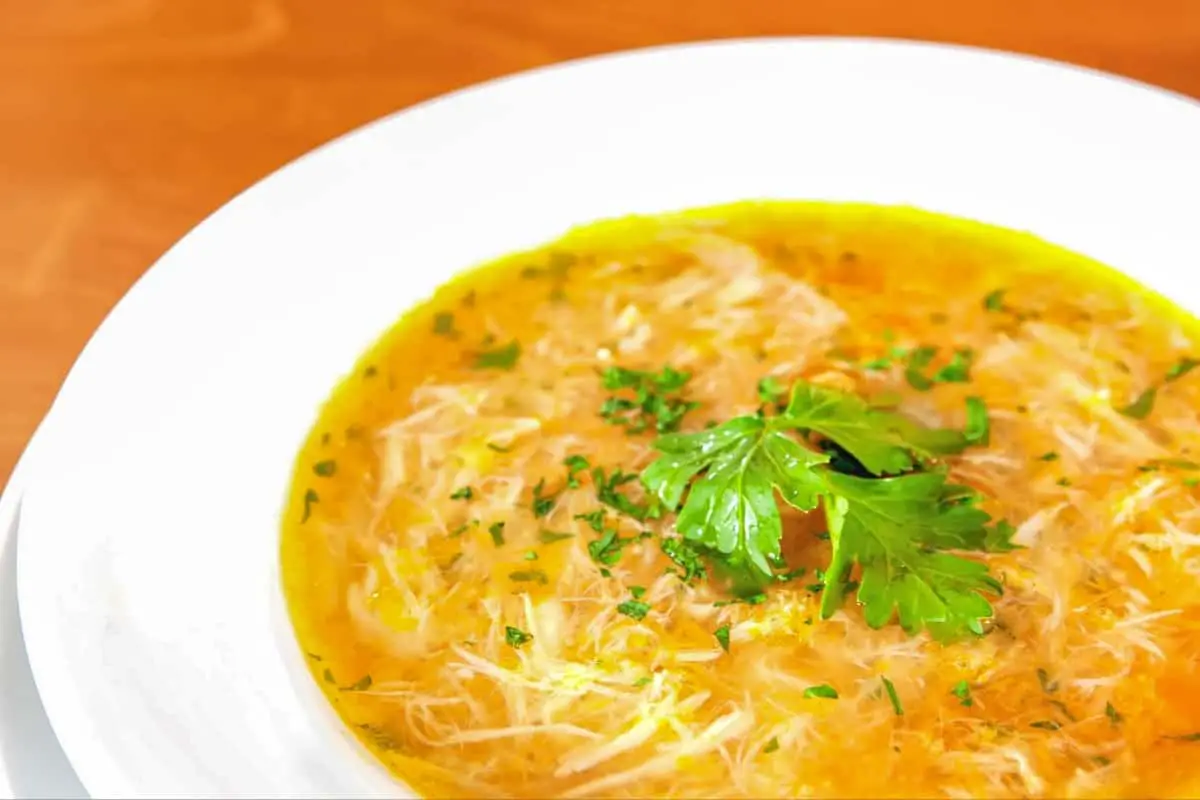 Every hostess needs to have at least one good soup recipe in her toolbox. And chicken soup isn't just for the sick anymore! It's also the perfect neutral flavor when you're hosting a meal for guests with a soup course.
I love to use tortellini in my chicken soup. At my local supermarket, I've come across tortellini stuffed with a chicken and herb mixture which is perfect. When I don't have that on hand, nothing beats the traditional egg noodle.
Vegeta, an Eastern European seasoning mix is required in this recipe. You can find some on Amazon or in the Eastern European section of your grocery store.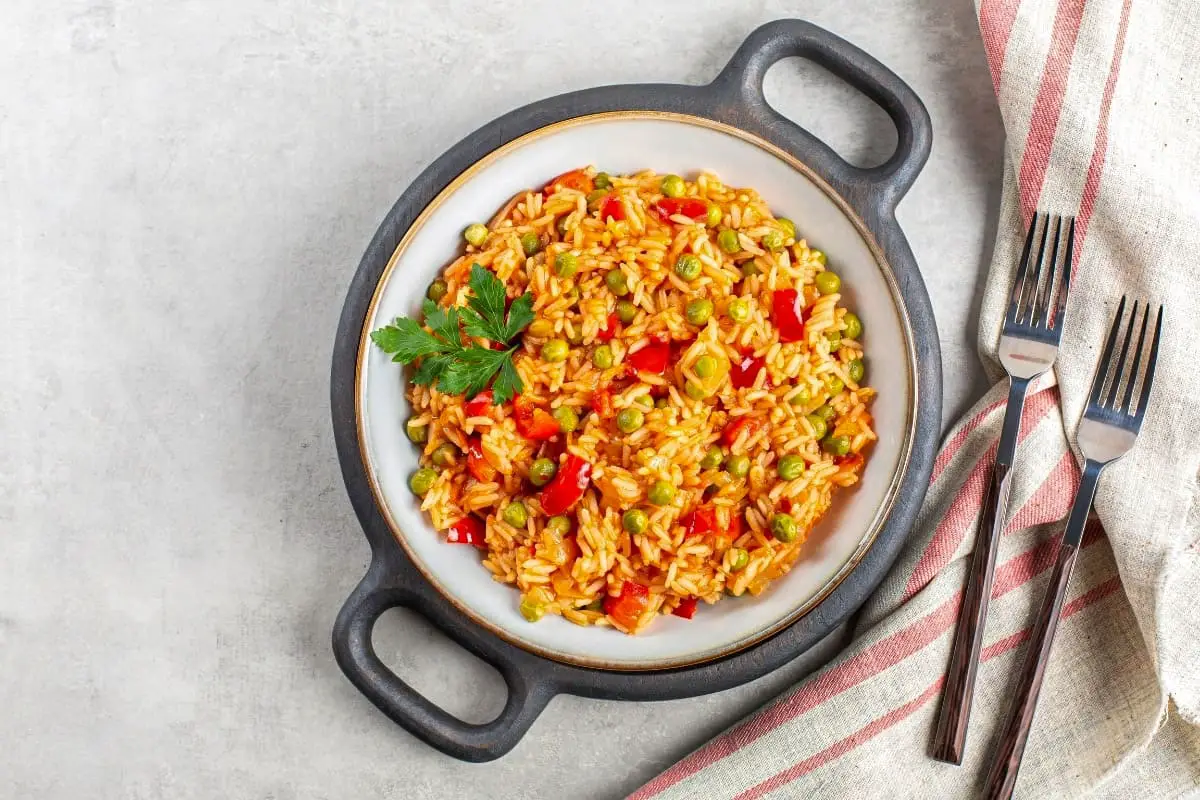 This easy djuvec rice is a healthy and easy side dish or vegetarian-friendly dinner that's quick to make and uses only pantry staples that you probably already have! It's made with veggies like onions, carrots, tomatoes, peppers, garlic, and peas, all cooked up in one pan.
This easy rice dish is great for kids because it's hard to pick the vegetables out – especially if you chop them finely! It's a pretty sturdy dish that can withstand a lot of ingredient swaps or substitutions, even though I think of it as a delicacy!
You can add a protein of your choice for a satisfying, comforting dinner that's quick, easy, and can just about feed an entire army! Try adding diced chicken, but beef or veal is also a delicious choice.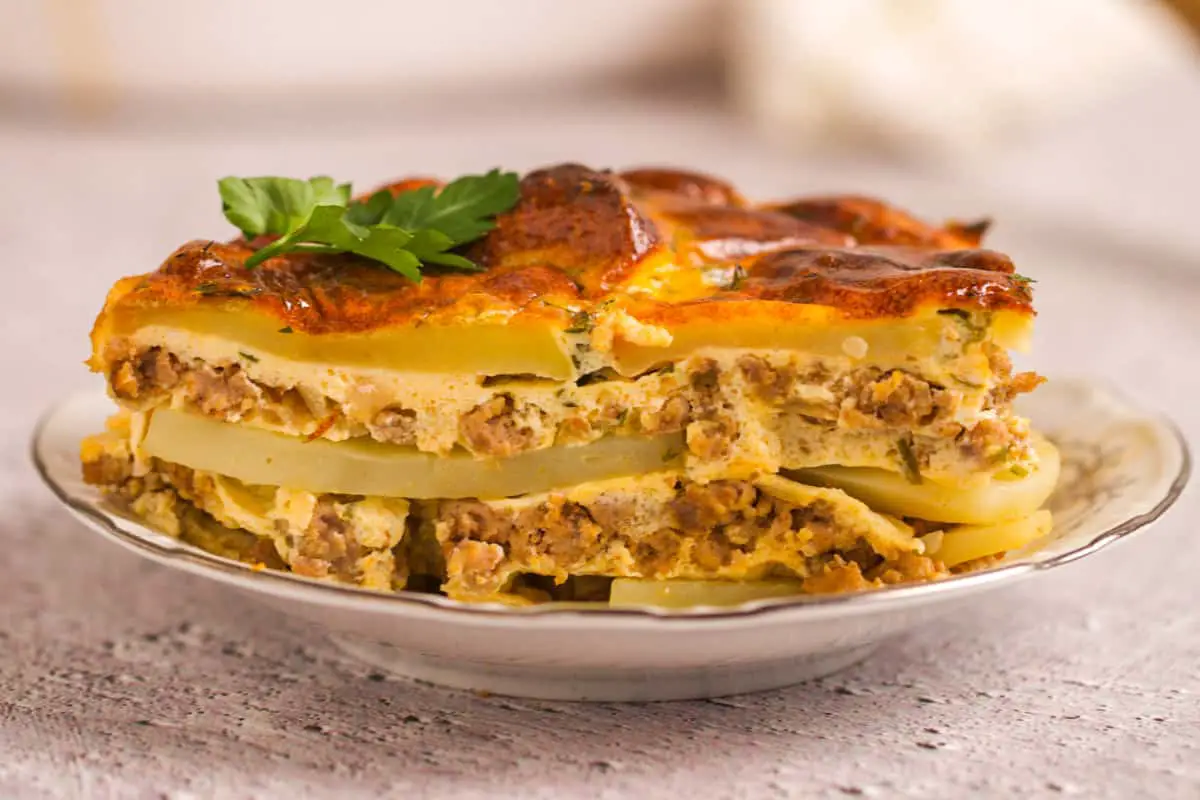 A baked dish made of layers of potatoes and minced meat. This easy ground beef potato moussaka is a nourishing casserole you'll learn love from the first try. This dish is truly a uniting meal, and it's made the same way in Bosnia, Croatia, and Macedonia, too.
Think of today's recipe as a slimming version of the Greek moussaka. For example, Balkan moussaka usually skips eggplant and almost never use bechamel as a topping. Instead, potato rounds and seasoned ground beef are layered, baked, and finished off with an egg plus sour cream topping. (Milk, yogurt and heavy cream work too!)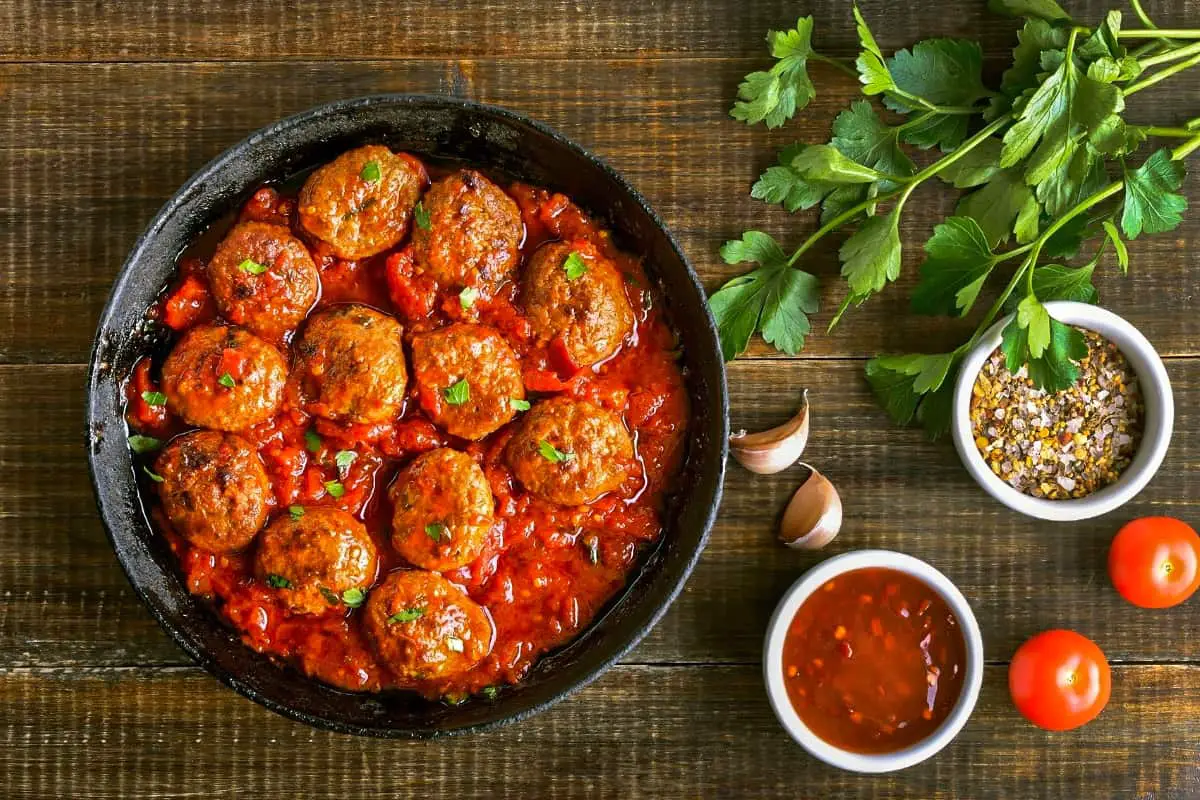 Traditional meatballs that are often served in a tomato sauce and can be enjoyed with a side of mashed potatoes or without any sides. The meatballs themselves are made from a mixture of minced meat, garlic, onion, eggs, and breadcrumbs.
They can be fried on their own or in the same pot as the sauce, which gives them an extra source of flavor. The sauce is made from tomatoes mixed with other vegetables and spices according to personal preferences.
These golden and buttery numbers are a Bosnian food favorite. A cross between a biscuit and a little cake, these can come in various shapes, sizes and flavor-styles.
Some may be larger or smaller, more syrup-y or perhaps with slightly different imprint patterns, but one common denominator is that they all embrace a sweet syrup that oozes into the biscuit – soaked to perfection. My version is fairly simple and also incorporates orange zest for a little citrus kick and semolina for a little more texture. Pair them on a plate and serve it up with kahva – is it coffee o'clock, yet?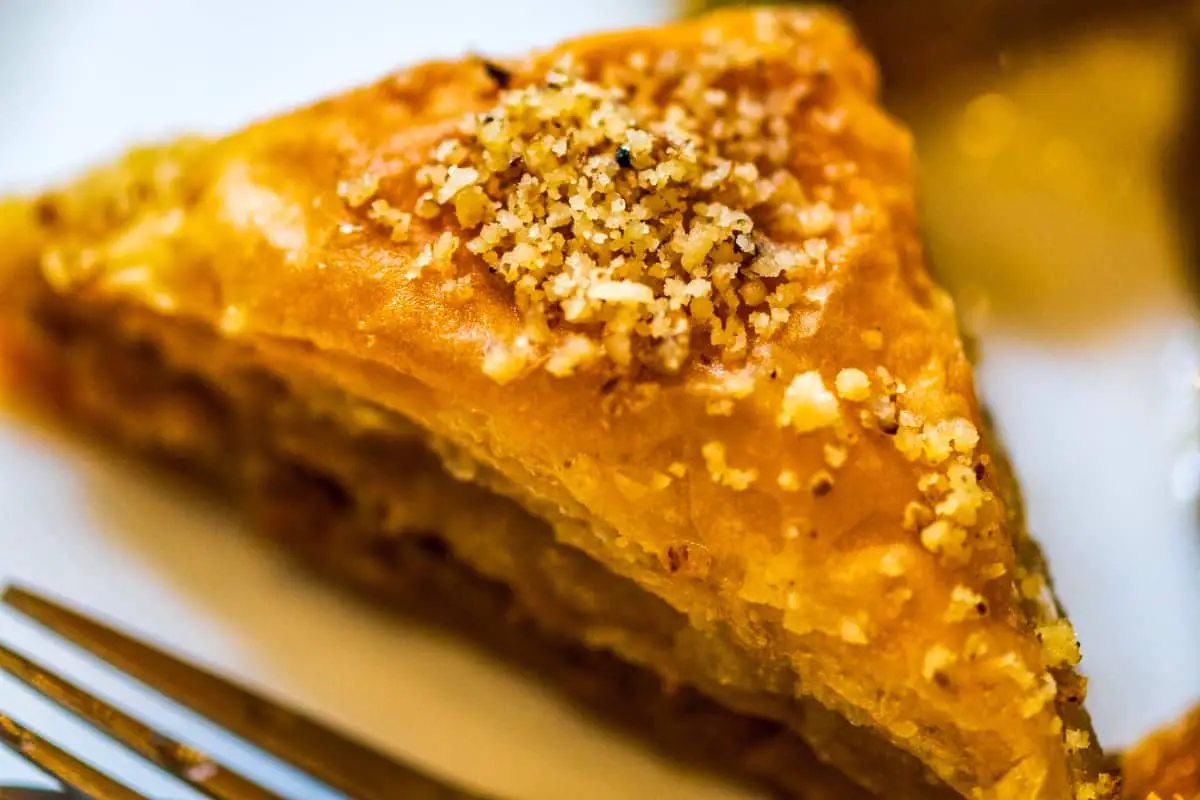 In the West baklava is synonymous with Middle Eastern flaky, honey, multiple-nut delicacy. Bosnian baklava is a bit different, and that's why I call it 'the midcentury modern' of baklavas. Its main ingredients are the walnut (and only the walnut!), butter, phyllo, simple syrup, and sometimes a filling of egg and flour crumbs (tirit). It's a simple and elegant dessert whose every component will satiate you.
You'll recognize a good Bosnian baklava by the fact that (like a good meal) one or two pieces will be enough to completely satsify you.
The most recognizable Bosnian delicacy is surely its unforgettable coffee. Depending on the region, you'll find it under the name of kafa, kava or kahva (sometimes with the 'bosanska' in front of it, to designate 'Bosnian' coffee).
You can call it anything except Turkish, because similarities end in the looks. Although rich, finely ground coffee is used for both, where Turkish coffee is cooked all the way through, Bosnian coffee is added to the water only after the water boils.
It is only finished after the foam, also known as 'kajmak,' forms on top once or twice. It is the foam that is first poured into each cup so that it rises to the top after the remaining coffee is poured in. Bosnian coffee is to be devoured slowly, with a sugar cube or two, plus a rahat lokum, (a local type of Turkish delight).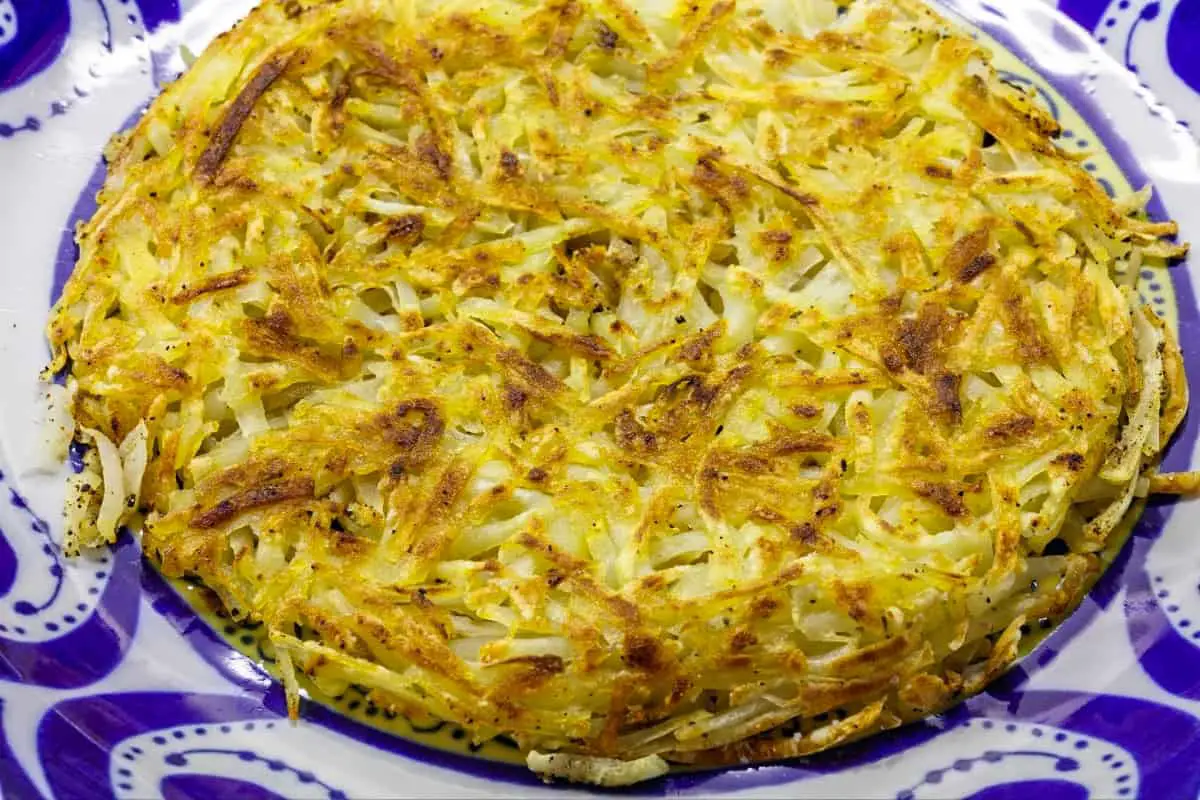 Its batter consists of flour, grated potatoes and onions. The result is a golden brown pie that's broken into pieces and generously topped with a garnish of yogurt and garlic. With only a few ingredients, hash brown pie is very simple to make. Potatoes are a comfort food, and so is this dish.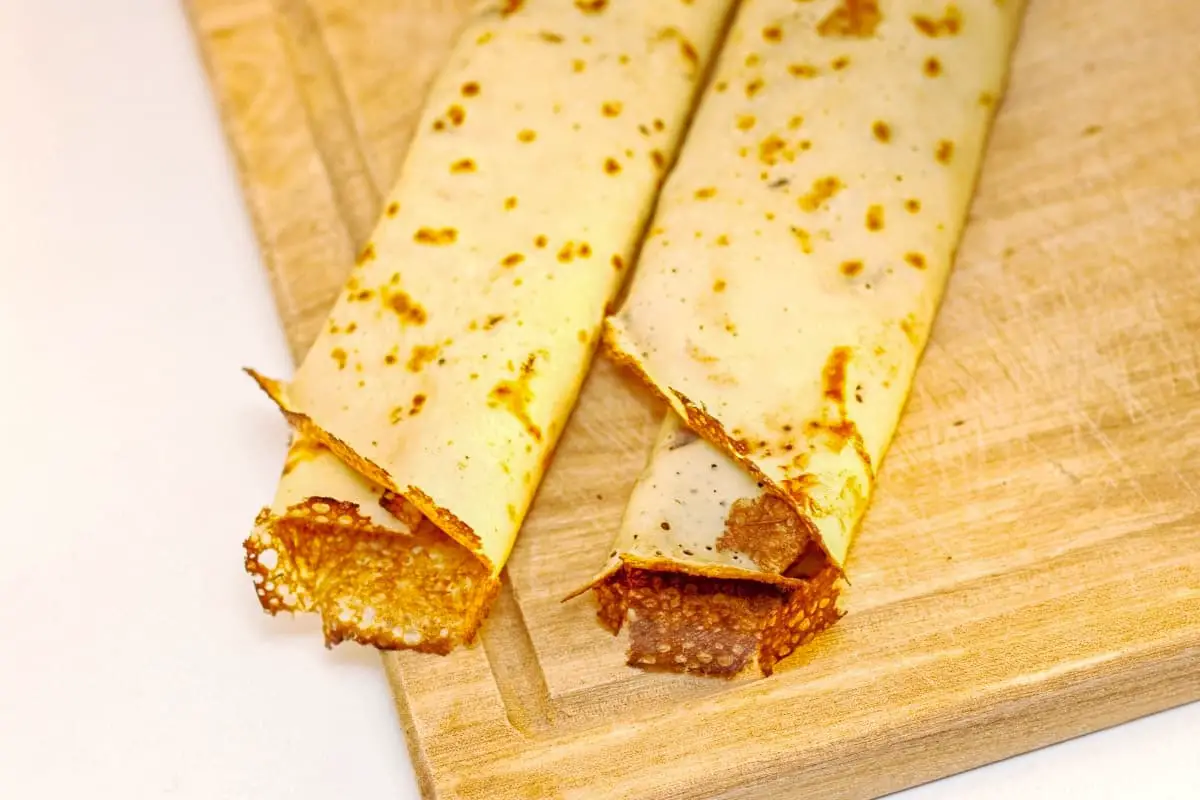 If you thought crepes are a predominately French thing you're in for a big surprise. People all around Eastern Europe and the Balkans have been devouring these delicate and lacy pancakes forever. Sweet assortments include palačinke filled with melted chocolate, chocolate spreads like Nutella, whipped cream, walnuts, honey, sugar, jam, marmalade and bestilj (a special kind of sugar-free organic jam).
Palačinke are not only a dessert in Bosnia, they are also transformed into savory dishes stuffed with vegetables, meat and cheese, and are sometimes deep fried or baked. Most households have a favorite recipe and filling. More elaborate fillings can make the dish a whole meal and not just a snack.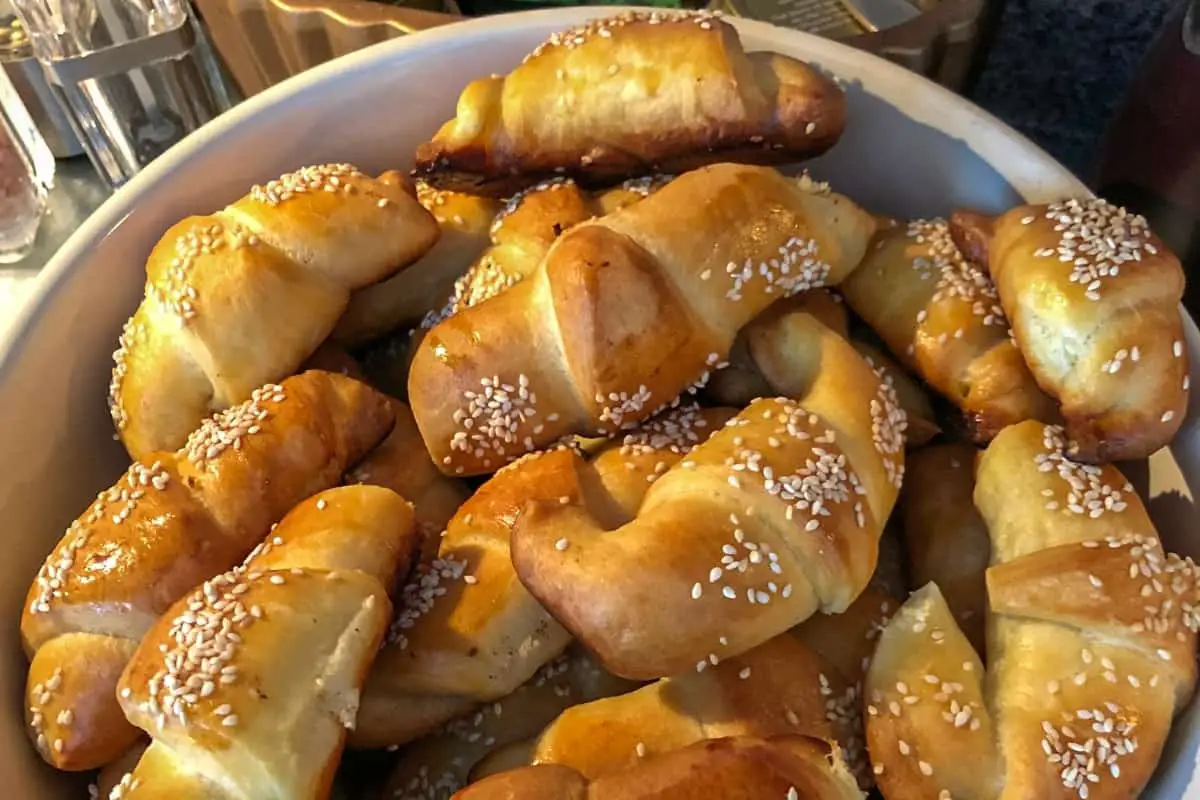 Somewhere between a scone and shortbread biscuit are kiflice; plum-filled crescents that look like mini croissants. While the dough itself isn't sweet, the jam filling and the icing sugar topping gives this pastry a sweet hit. This recipe uses a red berry jam but you can get creative and use your favorite jam or spread you like.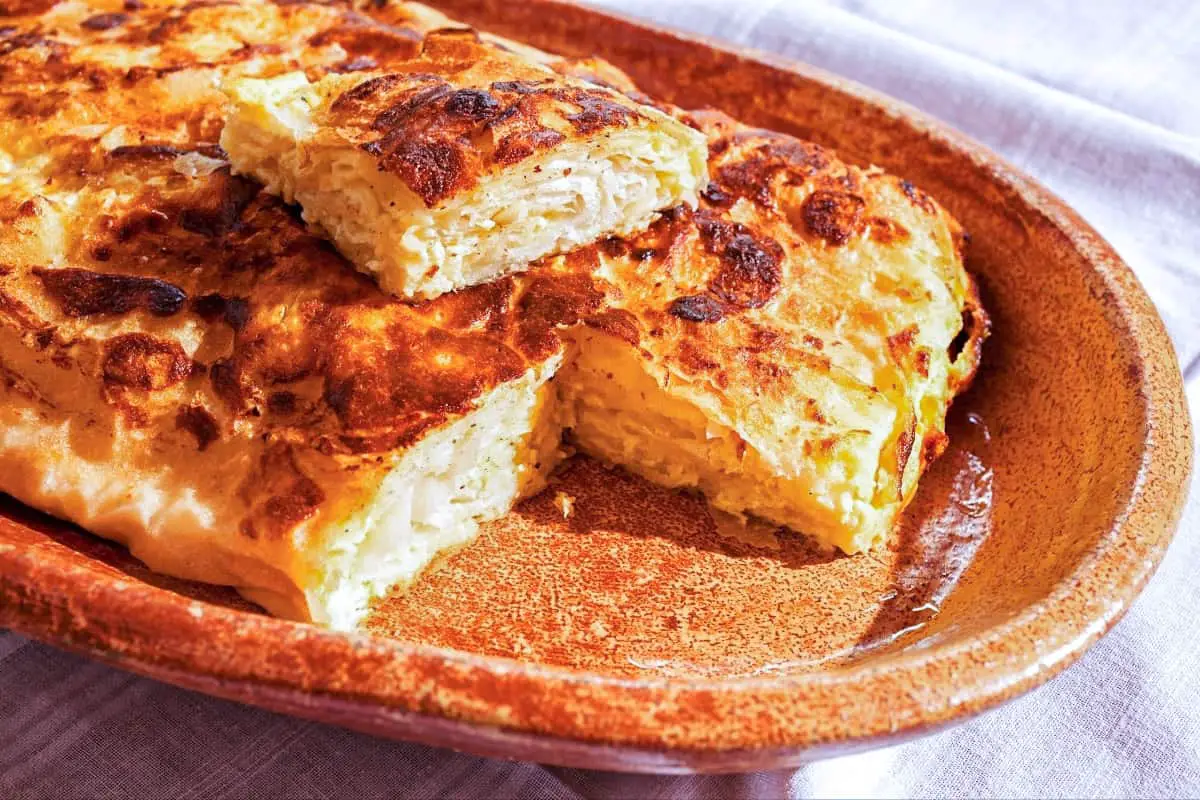 The pie is made with a combination of cottage cheese, kaymak or sour cream, eggs, milk, flour, oil, salt, and baking powder. The batter is placed into an oiled baking tray and the pie is then baked until golden brown.
Once done, prijesnac is served immediately while still warm. Although there is not much information about this simple peasant dish, it is believed that the locals had originally prepared it in order to make use of leftover cheese.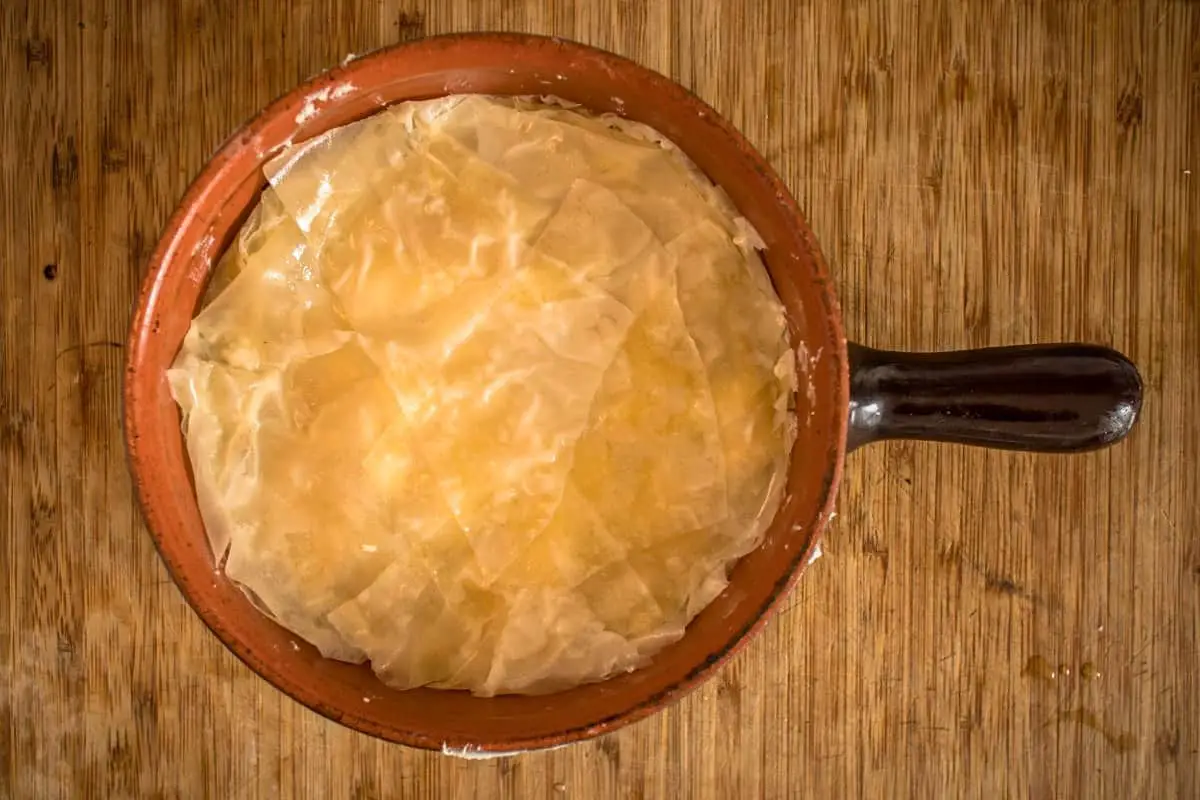 This is a tasty, easy to cook, airy dish. And I'm talking about Bosnian Cheese Pita (so-called Sirnica) or a simple name for it will be a cheese pie with phyllo pastry. You can find different traditional names for the Sirnica. It all depends on the filling. And there are a lot of types of fillings such as cherries, meat, herbs, potatoes, or pumpkin.
The traditional Sirnica is only with cottage cheese. For those that are obsessed with cheeses (like me), I would recommend trying this recipe with additional mozzarella. Also, you can add other types of cheeses that you like. A good fit will be the Feta cheese. This puff pie will surprise you because it is unique in its simplicity, but you will get excited by how tasty it is.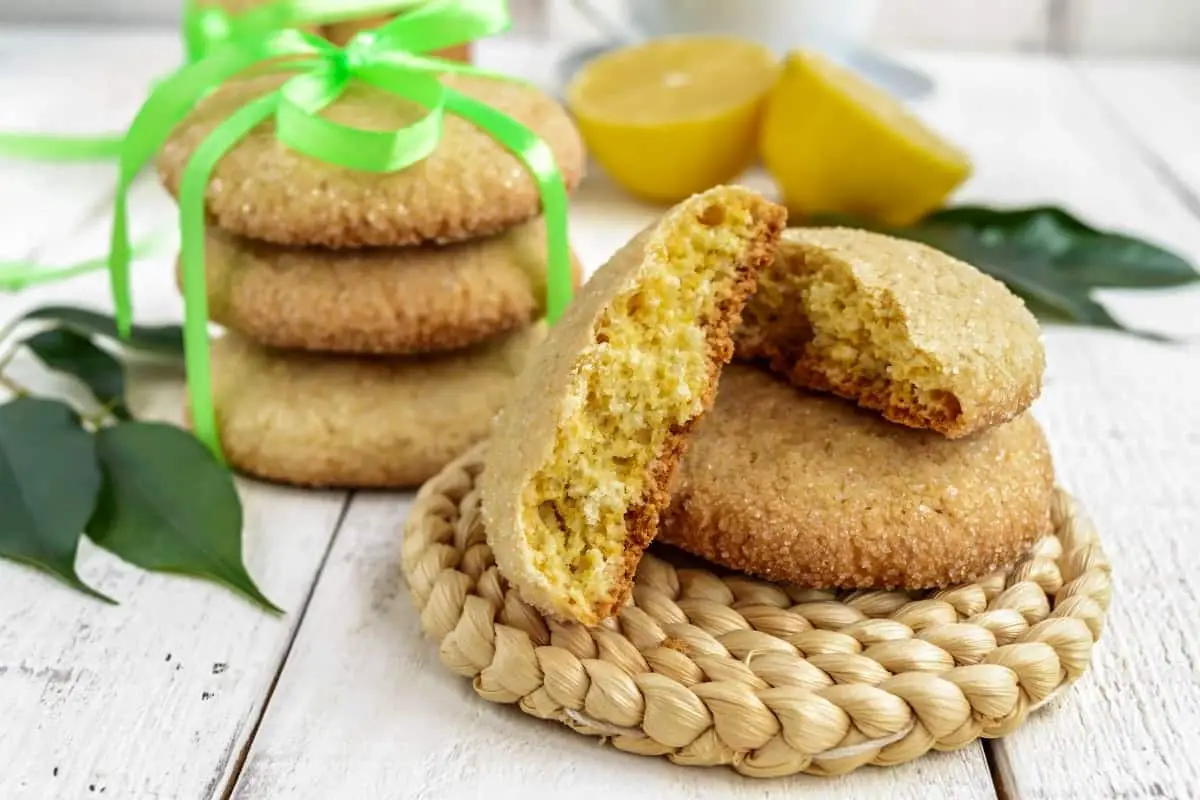 Bosnian Butter Cookies are called "Šape" (shah-pay), which means bear's paw or bear's claw. They get their name from the paw shaped tins they were originally baked in. Any shape of small mold can be used. I was delighted with how the Bosnian Butter Cookies turned out using my Nordic Ware tartlette pan. The mold size is just right with a pretty fluted edge.
These Bosnian Butter Cookies are a crunchy, buttery, shortbread with a light lemon flavor. The one major tweak I made in this otherwise traditional recipe, was to remove the ground nuts and replace them with crunchy semolina flour. If you are a nut lover, you can go back to the original flavor, switching out the semolina for the ground nuts of your choice.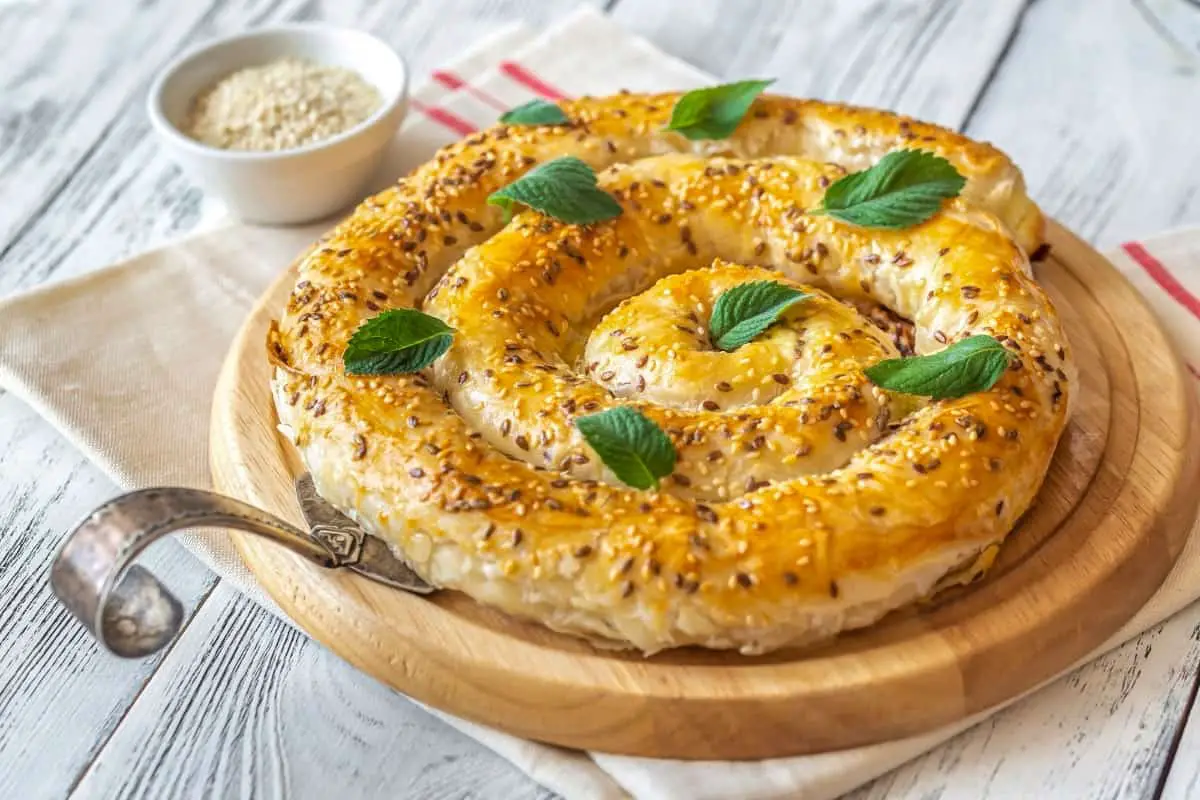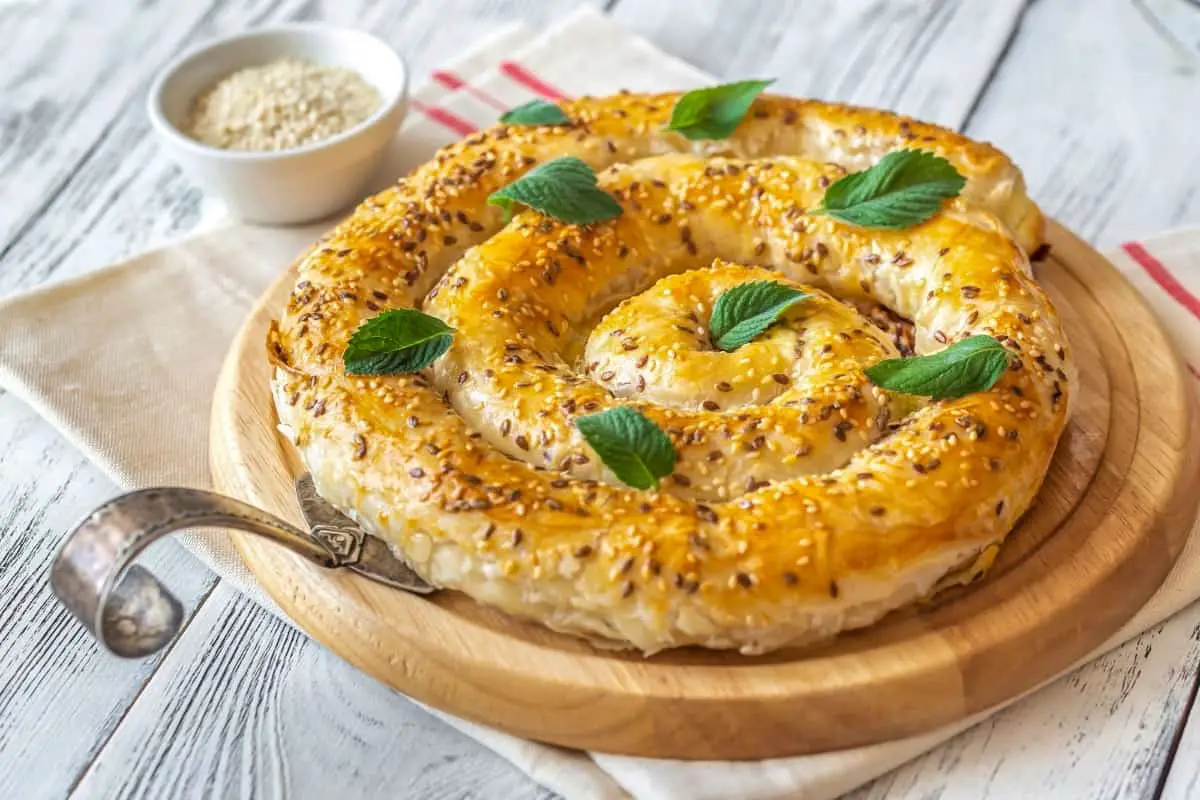 Traditionally meaty but sweet, it can be light yet hearty and healthy but sometimes a little high in fat. Finding the right balance so you can hit your macros is a challenge! Luckily for us, Laura's become a bit of a pro. Here's a macro-friendly version of a Bosnian Pita pie – think spanakopita but tastier!
Hand-made dough is stretched into a paper-thin, translucent pastry, stuffed with a spinach and cheese filling and rolled into a traditional Bosnian pita pie. If you like spanakopita then you'll love this lower calorie Balkan alternative.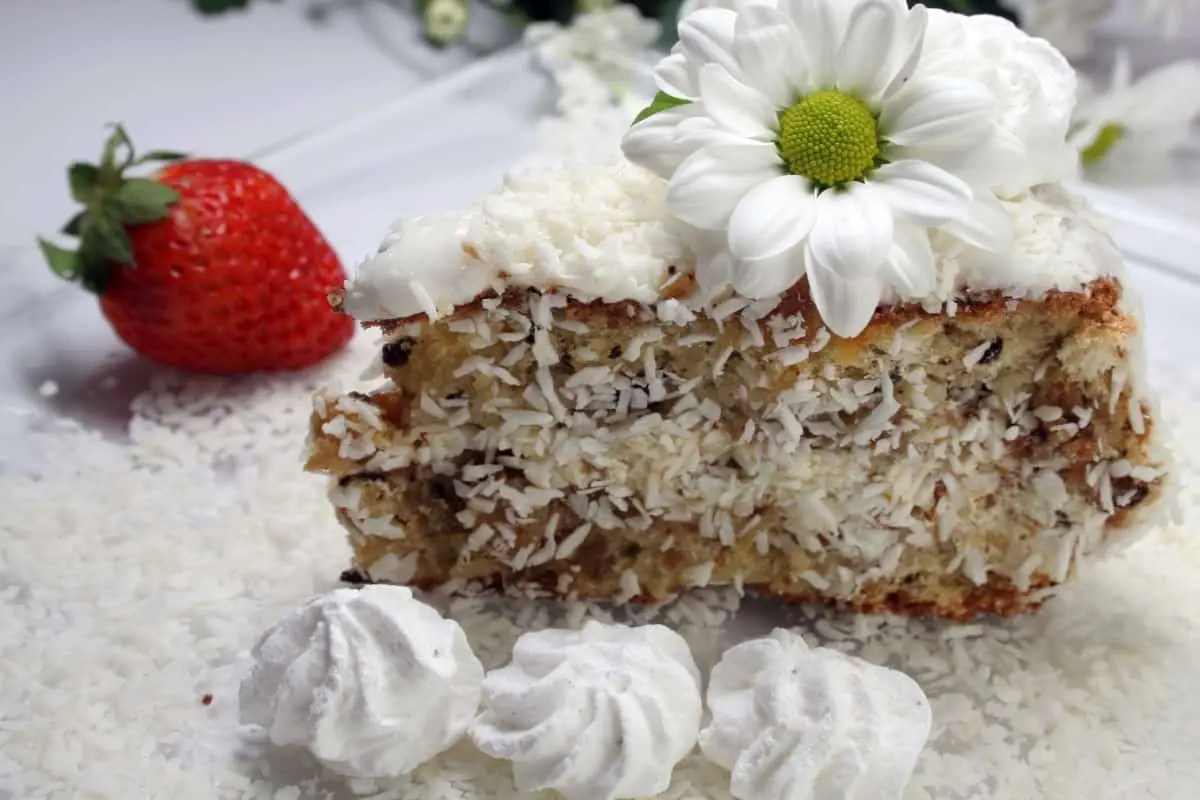 Cupavci literally translates in English to "hairy" because of the coconut, but don't let that interesting translation turn you off. This cake is filled with jam, dipped in chocolate sauce and topped with coconut for a melt in your mouth delicacy that pairs well with coffee, as do most Bosnian food desserts.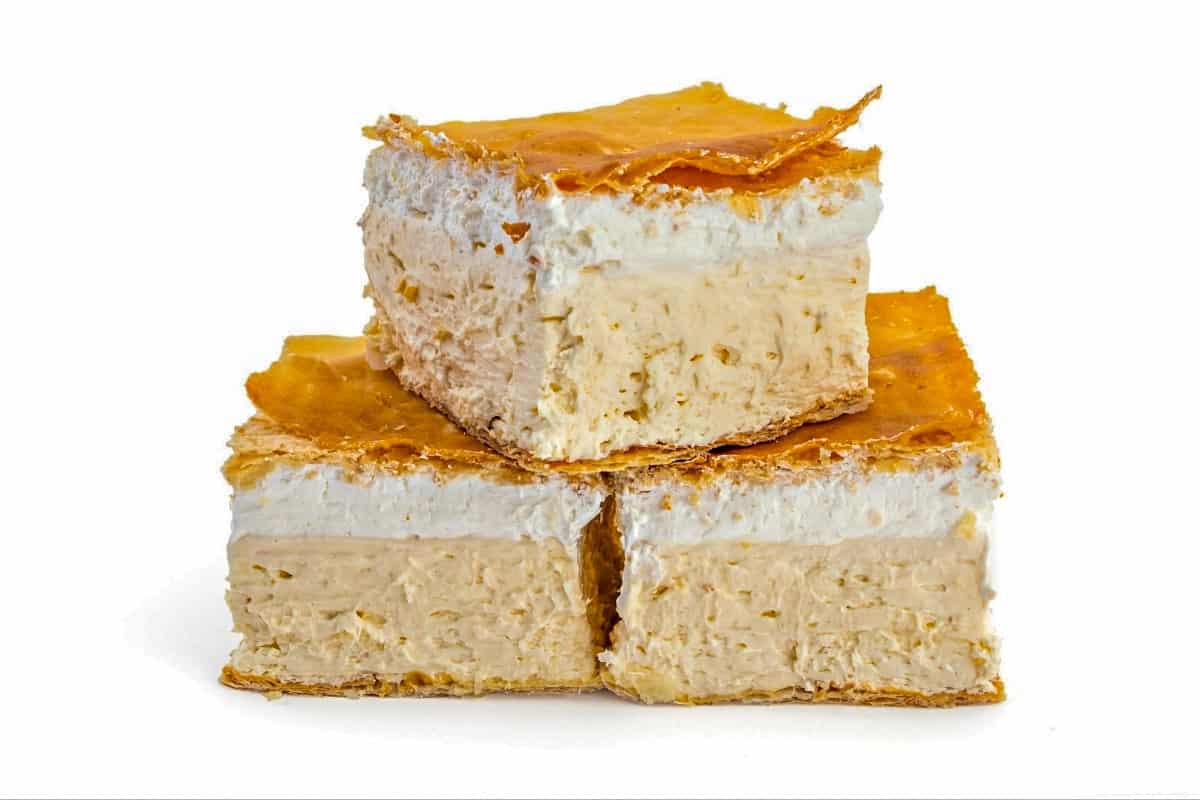 This creamy, flaky cake is just sweet enough to make you smile, while never cloying. It's always satisfying. And there's good news, Krempita is also very gratifying to make! The base of this dessert and its structure is puff pastry. The laminated dough that makes all those crispy, croissant-like baked treats. You can buy puff pastry in your local market, and since you'll probably buy in frozen, you can keep it that way for a few months before using.
Eggs are a big part of this recipe; it's, in essence, a custard after all. Find large eggs, fresh if possible, cage-free when available. Milk and half & half are an important part of this recipe too, so just find good old whole milk from your local dairy. We'll be using plenty of sugar here, but the result is not as sweet as you might think. Vanilla, especially a good real vanilla extract or vanilla sugar will give the final taste to our tasty Krempita.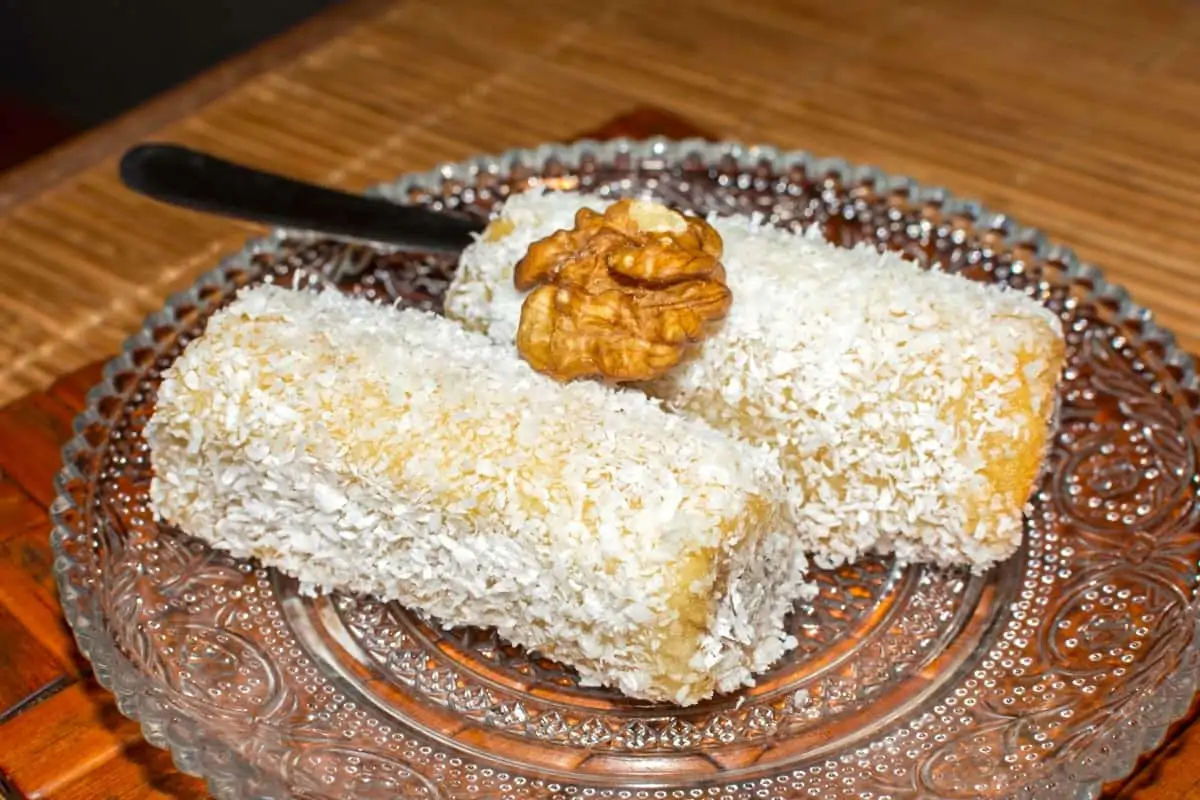 In my opinion, one of the most beautiful recipes for Bosnian lokum … It is made simply and quickly, without eggs and milk, which means that their shelf life is much longer. These are beautiful vanilla cookies that will melt in your mouth! Eating just one will not be enough.
---
---
History of Bosnian Food Cuisine
Bosnian cuisine is balanced between Western and Eastern influences. Bosnian cuisine is closely related to Turkish, Mediterranean and other Balkan cuisines, along with some Central European influence. Many of the traditional dishes have been made from the same recipes for hundreds of years.
Bosnian cuisine uses many spices, but usually in moderate quantities. Most dishes are light, as they are boiled; the sauces are natural, consisting of little more than the natural juices of the vegetables in the dish. Typical ingredients include tomatoes, potatoes, onions, garlic, bell peppers, cucumbers, carrots, cabbage, mushrooms, spinach, eggplant, dried and fresh beans, plums, milk, paprika and cream called pavlaka and kajmak. Typical meat dishes include primarily beef, lamb, and poultry.
What Are Some of the Traditional Bosnian Food Dishes
Cevapi. Cevapi are small, oblong-shaped kebabs from lamb and beef served in Lepinje (Bosnian pita bread) with raw onions. Locals eat this for lunch, dinner, or as a snack.
Burek. The Burek comes from Turkey brought to the Balkans by the Ottoman. Bureks have a flaky pastry with a meat, cheese, or spinach filling.
Baklava. Baklava, found across the Balkans and Caucasus, is a dessert treat made from sheets of filo pastry. Bosnian Baklava looks a bit like a small cake with layers of nuts, syrup and honey.
Begova Corba. Bey's Soup, was an Ottoman favorite. Slow-cooked chicken and vegetables such as carrots, potatoes and celery, boil into a thick, creamy stew making a warm appetizer.
Klepe (Bosnian minced meat dumplings). The Balkans are great at dumplings, Klepe being the Bosnian food version. Imagine a dough stuffed with either tangy cheese or meat (lamb or beef) before being steamed to create a soft ravioli-like texture. Klepe comes with a yoghurt or garlic sauce and almost melts in the mouth.
Dolma. Dolma is vegetables, such as eggplant, peppers and zucchini, that are stuffed with either meat or rice and seasoning.
Grah (Bosnian Bean Soup). Grah is a traditional Bosnian bean soup using Peruano beans as the main ingredients, served alongside bell peppers, onions and carrots. Often slow-cooked beef is added to the soup.
Bosanski Lonac (The Bosnian Pot). Bosanski Lonac is said to be one of the national dishes. The stew is unique to Bosnia and uses a particular way to prepare the meal. Cooks put large chunks of both meat and vegetables in alternating layers until the pot is full.
Tufahija. An apple boiled in sugar and stuffed with walnuts is served with its syrup and whipped cream in a large glass.
Ustipci. Every Ustipci is different. Arguably the most delicious treat in Bosnia is Ustipci, or small balls of fried dough with either a sweet or savory filling. Recipes pass from generation to generation making each version slightly different to the next. Sweet ones use jam or honey while their savory counterparts have cheese or meat.
FAQ's About Popular Bosnian Food
What is The Most Popular Food in Bosnia?
Bosnia's national dish, cevapi, looks like an oblong sausage made from minced beef or mutton. You'll find cevapi, the Bosnian kebab, sold in most restaurants often served as a set of eight to ten pieces with raw onions, sour cream and lepinje or somun.
Does Bosnia Have Good Food?
Bosnian food ranks as some of the best in Eastern Europe with influences from the Ottomans, the Mediterranean and Central Europe. Dishes, like Bosnian cevapi and grilled meats, are favorites for dinner whereas bureks make delicious snacks.
Is Bosnian Food Spicy?
Bosnian food uses many spices, but usually in moderate quantities. Most dishes are light, as they are boiled; the sauces are natural, consisting of little more than the natural juices of the vegetables in the dish.
Is Bosnian Cuisine Healthy?
The consumption of fruits, vegetables, milk and dairy products are the requirements of healthy eating, which puts Bosnian cuisine into the desirable category when taking into the consideration their healthy aspects.
How is Bosnian Coffee Made?
Bosnian coffee is very strong, with a bold, dark flavor tempered only by sugar. It's made by boiling ground coffee and water — somewhat like cowboy coffee — and there's no filtration, so you may find a few grounds in your cup.
---
You May Want to Join Our Boondocking Group on Facebook For More Information
You May Want to Join Our Campfire Recipes Group on Facebook For More Information
For More Photos Visit Our Instagram at World Recipes Daily – Our Big Escape