Last updated on April 5th, 2022 at 07:49 am
Our recent trip gave us a huge supply of  Turkish Recipes. We sampled all of the Turkish foods and Turkish Dishes. Try the best Turkish recipes — they are excellent.
Traditional Turkish Foods
As an individual who travels in pursuit of culinary skills, Turkish cuisine will be a curious one. This country is known for its variety of dishes which makes up its cuisine, and the way all the dishes come together like feasts offers significant material for enjoyment and life-long sturdy.
The history of traditional Turkish recipes are a heritage inherited from the Ottoman empire cuisine. It can be described as fusion and refinement of Balkan, Mediterranean, Central Asia, Middle Eastern, American, and Eastern Europe cuisines.
Its cuisine has impacted neighboring cuisines such as Central, Southern, and Western Europe. The traditional Turkish Foods is unique and is full of flavor. With that said, let's go through the history of traditional Turkish Foods.
The History of Turkish Foods
Historical development of traditional Turkish Foods is directly associated with the vast geographical land the Turks live on, along with ingredients offered by their land. This has enabled the Turks to form a rich and diverse food culture.
The early historical documents indicate that Turkish Foods was established in their nomadic period and first settled in the Turkish states of Asia. Traditional Turkish Foods consists of dairy, meat, grains, and vegetables.
The Turks grew wheat and often used it in various types of unleavened and leavened bread that were baked in clay ovens, buried in ember, or baked-on griddle. Bugra and Manti were among the popular dishes in the early days. Skewering meat was a famous way of grilling, which was later on known as kebap. In addition to that, their dairy products, such as yogurt and cheese, were staple and convenient for the pastoral Turks.
Turks from Central Asia depended on animal husbandry, and when their living conditions became unstable, the Turks migrated to Anatolia. Here, they encountered various ingredients that the Turks incorporated into their cuisine.
Their once simple dishes become more complex due to the additional ingredients along with new cooking styles. While in Anatolia, the Turks were first introduced to rice, vegetables, and fruits native to that particular region.
The Anatolia region is referred to as the breadbasket of the world. Turkey to date is among the seven countries in the world that produce a sufficient amount of food to feed its citizens and even export some.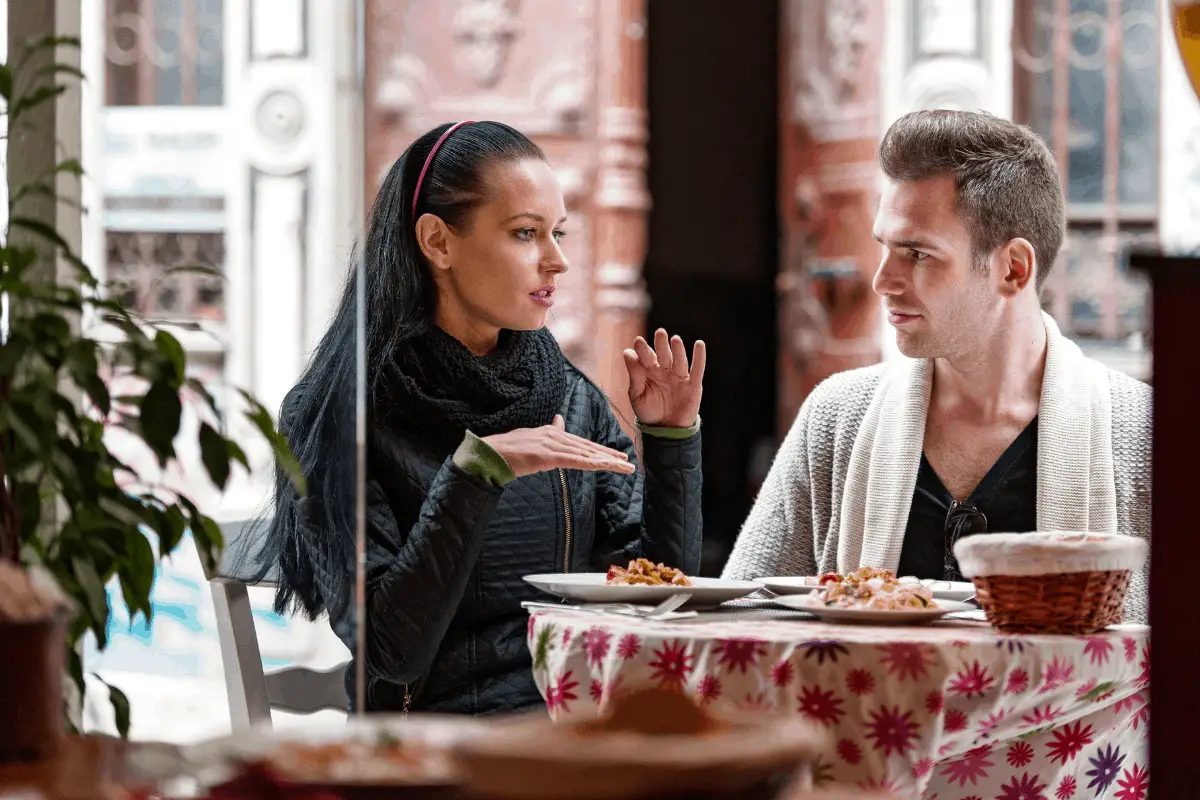 Old Style Turkish Recipes
Straddling Asia and Europe, where east and west meet, Turkey's top-notch culture is reflected in its cuisine. As a newbie to traditional Turkish Foods, you have a mouth-watering journey ahead, and you can get started with these top-notch old-style Turkish Foods cooking and food.
Baklava
This is one of the iconic Turkish recipes, and it dates back to the Ottoman Empire. If you have a sweet tooth, then Baklava is a must-try dish for you. Baklava is a layered pastry covered in group pistachios and syrup as well as filled with nuts giving you an unforgettable Turkish dessert. It is best served when freshly baked, and it can be found in supermarkets and bakeries.
Köfte
Also known as Turkish meatballs, Köfte comes in all shapes and sizes, and you can have it as a snack, served with rice along with salad or dipped in plain yogurt. Köfte is made in different ways depending on the region you come from, and each region christened its distinctive Köfte varieties, such as Izgara Köfte, which is served with rice, grilled peppers, and bread. The Çiğ Köfte, on the other hand, is consumed raw.
Şiş kebap
Kebap is a term used to describe an array of street eats, with Şiş kebap being the most famous of them all. This traditional Turkish Foods was made of lamb or beef; however, nowadays, you can choose from an array of meat selections from poultry to fish as well as vegan options. The kebap is grilled over charcoal which is then served on a wooden or metal skewer.
Döner
It is another top-notch kebap, and it offers diversity in meat choice. Döner is seasoned with spices and herbs and prepared on a vertical and rotating spit. The food is best served when fresh, and the cuts are served in bread wraps and salad along with spicy sauce or garlic.
Roasted lamb
Also known as kuzu tandir, the roasted lamb is said to be the most beloved traditional Turkish Foods. Kuzu tandir is famous for its top-notch tender meaty goodness; it is traditionally prepared using a special oven. When preparing the meat, the lamb is suspended over coals and left cooking for hours until it is well-roasted.
The Turks have used this method of cooking for several centuries and adopted it from Anatolian Seljuk. This roasted meat is best served with potatoes and yogurt.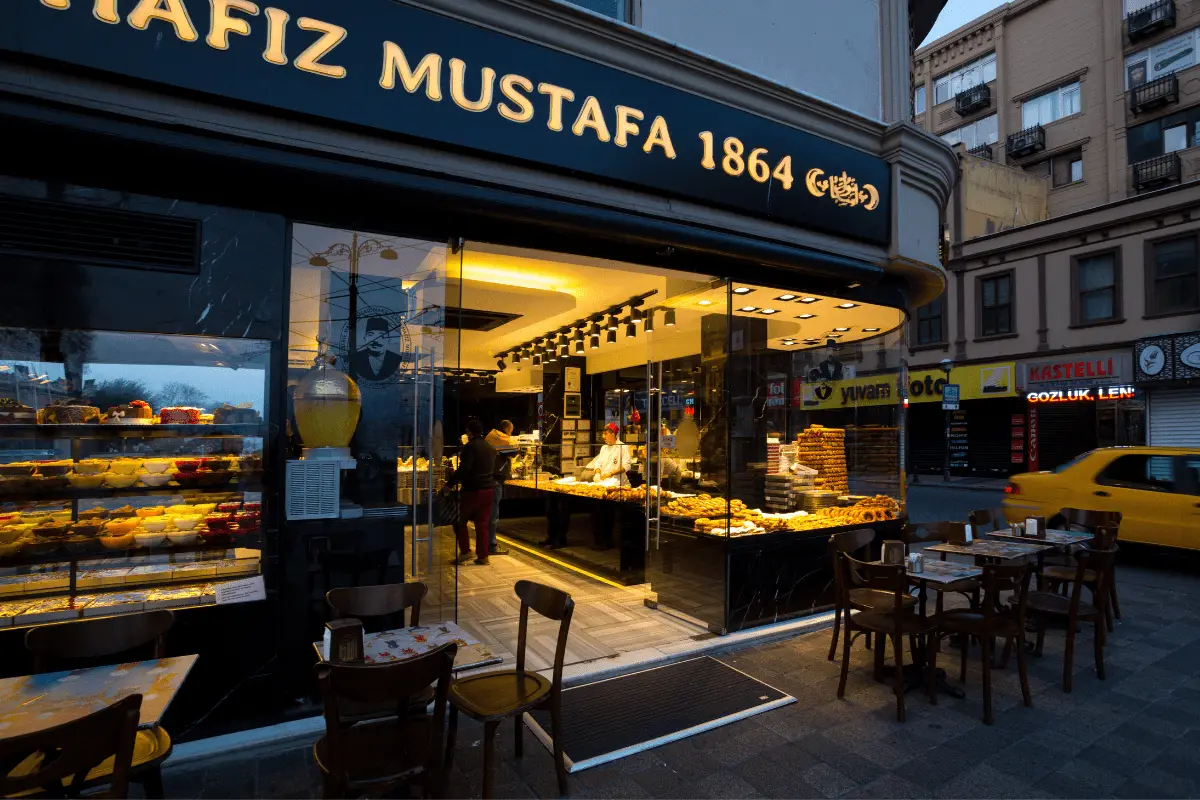 Peruvian Turkish Foods Cooking and Food
Peruvian cuisine is a mix of an array of cultures and is even referred to as fusion cuisine.
It might be a fusion but not a trend. On the other hand, Turkish foods are unique and said to have influenced different cuisine cultures in Europe and Asia significantly. And when it comes to Peruvian Turkish Foods cooking and food, there are some similarities in the spices used and cooking method.
Peruvian food consists of grilling of meat, fish and steak and is referred to as anticuchos, similar to the kebap in Turkish recipes. The two cuisines have lots of similarities; however, they still have their differences.
Turkey is a rich and diverse food destination for any food enthusiast out there. Traditional Turkish Foods relies less on seasoning and focuses more on taste and the use of fresh ingredients. Their foods are prepared to perfection with the utmost care, dedication as well as passion. If you have never had an experience with Turkish cuisine, then you are missing out. There is an array of food choices to go for, and you can never go wrong with Turkish cuisine. Therefore, as we come to the end of the article, we hope you have found it beneficial and learned more about the history of traditional Turkish Foods.
33 Favorite Turkish Foods with Recipes
1. Turkish Recipes – Homemade Turkish Meatballs Kofte Recipe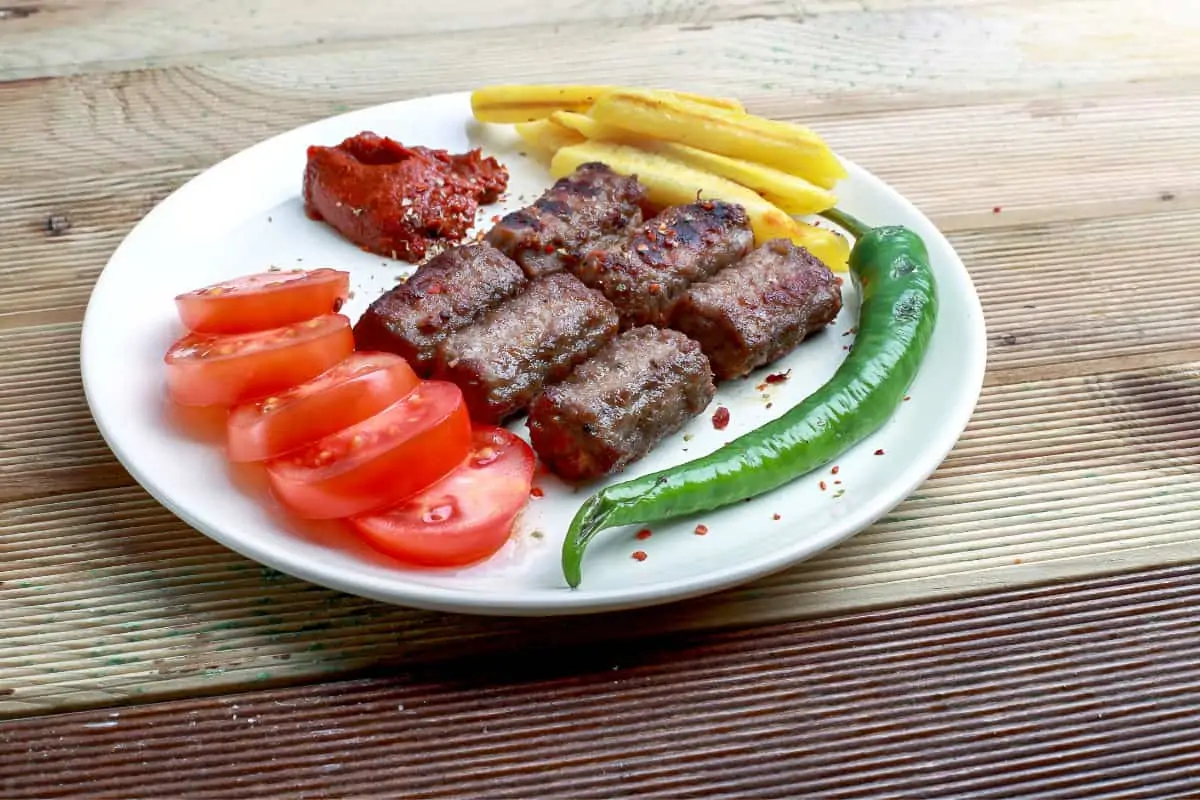 Homemade Turkish Meatballs known as kofte are the best things to happen on your dinner table. These are spicy, tender and perfectly juicy. It's not a secret any more to make meatballs at home that are much tastier than store-bought ones.
Kofte is the term used in Turkish cuisine for meatballs. It is a ball shaped ground beef dish. In a basic kofte recipe, ground beef, lamb or a combination of these two is combined with bread crumbs, onion, garlic and spices. Then shaped in balls and cooked over grill, stove or in oven. There are zillions of varieties in the country, one of which is spicy kofta kebab. And I'm sharing the most common kofta recipe here. You can serve these either on a plate with some pita on the side or in a sandwich bread or in a tortilla wrap.

2. Turkish Foods – Easy Lahmacun Recipe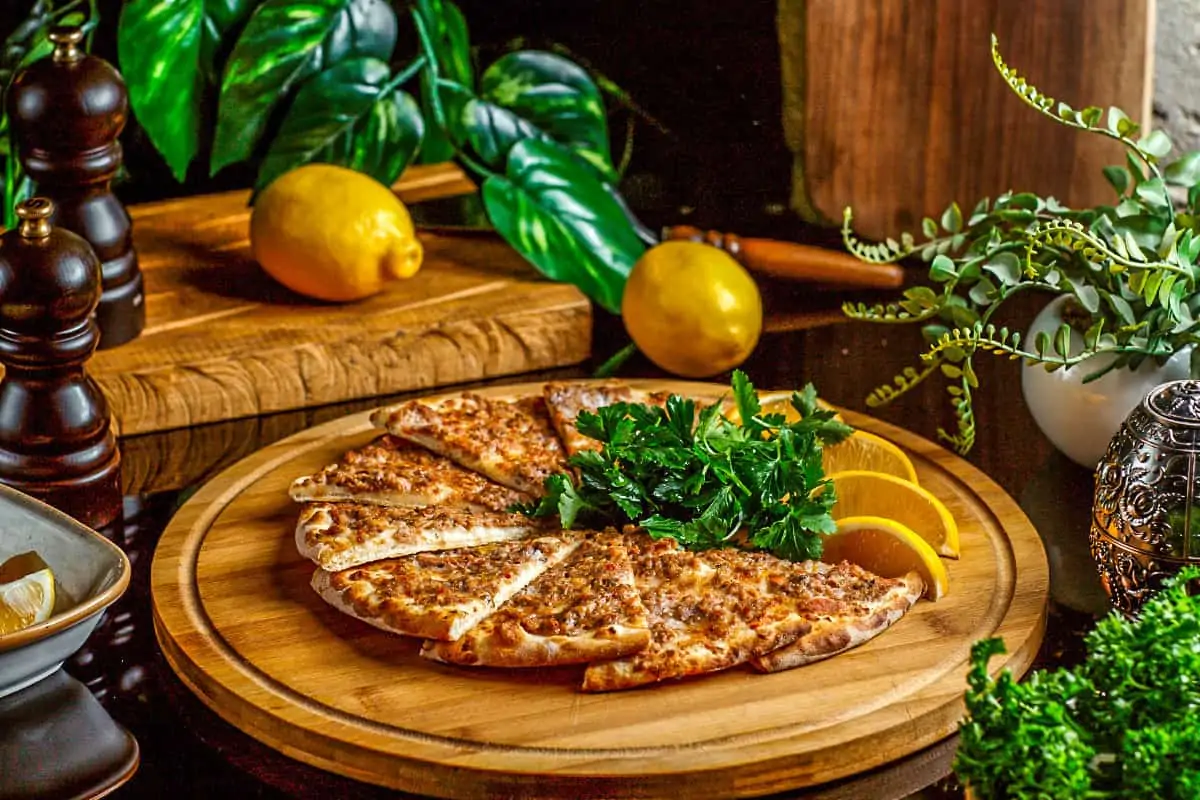 Think of Lahmacun, pronounced Lahamajoun, as super thin, crispy pizza topped with a flavor-packed mixture of minced meat with peppers, tomato, fresh herbs and earthy spices. I take a major shortcut by using quality store-bought pizza dough. But the secret is in the spice mixture!
This lahmacun recipe is the perfect prepare-ahead lunch. And it's a great dinner on-the-go. To serve a crowd, slice it up and serve with other Mezze favorites.

3. Turkish Dishes – Turkish Red Lentil Soup (Süzme Mercimek Çorbası)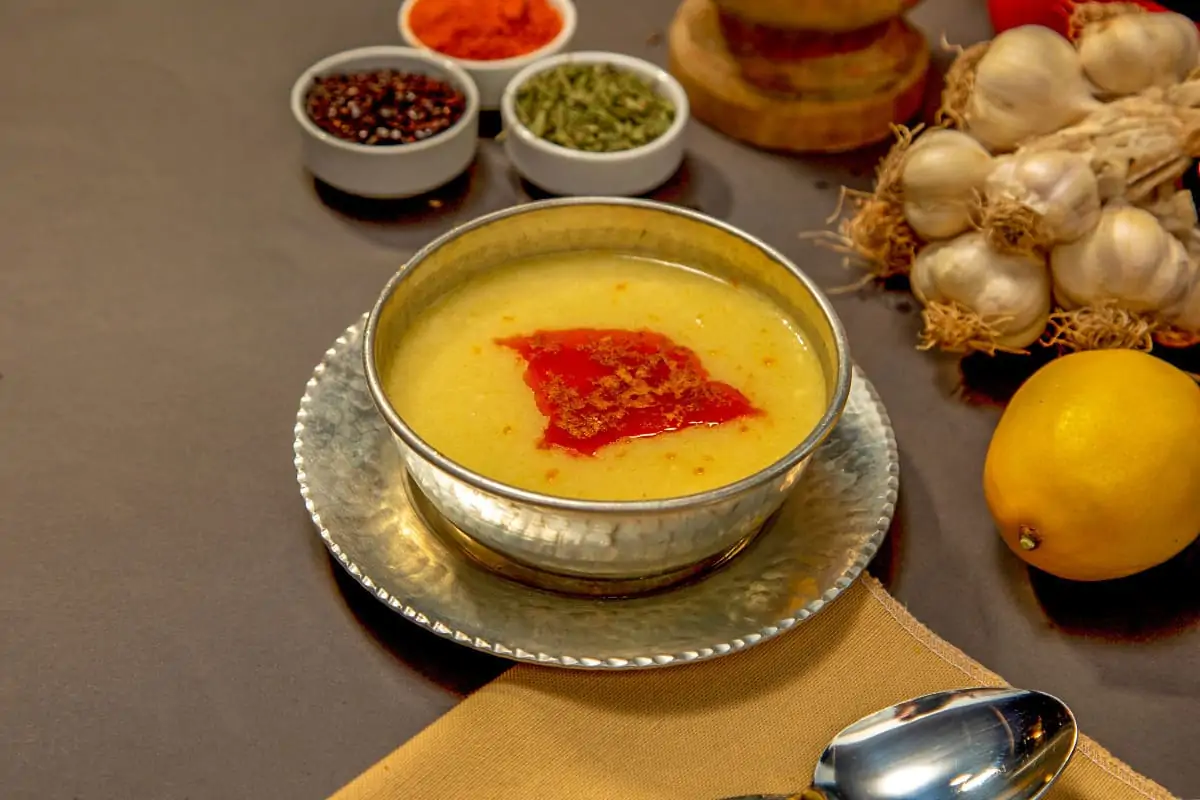 Turkish red lentil soup or mercimek çorbası (meyr-ju-MEK' chor-BAH- su') is a popular hearty soup, especially during the winter months. It's also an important part of breaking the daily fast during the month of Ramadan.
After the lentils and vegetables have been cooked and strained, let the soup continue to simmer slowly to get the best blend of flavors. For garnish, sprinkle with some hot pepper flakes, plain croutons or squeeze a few drops of lemon on top.

4. Turkish Recipes – Turkish Vegtable Soup with Orzo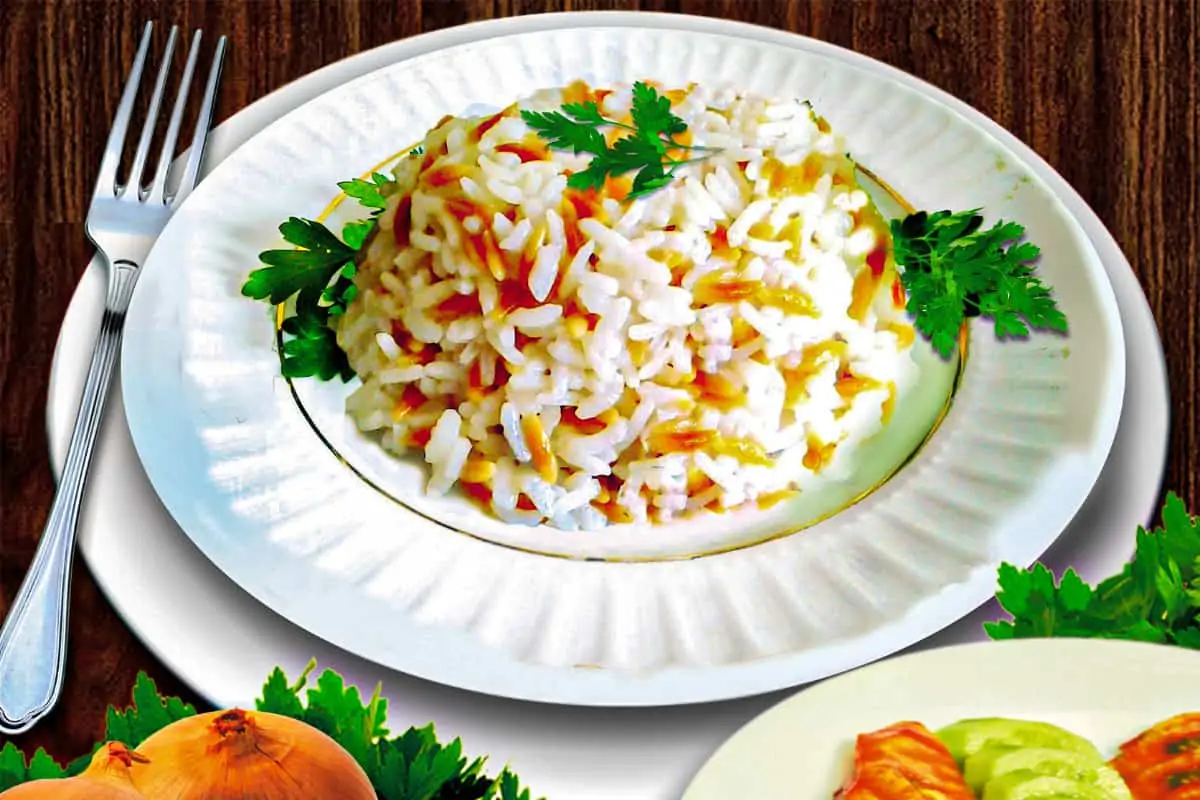 Soup have a special place in Turkish cuisine; traditionally meals always start with a soup. A hearty soup can be a main course itself with some nice crusty bread next to it.
Orzo pasta or "sehriye" as we call it in Turkish fits in this soup very well, thickens the broth beautifully and makes it substantial. I give a generous squeeze, with plenty of red pepper flakes or Aleppo pepper over the soup for a delicious heat, when serving. You can also crumble some feta cheese over the top before serving if you'd like too.

5. Turkish Foods – Turkish Rice – Sehriyeli Pilav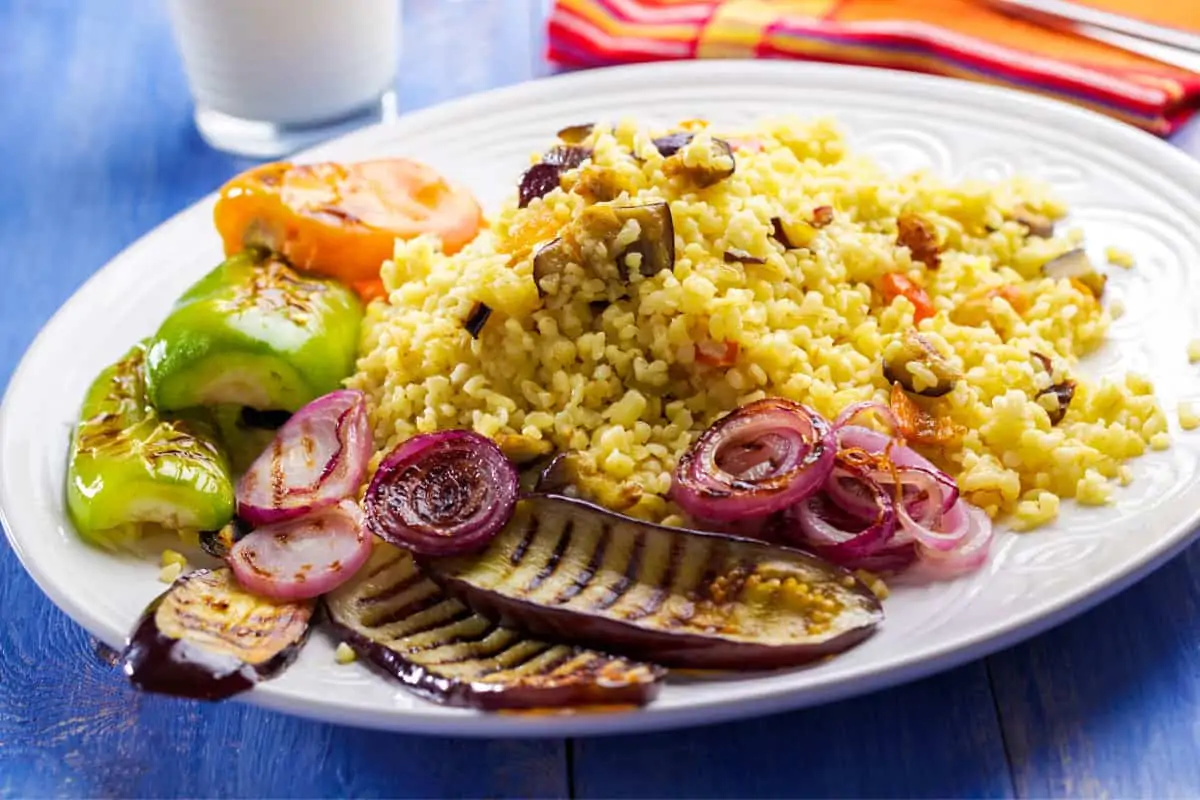 Turkish rice is fluffy, buttery, rich and very tasty, perfect with roasted meats and vegetables dishes. Turkish rice is a wonderful fluffy rice with a slightly nutty flavor. It absorbs flavors well making it a perfect accompaniment for meats, stews, vegetables (including stuffed vegetables), salads and alongside Turkish yogurt, cacik.

6. Turkish Dishes – Easy Homemade Doner Kebab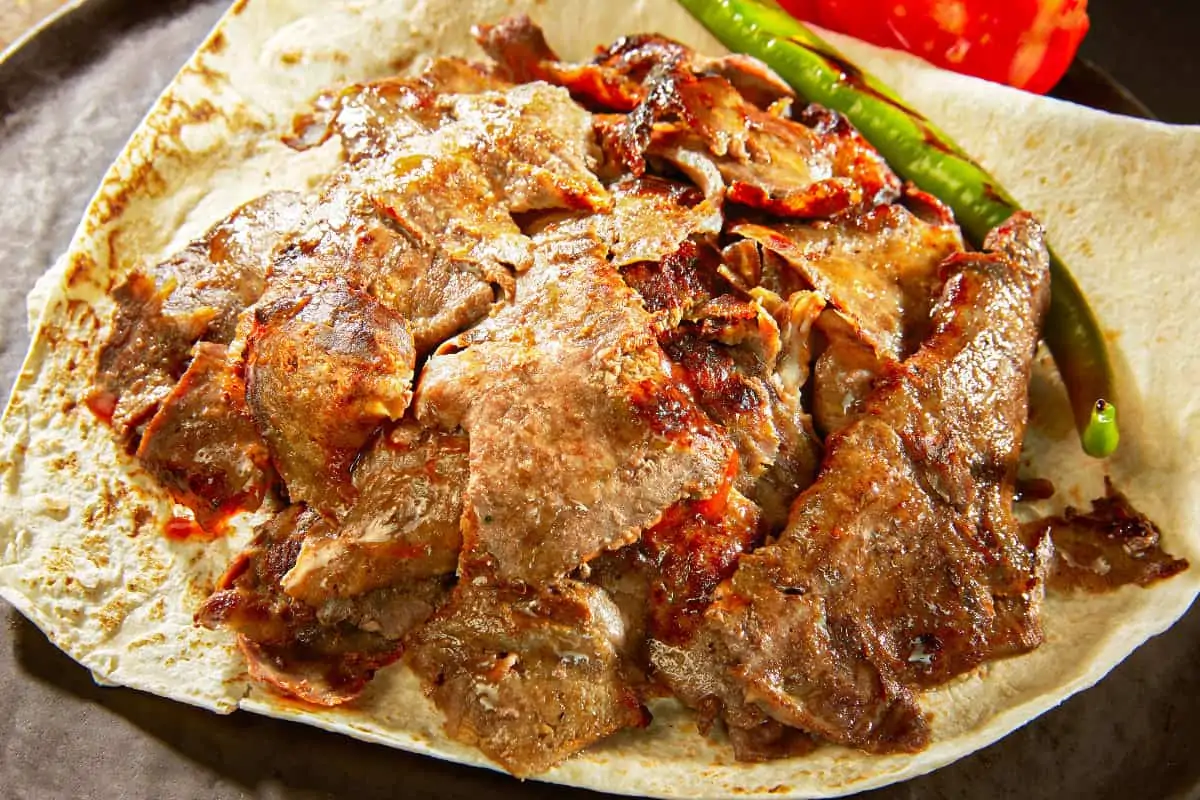 If you are a bit familiar with Turkish cuisine, you know the world-famous döner kebab, the irresistible, juicy enormous kebab cooked on a vertical rotisserie. Here is an easy homemade version of Turkish doner kebab that tastes as good as the real thing.
There are zillions of kebabs in Turkey, so it won't be wrong to call it "the country of kebabs". Among all these, the most famous ones are doner kebab and chicken shish kabob. Also check out our adana kebab recipe and lamb shish kebab recipe.

7. Turkish Recipes – Turkish Bulgur and Vegetable Pilaf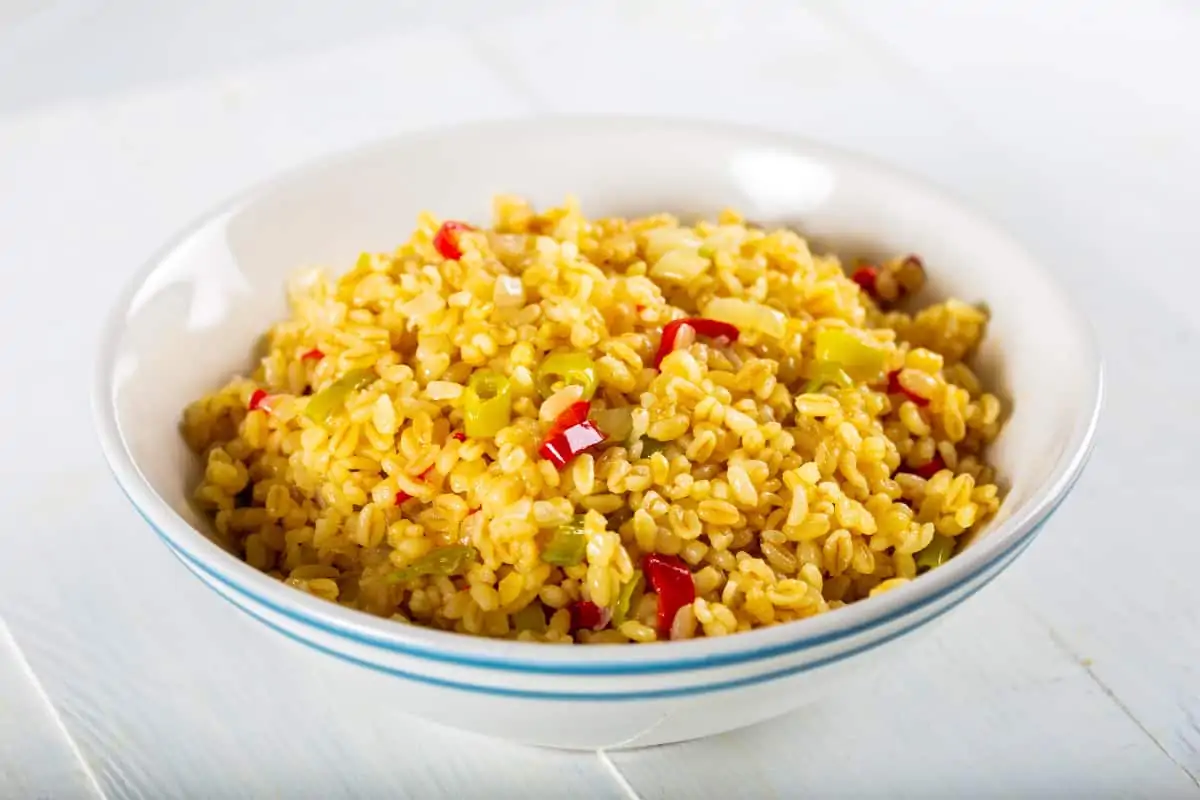 Whether you are looking for a new and tasty side dish or you are trying to get your family to eat healthier, a traditional Turkish recipe for bulgur pilaf with vegetables will fit the bill. It is a simple and delicious way to receive all the nutritional benefits of bulgur wheat, as well as tomatoes and peppers while enjoying the flavors from Turkey. Bulgur pilaf with vegetables is an ideal side dish to go with grilled meats and chicken, or just about any time you might eat rice.

8. Turkish Foods – Kisir, a Turkish Bulgur Salad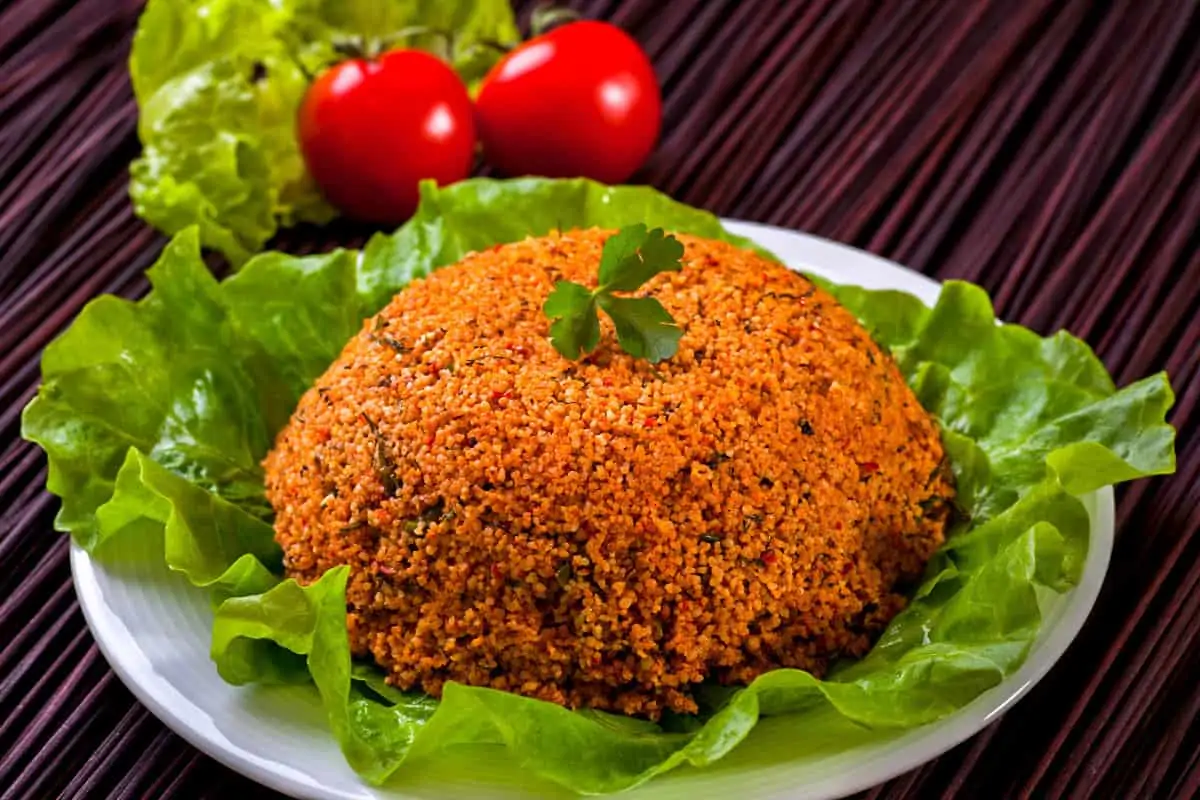 Kısır salad is by far one of the most popular dishes in Turkish cuisine. Every home cook makes a variation of kısır, and you'll also find it in many restaurants serving casual, home-style Turkish fare. What makes kısır so popular? For one, it contains fresh, nutritious and inexpensive ingredients. It's also very easy to make, and a little bit goes a long, long way. Kısır is great for entertaining—its flavor gets better as the salad rests so that you can make it well beforehand. It will keep very well in the refrigerator for several days.

9. Turkish Dishes – Mucver (Turkish Zucchini Fritters)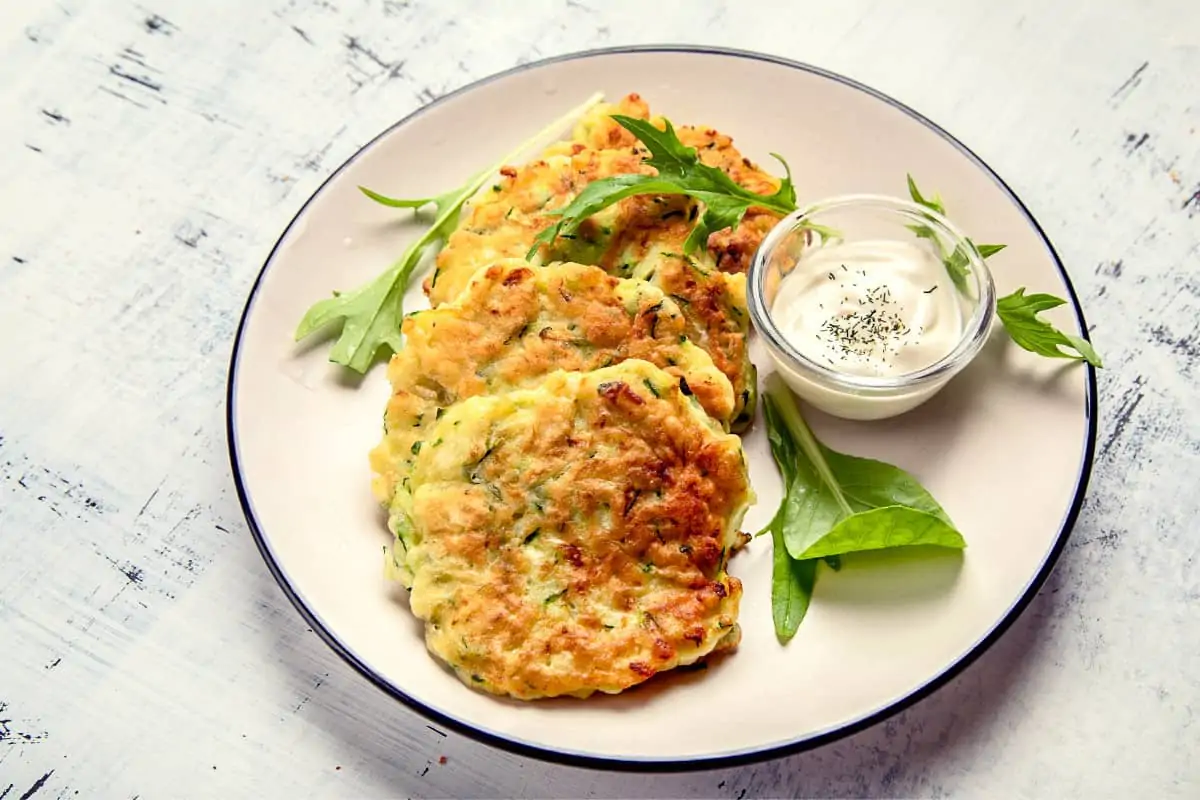 Mücver is a Turkish fritter or pancake, made from grated zucchini. They are typically shallow-fried in olive oil and their batter often includes a mixture of eggs, onion, dill, flour, and sometimes potatoes or feta cheese.

10. Turkish Recipes – Turkish Potato Salad (Salatasi)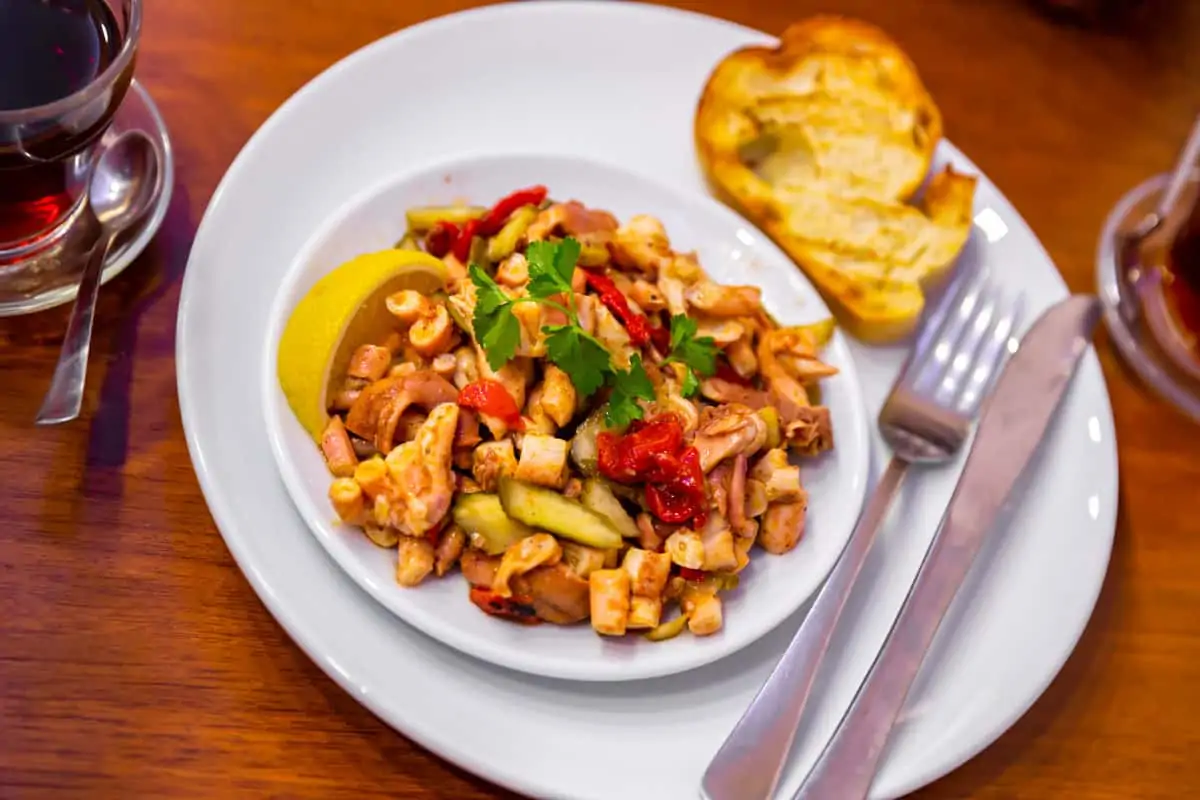 Part of our Mediterranean recipes is dedicated to Turkish cuisine that I love to share with you. Some of our favorite Turkish recipes are Turkish white bean salad, Turkish simit and Turkish eggs (cilbir). These recipes are all made with fresh ingredients. I love making this homemade potato salad for potlucks and barbecues. It's simple, easy and calls for just a few ingredients.

11. Aromatic Lamb Casserole With Prunes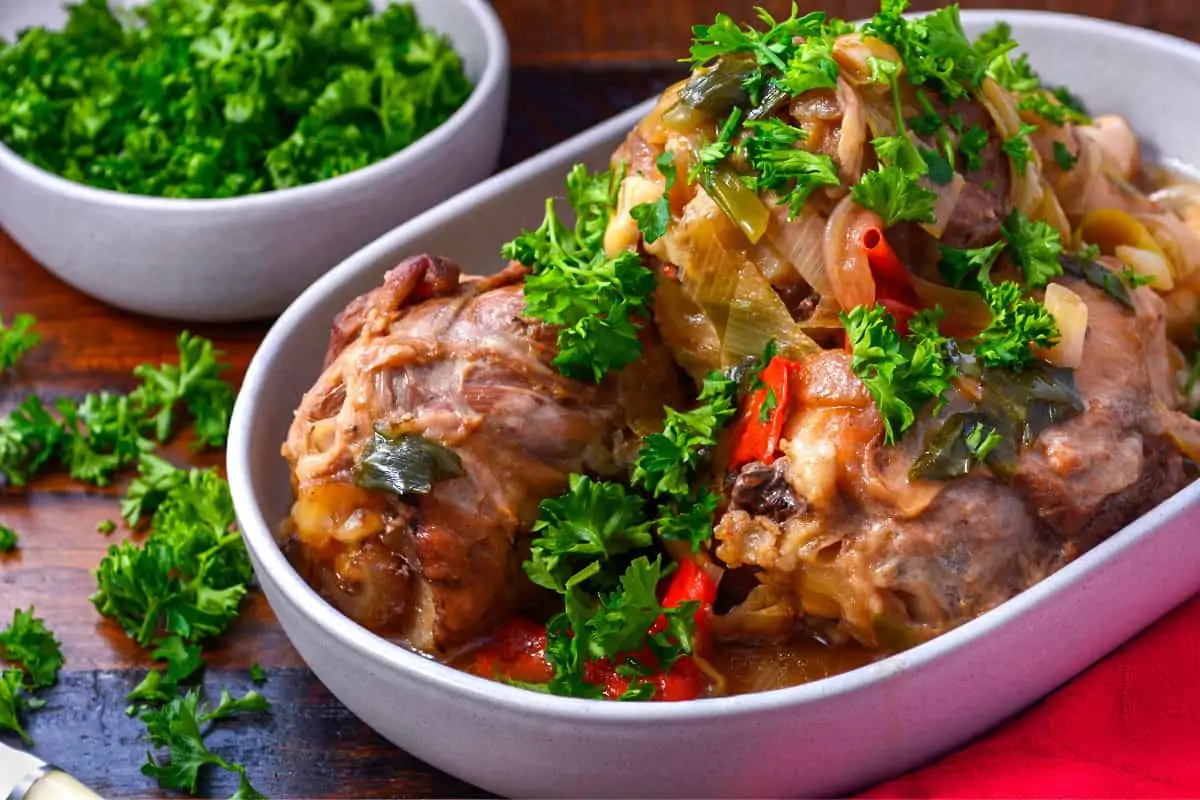 A casserole that's also a pizza? Yes, you read that right. You can adjust this lamb casserole recipe to create a Turkish-style pizza topping – see the tip below the method.
If you love the combination of lamb with prunes, then take a look at our Kashmiri lamb meatballs with prunes, too.

12. Turkish Dishes – Turkish Cabbage Rolls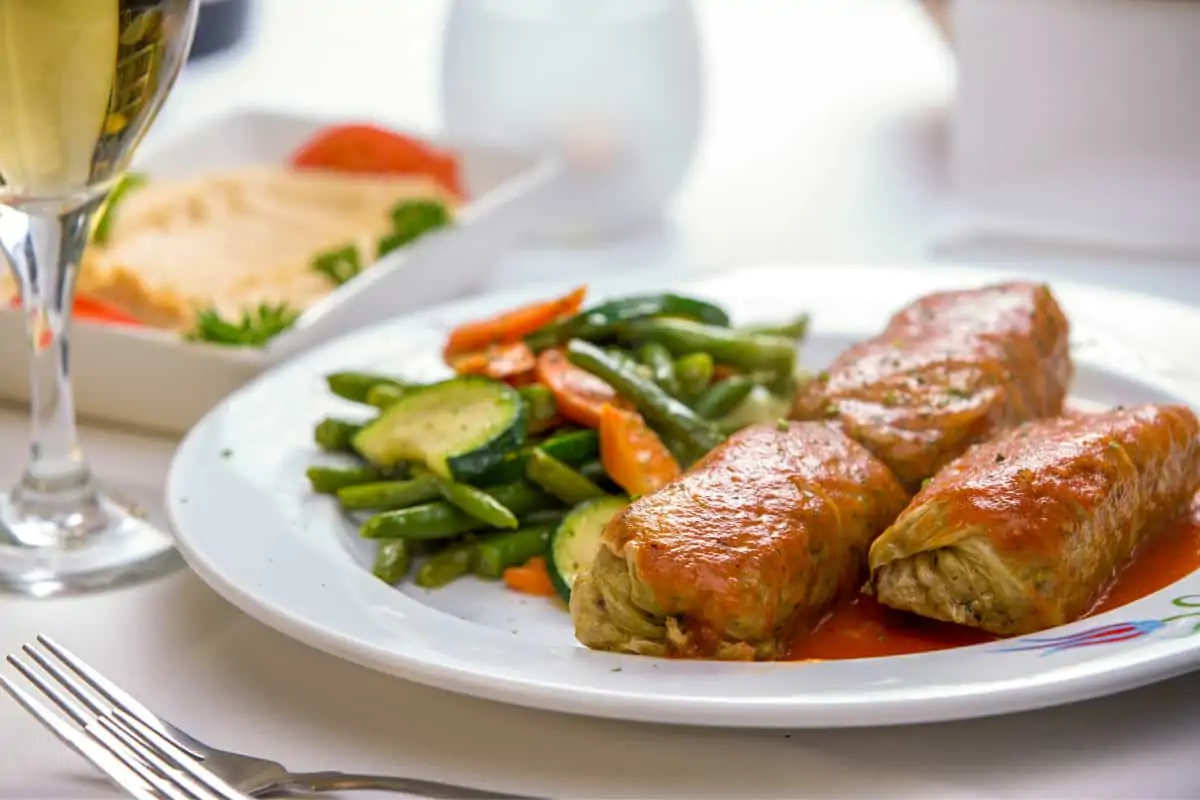 Turkish Cabbage Rolls – filled with ground lamb, pine nuts and fragrant Turkish spices, bathed in the most flavorful Turkish Tomato Sauce. These can be made ahead and reheated for your special dinner! Low-carb and Keto Adaptable.
There are some incredibly beautiful cabbages at the farmer's markets right now, just longing to be stuffed with this Turkish lamb and pinenut filling. The cabbage rolls are bathed in the most fragrant tomato sauce – infused with the warming spices of cinnamon and nutmeg – flavorful, cozy and comforting, perfect for the colder months!

13. Turkish Recipes – Ayran: Turkish Yogurt Drink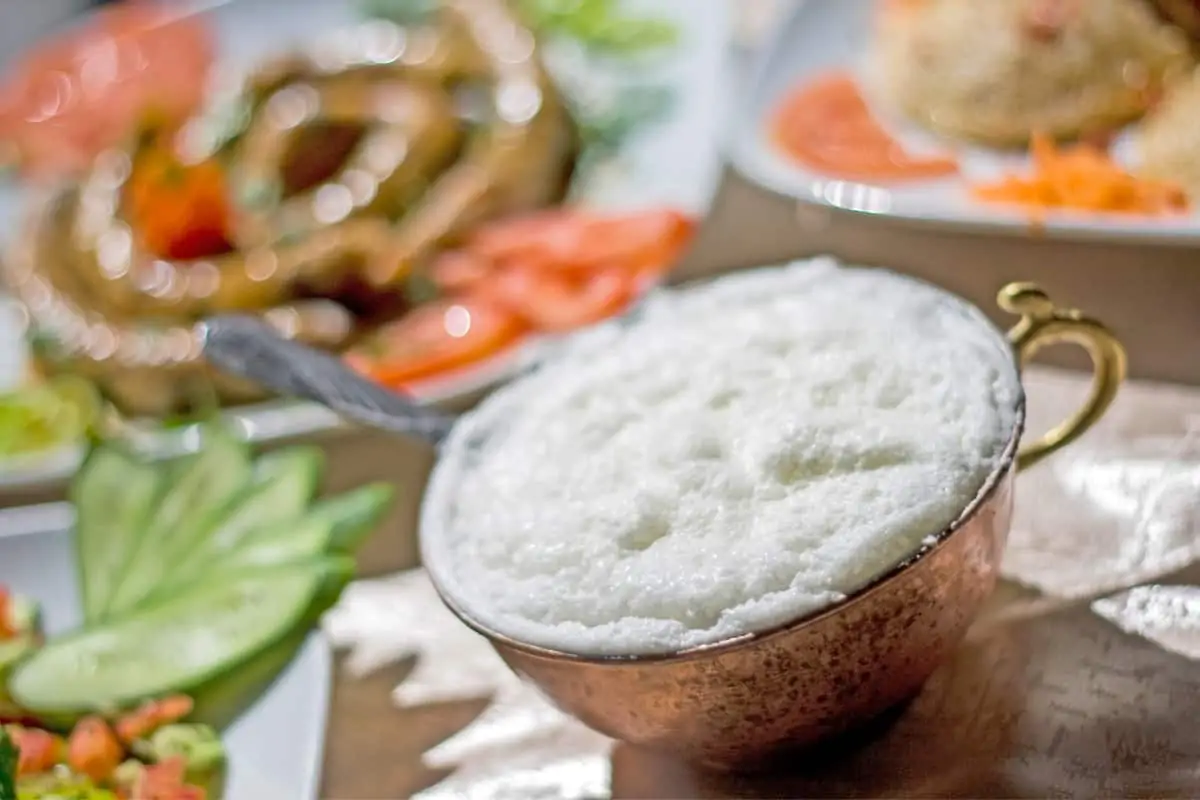 Super refreshing and healthy Ayran (Turkish yogurt drink) recipe ready in 5 minutes with 3 simple ingredients.
Perfect thirst-quencher on a hot summer day!One of the things I love about ayran is its ability to rehydrate your body when it's hot outside. Sea salt (unlike highly processed table salt!) contains numerous minerals and nutrients your body needs on a daily basis, especially when you are sweating. Adding sea salt to your beverages satisfies your thirst and keeps your body hydrated longer.

14. Turkish Foods – Gozleme!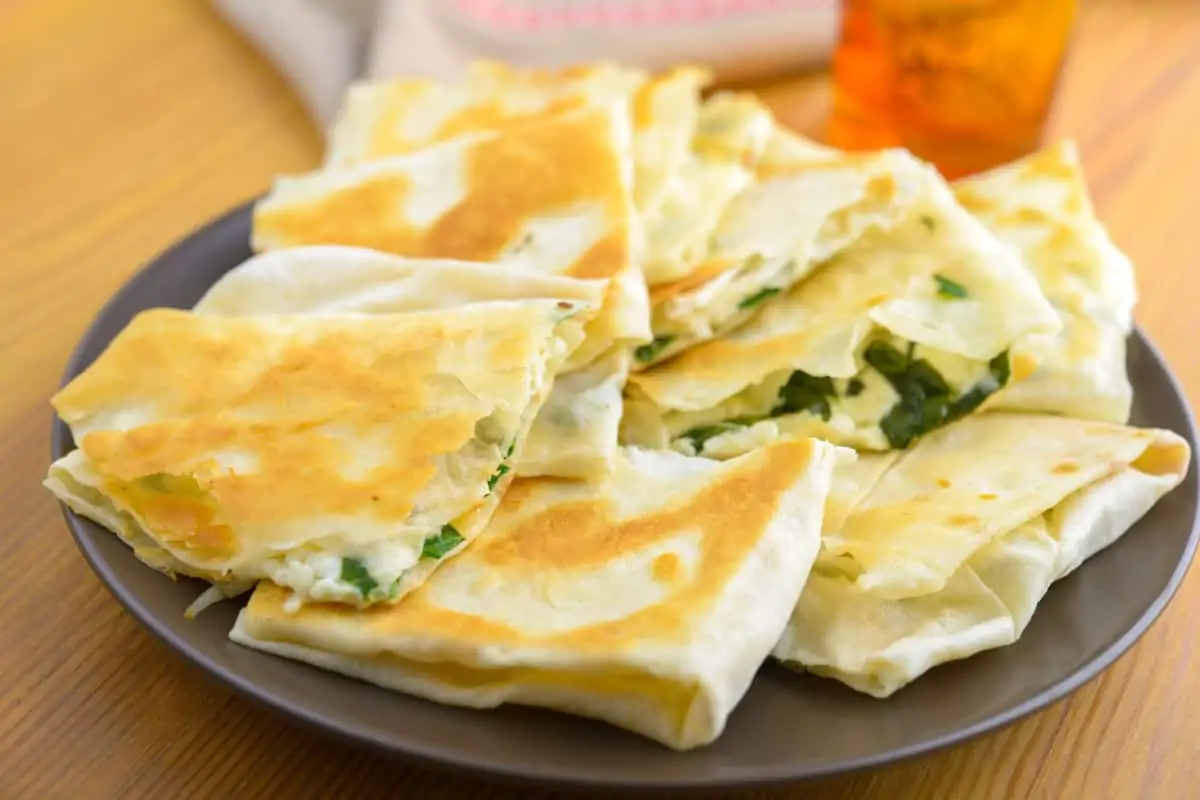 Gozleme!! Crispy, golden Turkish flatbreads stuffed with all sorts of tasty fillings. Choose from Spinach and Feta, or spiced Beef or Lamb. I want them all!
Like everybody's favorite Easy Flatbreads recipe, the Gozleme pastry requires no yeast, just 3 ingredients (no yogurt) and is very easy to work with. You're going to fall in love with this recipe!

15. Turkish Dishes – Warm Hummus Topped With Crispy 'Pastırma'
Hummus is a favorite Mediterranean dish — it's perfect to serve at parties as a dip or spread or use it to add flavor to sandwiches.
Simple Turkish recipes. There are many different recipes for hummus out there, as well as numerous ready-made hummus brands sold in stores. Once you try this recipe for Turkish Dishes of hummus, you just might stick it with for a lifetime.

16. Turkish Recipes – Turkish Coffee
Turkish coffee is rich, thick, and a delightful drink to be enjoyed slowly with good company. It is brewed in a copper coffee pot called a cezve (jez-VEY), made with powder-like ground coffee, and sweetened to the drinker's taste. Creating the perfect cup of Turkish coffee is a splendid way to show off your coffee-making skills.

17. Turkish Foods – Eggplant Kebab With Yoghurt and Marinated Chicken; Patlicanli Kebap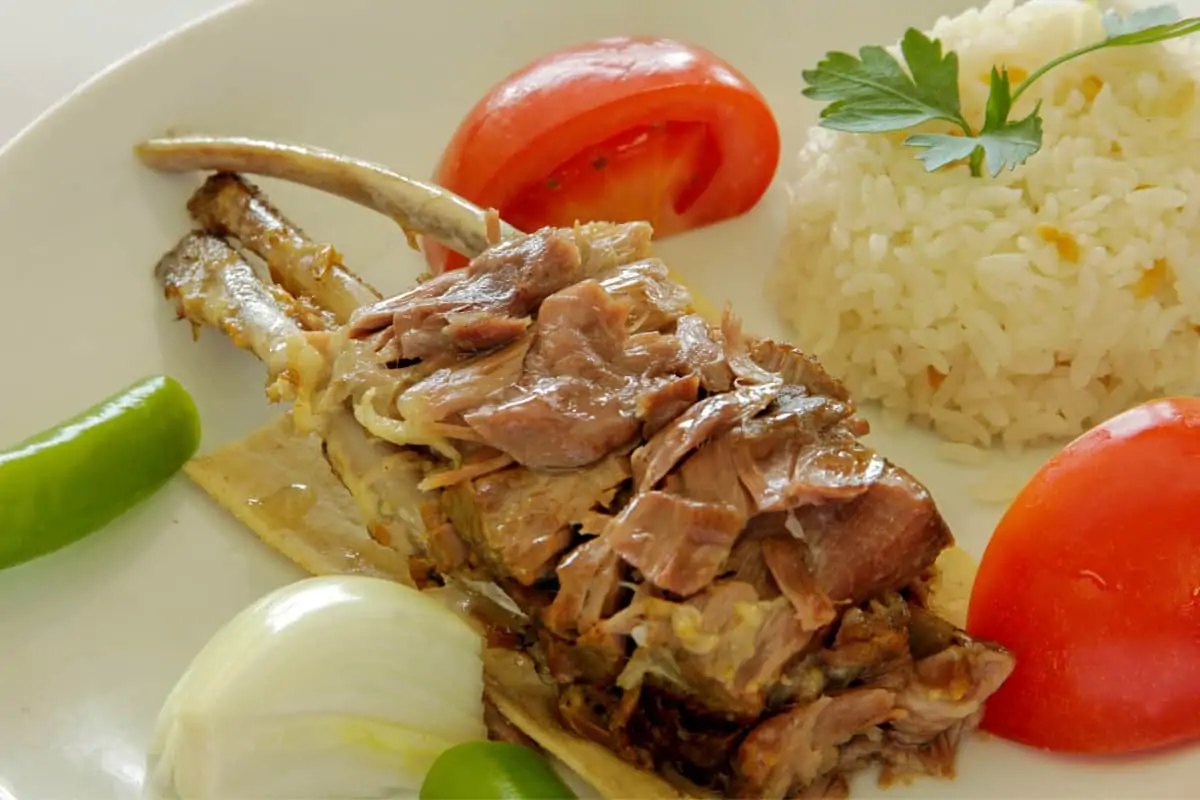 Merhaba all; we had a delightful Turkish cookery class recently and this baked eggplant or aubergine kebab with chicken, onions and peppers was a big hit at the class.
This is a southern Turkish style kebab, prepared at homes. The aubergines (eggplants) are double baked in this recipe, Southern Turkish style, which intensify their flavor. In Southern part of Turkey, especially in the regions of Gaziantep and Antakya, locals would use up the left over grilled or barbecued eggplants to make this delicious, home style kebab the next day.

18. Turkish Dishes – Alacati Borek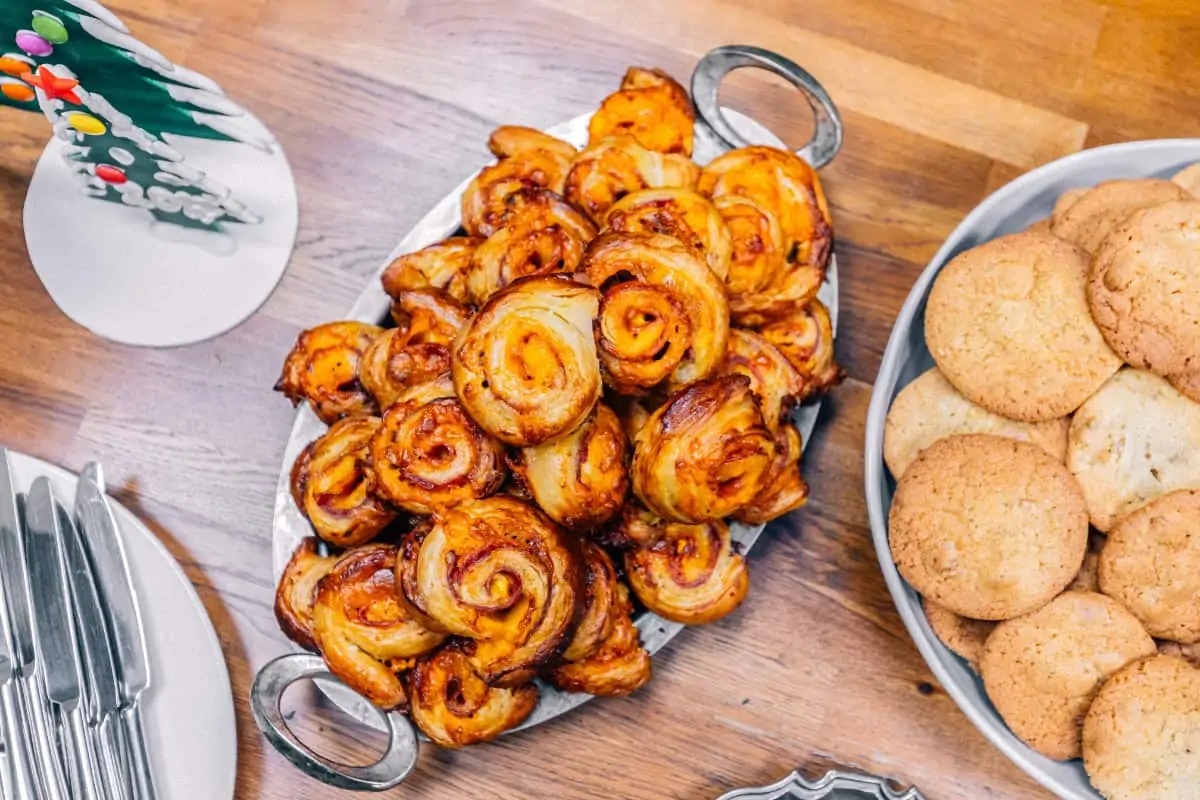 Try this beautiful alacati borek recipe, which is a spin on the traditional Turkish Dishes of sigara boregi (pastry rolls filled with cheese). Made with tender lamb, spices, soft cheese and light filo pastry, this beautiful snack is perfect for sharing.

19. Turkish Recipes – Traditional Turkish Stew Recipe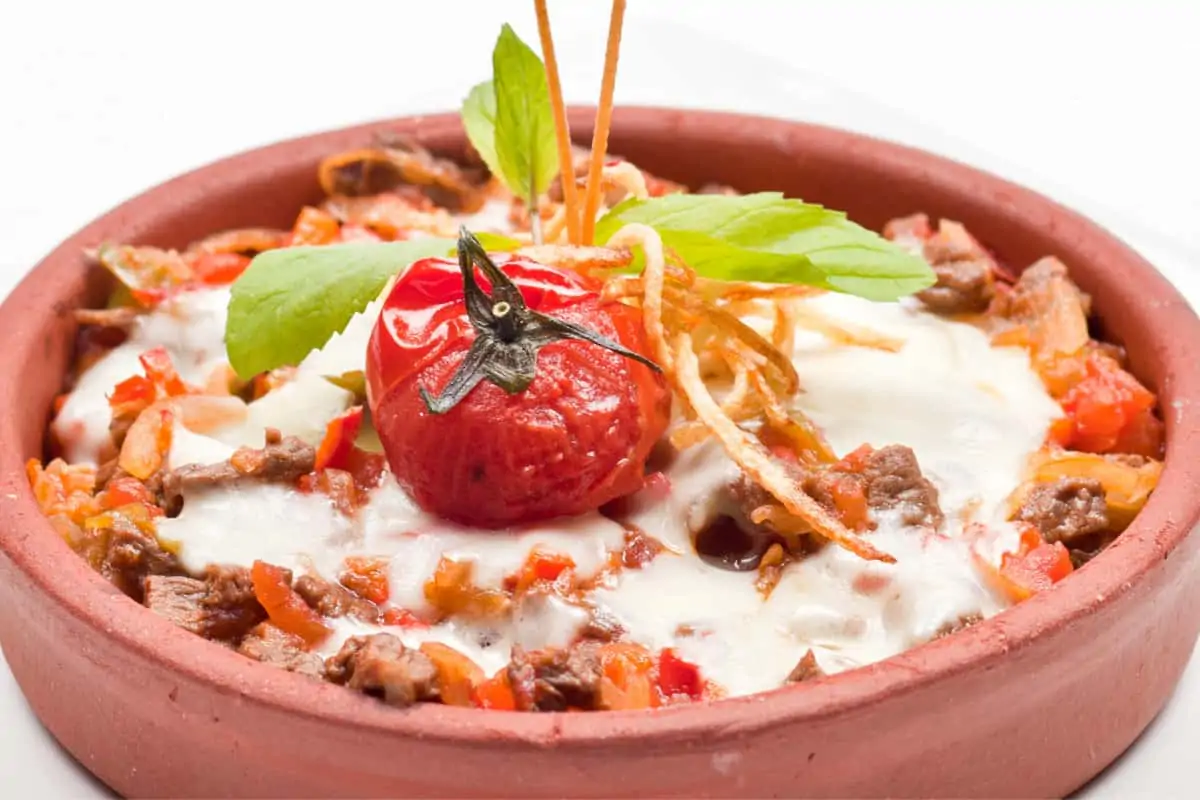 Kebabs originated in Turkey, so you can't get much more authentic than these Turkish chicken kebabs, or tavuk şiş (tah-VOOK' SHEESH'). The method of cooking meats on a skewer over an open fire originated on the steppes of central Asia. In Turkey, it's said the descendants of Genghis Khan himself skewered their daily catch on their swords and cooked it over an open flame. This concept was refined over time and was brought to the world with the westward migration of Turkic peoples.

20. Turkish Foods – Tavuk Şiş: Authentic Turkish Chicken Kebab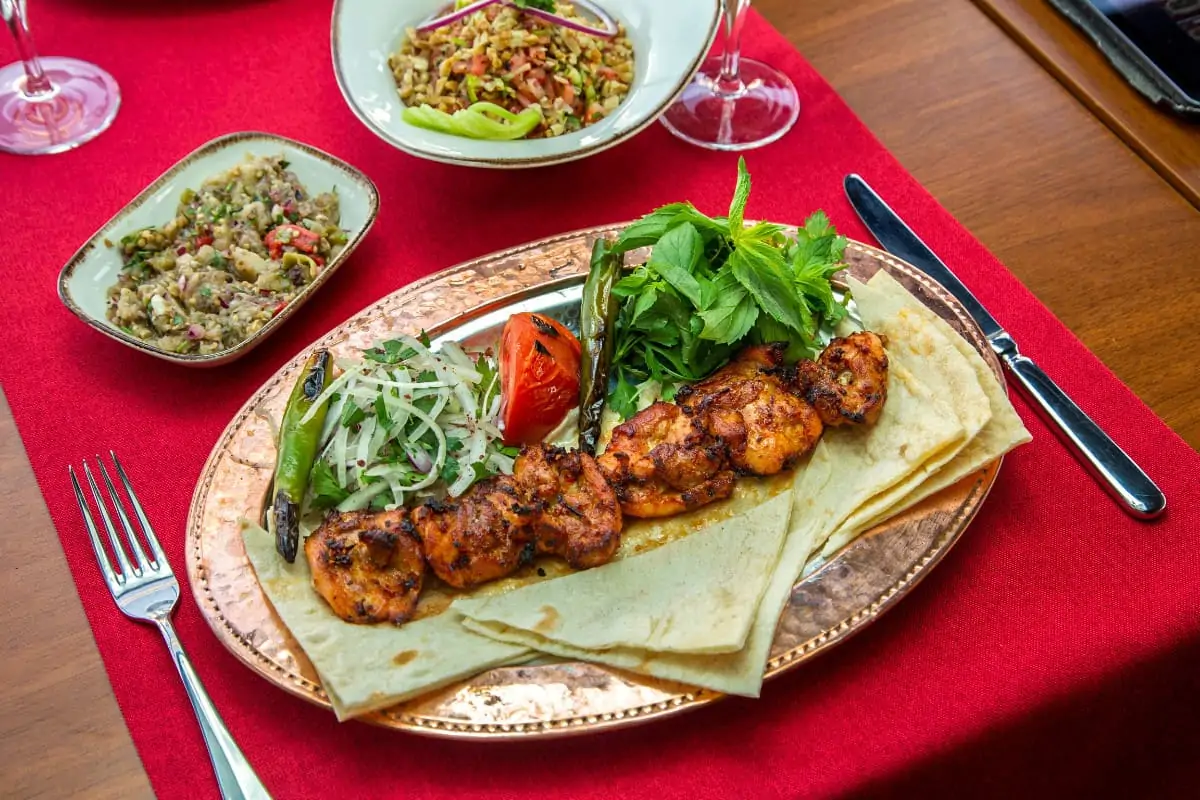 Kebabs originated in Turkey, so you can't get much more authentic than these Turkish Foods: chicken kebabs, or tavuk şiş (tah-VOOK' SHEESH'). Simple Turkish recipes. The method of cooking meats on a skewer over an open fire originated on the steppes of central Asia. In Turkey, it's said the descendants of Genghis Khan himself skewered their daily catch on their swords and cooked it over an open flame. This concept was refined over time and was brought to the world with the westward migration of Turkic peoples.

21. Turkish Desserts – Turkish Flour Helva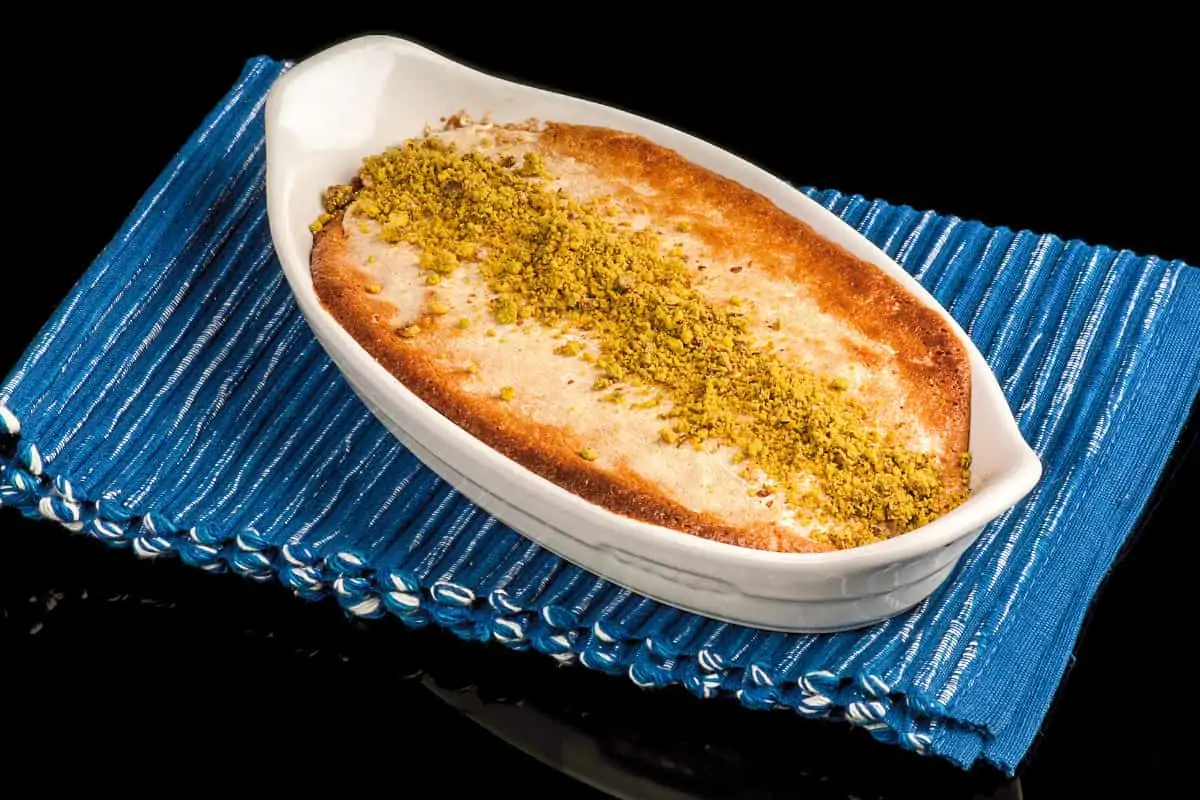 Flour helva, a thick, sweet pudding that tastes of warm, toasted flour and browned butter, is both a ceremonial and everyday dish in Turkey. Great Turkish Dishes: It's essential at gatherings such as funerals and births, but is also often made as a staple family dessert.

22. Turkish Recipes – Turkish Turkey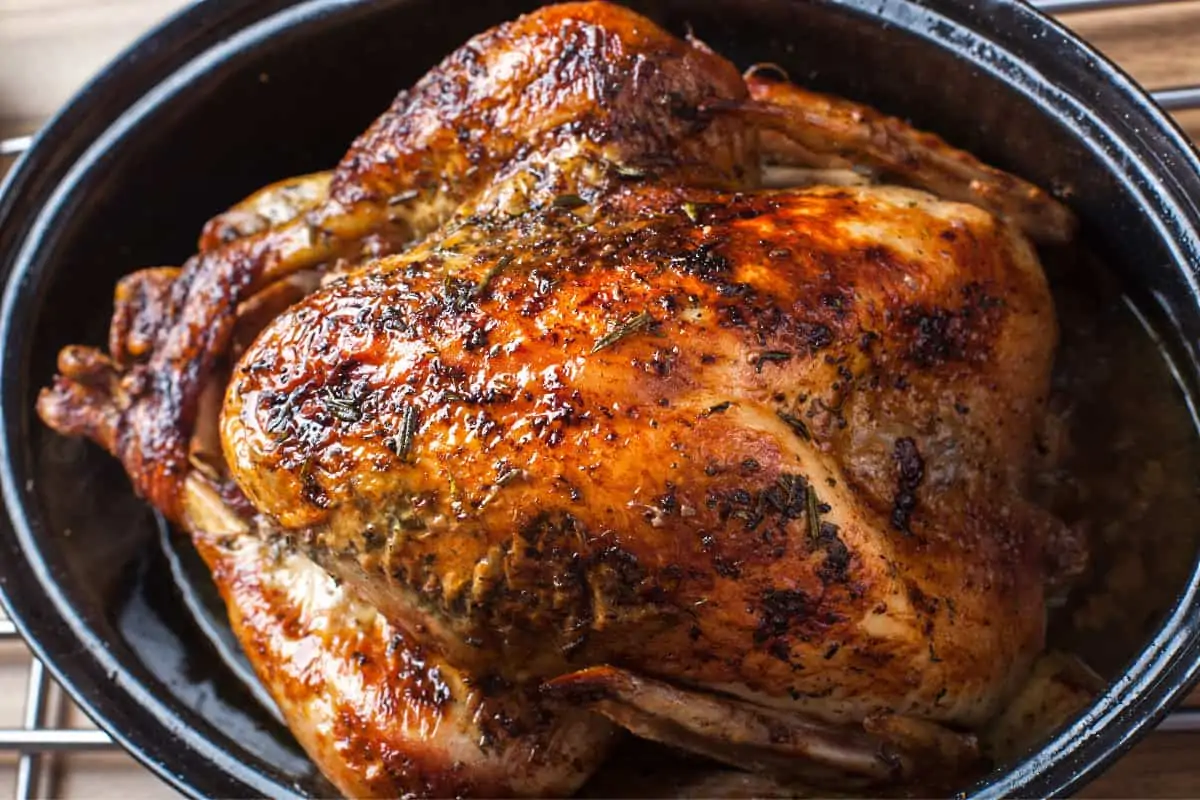 This easy recipe is a fun departure from the ordinary that still fulfills holiday traditions. For best results, baste often and save a small amount of the spice rub to sprinkle on at the end of cooking. Serve with traditional turkey sides like potatoes and gravy or turkish sides like garlic yogurt.

23. Turkish Foods – Turkish Spice Mix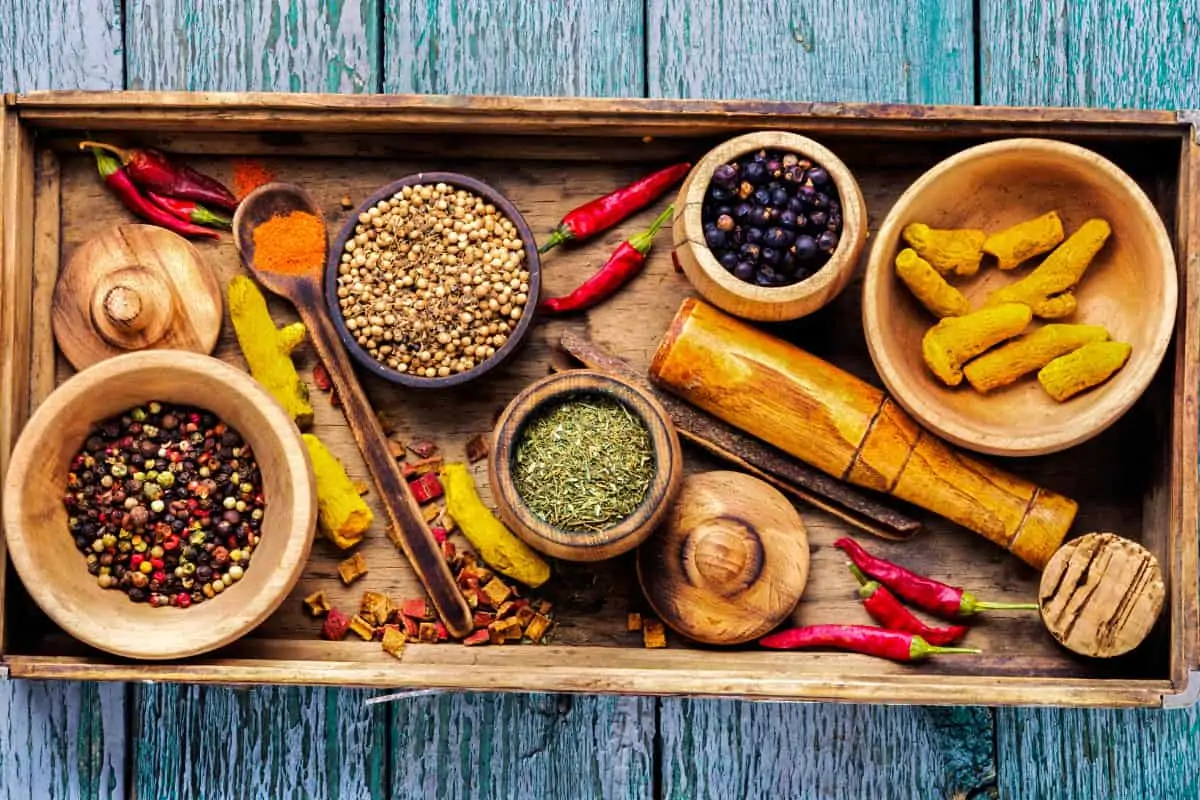 Make a big batch of this Turkish spice mix to have on hand when you need to whip up a quick vegetable dip or flavorful, easy salad dressing. Or try it as a rub for grilled or roasted meat or vegetables. The spice mix is also perfect to give as a hostess gift along with a recipe card for turning it into a dip or vinaigrette. For the freshest, most economical spices, head to a store that has a large, well-stocked bulk spice department.

24. Turkish Dishes – Turkish Slow-Cooked Beef and Vegetable Stew (Güveç)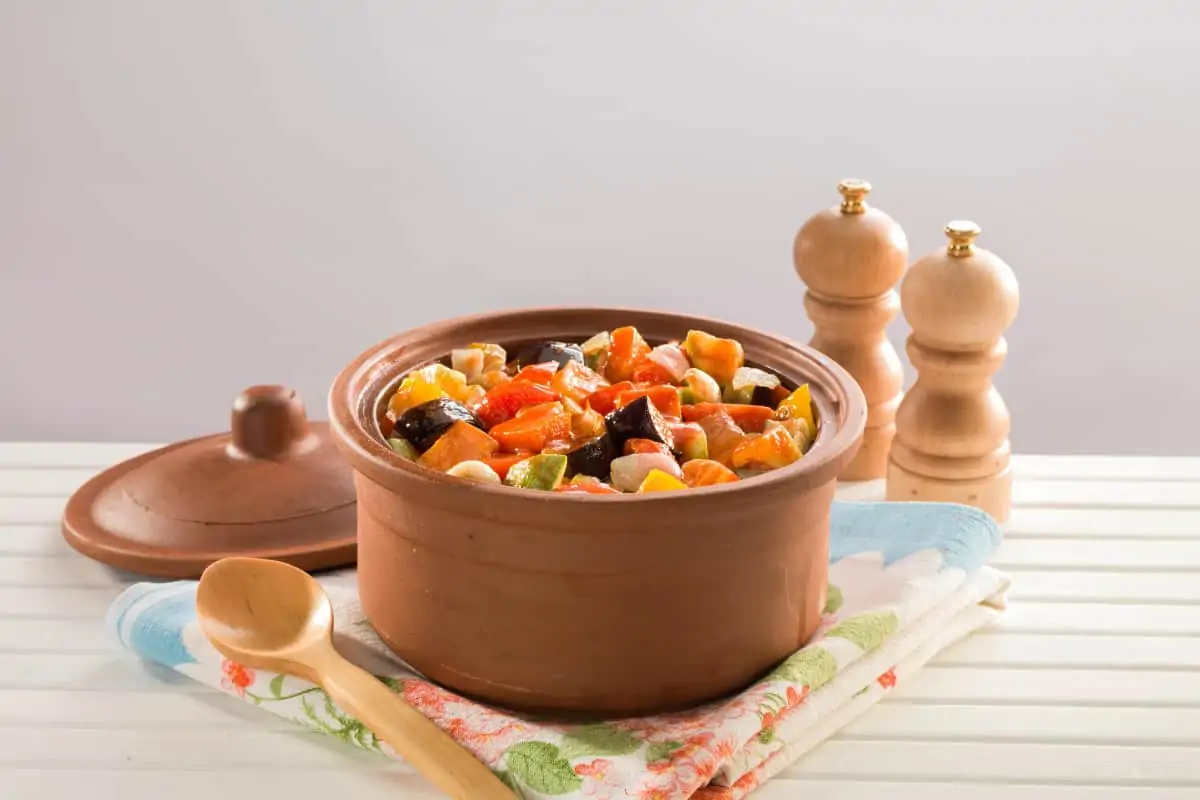 Great Turkish Dishes: Güveç are stews of meat, chicken, or vegetables baked in a clay dish or pot (also called a güveç). In much of eastern Turkey cooks carry their güveç to the neighborhood bread bakery to cook in the stone oven. This stew is inspired by one I ate on a rainy lunchtime at a cafe in Selim, a tiny farm town about 45 minutes away from Kars.

25. Turkish Recipes – Turkish Noodles With Garlic Yogurt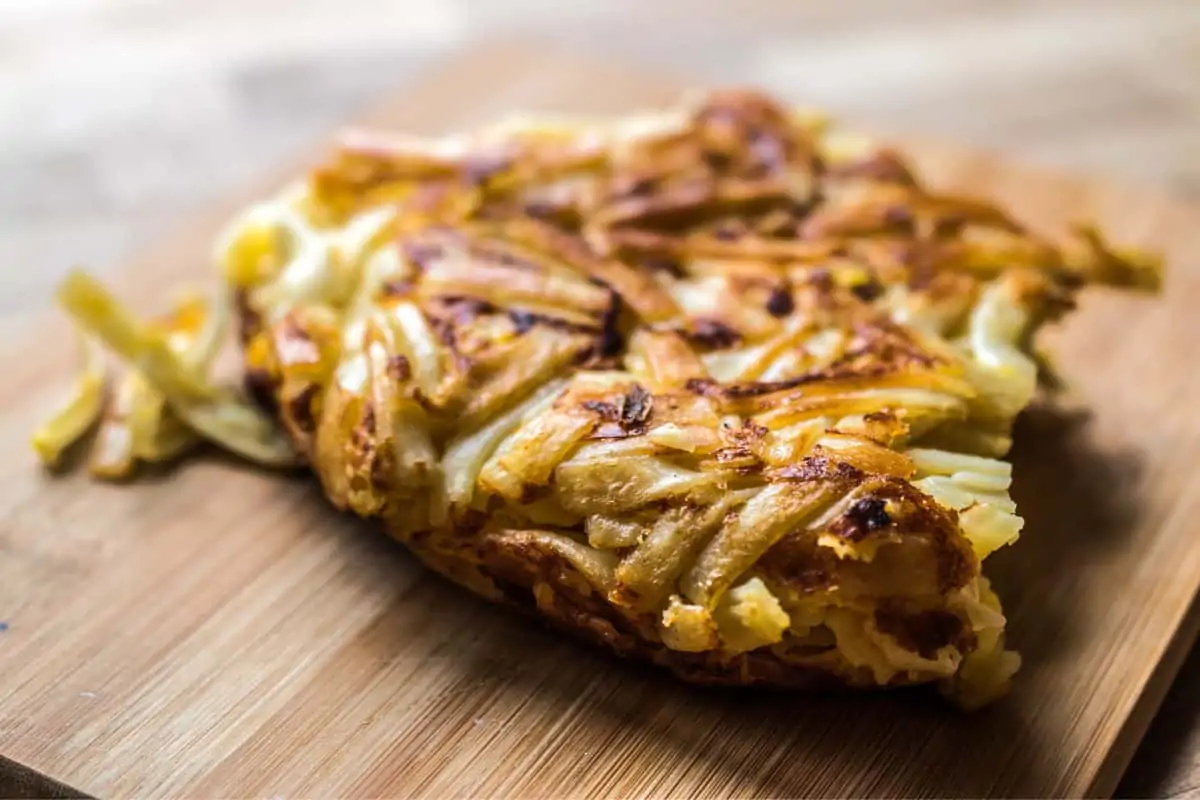 You will love the distinct flavor of the Mediterranean in this old Turkish recipe (Yoğurt Makarna) of noodles layered with minced lamb, garlic, and mint yogurt sauce, and drizzled with hot, spiced butter.

26. Turkish Foods – Turkish Cucumber, Feta, and Tomato Salad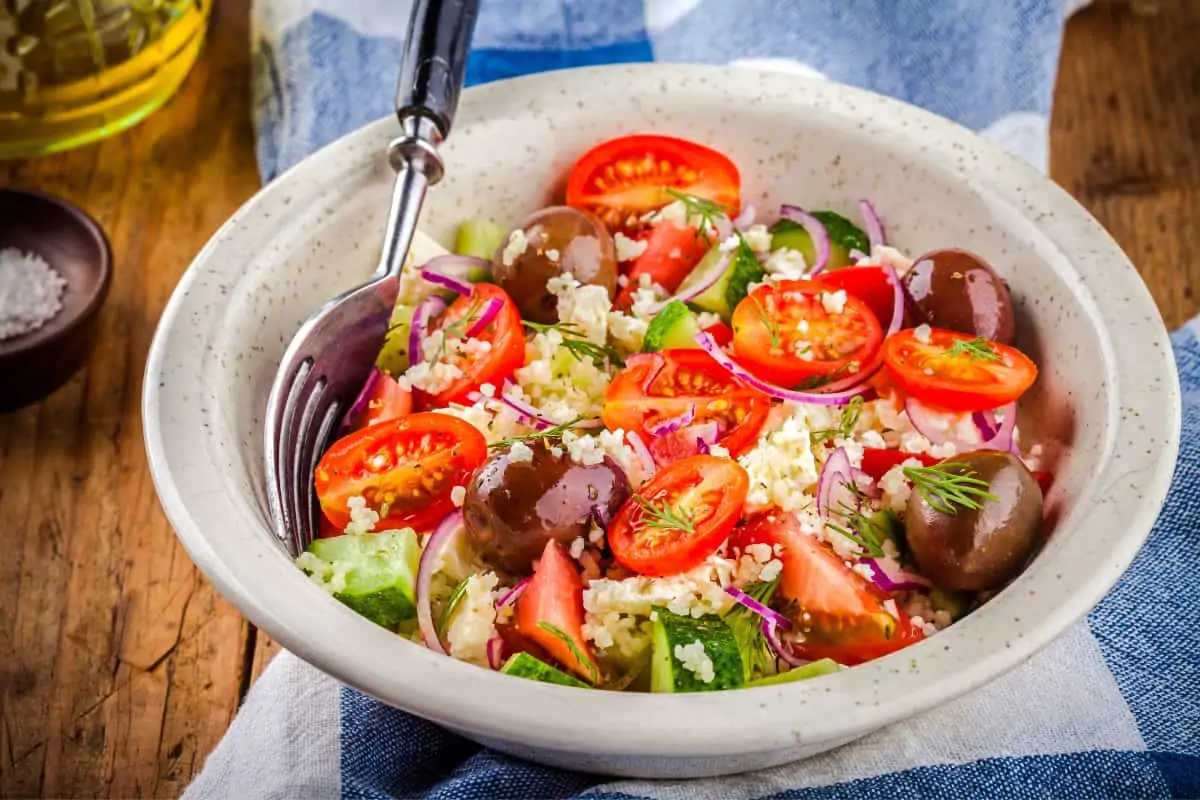 Whether enjoyed as a salad, side, or wrapped in pita, this Turkish Cucumber, Feta, and Tomato Salad is one meze you don't want to miss!

27. Turkish Dishes – Turkish Keskek A Traditional Wedding Stew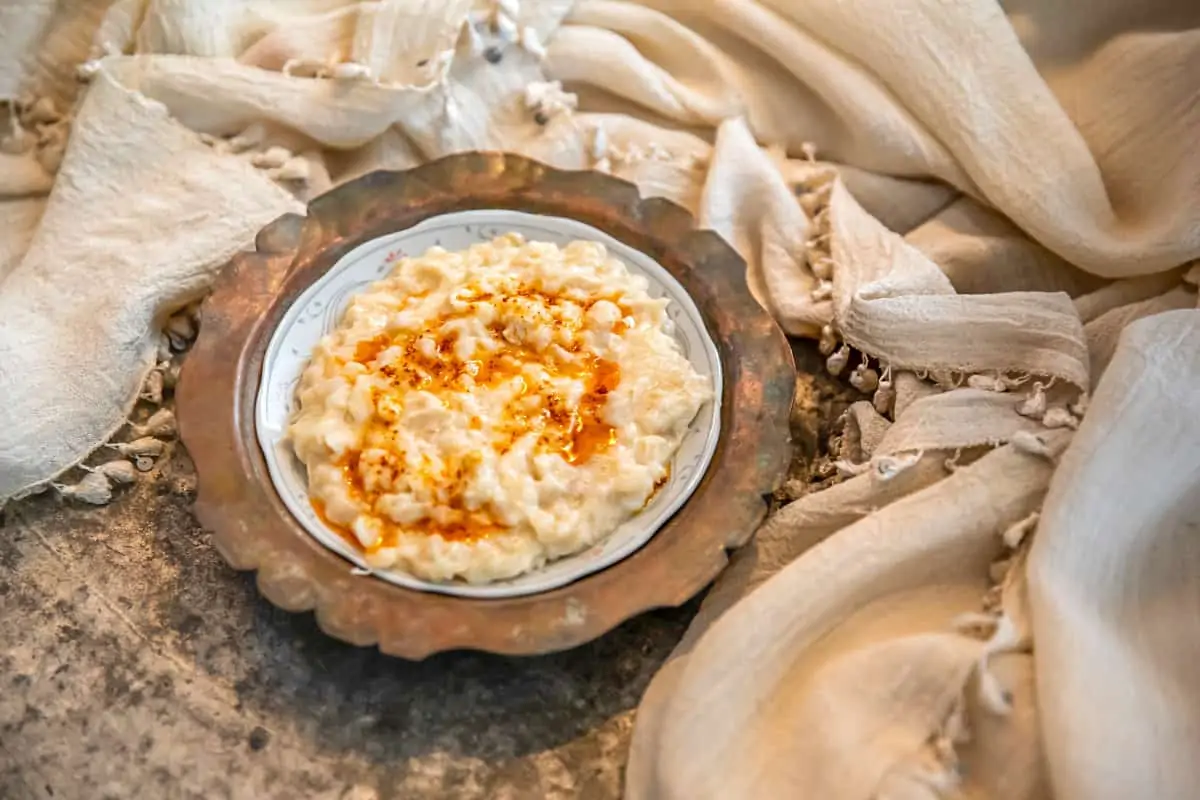 Since the cooking time is a bit long, I decided to give this recipe especially on Friday. Nowadays, when we can find the most delicious forms of summer vegetables, it is useful to take this opportunity.
It is a meal given in ceremonies such as weddings, engagement, circumcision, and special days in Turkish cuisine. Keskek is a traditional flavor made with lamb or chicken meat and wheat.
Preparations are started one night in advance for this dish, which is preferred as a wedding meal in its original recipe. In the traditional cooking method, the wheat is cleaned and the shells are separated. Meat and wheat are boiled separately and then combined.
This traditional wedding meal; it is immigrant food. Keskek is very common in Western, Eastern, and Central Anatolia as well as in Thrace. It is usually made with lamb and cracked wheat.

28. Turkish Recipes – Turkish Bread or Pide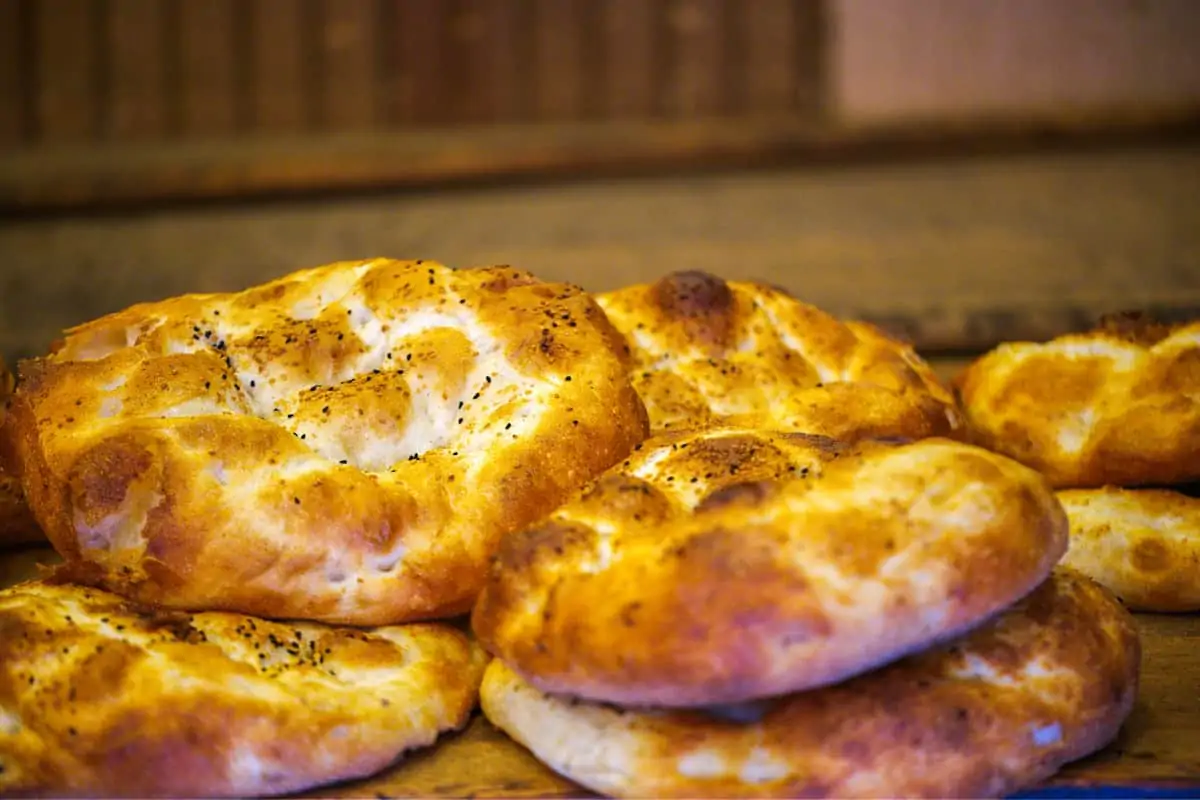 I've never met a carbohydrate I didn't like! I am in love with these Turkish Dishes of bread: pide. So what exactly is pide? Well, it's a Turkish bread that can be eaten plain or stuffed. Some of the most popular stuffing choices are: seasoned lamb, feta, or spinach.

29. Turkish Foods – Menemen – Turkish Scrambled Eggs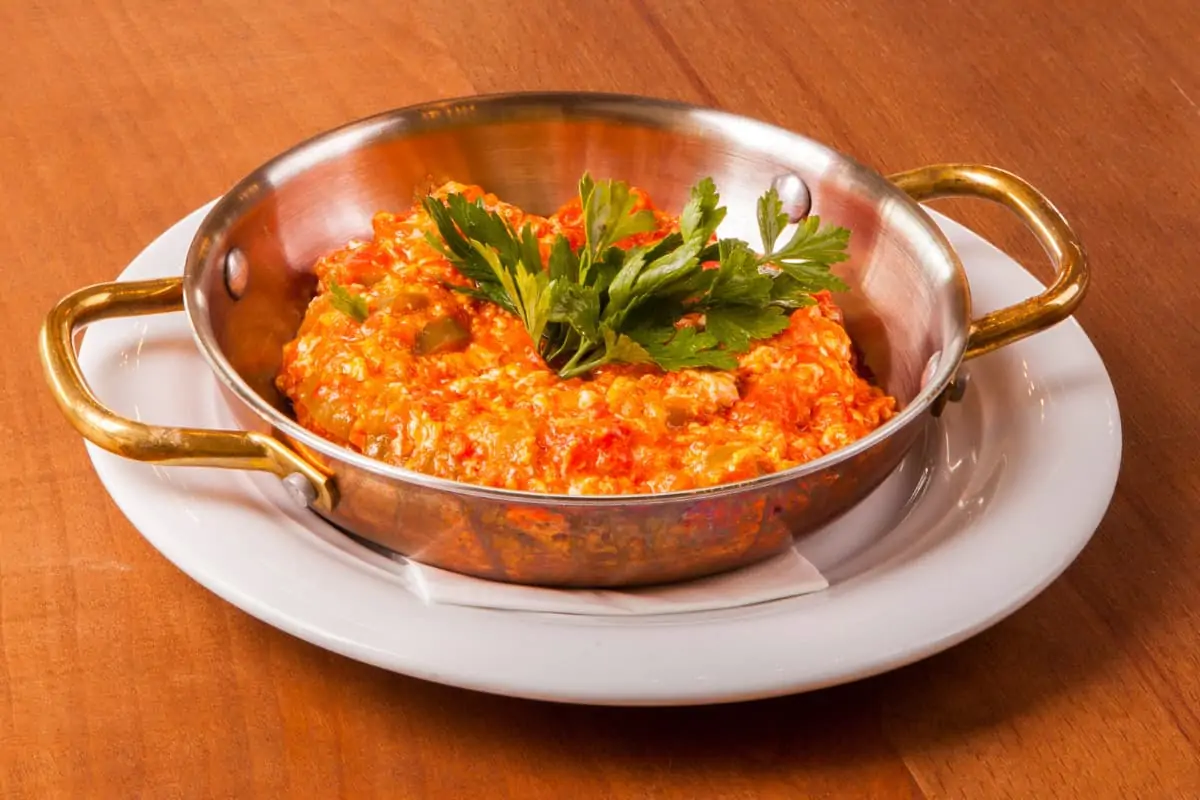 Menemen is a Turkish dish of scrambled eggs cooked with peppers, tomatoes, onions and seasonings. It is incredibly satisfying. Here is the recipe.
If you've ever enjoyed Shakshuka, I think you'll also enjoy this Turkish recipe that brings your scrambled eggs to a whole new level.
We're talking Menemen, and it will bit of rock and roll to your breakfast. Or dinner!
Menemen is a traditional Turkish dish that includes eggs, peppers, tomatoes and spices that are all cooked down in a pan with oil. Like Shakshuka, you can serve it for breakfast, but it can be and is often served as the main course.

30. Turkish Dishes – Borek Pastries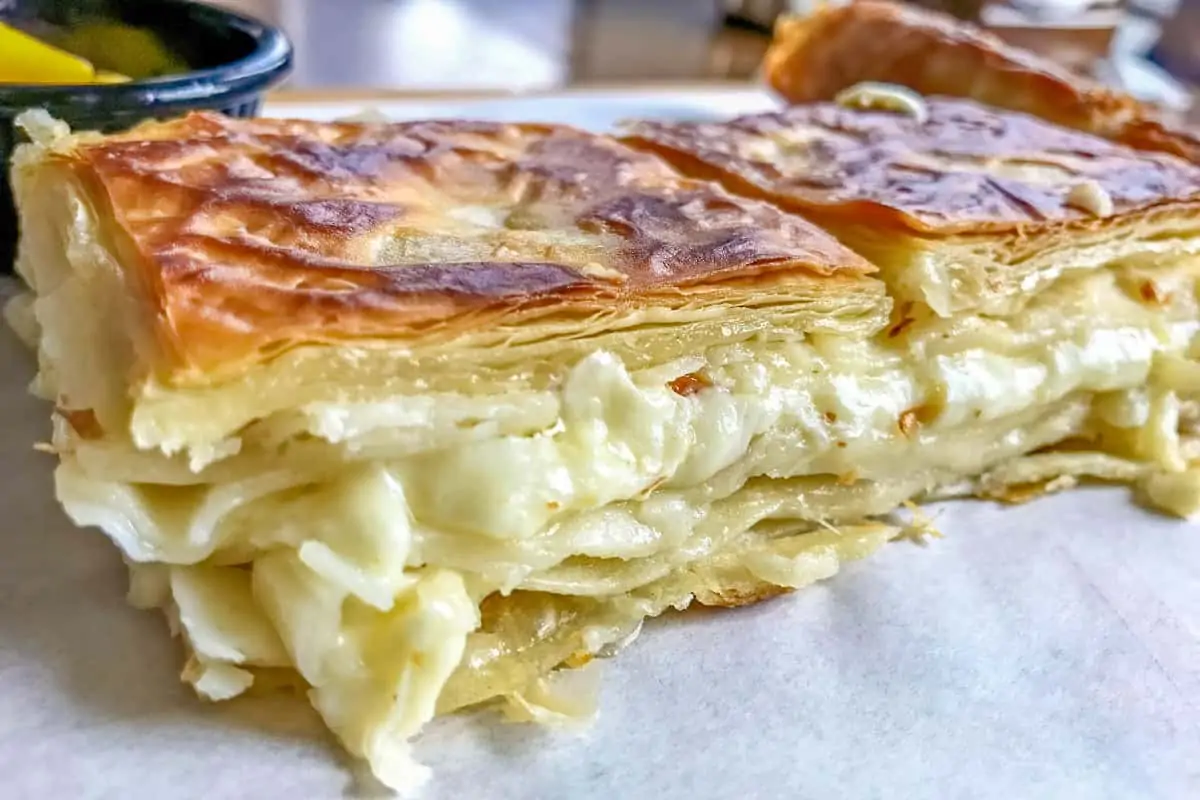 Borek is a Turkish savory crunchy pastry filled with different fillings such as cheese or potatoes. They are perfect as a midday snack or for breakfast and you can make them in advance and freeze them for later. Learn how to make this sigara borek recipe by watching our step-by-step video and tutorial.

31. Turkish Recipes – Karniyarik Stuffed Eggplant
Karniyarik is a classic Turkish stuffed eggplant recipe. Delicious Turkish Foods – eggplants are stuffed with a tasty ground beef, pepper and tomatoes filling and are baked to perfection.
Middle eastern and Mediterranean cuisines include many eggplant recipes that are all delicious and easy to make. From eggplant caponata and moussaka to baba ganoush, any recipe that uses eggplant can easily be my favorite! Today's recipe is a Turkish classic that's bursting with flavor in every bite.

32. Turkish Foods – Turkish Kebabs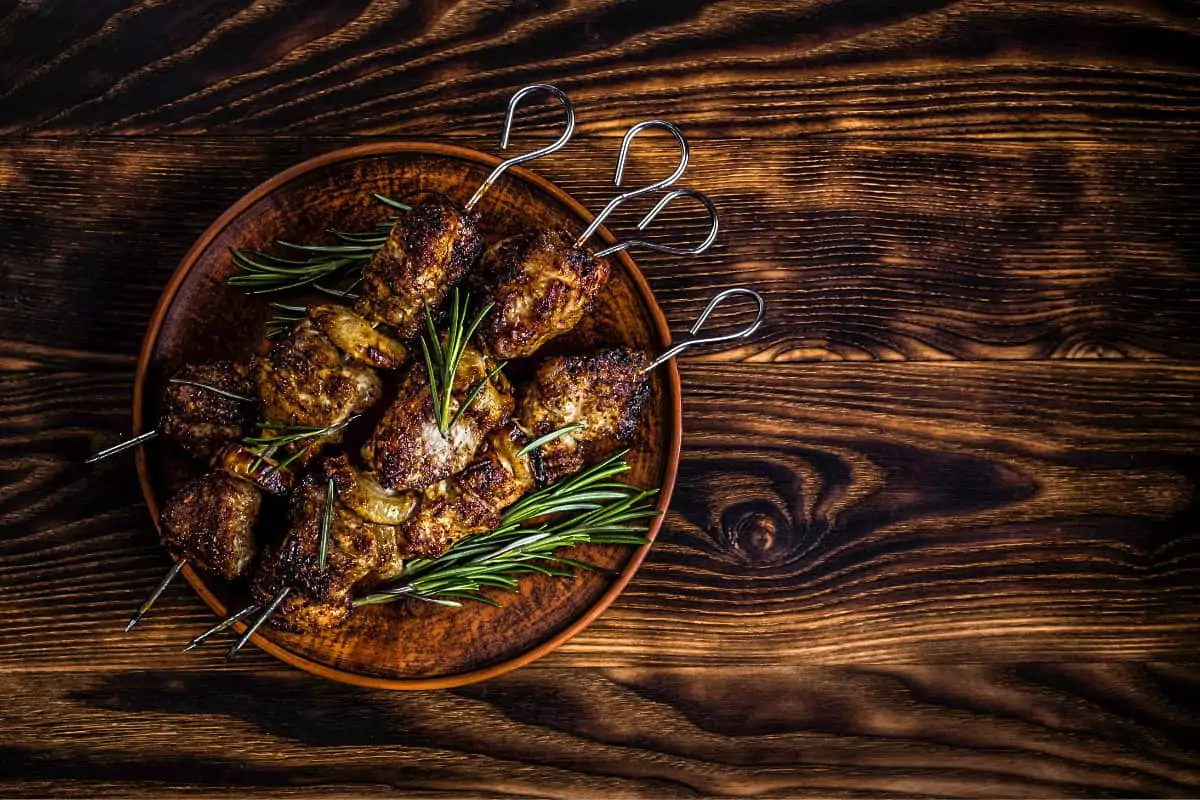 Grilled meats or kebabs are a mainstay of the Muslim world, from Turkey to Iran to India and Pakistan to Muslim China to Indonesia (where kebabs are known as satay), and each country has its own way of preparing the meat or fish and marinating it for grilling.
One of the earliest references to kebabs is found in an eleventh-century Turkish dictionary, which describes men as having "competed against each other in skewering meat." It was the Turks who disseminated kebabs all over the Middle East and North Africa during the Ottoman Empire. The recipe below is for classic Turkish meat kebabs, with a marinade that includes tomato paste and a mix of spices for an intense flavor. Simple Turkish recipes.

33. Turkish Dishes – Cacik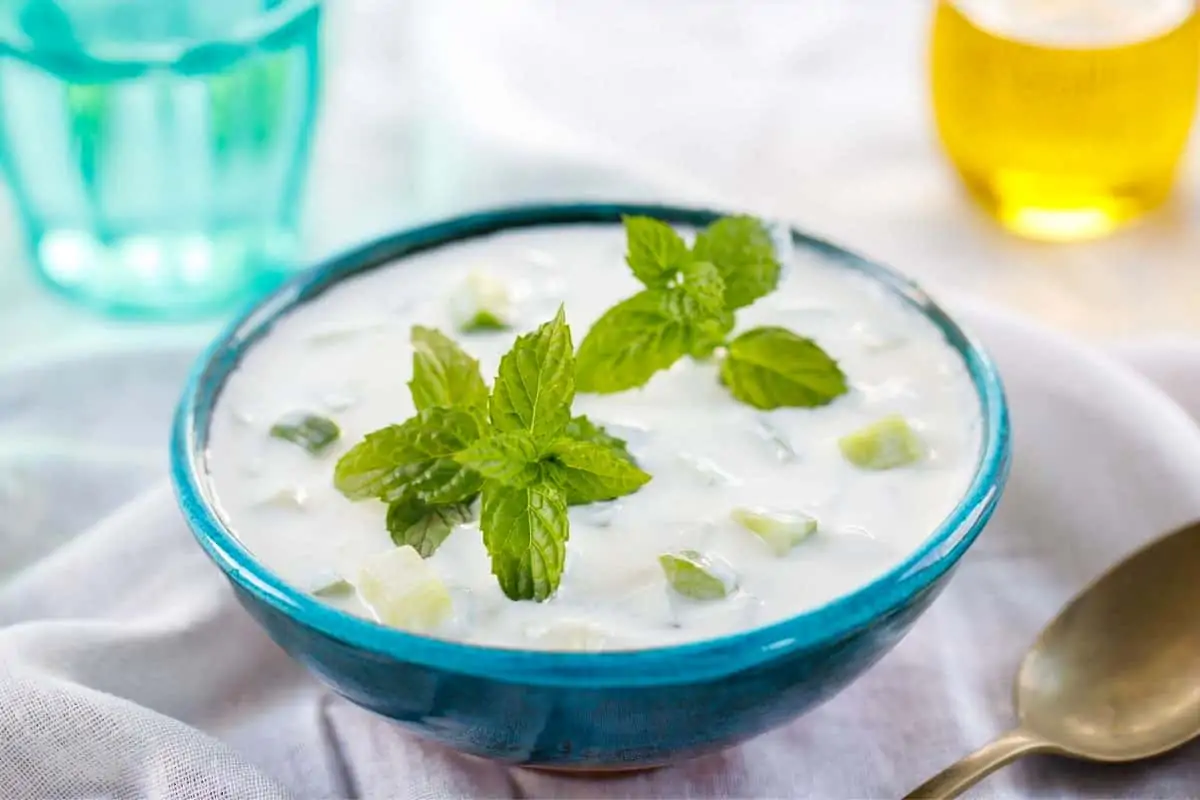 A popular Turkish dip made with cucumbers and garlic, delicious as an appetizer or side dish, and takes just 10 minutes to prepare. Cacik (pronounced 'jah-jik'), is a popular savory dish from Turkey, made with yogurt, cucumbers, garlic and mint. It is normally served as a dip, but can also be blended with a little extra cold water to make a refreshing cold soup in the summer. Great Turkish Foods.

---
For complete photos and videos of our trips, visit our photos on our Facebook Page
You May Want to Join Our Boondocking Group on Facebook For More Information