Our recent trip gave us a huge supply of  Turkish Recipes. We sampled all of the Turkish foods and Turkish Dishers. Try all of these recipes they are excellent.
Traditional Turkish Foods
As an individual who travels in pursuit of culinary skills, Turkish cuisine will be a curious one. This country is known for its variety of dishes which makes up its cuisine, and the way all the dishes come together like feasts offers significant material for enjoyment and life-long sturdy.
The history of traditional Turkish recipes are a heritage inherited from the Ottoman empire cuisine. It can be described as fusion and refinement of Balkan, Mediterranean, Central Asia, Middle Eastern, American, and Eastern Europe cuisines.
Its cuisine has impacted neighboring cuisines such as Central, Southern, and Western Europe. The traditional Turkish Foods is unique and is full of flavor. With that said, let's go through the history of traditional Turkish Foods.
The History of Turkish Foods
Historical development of traditional Turkish Foods is directly associated with the vast geographical land the Turks live on, along with ingredients offered by their land. This has enabled the Turks to form a rich and diverse food culture.
The early historical documents indicate that Turkish Foods was established in their nomadic period and first settled in the Turkish states of Asia. Traditional Turkish Foods consists of dairy, meat, grains, and vegetables.
The Turks grew wheat and often used it in various types of unleavened and leavened bread that were baked in clay ovens, buried in ember, or baked-on griddle. Bugra and Manti were among the popular dishes in the early days. Skewering meat was a famous way of grilling, which was later on known as kebap. In addition to that, their dairy products, such as yogurt and cheese, were staple and convenient for the pastoral Turks.
Turks from Central Asia depended on animal husbandry, and when their living conditions became unstable, the Turks migrated to Anatolia. Here, they encountered various ingredients that the Turks incorporated into their cuisine.
Their once simple dishes become more complex due to the additional ingredients along with new cooking styles. While in Anatolia, the Turks were first introduced to rice, vegetables, and fruits native to that particular region.
The Anatolia region is referred to as the breadbasket of the world. Turkey to date is among the seven countries in the world that produce a sufficient amount of food to feed its citizens and even export some.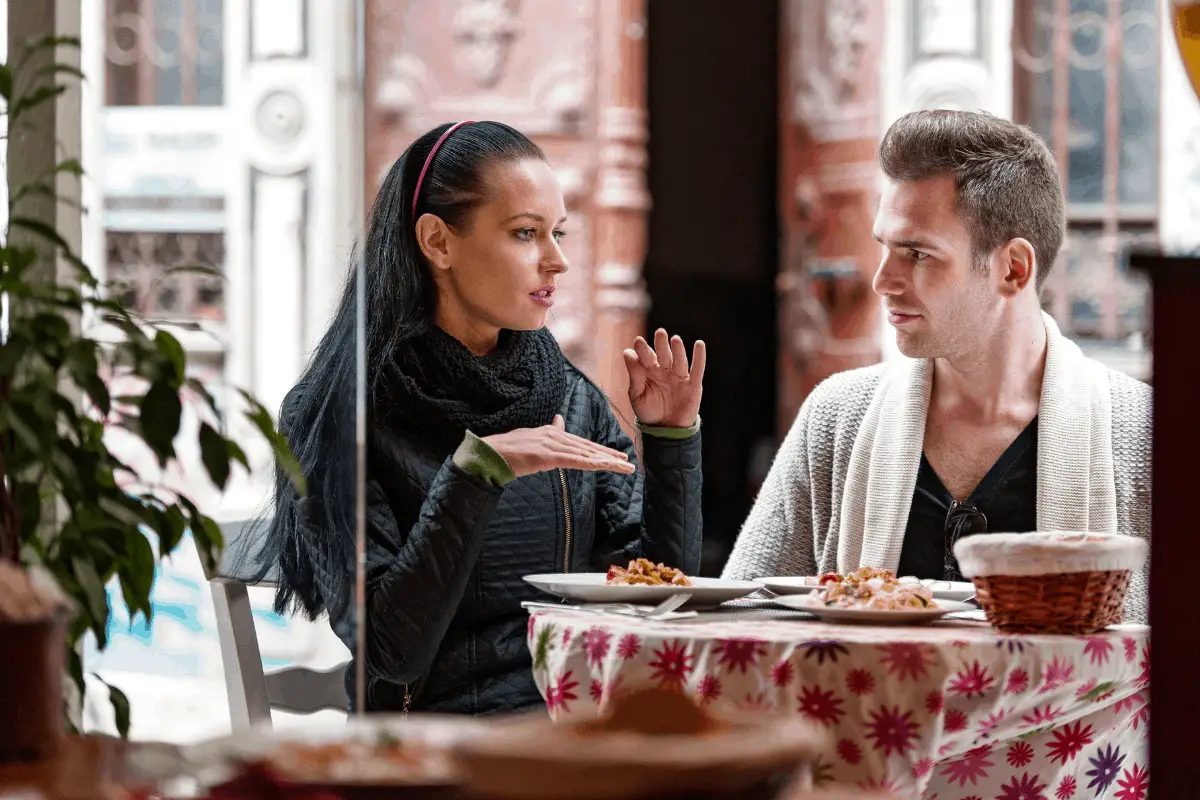 Old Style Turkish Recipes
Straddling Asia and Europe, where east and west meet, Turkey's top-notch culture is reflected in its cuisine. As a newbie to traditional Turkish Foods, you have a mouth-watering journey ahead, and you can get started with these top-notch old-style Turkish Foods cooking and food;
Baklava
This is one of the iconic Turkish recipes, and it dates back to the Ottoman Empire. If you have a sweet tooth, then Baklava is a must-try dish for you. Baklava is a layered pastry covered in group pistachios and syrup as well as filled with nuts giving you an unforgettable Turkish dessert. It is best served when freshly baked, and it can be found in supermarkets and bakeries.
Köfte
Also known as Turkish meatballs, Köfte comes in all shapes and sizes, and you can have it as a snack, served with rice along with salad or dipped in plain yogurt. Köfte is made in different ways depending on the region you come from, and each region christened its distinctive Köfte varieties, such as Izgara Köfte, which is served with rice, grilled peppers, and bread. The Çiğ Köfte, on the other hand, is consumed raw.
Şiş kebap
Kebap is a term used to describe an array of street eats, with Şiş kebap being the most famous of them all. This traditional Turkish Foods was made of lamb or beef; however, nowadays, you can choose from an array of meat selections from poultry to fish as well as vegan options. The kebap is grilled over charcoal which is then served on a wooden or metal skewer.
Döner
It is another top-notch kebap, and it offers diversity in meat choice. Döner is seasoned with spices and herbs and prepared on a vertical and rotating spit. The food is best served when fresh, and the cuts are served in bread wraps and salad along with spicy sauce or garlic.
Roasted lamb
Also known as kuzu tandir, the roasted lamb is said to be the most beloved traditional Turkish Foods. Kuzu tandir is famous for its top-notch tender meaty goodness; it is traditionally prepared using a special oven. When preparing the meat, the lamb is suspended over coals and left cooking for hours until it is well-roasted.
The Turks have used this method of cooking for several centuries and adopted it from Anatolian Seljuk. This roasted meat is best served with potatoes and yogurt.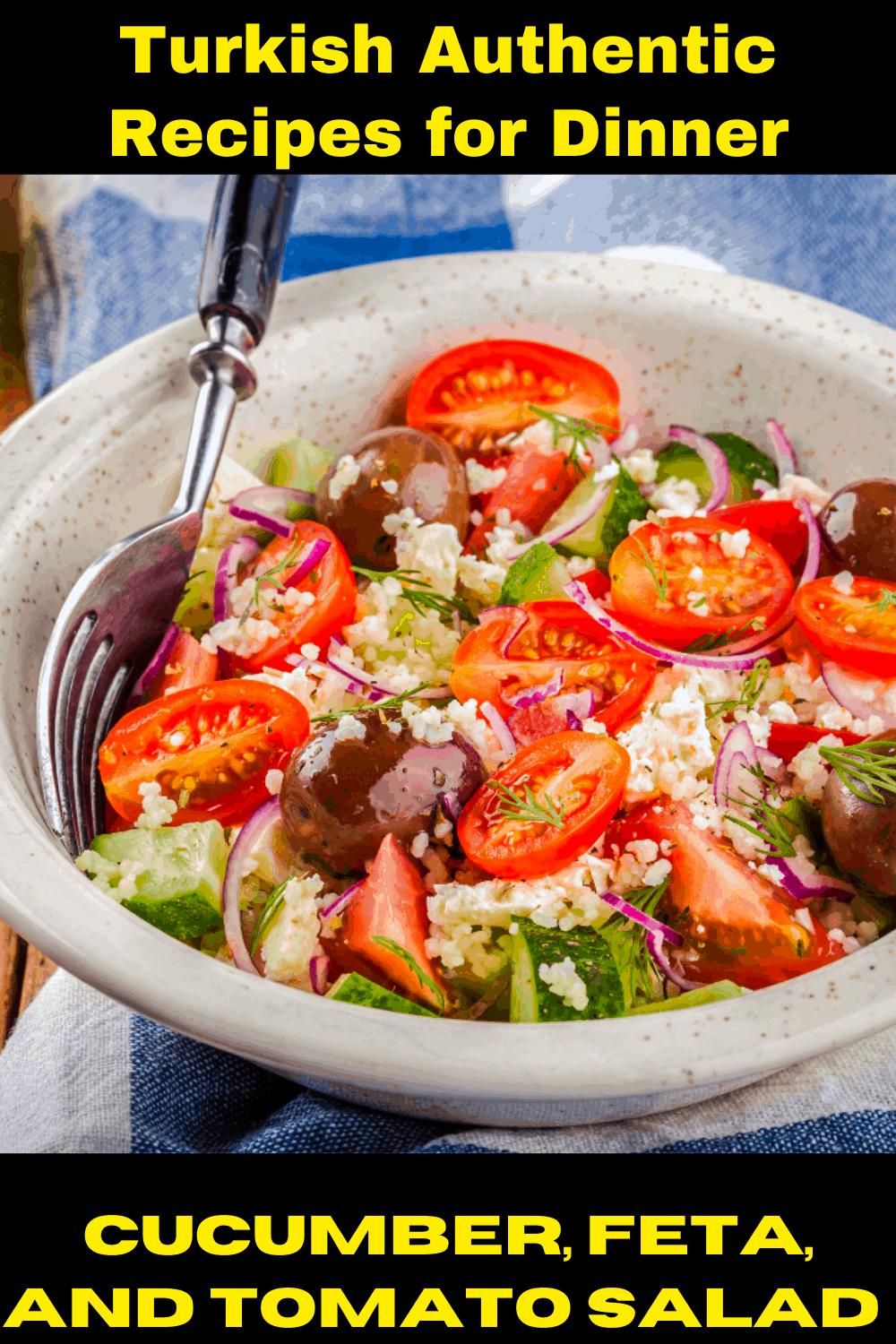 Peruvian Turkish Foods Cooking and Food
Peruvian cuisine is a mix of an array of cultures and is even referred to as fusion cuisine.
It might be a fusion but not a trend. On the other hand, Turkish foods are unique and said to have influenced different cuisine cultures in Europe and Asia significantly. And when it comes to Peruvian Turkish Foods cooking and food, there are some similarities in the spices used and cooking method.
Peruvian food consists of grilling of meat, fish and steak and is referred to as anticuchos, similar to the kebap in Turkish recipes. The two cuisines have lots of similarities; however, they still have their differences.
Turkey is a rich and diverse food destination for any food enthusiast out there. Traditional Turkish Foods relies less on seasoning and focuses more on taste and the use of fresh ingredients. Their foods are prepared to perfection with the utmost care, dedication as well as passion. I
f you have never had an experience with Turkish cuisine, then you are missing out. There is an array of food choices to go for, and you can never go wrong with Turkish cuisine. Therefore, as we come to the end of the article, we hope you have found it beneficial and learned more about the history of traditional Turkish Foods.
33 Favorite Turkish Foods w Recipes
1. Turkish Recipes – Homemade Turkish Meatballs Kofte Recipe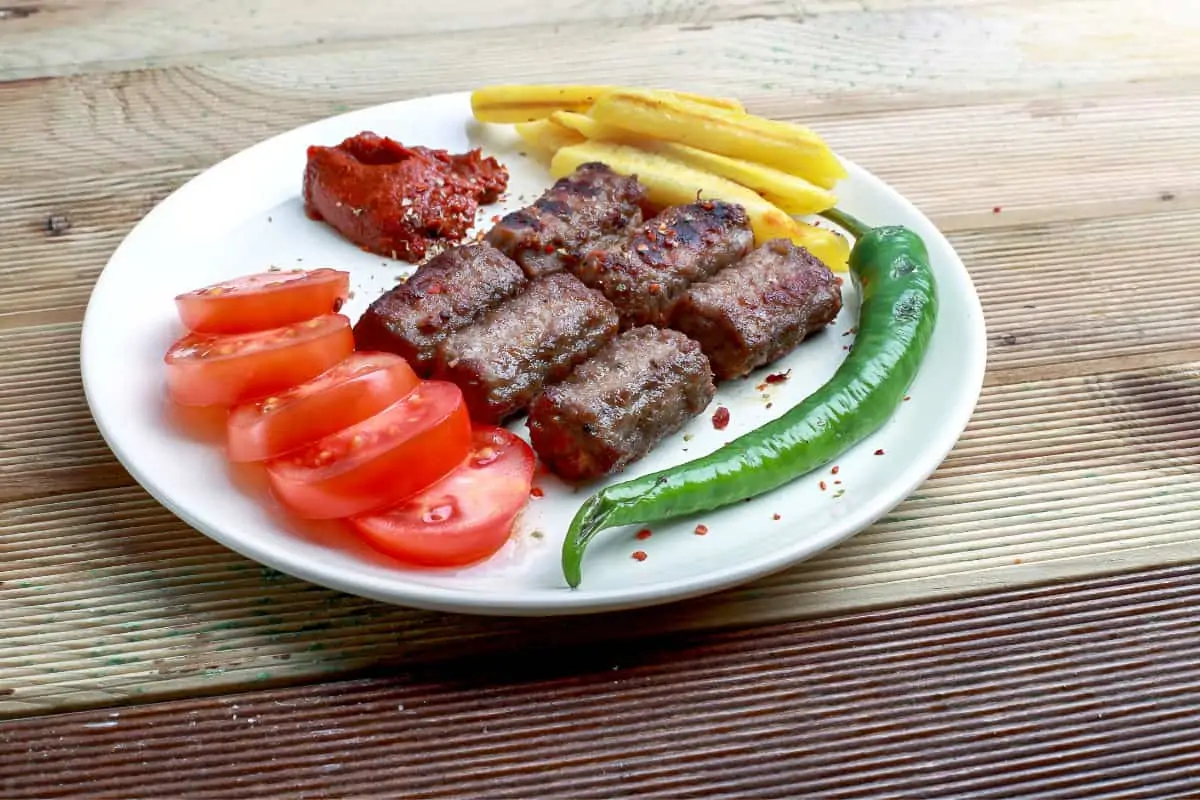 2. Turkish Foods – Easy Lahmacun Recipe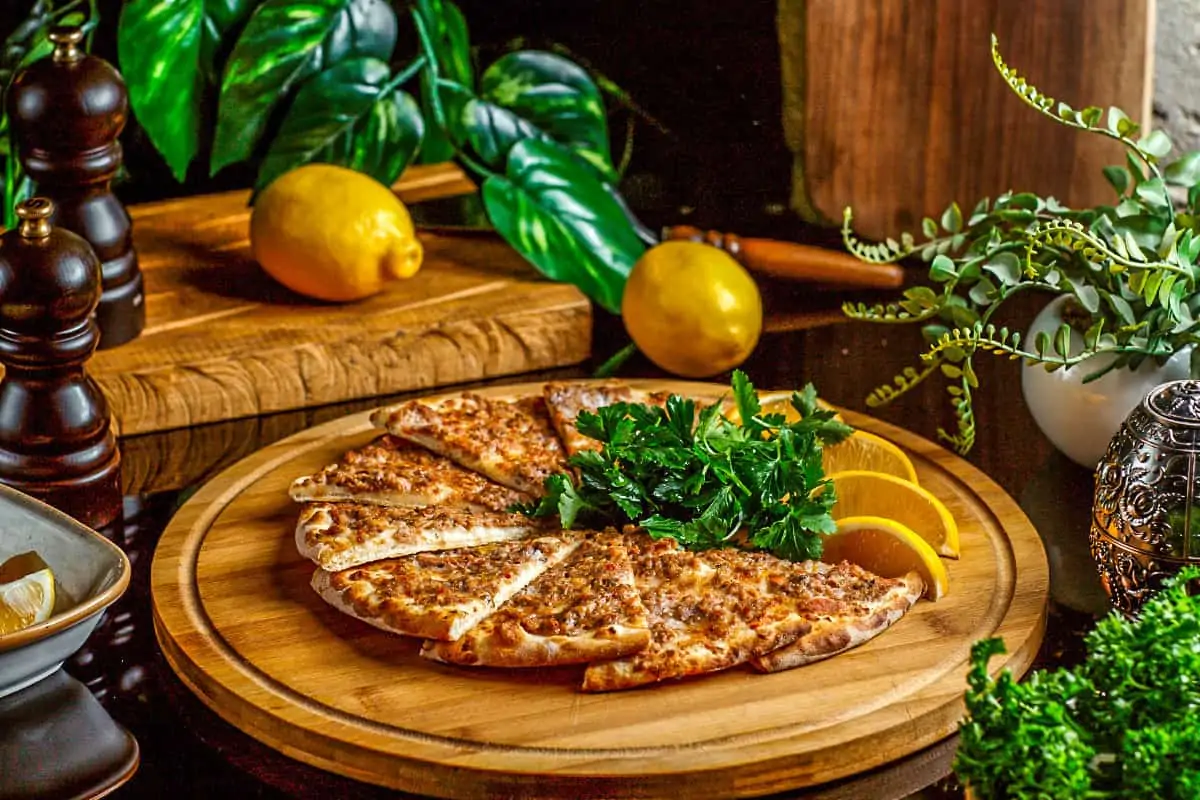 3. Turkish Dishes – Turkish Red Lentil Soup (Süzme Mercimek Çorbası)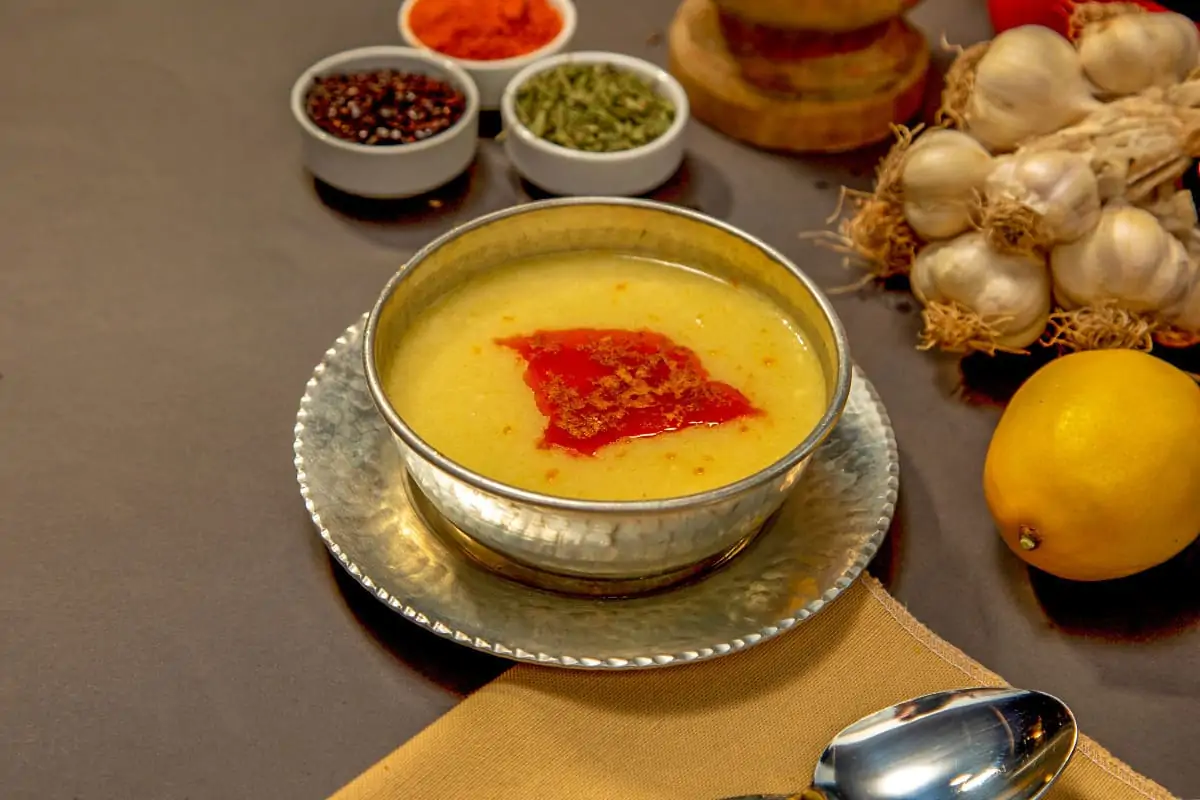 4. Turkish Recipes – Turkish Vegtable Soup w Orzo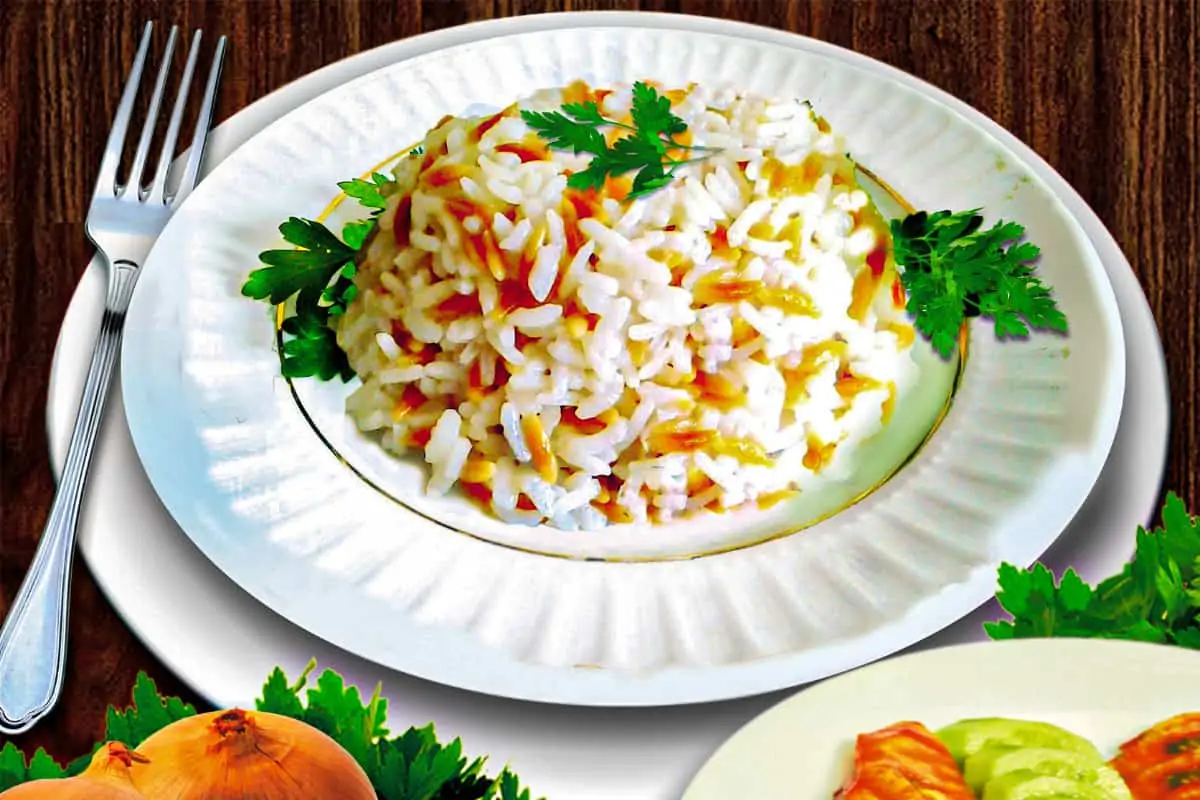 6. Turkish Dishes – Easy Homemade Doner Kebab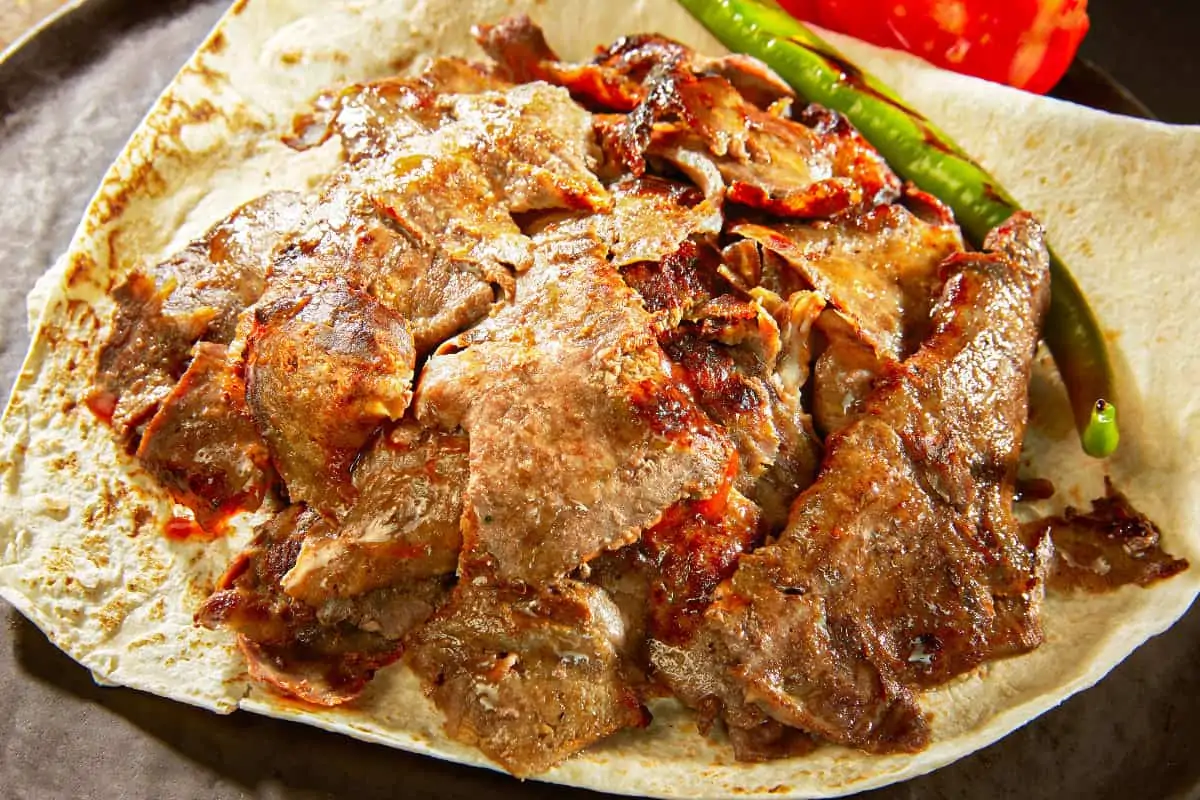 7. Turkish Recipes – Turkish Bulgur and Vegetable Pilaf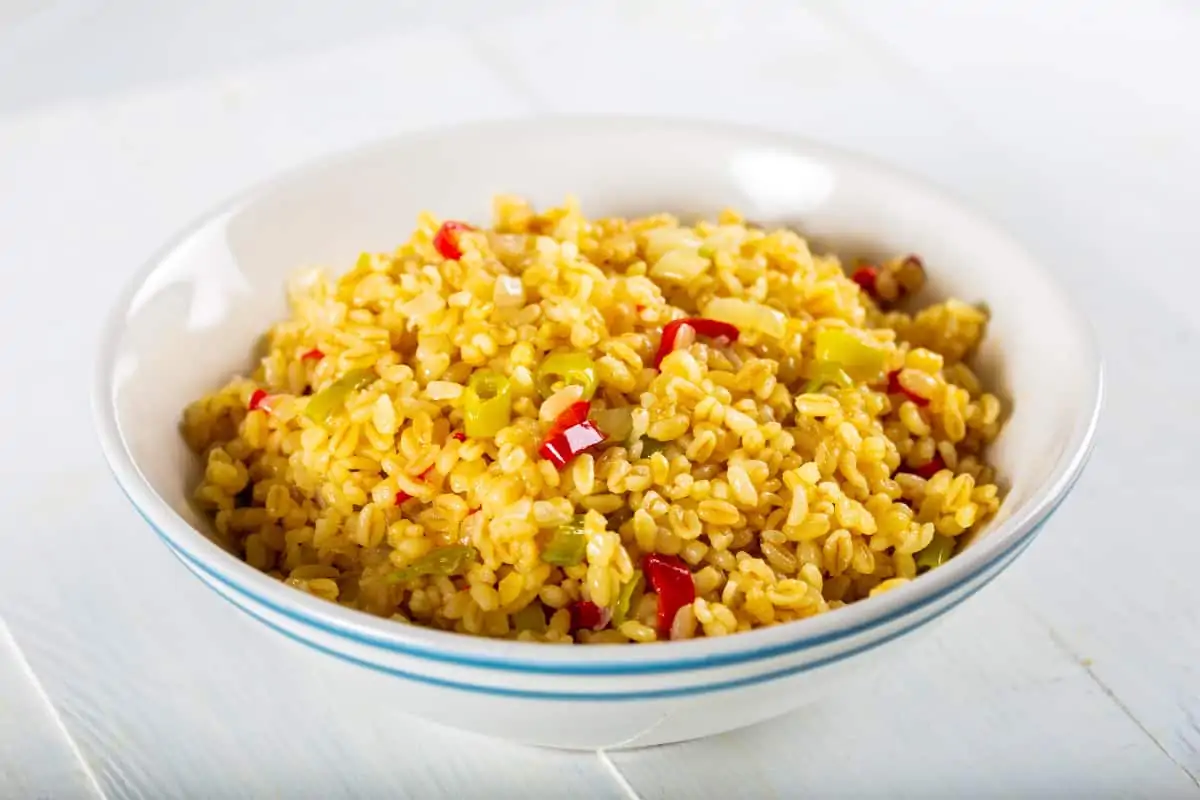 8. Turkish Foods – Kisir, a Turkish Bulgur Salad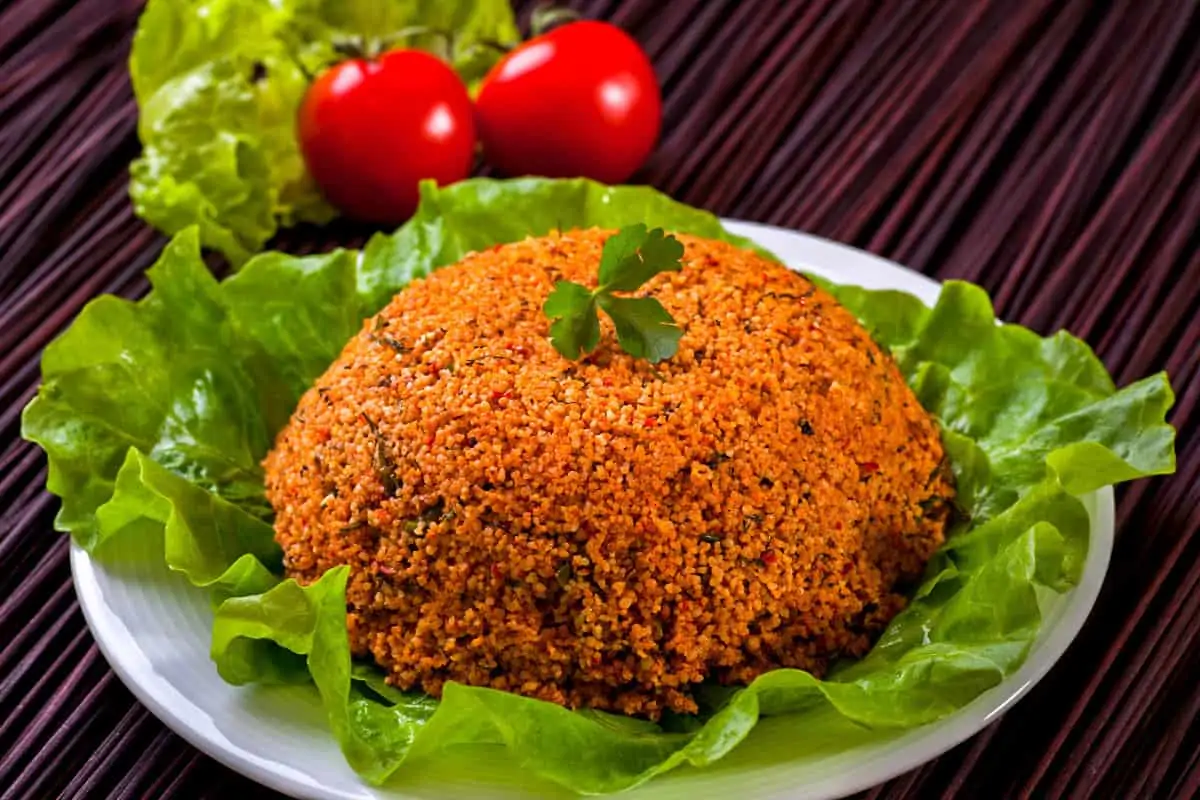 9. Turkish Dishes – Mucver (Turkish Zucchini Fritters)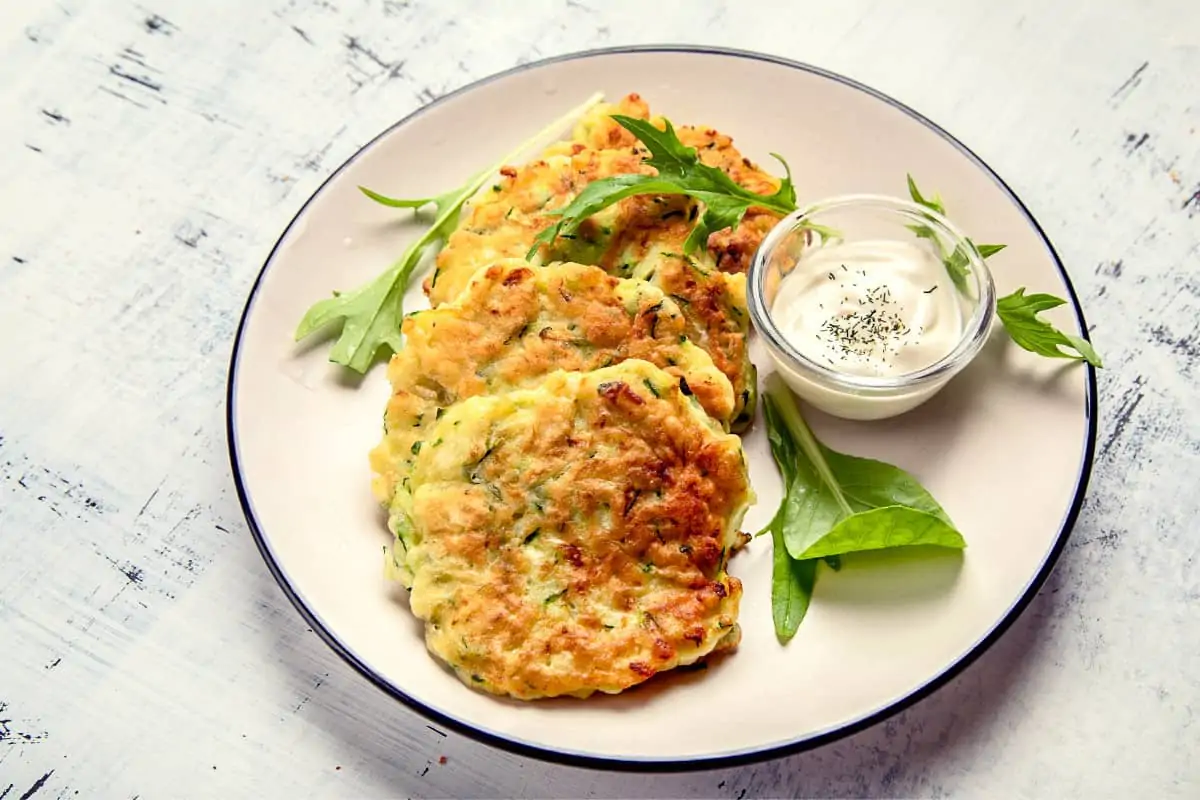 10. Turkish Recipes – Turkish Potato Salad (Salatasi)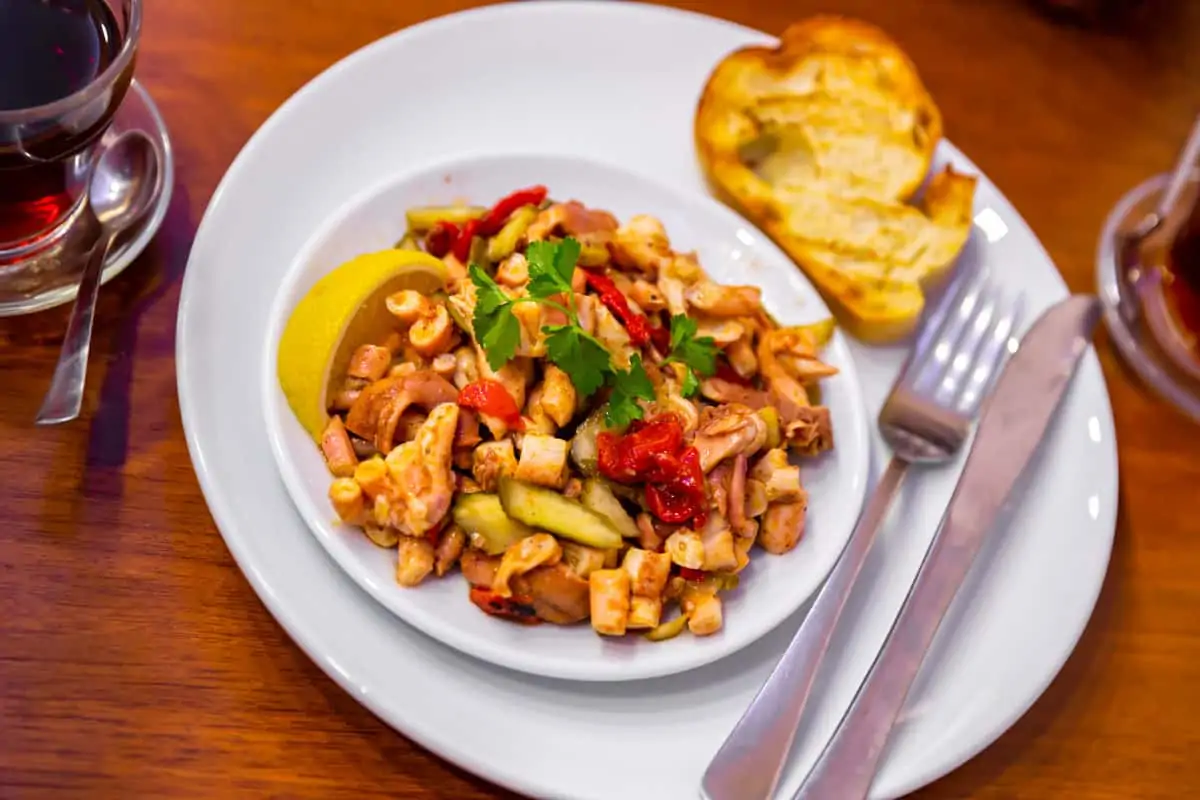 11. Aromatic Lamb Casserole With Prunes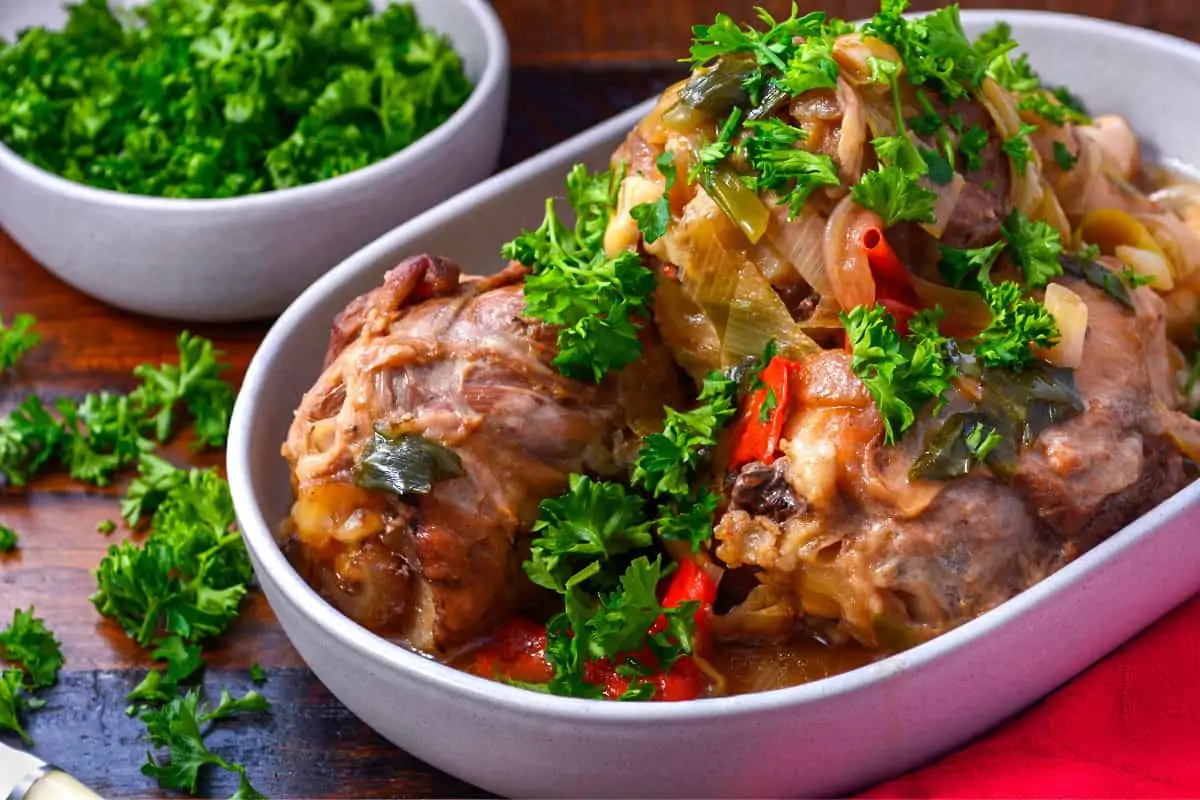 12. Turkish Dishes – Turkish Cabbage Rolls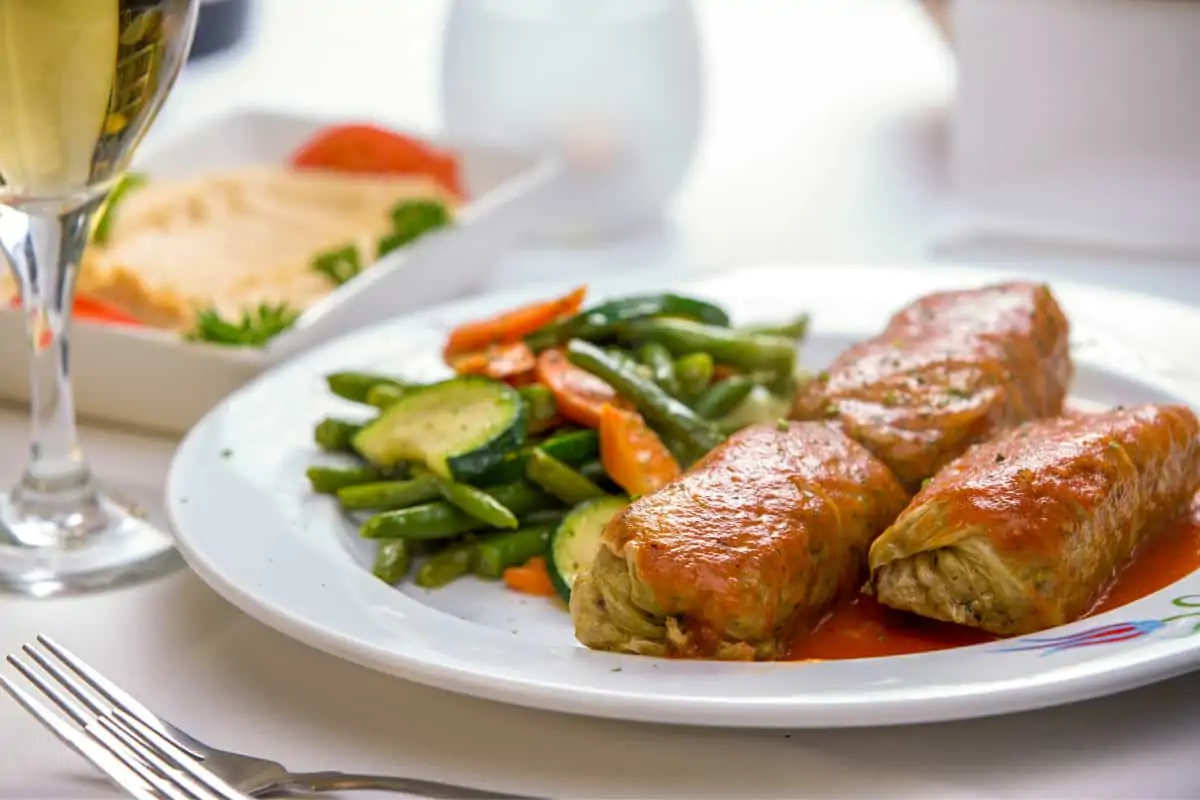 13. Turkish Recipes – Ayran: Turkish Yogurt Drink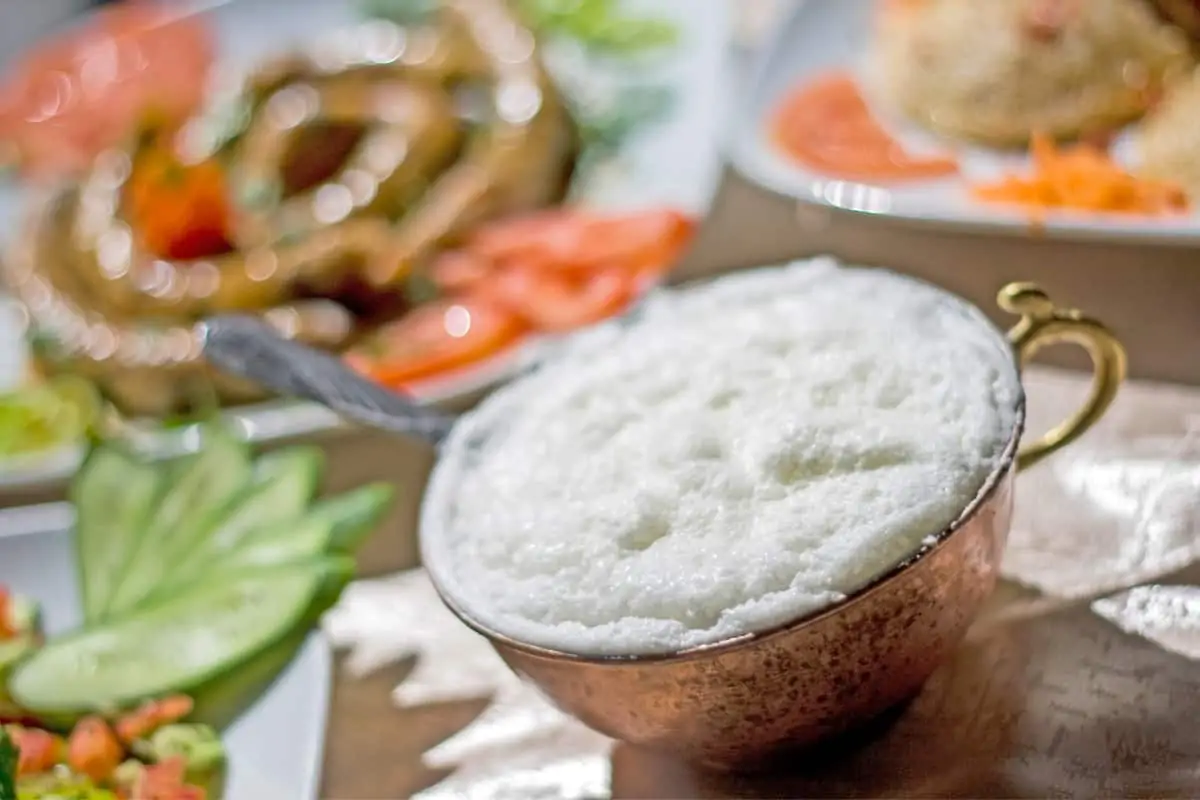 14. Turkish Foods – Gozleme!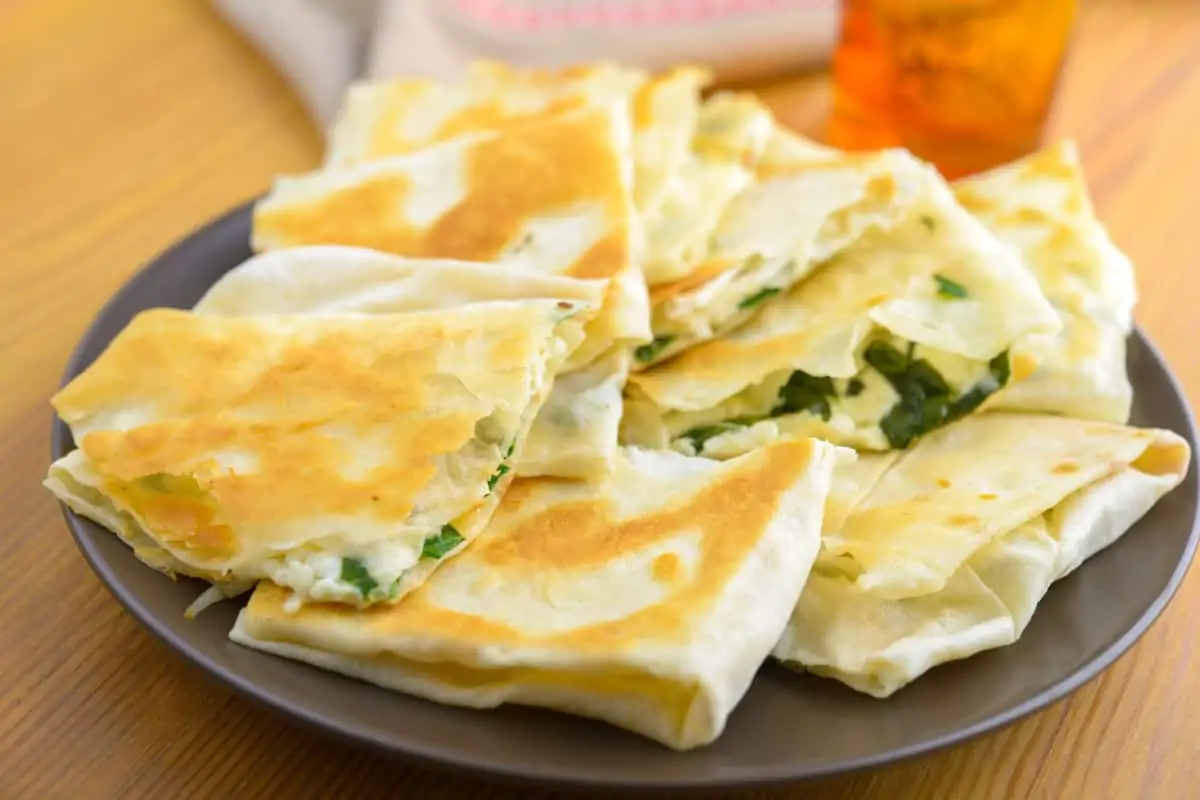 15. Turkish Dishes – Warm Hummus Topped With Crispy 'Pastırma'
16. Turkish Recipes – Turkish Coffee
17. Turkish Foods – Eggplant Kebab With Yoghurt and Marinated Chicken; Patlicanli Kebap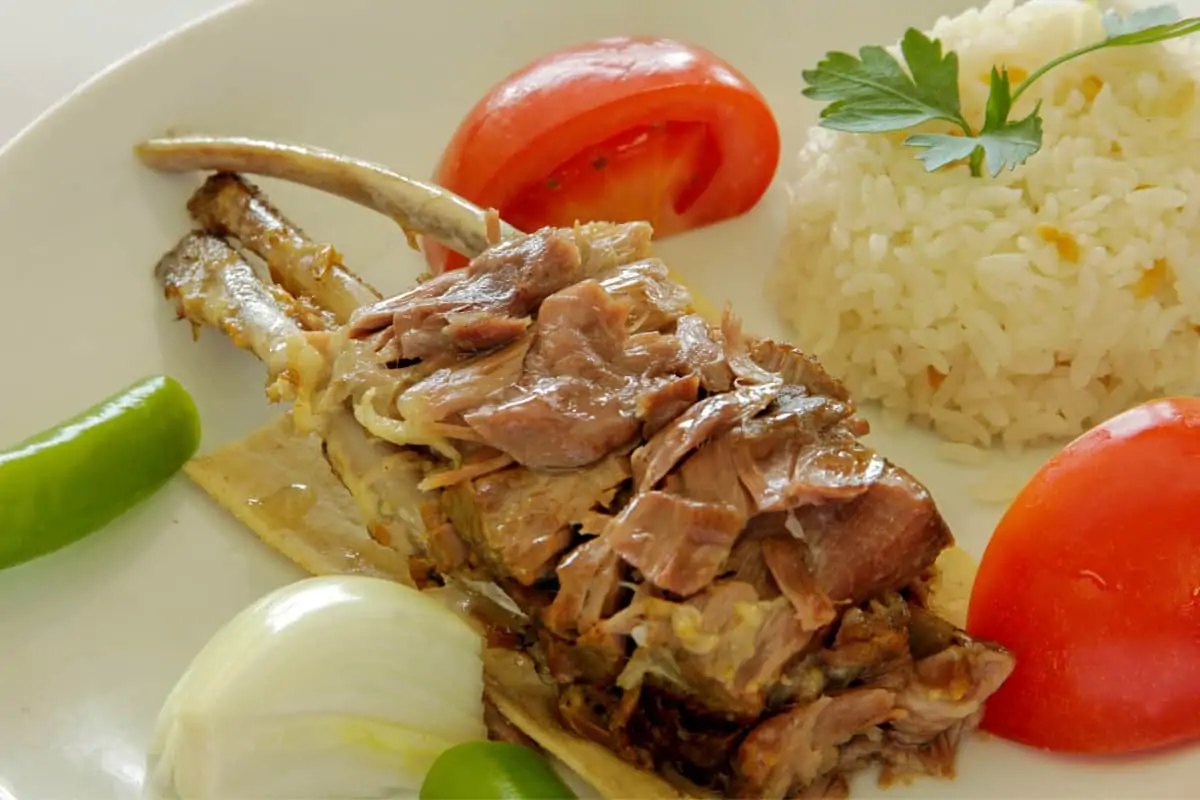 18. Turkish Dishes – Alacati Borek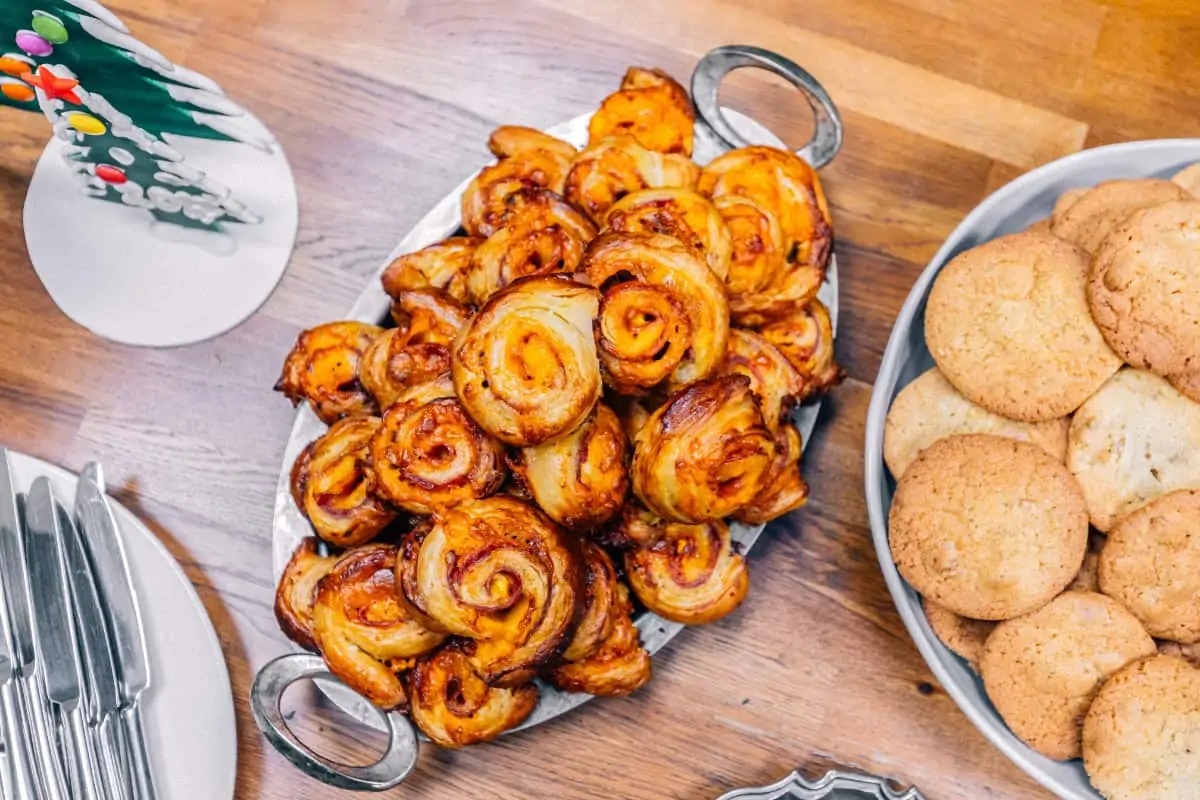 19. Turkish Recipes – Traditional Turkish Stew Recipe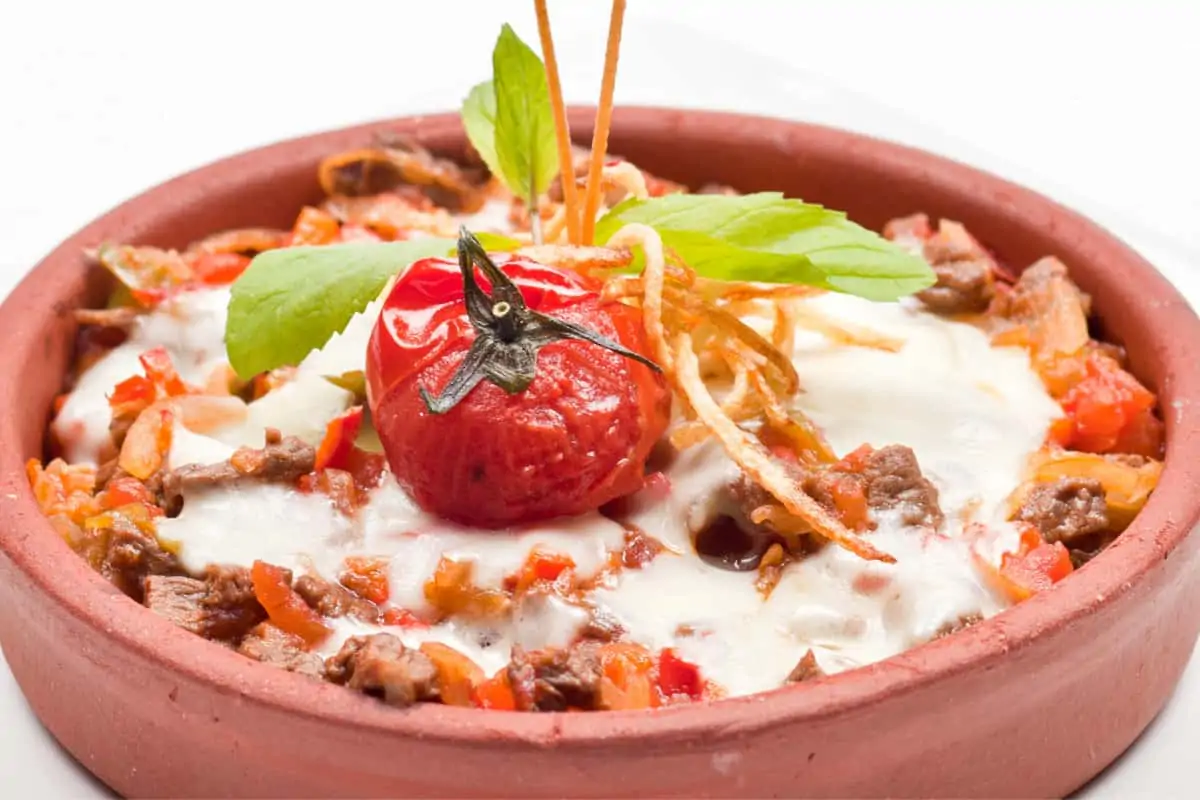 20. Turkish Foods – Tavuk Şiş: Authentic Turkish Chicken Kebab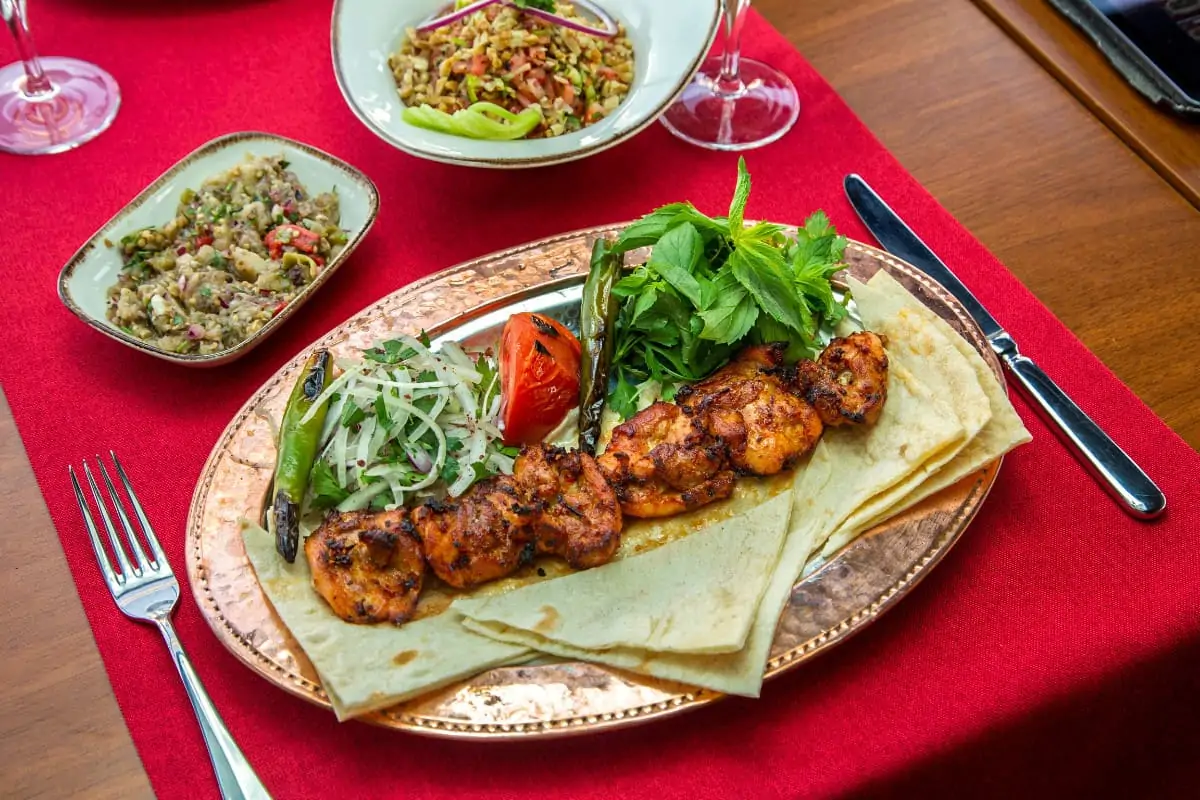 21. Turkish Dishes – Turkish Flour Helva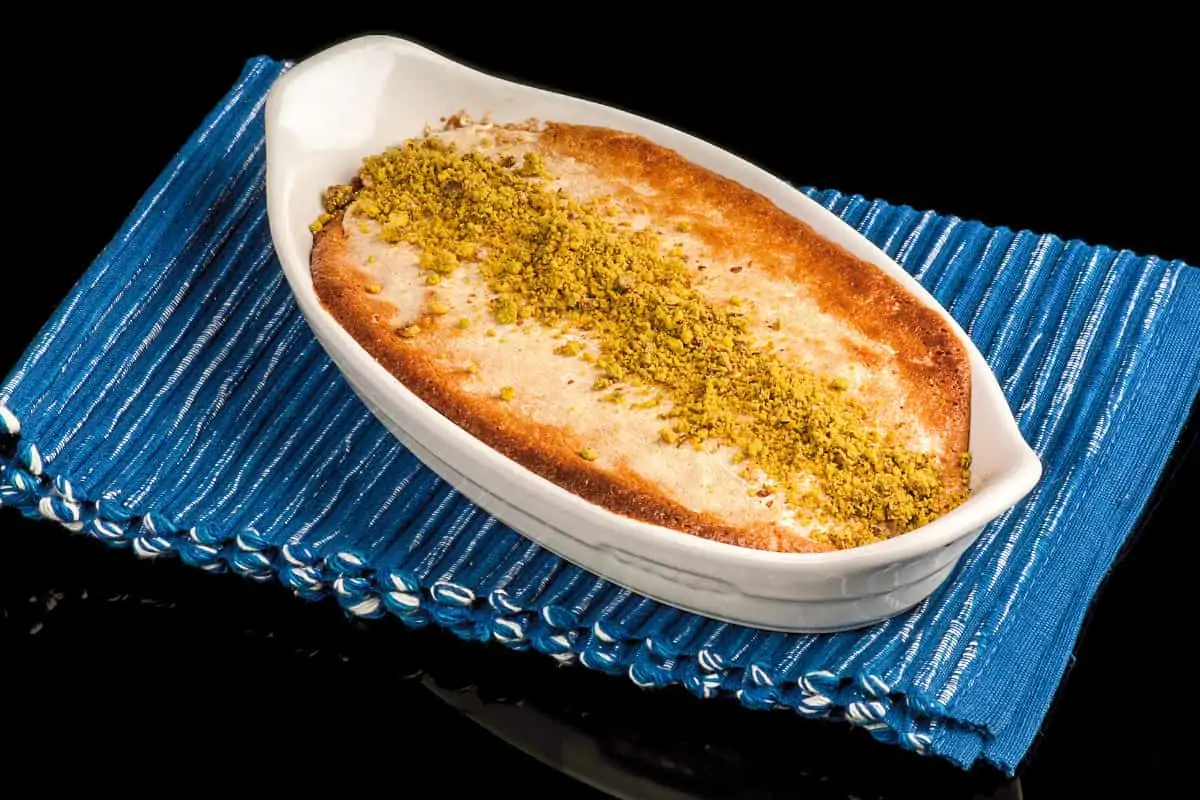 22. Turkish Recipes – Spicky Turkish Turkey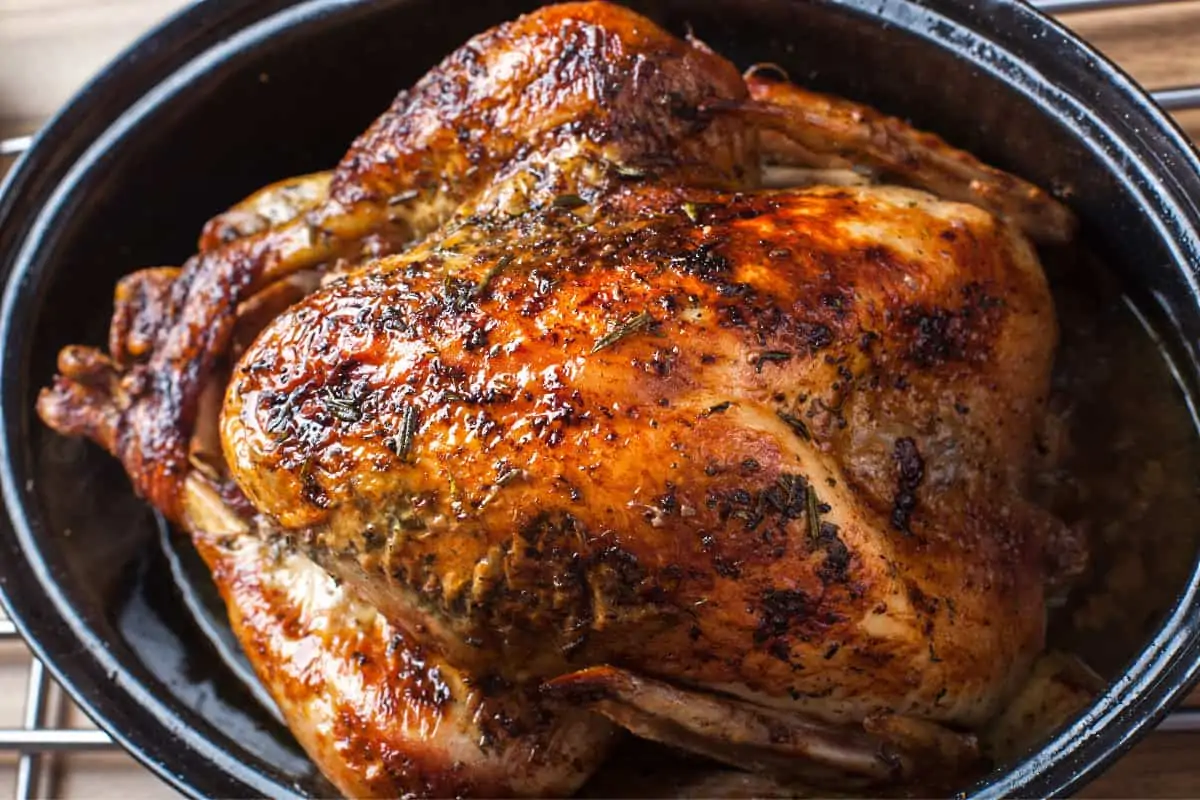 23. Turkish Foods – Turkish Spice Mix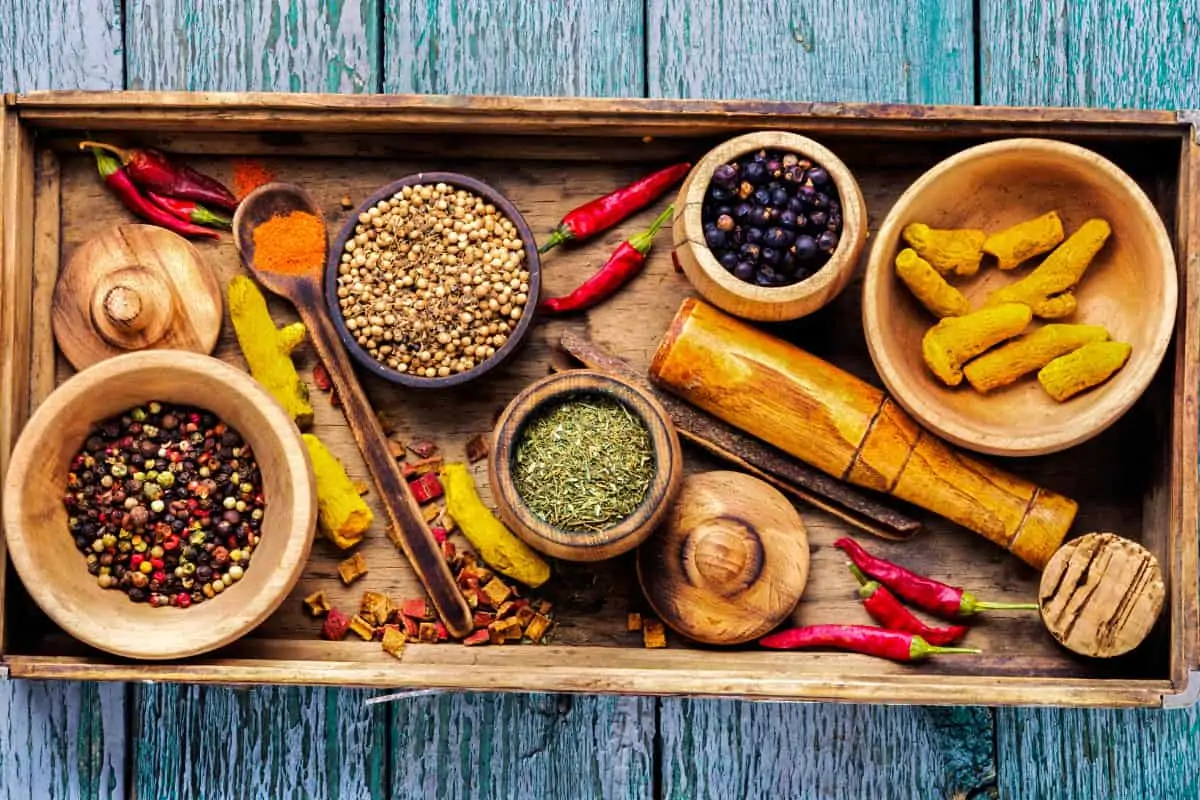 24. Turkish Dishes – Turkish Slow-Cooked Beef and Vegetable Stew (Güveç)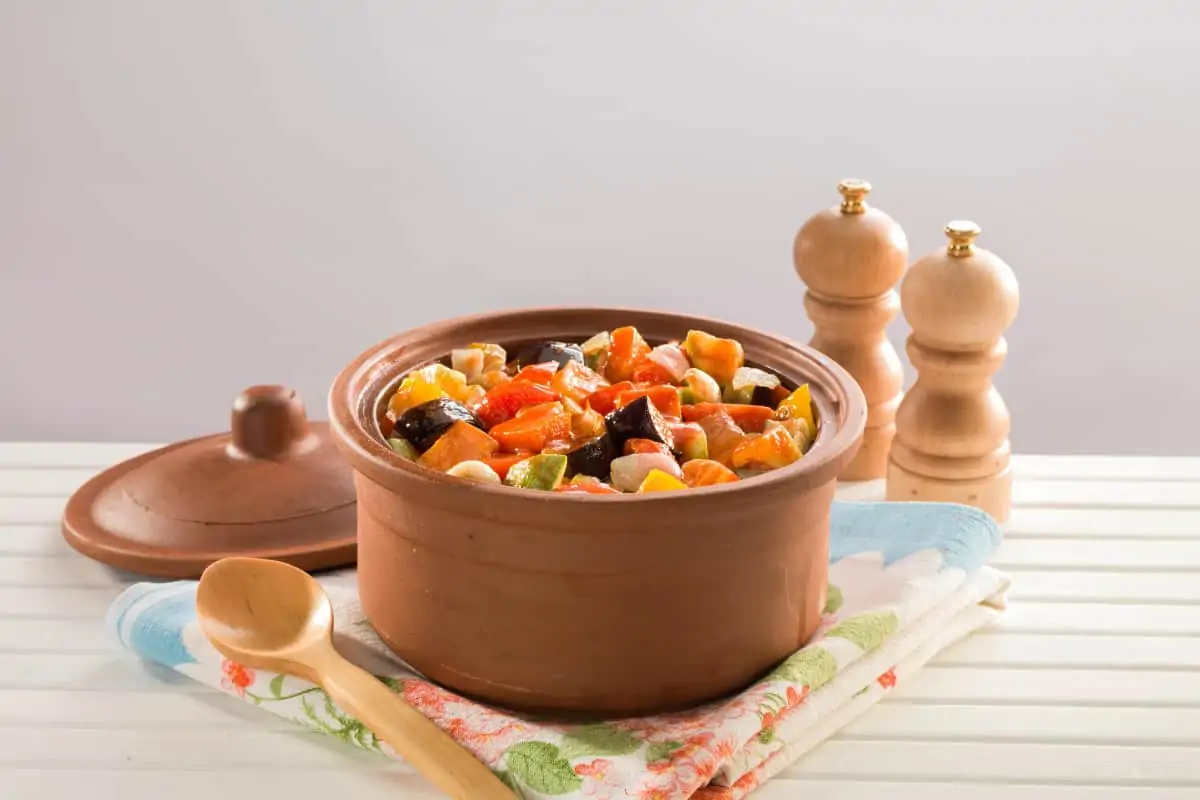 25. Turkish Recipes – Turkish Noodles With Garlic Yogurt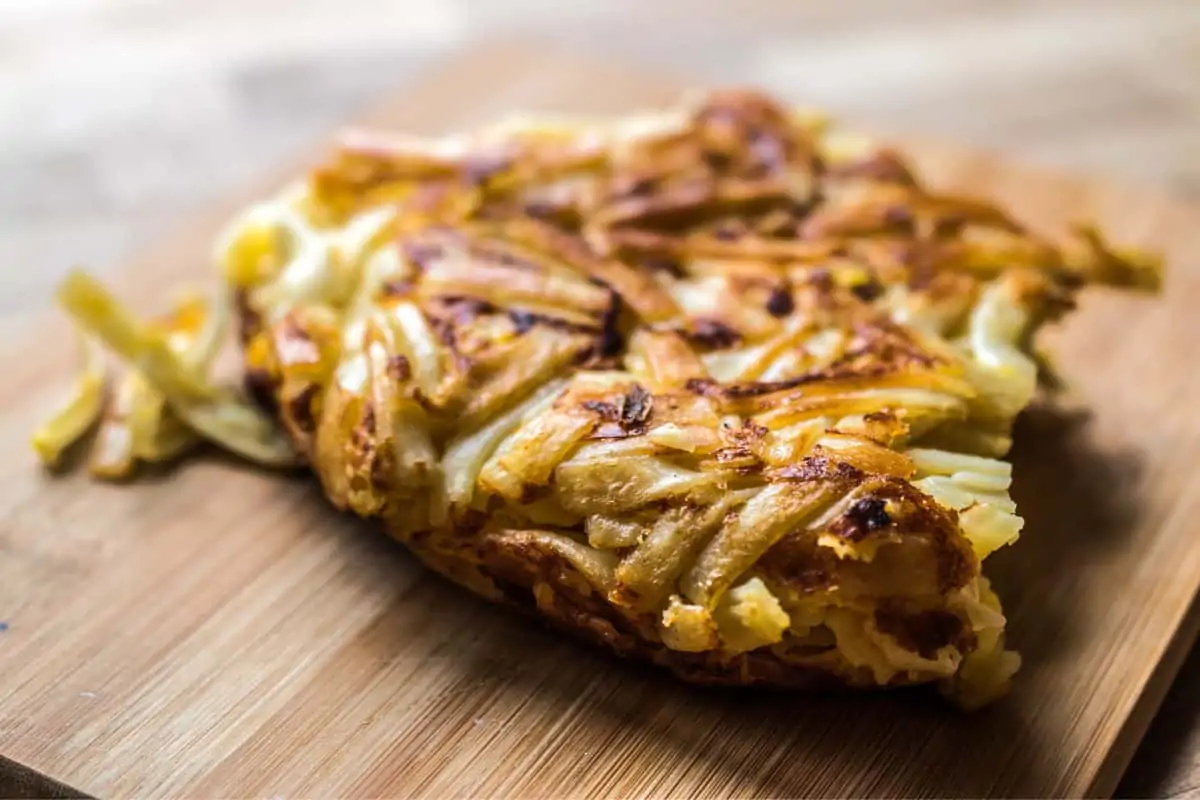 26. Turkish Foods – Turkish Cucumber, Feta, and Tomato Salad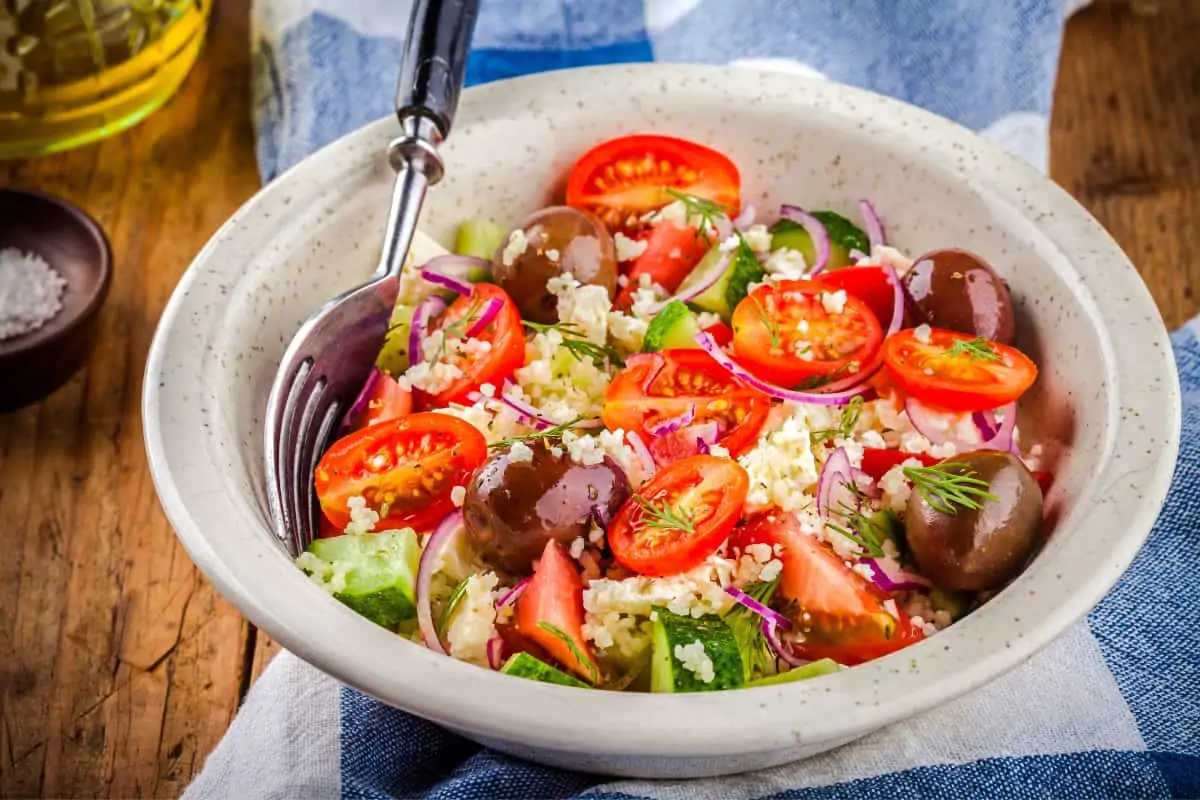 27. Turkish Dishes – Turkish Keskek A Traditional Wedding Stew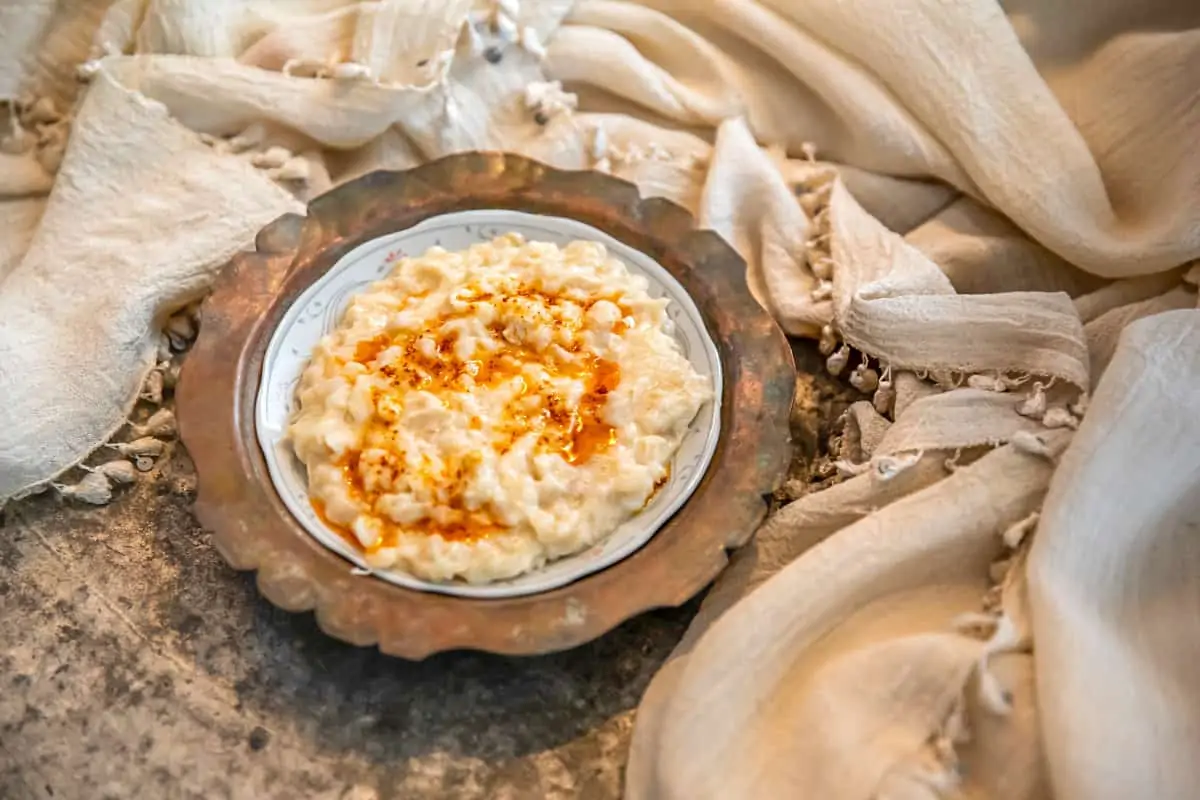 28. Turkish Recipes – Turkish Bread or Pide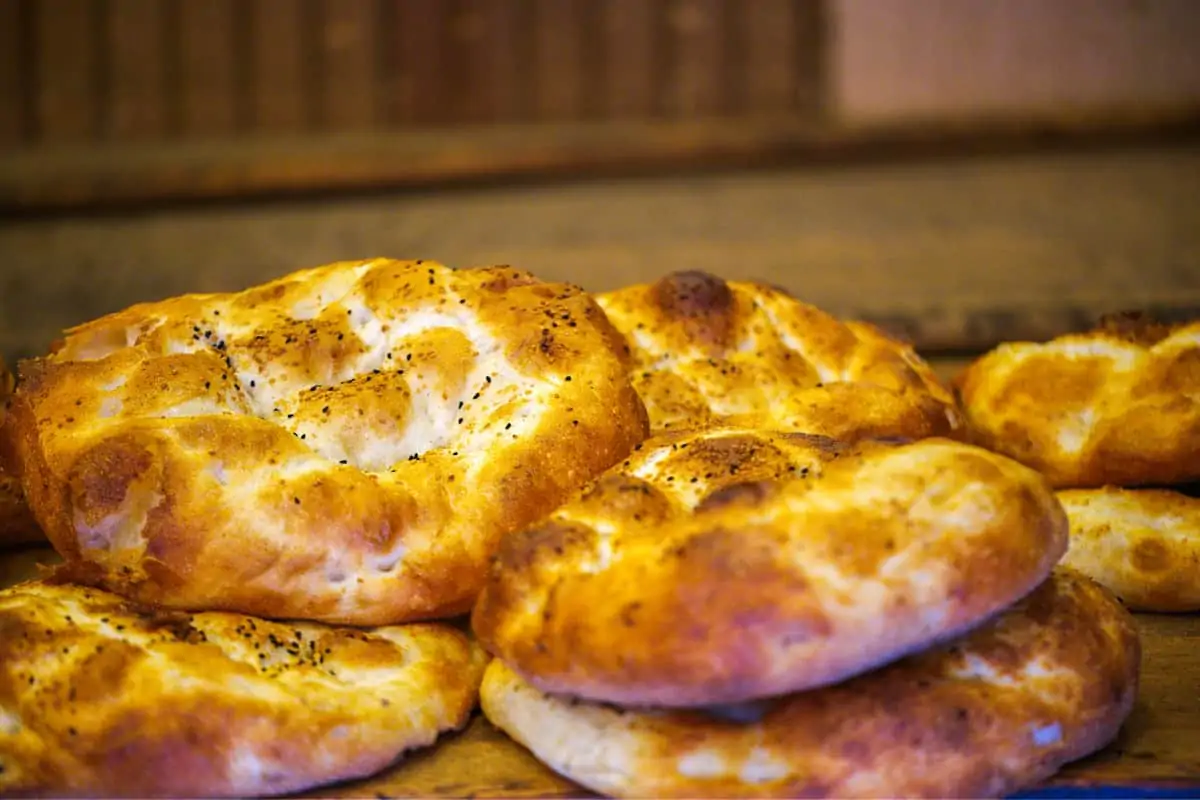 29. Turkish Foods – Menemen – Turkish Scrambled Eggs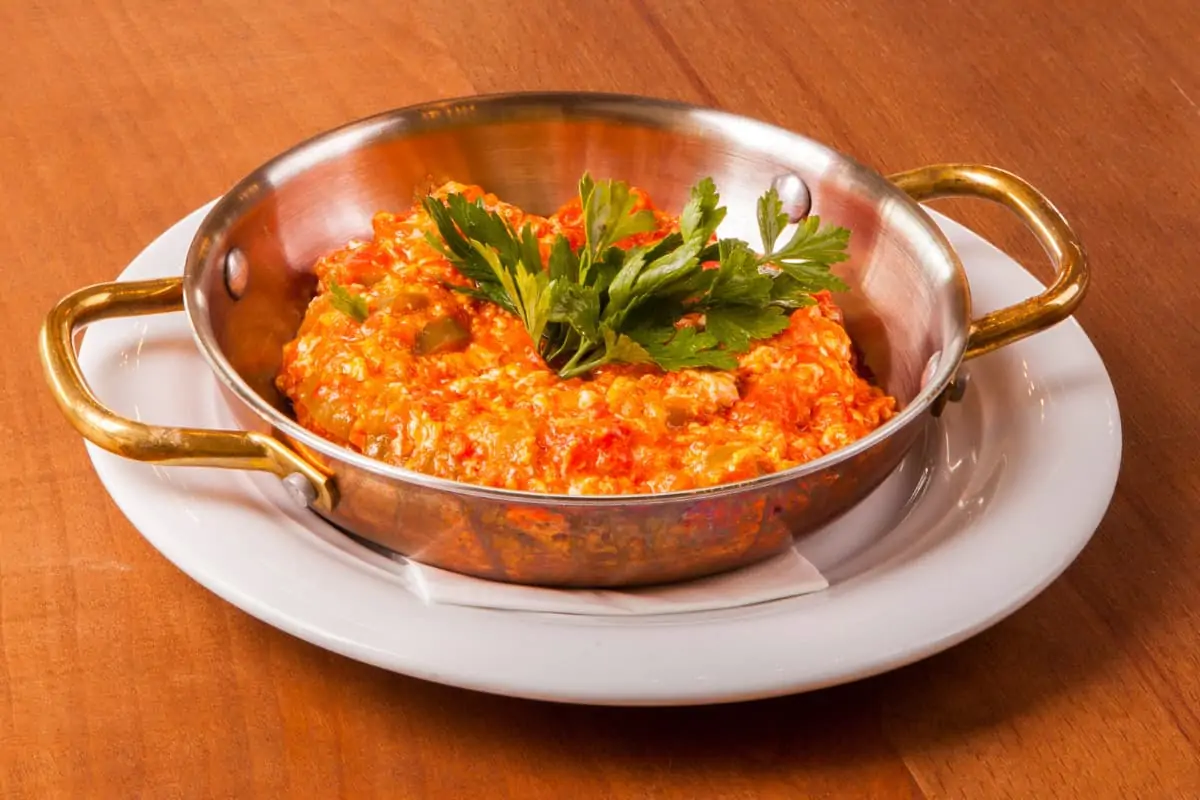 30. Turkish Dishes – Borek Pastries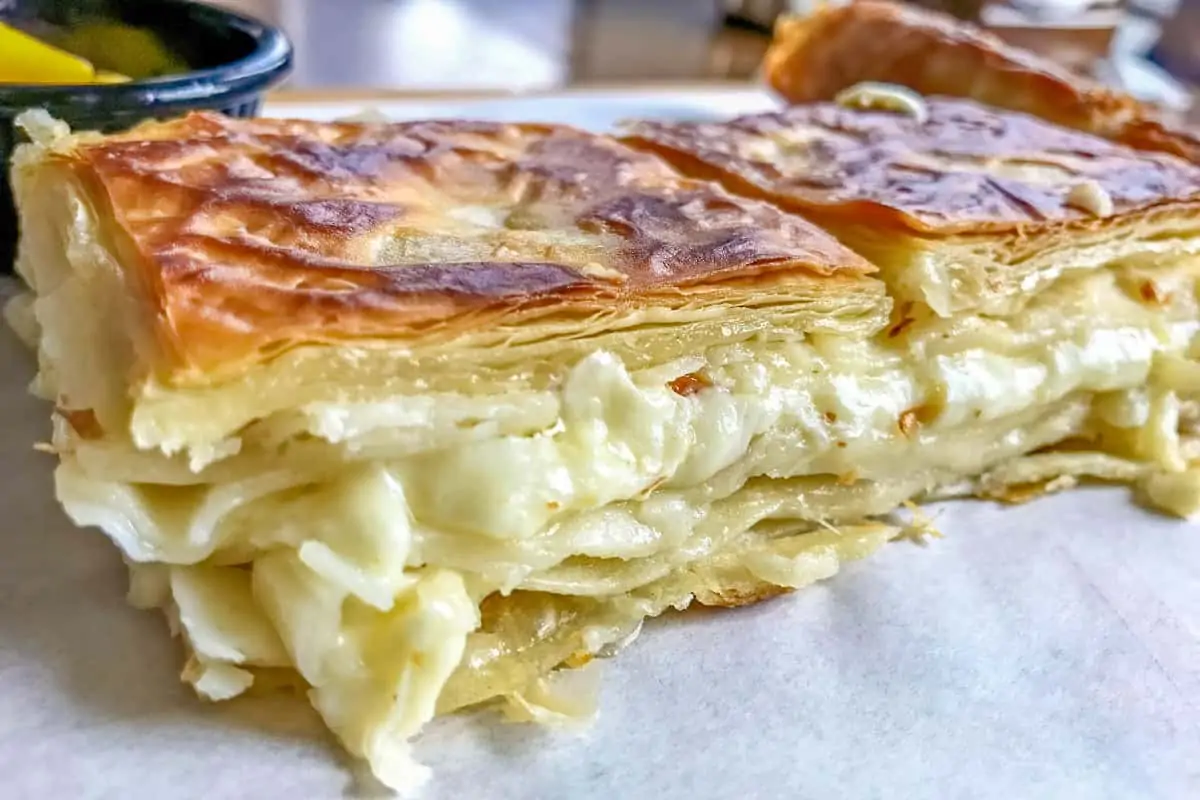 31. Turkish Recipes – Karniyarik Stuffed Eggplant
32. Turkish Foods – Turkish Kebabs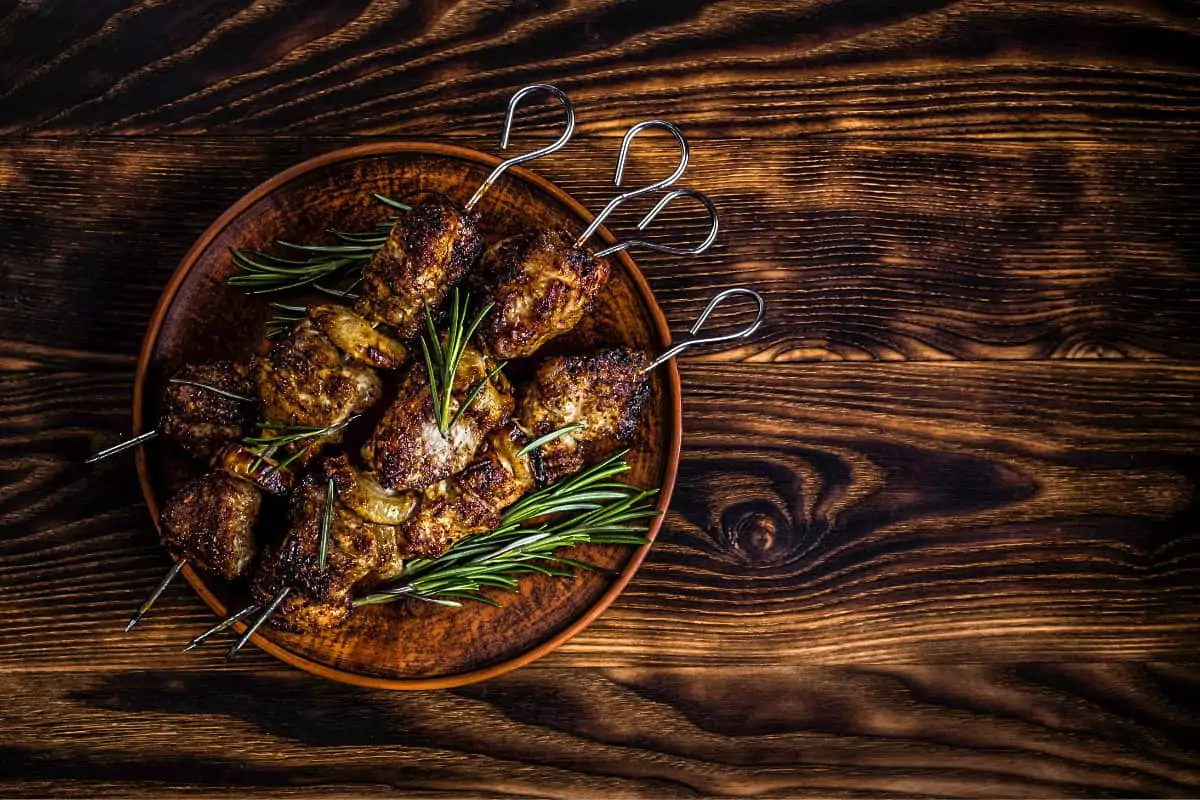 33. Turkish Dishes – Cacik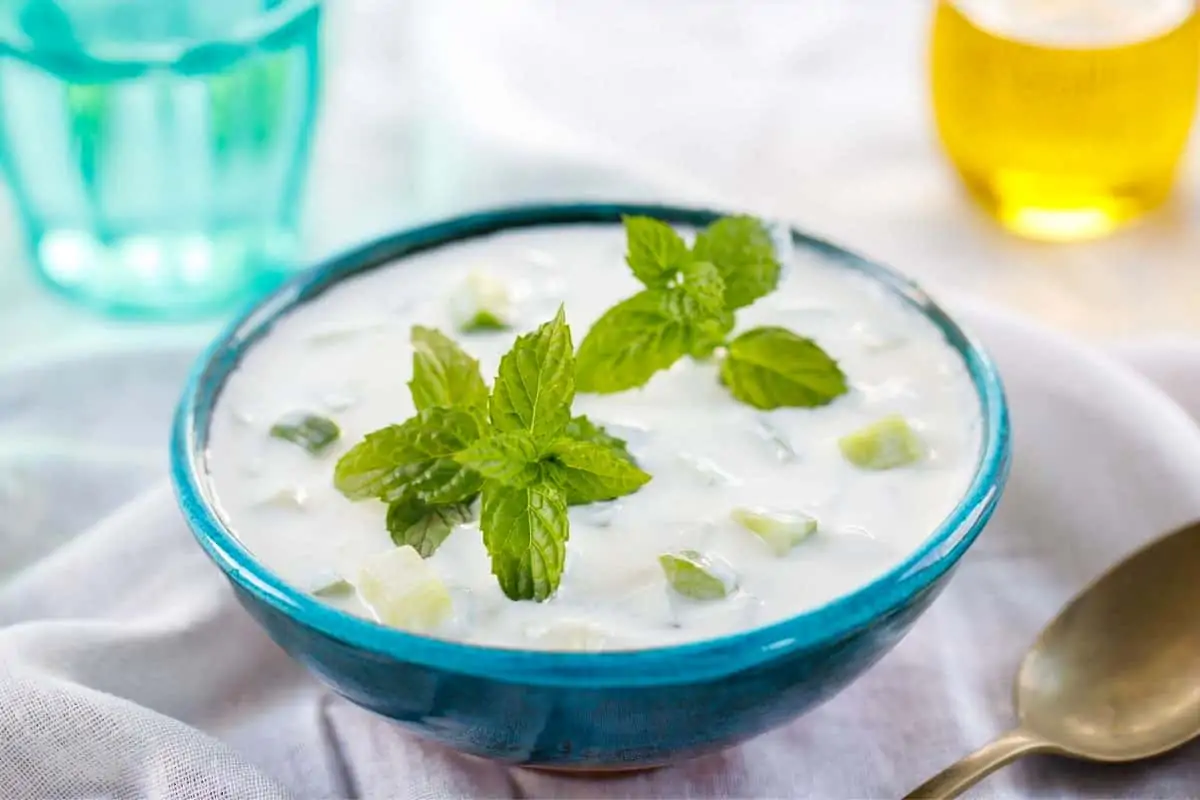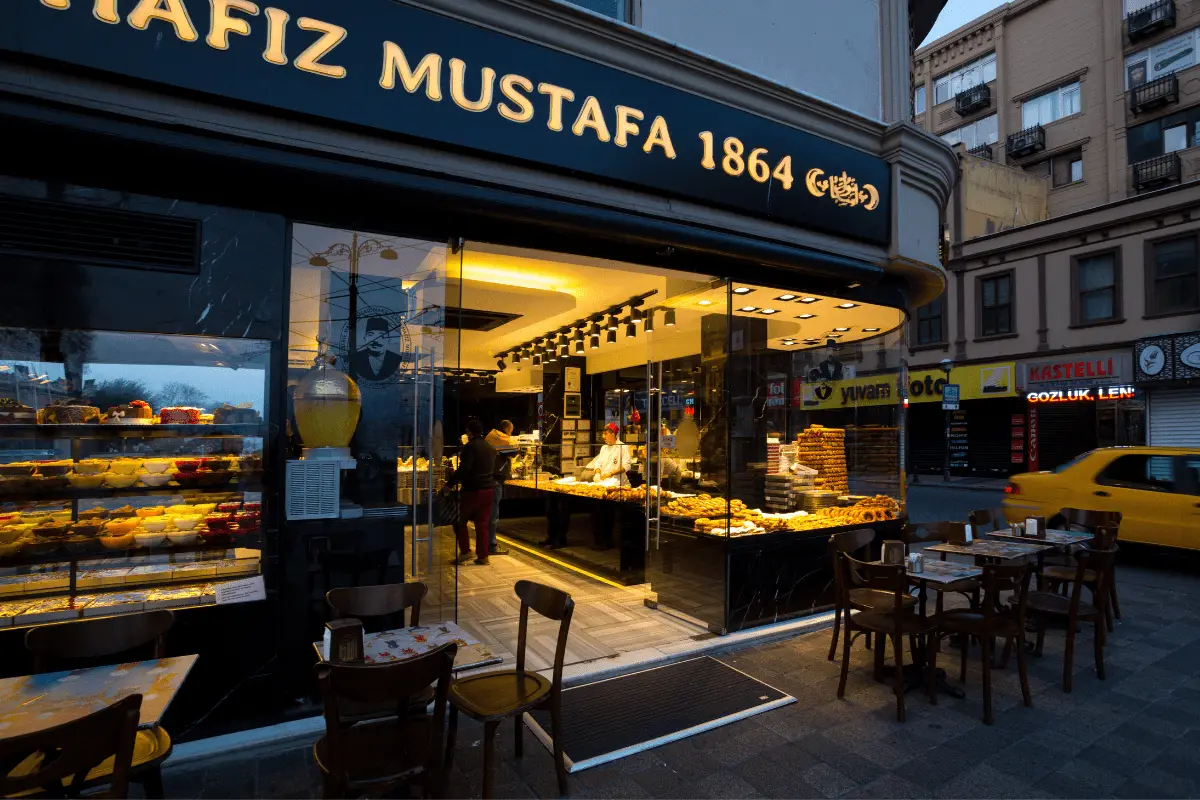 You might also like some of the articles from our website about recipes from other Western European countries.
17 Heartwarming Traditional Irish Food & Recipes
24 Best German Food and Recipes
My 15 Favorite Traditional Norwegian Recipes
16 Great Recipes for Scottish Food
14 Truly Great Traditional English Recipes
For complete photos and videos of our trip visit our photos on our page World RecipesFacebook Page