Discover the uniquely flavorful Benin cuisine with these 22 tantalizing Benin Recipes. From fried plantains to spicy stew, unlock the secrets of Benin food today! Try them now with our easy-to-follow Benin cooking instructions.
Benin cuisine is an eclectic blend of African, French and Middle Eastern flavors, and it isn't until you taste it that you truly understand why it has been a source of pride to generations of Beninese people.
Because of its height, narrow width, and asymmetrical shape, the West African country of Benin stands out like a smoked turkey leg from the rest of the African continent. Food in the semi-arid north and the tropical south is vastly different from one another due to the contrasting climates. You'll discover what makes Benin's food culture unique, the regional variations in dishes, the staple ingredients and flavors, and how to make some of the dishes yourself.
Benin cuisine is an eclectic blend of African, French and Middle Eastern flavors, and it isn't until you taste it that you truly understand why it has been a source of pride to generations of Beninese people. In Benin, they use a spicy peanut sauce in place of ketchup. This simple sauce goes well with fufu, rice, and meats. Cayenne pepper, onion, and bouillon all contribute to the sauce's depth of flavor.
From traditional dishes to contemporary recipes, Benin offers a diverse and delicious range of food options that tantalize the taste buds. Alternative protein sources used in the more northern regions include goat, chicken, cattle, and bush meat, as well as a cheese called wagassi. Seafood is a staple in the Southern diet. The vast majority of the world's small-boat fishers call lagoons home. The two most typical catches are shrimp and crabs.
Do you love spicy food, fragrant spices, and creative dishes full of flavor? If so, then you're in for a treat because the food culture in Benin has it all! From popular dishes like Atiéké, a side made from grated cassava, to Akassa, a fish-rich stew, Benin offers a vast culinary landscape of African flavors that have been cultivated for centuries.
22 Authentic Benin Recipes – Unlock the Flavors of Benin Food
---
---
check out our video
---
---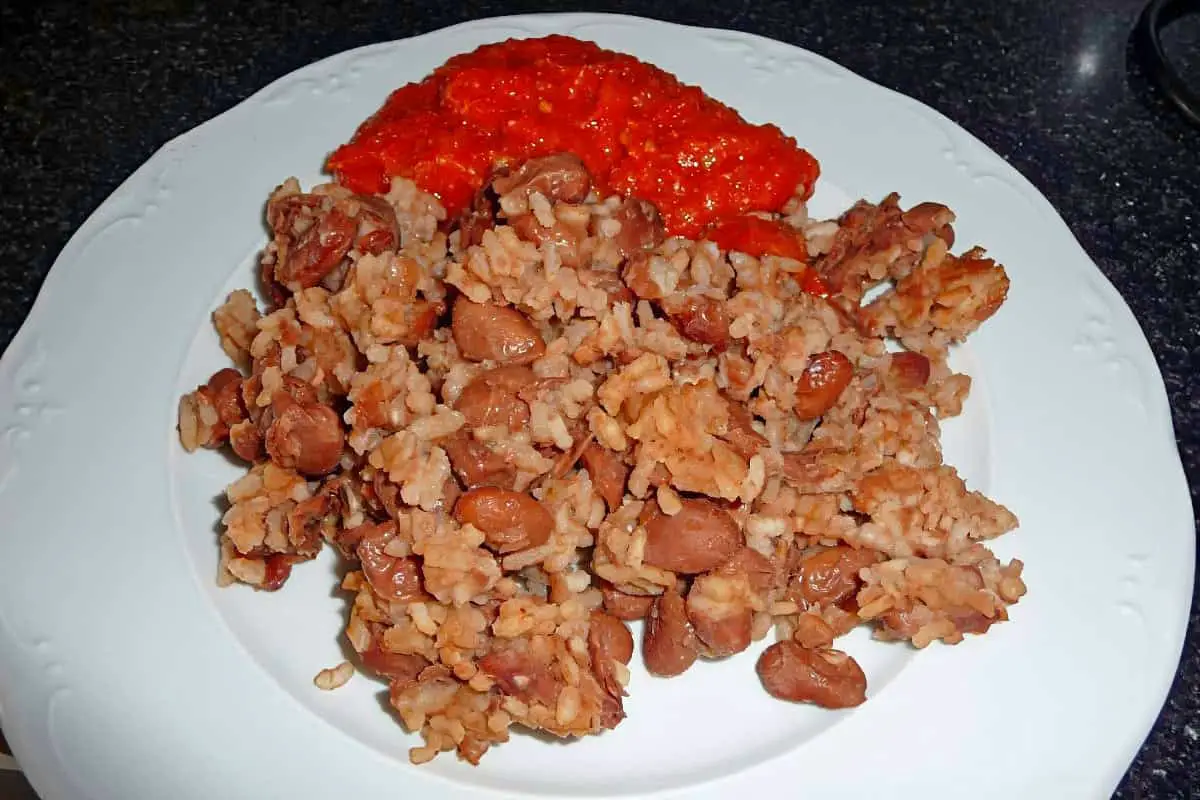 Atassi is also known as Watché, it is a very popular Benin food. The Benin recipe is made with basic ingredients like rice and beans. The different touch is given by Dja Sauce (I presented you the Benin recipe in my last previous post), very typical in this country.
This meal is commonly consumed in the morning or afternoon across the globe. There is a large demand for this Benin food, and the ingredients are simple to find.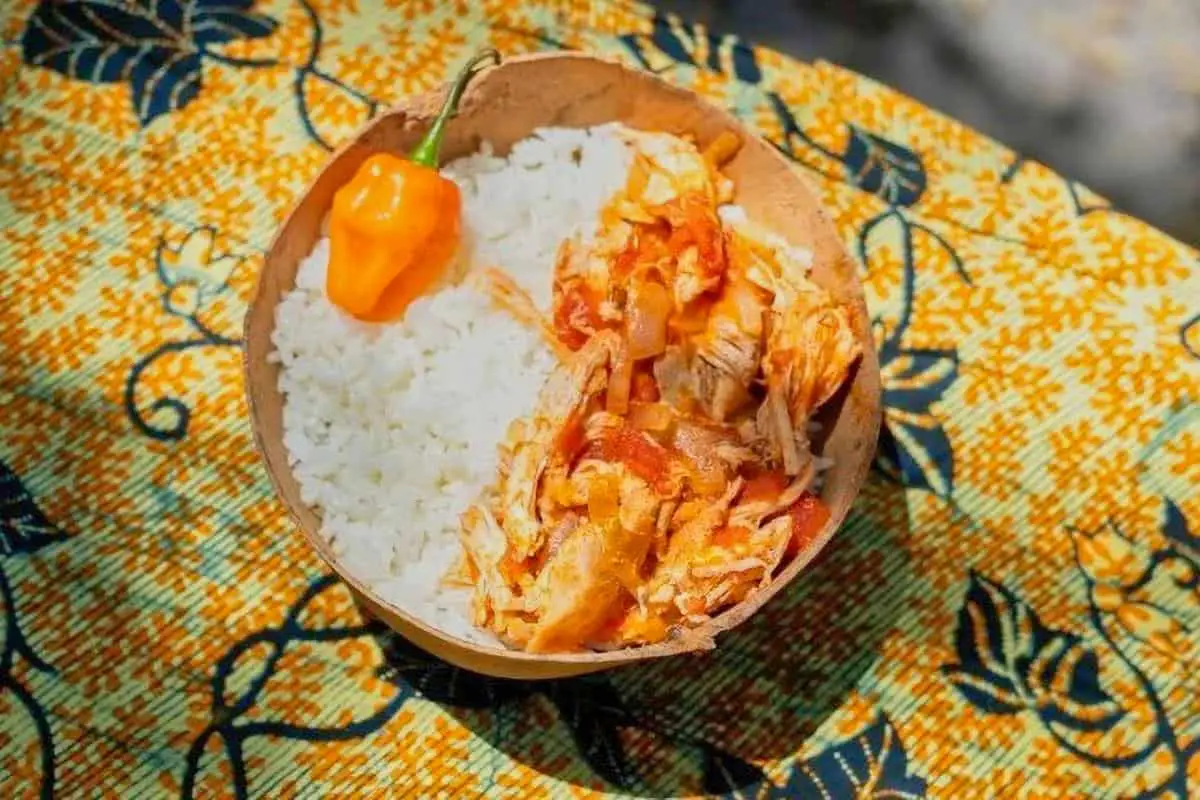 All over Benin, people use and love the sauce known as monyo. Ingredients in the Benin recipe alter the taste of this sauce. Mustard (afittin in Fon), a little vegetable oil, and onions are added in southern Benin. The combination of these three elements produces a flavor that is truly magnificent.
A big reason why monyo is so well-liked is that it can be prepared in a flash. As a rule, it is served with Akassa or Piron (eba). A few pieces of fried chicken or fish are added to finish off the Benin food.
Benin is home to the delectable Benin food known as Tchokourou, or Agoun in the local Fon language. Yes, this is the Benin food that people in the middle and up north crave the most. During one particular time of year, a whole festival is devoted to this Benin recipe because of its notoriety as the ceremonial Benin food of choice.
During the time of the yam harvest, tchokourou consumption spikes. It's a fascinating meal that's also delicious and revitalizing. Northerners eat it with peanut sauce and bush meat, while those in the middle of the country prefer vegetable sauces.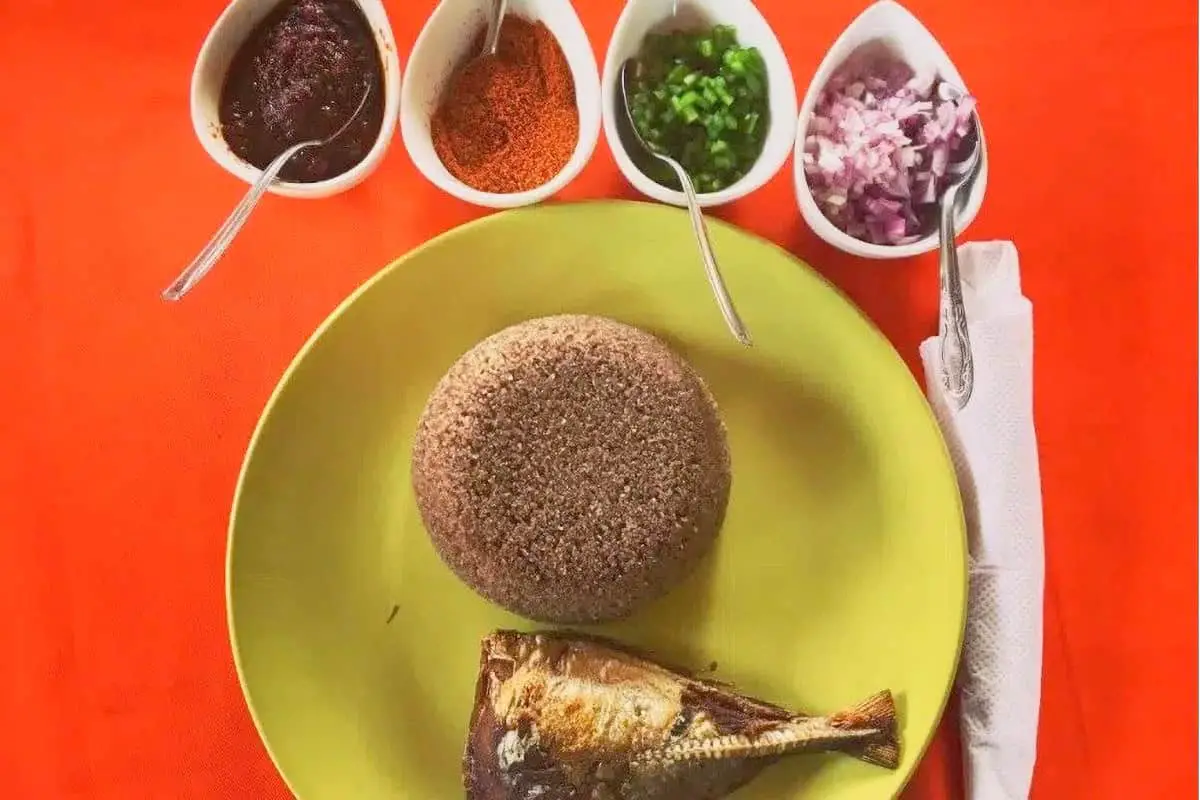 Pork sauce is one of the most succulent Benin recipe options. Sadly, members of the Muslim faith are forbidden from partaking in its consumption.
It's only in the south, especially in the capital, that you'll hear the distinctive lilt of Hank (Porto-Novo). The sauce is prepared with the blood of the animal mixed with spices and meat cuts. In most cases, the well-seasoned meat is grilled over a fire using specialized methods.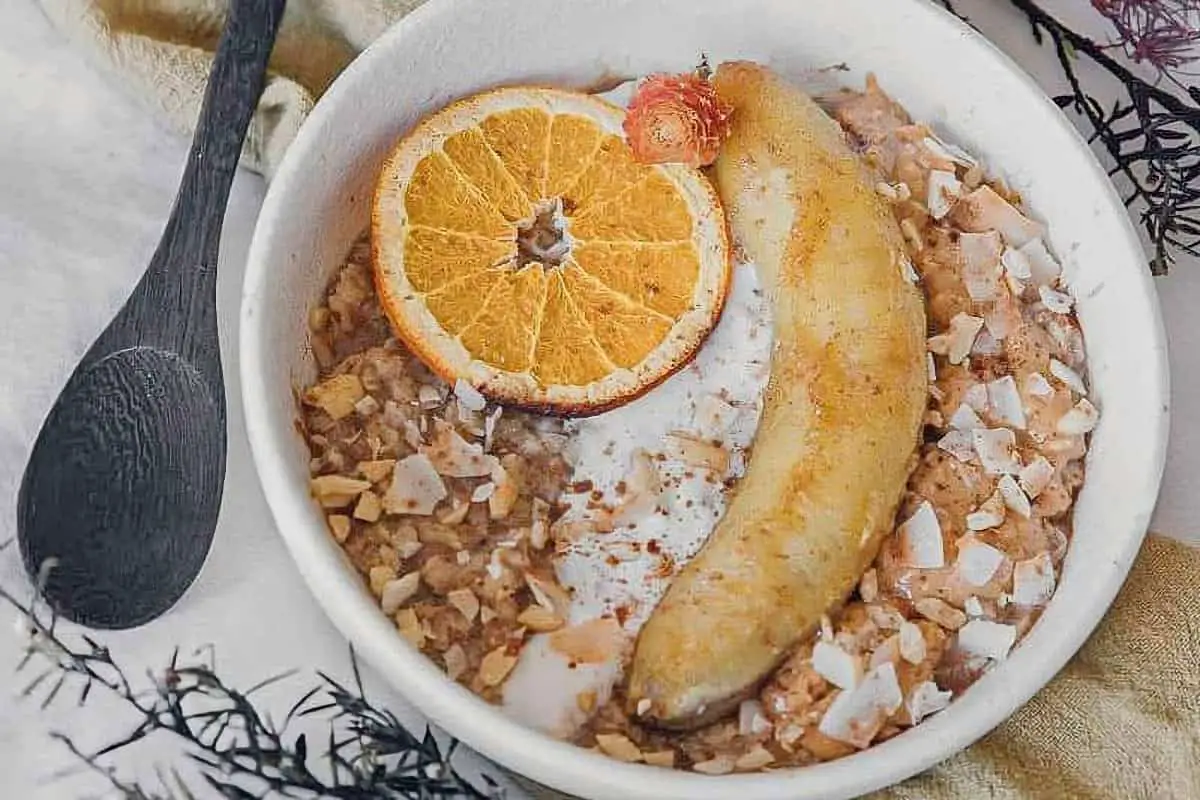 Typically, Toubani is prepared in the northern region of Benin. It's prepared by milling beans or cassava into flour. Millet porridge or sorghum is a common side dish choice. But some people will only eat it if it's been cooked in chili-infused vegetable oil.
This Benin recipe is widely available and cheaply packaged in northern alleys of all sizes.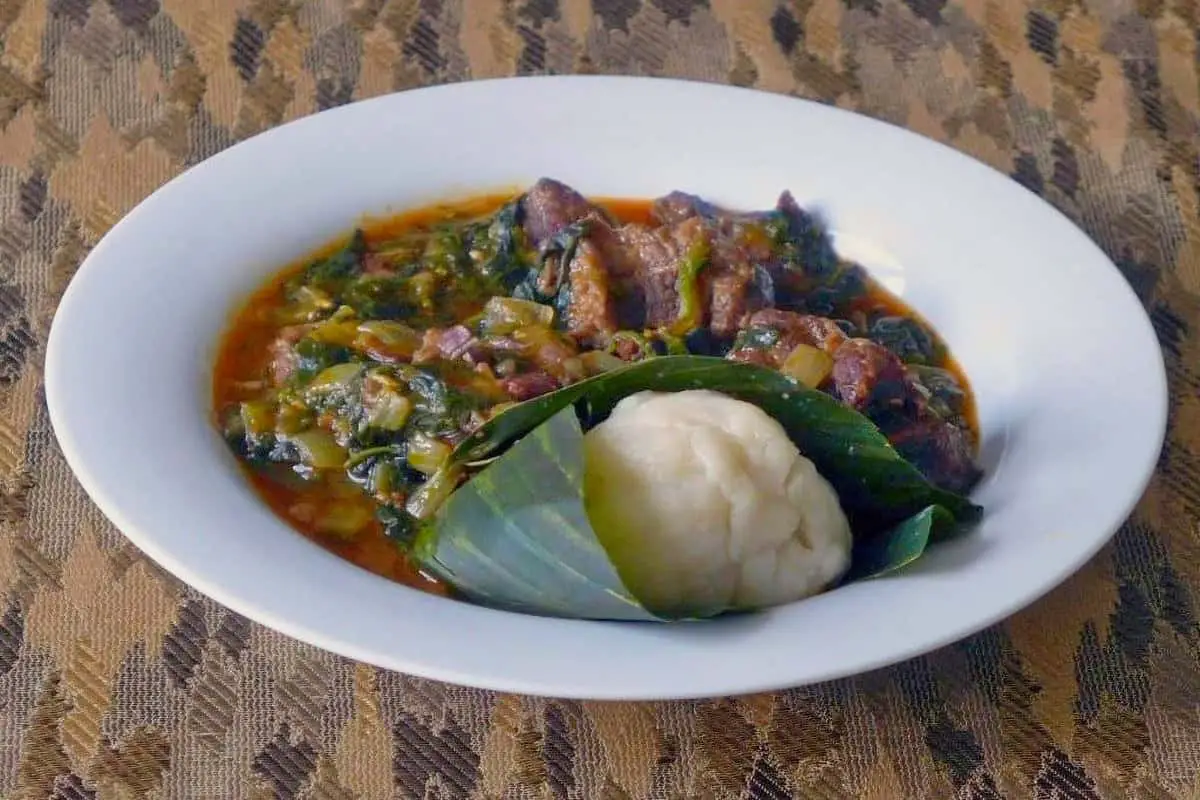 The people of Benin enjoy gboman. Vegetables are the star of this Benin recipe for stew. When everything is put together, the resulting scent is lovely and irresistible.
Some people add mustard to it to boost its flavor. Since Gboman is a "universal stew," it goes well with a wide variety of condiments, including white paste, black paste, and Akassa.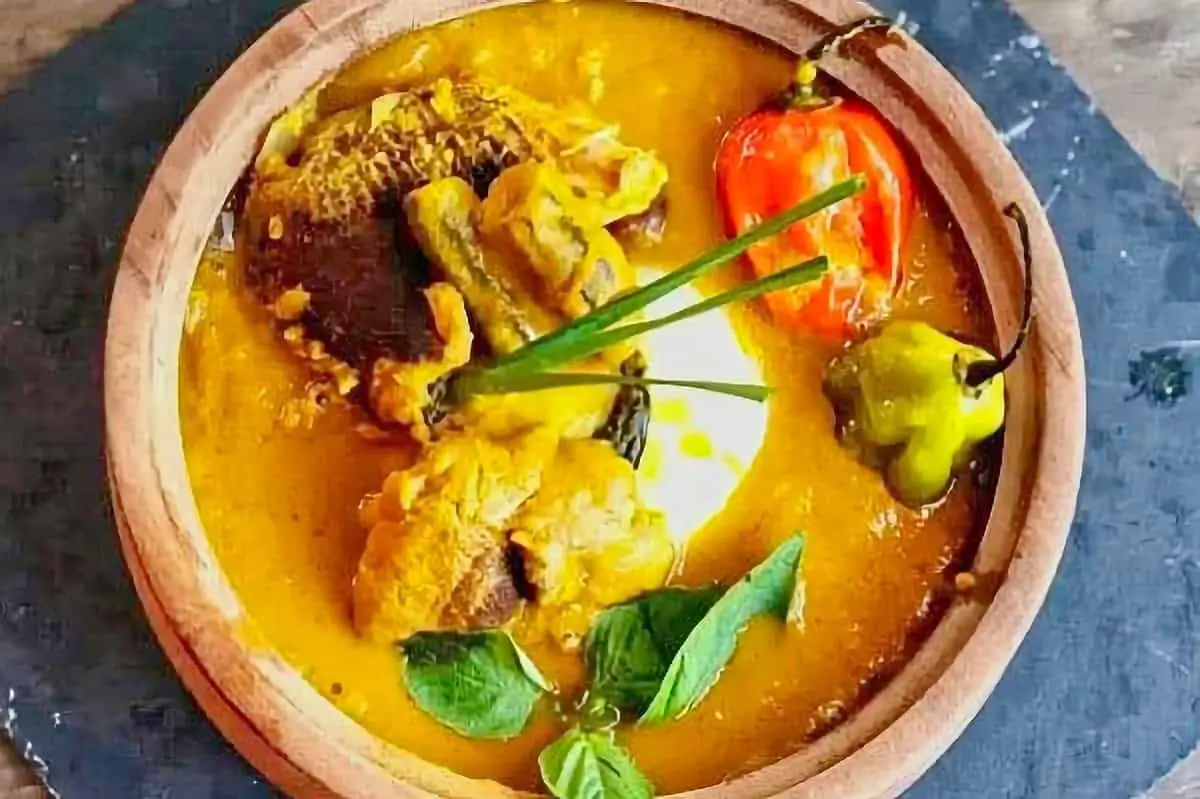 Palm nuts are the source of the seed sauce used here. In southern Benin, especially in the capital city of Porto-Novo, this Benin recipe is a staple. This sauce has an irresistible flavor, and it also happens to be very high in lipids.
Some families take the already exotic sauce and add vegetables or crabs to make it even more so. Télibo, either white or black corn paste, goes well with Dékoun Sounou.
Crushed banana paste, also known as foutou banana, is typically served alongside it in eastern Benin.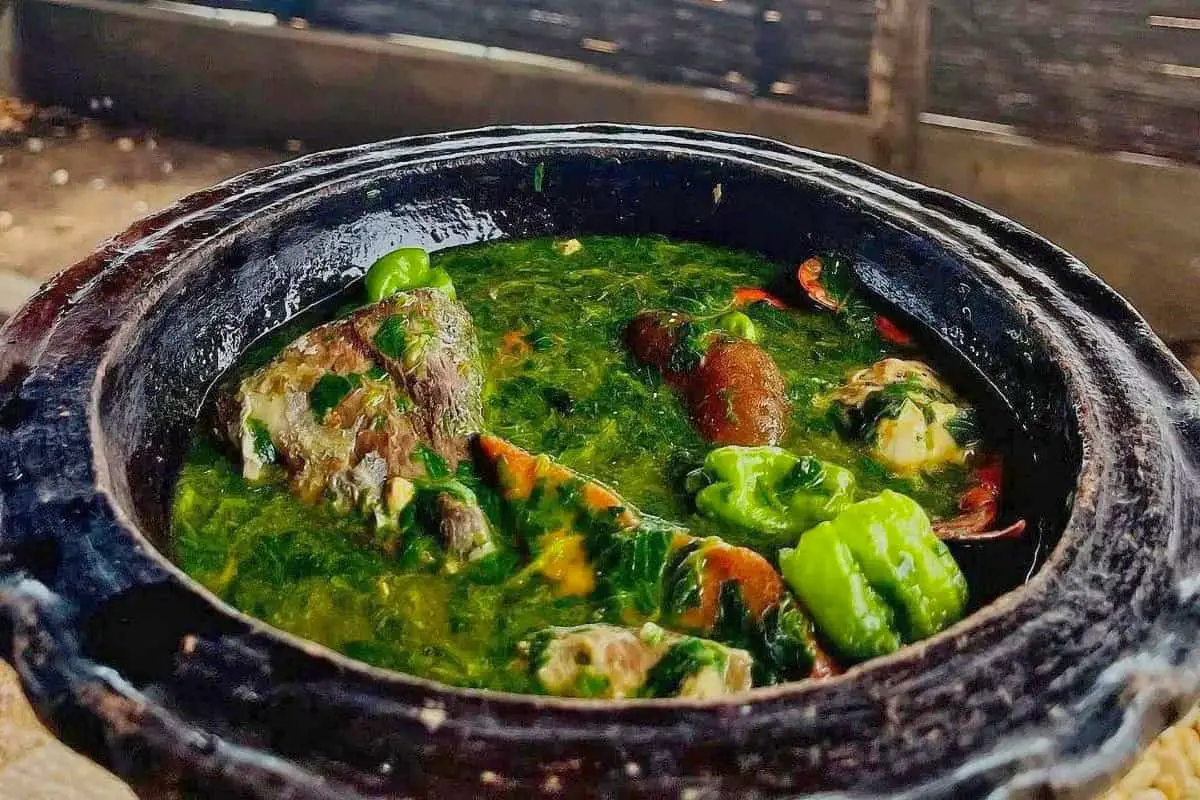 Beninese people love their Crincrin sauce. Most of the time it is eaten on its own, but sometimes it is served alongside other foods, such as Dékoun Sounnou.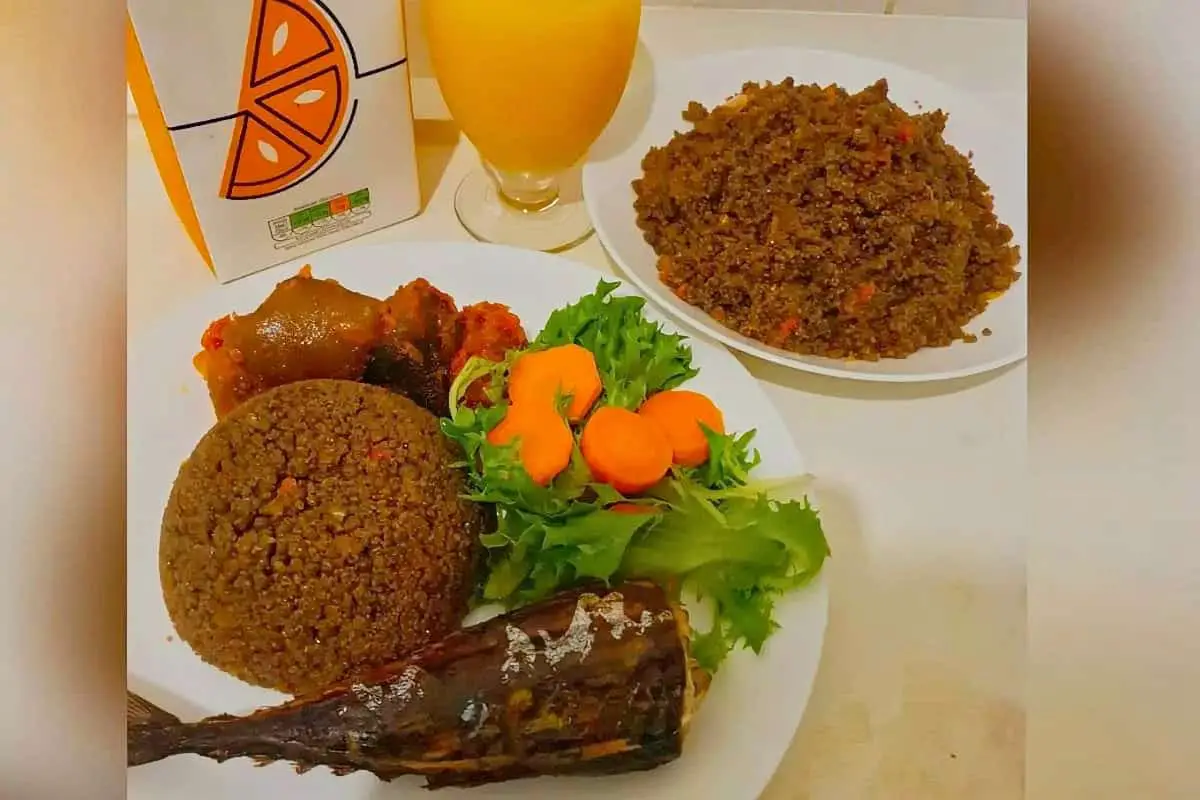 An Benin recipe staple, wassawassa can be made from either cassava or yam. Although it is most commonly associated with the northern part of Benin, it is also consumed in some parts of the country's central and southern regions. Fried foods are the usual accompaniment to this meal.
Wassassa is seasoned with cheese, beef skin, or black pepper in Bassila, one of Benin's cities. On the other hand, in Parakou and Natitingou, it is served with fried fish, beef, or soy cheese.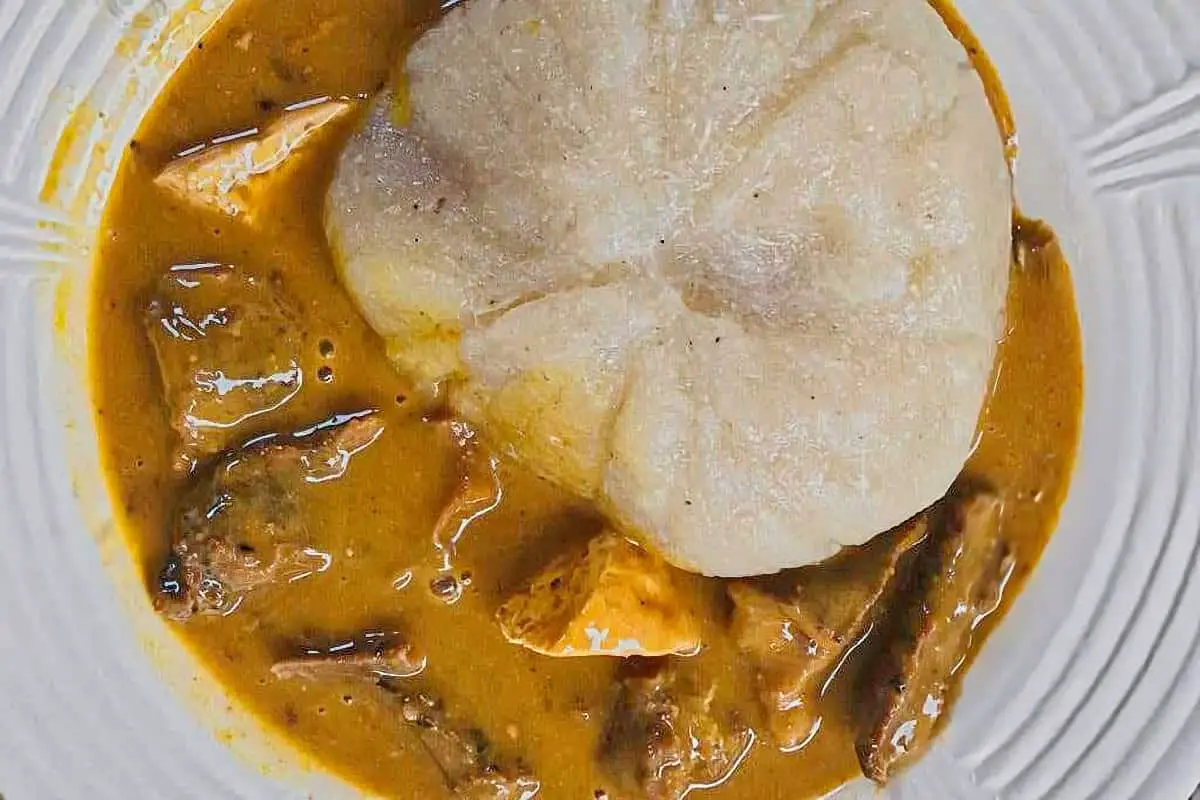 Nuts. More nuts. Asslokouin or Assrokouin. It is a sticky Benin recipe for a sauce made from the nuts of wild apples (a prosperous fruit in Benin), dried and ground. She is much loved in Benin and Nigeria. Assrokouin sauce is easy to cook.
In addition, there is not much effort involved in making it. Adindon sauce, once ready, can be served with any type of dough prepared in Benin, including white dough, Piron dough, and black dough.
Amala is a Benin recipe for another fufu type. It is a dough, very popular in West Africa and can be found under a different name depending on the country (Telibo, Amala, Pate noire, etc.). It is made of dried yam flour and no matter its name, it is delicious served with okra soup.
Even better with peanut sauce, glutinous sauce, or vegetable sauce, the black paste goes with just about anything. Delicious and tender, it can be enjoyed at any time of the day. The best places to buy telibo are from vendors at markets and restaurants, as well as a few individuals selling it on the street.
---
Want more ideas to round-out your Recipe Box?
A lot of great options are in these posts!
---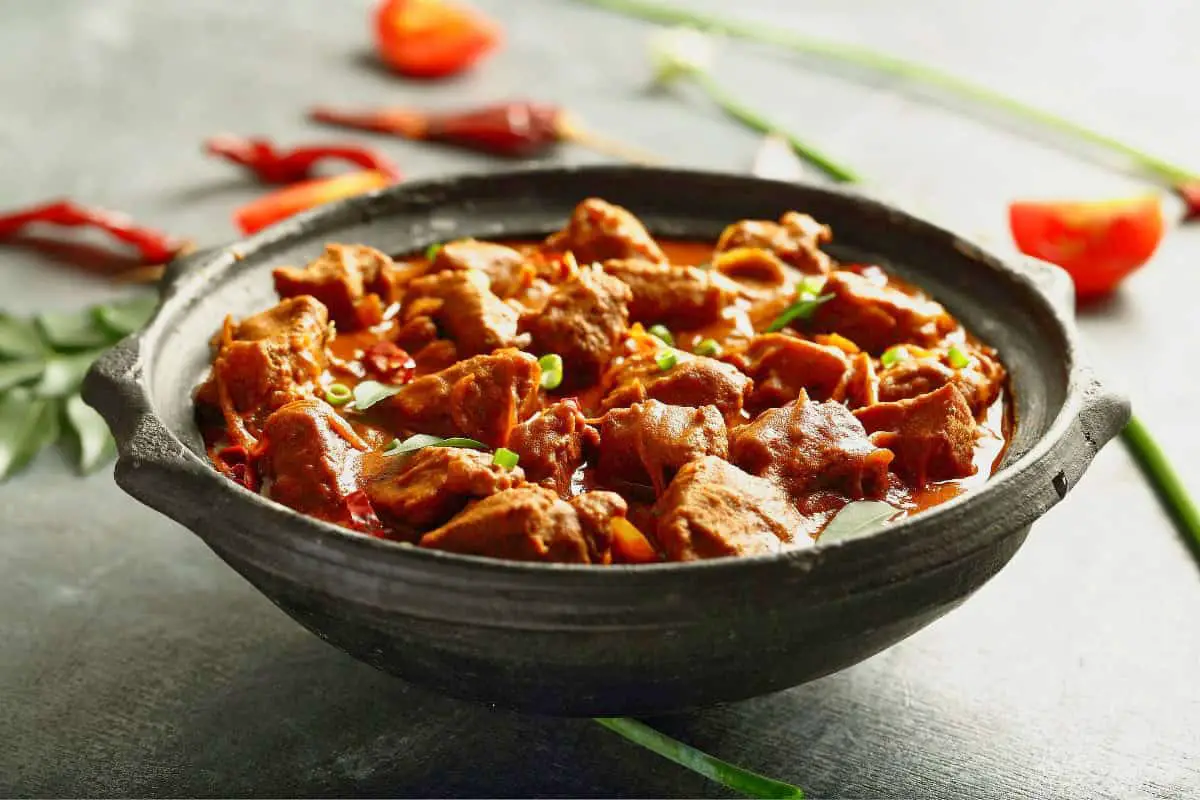 Gbokpètè, like pork sauce (Hankpètè), is one of the best Benin recipes. The people of Zou and the southern regions use this sauce exclusively.
It's made by collecting sheep blood, much like pork soup. When other ingredients, including spices, are added to the blood, it becomes a sauce. Most commonly, Akassa or red Piron is served alongside Gbokpètè (eba in the Goun language). You can feel good about eating this Benin recipe because it's packed with flavor and nutrients.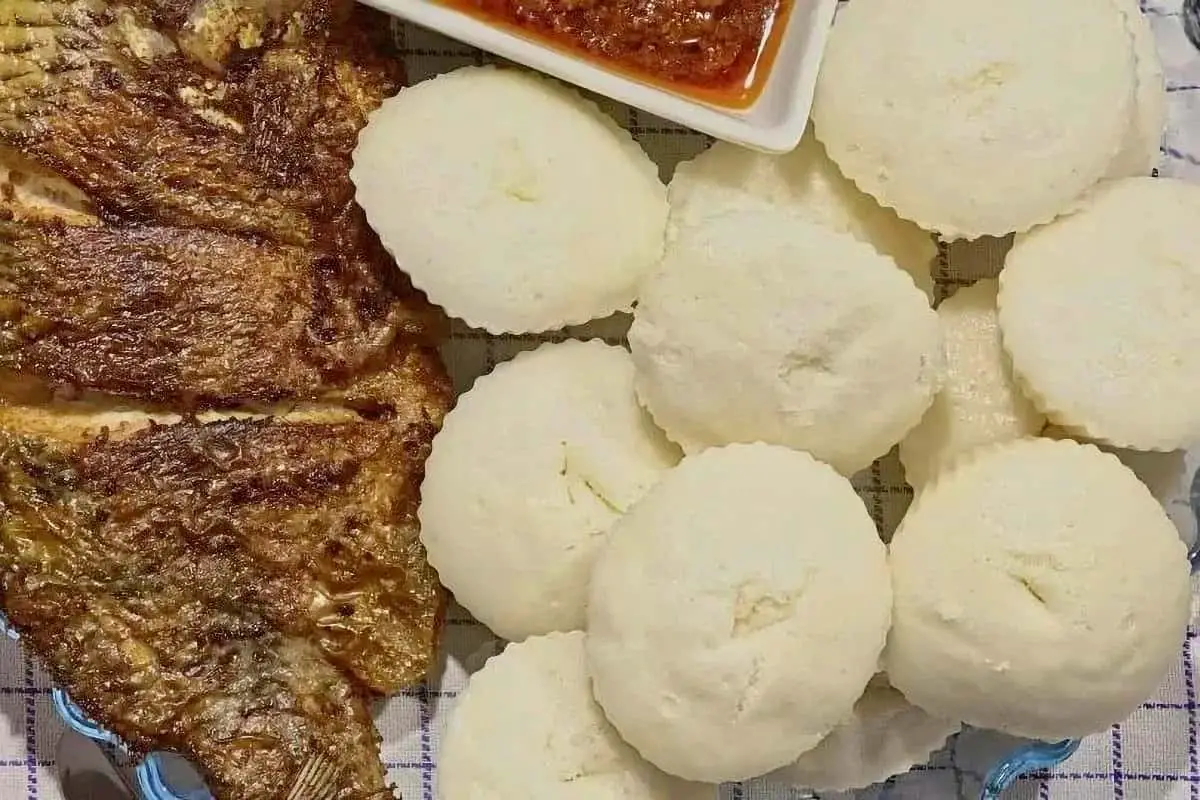 Abolo, sometimes known as ablo, are bouncy steamed rice cakes popular in Western African countries. It is a Benin recipe for a tasty gluten-free steamed rice cake prepared from rice, corn, yeast, sugar, and salt. It is primarily consumed by Togolese, Beninese, Ghanaians, and Ivorians, and is ideal for parties or at home.
In Benin, ablo can be found on menus, in markets, and at home. Its palatable sweetness has won it widespread acclaim. A touch of heat can be added to this Benin food to make it even more delicious. Fried chicken or fish are typical accompaniments.
Wo (Corn Fufu) — Easy to prep, soft, very delightful and filling Benin recipe. A perfect cornmeal side Benin food for greens, stews, and proteins.
Step-by-step instructions on how to make Ugali or Corn fufu paired with Sukuma Wiki.
Some people, however, prefer to eat this paste the following day after it has been reheated, i.e. boiled in hot water. In Fon, we call this Benin food "wo koli." Some sort of sticky sauce, like Assrokouin or Crincrin, is typically served alongside it to amp up the flavor.
Amiwo taste closely to mashed potatoes however, it texture is firmer and harder. It is very easy to find the ingredients to replicate this very savory and appetizing Benin recipe. For those that want to try to replicate this Benin food, below is a Benin recipe to try. Enjoy and feel free to share your photos in the comment section below.
A mouthwatering aroma fills the kitchen once all the ingredients have been added and the Benin food has begun cooking. Fried onions, tomato juice, or crushed green pepper are common accompaniments to djèwo, as are common proteins like chicken, guinea fowl, or mutton.
Tchantchanga is a grilled mutton or beef popular Benin recipe.
It is popular with foreign visitors to Benin and can be found for sale at the peripheries of markets, in eating establishments, and at bus stations. We typically eat it with some sort of wheat-based bread.
Miyan Kuka, a northern Africa Benin recipe, is made from dry baobab leaves. It is also called Luru soup or baobab leaf soup. Baobab trees are prolific in northern Nigeria and the leaves are picked, dried and ground into very fine green powder. This leaf is nutrient-dense and the tree is in fact called the 'tree of life'.
The baobab tree has many useful characteristics. Juice is typically made from the pulp. Even the dried leaves can be used to make a tasty sauce. Koukoum or Kouka describes this condiment in northern Benin.
The name is different in each culture. Time spent making this sauce is minimal. Most commonly, it is served with a variety of breads.
Caramelized Bananas in Pineapple Sauce are a spectacular dessert from Benin. They can be enjoyed solo, but my favorite way to devour them is on top of chocolate ice cream. The original concept for this Beninese classic is to caramelize the bananas in orange juice, but I put a special spin on the Benin recipe. Let me know in the comments below what you think!
Pineapple juice and brown sugar mix together and heat on the stove to create a delicious sauce. Then, right before it's done, add the bananas in and caramelize them right up. If you have a sweet tooth, this Benin recipe is the treat for you. I chose Dole Pineapple Juice as my pineapple juice of choice!
To greet the nearly 10 million Beninese on August 1st on their national holiday, I chose to make this Benin recipe from home, found on the p'tit chef website. The official capital of Benin is Porto-Novo and the official language is French.
On August 1, the people of Benin celebrate their independence from France since 1960. The former name of this country was Dahomey, this country is called the "Latin quarter of Africa" ​​as education takes on importance in this country, a large number of training courses are provided there and the state devotes 1/5 of its budget to it.
Sticky sauces include okra sauce, which is known as Févi in the Fon language. The northern region of Benin has a much higher regard for it. It is common to eat okra sauce with white paste, Piron, or pounded yam.
This crab dish contains a classic Beninese combination: onion, pepper, and tomato in this Benin recipe. Please use fresh tomatoes… I only had canned and the flavor of the can totally takes over (in a bad way). I know, I know. I should have my blog taken away from me for doing it, but I forgot to buy fresh at the store. Just proof that I'm human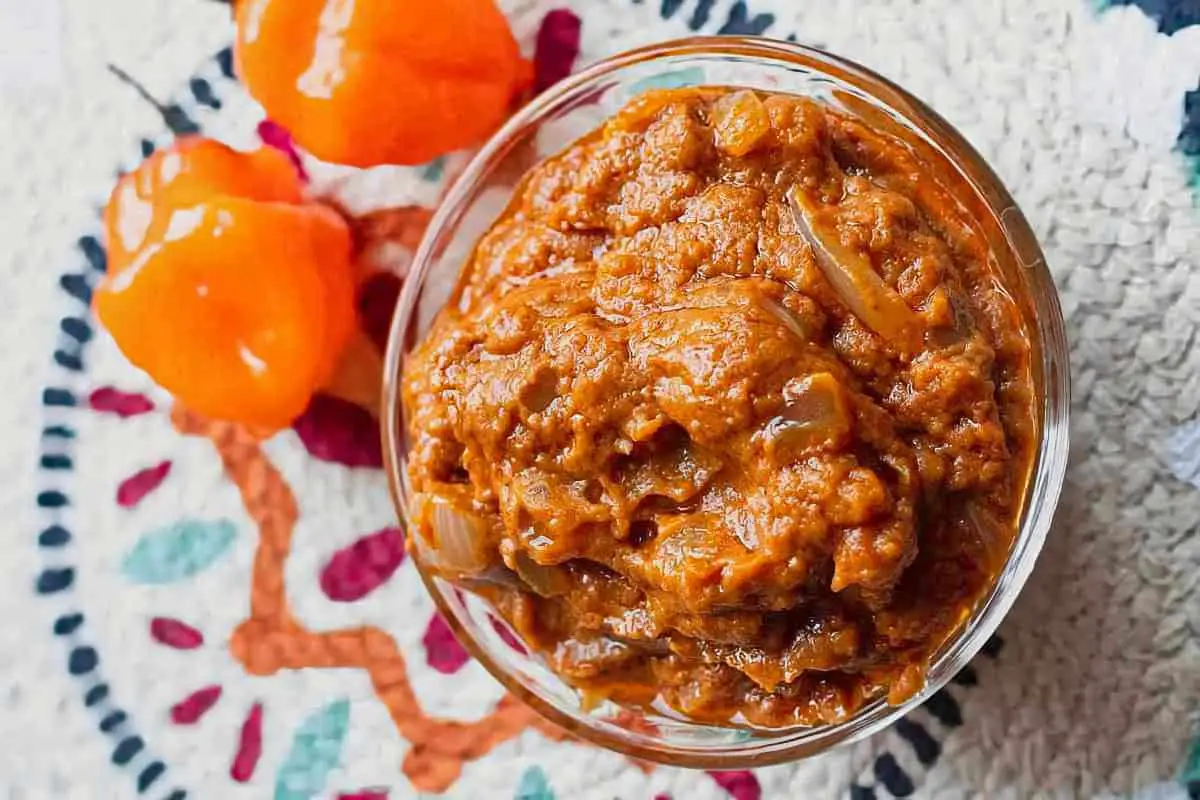 Have you ever eaten peanut butter right out of the jar with a spoon? Of course you have. Because it ROCKS. Peanut butter is the ultimate food. As you might remember from my Belizean Banana Cake with Cream Cheese Frosting Benin recipe, I eat a banana every day.
What I didn't mention in that blog post is that that banana is ALWAYS accompanied by peanut butter. Peanut butter is a food I turn to quite often. There's no other way to describe it than this: it just makes me happy.
Obviously, a banana and peanut butter is one of my very favorite snacks, but I love peanut butter in other forms as well. Normally I tend to enjoy my peanut butter in sweet Benin recipes: cookies, pies, toast, ice cream… mmmm…. But this Benin recipe is a GREAT savory Benin recipe for peanut butter.
---
You May Want to Join Our Boondocking Group on Facebook For More Information
You May Want to Join Our Campfire Recipes Group on Facebook For More Information
For More Photos Visit Our Instagram at World Recipes Daily – Our Big Escape