Many cultures have left their mark on Algerian food, making it both familiar and distinctive. Foods from Algeria have been shaped by the Berbers, Arabs, Turks, Romans, French, and Spanish.
Algerian food owes much to the many cultures that have passed through the country. It is a delicious mashup of different tastes, smells, and textures that can be prepared in a wide variety of ways.
Stews, lamb, vegetables, grains, and dried fruits are all staples in foods from Algeria, as they are in Berber cuisine. The Turks and Arabs have contributed numerous delicious pastries and spices to the mix. The use of tomato paste and the incorporation of French techniques in foods from Algeria, aperitifs and desserts are two examples.
Authentic recipes from Algeria feature the bold flavors of cumin, caraway, marjoram, coriander, and fennel. Meals typically consist of lamb, chicken, and Mediterranean fish. Steamed Couscous topped with meat, vegetables, and sauce is Algeria's national dish.
Algerians love their coffee, but they take it black and with a tall glass of water. Tea flavored with fresh mint, however, is the drink of choice in Algeria. Additionally, many people enjoy drinking fruit juices.
20 Authentic Algerian Food Options & Easy Recipes To Try At Home
---
---
check out our video
---
---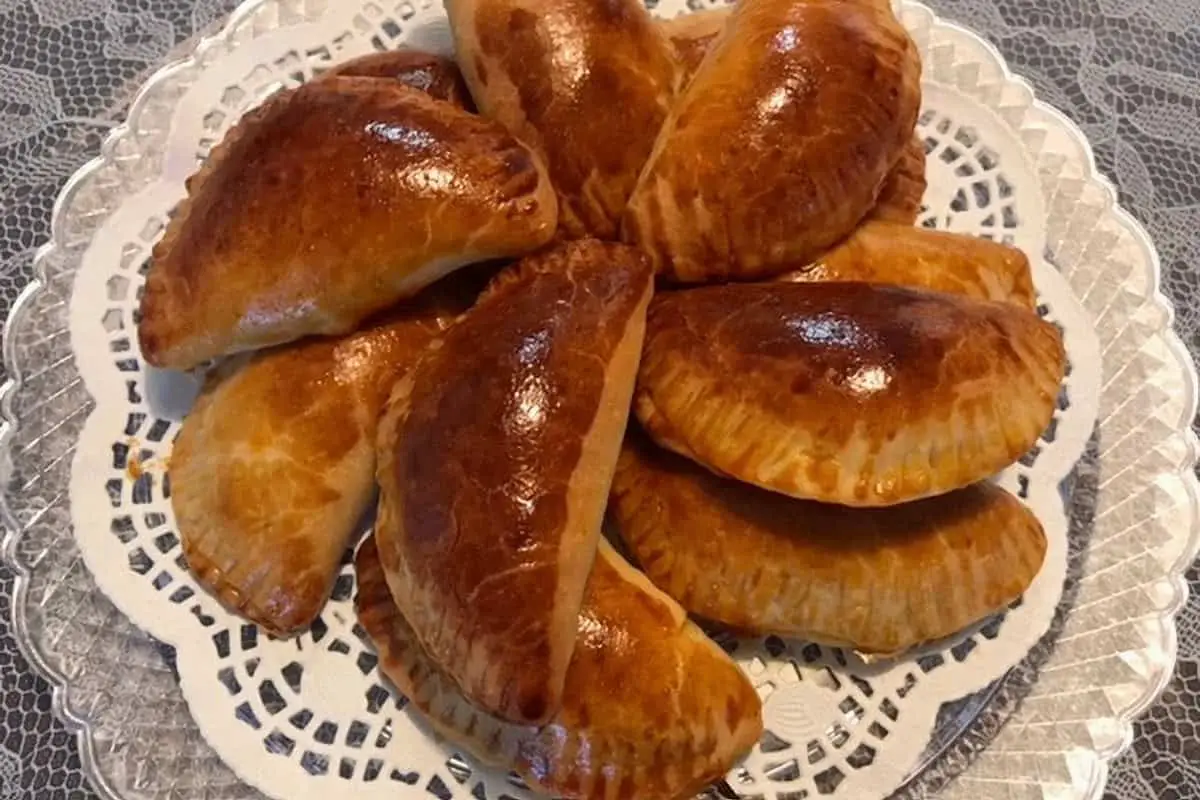 Algerian food that is called Coca (plural Cocas) or French chausson Algerien. It is a Catalan (from Catalonia) variety of a Mediterranean cuisine. These foods from Algeria are made of a type of Algerian pizza dough and filled with vegetable stuffing. The stuffing is made of onion, garlic, Anaheim pepper, and more ingredients. You can use belle peppers too in this filling.
Algerian Coca can be made differently, not as turnovers but as a pizza covered with another layer. In this case, I prefer to use a puff pastry.Algerian turnover or La Coca Algerienne is present on the Algerian table as an entry especially in the month of Ramadan, served with a good soup or Chorba.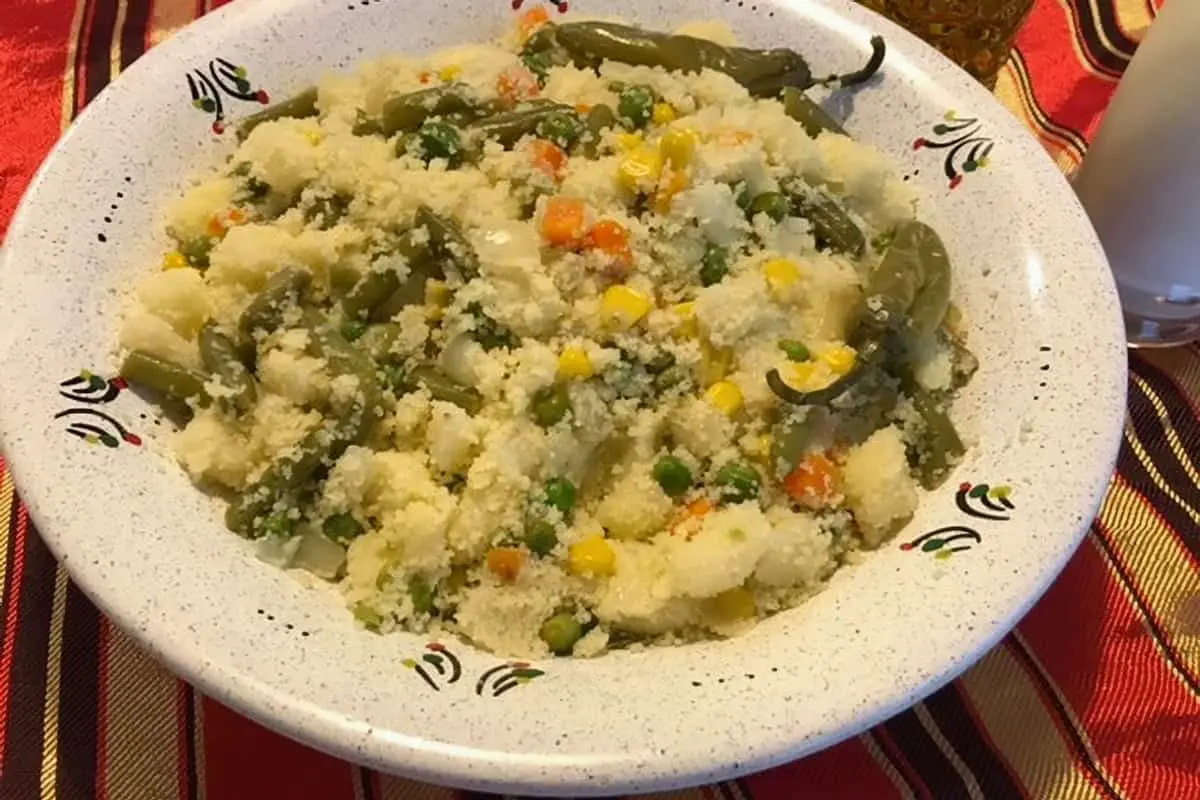 Algerian food: Couscous with Steamed Vegetables called Amekfoul or Amekhlout in Kabyle. Couscous with steamed vegetables is an Algerian dish from the region of Kabylie. It can be prepared with a variety of vegetables that you have in hands.
Once the vegetables are steamed , you can add cooked couscous on top of the vegetables and steam everything together ( just to warm up the couscous). In Kabyle language, this dish is called Amekfoul (or feminine name Thamkfoult). It is also called Amekhlout (or feminine name Thamekhlout). It has other names such as Afourou.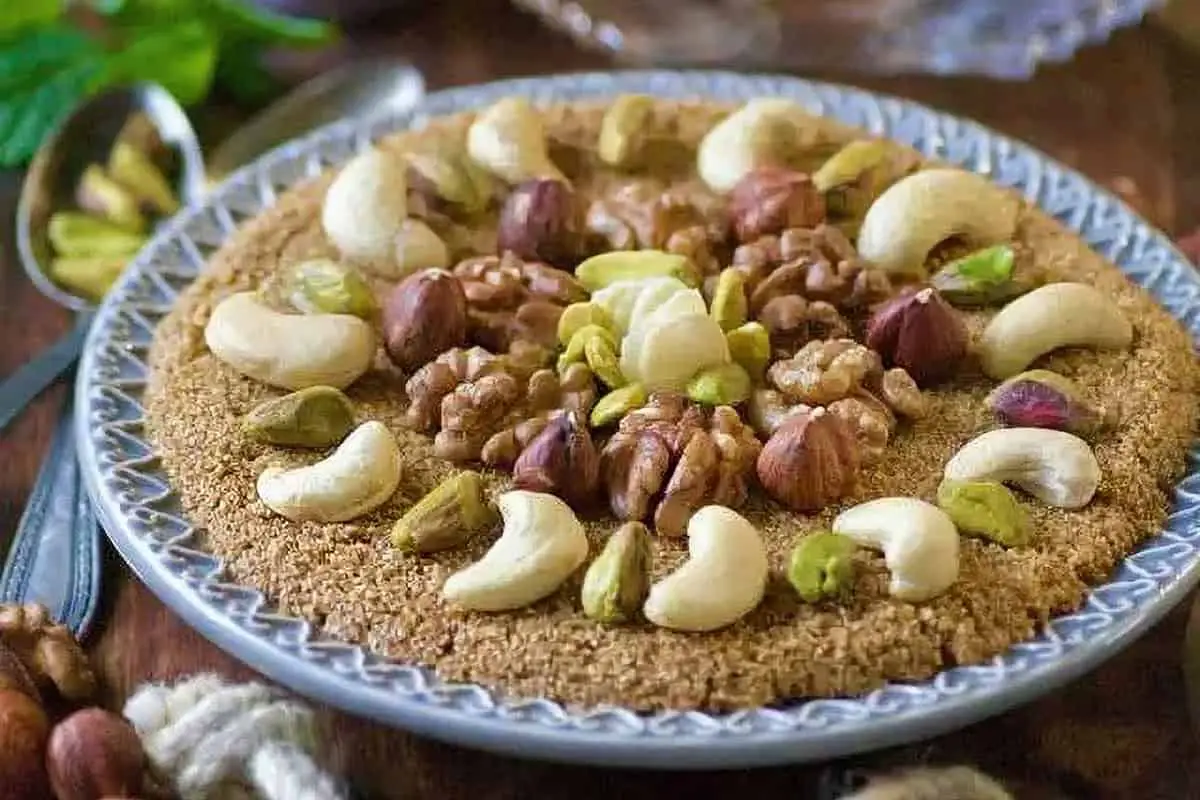 Tamina, or "semolina cake," is a sweet recipe from Algeria traditionally served on the day of Mawlid Ennabawi echarif – a religious holiday commemorating the birth of the Prophet of Islam Muhammad. This Algerian food is also served to celebrate a birth.
Tamina, Tamena, Taqnata or Takneta quick and unmissable easy recipe from Algeria is a delicious pastry, traditionally served in Algeria and Morocco on the occasion of a birth or mawlid nabawi (commemoration of the birth of the Prophet Mohammed PBUH). It is a paste composed of toasted semolina, golden but not brown, melted honey and butter.
There is another foods from Algeria called tamina (Rfiss Tousni), but this one is made with grilled semolina, butter and date paste (gharss). A delicious sweetness to accompany with a good mint tea or a latte at snack time. Tamina garnished with pine nuts for more delicacy.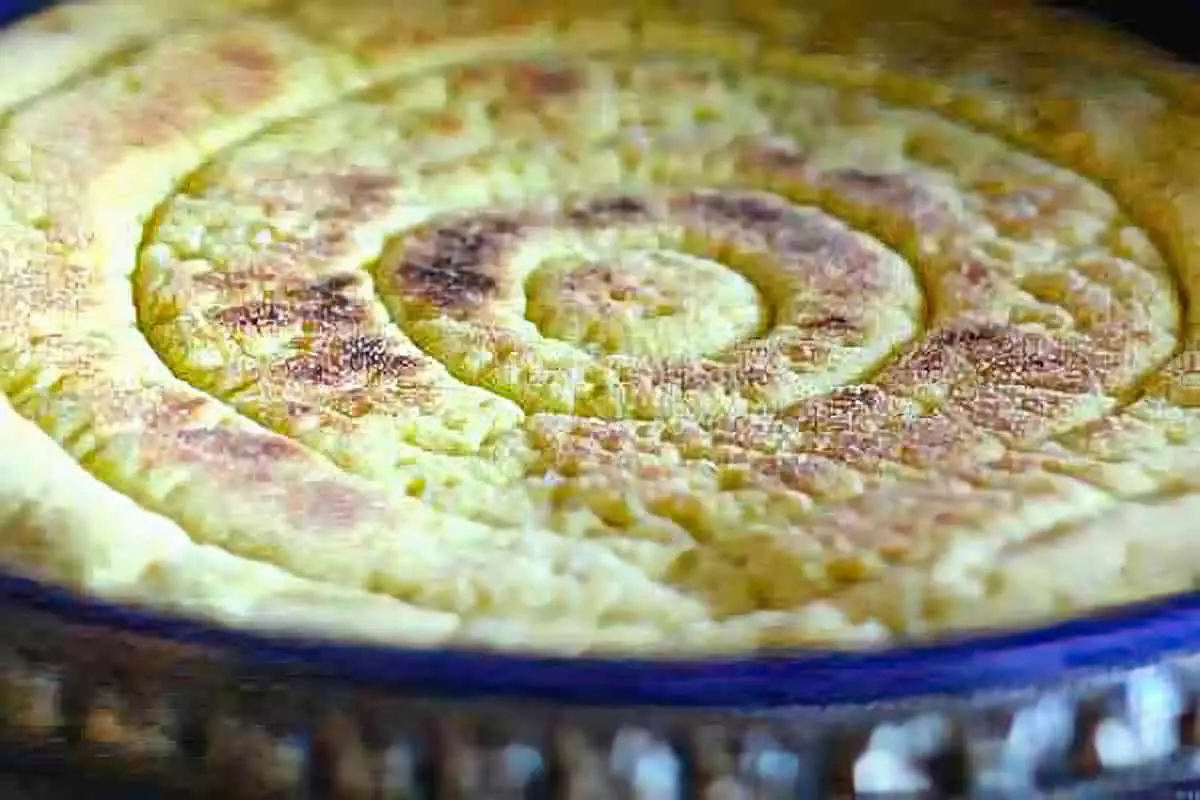 Algerian food: Kesra is a traditional Algerian flatbread that is prepared from semolina and that is served both for savory and sweet meals.
The history of bread starts with the Upper Paleolithic, in the middle of Prehistoric Times. Unleavened bread traces were found at several sites dating from 30,000 BC. Men ate grains in their raw form, without any preparation and prehistoric bread was really a porridge made of raw wild grains crushed and wet with water.
One day, men decided to grill this porridge into patties. This was really by chance, around 3000 BC, when a bread dough was forgotten, that the Egyptians invented leavened bread where wheat grain is crushed in a mortar.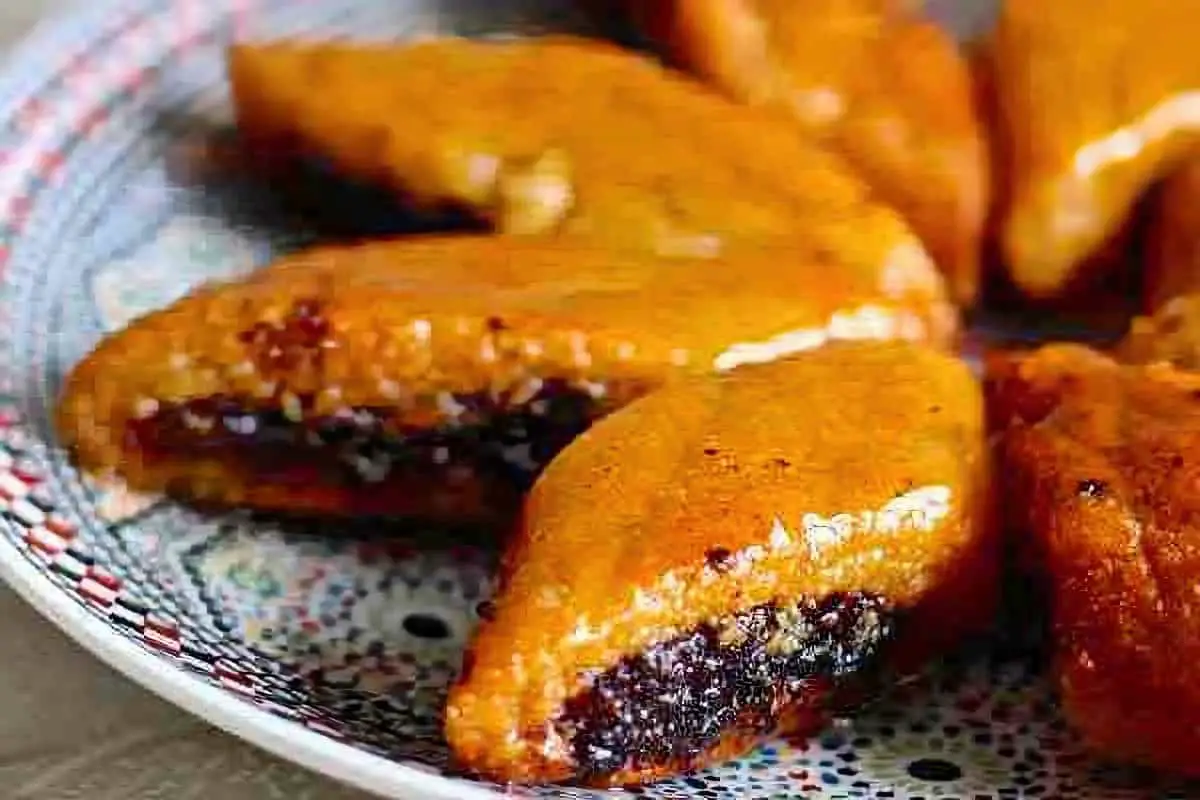 Some sources say this Algerian food traces its origins are from the oases of Mzab and the steppes of Setif in Algeria and others say that its story would be linked to the city of Kairouan, spiritual capital of Tunisia, a city ​​that actually hosted the first national makroud festival on May 20, 2008.
Traditionally, makroud is composed of a dough made of semolina that is most commonly filled with dates but also figs or almonds. Of course, there are various recipes from Algeria for these foods from Algeria: some are baked or fried in oil, while others contain almonds or sesame seeds.
The different and multiple environments in which the inhabitants of Algeria live have helped to diversify the popular Algerian food choices in this Arab country. Dishes that decorate the tables of Algerian families most of the time, give each region its own character, like Mhadjeb.
Mhadjeb is a recipe from Algeria which is a kind of flaky pancake made from semolina traditionally stuffed with onion, tomatoes and even dried meat or we can substitute for the minced meat and then add harissa, the success of the dough solves in its kneading which must be long enough and then the quantity of water incorporated if it is two stages are respected the shaping is a breeze.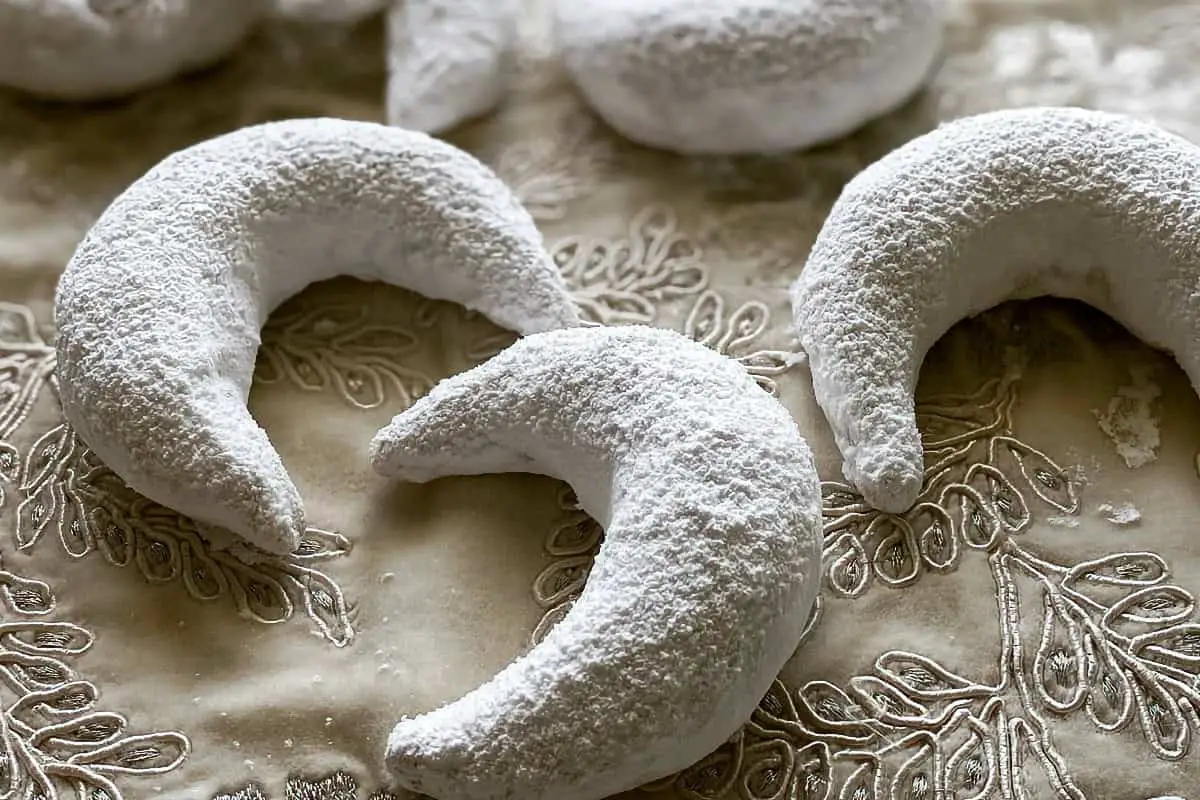 Yesterday was the first day of Eid celebrations for muslims around the world, marking the end of the month of Ramadan. During Eid, we prepare some sweets that we share with our families, friends and neighbors. We also buy new clothes for children and give them money, whilst women put henna on their hands.
This year, I opted for an inviting Algerian food called Tcharek M'saker (Algerian Gazelle Horns). They are filled with almond paste, dipped in orange blossom water and then coated with icing sugar.
These foods from Algeria always remind me of Eid in Algiers at my grandmother's house, preparing different kinds of pastries, I was always the little helper. The eve of Eid was always my favorite part; a kitchen filled with divine smells and lots of laughter. I really miss those days.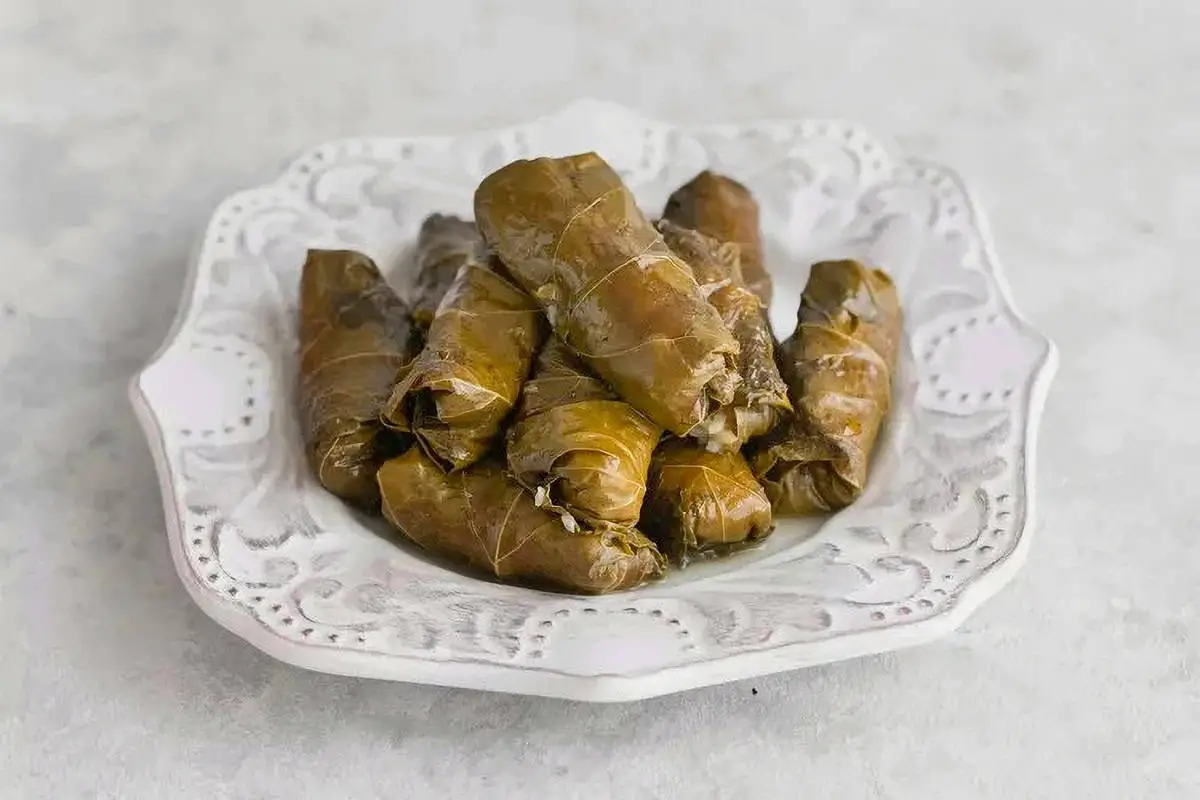 Dolma is a word of Turkish origin which means something stuffed and is a widely cooked Algerian food. Beef stuffed vegetables or French Dolma de legumes or Arabic made of stuffed vegetables. You can use any vegetable of your choice. I choose to make this dish with potatoes, anaheim peppers and artichoke bott.oms. This is a great dish, full of flavors and it is made the Algerian way.
Dolmas (also known as stuffed grape leaves, dawali, and dolmades) are eaten throughout the world, all with different variations. They can be found in Mediterranean restaurants, but instead of eating out for this healthy comfort food, make it at home.
This version of dolmas is most closely inspired by the vegetarian rice-stuffed grape leaves of Turkey that are typically eaten cold or at room temperature as an appetizer (meze).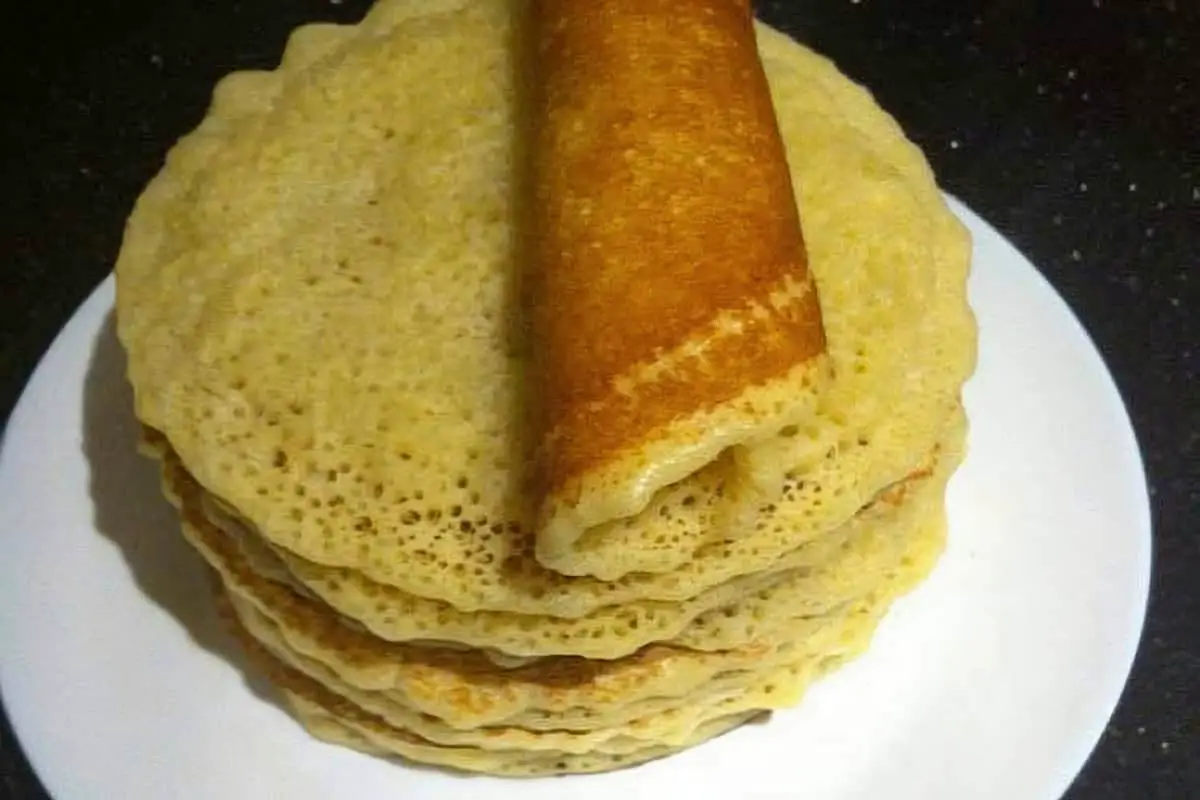 Today, I'm gonna show you how to prepare a special foods from Algeria favorite, baghrir (algerian traditional crumpet). One of my favorite recipes from Algeria. For mine, I am going to make it a bit unique. This is gonna smell and look delicious.
Baghrir or beghrir is a pancake consumed in the Maghreb region. They are small, spongy and made with semolina or flour; when cooked correctly, they are riddled with tiny holes (which soak up whatever sauce they are served with). Foods from Algeria, like Baghrir or Korsa, are an Algerian/Moroccan pancake that is very popular in North-Africa.
Baghrir (Algerian traditional crumpet) is one of the most favored of recent trending foods on earth. It's enjoyed by millions daily. It is easy, it is quick, it tastes delicious. Baghrir is something which I have loved my entire life. Foods from Algeria like these are nice and they look wonderful. To begin with this recipe from Algeria, we must prepare a few ingredients.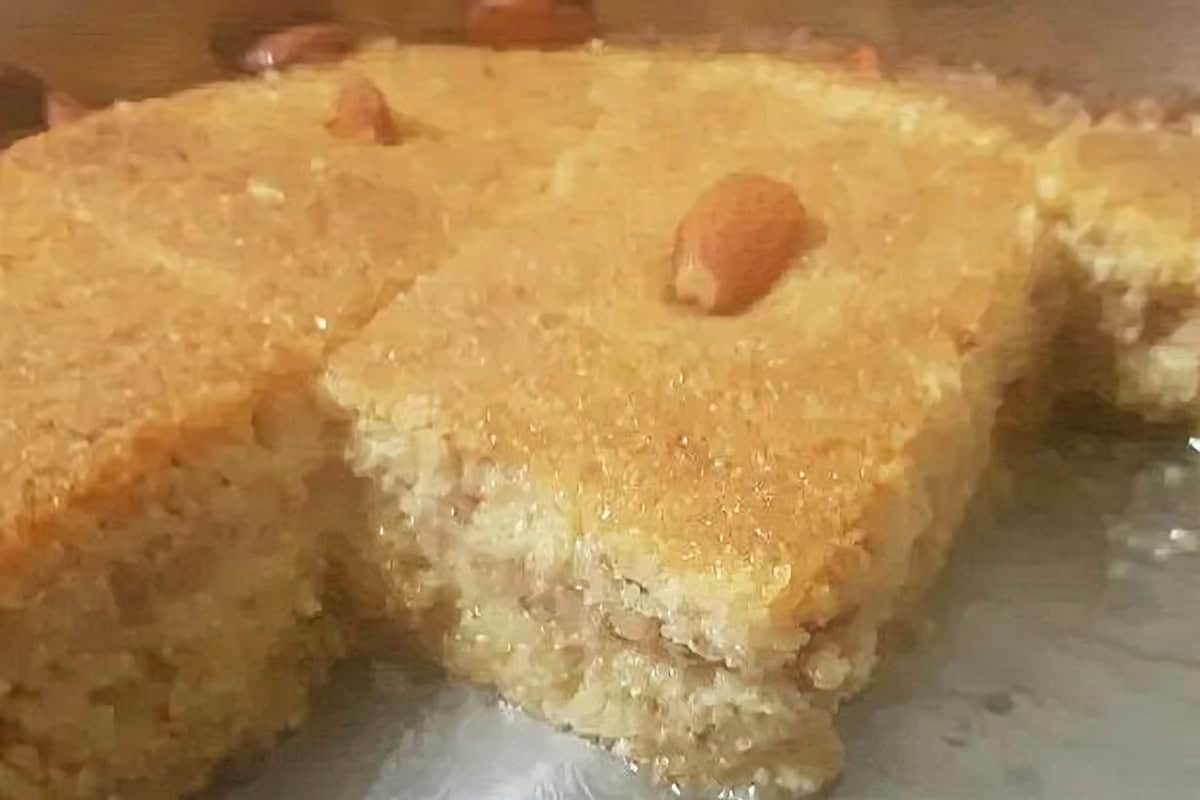 Qalb el louz or kalb el louz is also called chamia. It is an Algerian food that is very popular. Chamiya is mainly consumed during the evenings of the blessed month of Ramadan. Kalb el Louz means almond heart. Depending on the country and region, the recipe from Algeria for kalb el louz with liquid cream is also called qalb el louz, chemia, kalb el louz, almond heart, kalb louz…
---
Want more ideas to round-out your Recipe Box?
A lot of great options are in these posts!
---
Tlitli is a pasta based Algerian food. Tlitli is a type of pasta called Langue d'oiseau in French language ( literally Bird tongue) which is melon seed pasta (that can be substituted with Orzo pasta).
Tlitli recipe differ from one region to another. It can be prepared with a red sauce or while sauce. Tlitli can contain chicken, meat or both.
This recipe from Algeria is from the Eastern region of Algeria, specifically " Constantine". The dish is mainly made with Tlitli pasta or melon seed pasta, chicken, meat ( lamb or beef), chickpeas and garnished with meatballs and boiled eggs.
These foods from Algeria are prepared on special occasions in Algeria such as the Islamic New Year ( Awal Muharram), Mawlid Nabawi ( the celebration of the birth of prophet mohamed) and many other occasions.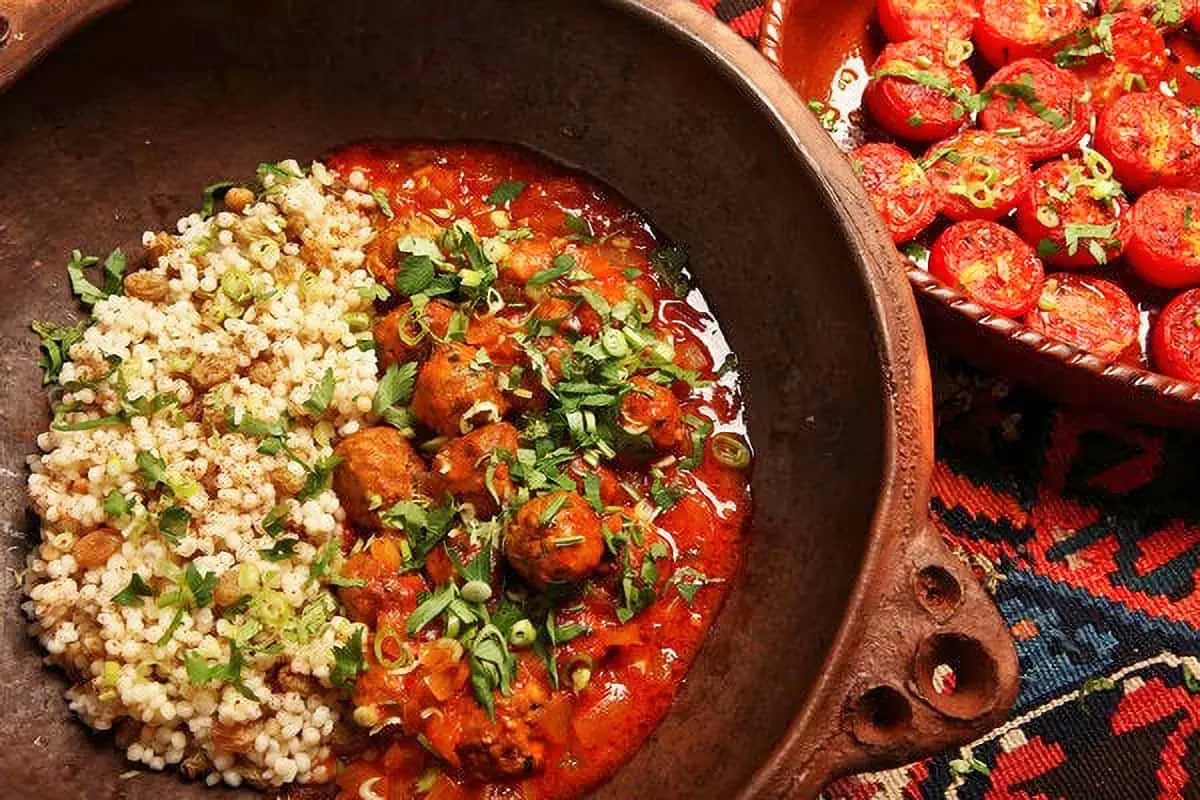 In France, meatballs are called boulettes, and by far the favorite versions are the spice-scented Algerian food type. Most of the neighborhood Tunisian and Moroccan restaurants in Paris offer them, served as an appetizer or a side, or in a fragrant main-course tagine with couscous.
These foods from Algeria are an amalgam of several that I found on my bookshelf, among them one called boulettes tangéroises in an old French cookbook. Since I like things a bit spicier, my boulettes are more like Tunisian ones, in which hot pepper is more assertive.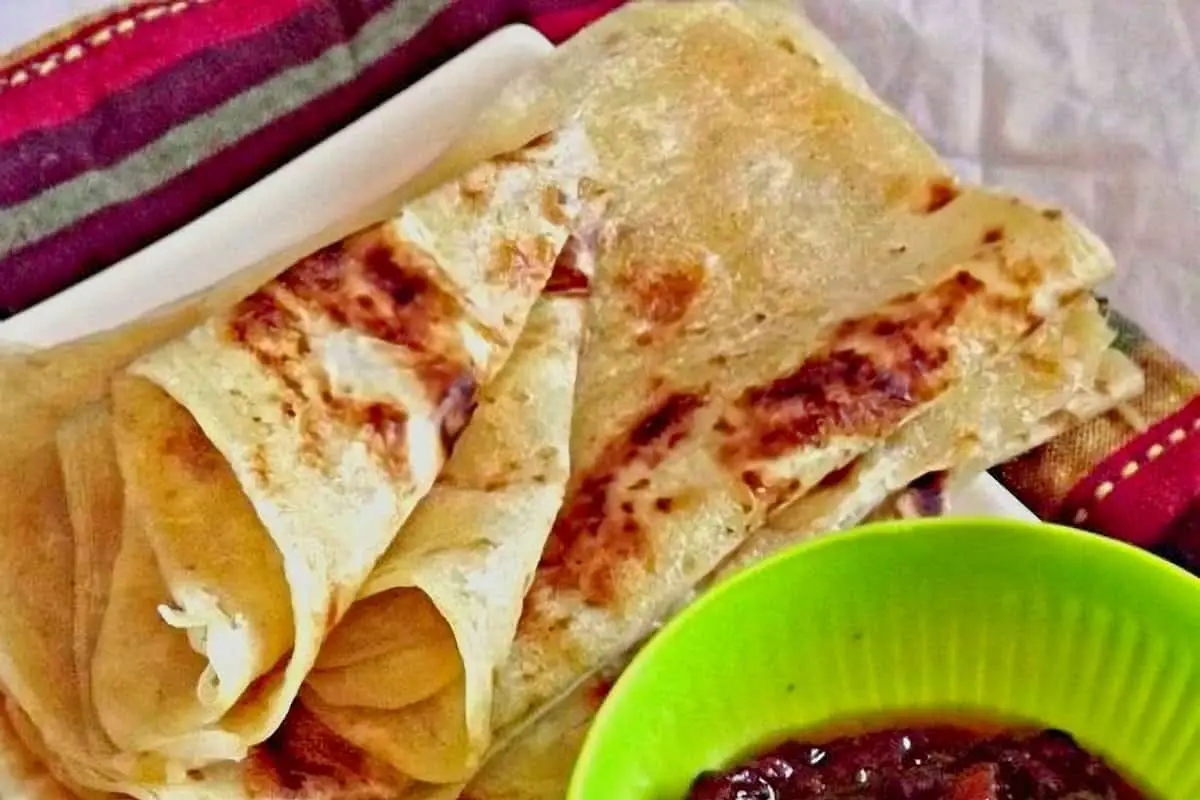 A specialty of all the Maghreb countries: Algeria, Morocco and Tunisia. Maârek are and Algerian food made of squares of dough very thinly spread out, folded in on themselves like an envelope then cooked to give the appearance of layered, flaky and tender parcel. They are like a cross between a pancake and a tortilla using the rough technique of making puff pastry.
Maârek, which means fattened really is fattening …. and addicting! Believe me, it is just that and much much more. If you ever had Maârek before, then you know what I mean … it's tender, flaky, messy, moist, chewy … the kind of food you can pull apart and eat with your hands … so so hard to resist.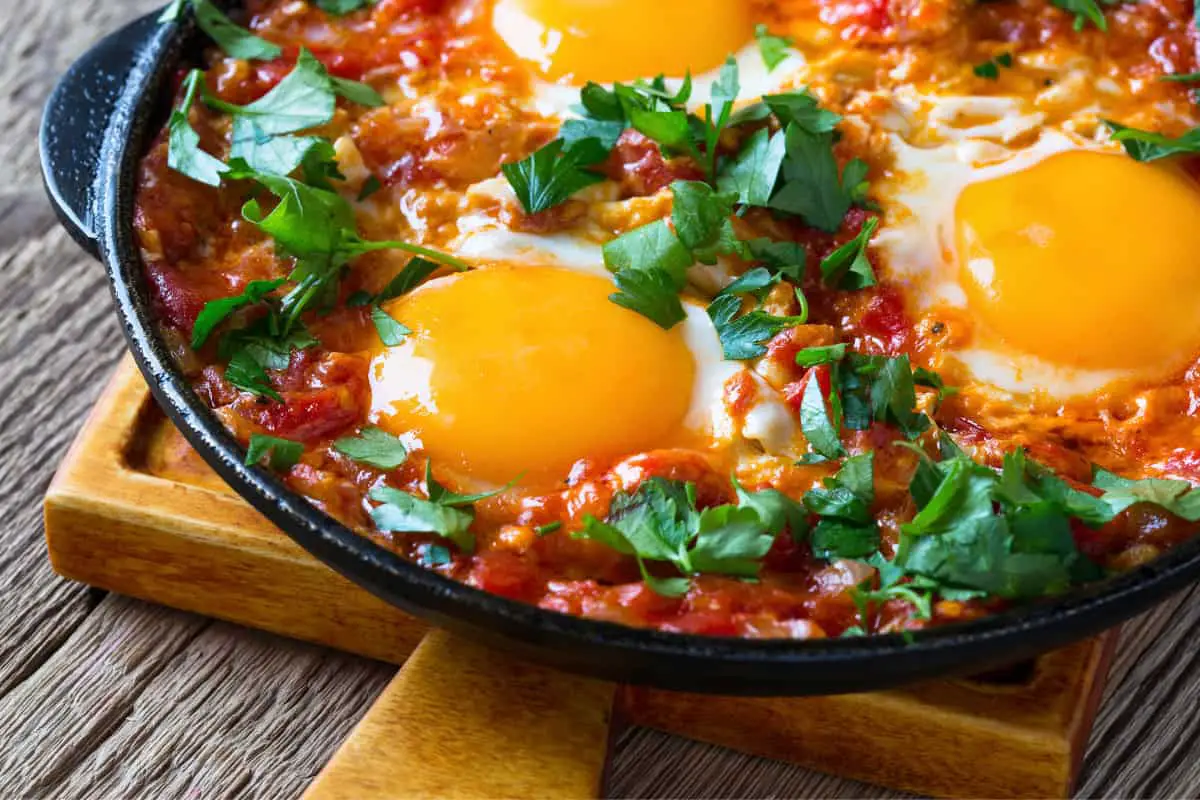 Shakshouka recipe is made with eggs poached in tomato sauce along with paprika, red and green pepper, onions and certain other spices. Shakshuka origin is North Africa; it is considered as one of the most famous foods from Algeria. It is eaten commonly in Moroccan, Tunisian, Libyan, Egyptian and Algerian cuisines.
Algerian shakshuka recipe comes as a suitable meal for iftar with a scrumptious taste to enjoy. Also known as 'shakshouka recipe', it is famous Middle Eastern breakfast dish, eaten in many countries in the region. In the month of Ramadan al Mubarak, shakshuka is served in iftar as a tradition as a main course food.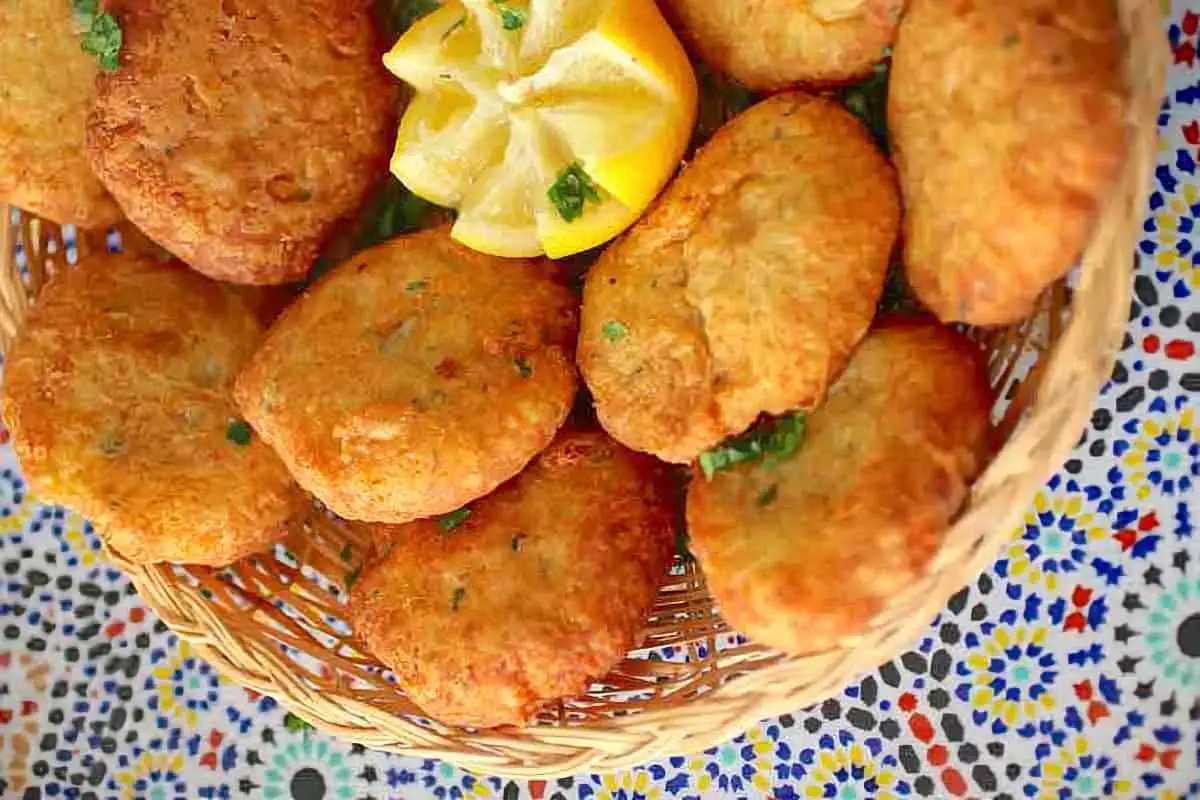 Maaqouda is a simple recipe from Algeria that, like many Algerian recipes, is known throughout the Maghreb region.
Maaqouda, maqouda or maakouda is a recipe from Algeria but also from Morocco and Tunisia that is often prepared during the month of Ramadan.
Maaqouda, which can be translated to "bound" or "thick", is a potato fritter which is often prepared plain, but can also be stuffed with tuna, ground meat or even cheese.
The foods from Algeria for this delicious fritter is quite simple. The greatest difficulty lies in the fact that the preparation has to be perfect to prevent it from crumbling during frying, and these steps have to be followed.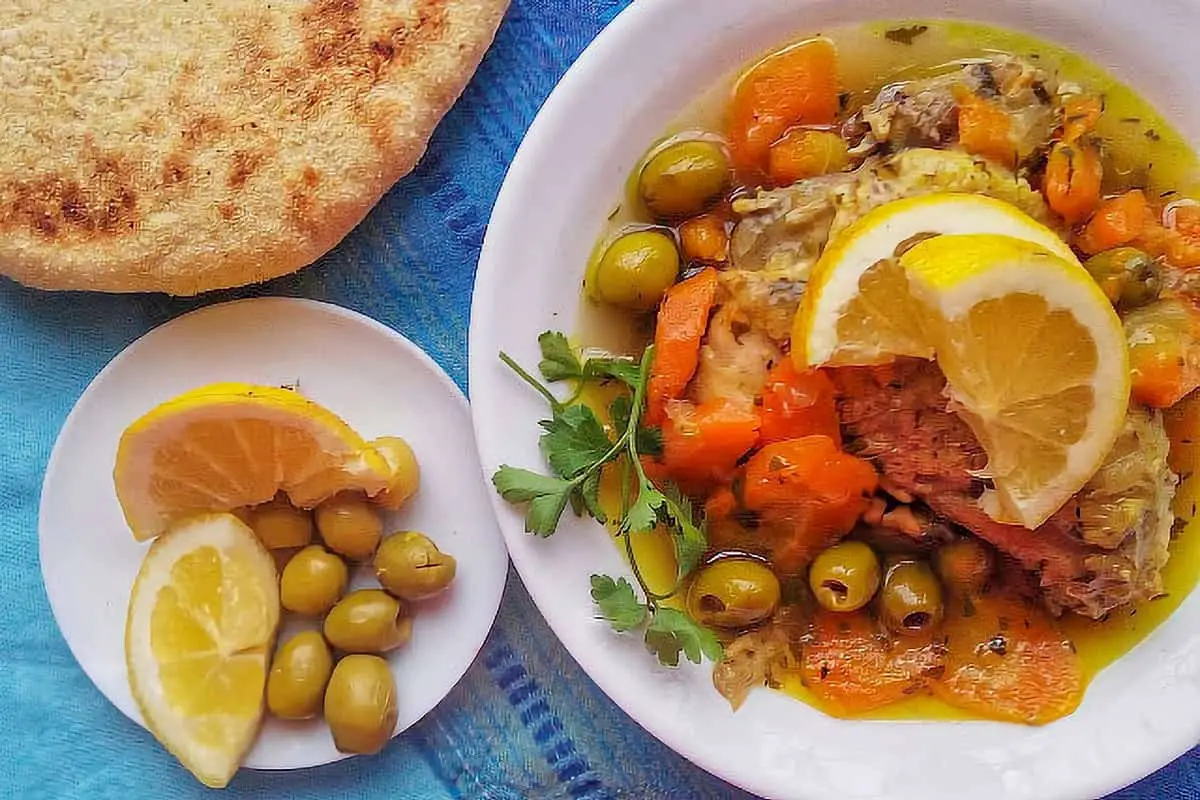 Today I present it you a wonderfully fragrant Algerian food from North Africa – Algeria called Tadjine djej bel zeitoun (chicken stew with olives). This is by far the best dish in Algerian North African kitchen.
For this recipe from Algeria, I'm using pitted green olives that I've boiled to remove the excess saltiness. You can use other varieties of olives if you like.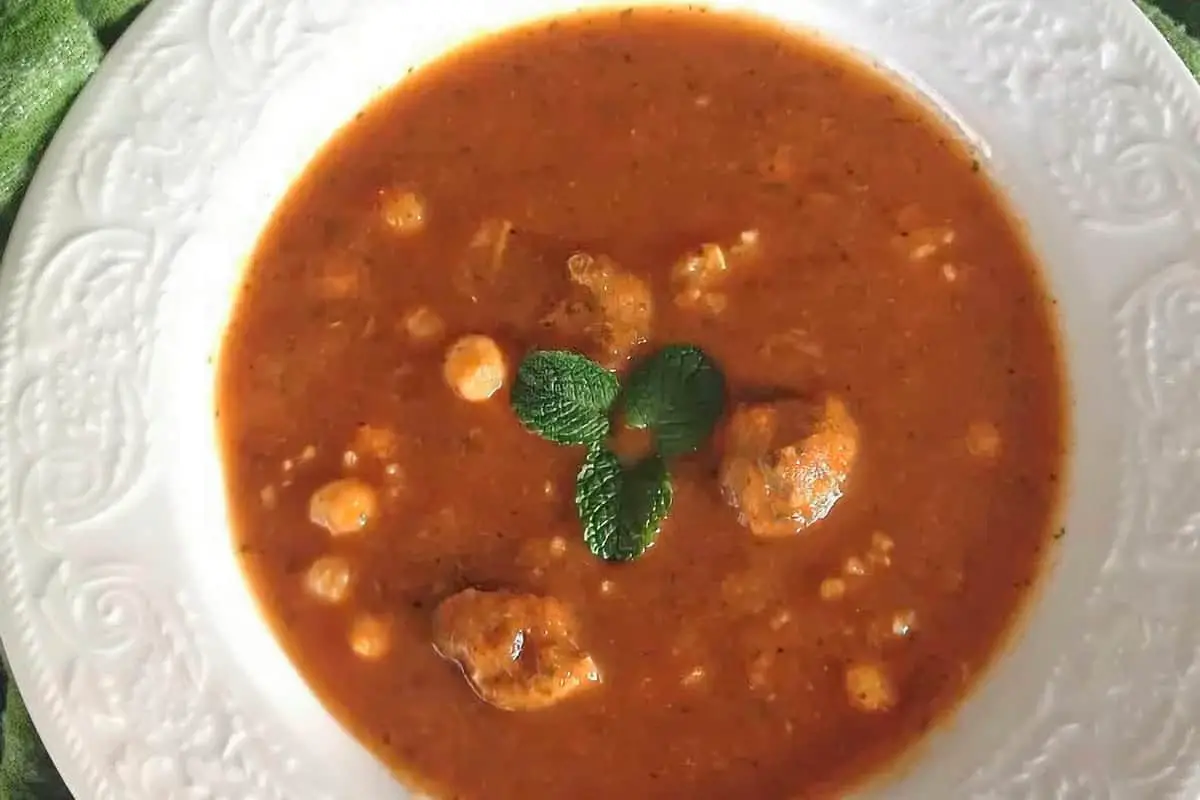 Algerian food is delicious and really tasty, so maybe you would want to consider serving them even when Ramadan is over. So while here I am posting this delicious traditional Algerian soup of green wheat, chickpeas and tomatoes, known as Chorba Frik, there are so many other soup recipes posted in this website that are worth exploring and making at home, so make sure to check them out too.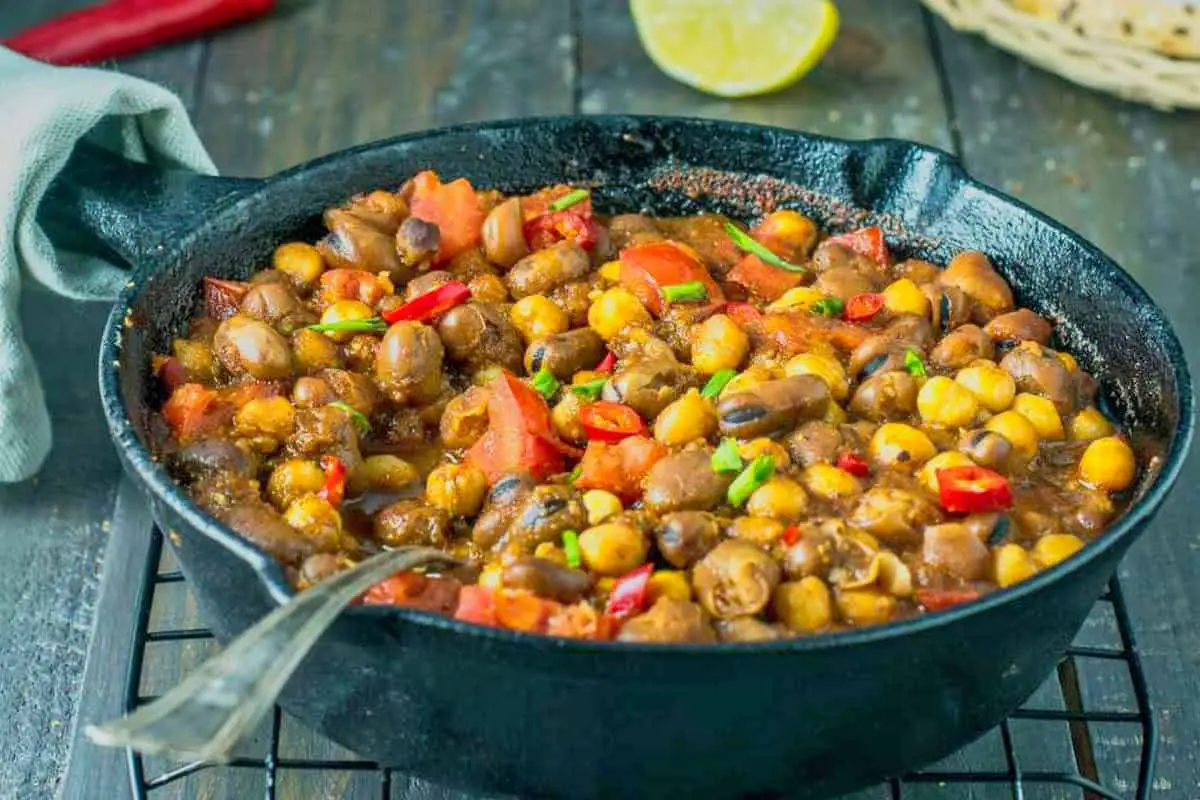 Algerian Doubara is a traditional vegan, budget-friendly fava bean stew that is loaded with hearty flavors. It is very easy to make, but like most stews, takes some time. It is the perfect meal for cold winter months and makes the ideal meat-free dinner option! And, best of all, it stores incredibly well, even in the freezer!
Give this vegan stew a try, and let me know what you think about it in the comments below. And if there are any other dishes you are dying to try, feel free to drop some suggestions as well! Algerian Doubara, also commonly spelled "Dobara" is a traditional North African vegan dish made from primarily fava beans and chickpeas.
It is packed with a variety of spices and aromatics that create a hearty meal or side dish. That's because Algeria, like most North African countries, has strong influences from different parts of the world. So, you'll likely have most of these seasonings in your pantry already.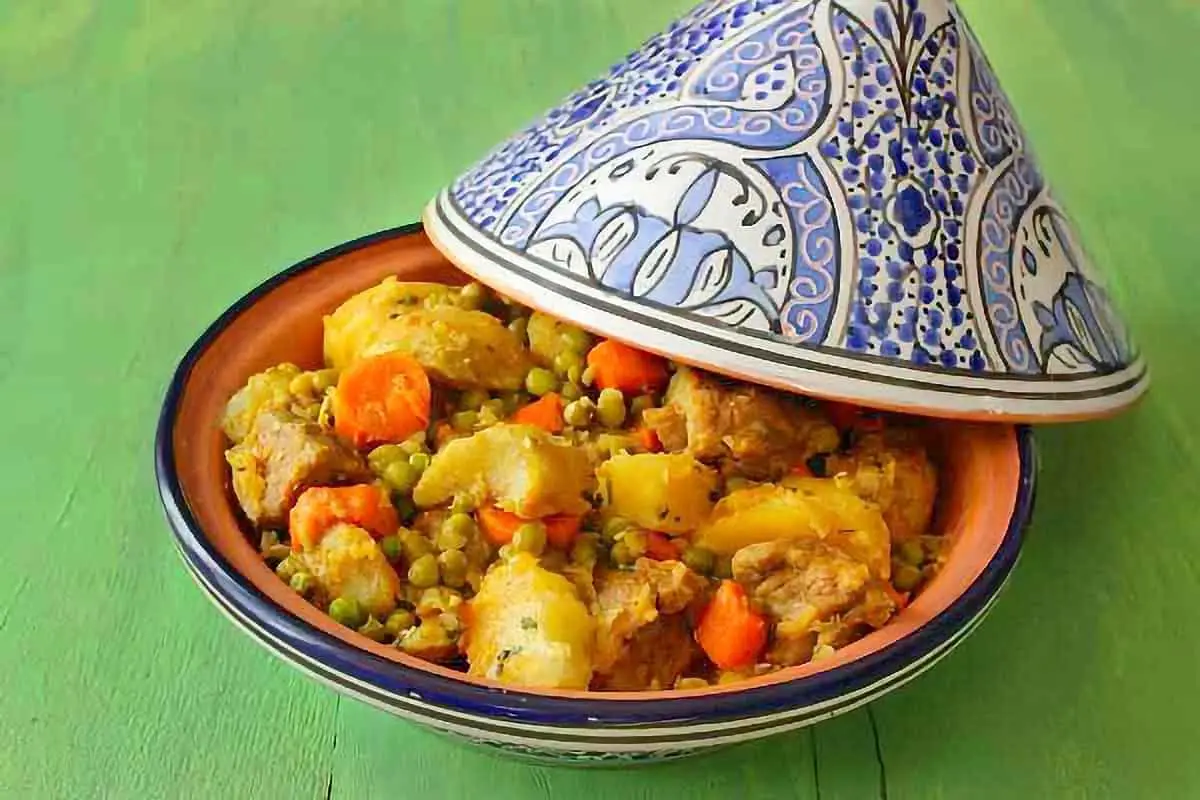 The Algerian food featured here is tajine jelbana, also called jelban marqa which is as popular in Algeria as in Morocco or Tunisia.
This tagine is a peas tagine, and is typically prepared with potatoes, carrots and artichoke bottoms.
The meat used for tajine jalbana can vary, but it is generally lamb or veal, although it can also include beef or chicken. It may also be finished with a white sauce prepared with egg and lemon, a similar preparation to Greek avgolemono or chorba beida.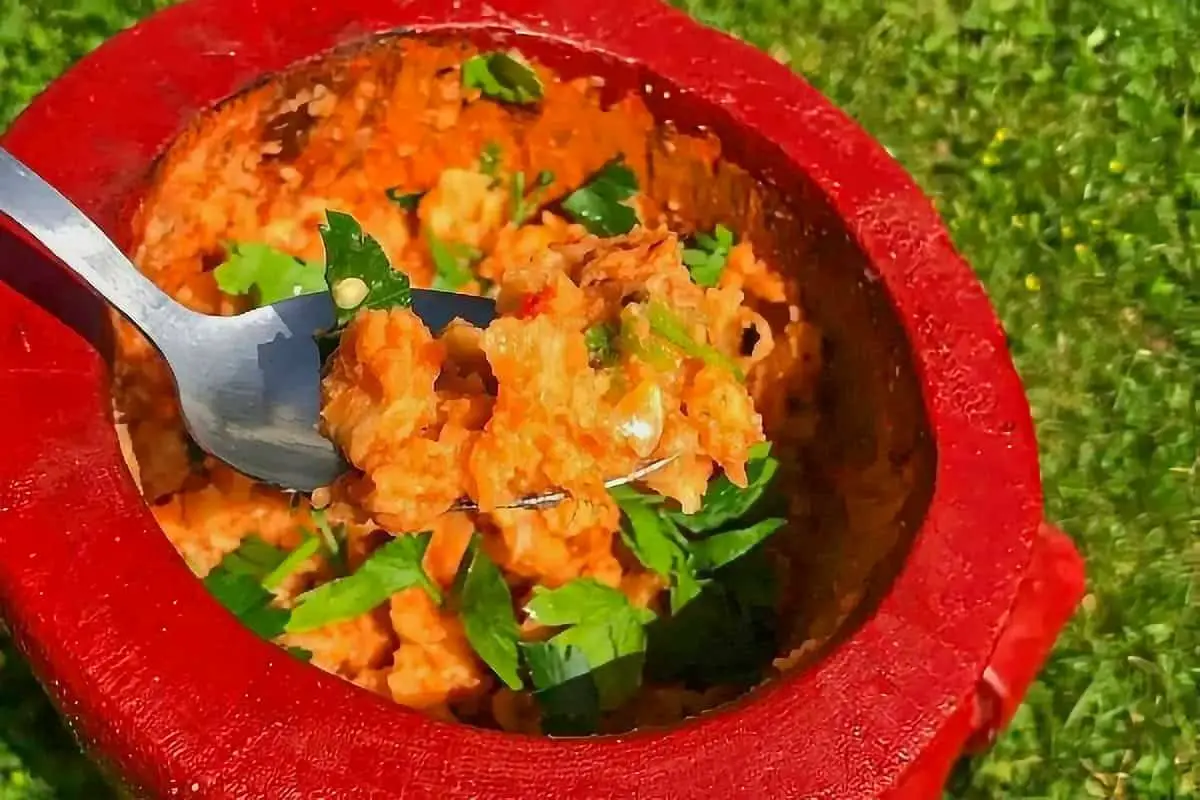 Cooking is a good way to learn about the history of a particular country or region. Through it, we observe population movements, openings, or, on the contrary, withdrawals. Through it, we observe the level of civilization and development. We do not cook the same way in the countryside or in a large megalopolis.
We could decline these assertions for a long time to come. But what matters is that cooking tells us stories, describes lives, and that's exciting. We all have childhood memories, close to our grandmothers, aunts, in our regions or countries of origin, that we watched cooking, our eyes shining with admiration.
Zviti (Z'fiti) is a traditional culinary specialty from Bou Saâda from the highlands of Algeria. It is a pancake crushed in a mortar with a very spicy preparation of chili, a very famous tasty dish of M'sila in the same way as the local chakhchoukha (shredded leaves served with a red sauce with chickpeas).
---
You May Want to Join Our Boondocking Group on Facebook For More Information
You May Want to Join Our Campfire Recipes Group on Facebook For More Information
For More Photos Visit Our Instagram at World Recipes Daily – Our Big Escape