Argentina food recipes are not readily available in the U.S. We spent many months in Argentina and brought them back from our trip. Hope you love them as well.
Argentina is surging up in the travel bucket list for young as well as old alike. The country is famous for producing some of the best soccer players, from the late Diego Maradona to Lionel Messi. In addition to football, Argentina is renowned for its incredible cuisine. If you love trying various cuisines across the globe, you will definitely fall in love with Argentinian cuisine.
If you are into travel and food, then this article will be perfect for you. In this article, we shall be taking you through Argentinian food from its history to the national dish of the country. The wide variety of Argentina traditional food recipes will amaze you.
History of Argentina Food Recipes
Before the arrival of European explorers, Argentina was inhabited by the Native Indians. The members of the Native Indians who lived in the northern part of Argentina were farmers who were known for growing sweet potatoes, squash, and melons.
In 1536, the Spanish arrived in Argentina, and between the 1880s and 1890s, there were approximately a million immigrants from Europe who lived in Argentina. Most of them were from Spain and Italy. Italians introduced pizza along with other types of dishes such as pasta dishes like lasagna and spaghetti during this period.
The Germans, British as well as Jewish, among other immigrants, came to settle in Argentina, bringing with them various styles of cooking and their favorite foods. British brought tea with them, which started the tradition of teatime in Argentina. All of these new cultures had a significant influence on Argentina's food.
The Argentinian Cuisine
The first thing you will notice about Argentina food is that it is very rich in grilling and it involves a lot of cooking meat and beef. Argentina food is famous for being relatively high in protein, especially beef. Furthermore, grilled meat is often considered the mainstay of Argentinian food.
Consuming grilled meat is a tradition that started in Argentina back in the 19th century, and it is said to have been derived from Gaucho, an original Argentinian cowboy. It is said that most of the Argentinians consume beef more than once per day; as a result, they are known for producing the best beef in today's world.
By understanding the Argentinian food history, you will come to learn that Argentinian food is European influenced, and it similar to foods of other South American countries. The citizens of Argentina are said to eat different foods at different times; however, some are reported to consume the same type of food in every meal.
Furthermore, Argentina is said to have four different meals; however, this often differs significantly with regions. The first meal is breakfast, which often consists of rolls, croissants along with breakfast pastries with jam. in addition to that, they consume strong coffee and milk; some consume yerba mate, which is an herbal tea that is made using leaves of holly-like plants in a well-decorated container.
The second meal of the day is lunch, which is often a big meal that consists of two or sometimes more meals made up of grilled meat or steaks, empanadas, pasta, and cooked potatoes. They also have a decadent snack in the late afternoon, and it often consists of coffee or tea along with sweet pastry, cheese, sandwiches, ham, peanuts, and olive nibbles.
The afternoon snack is often used to hold an individual between the period of lunchtime and dinner, which is often very late at 10 p.m. Their dinner is often late at night, and it is often the biggest meal of the day.
Their dinner consists of two to three courses along with a dessert, which is often included in every meal throughout the day. Dinner is made up of foods such as grilled meat, large steaks, pizzas, pasta, trout or salmon, potatoes, salad, empanadas, vegetables, and fruits. It also includes some traditional Argentina food as well.
Desserts often consist of ice cream, fruit salad, and flan. Usually, Argentinian food is a lot to consume. However, as a foodie, there is no doubt it is the best country to visit and explore some of the best cuisines in South America.
Top Foods to Try While In Argentina
A trip to Argentina is by far the perfect opportunity for you to indulge in some of the best foods on the South American continent. While in this country, you should try and seek out this incredible Argentina food;
Asado: They say that the best way to get to an Argentinian heart is through asedo, which is a form of barbecue that is also called parrillada. It would be best if you didn't leave Argentina without spending your leisure afternoon beside a warm grill or open fire while feasting on copious grilled meats.
Asado is said to have originated from Gauchos or the Argentinian cowboys who often existed on the abundant cows that dotted the country. You can find a whole lamb being roasted in an open flame; it is often lightly salted and topped with chimichurri and then paired with Malbec. This is what you should expect in Argentina.
Chimichurri: This is a green salsa that is made of finely chopped oregano, parsley, chili pepper flakes, garlic, olive oil, along with a touch of acid like vinegar or lemon. The tangy and garlic salsa is often used in margination or used in blanketing some of the grilled meat and heaps of savory food in Argentina.
Dulce de leche: This is best for people with a sweet tooth. The cows in Argentina haven't only been used as a source of phenomenal beef but also with abundant milk. Argentinians use the condensed milk from their cows and make one other culinary treasure; the dulce de leche. It is loosely translated as the milk jam.
Dulce de leche is a thick caramel which is as a result of condensed milk being reduced slowly until it is sweetened as well as sticky. You will find it in almost everything from alfajores to dessert empanadas and helado, where it liberally drizzled and then downed by kilos.
Yerba mate: The yerba mate was first cultivated and used by the indigenous tribes of South American before being colonized by the Europeans. Yerba mate is an herbal as well as caffeine-infused drink. While Argentina, you will find it filled in everything from to-go mugs to shallow squash gourds throughout the country.
The leaves from the plant of yerba mate are dried before being chopped and then grounded into a powder. Sometimes it is steep as a whole leaf in hot water. It is considered a social practice to drink yerba mate using a gourd that is fitted with a metal straw that also acts as a sieve. The beverage is often passed around in a group with individual sipping before passing it to the next person.
Carbonada: In Argentina, carbonada is the staple dish during cold seasons. If it happens that you are in Argentina during cooler months, you should give this dish a try. Carbonada consists of meat, sweet and white potatoes, carrots, corn on a cob, bacon, peppers, along with fruits such as raisins and apricots. This stew is a spoon in a hollowed-out pumpkin, which is then placed on cooking on a barbecue. You can find various types of carbonada throughout Argentina.
The National Food of Argentina
With some of the best foods in the South American continent, Argentina's food is among the things the citizens of Argentina are proud of. If you have tried Argentinian cuisine, you do understand that there is nothing that can beat the taste of empanadas.
The savory empanada is considered the national food of Argentina. So, what is the empanada, and why is it such a big deal in Argentina? An empanada is a turnover or pastry full of savory ingredients, and it often served while hot.
Empanada is a name that comes from the verb empanar, which translates to – to coat or wrap in dough or bread. Usually, empanadas come fried or baked and feature triangle or half-moon shapes. Furthermore, the recipes of empanadas tend to vary significantly on elegance as well as the simplicity of the dish; however, its basic ingredients always remain the same.
If you have ever been on a trip to England, you might be familiar with empanadas. Its basic ingredients are dough, fillings, and the cooking method. Some of the famous filling in empanadas include minced chicken, beef, or ham and cheese combo. You might as well purchase one that is filled with fruits or vegetables. You can always find endless variety when you visit an empanada restaurant.
Empanadas can be found throughout the South American continent. However, Argentinians love boasting the recipe as their own, and every province in Argentina has its own recipe.
History of Empanadas in Argentina
Argentinians love empanadas; however, where did this pocket-sized meal originate from? Well, the origin of the empanada is said to be unclear; nonetheless, its first mention goes back to medieval times. Recently, historians found a Catalan cooking book with the earliest recipe for empanadas. It is said to have been published by Ruperto De Nelo back in 1520.
The early Spanish immigrants are believed to have carried the recipe with them to Argentina in the 16th century. Medieval Spain's diet consisted of legumes, bread, alongside other various types of meats. These are the same ingredients used in making traditional empanadas.
As time progressed, the ingredients used in empanadas have changed significantly. Back then, the empanada was nothing much more than a simple bread dough that was filled with pork, oxen meat, or beef. However, today, empanadas have different types of fillings, which often depend on what is in the season and fresh.
In the history of Argentina, the empanada was known as the meal for working men. This was because it was full of meat that was relatively easy to carry to work. Despite the fact that it isn't called that way in today's society, the ease of empanada isn't lost upon the recent generation. The food still remains to be a staple item in Argentinian cuisine.
Several families in Argentina will still cook empanadas as party food or easy dinner meal. Fairs, along with street corners, features fresh empanadas as street food for pedestrians. Furthermore, it is popular among restaurants, and they often focus on uniqueness and some extravagant recipes for their empanadas.
Well, an empanada is an Argentinian famous and nation dish and it often renowned as the Argentinian's cookie. If you ever happen to be in Argentina, you should empanada is a must-try delicacy. You will fall in love with this food, and you will never regret giving it a try.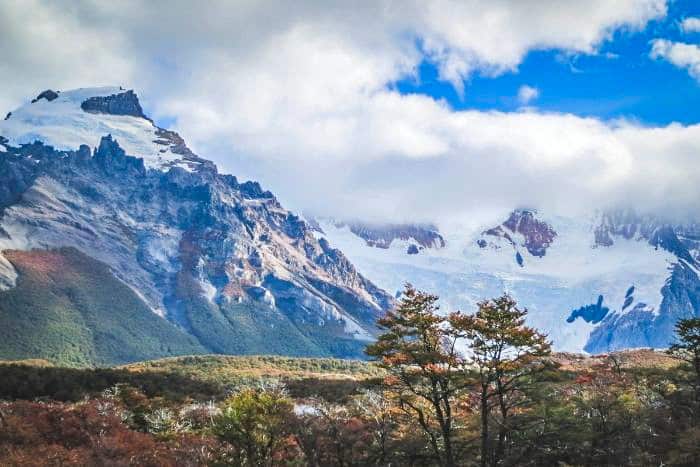 Argentina Food Recipes and Traditions
One of the best traditions in Argentinian is Criolla. Usually, this food often consists of large grills and barbecues known as parrillas or asados, where copious amounts of meat (often beef) are flung from kidney to chorizo and morcilla. Criolla food tastes hot and fills with stew such as locro made from white beans, pork, and sweetcorn or variations of a similar idea such as the carbonado stew or the Cazuela Gaucho.
While in Argentina, you will be able to see and understand how European had influenced the country's cuisine significantly. Spanish made paella, traditional stews, alfajores, and churros some of the staples in Argentina food. Similarly, the Germans made a significant influence with threw medialunas or croissants, and the sauerkraut was renamed chukrut.
Argentina is considered food heaven for food enthusiasts in South America. There is plenty of food to taste and enjoy in this country. Furthermore, it is known for having a deep and rich history worth learning while visiting the country.
If you are looking for a reason to travel to this South American country, their food should be your top reason. You can never go wrong with their incredible dishes, which are by far the best in the South American continent. As we conclude, we hope that you have found this article beneficial as you plan your trip to this lovely country.

25 Unbelievable Argentina Food Recipes
---
---
My family is from Argentina, which has a strong Italian heritage and large cattle ranches. One of our favorite Argentinia food recipes is this all-in-one lasagna packed with meat, cheese, and veggies. —Sylvia Maenenr, Omaha, Nebraska
There are as many variations of empanadas as there are cooks in Argentina and they are one of our favorite Argentina food recipes. This version was developed by BA Test Kitchen Manager Gaby Melian, who is from Buenos Aires and was taught as a little girl by family members how to make them.
After years of perfecting her method, she prefers the empanadas baked, not fried, and the addition of green olives and raisins in the filling is essential. See step-by-step instructions here and get the chicken empanadas recipe here.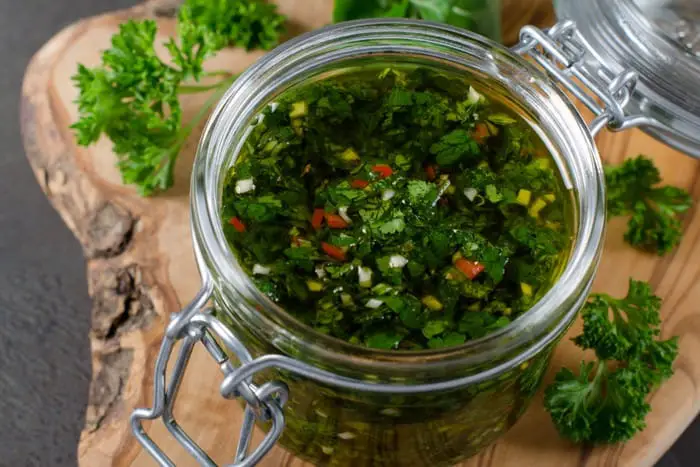 Most recipe sites will swear that their Chimichurri is one the best Argentina food recipes, most authentic chimichurri, and use words like 'genuine,' 'real deal,' or whatever words they can use to move up in Google search results. The truth is, there are so many variations in the world of Chimichurri, that it's now difficult to say which is the closest to the most authentic recipe there is.
Carbonado Criolla, Argentinian Beef Stew, a dish with loads of unique flavors and textures. This stew is slow-cooked to bring organic produce and incredible beef morsels to their maximum tastes. The surprise and uniqueness of this recipe come from using some dried fruits to sweeten the pot just enough to have us curious and craving!
These deluxe Argentinian hot dogs are made even better with the bright flavors of the chimichurri sauce, which is spicy and fresh.
Ground Chuck Burger topped with Monterey Jack cheese and a spicy chimichurri sauce. A true Argentina food recipe dish that is so much different than a traditional burger.
A 'throw everything in one pot' sort of meal! This veggie chili includes some typical Argentinian flavors: chili, smoked paprika, oregano, and of course, the famous chimichurri sauce, which certainly packs a punch! Not for the faint-hearted!
Grilled steak is another classic Argentina food recipes enjoyed all around Buenos Aires. Today we feature a recipe and instructions on how to cook the perfect steak, Argentinian style steak as if it was straight off the parrilla (BBQ). So read on to learn how to grill a steak like you're in Argentina.
Argentina is renowned for incredible steaks, so it goes without saying that they know how to dress them up correctly. Chimichurri is an Argentinian herb sauce traditionally made with green herbs, vinegar, garlic, and plenty of olive oil. Here we used mellow scallion greens and fresh cilantro for vibrancy. Served over cumin-scented steak, it's a killer combination.
The Argentine food recipes for a barbecue or Asado is more than just a meal; these food-centric get-togethers constitute an important part of the Argentine social life. It can be shared as a lunch or dinner. In this dish the meat, chorizo, and black pudding are served with potatoes and creole salads, the traditional chimichurri, a celery mayonnaise salad, and, of course, a good amount of white bread to accompany the dish.
Panqueques are one of Gastón's specialties. Should you ask him to share his pancake recipe, he's quick to answer, "It's easy. Three-two-one: three eggs, two cups of milk, and one cup of flour." Like my Grandma Dorita's, Gastón's recipes are often vague.
A thick, hearty stew comprised of several meats, hominy, beans and squash.
Argentinian Medialunas and coffee are the perfect snacks also for midafternoon. They are widely popular and always available in Argentina, and they have also been adopted in Chile, my home country. They are in between a brioche and a croissant, is a rich dough, with many layers and with a very subtle hint of lemon and vanilla. The sweetness is also restraint. They are a little challenging to make but fabulous to eat. They can be frozen and then popped in the microwave or toaster oven for a real treat. Don't forget to try them if you ever go to Argentina.
Michelle Bernstein refers to this dish as provoleta, as it is called in Argentina—melted provolone cheese served on crispy French bread and typically eaten before a meal of grilled meats. Provolone is the perfect cheese for the grill, Bernstein says, because it's compact and firm, so it won't become too gooey. "Be careful not to overcook the cheese or you will have fondue," she warns. It's done when the cheese is just beginning to melt in the center.
If you did not know that Argentina is famous for its beef, you just haven't been paying attention. Just as the Argentines produce fine, robust red wines like your Dos Puentes wines, so do they favor fine, hearty red meat to enjoy alongside. When it comes to almost every Argentina food recipes conversation beef is the focus of the talks.
Can-ah-stee-tahs. I repeated again to my Spanish teacher, enunciating each syllable clearly. Canastitas. Similar to empanadas, but in 'little baskets'. Muy rica.
Milanesa a Caballo- Argentinian Milanesa (thinly pounded, breaded, and fried beef) topped with two fried eggs and served with fries.
The "Chocotorta" is a typical Argentine dessert, it literally means chocolate cake. I become acquainted with the chocotorta because my cousin prepared it for her son's birthday party.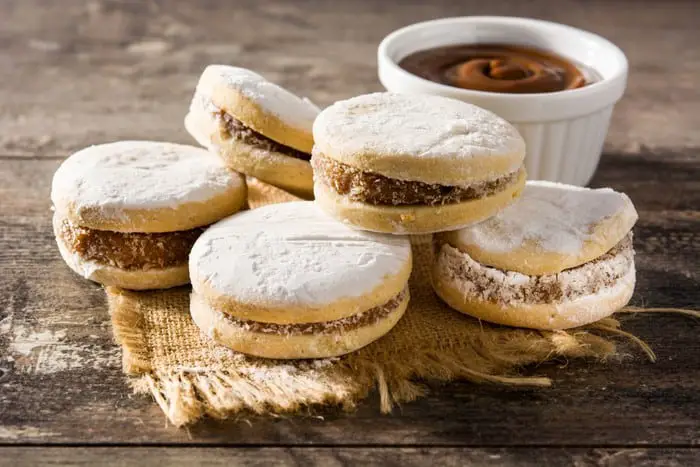 These irresistible Argentinian Alfajores are soft, sweet, and crumbly shortbread sandwich cookies filled with dulce de leche. They are so soft they melt in your mouth! These Alfajores are literally one of my favorite cookies ever! They are light, buttery with a subtle lemon flavor, and are filled with a sweet and creamy dulce de leche, giving you a mouthful of delicious goodness!
You cannot have a true Argentina food recipes list without Asado. Even if you've never been to a proper Asado, the legendary grilling feast that takes place in the mountains of South America, that doesn't mean you can't enjoy those flavors at home. It doesn't even mean you can't squeeze those flavors between two pieces of bread and transform them into a miraculous cheeseburger.
Because you can, and this is the result: a juicy burger patty topped with a griddled slab of provolone cheese (known as provoleta in Argentina) and spoonfuls of tart, garlicky chimichurri sauce. This is one of my favorite of all Argentina food recipes.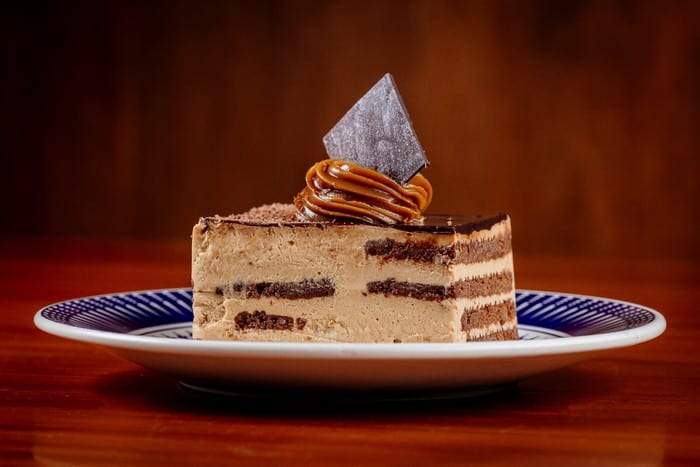 The perfect no-bake Argentina food recipes for your desert item. Layer upon layer of light fudgy chocolate and whipped dulce de leche cream cheese make this no-bake chocolate cake satisfyingly indulgent. The best part though? It takes only about 15 minutes to make, no oven required! So put your sweatpants on, grab a fork, and get ready to DIG IN!
Chipas are a favorite among all of the Argentina food recipes. They are basically baked cheese buns and are very popular in Argentina. These buns are made with cassava (tapioca) flour. This flour, also known also as manioc or tapioca starch, is very light can be found in health food stores or Hispanic markets.
A hearty and comforting dish, Instant Pot Argentinian Beef Stew (Carbonada Criolla) is replete with tender beef, vegetables, herbs, and dried apricots. The Instant Pot/pressure cooker makes this delicious and healthy stew recipe in about 60 minutes!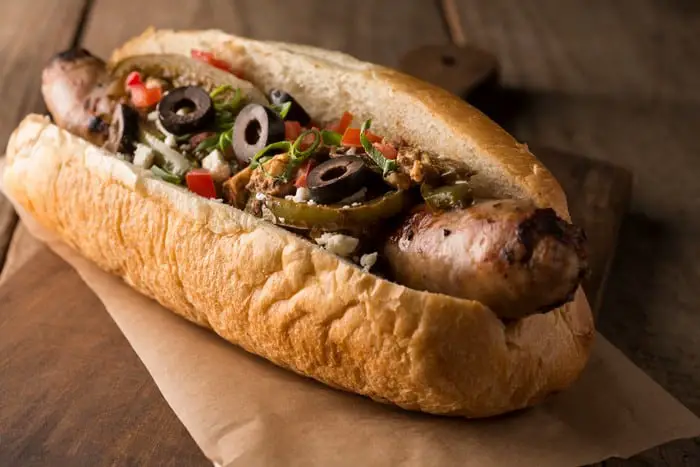 These big, bold, juicy sandwiches are from Morgan Robinson, chef-owner of Smoke Open Fire Cooking in Napa. He grills the sausages and melts the cheese on the grill too, in a small cast-iron skillet, then puts both on the table with crusty rolls and chimichurri.
Argentina's answer to pesto–so guests can serve themselves. But when the weather is cold and wet–as it can be this time of year–it's good to have an indoor option like this one.
Empanadas Mendocinas are traditional Argentinean baked empanadas filled with beef, onions, paprika, hot pepper powder, cumin, oregano, hard-boiled egg, and olives.
---
For complete photos and videos of our tripS, visit our photos on our Facebook Page
You May Want to Join Our Facebook Group Boondocking Group on Facebook For More Information