Last updated on September 27th, 2023 at 12:43 am
From hearty stews to fragrant salads, from hearty bean dishes to richly spiced stews and grilled meats, Gambia recipes are varied, flavorful and best of all, easy to make. For centuries, this West African nation has mastered the art of combining simple, locally sourced ingredients to create delicious and satisfying dishes.
With a melting pot of ingredients found across the continent of Africa, Gambian food has been influenced by French, British and Dutch cultures for centuries. Gambian cuisine is full of flavor, color, and vibrancy – and it's not just limited to classic peanut butter soup. With over 300 recipes from the country's 11 ethnic groups, the breadth and diversity of Gambian cuisine is truly something to behold. Discover the hidden gems of Gambian cooking in this article.
Gambian cuisine is a unique culinary experience that combines influences from West and Central African, Arab, and European cultures. From spicy meat dishes to traditional side dishes, from fish-filled stews to delicious sweet desserts, there is something for everyone to explore in the Gambian kitchen. Learn how to make simple yet delicious Gambian dishes. Whether you are a beginner or a seasoned chef, you will find something new to try in the world of Gambian food.
From staple dishes like benachin – a flavorful one-pot rice dish – to slow-cooked stews and sweet desserts, from rich peanut butter stews to spicy fish dishes, and succulent sweet potatoes to fragrant rice cakes, discover the tantalizing array of dishes that Gambia has to offer. Eating food from this small West African country is like a culinary journey through time.
You'll learn how you can easily cook them at home. You'll discover what ingredients to use and the unique flavor combinations that truly make Gambian food unique.
---
Want more ideas to round-out your Recipe Box?
A lot of great options are in these posts!
---
13 Unbelievable Gambia Recipes for the Most Amazing Dinners
---
---
check out our video
---
---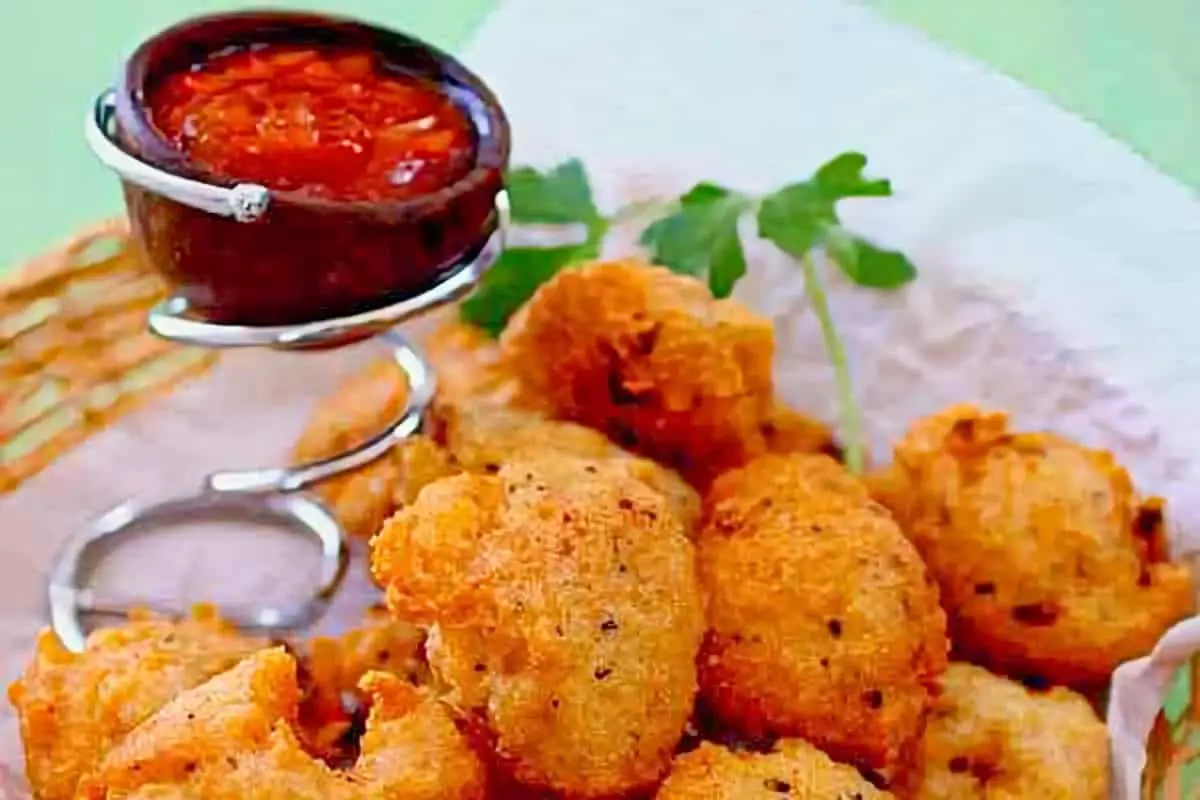 Akara is a popular Gambia recipe snack that is originally from Nigeria but that has migrated to a number of West African countries as well as Brazil.
It is a traditional snack from Nigeria that is also popular as a food from Gambia, Togo, Benin, Mali and The Gambia. It is actually a fried cake or fritter that is a common breakfast staple or fast food. In most Gambia recipes, black-eyed peas are used. When they are not available, any other related bean such as cowpea can be used.
Usually, the beans are soaked overnight so that the outer skin is removed. Then the beans are ground, seasoned with spices, and finally deep-fried.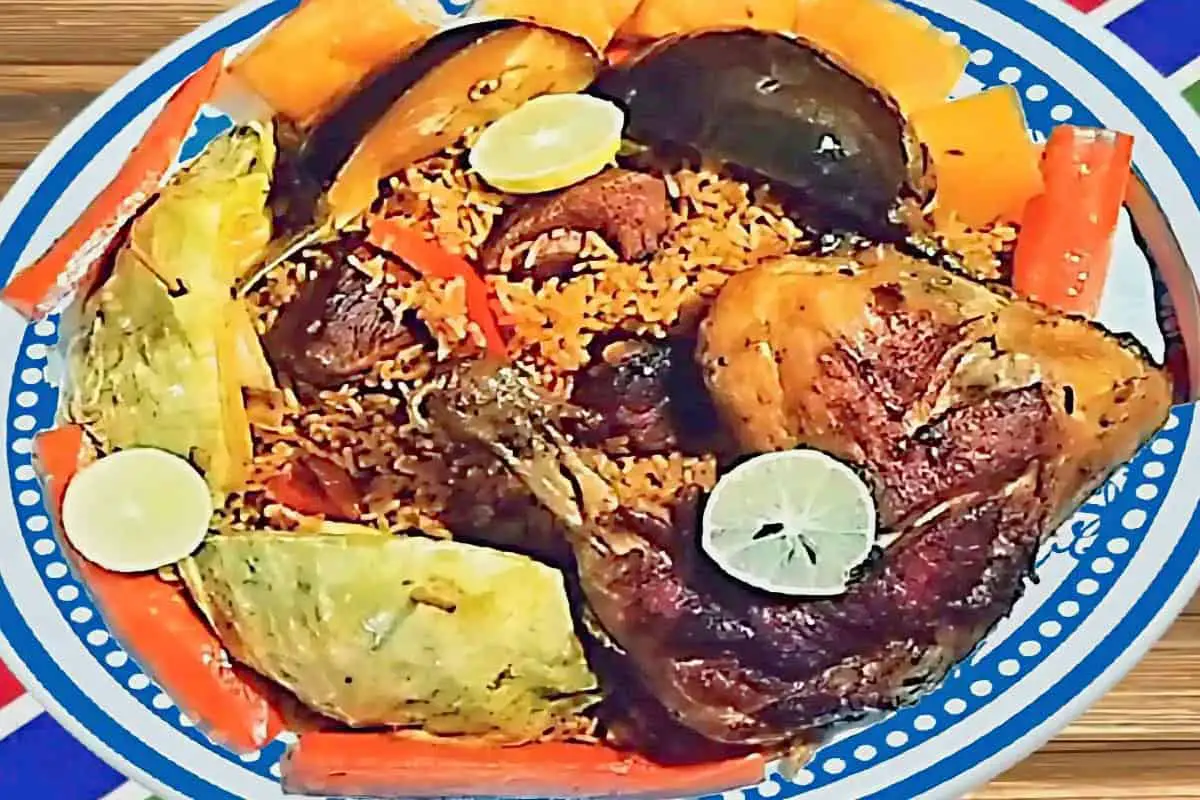 Benachin is a traditional food from Gambia consisting of rice, vegetables, and meat, all cooked together in a single pot. It is also known as thiebou-dienne, a Senegambian special jollof rice. Benachin translates to "one pot" in Wollof, referring to its cooking method.
This Gambia recipe is characterized by its aromatic flavours, thanks to ingredients like habanero peppers, onions, garlic, tomatoes, and bay leaves. Benachin can also be made with various vegetables, including carrots, sweet potatoes, butternut squash, eggplant, cassava, and cabbage.
It is typically served with roff, a parsley-based stuffing. Benachin is a popular and healthy meal, perfect for lunch or dinner.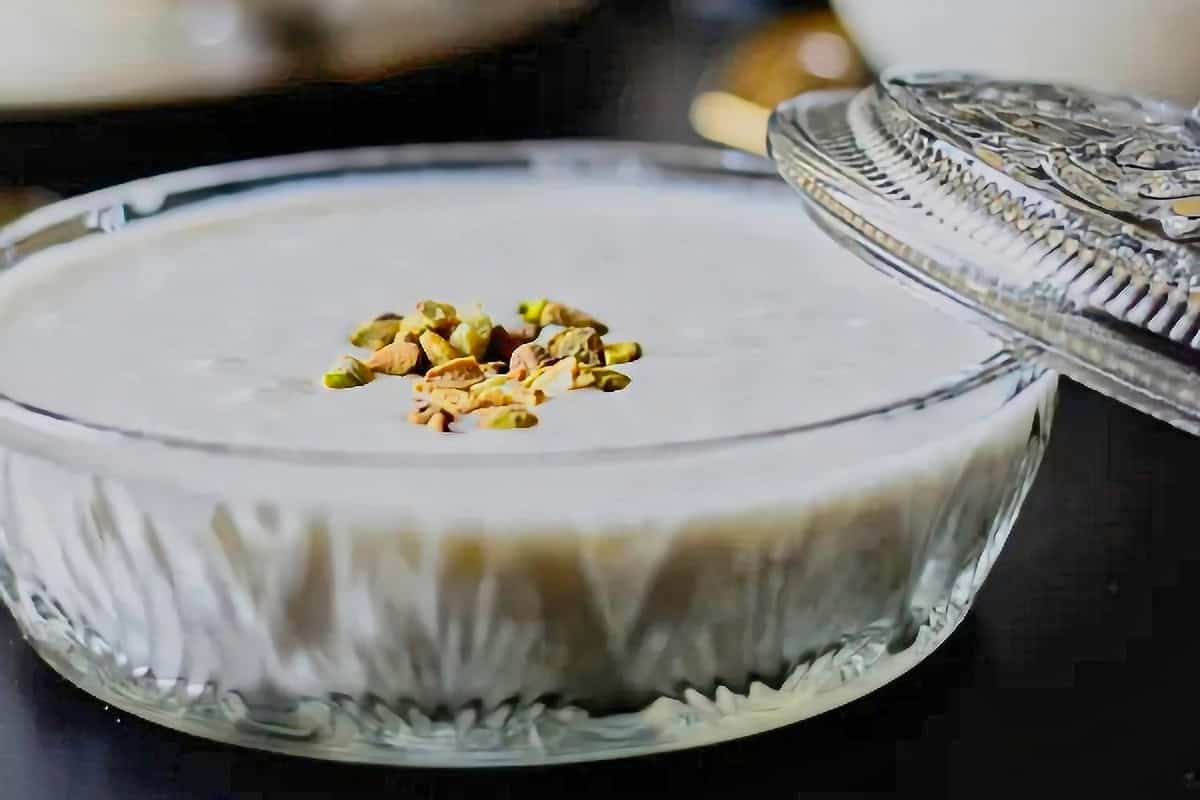 Thiakry is a sweet, creamy and mildly tangy dessert food from Gambia that is mostly native to Senegal and Gambia. I tried it out with real millet grains, and it was perfect!
The first time I saw Thiakry (pronounced cha-kry) at a Senegalese restaurant, I won't lie, I kind of gave this Gambia recipe a side eye. It looked like a boring porridge that was another version of tapioca, and I was guessed that I would not like it… was I extra wrong.
My friend who grew up eating Senegalese food was there with me, and ignored my skepticism and ordered the Thiakry anyway. Thank God for food envy, my longathroat (Nigerian slang for envy) led me to try her Thiakry, and I was sold since then on this great food from Gambia.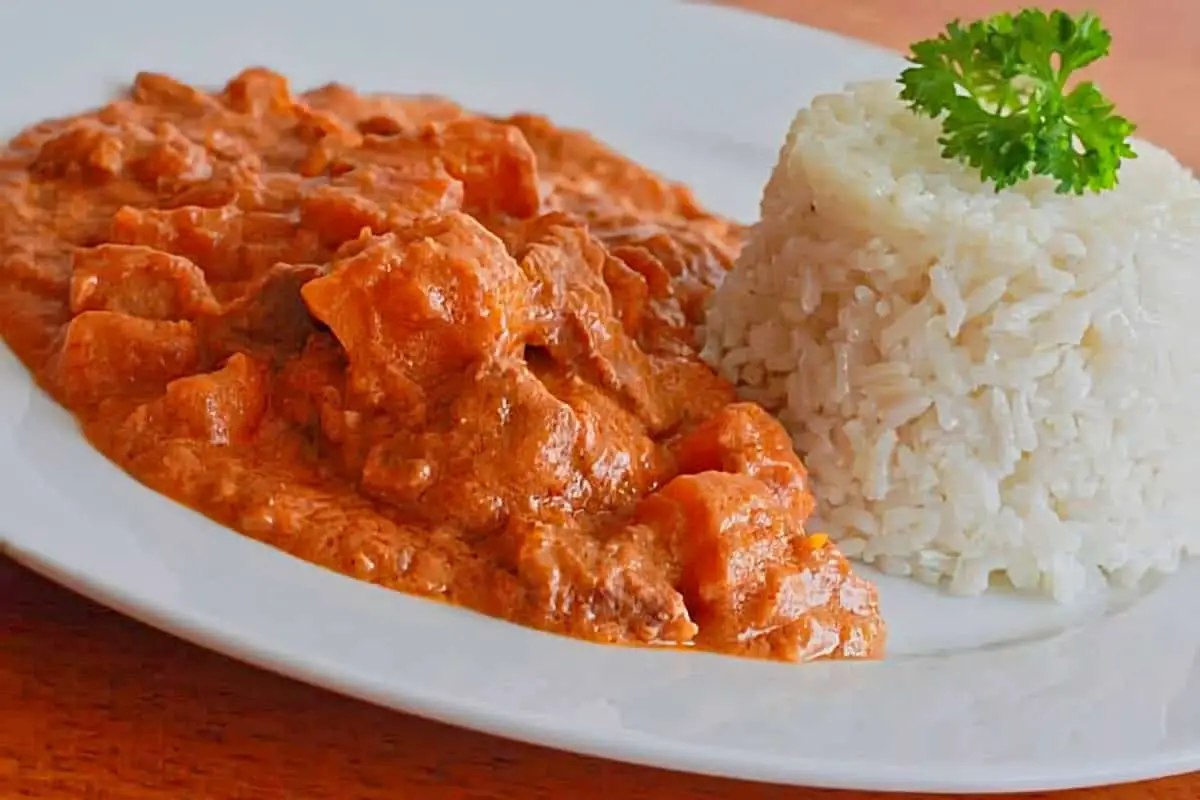 The national dish of Gambia, this delicious beef, squash, and peanut stew is served over rice. African comfort food at its best. Domada is the national dish of Gambia. It is a delicious "groundnut stew" (peanuts) consisting of whatever vegetable happens to be available, typically pumpkin or sweet potatoes, and a saucy base.
Whether vegetarian or including meat in the Gambia recipe, the base for this food from Gambia is pretty consistent: A rich and flavorful sauce featuring ground peanut paste (or natural, unsweetened peanut butter), fresh tomatoes, and tomato paste. Caramelized onions, chicken and tomato stock, and hot chili peppers are also added.
Maggi bouillon cubes are readily available in many parts of Africa and are commonly used in African cooking, including this dish.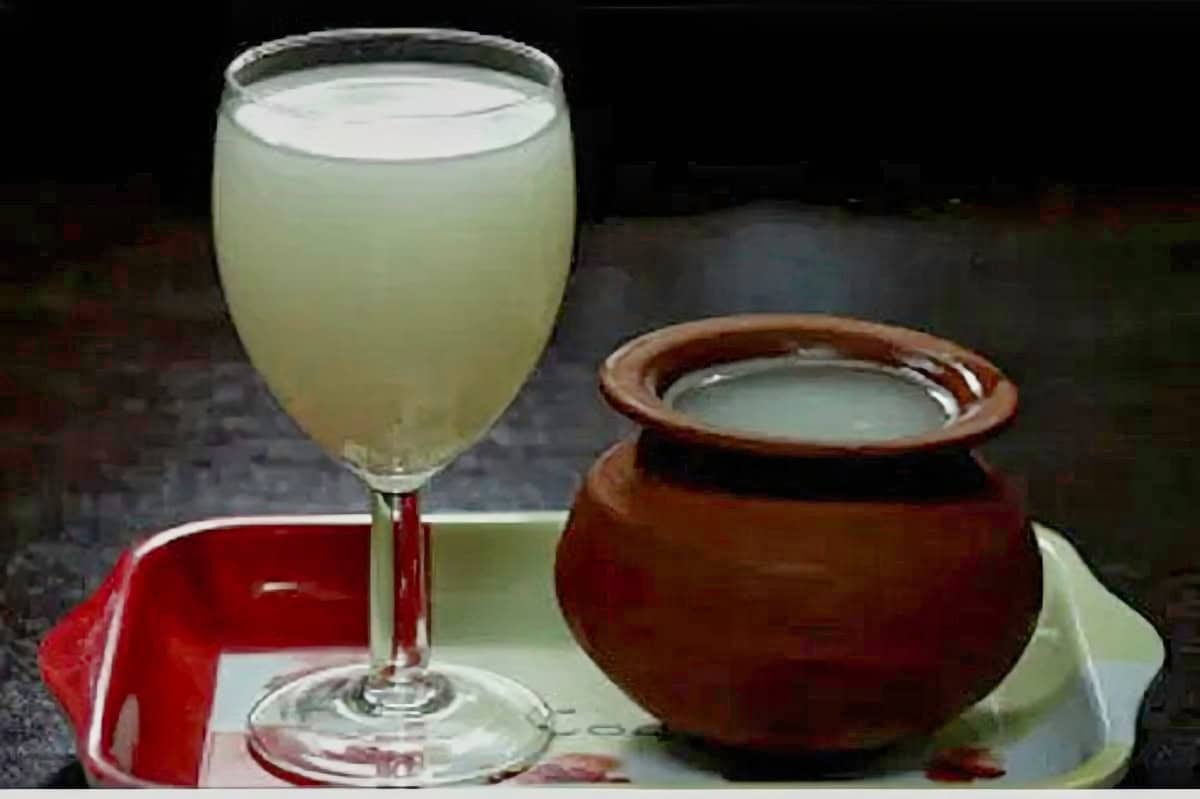 Palm is a popular natural beverage produced from the sap of palm trees. It can be consumed in a variety of flavors from sweet unfermented to sour fermented and while not a food from Gambia it is really tasty.
In Ghana it is locally called nsafufuo and called emu or ogogoro in Nigeria. In Ghana, palm wine is mostly tapped from oil palm trees and it is rich in nutrients. In this post, I am going to show you the palm production process and Gambia recipe, storage and how to make a perfect palm wine cocktail.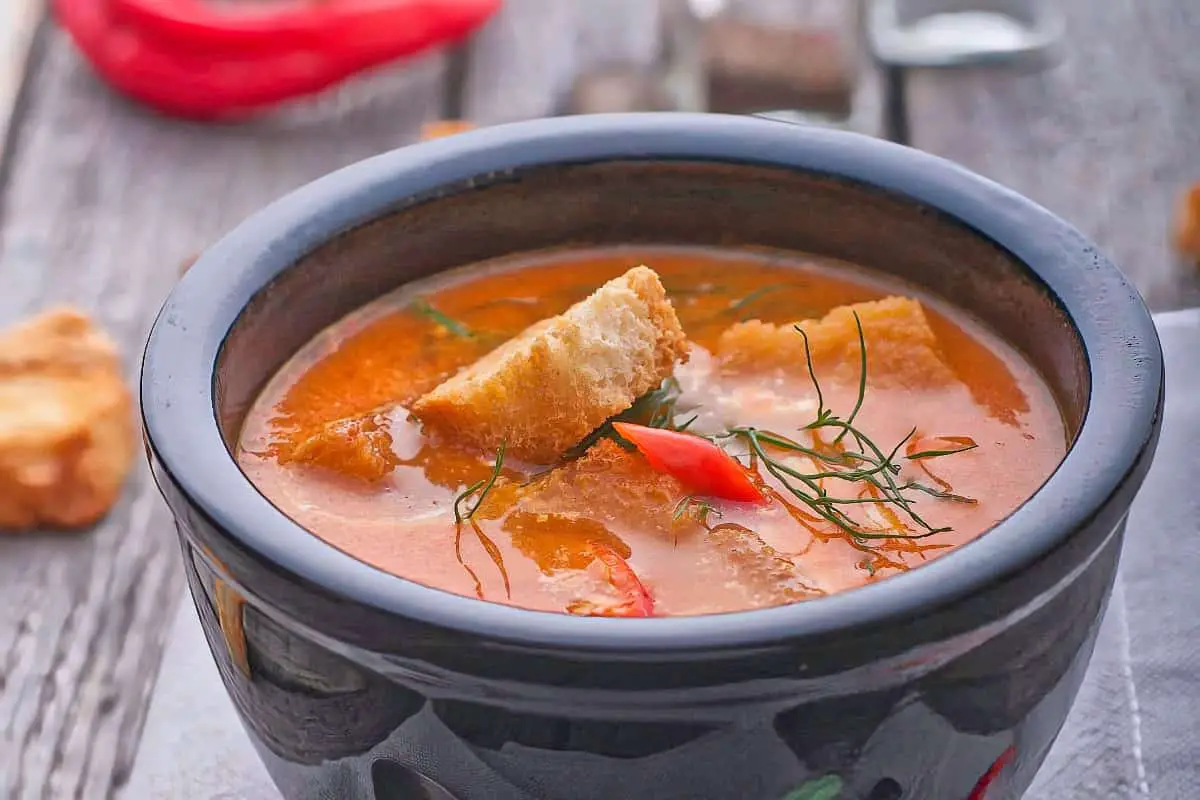 "This is not a bell pepper or chili pepper soup, but a ground spice pepper soup. This food from Gambia, it is said to heal you of the common cold…. or maybe it just opens up a stuffy nose and strips the soreness from your throat? VERY HOT soup!"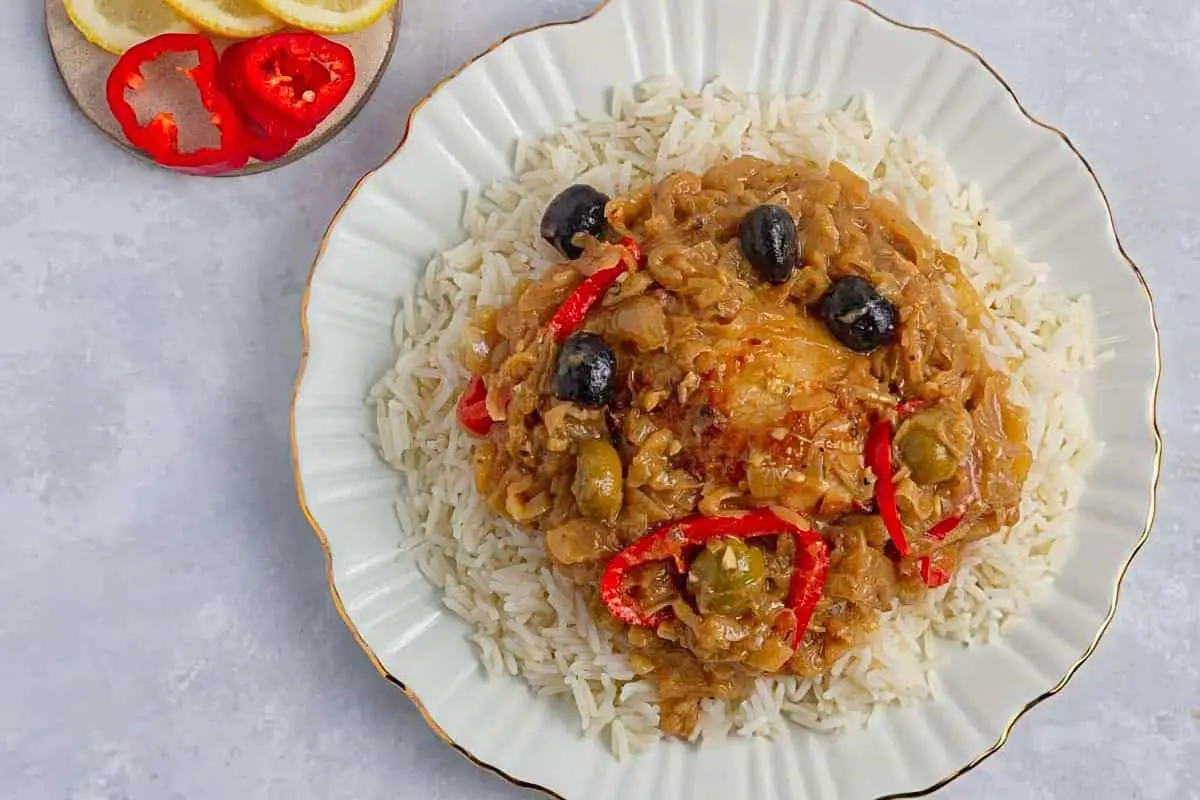 Popular in Senegal and Gambia, and with origins in the Casamance regions of Senegal, chicken Yassa is iconic and one of the most popular food from Gambia in West Africa. Why not? The divine combination of tender chicken with concentrated flavors from lemon, mustard and caramelized onions comes together to create a unique, scrumptious taste.
The Gambia recipe for Yassa chicken is one of the legacies from the French occupation of this part of Africa. It is called poulet Yassa or poulet au Yassa in French. It is locally known as Yassa guinar. Although it is easy to make this dish, it is not quick.
Yassa chicken needs time for the chicken to marinate and for the onions to caramelize while cooking, but this is time well spent as the result is amazingly delicious. It is eaten with rice (commonly broken rice) or cous cous, but it is delicious with other foods as well.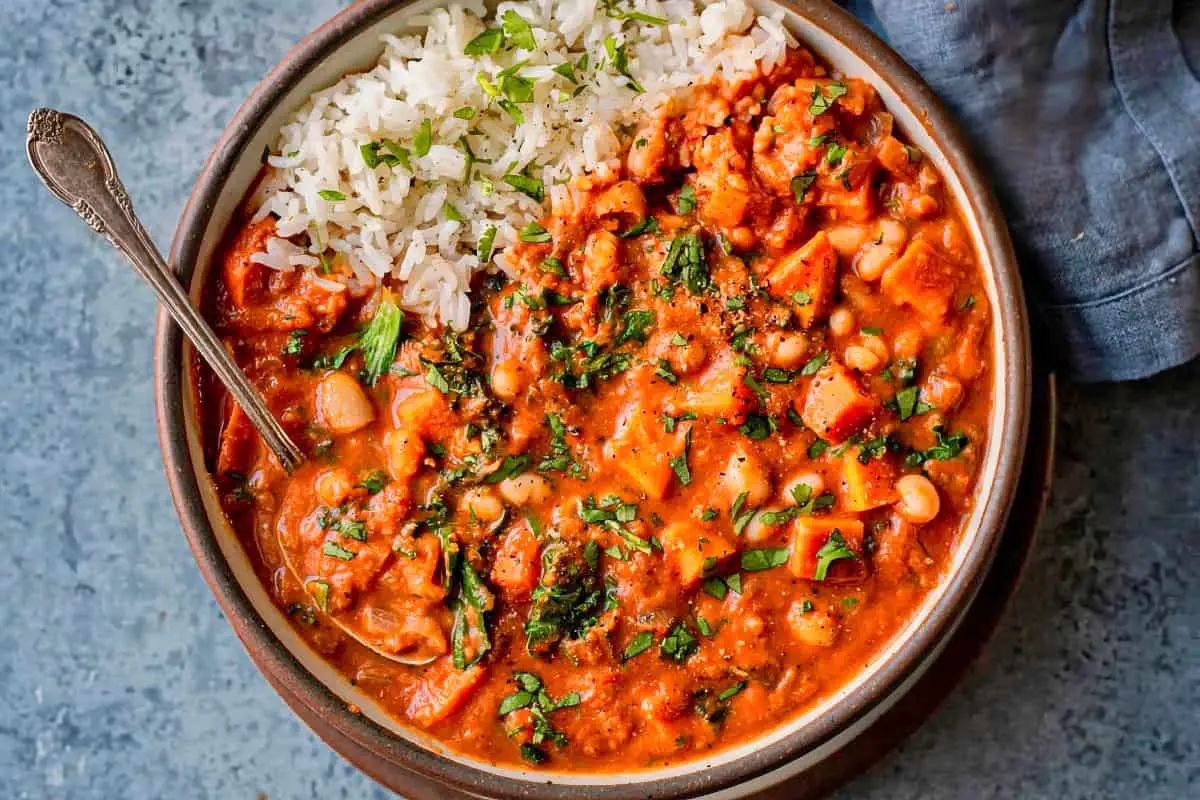 This Vegan Gambian Peanut Stew is vegan, gluten-free, and plant-forward, but it tastes like comfort food! Packed with hearty ingredients like protein-rich white beans, sweet potatoes, and kale, it's a feel-good Gambia recipe that'll become your new favorite vegan dinner!
If you love hearty comfort food that's secretly healthy, you're going to fall hard for this food from Gambia recipe for Vegan Gambian Peanut Stew, a plant-based spin on various West African peanut stews. It will keep you satiated for hours, and it's packed with aromatics and spices so it'll satisfy your taste buds and comfort food cravings.
But it's also made with wholesome and nourishing ingredients, and is vegan, gluten-free, soy-free, and plant-forward.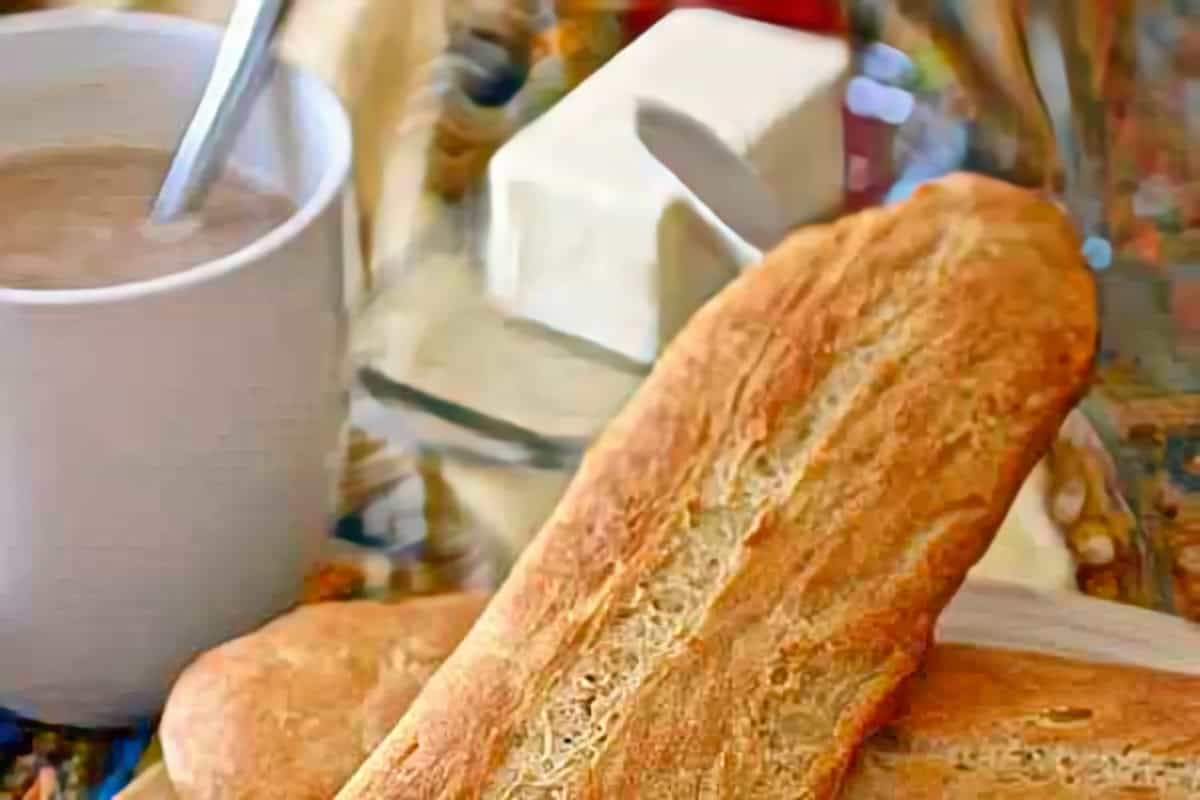 Tapalapa is a very unique bread food from Gambia. Although it originated in The Gambia, it is very popular in Senegal and Guinea as well.
Tapalapa is made from a mixture of wheat and millet flour, to which is added maize flour, as well as cowpea (niébé) flour. It resembles French baguette from the outside but is somewhat different and more widely available in the region.
It is a Gambia recipe that is heavy and dense. It is a pain de brousse (bush bread) that has been known for a while by bush people, with a crust and a taste that is reminiscent of the inside of soft pretzels.
In Africa, mostly in former European colonies, anything that comes from the old continent is favored and typically more expensive. This also includes food, like bread.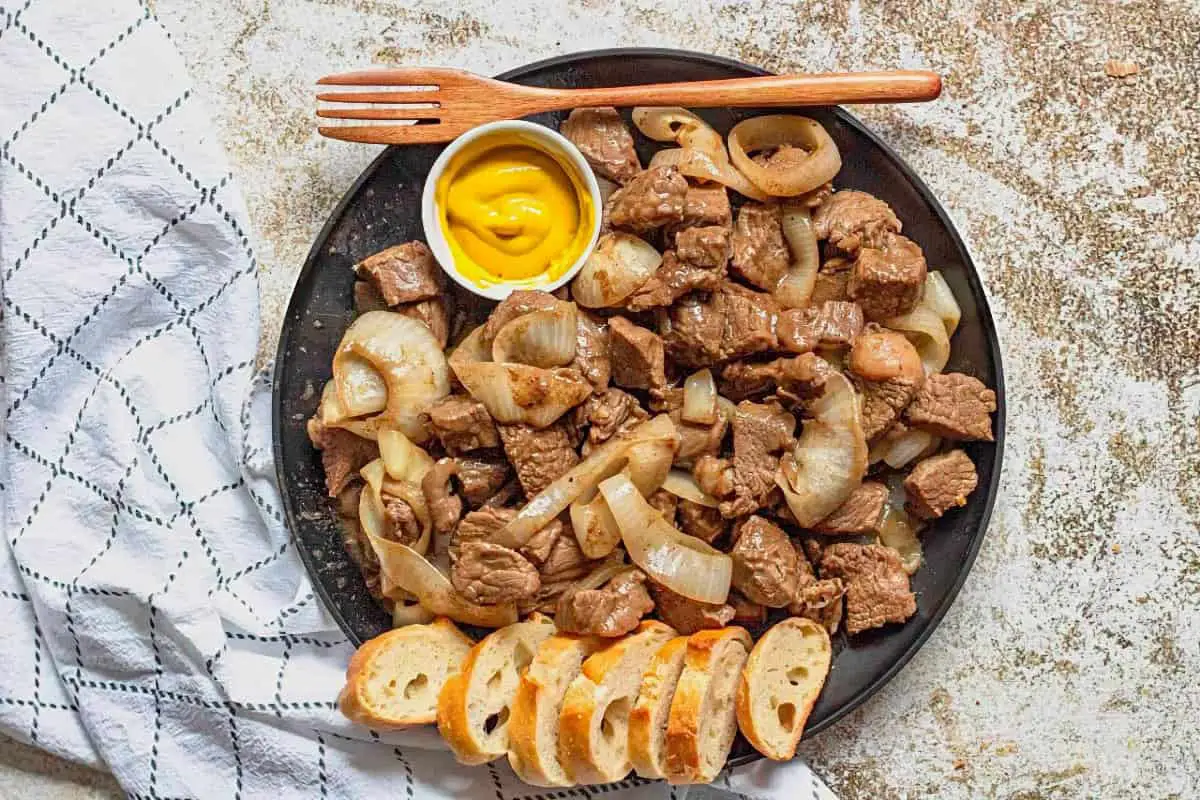 This Gambia recipe has many different names including Steak and Onions, Dibi, and Afra. It is a street food Gambia recipe from The Gambia made by sauteing steak pieces with mustard and onions. It is best served with a fresh baguette!
Afra or Dibi is a popular food from Gambia and other West African countries (like Guinea Bassau or Guinea). It is made with lamb, bushmeat, or, in this case, beef! It's typically cooked alongside onions and mustard to caramelize the sauce directly onto the beef, leading to lasting flavor.
Typically, this Gambia recipe is served in a paper bag to soak up all the extra drippings from the meat. It's best when paired with a French baguette and a side of mustard! Usually, this is a snack eaten by the higher class families in The Gambia.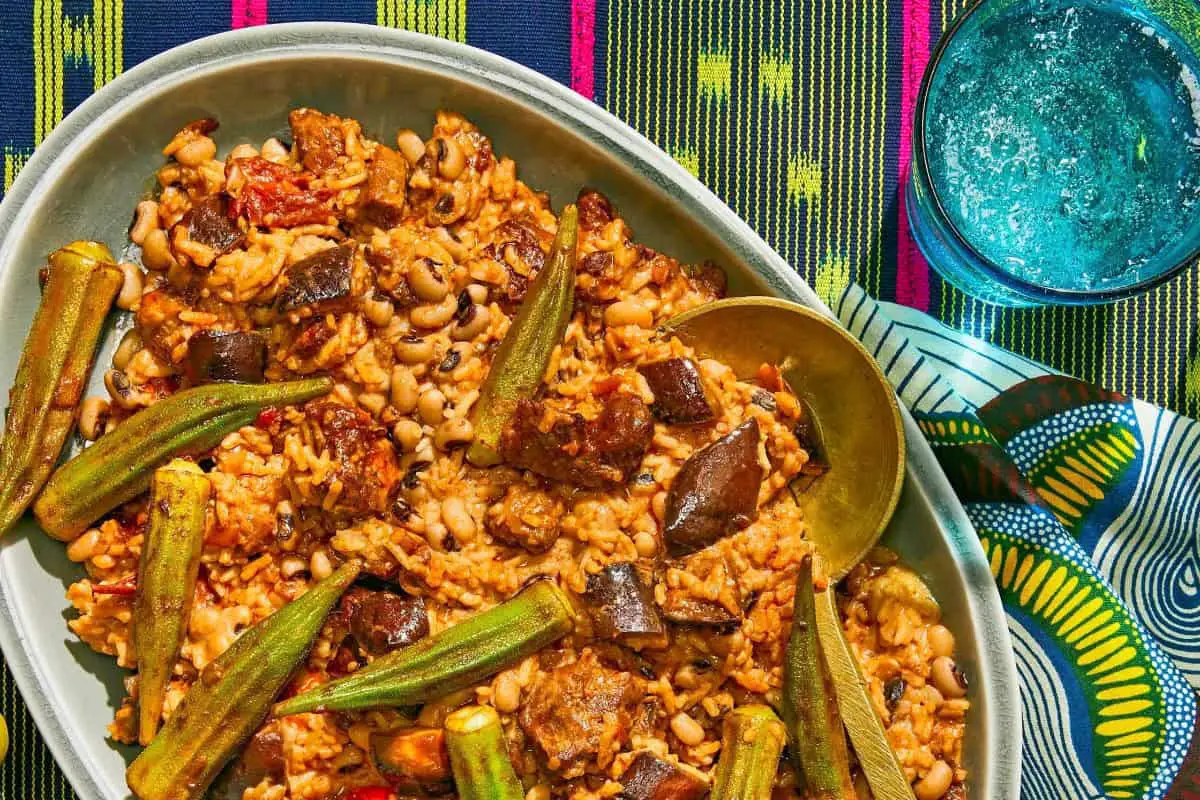 If you're looking for a big bowl of West African comfort, look no further than Mbahal, a popular Gambia recipe made with peanuts, black-eyed peas, and okra. "It's the dish that every single [Senegalese] household has a Gambia recipe for," says chef Pierre Thiam, cofounder of Yolélé Foods.
Mbahal—whose name comes from the Wolof verb for boiling—gets its creamy risotto-like texture from simmering rice in a spicy tomato-peanut sauce until it thickens.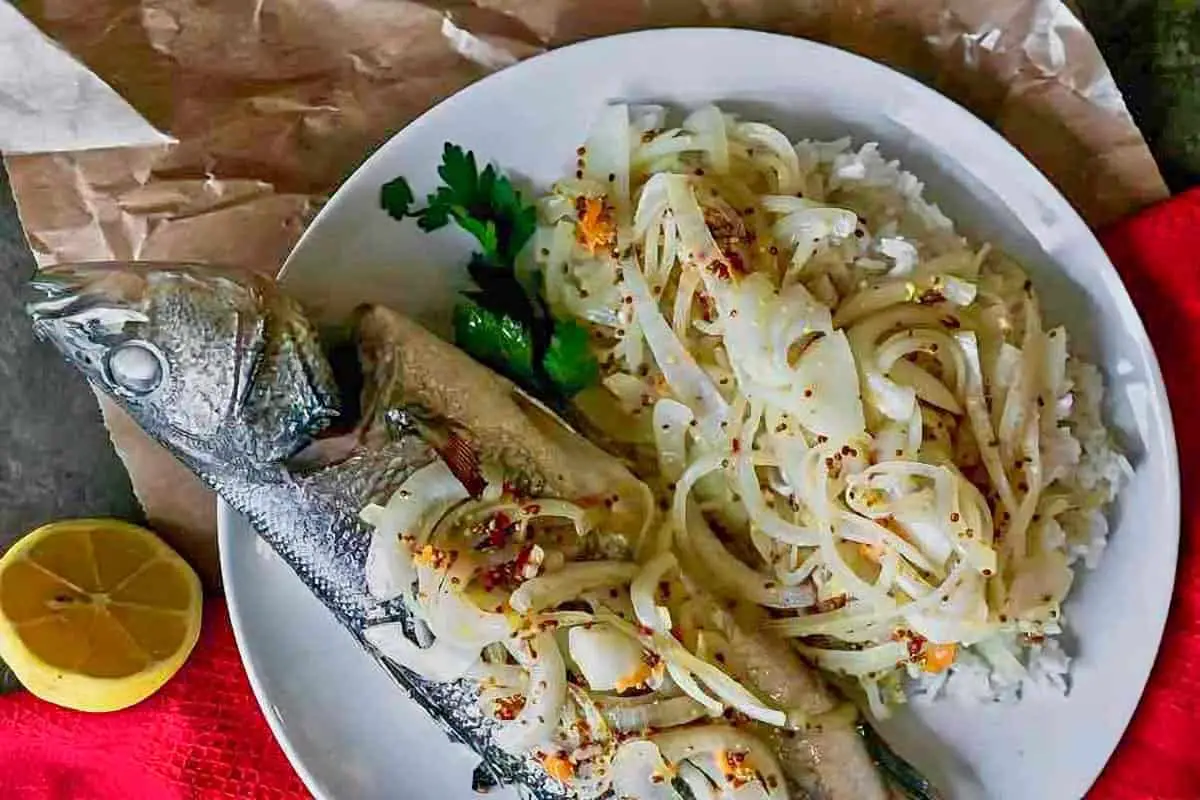 Caldo is a sautéed fish and rice dish in a spicy sauce that originates from the West African country of Gambia, which is a small country situated almost entirely within Senegal except for a small strip of Atlantic coastline. The country itself was created geographically around the Gambia river, which plays a major role in food, agriculture, and tourism for the small African nation.
Caldo is a typical Gambia recipe consisting of white fish served with white rice and spicy sauce made from lemons, onion, garlic, mustard, and spicy peppers. The dish is a take on the widely known yassa, which is a similar dish with rice and spicy sauce but features chicken as a main protein source.
Caldo is a typical peasant's dish as it features staples such as onions and rice, as well as the staple food of seafood in Gambia.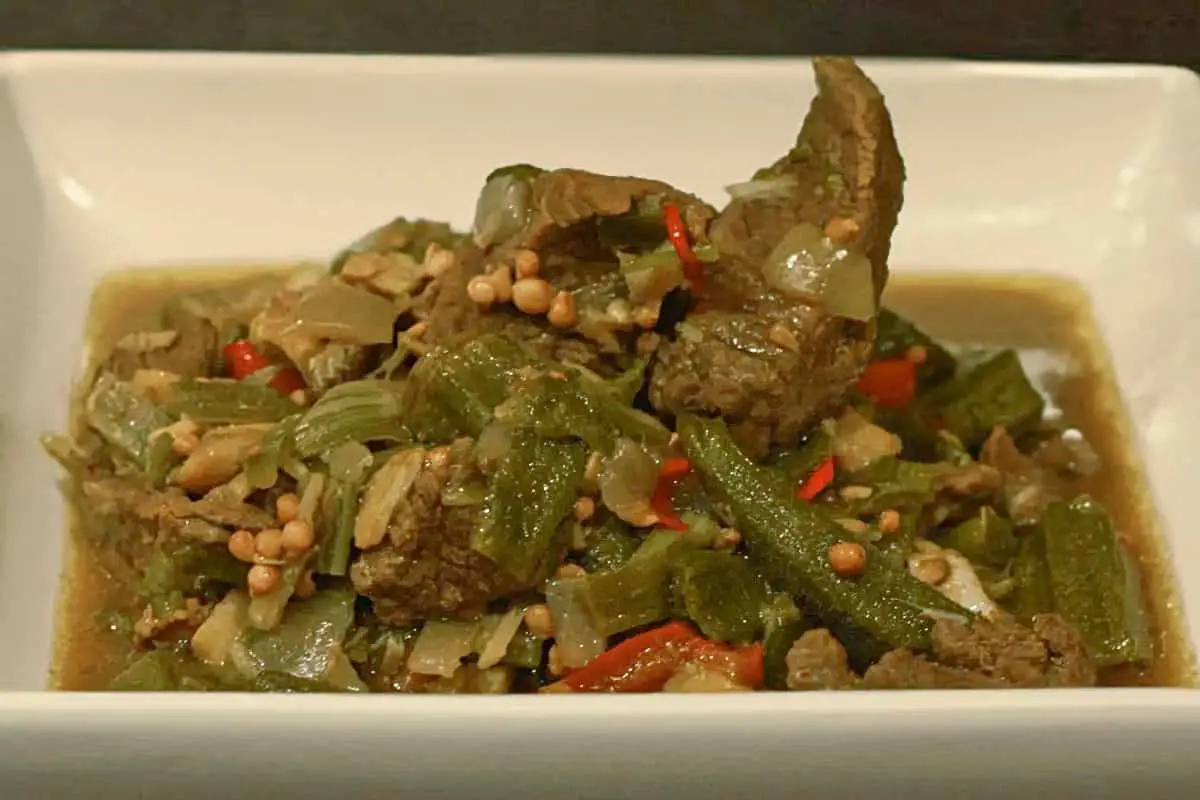 SuperKanja is a food from Gambia that is an okra stew, usually served over rice, and is very nutritious. It is popular among Gambians in both the rural and urban areas. There are many variations of the dish, but the basic ingredients are the same. In most cases, it is a mixture of fish and okra boiled in palm oil and topped with pepper and onion.
In addition to this, a few spices are added to the stew for flavor and color.
Okra soup is a common Gambia recipe. It is normally served on Saturday at lunchtime and you can eat it with rice or fufu. Okra's are low in saturated fat, sodium and very low in cholesterol. It is also a good source of protein, riboflavin, niacin phosphorus, potassium, zinc, and copper.
Okra is a good source of dietary fiber, vitamins A, C & K, vitamin B6, folate, calcium, magnesium, and manganese
Summing Up: Gambia Recipes and Food From Gambia
Gambia recipes are as unique and diverse as the country itself. From the fish-based dishes originating in the coastal regions to the meat dishes common in the northern area, each meal has its own distinct flavor. The spices and aromas of Gambia recipes are unlike anything found in the rest of the world, making these dishes some of the most beloved and memorable meals.
A unique mix of influences from African, European, and Middle Eastern cultures, resulting in traditional Gambian dishes that are both delicious and interesting. From tasty staples like domoda and yassa, to complex dishes like jollof rice and benachin, Gambian food is a reflection of the diverse colors and cultures of the country. Through Gambia recipes, we can explore the rich history and diverse flavors that have made this region so vibrant and unique.
Gambia is a nation brimming with culinary charm. From the nourishing peanut soup to the tantalizing Domoda, every Gambia recipe is as flavorful as it is comforting, thanks to the abundance of fresh local ingredients and traditional recipes. The rich flavors, textures, and spices used are diverse and unique, making it a must-try cuisine.
Food from Gambia brings together real flavor, varied ingredients, and a rich cultural heritage. From domoda and Joloff rice to chu-chu, from the succulent street food of Soma to the tantalizing grilled tilapia of Tendaba, every Gambian dish is unique, special.
By combining fresh ingredients with traditional recipes, the country is home to an array of incredibly diverse dishes that are often overlooked. From the sweet, smoky tastes of yassa to the fiery kick of plasas, there is something for everyone to whet their appetite.
"Food from Gambia is the best kind of food – it's healthy, tasty, and made with a lot of love," says local chef Jammeh. So why not treat your family and friends to an unforgettable experience?
---
You May Want to Join Our Boondocking Group on Facebook For More Information
You May Want to Join Our Campfire Recipes Group on Facebook For More Information
Discover our unique product testing journey at Our Big Escape. We bring real-world experiences and adventures into every review, ensuring authenticity and reliability. Dive into our process at
How We Test Products: A Journey of Discovery and Trust
, where every product is an adventure tested.