When visiting any country, the people's authentic Jordanian Recipes and customs help you understand their traditions better. Jordanians love their food and show this by how they present it to their visitors. Continue reading to learn more about authentic  Jordanian Recipes.
History of Jordanian Recipes
Jordan recipes are best described as colorful, flavorful, and backed by history and tradition. It also has plenty of influence from neighboring regions such as Syria, Northern Africa, and Palestine since it was a standard route to Asia. Thus, many Jordanian recipes for meals, such as hummus, Tabbouleh, and kebabs, have similar Arabic roots to their neighbors.
Jordanians show hospitality to family, friends, and visitors through food. You're expected to show up even without a gift when invited for a meal. Jordanians believe meals are social affairs, so don't be surprised if they last for hours.
Jordanian cuisine has a particular order. Authentic Jordanian Recipes and gatherings begin with the "mezze" style of dining, with dips, salads, and vegetables. Next, the main course is served with chicken, lamb, cheese, rice, and vegetables. Jordanian desserts are pastries or fruits served with a beverage.
Since Jordan is an Islamic nation, its dinner etiquette differs from other countries. Men and women sit at different spots unless they're married or related. Food is also served when everyone is seated since they love eating in groups.
Traditionally, Jordanians eat using their hands as some believe it makes the food taste better. They also eat with their right hand according to Islamic teachings. They also love serving plenty of desserts, and it's customary to thank the host after a meal.
5 Popular Foods From Jordan
Here is a list of authentic Jordanian recipes and dishes from Jordan that will leave you wanting more.
1. Falafel
Falafel is a widely renowned authentic Jordanian recipe for street meal prepared by grinding chickpeas with spices such as cumin, garlic, or parsley. The mixture is then shaped into mini-patties or balls. They are then fried till they're crunchy on the outside but soft on the inside. They can be eaten on their own or made into a falafel sandwich. They are cheap, easy to make, and are a favorite.
2. Shawarma
Shawarma is another popular street food in Jordan besides being Turkish. It is a large, slowly rotating skewer covered with lamb or chicken. The thinly-cut pieces of meat mixed with sauces and vegetables make the perfect snack for any time of the day.
3. Zarb
This authentic Jordanian recipe traces their roots in the nomadic Bedouin people. It is a meal prepared by marinating meat and then mixing it with vegetables. It's then placed in a pit with the hot coal and then covered with sand. The result is delicious, slow-baked meat that's easy to tear from the bone.
4. Mansaf
Mansaf is the national food of Jordan. It has roots in the Bedouin culture. Jordanian recipes have continued to make variations to the dish by replacing some ingredients. However, the original dish is prepared with bread, lamb, and yogurt sauce. You can make it with rice, which is an excellent celebration meal.
5. Tabbouleh
Commonly eaten as a "mezze" dish, this authentic Jordanian recipe combines tomatoes and finely-chopped parsley, seasoned with lemon juice, olive oil, and salt. Other versions of the word add garlic and bulgar wheat. Unlike hummus which people scoop with bread, Tabbouleh is eaten with a spoon and served as a starter dish.
5 Popular Questions about Jordanian Recipes and Customs
Do people from Jordan Eat Meat?
Yes, they do, and most Jordanian meals have meat in them. Jordanians are fond of meat and have been eating it since the age of the silk road. The types of meat consumed in Jordan include chicken, lamb, and beef. However, Islamic law forbids pork, and all meat consumed must be Halal.
What Time Do Jordanians Eat?
Jordanians have breakfast before 8 am and lunch before 3 pm. Some people have coffee at 6 pm and then dinner at 10 pm. You're free to have snacks at any time.
Do People in Jordan Eat with Their Hands?
Yes, but only with their right hand. The practice is done according to the Islamic religion. Children born left-handed are trained to eat with their right hand. Jordanians don't confine visitors to the tradition, but it's a sign of respect.
Are there Vegetarian foods in Jordan?
Yes, there are. While most food from Jordan is meat or dairy-based, there are plenty of authentic Jordanian recipes for vegetarian or vegan dishes. Meals like fatoush, warak enab, or Tabbouleh are delicious, healthy, and vegan.
What is the National Dessert of Jordan?
The authentic Jordanian recipe for Baklava is Jordan's national desert. It includes nuts and filo dough covered with honey or syrup. You can find it in street food stalls, bakeries, and restaurants across the country.

25 Fantastic and Authentic Jordanian Recipes
---
---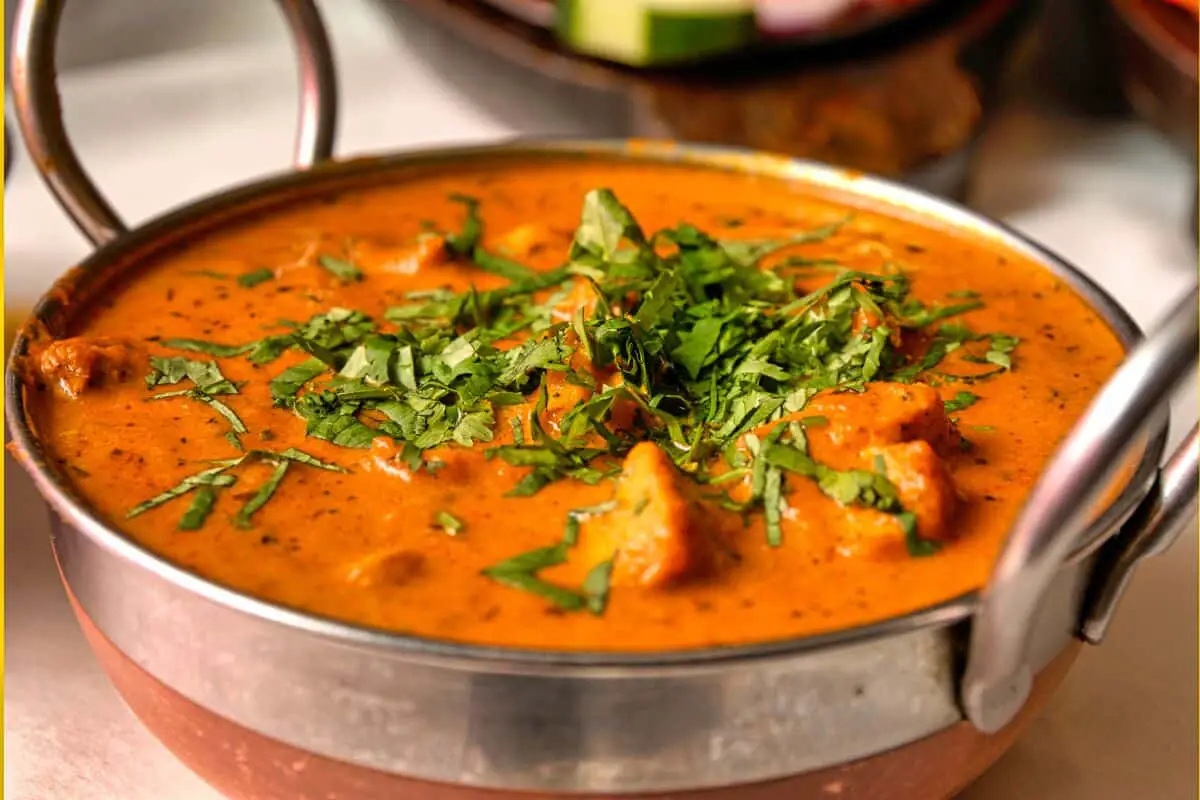 This is a quick authentic Jordanian recipe for vegetarian curry you can whip up using any veggies you've got sitting in the back of the fridge at the end of the week. It's also incredibly versatile. This curry is vegetarian as written, and it can also be vegan if you cook with coconut oil instead of ghee. If you do want to add some meat, there's an option for that, too!
If you don't have Brussels sprouts for this Jordanian recipe, swap them for green beans. If you don't have (or like) cilantro, swap it for baby spinach or fresh parsley. If you've run out of onions, use spring onion or shallots instead. And if you don't have any curry powder, make your own with spices like coriander, fennel, turmeric, ginger, fenugreek and cumin.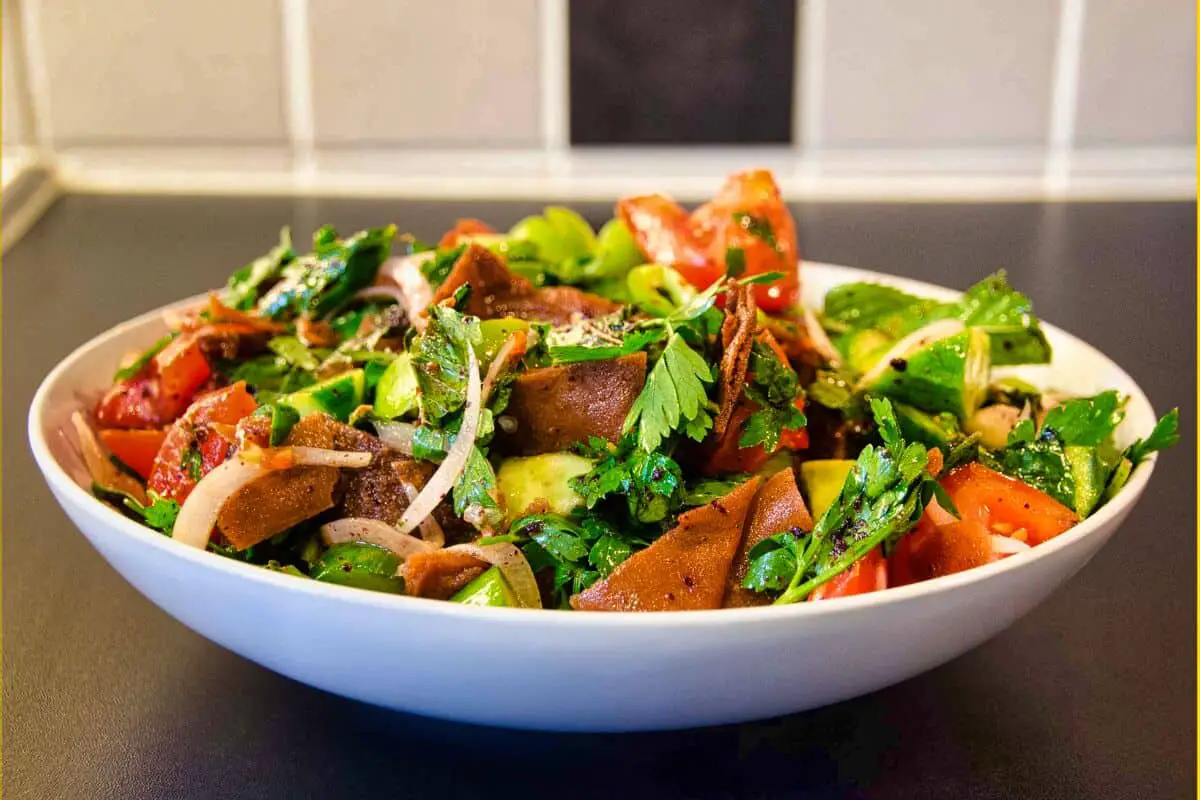 Jordanian Fattoush also spelled fatoosh is a wonderful authentic Jordanian recipe for an Arabic salad made with fresh ingredients. It is a common salad and what it most delicious is the toasted bread in the salad. I used toasted shrak (a Jordanian flat bread) because I made plenty for our Jordanian feast. You could also use toasted pita. It acts like a crouton and is lovely with the dressing.
As with any Jordanian recipe for salad, use the freshest possible ingredients. I also love the freshness of the dressing, simply lemon and oil with a little salt and pepper, I need remember how much I love that! Serve with a little sumac, for a healthful and delicious garnish. This is often served as part of a meze.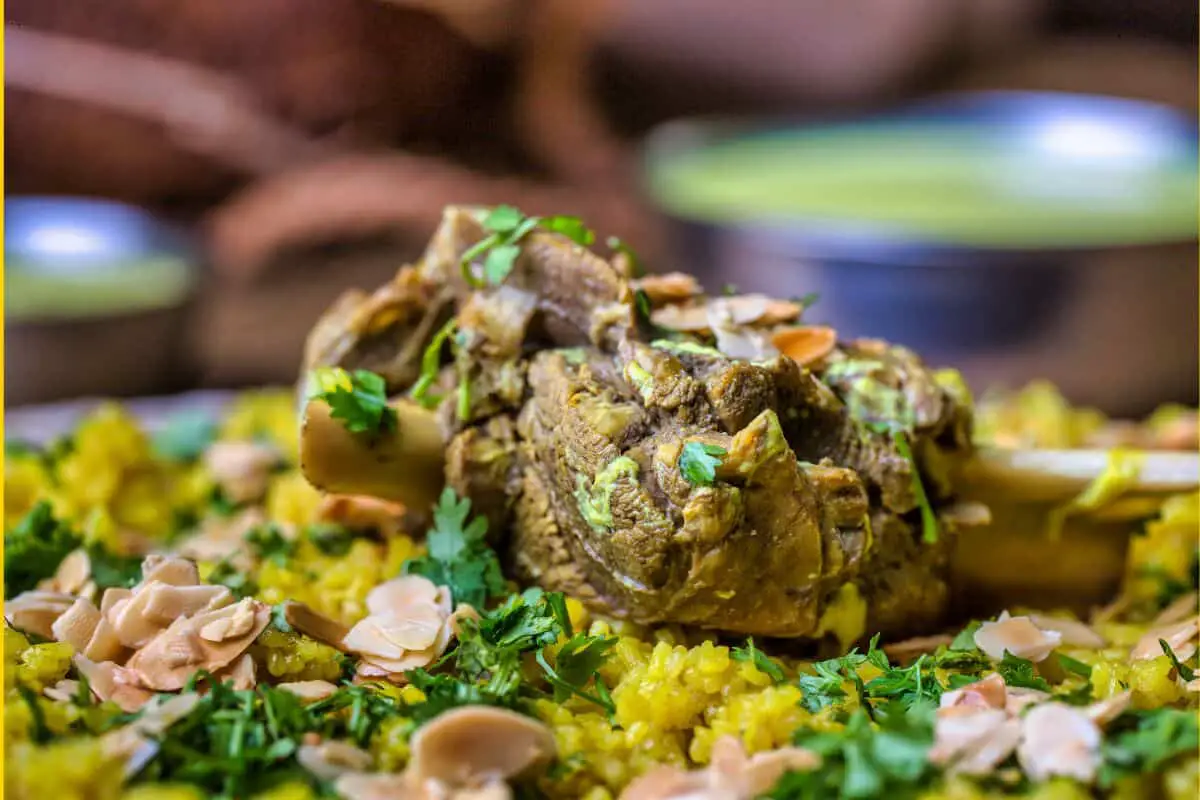 This Jordanian recipe for Lamb Mansaf is one of the most impressive rice dishes I cook regularly. Fragrant rice topped with tender lamb in a yoghurt sauce and scattered generously with toasted nuts. It's a taste and textural sensation.
I love authentic Jordanian recipes for rice dishes, especially those cooked in stock like a pilaf or pulao – like my Moroccan silverbeet with rice. This particular recipe for Jordanian mansaf not only cooks the rice in the meat juices, it combines meltingly tender pieces of lamb (another favourite) and a bucketload of delicious nuts.
---
You May Also Like: 23 Great Traditional Palestine Recipes At Home 
---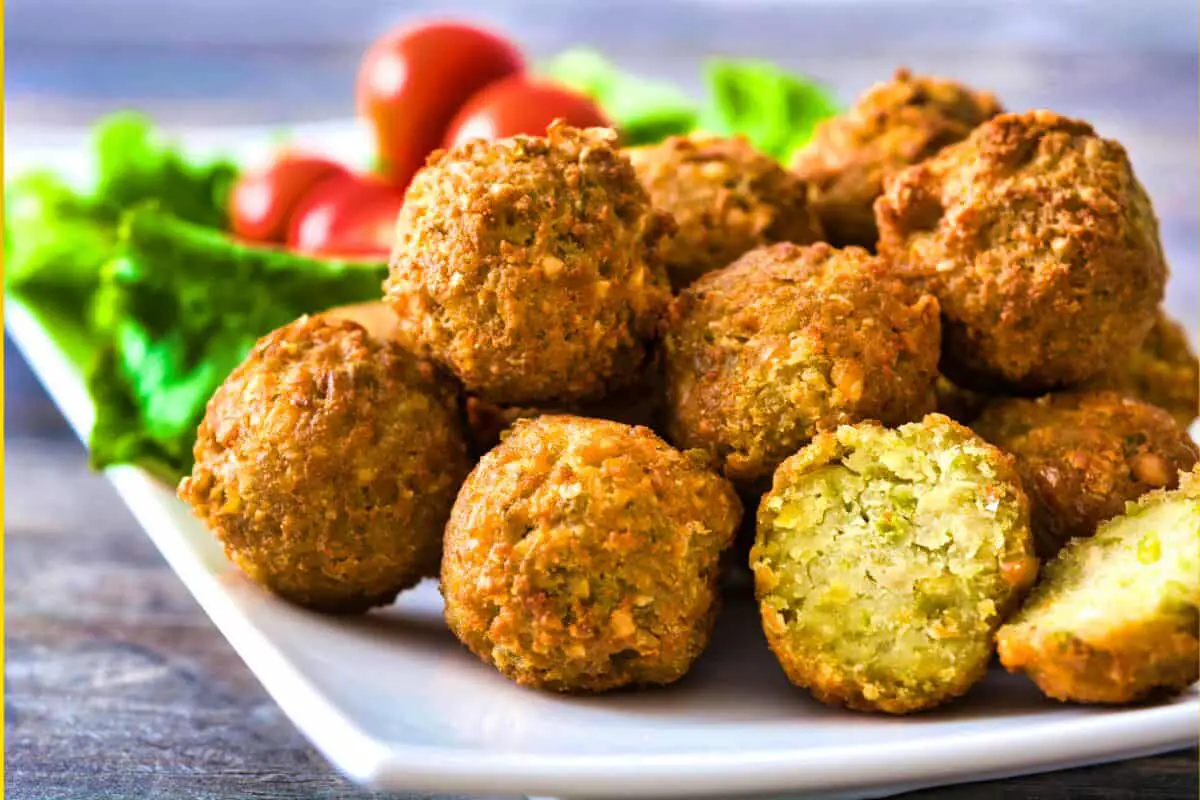 Falafel is one of Jordan and the middle east most popular foods, it's naturally vegan, healthy, and incredibly delicious! Here's an authentic falafel recipe exactly how it's made in Arab countries. Simple, nutritious, frugal and loved by everyone!
The Falafel authentic Jordanian recipe has became so popular all over the world, especially amongst vegans! The crunchy from the outside, but soft from the inside chickpea balls are a true vegan's dream. So here I am sharing today, one of my favorite Middle Eastern recipes that I grew up with.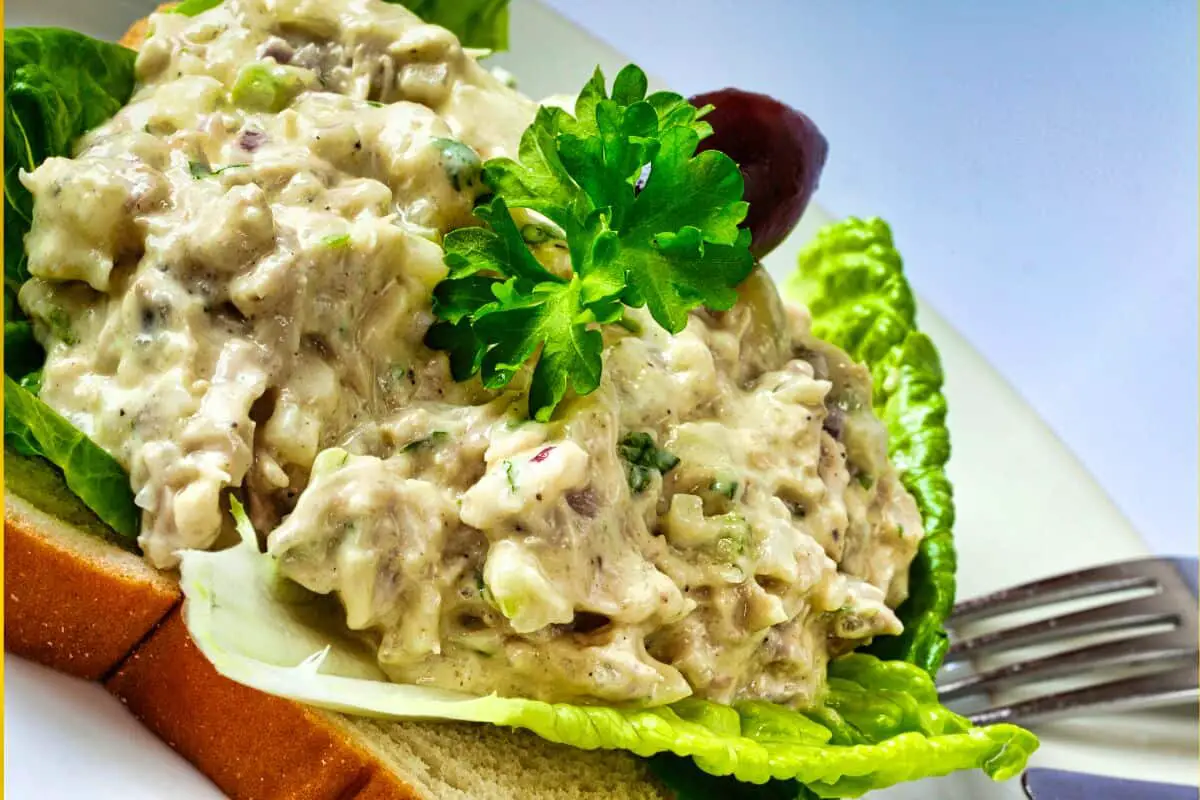 For this authentic Jordanian recipe roast a chicken, and you enjoy a great meal of juicy white and dark meat. After a chicken dinner, I usually end up with an assembly of smaller pieces, most without skin, and the bits of meat hugging the carcass. Sometimes I stir this into cooked rice to make croquettes. Sometimes I make it into a small pot pie with some vegetables from the fridge and biscuit dough on top.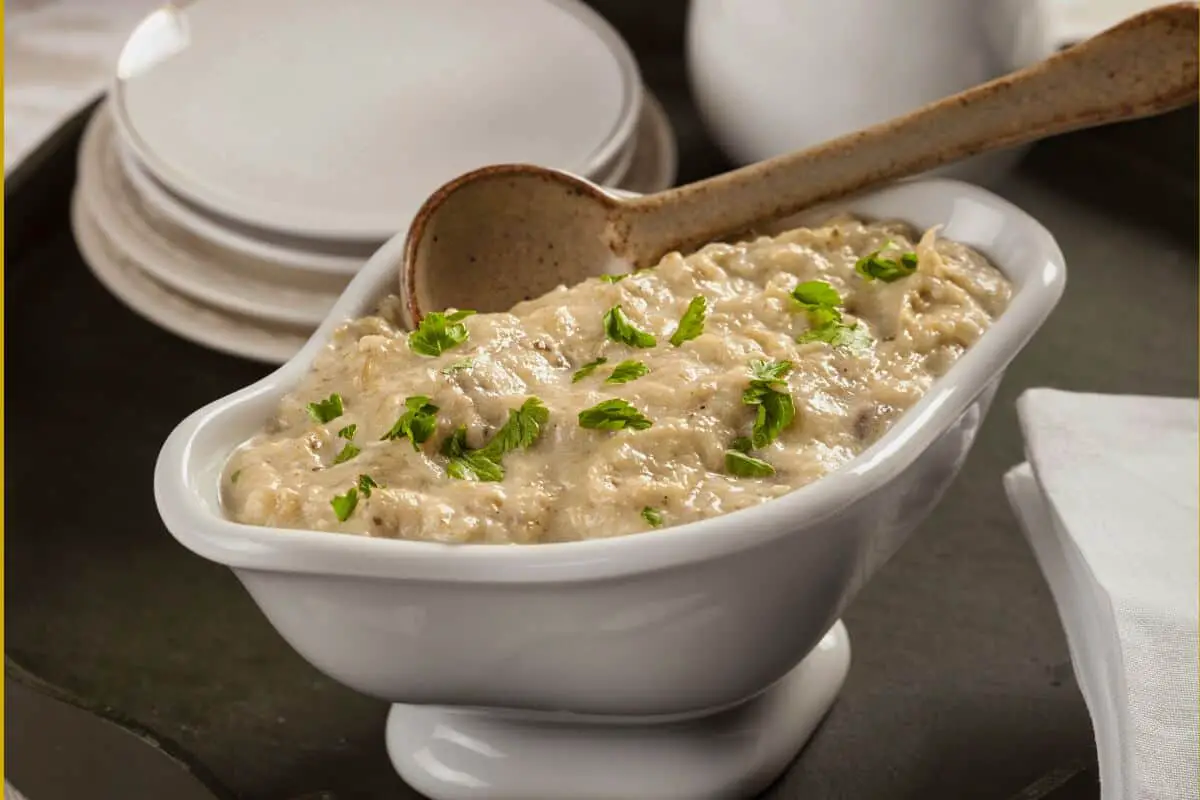 Roasted eggplants are used to make the dishes Mutabal and Baba Ganoush. Both authentic Jordanian recipes begin by roasting huge globe eggplants over an open flame while rotating the eggplant frequently until the skin is totally roasted and the flesh is turning to mush. The pulpy flesh, which is oozing with a powerful smokey aroma, is then saved once the skin has been peeled off.
You may make the Jordanian recipe for Mutabal by combining tahini, yogurt, mashed garlic, lemon juice, and salt. The lighter, salsa-like Baba Ganoush is made by combining chopped tomatoes, onion, mint, loads of extra virgin olive oil, parsley, and pomegranate molasses. Even green capsicums were diced into the Baba Ganoush that we made during our cooking class at Petra Kitchen.
---
You May Also Like: 23 Great Traditional Palestine Recipes At Home
---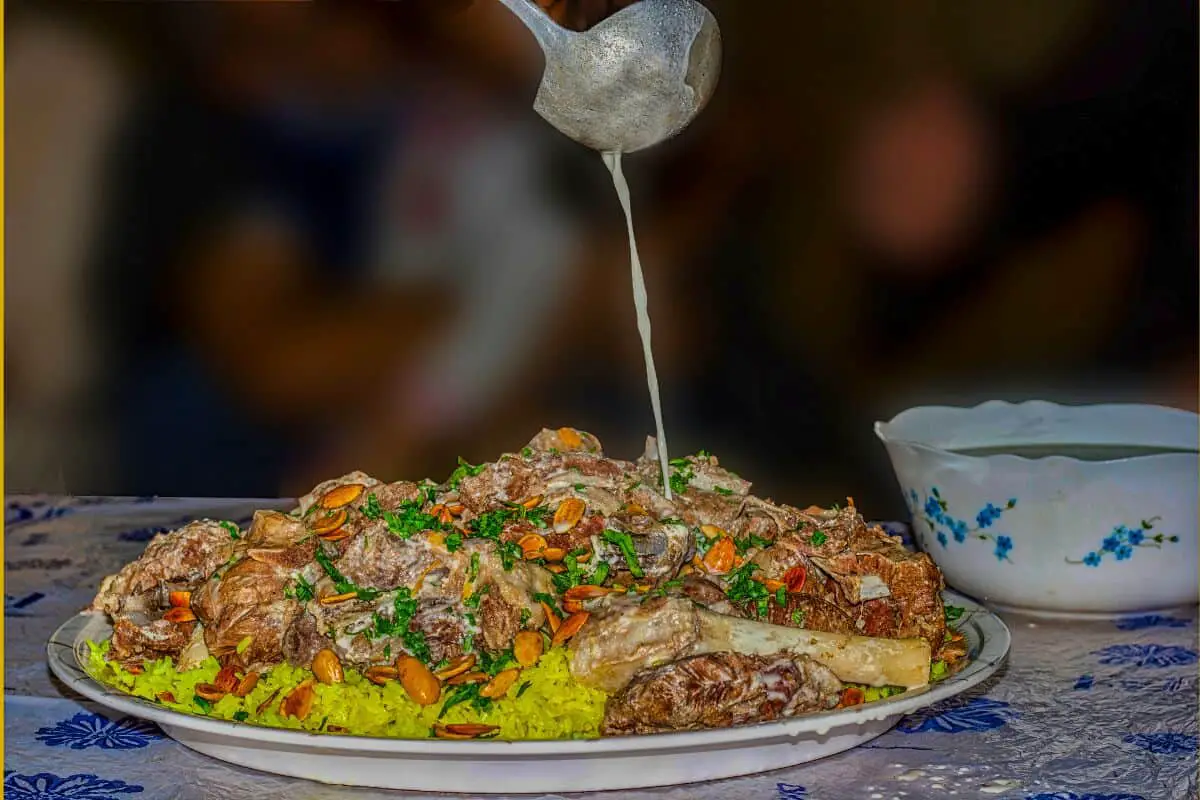 This staple Jordanian recipe is sour, sweet, fragrant and meaty all at the same time. With meat falling off the bone, the textures of the soft meat, fluffy rice, crunchy nuts, crisp onions and silky sauce are the perfect combination. Teamed with yellow tumeric rice and served with pita bread, it is a dish that will take you far away from your kitchen table and into the Middle East with one bite.
To make sure you enjoy this authentic Jordanian recipe as often as possible, and feel as transported to the other side of the world as hoped for.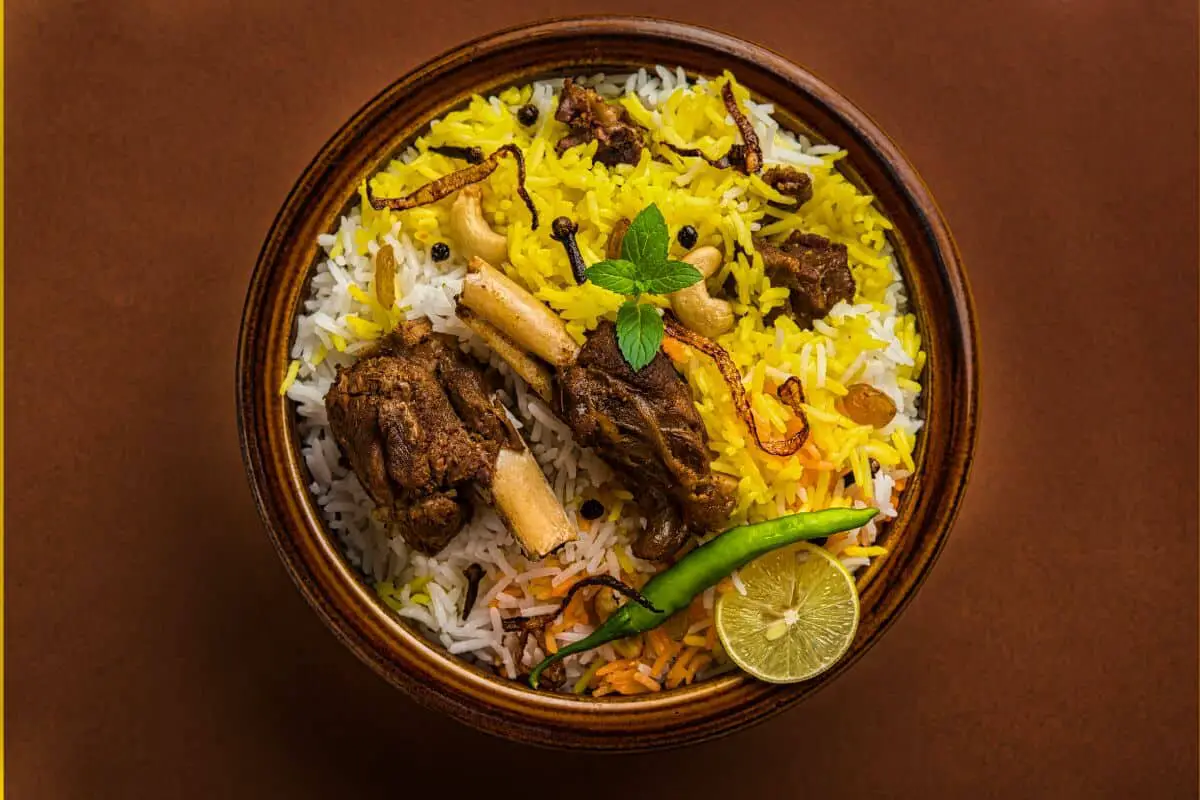 Mansaf is a authentic Jordanian recipe for a Jordanian lamb dish that combines yogurt, rice, and lamb pieces. Mansaf is typically served in an aluminum platter with yogurt and rice surrounding the meat on one side.
This specific Jordanian recipe for the rice dish is popular throughout the Middle East and is thought to have originated in Jordan. There are numerous Mansaf varieties that use various spices and veggies, such okra, to give the food a distinctive flavor.
The meal is eaten on important events like weddings and births but is most popular during the holy month of Ramadan. Depending on the location, it can be eaten with either rice or bread.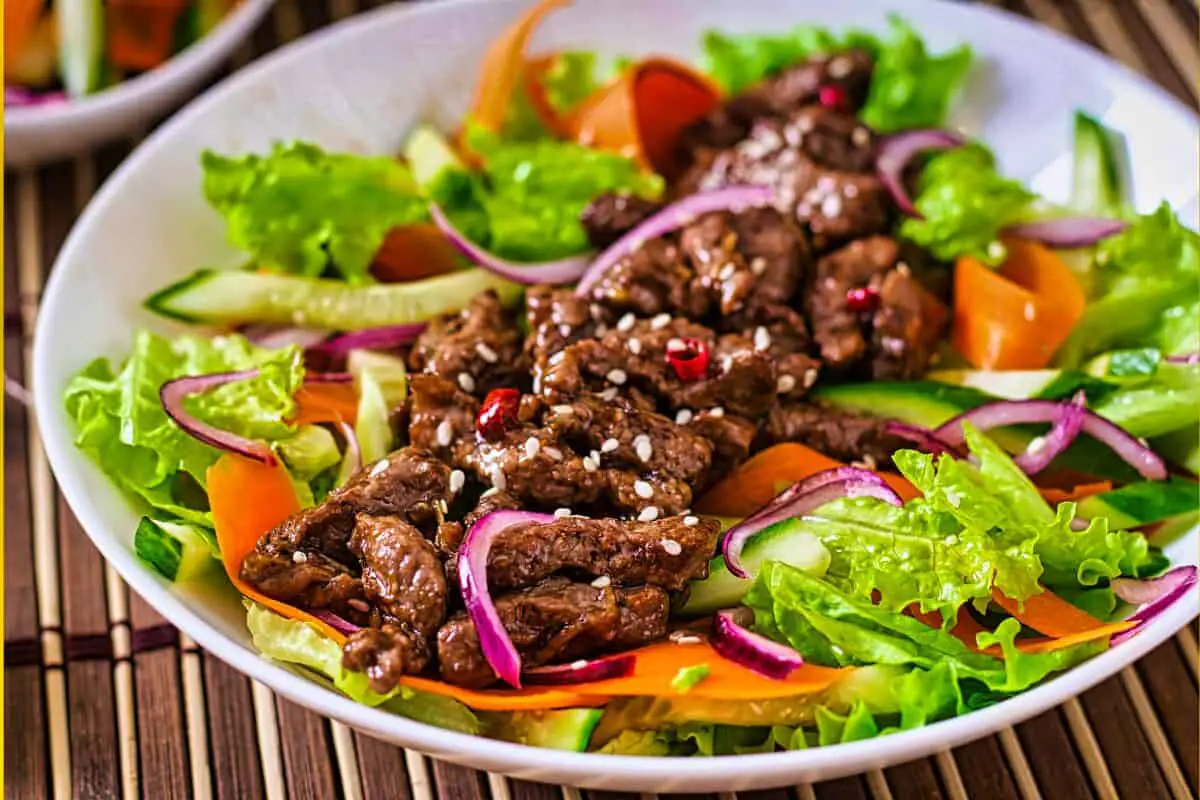 I was making a authentic Jordanian recipe for teriyaki steak tips for the first time. Awesome! used components from numerous recipes. Teriyaki Steak Tips – Thick and gooey homemade pineapple teriyaki sauce is drizzled over perfectly grilled tri-tip steak tips. A quick and simple family favorite that everyone will enjoy!
My own Jordanian recipe pineapple-infused teriyaki sauce, which is poured over the soft, juicy beef tips, gives the dish a tremendous taste boost. These steak tips are simple to prepare and ready in 30 minutes.
---
You May Also Like: 25 Traditional Arabian Recipes With Delicious Flavors
---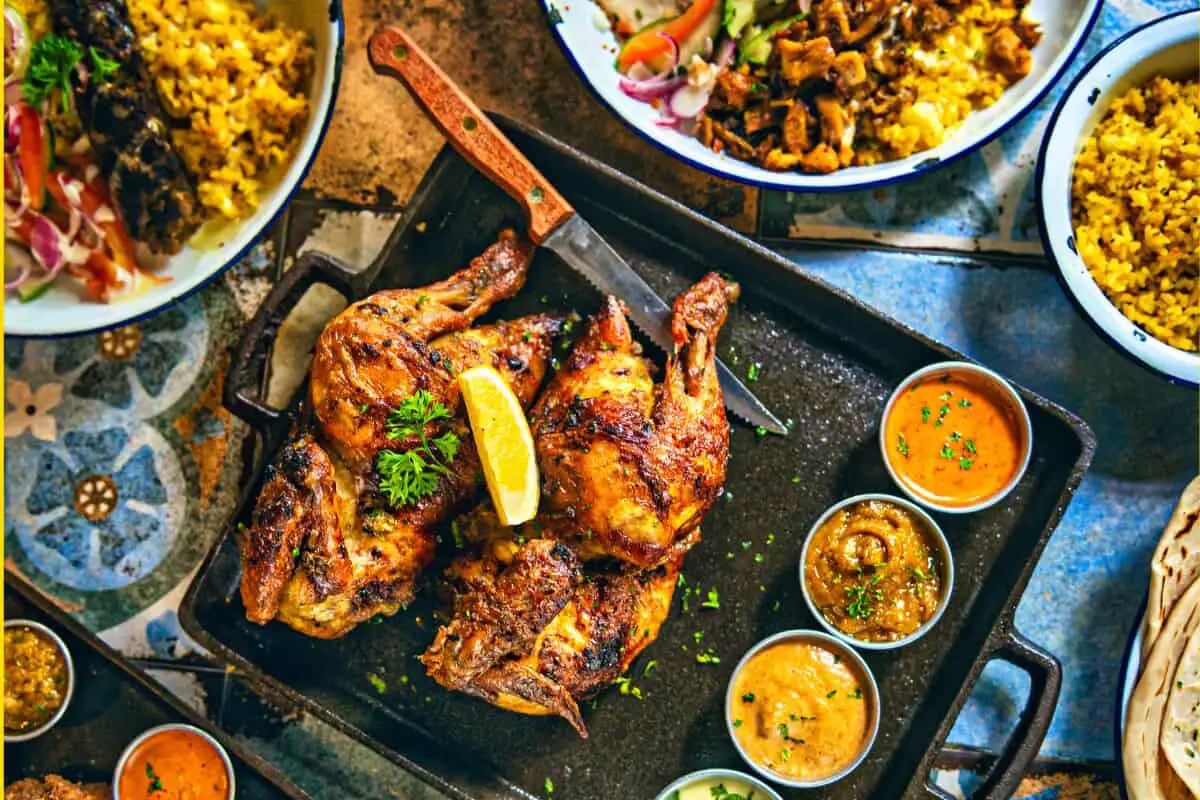 There are a number of common spices that are used in cooking in every culture. You can make anything taste amazing if you combine these ingredients exactly right. This authentic Jordanian recipe was influenced by the Jordanian chicken from Steven Raichlen's book Planet Barbecue!, which is marinated over a bed of sliced onions and packed with earthy and seductive aromas like cumin, coriander, paprika, and more.
By pounding the spices and onions into a paste and using regular chicken breasts, I've simplified the Jordanian recipe a little. I realized that since I began this quest, I have not made simple chicken breasts, which is… odd. You could absolutely serve this with dark meat for a richer flavor.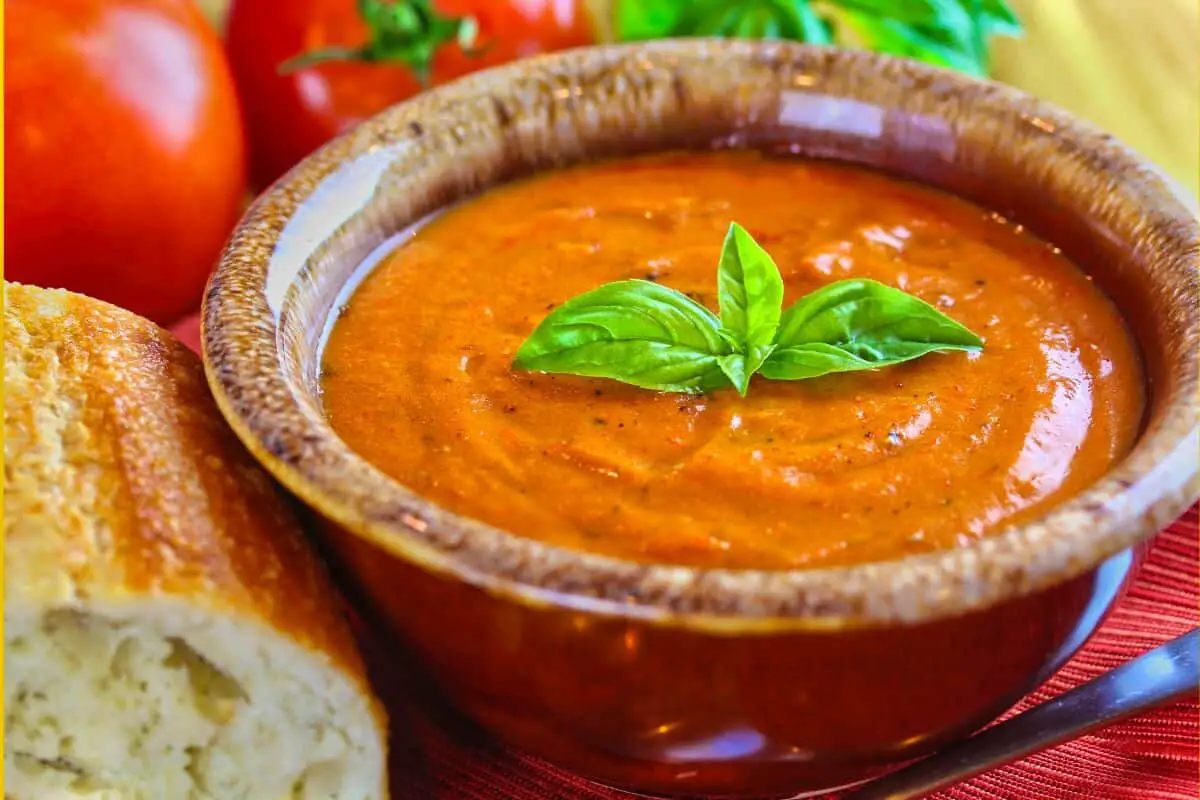 Every culture uses a variety of common spices in their cooking. You can make everything taste fantastic if you combine them in the proper way. And the pleasant byproduct? Stovetop travel for instant teleportation. The Jordanian recipe for chicken in Steven Raichlen's cookbook Planet Barbecue! served over a bed of sliced onions and marinated in a mixture of earthy and seductive spices like cumin, coriander, paprika, and others is the inspiration for this dish.
The authentic Jordanian recipe has been simplified by using regular chicken breasts and pounding the spices and onions into a paste. It occurred to me that since I began this quest, I have not made simple chicken breasts, which is, to put it mildly, odd. This would go great with dark meat for a richer flavor.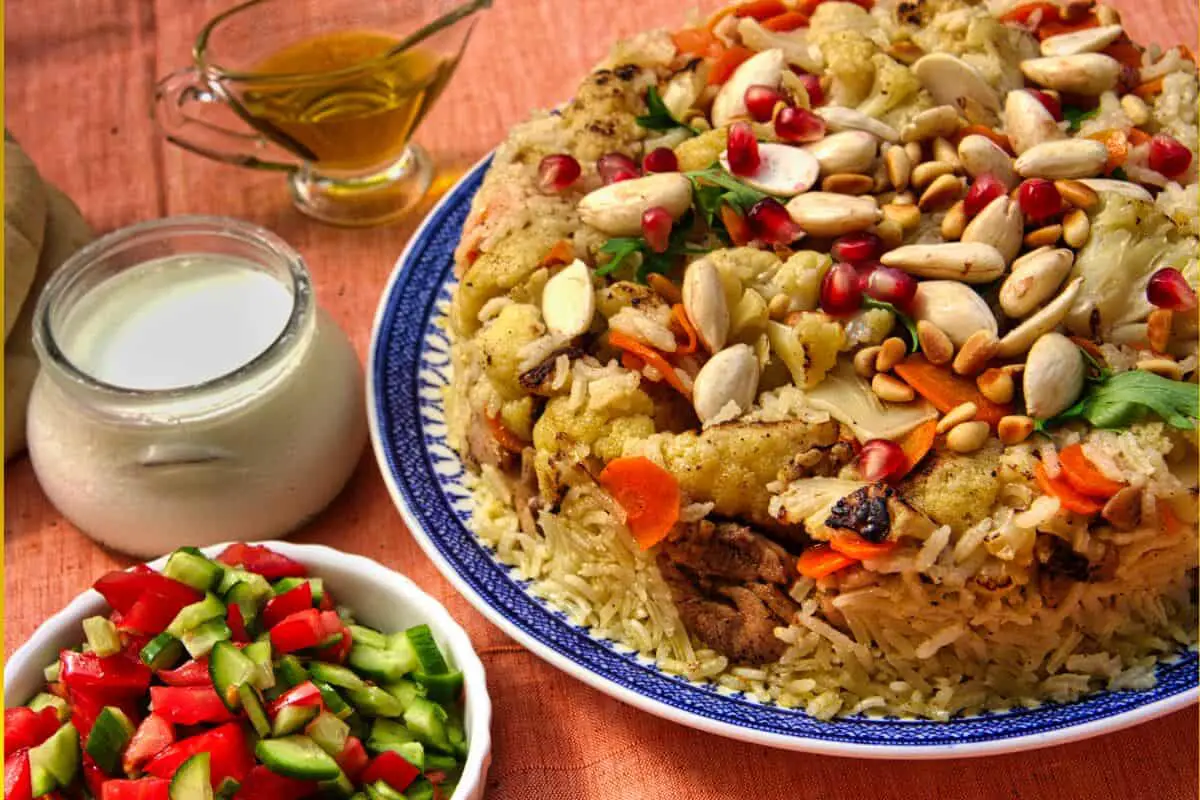 A renowned authentic Jordanian recipe for this rice, vegetable, and meat meal from the Middle East, maqluba (or maqlooba, makloubeh, or maqlouba – whichever you choose to spell it! ), is sure to impress any visitor. The dish's distinctive feature is how the succulent veggies and beef are meticulously piled, cooked, and then revealed upside down. It is AMAZING! Don't let the way it appears frighten you; carrying it out is actually quite simple.
Maqluba is a Jordanian recipe that is frequently prepared in a number of Arab nations, including Iraq (where I was born), Palestine, Jordan, and Syria. It's likely that every home has a unique method for making this well-known dish. All of the varieties agree on one thing, though: it's a multilayer dish made of rice, vegetables, and meat.
---
You May Also Like: 20 Traditional Emirati Recipes "Simply Delicious"
---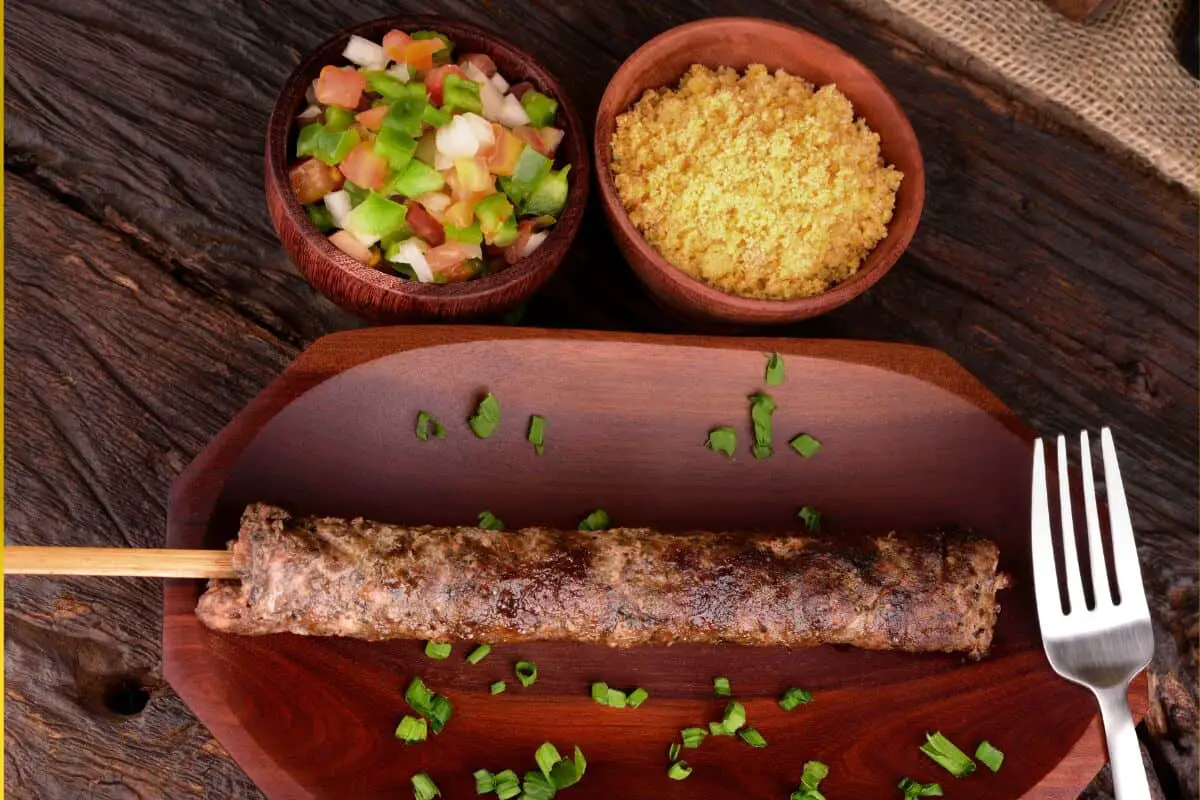 Beef kofta kebab is a Jordanian recipe is an Arabic-style minced meat dish that is mix with Middle Eastern spices, ground meat, and green herbs. It is popular street food in the Middle Eastern, which is served with spiced rice or flatbread, and white yogurt garlic sauce.
As a half Jordanian with Middle Eastern roots, authentic Jordanian recipes for Kebab are considered a traditional food in our Jordanian culture. When I was living in Kuwait, it is the first food I ate, which is my favorite meat dish.
This Roasted Butternut Squash Soup, authentic Jordanian recipe, is a hearty soup with complex but calming flavors, is simple to make and ideal for a supper on a chilly night. An outstanding combination with a young Bordeaux or California Cabernet that is similar to a young Bordeaux is achieved by adding black walnuts, pumpkin seed oil, sherry vinegar, and (if you're feeling indulgent) a quenelle of pig rillettes to this earthy and herbaceous soup.
Cut the squash in half lengthwise, removing the seeds before doing so. Place each squash cut side down on the pan and drizzle 1 Tbsp of olive oil over it. About 45 minutes of roasting should be plenty to make the squash soft and readily punctured. Cool after removing from the oven. When the squash is cool enough to handle, remove the skin with a large spoon and set the squash aside until you need it.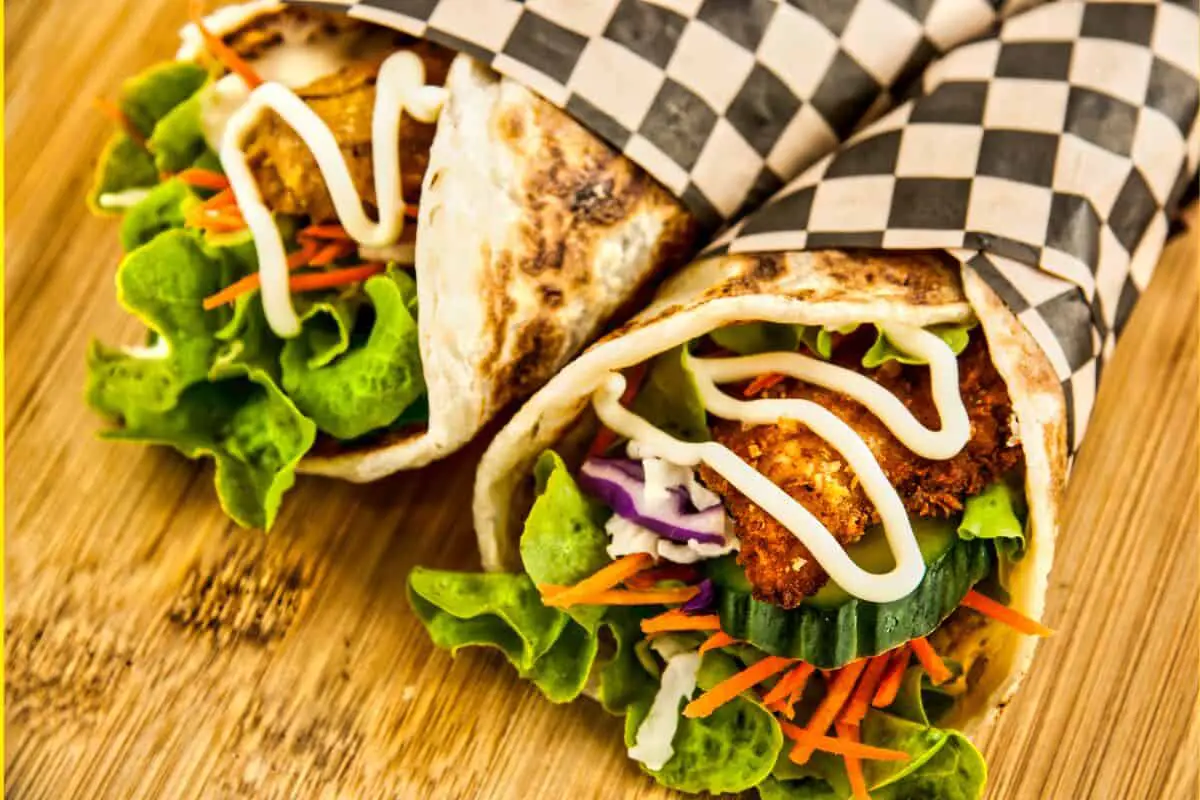 Shawarma (Arabic شاورما) is the hugely popular authentic Jordanian recipe of slowly roasted or braised meat, eaten as a sandwich in pita bread but also on a plate, a recipe which is also called kebab.Kebab is a dish of long tradition, that has received worldwide success thanks to the commercial skills of the Turks, who spread their version called döner kebab, a version inherited from the Ottoman Empire.
The word shawarma for this Jordanian recipe derives from the Turkish word çevirme, which means "it turns". This is the recipe of the typical Middle Eastern kebab, similar in some respects to the Greek gyro. In Arabic, shawarma also means "turning" because the meat, usually lamb, but also beef or poultry, is marinated and is then cooked along a vertical spit that rotates for a long time.
---
You May Also Like: 25 Easy Authentic Armenian Recipes (2022)
---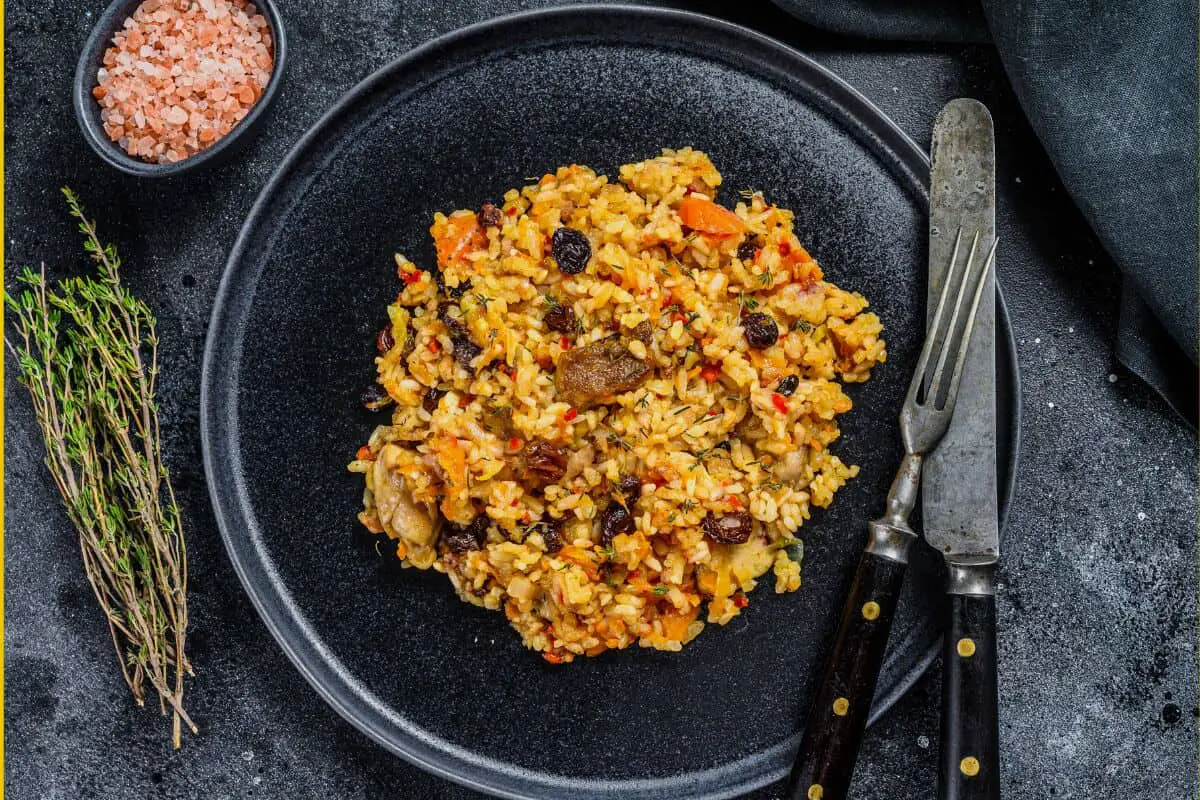 Mansaf is a authentic Jordanian recipe for Arabic lamb dish that is cooked in yogurt sauce. It is served with flatbread and rice and is regarded as Jordan's national cuisine.
One of the best Middle Eastern cuisines, with dishes resembling those from the Mediterranean and the Levant, is found in Jordan. Regardless of the occasion, the majority of locals will advise you to try Maqluba and Mansaf if you come there.
Let's discuss the latter Jordanian recipe in this article.
The meal known as Mansaf was first introduced in earlier eras by the native Bedouin tribes in Jordan. During these years, it began to modernize with the Jordanian recipe with the introduction of rice and Jameed, a dry yogurt prepared from goat's milk. Furthermore, it was declared the nation's dish after it gained independence.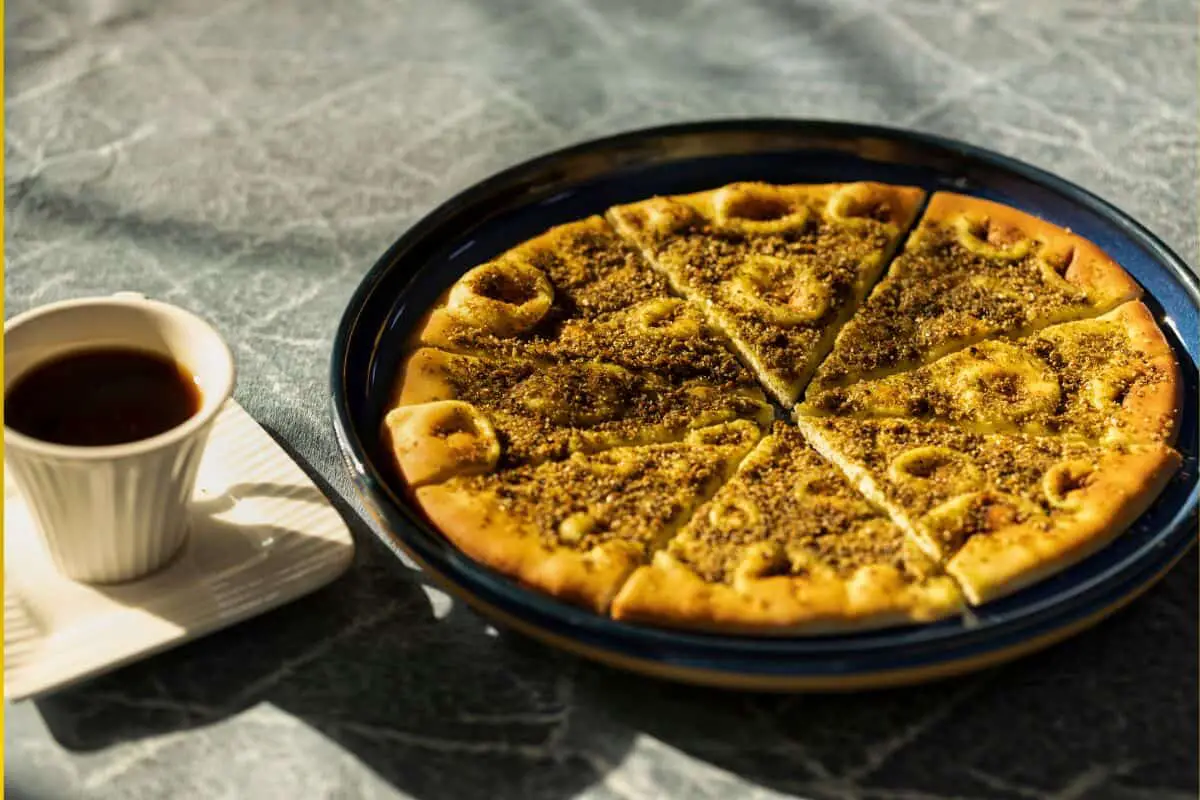 My subsequent stop on my culinary tour of the globe was Jordan. While reading about the various Arabic nations and their food was a geography and history overload, I made the decision to limit myself to authentic Jordanian recipes. I originally wanted to recreate Japan, but after realizing there wouldn't be much I could make, I settled on something straightforward.
I learned there are numerous regional Jordanian recipe and ingredients that are used across areas after once more reading fervently about different cuisines. Thinking over the sub-theme, I almost chose Kid-Friendly cuisine in the hopes that my children would like learning about other nations.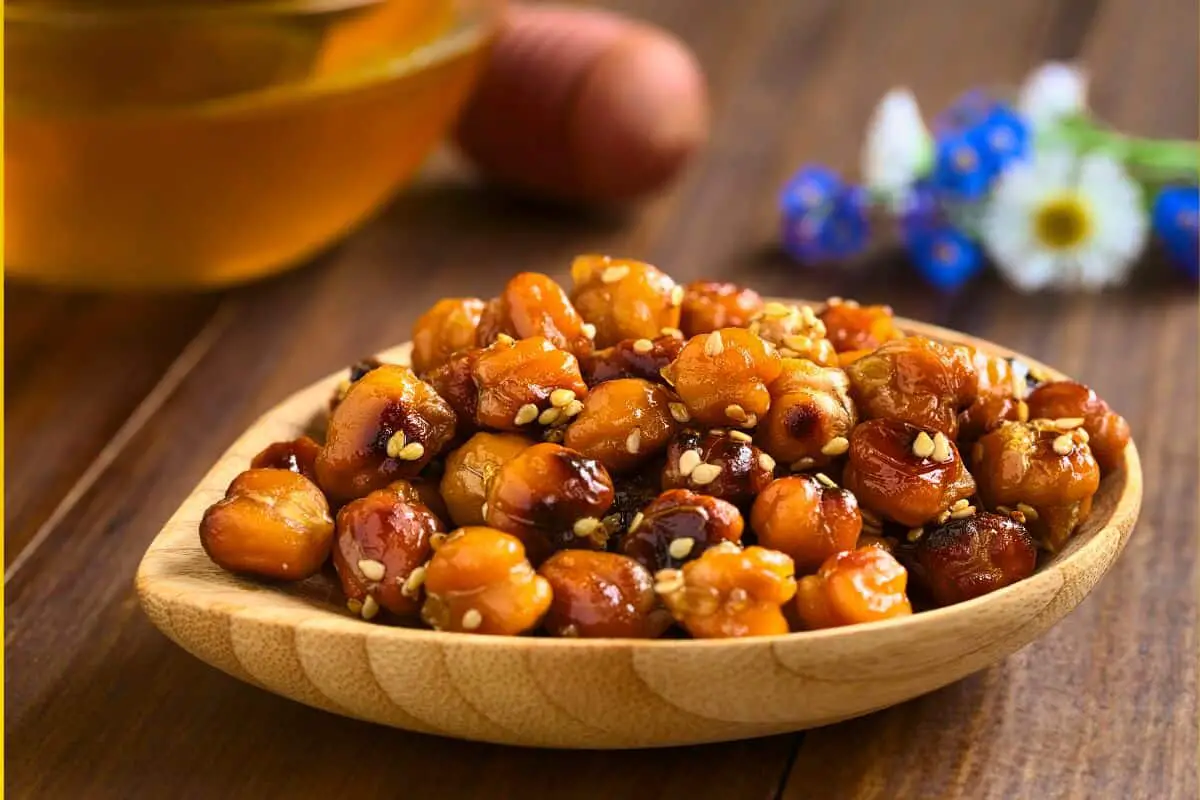 One of the main food legume crops in Jordan, the chickpea (or garbanzo bean) forms a significant component of the Jordanian diet. In this authentic Jordanian recipe, chickpeas are seasoned and roasted to be eaten as a tasty snack even though they frequently feature in entrées and side dishes like stews or hummus.
---
You May Also Like: 225 Easy Traditional Lebanese Recipes (2022)
---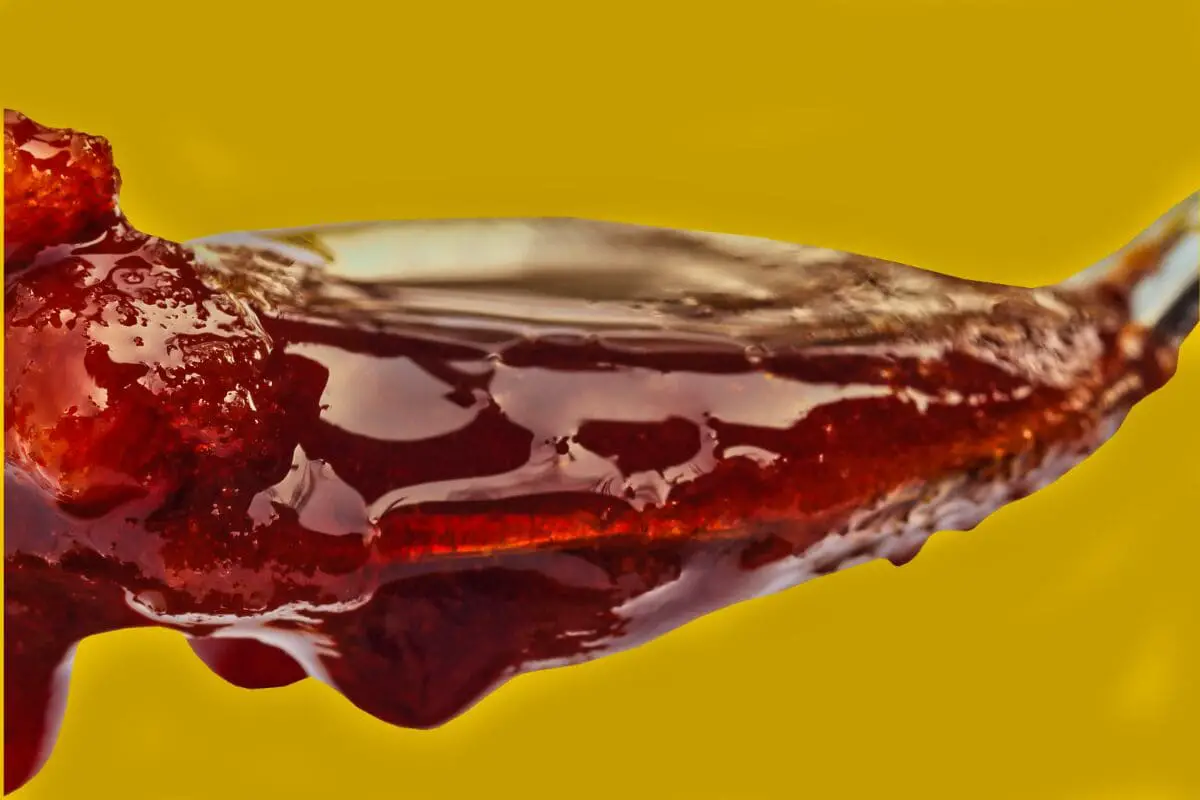 Jordanian cuisine is famous for its meats,baking,grilling,olive oil ,Sumac and blend of spices like Za'atar. Mujaddara is a rice and lentil casserole garnished with caramelized onions. There are different versions of Mujaddara.
The authentic Jordanian recipe I have tried is simple and easy to make and needless to say delicious. It can be simply eaten alone or paired with yogurt or some flavorful roasted Jordanian chicken.It makes a wonderful meal.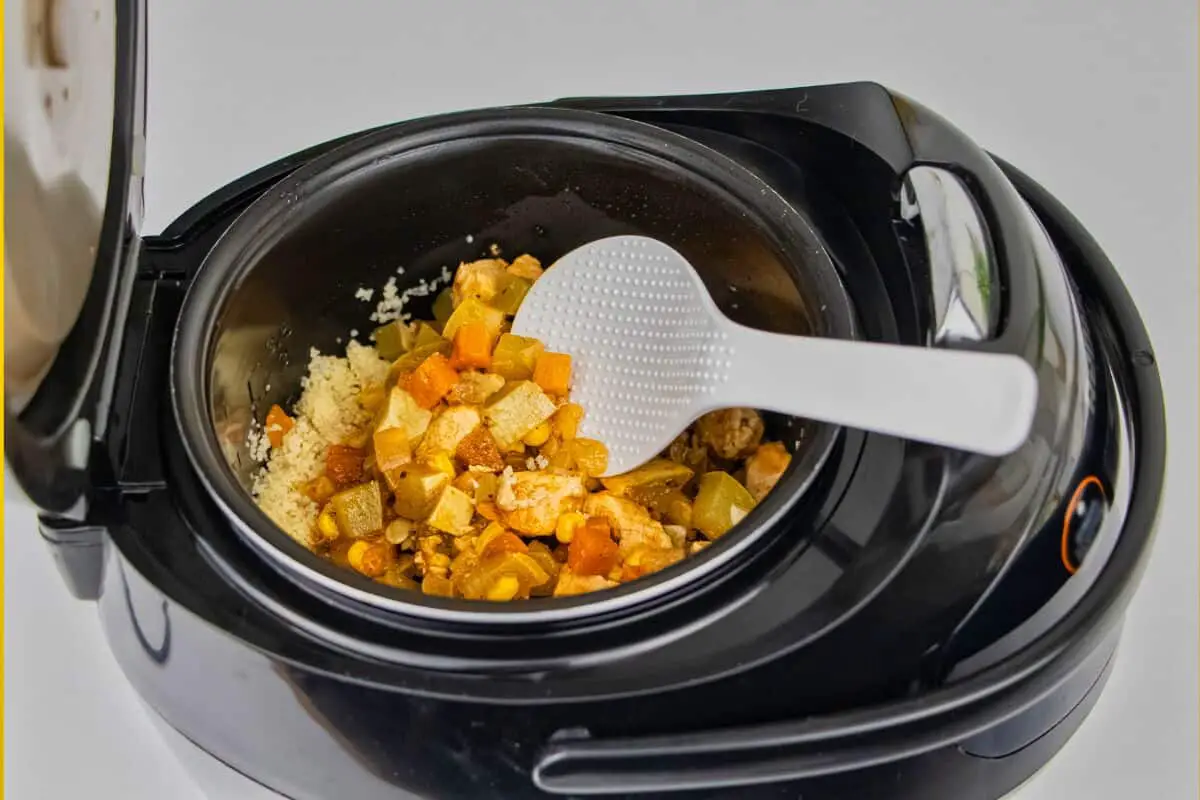 Make this hearty and tasty Instant Pot authentic Jordanian recipe using the soup setting. When it's done cooking, it's fall-apart tender and comes together quickly. This Mansaf was made using several shortcuts because that's exactly how I work. Despite all of that, it tastes real.
Jordan's national dish is frequently referred to as mansaf. This Jordanian recipe is frequently served over rice or bulgur and is immensely popular throughout the Arab world. I chose to create Instant Pot Jordanian Mansaf because I enjoy cooking traditional foods with traditional flavors more quickly and easily in my Instant Pot.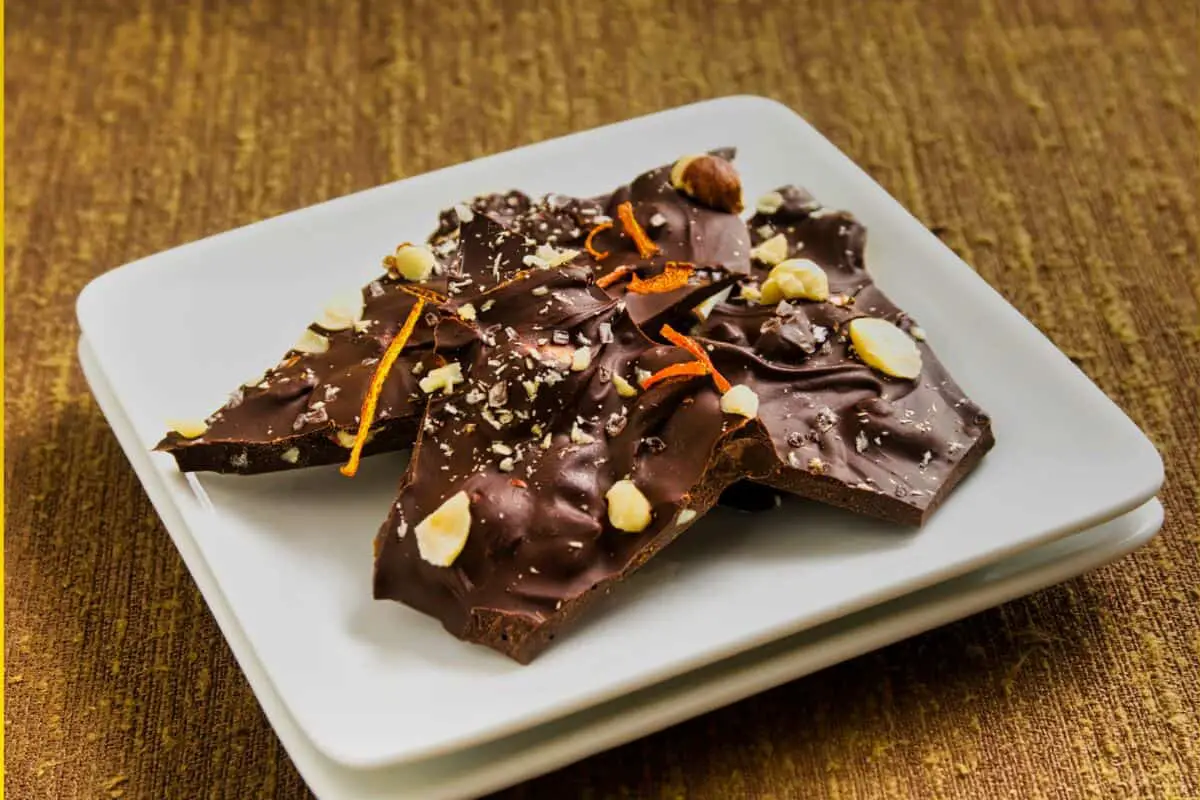 This authentic Jordanian recipe for chocolate bark is just your standard chocolate bark with some stylish Jordan almonds added. Throwing Jordan almonds into a massive chocolate bar felt like the obvious choice because I've always been a jordan almond type of girl.
The nuts not only add a great crunch to this Jordanian recipe and almost-fighting-back texture, but also sweetness! It's really that wonderful; the almondy, confectionary sweetness will give you a nearly uncontrollable sugar rush. Of course, those mouthwatering colors, which are the epitome of Easter perfection, can't be beat. Does candy get cuter than this, I mean? I disagree.
---
You May Also Like: 20 Best Traditional Albanian Recipes
---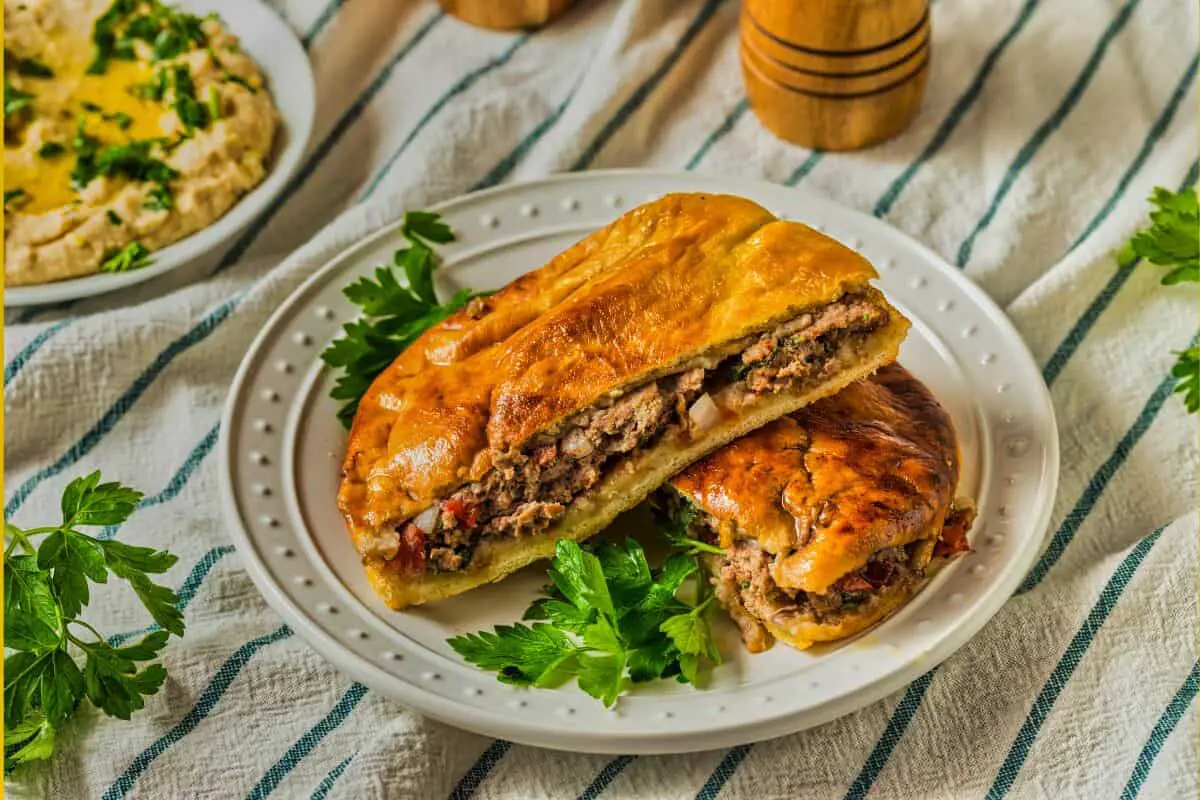 Authentic Jordanian recipe for pita bread sandwiches stuffed with minced lamb meat, spices, and herbs are known as arayes, ara'yes (), arayes bi lahm, or arayes kafta. They are famous throughout the Middle East.
Small pita or other flatbread sandwiches called arayes are filled with a blend of finely chopped lamb. Following an olive oil brushing, the pita is either toasted on the grill, in a sandwich toaster, or on a cast iron grill pan. The outcome is a little sandwich with a crunchy exterior and a tender, juicy interior.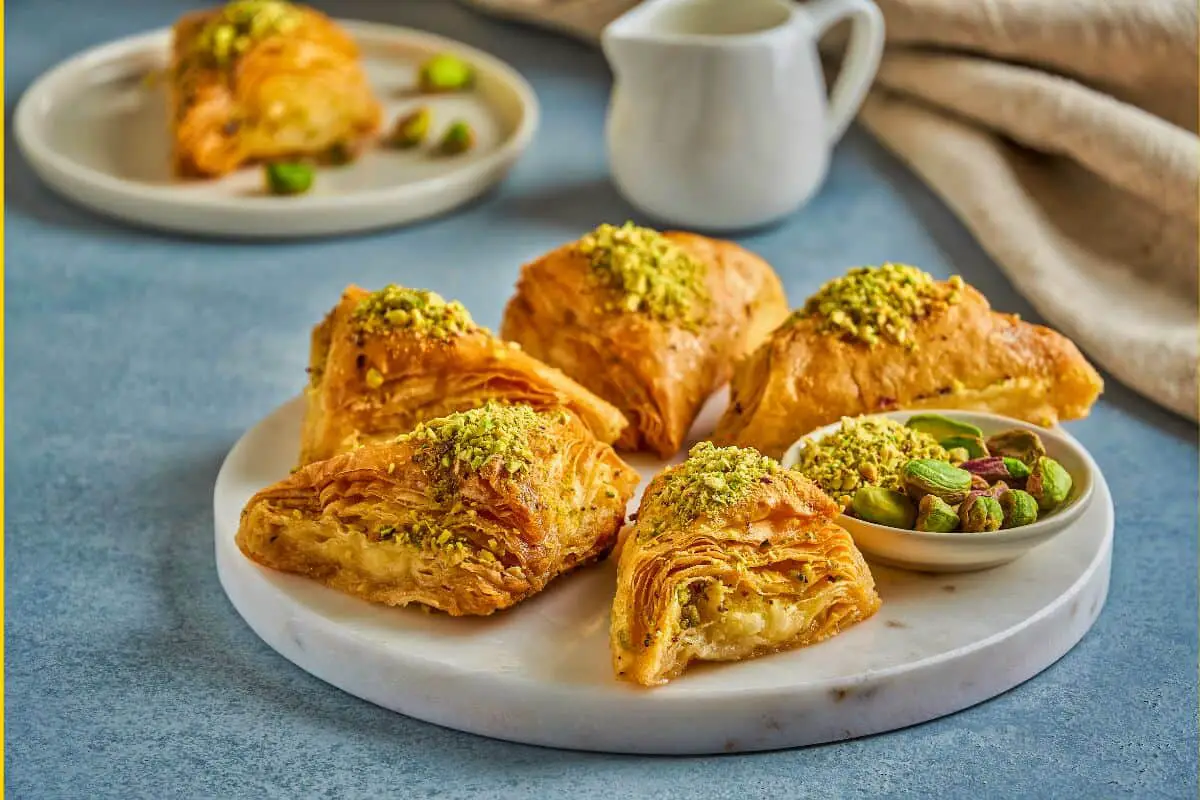 I've had the chance to fall in love with the vibrant flavors of Arab food because of living in the Midwest, where there are sizable Middle Eastern communities. Middle Eastern authentic Jordanian recipes are brimming with flavor and leaves us wanting more, from the vibrant mezze spreads to the painstakingly made sweets.
Today I'm presenting the recipe for Warbat bil Ashta, one of my favorite desserts from the Arab world (also referred to as Shaabiyat). Consider Warbat to be Baklava's cousin. It is a phyllo pastry filled with cream (ashta), drenched in sugar syrup, and sprinkled with ground pistachios. It is essentially baklava with cream inside.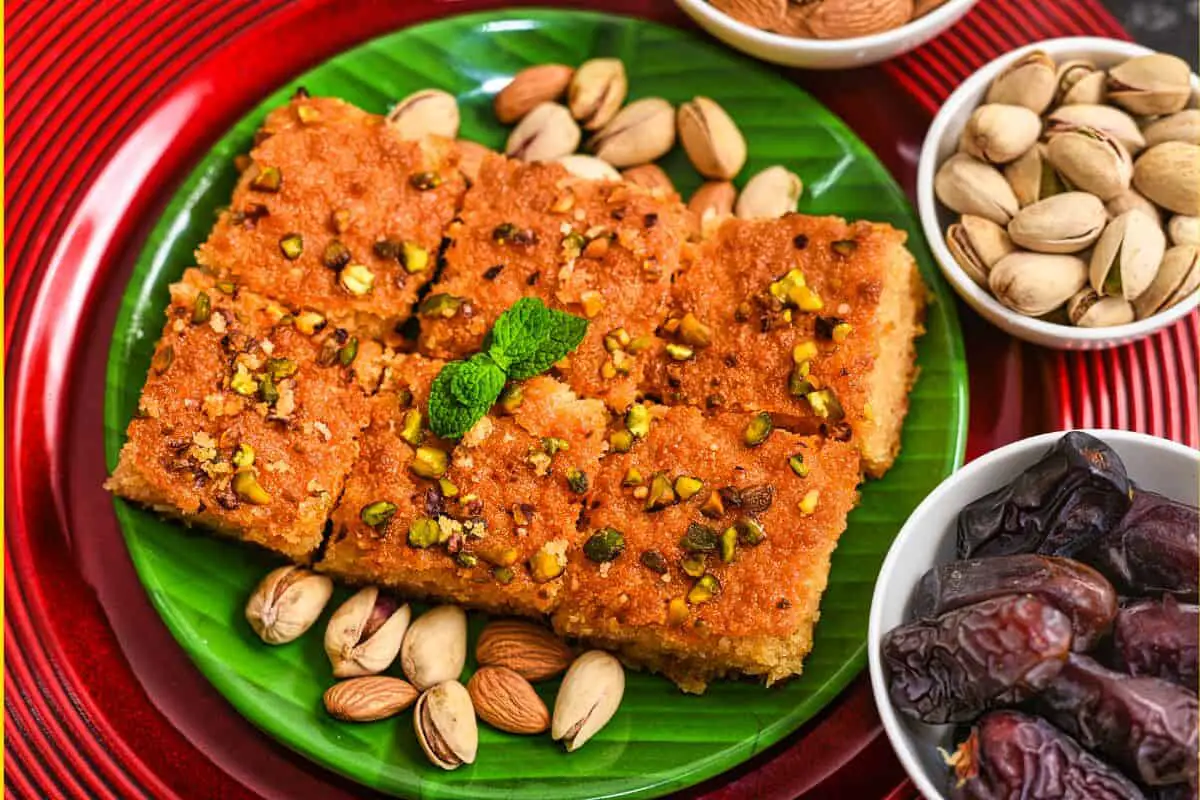 Harissa is one of the most famous sweets in the Arab countries, especially in Palestine, Jordan, Lebanon, and Syria where it is characterized by a delicious taste that distinguishes it from the other sweets.
This authentic Jordanian recipe is also called Basbousa Cake, Namoura or Harissa, is rich and dense with a rustic texture from semolina, and a sticky sweetness from rose or orange blossom-scented sugar syrup.
---
You May Also Like: 20 Best Traditional Albanian Recipes
---
Jordanian Kunafa is a sweet pastry dish prepared with a cheese filling and very thin filo dough strands. Since akkawi cheese is popular in Jordan, in this authentic Jordanian recipe I used mozzarella instead of low-fat ricotta. The kataifi dough was available in my neighborhood Middle Eastern market, but vermicelli can also be used in its place.
We adored the sweet pastry, the ghee-coated dough that resembles noodles and becomes crispy and golden brown, and the cheese filling, of course, which is excellent because it is a cheese filling! Finished with a sweet syrup that had citrus and rose water flavors, followed by a garnish of almonds and fruit. Divine!
---
Check Out Our Pictures On Our Instagram – Our Big Escape.
You May Want to Join Our Boondocking Group on Facebook For More Information
Check Out Our Recipes On Our Instagram – World Recipes OBE