Last updated on September 27th, 2023 at 05:43 am
Traditional Cypriot recipes include souvlakia (grilled meat kebabs), shaftalia (grilled sausage), afella (pork marinated in coriander), fried halloumi cheese, olives, pitta bread, kolokasi (root vegetables), lamb, artichokes, chickpeas and rabbit stews (stifado).
Pepper, parsley, arugula, celery, fresh coriander (cilantro), thyme, and oregano are some of the most well-known spices and herbs used in Cypriot recipes. Traditionally, the island's principal cooking fragrances have been cumin and coriander seeds. In Cypriot cuisine, mint is a highly significant herb as well.
The most popular meats are pork and chicken. Many people strongly identify Greek Cypriots with lamb, but in reality, they consume a lot of pork in Cyprus. Of course, tomatoes and cucumbers are usual. They consume a lot of seasonal, fresh produce like Kohlrabi, a vegetable that is a cross between a turnip and a cabbage. They also consume taro root, coriander, parsley, beans, peas, and beans.
A Cypriot would spread out a lot of Cypriot food dishes on the table if you went to their home for a meal. There was a wide range, yet it was always the most straightforward of things. Halloumi cheese, boiled eggs, tomatoes, cucumbers, bread, and jam would have been the breakfast fare. The Mediterranean diet, which encourages a diversity of Cypriot foods from several dietary categories, is consistent with this. You would frequently eat legumes for dinner, such as lentils, beans, and peas. Quite a bit of red meat as well, but not as much as fish or chicken.
Our 18 Traditional Cypriot Recipes & Cyprus Foods To Try
---
---
check out our video
---
---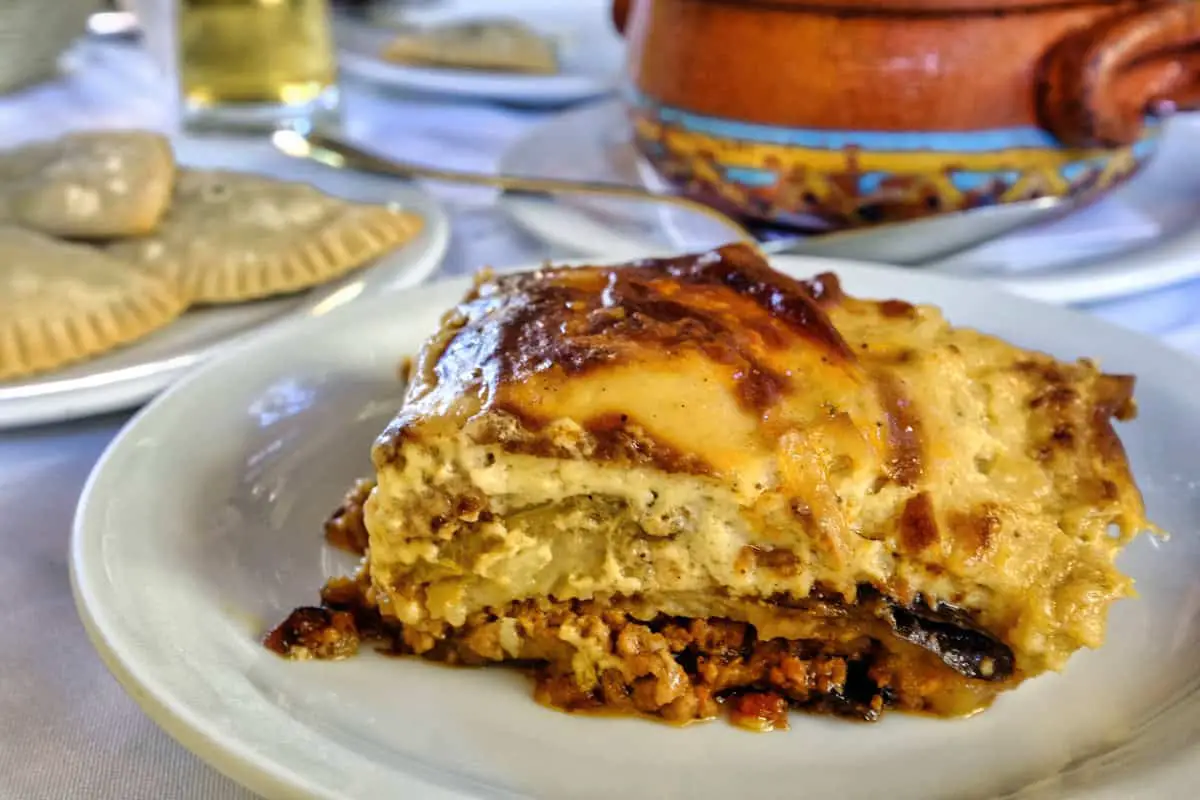 This traditional Cypriot Recipe for Moussaka features delicious layers of flavorful ground lamb, fried eggplants, and a deliciously cheesy bechamel sauce. Moussaka is like a pasta-less version of lasagna in a way.
Layers of eggplant are topped with a delicious lamb mixture (flavored with cinnamon and nutmeg). This Cypriot food then covered in a bechamel sauce and parmesan cheese and then baked until it can be eaten in slices.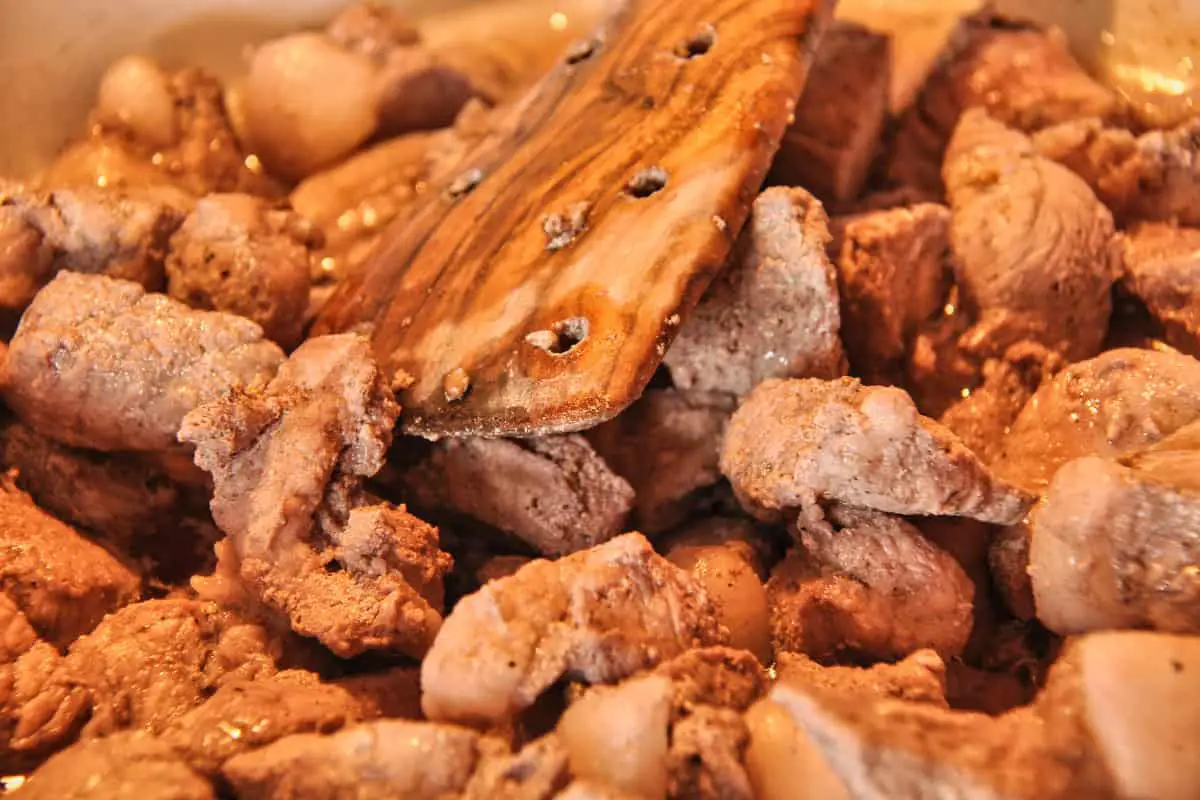 Afelia is one of my favorite Cypriot recipes growing up. The pork is marinated in red wine overnight and fried together with coriander seeds. The coriander seeds are lightly crushed so that they still remain quite coarse. And that smell while you are crushing the coriander… absolutely divine! Wine and coriander is a typical combination in the Cypriot recipe.
---
You Might Also Try 20 Great Traditional Romanian Recipes
---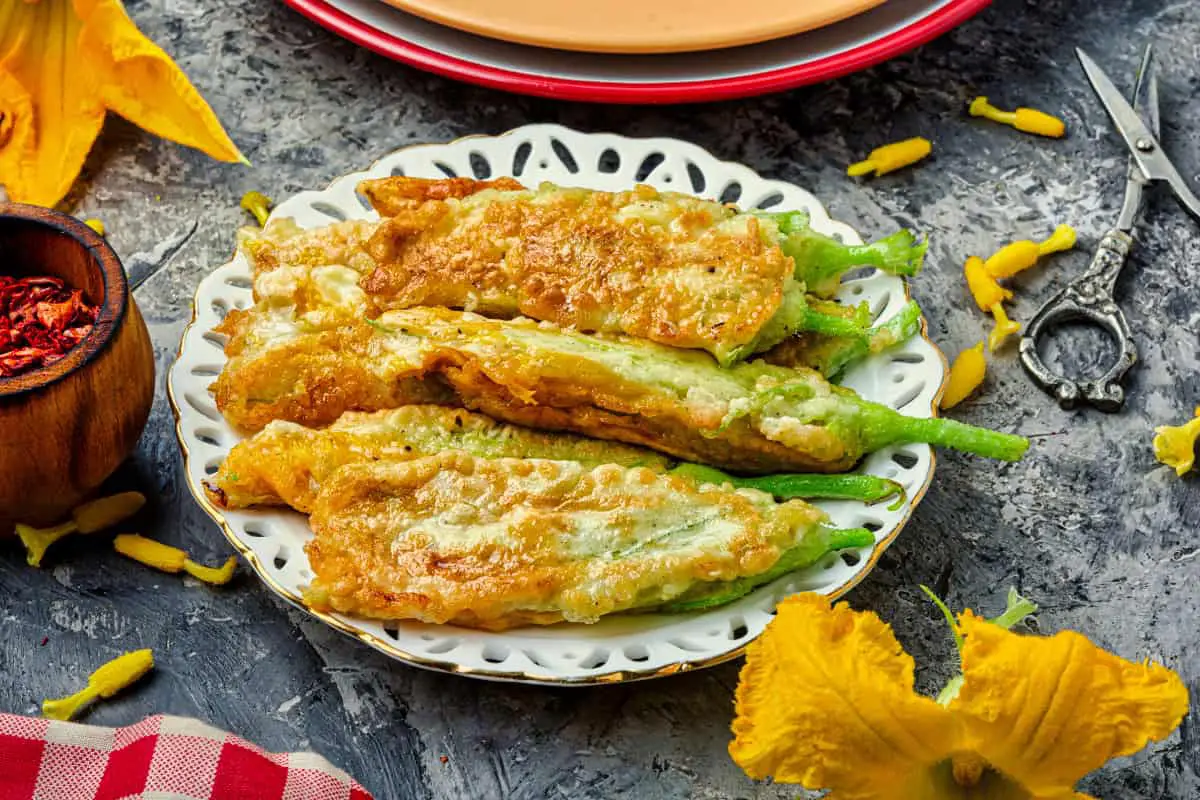 If you're not familiar with the joys of stuffed zucchini blossoms then you don't know what you're missing. These little bites of heaven are amazingly delicious and so very easy to make. They can be served as an appetizer or as a main course. You can also make these if you are craving a bit of Cypriot food, and don't live in Cyprus. You either grow your own zucchini flowers, or find a friend who has some zucchini flowers growing in their backyard, or befriend a local farmer.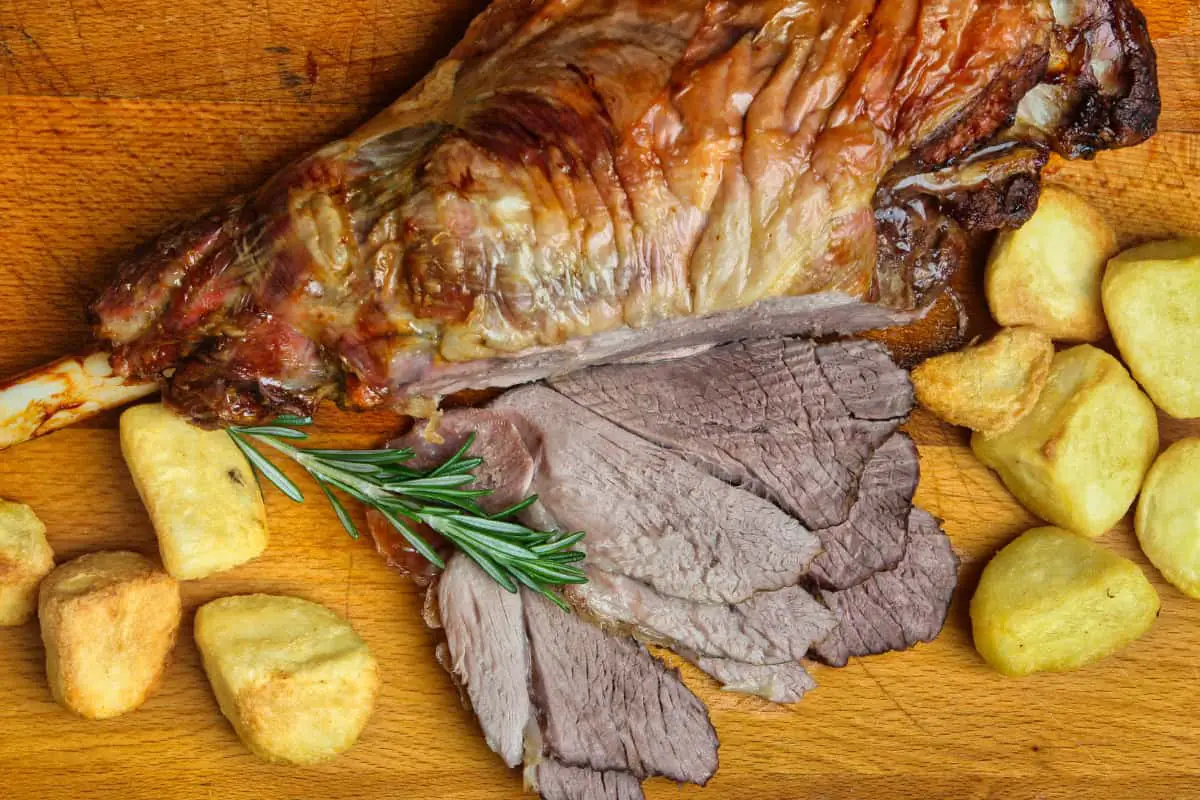 One of our favorite traditional Cypriot recipes: seasoned lamb and potatoes roasted in a handcrafted clay oven! What you'll need: an awesome outdoor clay oven, a bucket of mud, meat and potatoes!!! Traditional Cypriot recipes are hands on and hot! Don't worry if you do not own a clay oven, you can still experience the delicious recipe in your own home oven!
---
You Might Also Try 25 Top Authentic Ukrainian Recipes & Food in 2022
---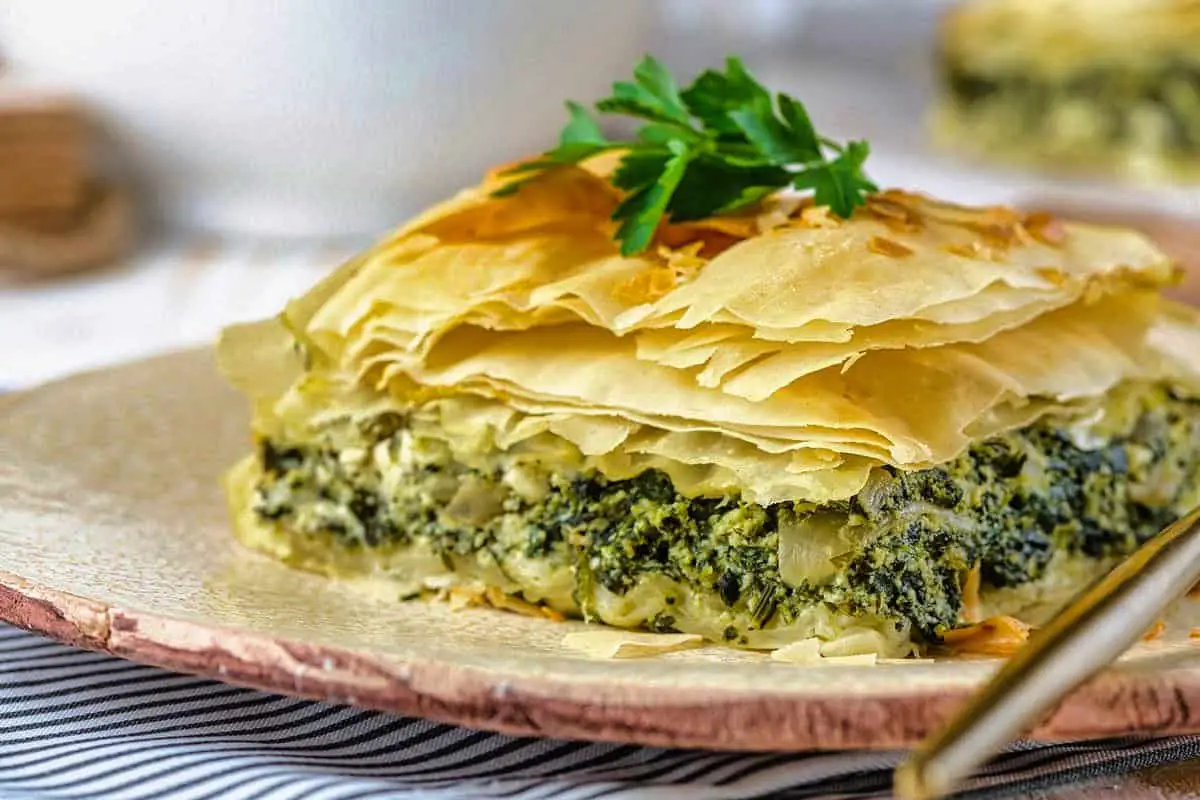 A staple in Cyprus during Lent – a 40-day celebration in which Christians aren't supposed to eat meat. Traditionally, it's a buttery, crispy phyllo pie with the filling of spinach and feta cheese. Dill often appears in this dish, along with optional herbs and spices.
The traditional Cypriot recipe, however, includes their cultural Halloumi cheese, which combines or substitutes feta cheese. You can enjoy this delicacy as a breakfast, lunch, or brunch alongside traditional green salads.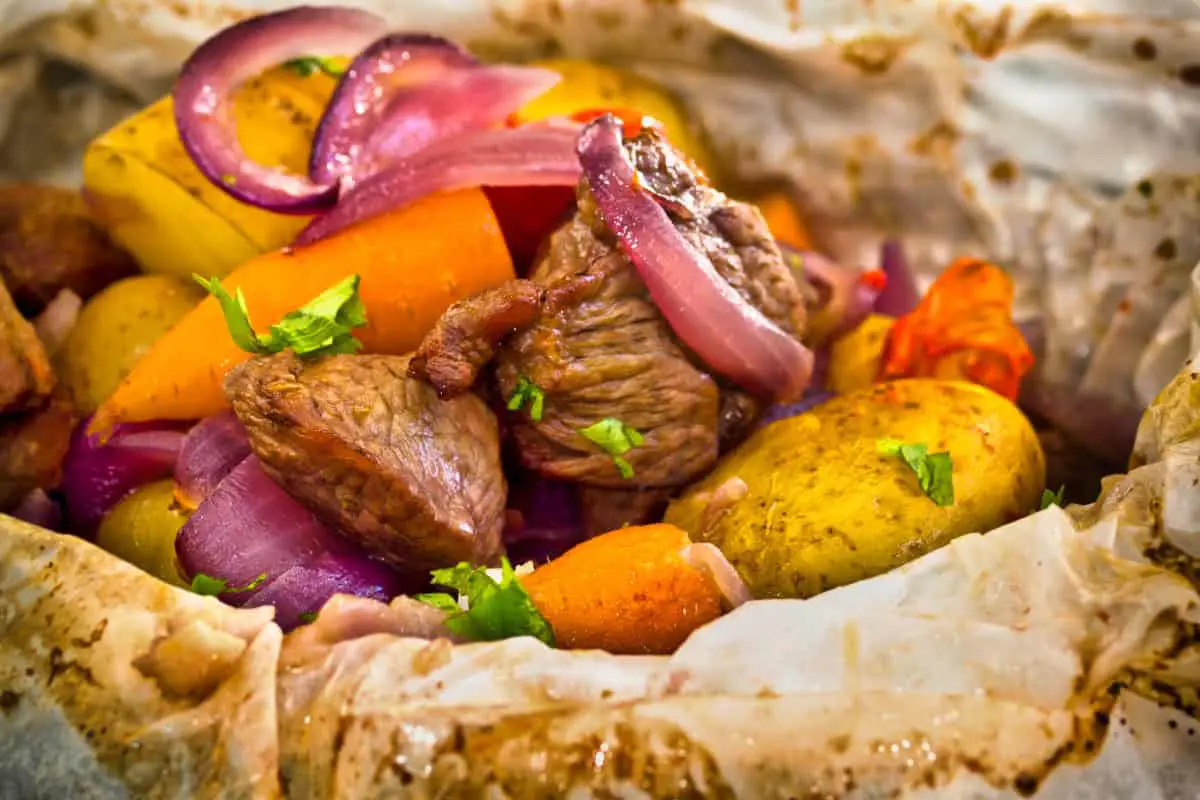 'Ofton Kleftiko', traditional Cypriat recipes dishes are cooked from lamb leg meat. It is marinated in olive oil, lemon, garlic, and onion. It's cooked in baking paper in order to save the rich aromas and liquids of the juicy meat. Kleftiko is sometimes cooked in portable white ovens with or without potatoes, and sold on the streets as an alternative to sandwiches or 'Souvlakia'.
One of the undoubtable advantages of Kleftiko meat is that it is way healthier than barbecued meat because it is not cooked on an open flame. It is common to see the elderly enjoy "Kleftiko" instead of "Souvla" because lamb meat reduces the risk of heart and artery disease.
---
You Might Also Try 25 Great Authentic Lithuanian Recipes (2022)
---
Beef Stifado is a traditional Cypriot recipe made with stewed beef in a thick homemade sauce that is slow roasted for hours until perfection. My mouth is watering just recalling the incredible stifado that Deirdre made with us. Delicious, healthy, and easy to make we recommend this Cypriot food to all!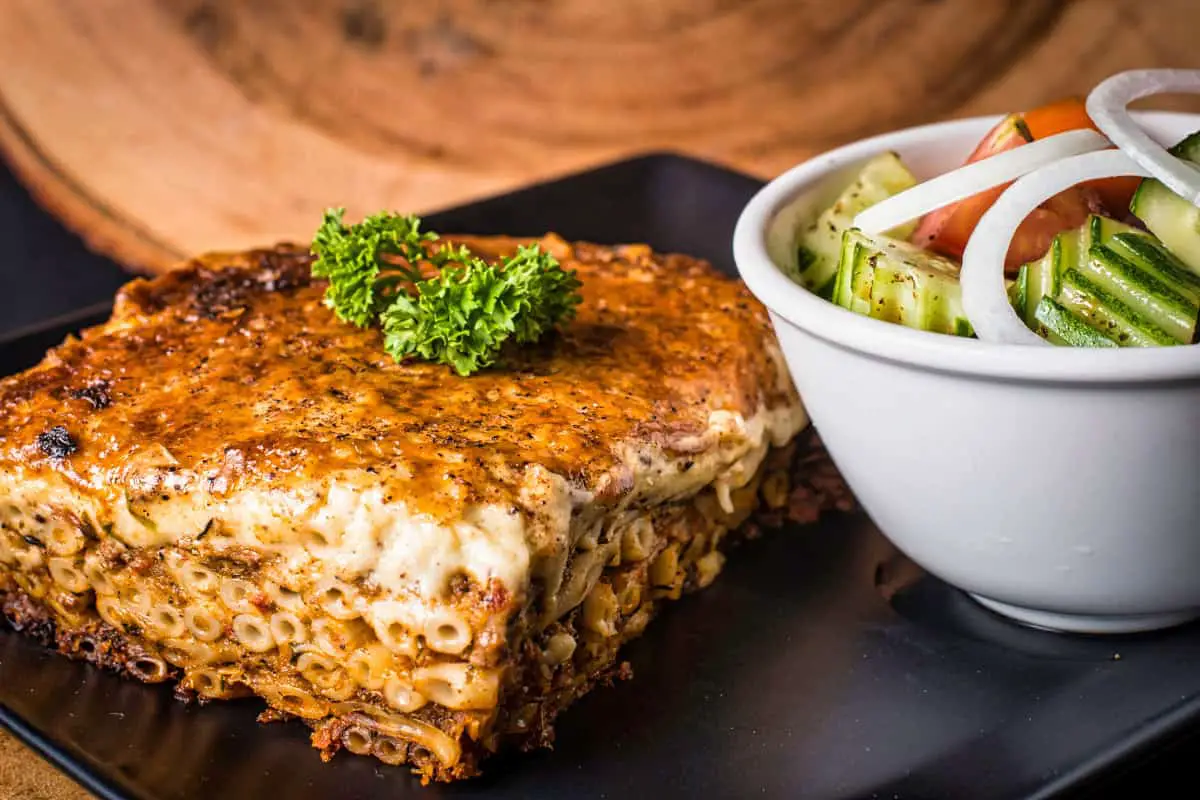 Some prefer a light bechamel, some prefer a heavier one. Some add tomato, some don't. There are many ways to make a good pastitsio, and though this isn't the only way, it is certainly a tried and tested delicious way.
The trickiest part of this recipe is making the bechamel sauce. I have tried to set out the instructions clearly. Tips and tricks:, when making the bechamel sauce, it is important to continuously whisk and have the stove on low heat. When putting together the "pastitsio", oil the pan before you begin filling it so that pieces come out easily. When making the bechamel sauce, for these Cypriat recipes, use some of the reserved pasta water in your bechamel sauce to add a little bit more flavor to it.
---
You Might Also Try 30 Traditional Hungarian Recipes "Simply Put Delicious"
---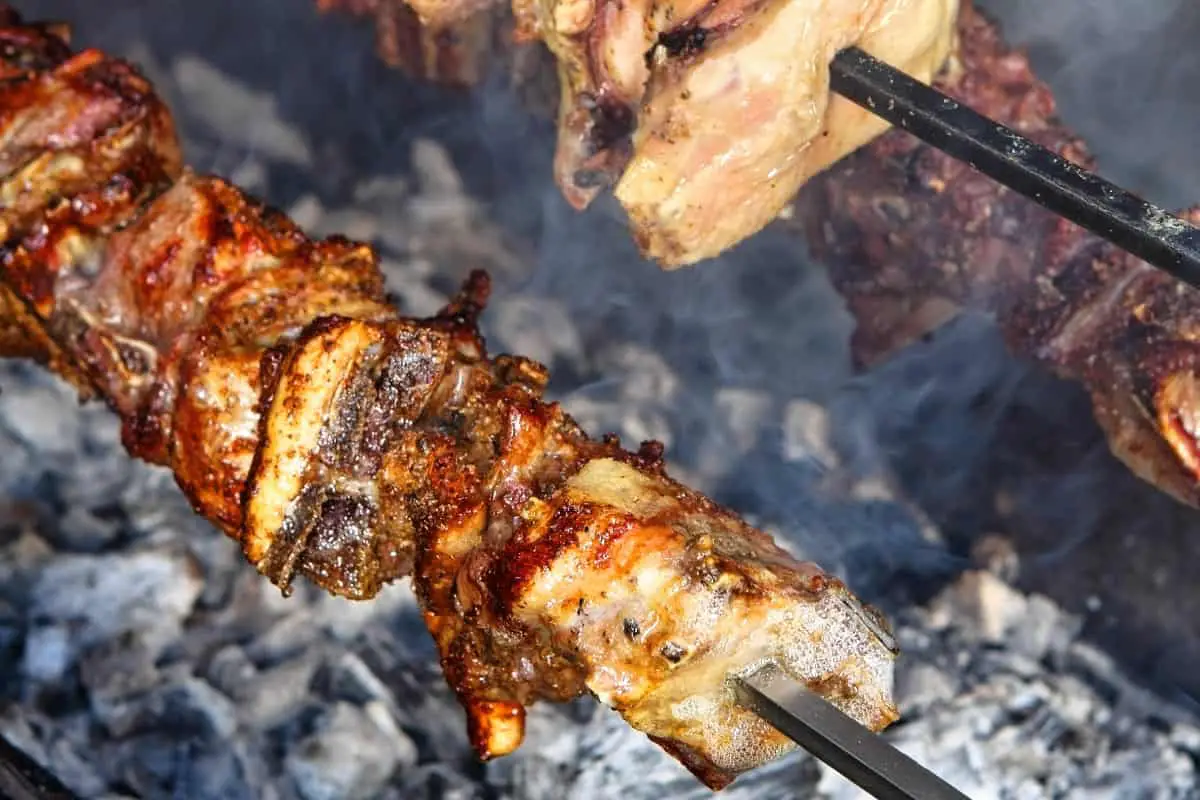 Pork Souvla may the be most famous of Cypriot recipes and is arguably the most popular. Consisting of skewered pieces of meat that are grilled, it is traditionally made by men and dates back to the iron age. Pork souvla is traditionally cooked on a foukou, which is a Greek charcoal grill with a rotisserie so that the meat can be turned and grilled evenly.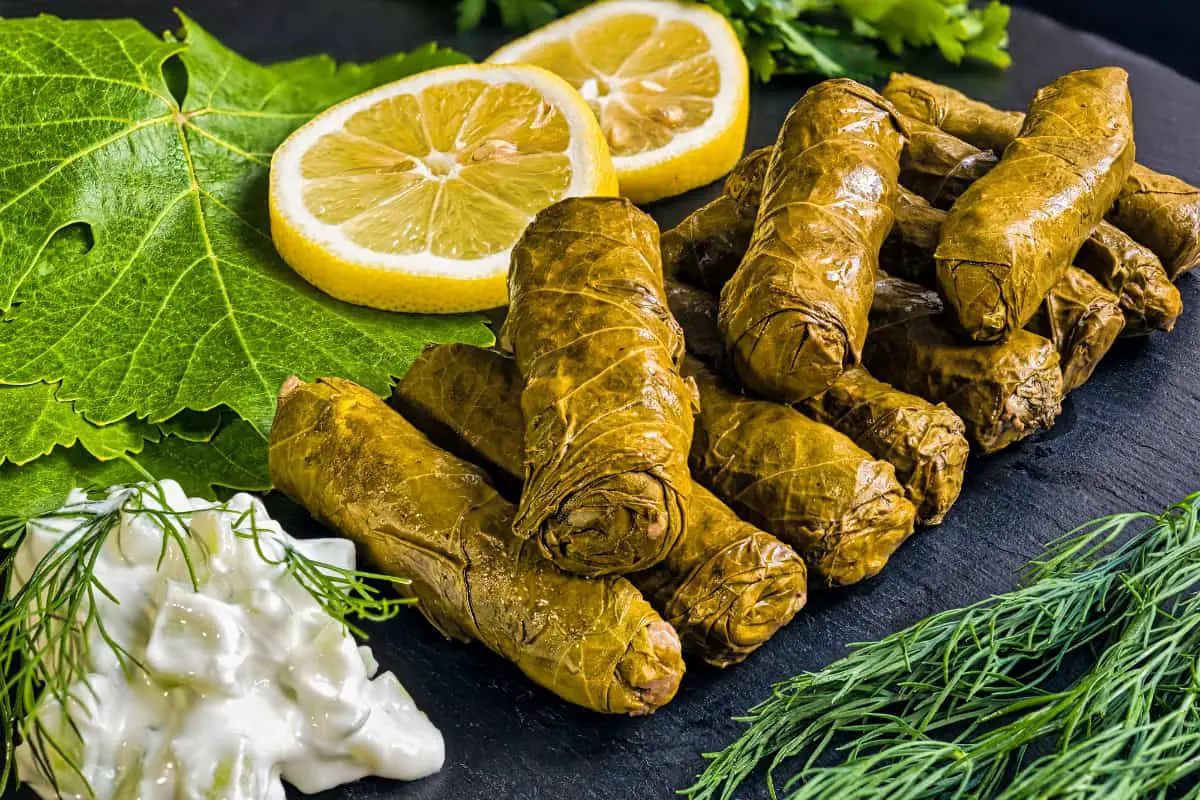 This Cypriot recipe has blanched grape leaves with a filling of ground beef and pork along with rice. It is traditionally served in a sauce containing cinnamon and tomatoes. Koupepia are typically made in large batches; they can be frozen and then cooked later. They are often served as a part of a meze platter or at buffets.
---
You Might Also Try 25 Traditional Croatian Recipes and Foods
---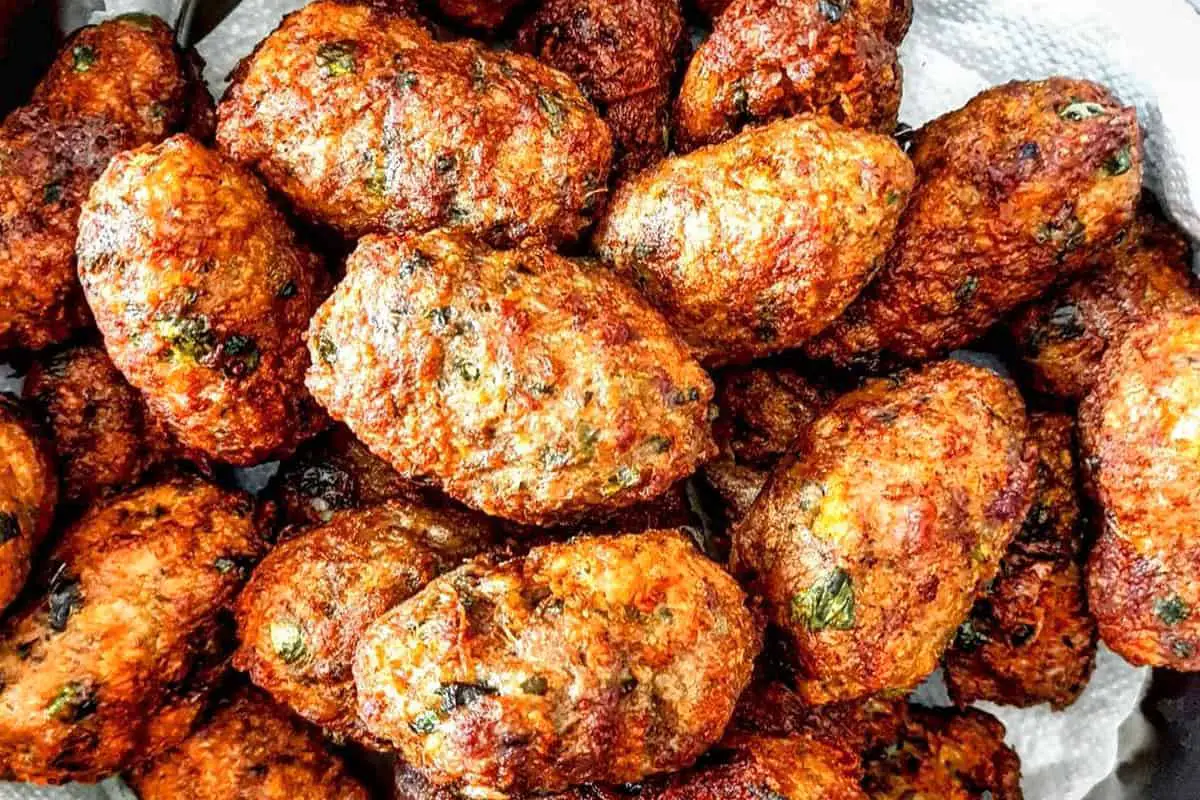 Cypriot recipes for keftedes are usually made with pork, though some cooks may combine pork with beef. Another key difference is the fact that the version made in Cyprus will typically use grated potato instead of bread.
They will also usually include mint and cinnamon as well as lemon, which gives this version a unique flavor. Keftedes are usually deep fried and served with pilaf, fried potatoes and yogurt.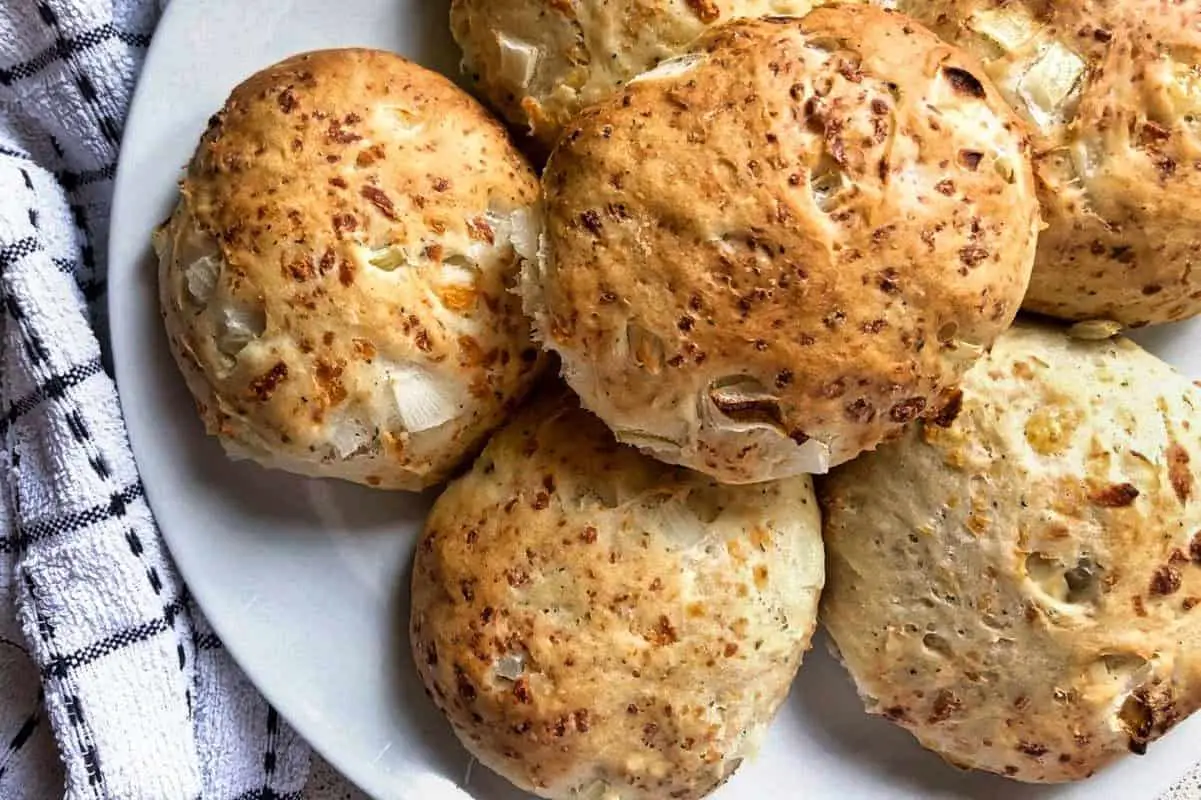 Hellimli is a traditional Cypriot recipes of savory bread are made by kneading chunks of halloumi cheese, onions, and mint into a bread dough. The dough is then sprinkled with sesame seeds and nigella seeds, before being baked in a traditional clay oven. This is one of our favorite recipes and we are so happy to share it with you!
---
You Might Also Try 30 Easy Traditional Bulgarian Recipes (2022)
---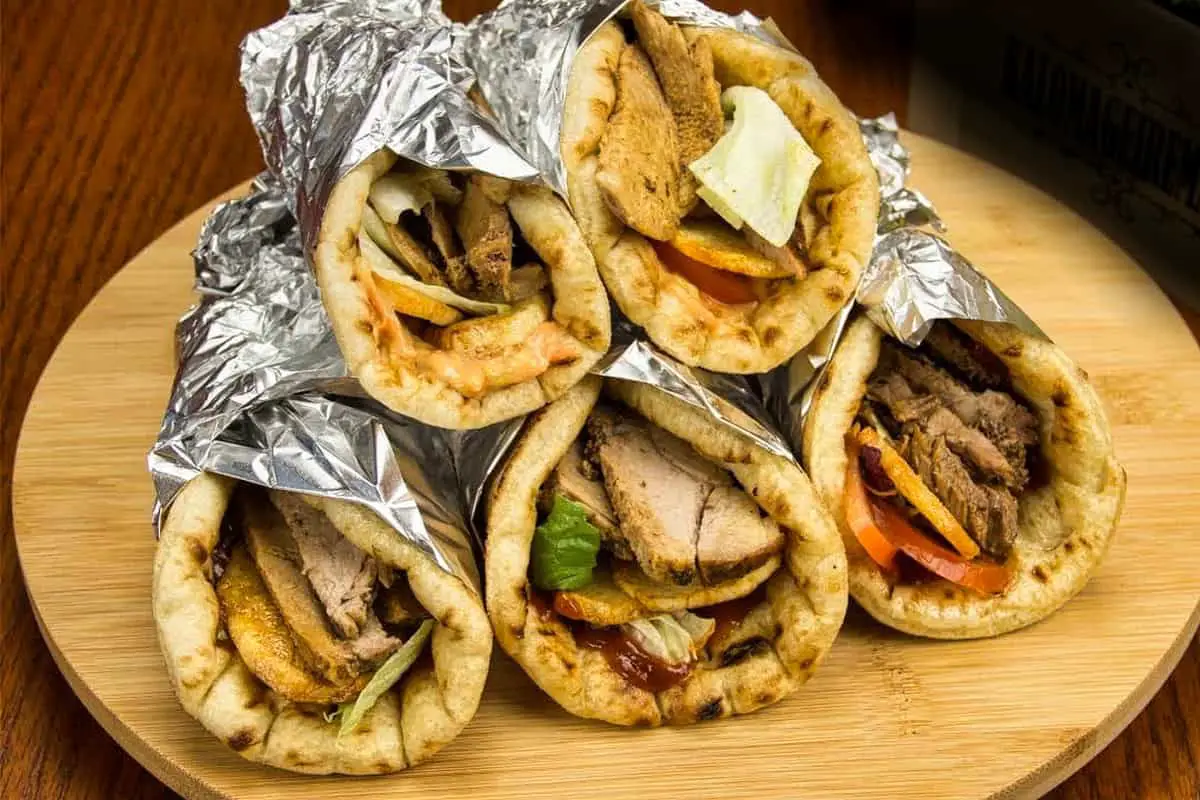 Also known as Giros or Döner, Gyros is a world-famous dish abundantly enjoyed in Turkey, Greece, and the Middle East, and of course, it also goes in Cypriot food staples list.
You can understand it as a cooking method where slices of meat are stacked on a vertical spit and slowly grilled. When serving, the chef will cut this stack, and they usually put the small fallen meat slices in Pitta – a cultural flatbread.
Options are endless for the accompaniments; you choose among their cultural condiments and multiple types of vegetables. The most common Gyros you can find in Cypriot recipes are pork and chicken.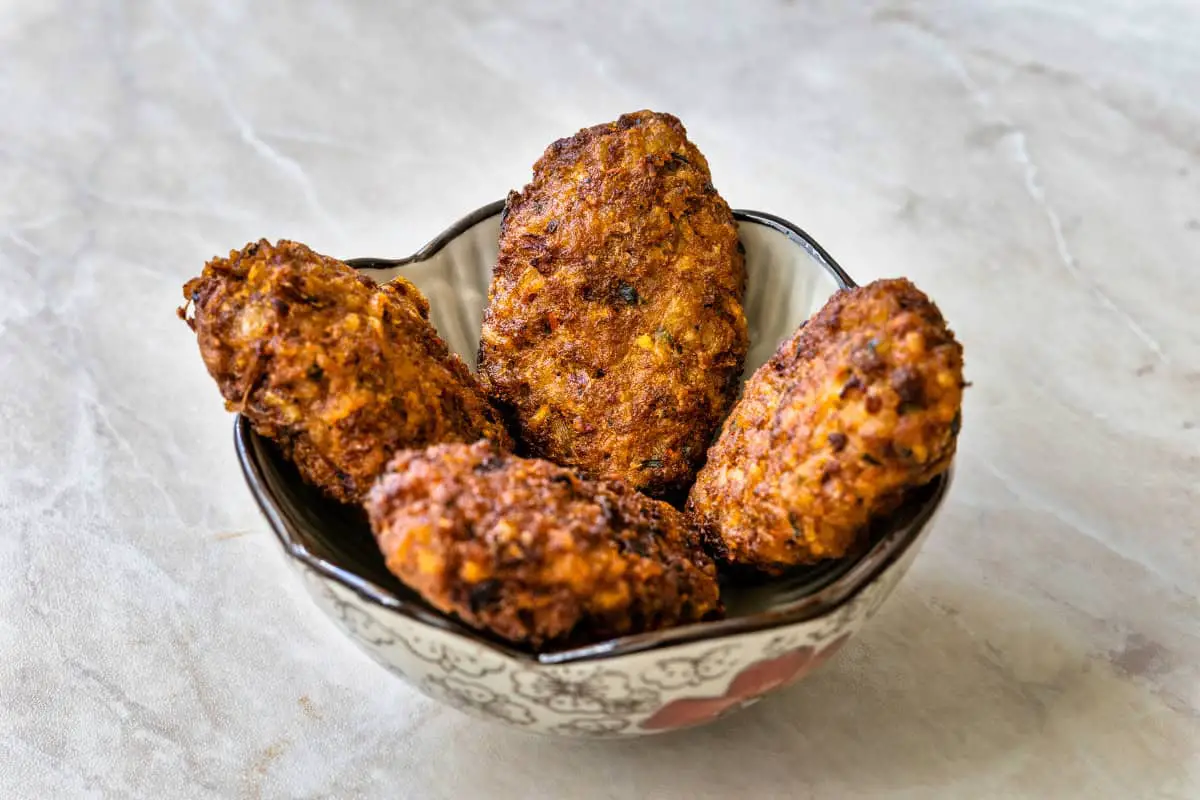 Sheftalies or Sheftalia is a variation of the generic Kebab. Interestingly, the origin of this dish's name comes from a Turkish Cypriot street food vendor, Chef Ali, who created and called it "Seft Ali Kebab", which eventually became Sheftalia nowadays.
This Cypriot recipe is comprised of minced pork or lamb, or both, with onions, cinnamon, peppers, and optional spices. The traditional way is to tightly wrap the sausage base in caul fat, a thin membrane that lines the cattle's stomach.
Sheftalia is usually served like Souvla in Pita with multiple accompaniments. Otherwise, the Cypriot food can be used on its own, alongside some salad and fries. It's truly a culinary delight you shouldn't skip when traveling to Cyprus.
---
You Might Also Try 30 Classic Bosnian Food & Easy Recipes To Follow
---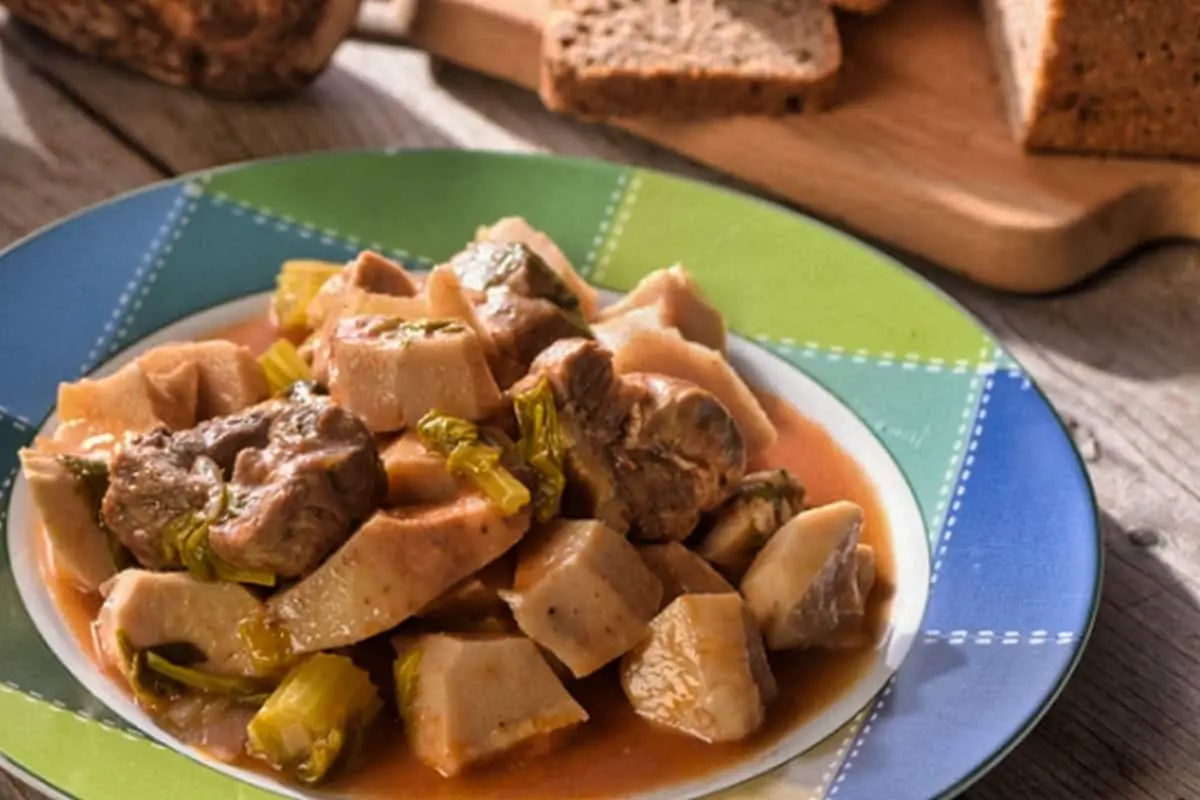 This is a welcoming, homely stew using Cypriot foods. The main ingredient is taro, which is a potato-like vegetable that has a nutty taste when cooked. Pork can be substituted for the chicken, but nothing beats meat that is cooked on the bone.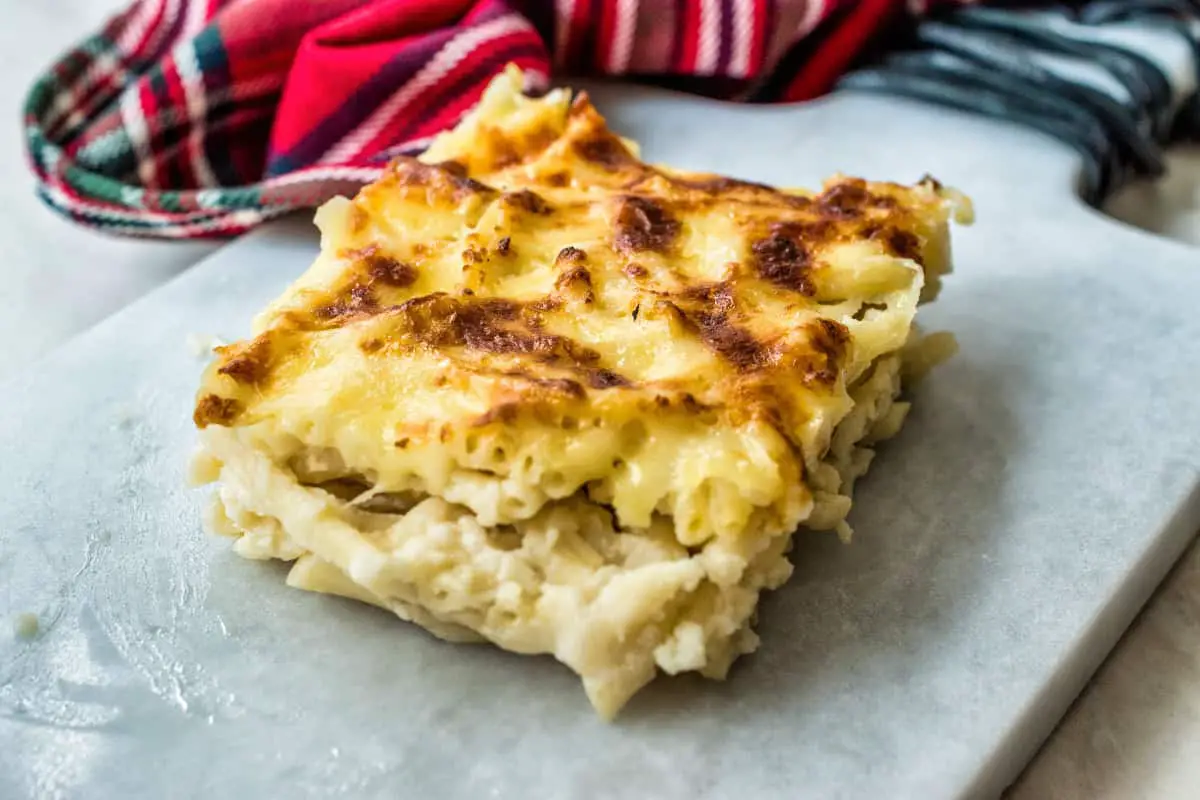 We all love an oven baked macaroni! After carefully boiling the thick spaghetti with deep-cavity oven pasta, we bring it together with its special sauce, and bake it until it turns brown with the addition of grated cheddar cheese. Our easy and practical Cypriot recipe for baked pasta with bechamel sauce is then ready and we share it with our loved ones.
---
You Might Also Try 25 Traditional Croatian Recipes and Foods
---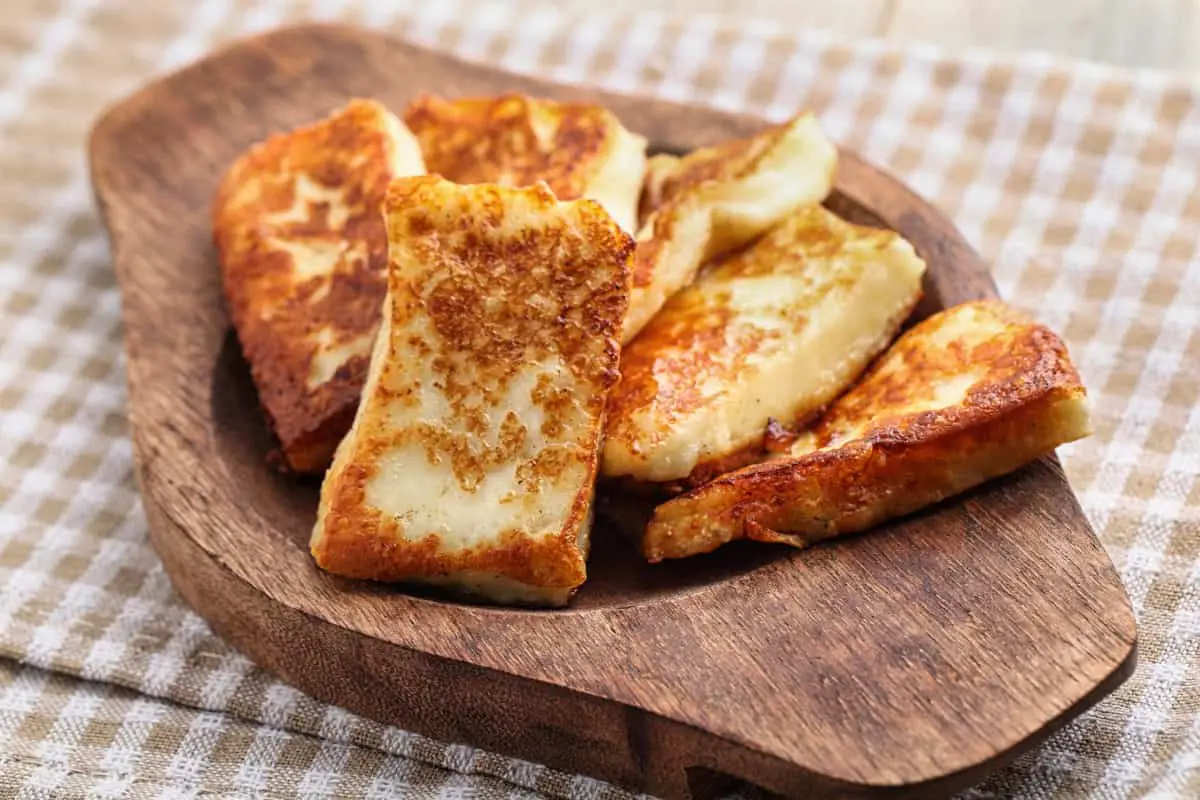 Out of all their traditional Cypriot foods, the Cypriots are most proud of their very own Halloumi cheese. Its soft texture and white color match the juicy anticipations of anybody who will be enjoying it with wine or eating it with watermelon.
This traditional Cypriot food of Halloumi is almost always served in traditional taverns as an appetizer, either raw or grilled. Also, it is served as a snack along with almonds, dried apricots, and olive bread dipped in virgin olive oil in wineries (during wine degustation).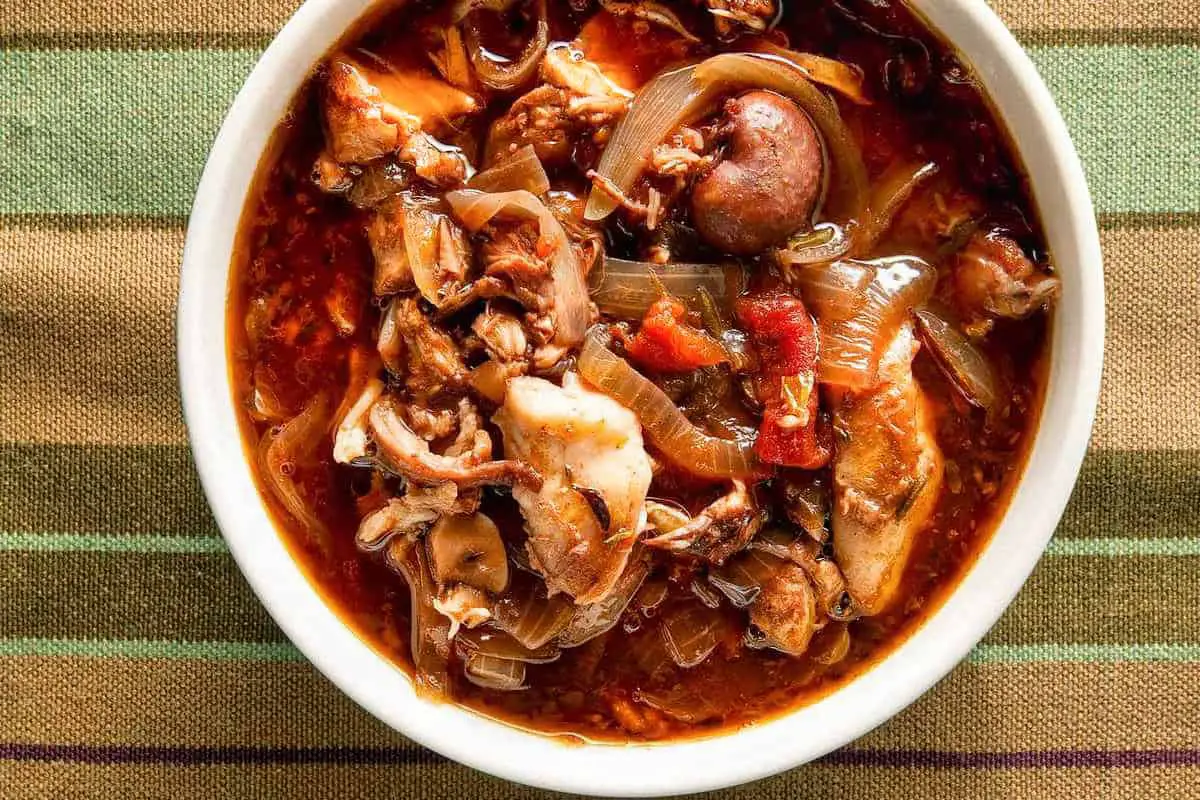 Stifado can be made of different types of meats. The Rabbit Stew or Kouneli Stifado is a culinary staple in Cypriot recipes.
The cooking process is quite the same though chicken broth can substitute for this dish. However, the spices are pretty different from the regular ones, adding pearl onion, allspice, rosemary, cumin, and perhaps red wine vinegar in place of red wine.
They also serve this traditional Cypriot recipe hot with some black pepper sprinkling alongside traditional crusty bread. Kouneli Stifado is undoubtedly worth the try when coming to Cyprus. Its deliciousness will hit your heart right on the first try!
---
---
For complete photos and videos of our trip, visit us on our Instagram Page
You May Want to Join Our Boondocking Group on Facebook For More Information
Discover our unique product testing journey at Our Big Escape. We bring real-world experiences and adventures into every review, ensuring authenticity and reliability. Dive into our process at
How We Test Products: A Journey of Discovery and Trust
, where every product is an adventure tested.