Last updated on September 27th, 2023 at 05:54 am
Traditional Danish recipes are rooted in the peasant dishes served across the country before the Industrial Revolution in 1860. It was based on the need to make use of natural Danish foods on or near the family farm. As a result, a variety of brassicas, bread, fish, pork and later potatoes, were eaten everywhere.
History of Danish Foods
For decades, people have made the connection between traditional traditional Danish recipes and the types of food commonly grown or captured in the area, as the culture often depends on food that can be found locally. That particular region of the world has relatively short summers. That means their growing season is also fairly short. Therefore, they have traditionally been limited to certain vegetables which could be grown rapidly and then stored for longer periods of time.
The vegetables most well suited for growing in the area include cabbage, beets and other root vegetables. In order to supplement their diet, those living in the region commonly consume pork and fish. Without a doubt, these are the Danish foods that can be found in ample supply. In fact, it isn't at all uncommon to see someone who uses pork or fish as the heart of a meal, all while adding cabbage and other vegetables to balance it all out. Like many other parts of the world, bread is also a common occurrence there. More specifically, traditional culture typically prefers rye bread that is baked by locals to anything else.
One of the best things about the local culture is that the people have a remarkable way of preparing a number of different traditional Danish recipes with a fairly limited number of ingredients. Anyone who thinks that they eat the same thing all the time has clearly never had the opportunity of enjoying the culture. The truth of the matter is that even when they have only a few ingredients from which to choose, they manage to find new and innovative ways to prepare their meals. In fact, it's highly uncommon to see the same meal prepared twice in the same week. If you're curious, here are five of their most popular dishes.
5 Most Popular Denmark Recipes
Smørrebrød – This is often considered the perfect Danish recipe for lunch. It starts with a piece of rye bread, cut in half. The bread is then topped with fish (sometimes cold pork is used), potatoes, eggs, and onion. Last but not least, the mixture is topped off with a small amount of horseradish.
Stegt Flæsk – This is such a popular dish that it's considered one of the most important traditional Danish recipes of all time. It's also easy to make, as it involves frying pork until it's ultra crispy. Once finished, the pork is paired with boiled potatoes and topped off with parsley sauce.
Brunede Kartofler – This Danish recipe involves boiling potatoes and then coating them with sugar. They are then carmelized in an oven to give them an even, sweet flavor. In most cases, these types of potatoes are served in conjunction with pork. From time to time, cabbage is added to the meal.
Agurkesalat – This is a common dish that is often served alongside pork or fish. It's also one of the easiest traditional Danish recipes to make. It involves slicing cucumbers very thin and combining them with vinegar and onions. Finish off the Danish recipe with some salt and pepper.
Karbonader – Thinly sliced pork chops are coated with a mixture of egg and breadcrumbs. They are then fried in oil with salt and pepper. More often than not, this Danish recipe is served with boiled potatoes and rye bread.
FAQs About Traditional Danish Recipes and Danish Foods
How Fresh is the Food Used in Traditional Danish Recipes?
The food is typically very fresh, especially where the meat is concerned. It is not a common practice in Danish culture to allow meat to sit in freezers for months before being prepared. Instead, it is typically very fresh. If the meat in question refers to fish, it is usually something that was caught the same day.
Are There Typically Variations on Danish Recipes or Are They Set in Stone?
traditional Danish recipes are not set in stone. In fact, they center around being adapted to the ingredients that are on hand at the time the food is prepared. As such, there can be many different variations on a single Danish recipe.
Are Traditional Danish Recipes Adapted to Fit the Time of Year in Which They Are Prepared?
In much the same way these traditional Danish recipes are adapted to the available ingredients, they can also be adapted to fit the time of year in which they are prepared. Fresh vegetables tend to be served more often during harvesting season, as that is when they are most plentiful.
Which Danish Foods Are More Popular, Meat or Vegetables?
Most typical meals center around pork or fish. A number of vegetables may be prepared in different ways and served alongside the meat in order to complete the meal. Bread is also commonly served.
What is One of the Most Popular Techniques in Preparing These Traditional Danish Recipes?
Many meats and vegetables are pickled so they can be used for longer periods of time. It isn't at all uncommon to find pickled fish or a variety of pickled vegetables served at meals.
Our Top 20 Traditional Danish Recipes
---
---
check out our video
---
---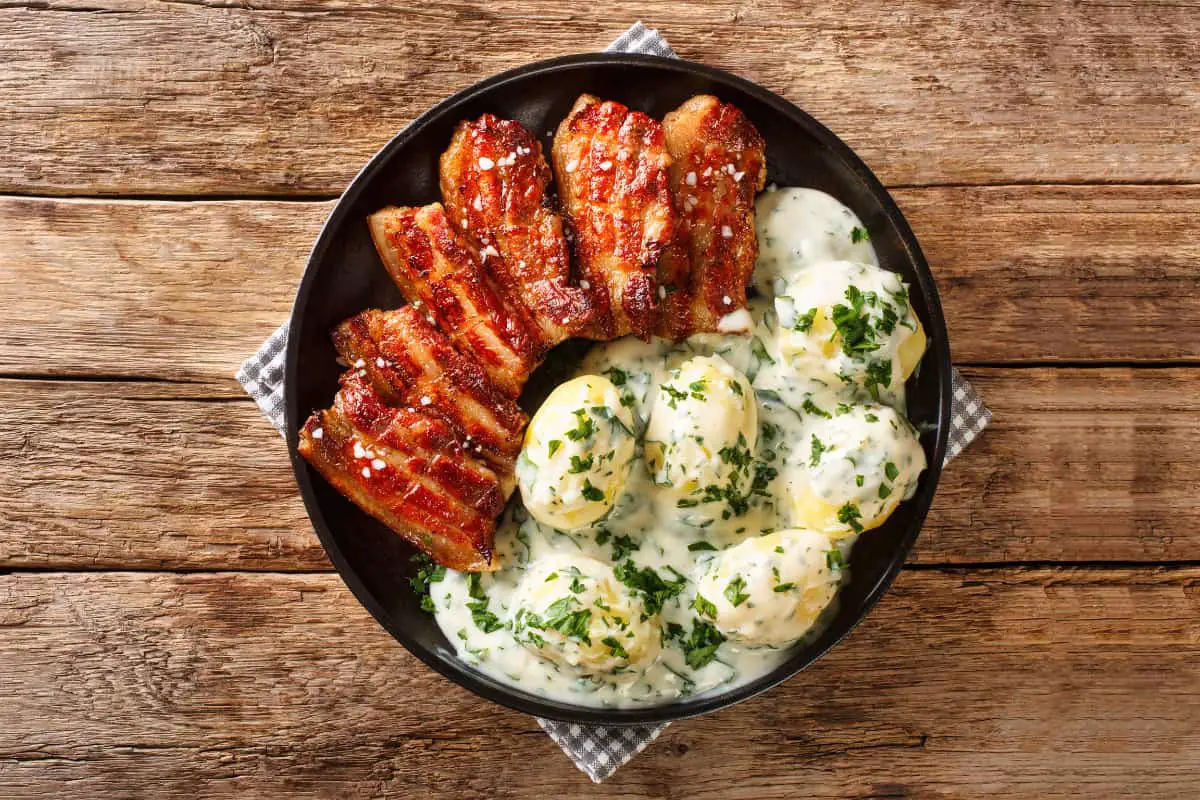 The Danish recipe and dish is orientated from the rural kitchens in Denmark in the beginning of 1800s – and has been a traditional everyday meal for generations of Danes that just want to taste the juicy fried pork belly with potatoes and parsley sauce.
The dish was prepared and served in restaurants about 1850 – and a bit earlier in the city household kitchens. Here is a very old and simple recipe from the 18th century – which is very easy to prepare – cook and serve – and a recipe that has been useful for generations – and is used widely in today's Danish kitchens.
The name Hønsekødssuppe is misleading because a literal translation is "hens soup." But, there are no poultry chunks included in the recipe. Instead, Danes boil a whole chicken carcass to create a delicious broth. Then they add in different Danish foods like frikadeller (meatballs) and dumplings.
There is a lovely relationship between many classic Danish dishes. When a chicken is boiled to make stock, the meat of the bird is often used for creamy chicken and asparagus tartlets, while the broth is turned into this delicious chicken soup with both pork and dough dumplings. While we used some of the locally available baby vegetables in this soup, it is just as delicious served with the vegetables used to make the stock.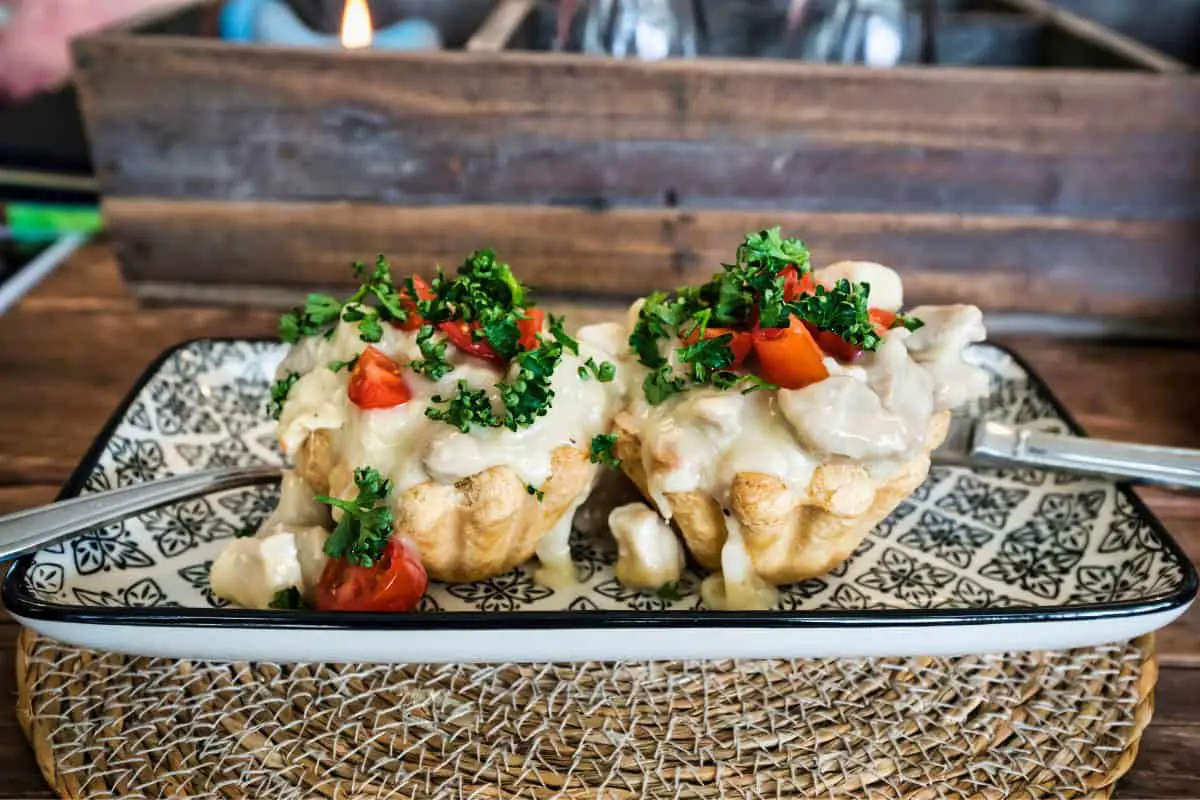 Chicken and asparagus tartlets is a classic Denmark recipes dish eaten for more than 100 years. The shells of puff pastry are filled with cooked chicken, fresh asparagus and a Bechamel sauce with dill. A delicious Spring dish, mainly eaten as a starter or as a dish between a starter and a main course. Originally you would serve a chicken soup for starters – a clear soup with vegetables, meatballs and dumplings – and then use the cooked chicken meat for the tartlets.
Most Danes consider chicken and asparagus tartlets grandmother-food: The kind of food your grandmother would make, and you would love to eat. I only eat chicken and asparagus tartlets in the Spring, when I can get hold of fresh asparagus but don't be ashamed to use canned asparagus. This is what many grandmothers would use and many people today still do.
Use leftover chicken or cook two or three chicken breasts in water with a small carrot, onion or leak, salt and 5 peppercorns for about 30 minutes or until tender. The trick is to simmer gently and then let the chicken cool in the stock. This way the meat remains moist.
---
You Might Also Try 27 Best Authentic Austria Food & Austrian Recipes
---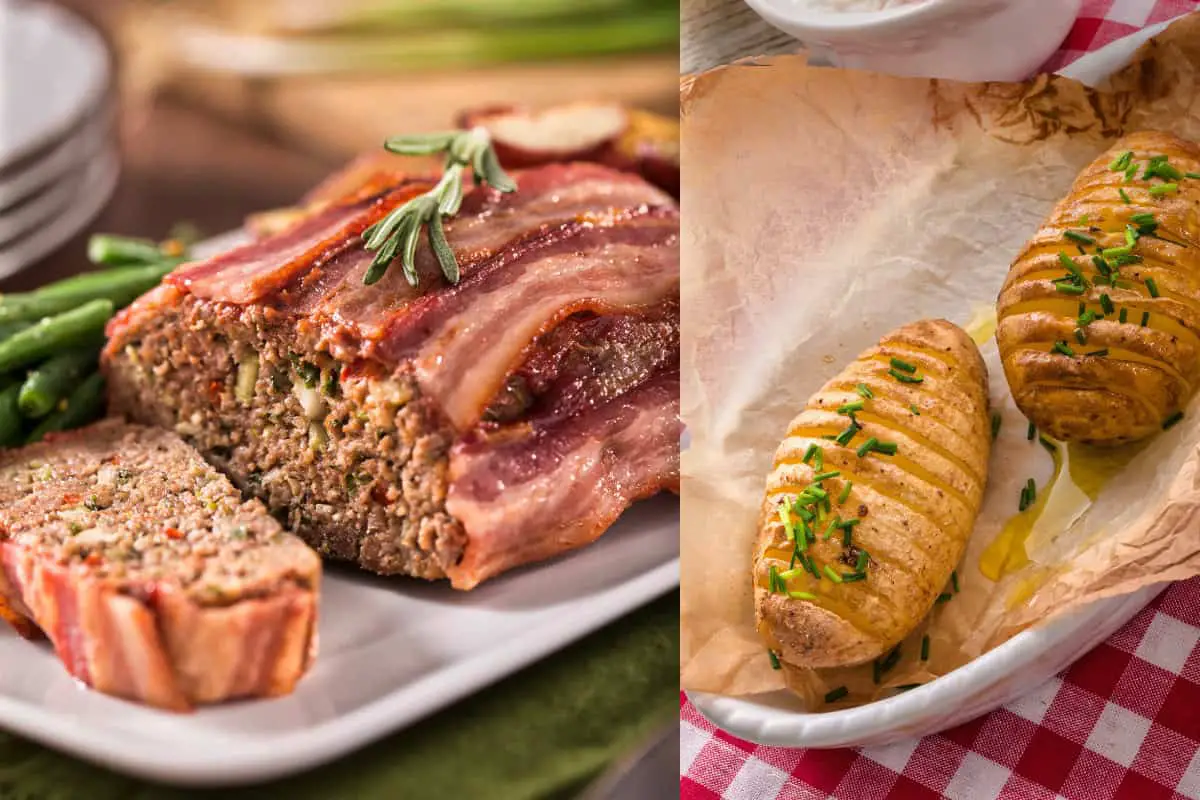 As far as I'm concerned, this is the ultimate home comfort dish and the meal I request when I go back to my parents' house in Denmark. It's a simple and easy-to- prepare meatloaf, but it's delicious with the sweet, creamy gravy and crisp potatoes. One of the truly traditional Danish recipes.
Traditionally, the meat used is half pork/beef – but my mother Lena's recipe uses just beef; the result is a firmer meatloaf, but if you prefer a less firm loaf, use half pork/beef.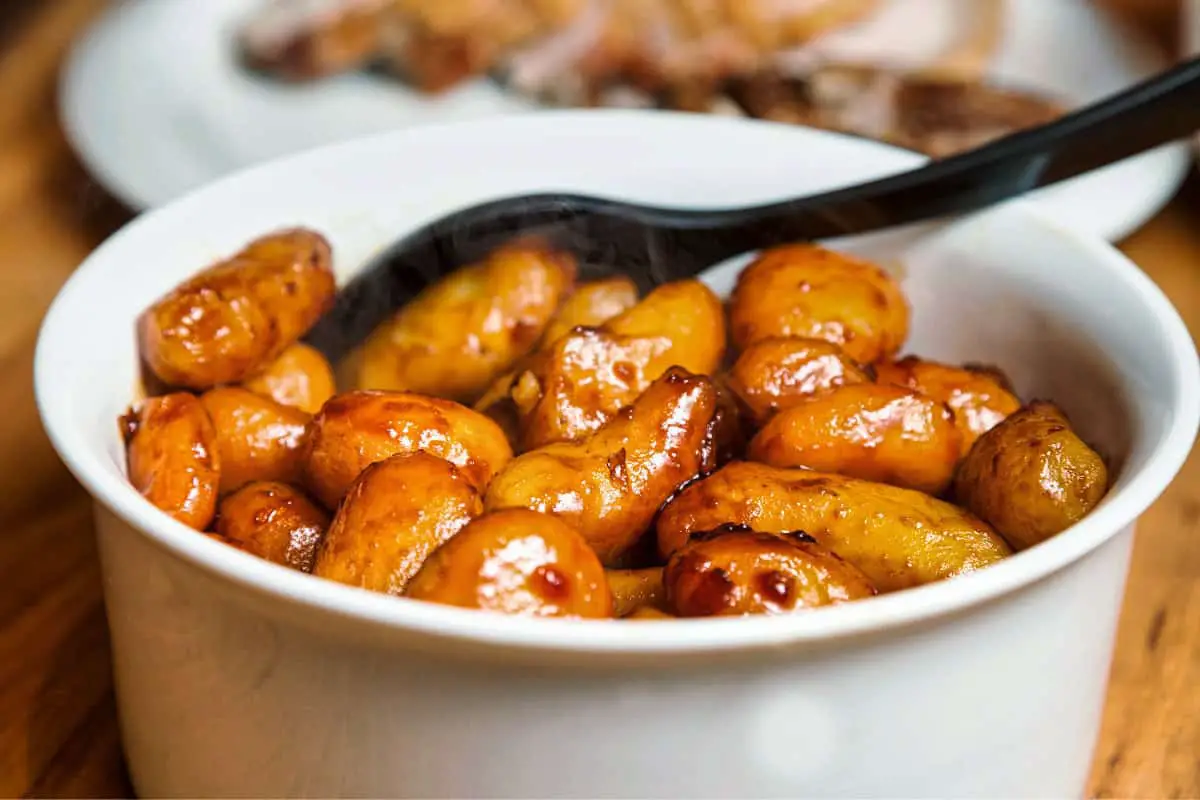 Caramelized food not only looks appealing but tastes fantastic, and it's all because of science. A unique chemical process called Maillard Reaction happens when making caramelized dishes.
That's one of the reasons that Brunede Kartofler (caramelized potatoes) has made it from a traditional Danish Christmas food onto the everyday menu. This Danish recipe pairs best with mørbradgryde (pork tenderloin in a cream stew).
Although you should use small peeled potatoes for an authentic taste, it takes time. So as a danish food at home quick hack, use new potatoes instead. Try not to fiddle with them while caramelizing because the sugar coating will crumble.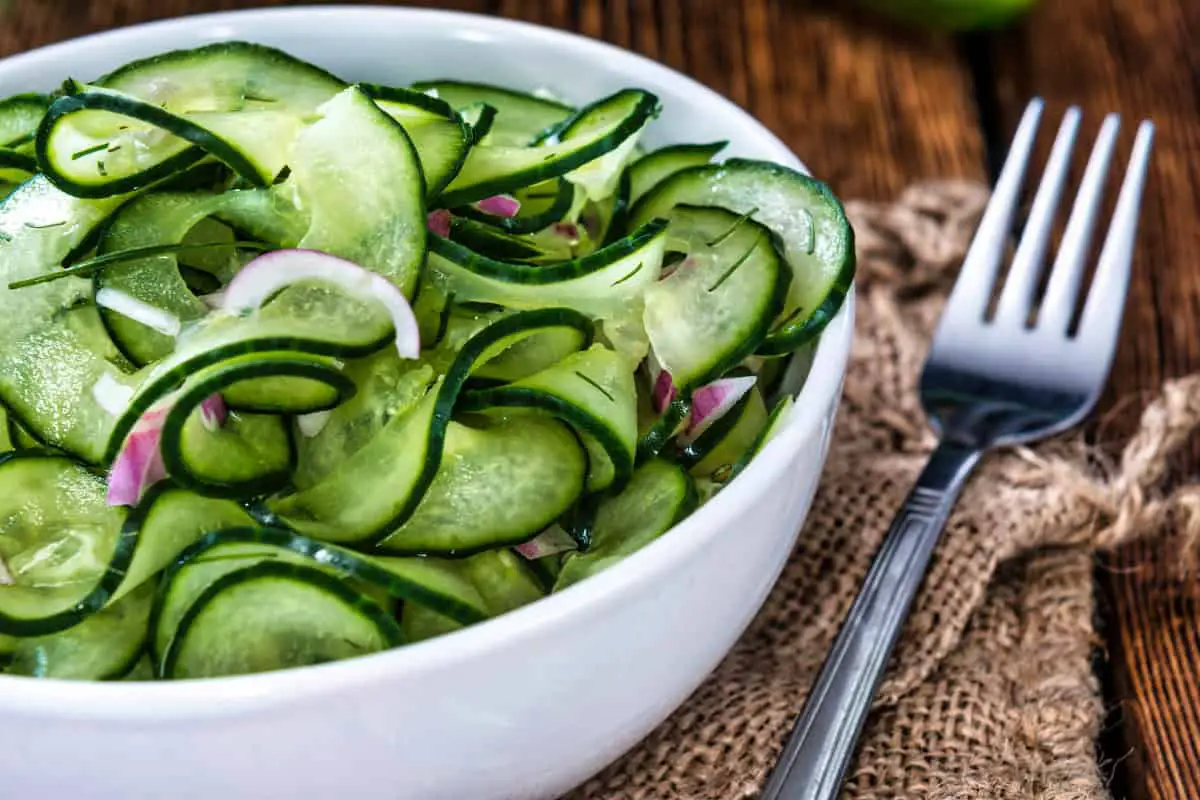 This easy pickled cucumber salad recipe adds a lovely fresh taste to any open sandwiches or pork dish; serve with hot dogs, roast pork or even prawn salad. My grandmother always said that you should cut the cucumber as thin as possible, so it is floppy!
Agurkesalat is the special Danish version of Cucumber Salad with thinly sliced cucumbers. It is used on most traditional rugbrødsmadder which are open-faced sandwiches served on Rye Bread served with different delicacies like shrimps, cold potatoes with mayo, hearings, and so on.
Another place where this Danish foods is almost mandatory is on Danish Hot Dogs. Danish Hot Dogs are served with ketchup, mustard, remoulade (a kind of mayo that is based on cucumbers as well), agurkesalat, and roasted onions.
---
You Might Also Try 25 Authentic Finnish Recipes and Foods (2022)
---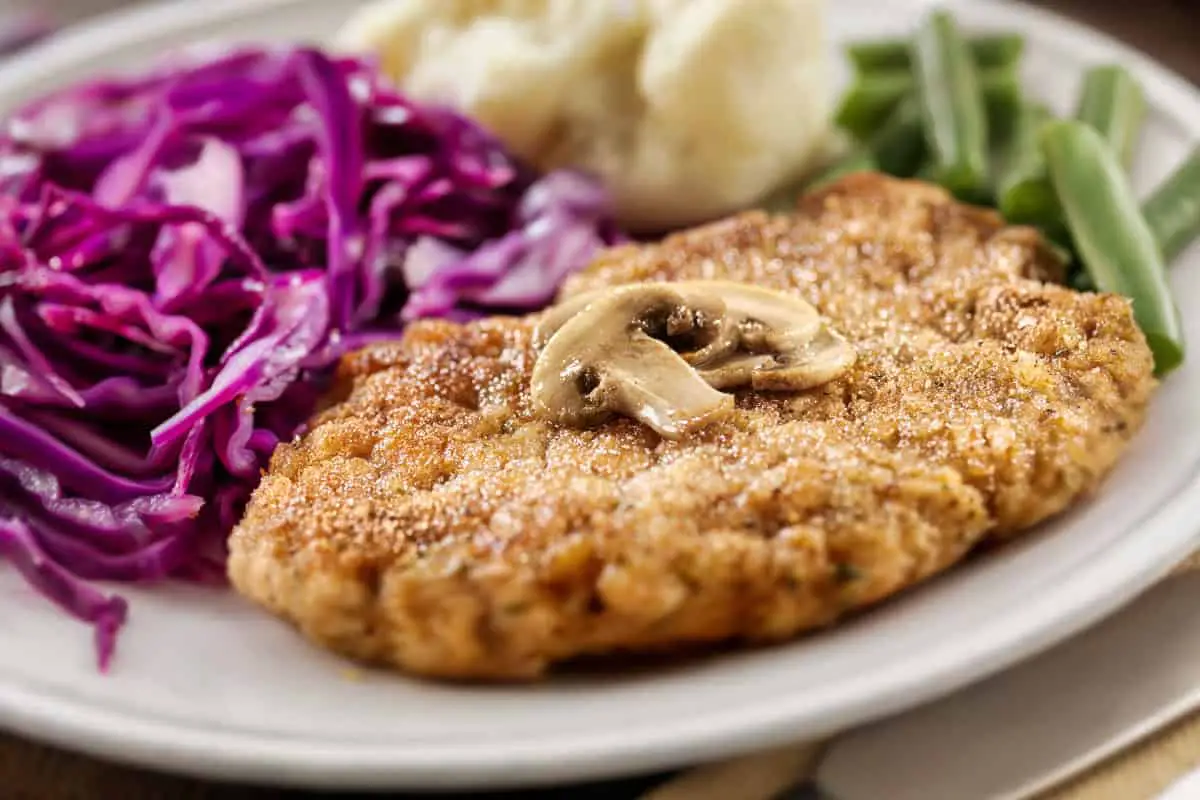 The word Karbonader can't be translated into English but they can be called Danish Breaded Pork Patties. I am not sure if this dish was originally invented as one of the original Denmark recipes. However, it has always been a popular and traditional dish on the Danish dinner table.
It is really simple to make Karbonader. In the original recipe the meat used, is a mixture of ground pork and veal. This gives the best and most traditional taste. However, I know that it can be difficult to find ground veal meat in some countries. In that case you can also just use ground pork meat with about 10-12% fat.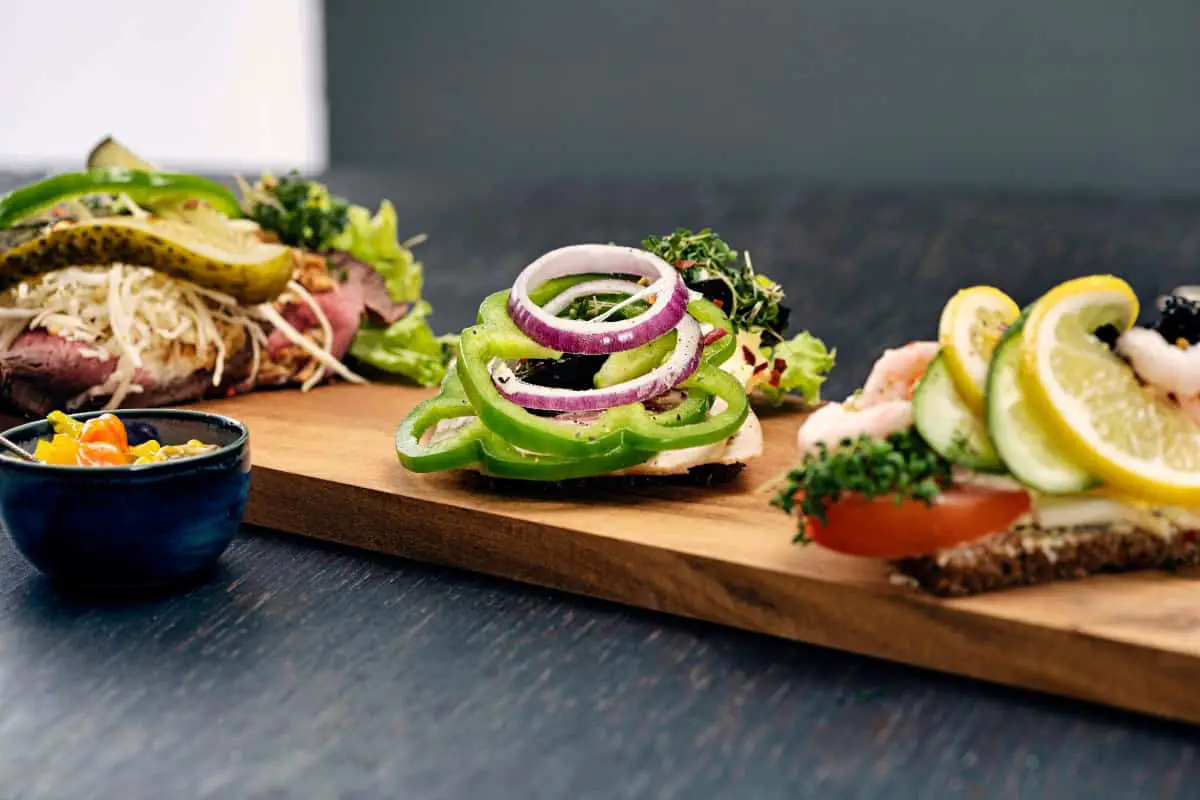 Smørrebrød is probably the best-known traditional Danish recipes when it comes to Danish food. The Danish food version of the open sandwich includes delicious rugbrød (dark rye bread). If it's made traditionally, it will be a thick, dark and rich bread with lots of butter. Slice it up and layer on your toppings.
Basically bread with butter, smør meaning butter and brød bread in Danish. But it doesn't stop there, just a bread smeared with butter would be rather boring. I do love my buttered bread, but I do like it better with something on top. And the things you can top your open-faced Danish sandwiches with… it really is a never-ending story.
There are, of course, the Havarti, Danablu or Esrom cheese, the pickled herring, or the liver paté, but otherwise, I cannot spontaneously think of many other Danish foods. And if you like open sandwiches, have a look at the Smoked Salmon Sandwich, the Eggs and Asparagus on Toast or the Poached Eggs and Tomatoes Sourdough Toast.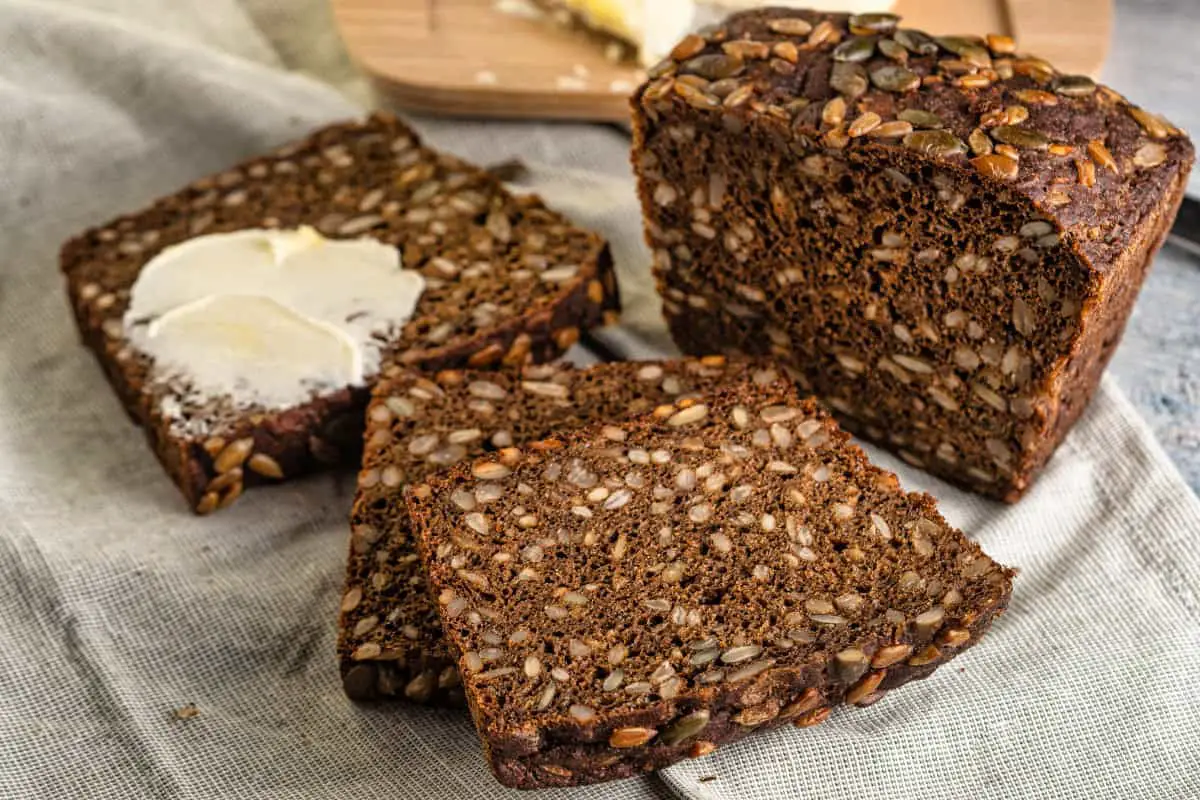 This authentic homemade Danish recipe of rye bread (rugbrod) is packed with nutrients, has a fantastic texture and tastes absolutely incredible!
Dense whole grain breads are particularly popular. You'll see them served cut up in squares for a variety of hors d'oeuvres (for example, topped with gravlax/smoked salmon, a dollop of crème fraîche or hard-boiled eggs and a sprig of dill), served for breakfast with a tray of sliced cheeses and cold cuts, enjoyed for open-faced sandwiches or simply slathered down with good butter and jam.
In Denmark this rye bread (Rugbrød, Danish Rye Bread) serves as the basis for their Smørrebrød (ie, smorgasbord) wherein it is served buffet style with any number of fine toppings and is also a common accompaniment for many meals.
---
You Might Also Try 10 Best Traditional Dutch Recipes From Holland
---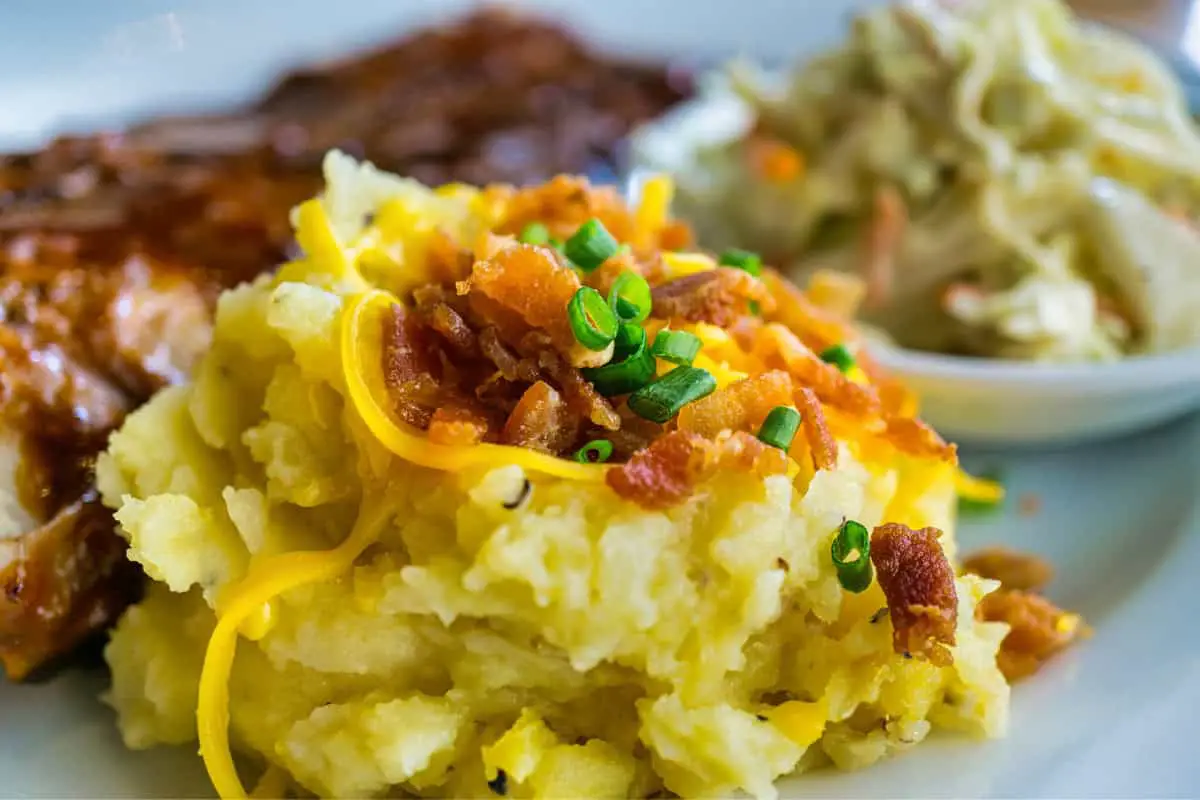 This delicious recipe is over 200 years old. We adore it because you only need a few ingredients of local Danish foods; mashed potatoes, diced onions, and fried bacon. Brændende kærlighed tastes good and is super easy to make. Someone told us that the unique name is because you have to serve it piping hot, and the Danes love it.
Brændende kærlighed is a traditional Danish recipe consisting of creamy mashed potatoes topped with bacon and onions. The bacon and onions are typically fried together, making them crispy and salty… and the mashed potatoes are left plain to be a great contrast to the salty crunch. The whole dish might also be topped with parsley, leek, or grated nutmeg. This dish is often served as a side with fried or steamed sausages or other meats.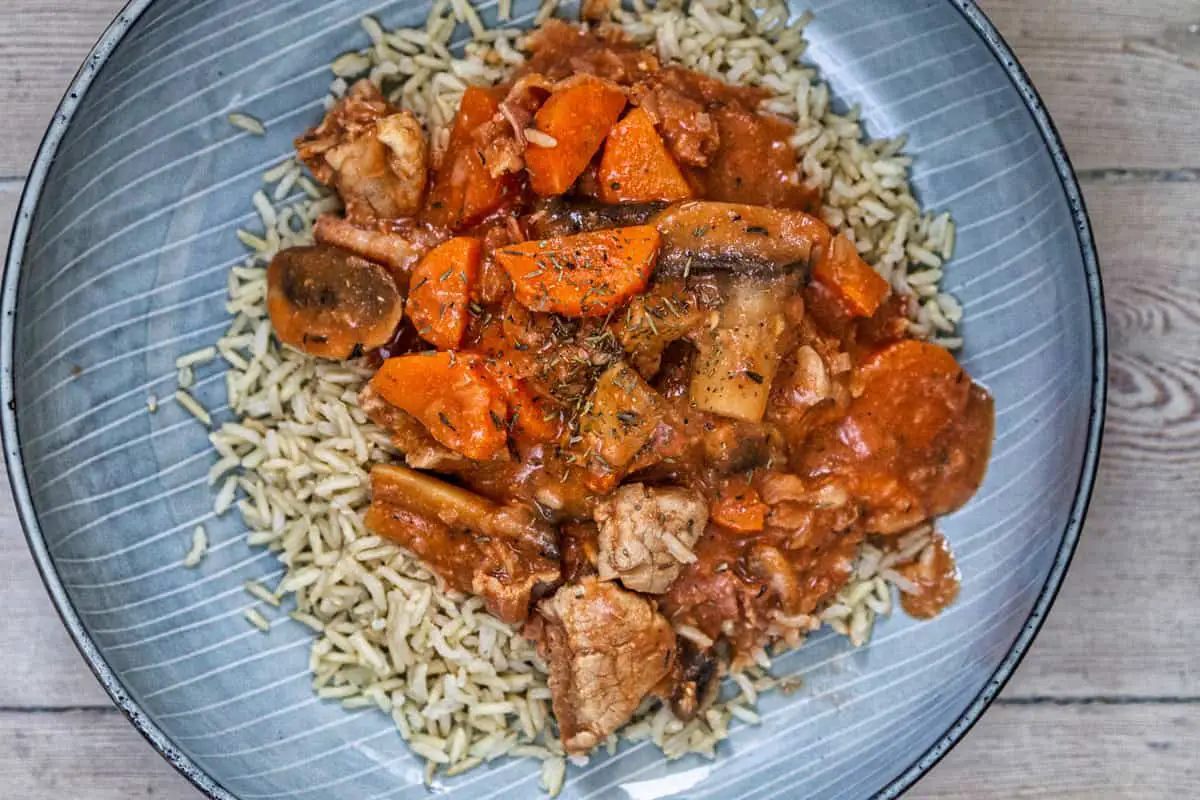 The recipe for Danish Pork Stew is in Danish known as Mørbradgryde and is one of the real classic Denmark recipes and an old-fashioned stew made with pork tenderloin, bacon, cocktail wieners and of course all combined in a creamy tomato sauce. Serve with rice or mashed potatoes.
The preparation will only take about ten minutes, and then you should leave it to stew for 40 minutes. After that, you would usually serve it with rice or boiled potatoes.
The traditional Danish recipes for many peoples' Christmas dinner, so most of us have made red cabbage at some point. However, the traditional Danish food at home has much fewer ingredients.
You'll only need red cabbage, vinegar, currant juice, sugar, and salt. It tastes like a sweeter version of sauerkraut. Rødkål is perfect with pork meals, frikadeller (meatballs), and flæskesteg (pork burger).
---
You Might Also Try My 15 Favorite Traditional Norwegian Recipes
---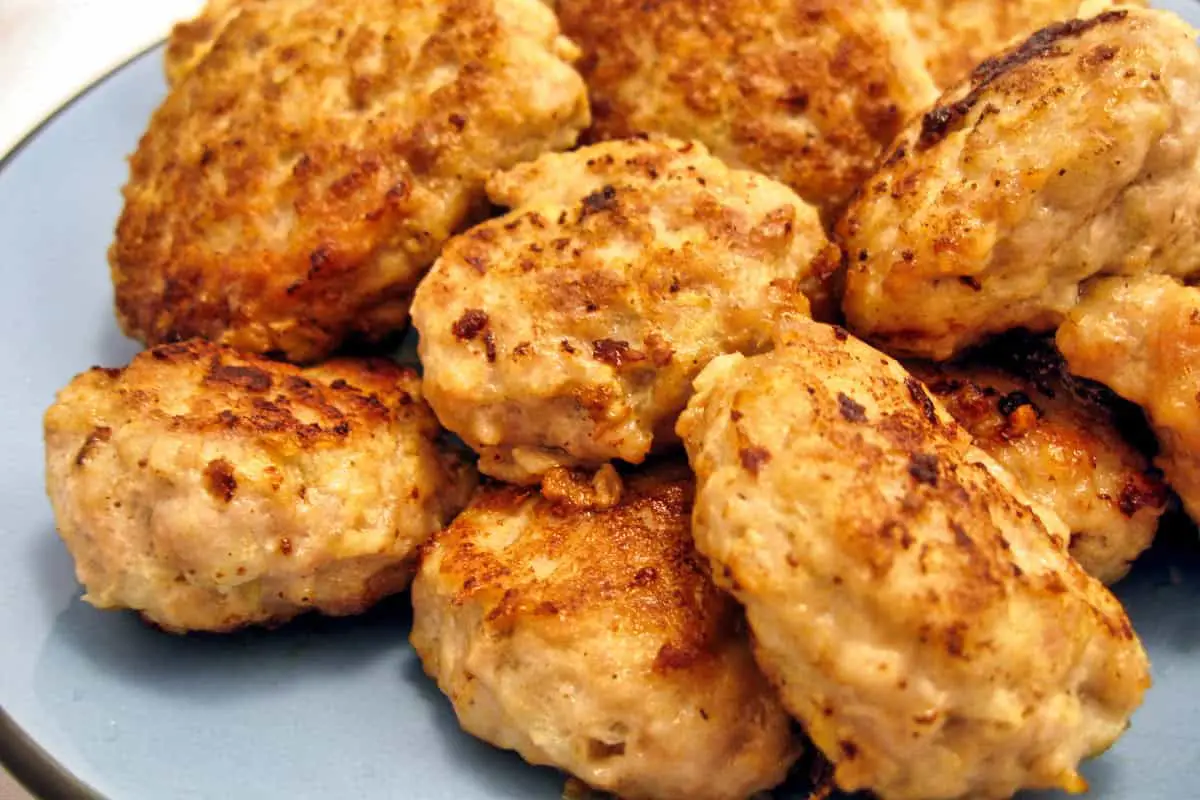 Danish meatballs are known all over the world, and for many decades meatballs has been the Danish National dish. They are eaten for lunch on rye bread with pickled red cabbage or with a potato salad. At dinner time Danish meatballs are usually served with potato salad or with boiled potatoes, a sauce and sweet and sour vegetables like pickled beetroot or gherkins.
Danes have been eating meatballs, or Frikadeller, for many hundreds of years. Denmark being an agricultural country with lots of pigs, we Danes have always been fond of pork meat. Traditionally, Danish meatballs are made of minced pork but can be found with a bit of veal or beef as well.
Every family has got their own Danish recipe of meatballs and there are thousands of recipes. This recipe is quite basic but you can vary it any way you like. You can add a bit of bread crumbs, oatmeal or fresh herbs.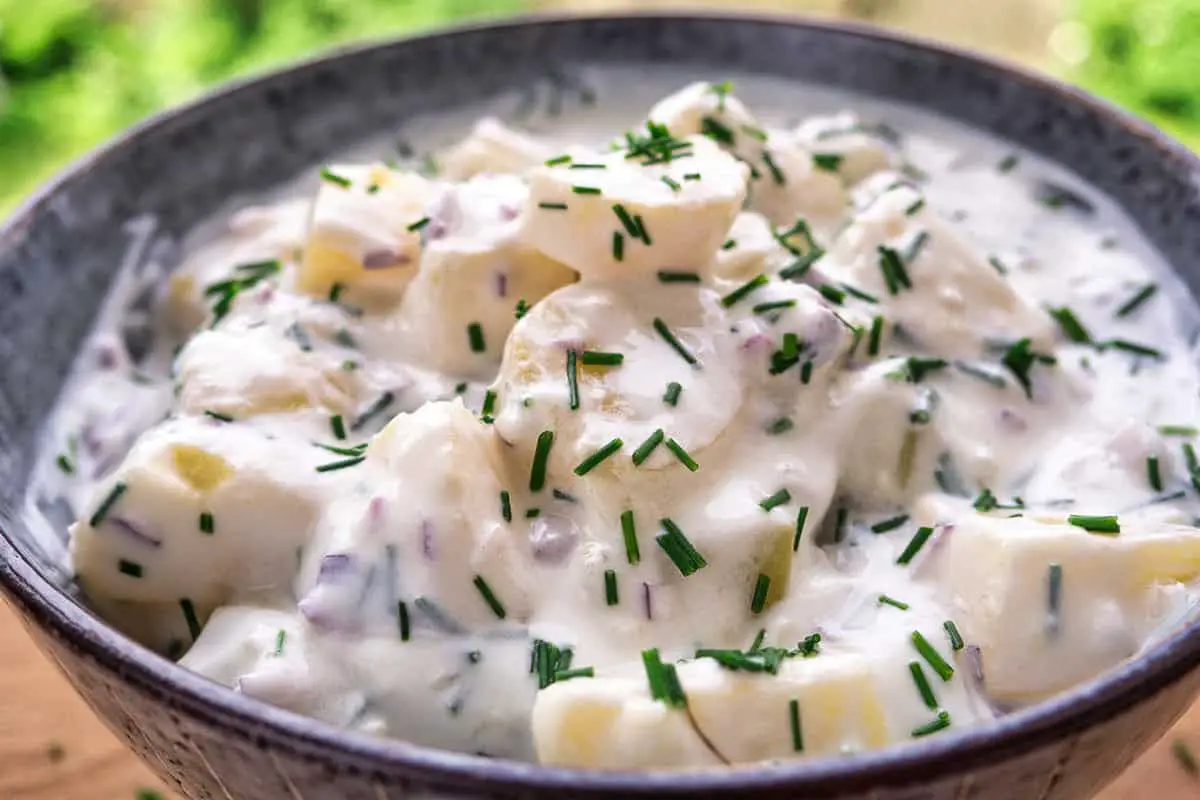 Danish people love potatoes in all forms and classic potato salad is no exception. It is a great summer side dish and a must-have for a traditional Nordic barbecue party. The popular dish is also great in combination with Danish Meatballs.
This recipe for Danish Cold Potato Salad, or Kold Kartoffelsalat as we called it in Denmark, is a great summer side dish and is a most-have for a traditional Nordic barbecue party. Cold Potato Salad is a fantastic side dish for most types of meat especially sausages and pork made on a grill.
Making a homemade Cold Potato Salad is super easy and you only need six different simple Danish foods for ingredients; sour cream, soured milk/Greek yogurt, bunch of chives, red onion, salt and of course potatoes.
15. Danish Remoulade – Traditional Condiment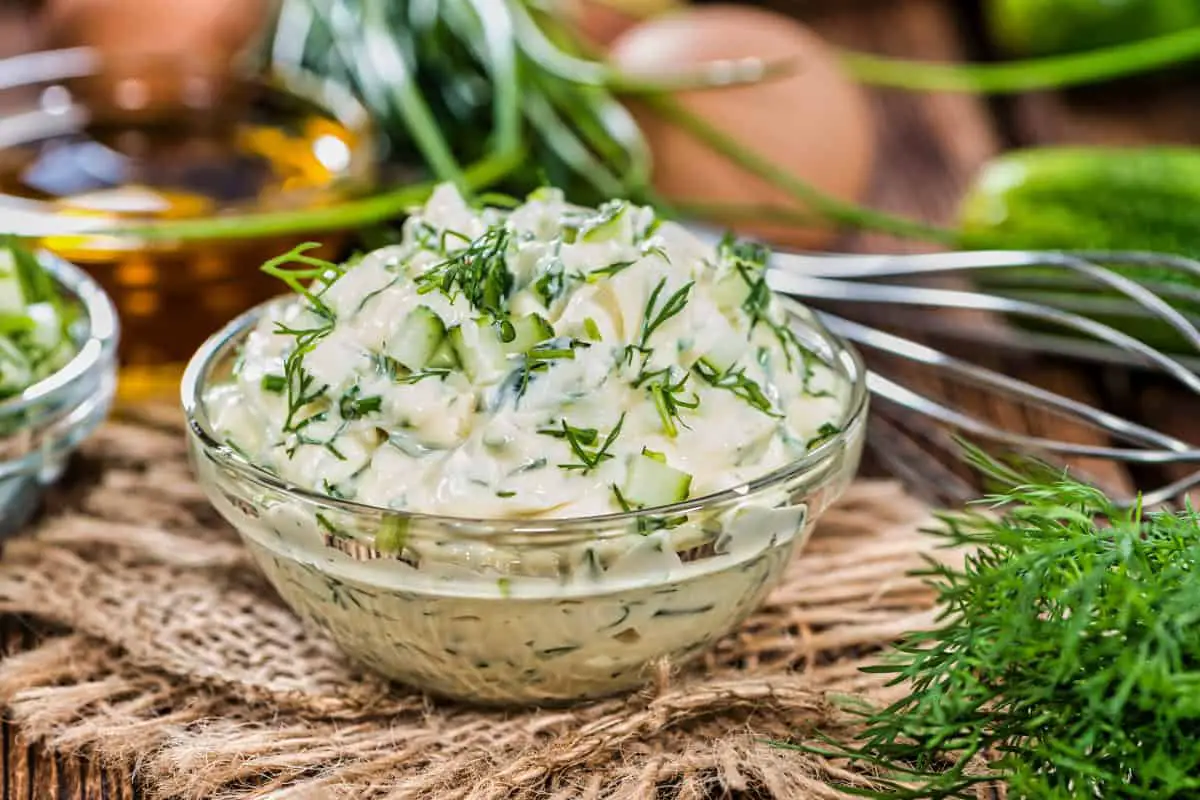 Simple and traditional recipe for Danish remoulade. The Denmark recipes for Remoulade are just much better when they are homemade. Serve it as topping on a pan fried cod fish. Danish remoulade is a traditional condiment and is almost only found in Denmark which is why it is absolutely fine if you have never heard about it.
Remoulade is a kind of condiment which is used as a dipping sauce, topping on an open-faced sandwiches, topping for a Danish hotdog or as sauce inside a burger.
Remoulade is mainly based on mayonnaise and, in this recipe, also a little sour cream. This rest of the ingredients are a good mix of vegetables and herbs. Salt, pepper and lemon juice is added to taste.
---
You Might Also Try 32 Top Traditional Scottish Food & Scottish Dishes
---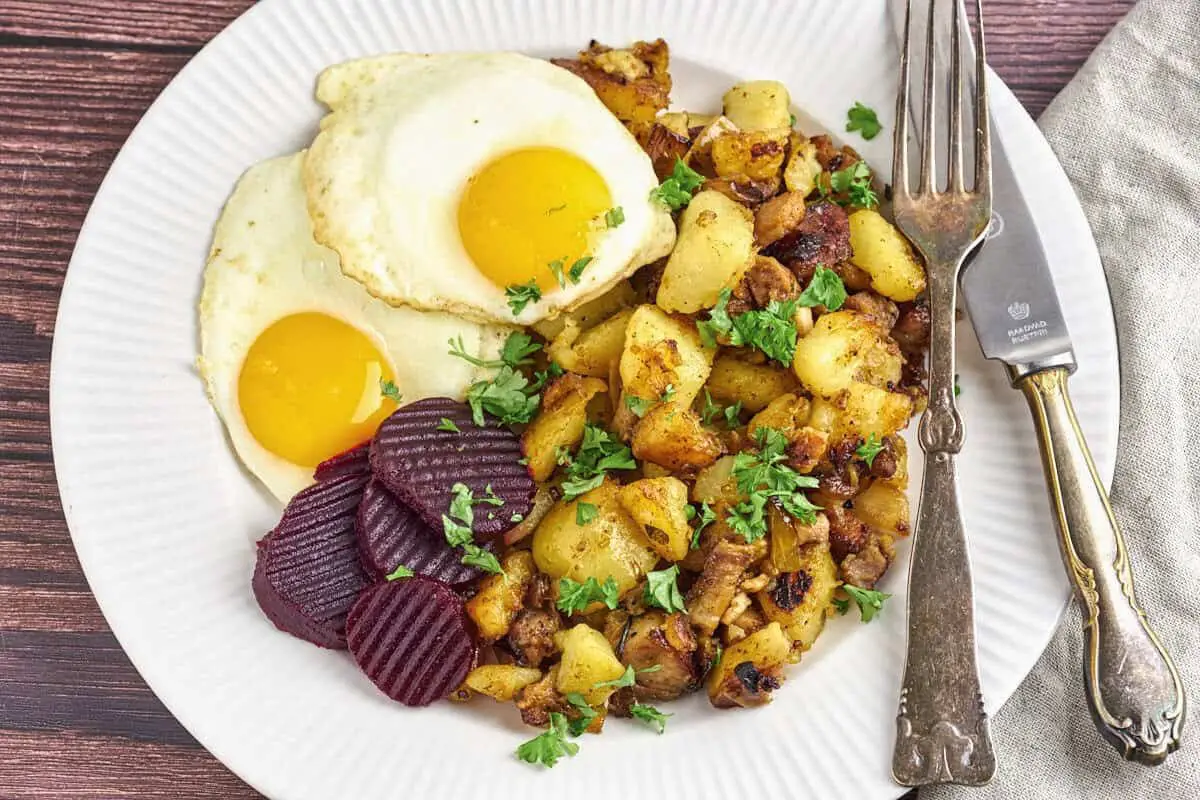 These traditional Danish recipes are a great way to use up some leftovers. You'll need cooked potatoes that you will pan fry until crisp and golden. For the onions, using shallots will add such a lovely sweetness, but you could use any you have. Only add your cooked, cold meat toward the end, so it has time to warm through but not become dry.
'Biksemad' which roughly translates into 'tossed together food'. Traditionally Danish hash is made of pork, often a roast pork, but any kind of meat will do e.g. beef, veal and lamb.
The trick, when making a Danish hash, is to cook the onion long enough to make it sweet and the potatoes long enough to get a brown and crisp surface. However, the meat should not be overcooked, since it becomes dry and boring.
Most Danes dice the onions but I like to use them in halves or quarters. This way the dish looks prettier and the taste of sweet onion is more distinct.
Always service Danish hash with tomato ketchup, a fried egg, pickled beetroot and Worcestershire sauce. If you want to, you can use Tabasco sauce as well.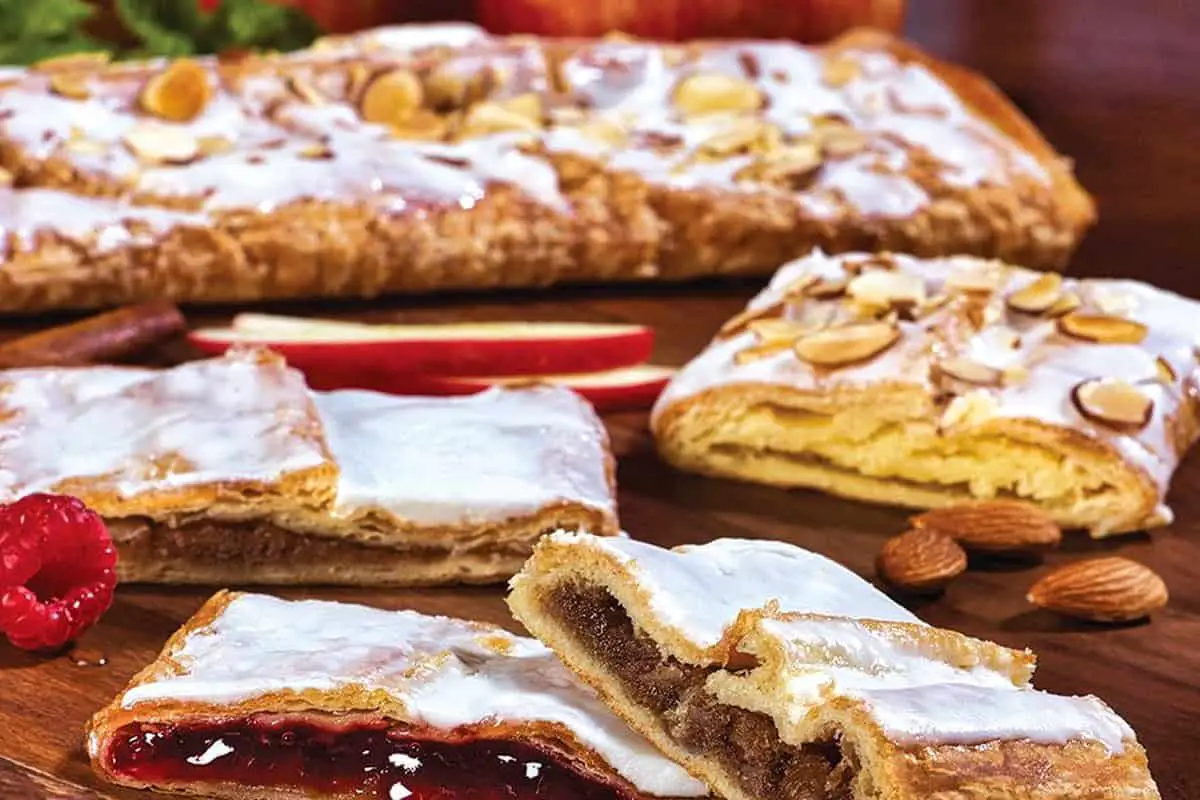 This wonderful Danish recipe for pastry is originally from the pretzel family. It can be super light, full of layers, and have a variety of fruity fillings. This is a little simpler, using a sweet, yeast-based dough to create the classic oval shape.
The dough will be soft, so be careful when handling it. When filled with the brown sugar and nuts, it is almost cinnamon roll-like, especially when you add the glaze! Everyone agrees that no store-bought kringle can top this homemade version. The nut filling and sweet glaze give this spectacular coffee cake great flavor.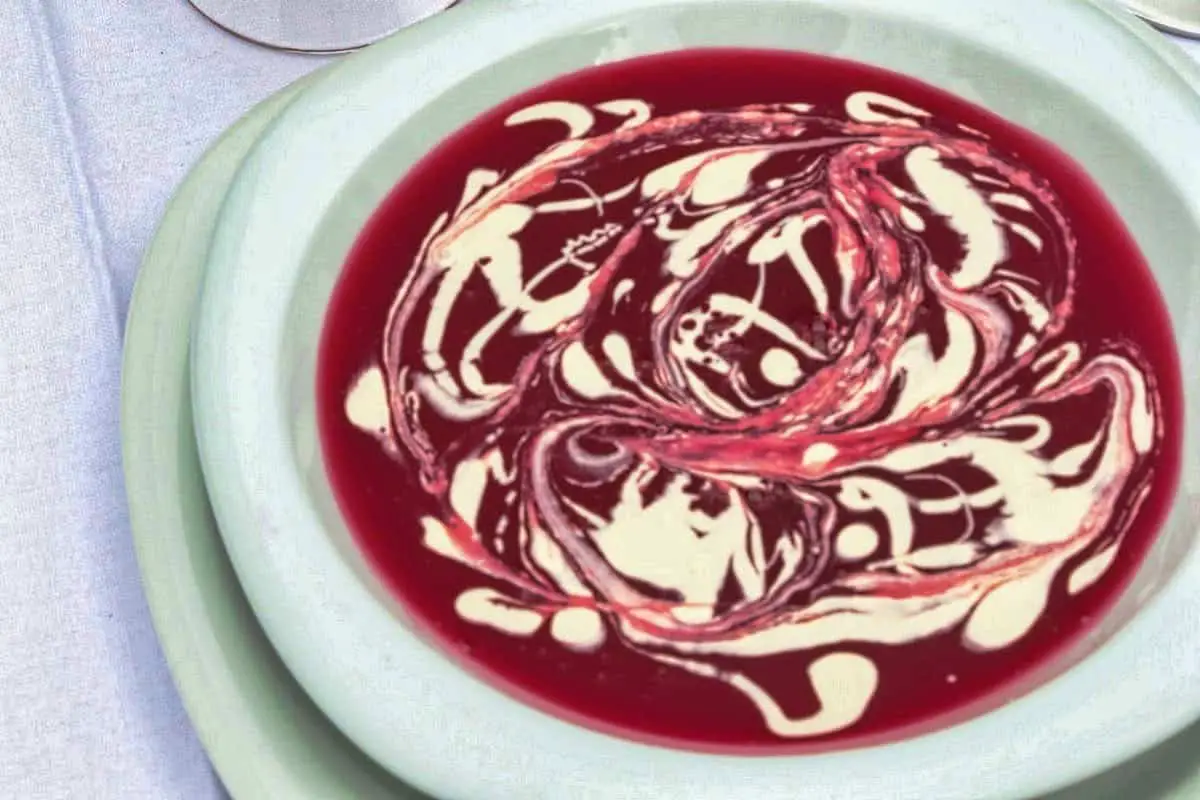 Red berry pudding with cream – if there ever was a Danish national dessert this is it. We eat it every summer and it has been made like this for more than 100 years. The taste is wonderful.
The Danish foods of fruit and berries vary with season and selection. If you are not able to get a hold of rhubarb or redcurrant try raspberries or blackcurrant instead. The redcurrant, however, adds a bit of needed acidity. Remember to adjust the amount of sugar with the sweetness of the berries. You don't want it oversweet.
Bonus info: Red berry pudding with cream is called "Rød grød med fløde" in Danish. Such a simple sentence for all Danes but impossible for foreigners to pronounce. Should you ever visit Denmark, you can be quite sure that Danes will try to get you to pronounce it – just for the fun of it.
---
You Might Also Try 25 Great Traditional Swedish Recipes and Food (2022)
---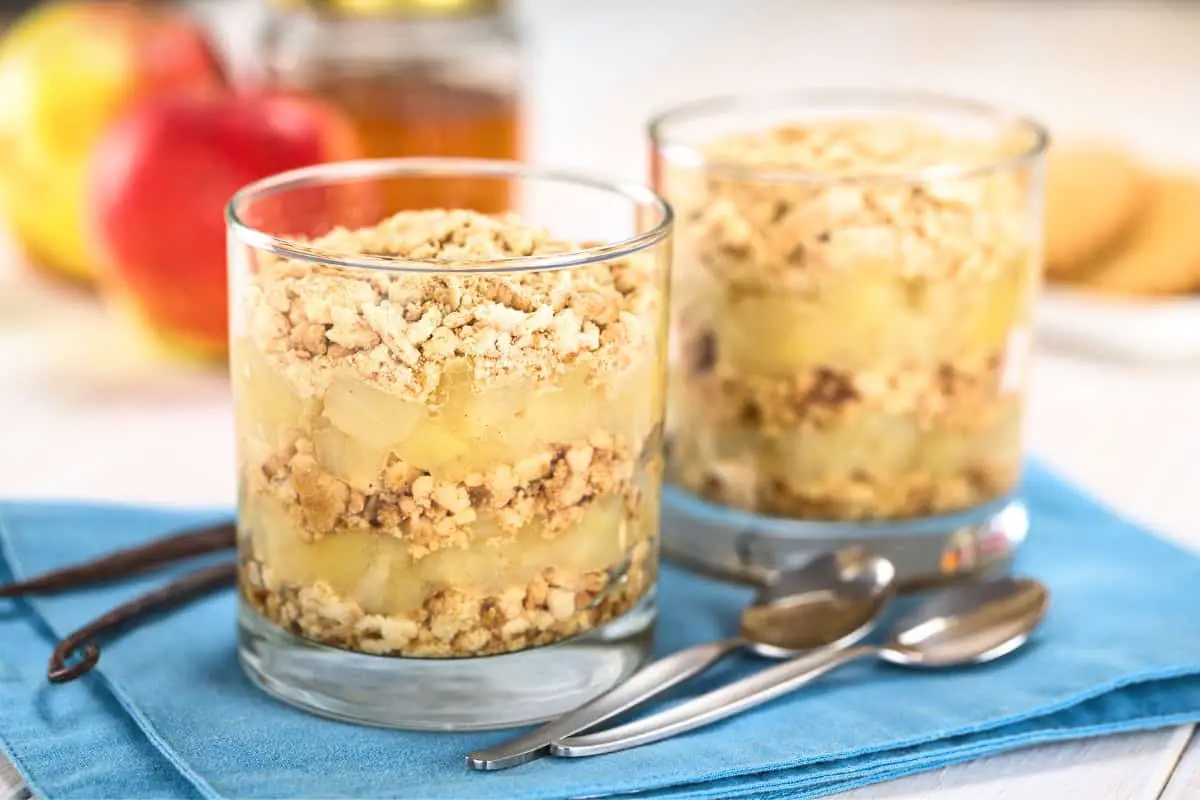 The literal translation of æblekage – a classic, old-fashioned Danish dessert – is apple cake, but it has more in common with a trifle or a crumble. It is a lovely dessert on top of a good meal, and then it's pretty easy to make. Enjoyed throughout the year, æblekage is always served cold with a generous layer of whipped cream. One of my favorite of Denmark recipes.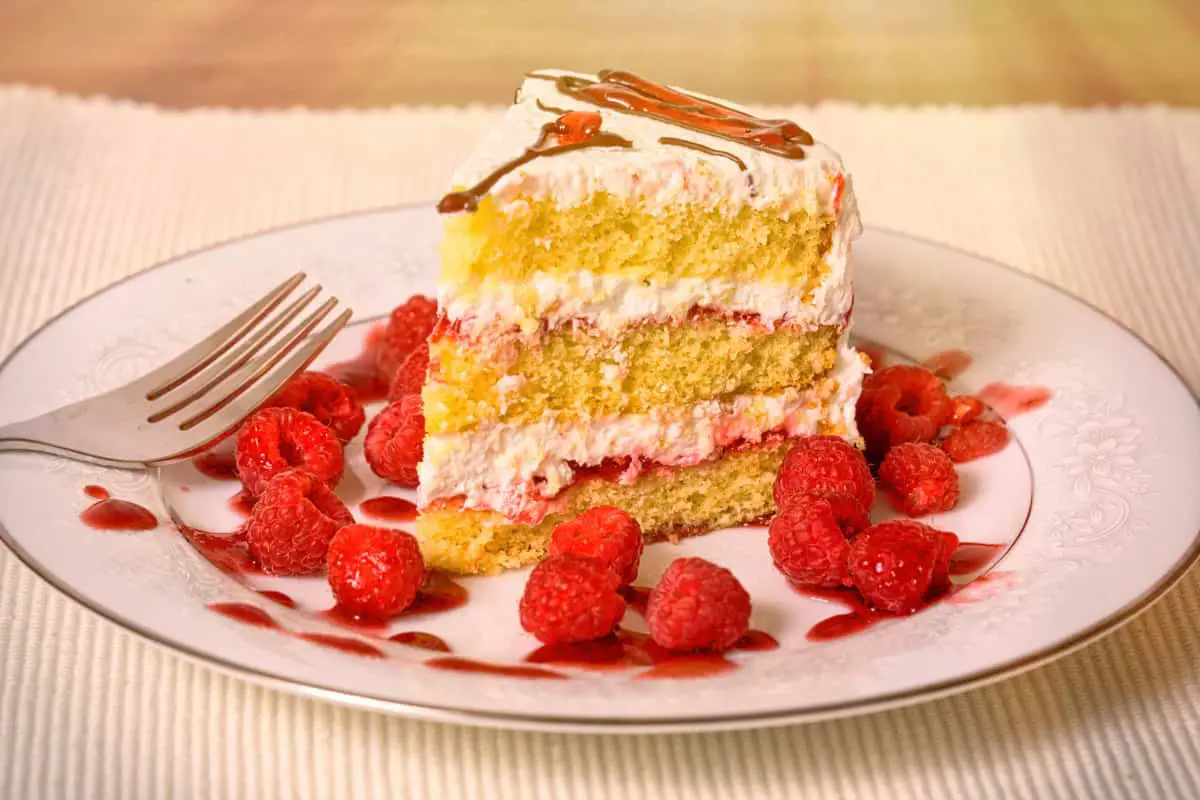 The traditional Danish recipes for a layer cake consists of multiple stacked sheets of cake held together by frosting or another type of filling, such as jam. It is served for birthdays, anniversaries, and other celebratory events. Only your imagination sets limits for fillings and toppings.
---
---
For complete photos and videos of our trip, visit us on our Instagram Page
You May Want to Join Our Boondocking Group on Facebook For More Information
You Can Check Out Our International Recipes On Our World Recipes OBE Instagram Page
Discover our unique product testing journey at Our Big Escape. We bring real-world experiences and adventures into every review, ensuring authenticity and reliability. Dive into our process at
How We Test Products: A Journey of Discovery and Trust
, where every product is an adventure tested.