Last updated on September 24th, 2023 at 01:31 pm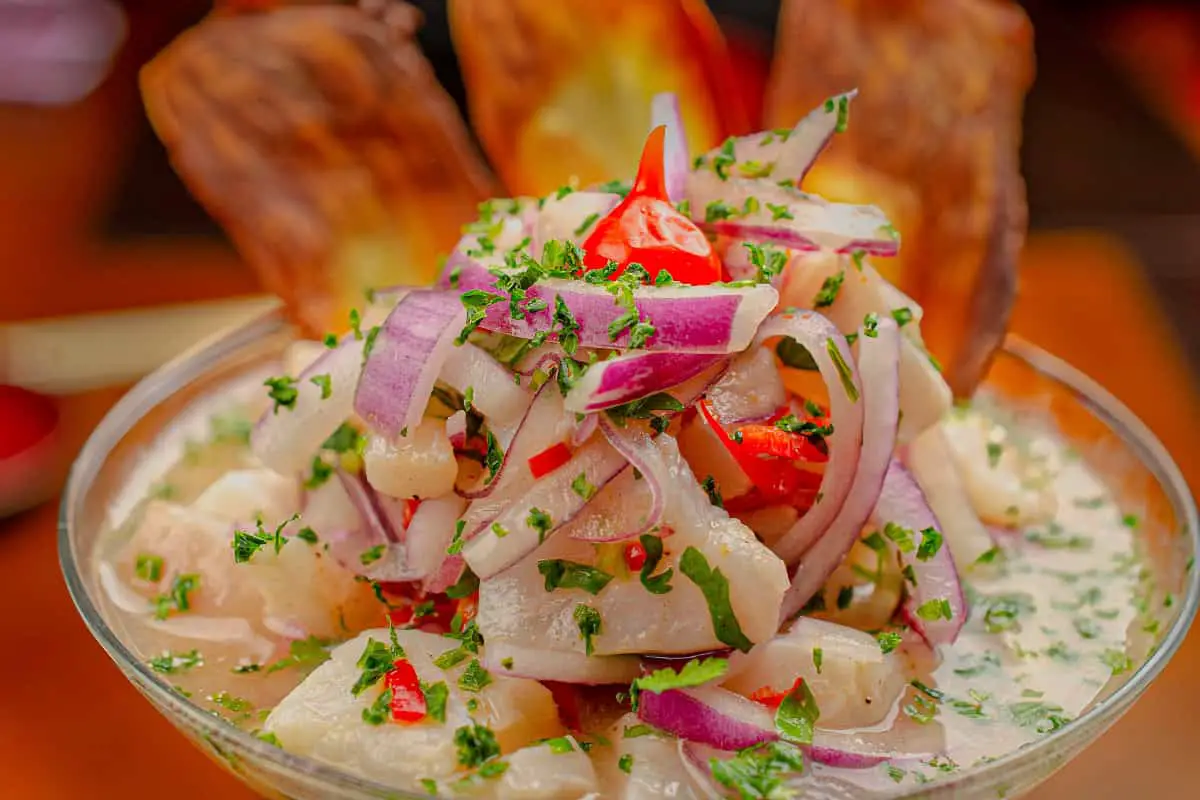 Ceviche de corvina, a traditional dish from Panama, is a staple in the country's cuisine and is widely adored by its citizens. Corvina fish, found in the Pacific and Atlantic Oceans off the coast of Panama, is the star ingredient in this light and flavorful seafood dish. It's raw fish, onions, peppers, and Corvina fish marinated in citrus juice, served with crackers or tostadas.
Ceviche was first prepared by the Moche people of ancient Peru. It was the Spanish conquistadors, however, who introduced this dish to Panama, and it has since become a favorite among the locals. The dish's use of corvina fish attests to Panama's thriving seafood industry, a source of national pride.
The fish dish known as ceviche de corvina is commonly served at lunchtime and can function either as an appetizer or a main course. During the hot and humid summer months, when people are looking for light and easy to digest meals, this dish is a popular choice. As a side, you can get some avocado, plantains, or yucca to add some extra flavor and texture to the dish.
Ceviche de corvina is an art form, and every chef has their own secret ingredients and preparation techniques. After being thoroughly cleaned and filleted, the fish is then broken up into bite-sized pieces and "cooked" by marinating in citrus juices. The dish is then given a lively and colorful appearance by being seasoned with salt, pepper, and other spices and garnished with fresh herbs and vegetables.
3 Reasons People Love Panamanian Ceviche de Corvina
1. Freshness: Panamanian Ceviche de Corvina is made using fresh corvina fish, which is a type of sea bass found in the Pacific Ocean. The fish is marinated in lime juice, which effectively "cooks" the fish, giving it a fresh and zesty flavor.
2. Flavorful Ingredients: The dish is typically prepared with a variety of flavorful ingredients, including onion, cilantro, and peppers, which provide a spicy kick to the dish. In addition, it may also include coconut milk, tomato, and avocado, which add richness and complexity to the dish.
3. Healthy and Light: Ceviche de Corvina is a healthy and light dish that is perfect for those who are looking to eat healthy or lose weight. It is low in fat and calories, but high in protein, vitamins, and minerals. Additionally, the lime juice used to marinate the fish is rich in vitamin C, which is important for maintaining a healthy immune system.
How To Make Our Panamanian Ceviche de Corvina Recipe
Ingredients (Serves 8):
2 pounds of corvina fillet, cut into small cubes
1 cup of lime juice
1 red onion, thinly sliced
1 red bell pepper, seeded and diced
1 green bell pepper, seeded and diced
1 jalapeño pepper, seeded and minced
1/2 cup of chopped cilantro
1 teaspoon of salt
1/4 teaspoon of black pepper
1/4 teaspoon of cumin
Instructions:
1. In a large mixing bowl, combine the corvina cubes with the lime juice. Mix well and make sure all the fish pieces are covered with the juice. Cover the bowl with plastic wrap and refrigerate for at least 30 minutes or until the fish is opaque and has a firm texture.
2. Drain the fish and discard the lime juice.
3. In a separate bowl, mix the red onion, red bell pepper, green bell pepper, jalapeño pepper, cilantro, salt, black pepper, and cumin.
4. Add the fish to the vegetable mixture and stir gently to combine.
5. Cover the bowl with plastic wrap and refrigerate for at least 30 minutes to allow the flavors to meld.
6. Serve the ceviche cold, garnished with additional cilantro and lime wedges.
Nutritional Values for One Serving of Panamanian Ceviche de Corvina:
Calories: 179
Carbohydrates: 9g
Protein: 28g
Fat: 3g
Saturated Fat: 1g
Trans Fat: 0g
Cholesterol: 58mg
Sodium: 414mg
Potassium: 641mg
Fiber: 1g
Sugar: 2g
Prep time: 15 minutes
Cooking time: None
Marinating time: 30 minutes for fish to marinate in lime juice
List of Pots, Pans and Cooking Equipment:
Large glass or ceramic bowl
Sharp knife
Cutting board
Mixing spoon or spatula
Plastic wrap
Best way to Store Panamanian Ceviche de Corvina:
Panamanian Ceviche de Corvina is best enjoyed fresh but can be stored in the refrigerator for up to 24 hours. It is recommended to store the ceviche in an airtight container or covered glass bowl to prevent exposure to air. Avoid using metal containers as the acidity of the lime juice can react with the metal and alter the flavor of the ceviche. Before serving, mix the ceviche well to ensure the flavors are well distributed.
Possible Substitutions for Ingredients in Panamanian Ceviche de Corvina:
If you are unable to find corvina fish, you can use other white fish such as tilapia, cod, or sea bass.
You can also substitute the onions and peppers with other types of vegetables such as cucumbers, radishes, or avocado.
If you prefer a milder flavor, you can reduce the amount of lime juice or use a combination of lime and orange juice.
Ingredients to Substitute for a Vegetarian version of Ceviche de Corvina:
To make a vegetarian version of Panamanian Ceviche de Corvina, you can substitute the fish with diced tofu or mushrooms.
Use vegetable stock instead of fish stock to flavor the vegetables and add extra lime juice for a tangy flavor.
Tips and Tricks for Easier Creations:
Use a sharp knife to cut the vegetables into small, uniform pieces.
Marinate the fish in the lime juice for at least 30 minutes to allow the flavors to develop.
Use fresh, high-quality ingredients for the best results.
Serve the ceviche chilled to enhance the flavor and texture.
Possible Side Dishes and Desserts to serve with Panamanian Ceviche de Corvina
Panamanian Ceviche de Corvina can be served with a variety of side dishes such as plantain chips, avocado salad, or black beans and rice.
For dessert, you can serve a refreshing tropical fruit salad or a sweet tres leches cake.
How to Serve Ceviche de Corvina
To serve Panamanian Ceviche de Corvina, scoop the ceviche into individual bowls or cups and garnish with additional cilantro leaves. Serve with plantain chips or crackers on the side.
5 FAQs About Ingredients for Panamanian Ceviche de Corvina
1. What is corvina fish, and where can I find it?
Corvina fish is a type of sea bass that is commonly found in the Pacific Ocean. It is a popular ingredient in Latin American cuisine, including Panamanian Ceviche de Corvina. You can usually find corvina fish at your local fish market or specialty seafood store.
2. Can I use other types of fish for Ceviche de Corvina?
Yes, you can use other types of fish, such as snapper, tilapia, or shrimp, to make Ceviche. However, the taste and texture of the dish may be slightly different.
3. Do I need to cook the fish before making Ceviche de Corvina?
No, the fish is "cooked" by the lime juice in the ceviche marinade. However, it is important to use fresh fish that has been properly cleaned and prepared.
4. What other ingredients are commonly used in Ceviche de Corvina?
In addition to corvina fish, other common ingredients in Ceviche de Corvina include lime juice, onion, cilantro, hot peppers, tomato, and avocado. Some recipes may also include coconut milk or other spices and seasonings.
5. How long should I marinate the fish in the lime juice?
The fish should be marinated in lime juice for at least 30 minutes, or until the fish turns opaque and the texture is firm. However, marinating the fish for too long can result in a mushy texture, so it is important to monitor the ceviche and adjust the marinating time accordingly.
---
---
You May Want to Join Our Boondocking Group on Facebook For More Information
You May Want to Join Our Campfire Recipes Group on Facebook For More Information
For More Photos Visit Our Instagram at World Recipes Daily – Our Big Escape
---
---