Last updated on September 24th, 2023 at 01:26 pm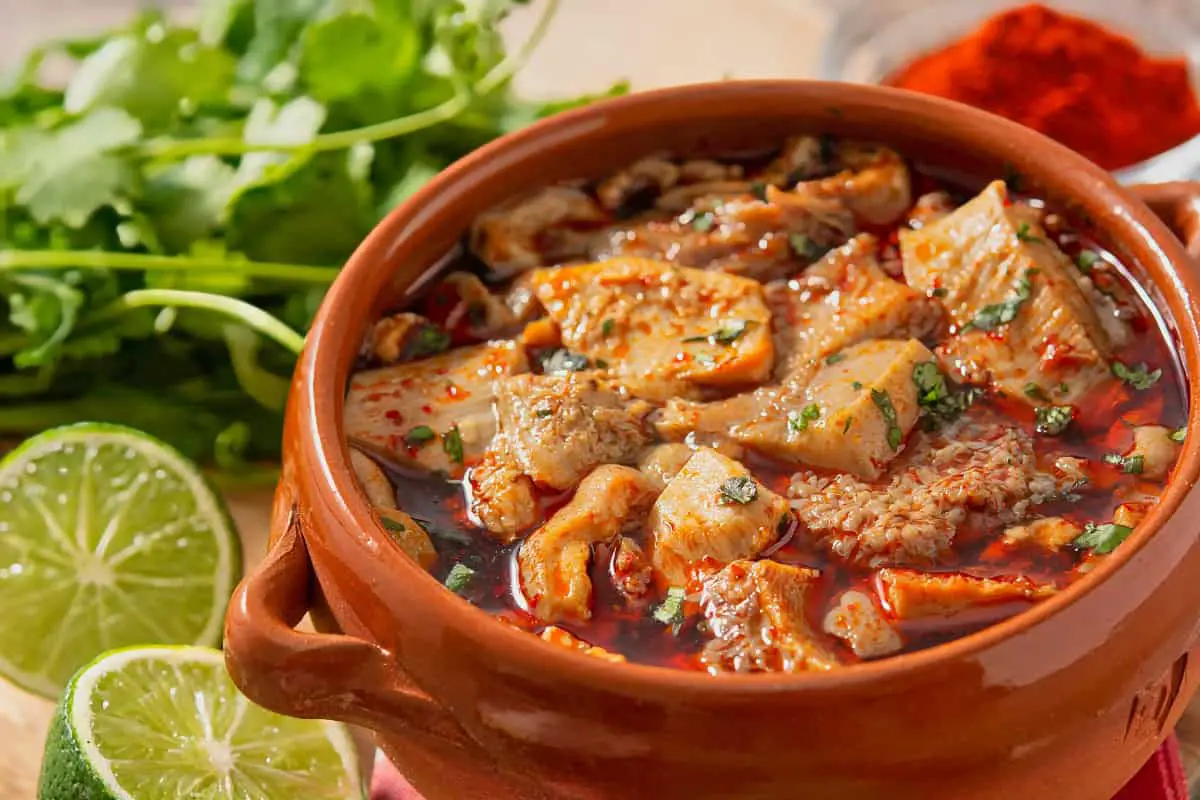 Panamanian Mondongo is a flavorful tripe stew. The combination of meats, vegetables, and spices in this dish makes for a satisfying and filling meal, ideal for chilly winter evenings or any time you feel like curling up with a warm bowl of stew.
Originating in Africa during the time of the slave trade, when slaves were required to eat all parts of the animals given to them, mondongo has a long and storied history. Slaves were forced to make nutritious and tasty food from scraps, which is how mondongo came to be. Mondongo is a dish that originated in Afro-Panamanian cooking but has since become popular across Panama.
Popular all year round, but especially around the holidays, mondongo is a main dish that can be enjoyed at any meal. Some people like to spice it up with some hot sauce or vinegar and serve it with rice and plantains. In addition to its widespread availability in Panamanian eateries, the recipe for mondongo has been passed down through families for generations.
Mondongo is not only a tasty dish, but also a highly nourishing one. It's a great way to recycle any extra produce or meat you might have lying around the house. If you're looking for a hearty and flavorful stew, Panamanian Mondongo is a great choice. This traditional Panamanian dish is made with tripe, vegetables, and spices, resulting in a flavorful and nutritious meal.
3 Reasons People Love Panamanian Mondongo
Mondongo is a traditional Panamanian stew made with tripe (cow's stomach) and a variety of other ingredients like vegetables, herbs, and spices. Here are three reasons why people love Panamanian Mondongo:
1. Flavor: Mondongo is a flavorful and hearty dish that is popular in Panama and other Latin American countries. The tripe is cooked until tender and then combined with a flavorful broth made with onions, garlic, cilantro, and other spices. The stew also typically includes vegetables like carrots, potatoes, and bell peppers, which add texture and flavor to the dish.
2. Cultural significance: Mondongo has a special place in Panamanian culture and is often served during holidays and special occasions. It is a dish that is passed down from generation to generation, and many families have their own special recipe. For many Panamanians, mondongo is a symbol of their cultural identity and heritage.
3. Nutritional value: Mondongo is a nutritious dish that is rich in protein, vitamins, and minerals. Tripe is a good source of protein, and the vegetables in the stew provide essential vitamins and minerals. Many people believe that mondongo is also good for digestion and can help with stomach issues.
How To Make Our Panamanian Mondongo Recipe
Ingredients (Serves 8):
2 lbs. tripe, cleaned and cut into small pieces
1 onion, chopped
1 green bell pepper, chopped
1 red bell pepper, chopped
2 carrots, peeled and chopped
3 garlic cloves, minced
1 tbsp. cumin
1 tsp. oregano
1 tsp. thyme
2 bay leaves
4 cups water
2 cups beef broth
1 cup tomato sauce
1 cup yuca, peeled and cut into small pieces
1 cup potatoes, peeled and cut into small pieces
Salt and pepper, to taste
Lime wedges, for serving
Instructions:
1. Clean and cut the tripe into small pieces, then soak it in cold water and lemon juice for at least an hour. Rinse and drain the tripe before cooking.
2. In a large pot, heat some oil over medium-high heat. Add the onion, green and red bell peppers, and carrots. Cook until the vegetables are softened, about 5 minutes.
3. Add the garlic, cumin, oregano, thyme, and bay leaves to the pot. Cook for an additional 2-3 minutes until fragrant.
4. Add the tripe to the pot and stir to combine with the vegetables and spices.
5. Pour in the water, beef broth, and tomato sauce. Bring the mixture to a boil, then reduce the heat to low and let it simmer for 1 hour.
6. Add the yuca and potatoes to the pot and continue to cook for an additional 30 minutes or until the vegetables are tender.
7. Season with salt and pepper to taste.
8. Serve hot with lime wedges on the side.
Nutritional Values for One Serving of Panamanian Mondongo:
Calories: 335
Carbohydrates: 26g
Protein: 27g
Fat: 12g
Saturated Fat: 4g
Trans Fat: 0g
Cholesterol: 127mg
Sodium: 737mg
Potassium: 1214mg
Fiber: 4g
Sugar: 7g
Prep time: 1 hour (including soaking time for tripe)
Cooking time: 1 hour 30 minutes
List of Pots, Pans and Cooking Equipment:
A large pot or Dutch oven to cook the tripe and vegetables
A sharp knife to cut the tripe into small pieces
A cutting board to chop the vegetables
A wooden spoon to stir the stew
A small pan to toast the cumin seeds
A mortar and pestle to grind the toasted cumin seeds
A grater to grate the vegetables
Best way to Store Panamanian Mondongo:
Panamanian Mondongo can be stored in an airtight container in the refrigerator for up to three days. It's best to let the stew cool down before storing it in the fridge. Glass or plastic containers with tight-fitting lids work well.
Possible Substitutions for Ingredients for Panamanian Mondongo:
If you're unable to find some of the ingredients for Panamanian Mondongo, there are some possible substitutions:
Tripe: Beef or pork stomach, or any other organ meat like liver or kidneys
Yucca: Potato or cassava
Plantains: Bananas or sweet potatoes
Cilantro: Parsley or basil
Achiote paste: Paprika or tomato paste
Ingredients to Substitute for a Vegetarian version of Panamanian Mondongo:
To make a vegetarian version of Panamanian Mondongo, you can substitute the tripe with mushrooms, tofu, or seitan.
You can also use vegetable broth instead of beef broth.
Tips and Tricks for Easier Creations of the Recipe
Clean the tripe thoroughly before cooking it
Use a sharp knife to cut the tripe into small pieces
Toasting the cumin seeds before grinding them will enhance their flavor
Grate the vegetables instead of chopping them to make them easier to cook
Let the stew simmer for at least an hour to allow the flavors to meld together
Possible Side Dishes and Desserts to serve with Panamanian Mondongo
Panamanian Mondongo is often served with rice, avocado, and lime wedges. A side salad or plantain chips would also complement the dish well.
For dessert, you can serve a traditional Panamanian dessert like Tres Leches Cake or Hojaldres, which are fried dough fritters.
How to Serve Panamanian Mondongo
To serve Panamanian Mondongo, ladle the stew into bowls and garnish with chopped cilantro and a squeeze of lime. Serve with white rice, avocado slices, and plantain chips or salad on the side.
FAQs About Panamanian Mondongo
1. What kind of tripe is used in Panamanian mondongo?
Panamanian mondongo is typically made with cow's stomach tripe. This type of tripe is widely available at most butcher shops and supermarkets.
2. What vegetables are used in Panamanian mondongo?
Panamanian mondongo typically includes a variety of vegetables like carrots, bell peppers, onions, garlic, and yucca. Other vegetables like potatoes, plantains, and tomatoes can also be added.
3. What herbs and spices are used in Panamanian mondongo?
Panamanian mondongo is flavored with a variety of herbs and spices like cilantro, cumin, oregano, bay leaves, and black pepper. Some recipes also call for achiote paste or annatto powder, which adds a reddish-orange color to the stew.
4. Can I substitute the tripe with another protein?
While tripe is a traditional ingredient in mondongo, you can substitute it with other proteins like chicken, beef, or pork. However, the dish will have a different flavor and texture.
5. How long does it take to cook Panamanian mondongo?
Panamanian mondongo is a slow-cooking stew that typically takes several hours to prepare. The tripe needs to be cooked until tender, which can take anywhere from 2-4 hours depending on the recipe. It's important to allow enough time for the flavors to develop and the vegetables to cook through.
---
---
You May Want to Join Our Boondocking Group on Facebook For More Information
You May Want to Join Our Campfire Recipes Group on Facebook For More Information
For More Photos Visit Our Instagram at World Recipes Daily – Our Big Escape
---
---