Whenever people think of traditional Samoan recipes and of Samoan destinations, they think of white, sandy beaches, blue ocean waters, stunning views, and tropical food choices. However, with all this beauty, one could easily overlook the island's tasty delicacies. Samoan recipes are famous for their unique flavors and preparation methods.
From bread rolls to Kopai, this article will discuss different Polynesian cuisine and their importance to Samoan recipes as well as providing you will a list of traditional Samoa recipes. We'll also list some of the most famous Samoan food choices you should try and answer frequently asked questions.
History of Food from Samoa
One crucial aspect of Samoan food is what it means to Samoans and to their culture. Growing up healthy is vital for Samoans as it is essential to family life and the traditional Samoan recipes reflect this. Some Samoans even believe that skinny is unhealthy while fat is healthy.
They also believe that every family member should have enough food to eat as it is a sign of respect, care, and love. That's why you cannot miss finding different types of traditional Samoan recipes at their celebrations and festivals. They also have a tradition of eating with their hands rather than using utensils.
Traditional Samoan recipes are made from locally available ingredients on the island and the ocean. The Samoan food is  comprised of coconuts, corn, chicken (moa), pork (pua'a), fish, fruits, and vegetables. One Samoan food, in particular, that is considered a Samoan staple is Taro. It is either served boiled or baked and has no other variations, you will find this traditional Samoan recipes at every meal.
Another exciting feature of Samoan food is the preparation methods. Despite technological advancements, Samoans prefer cooking Samoan food through their traditional methods. They use an earth oven made of volcanic stones known as an Umu.
The Umu is made three times to prepare dishes as per Samoan customs. Traditional Samoan recipes generally cooked in an Umu include several types of fish, fruits, and vegetables. Samoan food cooked in an umu usually takes three to four hours, depending on the size of the rocks used or the amount of food.
5 Popular Foods from Samoa
1. Kale Moa
Also known as Samoan curry, a Samoan food staple, kale moa is a meal that brings out exotic, sweet, and savory flavors. It is prepared using chicken, coconut milk, oil, flour, potatoes, celery, carrots, and water. Spices used include garlic, ginger, and curry powder. It is a mild dish that goes well with any vegetable combo. It's best served with rice.
2. Fai' ai Eleni
Fai' ai Eleni includes fish served in coconut shells. There are two ways to serve the dish: raw mackerel or one cooked in an umu. Its ingredients include mackerel, coconut milk, tomatoes, cucumbers, and diced onions. The traditional Samoan recipe is often served as a main course with baked Taro.
3. Palusami
This Samoan food is also referred to as Luau. The traditional Samoan recipe calls for it to be prepared by solidifying coconut milk with onions cooked inside taro leaves. The taro leaves are then wrapped in banana leaves, making the dish appear brownish. Before using the taro leaves, the top part is cut off, made into a bowl shape, and filled with coconut milk. Combining the baked leaves and the coconut milk gives this dish its unique flavor.
4. Oka i' a
Oka i' a is a super healthy traditional Samoan recipes, flavourful fish salad made from raw tuna or snapper. While people make this dish differently, the most common method is marinating fish in coconut cream and lemon juice. The fish is then served with onions or any other selection of vegetables and salt or pepper to taste.
5. Kopai
Kopai, or Samoan dumplings, is one of the preferred Samoan desserts. The meal uses coconut milk, flour, caramel, and corn flour. It can have different colors depending on the ingredients used. These dumplings melt inside the mouth for a sweet sensation.
5 Frequently Asked Questions About Food from Samoa
Is Samoan Food Spicy?
Yes. However, despite using spice as one of their ingredients, traditional Samoan recipes are not heavily spiced. Mixing their locally sourced ingredients like fish and coconut usually puts off the spices, although they're easily noticeable in the flavors.
What is the Samoan National Dish?
Panipopo is Samoa's national dish. It is a bun cooked in a sweet, sticky coconut cream sauce. When ready, they are served in bowls with more coconut sauce. They are eaten for breakfast or as a snack with Samoan cocoa.
What types of Fish Do Samoans Eat?
Samoans prepare and consume different types of fish, such as salmon, snapper, tuna, and Bismarck herring. Samoans are also fond of other seafood such as masimasi, octopus, and crayfish. The traditional Samoan recipes for fish are cooked fresh from the ocean and is a crucial part of Samoan tradition.
What is Samoa's Most Popular Drink?
Kava is the most popular drink in Samoa. It's made from the root of a pepper plant ground, then mixed with water. Using kavapyrones in this drink gives the body a soothing and relaxing calmness. Other popular Samoan drinks include Vailima beer, ginger mojito, and Samoa milkshake.
Why Do Samoans Eat Taro?
Taro is a brown root with pinkish flesh. It is the Samoan version of pasta. It is also the oldest food that's grown here and for that reason the oldest of all traditional Samoan recipes. It turns purple when cooked and is the most preferred food for celebrations.
20 Best Traditional Samoan Recipes To Cook At Home
---
---
check out our video
---
---
I found this traditional Samoan recipe nearly 2 years ago, and as I am not a banana lover, this recipe remains perfect! I have added coconut and even nuts to the dry ingredients and they still turn out great every time.
As the word panikeke resembles in sounding rather to pancake, we have to reconsider it strictly calling for a doughnut. The difference between doughnut and pancake apart from the water/milk and flour ratio is the leavening agent used to help growing for the dough.
Palusami is a beloved dish all over Oceania and this is a traditional Samoan recipe I like. It is typically made with canned corned beef aka Spam. It seems like an odd dish for island nations but when you think about it, they eat fish all the time so a little canned beef is a welcome ingredient.
This dish is also typically made with taro root leaves however they can be a bit tricky to find here in the states. You may find them at your Asian grocer however if you can't find them, spinach is a lovely substitute. Honestly, I was totally skeptical about this dish but it turned out delicious. You really should try it!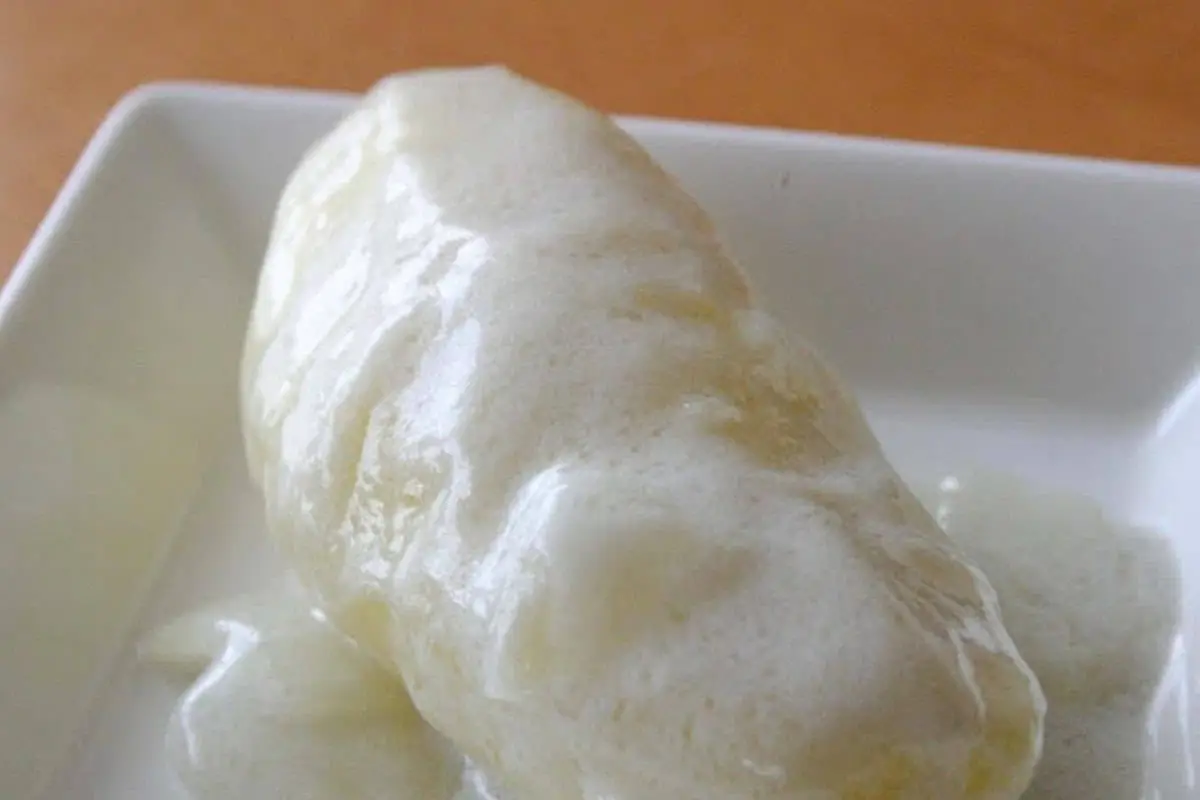 There are quite a few steps but this dish is quite a basic dish to make and becomes easier with practice.
It is a main side dish of the Samoan people and is one that is traditional Samoan recipe made almost every day back home in the islands…it is a craved dish of ours that luckily our local stores have catered to in selling green bananas and canned or fresh coconut cream.
One eats this side dish as if it were rice or potato but with an island twist to it referring to the coconut sauce…YUMMY!!!
Coconut rice is enjoyed in many regions around the world, especially in tropical areas where coconuts are grown. Some versions are more savory, while others are more sweet.
While we don't claim to be experts on the different variations, this traditional Samoan recipe version seems to most closely resemble the flavors and ingredients of Thai coconut rice, but with our own twist!
You May Also Like: 30 Super Easy Traditional Thai Recipes To Make At Home
5. Samoan Chicken Curry or Kale Moa
The traditional Samoan recipe for this Samoan Chicken Curry or Kale Moa is from Auntie Vila and I found it on the internet so I can't lay claim to developing it or even eating it in Samoa. All I know is that it is a Samoan recipe that is utterly delicious so I leave it to the expertise and wisdom of Auntie Vila.
It uses chicken thighs, potatoes and carrots and the ingredients are simple and easy to find. You can also use chicken pieces or chicken breast or tenderloins if you prefer.
Samoan Coconut Bread Rolls, aka Pani Popo, are decadent sweet dinner rolls baked in coconut milk. Light, airy, and fluffy, they are unbelievably good! Pani Popo is baked in a delicious coconut sauce that makes it even better.
My immense love of anything and everything coconut made me fall in love with this traditional Samoan recipe, coupled with my constant urge to make my weekend morning worth looking forward to, steer me towards these Samoan Coconut Bread Rolls.
This traditional Samoan recipe for Sapasui (or Sapa Sui) is adored in Samoa, a variation on the classic Chinese Chop Suey recipe, there are many different ways to cook this dish. This is one of the most typical recipes in Samoan cuisine, hailing straight from the beautiful Oceanic island.
Samoan recipes are not particularly well known around the world but you might find that this dish sparks your desire to discover more Pacific recipes. Typically, chicken, beef or pork is used in Samoan Sapasui, but you can use any or none of these meats in this recipe, it's completely up to you.
Coconut palms line the sandy shores of Samoa, and coconuts are used to make one of the country's favourite traditional Samoan recipe sweets like, fa'ausi. It consists of a creamy caramel made with coconut milk, the sugar traditionally caramelised over hot rocks. This mixture is then poured over cubes of baked taro or fa'apapa, rock-hard coconut bread, which hold their shape when soaked with caramel.
You May Also Like: 25 of Our Best Traditional Indonesian Recipes 
My mother would make this traditional Samoan recipe in a baking pan that I think only professional wedding cake makers use. That pan I remember was about 16 inches (40 cm) in diameter, and despite its size the cakes always came out perfectly, without sticking. When she turned her cakes out onto the cooling rack, they would land with a puff of steam, smooth dark brown edges and an irresistible baked banana smell.
In my current kitchen, I don't have anything as big as my mother's Samoan recipe banana cake pan, so the recipe has been dramatically scaled back. But not the flavour. In this cake, banana is the star.
"This is a very common way to prepare Taro, as a side to many Samoan dishes. You may need more than one can of unsweetened coconut milk to properly cover the taro in this traditional Samoan recipe version. If you cannot find the unsweetened kind, you can used a couple of thawed packages of the unsweetened kind. Oftentimes,
I will not even transfer the taro to a saucepan, but will instead keep it in a pot, and drain some of the water. Then I will pour in the coconut milk. Fijian taro (the green kind)is the yummiest, if you can get your hands on it ;)"
Bao are Chinese steamed buns with a wide variety of fillings, both savoury and sweet. In the traditional Samoan recipes, bao are always filled with meat, usually pork, which is why they are called keke (cake), pua'a (pork). It's not common to make keke pua'a at home, because they are labour-intensive, and they're relatively cheap to buy. Plus not many of us have a three tiered bamboo steamer at home.
The usual Samoan recipe filling is a basic mixture of pork, onions, maybe garlic and then seasonings like soy sauce. But you could fill your keke with practically anything, leftover sapasui, curry, beef stew – anything you would eat between two slices of bread.
Wondering how to make the traditional Samoan recipe for Koko Alaisa (Cocoa Rice)? Let's start with what it is. Koko Alaisa is a heart warming dish and is considered a staple Samoan recipe, in Samoan communities all over the globe. in essence it is chocolate rice, and is deliciously simple and yes, it is definitely comfort food territory. One of the best things about Samoa is some of the simple Samoan food that just tastes so darn good.
You May Also Like: 30 Super Easy Traditional Cambodian Recipes 
"This recipe is from week six of my food blog, "Travel by Stove." I am attempting to cook one meal from every country on Earth, and American Samoa is my sixth stop so here is a traditional Samoan recipe I discovered. This is a very tasty pineapple dessert with a hint of coconut. It comes together a lot like a calzone."
Samoan chicken is called Moa Fa'Asaina. This easy to make traditional Samoan recipe will become one of your favorites. In Samoa they cook in an uma, an earth oven. It can be easily replicated in a dutch oven which is how I made this Samoan chicken. It was served over a simple coconut rice which I also highly recommend.
The deep Samoan recipe flavor comes from a dark soy sauce, onion and garlic with a hint of vinegar. The result is a tender juicy bite that will leave you wanting more. The coconut rice is just plain steamed rice with bit of coconut milk, so easy and flavorful.
This excellent Samoan recipe was passed to me by my sister, O. It uses tapioca pearls which are more widely available than the traditionally used cassava root. Since tapioca comes from cassava there is no difference in taste between this and the traditional pisua, only a difference in form.
Enjoy this irresistible dessert of jelly-like tapioca cubes drenched in coconut caramel.
Lemongrass and chilli add extra fragrance and heat to this traditional Samoan recipe for a fast prawn curry, which is based on ground spices rather than a paste. The better the curry powder, the better the result. "This curry is a complete joy. As well as being seriously tasty, it's good for you, too.
A healthy Samoan recipe since prawns are packed with vitamin B12, which is what keeps metabolic functions in your body going, so that your cells can use the energy from the food you eat.
Plus, spinach is super-high in vitamin K, which keeps our bones healthy. Coming in at under half an hour, this is a quick and easy weeknight supper that ticks all the boxes and promises big on flavor. Enjoy! "
You May Also Like: 20 Best Recipes From Laos 
Here's another great traditional Samoan recipe for ribs that comes my way from my friend Lillian from My Recipe Journey. I've been salivating about these since she made them. You can find her recipe right here. Lillian changed it from it's original and I changed it a bit more LOL!! Her and I are great tweakers!!!
We started playing Garlic Poker here because I saw Lillian's 3 cloves and raised her 2. But you can cut back if you want. It's just that Lillian and I tend to think if 2 garlic cloves is good, 5 are better, but we do understand not everyone is as ga-ga about the pungent bulb as we are.
This traditional Samoan recipes for Samoa apple slices are a great way to get through your apple harvest this Fall! As you know I love to include my kids in the kitchen and this is one of those recipes that they love! I love them too – they are a healthy(-ish) sweet treat and they are ready in only 15 minutes.
Simply slice the apples into slices and use a melon baller to remove the core. Mix caramel and coconut flakes and spoon the mixture onto each apple slice. Finally drizzle some melted chocolate sauce over the top and these apple slices are ready to go!
[intro]Pineapple Teriyaki Glaze Yakisoba Noodles is one of the Disney recipes but does have Samoan recipe origins and can be found at Disney's Ohana restaurant. The Yakisoba Noodles is a wonderful Polynesian dish to enjoy at Ohana![/intro]
What are Yakisoba Noodles? Yakisoba Noodles is literally translated to"fried buckwheat." So it makes sense that Yakisoba Noodles is a Japanese noodle stir-fry dish. The Yakisoba Noodles is one the Ohana Disney menu dinner options you can get!
These fragrant Thai-flavoured chicken from a traditional Samoan recipe contained in lime and coconut parcels are slow-cooked in a steamer and make a suitably impressive dinner party main course, especially when served on a banana leaf. Tasty Samoan recipe to try at home
---
Check Out Our Pictures On Our Instagram – Our Big Escape.
You May Want to Join Our Boondocking Group on Facebook For More Information
Check Out Our Recipes On Our Instagram – World Recipes OBE