Last updated on September 24th, 2023 at 01:24 pm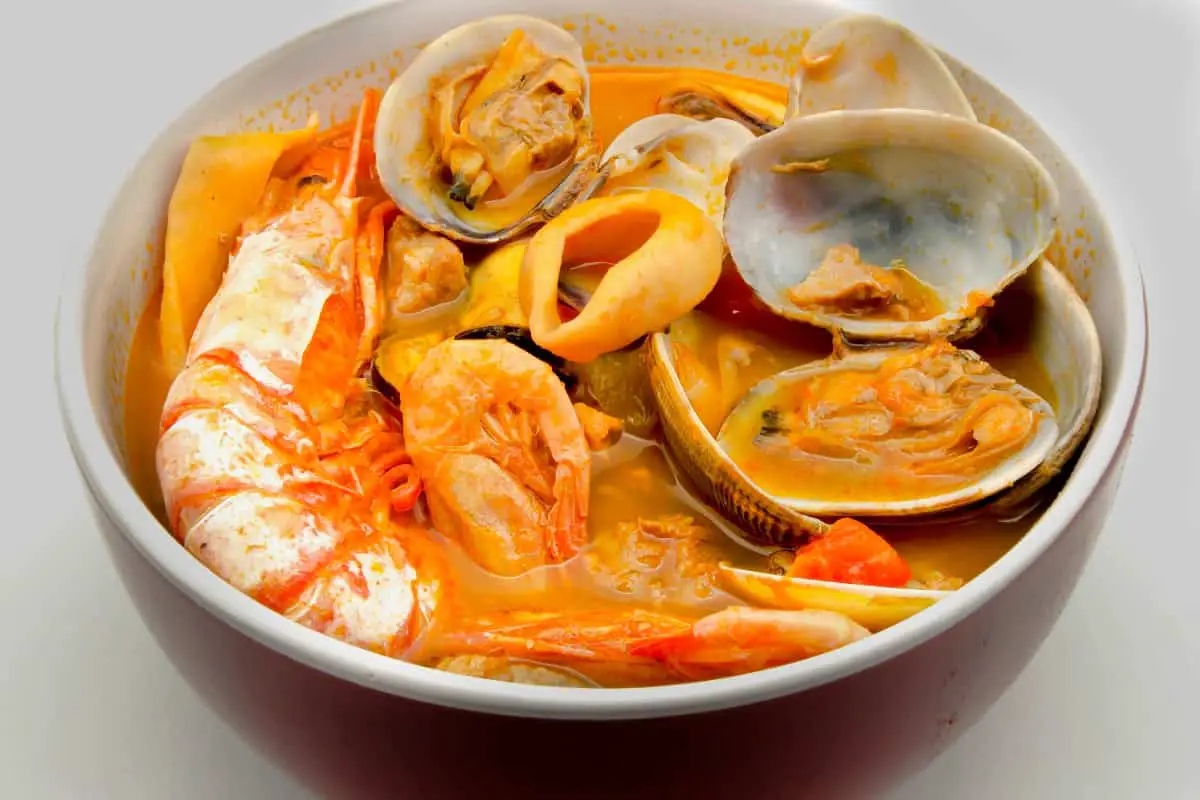 Sancocho de mariscos, or Panamanian Seafood Stew, is a popular dish in Panama. You'll find fresh fish, shrimp, crab, and clams, along with yucca, plantains, and corn in this stew.
The indigenous people of Panama created the first versions of the dish we now know as Panamanian seafood stew by using whatever ingredients they had on hand. Spanish colonizers brought new ingredients and cooking methods to Panama, which eventually led to the development of today's sancocho de mariscos.
The traditional Panamanian dish of seafood stew is a dish reserved for celebrations and festivities such as birthdays, anniversaries, and religious holidays. It's also a staple in the days leading up to Panama's annual Carnival, which falls on the week before Ash Wednesday.
In addition to its many other positive qualities, Panamanian seafood stew is a popular dish because it provides a substantial and satisfying meal. Cooked together, seafood and hearty vegetables create a delicious and filling meal.
To make Panamanian seafood stew, combine all of the ingredients in a large pot or dutch oven, and simmer them together over low heat for several hours. This seafood and vegetable stew is full of flavor thanks to the slow cooking method that allows the ingredients to absorb each other's aromas and flavors.
Seafood stew is a staple dish in Panama and is highly regarded for its flavor and tradition. This hearty stew is sure to please all seafood lovers thanks to its interesting background and unusual combination of ingredients.
3 Reasons People Love Panamanian Seafood Stew
1. Rich Flavor: The stew is made with a variety of seafood, such as shrimp, fish, crab, and clams, as well as starchy vegetables like yuca and plantains. The combination of seafood and vegetables creates a complex, savory flavor that is both comforting and satisfying.
2. Nourishing Qualities: Seafood is a great source of lean protein, omega-3 fatty acids, and other essential nutrients. The vegetables in the stew also provide fiber, vitamins, and minerals. This makes Panamanian seafood stew not only delicious, but also nourishing and healthy.
3. Cultural Significance: In Panama, seafood is a staple food that has been enjoyed for generations. Seafood stews like sancocho de mariscos are a reflection of the country's cultural heritage and culinary traditions. Eating this dish can be a way for people to connect with Panamanian culture and history.
How To Make Our Panamanian Seafood Stew Recipe
Ingredients (Serves 8):
2 lbs. mixed seafood (shrimp, mussels, clams, squid, and/or fish)
1 large onion, chopped
3 cloves garlic, minced
1 bell pepper, chopped
1 carrot, chopped
2 potatoes, chopped
2 cups of coconut milk
2 cups of seafood or vegetable broth
1 tbsp. ground cumin
1 tbsp. dried oregano
1 tbsp. smoked paprika
Salt and black pepper to taste
2 tbsp. olive oil
2 tbsp. chopped fresh cilantro
Instructions:
1. Heat olive oil in a large pot or Dutch oven over medium-high heat.
2. Add the onions and sauté until they are soft and translucent, for about 2-3 minutes.
3. Add the garlic and sauté for an additional minute, until fragrant.
4. Add the bell pepper and carrot, and continue to sauté for another 3-4 minutes, or until they are soft.
5. Add the potatoes, coconut milk, and broth, along with the cumin, oregano, smoked paprika, salt, and black pepper. Stir well.
6. Bring the mixture to a simmer and let it cook for about 15-20 minutes or until the potatoes are soft.
7. Add the mixed seafood and cook for an additional 5-7 minutes, or until the seafood is cooked through.
8. Adjust seasoning to taste and garnish with fresh cilantro.
Nutritional Values for One Serving of Panamanian Seafood Stew:
Calories: 350
Carbohydrates: 25g
Protein: 25g
Fat: 17g
Saturated Fat: 10g
Trans Fat: 0g
Cholesterol: 120mg
Sodium: 620mg
Potassium: 780mg
Fiber: 4g
Sugar: 4g
Prep time: 15 minutes
Cooking time: 35 minutes
List of Pots, Pans and Cooking Equipment:
Large stockpot
Wooden spoon
Cutting board
Chef's knife
Measuring cups and spoons
Blender (optional)
Ladle
Serving bowls
Best way to Store Panamanian Seafood Stew:
To store Panamanian Seafood Stew, let it cool to room temperature before transferring it to an airtight container.
You can keep it in the refrigerator for up to 3-4 days or freeze it for up to 3 months.
Possible Substitutions for Ingredients for Panamanian Seafood Stew:
Plantains: sweet potatoes or yams
Yucca: potatoes or parsnips
Coconut milk: heavy cream or half-and-half
Shrimp: scallops or crabmeat
Fish: any firm white fish such as cod, haddock or halibut
Clams: mussels or oysters
Ingredients to Substitute for a Vegetarian version of Panamanian Seafood Stew:
Oyster mushrooms
Artichoke hearts
Hearts of palm
Cauliflower florets
Carrots
Bell peppers
Tips and Tricks for Easier Creations of the Recipe
Here are some tips and tricks to make the process of making Panamanian Seafood Stew easier:
Prep all the ingredients beforehand to save time.
Use frozen seafood to save time on cleaning and deveining.
Use a food processor or blender to chop the vegetables quickly.
Don't overcook the seafood as it can become tough and rubbery.
Serve with crusty bread or rice to soak up the flavorful broth.
Possible Side Dishes and Desserts to serve with Panamanian Seafood Stew
Here are some side dishes and desserts that would complement Panamanian Seafood Stew:
Side dishes: coconut rice, yucca fries, green salad, plantain chips.
Desserts: tres leches cake, flan, coconut pudding, papaya sorbet.
How to Serve Panamanian Seafood Stew
To serve Panamanian Seafood Stew, ladle the stew into serving bowls and garnish with chopped cilantro or parsley. Serve with crusty bread or rice on the side.
FAQs About Panamaian Seafood Stew
1. What kind of seafood is typically used in Panamanian seafood stew?
Panamanian seafood stew, or "sancocho de mariscos," traditionally includes a mix of seafood such as shrimp, clams, mussels, crab, and fish. However, you can use whatever seafood you prefer or have on hand.
2. What vegetables are typically used in Panamanian seafood stew?
The stew usually contains a variety of vegetables, such as yucca (also known as cassava), green plantains, corn, onions, garlic, and cilantro. Some variations may also include carrots or other vegetables.
3. Are there any special spices or seasonings used in Panamanian seafood stew?
Yes, there are several spices and seasonings that are typically used in this dish, including cumin, oregano, achiote (annatto), and salt. Some recipes may also include hot peppers for added heat.
4. Can I use canned or frozen seafood for Panamanian seafood stew?
Yes, you can use canned or frozen seafood if fresh seafood is not available. Just make sure to drain the canned seafood and thaw frozen seafood before adding it to the stew.
5. Is Panamanian seafood stew gluten-free?
Yes, if you use gluten-free ingredients, such as corn instead of wheat-based products like bread or crackers, Panamanian seafood stew can be made gluten-free. Just be sure to check the labels of any packaged ingredients you use to make sure they don't contain gluten.
Panamanian Seafood Stew is an excellent dish to serve for a hearty and nutritious meal. This recipe is easy to make and will satisfy everyone's cravings for seafood. The combination of seafood, vegetables, and spices makes for a delicious and comforting meal that is perfect for any occasion.
---
---
You May Want to Join Our Boondocking Group on Facebook For More Information
You May Want to Join Our Campfire Recipes Group on Facebook For More Information
For More Photos Visit Our Instagram at World Recipes Daily – Our Big Escape
---
---