Last updated on September 24th, 2023 at 01:20 pm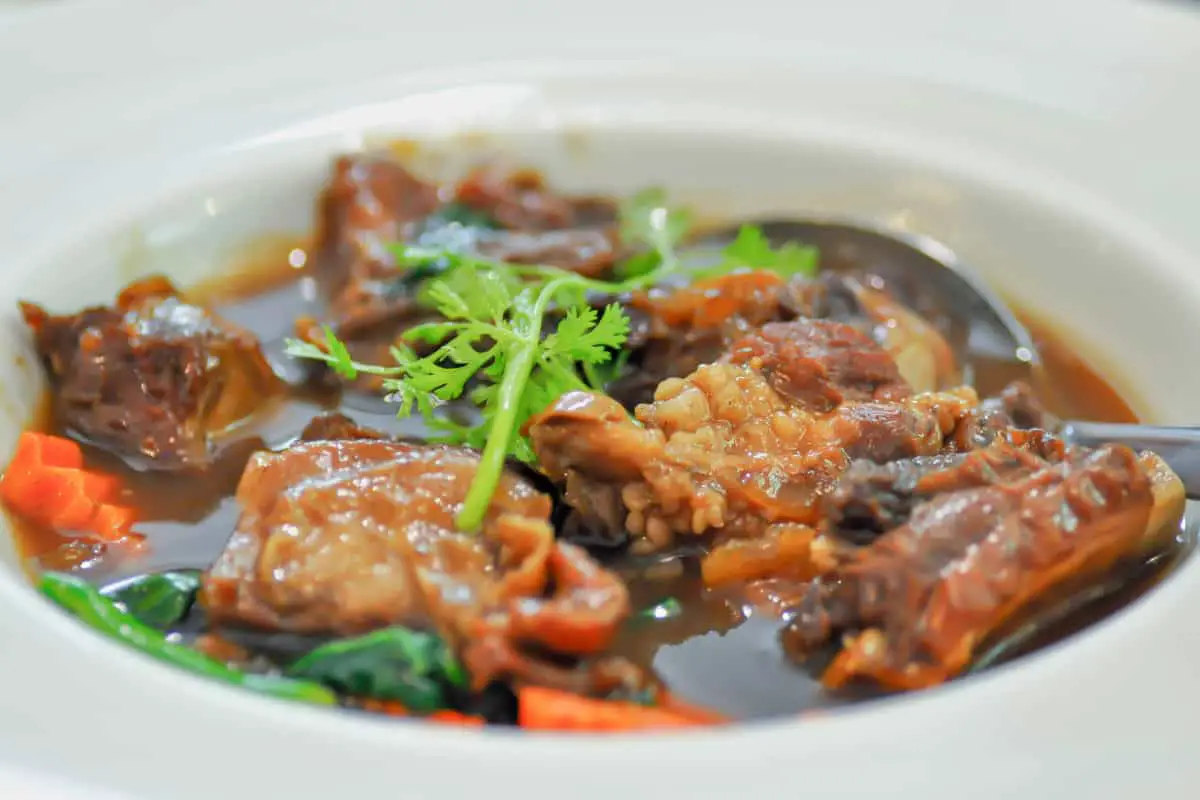 Panamanian Pork Stew is slow-cooked with a variety of spices, herbs, and vegetables to create a fragrant and flavorful stew. The locals of Panama have been feasting on Panamanian Pork Stew for decades.
The indigenous people of Panama were famous for their slow cooking methods and their use of aromatic spices, both of which found their way into traditional Panamanian Pork Stew. The dish's current flavor profile is a result of its long history and gradual incorporation of Spanish and African influences.
Festivities, holidays, and family gatherings are typical times when Panamanian Pork Stew is prepared and served. Because of the slow cooking time, all the flavors have a chance to blend into one another, making this dish ideal for a group dinner.
The pork is slow-cooked in a rich broth flavored with aromatic spices like cumin, oregano, and bay leaves, and the entire process can take several hours. In order to give the dish a savory and slightly sweet flavor, vegetables like onions, garlic, and peppers are added to the pot.
The pork is ready when it is very tender, and it is served with rice and beans or plantains to round out a hearty and filling meal. Garnishing the stew with fresh herbs or lime wedges will add a pop of color and acidity to the dish.
Panamanian Pork Stew can be served in a variety of ways, making it a versatile and adaptable dish. It can be enjoyed on its own as a hearty soup, or served over rice or with bread for a more substantial meal. Some people also like to add additional ingredients such as potatoes or carrots to the stew to make it even more flavorful and filling.
3 Reasons People Love Panamanian Pork Stew
1. A traditional favorite: Panamanian Pork Stew has been enjoyed by Panamanians for decades. Its slow-cooking method allows the flavors to develop and meld together, making for a delicious and satisfying meal, and its storied past and distinctive flavor profile make it a true culinary gem.
2. Flavorful ingredients: Panamanian Pork Stew is known for its bold and rich flavors. The stew is typically made with pork, onions, peppers, tomatoes, garlic, and spices such as cumin and oregano. These ingredients come together to create a delicious and aromatic stew that is both comforting and satisfying.
3. Cultural significance: Panamanian Pork Stew is a traditional dish that is deeply rooted in the country's history and culture. Many Panamanians grew up eating this stew as a staple dish, and it is often served at family gatherings and special occasions. For many people, eating Panamanian Pork Stew is a way to connect with their heritage and honor their traditions.
How To Make Our Panamanian Pork Stew Recipe
Ingredients (Serves 8):
2 pounds of pork shoulder, cut into 1-inch pieces
1 tablespoon of olive oil
1 medium onion, chopped
3 garlic cloves, minced
2 tablespoons of tomato paste
1 can (14.5 oz) of diced tomatoes, undrained
2 cups of beef broth
1 tablespoon of dried oregano
1 tablespoon of cumin
1 tablespoon of paprika
1 teaspoon of salt
1/4 teaspoon of black pepper
2 cups of diced potatoes
1 cup of diced carrots
1 cup of frozen peas
2 bay leaves
Instructions:
1. In a large skillet or Dutch oven, heat the olive oil over medium-high heat. Add the pork pieces and cook until browned on all sides, about 5-7 minutes. Transfer the pork to a slow cooker.
2. Add the onion to the same skillet and sauté for 2-3 minutes until it begins to soften. Add the garlic and tomato paste and sauté for an additional minute.
3. Add the diced tomatoes, beef broth, oregano, cumin, paprika, salt, and pepper to the skillet and stir to combine. Bring the mixture to a boil and then pour it over the pork in the slow cooker.
4. Add the potatoes, carrots, peas, and bay leaves to the slow cooker and stir to combine.
5. Cook on high for 4-5 hours or low for 8-10 hours, until the pork is tender and the vegetables are cooked through.
6. Serve hot with crusty bread or rice, if desired.
Nutritional Values for One Serving of Panamanian Pork Stew:
Calories: 420
Carbohydrates: 26g
Protein: 34g
Fat: 19g
Saturated Fat: 5g
Trans Fat: 0g
Cholesterol: 110mg
Sodium: 1090mg
Potassium: 1220mg
Fiber: 5g
Sugar: 7g
Prep time: 15-20 minutes
The prep time for Panamanian slow-cooked pork stew varies depending on the recipe, but it generally takes around 15-20 minutes to gather and prepare all the ingredients. This includes cutting and chopping the vegetables, seasoning the meat, and measuring out any liquids or spices needed.
Cooking time: 3 hours
The cooking time for Panamanian slow-cooked pork stew also varies depending on the recipe and the cooking method used. If using a slow cooker, the pork stew can take anywhere from 6-8 hours on low heat, or 3-4 hours on high heat. If cooking on the stovetop, it can take around 2-3 hours on low heat, or 1-2 hours on medium heat.
It's important to note that cooking times may vary based on the size and thickness of the meat pieces, so it's best to check the pork for doneness before serving. The internal temperature of the pork should reach 145°F (63°C) before it is considered safe to eat.
List of Pots, Pans and Cooking Equipment:
Dutch oven or heavy-bottomed pot
Slow cooker or crockpot (optional)
Large cutting board
Chef's knife
Wooden spoon
Measuring cups and spoons
Tongs
Best way to Store Panamanian Pork Stew:
It is best to let it cool down to room temperature before storing it in an airtight container.
Glass containers with snap-on lids or plastic containers with tight-fitting lids are good options.
The stew can be stored in the refrigerator for up to 3-4 days or in the freezer for up to 3 months.
Possible Substitutions for Ingredients for Panamanian Pork Stew:
Pork shoulder – chicken, beef, or lamb can be used as substitutes
Oregano – thyme or marjoram can be used as substitutes for flavor
Ingredients to Substitute for a Vegetarian version of Panamanian Pork Stew:
You can substitute the pork with mushrooms or tofu.
Vegetable broth can be used instead of chicken broth.
For additional flavor, you can add smoked paprika or liquid smoke to mimic the smokiness of the pork.
Tips and Tricks for Easier Creations of the Recipe
Choose the right cut of meat: For a perfect pork stew, use pork shoulder or butt. These cuts are perfect for slow cooking and will give you a tender and juicy result.
Brown the meat: To add extra flavor to your stew, brown the meat in a skillet before adding it to the slow cooker.
Use a slow cooker liner: This will make cleaning up a breeze.
Don't overcrowd the slow cooker: Make sure to leave enough room for the ingredients to cook evenly.
Add the vegetables towards the end: Vegetables can become mushy if they are cooked for too long. Add them in the last hour of cooking.
Possible Side Dishes and Desserts to serve with Panamanian Pork Stew
Side Dishes:
Rice and beans
Fried plantains
Roasted vegetables
Salad
Desserts:
Tres leches cake
Flan
Arroz con leche (rice pudding)
Churros
How to Serve Panamanian Pork Stew
Remove the pork from the slow cooker and shred it using two forks.
Serve the pork stew over a bed of rice or with a side of beans and plantains.
Garnish with fresh cilantro or chopped onions.
FAQs About Panamanian Pork Stew
1. Can I make this recipe ahead of time?
Yes, you can make this recipe ahead of time and reheat it when you are ready to serve.
2. Can I use a different type of meat?
Yes, you can use beef or chicken instead of pork.
3. Can I freeze the leftovers?
Yes, you can freeze the leftovers for up to 3 months.
4. How spicy is this recipe?
The spiciness of this recipe can be adjusted by adding more or less chili powder or jalapeño peppers.
5. Can I cook this recipe on the stovetop instead of a slow cooker?
Yes, you can cook this recipe on the stovetop over low heat for 2-3 hours or until the pork is tender.
Panamanian Pork Stew is a delicious and hearty dish that is perfect for any occasion. With a few simple tips and tricks, you can make this recipe with ease. Serve it with rice, beans, and fried plantains for an authentic Panamanian meal. Don't forget to garnish with fresh cilantro or chopped onions for added flavor.
---
---
You May Want to Join Our Boondocking Group on Facebook For More Information
You May Want to Join Our Campfire Recipes Group on Facebook For More Information
For More Photos Visit Our Instagram at World Recipes Daily – Our Big Escape
---
---