Last updated on September 24th, 2023 at 01:32 pm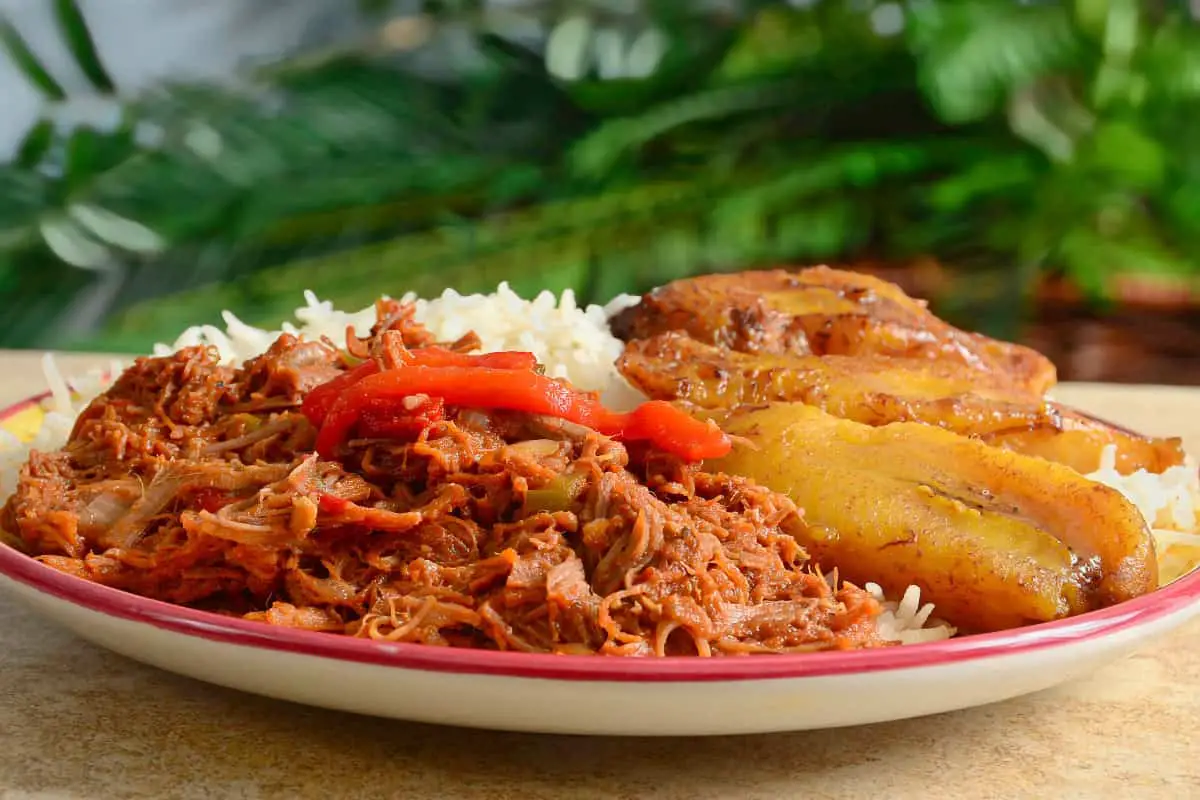 Panamanian Ropa Vieja stew is a popular and flavorful dish that is made with shredded beef, vegetables, and a blend of spices. Throughout the centuries, Panamanians have relied on Ropa Vieja Stew. The dish's rich and savory flavor comes from the tender shredded beef that's been cooked with onions, peppers, tomatoes, and a variety of spices.
Where Ropa Vieja Stew Comes From
There are numerous legends about who first made Ropa Vieja stew. Spanish sailors who were shipwrecked for months supposedly invented it by improvising with the few ingredients they had available. Named after the practice of boiling used garments until they softened, "Ropa Vieja" literally means "old clothes." Upon their return to land, they remade the dish with more conventional ingredients like beef, and it quickly gained popularity throughout Latin America.
It has also been said that a Spanish nobleman hosted a lavish feast where the dish first made its appearance. As his guests began to arrive, he realized he had neglected to purchase any meat for the stew he had planned to serve. All the old clothes he could find were gathered in a panic and boiled until they were soft. Guests were pleasantly surprised by the dish and asked for the recipe.
Whether or not it was originally from Panama, Ropa Vieja stew is now a staple in the cuisines of many Latin American countries.
When Should You Eat Ropa Vieja?
It is customary in Panama to serve Ropa Vieja stew on holidays and other joyous occasions. It is a common staple at celebrations like weddings, birthday parties, and reunions. More so, Ropa Vieja stew is a staple on the menus of many Panamanian eateries.
Traditional accompaniments for Ropa Vieja include rice, beans, and fried plantains. Beef or chicken, or both, can be used in its place, and some recipes even combine the two. Tender, easily-falling-apart meat is the key to a fantastic Ropa Vieja stew, and this is achieved by cooking the meat at a low temperature for an extended period of time.
3 Reasons People Love Panamanian Ropa Vieja Stew
1. Rich flavor: One of the main reasons people love Panamanian Ropa Vieja stew is its rich, savory flavor. The slow-cooked beef, onions, peppers, and spices create a deep, complex flavor that is both satisfying and comforting.
2. Cultural significance: Ropa Vieja is a traditional dish in Panama and other Latin American countries, and many people love it for its cultural significance. It is often served at special occasions like weddings, birthdays, and holidays, and is a popular family meal. For many people, Ropa Vieja is a symbol of their cultural heritage and a way to connect with their roots.
3. Versatility: Ropa Vieja is a versatile dish that can be enjoyed in many different ways. It can be served as a hearty main course with rice and beans, or used as a filling for tacos, burritos, or sandwiches. Leftovers can also be used to make delicious empanadas or fried rice. Its versatility makes it a favorite among many different cultures and cuisines.
How To Make Our Panamanian Ropa Vieja Stew Recipe
Ingredients for 8:
2 pounds flank steak
2 tablespoons olive oil
1 onion, diced
1 green bell pepper, diced
1 red bell pepper, diced
4 garlic cloves, minced
1 teaspoon dried oregano
1 teaspoon ground cumin
1 teaspoon smoked paprika
1 teaspoon salt
1/2 teaspoon black pepper
1 (14.5 oz) can diced tomatoes
2 cups beef broth
1/2 cup pitted green olives
1/4 cup capers, drained
1/4 cup chopped fresh cilantro
Instructions:
1. Preheat the oven to 350°F.
2. Heat a large Dutch oven or oven-safe pot over medium-high heat. Add olive oil and brown the flank steak on both sides until browned. Remove the steak from the pot and set it aside on a plate.
3. In the same pot, add onions, bell peppers, and garlic. Cook for 5-7 minutes, stirring occasionally, until the vegetables have softened.
4. Add oregano, cumin, smoked paprika, salt, and black pepper to the pot. Stir well to combine.
5. Pour diced tomatoes and beef broth into the pot. Add the flank steak back to the pot, making sure it is fully covered with liquid.
6. Cover the pot and place it in the oven. Cook for 3-4 hours, until the meat is tender and easily shreds with a fork.
7. Once the meat is cooked, remove it from the pot and shred it with two forks. Return the shredded meat to the pot.
8. Add green olives, capers, and cilantro to the pot. Stir well to combine.
9. Serve the Ropa Vieja stew hot with your favorite side dishes, such as rice, beans, or fried plantains.
Nutritional Values for One Serving of Panamanian Ropa Vieja Stew:
Calories: 327
Carbohydrates: 11g
Protein: 37g
Fat: 15g
Saturated Fat: 4g
Trans Fat: 0g
Cholesterol: 93mg
Sodium: 1211mg
Potassium: 798mg
Fiber: 2g
Sugar: 5g
Prep Time: 20 minutes
Cooking Time: 3-4 hours
List of Pots, Pans and Cooking Equipment:
A large Dutch oven or stockpot to cook the stew
A cutting board and sharp knife to chop vegetables and meat
A wooden spoon or spatula to stir the stew
A can opener to open canned tomatoes and beans
Measuring cups and spoons to measure out spices and liquids
Best way to store Ropa Vieja Stew:
Once you've made a batch of Panamanian Ropa Vieja stew, you'll want to store any leftovers properly to maintain their freshness and flavor. It's best to transfer the stew to an airtight container, such as a glass or plastic container with a lid, and store it in the refrigerator. The stew should be consumed within three to four days to prevent spoilage.
Possible Substitutions for Ingredients in Ropa Vieja Stew:
Beef with seitan, tofu, or mushrooms.
Beef broth with vegetable broth
Add additional vegetables, such as carrots or zucchini, to add more flavor and texture.
Ingredients to Substitute for a Vegetarian version of Ropa Vieja Stew:
If you want to make a vegetarian version of Panamanian Ropa Vieja stew, you can substitute the beef with seitan, tofu, or mushrooms. You can also use vegetable broth instead of beef broth and add additional vegetables, such as carrots or zucchini, to add more flavor and texture. Follow the same recipe as the original, but replace the meat with your preferred protein. Add the protein towards the end of the cooking process, so it does not become overcooked.
Tips and Tricks to make the creation process of Panamanian Ropa Vieja stew easier:
Use a slow cooker to cook the stew if you're short on time or prefer a hands-off approach.
If you're using fresh tomatoes instead of canned, blanch them in boiling water for a few seconds to remove the skins.
You can use canned green beans instead of fresh beans, but add them towards the end of the cooking process to prevent them from becoming too soft.
Possible Side Dishes and Desserts to serve with Panamanian Ropa Vieja stew
Pair it with rice, plantains, or bread.
Serve it alongside a salad or vegetables to balance out the meal.
For dessert, consider serving a sweet and refreshing fruit salad or a traditional Panamanian dessert, such as tres leches cake.
How to Serve Ropa Vieja stew
To serve the stew, ladle it into bowls and top with chopped cilantro or parsley for a pop of color and freshness.
5 FAQs About Ingredients for Panamanian Ropa Vieja Stew
1. What is Ropa Vieja?
Ropa Vieja is a popular beef stew in Panama and many Latin American countries. The name "Ropa Vieja" translates to "old clothes" in Spanish, and the dish gets its name from the shredded meat that resembles torn or shredded clothing.
2. What kind of beef is used for Ropa Vieja?
Traditionally, flank steak or skirt steak is used to make Ropa Vieja. These cuts of beef are flavorful and tender when cooked low and slow in the stew. However, other cuts of beef, such as chuck roast, can also be used.
3. What other ingredients are in Ropa Vieja?
In addition to beef, Ropa Vieja typically includes onions, bell peppers, garlic, tomatoes, cumin, oregano, and other spices. Some recipes also call for additional vegetables, such as carrots, potatoes, and olives.
4. How is the beef prepared for Ropa Vieja?
The beef for Ropa Vieja is typically slow-cooked until it is tender enough to shred. This can be done in a slow cooker or on the stove. Once the beef is cooked, it is shredded and then added back to the stew to cook with the other ingredients.
5. Is Ropa Vieja a spicy dish?
The level of spice in Ropa Vieja can vary depending on the recipe and personal preference. Some recipes call for a mild amount of spices, while others use hotter peppers and spices to add more heat. If you prefer a milder version, you can always adjust the amount of spice to your liking.
---
---
You May Want to Join Our Boondocking Group on Facebook For More Information
You May Want to Join Our Campfire Recipes Group on Facebook For More Information
For More Photos Visit Our Instagram at World Recipes Daily – Our Big Escape
---
---