Last updated on September 24th, 2023 at 01:21 pm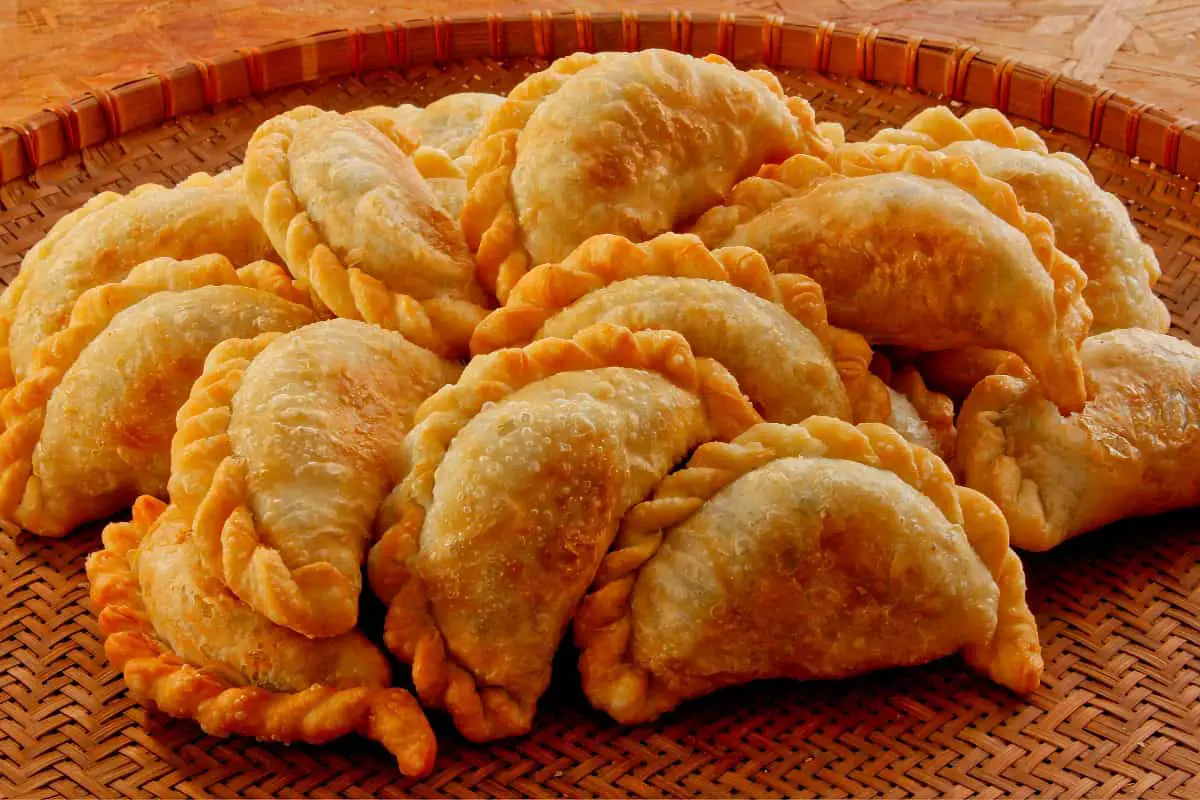 Panamanian Empanadas are made using a dough that is typically made from flour, water, and salt. The dough is then rolled out and filled with a variety of ingredients such as ground beef, chicken, or pork, along with onions, peppers, and other vegetables. Cheese is also a popular filling for empanadas, particularly in the region of Chiriqui in Western Panama.
Panamanian Empanadas are a beloved dish that can be found all over Panama. These savory pastries are typically filled with meat, vegetables, or cheese, and are a staple of Panamanian cuisine.
The history of empanadas can be traced back to medieval times in Spain, where they were often filled with seafood or meat and served as a portable meal for laborers. The dish made its way to Latin America during the colonial period and has since become a popular street food across the continent.
Empanadas are typically served as a snack or appetizer and are a common sight at Panamanian parties and festivals. They are often accompanied by hot sauce or ají, a spicy sauce made with chili peppers, garlic, and vinegar. Empanadas are also a popular breakfast food in Panama, with many street vendors selling them early in the morning.
While empanadas can be found throughout Panama, each region has its own unique twist on the dish. In the province of Colon, for example, empanadas are often filled with seafood, while in the province of Los Santos, they are typically filled with chicken and potatoes.
Panamanian empanadas are a delicious and versatile dish that has become an integral part of Panamanian cuisine. Whether enjoyed as a snack, appetizer, or breakfast food, these savory pastries are sure to satisfy any craving.
3 Reasons People Love Panamanian Empanadas
1. Flavorful and Versatile Fillings: Panamanian empanadas are known for their delicious and varied fillings, which can include ground beef, chicken, pork, cheese, and even seafood. These fillings are often seasoned with a variety of herbs and spices, which give them a unique and flavorful taste. Additionally, empanadas can be eaten as a snack or as a meal, making them a versatile food choice.
2. Convenient and Portable: Empanadas are a popular street food in Panama and are often sold at roadside stands and food trucks. They are easy to carry and eat on the go, which makes them a convenient option for people who are on the move or don't have time for a sit-down meal.
3. Cultural Significance: Empanadas are a traditional food in Panama and are an important part of the country's culinary heritage. They are often served at celebrations and special events, and many families have their own unique empanada recipes that have been passed down through generations. This cultural significance adds to the appeal of empanadas and makes them a beloved food in Panama and beyond.
How To Make Our Panamanian Empanadas Recipe
Ingredients (Serves 8):
2 cups all-purpose flour
1 tsp. salt
1/2 cup water
1/2 cup unsalted butter, at room temperature
1 lb. ground beef
1/2 cup chopped onion
1/2 cup chopped red bell pepper
2 cloves garlic, minced
1 tsp. ground cumin
1/2 tsp. dried oregano
Salt and black pepper to taste
2 tbsp. tomato paste
1/2 cup beef broth
1 egg, beaten
Instructions:
1. In a large bowl, mix the flour and salt together. Cut the butter into small pieces and add to the bowl. Using a pastry cutter or your fingers, mix the butter into the flour until the mixture is crumbly.
2. Add the water and mix until a dough forms. Knead the dough on a floured surface until it is smooth and elastic.
3. In a large skillet, cook the ground beef over medium heat until browned. Add the onion, red bell pepper, garlic, cumin, oregano, salt, and black pepper. Cook for 5 minutes, stirring occasionally.
4. Add the tomato paste and beef broth to the skillet. Simmer for 10-15 minutes, stirring occasionally, until the mixture has thickened. Remove from heat and let it cool.
5. Preheat the oven to 350°F. Roll out the dough on a floured surface until it is 1/8 inch thick. Using a round cutter or glass, cut circles out of the dough.
6. Place a spoonful of the beef mixture onto the center of each circle. Fold the dough over the filling and seal the edges by pressing with a fork.
7. Brush the empanadas with the beaten egg and place them on a baking sheet. Bake for 20-25 minutes or until golden brown.
8. Serve hot and enjoy!
Nutritional Values for One Serving of Panamanian Empanadas:
Calories: 405
Carbohydrates: 25g
Protein: 16g
Fat: 27g
Saturated Fat: 14g
Trans Fat: 0g
Cholesterol: 118mg
Sodium: 475mg
Potassium: 308mg
Fiber: 1g
Sugar: 2g
Prep time: 30 minutes
Cooking time: 25 minutes.
However, the exact time may vary depending on your cooking skills, equipment, and the size of your empanadas. It's important to note that the dough will need some time to rest, so plan accordingly. Overall, the process of making Panamanian Empanadas is relatively easy and straightforward, making it a great option for a quick and delicious meal or snack.
List of Pots, Pans and Cooking Equipment:
Mixing bowl
Rolling pin
Large skillet
Baking sheet
Pastry cutter or glass for cutting dough circles
Fork for sealing empanadas
Best way to Store Panamanian Empanadas:
If you have leftover Panamanian Empanadas, you can store them in an airtight container in the refrigerator for up to 3 days. To ensure freshness, it's best to reheat them in the oven or a toaster oven rather than the microwave. This will help to maintain their crispy texture.
Ingredients to Substitute for a Vegetarian version of Panamanian Empanadas:
If you're looking to make a vegetarian version of Panamanian Empanadas, you can substitute the ground beef with a variety of ingredients such as:
Textured Vegetable Protein (TVP)
Cooked lentils or beans
Tofu or tempeh
Beyond Meat or other plant-based meat alternatives
For the pastry dough:
You can substitute the butter with vegetable shortening or coconut oil for a vegan version.
Additionally, you can experiment with different types of fillings, such as cheese and spinach, or sweet fillings like guava or pumpkin.
Tips and Tricks for Easier Creations of the Recipe
Chill the dough before rolling it out to make it easier to handle.
Use a fork to seal the edges of the empanadas and prevent the filling from spilling out during cooking.
Use a non-stick skillet or baking sheet to prevent the empanadas from sticking.
If you're making a large batch, you can freeze the empanadas before cooking them and then bake or fry them when you're ready to serve.
Experiment with different fillings and spices to customize the recipe to your liking.
Possible Side Dishes and Desserts to serve with Panamanian Empanadas
Panamanian Empanadas are delicious on their own, but they can also be served with a variety of side dishes and desserts. Some popular options include:
Rice and beans
Plantains
Salad
Fruit salsa
Flan
Tres leches cake
How to Serve Panamanian Empanadas
Panamanian Empanadas can be served as a snack or a meal, depending on the portion size. They are typically served warm and can be accompanied by your favorite dipping sauce. To serve, place the empanadas on a platter or plate and garnish with chopped cilantro or a sprinkle of cheese.
FAQs About Panamanian Empanadas
1. Can I make empanada dough ahead of time?
Yes, you can make the dough ahead of time and refrigerate it for up to 24 hours before rolling it out.
2. Can I bake empanadas instead of frying them?
Yes, you can bake empanadas in the oven at 350°F for 20-25 minutes, or until golden brown.
3. Can I freeze empanadas before cooking them?
Yes, you can freeze empanadas before cooking them. Just be sure to thaw them before baking or frying them.
4. Can I use chicken instead of beef for the filling?
Yes, you can use chicken or other meats for the filling.
5. Can I make empanadas without gluten?
Yes, you can make gluten-free empanadas using a gluten-free flour blend or other alternative flours.
Panamanian Empanadas are a delicious and versatile snack that can be customized to your liking. With our tips and tricks, serving suggestions, and answers to frequently asked questions, you can confidently make and serve Panamanian Empanadas to your family and friends. So go ahead and give this recipe a try, and enjoy the flavors of Panama!
---
---
You May Want to Join Our Boondocking Group on Facebook For More Information
You May Want to Join Our Campfire Recipes Group on Facebook For More Information
For More Photos Visit Our Instagram at World Recipes Daily – Our Big Escape
---
---