Last updated on September 24th, 2023 at 01:27 pm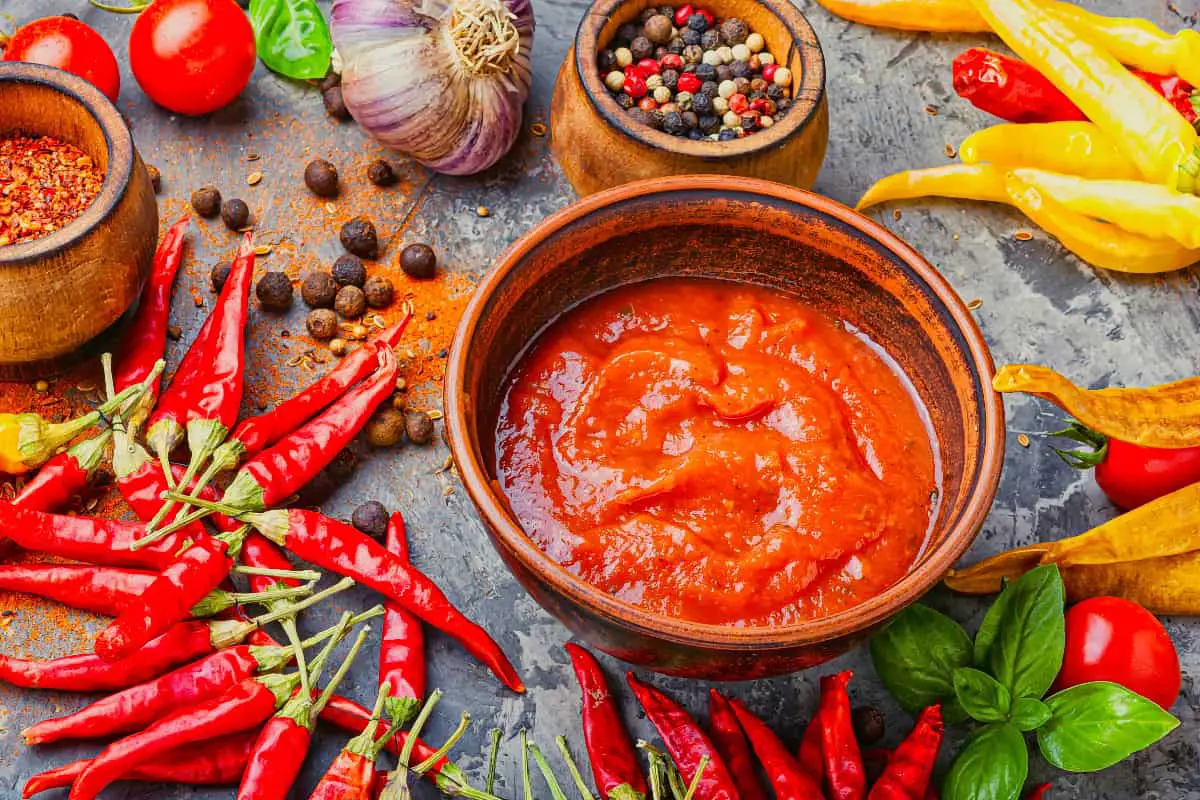 Panamanian hot sauce, also known as ají chombo, is a spicy and flavorful sauce that is a staple in Panamanian cuisine. It can be used as a condiment, marinade, or dipping sauce, and is made from a variety of ingredients such as Panamanian hot peppers, onions, garlic, vinegar, and spices.
Spicy and delicious, Panamanian hot sauce has a prolific past. Many people who enjoy robust and fiery flavors have come to appreciate this sauce. There wouldn't be much of a meal in Panama without the ubiquitous hot sauce.
African slaves were brought to Panama to work on plantations in the 17th century, and this is where the origins of Panamanian hot sauce can be traced back to. Slaves brought their own culinary techniques and spice combinations to Panama, which became standard fare. Panamanian hot sauce often features fiery peppers like habanero and Scotch bonnet, which have their origins in the Caribbean.
Rice and beans, grilled meats, and fried plantains are just a few of the traditional dishes that pair well with Panamanian hot sauce. Infusing the otherwise luscious and savory flavors of Panamanian food with a welcome spiciness. Empanadas and tamales, two common examples of street food, are often served with the sauce.
Although regional variations exist, most Panamanian hot sauces are made with a combination of peppers, vinegar, garlic, and spices. To make the sauce, simply combine all of the ingredients in a blender and process until a smooth and spicy condiment results.
Some manufacturers in Panama now export their hot sauce to other countries due to its increasing popularity abroad. Aji Chombo's distinctive flavor profile and intense heat have made it a favorite among fans of hot sauce all over the world.
Overall, Panamanian hot sauce is a deliciously spicy treat with deep roots in the country's culture dating back to the 17th century. It has become a staple of Panamanian street food and is often served alongside the country's more traditional dishes.
Regardless of the specifics, most wing sauces share a few key ingredients: peppers, vinegar, garlic, and spices. Panamanian hot sauce is a must-try for anyone who enjoys spicy foods or is simply curious about new culinary experiences.
Panamanian Hot Sauce: A Fiery and Flavorful Addition to Your Meals
Hot sauce lovers are always on the lookout for the perfect blend of heat and flavor to enhance their meals. If you're one of them, then you should definitely try the Panamanian Hot Sauce. This sauce is known for its unique blend of spices and peppers, making it a popular condiment in Panama and beyond. In this article, we'll share the recipe for Panamanian Hot Sauce, along with its nutritional values and cooking instructions.
3 Reasons People Love Panamanian Panamanian Hot Sauce
1. Unique flavor: Panamanian hot sauce, also known as ají chombo, has a unique flavor that is distinct from other hot sauces. It is made with Panamanian hot peppers, vinegar, garlic, and other spices, giving it a tangy, slightly sweet flavor that complements many different types of foods.
2. Versatile use: Panamanian hot sauce can be used in many different ways, from adding a spicy kick to traditional Panamanian dishes like ceviche and empanadas to livening up grilled meats and vegetables. It can also be used as a condiment for sandwiches and burgers, or even as a dipping sauce for chips and fries.
3. Cultural significance: Ají chombo is an important part of Panamanian culture and cuisine, and many people who love the hot sauce do so because it reminds them of home or of their cultural heritage. For Panamanians living abroad, ají chombo can be a comforting taste of home that helps them feel connected to their roots.
How To Make the Panamanian Hot Sauce Recipe
Ingredients (Serves 8):
12 habanero peppers
1 onion, chopped
2 garlic cloves, minced
1 teaspoon cumin
1 teaspoon salt
1 teaspoon black pepper
1/2 cup vinegar
1/4 cup water
2 tablespoons olive oil
Instructions:
1. Begin by washing and drying the habanero peppers. Remove the stems and chop them roughly.
2. In a blender or food processor, add the chopped habanero peppers, chopped onion, minced garlic, cumin, salt, black pepper, vinegar, and water. Blend until you get a smooth consistency.
3. In a small saucepan, heat the olive oil over medium heat. Once hot, add the blended mixture to the pan and stir well.
4. Let the mixture cook for about 10 minutes, stirring occasionally.
5. Once done, remove the pan from the heat and let it cool for a few minutes.
6. Transfer the hot sauce to a clean glass jar or bottle, and store it in the refrigerator.
Nutritional Values for One Serving of Panamanian Hot Sauce:
Calories: 20
Carbohydrates: 2g
Protein: 0g
Fat: 1g
Saturated Fat: 0g
Trans Fat: 0g
Cholesterol: 0mg
Sodium: 293mg
Potassium: 42mg
Fiber: 0g
Sugar: 1g
Prep time: 10-15 minutes
Cooking time: 10 minutes. Keep in mind that the longer you cook it, the milder the sauce will be.
List of Pots, Pans and Cooking Equipment:
Medium-sized saucepan
Blender or food processor
Cutting board
Chef's knife
Mixing bowl
Whisk
Best way to Store Panamanian Hot Sauce:
Panamanian hot sauce can be stored in an airtight container in the refrigerator for up to three months. A glass jar or a plastic container with a tight-fitting lid is the best choice. Avoid storing the hot sauce in a metal container, as the acid in the vinegar can react with the metal and alter the flavor of the sauce.
Possible Substitutions for Ingredients for Panamanian hot sauce:
Habanero peppers can be substituted with Scotch Bonnet peppers or jalapeño peppers.
Yellow onions can be substituted with red onions or shallots.
Cilantro can be substituted with parsley.
White vinegar can be substituted with apple cider vinegar or white wine vinegar.
Salt can be substituted with soy sauce or tamari for a gluten-free option.
Ingredients to Substitute for a Vegetarian version of Panamanian Hot Sauce:
If you're looking to make a vegetarian version of Panamanian hot sauce, you can replace the meat-based ingredients with the following:
Worcestershire sauce can be substituted with soy sauce or tamari.
Chicken bouillon can be substituted with vegetable bouillon or miso paste.
Tips and Tricks for Easier Creations of the Recipe
Wear gloves when handling hot peppers to avoid irritation to your skin and eyes.
Blend the ingredients in batches if your blender or food processor is not large enough to handle all the ingredients at once.
Use a splatter guard when cooking the sauce to prevent it from splashing onto your skin or clothes.
djust the amount of hot peppers to your desired level of spiciness.
Possible Side Dishes to serve with Panamanian Hot Sauce
Panamanian hot sauce is a versatile condiment that can be served with a variety of dishes, including:
Rice and beans
Fried plantains
Empanadas
Tamales
Grilled meats
Seafood dishes
How to Serve Panamanian Hot Sauce
Panamanian hot sauce can be served at room temperature or chilled. Simply remove the sauce from the refrigerator and let it come to room temperature before serving. You can serve it in a small bowl or jar alongside your favorite dishes.
FAQs About Panamanian Hot Sauce
1. What are Panamanian hot peppers, and where can I find them?
Panamanian hot peppers, also known as ají chombo peppers, are a type of chili pepper that is commonly used in Panamanian cuisine. They are similar in heat level to a jalapeño pepper but have a slightly sweeter taste. Panamanian hot peppers can be found in Latin American grocery stores or online.
2. What type of vinegar is typically used in Panamanian hot sauce?
White vinegar is the most commonly used vinegar in Panamanian hot sauce. It helps to preserve the sauce and gives it a tangy flavor.
3. What other ingredients are typically used in Panamanian hot sauce?
In addition to Panamanian hot peppers and vinegar, garlic, salt, and cumin are common ingredients in Panamanian hot sauce. Some recipes also include onions, tomatoes, and other spices.
4. Can I substitute Panamanian hot peppers with another type of chili pepper?
If you cannot find Panamanian hot peppers, you can substitute them with other chili peppers that are similar in heat level and flavor. Serrano peppers, jalapeño peppers, or even Thai bird's eye chilies are good substitutes.
5. How long does Panamanian hot sauce last, and how should it be stored?
Panamanian hot sauce can last for several months in the refrigerator if stored in an airtight container. It is important to keep the sauce refrigerated to prevent bacteria growth. If the sauce starts to smell or taste off, it should be discarded.
---
---
You May Want to Join Our Boondocking Group on Facebook For More Information
You May Want to Join Our Campfire Recipes Group on Facebook For More Information
For More Photos Visit Our Instagram at World Recipes Daily – Our Big Escape
---
---