Last updated on September 24th, 2023 at 01:03 pm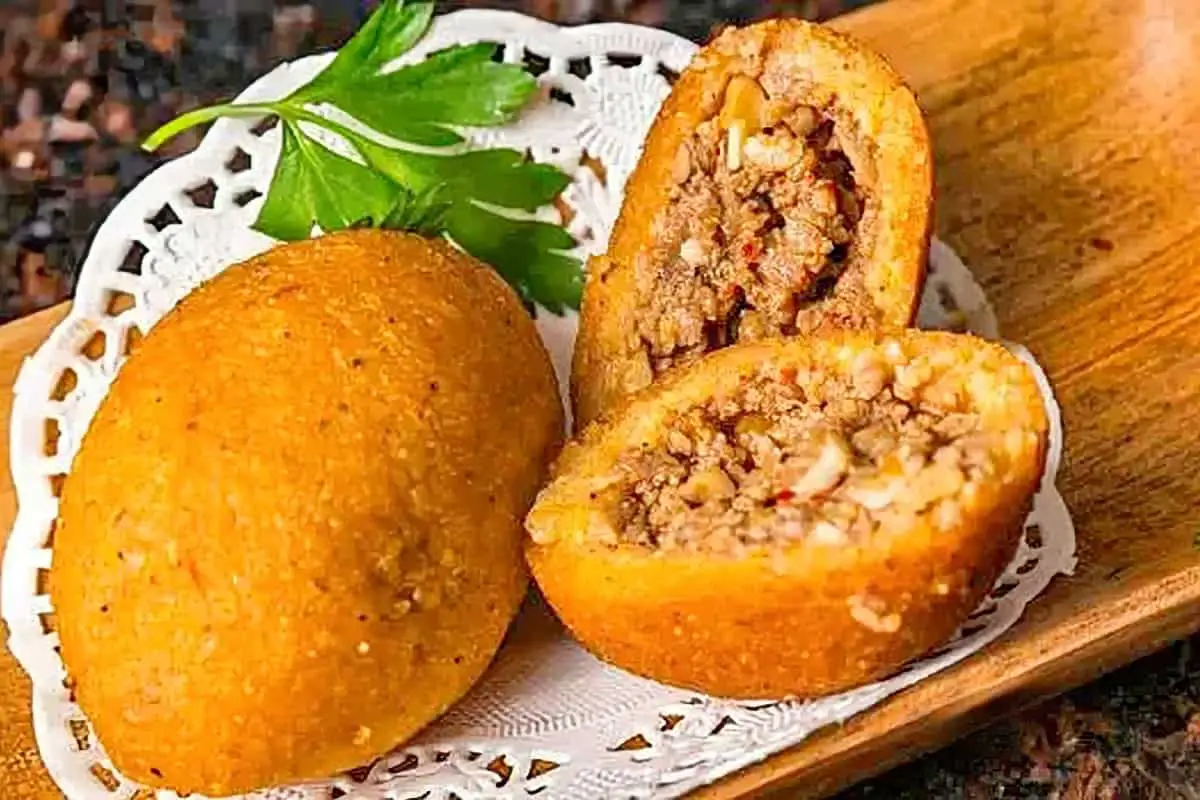 Panamanian Carimañola is a popular snack in Panama; they are made by rolling a mixture of yucca, ground beef, onions, and spices in a dough and then deep-frying the whole thing. The natives of Panama used cassava (also known as yucca) in their cuisine, so these savory treats have a long and fascinating history.
The Kuna people of Panama, who have used cassava for thousands of years, are the ancestors of the modern-day carimañola. Cassava is a root vegetable that has been cultivated in South America for thousands of years. It is also known as yucca and manioc. The Kuna would prepare the cassava by peeling it, grating it, and squeezing out the liquid to make a dough that would later be stuffed with other ingredients and cooked. The modern carimañola can trace its ancestry back to this time-honored recipe.
Kari, meaning bread or food in Kuna, and maola, meaning stuffed or filled, combine to form the word carimañola. The dish has become a staple in Panamanian cuisine, especially as a popular snack.
Yuca is grated and the liquid is squeezed out to make carimañolas. The resulting dough is combined with ground beef, onions, and a variety of spices like cumin, garlic, and chili powder. Once the mixture has been formed into a cylinder, it is deep-fried until it is crisp and golden brown. As a result, you get a tasty and savory snack that goes great with a variety of dipping sauces like hot sauce or aioli.
Carimañola can be enjoyed as a main course as well as a snack or appetizer. They're a staple at parties and celebrations all over Panama, from church potlucks to family reunions, and everywhere in between.
In sum, carimañolas are a delectable and one-of-a-kind snack that exemplifies Panama's diverse and flavorful culinary heritage. Their continued success is a testament to the fact that their unique fusion of indigenous and Spanish influences accurately represents the country's rich cultural history. In order to fully appreciate the exotic flavors of Panamanian cuisine, you simply must try a carimañola, whether you're on the go or sitting down to eat.
3 Reasons People Love Panamanian Carimañola
1. Delicious taste: One of the main reasons people love Panamanian carimañolas is their delicious taste. These savory fried snacks are made from a dough of mashed yucca or cassava mixed with ground meat, onions, and seasonings. They are crispy on the outside and soft on the inside, with a flavorful filling that is often spicy and savory.
2. Cultural significance: Carimañolas are a beloved traditional food in Panama, and many people love them for their cultural significance. They are often served at special events like festivals, holidays, and family gatherings, and are a popular street food in many parts of the country. For many Panamanians, carimañolas are a symbol of their cultural heritage and a source of national pride.
3. Versatility: Carimañolas are a versatile snack that can be enjoyed in many different ways. They can be eaten as a quick on-the-go snack, served as an appetizer at a party, or even as a main course with a side of salad or rice. Some people also enjoy dipping them in a variety of sauces, such as tomato-based sauces, hot sauce, or garlic sauce, which adds another layer of flavor to the dish.
How You Can Make Our Panamanian Carimañola Recipe
Ingredients for 8:
For the dough:
2 lbs. of cassava or yuca
1 teaspoon of salt
1 teaspoon of sugar
2 tablespoons of vegetable oil
For the filling:
1 lb. of ground beef or pork
1 onion, finely chopped
2 cloves of garlic, minced
1 teaspoon of ground cumin
1 teaspoon of dried oregano
1 teaspoon of salt
1 tablespoon of vegetable oil
Instructions:
1. Peel and wash the cassava or yuca, and cut it into small pieces.
2. Boil the cassava or yuca in a pot with enough water to cover them until they are tender, around 20-25 minutes.
3. Drain the cassava or yuca and mash them with a fork or a potato masher until they become a smooth paste.
4. Add the salt, sugar, and vegetable oil to the cassava or yuca paste and mix them well.
5. Cover the cassava or yuca paste and chill it in the refrigerator for at least 30 minutes.
6. In a skillet, heat the vegetable oil over medium heat and add the onion and garlic. Sauté until the onion is translucent.
7. Add the ground beef or pork, cumin, oregano, and salt. Cook for 10-15 minutes or until the meat is browned.
8. Remove the meat filling from the heat and let it cool.
9. Take the cassava or yuca paste out of the refrigerator and divide it into 8 equal portions.
10. Flatten each portion of cassava or yuca paste into a disk shape, place a tablespoon of the meat filling in the center, and shape it into a ball.
11. Heat enough oil in a deep skillet or a pot over medium-high heat to fry the carimañolas.
Fry the carimañolas until they are golden brown on all sides, around 3-5 minutes.
12. Remove the carimañolas from the oil and place them on a paper towel to absorb the excess oil.
Nutritional values for one serving of Panamanian Carimañola:
Calories: 337
Carbohydrates: 32g
Protein: 14g
Fat: 17g
Saturated Fat: 4g
Trans Fat: 0g
Cholesterol: 51mg
Sodium: 551mg
Potassium: 561mg
Fiber: 2g
Sugar: 2g
Prep time: 60 minutes
Cooking time: 30 minutes
List of Equipment Needed:
Large pot for boiling cassava or yuca
Skillet for cooking meat filling
Mixing bowl for cassava dough
Fork or potato masher for mashing cassava
Spoon or scoop for measuring the dough and the filling
Deep skillet or pot for frying the carimañolas
Paper towel or cooling rack for draining excess oil
Best Way to Store Panamanian Carimañola
If you have leftover Panamanian Carimañola, store them in an airtight container in the refrigerator. They will last for up to three days, but they are best when consumed fresh. To reheat them, place them in a preheated oven at 350°F for 10-15 minutes or until they are heated through.
Possible Substitutions for Ingredients
If you don't have some of the ingredients or want to make a different version of Panamanian Carimañola, here are some possible substitutions:
Meat filling: You can use ground chicken or turkey, shrimp, or a vegetarian substitute like textured soy protein or tofu.
Cassava dough: You can use yucca or potato starch as a substitute.
Vegetable oil: You can use other oils like coconut, avocado, or sunflower oil.
Ingredients for Vegetarian Panamanian Carimañola
If you want to make a vegetarian version of Panamanian Carimañola, you can substitute the meat filling with:
1 can of black beans, drained and rinsed
1 red bell pepper, finely chopped
1 jalapeño pepper, seeded and minced
1 teaspoon of ground cumin
1 teaspoon of dried oregano
Salt and pepper to taste
1 tablespoon of vegetable oil
Tips and Tricks to make the process of making Panamanian Carimañola easier:
Use a food processor to mash the cassava instead of a fork or potato masher.
Chill the cassava dough in the refrigerator for at least 30 minutes before shaping it into balls.
Use a cookie scoop or spoon to measure the same amount of dough and filling for each carimañola.
Fry the carimañolas in small batches to avoid overcrowding the skillet or pot.
Possible Side Dishes and Desserts
Panamanian Carimañola is a versatile dish that can be served as a snack or a main dish. Here are some possible side dishes and desserts that you can pair with it:
Avocado salad with tomatoes and cilantro
Fried plantains or tostones
Black beans and rice
Arroz con leche (rice pudding)
Tres leches cake
Instructions on How to Serve Panamanian Carimañola
Panamanian Carimañola is typically served hot and crispy, as a snack or appetizer. You can serve them with a dipping sauce, such as a garlic or hot sauce, or as a side dish with a main meal. They are also perfect for sharing with friends and family, especially during holidays.
5 FAQs About Ingredients for Panamanian Carimañola
1. What is yucca or cassava?
Yucca or cassava is a starchy root vegetable that is native to South America. It is similar in appearance to a sweet potato and is often used as a substitute for potatoes in many recipes. Yucca is a common ingredient in Panamanian carimañolas, where it is mashed and mixed with other ingredients to make the dough.
2. What kind of meat is used in carimañolas?
The most common meat used in carimañolas is ground beef or pork, although some recipes also use chicken or fish. The meat is seasoned with a variety of spices and mixed with onions, peppers, and other flavorings before being added to the dough.
3. What are the other ingredients in Panamanian carimañolas?
In addition to yucca and ground meat, carimañolas typically contain onions, garlic, peppers, cumin, salt, and other spices. Some recipes also call for hard-boiled eggs or olives to be added to the filling.
4. Can carimañolas be made without meat?
Yes, carimañolas can be made without meat for a vegetarian or vegan version. In this case, the filling can be made with vegetables like mushrooms, peppers, or zucchini, or with a combination of beans and rice.
5. Are there any gluten-free options for Panamanian carimañolas?
Yes, carimañolas can be made with gluten-free flour, such as rice flour or cassava flour, for those who are sensitive to gluten or have celiac disease. However, it's important to ensure that all other ingredients used in the recipe are also gluten-free to avoid any cross-contamination.
---
---
You May Want to Join Our Boondocking Group on Facebook For More Information
You May Want to Join Our Campfire Recipes Group on Facebook For More Information
For More Photos Visit Our Instagram at World Recipes Daily – Our Big Escape
---
---