Sofia is the capital city of Bulgaria. It is a Balkan nation located in the Eastern European area. It is the center of the Balkan peninsula and serves as the midway between the Black Sea and the Aegean Sea. Sofia Bulgaria has long been famous for its historical destinations. These reflect its rich past dating back to 7000 BC. You will find many major local universities, commercial companies, and cultural institutions here. Sofia was named one of the most affordable capital cities in Europe to visit in 2017.
Aside from the national landmarks, it is also known for its clubs and bars. They are perfect for travelers who are searching for a party nightlife. It also has different sceneries which is good for relaxation and photography. Are you interested in shopping? Sofia Bulgaria has a place for that. You will never go wrong visiting Sofia, it is definitely worth every cent. There are just so many things that you can do in Sofia, Bulgaria at a bargain-basement price. What can you do in Sofia, Bulgaria?
Sofia Bulgaria Stop #1:  Visit the Aleksander Nevski Cathedral
The Aleksander Nevski Cathedral is one of the top tourist destinations in Bulgaria. The church was constructed between the years of 1882 and 1912. , The design was created by Russian architect Aleksander Pomerantsev. The interior includes murals, chandeliers, and alabaster thrones. The exterior has elaborate onyx, mosaics, and gold-laden domes. The cathedral conducts daily Orthodox services. The church commemorates the 200,000 Russian soldiers who had died in the Russo-Turkish war. The name was actually used in honor of a 13th-century Russian prince.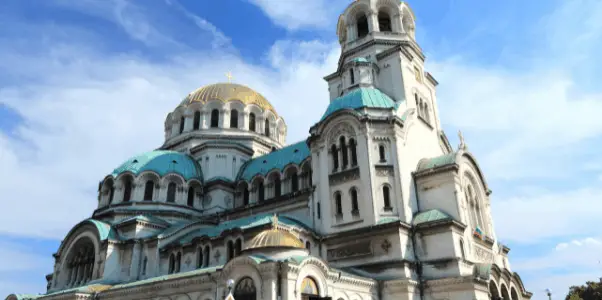 Sofia Bulgaria Stop #2: Shop on Vitosha Boulevard
Of course, in every place you visit, shopping is always on the list of the things you should do. This is especially true here in Sofia, Bulgaria. Vitosha Boulevard is Sofia's main shopping street. You will find it near the Grand National Palace of Culture and Saint Nedelya Church. Vitosha Boulevard has a variety of cafes and restaurants with different cuisines. You can find Italian, Irish, Chinese, you name it. Treat yourself in the many posh stores Vitosha Boulevard has.
Sofia Bulgaria Stop #3: Eat at Checkpoint Charly
Checkpoint Charly is one of the famous restaurants in Sofia Bulgaria. They offer Bulgarian food and wine. The location in the city center, on Rakovska street. On Friday nights, you can dine here while listening to some live jazz music. Checkpoint Charly is known for its salmon with wasabi rice, dish. Other great food includes lemon olive oil shrimp, pepper steak, and duck fillet. My favorite is the tender chicken fillet in a sauce of coconut milk and curries with chili risotto.
Hummus, sesame bread, chickpea croquettes, are also part of their menu. A European trip will never be complete without a European wine. Checkpoint Charly has one of the largest selections in Bulgaria. Do not forget to try their homemade cheese pie served with yogurt!
---
---
check out our video
---
---
Sofia Bulgaria Stop #4: Hike the Vitosha Mountain
Another thing you can do in Sofia, Bulgaria is to hike its famous Vitosha Mountain. Vitosha is the best location if you want to forget your busy life first and enjoy the beauty of nature. You can hike here, organize a picnic, and even ski. Vitosha Mountain has 10 peaks reaching over 2000-meters high. Cherni Vrah, or the Black Peak, in the Vitosha Mountain range. The peak is about 2292-meters high. It consists of barren alpine terrain and thick pine forests. Vitosha Mountain is covered with slopes called stone-rivers.
You can actually start your hike here via one of Sofia's South Ring suburbs. You can take a taxi to Simeonovo, Dragalevtsi, or Boyana. for a starting point. Simeonovo has a cable car that can go one kilometer up to reaches Aleko hut. This is actually the ideal place to start your hike. Dragalevtsi has a shortcut into the mountain by an open chair lift. The lift only operates during weekends.
Sofia Bulgaria Stop #5: Go Bar-Hopping
Sofia has a roaring night-life because it houses the best clubs and bars in Bulgaria. Going to bars and clubs is one of the best things you can do in Sofia, Bulgaria. Go to The Cocktail Bar which is in a glass and cast iron pavilion, and is open all day until the early evening. The Cocktail Bar serves non-alcoholic beverages if you are not into alcohol. Should you only want to experience going to a European bar. The Happy Pig, a resto-bar, also serves cocktails and is also considered a top food destination. There are so many bars in Sofia, Bulgaria you will be near one wherever you are.
Top 10 Cocktail Bars in Sofia, Bulgaria
1. Club Studio 5 -Sofia, Sq. Bulgaria 1, Ndk, Vhod A3 ·
2. The Cocktail Bar – ul. "Angel Kanchev" 9
3. One More Bar – ul. "Tsar Ivan Shishman" 12
4. Hotel Sense Rooftop Bar – Tsar Osvobodite Blvd
5. Club Maze – ul. "Hristo Belchev" 1
6. Tell Me Bar – ul. "Ivan Vazov" 12
7. 65 Fireflies – ul. "Solunska" 65
8. 5 Corners Pub – 25, 1463 Pette Kyosheta
9. Culture Beat – 1 Bulgaria Square
10. The Muse Bar – ul. "Bacho Kiro" 24
Sofia Bulgaria Stop #6: Visit The Lakeside Of Pancharevo
Want to have a relaxing scene with a lover, a friend, or on your own? Pancharevo is such a must place to visit. Lake Pancharevo is accessible from the Tsarigradsko Shore metro station. Pancharevo is a place for sunbathing, swimming, fishing, and watersports. There is also a trail in the place which you can hike.
Sofia Bulgaria Stop #7: Tour The National Historical Museum
A visit to Sophia will never be complete until you visit its museum to discover its history. Visiting the National Historical Museum in Boyana is one of the things you can do during your tour in Sofia. The museum houses artifacts that give you details about Bulgaria's history. They date from the Paleolithic Era to modern times. It actually offers free admission on the last Monday of every month. You can buy a ticket for a combined tour of the National Historical Museum and the Boyana Church. This combined cost is only 12 BGN. The Boyana Church is one of UNESCO's World Heritage Sites. The church contains Bulgaria's most precious medieval frescoes.
Traveling in Europe, especially in one of the capital cities do not have to be that expensive. Sofia, Bulgaria is one of the places that prove that. These are things you can do in a week, with a limited amount of travel money. Plan your trip and you can actually experience Sofia Bulgaria at its best without spending a lot. As always you will have a vast array of hotels and guesthouses. You can also find some nice Airbnb apartments for each location. We have made several trips to Sofia and found great places to stay on Airbnb and Booking.com. All are near the central area and the main sites you will want to visit during your stay.
Travel Information for Sofia Bulgaria
You might also like some of the articles from our website about boondocking and travel.
5 Best Ways to Visit Techatticup Gold Mine In Nevada
12 Super Reasons To Visit Mount Charleston Nevada
10 Great Reasons to Visit The Valley of Fire Park
9 Great Hiking Trails In Red Rock Canyon
For complete photos and videos of our trip visit our photo on our Facebook Page
You May Want to Join Our Boondocking Group on Facebook For More Information