Last updated on September 9th, 2021 at 09:29 am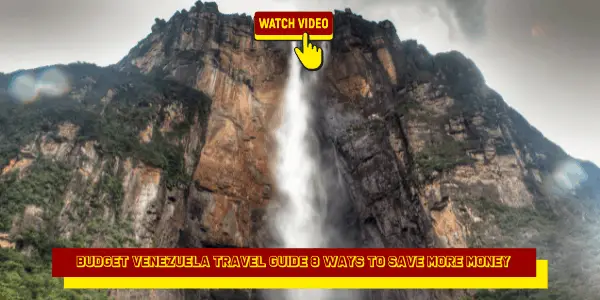 Budget Venezuela Travel Guide includes 18 Important Travel Planning Tips that will allow you to see and do more on your budget. Learn how you can benefit.
Welcome to the Venezuela Travel Guide! Very few countries can boast quite so diverse and spectacular natural beauty as Venezuela. From the stunning Angel Falls through to the Los Llanos grasslands, Los Roques archipelago, and the sumptuous Medanos de Coro desert – this country is the perfect match for any traveler with a hefty dose of wanderlust.
At the time of writing the Venezuela Travel Guide, the country is experiencing considerable internal problems – and a good proportion of international governments are advising their citizens to avoid all but essential travel to the country. Such issues are hardly new to Venezuela – and will hopefully pass quicker than the pessimists predict – and should not put anyone off visiting this country once tempers have cooled back down towards a 'simmering level'.
Those who take the plunge to explore Venezuela can seriously fall head over heels for this gorgeous, fascinating, and delightfully welcoming country. Here's everything you need to know about visiting Venezuela – be it next month or further down the line.
Budget Venezuela Travel Guide – What Are the Best Places to Visit in Venezuela?
Venezuela is best known for the Angel Falls – the highest uninterrupted waterfalls in the world – that flow from the Auyantepui Mountain. The exact height of the falls varies depending on the time of year, and we'd highly recommend making these the center point of exploring the rest of the Canaima National Park. Far too many visitors simply check out the falls for a day and skip on without appreciating the real beauty of the surrounding terrain (where you'll still have plenty of views of the iconic falls).
Check out the many conservation charities and environmental agencies working around this region for some expert tours, sustainable accommodation options, and make the most of a well-developed network of hiking trails and campsites too. There's also plenty of indigenous culture around the falls (incidentally still referred to by their original name – Kerepakupai Vená in closeby communities) so this is a handy place for checking out the more immersive aspects of Venezuelan culture too.
While the Angel Falls are certainly a showstopper when it comes to national attractions, Venezuela has much more to offer the more adventurously minded visitor. Time your visit right and Los Lanos (the plains) can deliver some sensational bird and animal watching – look hard enough and you may spot a caiman or even a rare jaguar. While you can explore this region yourself – it has some surprisingly decent infrastructure and good enough roads – tours may be the safest and most educational way of doing so. When the heat becomes too much make sure to head over to the simply stunning Los Roques Archipelago.
This is hands-down one of the best 'hidden gems' in Latin America for scuba/snorkeling and general waterside exploration. There are not many places to stay – plan this carefully – but the lack of too many exclusive resorts is certainly part of why this region is so wonderful to roam about and enjoy at leisure. Get it right and it could be the absolute highlight of any trip. When you feel the pangs for civilization head instead towards Choroni for some laid back small-city vibes.
Make sure to read Arthur Conan Doyle's 'The Lost World' before heading out to Mount Roraima. This tabletop mountain inspired the sci-fi classic, and you'll be blown away at how atmospheric this popular destination can be. You'll likely be keeping an eye out for passing velociraptors as much as gazing in awe at the wonderful natural scenery and wildlife! As with Angel Falls, do your best to appreciate the surrounding environment and avoid the temptation for 'checklist tourism' – this place demands way more than a casual selfie. There are some outstanding sustainable eco-lodges in the area that – for once – do not blow an enormous chunk into anyone's travel budget!
You may have noticed that most of the best sites in Venezuela lean towards the country's natural splendor – and there are quite a few other places well worth taking the effort to see. The Mochima National Park focuses mostly on marine life and the forests/foothills around the Turimiquire mountains. Once again you really need to explore to find the best parts. Expect plenty of diving amidst shipwrecks, dolphins galore, nesting pelicans, and some lazy days hopping between truly unspoiled islands.
If you decide you wish for some more creature-comforts then consider a trip to glitzy Isla Margarita for plenty of beachside fun. It's famous for kite surfing and has a wonderfully eclectic nightlife! Honorable mentions must also do to the amazing sand dunes of the Medanos de Coro National Park (weirdly accessible by taxi!) that are well worth exploring by camel or even by throwing in a little sandboarding for the more adrenalin minded.
You'll find most of the more interesting museums in Caracas – but do be careful should you visit the city, as it does deserve it's somewhat murky reputation. Visitors would be better off checking out the much more pleasant, colorful, and friendly towns such as Carupano, Porlamar (on Margarita Island), Merida, and Lechiria. We'll discuss personal safety matters later in the Venezuela Travel Guide – but it is worth mentioning at this stage that the fragile Venezuelan travel economy does really look to deliver its best for visitors.
You'll find most people are highly protective of travelers – and massively appreciate their willingness to visit their currently somewhat troubled country. Some parts of the country are currently no-go areas, but that applies to at most 10% of the total land. Follow your government's advice and keep an eye on the situation. Time it right and you'll enjoy one of the most gorgeous countries in South America in perfect tranquility!
Budget Venezuela Travel Guide – What Are the Best Things to Do in Venezuela?
As discussed above you'll likely be spending plenty of time exploring the countryside, coastal regions, mountainscapes, waterfalls, and occasional golden desert during your spell in Venezuela. Besides a handful of mostly gorgeous coastal towns, there isn't a huge amount to recommend the larger cities – at least not at the moment. Our advice would be to look at the various ways of making this country as accessible and safe as possible – and the best way of ensuring this is to take plenty of organized tours that currently cost very little indeed.
Even travelers on an absolute shoestring budget can enjoy a practically limitless experience in Venezuela at the moment – so make your money count in the right ways and spend it with locals scraping a living from occasional passing visitors. Pick the right tour/expedition and you'll have an incredible time (hostels are a universally amazing resource for sharing tips of the best).
Chances are that you'll spend plenty of time checking out the scenery and wildlife throughout your stay in Venezuela. One of the best aspects of this country is that you can quite easily pass from one National Park straight into another, and providing you plan accordingly you can cram a huge amount into a surprisingly modest timescale (not that we'd recommend you try and rush this country).
Try and take the time to appreciate that you'll find waterfalls and wildlife practically everywhere – and that much as they try to promote specific attractions within the national parks they are all quite similar – not that that is a bad thing! Anticipate instead stumbling across opportunities that you didn't expect pretty much wherever you go. Be prepared to interrupt that jaguar spotting expedition with the occasional scramble up a waterfall and you'll literally get the picture.
Variety is the key to exploring Venezuela properly – so be ready to mix it up when hiking the mountains. Mount Roraima gets the headlines but visitors will also love the likes of Auyantepuy and El Pauji which offer more varied trails with the same degree of atmospheric wonder. The exact same is true of the beaches – take the opportunity to head a little further than the most popular sites and you'll discover some majestic and utterly untouched stretches. We'd suggest that the beaches in Venezuela are quite probably the most perfect you'll find in Latin America – check out Crasqui or Francisqui islands and you'll be along the right path.
Taking advantage of the most random opportunities is what will make your Venezuelan adventure last long in the memory. The Merida Cable Car – by some distance the highest and longest in the world – serves as a perfect example. It is far less rickety than it looks and provides utterly amazing views around the surrounding landscape. Many safari expeditions choose to include a two-way trip on this providing they are passing nearby and make sure to take the opportunity if it is presented. Even if you do not have a head for heights this is the kind of unique adventure – where you write your own script – that personifies the ideal Venezuelan travel experience.
There's really not a whole lot more we'd suggest visitors specifically try and squeeze into their Venezuelan travel itinerary. You're best off approaching this country with an open mind and looking down the most unlikely avenues – chances are that you'll find something amazing. Just like many other countries without a massive tourist economy you should not expect everything to be signposted or even that handy or accessible. Ask around, take advice from other visitors, and go with the flow.
Providing you pick the right guides and stick to the safer parts of the country you'll be able to have a mesmerizing time here. Just be warned – time passes very quickly in Venezuela so allow for longer than you may expect.
Budget Venezuela Travel Guide – When is The Best Time to Visit Venezuela?
Choosing when to visit Venezuela can make a decisive difference. Should you want to see the various falls in their most tremendous splendor then look to visit over the rainier months that stretch between May and late November.
The later you push that (October/November) the closer you'll get towards the 'low season' – meaning you can enjoy most of the gorgeous beaches in relative peace and quiet. We'd recommend this time of year if you want to see the best of the natural side of the country. Urban explorers may prefer the much livelier times of the year. Carnival season spans between February and March in most regions – although just remember that these festivities are not quite as prominent as they are during more peaceful times at the moment.
Budget Venezuela Travel Guide – Do I Need A Tourist Visa in Venezuela?
Even though your home government may well advise against visiting Venezuela at the moment, getting into the country is generally really easy with a couple of exceptions. Visitors from the EU, Canada, Australia, NZ, Japan and a good number of others do not need a visa and will have their passport (make sure it is valid for at least six months) stamped with a 90-day tourist permit upon arrival. American and Israeli citizens are still subjected to more scrutiny – a hangover from the Chavez days – and need to apply for an advance permit that costs about $30. Apply at your local consulate.
It is worth mentioning that visa extensions ought to be arranged as soon as possible and you'll need to provide a good reason for why you want one, plus probably prove you have funds for sustenance and onward/homeward travel. Be careful to keep a close eye on your baggage when passing through land borders.
Budget Venezuela Travel Guide – What Currency Is Used in Venezuela?
The Venezuelan Bolivar – introduced in 2018 to try and limit rampant hyperinflation – has so far utterly failed to achieve this task. Prices are incredibly inconsistent in Venezuela and you're best off using a combination of USD (wired into the country) or changing Brazilian or Colombian currency on the black market. Money is not easy to handle in Venezuela and really is the root of most of the country's current problems – so plan for this accordingly. For the sake of convenience – we'll estimate local prices in USD over the course of the Ultimate Venezuela Travel Guide. Remember that these are seriously liable to change!
Unlike the rest of Latin America, visitors should not use local ATMs – the exchange rate is utterly awful and there's a good reason why many have armed guards posted nearby. You'll need to use the black market – don't worry, the government only chases those at the high end of the ladder – to get a reasonable exchange rate. Avoid official change desks.
Ask at your accommodation and understand that many guides, hotels, and so forth will accept online/international money orders as payment. Irritating as it sounds the Venezuelans are rather adaptable people and once you have figured out the ways that this works you should get to grips with it readily enough. Avoid credit cards at all costs – the exchange rates will be calculated on local values and you'll be seriously out of pocket.
Get ready to carry a lot of banknotes while you are in Venezuela – and needless to say that makes money belts and secret wallets an essential factor in visiting this country at the time being. Use hotel safes wherever possible and try not to carry more currency that you'll need to get by for a couple of days. One of the positive aspects of the black market is that once you have established a good source you'll be set – and it really is not very difficult to do that.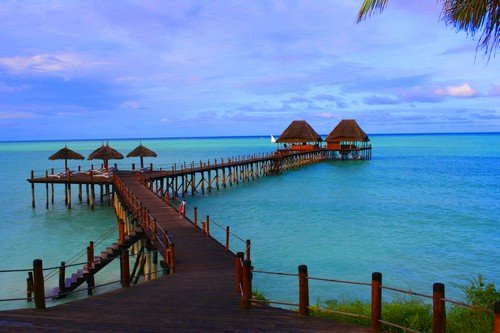 Budget Venezuela Travel Guide – Do I Tip In Venezuela?
10% is the standard tip in restaurants and you should feel tempted to consider leaving gratuities throughout your stay in Venezuela. You'll be carrying plenty of banknotes and the local wages and prices are so staggeringly low you'll feel morally obliged to do so. Make sure to tip tour guides, porters, room attendants, and so on wherever you can. Most of the people who do not ask for tips (the vast majority) are those working the jobs which are at the bottom of the ladder.
Budget Venezuela Travel Guide – What Kind Of Budget Do I Need In Venezuela?
Venezuela is so cheap to visit that it borders something close to the outrageous. It is absolutely plausible to spend days on the beach while staying in a local budget hostel, eating three basic meals a day, on a $10/day budget. Travel, more upmarket hotels, the lavisher end of the nightlife scene, and essential tours/expeditions will cost considerably more but are still not going to come anywhere close to what you'd pay for similar experiences in neighboring countries.
Remember that with your additional spending power comes a degree of responsibility. You'll be spending way beyond what the average Venezuelan does over the course of a day – do not be outraged at being charges 10% more on meals and bus fares just because you're a visitor. Use the black market wisely and try to find a money changer who uses it to supplement a family run business or hotel.
Here are three very approximate budget estimates for exploring Venezuela.
Budget ($10-20/day)
Hostels that cater to international visitors are often more expensive than locally run budget hotels – with the advantage that they're excellent hubs for sharing information/tips and tend to be more secure, handier for changing money, and often very well located. We'd advise that even the most penny-pinching visitor tries to make use of locally owned hostels for these reasons – and prices rarely cost more than $10/night for a dorm bed anyway. Hotels are about the same for a double room but do not expect the Ritz, any kind of complimentary breakfast, or to be located in the handiest places.
We'll cover transportation and getting around later in the Ultimate Venezuela Travel Guide, just be assured that prices are similarly low and even superior quality options (where available) rarely cost close to what you'd expect to pay in Colombia. Our advice here would be to only consider 'doing Venezuela' under your own steam if you are an experienced traveler who speaks good Spanish.
The vast majority of visitors will be better off making use of organized tours that are going to cost substantially more, with the added advantages of better security, transit arrangements, and local knowledge. Needless to say, that is going to substantially increase the costs of your Venezuelan adventure and leads us to…
Mid-Level ($50-70/day)
You'll have days in Venezuela where you barely need to spend any money whatsoever – but those are going to be between days when you will be enjoying expertly managed local tours instead. Those are essential for the vast majority of visitors to enjoy the country securely – and the good news is that they are still amazing value. We'd recommend that most visitors stick to the best hostels and use the rest of their money to choose between the many high-quality tours operating throughout the country.
This is the key difference – you can spend a couple more bucks on a better quality meal, but really that is going to be inconsequential supplementary spending from most visitor's perspective.
Prices vary depending on what kind of equipment (if any) is included/provided, transit costs, lodgings, and so forth. For a rough estimate, allow about $50/day for all-inclusive overland expeditions and perhaps closer to $80 if that includes sea sports and activities. Throw in some modest daily tips and that $70/day estimate is pretty close to what you'd be expecting to pay – and anticipate some really rather spectacular adventures!
High-End ($100+)
Luxury resorts do still exist in Venezuela – and you can expect to pay about a third or a quarter of what you would in neighboring countries. If that is your bag then the best way to arrange for these would be to pay for everything upfront and in advance. Remember to include any excursions in those costs and avoid the temptation to use your credit cards unless you want to be burning about 30% in exchange rates and commission.
Tempting as it could be to think of living the high-roller lifestyle in Venezuela it is really rather trickier than you may expect. Our advice would be to blow than bankroll by skipping the luxury end of the market and staying in some really progressive eco-lodges, usually as part of high quality and often internationally led tour groups. There's plenty of specialist options that really can unlock the many wonders of the country – just remember that it'll likely be a rather 'sanitized' perspective of the country that can put off some more worldly travelers.
Budget Venezuela Travel Guide – What Languages Are Spoken in Venezuela?
Venezuela is still home to at least 40 indigenous languages but you'll find that Spanish is also universally spoken (at least as a second language). Basic English is now taught in some elementary schools and the language has enjoyed an upsurge in popularity recently, but visitors would still be well advised to try and learn some simple Spanish before they visit.
English is widely spoken throughout the travel/tourism industry but not so much in official agencies such as border control/immigration. Overall the language difference is only going to be an issue if you try and explore Venezuela entirely under your own steam. Those who stick to established routes and make use of traveler services/tours will not have any problems.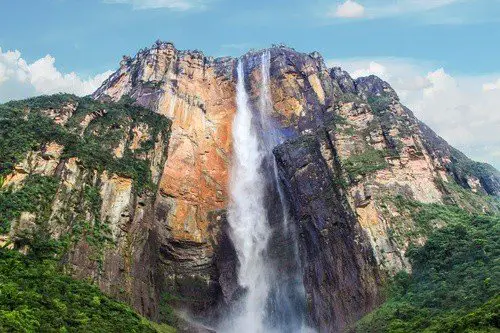 Budget Venezuela Travel Guide – What Religions Are Practiced in Venezuela?
Close to 90% of the Venezuelan people are registered as Christians and around 75% of that figure are Roman Catholics with the rest being mostly Protestants. The rest of the population (official statistics do not take into account 'no religion') follow Judaism, Buddhism, and a handful of other faiths. Despite the nation's recent history religion still retains a considerable cultural power – although it is unlikely going to affect most visitor's experiences within the country. Dress a little smarter than you may expect if visiting religious sites and practice any of your own beliefs respectfully.
Budget Venezuela Travel Guide – Practical Tips From The Venezuela Travel Guide
Since the death of Hugo Chavez back in 2013 Venezuela has endured a series of economic and social catastrophes. Inflation runs at one of the worst rates in the world, corruption is endemic throughout the country's administration, crime rates have rocketed and political opponents arrested and imprisoned without the right to anything close to a fair defense. To say Venezuela is suffering some hard times at the moment would be a massive understatement – and these are fair reasons that explain why many travelers are currently understandably shy of dipping their toe inside the country.
The challenges facing Venezuela are substantial and tragic for those who have been lucky enough to experience the wonders of the country before these times of significant strife. While people do still visit the country – and in some roundabout ways now can be an excellent opportunity to do so – it is important to do so responsibly and in as safe a possible manner. Large parts of the country remain peaceful and visitors are unlikely going to be picked on just because they are from elsewhere. But property crime is an issue – and that is something we'll talk about more closely in a moment.
Travelers who are experienced in tougher countries should still find Venezuela isn't that bad compared to many others out there. With some luck, responsible travelers who showcase the indisputable wonders of the country and prove that Venezuela still loves to warmly receive visitors could help kickstart an upsurge in the popularity of the destination over the coming years. 20 years ago very few people visited Colombia – and now it is one of the hottest destinations in global travel. There is no reason why Venezuela cannot follow a similar path, but some people are still going to need to make those first positive steps forward.
Budget Venezuela Travel Guide – What About Health and Safety in Venezuela, Is It Safe?
It is important to take some serious precautions before visiting Venezuela. Crime is a substantial problem – in the same manner, that it is in most desperately poor countries – so take care in the cities, try and travel in groups, and stick to taxis at night. The vast majority of crime is money/property theft-related so don't carry huge amounts of money, use hotel safes, make copies of essential documents, and follow your government's local travel advice for which areas/districts are experiencing civil unrest. Keep well clear of policial demonstrations – these can flare up without much warning so keep alert at all times.
You should only plan to visit Venezuela at the moment if you are in good overall health. Medical services within the country are threadbare and even the best insurance (providing you can get some) will not guarantee that you'll be seen urgently. Medications are at best thin on the ground – so the best advice if you fall seriously ill, injured, or lose priority medication in Venezuela would be to get out of the country as soon as possible. Take a comprehensive medical kit with you and ensure you are totally vaccinated against local risks of disease and infection. Keep an eye out for heat exhaustion, dehydration, and environmental hazards.
Remember that one of the many advantages of using tour services in Venezuela is that they'll help avoid/prevent a good number of these problems that are going to present considerably higher risks to lone/solo travelers and groups. Tap water is not recommended anywhere in the country besides basic oral hygiene use.
Scary as Venezuela may seem at the moment the situation is constantly evolving. Large parts of the country are far safer than the cities and no riskier than what you'll experience in other nearby countries. Our advice would be to approach Venezuela – at the moment – with a degree of sensible caution, but do not rule out the possibility of visiting entirely.
Budget Venezuela Travel Guide – What is the Best Transportation in Venezuela?
Venezuela used to be one of the easiest countries in Latin America to get around – but nowadays that is not quite the case. While internal flights do still run between the major cities, services are far more limited and the network is generally much patchier compared to before. Boat services out to the islands are also noticeably reduced although you'll still find scheduled ferry services on popular routes and plenty of private charter vessels.
The vast majority of people will instead make use of the comprehensive bus network – and this can present some challenges, even to those used to using the roads in Colombia and Brazil. Security is a major concern – so keep an eye on your bags and try to avoid traveling at night through more remote regions.
Keep warm clothing in your daypack as the aircon is usually set to maximum levels, and politely refuse food/drinks when offered unless you are certain that whoever is offering them is legit and no risk. You can easily hire your own vehicle in Venezuela – the roads are in generally good condition – but the risks may not make it worth it. Even the Venezuelan police do not travel on certain stretches of road at night.
Given how cheap prices are throughout the country a good proportion of recent travelers have looked at using private cabs for secure, speedy, and more comfortable long-distance travel. You can easily hire a car with a driver for little more than $30/40 per day including fuel. If visiting as part of a group we'd strongly recommend this even if the prices you are quoted are substantially higher. The savings in time and effort will be worth a few bucks.
Budget Venezuela Travel Guide – What Are the Best Accommodations in Venezuela?
As discussed during the money and costs section of the Venezuela Travel Guide, accommodation options are abundant and universally cheap. Hostels certainly have an advantage over hotels although you should approach your choices with an open mind. Opting to stay with locally run and managed places – be it a B&B or small hotel – provides money to the local economy and this is the sort of country where you want to be doing that as much as possible.
You could haggle over prices but really it won't be necessary unless you're being utterly ripped off. There's enough competition out there to make this an unlikely prospect no matter where you opt to stay. Make sure you understand the prices and remember than currencies have different 'practical' exchange values.
One thing you certainly will not lack in Venezuela is a choice in where to stay. You'll rarely struggle to find somewhere with beds for the night, although given the security issues in the country at the moment it is convenient to know exactly where you are heading before you arrive in a new town.
Try and book either in advance before you arrive in the country, or a day or two ahead if you are taking a more relaxed/flexible approach to travel. Almost all hostels and a good proportion of hotels offer some kind of online booking system although you'll find that being able to call ahead and speak Spanish is invaluable in securing the best accommodation as you go.
Budget Venezuela Travel Guide – How Can I Practice Responsible Tourism In Venezuela?
Where to begin? The first step must be to raise the profile of the country using your various social media platforms. Highlight the work that many aid charities and local foundations are performing against all the odds – and encourage your friends/followers to donate towards these causes. International currency can go a long way towards providing genuine help to people facing desperate times – so use it responsibly while also highlighting the many beautiful places you discover during your adventures.
Try and spend a proportion of your time touring the much forgotten indigenous regions. Venezuela does home some impressive relics, crumbling ruins, castles and so forth that are just screaming out for some more exposure and international attention. Visit these and stay within the more isolated communities as you travel about. Spend your money in the local markets when choosing out your souvenirs.
One of the indisputable highlights of visiting Venezuela at the moment is the simple fact that you'll enjoy stunning beaches and only share them with a handful of other visitors. We really advise you to head a little further away from the most famous spots – you'll almost always find that your money goes to needier communities who enjoy just as glorious an environment.
Perhaps the best overall way of being a responsible traveler in Venezuela is simply to visit and enjoy the country as much as possible. While there are challenges to exploring this country at the moment, it is nowhere near as dangerous or difficult as many people assume. Show the way and encourage others to follow in your footsteps!
Budget Venezuela Travel Guide – What Food Should I Try In Venezuela?
Venezuelan cuisine is quite similar to what you'll find in surrounding countries. Expect plenty of rice, corn, yams, beans, and grilled meat and fish! That being said, there are some standout regional classics that are well worth trying out during your travels.
Arepa is a kind of a cross between a tortilla and a bread roll, usually rolled folded over and stuffed with plenty of whatever ingredients are at hand. You'll find these often made to demand and sold at invariably busy streetside stalls. Cachapa is another Venezuelan staple and arguably the 'national dish' – basically enormous corn pancakes topped with soft cheese, herbs, and fried meats. Tequinos are like deep-fried cheese sticks and just as delicious as they sound, while Pabellon Criollo is the equivalent of a 'Sunday roast' involving beans, shredded slow-cooked meats, vegetables, and often a thick luscious gravy.
While meat is often on the menu in Venezuela it can be surprisingly straightforward to get away with vegetarian and even vegan eating providing you aren't too 'fussy'. Those with intolerances and allergies should take care though as these are rarely very well understood.
Budget Venezuela Travel Guide – What Should I Pack for A Trip to Venezuela?
Durable clothing, good boots, money belts, electricity converters/battery packs, and a comprehensive medical kit are all highly recommended. High-quality replacement clothing and outdoors wear are hard to find in Venezuela so try and make sure you remember to pack these. A waterproof poncho is a good idea, as is a sleeping bag and hat/gloves depending on what you plan on doing and when you intend to visit. While you should securely upload your essential documents to the Cloud beforehand it is a good idea to keep a copy of these on a USB stick too.
Budget Venezuela Travel Guide – What Clothes Should You Wear In Venezuela?
The Venezuela Travel Guide recommends that you try and avoid looking too much like a stereotypical tourist while traveling around the country. Avoid wearing anything that will cause offense or attract attention – so try and stick to relatively rugged and hard-wearing clothes with long sleeves to add an element of additional environmental protection. Consider packing relatively smarter clothes for the occasional night out in the big city – but you won't need to dress up much outside of the capital. Wear smarter and more respectful clothes when visiting nationally significant and religious destinations.
Budget Venezuela Travel Guide – What Are Some Interesting & Important Facts About Venezuela?
We hope you have enjoyed reading this Venezuela Travel Guide and understand that while this is a more challenging destination at the moment, you do not need to be some kind of 'super-traveler' to enjoy this remarkable country safely and in a positive manner. Venezuela is going through tough times at the moment and it'll be fascinating to see this place develop once it has sorted out these issues.
There is so much going for Venezuela – so much untapped potential – that there is a very strong chance that soon enough it'll become one of the hottest and most fashionable places in the world to visit. Anyone who wants to experience the best in the country before the masses descend should take a serious look – either as part of a regional tour or as a unique destination in its own right. Venezuela is a remarkable country and one that has a real habit or rewarding the openminded and adventurous visitor.
Let's now wrap up the Venezuela Travel Guide with a few fun little facts about this amazing country:
▸ Unlike pretty much every other Latin American country Venezuelans prefer baseball to soccer (they love both!).
▸ 'The Simpsons' is still banned from TV for long-forgotten reasons.
▸ As is Diet/Zero Coke.
▸ Venezuela was the first country to abolish the death penalty for all crimes – they did so back in 1863.
▸ Bird spotting is no joke – the country has over 1400 species and is the 17th most biodiverse on the planet.
▸ Venezuela has only two recognized seasons – wet and dry. Otherwise, the weather is remarkably consistent!
▸ Kids can choose to attend classes during the morning or afternoon. Teenagers can opt to attend in the evenings instead.
▸ Despite the poverty and associated social problems, the literacy rate is an impressive 96%
▸ It also has one of the largest oil and natural gas reserves in the world.
▸ Only 22% of Venezuelan's feel safe in their own country.
We hope you enjoyed reading the Budget Venezuela Travel Guide – and good travels! Contact us with any questions you may have about travel to Venezuela.
---
Now that you have read about Venezuela, what's next? Let's learn more about an Ecuador trip. Check out The Ultimate Ecuador Travel Guide
---