Welcome to Laos Travel Guide! Laos is small, but there's a whole lot to see. Distances between destinations are relatively short – a great asset to the country.
Laos has long been a backpacker's mainstay famed for its spectacular scenery, epic cultural sights, awesome adventure opportunities, and famously friendly locals. While SE Asia has become more 'mainstream' in recent years (and some of those prices have certainly crept up a little), Laos still feels somewhat 'over worldly' compared to Thailand, Vietnam, and even Cambodia.
This really is the kind of place where you could go hiking in the mountains and stumble across an ancient temple not even listed in any other travel guides! Forget the fact that Laos is landlocked – you'll have plenty of other opportunities in the region for lounging on the beach – and head up into those spectacular valleys for some truly world-class exploration!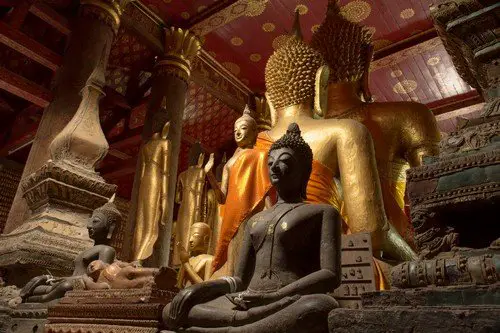 What Are the Best Places to Visit in Laos?
Laos may be small but there's a whole lot to see here. The fact that distances between key destinations are comparatively short works seriously to the country's advantage, as you can quite feasibly split up your time depending on whatever direction your mood takes you each day. Most of the colonial history and 'must-see' sights are around the north but whatever you do, don't be tempted to just skip or zoom through the south.
The best natural sights, adventure sports, and spectacular spots are in these more rustic parts – and even better, despite that mountainous/jungle landscape it's pretty easy to get around too. Here is a selection of what we at the Laos Travel Guide would consider the most essential sights in Laos.
Luang Prabang is a perfect place to begin your Laos adventure – and probably the country's most famous destination. This UNESCO protected town straddles the Mekong and Nam Khan rivers, and contains dozens (about 33 by our counting) gold embossed temples set among gorgeous gardens and natural backdrops.
Expect to spend about four hours exploring Wat Xieng Thong and try to rise early in the morning to catch the daily alms ceremony. Go roaming between these, check out the fabled night markets, gaze in awe at the atmospheric colonial architecture, and just soak up that super-chilled out atmosphere. Laos is way less frantic compared to most other countries in SE Asia and you'll appreciate that the moment you arrive!
Truth be told you could (and many do) spend many lazy days just soaking up the brilliance of Luang Prabang, but sooner or later your wanderlust will get the better of you. A good next step is to head out to the temples on top of nearby Mount Phousi.
You're basically guaranteed spectacular views over the city in all directions, and this can be utterly incredible around dusk time. Make the most of the most accessible mountain (really a large hill) in Laos because there's plenty more to come. Once you are done, enjoy a couple of bargain beers at the wonderful night market and remember to haggle hard!
Heading out to the Kuang Si Falls should be your next stop and remember that this is perfectly accessible as a day trip from Luang Prabang. Tempting as those amazing 50-foot falls most certainly are on a blisteringly hot day, swimming is strictly forbidden in some places at this iconic and important sight – but you'll still appreciate the cooling mist no end!
Take a dip where bathing is permitted (one of the reasons why getting here early is highly recommended) and marvel at the fact that you're swimming by one of the world's most spectacular waterfalls.
Nong Khiaw is the best hub in the north of the country for trekking and adventure sports, with sensational scenery packed with epic limestone mountains. It is a good introduction to how things work in the more 'rustic' parts of Laos and you'll find things are still way easier than you probably expect.
Take your pick from caving through to mountain hiking/climbing, biking, and some incredible white water activities too. Definitely include a trip up here if you are not in a rush – it's far more peaceful than some of the alternatives on the more mainstream routes.
Vang Vieng probably rates as the national hub of adventure travel and just so happens to also be outrageously beautiful at the same time. Rain forests, caves, mountains, rivers – you name it, and the local adventure sports scene can take you out exploring at bargain prices.
Make sure to spend some time exploring the local villages for an insight into the local way of life, have a few drinks around the gorgeous riverfront to wash down the sensational local food and pick up the occasional trinket at those colorful marketplaces. Go zip-lining if you feel brave enough, take an inner tube down the Nam Som river, and check out the local Blue Lagoon (number three is way less developed/busy and by far the most tranquil).
Laos is not famous for its 'big city experiences' although some people really fall for Vientiane. As you may expect it is considerably more cosmopolitan than most other communities in the country, with beautiful French architecture, iconic stupas, cavernous temples, and some outstanding food markets well worth exploring in detail.
Take a trip up to the Buddha Park for some much-needed tranquility (the capital is way more fast-paced than anywhere else in the country) and 'interesting' impressions on how the big man should be represented!
Wat Phu Champasak is a UNESCO protected Khmer ruin down in the south of the country and without doubt the most important heritage sight in the country. Although it is more compact compared to those you'll find in neighboring countries do not underestimate how gorgeous these are – aided in no small part by the beautiful natural scenery. Arrive early and arrange a local guide to show you the views and explain the interpretations of what each part of the site was used for.
The last 'must-see' place we'll mention for now is the iconic Don Det island chain that dots around the middle of the Mekong. If island hopping in a land-locked country sounds fun (and it is) you have over 4,000 different islands to choose between.
Grab a hammock and set up pretty much wherever you wish for some sensational natural views including the famous Irrawaddy dolphins. We'll leave it up to you how you fill your days down here – just be assured that they'll pass way quicker than you expect even if you spend most of the time simply marveling in awe at that sensational natural beauty.
---
Now that you are reading the Laos Travel Guide, what's next? Let's learn more about other trips in Laos and the surrounding areas.
Laos Travel Adventure Our Top Three Spots
Budget China Travel Guide – 8 Ways to Save More Money
Budget Myanmar Travel Guide – 8 Ways to Save Money
The Thailand Travel Guide
The Vietnam Travel Guide
---
Budget Laos Travel Guide – What Are the Best Things to Do in Laos?
Chances are you'll have already figured out the best ways to spend your time here having just read our appraisal of the best places to head out and explore. Arguably the best thing about Laos is that you can be as action-packed or as laid-back as you want, depending on how you want to see the country. Visitors really ought to make the most of those hiking trails (biking is increasingly popular too), waterfalls, islands, and so on to see the outrageous beauty of this country in close-up detail.
You do not have to be super-fit as there are plenty of bargain tour operators who'll provide local knowledge and equipment wherever necessary. Although Laos doesn't have anything like the tourist infrastructure you'll find in Thailand, you'll have no trouble getting fixed up to do pretty much whatever you want – and the laid-back, friendly style of these tours makes for a better experience in our opinion anyway.
The Laos Travel Guide highly recommends this country for those who like to get out of bed early! Some of the sights listed above are spectacular at any time of the day but at their very best first thing in the morning. Photographers will utterly fall head over heels for this country as the colors can be among the most spectacular you'll find anywhere on the planet.
We would suggest trying to start 'cultural days' with a pitch-black breakfast to make the most of this fact – and remember you can pretty much pitch up your hammock anywhere you like if you need an afternoon siesta to recharge the batteries! In a similar fashion, the night markets are wonderfully atmospheric and it is almost always midnight before you know it.
Take a look at some of the more unusual activities to help break up your time between visiting those heritage sites and enjoying the natural scenery. Little activities such as cookery classes, walking tours, meditation lessons, sketching hikes and so on are usually advertised at most of the hostels in the country.
Such activities are comparatively cheap and should easily fall into the budget restrictions of even the most price-conscious visitor. We would especially recommend hiring a bike if you want to see some stretches along the iconic rivers under your own steam. For large parts of the country, the roads are pretty decent for biking and the relative absence of other traffic makes this much more appealing.
In some ways, the best way to spend your time in Laos is really just to arrive with a loose itinerary that takes in the key spots but not really in too much detail. You should expect to stumble across unexpected opportunities literally every day during your spell in Laos, and taking those initiatives is one of the absolute joys of traveling in this safe, friendly, and ever so interesting country. Go with the flow and Laos is bound to just fall right into your arms.
Budget Laos Travel Guide – When is The Best Time to Visit Laos?
Laos is good to visit for long stretches of the year. October through to April is the driest and busiest half of the year, although the 'rainy' season between May and October is usually not a total washout and noticeably quieter. When it does rain here it comes down hard and fast over short stretches and there will be days when it remains completely dry.
Given that lazing on the seafront is simply not an option in Laos we would suggest considering this time of year providing you are willing to make accommodation for those occasional downpours. The major attractions can be very busy indeed and visiting outside of peak season makes these far more atmospheric – although the choice, of course, is entirely yours.
The only months the Laos Travel Guide suggests considering avoiding are April and May specifically because it can become very hot indeed. If you can handle temperatures routinely hitting 104°F (40°C) then go for it, just remember the extreme humidity makes it really quite intense!
Do I Need A Tourist Visa in Laos?
Laos is easy to enter. Visitors from the USA, Canada, EU/UK, NZ, Australia, and most others simply arrange their visas upon arrival by land or air. These costs between $30-42 depending on the country and you'll need to provide a photograph and the address of the first place you are going to be staying. Additional charges are applied if you do not have these and in rare cases, you may be denied entry. Pay in US dollars if you can as using Thai Bat costs a flat-rate equivalent of $45 regardless of where you are coming from.
Visas last a standard 30 days and that ought to be enough for most visitors to see the country in full. If you plan on staying longer make sure to arrange extensions in advance. Overstaying costs the equivalent of $10/day in fines and you'll be technically barred from re-entry for an unspecified length of time. Besides these little technicalities, customs are fast and relatively chilled out compared to most.
Budget Laos Travel Guide – What Currency Is Used in Laos?
The Lao kip (K) exchanges at just under 9000K = 1USD. For the sake of convenience, we'll estimate all prices in USD throughout the Laos Travel Guide.
Both USD and Thai Bhat are commonly accepted throughout the country although it is sensible to try and carry a combination of currencies where possible. Getting your head around this system takes a little practice but you'll notice that smaller costs tend to be listed in local currency and/or Thai Bhat, while larger prices (those around or over $100) are quoted in USD. You can – theoretically – use any currency for any purchase although they will not necessarily be the best value!
Throw in the fact that many smaller stores/vendors cannot usually change high-value local notes and it makes this pretty confusing at first. Laos is definitely the kind of place where you should stockpile that small change!
Actually getting your money is very simple – although again it is wise to be a little careful. ATMs are abundant but usually have quite low maximum withdrawals (anywhere from $80-250) and quite high transaction/exchange fees.
This is a problem common throughout SE Asia and again hardly that difficult to mitigate against providing you keep track of how much you are carrying and correctly estimate your daily needs. Credit/debit cards are increasingly accepted in upscale establishments although this is still far from universal elsewhere. Expect to pay 3-5% for the privilege.
Complex as it sounds you'll soon get a hang of this tri-currency system and be dealing with your friendly local money changers on a first name basis! Despite Laos being pretty safe for the most part, a money belt or hidden wallet is a handy precaution simply because you'll often be carrying a fair amount of currency.
Budget Laos Travel Guide – Do I Tip In Laos?
Locals do not tip but tourists are broadly expected to chip in an extra 10% or so in restaurants. Check to see whether this is automatically added to your bill or not. Many tourism-related activities also involve some kind of semi-voluntary tipping, for instance, tour guides and drivers. This may feel a bit strange to start with, but never forget that most of the time you're looking at just a couple of dollars or so anyway. Your money can go a long way here so spread the wealth when you can.
Budget Laos Travel Guide – What Kind Of Budget Do I Need In Laos?
Laos has long been a favorite destination with the backpacker crowd not least because it can be sensationally good value. Things have changed a little recently (mostly because the economy has been somewhat more stable than before) and prices are nowadays quite close to what you'd expect to pay in most other countries throughout the region. That being said, you do not need much of a budget to enjoy Laos to the full – and even those counting the pennies will be able to live well here.
Remember that haggling really is akin to the national sport here and while nobody is likely going to seriously try and rip you off, the process is almost expected for all but formally listed prices. If you are traveling in a group you'll have much better leverage when haggling discounts on activities and accommodation – so bear that in mind. It is common for travelers to 'bunch up' in hostels for this reason and spend their days informally together.
With those pointers in mind, here are three approximate budget plans devised by the Laos Travel Guide team:
Budget ($30-40/day)
A budget of around 300,000 LAK (approx $35) is more than enough to backpack throughout Laos in some comfort. You'll be staying in hostels – and their quality can sometimes be a little hit and miss – but given that you'll also be spending the vast majority of your time our and about, that hardly matters much. Hostels are handy for arranging local activities (and finding people to split costs with) and expect to pay somewhere between $5-10/night depending on the location and season.
That still leaves plenty of money to enjoy yourself in Laos. Providing you stick mostly to street food and market stalls you'll not need more than $10/day for food and a couple of drinks. The excess can be put towards at least one organized activity a day – day tours cost about $20, temples between $3-10/time, bike hire for $10/day at most, and so on.
Getting around is also pretty simple and reasonably priced provided you do a little homework. Allow for around $5/day on average that will cover longer distances as well as occasional local daily travel needs.
Mid-Level ($50-$65/day)
As you'd probably guess the big difference here is the possibility of upgrading your accommodation. Private hostel rooms are usually around $20-30/night – not bad for two sharing and for obvious reasons they usually book out months ahead. Hostels are really good for meeting people – and most will have a bar that still facilitates this even if you chose to stay at a standard budget hotel instead.
Expect to pay around $30-40/night for the privilege of basic on-suite facilities, air-con, and a comfier bed. Upgrade your dining to include at least one restaurant meal per day (around $10) and the occasional big night out (local beer at around $1/time).
Once again this budget leaves plenty of room for those additional experiences and you'll have very few limits in regards to choosing where to spend it. Feel free to take a look at more specialist activities such as white water rafting ($20), botanical hikes ($30) and activities that include transportation and temple entry fees ($35+).
You'll still mostly be using local transportation for getting around although the occasional cab ride (about $5 for 10 minutes) easily falls into this budget bracket.
High-End ($70+/day)
Establishing where 'luxury' travel begins in Laos is really a matter of perspective. Some travelers would consider a smart and comfortable hotel room in a great location ($70/night) meets those specifications, although there are resorts here that start at twice that price. The same is true of dining out where you'll eat extremely well pretty much anywhere for $20, while true gastronomes may want to look at the best options in the country where prices start at $50 and rapidly head northwards.
For our purposes, the big difference that most visitors will enjoy if they have broader means is the option of hiring a four-wheel vehicle ($60-80/day). Doing so requires some confidence in your driving skills but can certainly help unlock the less accessible parts of the country, and still offers quite reasonable value when splitting the costs between a group. Look for private tours of the key sites (prices are negotiable but $100 for four people is about right) and perhaps chartering your own boat for touring the delta islands ($100+/day).
Budget Laos Travel Guide – What Languages Are Spoken in Laos?
Lao is the national language although only about 60% of people consider it their first language. There are also around 86 regional languages spoken here, making the country one of the most linguistically diverse on the planet for its comparatively small size.
French was once spoken quite extensively here during the colonial period but nowadays English is the most common external language. Most people working directly in the tourism economy will speak at least some basic phrases. Do not expect average Laotians to understand English and it is a good idea to try and pick up a couple of basic greetings/phrases yourself before you travel. Effort means a lot here and will always be warmly appreciated.
Overall, while there is a language barrier it is not a serious issue when planning your trip to Laos. The country is easy and safe enough anyway for that little issue to become second nature within a day or two.
Budget Laos Travel Guide – Religion In Laos
The Laotian constitution advocates freedom of religion but the reality is somewhat different. Therevada Buddhism rules the roost here and there are over 5,000 temples within the country as well as countless smaller shrines.
Religion is a big deal here (it was heavily policed during the country's more troublesome times) and you are well-advised to be extra-respectful when visiting any religious sites. Indigenous local religious traditions are also still very strong throughout the lowlands. Check these out if you have the chance as they offer a fascinating insight into the local way of life.
While religion is inevitably a significant aspect of any Laotian experience it is not going to be rammed down your throat. You'd be well advised to keep your own beliefs to yourself/privacy of your hotel room for politeness's sake.
Budget Laos Travel Guide – Practical Tips From The Laos Travel Guide
Laos is an amazing country and pretty much as close to a backpacker's paradise as it gets. Open, accessible, cheap and packed full of genuinely amazing sights and experiences you should make the most of that 30-day visitor's visa when you have the chance. Although the tourist trail is not as well established as those in neighboring countries there is some truth in the local claim that 90% of visitors skip some of the best that the country has to offer.
A good proportion of visitors only stop to check the 'guidebook highlights before moving on to ritzier countries. We at the Laos Travel Guide highly recommend that you take the opportunity to venture further and deeper into this country given the chance – it is literally full of near-unique opportunities that so many other travelers simply happen to miss.
At this stage of the Laos Travel Guide, we'll take a look at the practicalities of seeing the country in some greater detail and provide a few pointers on how to stay safe, comfortable, and endlessly entertained in the process!
Budget Laos Travel Guide – What About Health and Safety in Laos, Is It Safe?
Laos has a really good reputation among independent travelers for being one of the safer countries in SE Asia. It can be quite easy to become complacent here and visitors should still take suitable precautions because – contrary to popular belief – crime does still happen. Serious incidents against visitors are rare but petty theft (especially from luggage and hotel rooms) is hardly unknown.
Crime is not isolated to the cities either – it can happen in remote and out of the way places as well. Use a money belt and stash essential documents in hotel/hostel safes at all times. Try and avoid arriving in new destinations late at night, pick your tour operators carefully (hostel recommendations are always a safe bet) and just keep your wits about you. Laotians are incredibly friendly and warm-hearted people but crime does still exist here.
Many visitors are worried about the risks of infectious disease in Laos – and the reality is that it is no worse here than any other similar environment. People do tend to catch occasional 'bugs' that almost always clear up within a day or two, but serious diseases such as dengue fever, polio, and typhoid are thankfully quite rare. You should still take comprehensive immunizations against these and a host of others before visiting. Remember that they take up to two months to become effective.
Visitors who become seriously sick/injured are usually taken to the handful of private facilities in Vientiane or simply patriated to Thailand. These are very expensive (think US pricing) so comprehensive medical insurance is a must. Pharmacies are well stocked with the basics but are unlikely to offer branded medications.
If you lose your script you are best off visiting the best local clinic you can find (who will likely have an English speaking doctor) and taking it from there. Expect to pay for this upfront from your own pocket. A comprehensive first aid kit is useful for visiting Laos. You are much more likely to get an infected bug bite than you are to be bitten by a snake!
Overall, Laos is certainly a degree riskier than Thailand due to the patchiness/non-existence of much medical infrastructure. That being said, crime is less common and provided you take suitable precautions a good proportion of those risks can be largely prevented.
Budget Laos Travel Guide – What is the Best Transportation in Laos?
Get ready to think outside the box! Traveling through Laos can be a nightmare if you are the kind of travelers who expect Swiss-style precision and adherence to timetables. That being said, if you are happy enough to go with the flow and view internal transportation as part of the experience it can actually be pretty good fun!
The bus network may look chaotic (expect everything from modern luxury coaches through to minivans and converted military jeeps) but will – eventually – get you where you need to be. Roads are bumpy, routes are sometimes pretty hairy through the mountain passes, and airconditioning is by no means standard, but accidents and breakdowns are relatively rare.
Expect to pay no more than $15 for a full day of travel in a basic bus, and perhaps double that for one of the luxury 'express' options. The latter will also usually drop you right by your accommodation provided it isn't too great a detour.
Internal flights do exist but are prohibitively expensive compared to the buses and cancellations are common. Cycling is amazing in some parts of the country, but the poor road quality makes these more for 'scenic diversions' instead of actually covering significant distances in any practical manner.
Hiring your own vehicle is an expensive option that can make sense here provided you are a confident driver and don't mind the extra hassle that entails. There are no railways in Laos that make sense for passengers yet (a high-speed line is opening between Kunming to Vientiane in 2022).
The Laos Travel Guide highly recommends traveling by boat at any opportunity throughout the lowlands. The routes in the south will take you through amazing scenery making the journey itself an absolute pleasure. Costs tend to be a little pricier compared to buses simply because they are so popular with visitors – expect to pay $30 for a one-way voyage that takes a few hours or so.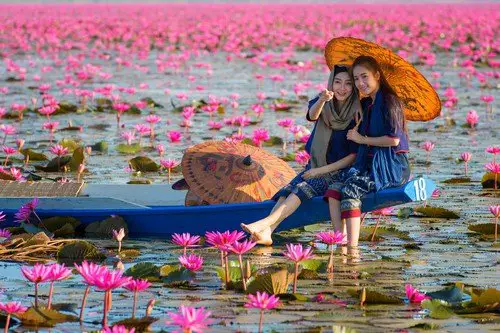 Budget Laos Travel Guide – What Are the Best Accommodations in Laos?
There are some excellent (and some not so good) hostels in Laos and we'd suggest that most visitors do their research and make use of these for at least some part of their stay. Hostels are really useful for local information and arranging onwards transportation, as well as finding reliable and good quality tours/activities.
Sharing tips with other visitors is much easier in a hostel environment and this is the kind of country where those can be especially useful. Book in advance where possible if visiting during the more popular times of year (especially December-March) and if you want to have any chance of bagging one of those sought-after private rooms.
Hotels are quite common and usually, you get what you pay for. You will have a broader remit for haggling over prices in these compared to hostels especially if visiting outside of that peak season and are willing to commit to staying for a few days or longer.
More upmarket resorts can be either very busy or very quiet depending on the time of year. It is not impossible to find some amazing bargains if you shop around a little, just remember that a good proportion of these close for at least three months of the year.
Airbnb is not common in Laos (yet) although there are some opportunities in the larger communities. Check these out if you're openminded and looking for something a little different, just be aware that prices are usually more than what you'd pay in hostels and basic hotels.
Budget Laos Travel Guide – How Can I Practice Responsible Tourism in Laos?
As we have mentioned a few times already throughout the Laos Travel Guide there is a huge amount to see and explore here that not many other visitors tend to bother with. They're missing out on some absolute gems, and taking the opportunity to broaden your horizons means that some of your tourist money will go to areas that have otherwise been left a little in the shade.
Northern Laos is amazingly diverse and it will soon feature on one of those 'hottest locations of the year' lists. Beat the crowds, spread the wealth, and appreciate its beauty while you can still largely have it to yourself.
Pretty much every visit to Laos will necessitate getting involved with the local culture. There aren't many 'tourist only' restaurants (thank goodness) and you'll likely be sat next to the locals on that rickety bus ride. Our advice is to assimilate as much as possible into the local scene and you'll be blown away at how fun and friendly the locals tend to be.
Shop at the local stores for your souvenirs – remember that barter is the norm and they're not trying to be rude – and spend as much money as possible on smaller-scale businesses. Go local with your guides and where possible try and stay at locally owned hostels.
Avoid 'traditional medications' in those markets for the obvious reasons, and choose to visit one of the elephant sanctuaries that do not offer rides instead of opting to sit on a tired and grumpy elephant for a photo opportunity.
By all means, visit Vang Vieng (the backpacker 'mecca' of Laos) but just remember that there are many other lesser-visited places that are more interesting and far less commercialized. Use your social media feeds to highlight the best of Laos and encourage likeminded people to do the same.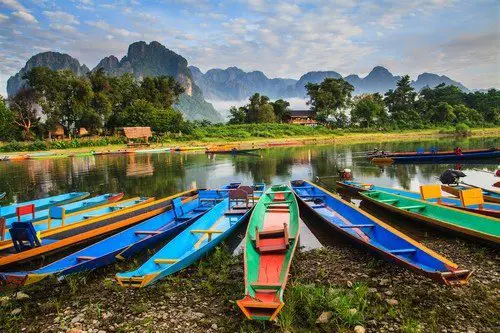 Budget Laos Travel Guide – What Food Should I Try In Laos?
Laotian food is amazing if you are a fan of strong and robust flavors and somewhat different from the gentler fayre you'll find over the border in Thailand. Eating out here ought to be a mainstay of everyone's Laotian adventure – it is cheap, filling, and usually incredibly flavorful. Just get used to eating a lot of sticky rice (often with your fingers so remember to pack those wipes).
Khao soi is a popular noodle and meat (often pork) soup that includes fermented vegetables and plenty of hard-hitting spices. It is often taken for breakfast – told you they like their powerful flavors here – and is somewhat thicker and heavier than the Thai variants. It may be served alongside Khao Ji pâté – a French-style baguette topped with three kinds of pork and fried eggs.
Kua Pak Bong is an ever-popular dish made from water spinach (morning glory) fried with oyster sauce, garlic, and chilies. You'll find this served alongside staples such as Koi Pa (marinaded raw fish) and Nem Luang pastries (a popular street food).
A good proportion of the food you'll discover in Laos is cooked to order although those with food allergies and intolerances ought to take some care to make sure these are omitted. It is a good idea to research the Laotian for these and have it written down (make several copies) so these can be passed through to the chef.
Vegetarians and vegans should have plenty of suitable options although once again it is important to communicate these quite carefully. Laotians are always keen to please and will go out of their way to make sure you are satisfied, but it is down to you to make sure they understand.
Budget Laos Travel Guide – What Should I Pack for A Trip to Laos?
Plenty of lightweight 'jungle-style' breathable clothing the way to go in Laos. Try and keep extremities lightly covered to add an extra layer of protection against the sun, a hat is also a good idea for that purpose, and remember to bring a good pair of multipurpose boots that you have already worn-in. You do not want to get blisters in this kind of environment! Pack at least a couple of smarter garments more suitable for urban environments and/or visiting shrines in a respectable manner.
A charging pack is really handy here as there will be times when you'll struggle to find anywhere to charge your devices, as is a small waterproof torch, first aid kit, and a money belt/hidden wallet. You'll have no problem finding cheap (and low quality) clothing here but those sorts of luxuries can be very tricky to find.
Budget Laos Travel Guide – What Clothes Should You Wear In Laos?
It is probably best to keep the bikini for those lazy days lounging in the hammocks. Try and dress a little smarter than you may expect and you'll find that people will be generally a bit more appreciative towards you, especially around important religious locations.
Nobody will especially care all that much unless your outfit is especially offensive/revealing, but it is worth remembering that for all their fun and openness Laos is in some ways quite a conservative country. Dress a little less daringly than you would in say Thailand or Cambodia and you'll be along the right lines.
Budget Laos Travel Guide – What Are Some Interesting & Important Facts about Eastern Laos?
We hope you have enjoyed reading the Laos Travel Guide and we'll now wrap up this article with a few little facts about this gorgeous little country. Once you have visited Laos we guarantee you'll be amazed at how incredible this place is, and while it is kind of similar to Thailand in many ways, those clearcut differences make for a completely unique experience.
You can have an incredible time here, and make no mistake plenty more people will be visiting Laos sooner rather than later. Beat the crowds and get here while you can still make the most of all these wonders!
Now, let's take a look at those facts:
▸ Laos consumes more sticky rice per capita than any other country on the planet.
▸ Unexploded bombs are still an issue (from the Vietnam war) so keep a lookout for the warning signs.
▸ The elephant is the national symbol and you'll find images of it everywhere, from beer bottles through to the currency.
▸ 20,000 people used to live in the Vieng Xai Caves – take the chance to visit these remarkable places if you can.
▸ The Bolaven Plateau produces some of the best coffee beans on the planet.
▸ Most boys spend some time as a monk – six months is quite common although a handful stays on for their entire life.
▸ For obscure reasons, some visitors do not need a visa – these include Switzerland, Russia, Japan, Luxembourg, and S.Korea.
▸ Chances are you'll try Beer Lao during your visit. It enjoys a 95% share of the market.
▸ The French architecture is amazing – keep an eye out for the Payuxai Victory Monument and look for the similarities.
▸ Laos is mineral-rich but tourism is already the second most important national industry.
---