Last updated on September 9th, 2021 at 09:30 am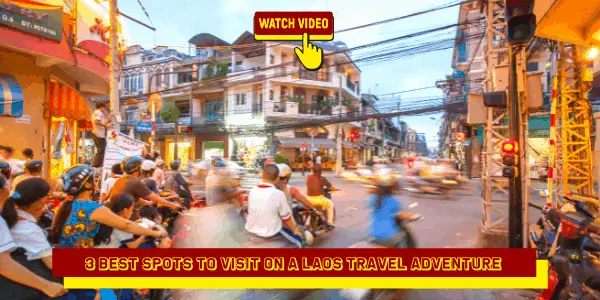 The Laos travel adventure started on the 27th of January. This coincided with our one-year anniversary as backpackers. (160 lbs lighter this year) We have visited 13 countries in that time and now we start out on our Laos adventure.
Arriving For Our Laos Travel Adventure and Visa Run
The trip is to serve two main purposes. 1 To get a new 60 day Thai Visa and 2 To visit the famous Plain of Jars in Phonsavan. The jars were recently determined to be from around 500 B.C., with the help of carbon dating. This would make them somewhat newer than Stonehenge and around the time of the Pyramids. Much like Stonehenge, WHO built them and WHY is a total mystery.
We chose to enter Laos by flying from Chiang Mai into Udon Thani, Thailand. You then take a 40-minute minibus to the Friendship Bridge. Direct flights into Laos were too expensive and we did not wish to take a 12-hour ride in a stuffed minivan overnight. Besides, we were making this a photo opportunity for us and wanted to spend at least 10-14 days in Laos traveling.
It went like this: (all prices will be per person using U.S. dollars)
Flight: Chiang Mai to Udon Thani, Thailand $57.58
Van to Edge of Thailand – Friendship Bridge $5.59
Bus over Friendship Bridge into Laos $0.56
Laos 30 day Visa (not be part of an in/out visa run) $41.90
Taxi to Vientiane from Border to our Lodgings $6.98
Total for the trip from Chaing Mai to Vientiane was $70.71 (without the Laos Visa Fee)
We arrived in a dusty, new capital for Laos, the city of Vientiane. The stop was for one night to get ready for our trip to Vang Vieng.
We hoped to begin taking some interesting photos for you as well as a little river-tubing. Bus Ticket cost to Vang Vieng: $6.15
Vang Vieng Laos Travel: A Break in the 8 Hour Bus Ride
The bus dropped us off at the Vang Vieng South Bus Station. That turned out to be almost across the road from the room we booked at Pan's Place but we received some bad news. Pan had overbooked by mistake. Being very apologetic, he took us around the corner from his hotel to another guest house. The new location was a little cheaper than his. Great room with a king-size bed, large bathroom, hot showers, HBO on the television. The cost was only 80,000 kip or $9.79 U.S. per night for two people.
We did not get the name for you guys but it is around the corner from Pan's Place. The name starts with 'Phong…', look for the yellow sign with blue letters.
Once settled in our room, we headed down to the Nam Song River. We wanted to see what we had in the way of water for tubing and kayaking. There was not a huge amount of water but enough for a good time. There are also a lot of great caves to explore in Laos.
Motor scooters were only 70,000 Kip per day. You can get to everything VV has to offer in 1 or 2 days for around $7 a day. One adventure we wanted to make was a hot air balloon trip, but for $70 (USD) per person, it was way out of our budget.
VV is not a bad location, but it is tourist central and all that goes with it. Without the river, this would have been another wide spot in the road. The place had so many backpackers you had trouble getting around in the streets. This is not what we are usually looking for. After 3 days here we were off to Luang Prabang by minibus. Bus Ticket to Luang Prabang: $9.90
Luang Prabang: Laos Travel Adventure Continues
Our day started early with a great breakfast to get us on our way to Luang Prabang. Every morning was a nice lady that was out every morning selling fried banana strips and a sweet bread ball.
She would drop the dough in the boiling grease and it would puff up and be hollow inside. They were fantastic! We bought a dozen of the sweet puffs for our trip for 12,000 Kip or about $1.25. The road was bad when we started for the first 40 or so kilometers, but the views made up for it. The road was like a snake for the whole trip.
Laos Travel: Vang Veng to Luang Prabang
The 190-kilometer trip takes around 5 hours by minibus. That's an average of 40 kilometers an hour. Anyone who has been here in Laos knows that bus drivers drive twice that fast if at all possible. We arrived at the bus terminal in Luang Prabang and got a Tuk Tuk to our hotel.
We had a room for $15 a night at the Pathoumphone Guesthouse. This is a huge bargain for Luang Prabang and for the price was not bad at all. King size bed, en-suite bathroom, hot shower, a fan and a great view of the Nam Khan river. We definitely did not need more than a fan during our stay. For sure, not a five-star place, but it was all we needed for us. Definitely better than a bunk bed in a hostel for twice the price.
There are three main streets running north and south in the old city. One along the Mekong River, one along the Nam Khan River and what is THE main street between them. On this street is where the museum, night market and most of the restaurants are.
Laos Travel: What To Do In Luang Prabang
We had chosen a few things to visit while in LP. One of them being the 400 steps to Mt Phousi. Second the Kuang Si waterfall and last to attend the Tak Bat Alms Ceremony. This takes place at sunrise every day.
Luang Prabang was much like Dalat was to us in Vietnam. A city that did not seem to fit the country it was in. From the time we arrived in Vientiane until we arrived here, Laos travel was a lot like Cambodia. They did not start their march into the current economic conditions of the rest of the world. Both Cambodia and Laos are far behind the two countries to their east and west, Vietnam and Thailand.
On a brighter note, Luang Prabang is the only entire city adopted by UNESCO as a world heritage site. All renovation must meet a high standard that will only add to the city, to the original look. You will not ever see a shiny glass office building in this city. Due to the help of UNESCO, it will remain as it has always been.
LP is a high-cost city to visit in Laos travel due to its unique architecture. Tourism has been a boon to the city, and the prices reflect that. So when visiting on a budget, you will have to do a little homework and shop around. We will give you 4 places that we found here, that were very good and the median price later on in this article. They will work well for budget-conscious travelers.
Day 1 Mt Phousi
We attacked the first of our three goals in this phase of our Laos Travel Adventure: Mt Phousi. We started the trek up its 400 steps pretty early in the day. During mornings through early afternoon, it is not crowded. At the top and after the fog and haze lifts, it offers some great photo ops.
The top, around the Stupa, is not large and is better visited with fewer people. We went up from the Westside on the steps across the street from the museum. The fee to visit is 20,000 Kip or around $2.50 each. We took it slow and rested several times on the ascent since we are still overweight and in our mid 60's. We did see people in the 20s and 30s doing the same thing. Mt Phousi is not high. It is almost straight up in most places.
After visiting the Stupa, we went down the opposite side of the mountain toward the Nam Khan. Halfway down we came to another shrine. There were 4 young monks visiting with the tourists. We were walking past the first two and they asked where we were from. We told them America and they both broke out in laughter. After a minute they began apologizing for laughing.
The Monks At the Summit
They explained that they sat at the gate and tried to guess what country each tourist was from. Turned out they had chosen France for us, did not know we looked 'French'. Another asked if he could practice his English with us. He began asking us basic questions, like where we lived, how many children we had, how we liked Laos travel. We could tell that they were the phrases from his classes and we had a great time with them.
Eventually, we headed down the mountain again. We visited each of the shrines and of course Buddha's Foot Print. We spent the rest of day one visiting the Mekong and the night market. Walking and enjoying the great city we were visiting was a treat on its own.
Day 2 The Kuang Si Waterfall
We had a late breakfast then went to board the minivan for the hour trip out to the Kuang Si Waterfalls. The falls drop roughly 66 yards (60 meters) from the top of the mountain. The water then flows through the limestone from pool to pool down the mountain to the river below. The trek up to the falls begins with a trip through their bear enclosure which we did not like.
The rest of the way up the waterfall, more than made up for it, with the awesome scenery. The total walk-up is only around 1 mile or so from bottom to top. It is an easy walk for all ages, with many benches and places to stop and enjoy the smaller falls on the way to the top. After viewing the Falls, you can take an easy stroll back down the roadway.
Day 3 The Tak Bat
We set the alarm for 5:30 am to view the Tak Bat Alms Ceremony. Most of the articles we read were pointing out the negatives about how the tourists are ruining the ceremony. That is somewhat true.
The travel and booking companies are the people responsible for the negative aspect. They bus people every morning to earn a fee. They bring them all into the center of town in one spot and it is a circus. We went down around the corner from the center's main street toward the Mekong and there were no tourists. Only us, the monks as well as the local people. We found it more than touching. Not that the local people get up every morning to share their food with the monks. As they did, the monks, in turn, handed most back out to the children along the way.
LP Laos Travel Mid-Range Foodie Stops
1. The Breakfast Cafe
On the center street of the old town area, north of the museum, you will find the Cafe Croissant d'Or Guesthouse. This is one of the only restaurants that will be open after Tak Bat. They offer a great breakfast of scrambled eggs, real bacon, sausage, and 3 small pancakes. The cost is (20 Kip) along with Lau coffee (8 Kips) for 28 Kip or $2.30. The going rate for this, in other restaurants, would be 35 Kip for breakfast plus 20 more for coffee or around $5 to $6. We had breakfast there every day.
2. The Garden Restaurant
We had been wanting a little taste of home for some time and we found it here. A pizza loaded with Mozzarella and topped with a spicy Lau Sausage. The very spicy sausage flavor mixed so well with the cheese and was well worth the 60,000 Kip or $7.50 price for a meal for two. The location is on the center street two blocks north of the museum on the left side of the street heading north.
3. The Nam Khong Cafe
The Mekong River Cafe was the more expensive meal we had here. Once again it is far less than in the central streets of the old town. Go down the street on the north side of the museum. You will find it on the corner where this street hits the street along the Mekong. Try the Red Curry or the Caesar Salad with chicken and bacon either for around $4. Be sure and try a glass of their fresh Lime Juice.
4. The Taxi Coffee and Pizza Stand
While not the cheapest coffee in LP, it is, in our opinion, the Best Coffee in LP. Located on the street running down the north side of the museum between the center and the Mekong. it is the richest and thickest Lau Coffee we have found, plus you receive a glass of fresh Laos Tea for free. The total is 20 Kip or $2.50, but worth it at least once during your stay here.
Laos Travel Now On To: "The Plain of Jars."
Plain of Jars Day Tour: The Plain of Jars is a collection of huge enigmatic jar-shaped stones scattered across the landscape near the town of Phonsavan in the northeast of Laos. The jars vary in height and diameter but their shapes are all cylindrical with the bottom bases wider than the top. These mysterious stone urns are spread out across hundreds of square miles. Various theories about how the jars came to be and what purpose they served (if any) have emerged over the years. Although it's thought that the site dates back to the Iron Age some 2000 years ago.
Laos Travel Luang Prabang to Phonsavan
Now for the next step in the trip. We left Luang Prabang, Laos at 8:30 in the morning, taking a full-size bus rather than a minivan. We learned our lesson on our last bus ride over the mountains here and while the bus is still not perfect, we preferred it hands down to the minivan on the last trip.
The trip took around 7 hours, as it was supposed to, and we arrived in Phonsavan at 3:30 in the afternoon. We were met at the bus terminal by a great young man who was sent by our guest house. We are staying at Khemphonelor 2 and the cost was very nominal at $8 a night. Nice room, hotel less than one-year-old, cable TV with all prime channels. Really can't do any better than $8 a night for a great place like this one.
Trip Update
Just a quick note, our last day in Luang Prabang, Laurel had stumbled and took a spill which left her with a bruised thigh and ego but no real injuries. She was determined not to miss the Plain of Jars Day Tour, so she went to get a traditional Lau Massage. She spent all of 50,000 kip which is about $6.30 U.S. Massages can be had for only a few dollars and with the amount of stress and exercise involved in traveling, this can really make your trip better. Get a massage about twice a month or so, as needed. Be sure they are a licensed professional before letting them work on you.
Laos Travel: Plain of Jars Tour
Mr. Yang, who met us at the bus station is going to take us to the 3 main Jars sites tomorrow on a 'Plain of Jars' day tour. His price was $100 for the day which is a little higher than we hoped for, but his cost includes all entrance fees which is 60,000 kips plus parking, so the total for the day for the two of us was around $90. Still, more than we hoped but in line with the going rates.
There are so many agents and individuals doing a Plain of Jars Day Tour that it is hard to get a group together but if you are on a bus and can get several others you can easily cut the cost to around $30 per person for the day. 9:00 am tomorrow and we will finally hit our goal of visiting the Plain of Jars. Should you be a little younger and are able to rent motor scooters for about 150,000 kips, you can take yourself to the sites. All three are within 20 kilometers of Phonsavan.
The 'Plain Of Jars' In Laos Travel
No Sunshine for our Plain of Jars Day Tour  We woke up to a not so great day for pictures or for going on our Plain of Jars Day Tour, but we waited a long time and traveled a long way for this chance and only have one day here we had to make the most of the weather. Temperatures of 45 degrees Fahrenheit in the morning to 55 during a day with no sun and a 10 mile an hour wind, it was a challenge. The worst part was the wind and all of our shots (even singles that we did not use for HDR images) had to be shot using a tripod. The lighting was not as much a problem since we did have a lot of light, just no bright sun. It was cold when we went to the Plains.
Site 3
To start our day, it was a short climb to the top of the first mountain where the jars were located. It is in a beautiful grove of trees and we got great shots from this location. Walking out into a grove of trees and being among historical artifacts that you can touch, examine and photograph, objects that are almost always found in museums behind ropes or like Stonehenge behind fences where you can only photograph from a distance. This was an amazing opportunity for anyone but especially for photojournalists. The jars themselves cannot be dated but some bone fragments found near them date from 500 to 1000 BC. Still, it is not known if those are the creators or from people who lived near them long after the jars were made.
More than 90 sites have been identified in eastern Laos travel areas near Phonsavan, with from 1 to as many as 400 jars at different sites. Only 3 of the sites have been safely cleared of explosive remnants from the Vietnam War (Secret War to Lau people). Still, that is enough to give you the sites you want to visit.
Site 2
Like site 3 except that it was divided into two parts with jars on two hills. The first in a grove of trees and the second on a barren hill a few hundred yards away. This site is the only one that contains any markings or images on the jars or the lids. A lid is located at the top with an image of what appeared to us as a running man. The lids, as it turned out, were not lids but some type of marker and probably had some images, etc on them that has worn away with time with the sandstone being a softer rock.
Site 1
A collection of around 40 to 50 jars on top of the hill with one being the largest of around 8 to 10 feet in height and at least 6 feet across. Below that in a small meadow is a collection of several hundred jars many of which that had been damaged by bomb concussions. You can see one of the craters right alongside the site and the concussions played havoc with the soft sandstone jars.
With the Plain of Jars Day Tour over, we had a great night in Phonsavan and began getting ready for a ten-hour bus ride back to Vientiane and the last step on our trip getting our new Thai visas from the consulate there.
Laos Travel – Vientiane Visa Run
We arrived at our hostel in Vientiane, the Lucky Backpackers, and it was a great place. Spick and span run by Mama and her sons, it was only about a year old and was clean and comfortable. We had heard so many stories about the lines at the consulate here and we followed everyone's advice and got there 1 hour before they began taking applications.
There were only about 20 people in line and we jumped in ourselves. There are two people out front making copies and photos, we had made copies but the photos we had were with blue backgrounds from Thailand but not accepted here. We had copies made and new photos for 60,000 kips, to make sure we had the correct information, without it, you go to the back of the line after getting it right and it was only $7.50 for the two of us.
We got inside the consulate and sat on the benches waiting for them to take the completed applications. Around 8 am the buses full of people began arriving and there were hundreds of people behind us waiting. We submitted the applications and were out within 20 minutes with numbers 28 and 29 (which is good for both visits) and told to return the next day when we would once again be near the front of the line to pick up our visas.
Out of the consulate, we treated ourselves to a cherry danish and large cappuccino each, something we don't do often. The following afternoon at 1:00 we returned to the consulate and retrieved our passports and visas. We spent the remainder of the day relaxing and preparing for our flight to Thailand the following day.
Laos Travel: Return to Thailand
Our short time goal is to spend 90 days in Chiang Mai working on photos and preparing for a trip to the north when the weather warms a bit later in the spring. We began looking for photos to shoot here in Vientiane. I had identified a beautiful Wat where people were burning images of their family who had passed on and releasing birds from cages to free their spirits. I had seen this the night before with its beautiful red lanterns and we will try to get a good night shot with our tripod and share it with you.
You might also like some of the articles from our website about boondocking and travel.
5 Best Ways to Visit Techatticup Gold Mine In Nevada
12 Super Reasons To Visit Mount Charleston Nevada
10 Great Reasons to Visit The Valley of Fire Park
9 Great Hiking Trails In Red Rock Canyon
For complete photos and videos of our trip visit our photo on our Facebook Page
You May Want to Join Our Boondocking Group on Facebook For More Information