To snorkel the Perhentian Islands visit one of the dive shops on Long Beach and rent equipment if you do not have your own. Here are some we have used, Matahari Divers, Monkey Dives Perhentian, and Angel Diver. The cost is nominal on a few dollars a day. The best spots are There are plenty off-the-island snorkeling spots on both Perhentian Kecil or Perhentian Besar. Our favorite spot was at LightHouse but these are good as well, Tiga Ruang, SharkPoint, Turtle Bay, and the Marine Park. The water is best during the summer months.
Our spirit of travel led us to the Perhentian islands in Malaysia. All we can say is that it was a piece of heaven, nothing short of paradise. The Perhentian Islands' location is the Besut district, Terengganu of Malaysia. It is a group of 5 islands with only two that are well known; Perhentian Besar and Perhentian Kecil. The other smaller islands, Susu Dara, Serengeh and Rawa are rarely visited. We will give you the ultimate guide to the Perhentian islands and give you a feel of what we experienced.
---
---
check out our video
---
---
What to Take When  You Can Visit the  Perhentian Islands in Malaysia
What to carry
Camera, capturing moments of our experience was one of the greatest things we did. We will remember this place for a long time.
Passport
Security items, padlocks, and key chains.
Fun activities to Include.
We had made a bucket list of the places we wanted to visit. We created a second list of things to definitely do by the time we left the Perhentian Islands. The problem was the place outdid us. There are plenty of things to do throughout the day and night.
Scuba-diving
If you are a fan of water like us, you will love these islands. They even have a 4-day open water certification. You can be PADI certified.
Snorkeling
We did a lot of snorkeling in the adorable beaches we will discuss later on in the post.
Swimming
The turquoise blue sea will call you into the water.
Canoeing
The placid waters are a great place for sunrise and sunset.
Terengganu Marine Park, are you a fan of marine life? You should definitely visit the park while you are there. We sure did and the marine life once again has proven to be beautiful.
Fishing
Their fishing is excellent.
Sunbaking
We would sit in the sun almost every day to absorb the sun. Yes, of course, we carried sunscreen. Without that the sun would have been too much.
Watching Movies
in the Perhentian islands, the Ombak resort offers great screen experience. You can relax and watch your favorite blockbuster.
Partying
As mentioned above, the Perhentian islands have two major islands. Perhentian Kecil also has two sides, the east, and the west. On the east is the long beach and the west is the coral bay. We stayed at the long beach because of its praise of being a party animal with the loud bars in the night.
Jungle Trekking
This is also very common in the Perhentian Islands. Hiking the paths surrounded by trees, beautiful flowers, and enjoy the fresh air. We visited two sites as we trekked, the Adam and Eve beach and the turtle beach. What we loved about the two areas was the exquisite animal life we found. You will find turtles, blue-spotted rays, reef sharks and the blacktip sharks.
Food and Accommodation
We enjoyed the food here because they offered a very wide of cuisine choices. Both western choices and the best Malay food everywhere in the Perhentian Islands. We visited a few cafes and restaurants to get a glimpse of their food culture. Some of the best were:
Senje's barbecue, they serve one of the best foods on the island from the fried to the roasted. They also have a tasty sauce served with their seafood. Some options were prawns and some big fish. The white tent, they have outside made fruit shakes perfect for the weather.
Others spots include:
Awatif
Ewan's cafe
Oh la la, they serve a bunch of junk foods.
Pizza and burgers fill their menu.
Amelia's cafe
Mama's cafe
Drinks and Bars
To drink, there is a wide array of fresh juice to alcoholic drinks. We noticed they sell rum for the most part and the alcohol sold is a bit more expensive than that sold on the mainland. So if you want to do some saving "bring your own." Buy in the city before you come to the island. We visited Abba's bar, which wasn't that expensive plus it had a wide variety of drinks and spicy cocktails. We also went to Panorama and the monkey bay bar where we settled with beer.
On to the accommodations, you can choose to stay in either of the Perhentian Islands. We happened to choose Perhentian Besar for our stay. They have luxury spots fit for total comfort and relaxation called chalets. The chalets have hot showers, exemplary beds, and great balcony views. It is perfect for those coming for their honeymoon, anniversary or if you are looking for a great escape.
Sleeping in Perhentian Kecil is not that far off. They have basic huts and dorms on both the long beach and coral bay.
Accommodation here is usually termed resorts. Some of the resorts we saw were; Senja Bay, Butterfly, May guesthouse, and the Panorama.
You can use a website like Airbnb, to book a reservation at the Perhentian Islands. They can be found for both on and off-peak seasons but far in advance.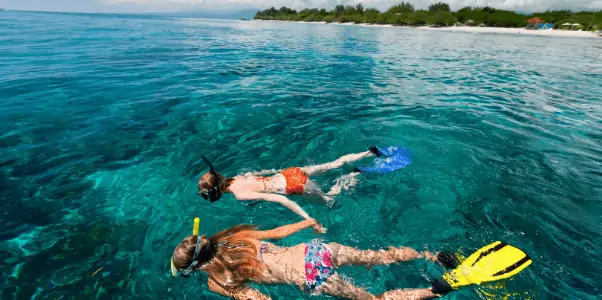 Weather and Climate
The Perhentian Islands have a tropical climate with slight thunderstorms over time. They also have extreme weather with the monsoon winds hitting in the winter. You may find the island closed during the winter season due to the extreme weather. This is between the months of November and February. The temperature is as steady 30C not so bad right?
Language
At least we did not experience a language barrier problem. English was widely used, although their official language is Kelantanese, Malay.
Budget and Prices
Our trip was not too heavy on our wallets. Although you can always use cost-friendly techniques like discounts or hostels. There are also ways to save money on food as well. Food, transport, and accommodation prices were very fair. For each, there was always the option of cheaper services. For example, the Perhentian Kecil had cheaper rooms than Besar. On transportation costs, you could use the buses or taxi instead of a flight. You could also choose to stay at the Coral bay that was quieter to avoid nightlife expenses.
Transportation Routes
We flew into Kota Bharu, the large city and took a taxi to Kuala Besut. The ride was over an hour long. Then we took a boat to the Perhentian Islands. The speedboat/ferry services run from eight in the morning to about four in the evening. The water taxi was the easiest mode of transport though you could opt for trails. The only way to access the island is from Besut where you will find a jetty to ferry you to the Perhentian Islands. One interesting fact we saw was that there were no road trails on the island. Everything was water surrounded hence the many water activities.
Safety Precautions
We learned we should watch our belongings as there were cases of petty theft around. You can't leave your luggage unattended anywhere, whether it is in the rooms or at the beach. That is why we suggested you should carry extra security items on your trip.
There was an option of leaving your belongings at the reception in a lockbox. You had to ensure you kept a record of the items, got a receipt and used your own lock.
Why You Should Visit the Perhentian Islands
Thirst for nature. If you are fond of travel like us, then the Perhentian islands are the place to be. It has great hospitality even though it may not be as developed as some places. It is a great escape from the hustle and bustle of the mainland.
Great marine life. We cannot emphasize this point hard enough. It has a plethora of marine life and indigenous animals. The Monitor Lizards, venomous spiders, and geckos.
Wide variety of food culture to embrace, you will not miss the food you will love in the Perhentian Islands.
The sunset at coral bay and sunrise at the long beach is nothing short of breathtaking.
The 4 days open water certification. Where will you get a certificate in four days of learning something?
Beautiful beaches with white coral sand beaches. They are gardens of paradise and we loved them.
All the activities you can do in the Perhentian Islands. Whether you are afraid of the water or not adventurous, you won't miss something to do.
Many lodging options at the Perhentian islands to fit any budget.
Unpleasant Facts:
First, there is no ATM in the Perhentian island. This means you will have to carry hard cash with you from the mainland. You could find selected resorts that accept credit advances. It's better to carry your own money from the mainland. We were also told of a place called Matahara offering currency exchange services.
There are mosquitoes in play there. Take repellents with you to avoid the bites.
You could find Monitor Lizards roaming around at the beaches. This may be uncomfortable for your stay but as long as you don't trap them, they aren't harmful.
Power Surges
Power surges are common as they use generators to supply electricity. You have to be cautious with your electronics to avoid them getting ruined. It is also nice to carry a flashlight with you for when there is a blackout.
There was not much reception and hardly ever any internet. This can be good and bad. You can choose to switch everything off and enjoy the trip.
Parting shot
Despite the not so interesting facts about the Perhentian islands, it is a little piece of heaven. The tranquil environment and marine life are worth it. At least we thought so.
You might also like some of the articles from our website about boondocking and travel.
5 Best Ways to Visit Techatticup Gold Mine In Nevada
12 Super Reasons To Visit Mount Charleston Nevada
10 Great Reasons to Visit The Valley of Fire Park
9 Great Hiking Trails In Red Rock Canyon
For complete photos and videos of our trip visit our photo on our Facebook Page
You May Want to Join Our Boondocking Group on Facebook For More Information