Budget Thailand Travel Guide includes 18 Important Travel Planning Tips that will allow you to see and do more on your budget. Learn how you can benefit.
Welcome to the Thailand Travel Guide! Not many global destinations are quite as iconic as magical Thailand. Rightly famed for its beautiful beaches, bustling cities, magnificent cuisine, and ancient temples – not many countries can boast such a staggering assortment of world-class attractions.
You could visit Thailand for just a couple of weeks or spend months in the country and never come close to experiencing all that Thailand has to offer. As there is very little point even trying to do so, we'd recommend that visitors just enjoy the ability to go with the flow and explore wherever takes their fancy. This is a country that can seriously reward visitors who enjoy acting on a whim – and many of the best experiences will be found along those lesser traveled routes.
Magnificent as Thailand as, there are also some practical and ethical considerations to remember when visiting this wonderful country. Fret not – the Ultimate Thailand Travel Guide will also cover the basic practicalities involved in enjoying this country in the best way possible. Let's begin by taking a straightforward look at what makes Thailand such a popular country to visit, and some of the best places to visit and attractions to enjoy.
Visitors are simply spoiled for choice when it comes to deciding where to visit in Thailand. We at the Thailand Travel Guide highly recommend that people try and make sure they experience all aspects of the country. Sure, it can be understandably difficult to drag yourself away from the beaches but the mountainous north and tropical interior can be just as enjoyable and rewarding to explore. As we shall see later, Thailand is quite an easy country to travel around meaning that even visitors enjoying just a short vacation should be able to enjoy the country from different angles.
When it comes to beaches you simply cannot really go wrong. Take your time deciding which best suits you (and is best for the environment). Krabi province is where you'll find most of the very famous beaches – and even Railay (which can be very busy indeed) is still strangely able to still seem relatively uncrowded. Take a good look at the choices on offer and do not just limit yourself to this part of the country. Ko Pha-ngan, Ko Tao, Ko Tarutao, Ko Wai, and many others are basically picture perfect.
Despite the massive popularity of the Thai beaches/islands, you'll still find that only a handful of beaches are 'private' or 'exclusive' to certain resorts (and they aren't usually that good anyway). On most, you'll still find scruffy backpackers bedding down next to very wealthy visitors – and that, in some ways, is part of Thailand's endless appeal.
You could quite easily skip the major Thai cities and spend months happily touring the endless – and much more beautiful – parts of the country. However, we'd advise pretty much everyone still takes the time to spend a few nights in the cities as they do offer some amazing sights to explore.
The Grand Palace in Bangkok is one of those rare exceptions where the name doesn't really quite do the site justice! It ought to be 'super-amazing' or something like that because you'll be blown away at the maze of relics, temples, and halls that comprise this magnificent place. Allow at least a full day to see this and arrive as early as possible.
Chiang Mai is perhaps the second most popular major city and one that offers a host of attractions that will appeal to all different kinds of visitors. Something you will need to do in this ancient city is to explore the markets – where you'll find everything from handicrafts and groceries through to some of the most amazing street food you'll enjoy anywhere on the planet. It is an amazing destination, and just the tonic after a while spend trekking through the interior or perhaps lazing for endless days on the beach.
Oh, and don't forget to head up to Doi Suthep while you're there. It just happens to be one of the most amazing sights in southeast Asia!
There are plenty of other towns also worth considering in Thailand – and those with a particular interest in historic relics and temples will be more than satisfied! But truth be told, the most appealing aspect of this country is a natural beauty – and it really cannot be stressed how gorgeous it tends to be. Be sure to visit Pai up in the north – and about as far from the beaches as you can get – for some incredible mountainous jungle hiking and exploring.
Take a good guide and you'll be amazed at the variety of wildlife and fauna – perfectly enjoyed stood next to one of the region's iconic waterfalls.
The Khao Yai National Park is a must-see for those who love their elephants. Responsible tourism should be a big deal when visiting Thailand and this is one of the best ways of having a great time while knowing your money is helping conserve these magnificent animals.
If photography and ancient sites are your deal, then make sure to visit both Ayutthaya (get a good personal guide who won't rush you through) and Sukhothai's Old City. Not only are these fascinating sites amazing to explore in their own right, but you'll be able to capture some astonishing photographs too. Read up on Thai history to have some appreciation of the incredible story of these sites. Many visitors just arrived, gape in awe, then head back to the beach having ticked off another box on their travel itinerary.
Knowing what you are seeing and being able to appreciate it is a really surefire way to ensuring that those experiences stay long in the memory.
That we've barely discussed 1% of the places worth seeing in Thailand should tell its own story. You'll find so many astonishingly beautiful places on your journey that you really can't make enough space to predict them in just one travel guide. What the Ultimate Thailand Travel Guide can say with absolute confidence is that you'll have an amazing time finding these out for yourself.
Budget Thailand Travel Guide – What Are the Best Things to Do in Thailand?
Let's begin by just assuming that visitors will already be planning on checking out the historic sites and spending plenty of time enjoying the beach! A combination of those two simple activities ought to be enough to satisfy most people for their entire time in the country.
No joke – touring the islands and beaches can become somewhat addictive – especially when you start to appreciate that it just seems to get better every time you move on. Garland's 'The Beach' is the eponymous work that is largely credited with popularizing Thailand as an international destination – and whatever you think of the actual storyline, the basic essence of the 'ever searching' theme is something that will ring true with many visitors. It is up to you whether you settle on one or two undoubtedly excellent beaches, or keep plowing ever onwards. Just remember there are thousands of them…
Two things we would highly recommend visitors try and experience in Thailand are snorkeling and nature tours. Both of these are commonly available and you'll be able to find excellent options for really decent prices. Make sure that your scuba/snorkeling expedition is professionally accredited and uses experienced English speaking guides. Many of the large resorts will be dominated by a handful of larger syndicated operators – shop around for the best value and remember that smaller groups are always going to be better than hopping on one of the crowded tour boats.
Once you have found a suitable agent the snorkeling is going to be both accessible and utterly breathtaking. Don't be put off if you have never done it before – it's far easier than learning how to stand on a surfboard!
As for nature tours, it is essential to find and support those which look after the animals on which they base their livelihood. This is nowhere near as difficult as it was just ten or twenty years ago – and nowadays many of the most popular will operate as non-profit charities that have been looking after their environment for many decades. Still, take some care when choosing these in more out of the way places, and be prepared to pay prices a little higher than you may expect in an otherwise very affordable country to explore.
You'll be spoilt for choice when choosing which to go on – and remember that it will depend/vary according to which part of the country you find yourself.
We'd recommend a three-day hiking/camping tour in the north of the country (about $80/day) because of the variety on offer, although there are many more specialized tours for those so inclined.
One of the best aspects of Thailand is that it's so easy to make up your day as you go. Island hopping is really easy and provides a great way of enjoying unique aspects of Thai life that'll soon become pretty everyday experiences. Floating markets are always brilliant fun and consider taking a street food tour when you are in one of the larger cities.
You'll dine superbly while also getting a way of experiencing the grassroots of the country and parts that few other visitors tend to explore. Make sure to also take a tuk-tuk – perhaps to and from a Thai kickboxing bout (quite an experience!) or after a night out at one of the country's many legendary nightspots.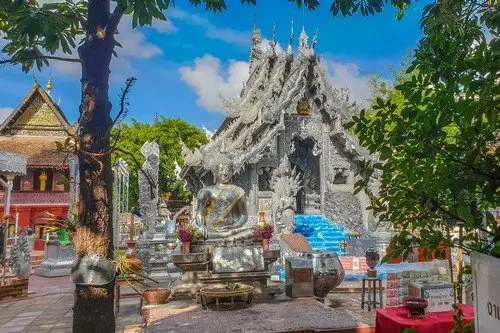 Budget Thailand Travel Guide – When is The Best Time to Visit Thailand?
Depending on where you are heading Thailand is pretty much a year-round destination – although there are some important caveats here!
November-March counts as the high season and you'll find tolerable temperatures even in the major cities. It is perfect for the beach and ideal for touring the northern interior and relic sites. Prices tend to increase a little – especially over Christmas and New Year – and popular accommodation from hostels through to resorts often book out well in advance.
A couple of months either side of the peak season will generally involve higher temperatures – although the coastal breeze should still make beaches viable to all but the most sensitive sun-lover. Cities can become really hot although it is arguably the best way to really experience the more tropical areas.
July-October is Monsoon season and how severely that affects your visit really depends on luck. On a good year it'll amount to a few occasional downpours, on a bad year it'll cause full-on flooding and effectively close down some areas for weeks. Visiting at this time of year is great for bargains and the chance for a little more private/calm experience – but you do need to be flexible and trust a little to luck.
Budget Thailand Travel Guide – Do I Need A Tourist Visa in Thailand?
Thailand is easy to enter and most visitors will have no problem doing so. Visa exemption/on arrival schemes cover 64+ nationalities including the USA, Canada, EU countries, Australia/NZ, plus several others. How long you are allowed to stay can vary depending on your nationality. Most should expect to be allowed 30 days without needing to apply for a formal visa although that can sometimes be extended to 90 on the spot. If you intend on staying longer than a month you really ought to have this in place before you visit.
Check with your local consulate and most people will be issued a six-month multiple-entry visa for a small processing fee. That is an ideal option for those touring the region and plan on returning to Thailand at some stage.
A couple of other little issues are worth mentioning here. Visitors are supposed to be able to prove they have the means of supporting themselves for the duration of their stay although this is rarely checked (most usually used as an excuse to make people who misbehave in the country to leave early). If you plan on working then it is worth doing so legally by taking out a working visa. Many people don't bother, and some will get caught, fined and deported. Whether or not you risk it is up to you.
The Thailand Travel Guide recommends that you take a little care when considering your souvenirs. Some depicting the Buddha/imitation of relics can cause headaches if they have been recently cast or are considered valuable. Only those spending big money should probably be concerned about this but it is something worth remembering anyway. Follow the procedures and allow for about 5 days of administrative processing before being issued an 'approval for export' certificate.
With over 30m people visiting Thailand every year you'll likely have no problems whatsoever with the administrative aspects of entering and leaving the country. Remember that there are very strict laws regarding drug importation/exportation and to keep an eye on your luggage at all times in airports.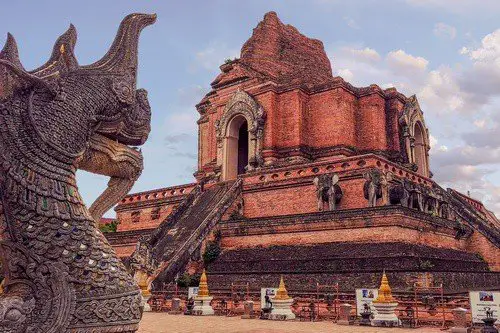 Budget Thailand Travel Guide – What Currency Is Used in Thailand?
Thailand uses the Thai Bhat (B) that currently exchanges for about 30B = $1 (U.S).
Even though Thailand continues to be an ever more popular destination you'll be able to enjoy some staggeringly good value in this country. Before you pop open those bottles of Sigha just yet – remember that this country frequently tops the global list when it comes to wealth inequality. The tiny Thai elite is very wealthy indeed, while the majority are extremely poor – and those low prices may be great news for visitors but just another expensive cost of living for the locals. Don't flaunt your money in Thailand (even if you don't have much anyway) – it is considered very poor form indeed.
You'll soon realize that credit cards are not used very widely in Thailand. Even higher-end restaurants and attractions often only deal in cash – so get ready to make use of those ATMs. The good news is that these are everywhere, the bad news is that they cost money to use. Those costs are quite high – about 220B/transaction – and will be applied on top of the currency conversion costs of your bank. Before you know it you'll be charged about $10+ per transaction so make sure you withdraw in bulk – inconvenient as that can be.
We'd strongly suggest you spend a little time researching which banks are going to offer you the best options for currency conversions in the country, and possibly even finding a way of loading a prepaid credit card with currency before you visit to help dodge those fees a little. If you plan on spending a lot of time in the country you should figure out how you'll pay in advance – and don't just consider it an incidental expense and that the otherwise very low costs will more than makeup for. Travelers Cheques are a valid option here still and you'll have no trouble changing them in most places.
Last but not least – haggling is popular throughout Thailand and you'll find that many prices are open for negotiation. How far you want to get involved in this process is really up to you. Unless a quoted price is ludicrously high you may just want to go with the flow. Alternatively, if you are looking for a better rate on your accommodation over a longer stay for example then you ought to consider asking for a discount. You may be surprised at how easy you can do so – just be sure to spend your money saved within the country and supporting those who depend on tourist income for their livelihoods.
Budget Thailand Travel Guide – Do I Tip In Thailand?
You might be surprised to learn that there is not much of a tipping culture in Thailand. The Thailand Travel Guide recommends that you leave the change on a large value note when eating out, or a handful of small change. Nobody is likely to be offended if you do not tip – but just a little does go a long way in supporting those employed within the tourism industry.
Service standards in this country tend to be very high so reward it where you feel it is deserved and appropriate to do so.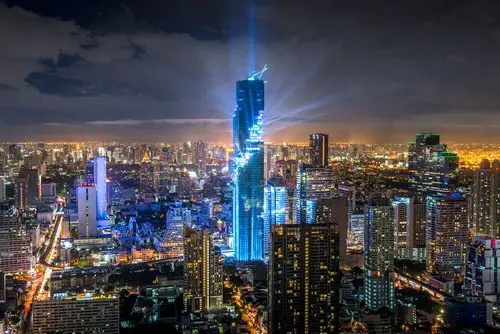 Budget Thailand Travel Guide – What Kind Of Budget Do I Need In Thailand?
So how much money will you need per day to enjoy Thailand to the full? Well, we at the Ultimate Thailand Travel Guide have plenty of experience of both 'roughing it' and enjoying the finer side of life in this country. Truth be told, we'd suggest that most visitors should aim to enjoy a bit of both within their travel plans anyway! When it comes to fixing an approximate estimate on daily expenses you need to factor in that prices vary considerably according to the time of year and where you are.
Using the famous 'bottle of beer' index, that'll cost you somewhere between 70-100B in Bangkok and either half that out in the countryside or double the amount in one of the popular resort bars. You need to adopt a degree of flexibility to your finances in this country!
That being said you'll find that prices throughout the country tend to be pretty low for high-quality goods and services. You can still quite easily get by spending no more than 1000B/day although we'd suggest a more realistic estimate to be somewhere around the 2000B mark. At the luxury end of the market, you can hit astronomical levels surprisingly easily. So with that in mind, here are some approximate budget plans that ought to cover most of the market.
Budget (1000B/day)
Accommodation is going to determine how far you can stretch your budget – and the hostel network prices have considerably increased in recent years. The most basic dorm room is going to cost between 200-350B/night and private guesthouse rooms start at about twice that amount. Higher-end hostels and basic hotels will gobble up your entire 1000B budget on accommodation alone – so if you really are intending on traveling Thailand cheaply you need to think a little outside the box here. Camping is a valid option although you'll need to ensure that you are following local rules.
In better news, you'll have no trouble whatsoever eating fantastic food on a shoestring budget. Street food comes in all shapes and prices but you'll rarely need to spend more than 200B/day and could easily get by on less. Transportation is also extremely cheap around towns and coastal areas.
The one downside of touring Thailand on a budget is that more organized activities tend to become comparatively quite expensive rather quickly. For instance, a tour around an elephant sanctuary can easily start at 1000B and many of the most famous attractions charge high admission fees. Allow for those additional expenses within this budget as they really ought to be part of any visit to the country – but unfortunately, they do add considerably to the bottom line.
Mid-Level (3000B/day)
At the time of writing this equates to about $100/day and realistically speaking you'll be able to enjoy a fantastic time in the country with that kind of budget. Upmarket hostels and reasonable quality hotels are going to account for about half of that daily budget – but remember that the costs of living/eating well are so low that you'll have plenty left over to spend on those memorable activities. Really, we'd suggest you properly go for it on this budget and enjoy pretty much whatever takes your fancy.
Chances are you won't be back in Thailand for a while so make the most of it. Plan those excursions carefully and you'll have a fantastic time without spending silly amounts of money.
We'd highly recommend you eat street food during the day and spend the evening dining somewhere a little more upmarket in the evenings. Prices don't increase by a huge amount and for somewhere around 400B you'll enjoy a very fine meal with drinks. Perhaps the most noticeable difference in this budget is that it does open up the possibility of hiring a motorbike for the day. These are pretty cheap (around 200B/day) although remember that they can also be a little dangerous.
Take care to inspect your vehicle beforehand and make sure your insurance covers their use. Some parts of Thailand are great for cycling although you'll find the terrain does impact upon this quite a bit!
High-End (4000B+)
Thailand has some of the most opulent high-end accommodation options on the planet – and the prices can sometimes put Paris to shame! If you're operating on that scale of budget then you really ought to just skip this section of the Ultimate Thailand Travel Guide anyway! Assuming instead that you want somewhere very nice indeed but without the Bond-villain style, then expect to spend somewhere about 3000B-5000B/night on something special depending on whereabout you are staying.
Car hire is an option – around 1000B/day – but truth be told you'll find it easier just to use cabs whenever you like anyway.
You'll have no problems spending big on dining and entertainment – but that ought to go without saying. Instead, you should look at ways to stretch this budget towards making a more personalized experience. Forgo the standard organized tours (great though many of them are) and consider hiring a private guide with transportation to take you wherever interests you the most. Real experts – especially in wildlife/flora, etc – can be found for about 3000-4000B/day and will take you to places that are simply not accessible to larger groups.
Often these will be available for private hire from specialist accommodation options such as monastic/retreat hotels and ecolodges.
Hopefully, you'll take from this section the simple fact that daily expenses in Thailand are going to offer fantastic value – but the tourist economy can be more expensive than many people assume. Tours and experiences are not a whole lot cheaper than what you'd pay in Europe and that is simply because in large parts of the country that income will nowadays play a vital role in sustaining entire communities.
Tourist money is essential to the Thai economy and if it weren't there the local people would be living in the unfortunate conditions similar to those over the border in Myanmar. Remember that when deciding whether or not to splash out the equivalent of $30/40 to go snorkeling for the afternoon.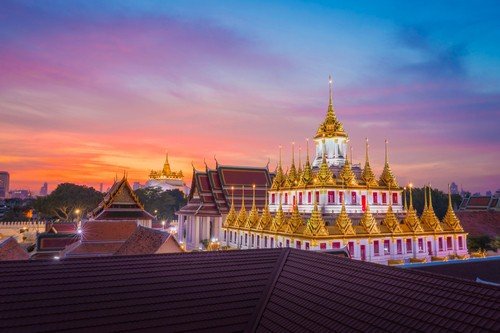 Budget Thailand Travel Guide – What Languages Are Spoken in Thailand?
Thai is the most widely spoken language and we'd recommend you try and pick up a few basic words before you arrive. Many visitors assume (quite fairly) that they'll be fine just speaking English, but you'll enjoy better experiences if you can say 'please' and 'thank you' in the local language. Simple as it sounds it's a basic bit of advice that you'll find improves your stay in this country. Thai people are quite big in their manners so remember that when speaking to them.
Visitors shouldn't have much trouble getting around using English. Most people will know a few basic words – especially in the towns and areas most popular with visitors – and standards head towards fluency among those directly employed in the tourist trade. Some older people may speak better French than English as a second language but it's unlikely to make much of a difference to most visitors.
Something worth mentioning here is that some attractions/sites – including a handful of the most popular – have pretty limited English language signage. Check out some audioguides or better still actually take an English speaking tour for a superior experience.
Budget Thailand Travel Guide – What Religions Are Practiced in Thailand?
Technically speaking there is no official religion in Thailand – but 95% of people are considered to be Theravada Buddhists! Religion maintains a strong cultural undercurrent throughout the country and while you'll unlikely find it affecting your visit in any practical way, it's something that is important to be aware of and respectful towards. 'Keep your beachwear to the beach' still kinda applies in Thailand – although you'll be fine wearing skirts/shorts in most places providing they are suitably smart.
There is a small Muslim minority – about 5% or so – and a tiny number of Christians within the major cities. Although things have broadly speaking calmed down a little recently, you should keep away from any political demonstrations as chances are they will have some kind of religious undercurrent. You'll have no problems observing your own religious beliefs in the country providing you do so respectfully and without intruding on the local's own practices.
Budget Thailand Travel Guide – What Are Some Practical Tips for Visiting Thailand?
At this stage of the Thailand Travel Guide, we'll turn our attention more towards the simple practicalities of exploring this marvelous country. Thanks to plenty of exposure and years of experience handling millions of annual visitors, travelers shouldn't have any problems getting about in a safe and sensible manner. Thai's are far more used to overseas visitors than those in a few nearby countries so don't expect much in the way of becoming the center of attention. In our opinion, that's a good thing!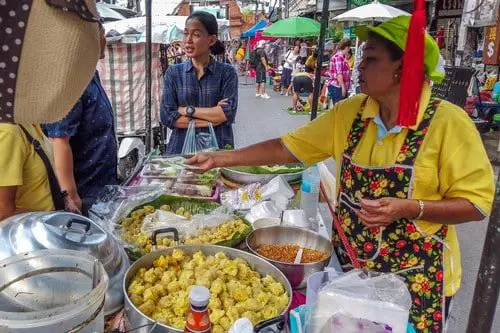 Something that is quite important to clarify at this stage is that Thailand has experienced some rather turbulent political events in recent years – that has at stages caused riots and a fair amount of violence. To the best of our knowledge tourists have never been targetted at any stage. Thai people genuinely do understand how essential tourist money is to their country and while you should not expect special treatment, they will tend to be helpful and to a degree a little protective of visitors now and again.
Don't be put off visiting this amazing country just because there is some political volatility. It really will not cause any problems to your visit unless you look to actively involve yourself in it (and we have no idea how you'd even start trying to do so!).
One of the best things about Thailand is you can visit this country and enjoy it in whatever manner you wish. There are a few sights and experiences that everyone ought to try and fit in, but besides these, you're totally free to relax or explore as much as you want. In our experience, this country really does appreciate the more curious and inquisitive visitor.
If you want to be more than just another visitor sitting on a beach/elephant then this is a place you can really do so – and help make a difference to the local's quality of life at the same time. Take a look at the various options for ecotourism and conservation of that sounds of interest – a vacation with a purpose can be much more rewarding than simply resting up in paradise for a while.
Budget Thailand Travel Guide – What About Health and Safety in Thailand, Is It Safe?
Thailand is safe to visit but you should take some sensible precautions just like you would everywhere else. Muggings and violent crime are very rare but do happen – almost always in circumstances where the visitor has let their guard down or been led astray by locals or other tourists. Keep your wits about you in the cities and avoid the less pleasant aspects of Thai nightlife. Under no circumstances be tempted to take or transport drugs and avoid becoming publically intoxicated.
The tourist police do a good job looking after visitors but can't be everywhere at the same time. In many ways this country is an absolute paradise and a wonderful place to party and let your hair down – just be sure to remember that not everyone shares that sense of idealism.
You should take some precautions regarding your general health when visiting Thailand. Many people get carried away at the rare possibility of falling foul to infectious diseases when the humidity and heat tend to be by far the biggest cause of health problems. You should be aware of the likes of yellow fever, malaria, and leptospirosis but all of these are treatable when you take action right away. Sunstroke and dehydration (especially after a night partying) are bigger threats. Take care on the roads and do not under any circumstances drive or take a lift with anyone intoxicated. Visitors (and locals) die because of this every year and such tragedies are easily avoidable.
If you get sick then you should head towards the largest town/city possible as soon as you can. Healthcare facilities can be very impressive or quite shoddy depending on where you are. The good news is that better quality clinics will be able to diagnose your problems right away and will be no strangers to the problems that tend to afflict visitors more than locals. It should go without saying that all visitors need good health insurance for visiting Thailand and you need to make certain that it provides cover for 'risky' activities and driving where applicable. Ideally, take coverage that includes upfront payments as these are usually required unless you are in serious trouble.
Take care when transporting medications into the country as the border police are extremely strict when it comes to opioid-based painkillers and some anti-anxiety medication. It is sensible to make physical and digital copies of your prescriptions and diagnosis before visiting and saved securely to the Cloud. You'll likely need these to have your medication reissued locally and do not expect it to be the same brand as you are used to.
A well-stocked medical kit is a sensible item to pack for visiting Thailand. Include simple medications for treating the likes of diarrhea, insect bites, and skin problems. Sunblock is absolutely essential and you should anticipate taking a while to adjust to the temperatures – they will surprise most people more than they think. Mosquitos are a real nuisance so don't scrimp on this – take the best repellent you can find and ideally make sure it is one that works for your skin type beforehand. There are a few to choose between so shop around beforehand – most local products are not especially high quality.
All this being said, the vast majority of people who visit Thailand will not have any problems regarding crime or health. Just keep your wits about you, take sensible precautions for both, and you'll be absolutely fine.
Budget Thailand Travel Guide – What is the Best Transportation in Thailand?
How you choose to get around Thailand is one of the most crucial decisions you'll make. In a nutshell, the train offers a slow but comfortably sedate experience that can pass through some amazing scenery along the way. It's a solid choice for heading up to Chang Mai or covering long distances at a time – just don't expect that time to pass by very quickly! Buses (and they come in all shapes and sizes) are the ubiquitous way of seeing Thailand and much easier to figure out/navigate than most people assume.
They'll be either airconditioned state of the art 'Kings of the Road' or basically adapted minivans with roof-racks – and there are advantages and disadvantages to both.
What buses and trains do share in common is that they are both excellent overall value. Upgrades – where available – should fall within most people's budget and are highly recommended. Romantic as the idea could be for some of spending a dozen hours in a sweltering and crowded carriage, let's just say you won't be in much of a hurry to do so again. Buses on the overhand are great for those heading to more remote spots and it doesn't take much traveling off the beaten tourist path to get to places that are really rarely visited. These are the places the intrepid traveler ought to be considering and buses are the way to get there.
If you are in more of a hurry to get around Thailand then you'll be pleased to know that the internal flight industry is booming. Cheap tickets abound and you'll have no problem finding flights with relatively short notice besides the festive season. Pay a little attention to baggage restrictions as these can be quite tight. While flying is not really the most environmentally sound or interesting way of seeing Thailand, if you're short for time and want to see specific regions then it can be a sensible call.
As mentioned above driving is a valid option but you need to be aware of the risks. Thai roads are not universally great quality and tend to become really low quality/treacherous the deeper you head off the highways. Motorcycles are an option but you should decide if they are really worth the risk. Chances are you'll be able to take a bus or cab to anywhere worth going anyway, but the choice is yours.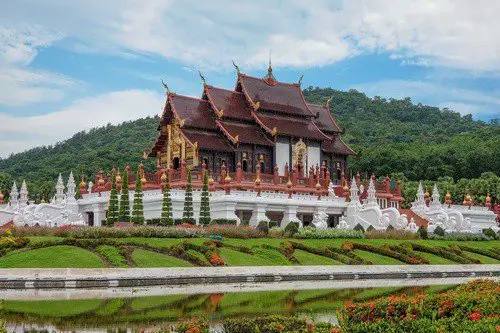 Budget Thailand Travel Guide – What Are the Best Accommodations in Thailand?
You'll still find plenty of dirt-cheap hostels throughout the country – but just appreciate the fact that they aren't as cheap as they used to be, or a whole deal much cleaner or quieter! As you are probably aware, Thailand is one of the hottest destinations for global backpackers and that has simply boosted the prices over years to levels that frankly are a bit excessive in our opinion. There are still some absolute gems out there – these rent fast – so make sure you get your arrangements in order well before you arrive.
Don't expect to just walk up to the best hostels in the guidebook and be offered a choice of bed for the night. High-end backpacker accommodation can be amazing – and more like a boutique hotel – but just be willing to pay for it.
Budget hotels are perhaps better overall value – and these range from your standard motel-style options through to guesthouses with private rooms and everything in-between. Most only offer double rooms but are rarely much more expensive than what you'd pay for a hostel bunk bed. We'd suggest you consider these options especially if traveling as a couple. As for more mass-market hotels, there are literally thousands of these to choose between and they'll range from resort-style mega complexes through to privately run B&B style options.
Standards tend to be higher but they can be quite hit or miss depending on where you are. Prices are pretty reasonable but we'd suggest looking for location ahead of amenities. Many of these will be in prime spots especially in the popular towns.
Heading upmarket? Take your pick between superb island lodges, five-star grand hotels, and next-generation eco-lodges. Even though Thailand is incredibly popular at the exclusive end of the market, you'll still find some absolute bargains if you shop around a little. Something to beware of here is that many of the super-premium accommodation options are hired out exclusively by tour operators. Look for the privately run options (search online) and you'll likely find some really special options that offer a much more personable experience.
Airbnb and other online resources can offer all kinds of possibilities throughout Thailand. Check these out if you are planning on spending more time than usual in a particular destination – especially Bangkok.
Budget Thailand Travel Guide – How Can I Practice Responsible Tourism in Thailand?
You should try and incorporate some aspects of responsible tourism into your visit to Thailand. Where you choose to spend your money plays a large part in this – and at the end of the day, it comes down to how much effort you put into caring. Let's begin with elephant sanctuaries. Some of these are magnificent operations that provide an educational experience for visitors who will contribute towards the upkeep and development of the facilities.
Others are little more than badly run zoos where the profit is made by keeping those elephants looking miserable and disheveled. Elephant protection laws only apply to wild elephants in Thailand – and this is sadly quite easily manipulated.
Take care to book to visit an elephant sanctuary that has proper accreditation – a well-run website that documents their activities is a good but not entirely foolproof place to start. Check these credentials out carefully and don't take anyone's word for their qualities. There is a huge 'backhander' industry that encourages tourist agencies to forward visitors to specific places – so make sure you are not inadvertently perpetuating the problem. Elephant sanctuaries are the big ones, but apply that advice to any animal-based destination especially tiger-zoos and so forth.
Overdevelopment is a problem in some parts of Thailand, and the crazy fact is that you really do not need to travel far along the coast or through the islands to discover better and barely spoilt alternatives. Mass tourism brings essential money into the country and frankly it's not our place to say that it is either a good or bad thing. As an independent traveler, however, you'll be acting more responsibly by not contributing to these already well provided for areas, and instead, heading somewhere less developed and more interesting anyway.
The final point we'll mention here is perhaps the saddest and unfortunately what many people know most about the darker element of Thailand tourism. Child sexual exploitation does still continue here – and often it can be staggeringly blatant in the more notorious parts of larger cities. Forced labor and exploitation are also widespread. While all of these social problems are illegal and authorities have made some degree of improvement in recent years, you may be surprised at how many people still turn a blind eye to this misery.
You cannot do much more than report it when you see it and perhaps consider donating to one of the many charitable endeavors in place to try and assist victims.
You should take care to be a responsible visitor to Thailand as this is one of those countries where doing so can have actually very tangible benefits. Even paradise isn't perfect but that you'll be able to avoid contributing to any of the more intrinsic problems providing you are careful where you spend and how you fill up your time.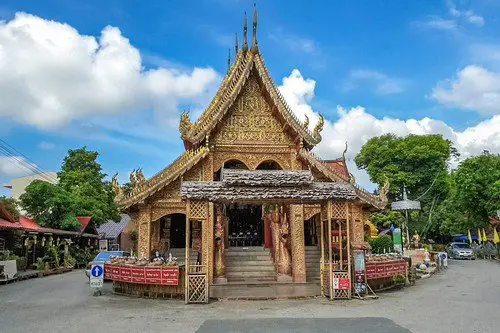 Budget Thailand Travel Guide – What Food Should I Try In Thailand?
Moving on to happier topics, let's take a quick moment to discuss the amazing assortment of foods you'll enjoy throughout your time in Thailand. Thai food is famous throughout the world and very rightly so! From amazing coconut-based curries through to luscious soups and complex salads, you'll be able to dine extremely well here on even the tightest of budgets. Here are some of the favorites from the team at the Thailand Travel Guide.
Pad Thai is a very popular dish that uses thick noodles as a base for assorted vegetables, seafood/chicken, sesame and peanut sauces, and everything in-between. It usually also features eggs and dried shrimps – although truth be told you'll have this dish plenty of time in Thailand and rarely have the same combination! Tom Yum and Tom Kha soups are both delicious and often surprisingly hot.
You may want to consider the latter which is coconut-based instead! Thai cuisine is based on balancing heat alongside sweetness and sharpness and that is something which is incredibly difficult to get right! You'll be simply amazed at the quality of the street food – even the most basic dishes such as Som Tam salad Yum Talay salads are usually nothing short of breathtaking.
Travelers with food intolerances and restricted diets should be OK in Thailand providing they take some precautions. Meat is not used in a huge number of dishes, although peanut and fish sauces are quite frequently used in otherwise 'vegetarian' options.
Budget Thailand Travel Guide – What Should I Pack for A Trip to Thailand?
As mentioned previously you should consider packing a basic first aid kit alongside your general luggage. A money belt is not a bad idea either, especially if you are intending on carrying large amounts of cash on your person. Universal power adaptors are necessary and can be difficult to find outside of the major cities. You should also consider a lightweight waterproof and a similarly water-resistant daypack depending on where/when you are visiting.
Appropriate footwear is essential if you are heading anywhere away from urban/resort areas, and headwear is also a good idea to provide shade and some distraction for the mosquitos.
If you do forget to pack anything beforehand you'll likely have no problem finding temporary replacements in Thailand. In the experience of the Thailand Travel Guide clothing and bags are very cheap throughout the country.
Budget Thailand Travel Guide – What Clothes Should You Wear In Thailand?
Even though the country can be staggeringly hot you should aim to keep beachwear for the beach, especially if visiting historic and revered destinations. Broadly speaking nobody is likely to pay much attention to what you wear, although you'll be likely better received if you try and look a little less like a tourist in more upmarket places. Lightweight and airy are the essentials when picking your clothes for this country and expect to change three or more times a day. It is really hot most of the time!
What Are Some Interesting & Important Facts About Thailand?
We are approaching the end of this Thailand Travel Guide and hope you have found the information provided interesting and enlightening towards planning your own trip. Thailand is a truly special country to visit – and no matter if you are planning to stay for just a week or two or several months, it is somewhere that you'll certainly always remember. In many ways, this is a perfect destination – and it really does excel in so many diverse ways that you'll never be feeling shortchanged or wishing you'd headed elsewhere.
While there are problems within the country itself, responsibly minded visitors can play some part in helping to reduce those issues.
We'll conclude the Thailand Travel Guide with a few little facts about this country that ought to help whet anyone's appetite (perhaps quite literally!).
▸ Thailand is not a small country – it has about 67m people – around as many as the UK.
▸ The 'land of smiles' is the 13th friendliest country on the planet! (Iceland won).
▸ Vegetarians worried about eating right should visit the Phuket Vegetarian Festival – one of the largest in the world.
▸ Muay Thai boxing is often called "the art of eight limbs" as it uses fists, elbows, knees, and feet.
▸ Republicans beware – it is illegal to criticize the monarchy in any way!
▸ Thailand has 1,430 islands. Remember that if you find yourself complaining about crowded beaches.
▸ There are over 35,000 temples to visit in Thailand.
▸ Thailand currently has about 5,000 elephants. One hundred years ago the estimated population amounted to 100,000.
▸ Bangkok is regarded as the world's hottest city.
▸ Keep your eyes peeled for the reticulated python if exploring the Thai jungles – they can reach over 33 feet long.
We hope you enjoyed reading the Budget Thailand Travel Guide – and good travels! Contact us with any questions you may have about travel to Thailand.
---
Now that you have read about Thailand, what's next? Let's learn more about a China trip. Check out The Ultimate China Travel Guide
---