The Budget Cambodia Travel Guide includes 8 Important Travel Planning Tips that will allow you to see and do more on your budget. Learn how you can benefit.
Welcome to the Budget Cambodia Travel Guide! Cambodia has a well-earned reputation for being a fantastic backpacker destination. Packed with amazing sights, things to do, welcoming people, and super-low prices across the board, this is the kind of country where you can easily spend weeks on end. In recent years Cambodia has started to appeal to a wider spectrum of visitors – you'll find more high-end accommodation and experiences much more easily compared to just a few years ago – but still retains those core principles that make it such an amazing country to visit.
What's more, Cambodia genuinely does reward those who venture a little away from the established tourist trails – it is perfect if you have the time and inclination to follow your own senses a little more than usual. The Budget Cambodia Travel Guide will discuss everything you need to consider before starting to plan your own adventure to this gem of a country!
Budget Cambodia Travel Guide – What Are the Best Places to Visit in Cambodia?
The vast majority of visitors to Cambodia pretty much make a beeline straight for Angkor Wat and Siem Reap. There's absolutely nothing wrong with that – the world's largest religious site is breathtaking and takes a good few days to properly explore – but we would recommend making sure you don't miss out on the chance to visit other sights along the way. Cambodia is best enjoyed unhurried – and we would recommend getting to know the rest of the country a little before steaming for the A-list attractions.
Angkor Wat quite understandably adorns countless travel guide covers and is nothing short of incredible. Dating from the 12th century, the site is larger than most people anticipate and we would highly recommend taking one of the many walking tours around the complex (some last a full day). Breathtaking as the architecture and decoration most certainly are, learning the history and stories behind the site are just as interesting and the services of a good tour guide make those really come to life.
Bayon and Ta Prohm Temples are among the best known but do take the time to explore the lesser-visited options too. Often they're just as impressive – they're also just a little further off the typical route most visitors take.
Siem Reap encompasses the whole area around Angkor Wat, and exploring these staggeringly amazing relics takes days or possibly even weeks on end. Providing you have the time we at the Budget Cambodia Travel Guide would recommend trying to spend at least one week around this area alone.
Make sure you read up a little on the cultural significance of this region and research your tours quite carefully. There is a considerable 'tour economy' here and some are far better in terms of quality and price than others – so shop around and pick out any specialists that appeal especially towards your own interests (sketching tours are especially fun!).
After (or before) the above you should take the opportunity to enjoy some Cambodian beach life during your stay. Sihanoukville is probably the best-known district with a real assortment of beaches and islands to explore. If you want to party – this is the place to go – and on the flip side if you want a desert island beach all to yourself, you'll find one around here without too much bother. Take the opportunity to do some diving, snorkeling, kayaking, and of course epic coastal hikes when you decide its time to spend some energy.
Koh Ta Kiev island is a good alternative – or addition – to your beach time itinerary. It is a little more developed in places but there are some utterly incredible stretches of unspoiled sands that are a little easier to get to. Coral Beach is our personal favorite but you really cannot go far wrong!
Krong Kampot is a great little town to visit along the southern coast and especially popular (and welcoming) to backpackers from across the world. You can hire a kayak for just a few dollars and lazily paddle your way along the coastline, stopping pretty much wherever the fancy takes you. Spend some time checking out the iconic colonial architecture before taking the trip west to the sensationally gorgeous Preah Monivong Bokor National Park.
If you came to Cambodia looking for waterfalls, rich forests, monkeys, and the occasional big cat then this is the place to go! Just like many other places in the country you can easily spend many days exploring here and never get bored of things to see and do.
Cambodia is packed with other incredible national parks and temple sites – and listing them all would in some ways be counterproductive and confusing! We'd highly recommend a visit to Bokor NP for atmospheric hiking, spending some time on phenomenal Phnom Penh (say that backward!) to check out the national museums, colorful markets, and some lively street entertainment, heading out to explore the Prasat Preah temples up in the mountains, and spending a few days in super-chilled Kep and Kampot.
Try and visit a river village along the way, just be aware that these have become rather expensive in recent years. We'd suggest avoiding ever-popular Chong Khneas in favor of the smaller, quieter, and less tourist-trappy examples you'll encounter further along your travels.
It can be strange trying to comprehend how super-friendly and welcoming Cambodia witnesses the infamous Killing Fields less than 50 years ago – and we would recommend taking time out to visit these when you can. The fields are only a few miles out from Phnom Penh and make for a memorable, and undoubtedly chilling experience.
Budget Cambodia Travel Guide – What Are the Best Things to Do in Cambodia?
You'd be correct in assuming that Cambodia rewards more energetic visitors! While you can absolutely spend as much time on those amazing beaches and islands as you like, there is such a rich vein of culture and history here that you really need to engage with it to make the most of your visit. A good pair of hiking boots is a must here – and you should expect to spend long days on your feet – but those walking trails, ancient sites, and sensational cities are well worth exploring as proactively as possible.
We would recommend trying to aim for 'active' and 'relaxing' spells throughout your Cambodian adventure as you will need some days getting your energy back – and taking the occasional break from culture-overload never does any harm either.
The Cambodian travel industry is an interesting beast. Despite being relatively informal and practically always extremely laid back there is a genuine pride among most tour operators in delivering world-class experiences way beyond what you'd expect from just a few dollars. Do not underestimate how fascinating and engaging tours of those Killing Fields, temples, water villages, and so on can be.
Most hostels will recommend the best local services and they'll be experts not just in telling the story but also making sure to keep it entertaining throughout. By no means is it an exaggeration to say that Cambodian guides put most of the rest of the world to shame – the best are that good – so look to take these as frequently as possible.
Cambodia is utterly gorgeous and still mostly quite undeveloped compared to other countries in SE Asia popular with international visitors. It is not difficult to avoid the more resort-style parts (assuming you want to) and still find some excellent opportunities to learn diving at bargain prices, take in some incredible clear-water snorkeling, kayak between tranquil island bays, and so on.
We would certainly suggest taking in some island-hopping during your visit and look into the different ways of doing this. Broadly speaking, we'd suggest either making your own way by using the ferry network or taking a small tour that usually allows a good degree of freedom when picking where you wish to explore. If you are looking for a 'desert island' experience Cambodia is the place to go.
The urban Cambodian experience is colorful, lively, and for the most part effortlessly enchanting. You'll find that iconic colonial-era architecture still exists in most towns although Kampong Cham is probably the best of the bunch. Try and spend some time here not just for that old-world charm but also because of the amazing Nokor Wat ruins nearby that run their more famous cousins pretty close.
If you want to visit temples/relics and enjoy a much quieter and more serene experience then these could actually be your best choice. Head back to the town to explore the outrageously delicious Cambodian street food – something you could quite happily make an everyday part of your tour throughout the country.
A growing number of visitors are looking to experience something rather more spiritual as part of their stay, and there are plenty of retreats and schools dotted throughout the country that are open to travelers. These can range from one-day visits that provide meditation classes (guided and individual) through to week-long residential retreats. Costs are somewhat higher than most other Cambodian experiences but still an absolute bargain compared to what you'd expect elsewhere (around $40/day through to $300+/week).
These are mere examples of the kinds of ways you could spend some of your time here in Cambodia. There are many, many other attractions and diversions that should appeal to pretty much anyone's tastes and inclinations. All we'll say is that this country is best experienced in as 'emphatic' and open-minded a manner as possible. You really cannot go wrong here and it is the perfect place to just go with the flow and see where those winds take you.
Budget Cambodia Travel Guide – When is The Best Time to Visit Cambodia?
Cambodia's peak season runs between November and March when the weather is reliable, dry, cooler, and not going to negatively affect anyone's plans. The flip side of this is that prices are higher, crowds can become an issue in some places, and popular hotels/hostels book out well in advance. The weather stays drier through to May but the temperature and humidity both rise significantly.
June through to late October is the wet season – but do not necessarily let that put you off from visiting during these months. It usually only rains in short stretches (but we're talking downpours!) and providing you bring a waterproof it doesn't make a great deal of difference for the most part.
Overall, we'd suggest trying to visit in that spell between March and May providing you can handle the heat/humidity. There's nothing wrong with visiting later in the year providing you know what to expect. As many of the major attractions are best enjoyed with fewer people around, try and avoid the peak season if possible especially if you are traveling on a very restricted budget.
Budget Cambodia Travel Guide – Do I Need A Tourist Visa in Cambodia?
Cambodia is open for visitors and very few people will encounter any difficulties entering the country. That being said there are a couple of technicalities worth mentioning.
Only visitors from a handful of countries need to apply for a visa in advance. Those from the USA, Canada, UK/EU, Australia, NZ, and most others simply need to arrive with a passport valid for at least a further six months. All visitors are required to purchase a 30-day tourist visa upon arrival (by air and land) that costs $30. Try and remember to bring a passport-sized photo or you'll face a long queue to have yours taken (and a $2 extra charge!).
Extensions are available and pretty easy to arrange if needed – you'll need a slightly more expensive permit if you plan on working during your stay here. Although you'll only be charged $5/day for overstaying your visa allowance you will also land an unspecified 'ban' from the country for doing so.
If you are arriving by land be careful to watch out for additional 'charges' and 'fines' being levied at border crossings. You shouldn't have to pay anything extra ever – but Cambodian border police are somewhat infamous for trying their luck at every opportunity. It can be worth giving over a couple of dollars just to avoid an irritating wait – but of course, you'll perpetuate the problem in doing so.
Budget Cambodia Travel Guide – What Currency Is Used in Cambodia?
The Cambodian Riel (r) currently exchanges at about R4000 = 1 USD. We'll estimate all prices throughout the Budget Cambodia Travel Guide in USD for your convenience.
Cambodia is not quite as ludicrously cheap as it used to be – but be assured that there is still plenty of fantastic value to enjoy here! Managing your money is reasonably easy but you should be prepared to haggle more than you may expect or desire, especially at markets. Expect to be very slightly overcharged for almost everything – and while that could be irritating in some senses, the fact that you're usually talking penny change is not really something to worry about too much.
Dollars are very widely accepted in Cambodia (expect to receive your change in Riel) although be aware than only mint condition notes are accepted and that counterfeits are a significant problem. We would suggest keeping a good reserve of USD and changing these for local currency when required or just sticking to dollars for the most part anyway.
You'll be able to change dollars for local currency at most hotels/hostels as well as banks. ATMs are common and usually have surprisingly high withdrawal limits although rates/charges can be quite high.
Cards are usually accepted at high-end businesses and hotels but not very often anywhere else. Cash is certainly the king in Cambodia – perhaps that's not very surprising seeing as currency was abolished for a long stretch of the Pol Pot reign.
Despite Cambodia being a very safe place to travel, we would still recommend investing in a money belt or hidden wallet simply because you will need to carry quite substantial sums over long stretches of your stay here. Almost all crime is financially driven so take care not to flaunt your wad anywhere in public.
Budget Cambodia Travel Guide – Do I Tip In Cambodia?
Expect to tip quite frequently during your stay in Cambodia but not necessarily in very high amounts. Prices are low enough to make it perfectly reasonable to leave about 10% on restaurant meals, change on rounds of drinks, cab rides, and a little extra to reward those amazing quality tour guides and porters where necessary.
One word of caution – make sure you hand your tip directly to who you want to receive the money. Tips left on tables almost always go straight in the owner's pocket. Some restaurants automatically apply a 10% service charge so ask if you are unsure where that money is going. Quite a large proportion of places use communal tip jars, so they're usually a safer bet overall.
Budget Cambodia Travel Guide – What Kind Of Budget Do I Need In Cambodia?
Cambodia is one of the best countries in the world for budget-conscious travel. You really do not need to set your limits very high at all to enjoy pretty close to a five-star experience, and if you are willing to make some compromises you could quite realistically get by on as little as $20/day. What you should bear in mind is that some key attractions are expensive – for instance, Anker Wat is about $40/person for a day pass.
That is about the same as what you'd spend for two or three days full of guided tours elsewhere. The Budget Cambodia Travel Guide suggests visitors ringfence about $200 set aside for covering those essential costs and other little expenses such as your 30-day tourist visa. With that in mind, here are three very approximate budget plans that should give a good idea of how far your money can go within Cambodia.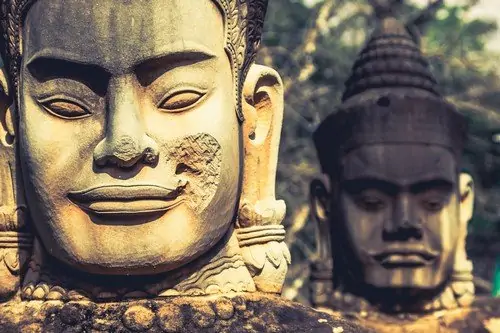 Budget ($30/day)
Let's start with the absolute basics. You can still find hostel dorm beds in Cambodia for as little as $1-5/night. Unless you are on an absolute shoestring budget we'd suggest spending between $5-10 for superior accommodation either in a private hostel room (these book out months in advance) or in smaller shared rooms of 4-6 beds. You could quite easily upgrade entirely to a comfortable-enough basic hotel room with air-conditioning for about $30/night – not bad if you are sharing a double.
Just remember that hostels are useful in Cambodia for the opportunity they provide to meet other travelers and to arrange things like excursions and onward travel. It's up to you, but whatever way you look at it accommodation is an absolute bargain here!
Cambodian street food is usually fantastic and extremely good value. If you make use of breakfast cafes and stalls for your lunch and dinner you should not really need to spend more than $5-10/day on food alone.
Domestic beer rarely costs more than $1. Stick to local buses to get around the country (more on this below) and you'll be amazed that it costs about $3 to travel up to 100km. Spend the money leftover on whatever tours/activities take your fancy or save it up and make your own fun.
Mid-Level ($30-50/day)
The only substantial difference within this budget plan is that it allows you to easily stay in a more comfortable hotel room and stretch out your eating plans to include a couple of restaurant meals every day. Eat, drink, and sleep in comfort to your heart's content and you'll still rarely break through a $30/day allowance. Remember that everything in Cambodia needs to be taken slightly into context. Your improved hotel will not likely have consistent warm running water, cable TV, or a minibar – but it'll still be more than adequate to meet the basics!
The key difference here is that you'll be able to do pretty much whatever you want whenever you fancy. Even private tours of the temples with a dedicated expert guide do not tend to cost more than $25 (and are a fantastic investment by the way). Take cabs or tuk-tuks about town ($3 for a ten-minute ride) if you need to.
High-End ($70+/day)
Crazy as it sounds you can certainly enjoy a five-start stay on a $70/day budget – just remember that everything costs a little extra during those peak season months. Using that bottom-line figure, you'll be able to stay pretty much anywhere you want and that includes international hotels, boutique eco-lodges, private apartments, and everything else you can think of.
If you really go for it, you could spend about $200/night in the best resorts if you fancy been trailed around all day by a private butler – but there are better ways to spend your money in Cambodia. The best restaurants in the country still rarely manage to cost more than $50/person and that is at the ultra-lux level of fine dining (before you see the wine list).
Compared to most other things vehicle hire is actually quite pricy in Cambodia. A modern four-wheel-drive usually costs somewhere around $40-60/day depending on where you hire from. Not many visitors need their own transport, and we'll discuss how best to get around the country later in the Budget Cambodia Travel Guide, but you'll need to be looking at this kind of budget to do so.
Crazy as it may sound, prices have quite noticeably increased in Cambodia in recent years – largely because of higher visitor rates and expansion at the top end of the industry. That being said, nobody can ever complain about the costs of visiting – Cambodia is an absolute bargain no matter how you look at it!
Budget Cambodia Travel Guide – What Languages Are Spoken in Cambodia?
The national language is Khmer and this is spoken by almost everyone. In very small parts of the country, you may also overhear some Chinese or Vietnamese. French is still quite widely spoken and you'll notice quite a significant amount of signage in this language, although English is certainly the second language of choice for most people. Most people who are employed within the tourism sector speak at least some basic English, and visitors will not have any trouble being understood when it matters.
Cambodians are extremely friendly people, and they always appreciate their guests making some very basic effort to speak the local language. Learning some basic phrases is well worth the effort (even if you become tongue twisted in the process!).
Budget Cambodia Travel Guide – What Religions Are Practiced in Cambodia?
Despite religion being utterly banned during the Khmer Rouge reign, a high proportion of people still followed the principles of Theravada Buddhism and this was eventually restored as the national religion back in 1993. Modern Cambodia protects freedom of religion within the national constitution, although besides very small pockets of Islam, Hinduism, and Christianity you won't find many alternatives actually being practiced.
Visitors will spend a good proportion of their time visiting important cultural sites – and should remember that many of these still maintain some religious significance. Buddhists may be famously laid-back but you should still try and dress/act respectfully around such places.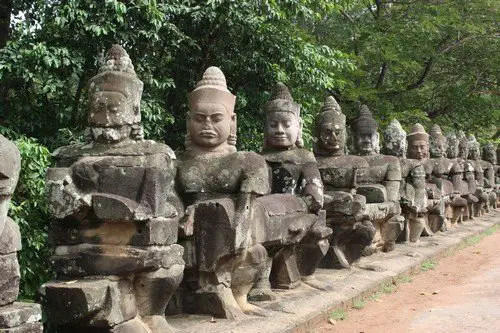 Budget Cambodia Travel Guide – Practical Tips From The Cambodia Travel Guide
The best way to approach Cambodia is to embrace as many of the national traits as possible. Some of these can be quite hard work – for instance having to always haggle over prices – but once you get the hang of it you'll have a far more enjoyable stay here. Think of that haggling as a kind of game and you'll be along the right track. You'll never – ever – pay the same price as the locals but nobody is really all that interested in fleecing you unnecessarily.
Try not to lose your temper and don't lose sight of the fact that what you are haggling over is usually very small amounts of money indeed. Play along with a smile on your face and usually, you'll get fair value for your money.
Take some time and choose your tours wisely. Supply almost always outstrips demand so don't be tempted to book in advance unless you are confident a trip is going to book out. Last-minute prices for tours/activities (especially those not involving equipment hire or transport) are always way cheaper.
Where possible try and join up with larger groups so you have a better negotiating position when it comes to haggling your price. There's not much worse than having to spend a day with strangers who paid a third of what you agreed to!
From a western perspective, drinks are incredibly cheap here – but try not to lose sight of the fact that everything is relative. A big night out can quite easily cost the same as a full day sightseeing including meals and transportation. Try and figure out ways to cut down on your reliance on plastic bottled water. A water filter is handy, as is a reusable bottle.
In cultural terms, you'll find that Cambodian people are extremely open. That being said, you ought to still take some care when broaching sensitive topics such as the Khmer years and colonial rule. Many people lost close relatives during those times, and it is not the sort of thing usually discussed immediately with strangers.
A visit to the killing fields should be an essential part of anyone's trip, just try and keep it in a fair context. Modern Cambodia is very frank about those terrible times but not everyone appreciates being reminded about them.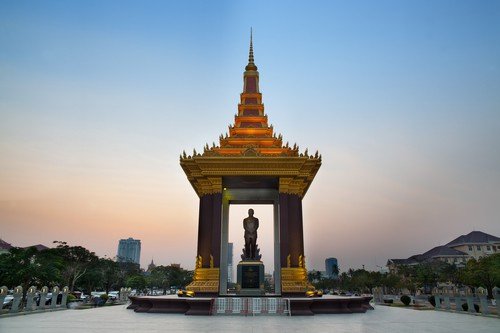 Budget Cambodia Travel Guide – What About Health and Safety in Cambodia, Is It Safe?
Cambodia has a well-earned reputation for being one of the safest countries to visit in SE Asia. Most stays are trouble-free although there is always an underlying risk of petty crime such as pickpocketing, bag theft, and occasional scams (counterfeit money is a big one). Violent crime is comparatively rare to other countries in the region.
We would advise visitors to check with their government's travel bureau for specific advice regarding the areas where they intend to spend most of their time. Some areas with seamier reputations are best avoided late at night although these are relatively few and far between. As with all countries in the area, there are strict laws regarding drug use/possession that are haphazardly applied.
As you may expect from a pretty poor country Cambodian health care does leave something to be desired. Coverage is patchy at best outside of the major cities, and if you need treatment you should make your way to Phnom Penh or Siem Reap as quickly as possible. Only these cities have anything close to western-quality hospitals and you will need comprehensive medical insurance to cover the cost of treatment.
The Budget Cambodia Travel Guide strongly recommends that visitors read up quite extensively about the environmental risks involved with visiting the country. You will need a comprehensive checklist of vaccinations (remember these take up to 8 weeks to become effective) and it is handy to understand the warning signs of heatstroke, dehydration, infection, and so on.
Bugs are a nuisance (as you would expect) so take high-grade repellant and a medical kit containing everything you need to treat and clean bites. Should you get sick then we would advise visiting a private doctor (about $20) instead of a crowded and usually understaffed clinic.
If you lose your prescription while visiting Cambodia the good news is that most pharmacies are well supplied and can dispense most medications without a script including antimalarials and antibiotics. Save your essential documents securely to the Cloud so you know what to ask for.
---
Now that you are reading the Cambodia Travel Guide, what's next? Let's learn more about other trips in Myanmar and the surrounding areas.
Angkor Wat In Cambodia: 8 Best Must-See Temples
Battambang, Cambodia Places to Visit
The Laos Travel Guide
The Thailand Travel Guide
Khmer Food in Phnom Penh, Cambodia
---
Budget Cambodia Travel Guide –  What is the Best Transportation in Cambodia?
Getting around Cambodia is far easier than most people anticipate. The bus network – comprising everything from modern luxury coaches through to minibusses and flatbed trucks – will take you anywhere you want to go. Fares rarely cost more than a couple of dollars for local routes through to about $20-30 for longer distances between popular destinations.
Timetables are more of a theoretical construct than anything official – services run around the clock along key routes and there's almost always something about to depart 'in five minutes' anywhere you go. Providing you aren't especially fussy or in much of a rush, you cannot beat the Cambodian bus network.
You could consider taking the boat between Phnom Penh and Siem Reap. It takes longer and costs about the same, but the route is amazingly scenic especially out towards Battambang. We'd recommend this for at least one leg of your trip if possible, just try and make sure to book a ticket in advance – more to check the departure time than to confirm a place on board.
The only train in Cambodia runs between Poipet to Phnom Penh every two days and also stops in Battambang. Consider this if you'd like to stretch your legs more than you would on the average bus.
As discussed earlier in the Budget Cambodia Travel Guide you could hire a car here but it is not really worth the hassle or comparative expense. Cabs are a good option if you are traveling as a group and want to split the cost for longer journeys.
All-in they cost about the same as bus tickets would. Tuk-tuks – unmetered cabs you share with strangers – always involve some degree of haggling and the final price is literally always half of the initial quote. It can be a chore arranging these but will likely be your only option outside of the larger cities.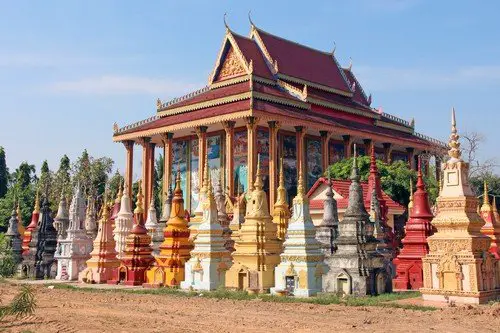 Budget Cambodia Travel Guide –  What Are the Best Accommodations in Cambodia?
Cambodian hostels are rarely the most salubrious places but are universally cheap and an excellent way of meeting other people to share tips, split transport costs, and bunch together for better value trips excursions. The hostel network is really well established (all the locals will point you in the right direction) and pretty much the backbone of large parts of the tourist economy.
Remember from the very beginning that you can usually haggle some kind of discount if you choose to stay somewhere longer than normal. Most hostels keep at least a small proportion of their places open for walk-ins but this is not always the case at popular options especially during peak season. If you want a private room book it as far in advance as possible.
Truth be told there's not always a huge difference between a hostel private room and a basic hotel. The latter is almost certain to include airconditioning and that's about it! Location does matter a little bit in Cambodia as you do not want to end up miles from the action and need to rely too much on cabs/tuk-tuks to cover short distances.
We'd recommend placing location towards the top of your criteria when choosing somewhere suitable to stay. Most people do not spend very much time hanging around their accommodation here – there are so many better ways to spend your time!
Airbnb does have some listings in Cambodia and it is worth taking a look through these to see what matches your needs. Apartment hire can be really sensible, especially if you are a larger group and/or want a greater degree of privacy. Resort prices are quite high (relatively) during peak season but often have substantial discounts during the quieter months. Sometimes these can be amazing value and barely much more than a standard hotel. As with much else to do with Cambodia, its best never to rule anything out!
Budget Cambodia Travel Guide –  How Can I Practice Responsible Tourism in Cambodia?
Cambodia is a fantastic country to visit but you'll notice throughout your stay that this is far from a wealthy country. Where you choose to spend your money genuinely does make a difference here, so our first word of advice would be to shop and use local services wherever possible. Try and engage with local customs, check out local crafts for your souvenirs, buy and wear some local clothes, and fit in as much as possible. One of the best ways to do this from the very start is to skip the international burger chains and eat shoulder to shoulder with the locals.
People tend to eat out at least once a day here so there's never any shortage of choice. As a rule of thumb, the busiest and liveliest stalls will sell the freshest foods – good for your stomach as well as your traveling budget.
There is no doubt that some of the key attractions in Cambodia are on the verge of being overrun with visitors. We would recommend truly responsible visitors to try and spend no more than three or four days around Siem Reap. Instead, try to take in some of the less famous and more distant alternatives during your stay and branch out a little further from the most established tourist trails. No visit to Cambodia is ever really very formulaic but you'll miss out on so much if you just choose instead to take your place in line around the busiest places.
If you plan on staying a little longer than usual in Cambodia then check out some of the eco-tourism initiatives that are springing up around the country. Not only will you be able to proactively participate in projects that employ and support the local economies, but you'll meet local people and make friends along the way. There are plenty of these to choose between so at least try and pay a visit to some along your travels. Highlight the good work they do on across your social media accounts.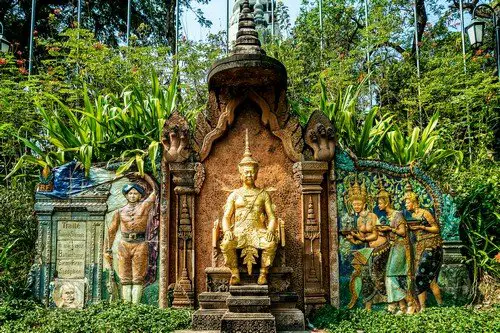 Budget Cambodia Travel Guide – What Food Should I Try In Cambodia?
Don't assume that Cambodian food is all that similar to Thai or other Asian countries. Dishes are usually a degree milder than usual for the region, and most restaurants will provide a variety of spicy seasonings if you want to warm things up a little. Quite a number of classic Cambodian dishes are made up of three or four smaller components served with a mountain of boiled rice. You'll notice that format from breakfast through to midnight snack so get used to it!
Banana Blossom Salad is a perfect introduction to the kinds of balmy flavors you'll discover here. The blossom is flash-fried and served alongside lemongrass, shallots, garlic, and plenty of fresh lemon juice. If that sounds a little mainstream then keep your eyes peeled for Red Tree Ants with Beef.
This is literally an aromatic beef stir fry topped with lots of crunchy ants on top. It is tastier than you may expect! Khmer Curries are available in different styles although they are far milder and somewhat more elegant than Thai alternatives.
There are many more examples we could mention but if you think along the lines of salads, curries, satays, and – erm – insects you're comfortably on the right idea!
If you have a restricted diet you will have no shortage of options in Cambodia, just be aware that communicating these accurately may be an issue in some places. Most food vendors around tourist areas will speak English and have some experience catering to those with allergies or restrictions, although that may not be the case in more remote places. Consider asking your hotel/hostel staff to write these down in Khamer for you to avoid any confusion.
Budget Cambodia Travel Guide – What Should I Pack for A Trip to Cambodia?
You should pack a sensible combination of clothing that matches the requirements for the time of year you are visiting. A lightweight waterproof – it doesn't need to be fancy – is a sensible addition. You will need good walking boots that are well worn in before you travel (you do not want oozing blisters in a tropical environment), a daypack for those long hours out exploring, and a hat is a handy way of adding a little extra protection from the sun and insects.
A torch, power bank, extra bug repellent, compact first aid kit, and a money belt are all handy but not necessarily totally essential. You will be able to buy most of these in Cambodia if you decide you need them anyway.
Budget Cambodia Travel Guide – What Clothes Should You Wear In Cambodia?
You do not need to worry too much about what you are wearing in Cambodia, just be aware that sometimes it can pay to dress a little smarter than you may expect. Backpackers are crucial to the travel industry but you'll find that the locals are often a little warmer to those who dress a degree smarter in some contexts.
For instance, taking the effort to dress a bit classier during nights out on the town, or more respectfully when visiting monasteries and temples is never a bad idea. We'd suggest trying to keep at least most of your beachwear to the beach, especially if you are staying in larger cities.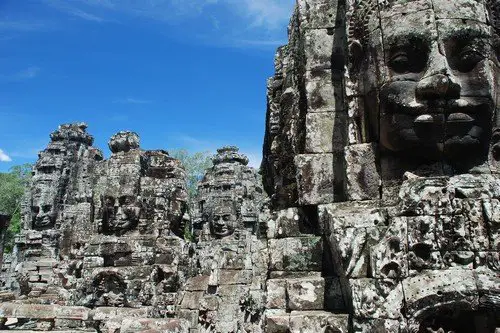 Budget Cambodia Travel Guide – What Are Some Interesting & Important Facts about Eastern Cambodia?
We'll wrap up the Budget Cambodia Travel Guide with a hand-picked selection of interesting and informative facts about this amazing country. Cambodia is a tremendous place to visit regardless of whether you have already traipsed around SE Asia or if this is going to be your first time. It is noticeably more chilled out and relaxed than most other countries in the region, and that can be weird to get your head around at first given the country's traumatic recent history.
What we will say for certain is that Cambodia is one of the most hospitable and welcoming places on the planet. It doesn't matter if you're a penniless backpacker here – you'll be made welcome from the very moment you arrive. Here are those facts we promised:
▸Officially there are half a million landmines still laying in the country. Independent experts reckon the real figure is 4-6m.
▸Nobody is quite sure how many people the Khmer Rouge killed. Two million is a conservative estimate.
▸Angkor Wat covers over 1,626,000 square meters and is the largest religious site on the planet by area alone.
▸There is a dinosaur carved into the wall at Ta Prohm (as featured in 'Tomb Raider'). Or is it a rhino? Or a buffalo?
▸Cambodia attracts 5m visitors every year and that figure is predicted to continue increasing.
▸Unfortunately, it is also losing natural forest at an alarming rate – nearly 20% since 2000 – mostly due to illegal logging.
▸Nearly 2.5m people live on less than $1.20/day – so remember that when haggling over your tuk-tuk ride.
▸There are over 212 species of mammal in the Cambodian jungles including 18 considered as seriously endangered.
▸There are almost as many mopeds as there are people in Cambodia.
▸McDonald's never bothered to open in Cambodia because they knew they could not compete with the local street food.