The Budget Malaysia Travel Guide includes 8 Important Travel Planning Tips that will allow you to see and do more on your budget. Learn how you can benefit.
Welcome to the Budget Malaysia Travel Guide! Malaysia attracts a couple of million visitors every year but only a small proportion of these are from outside the region. Whisper it softly but people are starting to realize quite how amazing this country is – and if you are looking for somewhere fascinating, varied, and relatively kind on the budget you are certainly in the right place. Most visitors split their visit between the more developed peninsular and the Malaysian part of Borneo island, both of which are packed with quite amazing attractions.
If you are on a regional tour it can be tempting to steam through Malaysia on your way to Thailand or Singapore – and if you do so you'll be missing something really quite special read the complete budget Malaysia travel guide first. But – if you allocate some time here you're sure to realize why so many travelers fall utterly head over heels with this welcoming, colorful, and endlessly interesting country! Borneo alone is well worth a week, so without further ado let's get started with The budget Malaysia travel guide.
Budget Malaysia Travel Guide – What Are the Best Places to Visit in Malaysia?
The budget Malaysia travel guide will help you find all of the places you don't want to miss while keeping you on a budget you can afford. Most international visitors will arrive at Kuala Lumpur so we'll begin our tour here in the historic capital. KL is big, modern, and for the large part rather snazzy without being quite as flashy (or anywhere like as expensive) as Singapore. Take a trip up the iconic Petronas Towers for a genuinely breathtaking view over the city and beyond, pay a visit to the ever-buzzing Bukit Bintang markets and indoor theme park for an action-packed evening, and take the bus out to the famous
Batu Caves for a first taste of the spiritual aspects of the country. Spend a little extra time checking out the various museums sited within and around the Petronas Towers – they're worth it – and check out the National Museum for some excellent botanical and anthropological displays. If you have already toured over countries in the region Kuala Lumpar is a real breath of fresh air. It's busy but orderly, air conditioning is everywhere (and works!), and it is extremely safe and easy-going at the same time.
But you didn't come to SE Asia to spend all your time in the big cities! Most of the best 'must-see' attractions in Malaysia are either on the outskirts or somewhat beyond the capital city's boundaries. The National Parks are expertly managed and actually do offer their own unique appeals. We would highly recommend checking out as many as possible because you will rarely find them so accessible, diverse, and spectacular as this anywhere else on the planet.
Gunung Gading National Park is famous for its unique Rafflesia (you'll need to time your visit right – it only lives for a week or so) but also set in a majestic landscape with mountains, waterfalls, and a forest teeming with wildlife. The Cameron Highlands offers a great alternative with rolling hills and terraces that are more suited to hiking and those with an eye for photography.
Don't underestimate the quality of those trails – they'll take you through a totally varied landscape – and there will also be opportunities to mix with indigenous cultures along the way.
Malaysia's superbly managed natural wildlife is certainly one of its biggest draws and you'll again be utterly spoiled for choice. Bako National Park is a popular choice despite being one of the smaller national parks. Here you will see the famous proboscis monkey along some glorious nature trails that showcase the very best that the country has to offer. The waterfalls here are utterly incredible!
The Semenggoh Nature Reserve is probably the most famous in the country because of its thriving population of rescued orangutans. Arrive early to see the orangutans take their breakfast and lunch (they like to doze in the afternoons) then spend the rest of your day checking out the amazing local birdlife and – of course – some more wonderful views and trails. Sepilok Orang Utan Rehabilitation Center is another great spot for monkey-lovers and once again, try and arrive early to catch them at their liveliest and dodge the larger crowds.
Our personal favorite at the Budget Malaysia Travel Guide would be the Taman Negara national park. This is more of an action-packed park experience with rope bridges, craggy (yet accessible) climbs and a somewhat 'rawer' style of nature exploration. Make use of the world's longest selection of overhead walkways to try and spot literally dozens of rare and endangered species.
You'll need the services of a good guide and ideally also set off first thing in the morning to increase your chances of seeing the rhinos, leopards, Asian elephants, snakes, tapir and more than lurk below. You may actually have a better chance of spotting rarer wildlife by taking on the hike to the top of Mount Kinabalu. It is pretty challenging but easy-enough providing you are in reasonable shape – keep a lookout for the hundreds of species (in greater numbers) that call the highest Malaysian mountain home.
You are spoilt for choice when it comes to tropical islands and magnificent beaches in Malaysia. The Perhentian Islands are very popular with backpackers and really rather gorgeous indeed – head out here if you want some budget-friendly beach life and excellent diving that won't decimate your bank balance. Langkawi is more popular with locals and has plenty of resort-style destinations along the scenic coast that are great for lapping up the luxury a while.
Tioman island is incredibly popular and usually packed with visitors. If you visit during the low season you could have it almost entirely to yourself and it is worth the chance if it presents itself. Should diving be at the top of your agenda you'll find the waters around Sipadan among the best in the world and utterly packed with sea life, awesome color, and plenty of lovely beaches to compare your experiences.
This small selection should give you a good idea of what kind of attractions to expect in Malaysia. The country is all about its natural wonders – and they lean heavily on wildlife and long, luscious, beaches. While there are plenty of other places that could make this list we'll leave the rest to you. Malaysia is amazing (and safe) to roam around at your leisure so take your time and see where the breeze takes you.
---
Now that you are reading the Malaysia Travel Guide, what's next? Let's learn more about other trips in Malaysia and surrounding areas.
Perhentian Islands in Malaysia for Snorkeling
Georgetown Malaysia Budget City Guide
Taman Negara Rainforest Outdoor Adventure
The Laos Travel Guide
The Thailand Travel Guide
---
Budget Malaysia Travel Guide – What Are the Best Things to Do in Malaysia?
Traveling between the peninsular, Borneo, Penang, and other famous locations throughout Malaysia is certainly one of the joys of visiting this country. It is extremely easy to split your time between a few days on the coast/beach, a couple of days exploring islands, perhaps another couple in the city to recuperate, and then a few more days out exploring the interior and that amazing variety of natural life. This section of the budget Malaysia travel guide will concentrate on what we believe a budget traveler will most want to see and do.
Malaysia may not be the largest country in the region but the attractions it does offer are seriously high-grade and tend to require a little more time to explore properly than you may anticipate. How you choose to split your time is entirely your own call but here are a handful of things to do that we'd recommend everyone tries to fit into their itinerary.
Making the most of the wildlife absolutely deserves a place right at the top of anyone's travel priorities. Malaysia is utterly fabulous for these experiences and while you'll be lucky to spot the rarer species the backdrops and magical scenery more than make up for that. Do visit the sanctuaries as you will be supporting their efforts to preserve seriously endangered species.
Borneo is probably the best place to spot them in the wild, but remember that you'll likely need a professional guide and they can be quite pricy (around $120/full day hike). Cheaper options are available but involve larger groups which, needless to say, are more likely to scare away the animals! Make the most of those national parks as far as you can. Each offers amazing hiking (those sky trails are really something else) and a perfect backdrop that is also sometimes quite bizarrely accessible.
Malaysia also offers an impressive assortment of attractions that should appeal to more 'adventure-minded' visitors. White water rafting down the Ulu Slim and Kuala Kuba Bharu rivers is sensational and just the tonic after a long morning hiking through the forests!
Tours are pretty reasonably priced but then you will be doing the hard work to travel through the rapids! Climbing Kinabalu is an option and you'll need a guide to literally show you the ropes. Some climbing experience is probably a good idea but it is not going to tax anyone who has taken similar routes before. The views from the top are just as awesome as the effort to get there.
When it comes to diving and snorkeling you are simply spoiled for choice. Buy your own snorkel kit to save money on tours/hire – you'll find perfect spots around pretty much every beach in the country (especially on Borneo!). Diving is seriously good value in Malaysia with a three-tank dive plus instructor costing around $80-100 depending on where you are. You'll also need introduction classes if you are a complete novice and again these are reasonably priced compared to most other places.
If you are looking to learn how to dive there are few better places in the world for both price and water quality. Sipadan Island is probably the best place to learn (with the most number of competing companies) and you'll have the chance to try more specialist dives with shark cages and so forth if you wish.
It is easy to be blown away by the natural splendors of Malaysia but try and also spend some time appreciating the cultural and historic sites as well. On Borneo, you will have the opportunity to visit Sarawak villages that demonstrate their traditional practices and there are plenty of locations still steeped in colonial-era history. Malacca (UNESCO designated since 2008) is probably the best place to comprehend the fusion of cultural influences that you'll discover in this fascinating country with a good assortment of leading heritage museums to choose between.
Budget Malaysia Travel Guide – When is The Best Time to Visit Malaysia?
Malaysia is a little different from other countries in the region as the peak season is determined more by local traffic than international visitors. Traditionally, December and January are the busiest times along the popular destinations as the country's Muslim population takes time out for the end of Ramadan and flocks to the coast. International visitors tend to arrive more between June and September (coinciding with school vacations) although those are somewhat less disruptive as businesses will at least remain open!
To confuse matters further, the monsoon season (November – February) along the east coast is reliably wet, while the rainy season uniformly affects the west coast between September and October.
Our advice is to aim to visit sometime between March and September to dodge those downpours as they can last for days on end. If you can time it before June then all the better – you'll have reliably gorgeous weather and far lower crowds around most of the key attractions. Prices may be a little cheaper for organized excursions and activities but don't expect these to vary too much from the norm.
Budget Malaysia Travel Guide – Do I Need A Tourist Visa in Malaysia?
Most people should not have any problems entering Malaysia. Visitors are provided either a 30 or 60-day tourist visa upon arrival that is relatively simple to extend by either visiting an immigration office or simply leaving and reentering the country. Typically, if you arrive by land you will be issued a 30-day allowance whereby airports automatically allocate a 60-day stay.
Check with your own government for any specific exemptions but to the best of our knowledge, only Israeli citizens may have problems. You'll need to carry your passport with you to visit Sabah and Sarawak.
Overall, it is really easy to enter and stay in Malaysia without any problems. One word of caution – the Malaysian border police are hardline and will likely search 'backpackers' quite thoroughly for drugs/contraband when passing through a land border. The penalties are stiff so unless you fancy a spell in a Malaysian prison its best to check your bags beforehand to make sure nobody has stashed anything in your luggage. It's rare but it does happen.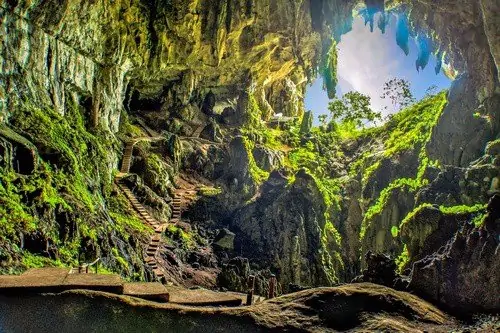 Budget Malaysia Travel Guide – What Currency Is Used in Malaysia?
The Malaysian ringgit (RM) currently exchanges at just over RM4 = 1USD. We'll estimate local costs and expenses in USD throughout the Budget Malaysia Travel Guide as this currency is widely offered at much better exchange rates here than any others.
It is really easy to handle your money in Malaysia and you'll rarely run into any issues. ATMs are commonplace and you should expect to pay cash for most daily expenses. Rates vary between banks and sometimes you'll find money changers offering better deals around key tourist locations, although that is by no means universally the case.
Cards are increasingly accepted throughout the country although you can only rely on them in Kuala Lumpur and other major towns. Use those to pay larger expenses such as accommodation and internal travel, and stick to cash for everything else.
Malaysia is pretty safe (we'll discuss this later in the Budget Malaysia Travel Guide) although a money belt/hidden wallet is a reasonable precaution if you anticipate carrying large sums around the country. Bargaining is possible but only if you are very polite, and you'll do well to negotiate more than a 10% discount on souvenirs, tours, or rooms for the night.
Budget Malaysia Travel Guide – Do I Tip In Malaysia?
Malaysia does not have much in the way of a tipping culture although a modest reward for exceptional service is usually appreciated. Many restaurants – especially those geared towards visitors – automatically apply a 10% service charge anyway. Perhaps consider leaving small change on cab rides and rounds of drinks but it is never considered mandatory.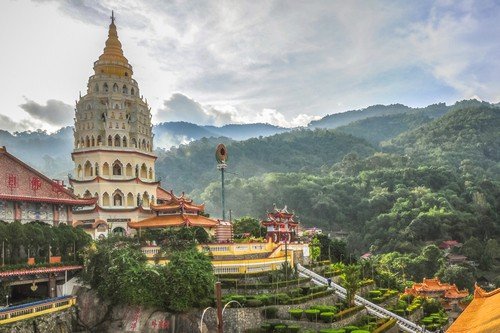 Budget Malaysia Travel Guide – What Kind Of Budget Do I Need In Malaysia?
One of the reasons why Malaysia has become increasingly popular with international visitors in recent years is because you can find some fantastic value here. True – prices are generally a little higher compared to nearby Thailand – but you will generally appreciate the fact that most things here are better quality too. Bear in mind that Kuala Lumpur is significantly pricier than practically everywhere else in the country and that the attractions there charge a premium because of this.
Venture outside of the capital city and you'll often be amazed at how reasonably priced things can be. So while Malaysia can be a little more expensive compared to others in the region – the actual difference is really not very much whatsoever. Here are three very approximate estimates on how far your budget could stretch in this country.
Budget ($35/day)
Hostels and budget hotels are the names of the game within this budget plan and you'll find basic dorm beds for as little as $10/night. Keep an eye out for even cheaper hammock rooms which can be as little as $3-5/night if you want to really reduce that outlay further. There are flashier hostels in the major cities and destinations that can cost twice as much, and private rooms usually cost close to what you'd pay in a typical budget hotel ($25-30/night per double).
Providing you are happy to stick to amazing street food ($3-5) and basic restaurants ($5-8) for your meals then it should be pretty clear how easy it is to visit Malaysia on a very tight budget indeed.
Choosing how you spend the rest of your daily allowance is going to be a big decision. There are many essentially free activities in Malaysia (nature trails, beaches, exploring towns and villages, etc), while others are going to involve an outlay. We'd recommend buying your own snorkel set ($25-30) as a matter of course and look at what other activities appeal the most.
You should be able to stretch to about one basic activity a day – such as hiring a bike or taking the bus to a waterfall ($3-5) – or save up for organized hikes ($15-20) or even splash out on a comprehensive diving expedition (about three days budget!).
Mid-Level ($50-100/day)
We've allowed a pretty substantial gulf in the budget scale here because much is going to depend on whether you upgrade your accommodation or not. Doing so doesn't cost much – expect to pay about $40/night for a good double room – and neither does regular restaurant meals ($10-15) or taking occasional cab rides (approx $5 for a 20-minute ride).
Malaysian resorts can become very expensive during the peak season – it is not unusual for prices to be twice what they were a month or two either side – so we would recommend keeping it simple if you are visiting during that time of the year. You will not likely spend much time around your accommodation so look at spending that money on more extensive tours and dining opportunities.
Look into the more specialist end of the market when planning how to spend your additional funds. There are a number of excellent conservation charities that operate superb tours throughout the national parks. These are expert-led and usually towards the top-end of the market so anticipate paying as much as $50/day and more if transportation is also included/needed.
A good proportion of visitors to Malaysia choose to take a full diving course in the country as it is cheaper and better quality than many other places. If that's your thing, shop around and expect to pay between $150-225 for a three-day course including tanks.
High-End ($100+/day)
There is no shortage of places to spend lavishly in Malaysia and as discussed already the peak season prices can mean rooms costing around $100+/night in the most popular parts of the country. Luxury hotels – and we're talking really high-end – are two or three times that price but at least tend to include some meals and drinks as well!
If you are looking to splash out on something really special we'd suggest looking at some of the eco-lodges that have popped up in the more remote parts of Borneo. These are sensationally gorgeous and command suitably steep prices across the board!
A good proportion of the best restaurants are located in KL and some of these deliver among the best food you'll enjoy anywhere in the world. Getting a table at short notice may be difficult (speak to your hotel concierge about that) and expect to spend at least $100/person before hitting the wine list too hard. When it comes to excursions, the sky is literally the limit. Perhaps take a look at going up in a private balloon ride – yours for around $100/person.
As you can see the majority of visitors here can enjoy a comprehensive Malaysian experience for somewhere around the $60/day figure. While you could do it for far less, that provides plenty of extra money to pretty much take your pick of activities and excursions and upgrades your accommodation from a basic hammock! You could do it for less, or do it for more – the choice is entirely yours.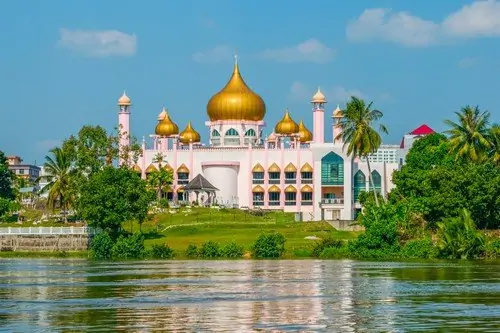 Budget Malaysia Travel Guide – What Languages Are Spoken in Malaysia?
Malaysia is a real melting pot of cultures and there are thought to be as many as 137 different languages spoken across the country. Malay is the national language although English is also an official language used mostly for business and administrative purposes (much like India). You'll find that many people do speak English especially in cities and tourist spots, and almost all signage is also in this language.
The majority of visitors will have no problems whatsoever being understood wherever they head in the country, and that lack of a language barrier certainly helps make this country even more accessible than it already is.
Budget Malaysia Travel Guide – What Religions Are Practiced in Malaysia?
As you may expect from such a diverse and multicultural country there are dozens of religions practiced here. Islam is proportionally the largest (around 60%) with various forms of Buddhism (20%), Christianity (10%) and Hinduism (7%) making up most of the rest. It is worth noting that Islam is the official religion and a good proportion of national holidays reflect this fact.
Something which is pretty remarkable about Malaysia is that most of the time these different religions get along with each other relatively well. There is some occasional conflict between Muslim and Hindu groups but nothing which ought to alarm any visitors. Providing you are respectful of those who do practice their faith (and dress appropriately if you choose to visit religious sites) then religion shouldn't be of any consequence to your travels here.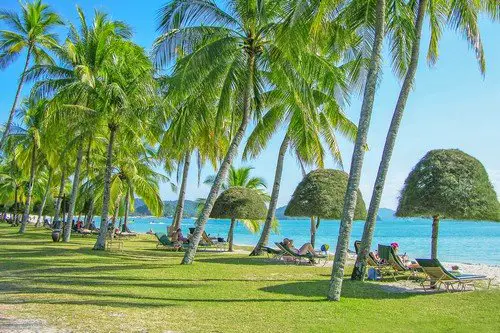 Budget Malaysia Travel Guide – Practical Tips From The Malaysia Travel Guide
Malaysia is a fantastic place to visit and lends itself especially well towards those looking to travel on a budget but without the hassles encountered in some other SE Asian countries. Not only is it staggeringly beautiful and blessed with an assortment of stunning natural life, but it is also friendly, welcoming, and inherently safe. We strongly recommend visitors take advantage of how accessible this country is to travel around in some detail – a trip out to Malaysian Borneo is pretty much essential!
Kuala Lumpur is a cool city and great for culture and history, but the real joy is getting out and exploring further. If you are planning your first big backpacking trip and want to try somewhere 'easy' but still utterly enthralling you cannot get much better. On the other hand, if you've 'been there, done that' this is a fantastic place for a relaxed, rewarding, and ultra low-hassle travel experience.
At this stage of the Budget Malaysia Travel Guide, we'll take a look at some of the practicalities of making the most of your time here. While the country is far easier than most there's still some local tips and pointers that are well worth bearing in mind – especially if you are looking to save some money too.
Budget Malaysia Travel Guide – What About Health and Safety in Malaysia, Is It Safe?
Malaysia is very safe to visit and serious incidents against visitors are exceptionally rare. Petty crime – usually pickpocketing, bag theft, and occasional scams – do occur, but are pretty straightforward to insulate yourself from. You do not necessarily need a money belt but they are probably worth the effort anyway, as chances are you will be carrying a fair bit of cash during your ventures out into more remote parts of the county.
Providing you avoid opportunities to put yourself in danger – avoid drugs at all costs and remember that public intoxication is rather frowned upon here – you should be perfectly able to avoid trouble. Note that homosexuality is illegal in Malaysia so avoid public displays of affection if that is relevant to yourself.
Healthcare standards are among the highest in Asia and this is reflected in the prices. You will need to arrange decent health insurance; make sure it covers adventure sports and remember to read the small print. Most branded western medications should be available from larger pharmacies and you will need a local prescription to have these issued. Straightforward trips to a local doctor cost about $20, and it always helps speed up the process if you have copies of your script at hand (save them securely to The Cloud for easy retrieval).
Remember that large parts of Malaysia are pretty wild and there are some environmental risks to be aware of. Heat exhaustion and dehydration are common – so know the warning signs and act on them as quickly as you can. Malaysia has no shortage of poisonous snakes and somewhat dangerous wildlife, but you'll be exceptionally unlucky to find yourself anywhere near them.
Last but not least – tap water is usually best avoided in Malaysia unless it has been properly filtered. Some hotels/hostels do this while others are much laxer or simply do not bother. If in doubt, stick to bottled options or purchase your own filter kit.
Budget Malaysia Travel Guide – What is the Best Transportation in Malaysia?
Getting around Malaysia is relatively simple and for the most part pretty comfortable. Most visitors opt to use the extensive and reliable bus network to get between the most popular locations. You can book tickets online in advance but should not usually have any problem finding a seat thanks to the sheer number of services available. Local services can be quite ambiguous about where they stop (and who you pay!) so feel free to ask where necessary. For the most part, buses are very reasonably priced and kept in good-enough order although drivers can be prone to speeding sometimes.
The Malaysian railways are a good alternative and both routes (there are only two) have long scenic stretches. While they can take longer than buses and local services stop for longer than most people would consider necessary, they are a lovely way to spend a few hours if you aren't in a great rush. Book your tickets in advance to reserve a seat with a view.
Car hire is a reasonable option in Malaysia as the road quality – at least on the major highways – is far better than the norm for SE Asia. Fuel is cheap although hire prices depend on the company. About $40-65/day is about right and remember that daily prices decrease the longer you rent for. Driving is easier here than most other places in the region but only really necessary if you want to enjoy that little extra additional freedom. Public transport should be fine for most visitors.
Internal flights are a reasonably handy way of saving time in Malaysia and there are often bargains to be found when arranging these online and in advance. Shop around a week or two ahead and you can often find options between 25-50% cheaper than otherwise. Ferries are only really necessary at certain parts of your Malaysian adventure. They're a mixed bag and often quite crowded so plan ahead for this and weigh up your options. Remember that both planes and boats can book out over holiday seasons.
Budget Malaysia Travel Guide – What Are the Best Accommodations in Malaysia?
We have pretty much covered this already in the Budget Malaysia Travel Guide but we'll quickly recap these and provide a couple of additional tips on where to stay.
Hostels are a bargain for the most part and you should try and book the most popular ones well in advance to be sure you have a bed for the night. Not all hostels keep places for walk-ins in Malaysia but do remember that you can call ahead and make a reservation if you do not have access to the internet. Look for hostels that are well located – spending a couple of extra dollars is worth the outlay if you are right next to a bus stop and some stores/bars/cafes, etc.
Hotels come in all shapes and sizes and sometimes double rooms can be nearly as cheap as they would be in a hostel. Once again, we'd suggest researching these quite thoroughly online before booking and factoring in that you will not usually be spending all that much time there during the day. Standards have markedly improved in recent years but remember you can walk out with a refund if you are dissatisfied with your room before you sleep in it.
Airbnb is growing throughout Malaysia and there is a strong private-rentals economy that covers everything from lodges and BnBs through to beach huts and self-catered apartments. Take a good look at these alternatives as they will often be more comfortable than hostels and rarely much more expensive especially if you are traveling as a group.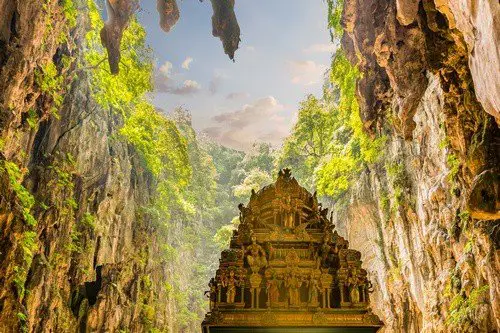 Budget Malaysia Travel Guide – How Can I Practice Responsible Tourism in Malaysia?
Malaysia does have a number of social and environmental issues that responsible travelers should at least be aware of. Income disparity is a major issue and we'd suggest purchasing as much from local sources as possible. Skip the western burger restaurant for a local street food vendor (it'll be a million times better anyway), stay in locally run accommodation if possible (especially outside KL), visit tribal communities and spend as lavishly as you can.
Try and hire independent local guides wherever possible (hostels usually carry many listings) just make sure that they are still licensed if that is necessary for what you have in mind. Only pick diving/snorkel tour companies with those happy to display and provide environmental credentials.
You may be tempted to visit the zoos as at least you are guaranteed to see the wildlife – just pick them very carefully if you do and consider heading out to one of the wild sanctuaries (who do amazing work) instead. Research your options quite thoroughly as some are entirely for profit while others are literally world-class in their level of care.
A trip to the national parks is an essential part of any visit and try to spend more time there than you may think. Visitor numbers are used to correlate development permits and the more people who visit the better. Use your social media to highlight the good – and the bad – you'll witness during your stay here.
Budget Malaysia Travel Guide – What Food Should I Try In Malaysia?
Where to begin! Malaysian food is absolutely incredible, and you'll have a wonderful time exploring these rich extravagances wherever your travels take you. Malaysians take their food incredibly seriously and that goes from the guy selling satay by the bus stop through to the finest restaurants in town. Here are some of the best dishes to try to get you started.
Nasi Dadang/Lamak/Goreng are all signature dishes that focus on a portion of coconut rice served with about a half dozen side dishes ranging from anchovies in sesame oil through to curries, spiced green beans, dried shrimps, pickles, boiled eggs, and usually another lump of curry to round it off! You can eat curry for breakfast here and nobody will bat an eye!
Satay is also everywhere and tends to be fragrantly marinaded meats served on the skewer with a side of rice and/or veggies. Many Malaysians make an occasional pilgrimage up north to Tanjung Tualang for the fresh river prawns. They'll be the best you have ever tasted – so make sure to drop by if you find yourself up there.
All we'll say is that you'll eat wonderfully well in Malaysia and usually for absolute bargain prices. If you have food intolerances you may want to take a degree of extra care as a good proportion of dishes include fish oil and peanut extracts. Vegetarians will have no shortage of options but you should definitely make sure your server knows about allergies when placing your order. Malaysian chefs always aim to please and will rarely feel inconvenienced whatsoever.
Budget Malaysia Travel Guide – What Should I Pack for A Trip to Malaysia?
You don't need to worry too much about remembering to pack anything in particular as you'll find replacements easy enough once you arrive. A high-quality bug repellant is a really good idea – bring extra if you can. Battery packs are useful in hostels where there are rarely enough charging points to go around in crowded dorms.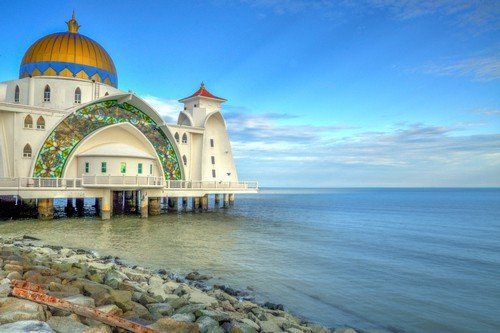 Hats are pretty essential for handy shade and to help with those bugs, and a decent pair of walking boots is essential if you plan on hiking inland (and you should). As discussed earlier a money belt is probably worth the effort just in case. Last but not least – remember to bring a warm jumper. Long-distance bus rides crank up the air conditioning really high and it can become very chilly indeed!
Budget Malaysia Travel Guide – What Clothes Should You Wear In Malaysia?
Malaysia is a really warm and welcoming country but can be surprisingly conservative in some respects. Try and keep your beachwear to the beach and pack at least a couple of smarter garments in your luggage. Urban Malaysia still expects people to be reasonably smart and scruffy backpackers will be looked down on a little.
Expect to be turned away at religious and cultural sites unless you are suitably attired. Besides this, just dress for the climate and try to keep as much skin lightly covered as possible to protect from the heat and bugs.
Budget Malaysia Travel Guide – What Are Some Interesting & Important Facts about Eastern Malaysia?
We'll wrap up the Budget Malaysia Travel guide with a few fun and interesting little facts. Make no mistake this is an incredible country that still doesn't quite attract the massive number of visitors that you'll find in Thailand, Vietnam and so on. Although the country can certainly still get busy there's enough space and variety here to ensure you never have a dull moment or feel overwhelmed or overcrowded.
No matter whether you're a novice traveler or have already visited far more difficult countries, this is one of those places you simply must experience to understand how amazing it happens to be. We'd highly recommend beating the crowds and getting here sooner rather than later!
▸ Many people expect Borneo to be quite small. It is actually the third largest island on the planet and larger than Ireland!
▸ Kinabula is high – 13,435ft (4,095m) – but accessible. All you need is a permit ($10) and the services of an official guide.
▸ The durian fruit is very popular here and you'll find them in most markets. The smell is noticeable up to 700m away.
▸ There are nine official royal families in Malaysia (each state has its own).
▸ The king is elected every five years.
▸ The Sarawak Chamber is the largest known cave in the world and could fit 40 Boeing 747s without their wings touching.
▸ 4 is the equivalent of 13 here – many buildings opt for 3A instead…
▸ The Malays often feature towards the top of 'friendliest people in the world' charts.
▸ Malaysia has a rich colonial history and is today one of the most diverse and multicultural places on the planet.
▸ Perhaps this is why Malaysians have the highest average number of Facebook friends!
We hope you enjoyed reading the Malaysia Travel Guide – and good travels! Contact us with any questions you may have about travel to Malaysia or neighboring countries.