Last updated on September 24th, 2023 at 11:02 pm
Bali things to do if you are making your first trip to the island. If you are getting ready to visit Bali, you must expect to see a whole new world. A world of different colors, sounds, and sights. Although all this is true you need to remember and will be intriguing. This amazing tropical island has a lot of things and rules that simply don't work the usual way. The following are 26 things you need to know about Bali.
Bali Things to Do 1 Through 5
1. Don't drink the tap water on the island, because it will most usually make you sick. That's the last thing you want on your holiday.
2. Respect the local culture. Keep in mind that the Balinese culture is very strong in traditions and taboos. While you take a walk on the streets you will definitely encounter 'canang sari'. These are the small baskets of palm leaves, the daily gifts to God.
3. There is no malaria in Bali, but there are a lot of mosquitoes. So, get prepared. You can wear long-sleeved tops and trousers or you can apply a repellent.
4. Be aware of the warning flags at the beaches. The local beaches are safe for swimmers but remember that sea conditions change fast.
5. Be cautious of wild and stray animals, even though they may look cute. Not one of the good Bali things to do.
Bali Things to Do 6 Through 10
6. Remember the rainy season in Bali is between January to April and October to November. During these months you can find exceptional discounts at the hotels. Not a good time to visit for Bali things to do.
7. Respect the ocean and the big waves. Try not to swim alone when there are strong currents and big waves.
8. Enjoy sunrise in Sanur. It's one of the most incredible things you may ever see in your entire life. Even the locals get up at 5 am and head out to watch it.
9. You can use taxis, which are way too expensive for your pocket. Or you can take a 'Go-Jek', which is cheaper and more fun.
10. When it rains in Bali, it actually pours. Don't forget to take your umbrella with you when visiting the island.
---
---
check out our video
---
---
Bali Things to Do 11 Through 15
11. Bring sun cream, it is about 3 times the price in Bali. This is one of the Bali things to do that can be painful.
12. When you are looking to drink some alcohol, it's better to drink only beer. For example, you can taste the local Bintang or Arak beer. Keep in mind, that taxes in Indonesia on foreign alcohols can be rather costly.
13. Never approach any wild animal on the island.
14. Stay away from drugs. Actually, the penalty for using drugs on the island is death. So, you need to take it deadly seriously.
15. When visiting the sacred temples, wear waist cloth and sash.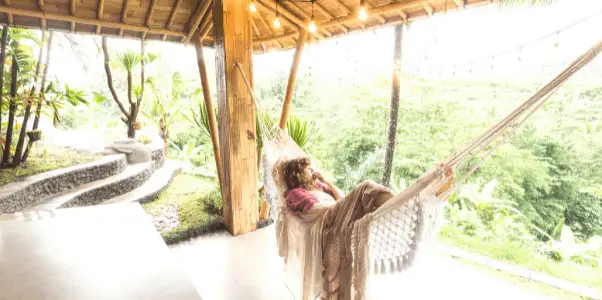 Bali Things to Do 16 Through 20
16. When you visit the monkey forests in Bali, try not to feed the monkeys, even though you may want to. They are not pets, but wild animals. One of the Bali things to do that can get your belongings stolen.
17. If you find yourself in any kind of emergency, dial 110 for the police station and 118 for an ambulance.
18. Visit Ubud to see the Sacred Monkey Forest Sanctuary. You can see hundreds of frisky monkeys. Watch out though they are great little thieves. Ubud is also a great place that you can shop for handmade goods.
19. Go to the Sekumpul Waterfalls, they will take your breath away. Their location is in the middle of a forest, they are incredible.
20. Don't miss a sunset at the Uluwatu Temple on the southern part of Bali. You can have a great view of the endless Indian Ocean.
Bali Things to Do 21 Through 26
21. Hike… into a Volcano. A must-do on the Bali things-to-do list.
22. Rent a scooter, but remember that the locals drive on the opposite side of the road.
23. Visit Tanah Lot temple, which lies 300 meters of the shore.
24. Taste Balinese dishes, like rice and fish.
25. Spend your night at a trendy beach bar in Kuta or go and see a Kecak dance.
26. Take a drive around the whole island.
You might also like some of the articles from our website about boondocking and travel.
5 Best Ways to Visit Techatticup Gold Mine In Nevada
12 Super Reasons To Visit Mount Charleston Nevada
10 Great Reasons to Visit The Valley of Fire Park
9 Great Hiking Trails In Red Rock Canyon
For complete photos and videos of our trip visit our photo on our Facebook Page
You May Want to Join Our Boondocking Group on Facebook For More Information
Discover our unique product testing journey at Our Big Escape. We bring real-world experiences and adventures into every review, ensuring authenticity and reliability. Dive into our process at
How We Test Products: A Journey of Discovery and Trust
, where every product is an adventure tested.