Every year millions of people visit Americas East Coast National Parks, millions of Americans jet off to faraway lands to take in the fantastic sights that this planet has to offer. Everyone has to choose which is right for you and for us  the U.S. is the place to be.
You know that sometimes you don't have to go much farther than your backyard to see some genuinely wondrous things?
Our Ten East Coast National Parks Guide
---
Check Out Our East Coast National Parks
A lot of great ideas are in these individual National Park posts!
---
Download the official National Park Service app before you visit to get all of their finest insider advice. America's national parks are filled with beauty, wonder, and history that so many people want to experience again and time again. These East Coast National Parks will allow you to disconnect from the outside world and take in as much natural beauty as you can.
The East Coast National Parks of the United States are not as widely recognized as those on the West Coast. California, Colorado, and Utah are the most publicized states in the west.  These western states are home to some of the most beautiful vistas in the entire U.S. including the most well-known Grand Canyon and giant Sequoias and Coastal Redwoods.
However, it's important to remember the East Coast National Parks. The eastern side of the US is home to some great parks. Nothing compares to spending time in a national park, especially one on the East Coast where there are so many different types of parks.
If you're just itching to explore all that the East Coast National Parks has to offer, read on to find out what surprising biodiversity is viewable.
All of the most memorable East Coast National Parks are featured and below. These parks are a mixture of monuments and national memorials as well as other NPS-managed locations. A few state parks that you absolutely must see are also included!
The East Coast is diverse and picturesque, with many national parks to choose from, including the most visited national park in the nation and one made up of seven islands. If you're seeking for caverns or natural springs, the East Coast provides them.
What Makes the East Coast More Desirable
Even after accounting for the cost of gas, many of you who reside in the eastern US may find that traveling by car is a far more affordable option!
The cost of flying is high. It can easily and quickly add $3,000 to the cost of your vacation if you have to cross the country. My family and I just traveled to the West to see Crater Lake and the Redwoods, and the airline cost was over $3,200!
The stark differences between the two half of the nation are another factor. The Atlantic beaches are a distinct species from the stony cliffs of the Pacific, while the East Coast is covered in dense hardwood forests.
What You Will Find On the East Cast
The US's two coastlines have some noticeable differences from one another. Some are very clear, while others might not be. Here are a few examples of how the East and West differ from one another.
The Weather
Seasons exist in the East Coast National Parks, just like they do practically everywhere else. Snowfall can be expected north of Washington, DC, from around December through April. The summers will be hot and muggy along the whole coast. In June, July, and August, the east experiences severe humidity while the west has dry air.
The Foliage
The vegetation will also change. Hardwoods like Cherry, Oak, and Maple predominate in the East Coast. The area is also covered in conifers like Hemlock, White Pine, and others. Old-growth forests are quite rare in the East, nevertheless.
The stunning fall colors that emerge when the hardwoods begin to shift are a wonderful advantage of having so many of them. Fall is one of the busiest seasons for parks like Shenandoah and Acadia, which are renowned for their stunning foliage.
Less Competition With Other Visitors
The majority of the most popular national parks, excluding The Great Smoky Mountains and Acadia, are located in the west. Depending on where you choose to travel, you'll (roughly) encounter less people in the East Coast National Parks.
Even though the bulk of national parks in the United States are in the west, the eastern national parks offer a wide range of landscapes, including complex cave systems, coral reefs, marshy marshes, and beautiful mountain summits.
Most people tend to picture the magnificent west coast national parks like Yosemite, The Grand Canyon, and Yellowstone when they think of the US national parks. There is much wild beauty and terrain to be discovered in the east coast national parks, despite the fact that no one would contest the magnificence of those areas.
Therefore, while having fewer national parks than other regions of the country, the east coast is nonetheless very diversified geographically. The east also includes a lot of national monuments, national seashores, national historic sites, and more, while having less national parks.
The East Coast National Parks are listed in full below. If you wish to take a road trip to the national parks along the east coast, we've also provided a brief overview of the parks and suggested itineraries.
National Park Pass
If you plan to visit more than one national park in a year, you might want to think about purchasing the national park pass. For a one-time annual cost, you can enter more than 2000 federal land parks with the national park pass.
If you are already aware of the parks you intend to visit, you can research their admission prices and perform the necessary calculations to determine whether you will save money. Check each park separately because some charge per person while others charge per vehicle.
There are discounts for the disabled, active military, and senior citizens.
10 Great East Coast National Parks Everyone Must Visit
---
---
check out our video
---
---
1. Great Smoky Mountains National Park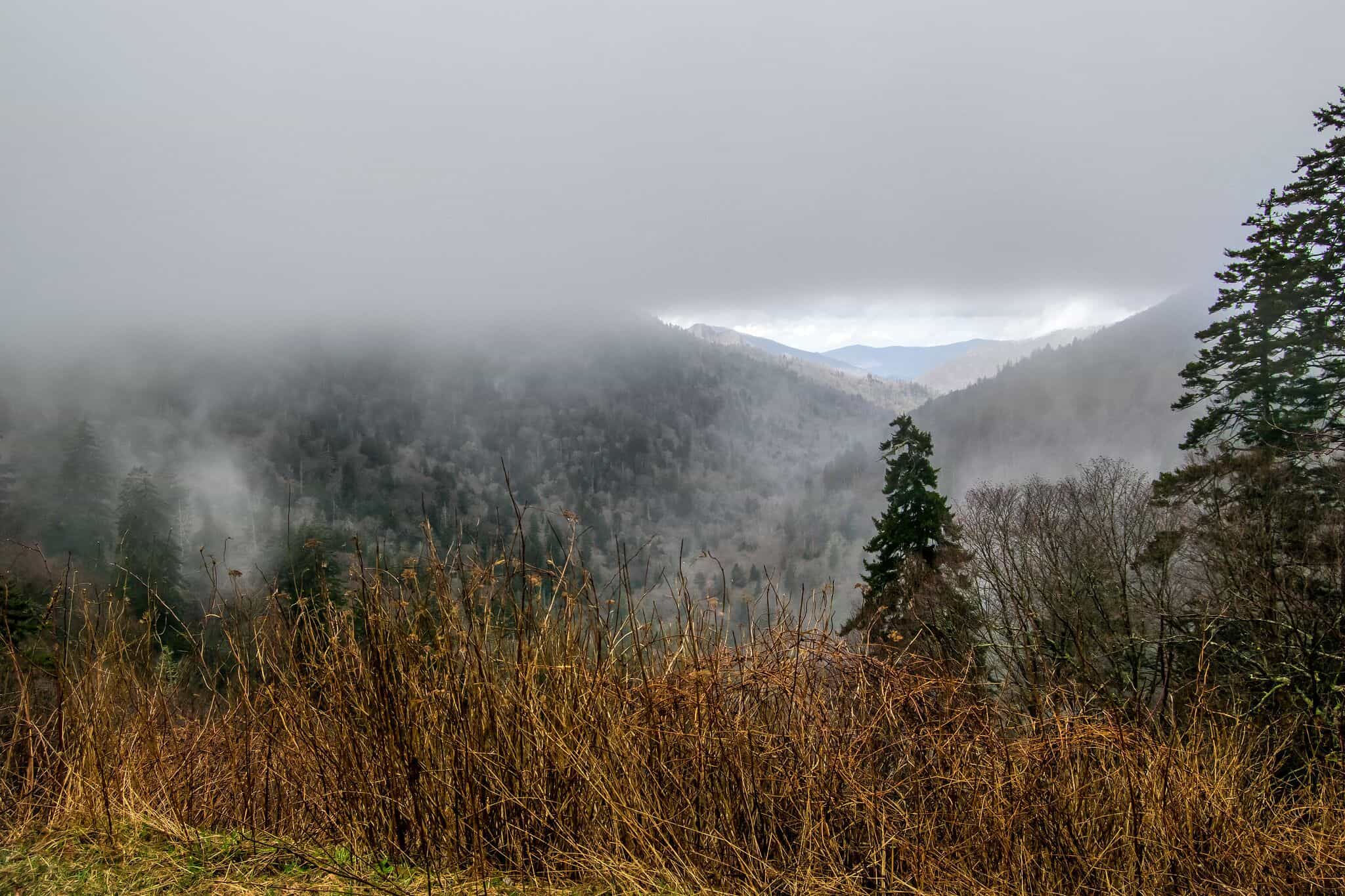 East Coast National Parks – Smoky Mountains (Edited) by Mark Collins 
Location:
Tennessee, North Carolina
About the Park:
The Great Smoky Mountains National Park, which spans the Tennessee-North Carolina border, is brimming with charming Southern charm, beautiful scenery, and roving wildlife. The popular East Coast National Parks consistently holds the honor of being the most popular national park.
More than 11 million people visit each year due to its accessibility and proximity to much of the Southeastern United States, whereas the Grand Canyon, the second-most visited national park, has just recently attracted about 6 million tourists annually.
Things To Do:
The Sugarlands Visitor Center has more information about the park. When visiting the park, you should do this right away! You can also view a little movie to familiarize yourself with the area before going on your own adventure there.
Go on a hike to the summit of Clingmans Dome! Although paved, this walk is comparatively hilly. It is Tennessee's highest peak in its entirety. If the day is exceptionally clear, you can sometimes see farther than 100 miles from the tower at the summit.
If you want to avoid the crowds, take a walk near Fontana Lake, which is the park's ideal quiet location. It is close to the park's southernmost region.
Take a picture at Newfound Gap Overlook, one of the park's most picturesque locations. You may photograph the Great Smoky Mountains National Park's genuine splendor from here.
Visit the Mingus Mill, which was built in the 1880s. This location has a long history and is still in use today.
Top Tips:
There aren't many dining alternatives inside the Park; instead, you can get a variety of food and snack options at Cades Cove Campground Store, Elkmont Campground Concession, and Smokemont Riding Stables, as well as some groceries and camping supplies outside the Park.
The only hotel option inside the Park is Le Conte Lodge, but there are plenty of options outside the Park.
The Smoky Mountains National Park offers a variety of on-site camping options, including horse camps for people who own horses, front country campsites in developed campgrounds, group campgrounds for eight or more people, and backcountry campsites for backpackers.
Throughout the Park, there are numerous spots with restrooms.
When To Visit:
There is truly no poor time to visit this East Coast National Parks, even while fall is their busiest season (October typically has the greatest average annual traffic owing to the stunning fall foliage). The busiest months are June through October, while January and February are the least active.
The region often has moderate winters, so even planning a vacation for November or December would be a terrific time to see the attractions and even locate cheaper lodging. Winterfest, Dollywood's Smoky Mountain Christmas, and other events are among the many winter attractions in Gatlinburg, Pigeon Forge, and the neighboring areas.
Just bear in mind that from November to March like many of the East Coast National Parks, some trails and roads may be blocked, so make sure to conduct your homework beforehand on the national park's official website.
Where To Stay:
Lodging is a critical, but often overlooked element of vacation planning — especially in the Smoky Mountains. Where you spend the night can have a huge impact on which areas you explore and whether you're relaxed and well-rested enough to actually enjoy your adventures in this East Coast National Parks.
The 3 best spots are Gatlinburg, Pigeon Forge in Tennessee and Cherokee, North Carolina. All 3 give you access to the park entrance gates and have lodging of all types and to fit all budgets.
Campground Locations:
The park offers several different types of campsites:
Back country – for backpackers. Requires hiking several miles to a site located in the park's backcountry.
Front country – camping near your car in a developed campground that has restrooms with cold running water and flush toilets. Each individual campsite has a fire grate and picnic table.
Group Campgrounds – large campsites suitable for groups of eight people or more. Located in front country campgrounds.
Horse Camps – small campgrounds, accessible by vehicle, that offer hitch racks for horses and primitive camping facilities.
Campground facilities and the procedures for obtaining a site in each type are different. Click on this link above for additional information about facilities, reservations, and operating seasons.
2. Acadia National Park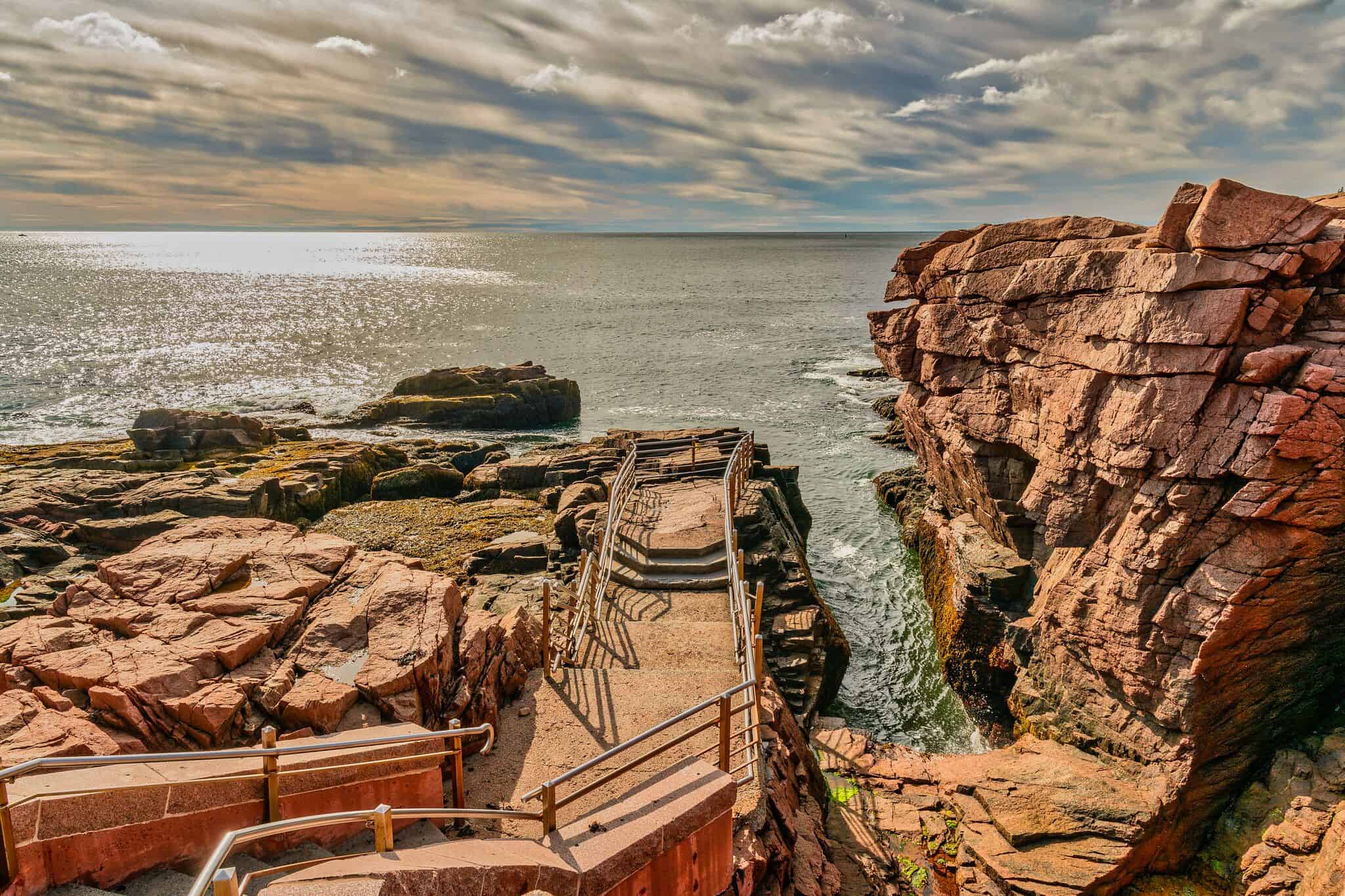 East Coast National Parks – Acadia National Park (Edited) by Domenico Convertini 
Location:
Maine
About the Park:
Those of you traveling to Acadia National Park, Bar Harbor, or any other Mount Desert Island municipality are welcome to the northernmost East Coast National Parks! You will undoubtedly fall in love with the island's breathtaking scenery, whether you are a frequent visitor or a first-timer exploring the region's granite-topped mountains and rocky shoreline.
Visitors have been drawn to Mount Desert Island by its distinctive and breathtaking terrain for hundreds of years. Here, along Maine's east coast, is the only place where the convergence of the ocean, shoreline, forest, and mountains may be felt, seen, heard, and experienced more fully.
Visitors have often found that it is the ideal setting for discovery, adventure, and rejuvenation at any time of year. The stunning Maine coast serves as a dramatic backdrop to the wide variety of activities that are offered on Mount Desert Island which makes this one of the most beautiful East Coast National Parks.
Things To Do
Take a 2.5-hour narrated bus tour of Bar Harbor and Acadia National Park! If you want to avoid crowds and learn more about the neighborhood, this inexpensive trip with pickup is ideal. includes stops at Sieur de Monts Spring, Thunder Hole, and Cadillac Mountain. To find out more, click here.
View the landscape from Cadillac Mountain. You can drive or hike the Cadillac Summit Loop Trail to get to the tallest mountain in the national park. To escape the throngs that arrive later in the day, try to arrive early in the morning.
Drive the 27-mile Park Loop Road, which takes you past all the park's well-known locations like Otter Cliff and Sand Beach.
Take a picture at Jordan Pond, one of the park's most serene and beautiful locations. Both the Jordan Pond Shore Trail and the Jordan Pond Nature Trail are excellent treks that can be used to get there.
View the lighthouse at Bass Harbor Head! This is one of the most historic lighthouses you can find in this region, and it's a lovely place to watch the sunrise. The lighthouse here was built in the 1800s.
Top Tips:
Outside of approved campgrounds, no camping, campfires, or overnight parking is allowed; to enter park campgrounds, you must make an online reservation and buy firewood there.
If you intend to visit the Park between November and April, be aware that several areas are closed during the winter or have reduced hours.
Dogs are welcome anywhere in Acadia, but they must be restrained at all times by a leash no more than six feet long, and some locations are off limits to them.
Wild animals in the park should not be fed, approached, or provoked, especially snowy owls, turtles and loons that are breeding, and young seals on beaches.
Before traveling, obtain all required permissions and passes online.
The only restaurant is the Jordan Pond House Restaurant; however, there are six picnic areas and is permitted site-wide, excluding campgrounds (unless you have a permit).
Restrooms are in the centers, beaches, picnic areas, stores, and restaurants.
When To Visit:
Acadia National Park is best visited in September through early October, this is of course the coldest of the East Coast National Parks, when the summer tourists have dispersed but the temperatures are still above freezing. Pack your waterproof gear because visiting in March, April, and May can be rainy (fog and rain are frequent).
Even if the weather is pleasant in July and August, it is by far the busiest time of year to visit the park. Winter months don't see many tourists to the park, but for the adventurous traveler willing to withstand the bitter cold, it's the ideal time to go.
Where To Stay:
The best area to stay in area is in Bar Harbor but you have to book as far in advance as possible. There are also great places to stay off the island that are much cheaper. The problem is that the traffic is really bad getting back on and off the island.
Campground Locations:
Camping is a great way to experience Acadia National Park. Acadia offers two campgrounds on Mount Desert Island, one campground on the Schoodic Peninsula, and five lean-to shelters on Isle au Haut.
All campsite reservations must be made in advance on the park's campground pages or at  Recreation.gov. There are no same day reservations and no campsites are available for request upon arrival.
3. Shenandoah National Park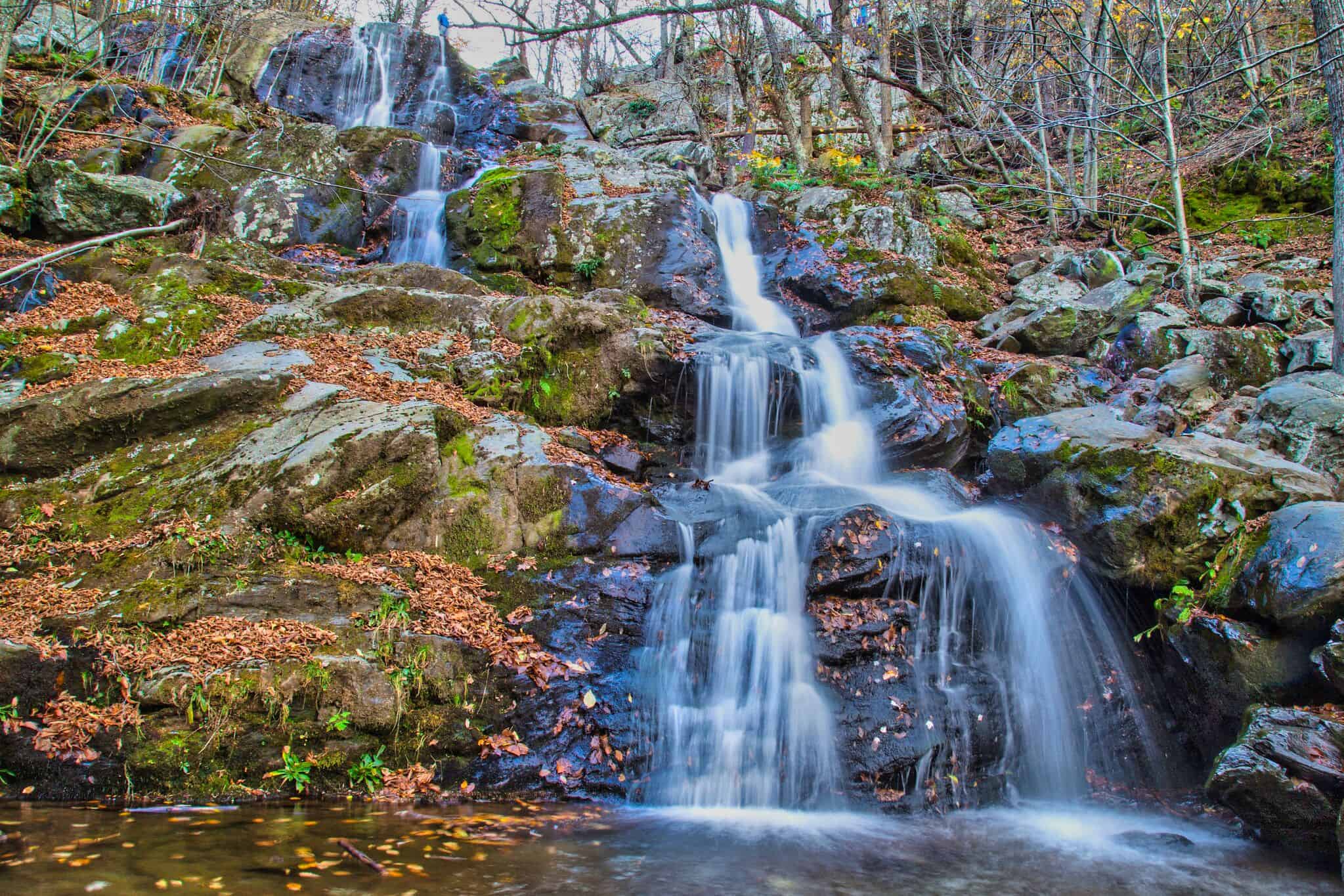 East Coast National Parks – Shenandoah National Park (Edited) Andrew Parlette 
Location:
Virginia
About the Park:
There are over 500 miles of trails in this East Coast National Parks location, including the entirely level and user-friendly Limberlost Trail, to be found in Shenandoah National Park.
I suggest Stony Man for first-time guests. It's a quick (1.6 miles roundtrip), amiably simple hike that provides one of the park's best views. This trek is a fantastic way to get started hiking in SNP. You can see my whole list of the top hikes in Shenandoah National Park if you like it.
There are wonderful waterfall walks, but keep in mind that you must climb back up after going down. I've seen a lot of folks do one of these hikes after being deceived by how simple the first section of the route is—all it's downhill.
Do I require hiking boots? – If this is your first time hiking and you just take on the easier, more traveled paths, then the answer is no. Tennis shoes that are good and robust will work just fine. But avoid wearing anything other than athletic shoes, including ballerina flats, flip-flops, high heels, Sperrys, and slippers.
I have seen all of those (yes, even high heels), as well as the person wearing those shoes while hiking, who had a look of excruciating discomfort on their face.
Things To Do:
Take the park's audio self-guided tour! If you only have a day or two to spend in Shenandoah National Park, this is one of the finest ways to learn about it. It is a three-hour drive that is wonderfully gorgeous.
Dark Hollow Falls hike! You won't want to skip it because it's a quick, somewhat easy climb that is actually one of the most well-liked in the entire national park. When you witness the waterfall in person, it will leave you speechless.
Visit the visitor center at Shenandoah National Park! There are several to pick from, and they are all excellent locations to visit in order to learn more about the park.
Dine al fresco at one of the many overlooks. There are many places along the scenic route where you can stop and enjoy the vista. These locations are ideal for setting up a picnic blanket and munching while admiring the scenery.
Spend the night at one of the campgrounds in the park. There are a handful to pick from, but by doing this, you'll arrive at the trails first thing in the morning! Also beautiful is the sunrise over the mountains.
Top Tips:
Choose from 5 campgrounds with a variety of amenities to stay at; reservations can be made up to 6 months in advance, which is strongly advised.
Three on-site hotel options are available, and reservations should be made as far in advance as feasible. These options are dispersed across the Park.
A pit latrine and spring water are close, and there are six lockable, basic cabins spread over the area that are furnished with mattresses, blankets, and cooking utensils.
You can buy food at 10 spots throughout the Park, or you can bring your own and choose to picnic at one of the seven approved sites.
Restrooms, tourist centers, lodges, waysides, and some paths can be found in the majority of picnic spots.
When To Visit:
The prettiest months to visit Shenandoah National Park are from September through November and from March through May. The Autumn here at this East Coast National Parks area brings warm hues to the park, giving Shenandoah's expansive views an autumnal twist.
As the park's several hiking routes are covered in wildflowers in the spring, the scenery is a kaleidoscope of hues. Both of these times, as well as the entire summer, are crowded, and the chilly winter weather discourages all but the most ardent hikers from leaving Skyline Drive..
Where To Stay:
Shenandoah National Park's rough-hewn beauty is reflected and refined in its in-park hotel options, just 75 miles west of Washington, D.C. outside the town of Luray.
Campground Locations:
Mathews Arm Campground
Mathews Arm Campground (mile 22.1) is the nearest campground for those entering Shenandoah National Park from Front Royal, in the northern section of the Park. All sites include a place for a tent or RV, a fire ring, and picnic table. Elkwallow Wayside, with camping supplies and food service, is two miles away.
Big Meadows Campground
Big Meadows Campground (mile 51.2) is centrally-located in Shenandoah National Park, providing easy access to many of the most popular destinations in the Park, including Big Meadows, Dark Hollow Falls, and Byrd Visitor Center. All sites include a place for a tent or RV, a fire ring, and a picnic table.
Lewis Mountain Campground
Lewis Mountain (mile 57.5), the smallest campground in Shenandoah National Park, appeals to those who want a little more privacy while still staying within a close distance to many of the most popular destinations in the Park, including Big Meadows (7 miles away).
Loft Mountain Campground
Loft Mountain (mile 79.5), the largest campground in the park, sits atop Big Flat Mountain in the southern part of Shenandoah National Park, with outstanding views to east and west. Two waterfalls and the trails into the Big Run Wilderness area are nearby.
Dundo Group Campground
Dundo Group Campground (mile 83.7) is a small, beautiful campground located in the southern part of Shenandoah National Park that offers group campsites, only. The Appalachian Trail passes through the campground. All sites include fire rings and picnic tables.
4. Everglades National Park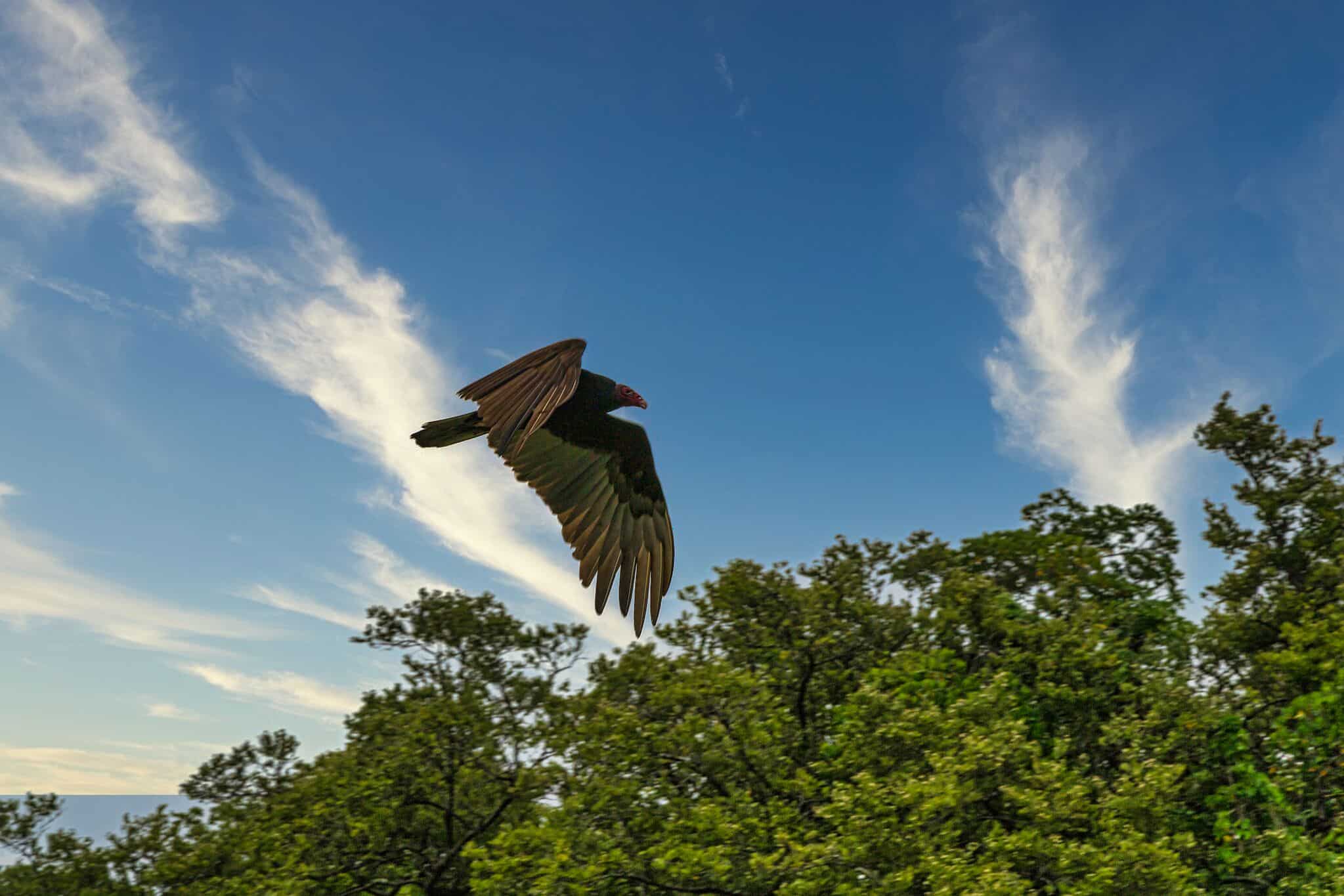 East Coast National Parks – Everglades National Park (Edited) by Domenico Convertini 
Location:
Florida
About the Park:
After Yellowstone and Death Valley, Everglades National Park is the third-largest park in the lower 48 states and the largest of the East Coast National Parks. Manatees, American crocodiles, a large variety of birds, and even panthers reside in the park. This delicate habitat is an International Biosphere Reserve as well as a World Heritage Site.
The Everglades, a general term for a variety of ecosystems, formerly covered more than 200 miles, running from the Kissimmee River in Orlando south past Lake Okeechobee to the southernmost point of the state and the Gulf of Mexico. Currently, just 20% of that is preserved by the national park, and its very borders are surrounded by cities, suburbs, and agricultural land.
The only truly wild areas at this East Coast National Parks area are the protected Glades. The area is home to crocodiles and alligators, the Florida panther, manatees, as well as a large array of invasive species of all kinds.
This fragile, ever-changing Unesco World Heritage site is threatened by true inundation due to rising sea levels as well as by red tide and blue-green algae blooms, which have been disastrous in recent years and may be brought on by agricultural runoff.
The Glades are a premier dark-sky area, a haven for raptors and migratory birds, and a place to completely lose yourself and forget the contemporary world even exists.
Things To Do
The best method to tour the park is in an airboat. One of the most popular trips you can schedule to view the park is this one, which lasts around an hour. If you choose a half-day package, it also includes gator feed and a BBQ lunch.
Have fun searching for birds! The park is home to hundreds of different bird species, including pelicans and other kinds you might not see elsewhere.
The Gumbo Limbo Trail is a short, accessible hike that is just under half a mile long. You can get a close-up view of a gumbo limbo tree on this route, which is unquestionably one of the simpler ones to explore in the park.
Learn more at the Shark Valley Visitor Center and think about taking the approximately two-hour-long Shark Valley Tram. You won't want to miss the stop at a picturesque viewpoint that is often reached through a rather long trek because it is included in this ride.
Top Tips:
All canals, ponds, freshwater lakes, defined channels, and boat basins located inside the Park are off-limits to swimming and snorkeling.
A small selection of snacks and drinks are offered by Everglades National Park and are available at the Ernest F. Coe Visitor Center, the Royal Palm Visitor Center, and the Flamingo Marina at the Gulf Coast Visitor Center.
Restrooms are available at the visitor centers, West Lake Park, and campgrounds.
When To Visit:
If you're thinking about traveling to Florida as one of your East Coast National Parks then a Everglades boat excursion is a must but you are unsure about the ideal time to go, you're in luck. We can help you with one simple answer.
Any time of year, South Florida is booming, and the ecosystem is remarkable wherever you go—especially if you're on a boat tour of the Everglades National Park. But there are a few distinctions between the months.
The ideal time of year to visit the Everglades is discussed here, along with some planning advice.
The Everglades is on of 3 Florida area East Coast National Parks. From early December to late April and early May, the Everglades National Park environment and airboat trips do undergo a winter dry season.
Due to the large number of visitors who travel to South Florida to escape the chilly, biting temperatures up north, this is undoubtedly the busiest time of year for all of these East Coast National Parks.
This one of the bst times to visit the Everglades for Miami airboat excursions. When Florida is cooler in the year, the animals in the Everglades respond differently. While they are frequently seen, they generally move more slowly in the winter. Alligators actually go through a biological delay.
Where To Stay:
Everglades is a unique natural treasure located in South Florida. The incredibly vast tropical wetland is home to birds, lizards and alligators. But where to stay near Everglades National Park for the best experience?
Lodging in Everglades City gives you the best access to Everglades National Park. Other options for where to stay when visiting Everglades National Park are Naples, Marco Island, Miami and the Upper Keys.
Campground Locations:
Flamingo Campground
The Flamingo campground is one of two drive-in campgrounds accessible from the Homestead entrance of the park. It offers solar-heated showers, two dump stations, picnic tables, grills, and an amphitheater for seasonal Ranger programs.
Flamingo has several hiking trails and canoe trails, and opportunities for saltwater fishing are plentiful.
Lone Pine Campground
Long Pine Key campground is open seasonally November-May. It is one of two front country camping options run by the "Flamingo Adventures" concession. Reservations are available for RV's and tents along with first come first serve sites. If sites are booked, more camping may be available further down the Main Park Road in Flamingo.
Wilderness Camping
There are a number of ground sites, beach sites, and elevated camping platforms ("chickees") available in various locations in the park. Most wilderness camping sites are accessible by canoe, kayak, or motorboat, though a few may be reached by hikers.
5. Dry Tortugas National Park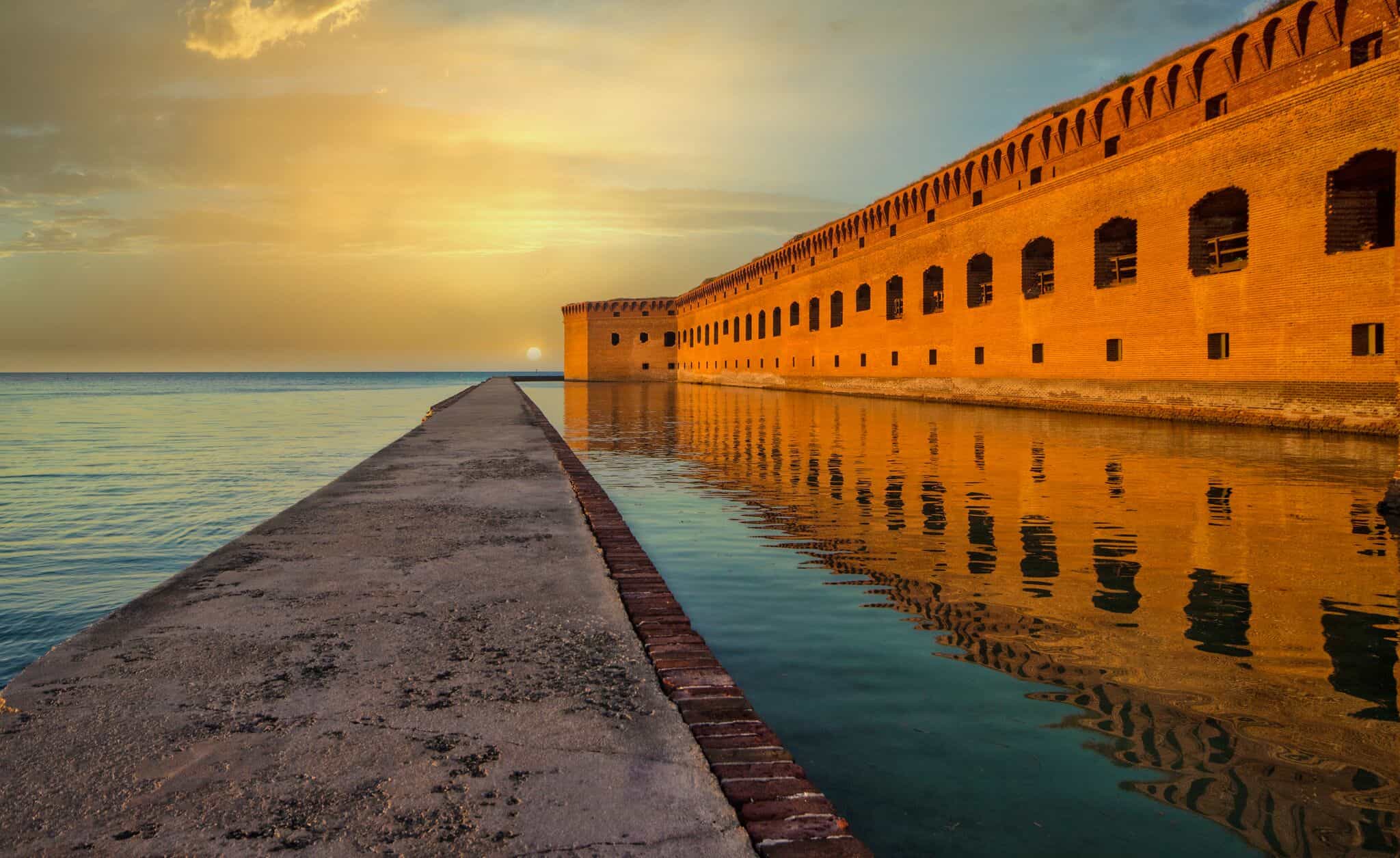 East Coast National Parks – Dry Tortugas National Park (Edited) By Thomas 
Location:
Gulf of Mexico Off Florida Coast
About the Park:
Are you thinking of visiting Key West or one of the Florida East Coast National Parks? Dry Tortugas, one of the least visited U.S. National Parks, should unquestionably be on your agenda.
Over 100 square miles of little islands, coral reefs, and aquatic life make up the Dry Tortugas, which are 70 miles from Key West. Get all the information you need for a day trip or overnight camping trip to Dry Tortugas National Park before you leave!
A day trip from Key West to the Dry Tortugas has a lot of activities, such as relaxing white sand beaches, incredible snorkeling, and historical exploration that includes legends of pirates and a fort from the 19th century. Traveling to the Dry Tortugas is comparable to vacationing on a secluded Caribbean island. There is also the best snorkeling in the Florida Keys!
True adventurers can even stay at Dry Tortugas for the night to have the island's beaches and nighttime stars all to themselves. Once the day trippers have returned to Key West they still have 2 other East Coast National Parks to choose from.
Things To Do
Make plans for a catamaran tour from Key West! The ten-hour tour includes breakfast, lunch, the service tax for the National Area, and even snorkeling equipment so you can enjoy snorkeling while you're there. It's an excellent way to explore the park.
Visit Fort Jefferson, which is the main draw in Dry Tortugas National Park. It is a magnificent structure on an island that has played many different roles over the years. To learn more history, consider signing up for a ranger-led tour.
Swim or snorkel to enjoy the ocean! Snorkeling is done by the majority of participants, but if that's not your thing, don't worry. There are many beaches around where you may just dive into the water and swim.
Top Tips:
Fish, cultural items, and coral reefs are all protected. Although you shouldn't worry about the aquatic life attacking you, running into them might be very dangerous for you both.
Swim at your own risk; there is no lifeguard on duty; keep company and watch out for strong currents that may come suddenly.
Campsites are first-come, first-served and only available for large parties, so make sure to pack everything you'll need.
On the islands of Dry Tortugas National Park, there are no eateries, stores, or other sources of food, water, or fuel.
Restrooms are available throughout the Park and are also on the ferry.
When To Visit:
The Dry Tortugas National Park is a stunning location with a wide range of outdoor pursuits to keep you occupied.
The best months to visit Dry Tortugas are April and June or any of the Florida East Coast National Parks. The consistent nice weather and average temperatures of 80°F (27°C) are to blame for this. In the fall, there are fewer travelers and housing costs might drop by up to 45%.
At this time of year, outdoor activities like kayaking are at their prime.
Visit in July for milder temperatures and days that reach 89 degrees.
The Dry Tortugas and many of the Caribbean have similar weather patterns. A subtropical climate characterizes the region, with hot, muggy summers and infrequent thunderstorms.
Where To Stay:
The East Coast National Parks location at Dry Tortugas does not offer lodging. Before or after taking a boat or seaplane to or from the park, the majority of visitors stay in Key West. Key West, near the end of US-1, the Overseas Highway, has a variety of accommodations.
Campground Locations:
Camping at Garden Key offers incredible opportunities for stargazing, snorkeling, sunsets, and more. But you must be prepared to pitch a tent in this remote location. For additional information regarding camping in Dry Tortugas National Park and to aid in your planning.
6. Biscayne National Park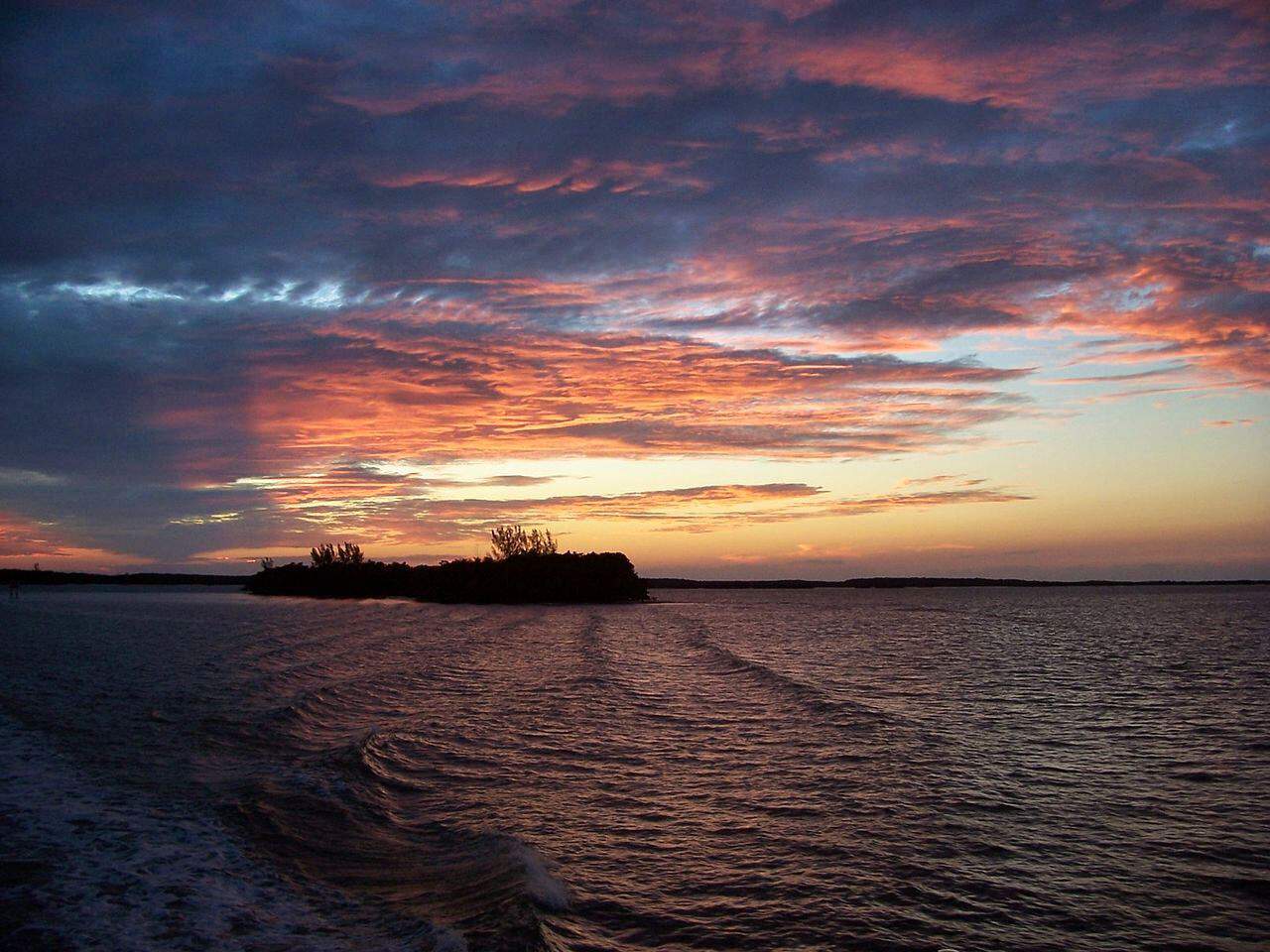 East Coast National Parks – Biscayne National Park (Edited) By NPCA Photos 
Location:
Atlantic Ocean Off Florida Coast
About the Park:
There are no entrance fees or passes necessary to enter the East Coast National Parks location at Biscayne Bay, which is situated halfway between Miami and the Florida Keys. It is also open every day of the year, 24 hours a day.
The islands, reefs, and other natural features of the park, however, can only be reached by boat. There are also guided tours.
The Biscayne National Park is a truly amazing location. It's not simply one of Florida's more distinctive locales; it's also one of our most distinctive national parks.
Since Biscayne is 95% underwater, you might want to go below the surface to get the whole experience. Take a boat into the Bay for a fantastic journey, even if you want to stay dry.
Homestead, Florida's Dante Fascell Visitor Center can be found at 9700 SW 328th Street, also known as Sir Lancelot Jones Way. Spend some time exploring the park's on-site museum, which features documentaries, a virtual tour of the park's four ecosystems, and an exhibition of local artists' works that were inspired by the park.
Children can get their hands dirty at the touch table or start earning a junior ranger badge.
Things To Do
Follow the Convoy Point Jetty Trail while hiking! Just under a mile long, this track can be completed in under 30 minutes. It's wonderful for hikers of all ages and levels of experience because it's also pretty simple.
To see the ocean floor, snorkel. Snorkeling is possible in a few different locations throughout the park, and it provides some of the best and most unusual vistas available.
Paddle a kayak! Jones Lagoon, a historically significant location within the park, is the greatest place to go kayaking. The majority of individuals claim that it can be extremely insect-filled, so carry bug spray.
Visit Boca Chita Key, one of the park's most well-liked locations. To reach there, you must take a boat. One of the more unusual lighthouses in the United States is a magnificent lighthouse, so keep an eye out for it.
Top Tips:
Restrooms are available in the campgrounds and visitor centers.
To get beyond the visitor center area requires a boat. There are no bridges or ferries to the islands or campgrounds and only one mile of road in the entire Park.
There are no dining options on Biscayne National Park; pack and enjoy a picnic.
When To Visit:
Thanks to Florida's year-round sunshine and aversion to winter, there's no bad time to visit.
The greatest time to visit the East Coast National Parks including Biscayne National Park depends on your plans, though. For instance, if you want to snorkel or dive, the water is warmest in the summer and you probably won't even need a wetsuit.
If you're more interested in camping at Biscayne National Park, it would be ideal to go when the weather is cooler because Florida summers are notoriously hot and uncomfortable.
Where To Stay:
For overnight visitors to this watery park, there are no facilities provided besides campsites. Most non-campers stop through for the afternoon on their way to the Keys and spend the night in Homestead, a nearby city with a large number of chain hotels and other reasonably priced accommodations.
Campground Locations:
In this East Coast National Parks location, there are two campgrounds. Elliott Key and Boca Chita Key are both islands where both are situated. These islands can only be reached by boat. There are no services on the islands.
The most visited island in the park is Boca Chita Key. There are lovely views of the water, a grassy camping area, picnic tables, and barbecues. There are restrooms, but no sinks, showers, or running water. At low tide, the harbor entrance is about four feet wide.
The biggest island in the park is Elliott Key. There are basins and cold water showers in the restrooms, as well as picnic tables and grills. Drinking water is accessible, however in case the system fails, bring water with you. At low tide, Elliott Key Harbor is about 2 12 feet deep. In the marina, there are 33 boat slips.
7. Mammoth Cave National Park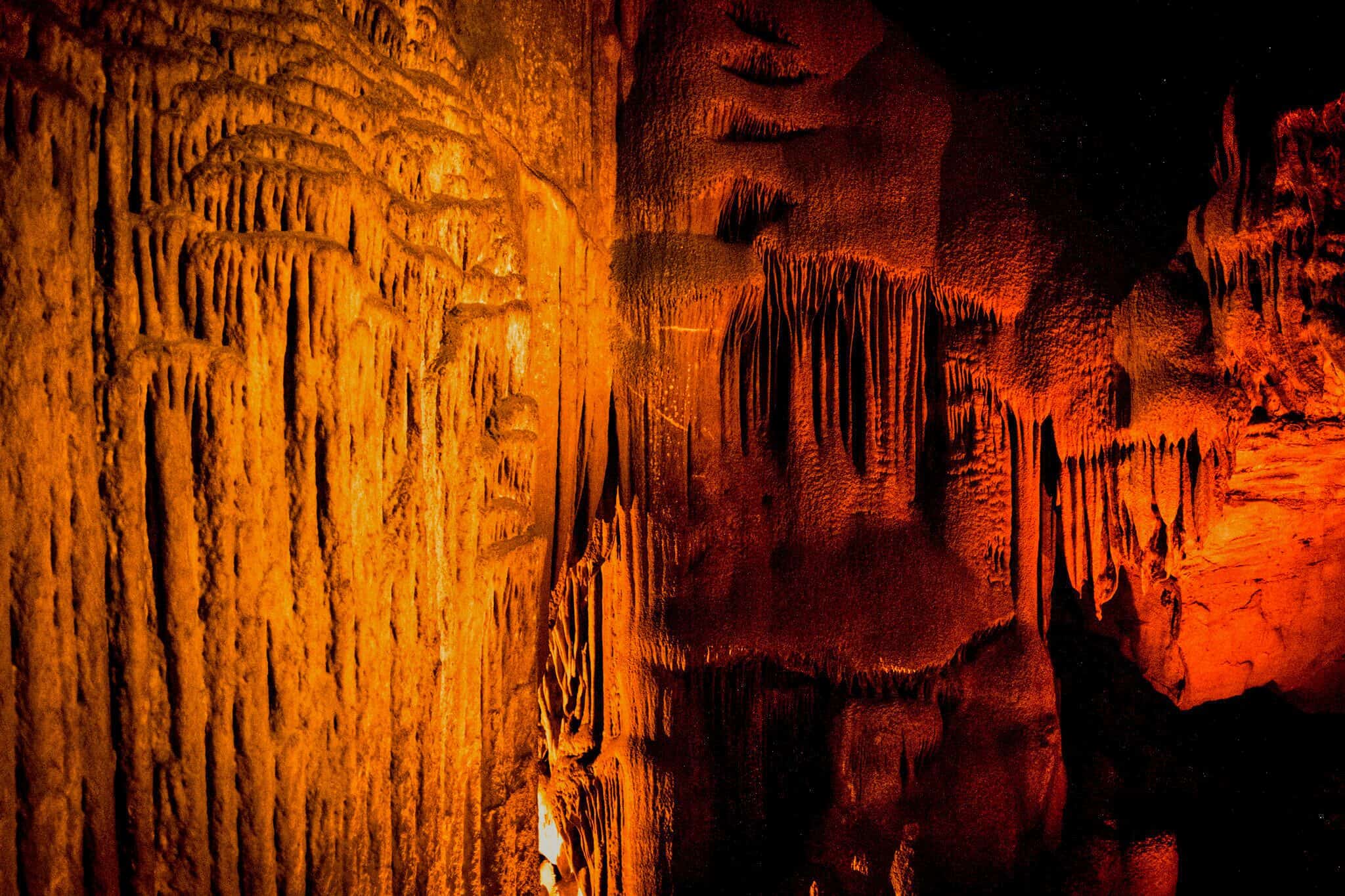 East Coast National Parks – Mammoth Cave National Park (Edited) By Sharon Mollerus 
Location:
Kentucky
About the Park:
This East Coast National Parks site is the longest known cave system in the world an can be found at Kentucky's Mammoth Cave National Park. Mammoth Cave is one of the oldest tourist destinations in North America and contains approximately 400 miles of excavated tunnels. There is a lot we don't know about the Kentucky monster despite The Cave's size and beauty.
The main draw of Mammoth Cave National Park is Mammoth Cave in Kentucky. The park was created in 1941, and in 1981 it was designated a World Heritage Site. Despite the fact that these incidents occurred in the 20th century, people have been using the cave for a very long time.
The cave may have been found by Native Americans as long as 4,000 years ago, according to renowned anthropologists.
In addition to the cave system, Mammoth Cave National Park also protects a portion of the Green River valley and the stunning rolling hills of south central Kentucky. Therefore, while the major draw of Mammoth Cave is what lies below the surface, there are miles of excellent trails nearby that are just waiting to be discovered.
Things To Do:
Visit East Coast National Parks caves and have a tour. You should be aware that if you want to ensure a spot on a tour, you must make reservations. Be prepared because it is typical for the caverns to get cold.
Visit a campground and spend the night there. There are other options, including Mammoth Cave Campground and Maple Springs Group Campground.
Take to the water in a kayak or canoe that you rented! If you want to keep moving throughout the day, this is a fantastic thing to do.
See the East Coast National Parks churches that are still standing in the park. There are three to discover that are accessible to everyone and were operated by residents of the park prior to its designation as a national park.
The Cedar Sink Trail is a mile-long circle that you can hike on. It's a hike around a sinkhole that's quite interesting.
Top Tips:
Green River Grill and Spelunkers Café & Ice Cream Parlor are the two eateries inside the park.
There are additional dining alternatives close to the visitor center area.
If you visit the East Coast National Parks caves in the summer, bring warmer clothing because the average year-round temperature is 54 degrees.
There are more than 70 rooms available at The Lodge at Mammoth Cave in the Park, or you can book a campsite at one of the three constructed campgrounds or a number of wilderness campsites.
Purchase your camping spot and tickets for the cave tour in advance.
When To Visit:
Mammoth Cave is an excellent location to explore at any time of year because it maintains an annual average temperature of 54°F (12°C). Regarding cave temperature, there is no ideal time to visit Mammoth Cave National Park. The best time to visit Mammoth Cave depends on your personal preferences because each season in the park has its own allure.
The winter months see far fewer tourists to Mammoth Cave National Park than the other times of the year. This is a significant perk if you wish to visit Mammoth Cave. When visiting Mammoth Cave in the winter, you can be more impromptu and anticipate discovering interesting tours available even if you book later.
Winter is the greatest time to visit Mammoth Cave National Park if you want to avoid crowds. Wintertime temperatures, on the other hand, can make walking the routes less appealing.
Where To Stay:
Park City is the smallest of the three cities, but it's also the city nearest the entrance of Mammoth Cave. So of the three neighboring cities Park City provides Mammoth Cave lodging closest to the cave.
Campground Locations:
For tourists looking for a genuine national park experience among the East Coast National Parks with quick access to facilities, cave tours, and other park activities, the Mammoth Cave Campground is ideal.
With 111 campsites, including a combination of tent-only sites, group sites, tent or RV sites, and accessible sites, this established campground is situated less than a quarter mile from the visitor center. In order to make your stay a memorable journey, the rangers on duty in the campground kiosk are delighted to provide information.
8. Congaree National Park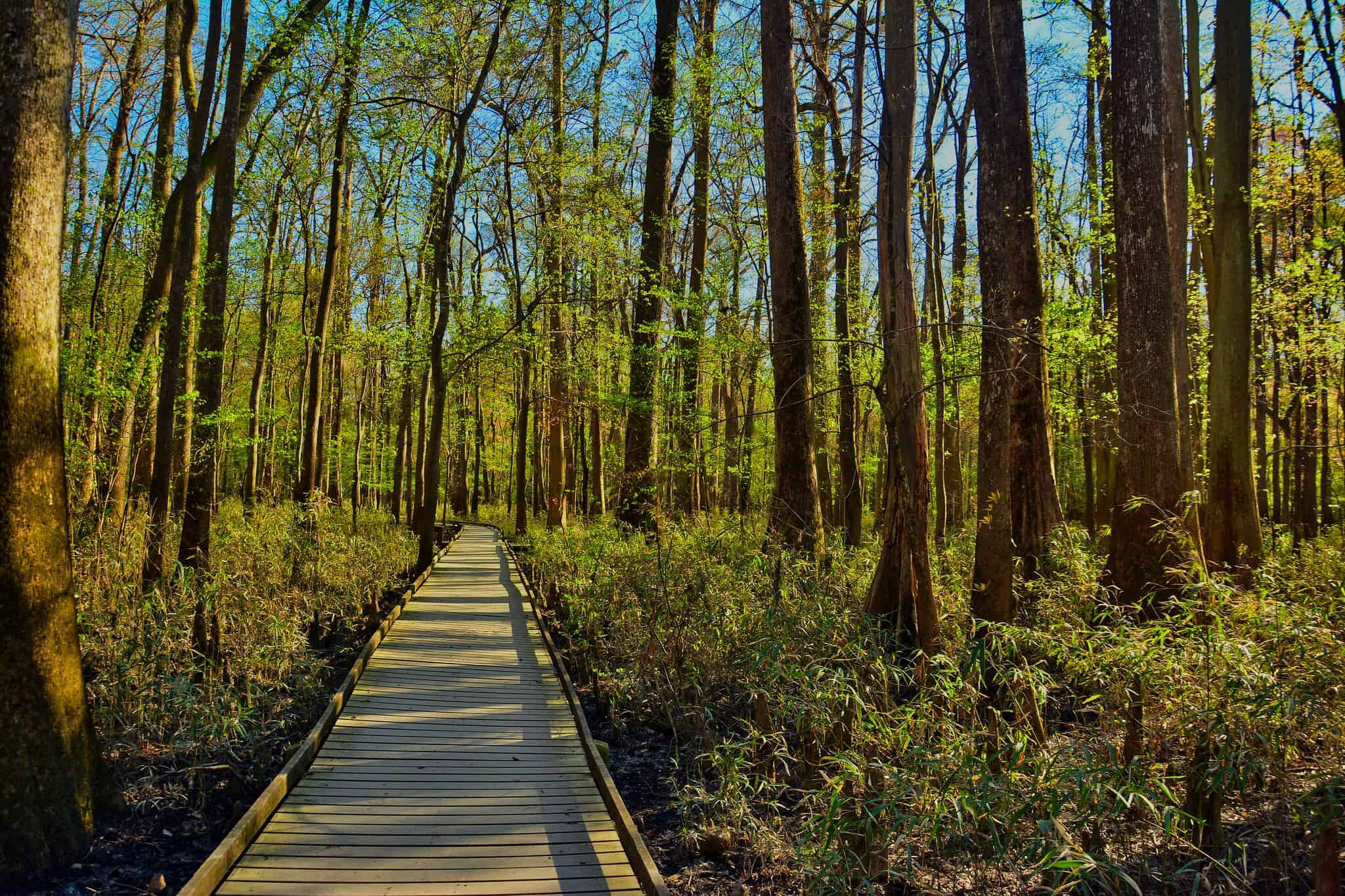 East Coast National Parks – Congaree National Park (Edited) By Blake Lewis 
Location:
South Carolina
About the Park:
Congaree is a fantastic East Coast National Parks destination. Congaree National Park, which is in Columbia, South Carolina, offers visitors a chance to take in the wonder and beauty of nature in an environment that is relatively unspoiled.
Large tracts of natural floodplain forest, free of roads or railroads, may be found in the park where visitors can go on solitary walks and spot wildlife. Hiking this East Coast National Parks routes give access for hikers of all experience levels and time limitations, as well as spectacular and educational views of this little-known gem on the banks of the Congaree River.
This makes going to Congaree National Park a special and enjoyable experience.
Things To Do:
Take part in one of the breathtaking treks that the park is famous for, including as the Boardwalk Loop Trail, the easy-to-complete Bluff Trail, or the long-but-worth-it River Trail (a must-do).
Own a boat? Take a trip along the Congaree River. Keep in mind that you must bring your own, and don't forget to pack all the necessary supplies in case something goes wrong while you're traveling. For added security, you can arrange a ranger-led canoe tour!
Sleep at a campground for the night. This is the ideal approach to take in the local natural beauty in peace and quiet.
In May and June, keep an eye out for the fireflies. One of the most perfect things you could ever see at the park is this.
Top Tips:
All year long, Saturdays are designated for ranger and volunteer-led programs.
This East Coast National Parks location doesn't offer any food services. In Gadsden, which is about 10 minutes away from the Park, there are few eating options. There are many different types of eateries in Columbia.
On the boardwalk, there are bathrooms available in a number of spots.
Congaree National Park permits fishing with a current South Carolina fishing license.
Make sure you have all the necessary supplies before setting off on a voyage on the water, including a personal flotation device, a whistle, weather-appropriate clothing, water, a map, a compass, food, sunscreen, and bug repellent.
When To Visit:
Congaree National Park experiences hot, humid summers, brief, chilly winters, and damp, partly cloudy weather all year long. The average annual temperature ranges between 35°F and 91°F, with lows of 22°F and highs of 98°F being rare.
Congaree National Park is one of the East Coast National Parks that is most enjoyable to visit in the months of March through June and August through October. A scorching temperature and nearly no precipitation are present during this time. In Congaree National Park, the highest average temperature is 91°F in July and the lowest is 53°F in January.
The table below allows you to quickly view the monthly temperatures, average precipitation, and average weather at Congaree National Park. Data from the previous 30 years are used to calculate the average monthly climate.
Where To Stay:
Congaree National Park, which is close to Columbia, might make for the ideal weekend getaway. Despite the park's size, which is 26,000 acres (10,500 ha), you don't have to rough it to connect with nature here. There are numerous hotels and B&Bs nearby with comfortable beds if you prefer them over a cabin or tent.
Campground Locations:
The East Coast National Parks at Congaree has two designated camp grounds:
Longleaf Campground
Located adjacent to the park entrance road, this campground has 10 individual and 4 group camping sites. Individual sites can have a maximum of 8 individuals and 3 tents. Group sites must have a minimum of 9 individuals and no more than 24, with a maximum of 10 tents per site.
Each site has a fire ring and a picnic table. Two vault toilets are located at the front of the campground. This campground does not have running water. Water is available 24 hours a day at the Harry Hampton Visitor Center, at water fountains and a spigot convenient for filling large containers.
Bluff Campground
This campground is located on the Bluff Trail approximately one mile from the Longleaf Campground. There is no vehicle access to this campground; all visitors who wish to use this site must carry their equipment to the site. This campground has 6 individual campsites that have hold a maximum of 8 individuals and 3 tents.
Camping in the backcountry in any East Coast National Parks location is a great way to experience the wilderness. The park's backcountry can be reached either by foot or by canoe or kayak. But before you head out on your backcountry wilderness adventure, here are a few things that you should know before beginning:
9. Cuyahoga Valley National Park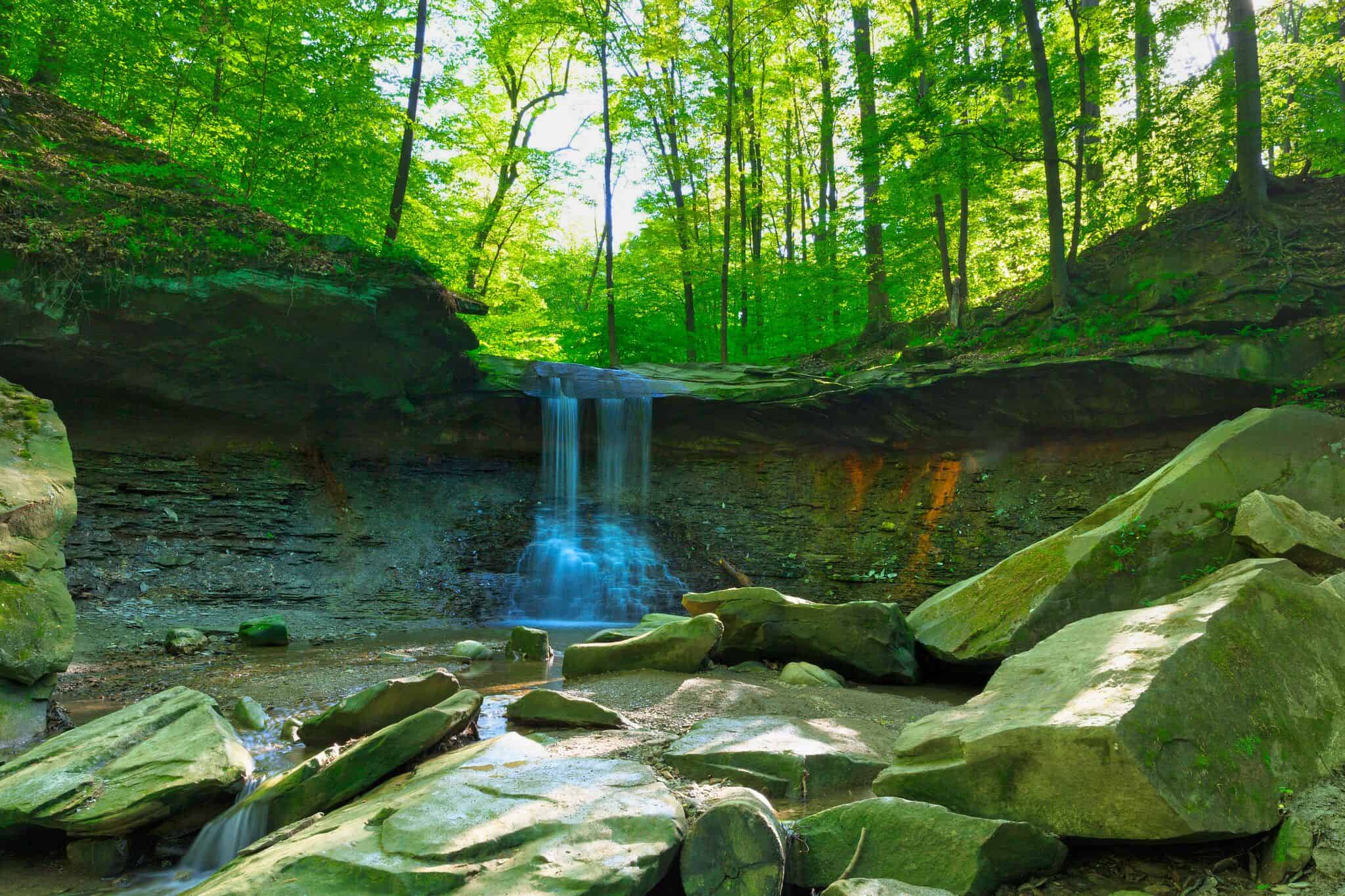 East Coast National Parks – Cuyahoga Valley National Park (Edited) By Yi-Liang (Lucas) Liu 
Location:
Ohio
About the Park:
The fact that the East Coast National Parks at Cuyahoga Valley is located 30 minutes south of Cleveland's downtown does not make it any less urban than other national parks. Ohio residents live close to and occasionally inside the 50 square mile national park.
It serves as their backyard, a driving shortcut from east to west, and a route for morning runs or dog walks. Visits to the CVNP are hence delightfully easy.
In this valley East Coast National Parks site, there are no entrance gates, lengthy queues, or permit requirements. Numerous entry roads that span park boundaries provide for easy arrival and departure of visitors. The park is open all day, every day, including on holidays, and admission is free.
Only Brandywine Falls, Kendall Lake, Octagon, and Virginia Kendall Ledges are permanently closed every day from dusk till morning.
Things To Do:
Take a hike on the Erie Towpath Trail, if only in part. It's 87 miles long, so hiking the whole thing would take forever! The best way to appreciate the park's genuine splendor, though, is to venture outside and just walk or hike a portion of it.
Take a stroll to Brandywine Falls, one of the park's top attractions. There is a beautiful viewing platform where you can see the waterfall, which is around 65 feet tall.
Visit the Canal Exploration Center right away! The ideal place to stop and learn more about the Ohio and Erie Canal is at this location.
Watch the scenery unfold from Tinker's Creek Overlook. Compared to other places in the park, this view is fairly approachable and magnificent.
Utilize the scenic railroad in the Cuyahoga Valley! When it comes to taking this train, there are a few entertaining possibilities. Choose to take it back and forth, or if you want to spend more time outside, think about obtaining a one-way ticket and hiking back instead!
Top Tips:
You can purchase food and beverages at the Trail Mix stores located within the park or at one of the numerous dining establishments in and around the park, or you can have a picnic in one of the many designated locations, some of which have grills.
Fishing in the park requires a current Ohio fishing license, while there are some restrictions and different costs may apply. A license is not necessary for children under the age of 16.
There are various places to stay in and around the park, including Stanford House and The Inn at Brandywine Falls, even though camping of any type is not permitted there.
When To Visit:
The months of August through October are the ideal time to visit Cuyahoga Valley National Park in the fall.
These are the months when temperatures do not frequently go below freezing like they do in the early spring and winter. Due to the state's abundance of lakes and rivers, summers in Ohio can often be exceedingly hot and muggy.
The average daytime temperature for these two sets of months on either side of the busiest summer season ranges from 60°F to 70°F, or 15.6°C to 21.1°C. Even though it will get colder at night, it is unusual for temperatures to go below freezing during these months.
Where To Stay:
There are many places to stay at this East Coast National Parks in and around the park. Stanford House and the Inn at Brandywine Falls offer lodging inside the park.
There are major hotel chains and campgrounds in the cities and communities surrounding the park.
Campground Locations:
Cuyahoga Valley has limited parking spaces designated for oversize vehicles. However, RVs can be parked in the RV and Trailer Parking area across from Boston Mill Visitor Center, or in larger parking spaces when there is capacity.
Lots with designated spots include:
Rockside Station
Station Road Bridge
Boston Mill Visitor Center, oversized vehicle parking across the street from the main lot
Wetmore Trailhead
Everett Covered Bridge (very limited, for horse trailer use)
Other areas in the park that have the capacity to park oversized vehicle are:
Canal Exploration Center
Lock 29 Overflow Lot
Ledges
Kendall Lake
Pine Hollow
Oak Hill
10. New River Gorge National Park and Preserve
East Coast National Parks – New River Gorge National Park (Edited) By Mobilus In Mobili
Location:
West Virginia
About the Park:
The 1,000-foot-deep New River Gorge serves as both the beginning and the end of the trip in the most recent East Coast National Parks. Class IV+ whitewater rafting, some of the best rock climbing on the Eastern Seaboard, purpose-built single track, and more than 100 miles of hiking trails can all be found in the 73,000-acre length of mountainous canyon in West Virginia.
The New River Gorge does not contain any campgrounds, which is unfortunate. The East Coast National Parks itself does not contain any cabins or lodges. The gorge contains some rustic campsites, some of which are reached by gravel roads, but they are first come, first served, lack water, and have connections.
The majority of wilderness camping is situated along rivers and is only reachable by boat. The good news is that there are numerous cabins and campers located on private property close outside the park.
Things To Do
Visit one of the four visitor centers to learn more about the park. This is the ideal location to speak with rangers and learn about the most recent park events.
Join a tour group for some white water rafting! In example, this choice has outstanding reviews and is reasonably priced. You can choose to leave in the morning or the afternoon for the approximately six-hour journey!
Long Point Trail hike. The New River Gorge Bridge, one of the park's attractions, can be seen from this route in particular with some of the greatest views in the entire area! Three miles of moderate hiking on this trail can be completed in as little as two hours.
Walk the Bridge! Although it is tough for the weak of heart, the views are breathtaking. You wear a harness while you cross the bridge, so don't be concerned.
The Canyon Rim Overlook Boardwalk Trail should be walked. Don't worry; this is a simple, 0.6-mile walk that is suitable for hikers of all abilities.
Top Tips:
There are no accommodations in this East Coast National Parks location, although there are accommodations in the nearby towns. Only basic camping, with scant bathroom facilities and no access to water or connections, is permitted.
The New River contains strong currents, stony banks and shoals, and abrupt dropoffs, thus swimming is not advised.
Water is accessible at the Canyon Rim Visitor Center, and surrounding towns provide stores and dining options.
There are eateries and supermarkets in the nearby communities of Beckley, Fayetteville, Sandstone, Glen Jean, Oak Hill, Mount Hope, Beaver, Hinton, and more.
When To Visit:
Despite being open all year round, this East Coast National Parks is busiest in the summer when visitors come to raft and kayak the river's world-class rapids.
We went to the park in the middle of October, which we thought was perfect. The crowds were smaller than they would have been throughout the summer due to the mild weather. A fantastic time to view the colors of the trees changing is in the fall. The best time to see fall colors is typically mid- to late-October.
Spring is when visitors start to grow because whitewater rafting is one of the park's most well-liked activities. Typically, trips begin in early April.
Where To Stay:
The nearest lodging option to the New River Gorge Bridge is in Fayetteville. Another place to stay when visiting New River Gorge National Park for easier access to the park is Beckley.
The distance in a car from Fayetteville to the New River Gorge Bridge is only 2 miles (3.2 km). No other lodging choice gives you as good of access to the bridge as those close to New River Gorge National Park.
Campground Locations:
The only camping options available at New River Gorge National Park and Preserve are in the form of basic sites. Along the river are places to camp. These remote camping places have few restrooms, no hookups, and no running water.
In addition to one at Gauley River National Recreation Area, the park has other rustic camping spots. All are situated on well-maintained dirt roads, but they are frequently some distance from telephones, markets, and service stations.
Except for War Ridge, all of the camping at this East Coast National Parks locations offer simple access to the river for boating and fishing. The New River contains strong currents, stony banks and shoals, and abrupt drop offs, thus swimming is not advised. Wear a life jacket at all times and respect the New River!
---
You May Want to Join Our Boondocking Group on Facebook For More Information
You May Want to Join Our Campfire Recipes Group on Facebook For More Information
For More Photos Visit Our Instagram at World Recipes Daily – Our Big Escape