Uruguayan recipes make up this most delicious and diverse Uruguay dishes in South America. Uruguayan Cuisine has rich meats, buttery pastries, and refreshing salads awaiting all. And being so close to Argentina means meat-lovers are in for a treat.
Uruguay is located in South America. It's the second smallest country in the continent and its capital is Montevideo. Their official language is Spanish. Uruguay food plays a big role in their culture. Any occasion for them calls for some good traditional cooking. Europe's cuisine has a lot of influence in Uruguay's dishes.
Visit any restaurant in Uruguay and you are sure to see many traditional dishes from Spain, Germany, Italy and many more places. La Merienda is tradition in Uruguay. It is like a mini breakfast but in the evening. Around five or six in the evening they will have coffee with a delicious pastry of choice.
Revuelto Gramajo made with hash potatoes or fries are topped with cheese eggs and vegetables is a traditional Uruguay food common in restaurants and homes. Alfajore, is a cookie with either sweetened cream, strawberry jam, or red velvet as filling. It's a common pastry in Argentina, Chile, Spain, and Philippines as well and very popular snack after a soccer game.
Churros are another favorite traditional pastry that can have a chocolate or dulce de leche filling. These are sold at bakeries or street vendors. Uruguay is one of the top 5 beef producing countries. So of course it has to be included into its traditional category. Asados (meats over wood fires, mainly beef.), Steak is a national dish here and their filet mignon is a must.
Choripan (chorizo served in a baguette), Empanada (type of pie filled with ground beef or cheese) , Chivito is a steak sandwich that may come with your choice of ham, bacon, cheese, hard boiled egg, tomato, lettuce, olives, and mayonnaise. It is served in a variety of ways at any restaurant in Uruguay.
The History of Uruguay Food
Around the time of World War II Uruguay was developing land for agriculture for the purpose of leather . This of course, made cattle farms grow, and therefore is how beef got to be pretty popular and a top dish. So much that even though Uruguay has a coastline, not much attention was put into seafood. Most Uruguay food originates from Europe. For example, Frankfurt Kranz, is a dessert that originates from Frankfurt, Germany, this is a sponge cake base baked in a ring shaped tin filled with buttercream icing and fruit preserves.
This is usually served at restaurants and at special occasions. Because Uruguay found themselves between Portuguese and Spain, many of their foods come from Spanish influences. Argentina and Italy as well as Spain have major influences in Uruguay's cuisine, even in their most traditional Uruguay foods. Puckering Stew is a Spanish food you can find all over Uruguay and Parillada an Argentinian dish. Uruguay food can be traced to subsistence economy since Uruguay was used as a remote port.
Old Style Uruguayan Recipes and Cooking Styles
Years ago most families ate from their crops or local cheese mongers, fishermen, and local farmers. The seasonal crops were what determined their Uruguayan recipes. The seasonal ingredients were also used to bake their breads. Meats were usually grilled or baked. Bunuelos de Espinaca (fritters filled with seaweed or spinach) was a favorite classic years ago and still today.
Pastas and rice was very common in Uruguay culture . Every 29th of each month Uruguayans will have a plate of Gnocchis in honor of Saint Pantaleon for the many miracles he performed. Cattle are still grass- fed in Uruguay following the tradition of their ancestors. There seemed to be more time to cook years and therefore at lunch time or dinner time it would be common to have an appetizer, main course, and some kind of sweet pastry for dessert.
Old Style cooking has not gone away completely but it is less and less people that are cooking old style. With today's fast life not everyone is able to spend a good quality time preparing Uruguayan recipes. Many have access to shortcuts in order make a meal that use to take an hour or two now take 30 minutes at the most. Street vendors have been around for years and most have kept traditions, especially around tourists areas.
To stay old style is to give a tourist authentic Uruguay food. An authentic view into who and what Uruguay is.
Modern Uruguayan Recipes and Cooking Styles
There are many Uruguayan recipes that have been around for years but are now slightly updated. Just like most places around the world, people here are busy and and most don't have the time to cook, therefore, Uruguay food trucks and street vendors are on the rise. They sell a variety of different Uruguay recipes, some new and some traditional with a twist as to comply with todays standards.
Those that do have the time to cook at home have kept a lot of their traditional Uruguay recipes intact. Most meals are served with some kind of salad. For example the Bizcocho is one that has been around but now depending on the bakery you go to is the type of Bizcocho you will taste. Each place has its own recipe. Some being plain or sweet, while others are savory. You can also find some filled with ham or cheese. Pancho is the Uruguay version of the American hot dog.
Toppings may vary from region and vendor. Panchos made at home are usually with fries on the side. Wheat and fruit are served fried like torta frita. Some are baked. A Parilla is used to grill a lot of their meats, sausages, vegetables and cheese. To heat they use wood fire. It's common for people to be watching the chef cook various types of meat of Hisher Parilla.
Covina is a type of fish that they add to ceviche, pan-fry but more commonly now you can find in restaurants or beach side eateries. Deep-fried known as corvina bites with lemon. The Choripan is a favorite Uruguay food truck food, with the option of various sauces and toppings. A large variety of Uruguayan recipes that one should definitely try if one gets the opportunity. It will be like tasting a little bit of many countries!
FAQ's About Uruguayan Recipes
What Are the National Uruguay Dishes?
Chivito is one of the national Uruguay dishes. It is a thin slice of tender cooked beef steak (churrasco), with mozzarella, ham, tomatoes, mayonnaise and black or green olives, and commonly also bacon, fried or hard-boiled eggs, served as a sandwich in a bun, often accompanied by French fried potatoes.
What is Uruguay Mate?
We're talking about mate, the hot tea-like beverage popular as another of the national Uruguay dishes (and other parts of South America). Yerba mate (literally "gourd herb") is made from the leaves of an evergreen tree grown in Paraguay, Brazil, and Uruguay.
What Are Some Appetizers of Uruguayan Recipes?
Lengua a la vinagreta is a cold appetizer that is popular in Uruguay and Argentina. It consists of boiled ox or beef tongue that is sliced into thin pieces, then marinated in a combination of white wine vinegar, olive oil, garlic, and parsley, while capers and hard-boiled eggs are used sometimes, but not always.
What the Most Famous of Uruguayan Recipes?
Asado is the quintessential Uruguayan food. It consists of a massive grill called parrilla, where the asador (the meat chef) grills different meats, sausages, vegetables, and cheese using the embers from a wood fire.
Is Uruguayan Recipes Spicy?
In Uruguay, you'll be lucky if spicy means they have some black pepper on hand. Most Uruguayan cuisine seems to be cooked without any kind of spices (hot or not) added. Though some of the best hot sauce I found was a local Uruguay brand.
Our 24 Best Authentic Uruguayan Recipes
---
---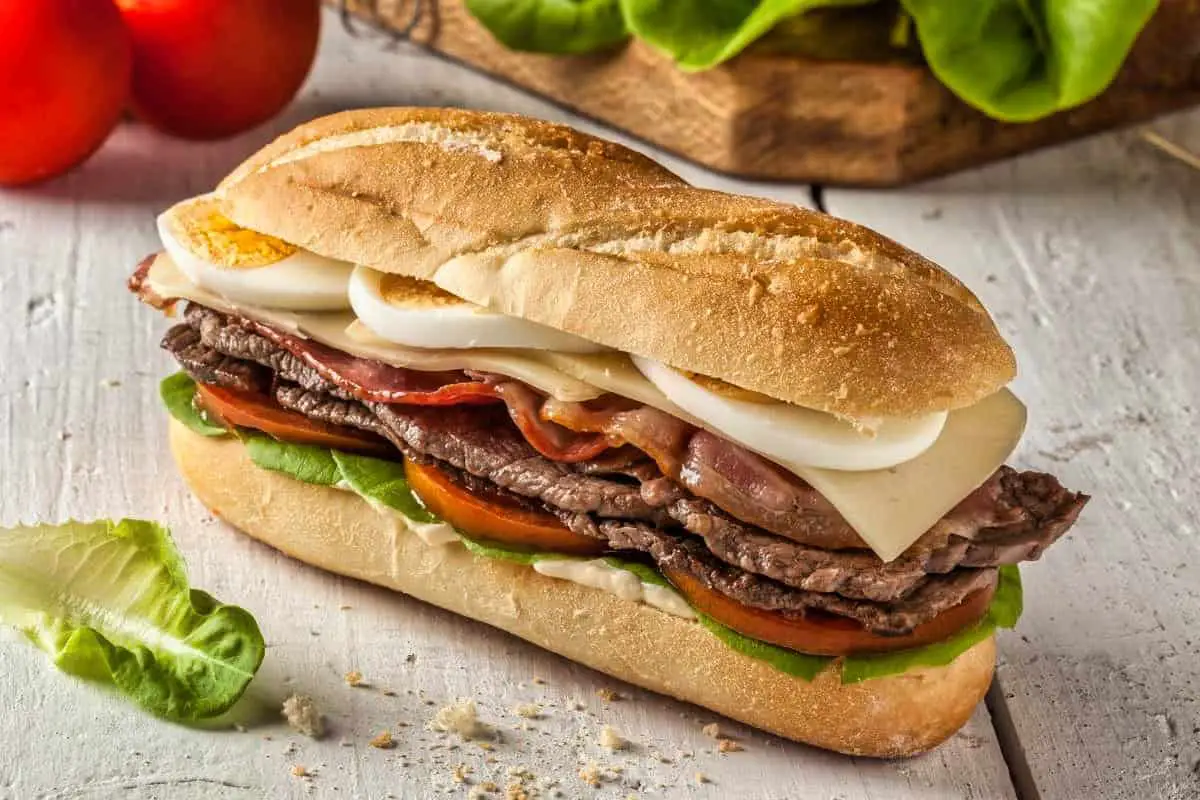 The chivito is the national sandwich of Uruguay dishes. Its importance in the country is on a par with hamburgers in the United States, fish and chips in the U.K., the Cuban sandwich in Cuba, and steaks in Argentina. This sandwich is not for the faint of heart or appetite, either.
The chivito (which translates as "little goat") is a serious sandwich filled with meat. The star ingredient is a slice of churrasco, which is thinly sliced grilled beef. This is topped with slices of ham, bacon, lettuce, tomato, melted mozzarella cheese, and a fried egg.
You might want to eat this with no accompaniments since it is a balanced meal in itself, with plenty of protein, vegetables, and bread. If you do want a side, choose something simple like coleslaw, french fries, or onion rings. A beer is a great way to wash it all down.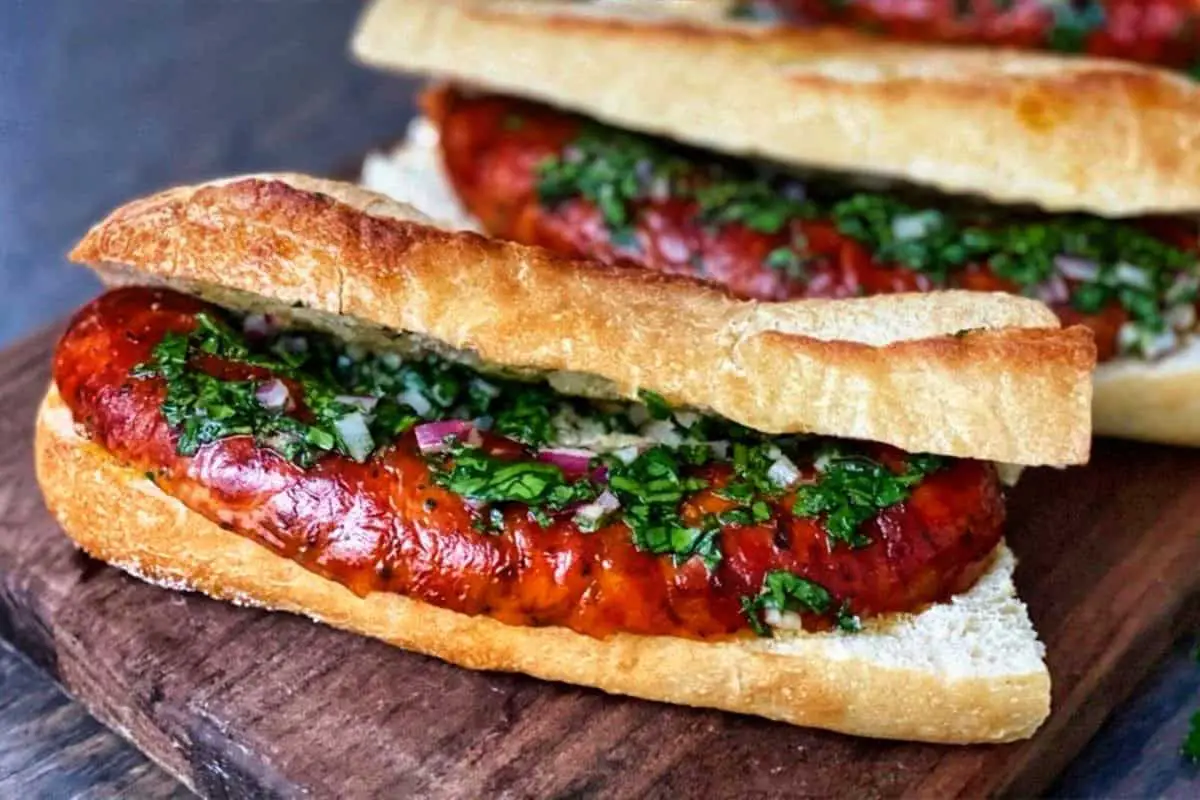 The name Choripan refers to Chorizo – a cultural semi-cured sausage of the Latin American regions – and Pan, which means bread in general. Though Chorizo was present in Latin America long ago, it has only come to hotdogs since the Spanish conquerors arrived.
What makes Uruguayan Choripan famous is their Chorizo, which comprises two-thirds beef and one-thirds pork. It's also slow-cooked on fire embers rather than dried or smoked like its counterparts. As a result, these Uruguay dishes are more tender and juicy. Furthermore, the cultural Chimichurri sauce also made the fame of this Choripan.
3. Yerba Mate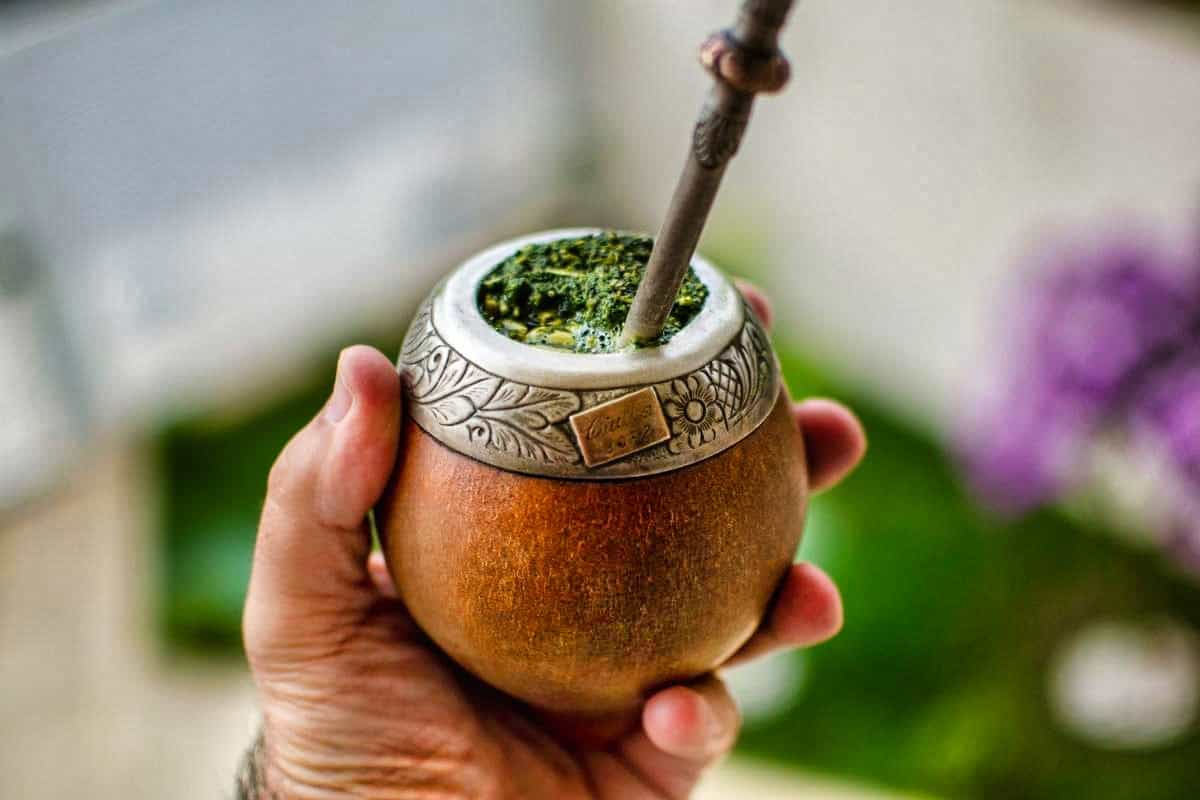 Coming to Uruguay, you can easily see people are drinking somewhat liquid from a metal gourd-like cup, using an iron straw. What they're drinking is Mate, an unofficial national beverage of the Uruguayan cuisine.
This tea is made of dried leaves of Yerba Mate – a native plant of Latin America, and Mate is so famous that the iron straw called "bombilla" is specially invented for drinking it.
The origin of Mate is traceable back to the 16th century when the Spanish conqueror arrived. You can also find this tea as an iconic dish in Paraguay and Argentina, but Uruguay claims the largest consumer per capita of this Uruguay food.
---
You Might Also Try 25 Unbelievable Argentina Food Recipes
---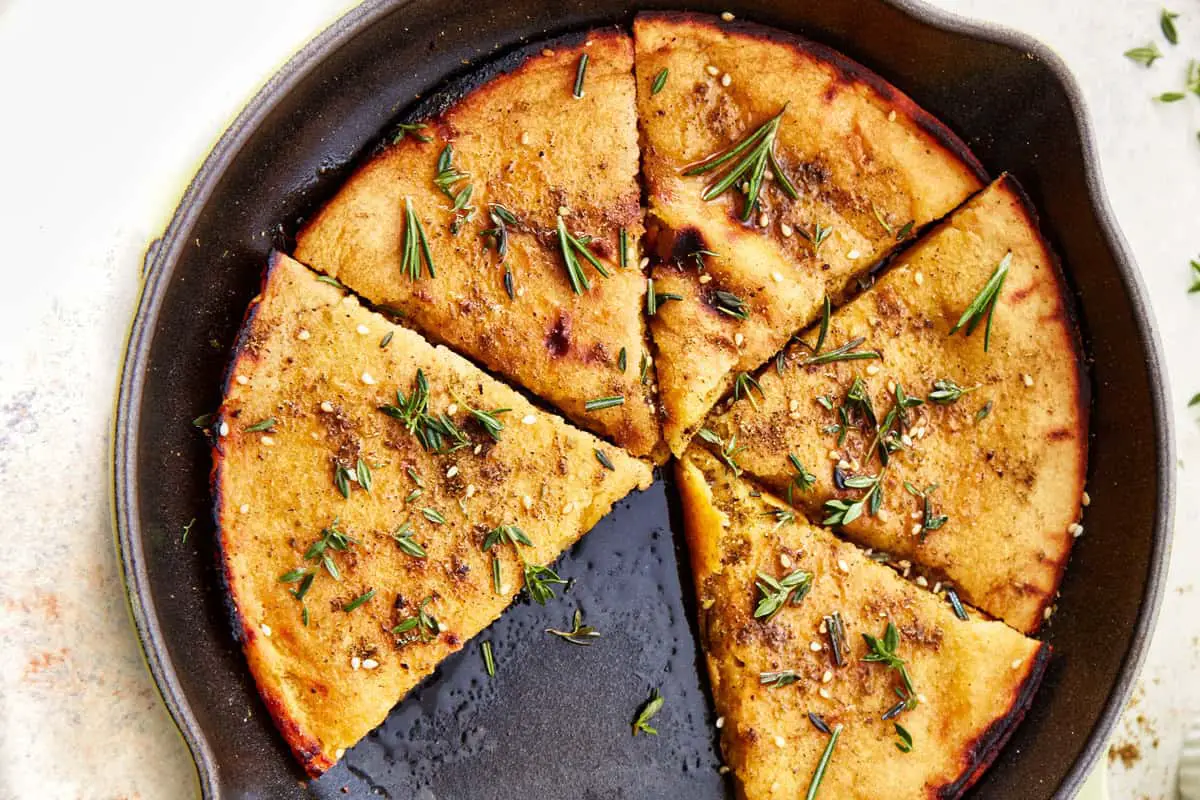 Uruguay is a land of immigrants, mostly from Spain, France, and Italy. The faina is a recipe imported in Uruguayn cuisine by the Italians in 1915. Originally from Piedmont, northwest Italy, the Guido brothers brought with them their traditions, including the Italian cuisine with the recipe of the "Farinata" that in Uruguay became known as faina.
They created the first mill (Molino Guido) for the production of chickpea flour in Uruguay, becoming famous for the quality and excellence of their products (they also processed peas, lentils, and rice). The ingredients for the basic recipe include chickpea flour, olive oil, water, salt, and pepper.
This Uruguay food is traditionally served in slices to eat with pizza, locally called "pizza a caballo" (horse-backed pizza). It means a slice of regular pizza is topped with a thin slice of faina. The texture of the faina is crunchy and thin. Some people prefer to eat it without the pizza, so they add a dash of pepper on top, and the result is unique.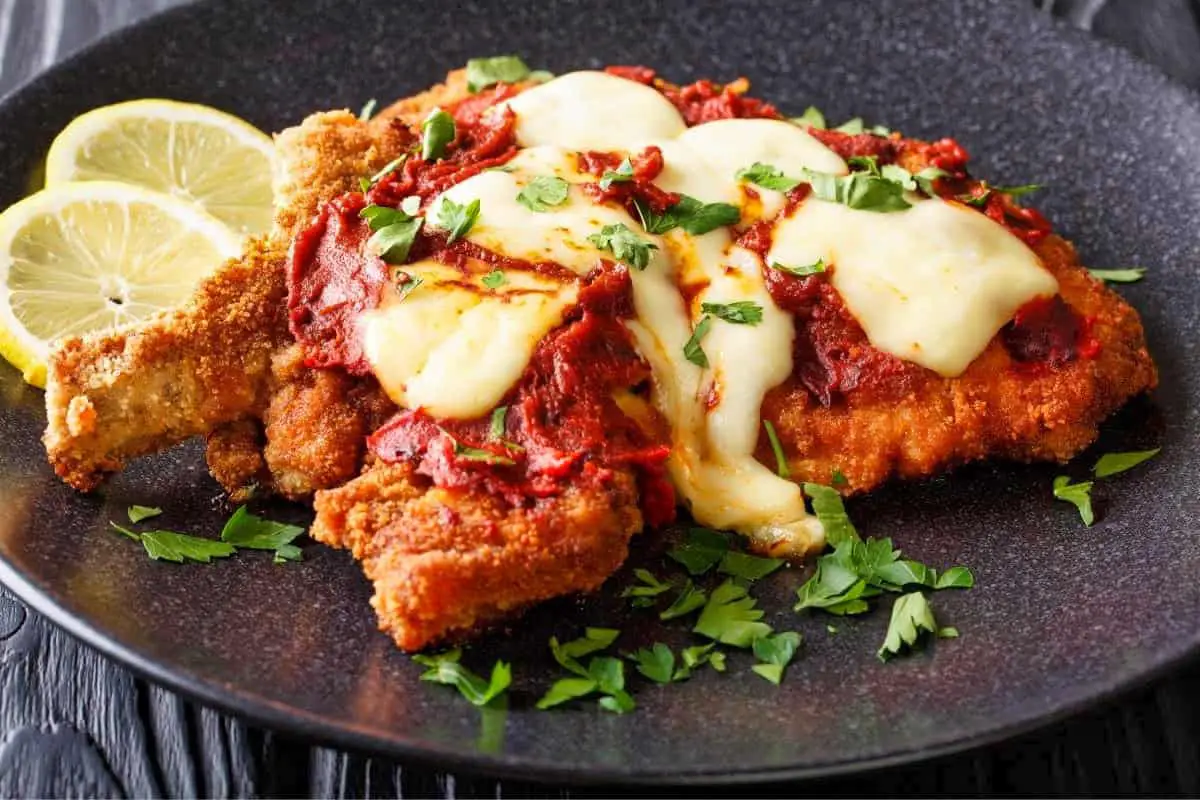 Milanesa is an ideal option for a dinner of Uruguay dishes. It's a type of flat breaded meat. It can either be fried or baked. This Uruguay food, was invented during the immigration of Italians – who brought it to South America and made its reputation afterward.
In Uruguay, Milanesa is mainly made of chicken or beef, and the most favorite version is Milanesa A La Napolitana which is topped with oregano, tomato, ham, and cheese. This dish will be baked in the oven until the cheese is melted before serving.
The milanesa napolitana is very popular in both Argentina and Uruguay. The classic Neapolitan flavors, tomato sauce, and mozzarella cheese combined with ham over a thin, crumbly cutlet become a hearty, tasty and satisfying dish, especially when served with the always-present side of French fries. Uruguayans make it with thin, top round beef steaks.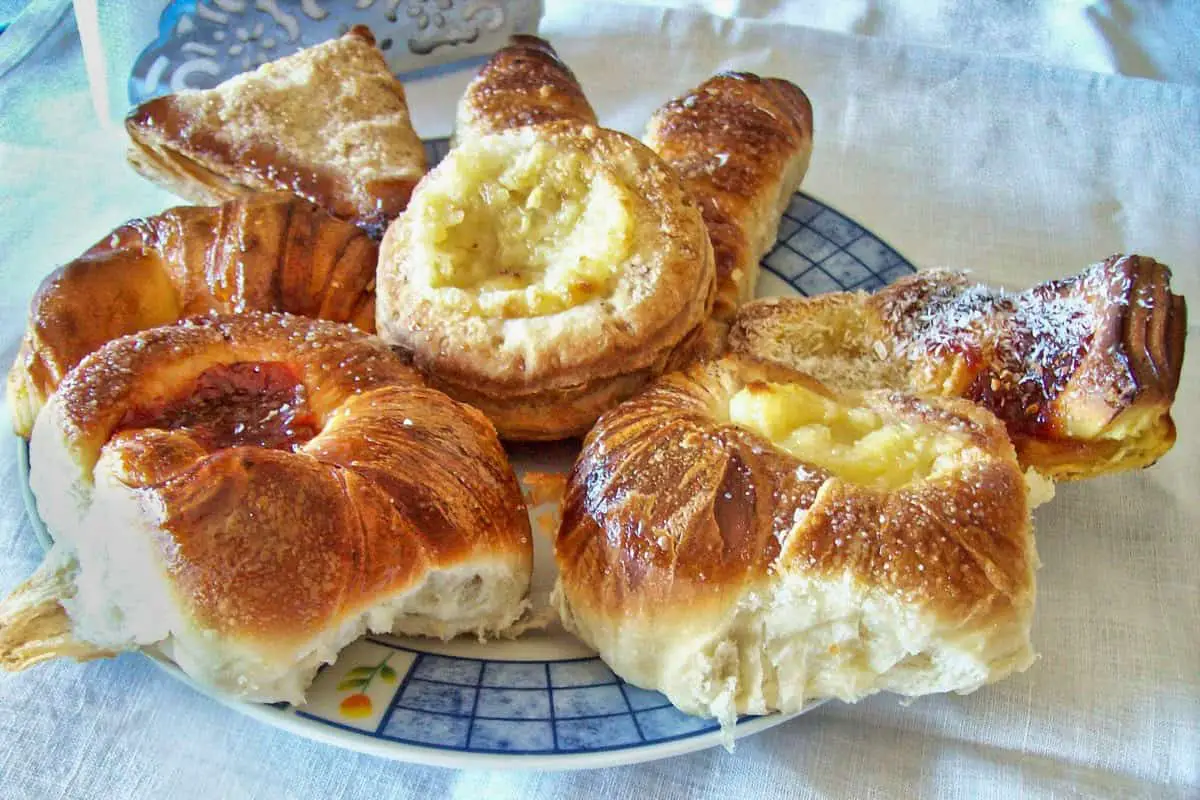 Breakfast is different in every country. In Uruguay, the bizcochos (pastries), have all of the attention in the mornings. To prepare them, it can take some time. But if you are in Uruguay, don't worry – there's always a bakery around the corner where to buy a bag full of these small pastries, a perfect match to a cup of coffee, the mate, or tea.
Bizcochos come in different sizes and shapes, salt or sweet, as you prefer. The origins are presumed to be from both French and Spanish bakers who immigrated to Uruguay. Some bizcochos are prepared with fillings of dulce de leche, cream, or jam.
The Uruguay dishes are called Cruasán, a version of the famous French Croissant. The bizcochos are also a classic snack in the afternoon for Uruguayans.
---
You Might Also Try 25 Unbelievable Bolivian Food Traditions & Recipes
---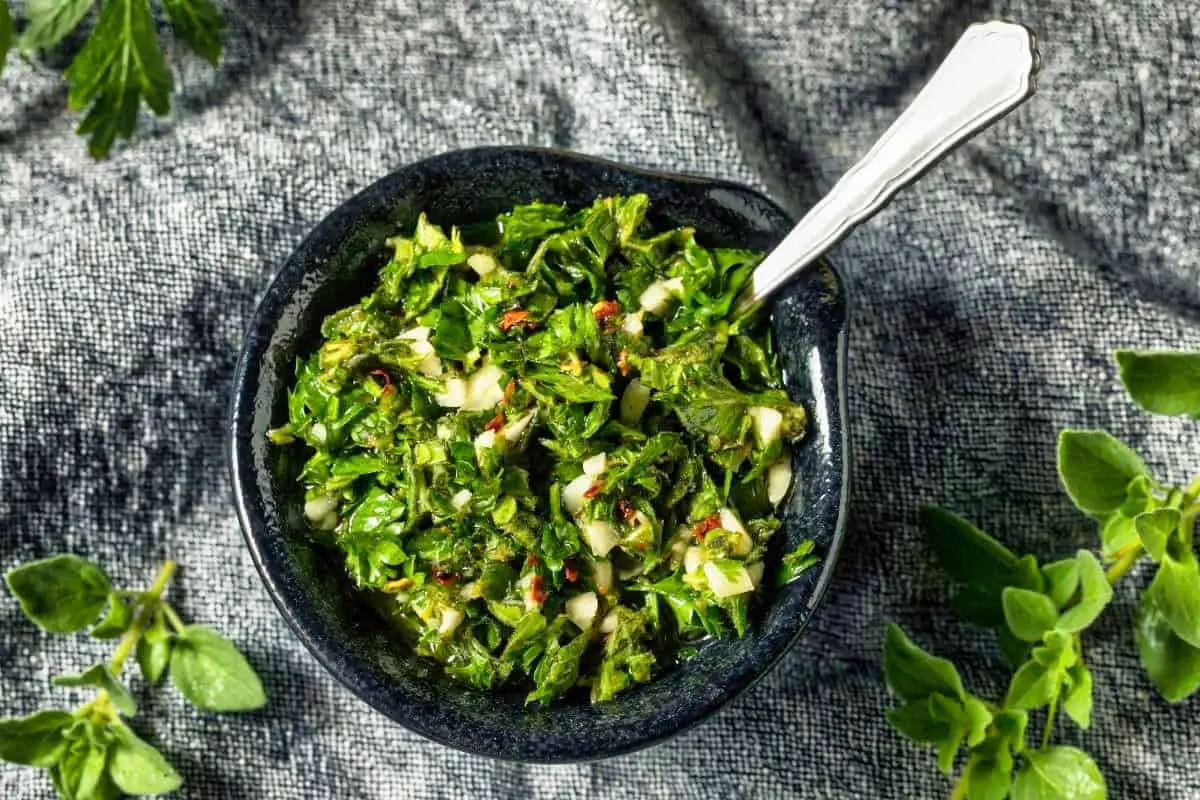 Chimichurri is a loose oil-based condiment used to accompany barbecued meats or churrasco. In the land where an average a person eats 57 kilos of beef a year, chimichurri became the perfect accompaniment for the asado, although the Uruguay food is present in many dishes of the local cuisine. Uruguayan cuisine uses this as a great salad dressing, and it also goes well with appetizers (on top of bread slices or toast), with poultry dishes, and in fish marinades.
The traditional ingredients are parsley, garlic, oregano, oil, water, salt, pepper, and vinegar. The secret is to use fresh herbs instead of dried ones. You chop the herbs finely and then add the oil, vinegar, and warm water. Leave it to rest for a couple of hours in the refrigerator. The outcome will be an authentic, tasty chimichurri sauce.
In Uruguay, the sauce is sold in supermarkets and butcheries, usually as fresh as homemade. The fresh chimichurri is best if used within 48 hours.
Influenced by the Spanish and the Portugalian, Empanadas are fried or baked pies in a crescent shape, stuffed with minced meat, onions, hard-boiled egg, and optional spices that vary from each region.
Empanadas Criollas is now the most famous version of this meat pie in both Uruguay and Argentina. Most of the Empanadas Uruguayan recipes you get here will be stuffed with beef. However, you can also find the vegetarian version with little effort.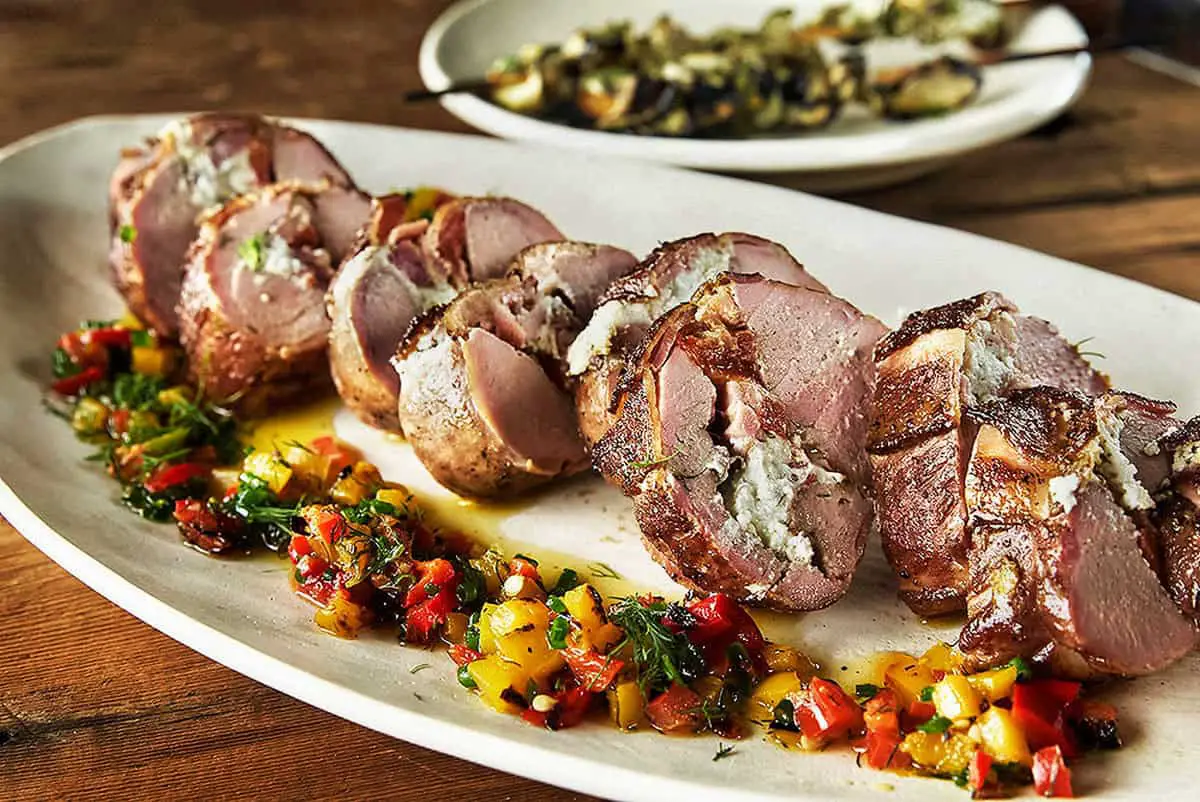 Though this Uruguay food is named after a city in Spain, it's indeed an invention of Uruguayan dishes from back in the 1960s. Typically, it's made by cutlets of pork, chicken, or beef and stuffed with multiple elements such as ham, onion, red pepper, olive, cheese, and sometimes egg.
The cutlets will then shape into a large-sized sausage and grilled, mostly used in the Asado. Some restaurant does include Pamplona De Cerdo on their menu, served along with salad or pasta. You can also find it as street food, accompanied with buns like sandwiches.
---
You Might Also Try 21 Favorite Traditional Brazilian Recipes
---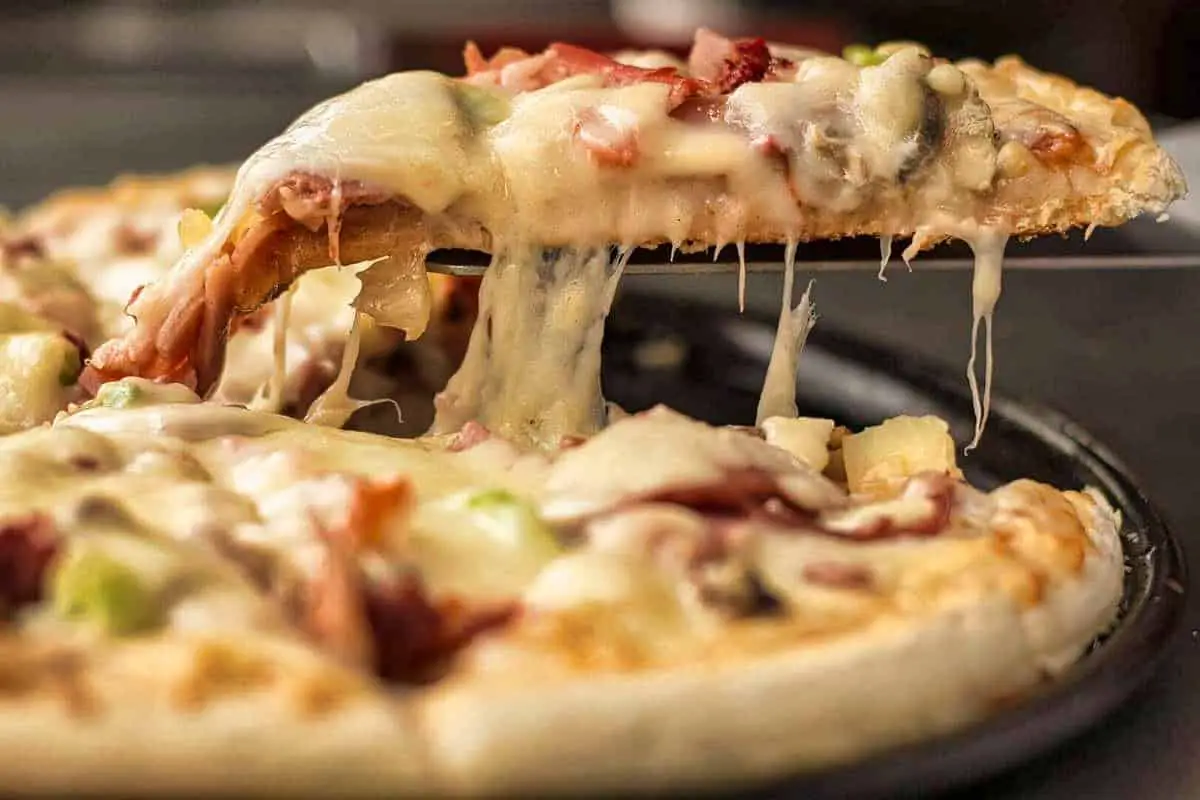 It's evident that nowadays, you can find Uruguay dishes of pizza in almost any corner across the world. However, these Uruguay dishes have signed their name onto the Uruguayan heart sincerely.
One of the most recommended pizzas by the locals is Pizza a Caballo, but don't be confused by its name. This pizza contains no horse meat in any aspect. What topped on it are cheese, tomato, black pepper, and Faina – a cultural flatbread that I'll cover later.
Interestingly, order a "pizza" in Uruguay, and what comes to the table might be just the pizza crust and tomato sauce, no cheese included. Instead, the pizza topped with cheese is called "muzzarella" in general here, as it indicates the name of the cheese itself.
Gnocchi is a famous type of dumpling that originated in Northern Italy. Potato gnocchi is a typical dish in Uruguayan cuisine, and it's served chiefly with Salsa Tuco – you can think of this sauce as the Latin American tomato sauce, which includes garlic, green peppers, carrots, and beef.
Eating Noquis de Papa on the 29th day of each month is a tradition in Uruguay. People assumed that eating potato gnocchi on this day and leaving the restaurant with a coin underneath your plate would bring you financial luck for the next month. Noquis is a famous Uruguay food.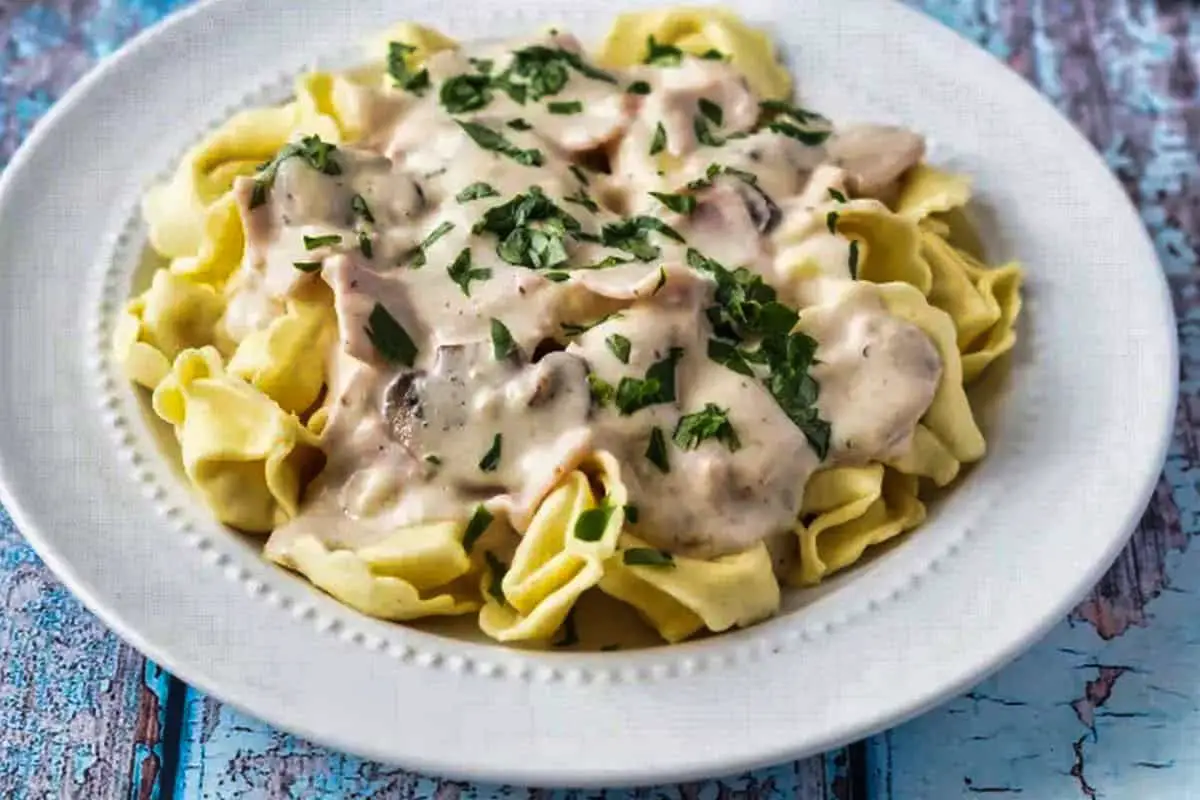 The Uruguayan recipes for Pasta con Salsa Caruso (Uruguayan Pasta with Caruso Sauce). This thick, creamy sauce is packed with sliced mushrooms, ham, and Parmesan cheese and perfect for pairing with your favorite pasta. Salsa Caruso is a classic pasta sauce from Uruguay influenced by Italian flavors. The milk and cream base has a generous amount of beef bouillon mixed right in to give the sauce an almost gravy-like quality. It also includes sliced mushrooms, ham, and Parmesan cheese.
The sauce is generally paired with capellettis (cappelletti) and other stuffed pastas. I used tortellini, but it can be tossed with any shape that will hold up well such as shells. This sauce has left quite the impression and La Asociación Uruguaya de Gastronomía (Uruguayan Association of Gastronomy) declared the dish an Uruguayan cultural heritage.
---
You Might Also Try 25 Great Traditional Ecuadorian Recipes 2022
---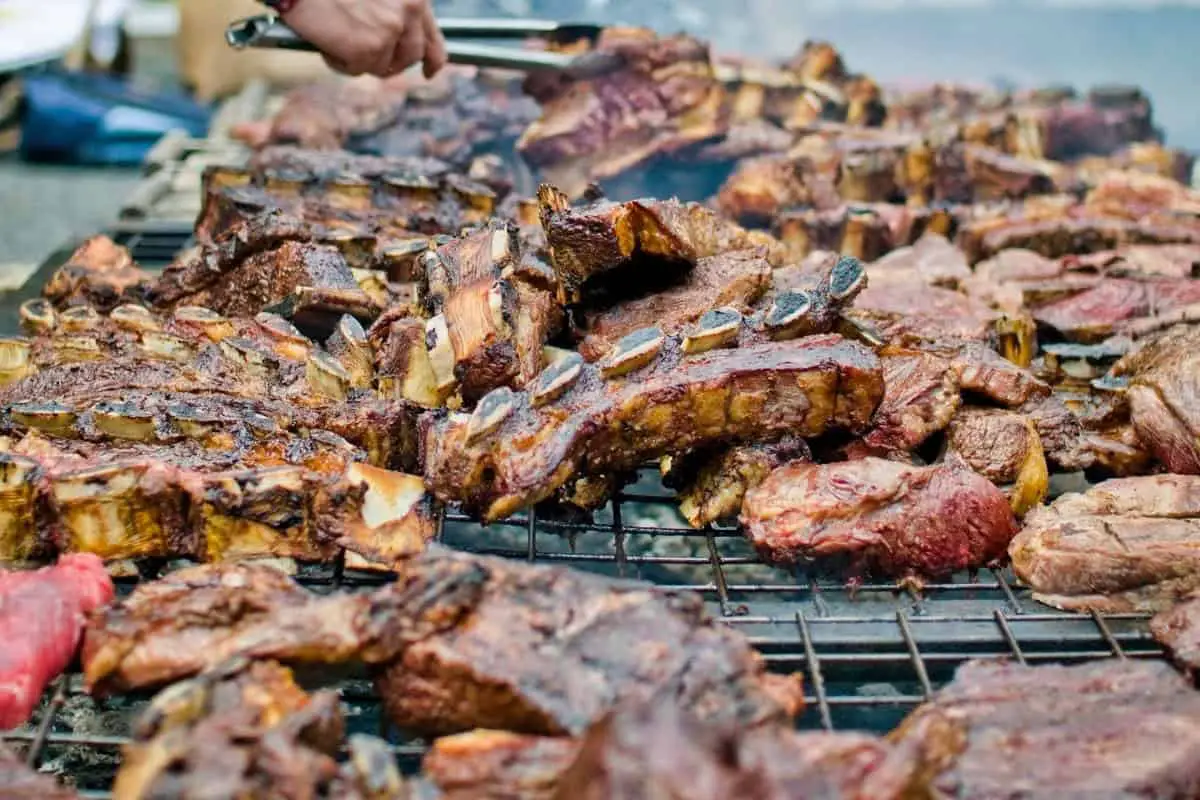 The name Asado was inspired by the word "asar" in Spanish, which means "to grill".This dish was invented in Argentina during the overpopulation of cattle in the 17th century.
In Uruguay and Argentina, Asado is the traditional dish, or perhaps feast since it's more relatable to a BBQ party than just a meal. The Asado here is usually meant for families and friends to enjoy together.
Therefore, it offers a wide variety of foods on the griller, from cattle to poultry and vegetables. The most crucial element of Uruguay Asado is beef, and some regions even use cow's intestines and gizzards for their Asado.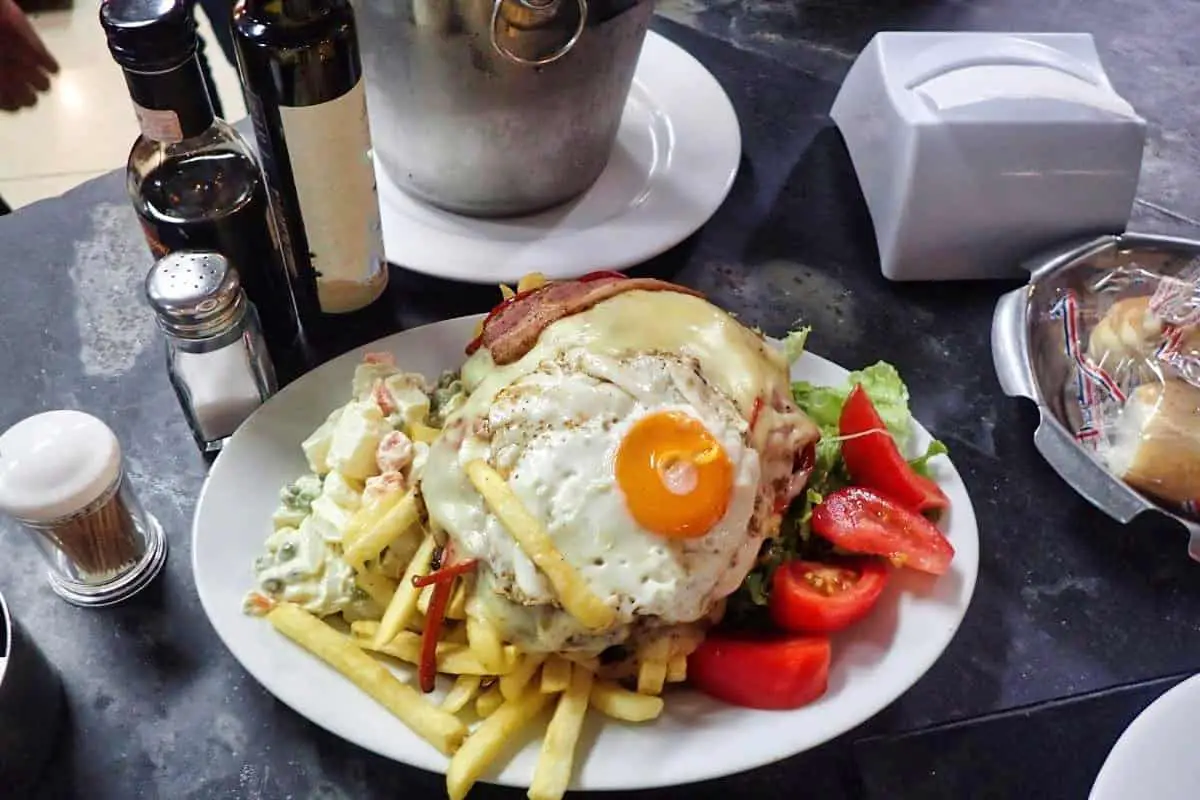 As you may guess from the name, Chivito al Plato is Chivito that is served on a plate. Since the traditional Uruguay dishes have a lot of elements in a sandwich that you may struggle to enjoy, you can order this dish instead and eat it with a fork and knife.
This dish will exclude the buns; however, it's usually prepared on a large-sized plate that is meant to serve more than one person. So be aware of this and better not to waste food.
In addition, you can order a Canadian Chivito, which has olives, red peppers, onions, and bacon as accompaniments. Almost all Chivito restaurants do offer this premium option on their menu.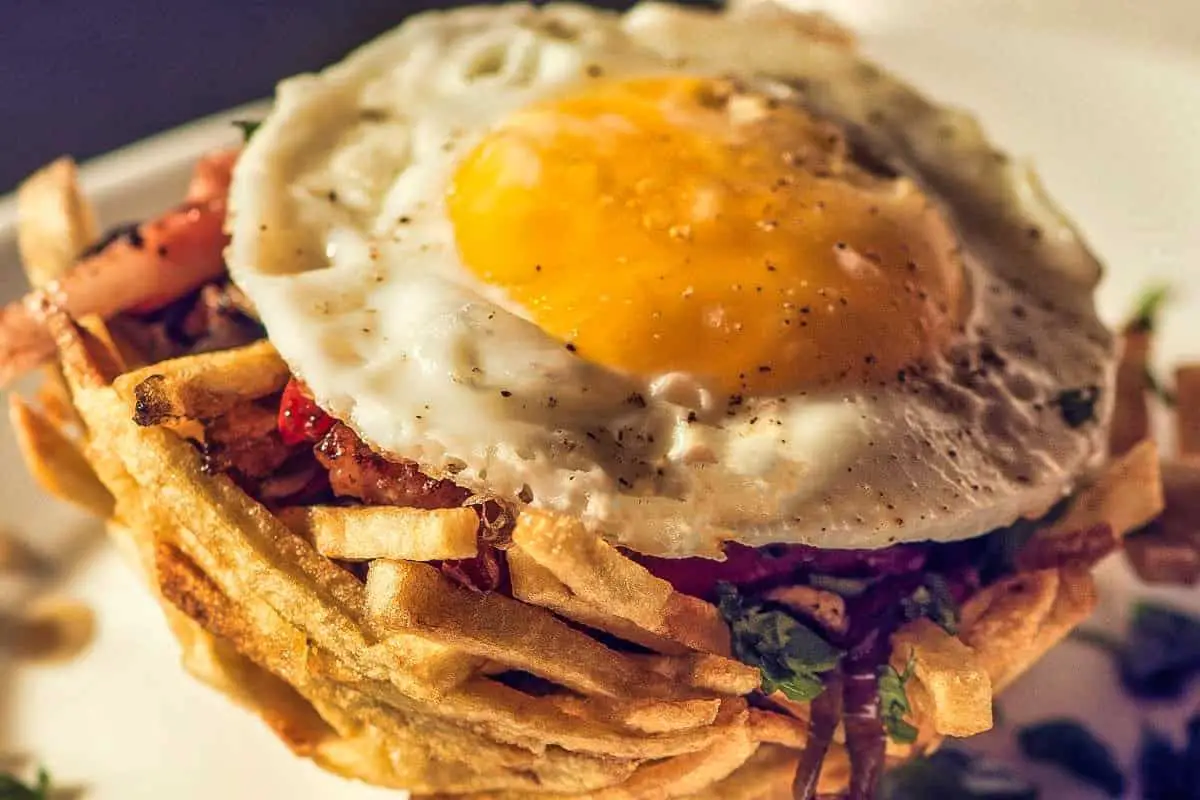 The name of this dish came after a former government administrator of Buenos Aires in Uruguay in the 19th and the early 20th century – Colonel Artemio Gramajo. However, the first dish of this Uruguayan cuisine was served in 1960, at the Bar Luzon restaurant.
The Uruguay food called Gramajo is a combination of onions, peas, diced ham, and fried julienne potatoes, all scrambled along with egg on a pan.
Legend has it that an Argentinian man came to the kitchen of a hotel in Paris where he was staying. But the kitchen was closed, so he decided to break in and make himself a dish from the leftovers.
---
You Might Also Try 25 Delicious Traditional Colombian Desserts
---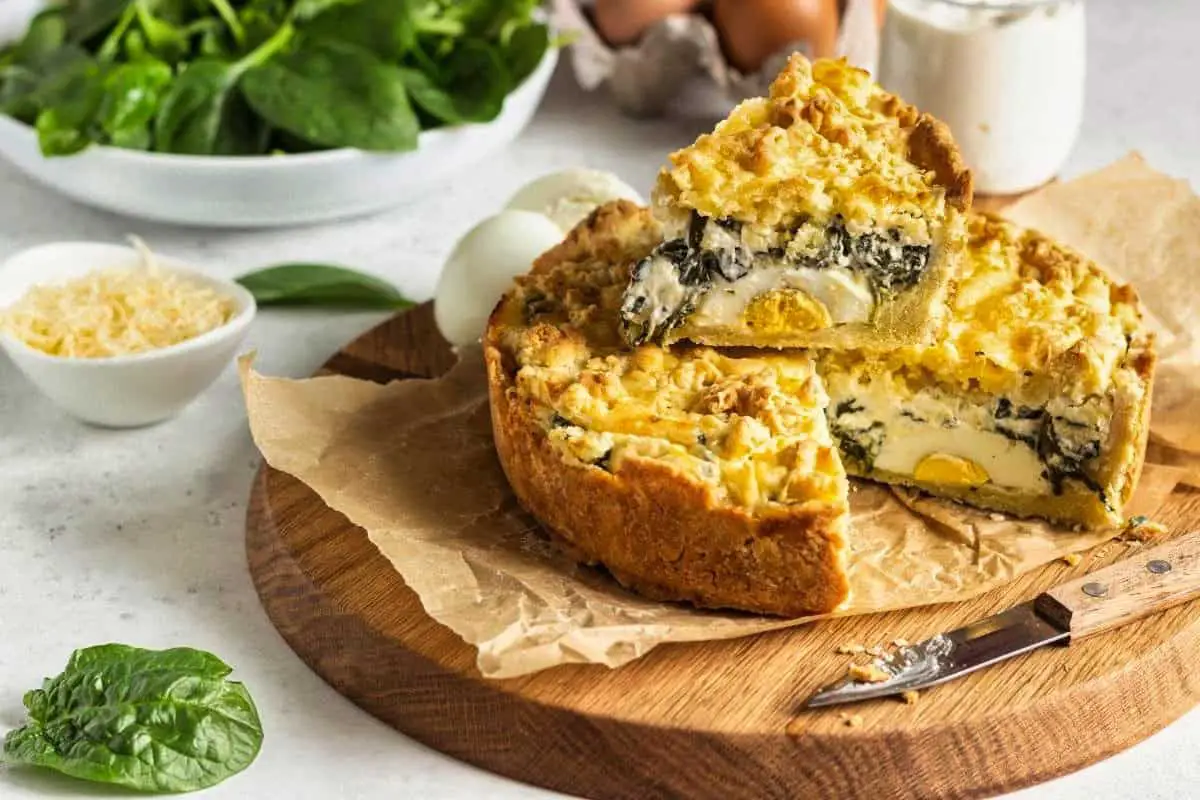 This is a vegetarian pie sprouted from Liguria, a North Italy region, in the 15th century. Traditionally, Torta Pascualina has spinach, ricotta cheese, and hard-boiled eggs, all combined in a thin dough that is relative to Empanada dough.
Swiss chard often takes part in the filling or even replaces spinach. Nowadays, you can find a wide variety of this pie with different stuffings, cheese, and sizes.
Torta Pascualina comes from cultural Uruguayan recipes, and it's especially consumed during Lent – a 40-day celebration when Catholics aren't supposed to eat meat. Still, you can find it in Uruguay all year round.
17. Torta Frita (Uruguayan Fried Sweet Bread)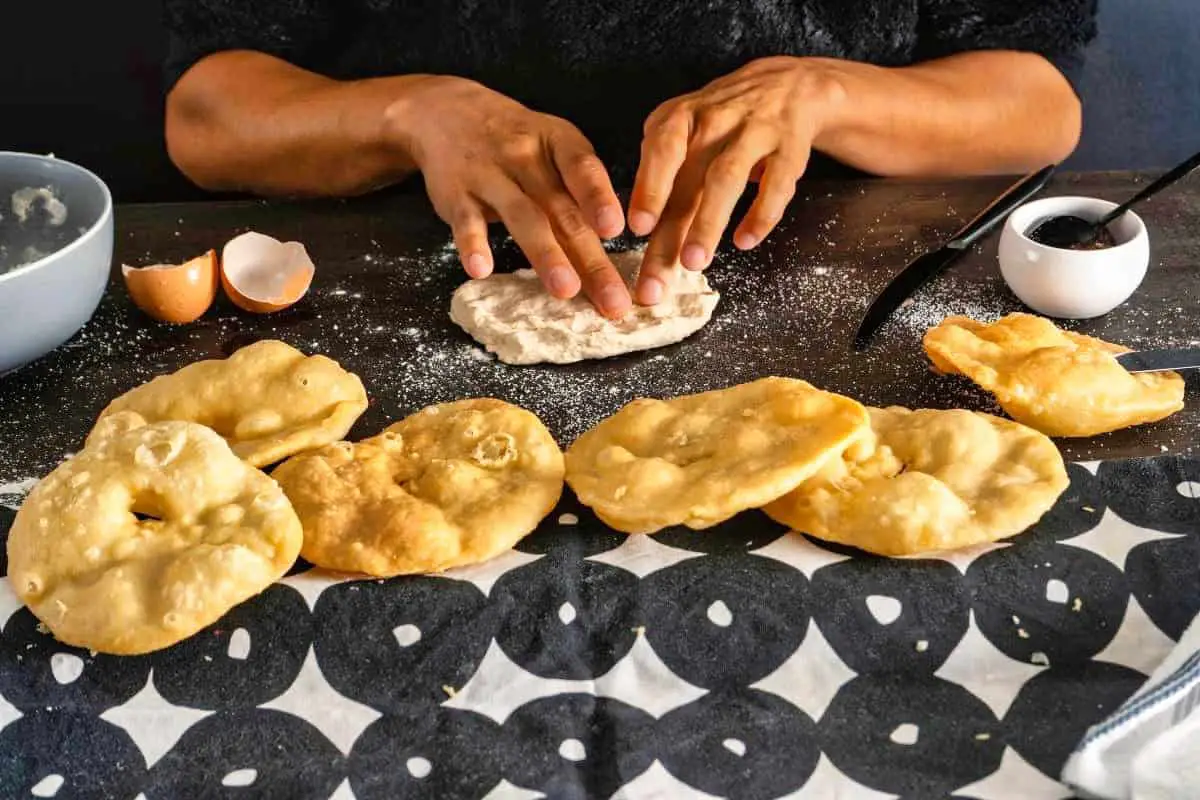 A crispy fried dough, tossed in sugar, and served with mate for an afternoon snack. Torta frita, which translates to "fried cake" is one of the most popular appetizers in Uruguay. This fried bread or cake is made with wheat flour then sprinkled with sugar. The result is a delicious cake or fry bread with a crispy texture that tasted wonderful, particularly when combined with sugar.
It is customary to serve torta frita with a good infusion of mate (a caffeine-rich infused drink). Although for those who prefer a less bitter drink, it is ok to serve them with coffee or milk. These fried cakes are better served within the first couple of hours. Their texture changes the next day.
Although traditionally these are served with mate (a caffeine-rich infused drink), choose your favorite drink and drizzled the fried cakes with dulce de leche, honey, or jam. You can also add savory accompaniments such as cold cuts, cheese, or cream.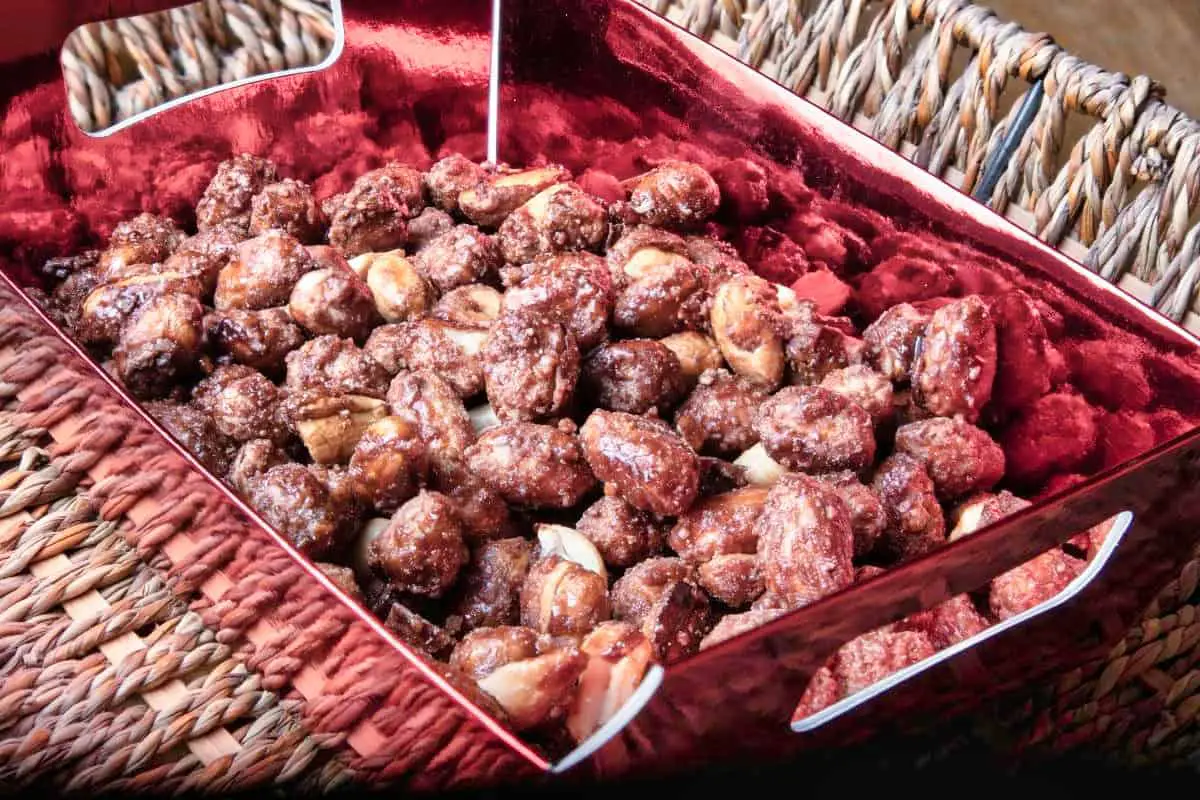 Garrapinada is a sweet snack that you'll surely see across the streets in Uruguay. The method of making this Uruguay food is quite simple; peanuts are pan-roasted in a mixture of water, vanilla, and sugar until caramelized.
You can also find Uruguayans making candied walnuts or almonds using the same method, and these are still called Garrapinada. The origin of this rustic treat is quite fuzzy, but its reputation has even reached Argentina and beyond.
---
You Might Also Try 30 Best Chilean Recipes Using Traditional Food from Chile
---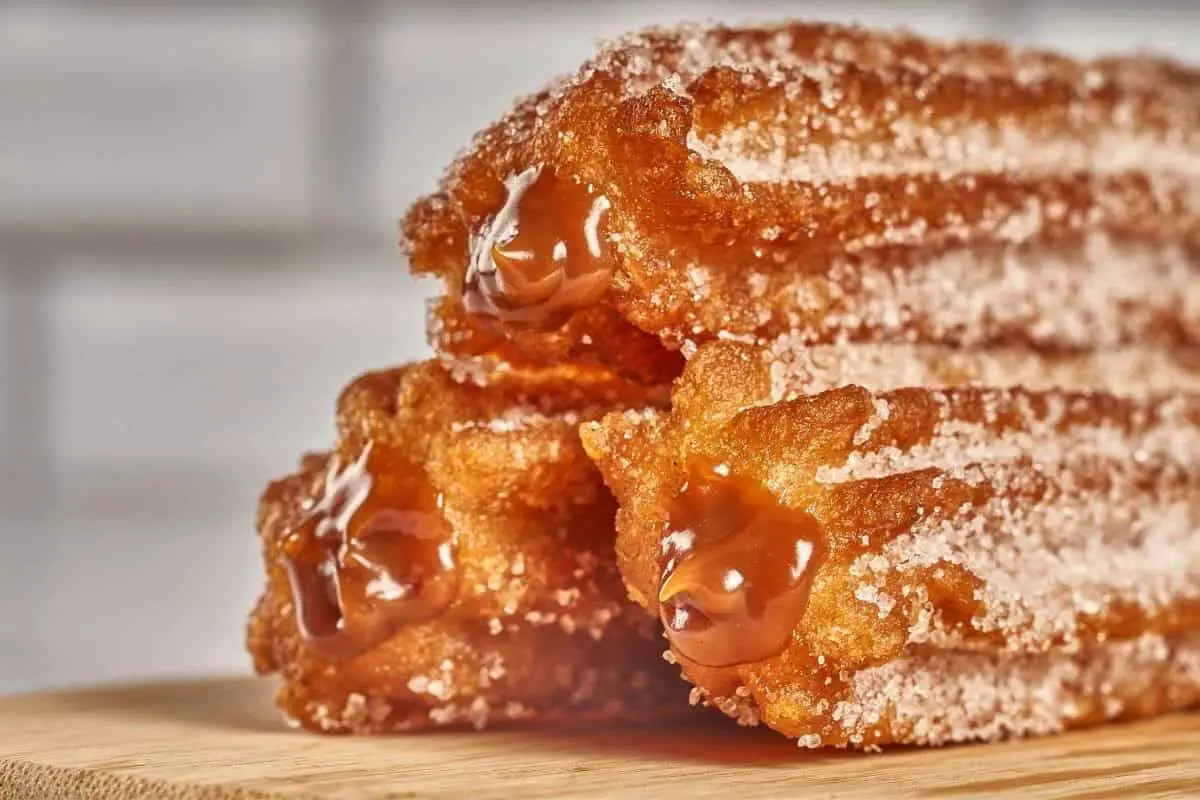 You may have heard about this Spanish-origin fried dough, and Churros is also a staple dessert in Uruguayan cuisine. It is made by frying long sticks of soft dough and is usually sprinkled with some granulated sugar and cinnamon when serving.
You can find a wide range variety of this sweet treat in Uruguay; chocolate and dulce de leche fillings are the most popular ones. The Uruguayans even invented multiple savory versions of this culinary delicacy.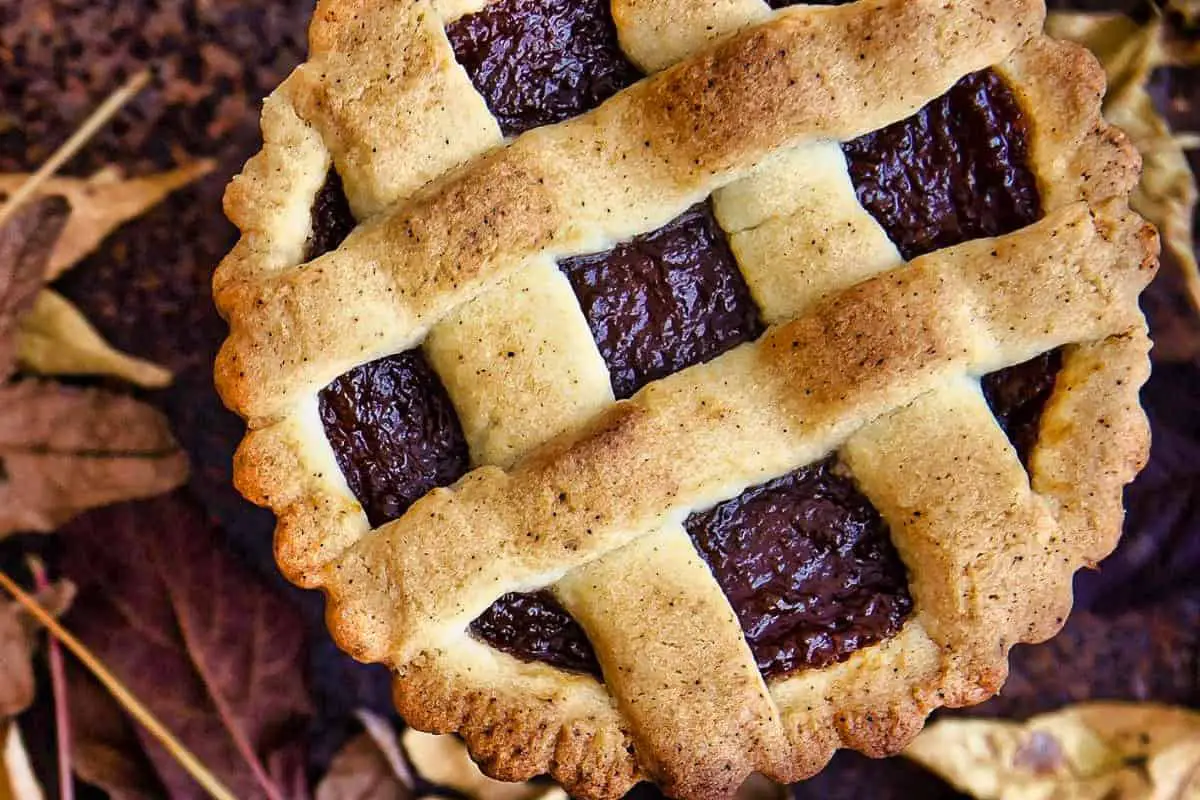 Pastafrola is a typical sweet-tart that originated in Italy and has found its beloved place in Uruguayan gastronomy nowadays. Traditionally, Uruguayan recipes are made of a pie crust filled with quince paste and topped with thin-striped lattices.
In Uruguay, you can find several versions of the filling for Pastafrola, such as chocolate, strawberry paste, or the cultural dulce de leche. However, the oldest and perhaps best recipe uses dulce de membrillo – a native paste from quince fruit.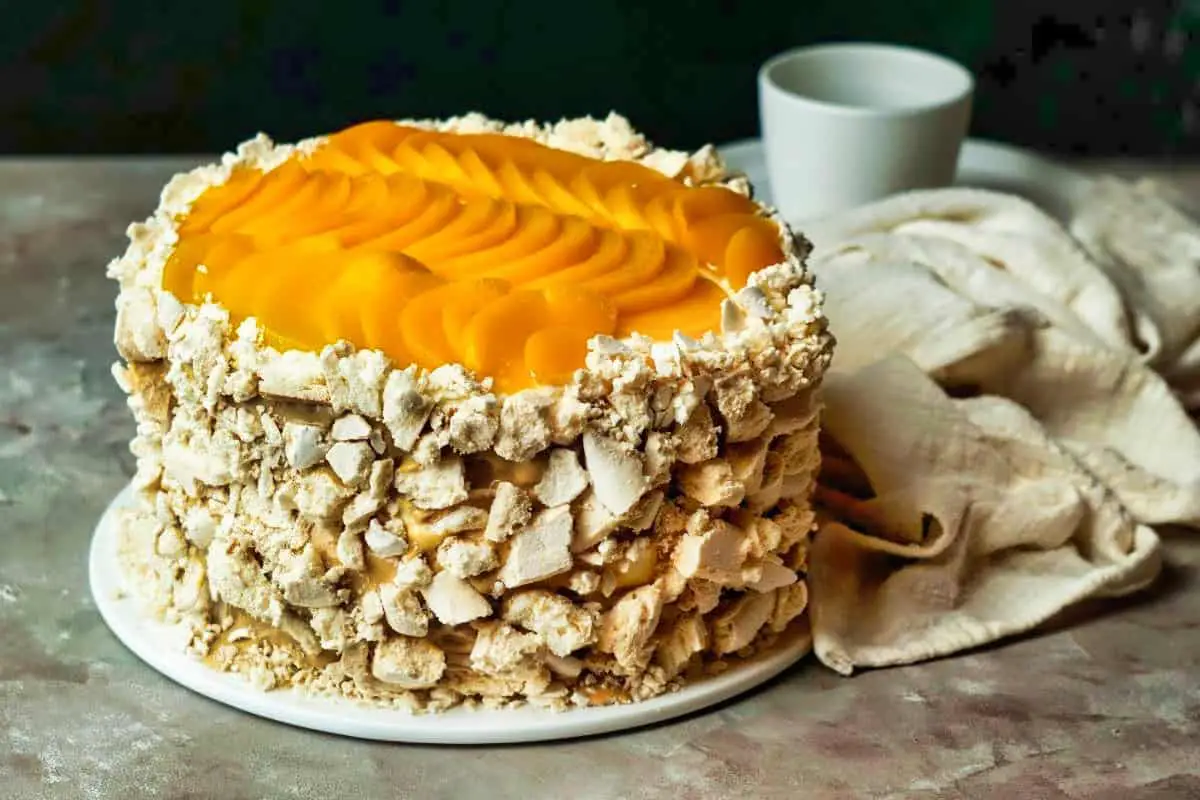 Chajá is a Uruguayan cake that consists of 3 layers of sponge cake stuffed with syrup, dulce de leche and a delicious whipped cream. The name of this cake was inspired by an Aboriginal term designating a typical bird of the region. This bird, the chajá, could be chosen as the emblem of the "Southern Cone", which defines the southernmost zone of the South American continent.
This delicious Uruguay food looks like a kind of turkey, with a crest, a small pointed beak and feathers around the neck. It is often found freely roaming in the regions of Uruguay. The chajá cake is like the bird: massive in appearance, but so light once you have tasted it. You could eat a huge amount without realizing it, or feeling heavy. Its lightness is based on the smoothness of the whipped cream and the thin layers of spongy sponge cake. Its volume is conferred by pieces of meringues that are crumbled to cover the cake. Traditionally, this cake is made with peaches but it is not uncommon to find versions garnished with strawberries.
---
You Might Also Try 20 Great Traditional Paraguayan Recipes (2022)
---
Martin Fierro is a cultural choice for Uruguayan dishes or desserts. It was named after a poem's protagonist, which José Hernández wrote in 1872. And this was believed to be the poet's favorite dessert.
Martin Fierro was inspired by the Vigilante – a popular dessert in Argentina that comprises sweet potato paste and cheese in equal slices. The Uruguay version substitutes sweet potato paste with quince paste, and the most used cheese is Manchego.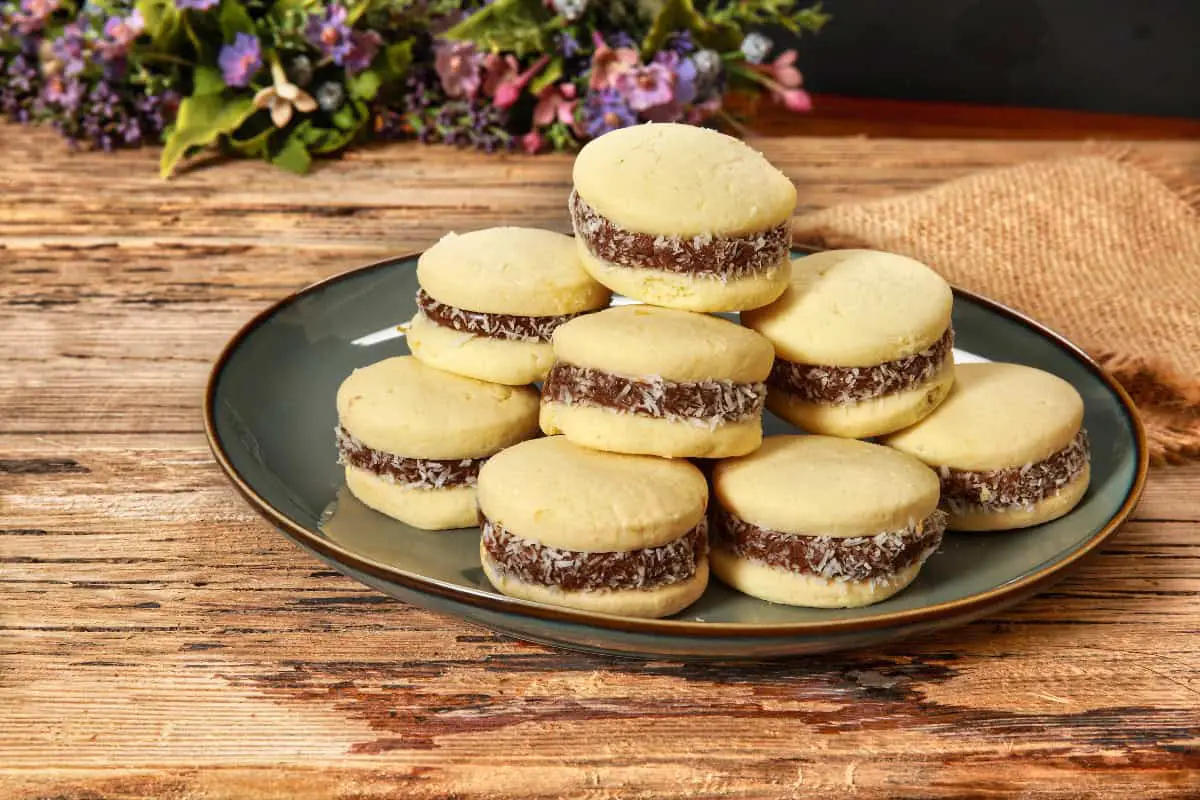 Alfajores is simply made of two pieces of soft biscuits filled with dulce de leche. Many Uruguayans describe that these cookies seem to melt in their mouth with marvelous sweetnesses.
You can have Alfajores as either dessert or snack, and these cookies are also popular in other Latin American nations, especially Argentina. However, in the Uruguayan cuisine, they prefer to coat their Alfajores with milk chocolate for extra deliciousness.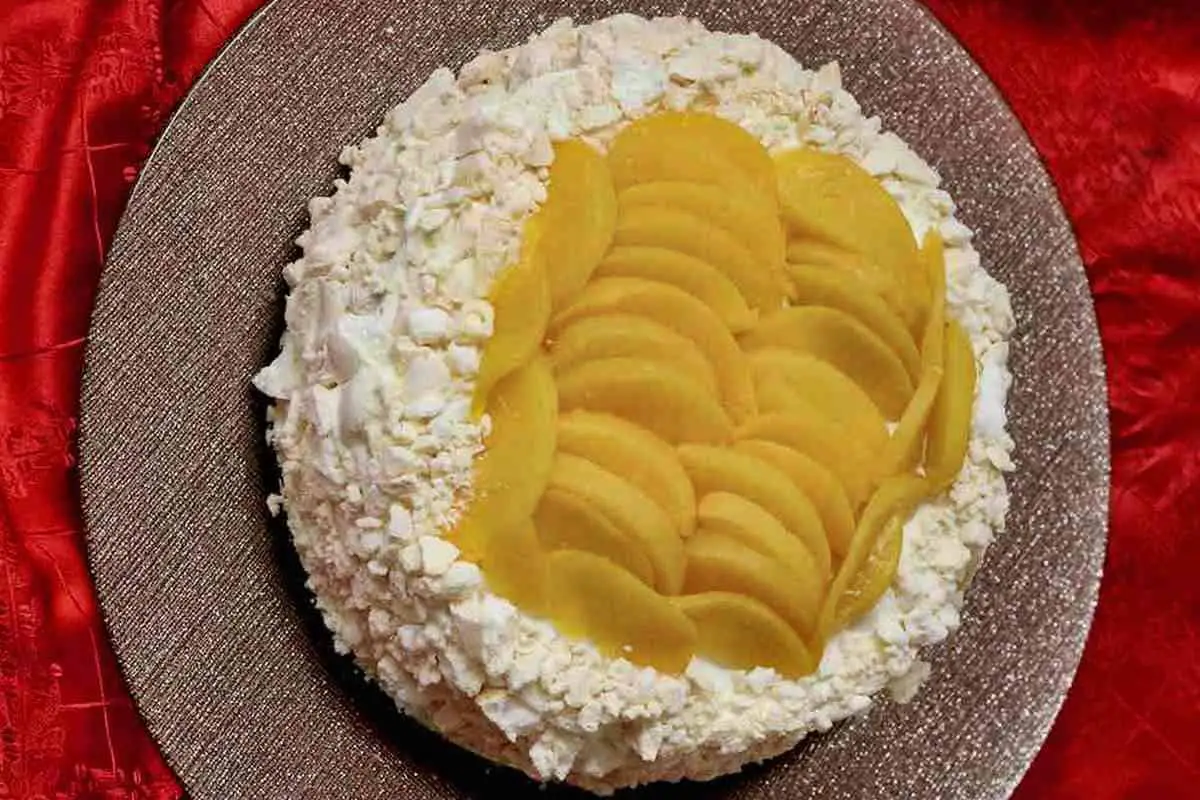 Torta Chaja is among the Uruguayan recipes that were actually invented by the Uruguayans. It was first made in 1927 in Paysandu and was named after a bird, which is also known as the "Southern screamer". The idea comes from the lightness of this bird's plumage.
Traditionally, Torta Chajá is made of three key ingredients: sponge cake, meringue, and peaches. Nowadays, whipped cream is usually added to enhance the richness, and you can also find many substitutes for the peaches, such as strawberries or dulce de leche.
---
You Might Also Try 33 Great Venezuela Foods & Their Traditional Recipes
---
---
For complete photos and videos of our trip, visit us on our Instagram Page
You May Want to Join Our Boondocking Group on Facebook For More Information
You Can Check Out Our International Recipes On Our World Recipes OBE Instagram Page