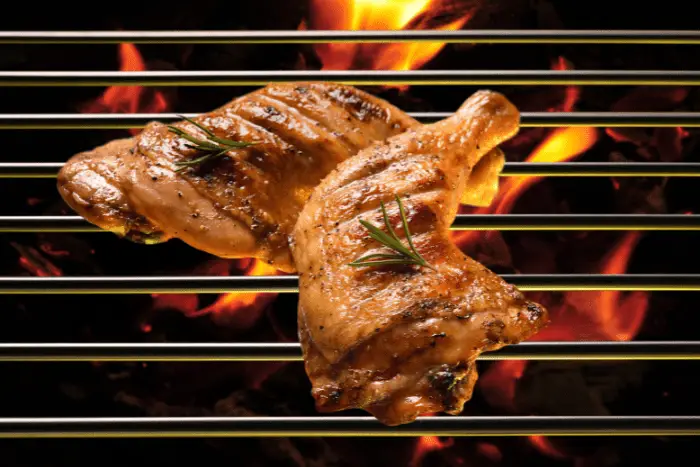 We are bringing you 12 Great traditional Antigua recipes  We have spend a lot of time in the Caribbean and much of the food is the same for destination to destination. However these traditional Antigua recipes are all a bit different and we are sure you will love them all.
Traditional Antigua Recipes and Foods
Saltfish, eggplant (called troba), lettuce and eggs are among the breakfast dishes. A starch, such as macaron, rice, or noodles, with veggies or salad, an entrees like (pork, fish, beef, chicken , etc.) and a side dish, such as macaroni pie, plantains, or scalloped  potatoes, , are traditional luncheon items. Many individuals in the area attend church regularly and then make a range of delicacies at home. All of these great foods fall under the traditional Antigua recipes labe. Because individuals are generally off work on Sundays, dinner is often served earlier (about 2:00 pm).
Lunch and dinner: The traditional Antigua recipes are usually inclusive of some of these.  Baked chicken, stewed lamb, pork , stewed lamb, por or turkey are frequently served with rice (cooked in a number of ways),  salads, macaroni pie and a local beverage. Cake or icecream , apple pie (mango and pineapple pie when available, or jello are all options for dessert. Antiguan Butter Bread, a smooth buttered loaf of bread that requires no additional butter once cooked, is also a mainstay of Antiguan food. For morning and throughout the day, many residents enjoy freshly made butter bread with cheese. Many houses in Antigua's communities have little bakeries incorporated inside them, where locals may buy freshly baked loaves. For a truly one of a kind traditional Antigua recipes visit some of these and get their tips on how to create the bread back home.  They're served with cheese, sardines, and a bright red sausage called salami by locals, among other things. With most dinners, they also include "provisions." Potatoes, yams, sweet potatoes, eddo, and other root or starchy foods are examples of provisions.
Antigua Holiday Food: Souse is the most famous of all the traditional Antigua recipes, A spicy soup made with pigs' feet, knuckles, and tails with a lot of onions, is a popular snack offered by roadside sellers during Carnival. Locals in Antigua enjoy black pudding, sometimes known as blood sausage, which is a hot-seasoned sausage cooked with rice, beef, and blood. Locals will be cooking fresh gathered corn, generally in the husk, over makeshift barbecues ready to be ordered and consumed as you cruise the roads of Antigua's rural areas. Antigua prides itself on  its locally produced pineapples, which are among the sweetest available. The Antiguan Pineapple is a little fruit that is often sweet and juicy. Small pineapple crops can be found all around the island.
Antigua and Barbuda Frequently Asked Questions
How much does  traditional Antiguan food cost?
Is eating in Antigua expensive? In Antigua, food is moderately inexpensive; a lunch at a typical local restaurant will cost between $10 and $20 per person.
What is the average cost of a dinner in Antigua?
Restaurants – Inexpensive Restaurant Meal 25.00EC$
Two-person meal in a mid-range restaurant with three courses
275.00EC$
22.50EC$ McDonald's McMeal (or Equivalent Combo Meal)
6.00EC$ for a pint of domestic beer on tap
How much do restaurants in Antigua cost?
Restaurant prices in Antigua & Barbuda.
14 XCD Cappuccino (regular) (12-17)
5.20 USD (4.40-6.30)
9.80 XCD Espresso Coffee (8.40-12)
3.60 USD (3.10-4.40)
6.00 XCD Cheeseburger (fastfood) (6.00-7.50)
2.20 USD (2.20-2.80)
Is Antigua reasonably priced?
Antigua and Barbuda's cost of living is deemed higher than that of the bulk of Caribbean countries due to the country's high standing. Nonetheless, the cost of living in Antigua and Barbuda is almost 20% lower than in the United States and the United Kingdom.
Is the traditional Antigua food good?
Because of its excellent seafood, top-notch rum, and tasty cuisine, Antigua is now a gastronomic destination. Although several Caribbean islands feature similar meals, each has its own distinct flavor profile.
Is eating in Antigua affordable?
While meal costs in Antigua and Barbuda vary, the average daily cost of meals in the country is EC$179.
Breakfast is frequently less expensive than lunch or dinner. Food in sit-down restaurants in Antigua and Barbuda is frequently more expensive than quick cuisine or street food.
What makes Antigua so pricey?
Prices in the Caribbean, including Antigua, are often higher than in the United States, owing to the fact that nearly everything must be imported, and the additional transportation expenses are reflected in the final price.
What is traditional Antigua food most famous dish?
It is pretty much a tie for the most famous traditional Antigua food.
Ducana is a sweet potato dumpling or pudding from Antigua, Saint Kitts and Nevis, St. Vincent and the Grenadines and many other Caribbean islands.
or
Chop Up. This is a mushy mash of many vegetables, most commonly callalo, eggplant, and okra.
12 Great Traditional Antigua Recipes and Foods
---
---
check out our video
---
---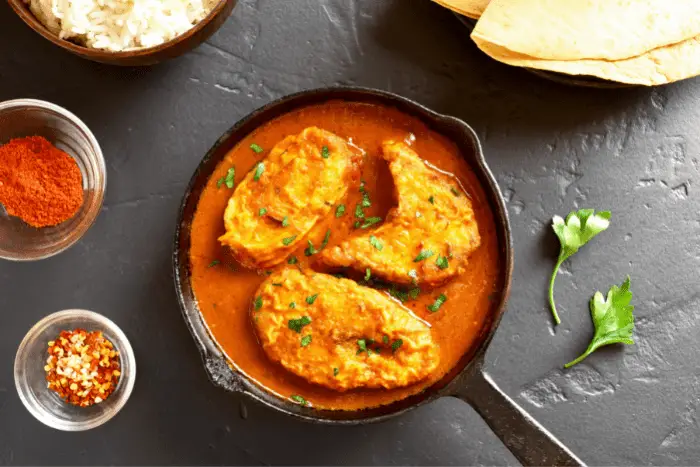 Don't be fooled by the name; this is Antigua's national meal, and it has nothing to do with mold or mushrooms. If you are looking for a true traditional Antigua recipes favorite this is the one.  Antiguan fungie is created using cornmeal and okra paste, which are shaped into balls and then cooked together. Salt fish is usually cooked and served as a side dish, but for whatever purpose, these two dishes go together nicely. In both Antigua and Barbuda, saltfish and fungie are the most popular breakfast and dinner dishes.
If you're searching for a quick, healthy, and delicious meal this week this traditional Antigua food  fits the bill. When Antigua and Barbuda Week began, I was feeling a little overwhelmed, so I searched the Caribbean for the shortest and easiest main course. That quest was a complete success thanks to this Caribbean Seafood Salad.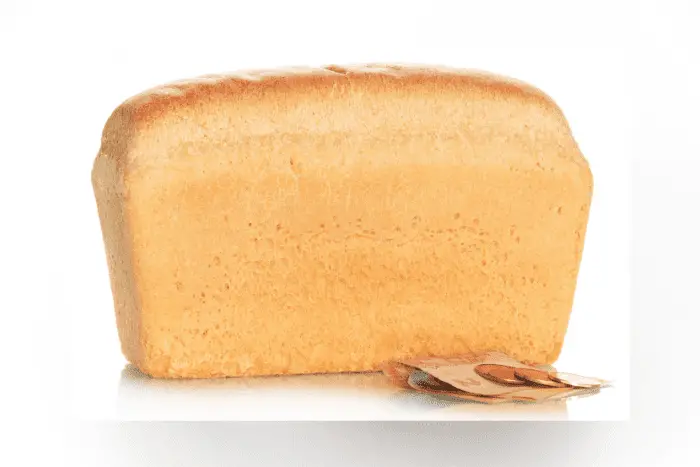 Antiguan bakers are proud of their breads, particularly the Sunday breads produced by local bakeries; Sunday breads are the cream of the harvest. With the addition of vegetable shortening or lard, the bread becomes more delicate and richer in flavor. On top of the crust, beautiful plaits and twists are created into larger loaves. They go well with Antigua's customary Sunday meal of stewed salt fish and chopped eggplant. If you have never tried this type of buttered bread this is one of the traditional Antigua food choices you have to try at home.
One of Antigua and Barbuda's most distinctive and delectable delicacies is chop-up!
This traditional Caribbean vegetable mash is made with pumpkin, eggplant, leafy green spinach (callaloo), onion, and garlic and is popular for breakfast, lunch, dinner, and as a side dish for just about any meal.
You may enjoy this powerhouse of a vegetable meal at any time of day because it's simple to prepare and ready in about 45 minutes.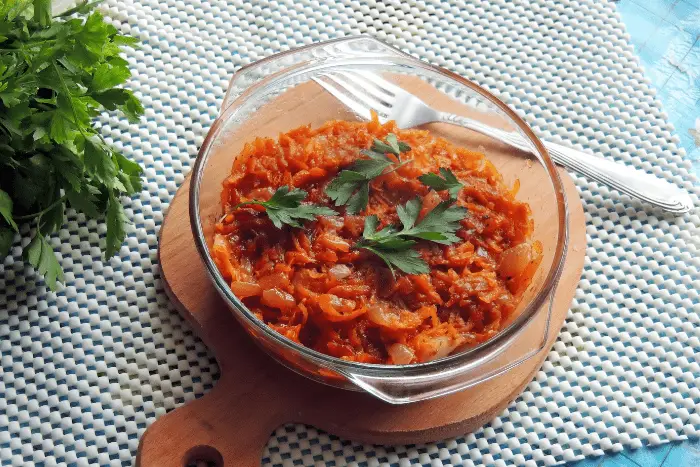 Ducana and Salt Fish are two terms you may not be familiar with Ducana is the king of all traditional Antigua food choices. Now is your chance to learn about one of the most delectable dishes you'll ever taste. I'm completely serious. This dinner has it all: salty, sweet, savory…you name it. So let us all thank Antigua for making this a popular local cuisine.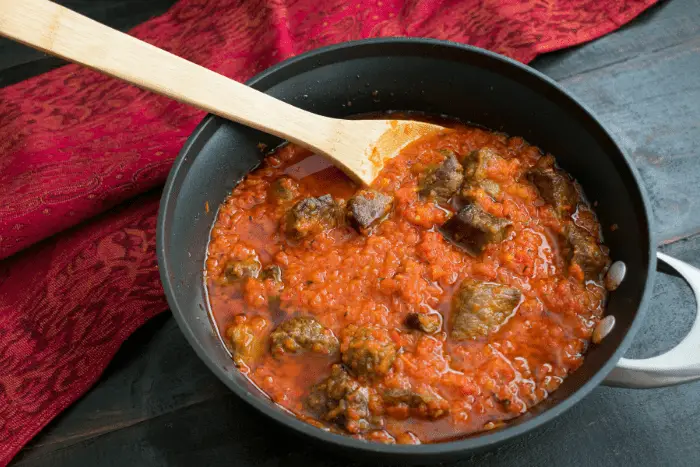 Because this thick soup is nearly a stew and is one of my favorite traditional Antigua recipes, it's best served as a big Sunday lunch rather than a starter. The soup would be made with salted meat and unusual pig parts like snout or tail in Antigua.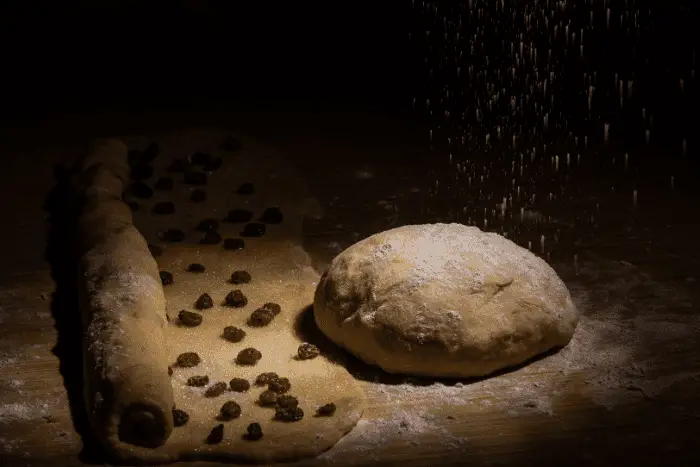 The raisin bun in Antigua is known as "bun and cheese" because it is frequently served with a slice of cheese. It is popular with both locals and visitors. These buns are delicious if you enjoy raisin bread. Warm from the oven with butter and serve with slices of your favorite cheese.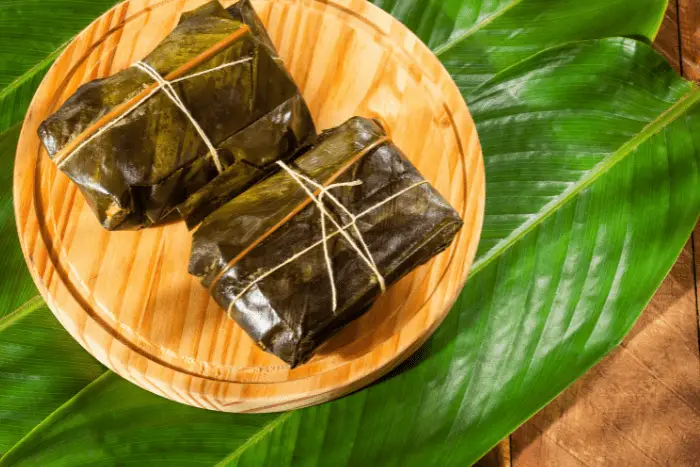 Duncana (Antiguan Sweet Potato Dumplings) are a sweet potato, coconut, and cinnamon-based Antiguan side dish. To cook, the mixture is made into dumplings, covered in banana leaves, and boiled in water. This traditional Antigua recipes dish remids me a lot of dishes I have had in SE Asia.
This traditional Antigua food dish is a local staple and consists of rice with beans and hunks of well-seasoned meat—usually chicken or pork on the bone.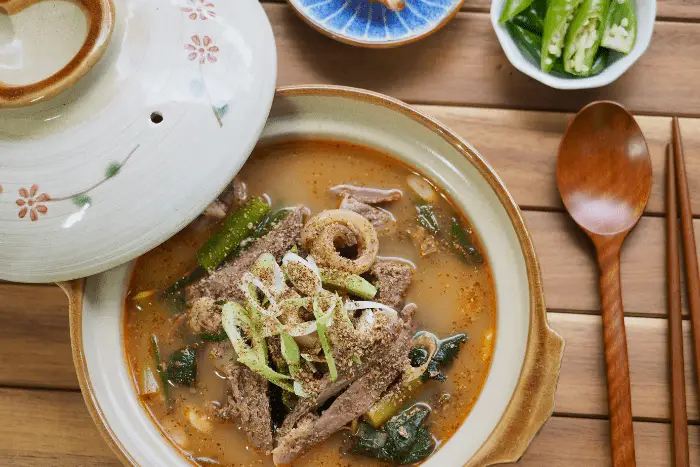 Make our version of goat water, a stew made with goat meat that's a national dish of Antigua. It's a direct reflection of the island's African and Irish ancestries. This traditional Antigua recipes dish has been a staple of the rural community since the islands settlement.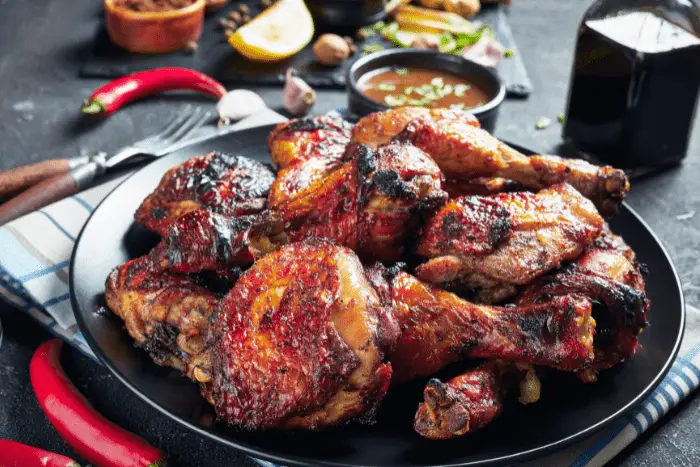 Antigua has embraced this Jamaican import and Caribbean staple, while not a traditional Antigua food it is now counted as one., in which chicken is coated with spices and slow-cooked over a live fire or grill, perhaps because there are so many Jamaicans living and working on the island—or perhaps because it's simply so darn great.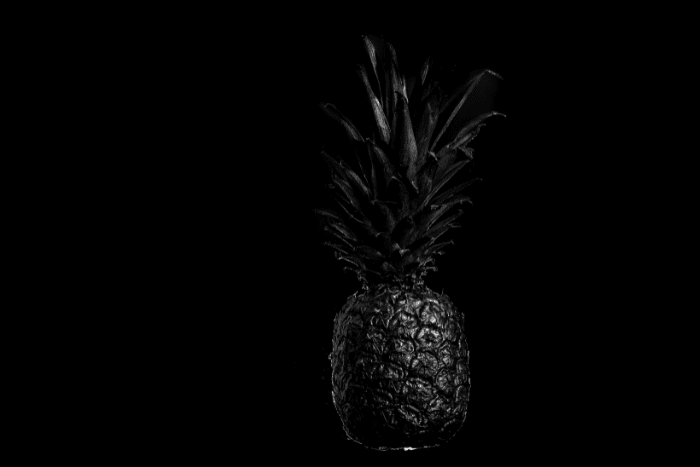 Antigua is known for its very sweet and juicy black pineapple. This simple salad incorporates just a honey and rum drizzle that adds a great flavor to the pineapple, serve them in boats for a nice tropical presentation. There are so many traditional Antigua recipes you can use this unique food staple of Antigua with.
---
---
For complete photos and videos of our trips, visit our photos on our Facebook Page
You May Want to Join Our Boondocking Group on Facebook For More Information