The Budget New Zealand Travel Guide includes 18 Important Travel Planning Tips that will allow you to see and do more on your budget. Learn how you can benefit.
Welcome to the New Zealand Travel Guide! Some may say that the Lord of the Rings movie franchise really helped to put New Zealand on the map (a common joke among Kiwi's is how often maps of the world miss their country out…), but the truth is that it simply made this amazing country much more accessible. Nobody would doubt that visitor levels have hugely increased over the last twenty years or so, but don't for a second assume that you will feel crowded anywhere on these islands.
While the country is famed for its stunning natural beauty – you could easily spend four weeks touring the South Island alone – there is plenty more of interest to entertain visitors looking for a more varied experience. From exploring Maori culture, through to roaming the enormous national parks, taking in some rugby, sipping on some world-class wines, through to enjoying some manuka honey on your breakfast toast, there is plenty to keep you busy during your time in New Zealand.
The New Zealand Travel Guide recommends this country not just to those who love to get outside and active (although those into extreme sports will arguably find no better country), but those with an interest in culture, wildlife and especially photography. Why not take in a cruise or organized New Zealand tour if you have less time at hand? Or if time is of no object, perhaps tour leisurely at your own pace – this country is outstanding for camping and living on the cheap if you are careful.
What Are the Best Places to Visit in  New Zealand
Despite being – in strictly geographical terms – in the middle of nowhere, New Zealand is just as accessible as anywhere else on the planet that may involve a slightly longer than usual flight. Given the fact that many visitors will have traveled the best part of halfway around the globe to get there, it is perhaps reasonable to allow for at least a couple of weeks in the country – and ideally another one or two on top if time allows. That sort of timescale will allow plenty of time to visit and explore both the North and South Island.
Instead of comparing which island is 'better' (we dislike that word) you should understand the differences and figure out whether you wish to spend more time in one than the other, or split your time equally. Contrary to what you may have assumed both islands are gorgeous. The North tends to have a warmer climate, sandier beaches, more spectacular coastline, geothermal spots and is generally more accessible from major cities/towns.
On the other hand, the South Island is considerably larger, has more of those epic peaks and fjords that feature so heavily in LOTR, stunning waterways (that are handy for getting about), and no shortage of Maori spots well worth visiting (plenty of those on the North Island too).
Many people will arrive in Auckland and it is worth spending a few days exploring the city and its nearby sights. Auckland is surprisingly cosmopolitan and in some ways, it feels quite strange to have a modern, vibrant city in a country that is otherwise so calm and placid. Expect all the comforts and conveniences that you would find anywhere else, and perhaps use it as a base/launching pad for exploring key sites such as the Hauraki Gulf, the Bay of Plenty, Waikiki, Rangitoto Island (amazing!) and in classic NZ fashion take a bungee jump from the Sky Tower!
Head further inland and you'll stumble upon Rotorua and the famous Te Puia volcanic geysers and springs. Wellington is also well worth a visit for a slightly more sedate city experience. Be sure to check out the Ecosanctuary and botanical gardens for a taste of how truly progressive this country tends to be.
The Southern Island is dominated – in urban terms at least – by Christchurch and Dunedin. Both are known for their colonial heritage and have quite bizarre similarities to smart British provincial towns. Make absolutely certain to check out the International Antarctic Center, Canterbury Museum for local and indigenous history, and relax in the very smart and elegant North Hagley Park. Dunedin is a fascinating place that not only feels British but even looks like a Scottish town snuggles within the spectacular surrounding scenery.
Larnach Castle is a classic Victorian stately home that is well worth squeezing into your itinerary, but the real highlight has to be the scenic railways. Be sure to head out to the Otago Peninsular if you like penguin watching, and the Tunnel Beach area offers some truly spectacular 'edge of the world' scenery.
But let's face it – most people head to the South Island for the wilderness, glaciers, and adventure sports mecca of Queenstown. Do not underestimate the size of this island and simply accept the fact that you will be tempted to stop for photos pretty much every couple of miles before realizing that the whole place is stunningly beautiful! Picking out the best spots could really result in alist running into the hundreds, but we'd recommend you head to Abel Tasman National Park up in the north, Marlborough Sounds, and certainly Milford Sound.
Allow for a few days around the sound especially if you are planning on hiking or even scaling some of the spectacular mountains.
We'll discuss the practicalities of exploring the country later in the New Zealand Travel Guide, but for now, just take the time to understand that while NZ looks quite small on the map it is anything but that once you are in the country itself. You will really kick yourself if you only visit for a week and try to cram in as much as possible, simply because you are going to have to miss huge chunks of the country in such a limited timeframe.
Two weeks ought to be the minimum and that allows for only three or maybe four days to devote to the cities/towns. Three weeks is much more reasonable (one in the North, two in the South) if you wish to take in the key sights, especially if you take the plunge on arranging your own private transport.
What Are the Best Things to Do in New Zealand
We'll begin this section with a rather bold statement. You simply will not find a better country for photography than New Zealand. We'd honestly recommend that those who have always been interested in learning photography take a few classes/courses before they visit this country. The scenery, colors, contrasts and sheer magnificence are going to enchant you. Best of all, you can snap away literally anywhere you head in the country. Need some action shots?
Check out the wildlife, Maori sites, city buzz, and the crashing coastlines. Like your landscapes and portraiture? Just take your pick of pretty much anywhere else! We say this specifically for photographers but all visual artists will find some aspects of New Zealand to enjoy sketching, painting or perhaps even writing about. It is no less than a creative person's dream landscape.
But what if you would prefer to enjoy some death-defying stunts instead! Well, New Zealand ranks as one of the best places on the planet for outdoor sports. From mountaineering through to rafting, biking, caving, hand gliding, bungee jumping, and pretty much everything else you simply cannot help but be tempted to get the adrenalin racing.
The New Zealand national obsession with extreme sports is a little bit of a national stereotype and a butt of many jokes (mostly from 'nearby' Australians!). We'd recommend that anyone interested in doing these activities with safety in mind takes on the services of one of the many top-quality agencies/guide companies who will provide equipment and training as required.
Road trips are an excellent way of getting out and exploring New Zealand and we'd highly recommend active people consider the more environmentally sound (and far cheaper!) option of taking on a bike tour of the country. Cycling through NZ is really easy and safe with mild temperatures for large parts of the year and long stretches of almost empty roads.
Camping rules vary depending on the region but you can generally pitch up in most places, or make use of the superb facilities you'll find throughout the national network of campsites. Providing you are not in a rush then this is a country that really lends itself towards visitors who like to set their own agendas and itineraries.
Take the time to appreciate the Maori culture wherever you head in New Zealand and make the effort to explore the less traveled – and often surprisingly more interesting – spots too. You'll find Maori culture throughout the country – we recommend reading up on the basic history and facts before arriving to help comprehend and appreciate the wonderful sights in their appropriate context.
Ever wanted to learn the Haka dance, made world-famous by the national rugby team (the 'All Backs')? Then do so, and try out some of the trickier routines as well. Make sure you don't fall over…
Anyone who likes to appreciate wildlife in its natural and undisturbed habitat should find New Zealand one of the most incredible places they will ever have visited. You can swim with dolphins all over the place, but how about taking a dip with the seals along the South Island coast? Kiwi spotting is a lesser stated national obsession, and those in the mood for the absolutely spectacular should check out the options for whale watching too.
There is no shortage of excellent quality organized tours that help visitors to responsibly enjoy the natural beauty of New Zealand, and we recommend looking in this direction to help reduce the environmental footprint. Most of the best are run by charities and conservation teams, although you'll find that all are licensed and minded in this direction.
When is The Best Time to Visit New Zealand
New Zealand is busiest over the peak summer months which runs over December and February. Depending on the weather it could stretch for a couple of weeks either way, but this is when the country tends to be busiest. Expect the popular beaches and sites to be reasonably busy (although nothing like as crowded as other popular countries), but good quality/value accommodation books out fast and well in advance so be on your toes to secure any good deals.
Match through to early May is also a good time to visit. Temperatures will be a little cooler but you'll have far fewer people sharing the views with you. The discounted accommodation market is not quite as strong in NZ as compared to other destinations but prices should be a little more reasonable. Snow will perhaps be falling in some parts so it can be good for taking in some early season deals.
Anywhere between June and late November tends to be low season for anything apart from snow sports. You will have your pick of any restaurant and hotel away from the main skiing destinations where prices will go through the roof! If you like to explore the scenery in near isolation and remember to pack some warm and waterproof clothing this is also a great time to visit. As with above, discounts may appear here and there but plenty of hotels just semi-close during these months with reduced occupancy at regular prices.
Do I Need A Tourist Visa In New Zealand
New Zealand is fiercely protective of its natural splendors and has a long list of prohibited items both material and organic, so check these out before you start packing your bags. For your convenience: https://www.mpi.govt.nz/travel-and-recreation/arriving-in-new-zealand/items-to-declare/
Make sure that all your camping and hiking gear (especially boots) are spotless.
New Zealand operates a pre-arrival screening process which means that once you arrive in the country passing through customs ought to be a breeze.
Nationals of over 60 countries do not require a visa to visit New Zealand for up to 90 consecutive days. These include the USA and alongside most EU nations. These passport holders are allowed to stay for up to sixty consecutive days.
People from other Commonwealth countries (UK, Australia, Canada, etc) are allowed to stay for longer. UK nationals can stay for six months, while Australians can usually remain for as long as they please.
The visa system for longer stays or employment is quite complicated and varies considerably between countries. Generally speaking and in the experience of the Ultimate New Zealand Travel Guide, NZ is pretty relaxed about allowing people to stay longer providing they arrange to do so in advance and can prove they are able to sustain themselves. Don't take our word for a rule, but anyone with a good reason for staying longer (and maybe even working) should be able to make arrangements providing they follow the basic application structure to the letter.
NZ is, overall, pretty chilled out when it comes to letting people visit and stay awhile. It is one of the reasons we like it so much!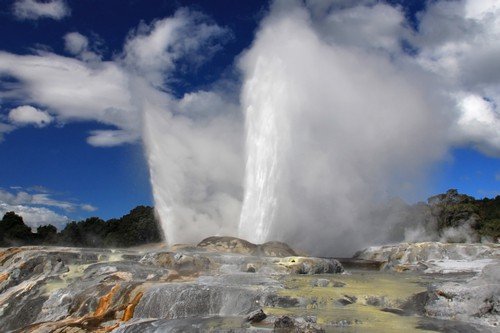 What Currency Is Used in New Zealand
New Zealand uses the New Zealand Dollar (NZD) that at the time of writing trades for around NZD 1.6 = USD 1.
You will have absolutely no problems handling your finances while in the country. Banks offer good value currency exchange rates, and ATMs are found everywhere there are people! Keep an eye on the possible charges and the conversion rates offered by your own bank. Some may have reciprocal arrangements with NZ banks and offer considerably lower rates. You will require a local bank account if you are intending on working in the country and these can usually be arranged in advance.
Credit cards/debit cards are accepted almost everywhere and you ought to use these for the majority of your purchases. Do not expect to hire a car without a credit card.
Very broadly speaking the largest single expense that most people will encounter with visiting NZ is their flight tickets. While the country is not exactly cheap, you can certainly stay for a long while on a modest budget providing you are careful with managing your money. Costs of accommodation, food, and travel are very similar to those you'd expect to find in western Europe and we'd say a little bit cheaper compared to Australia.
Do I Tip In New Zealand
You'll notice quite a few similarities with New Zealand and the UK & Australia. Tipping policy/attitudes are a good example of this. While there is not much of a tipping 'culture' and it is certainly not mandatory, a modest tip should be left for table service or exceptional levels of service in other contexts. 10% is about right in most cases.
In cafes, bars, and taxis you may wish to sometimes round up the change a little to leave a token gratuity. For instance, leave the change on a $20 cab fare if it comes to $18.50, or say 'just give us five back' on a $14 fare when you pay with a twenty. Tipping is causal and not a big deal in New Zealand compared to many other countries.
What Kind Of Budget Do I Need In  New Zealand
Providing you take care to plan your finances with a degree of care before you visit New Zealand you may well be surprised at how reasonably affordable it can be. Budget visitors will need to make use of the generally excellent hostels and campsites to keep their outgoings sensible but can get about and live reasonably well without burning through their cash too quickly.
Those wishing to stay in hotels and enjoy greater financial flexibility can find plenty of ways to spend their money throughout the country, with the added plus that it is difficult to actually 'waste' cash in this country. Look for value, check reviews, and book a little ahead and you will likely be dazzled at how great services catering for the tourist economy can be.
Here are some rough guidelines that the New Zealand Travel Guide would suggest for visitors across three budget tiers. All prices are in NZD.
Budget ($100/day)
Before we begin it should be noted that you could quite realistically go for entire days in NZ without needing to spend a single dollar. That is assuming you are camping, have paid for your spots already, and have a few days of nonperishable groceries to sustain you. So take that daily threshold with a good pinch of salt as how much you need to spend in this country really depends on what you want to see and where you happen to find yourself.
Travel throughout New Zealand is pretty reasonable and we'll cover this later. Just make sure to use appropriate and applicable discounts where you can, book in advance (we really cannot stress this enough!) and time your visit according to what you want to focus upon. Peak season exploration is perfectly plausible on a modest budget providing you are happy to 'rough it' a little and look after yourself.
It is worth mentioning that plenty of people who opt to spend a good while in the country – perhaps 6-12 months or so – tend to work in the ski resorts during the season, save up some money, and spend their earnings touring the country during the summertime. Consider this if it matches your profile and you fancy taking on a real New Zealand adventure.
Mid-Level ($200/day)
Decent enough hotel rooms will cost around half your daily budget – so make that a quarter assuming you are sharing a double or twin room. You ought to be able to live pretty well on this budget, including two or maybe even three meals out per day, all the travel you could wish for (including flights between the islands), most general excursions besides the very specialist options, and still have a little money left over.
We'd suggest seriously looking into hiring a car especially if you are sharing as part of a group (this advice also applies to our budget travelers too). Vehicle hire is easily available in the country and you should find a decent four/five-seater for between $50-70/day. NZ roads are excellent and you should not require high performance or four-wheel drive options unless really heading out into the sticks during snow season.
With this kind of budget, you should really be able to enjoy New Zealand exactly how you wish. If you have the time it is worth taking elements of this budget (occasional comfy hotels, car hire, restaurant meals) and combining it with some camping and hiking to not only balance out your expenditure towards a longer time but also to enjoy different aspects and experiences. Nobody visits NZ for the quality of the hotel rooms…
High-End ($300+/day)
You will honestly struggle to spend over $200/night in most hotels besides the ultra-exclusive boutique options in Auckland and the ski lodge areas. Whether or not you really need deluxe accommodation is up to you (or your bank manager) – but we'd suggest pooling that excess and pushing towards some 'once in a lifetime kind' of experiences instead. You really do not need to spend more than $60-90 in the most exclusive restaurants unless you hit the wine list hard. Prices can then become silly quite quickly…
There are a vast number of organized tours you could opt for here, and we'd strongly suggest you look towards the kind of multiple destination whale watching cruises which run daily costs of about this sort of price range. Balloon trips (always a favorite of the New Zealand Travel Guide team) are staggeringly good and available at most of the popular sights.
Perhaps look into more ecologically minded tourism with this kind of budget. You won't find much in the way of high-end shopping – at least not anywhere offering close to reasonable prices – so why not spend that cash on something a little more rewarding instead?
These very approximate guidelines should hopefully indicate that once you are in NZ you really do not have to spend a crazy amount of money to get by and explore in decent comfort. Groceries are a little steeper than you may anticipate but otherwise, costs are pretty reasonable when you factor in that much of the country's products need to be imported. Give some good thought towards how you wish to enjoy your time in the country, and we'd highly recommend living closer to a shoestring budget if it allows for a longer and more varied stay.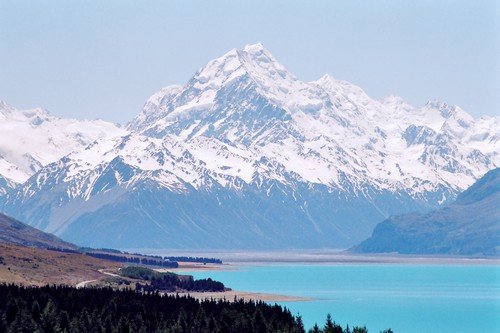 What Languages Are Spoken in  New Zealand
Everyone speaks English as either a first or second language and you will have no problems communicating with anyone during your stay. Maori is an official language (3.7% speak it as a first), and you will have very small communities which may opt to speak in one of the Polynesian languages, Hindu, or French.
What Religions Are Practiced in In New Zealand
Despite their love for reckless sports, New Zealand has always had something of a more conservative reputation that many people assume could be linked to a greater rate of religious observance compared to similar countries. If anything, the opposite is actually the case. New Zealand is not an especially religious country in the slightest, and almost half of the country claim to have no religious beliefs whatsoever.
Christianity – in various denominations – would represent the largest overall religious group with very small pockets of Hindusim, Islam, Buddhism, and others. You will have no trouble finding a place to participate anywhere in New Zealand, but you'll find that most people aren't especially bothered either way.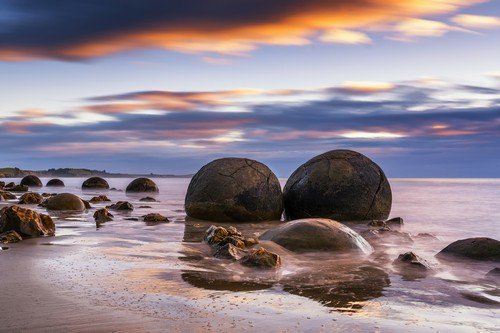 Practical Tips For New Zealand Travelers
New Zealand has a vast amount to offer visitors and it is no surprise that the country has been one of the most desirable to experience in recent years. There is no shortage of ways to see the country in whatever manner best suits your travel style, and it is actually one of those countries that you can't easily pigeonhole. It certainly shares some characteristics with Australia, in the sense that it rewards visitors who explore under their own steam and take their time wherever possible to appreciate its natural wonders.
While the cities have plenty of interest you'll not travel thousands of miles for them alone – which in many ways tends to remind us of Scandanavia. We'll let you make up your own mind about New Zealand because if you have the opportunity to visit you really would be crazy not to do so!
At this stage, the New Zealand Travel Guide is going to take a closer look at some of the practicalities involved in visiting New Zealand. Despite being literally on the other side of the planet, you'll find that the country shares quite a number of close similarities with Britain – perhaps hardly surprising given their long and intertwined histories.
It is certainly more 'British' (and we use that definition as opaquely as possible) than Austalia and Canada, with a fondness for cricket, rugby, tea, queuing, and so forth – but do not be fooled into thinking this is anything like a remote English county. New Zealanders are very proud of themselves and their islands – but tend to not really shout about how amazingly good their country happens to be. They're far too cool for that!
What About Health & Safety In New Zealand, Is It Safe?
New Zealand is incredibly safe to visit. Despite tragic recent incidents against specific immigrant groups that should in no way be considered typical or reflective of New Zealand's national character, violence is extremely rare and tourists are never likely to be specifically targetted. Every city has its rough spots to steer clear of, and New Zealand is no different, but compared to pretty much any other Western nation this ranks as the safest of the lot.
You should take some care where you choose to park in the more remote regions. Parking lots popular with day hikers in the more remote spots are sometimes targeted by thieves, so make sure your vehicle is insured fully and take anything valuable with you or leave it in a secure hotel room/safe.
In better news, you will not need to worry about dangerous wildlife or even insects from bothering you too much in the majority of the country. Visitors should still ensure that their travel insurance which should be comprehensive – provides cover for any more dangerous/extreme activities you are intending on performing. Make absolutely sure you are covered between specified dates and keep copies secured online and on your person at all times.
Keep an eye on the weather when out and about, and remember that it can change at any time. A good waterproof is pretty much essential for anyone's daypack, and you should make sure you are well equipped and provisioned before setting off hiking.
Healthcare in NZ is very good but prices costs can mount up quite quickly so make sure you are totally covered. Include repatriation into your policy as this alone can cost several thousand dollars.
Prescription medications are available in all towns/cities although you may need to visit a doctor for a new script if you lose your own supply. Take care when arriving in the country to declare and strong medications – especially opioids – as the rules are very strict indeed. Remember that brands may vary if you need your script reissued.
What is the Best Transportation in New Zealand
For complete photos and videos of our trip visit our photo on our Facebook Page
You May Want to Join Our Boondocking Group on Facebook For More Information Unless you are fortunate enough to have plenty of time to explore the country, chances are that you will need to make use of New Zealand's excellent and safe internal air transit network. A good number of international airlines have understood that many visitors will be looking in this direction and have partnered with domestic-based airlines offering well discounted internal flights. Check these out before you book your principle tickets and you can save hundreds of dollars. Some options may even allow for visits to 'nearby' islands/territories, and perhaps even extend towards flights to Australia.
If flights are not an option then your options are going to be considerably more limited. The NZ public bus service is extensive but trips can take a long time due to the characteristically long and winding roads. Tickets can also become pretty expensive. Organized tours may actually be better for simply getting from A to B instead of completing the full circle, plus they offer knowledgable guides and usually cover the cost for parking/admission to any nearby attractions.
The train is also a bit of a limited option in NZ because the terrain really does not lend itself well to direct travel. Passes are available which offer 1/2/3 weeks of travel for a set price. It is not cheap by any stretch but enthusiasts who like spectacular scenery should give it some consideration.
In the opinion of the New Zealand Travel Guide, you are going to be best off by arranging your own transit. Vehicle hire is cheap simply because most New Zealanders use the road too as it is the most straightforward way of getting about! Gas prices can catch you out but are not that excessive when the cost is split between a group.
Take care on the roads – they are excellent quality partly because the routes are almost constantly steep and winding – and make the most of the advantages they provide by getting off the central highways and exploring the more remote locations. Check the various options when deciding on a rental and figure out which milage plan works best for your needs. If you plan on hitting the road daily then look for those that include a 'free' 100km or so. If you wish to stay for a while in certain spots then pay-per-kilometer options are often better.
Car/minivan/RV is the best way to see NZ and the only drawback is the environmental cost of doing so. Try and make up for that by following some of the tips provided in the responsible travel section below. You can quite easily travel out from towns/cities to sightsee during the day without staying near the sites themselves.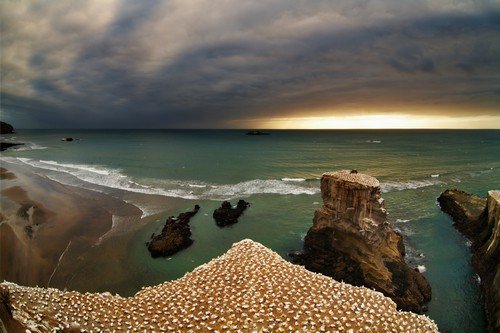 What Are the Best Accommodations in New Zealand
As you may have noticed during our budgeting section accommodation prices in New Zealand tend to be pretty much in the middle ground. By no means is everywhere a bargain or especially lavish, but you should be able to find a decent place to stay at any time of the year without blasting through your budget. Booking ahead is a good idea especially if you have a solid idea of what you wish to see/do and a plan on how to get about already in place.
If visiting during the peak season consider the advantage of advance booking simply as securing a good quality bed in a decent hotel/hostel rather than angle for any discounts. Haggling and casual discounting are not big parts of the New Zealand national economic character!
Camping is a fantastic option in NZ especially if you are up for cycling about for long stretches with panniers, or have a decent sized vehicle to transport your kit. Prices are cheap, quality tends to be very high, and the climate is generally friendly towards those setting up for a night under the stars over large parts of the year.
Plenty of campsites also offer basic chalet/hut/lodge accommodation more akin to what you might find in a rural youth hostel. Take advantage of those options if you wish for a little extra comfort – they also tend to throw in breakfast too.
Generally speaking an 'average' hotel room in New Zealand is going to be simple and affordable. While they are not exactly the sort of place you may want to hang about for fun, they serve simple purposes well and are inspected to pretty high standards.
A good proportion of the industry in more remote regions veers towards the B&B market and we'd strongly recommend heading that way instead of throwing in your lot with a national/international chain. They may not vary much either way in terms of price but tend to be much more hospitable, friendly, and/or at least offer some greater degree of character!
The internet is your friend when it comes to deciding on a suitable place to stay in New Zealand. Research your options quite thoroughly and do not rule out the various options open for private bookings via Airbnb etc. You may be pleasantly surprised at how many places are available in places where you really wouldn't expect to find anything – and most of the time those will be the best options to go with.
How Can I Practice Responsible Tourism In New Zealand
Responsible tourism is a big deal in New Zealand and you will notice many places are keen to promote how closely they adhere to national conservation standards. Likewise, NZ is pretty exceptional when it comes to how highly they respect and regard the Maori culture, and it really is very impressive how well-integrated people are despite the inevitable issues a couple of hundred years before.
You should visit Maori sites wherever you come across them and do your best to donate a little towards heritage projects too. The Haka dance is seen as something of a stereotype so use it as a simple way of getting to understand what it means, and what an appropriate reply dance would be. There will be plenty of people happy to help but make sure you use accredited tour guides who are either employed by heritage sites or donate a proportion of their income towards their upkeep.
It should go without saying that you need to pay suitable environmental respect when viewing the spectacular marine life along the NZ coastline. Only use agencies accredited by the conservation authorities (there are fortunately few private operators who aren't anyway).
Other than this, all you really need to do is treat the environment with the respect it deserves and tidy up after yourself to fit right in with the New Zealand approach to conservation. Follow local camping regulations to the letter and expect huge fines if you are caught breaking them. Be careful where you walk as some areas are specially protected and home to rare fauna. These will be well signposted so once again – no excuses!
What Food Should I Try In New Zealand
New Zealand may not be especially famous for its foods but there are a couple of dishes well worth trying over the course of your travels. You should have little trouble trying Maori dishes so keep an eye out for Hangi. These dishes are prepared in undersoil clay ovens in the exact same manner as thousands of years ago (no doubt with better hygiene observance of course). expect huge chunks/cuts of marinaded tender meat. We're not joking – the portions are enormous – but rather handily, these tend to be served in foil so are ideal for packing away to enjoy later on!
If you spot someone eating what resembles a small hedgehog that has been plucked from the surf, then rest assured – it is probably a Kina. These relatives of the classic sea urchin may look prickly but are absolutely delicious when cracked open.
Seafood is perhaps unsurprisingly a big deal in New Zealand and you should also look for whitebait fritter stalls at any opportunity. For a few dollars, you will enjoy perfectly fried and super fresh fish caught literally within the hour. Try it with a side of Kumara red potatoes for a true New Zealand classic.
Manuka honey is perhaps the most famous NZ export after lamb, and you'll find it available everywhere at about half the price you pay at home. Chances are that budget visitors will be spending a good amount of time working through classic New Zealand pies (almost always made from lamb) and perhaps enjoying a pavlova for dessert.
New Zealand has no lack of variety when it comes to cuisine, and those on restricted diets, vegetarians and vegans should have no trouble whatsoever.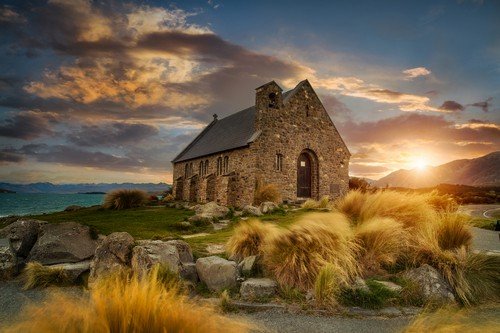 What Should I Pack for A Trip to New Zealand
As mentioned earlier in the New Zealand Travel Guide, the biggest issue is not remembering what to pack it is remembering what not to bring! We should really make it clear that you will need decent outdoors equipment/clothing during most seasons, and it is better to bring your own than buy it in the country. Boots should be well worn in to help avoid pesky blisters but cleaned very thoroughly of any mud/soil/foliage. A decent basic first aid pack including a whistle is a sensible idea if taking on any serious hiking.
Check to see if you will require a local electricity converter for your electronics. These are widely available in the country should you forget. Other than those basic pointers you should not worry too much about forgetting any essentials. New Zealand is very geared towards outdoor activities but you shouldn't need a machete or hammock!
What Clothes Should You Wear In New Zealand
Broadly speaking New Zealanders are a little more concerned than Australians about their appearance but you should not worry too much about what you need to wear to fit in. Dress up relatively smart/casual for high-end restaurants and try to dress a little more conservatively for religious and Maori sites and you are pretty much set.
Nobody will especially care what you wear in NZ providing it isn't unnecessarily offensive.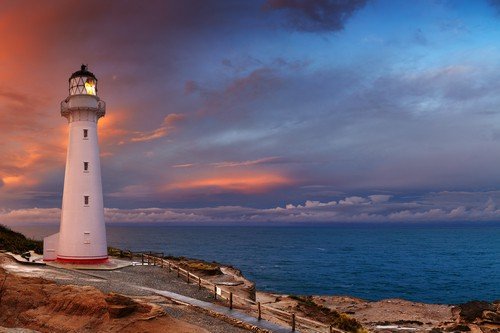 What Are Some Interesting & Important Facts About New Zealand
Well, we hope you have found the New Zealand Travel Guide informative and wish you all the best for visiting this absolutely amazing destination! You really cannot go far wrong here, and even though the country does not make a huge deal about its tourism appeal, the fact remains that it is surprisingly accessible, not as expensive as most people fear, and absolutely packed with wonderful sites to explore.
If anything, the fact that NZ requires a dedicated effort to visit is to its overall advantage. Those who do take the time – and you do need plenty of time – to explore the country in full are probably going to understand why so many people rate it as one of those they'd like to move to someday. New Zealand has a habit of getting under your skin in all the right ways.
We'll finish off the New Zealand Travel Guide with a few fun and interesting little facts to help you get an impression of what kind of things you'll discover.
▸ Contemporary New Zealand has 'only' six sheep for each person. A few decades ago it was 20-1.
▸ It is believed that the islands have only been inhabited by people since the 1300s.
▸ Bats are the only truly native species.
▸ New Zealand water is incredibly clear. Nelson's Blue Lake allows for visibility as deep as 80 meters.
▸ The country has an officially appointed 'wizard' although it is illegal to name a baby 'Christ' or 'Lucifer'.
▸ New Zealanders love exploring – Sir Edmund Hillary was the first person to climb Mt Everest.
▸ English, Maori, and Sign Language are the three official languages of the country.
▸ The Maori name for NZ is 'Aotearoa' which roughly means 'long white cloud'.
▸ It is estimated that the Lord of the Rings series generated $200m for the national economy.
▸ The New Zealand Rugby team is one of the best – and probably most feared – in the world.
You might also like some of the articles from our website about boondocking and travel.
5 Best Ways to Visit Techatticup Gold Mine In Nevada
12 Super Reasons To Visit Mount Charleston Nevada
10 Great Reasons to Visit The Valley of Fire Park
9 Great Hiking Trails In Red Rock Canyon
For complete photos and videos of our trip visit our photo on our Facebook Page
You May Want to Join Our Boondocking Group on Facebook For More Information