Last updated on September 27th, 2023 at 01:35 am
We have collected 20 easy Recipes for Dutch Oven Pot Roast. Five different meats were chosen to spotlight our favorite Pot Roast Recipes in a Dutch Oven. Every recipe for Dutch Oven Pot Roast has resulted in a fall-off-the-bone tender and delicious meal. Dutch Oven recipes for Pot Roast, when using a cast iron pot, also retains heat so it cooks food faster than a slow cooker or crockpot. Great for your electric bill. Delicious family dinners are made in less than 1 hour from start to finish when cooking your recipes for Pot Roast in a Dutch Oven.
Why Use a Dutch Oven for Pot Roasts?
A Dutch Oven is a large, heavy cooking pot with a lid that you can transfer between the stove and the oven. Many are made out of coated cast iron and are quite heavy. It is the best tool for slow cooking!
Out of all of the pots I use, my Dutch Oven has to be one of the ones I use the most! The results you get by cooking recipes for Dutch Oven Pot Roast in a cast iron Dutch Oven is amazing.
Not only can you use these pots on the stove-top, but you can also put them in the oven with no fuss. There are very few pots you can transfer from the stovetop to the oven out there, so I'm a big fan of Pot Roast recipes in a Dutch Oven!
BEEF: Dutch ovens are great for searing and browning. They do a great job creating brown bits from searing the meat, onions and garlic. When deglazed, these brown bits release tons of flavor to the dish. Dutch ovens are also good at creating a great meat sear.
Additionally, Dutch ovens are GREAT for proper heat retention, which results in tender, moist, and juicy meat. Any recipe for Dutch Oven Pot Roast ends up amazingly delicious.
PORK: Baking pork tenderloin in a dutch oven is easy and stress free! You can brown pork tenderloin and cook it in one pot which makes clean-up a breeze.
Dutch Oven recipes for Pot Roast when using a cast iron dutch oven also retains heat so it cooks food faster than a slow cooker or crockpot.
Delicious dinners are made in less than 1 hour from start to finish when cooking recipes for Pot Roast in a Dutch Oven.
What is the Best Cut of Beef to Use in Recipes for Dutch Oven Pot Roast?
You can use any of your favorite braising beef cuts such as chuck roast, rump roast, sirloin tip roast, or English roast.
Sirloin tip roast is almost always a great choice, as it's budget-friendly and so tender when you braise it. I love this inexpensive cut of beef for making roast beef recipes! My second choice is almost always English roast in Dutch Oven recipes like this one.
What is the Best Cut for Pork Pot Roast Recipes in a Dutch Oven?
A "pot roast" is a braised meat dish that's made by searing a large cut of pork (usually an inexpensive roast) and then slowly cooking the meat in a covered dish called a Dutch oven.
You can use many different cuts of meat in a recipe for Dutch Oven Pot Roast. The nclude a pork shoulder (or Boston butt), a sirloin roast, or a boneless pork loin roast. The boneless pork loin roast, which is smaller and more tender than the pork shoulder cooks faster and doesn't need the extended slow roasting time required with a pork shoulder (or Boston Butt).
Best Lamb Cuts to Use for Dutch Oven Recipes for Pot Roast?
Many countries have traditions of cooking lamb slowly. A slow roast Greek leg of lamb is a thing of wonder. Their Lamb recipes for Pot Roast in a Dutch Oven are amazing.
But lamb does have a strong taste, and it can dry out if you cook it too much. So this method of cooking it in a well-sealed pot with a thin layer of stock keeps the moisture in the meat. Lamb recipes for Dutch Oven Pot Roast cooked this way gives you a lovely succulent result.
Obviously cooking Pot Roast recipes in a Dutch Oven gives you tender meat that falls off the bone and is super tasty. No matter which type of meat or cut of meat you choose to cook.
20 Easy Recipes For Dutch Oven Pot Roast (for 5 Meats)
---
---
check out our video
---
---
5 Dutch Oven Recipes Roast Beef
---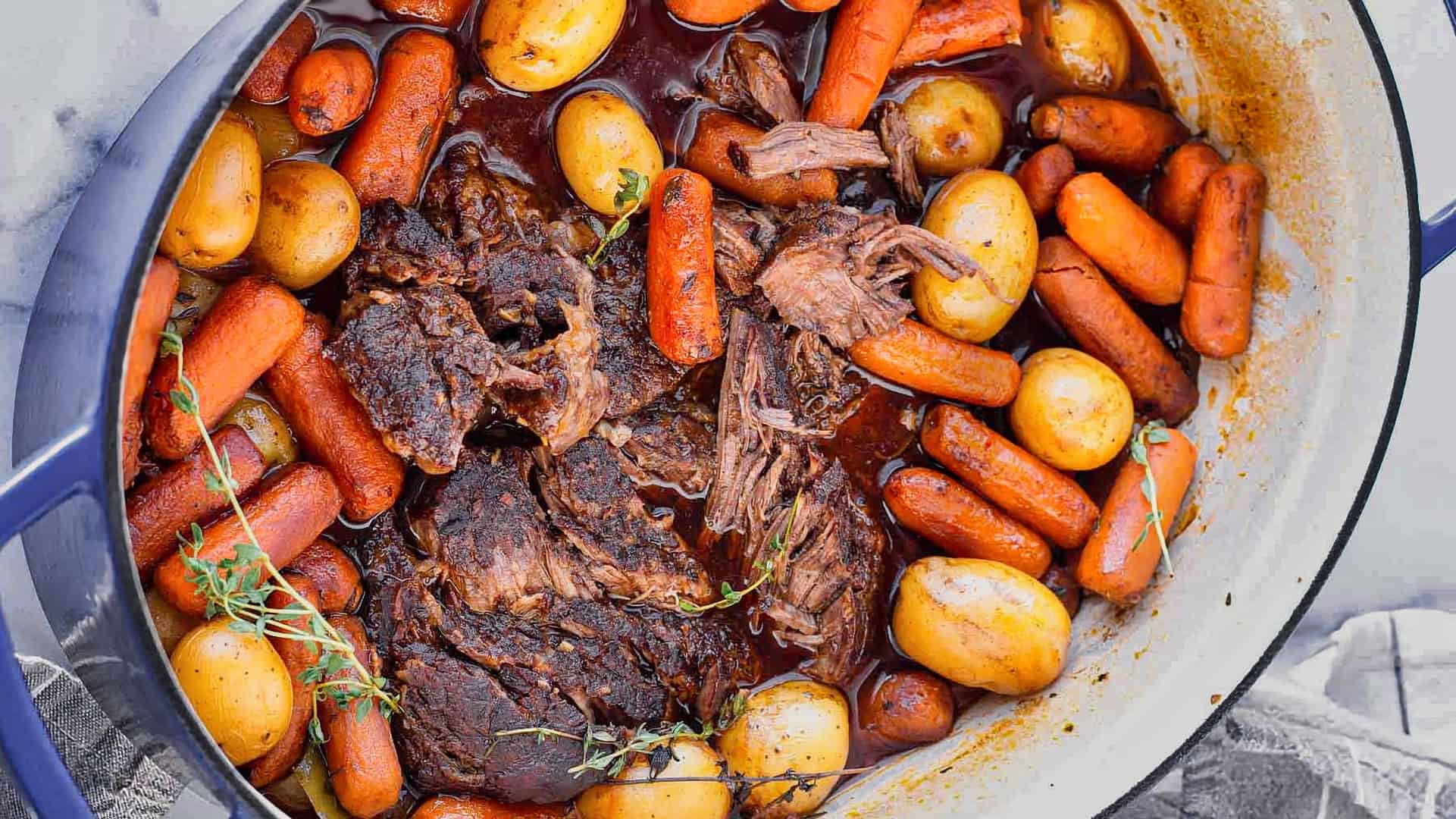 This Dutch Oven Pot Roast is everything you need to keep you warm and cozy this winter! It's so tender it falls apart beautifully, and it's packed with lots of rich flavors.
I love that this pot roast is the perfect one pot meal. The beef, carrots, and potatoes all cook in the same Dutch oven, so clean-up is always easy and convenient.
I promise you will love this comforting Dutch oven pot roast. It's a great family dinner option that will keep everyone coming back for seconds!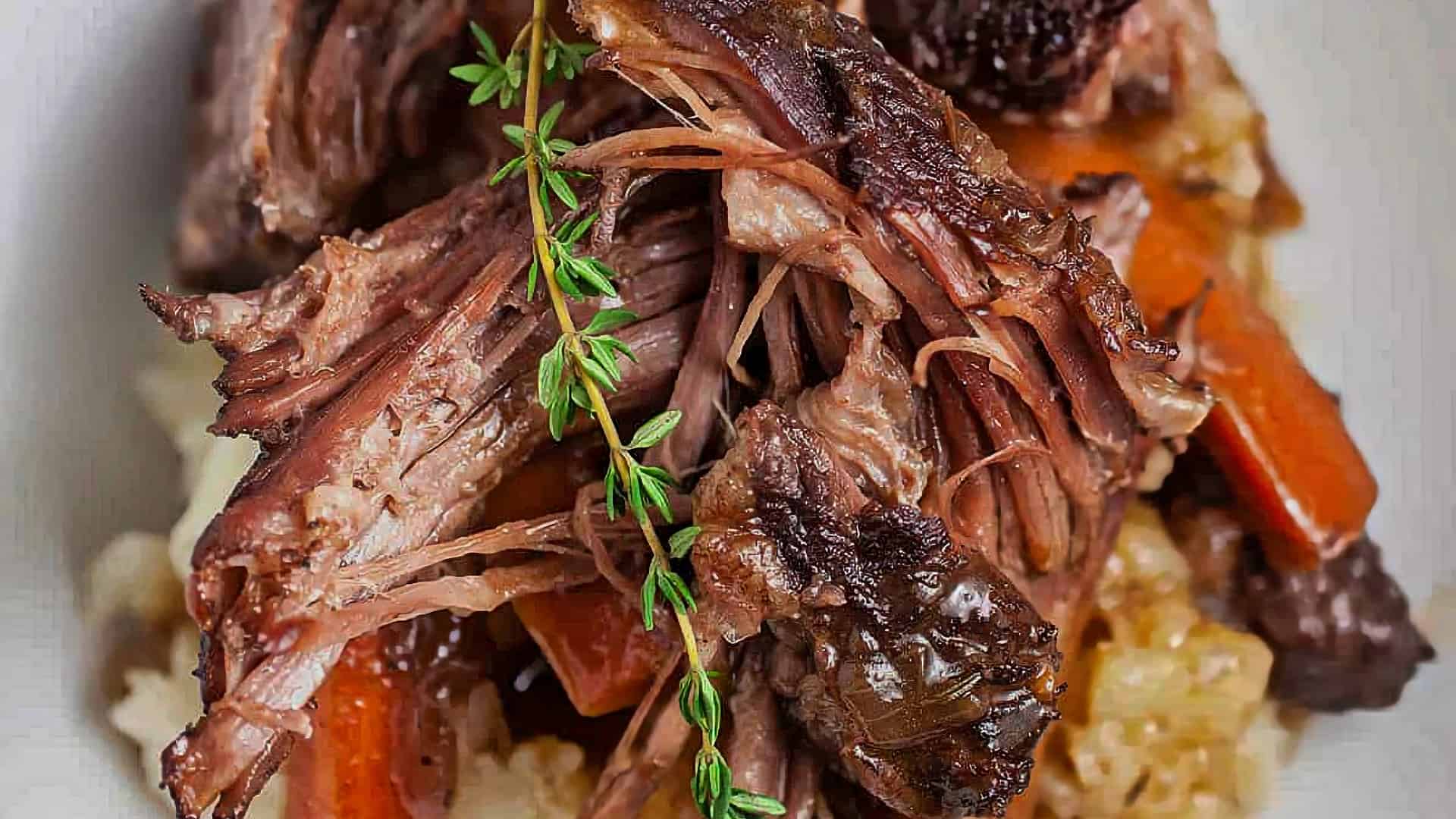 My Sirloin Tip Roast recipe cooking in a dutch oven is deeply flavorful and so easy to make. It uses simple ingredients and cooks in one pot with onions and carrots for a full meal.
There is nothing better than getting the family together for Sunday Supper! This recipe is my go-to time and time again because it is so easy to make and my family loves it so much.
Slow-cooked cast iron sirloin tip roast is juicy, fork-tender, and so flavorful. It cooks with tender carrots and onions in a tasty beef gravy made with red wine.
Every bite is a dream come true! You'll wonder where this easy pot roast recipe has been all your life!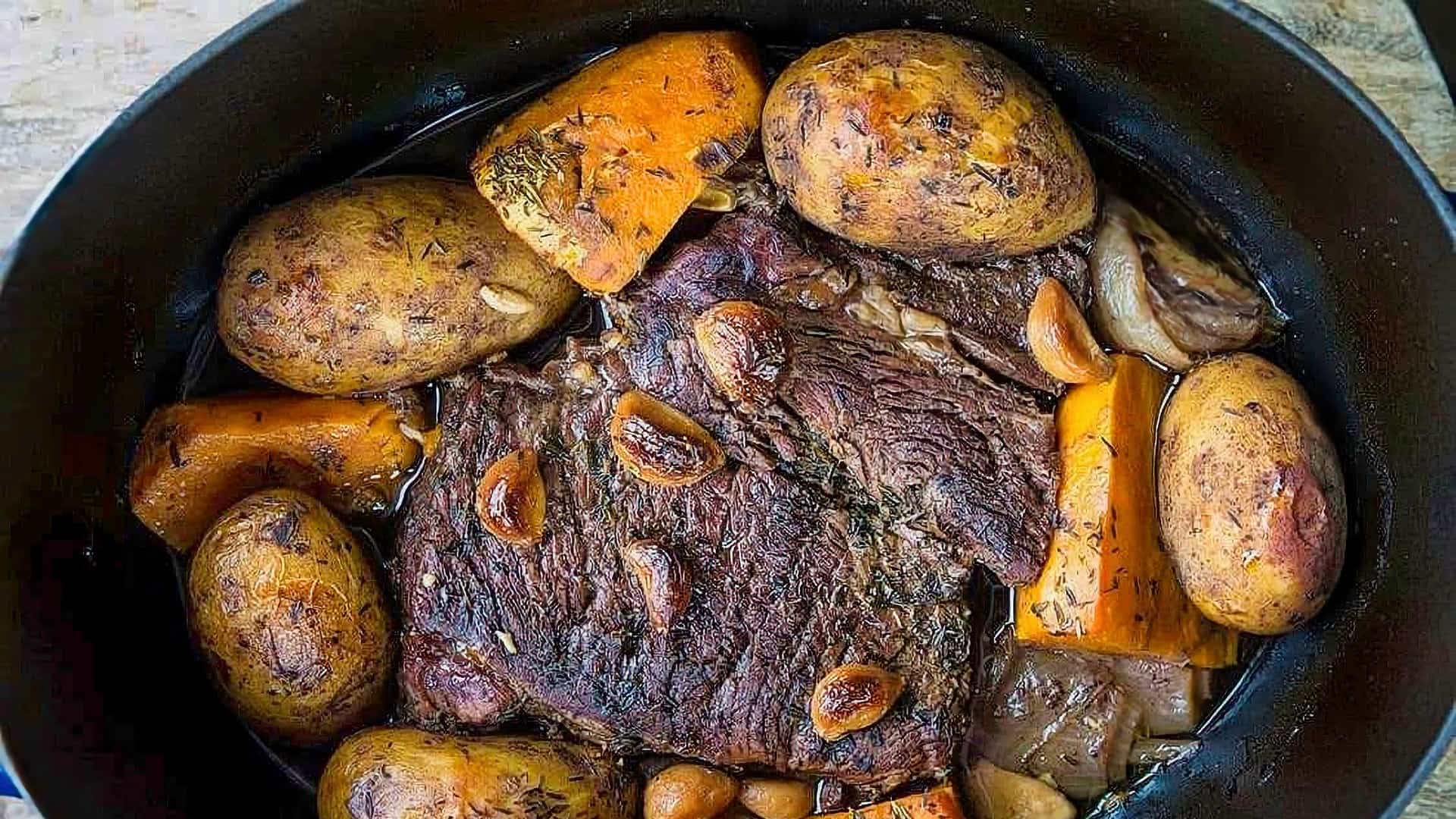 If there is one thing I cook year-round, it's pot roasts. True, I might not make a Dutch Oven pot roast during the summer months but I certainly make a good slow cooker pot roast.
Pot roast should always a chuck roast, a blade roast or anything that your butcher labels "pot roast" A pot roast is supposed to be cooked low and slow for hours on end, braising the meat until it falls apart into delicious pieces of beef.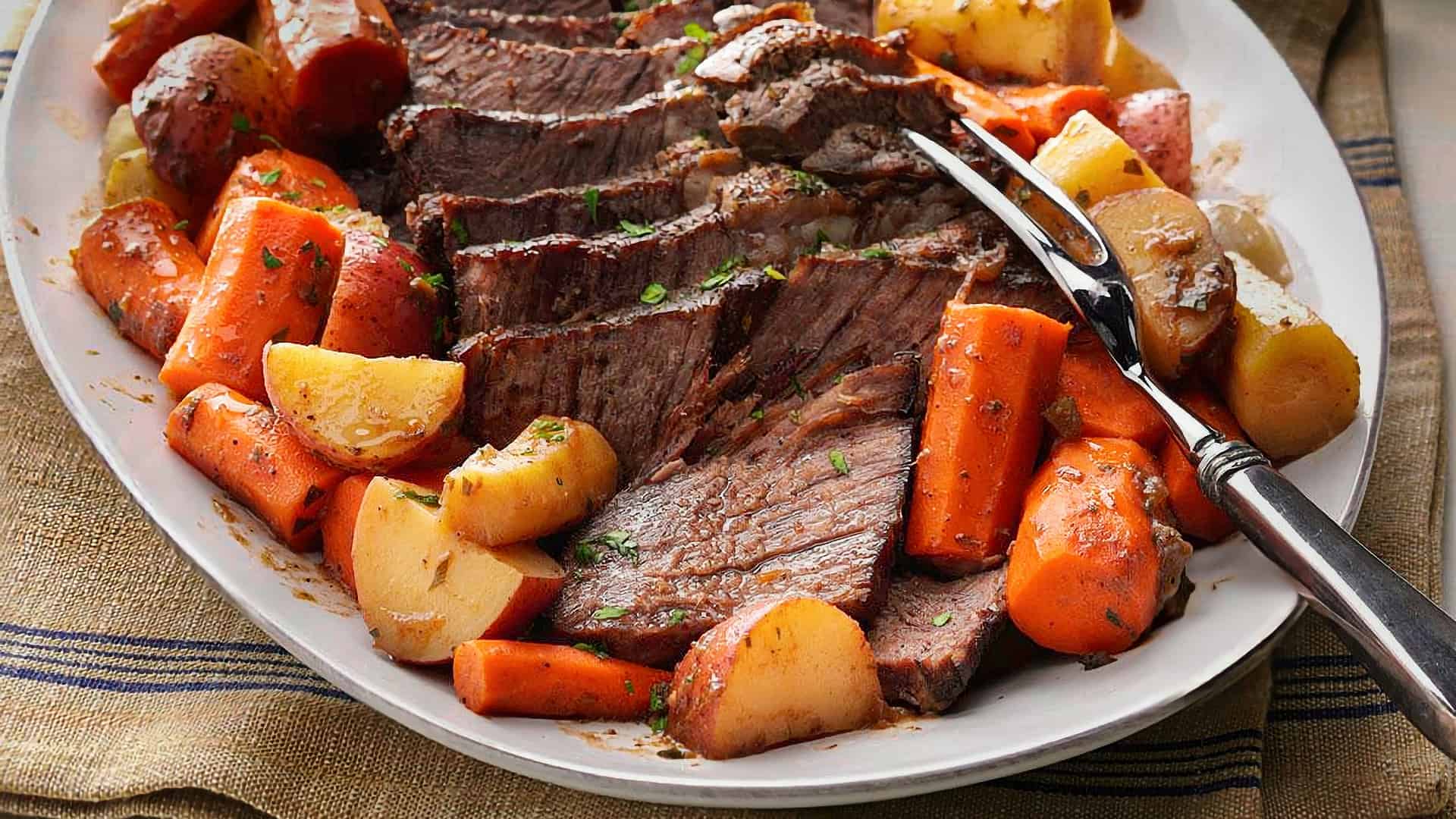 Dutch oven pot roast recipes are the ultimate comfort food. When juicy pot roast simmers in garlic, onions and veggies, everyone comes running to ask "When can we eat?" The answer? Just wait—it will be worth it.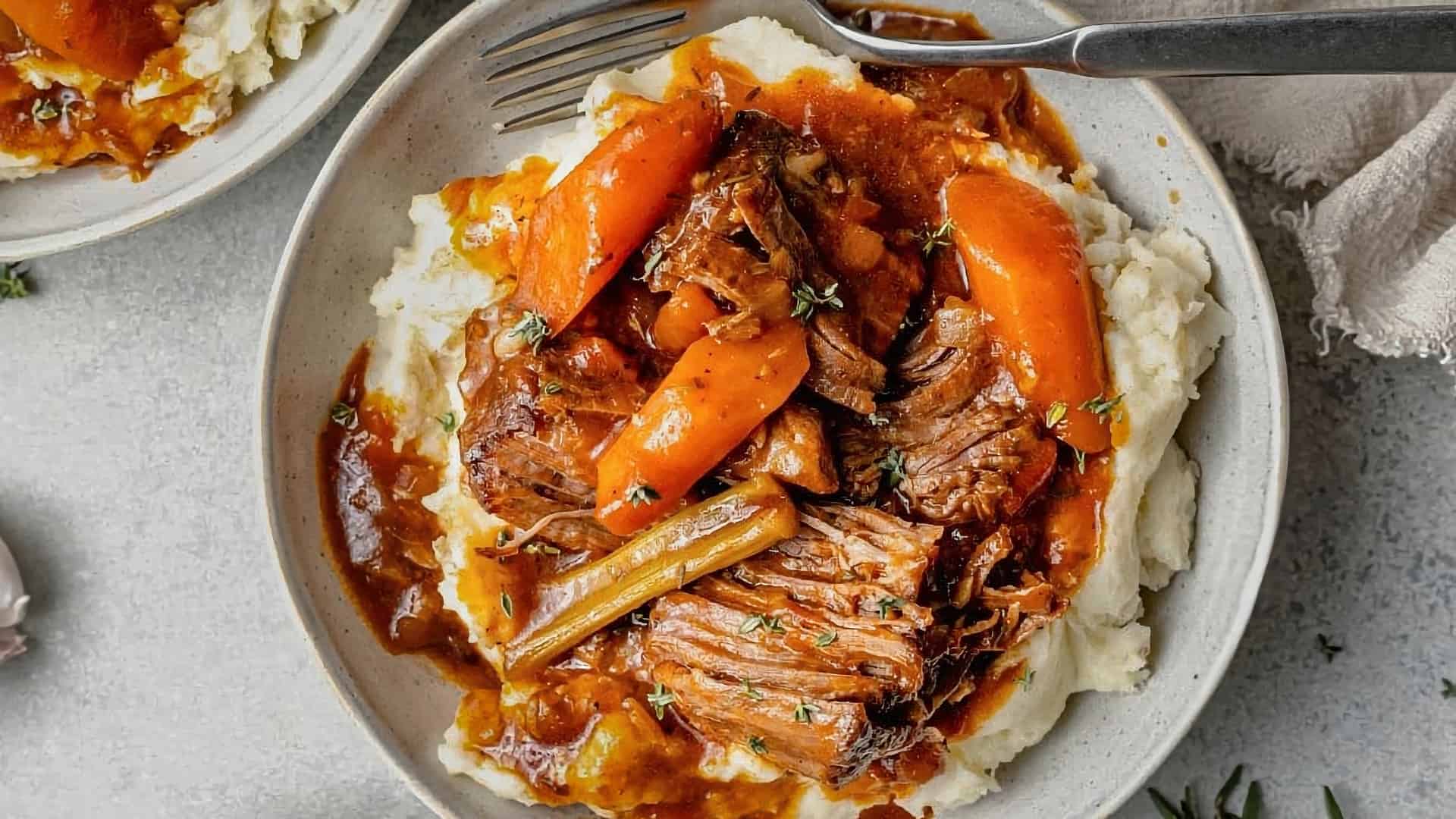 This Dutch Oven Pot Roast recipe is classic comfort food at its very best. It's made with simple real food ingredients that you likely have on hand, and always feeds a crowd or provides plenty of leftovers.
There is something so comforting about a hearty and delicious slow cooked pot roast that has been braising for hours. When it comes to a good pot roast, this one has it all.
Perfectly cooked beef, tender root vegetables, herbs, and the most flavorful gravy. This delicious recipe is also gluten-free, Whole30 compliant, and Paleo friendly. ⠀
---
5 Dutch Oven Recipes Roast Veal
---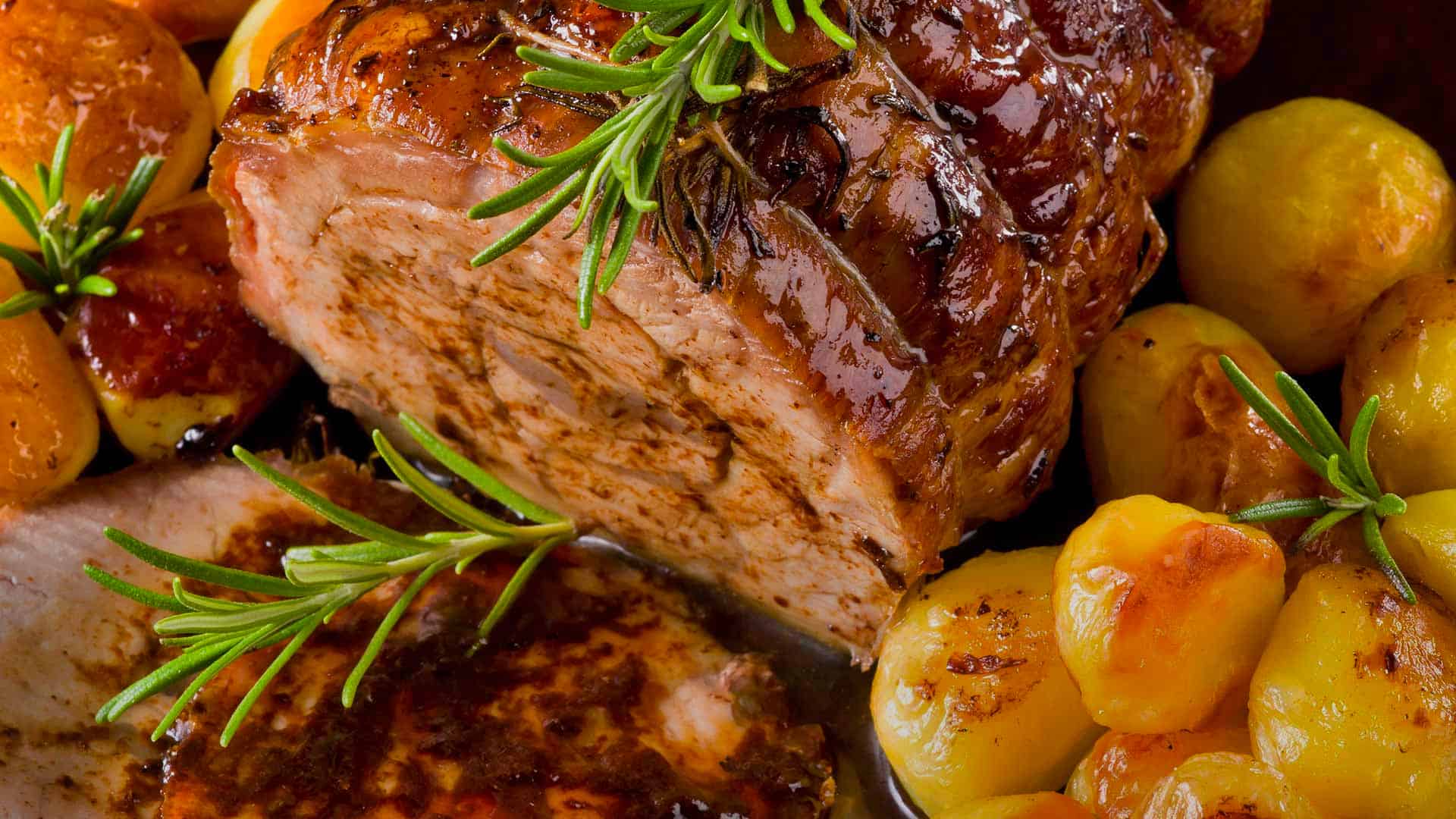 Use British rose veal to create a roast dinner with a difference – this all-in-one joint is slow-cooked with sweet vegetables, citrus and herbs.
Fabulous flavors, a light but satisfying one pot roast. Very easy recipe I served it with Dauphinois potatoes and a red Sancerre. This would be perfect for Valentines Supper.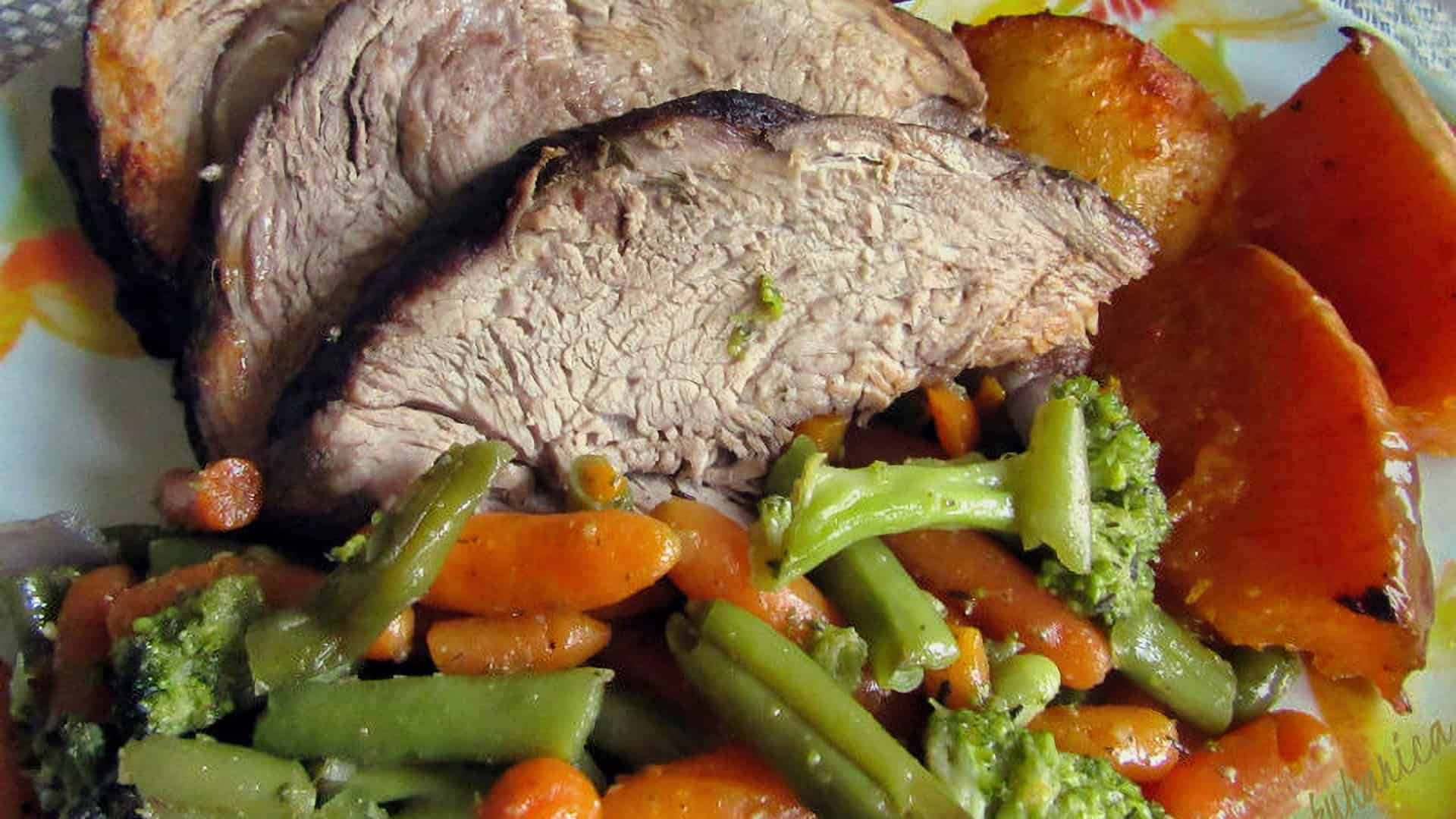 Using a less tender cut and braising it to juicy tenderness is a great way to enjoy veal that's not only delicious, but economical too. Even though pot roast is usually thought of as beef, it can be any tough cut of meat cooked slowly in moist heat, often with vegetables.
This recipe calls for a veal roast, which is a cut from the shoulder. It is cooked in a Dutch oven with carrots, onions, and celery, and then topped with a rich gravy to make a hearty and comforting meal.
This veal roast is a great choice for a special family dinner or holiday meal when you want something special. The roast makes a great holiday meal or Sunday dinner, and the results will amaze your friends and family.
Different kinds of mushrooms, like crimini, shiitake, button, oyster, and porcini, can be used to spice up the veal roast. You can serve the roast with baked or mashed potatoes.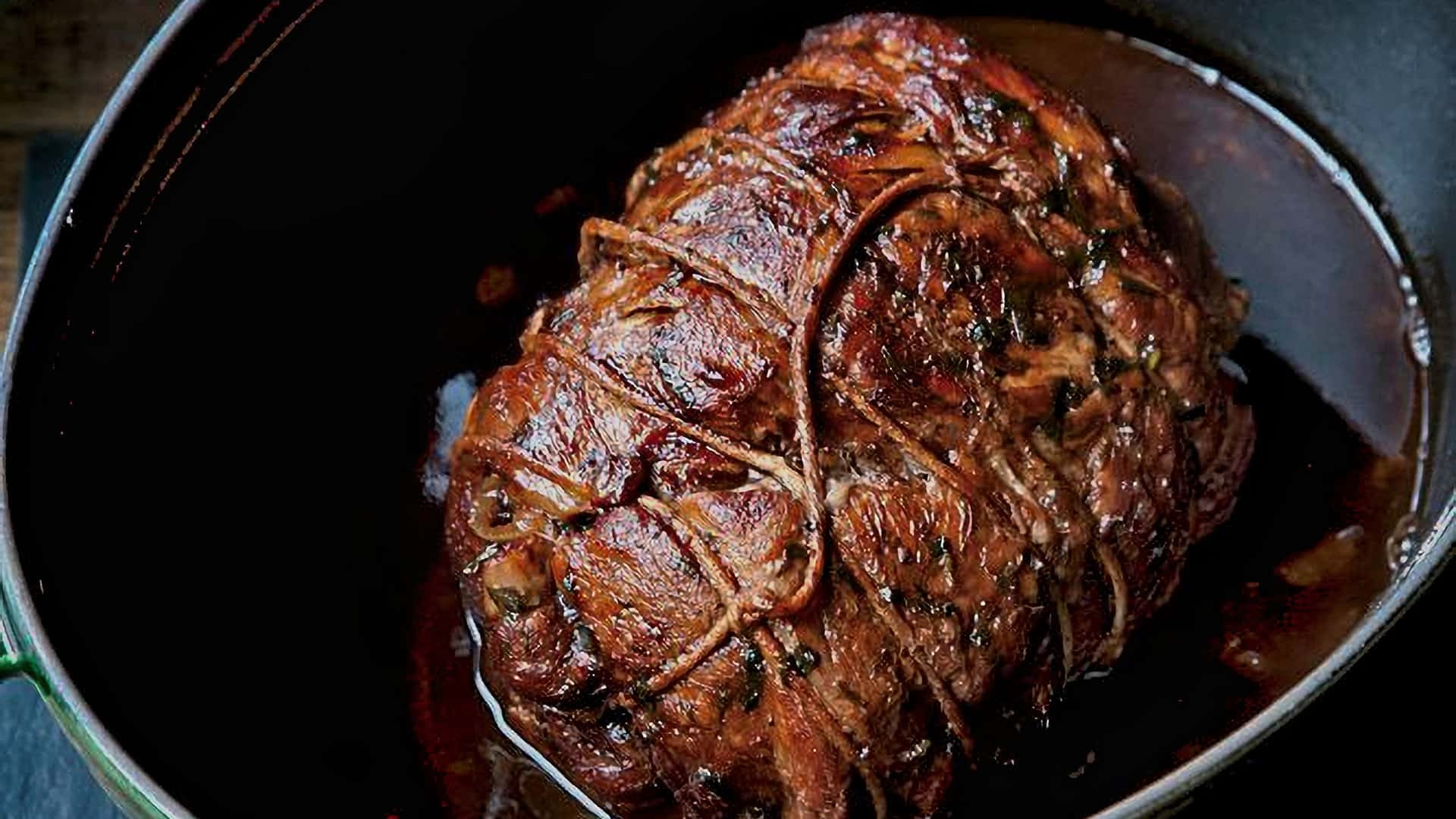 First, the veal roast is browned on all sides in a hot skillet to make a nice crust. Then, it is put on top of the vegetables in the Dutch oven. The moist heat comes from adding water to the pot and scraping the bottom to release any flavorful bits. This is then poured over the roast and left to cook for eight hours. The meat and vegetables are so soft and juicy when they are done.
The tasty gravy is what makes this veal pot roast stand out, though. It starts with butter and flour that have been melted and cooked together. Then, the liquid from the Dutch oven and some white wine are added to finish it off. Serve the gravy from this veal pot roast made in a pot on top of mashed potatoes for a filling meal.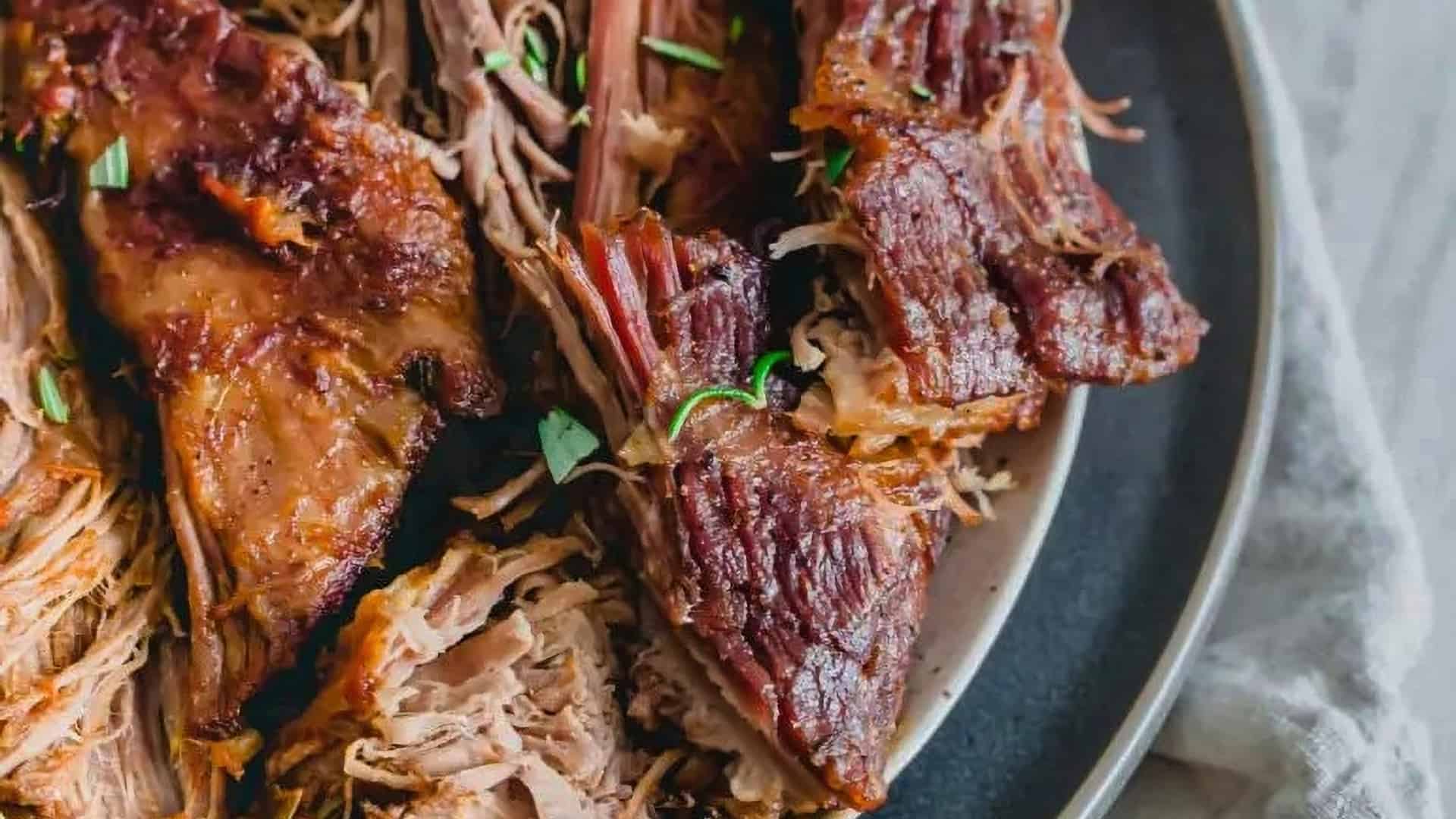 Veal brisket is also known as veal pot roast. Veal brisket is a wonderful variation for all the brisket lovers out there. This recipe braises the veal until incredibly tender and practically falling apart.
Cooked with tomatoes, carrots, celery, onion, garlic, lemon and fresh herbs there's plenty of hearty flavor to accompany the meat which can be used in pasta, meal-prep bowls or anything else you can dream up.
---
Want more ideas to round-out your Recipe Box?
A lot of great options are in these posts!
---
3 Dutch Oven Recipes Roast Pork
---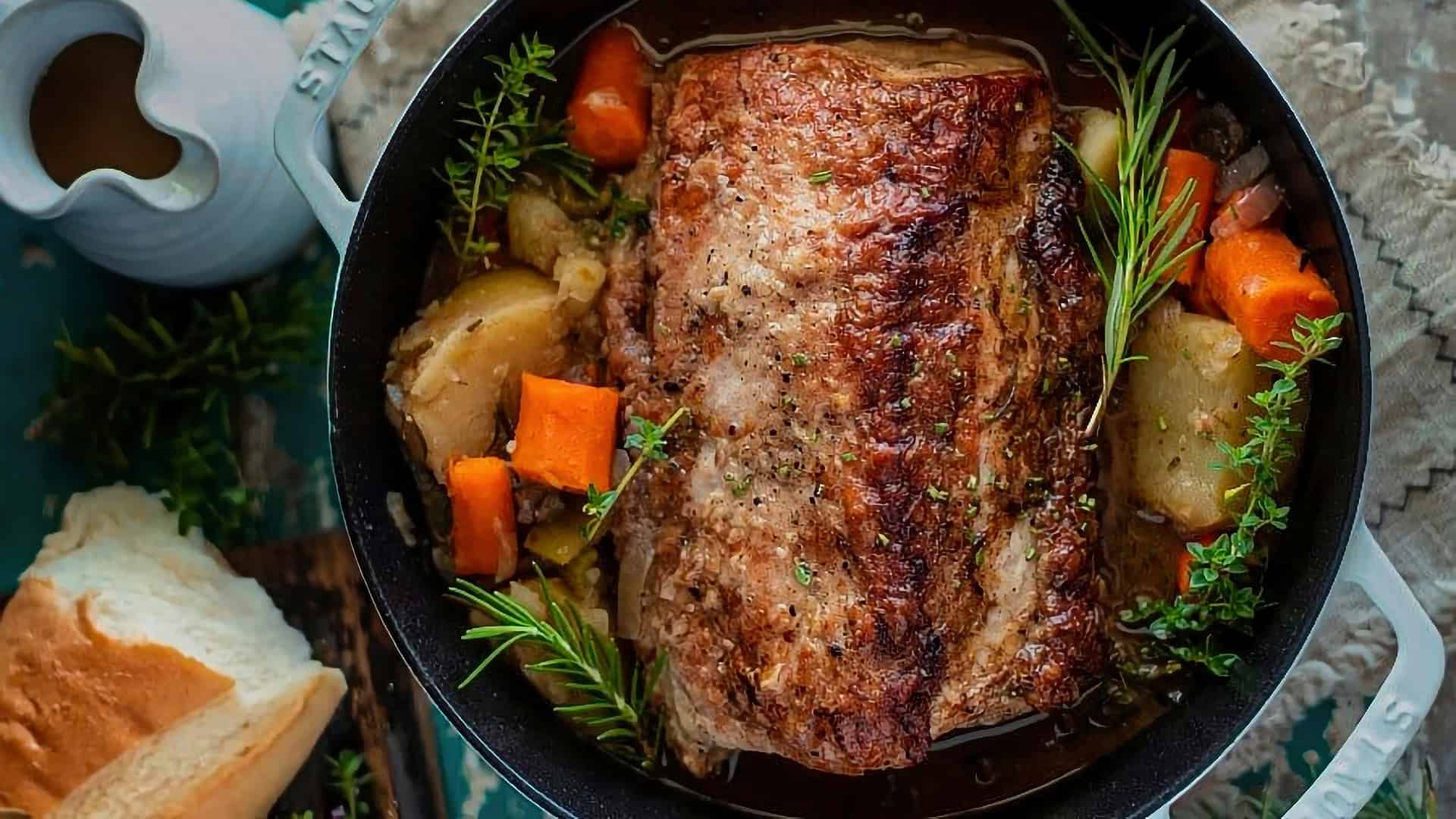 Tender and juicy, this Dutch Oven Pork Roast transforms an affordable cut of meat into a delicious comfort food dinner. The pork loin slowly bakes in an apple cider broth with potatoes, carrots, celery, onion and herbs.
This particular Dutch oven pork pot roast recipe works so well because you wait to add the potatoes to the pot during the final 40 minutes so that they don't get overcooked and mushy.
The vegetables, pork and herbs flavor the rich juices that are further enhanced by a touch of apple cider. A quick pan gravy adds the perfect finishing touch on the one pot meal.
Serve this simple boneless pork roast recipe with a side of flaky buttermilk biscuits or a pan of cornbread for your next cozy Sunday supper!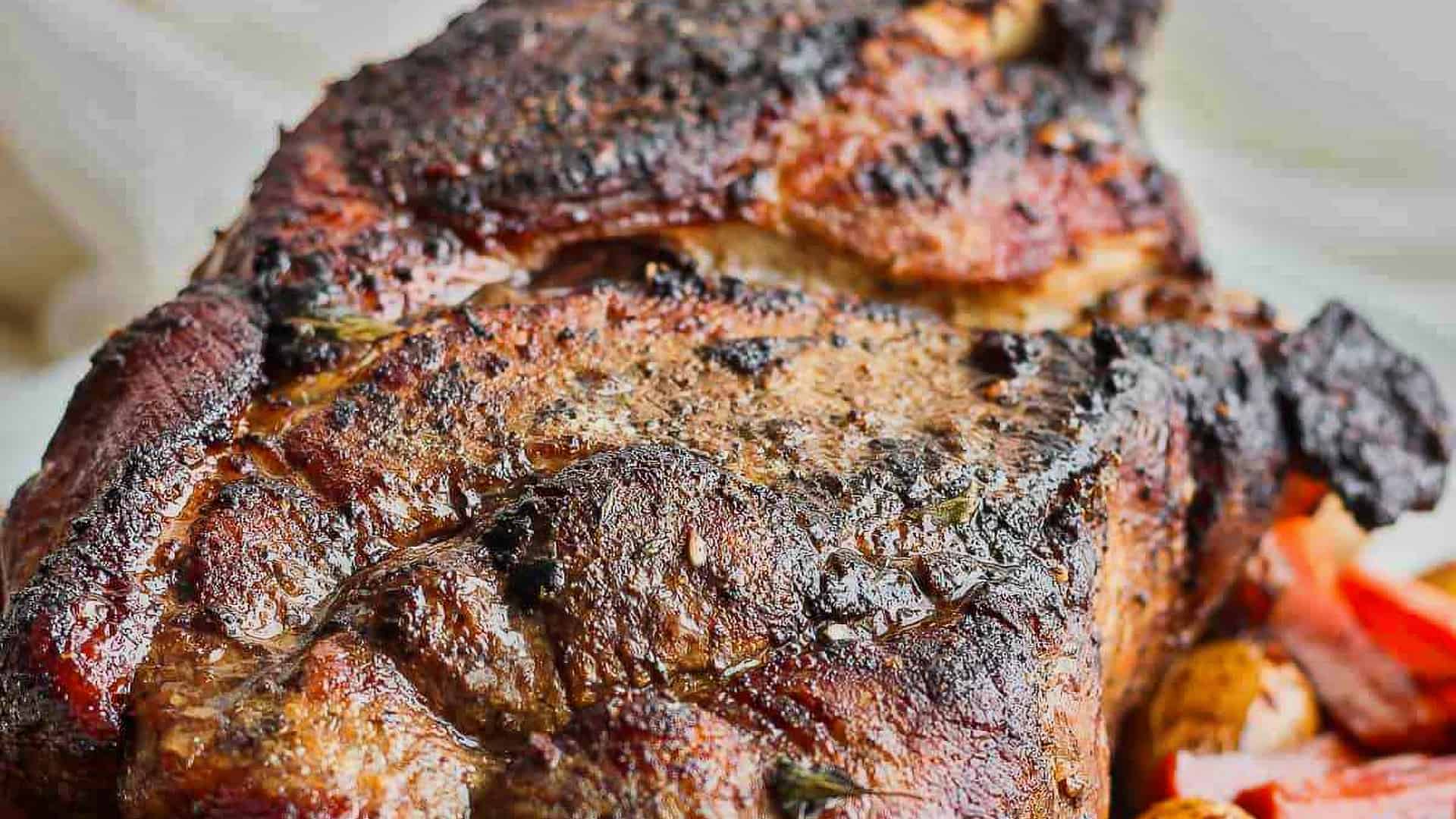 We are huge fans of Sunday Supper over here at The Wooden Skillet and this recipe is made for a cozy Sunday family dinner night. It's a recipe that takes time and love to make, has great depth of flavor and is classic comfort food!
We have added in options for both a seasoning/dry rub AND marinade (feel free to do one or the other or both). We also have options for cooking your potatoes and veggies in with the roast OR we have other options for serving (garlic green beans and mashed potatoes).
Finally, we have an epic pork gravy to pour over everything at the end! Cannot wait for you to try this one!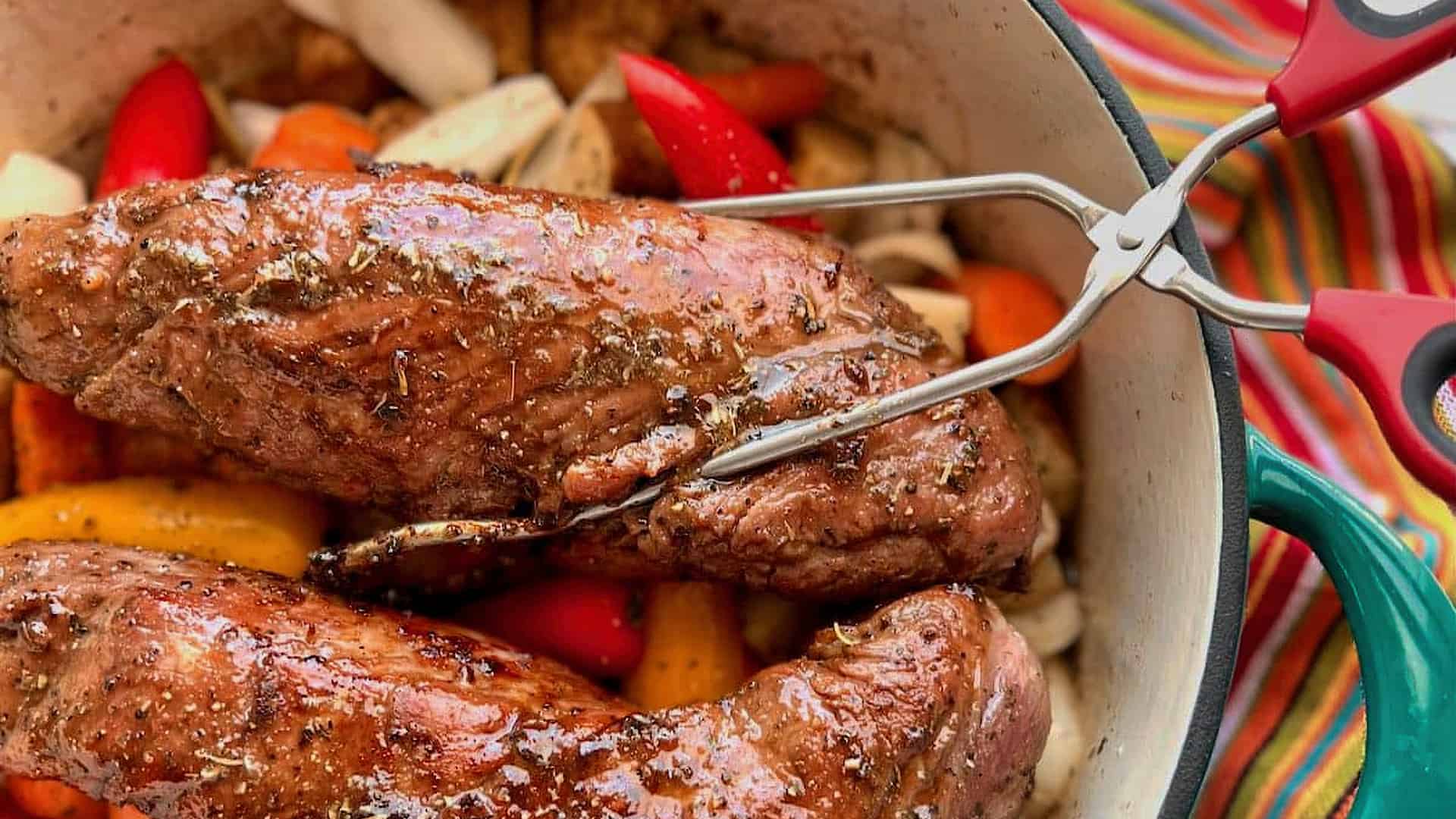 You'll love making this pork loin recipe for Sunday dinner or weeknight meals. The root vegetables taste amazing when cooked with a brown sugar rub.
This dutch oven pork roast recipe is a family favorite! The sassy dry rub is made with brown sugar and spices that create a tender roast with exceptional flavor.
This Dutch Oven Pork Tenderloin recipe is juicy, fork-tender, and delicious! It's baked with carrots, onions and potatoes for a hearty, one-pot meal.
---
4 Dutch Oven Recipes Roast Lamb
---
There is nothing like a roast cooked in a Dutch oven. Because of the cooking properties of the Dutch oven, it adds more flavor and moisture. And that is especially true for this savory roast leg of lamb.
This recipe could also be considered a 'one-pot meal.' The vegetables that are cooked as the side dish are included in the Dutch oven alongside the lamb. You can mix and match different root vegetables, depending on what you like or what you have on hand.
Cooking in a Dutch oven offers a lot variations on how to cook. You can put it on a campfire, moving the coals aside to place under and on top, use charcoal briquettes, or in a barbecue, whether this is a closed grill or smoker.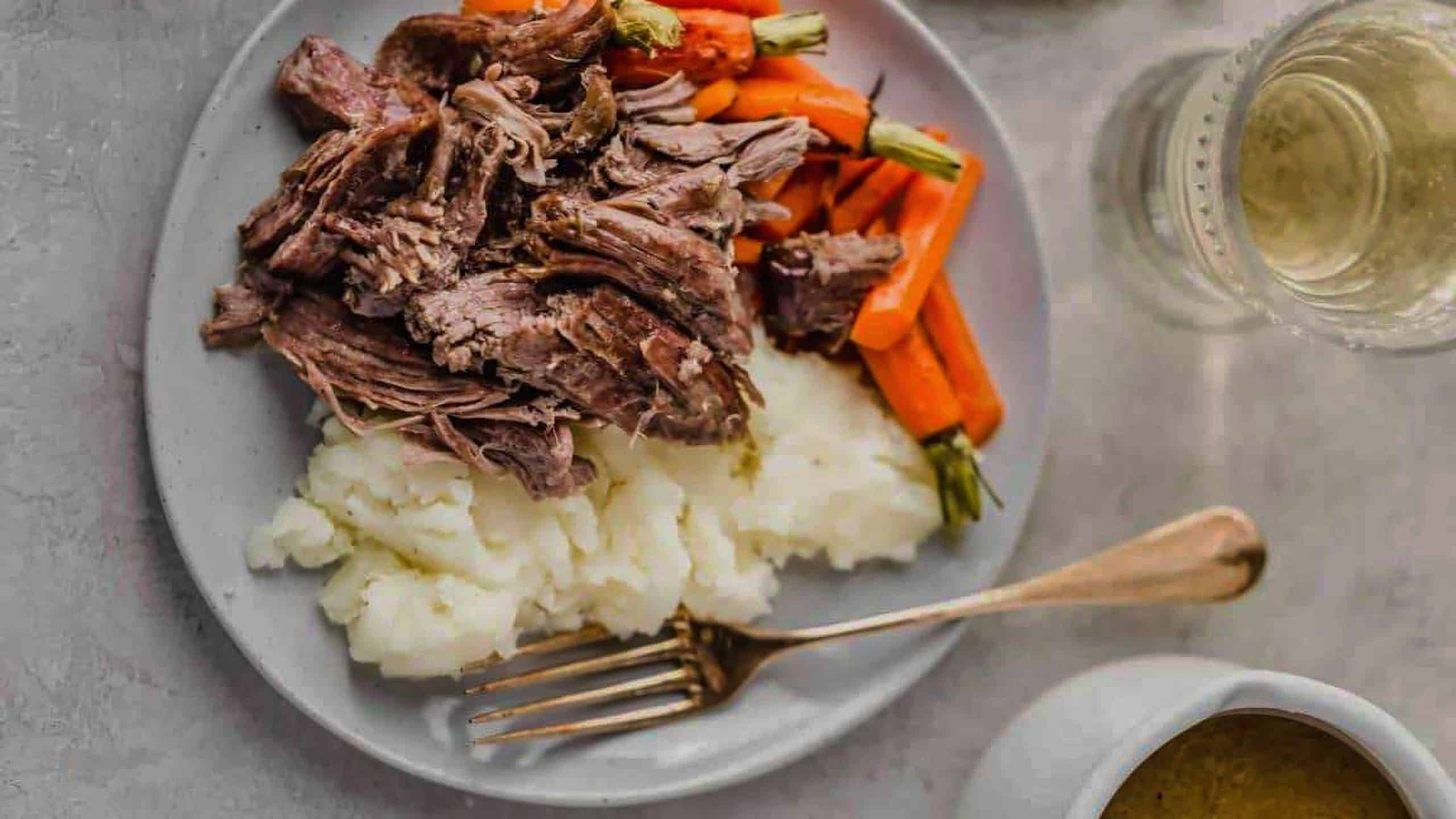 Roast leg of lamb is hands down our favorite recipe. Braised leg of lamb feels special and celebratory, but honestly it could not be more simple.
The majority of the cooking is hands off. You can focus on other side dishes while the oven takes over cooking! And when it's done? The lamb is juicy and fall-off-the-bone tender.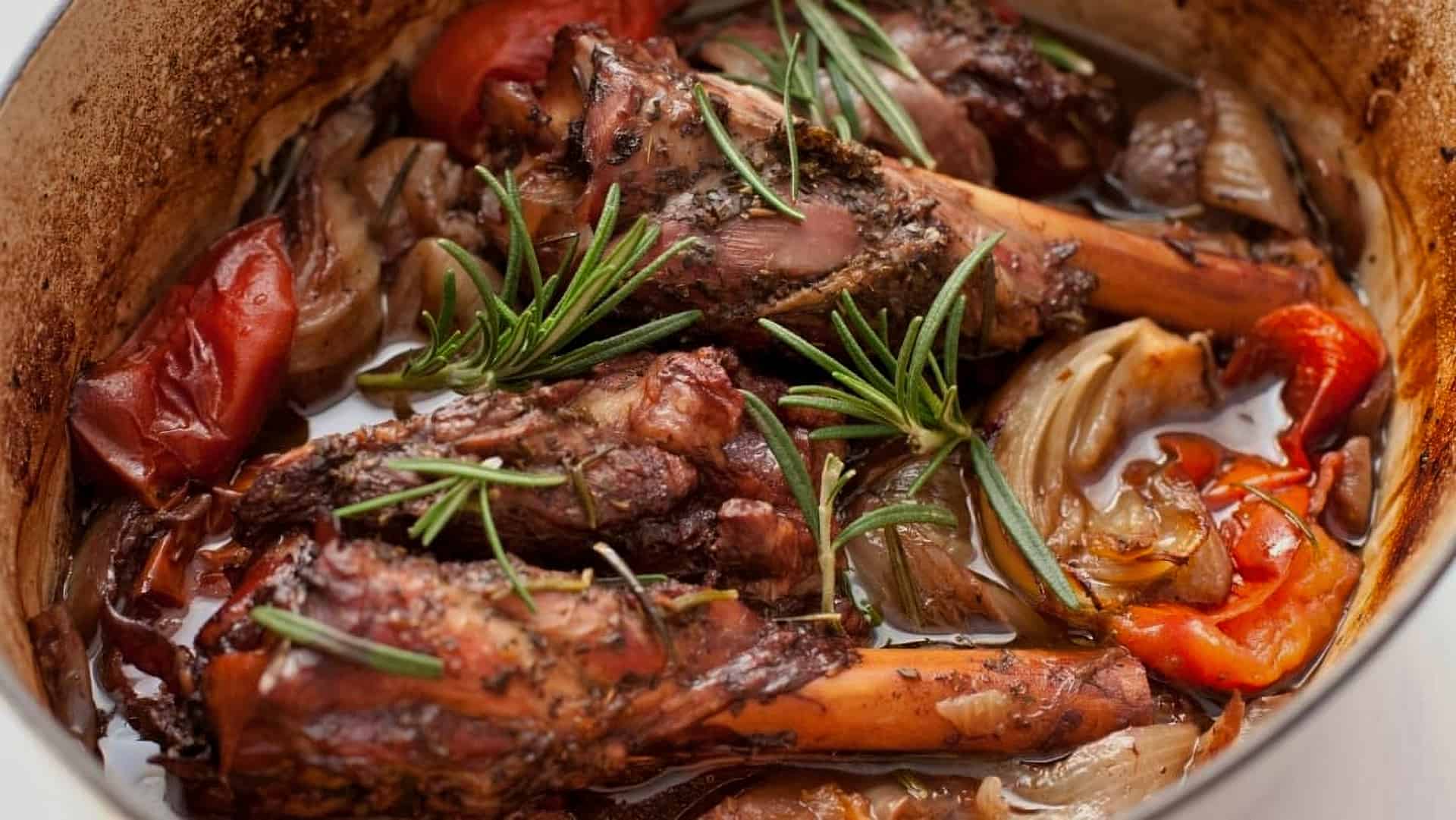 Imagine you're planning a special family dinner to celebrate a birthday, anniversary, or just because. You want to serve something delicious and memorable, but you're short on time and don't know how to cook lamb.
Well, have no fear – this Dutch oven lamb roast with bacon and vegetables is the perfect dish for you! It's easy to prepare and cook in just a few hours, so you can spend more time enjoying your company and less time in the kitchen.
This Dutch oven lamb roast is the perfect recipe for those who are new to cooking lamb. Plus, the bacon and vegetables add amazing flavor and texture to the lamb roast, making it a dish your guests will love.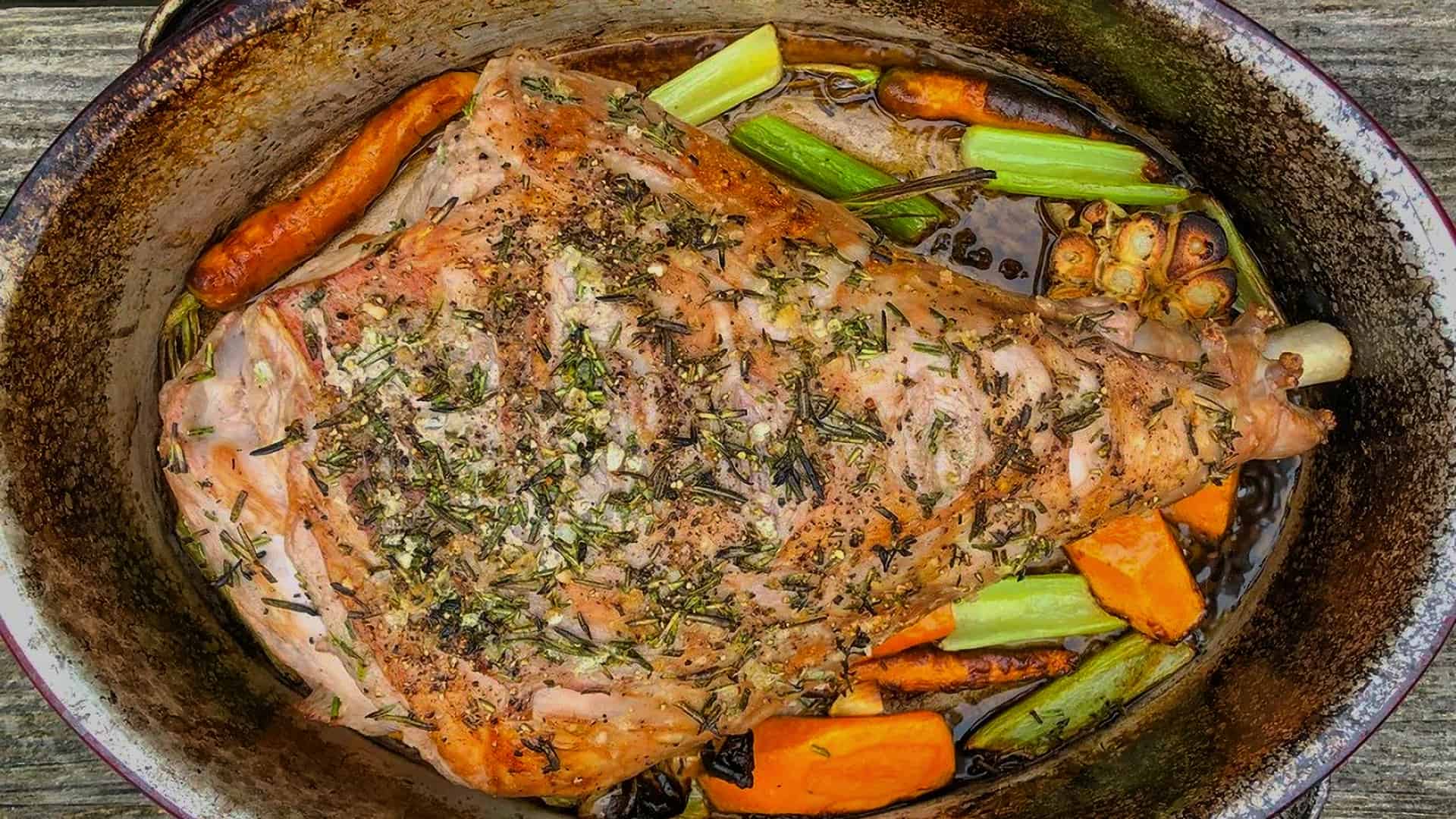 This simple recipe shows you how to cook a pot roast leg of lamb. I love lamb, and this recipe will give you lamb that falls off the bone after cooking, a little bit like Turkish lamb tandir. It is so tender and succulent you will want to make this again!
The important thing is to make sure you have a pot with a well-sealing lid that will keep the goodness and moisture in while you are cooking, so you get a super tender, succulent result.
---
3 Dutch Oven Recipes Roast Goat
---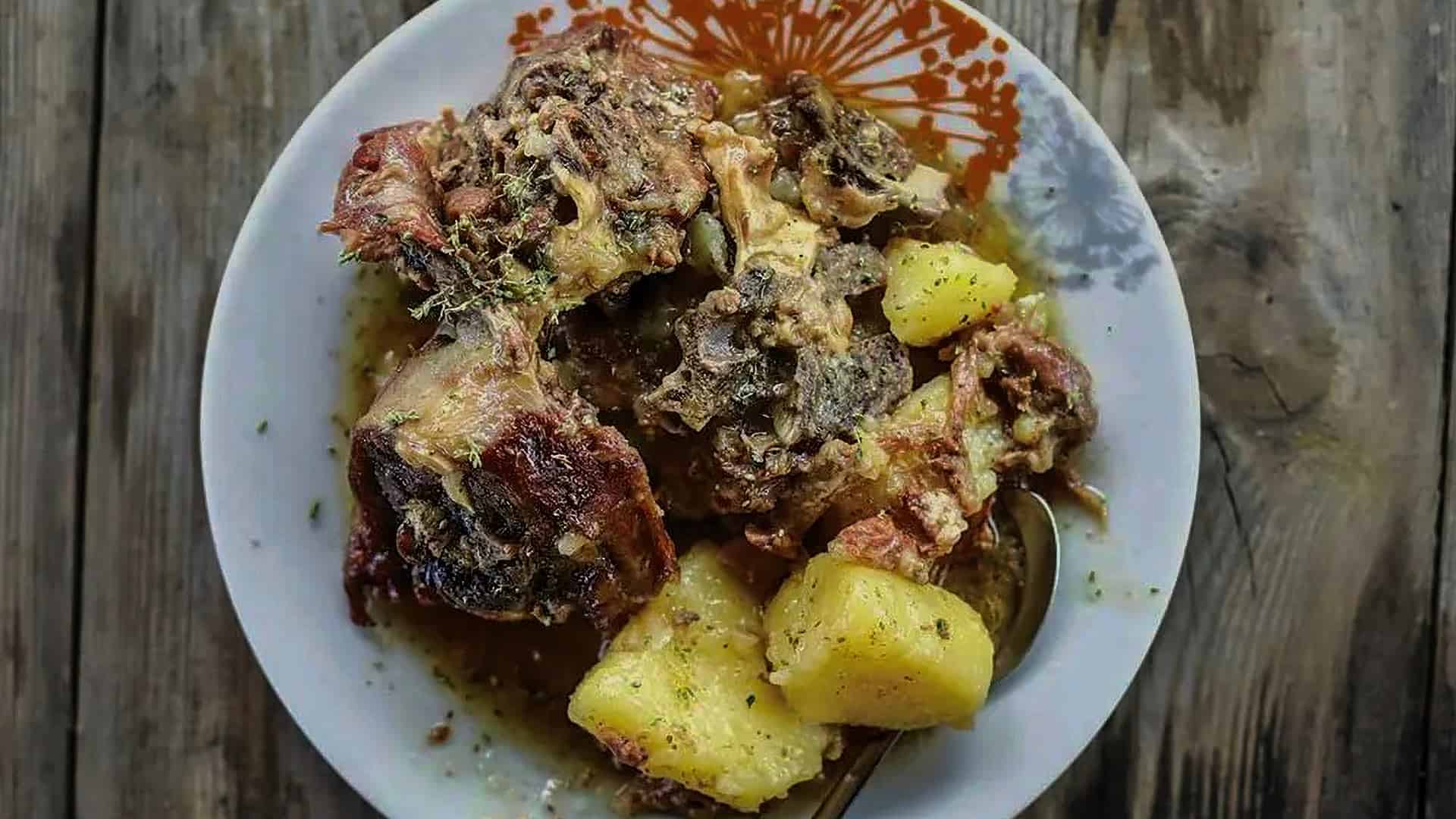 But this simple dish represents a traditional Cretan preparation of the meat, slow-roasted for hours in a clay pot over a wood-fired oven. You can achieve equally tender meat and crisp edges using a heavy, covered pot.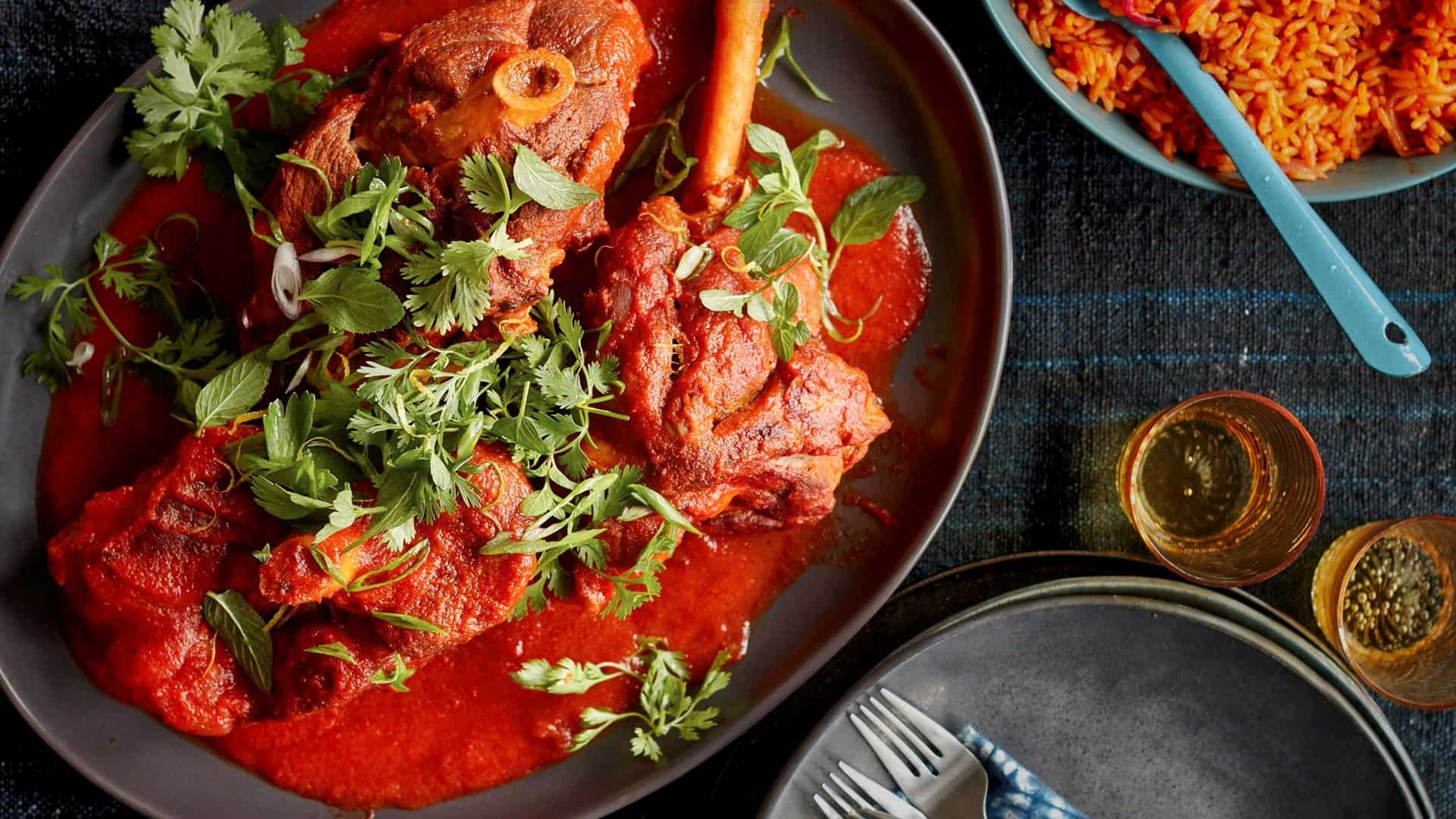 Obe ata is my versatile, back-pocket Nigerian recipe. A bright purée of red bell peppers, onions, tomatoes and habaneros, this stew is the base of several dishes and accompanies starchy mains as a sauce.
This tangy recipe, enhanced by the lingering heat of habanero chiles, uses goat, but you can substitute lamb, beef or pork cuts of a similar size. Any large bone-in cut of meat will do, and will be coaxed into tenderness after a slow braise.
The best way to serve this is right in the pot or on a large platter for guests to share, garnished with a mess of fresh herbs and citrus zest and served alongside steamed rice, jollof rice, fried plantains or crispy yam fries.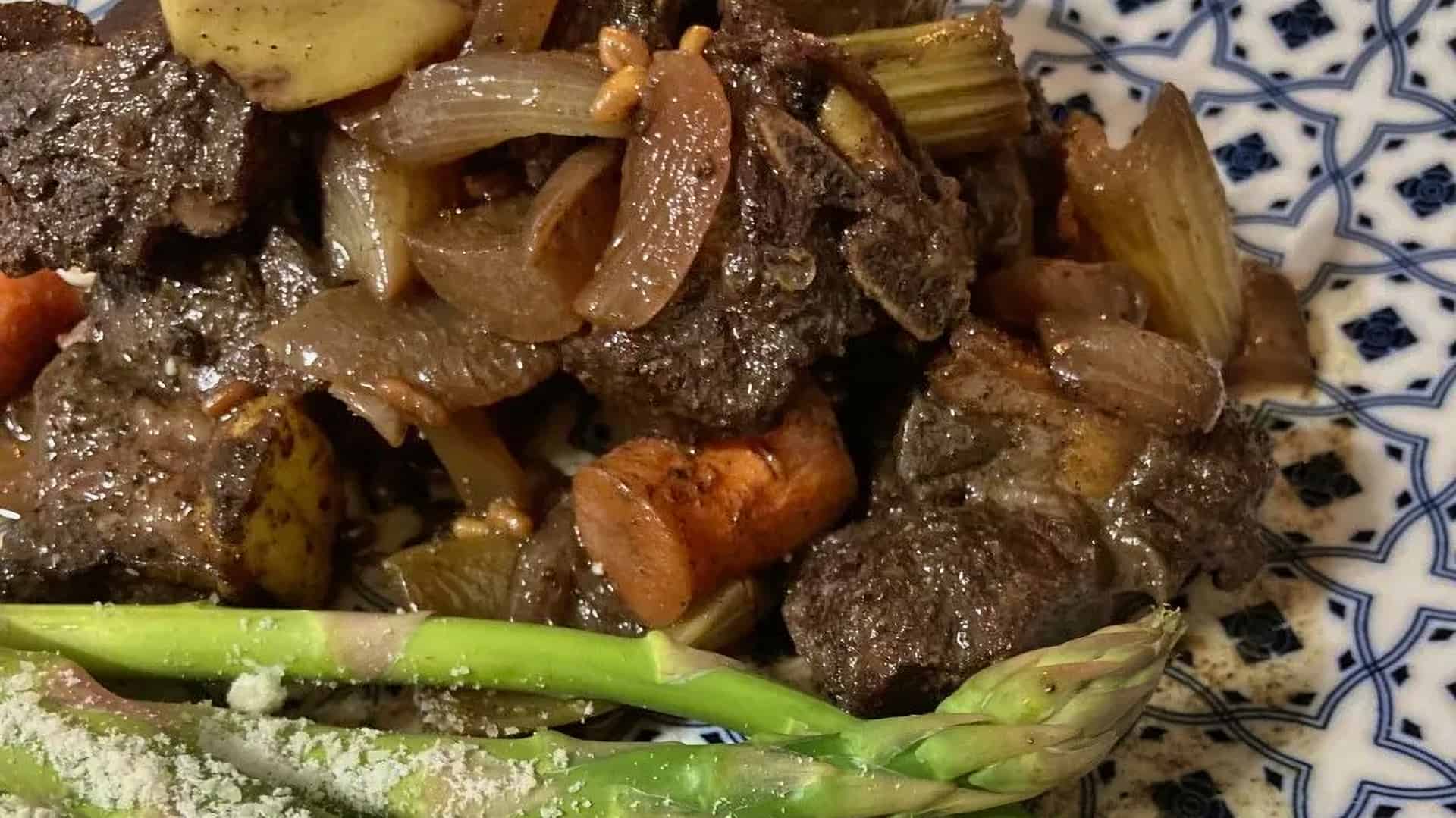 Cover and place in oven for at least 2 hours. Depending on how much goat you are using, this could take 3 hours. Check the dish at 2 hour mark, add more beef stock if the liquid has cooked off.
The dish is done when the goat is falling off the bone. Serve with steamed veggies or rice. You can adjust the flavor profile with other herbs and spices. Rosemary, basil, thyme are good places to experiment.
---
You May Want to Join Our Boondocking Group on Facebook For More Information
You May Want to Join Our Campfire Recipes Group on Facebook For More Information
Discover our unique product testing journey at Our Big Escape. We bring real-world experiences and adventures into every review, ensuring authenticity and reliability. Dive into our process at
How We Test Products: A Journey of Discovery and Trust
, where every product is an adventure tested.